High-End Munich 2023 – An Audiophile Heaven For Your Ears
With 2023 being still fresh, we decided to participate for the first time at a high-end show, and what a trip this has been. In today's article we will discuss the highlights of High-End Munich 2023, traveling to Germany, and how to get the best of your experience if you decide to come. This is going to be a rich article, with useful information both both audio, but also travel, and how to not repeat the same mistakes we did, and how to have fun when coming to the world's biggest audio event.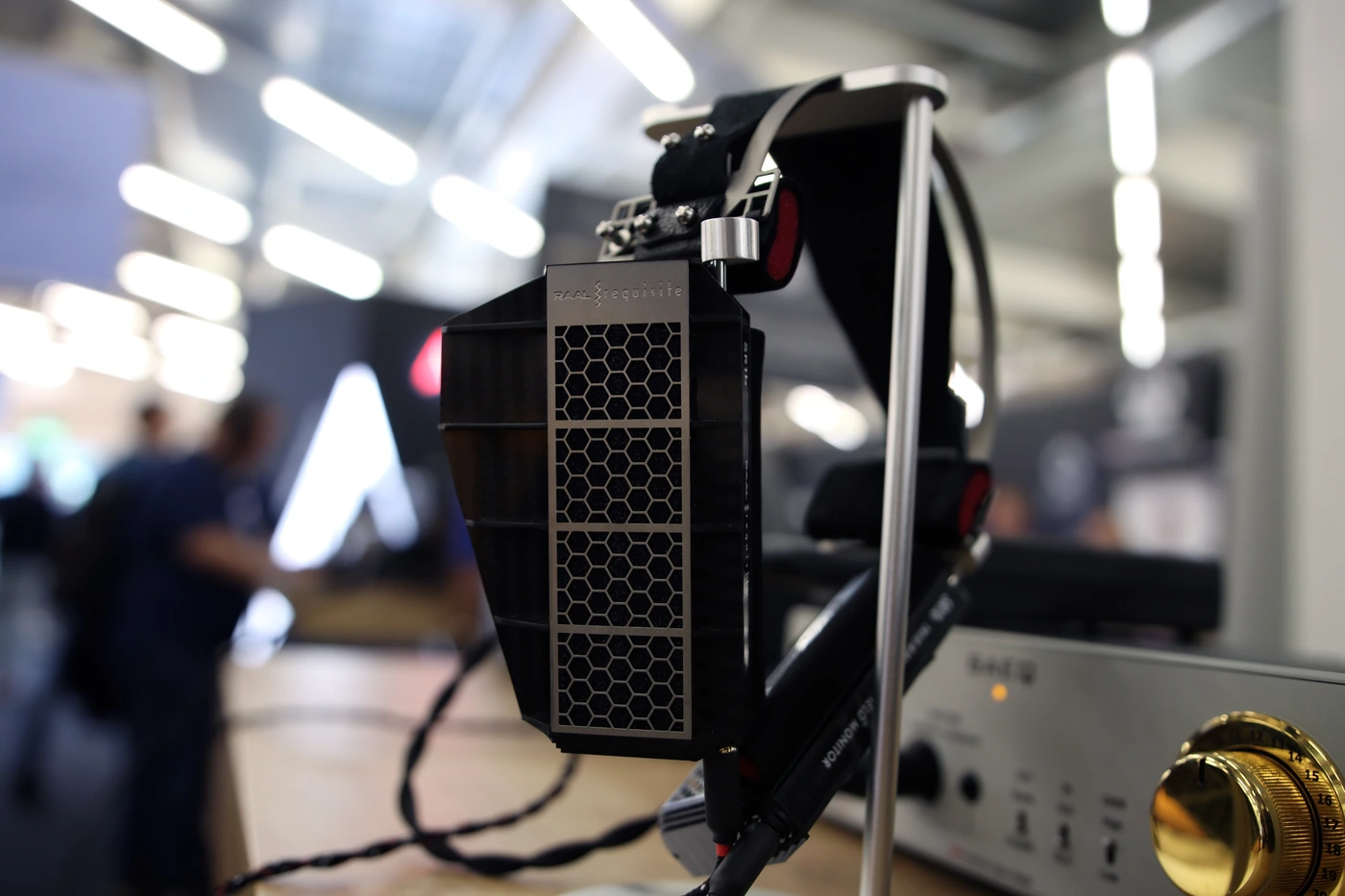 My girlfriend Mary is also making an official appearance for the first time in a written review as herself. For the best photos you can see here, she has been standing behind the camera. In total we took over 1400 photos for today's review, but to make this article actually readable, only around 300 or less will make it to the article itself. As I am a reviewer, you can consider today's article to be a review of the High-End Munich 2023 edition and of the overall experience.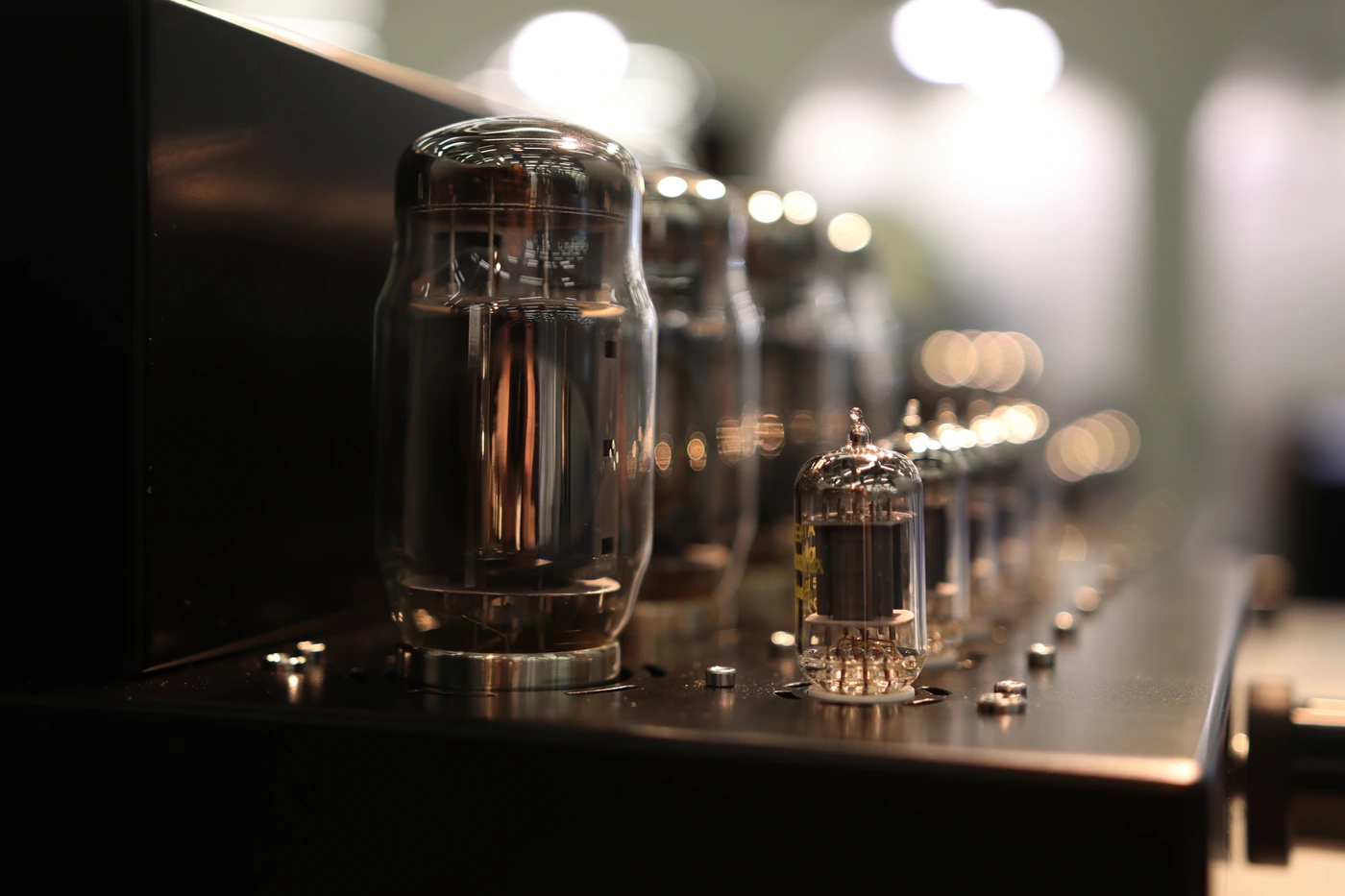 Introduction
High-End Munich is by far the biggest audio show in the whole world. It encompasses everything, from entry-level Chifi IEMs, all the way to the most impressive and expensive speakers, amplifiers and everything else you can imagine as long as it is audio-related and even beyond audio. This is the show where companies meet up, where old friends warm up their relationships again, and where new collaborations come to be. While the show lasts for 4 days usually, the first two days are designed for B2B or business to business and this is when we attended too. We have been attending as press to cover the show, while the last two days are open for the general public, for you to listen and enjoy all the products available there.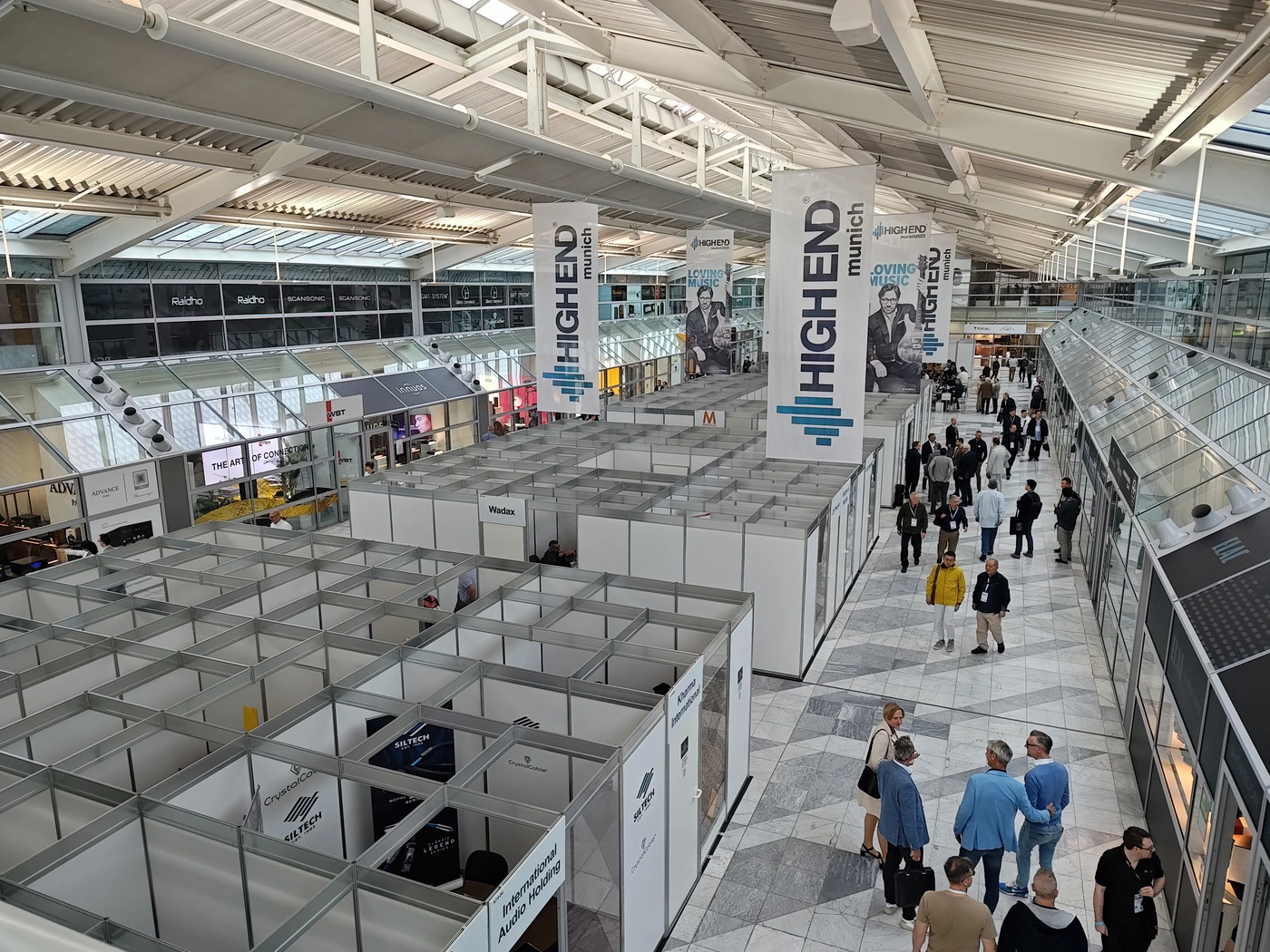 I personally think that even as someone from the general public, 4 days wouldn't be enough to experience everything, the show is huge, and if you're the curious type like me, you will want to spend as much time as possible listening, learning and exploring, so let's see how to get the best of this experience and how to best enjoy High-End Munich, and why to even attend in the first place. 
Today's article has been sponsored by us, the whole trip and other expenses have been paid directly by us, and you as readers help us support this kind of article, so a big thank you to everyone who's reading it right now!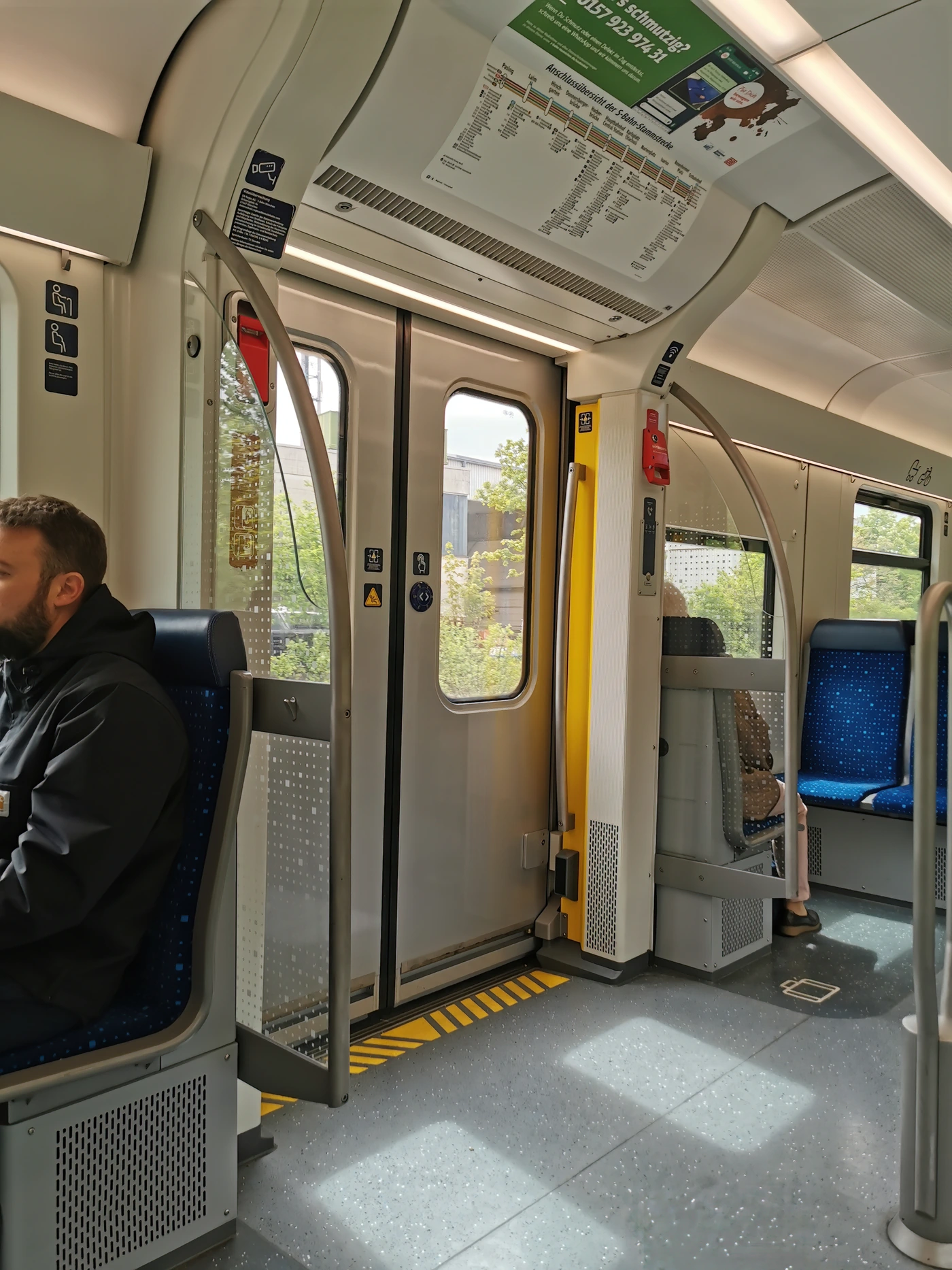 The cost of attending High-End Munich usually includes traveling to Germany, for which the plane tickets can vary greatly depending on where you're coming from, hotel rooms, which again can be anywhere between 50 USD per night, up to 300 USD per night, depending on what area of Munich you're staying in and what conditions you book, and then, your personal expenditures, such as food, and other entertainment you may want to experience in Munich. I would say that you need between 500 and 2000 EURO per person to attend, if you're coming from Europe, depending on whether you'd like better conditions. Since you won't be staying too much in the hotel room, I would say that you could get away with the cheapest hotel available. The fun happens at the show. 
Munich and How to get there
Munich is a super large City situated in the South part of Germany, with a rather cold and rainy climate that you'll need an umbrella for. It is part of the Bavaria region, it can be found between grassy hills and forests, and Germany in general has huge areas with solar panels and is a very green country. The weather can be very bad, so much so that when we arrived it was storming, and we had to use our umbrellas right away.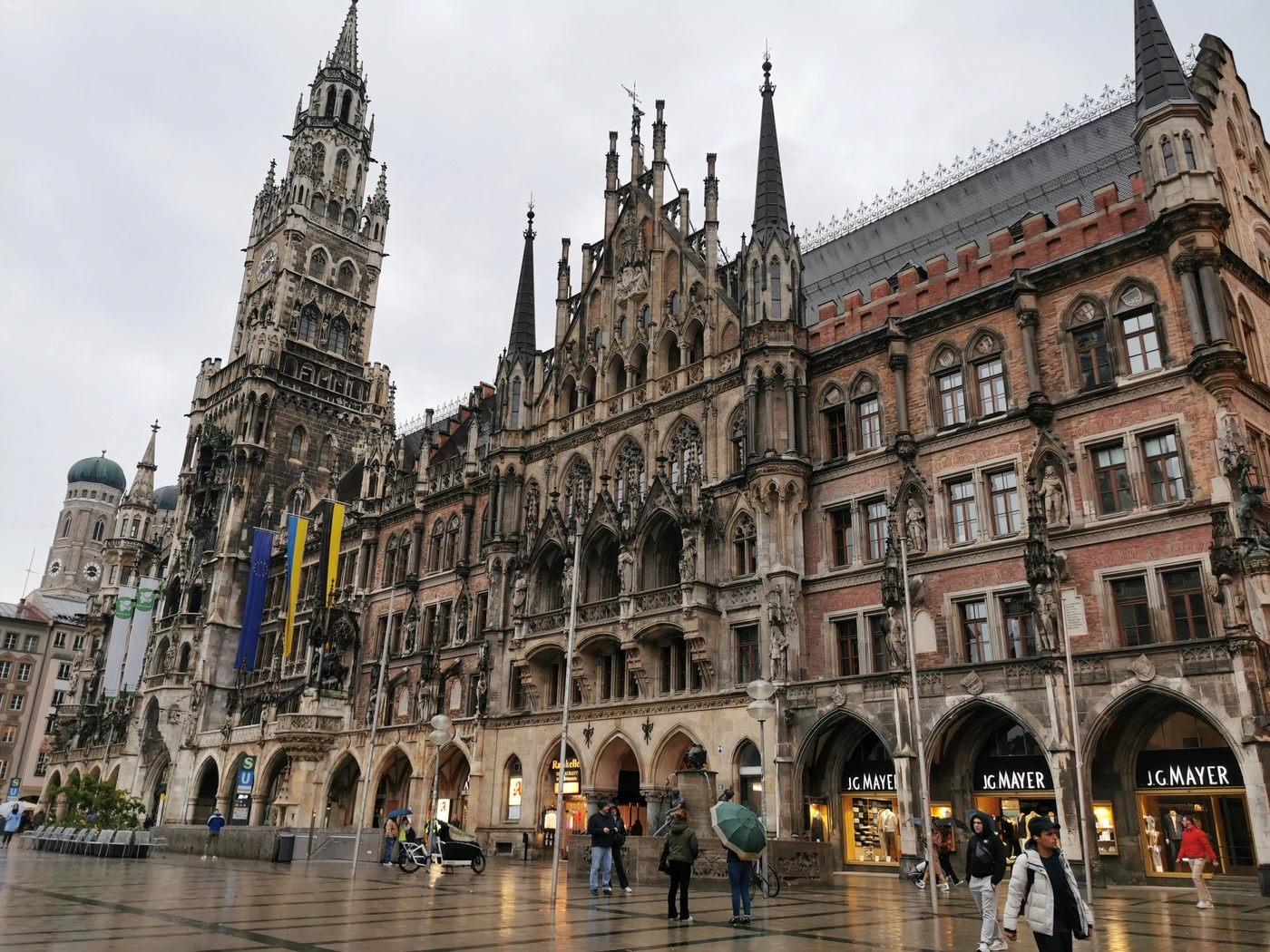 What we didn't know before we left was that you can't find much to do in Munich at any given hour, and most shops are closed if you don't wake up early, so when one of our umbrellas broke, we tried purchasing one from a Lidl store, right before closing, and learned that they don't sell those. People around are helpful, and we had the super pleasing experience of an employee gifting a personal one to us.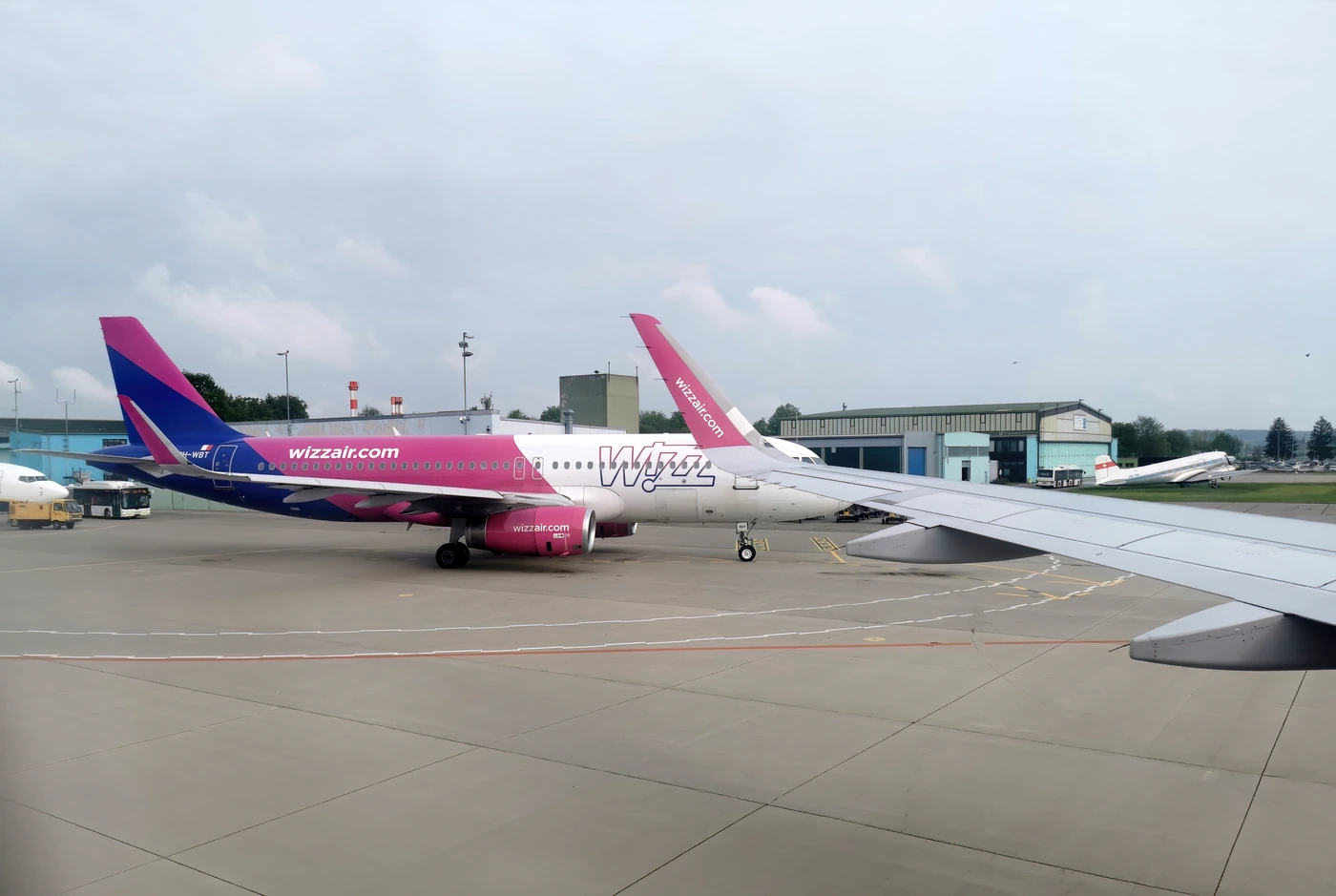 The Munich airport is not the first choice for some, especially if you fly with WizzAir, as flights straight to Munich are not available. This means that if you want to stick with Wizz you have to pick a different airport, and here we made the first mistake, and booked flights to Memmingen, which for Wizz Air is considered Munich West. This is a separate city 100km away from Munich. The problem is that the trip to Munich and back costs quite a lot (around 100 Euro for two people), takes about an hour and a half, and this money could have gone to better tickets so that we could have landed in Munich from the beginning. WizzAir also forced us to fly very early in the day, which may seem useful if you're a morning person, but it actually isn't, even for a two hour flight. We arrived so tired that the first thing we did was go straight to the hotel room and right to sleep a few hours. 
Attending this show starts days or even weeks before the show starts, both for us, and for everyone who goes there, as companies start bringing in products, putting up booths, and we have to start saving money, purchasing tickets and arranging rooms to stay while attending. So the first rule I would have is that when you travel to Germany to land in an airport as close as possible to your city of destination, and not try to save money on tickets by landing somewhere far away, as the cost in both money and time to get to your destination will catch up to you. Since we're Press and we had to carry a lot of camera equipment with us, our experience has been rather wild, we had two backpacks full with electronics, IEMs, a DAP, one large camera, one gimbal, and more, all which I wouldn't recommend taking with you if not absolutely necessary, as carrying all this 4 days will either give you some big muscles or leave you incredibly tired. 
Staying in Germany is pretty straightforward, and typically you should be able to reach the Moc Center where High-End Munich takes place easily, with the exception that on the second day of our stay public transport closed down, and workers there had a strike, so the public transport tickets became useless, and we had to use a car sharing app to get around Munich and to get to the event. While we could do something about it, it was to the dismay of the employees of many companies who just wanted to get home after a rough day of work, and were stuck in an unknown city, in a remote part of it, without speaking the main language or having any app that shows alternative ways of getting around. 
Speaking of remote parts, we booked a stay at an NF Conference Center hotel, which was really far from the MOC center where High-End was taking place, so when booking your hotel, you should keep this in mind, book close to your stay if you can. Just the normal transit in Munich can be around 1 and one and a half hours when public transport is working correctly. We chose the best place we could afford to stay, and since we travel in two, me and my girlfriend, who has taken most of the photos you see in today's review, we had to plan our spending wisely. 
German food is mostly tasty, but pricey too. The beer is quite strong, but good in taste, but you have to keep in mind that in Munich and most of the Western Europe everything closes between 18 and 20, which makes things complicated. Since the event lasts until 18, and you want to get every minute out of it, you likely will need to travel with luggage to purchase some groceries, or explore some shops, or at the worst, you have to keep eating at restaurants only if you don't make it to a typical shop before 20.
In Munich, you will mainly eat Rischart if you're on the go, which is a healthier, better tasting fast food than what we have available in Romania or what I've seen available in Rome. 
I would not advise you to visit solely to listen to products, at least IEMS will be tricky, as your ears will be extremely tired and your hearing will be way off during the event. This can be a huge cause of concern if you're here for the first time and if everything just doesn't sound as you'd have imagined. Usually, in conditions like those of High-End Munich, you will not hear details and resolution of music well, but you will immediately hear distortion, so if you're looking to find out of a source has enough power and control over a certain speaker, headphone or IEM, this is the best place to test this. 
MOC Center and how does High-End Munich feel like to someone who's here for the first time 
The whole event takes place in a huge space of halls, where products are divided by price point, purpose of the exposition, and where you will be able to find all your favorites, if you search well enough. 
The first thing we met was a friendly doggo, at the booth of a company named Tonar. We didn't spend too much time here, as the company is focused on Vinyl setups, and we have far better experience with digital formats, but we found it really cool to mention that Germany in general is super animal friendly, and you will be able to take your pet basically everywhere, including shopping malls and restaurants, even hotel rooms allowing a stay for your pet. 
The MOC Center is huge, and you could get lost exploring the environment there, so it would be a good idea to study what you want to test and hear beforehand, and to head there right away. Keep in mind that each day you only have 8 hours, and for some products there may be a listening queue, and especially if you want to speak to the people from some companies, most people are always engaged in a conversation, so make sure to take everything into account when planning your schedule.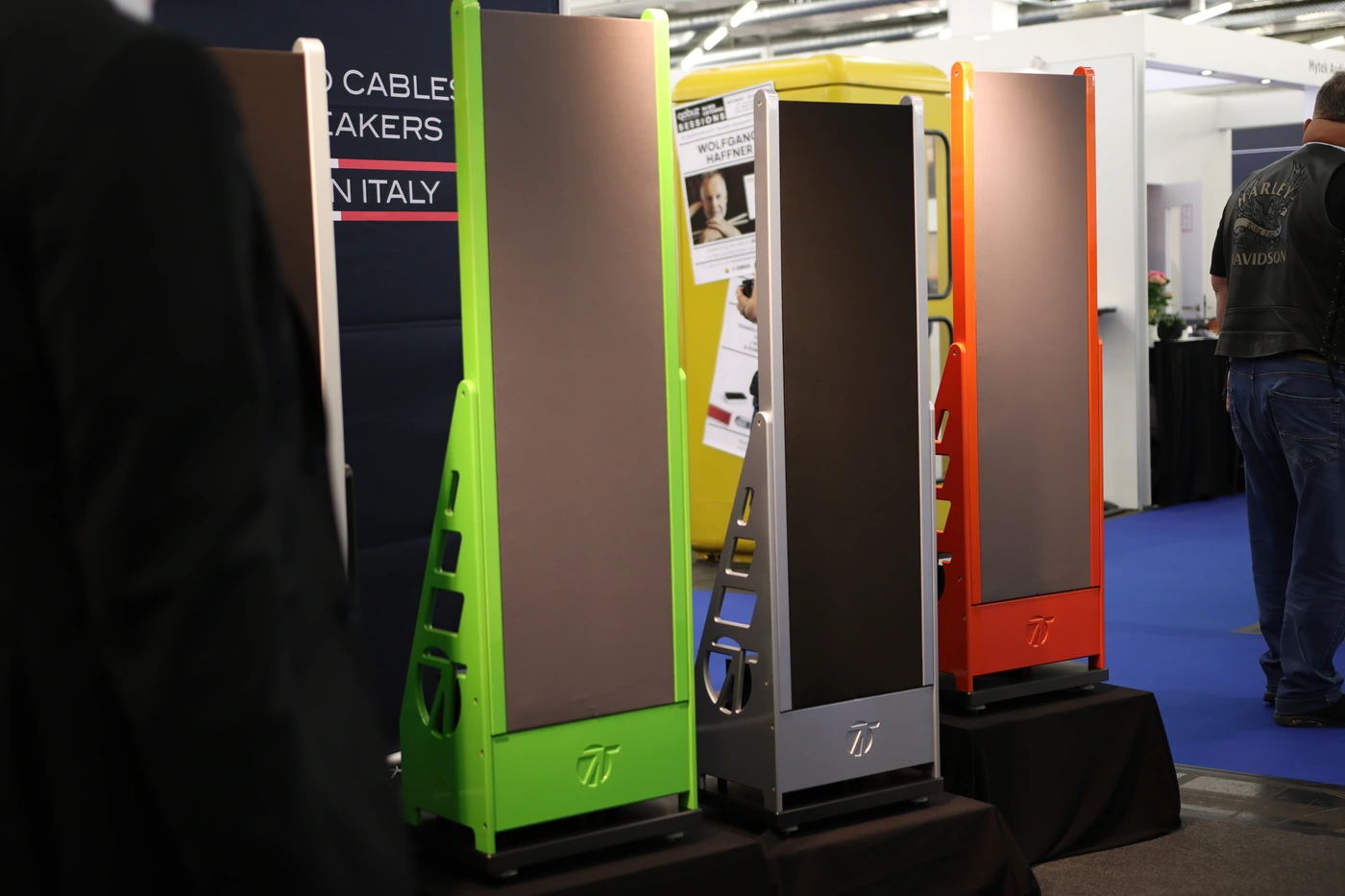 The upper levels of the event are for large and controlled environment listening rooms, and meeting rooms, while the lower levels are with more traditional booths where you'll find just as much awesome content, but from a price range you'll likely be able to afford if you could afford attending the event. 
Day 1 – Start Of The Audio Madness 
We start the first day pretty anxious, so we take a big breakfast and some large coffees from the hotel restaurant, to charge our batteries and get ready for the day.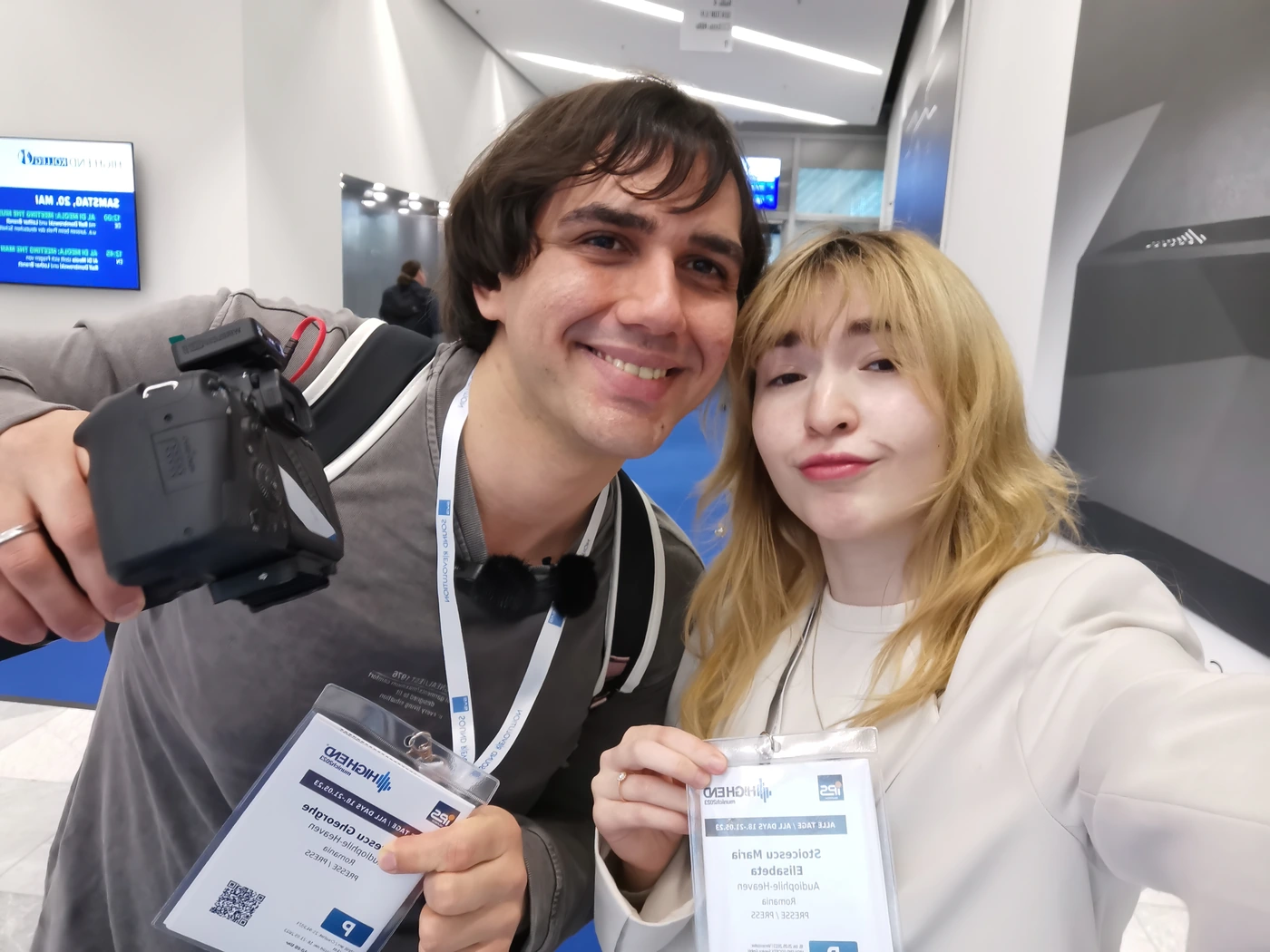 I haven't actually listened to any music in almost five days at this point, as we had to travel, be careful at the surroundings and just take care of everything related to the event. You can already taste the bittersweet irony that we're coming for audio, but the one thing I haven't done in a long time has been listening to music. 
Anxious but hopeful, we drop in and start exploring the event.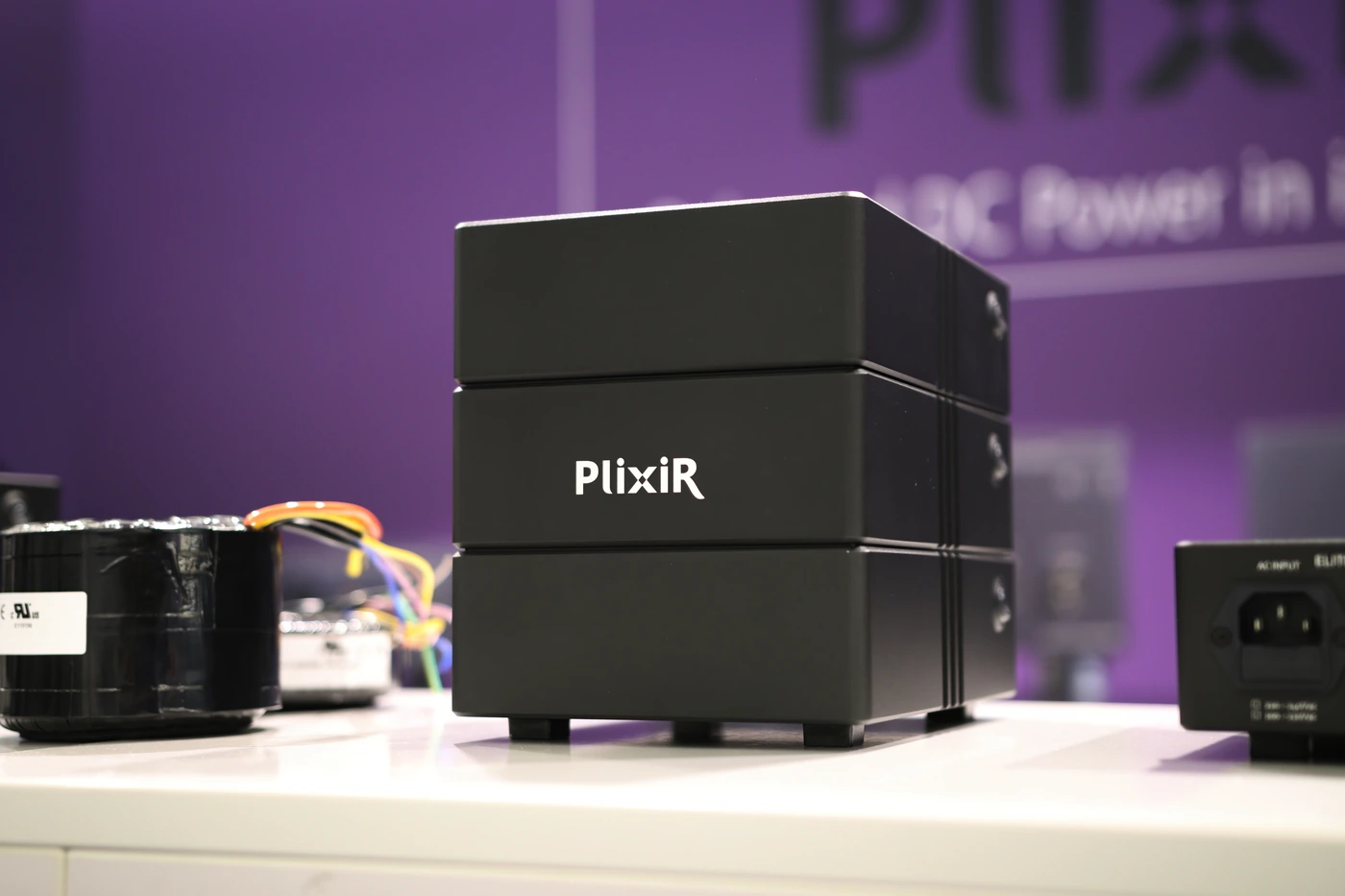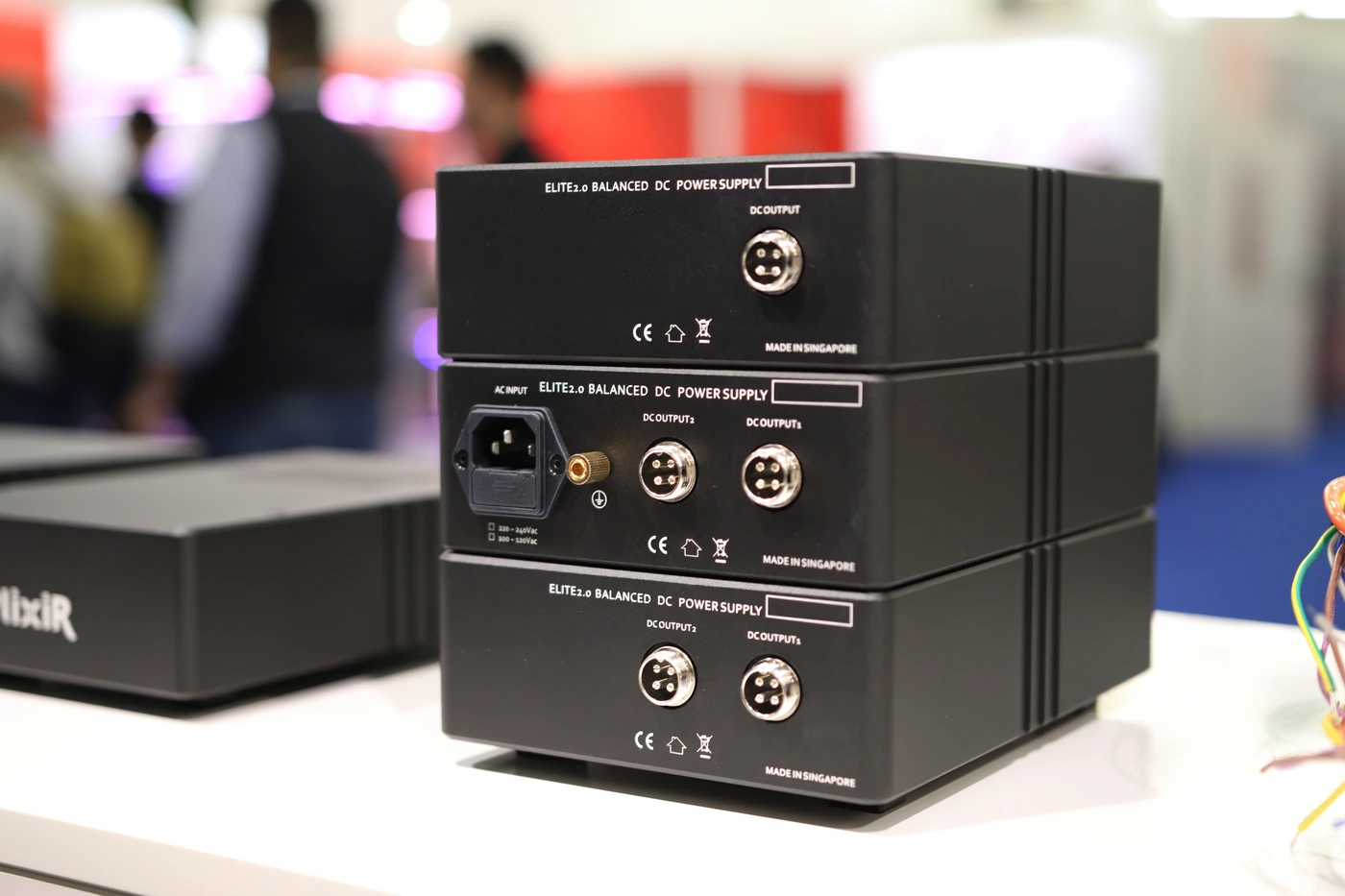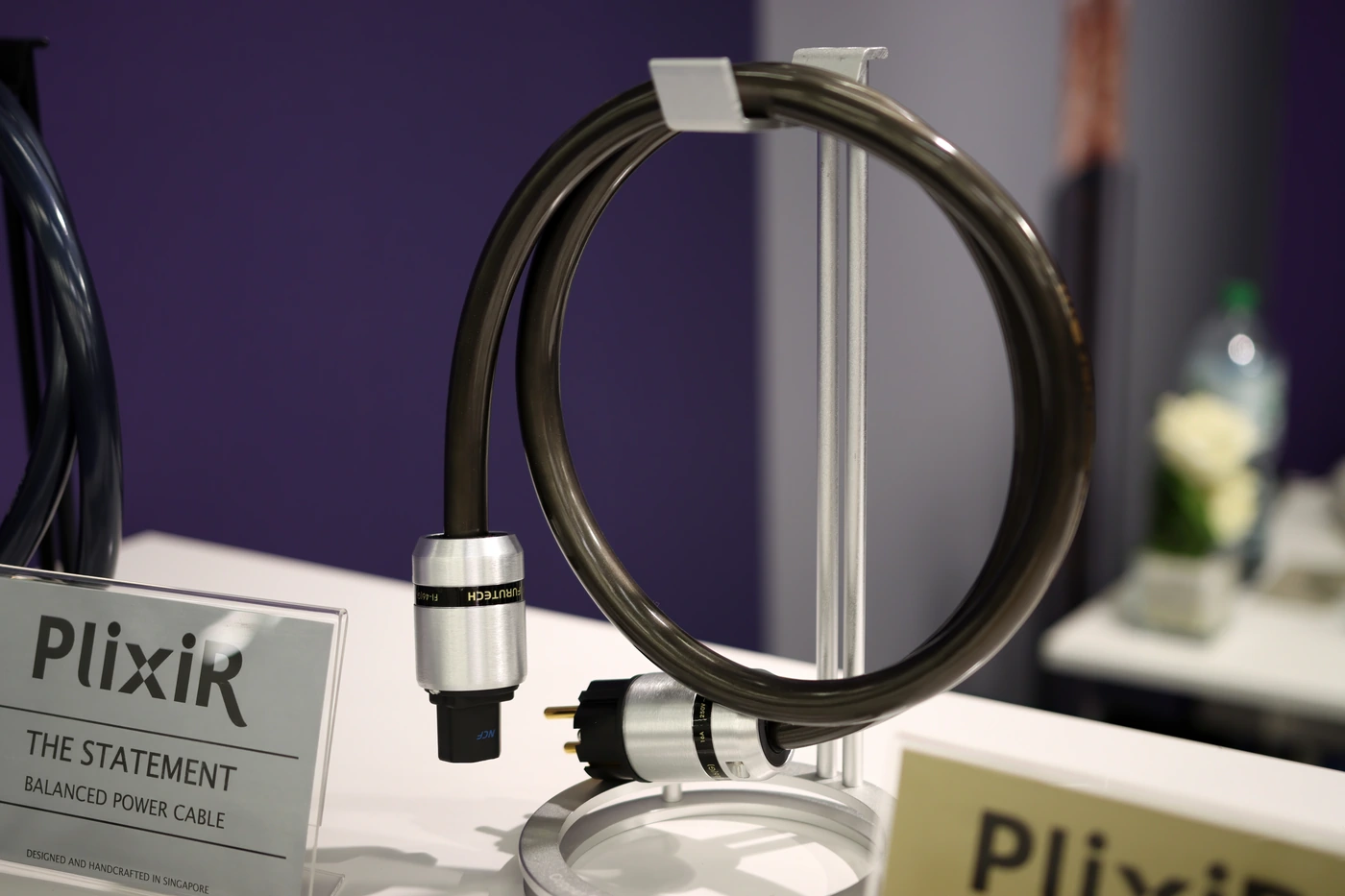 We entered the event from where Google Maps leads us, and we do so in a place full of vinyl centered booths, and components, but there we saw some old friends, namely Plixir, from whom we reviewed the BAC 400 before. They have many new products incoming, so we stopped a bit to take some photos and explore the current offer they have in store. Naturally, there was no listening and you'll have to follow Audiophile-Heaven for more info on the actual sound of their products.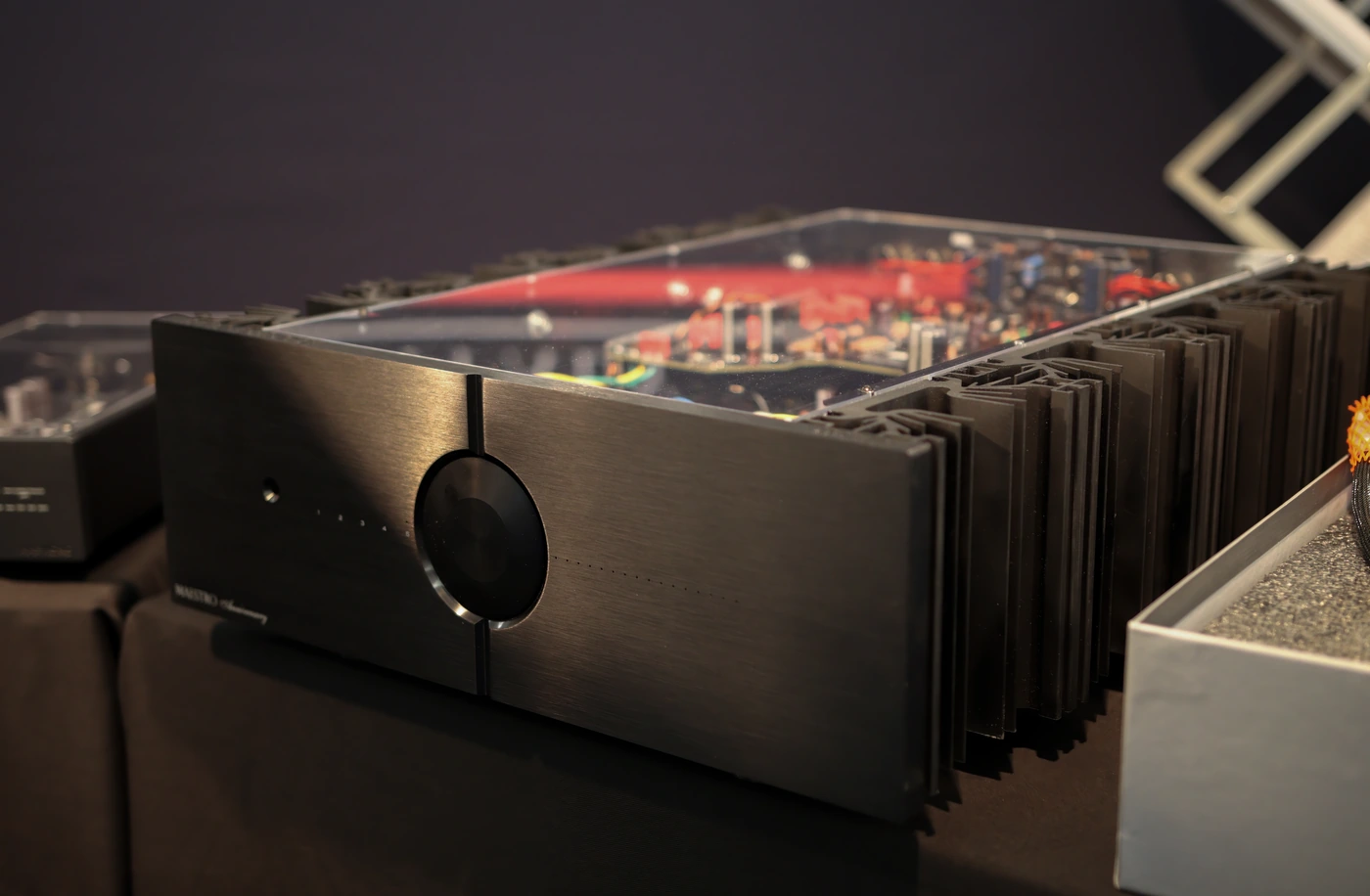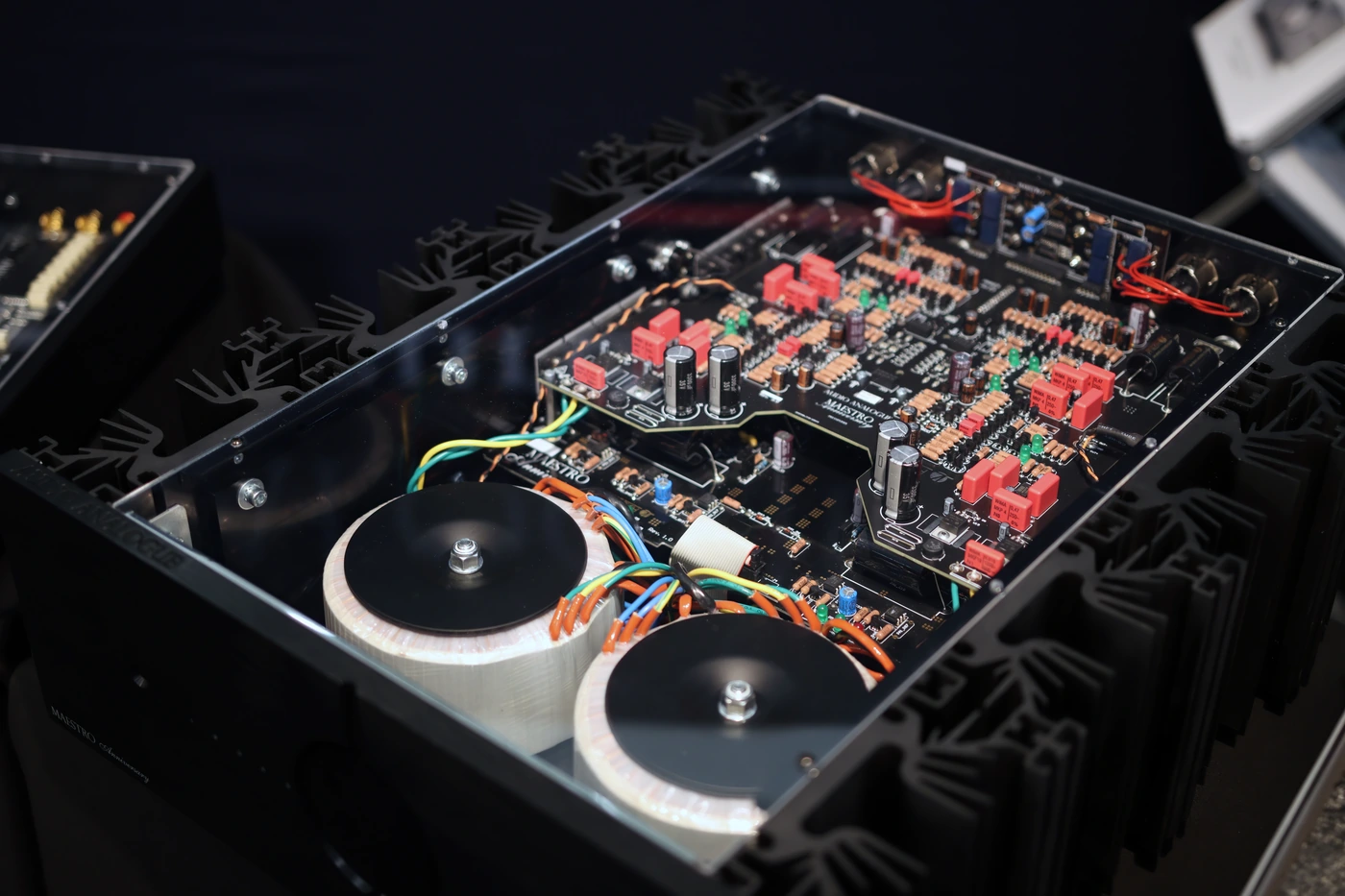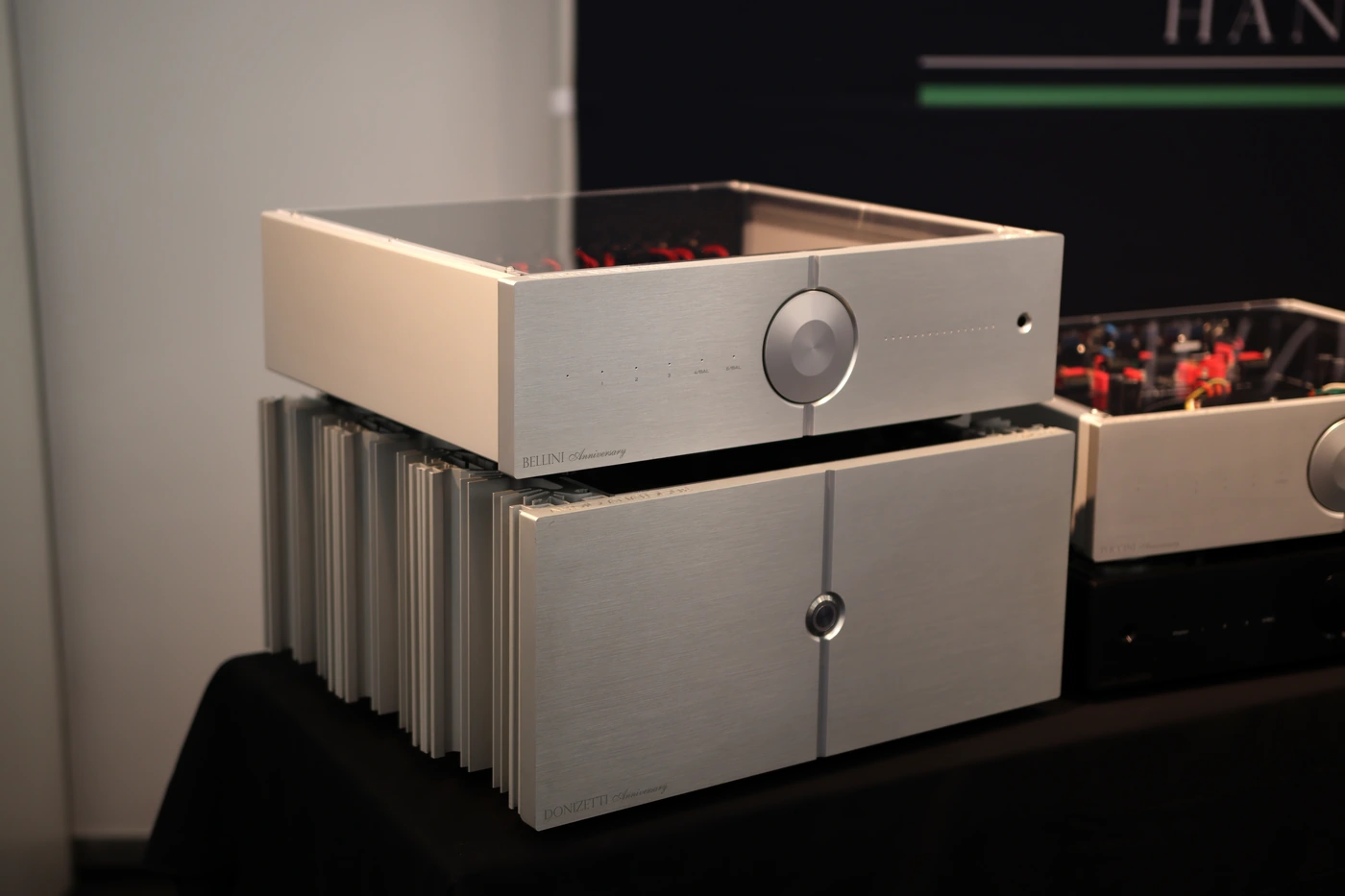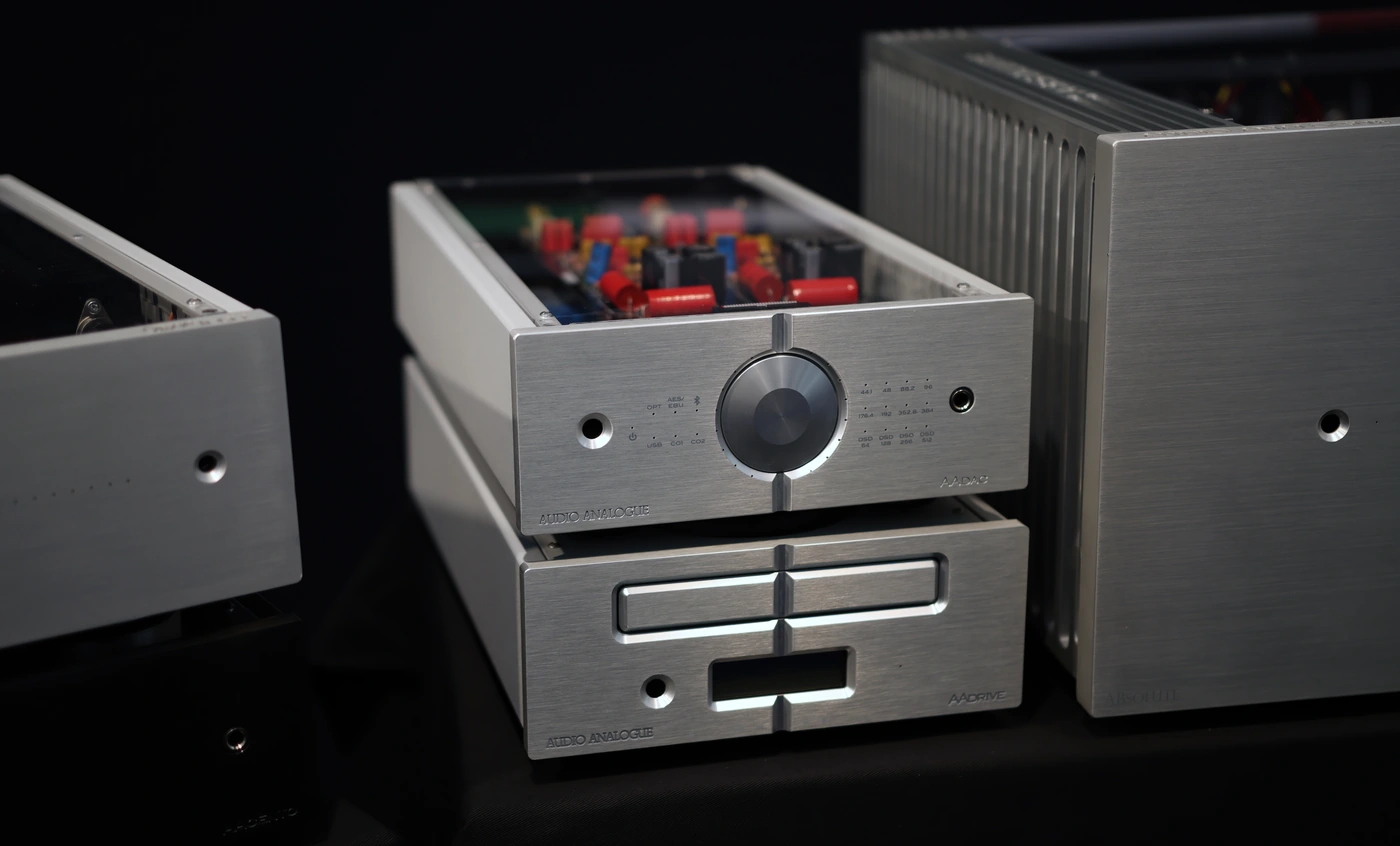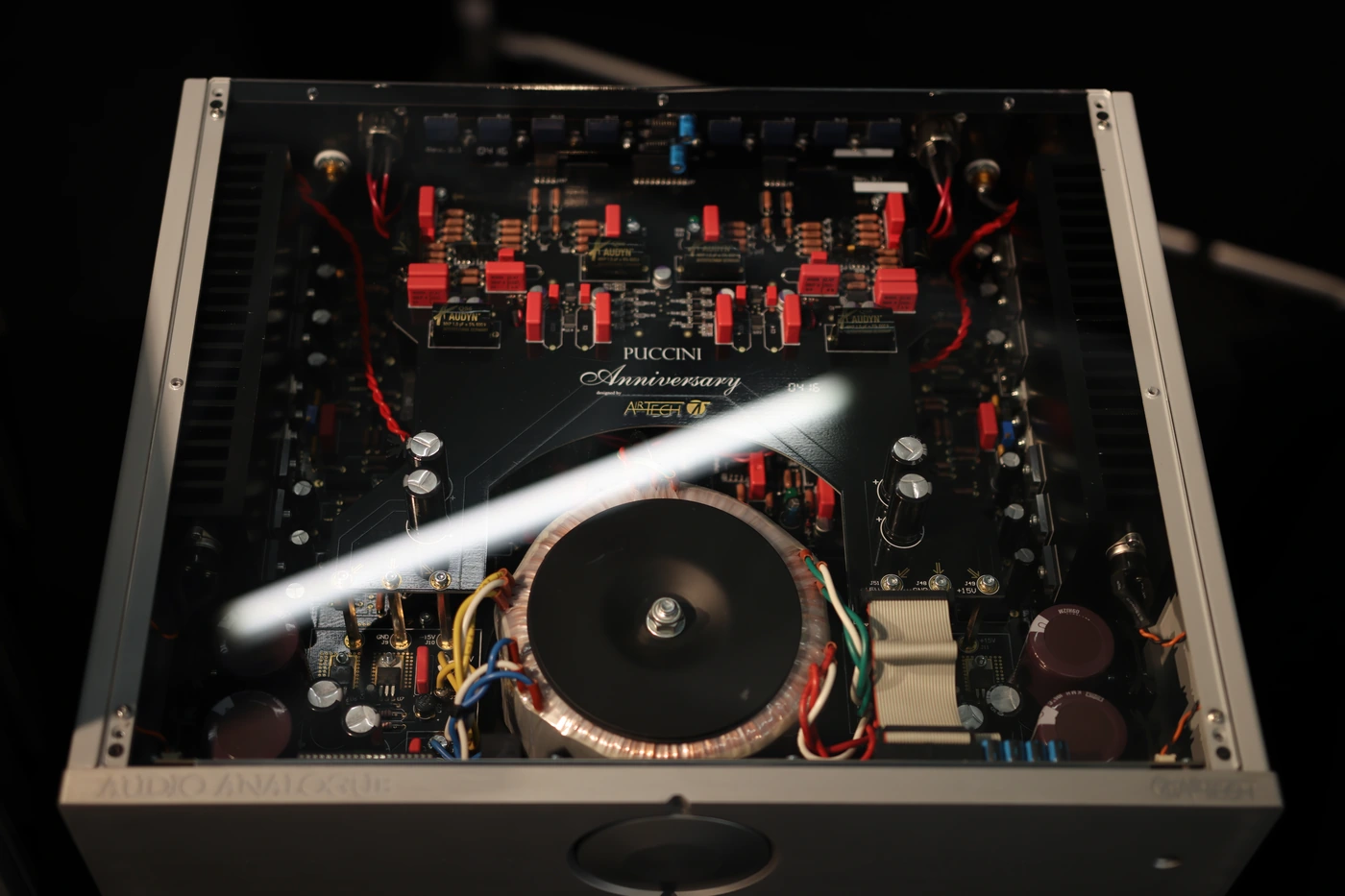 We then proceeded to explore the booth of Audio Analogue, the company with one of the best sounds ever heard here. They are still in shape, and their products look as cool as ever. We did review the AAdac from them, and we loved it. Folks attending high-end Munich will be able to explore the amplifiers, DACs and other products with a glass panel on the top, showcasing the internal construction and structure of the AAdac as well as other Audio Analogue products. This is pure eye candy for everyone, and the products are even better in person than they look in any photos.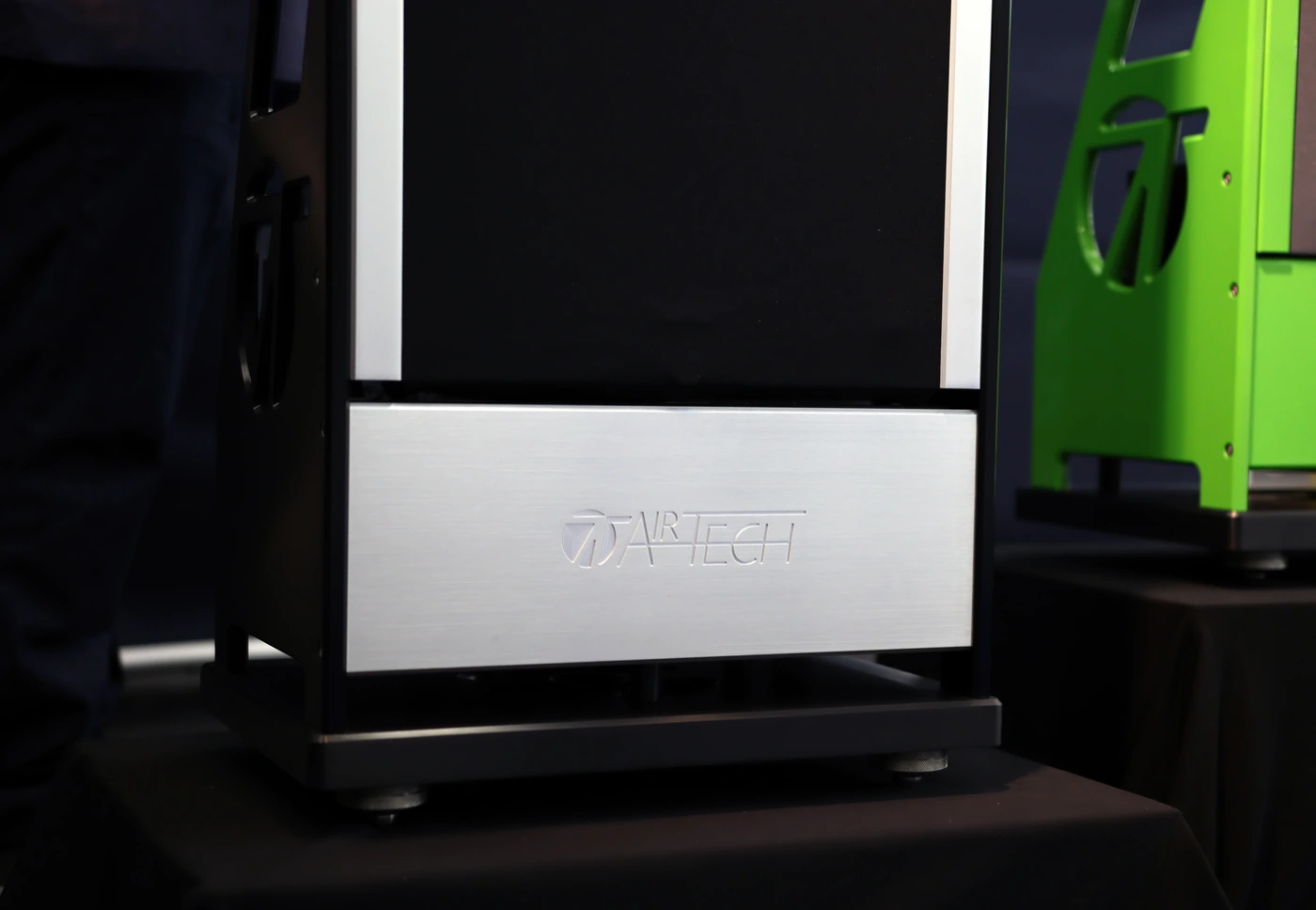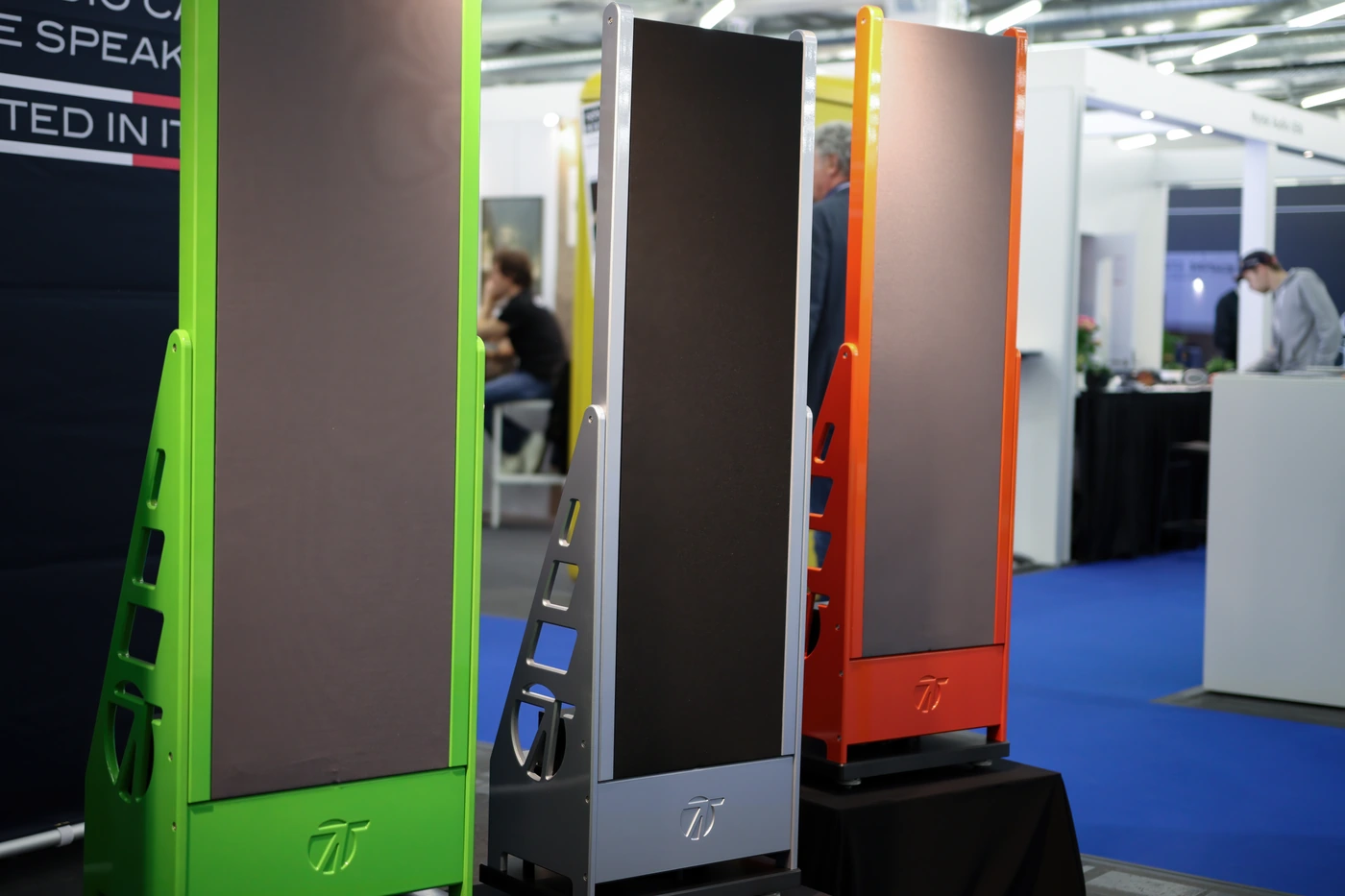 There were some beautiful speakers there too, all colorful, and entering the show so strongly gave us a super good vibe to start the day. Audio Analogue is basically a king for audio, and almost every single other company references their products, so both you and us may be lucky and we may review more products from them in the near future.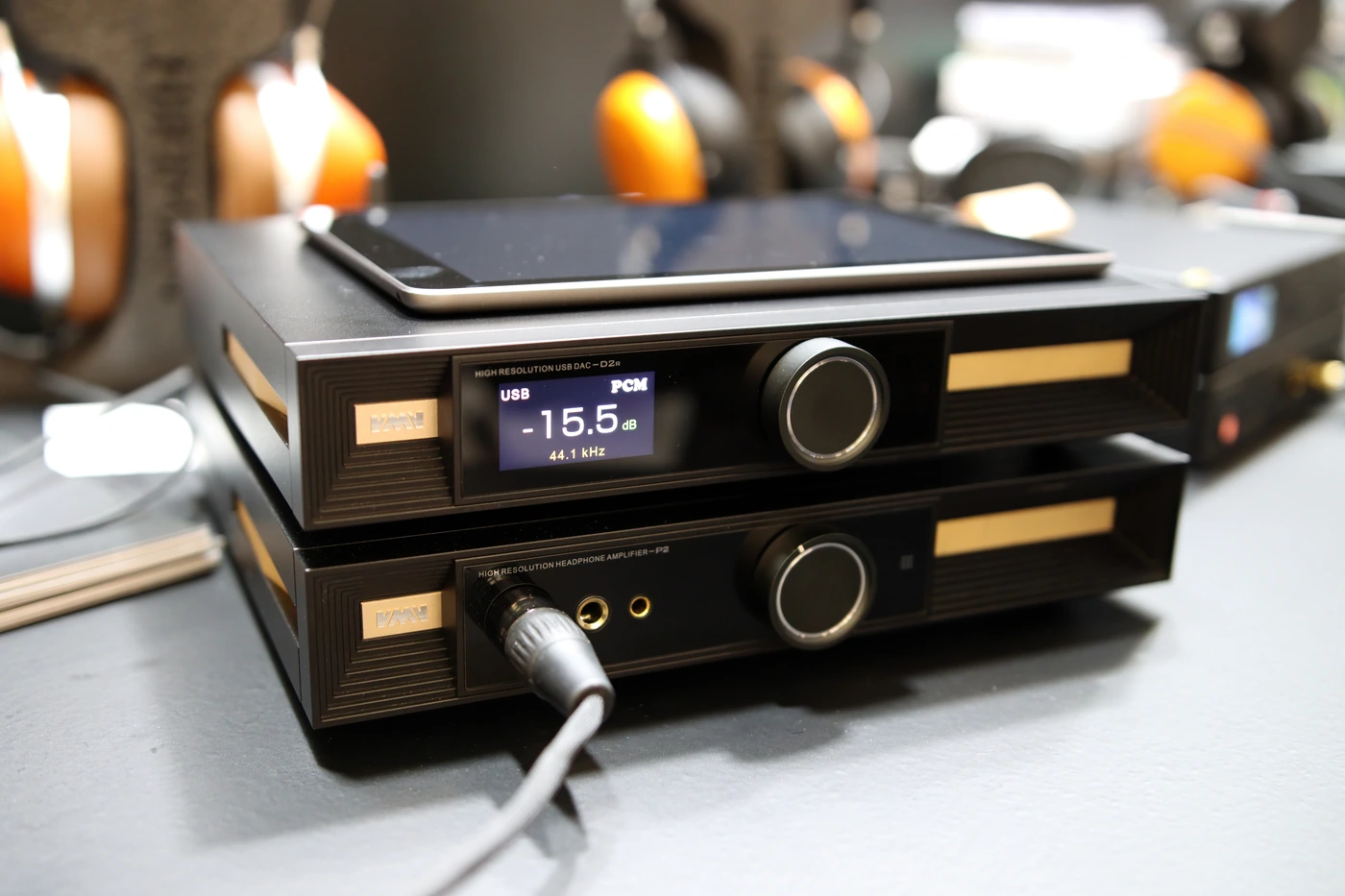 We moved forward and saw a large space with Chifi companies, presented by LEIYN Audio, and we got to take some shots of Tanchjim products. The booth also had Moondrop, SMSL, Gustard and other Chifi products that I've reviewed in the past.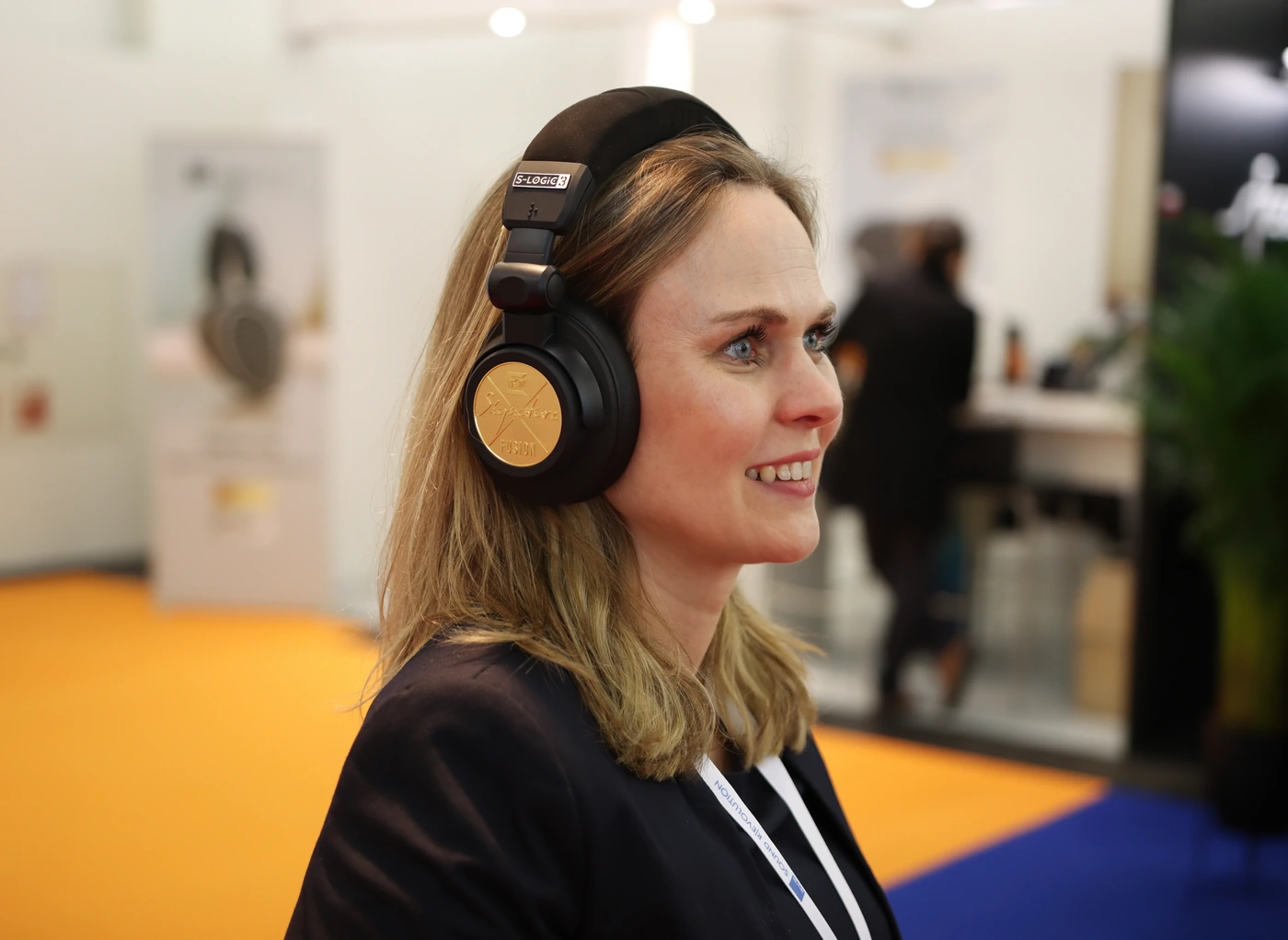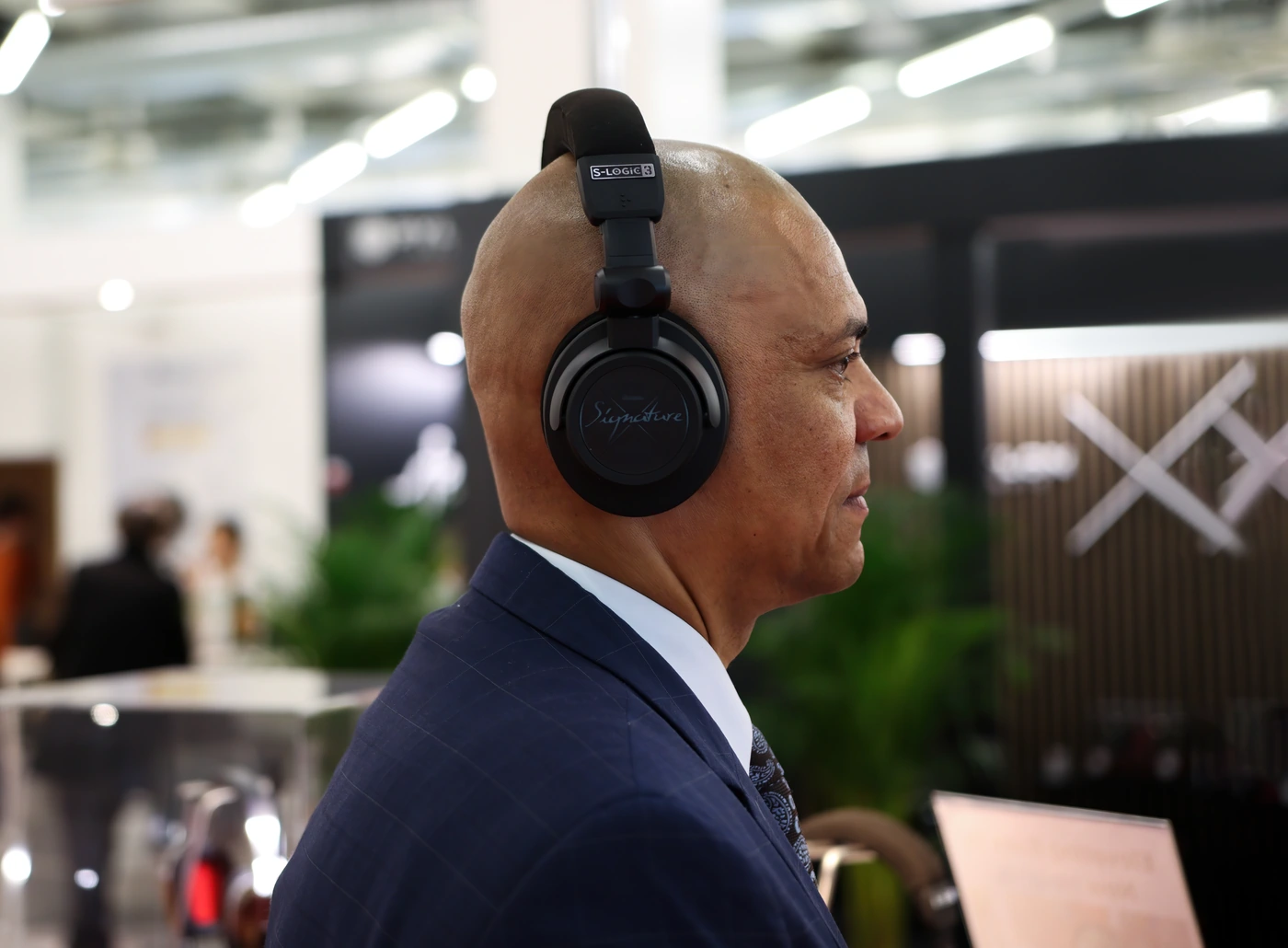 Moving Forward, we met Ultrasone, and the team Mary had the most fun with, because they really like to be friendly, present their products, and well, they have been super communicative! We just learned that most folks working there have been there for a short while and that Ultrasone changed most of their personnel recently, so we are totally looking forward to the new Ultrasone and reviewing some of their products. I will happily be reviewing more products from Ultrasone in the upcoming weeks and months, they have outstanding build quality, and as you probably know from my Ultrasone Signature DXP review, their S-Logic technology really works for my ears.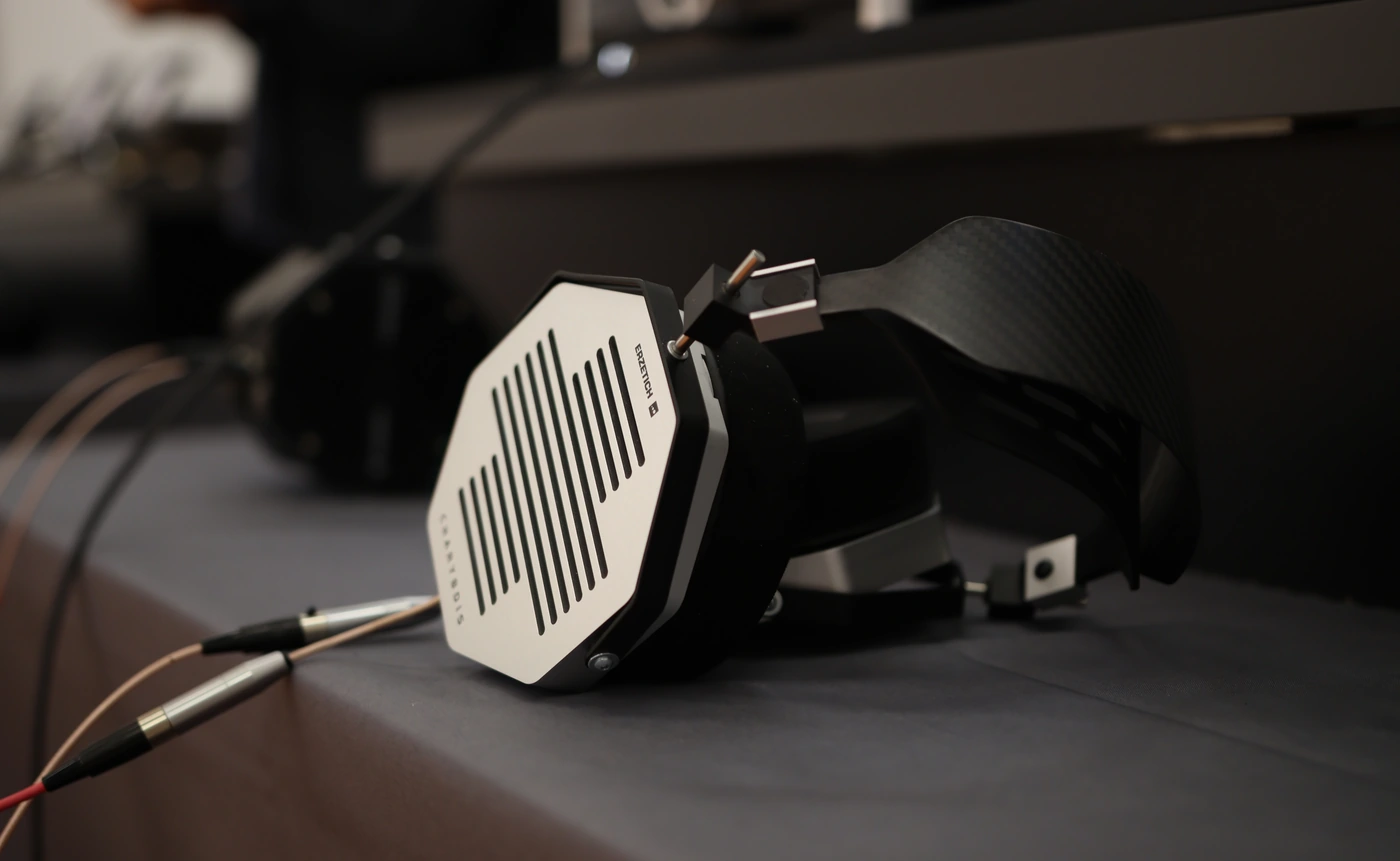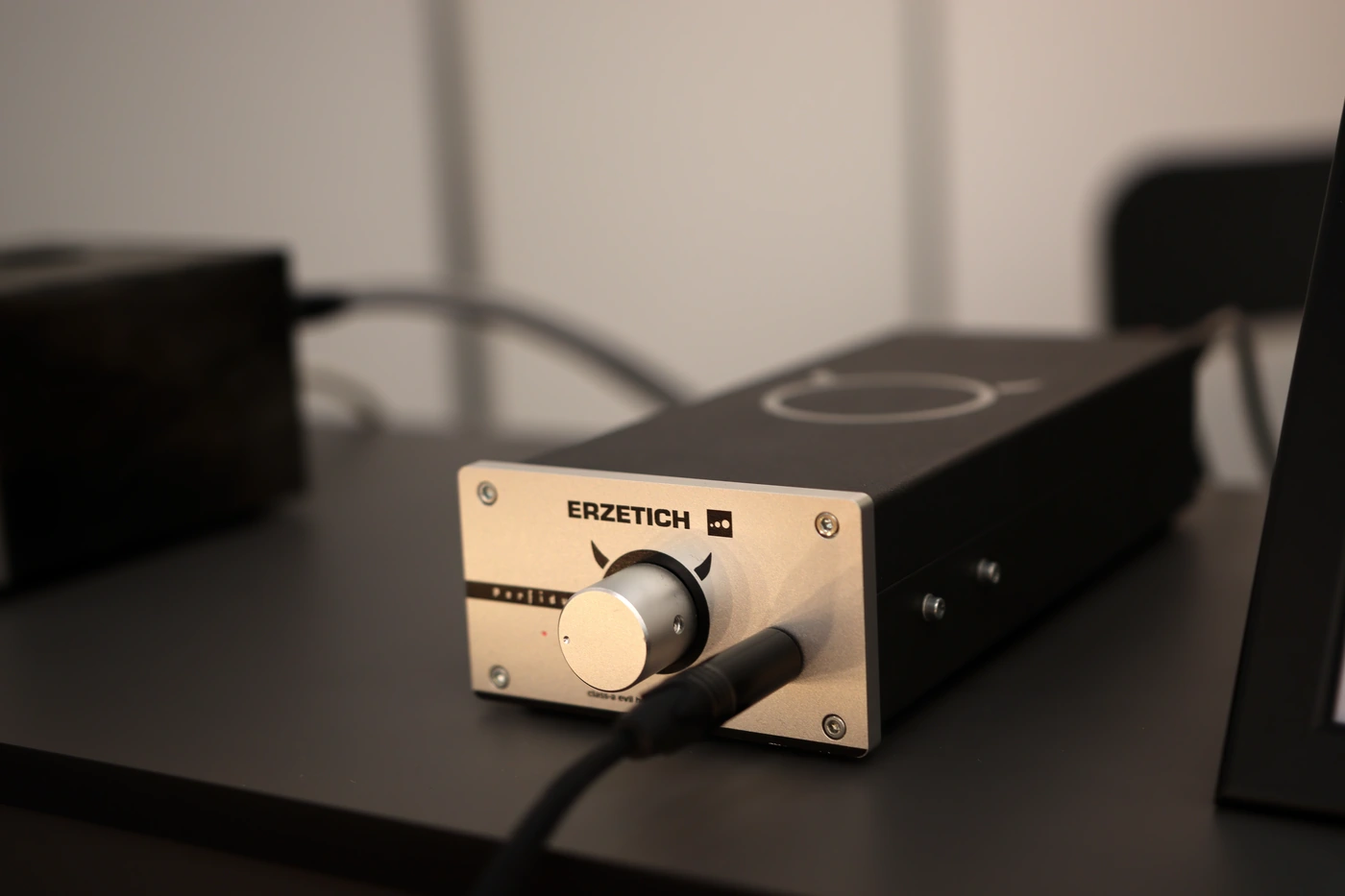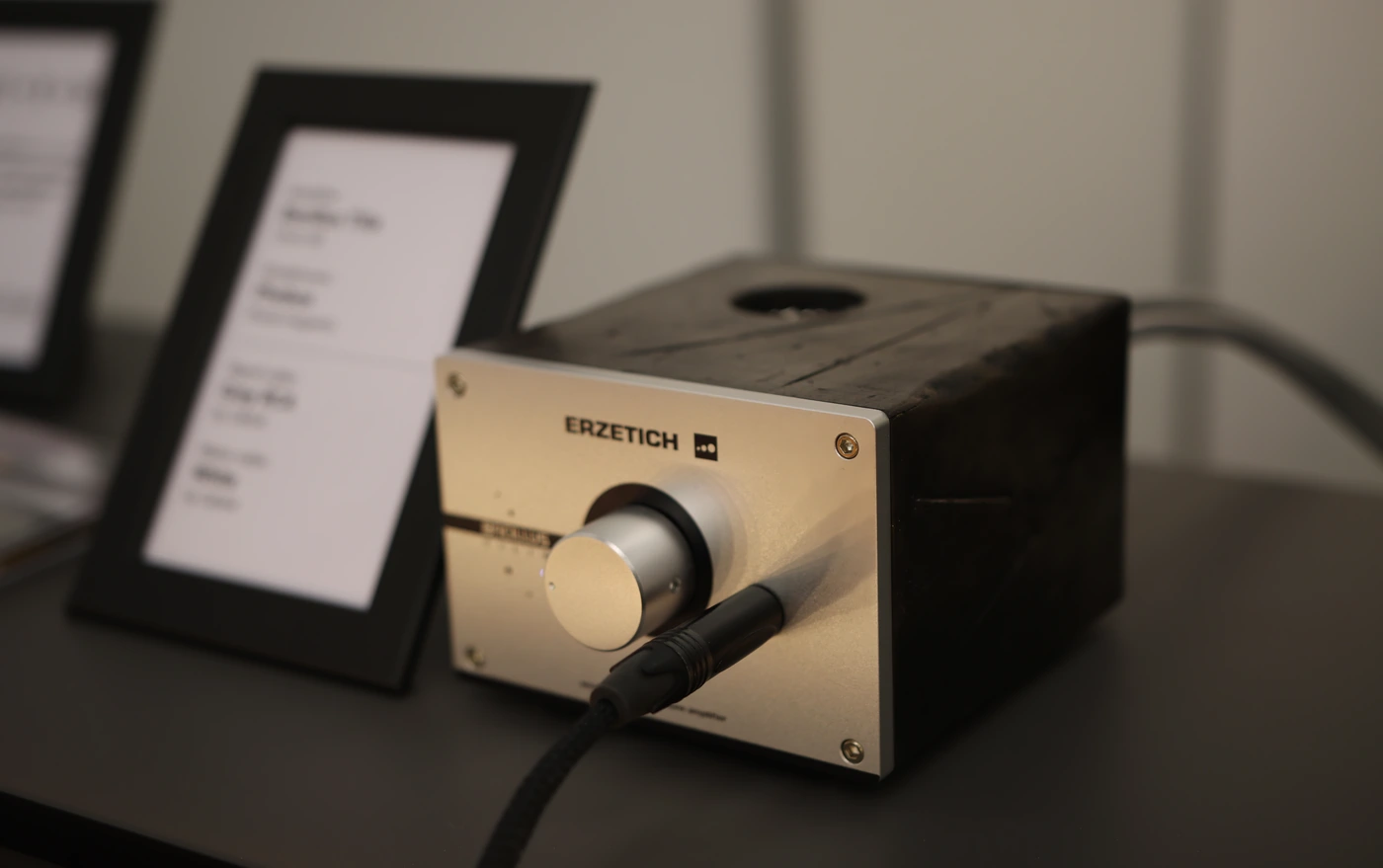 I just published my review on Erzetich Thalia before posting today's review, but man, it was super interesting meeting with Mr. Blaz in person, and learning more about their products. The Thalia I reviewed is their entry-level headphone, and the better ones they have are just superb, so comfortable and the sound is also so detailed and clean, with super good dynamics. They also make a wide selection of amplifiers, and I have to admit, I should better start working on my homework about them. They even have superb photos on their website, because Mr. Blaz has talent with photography and takes those photos himself. We will hopefully present you more reviews featuring products from Erzetich in the future too.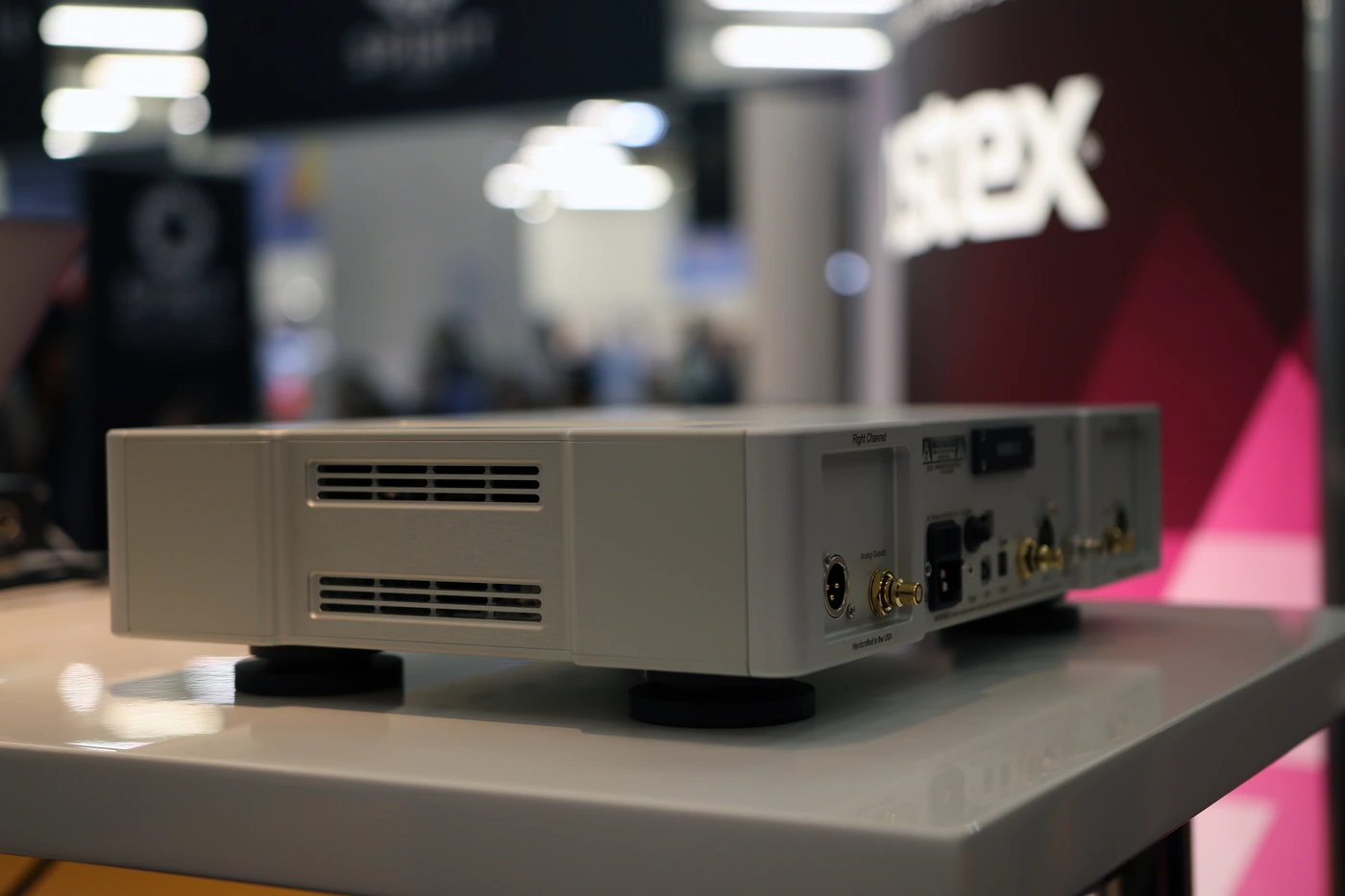 If you're looking to purchase Audeze, Fostex or Bricasti Design products and are from Europe, especially Germany, you should totally check out Mega Audio, they've been a super pleasing brand to speak with and they carry some of the best looking products I've seen in my entire life. Well, you could say that I know some of the products they carry, afterall I already reviewed Audeze LCD-5, LCD-XC, and LCD-MX4 before, so they have some of the products you know my input on.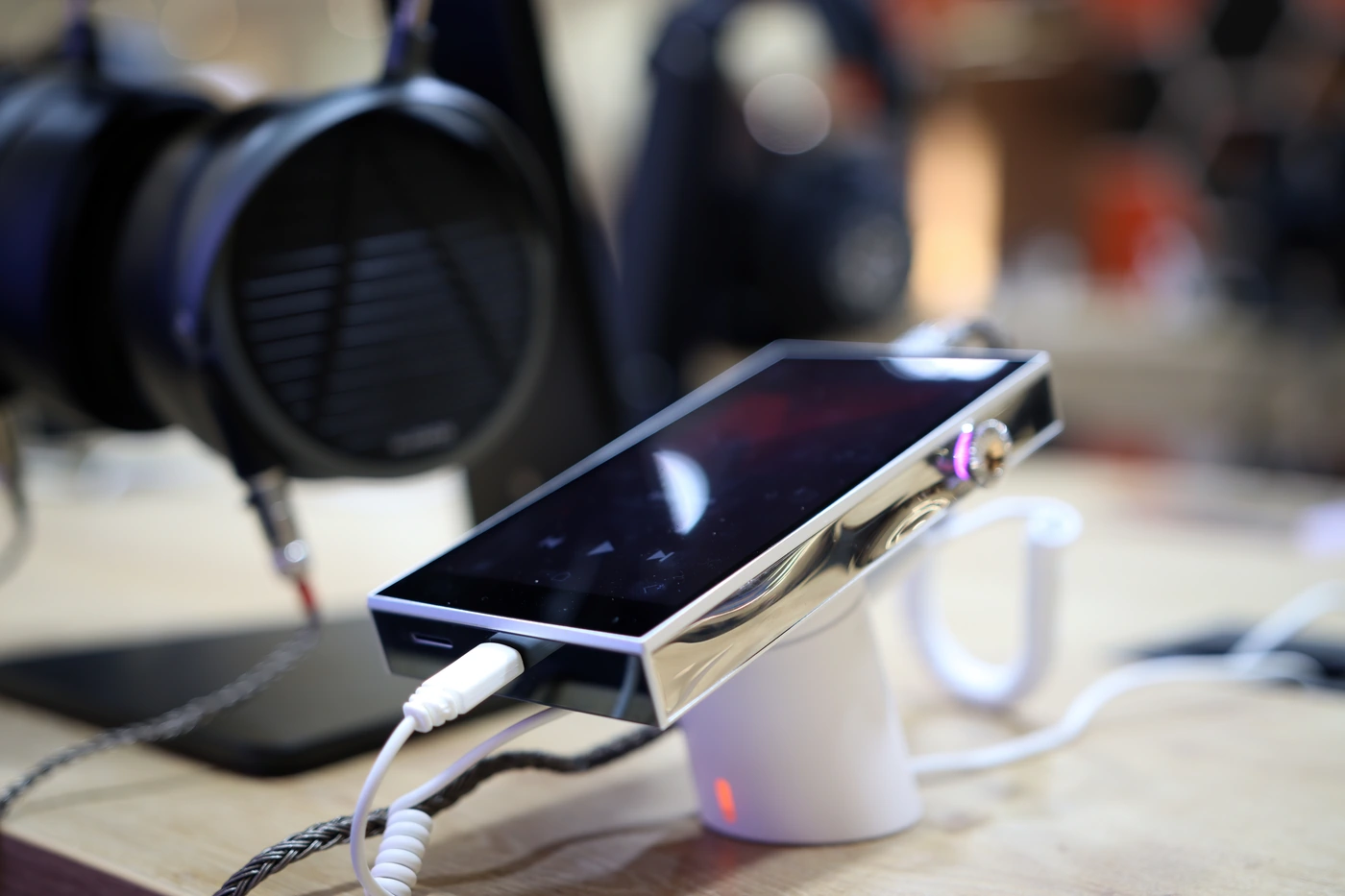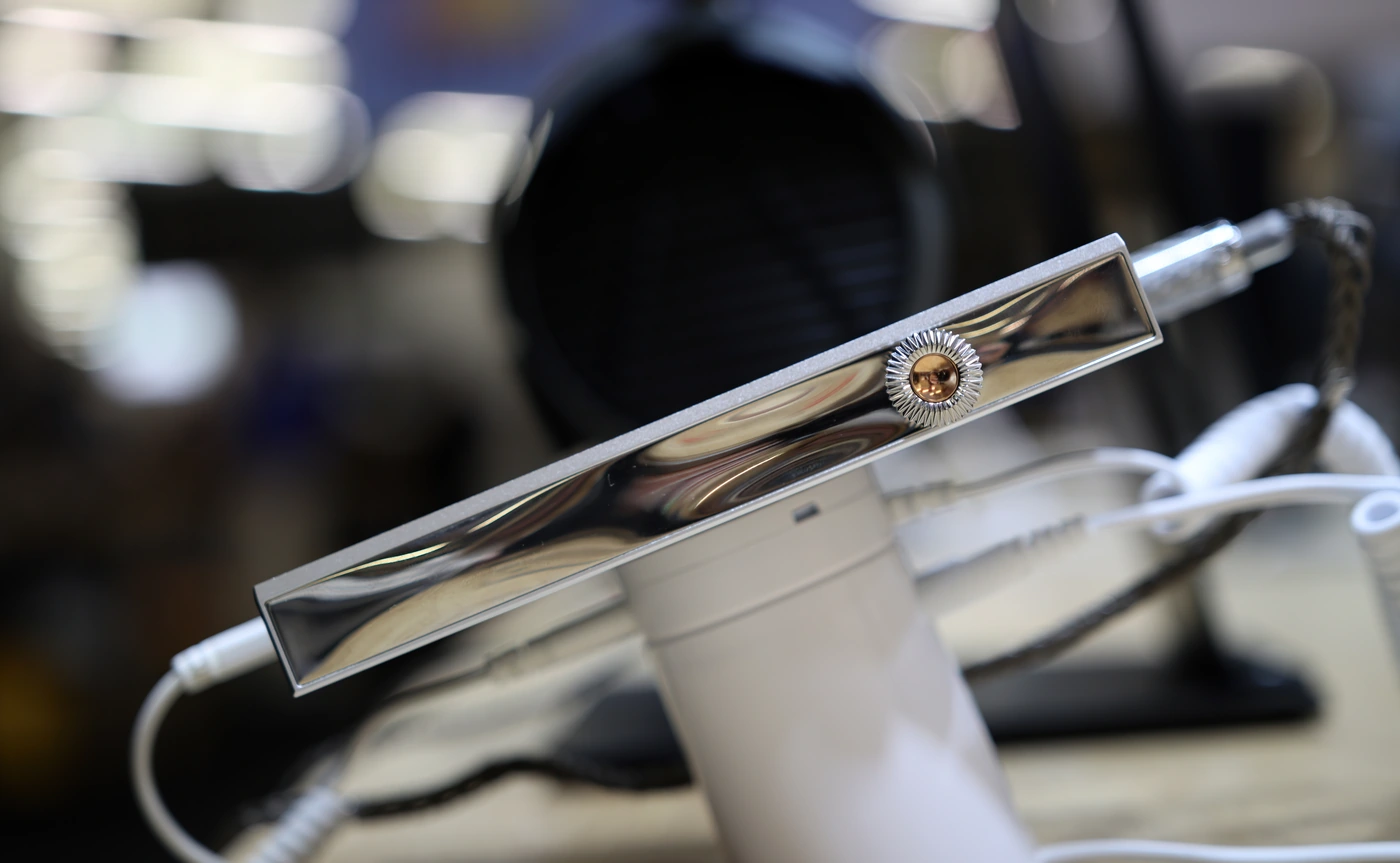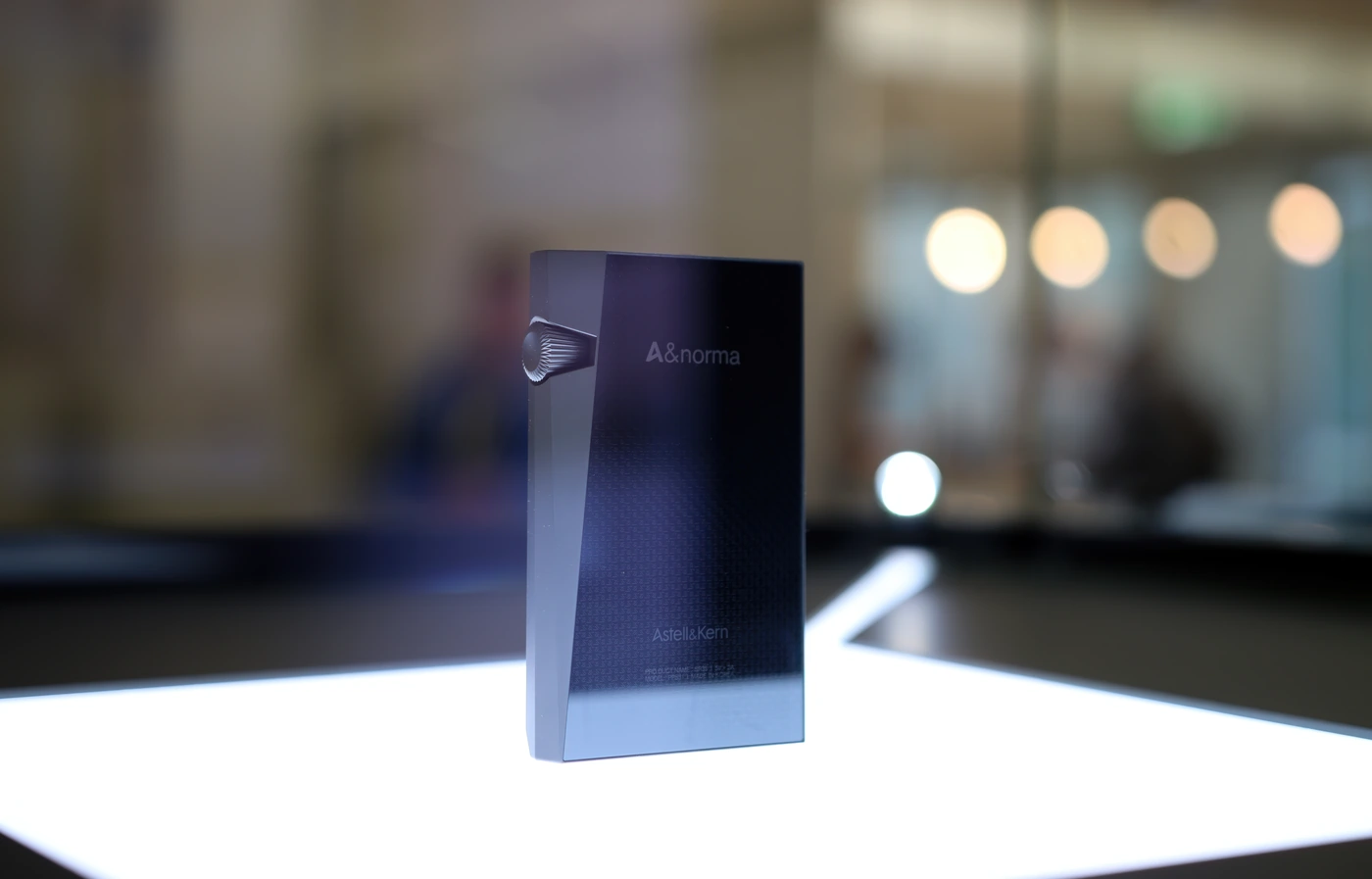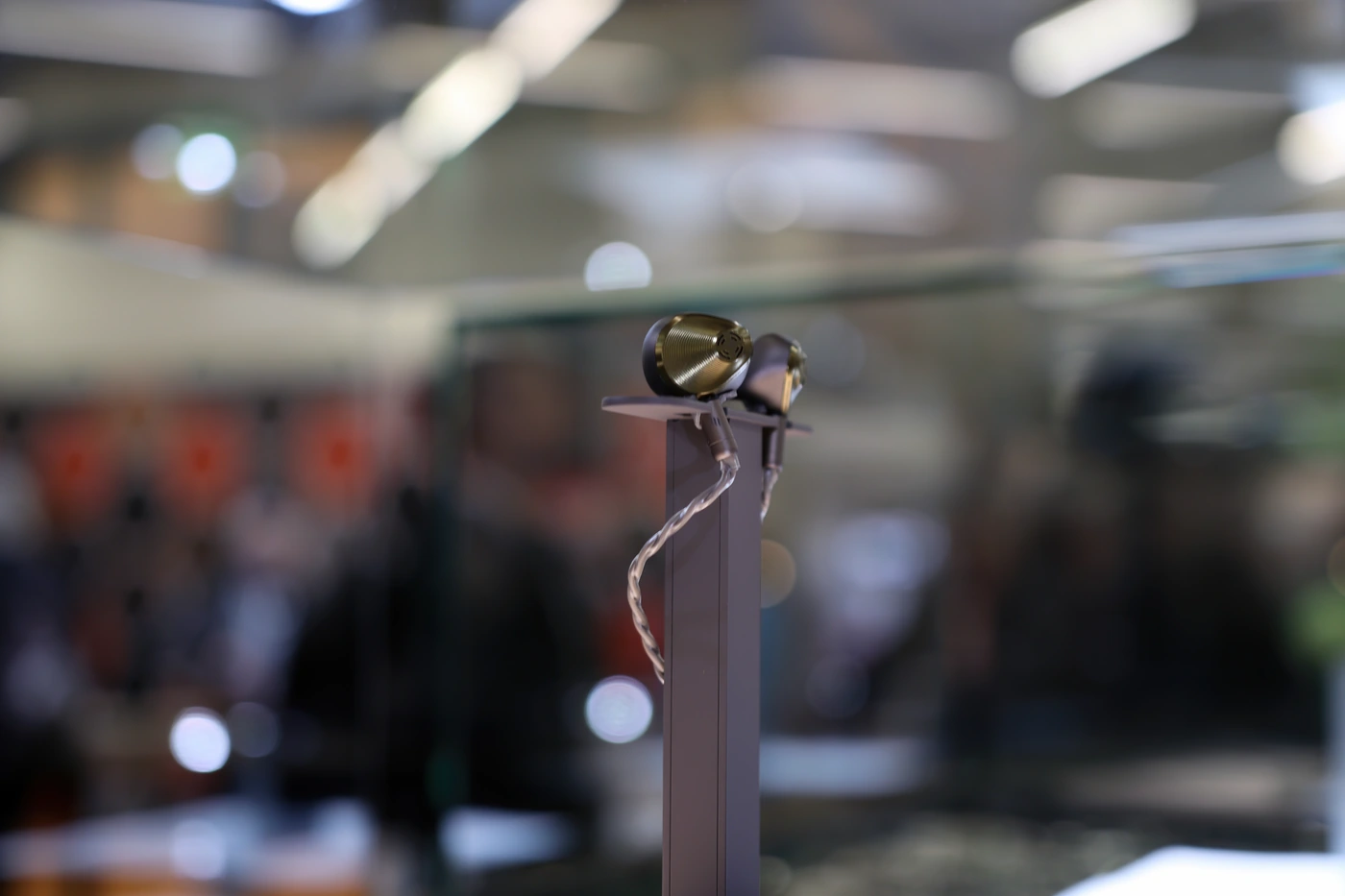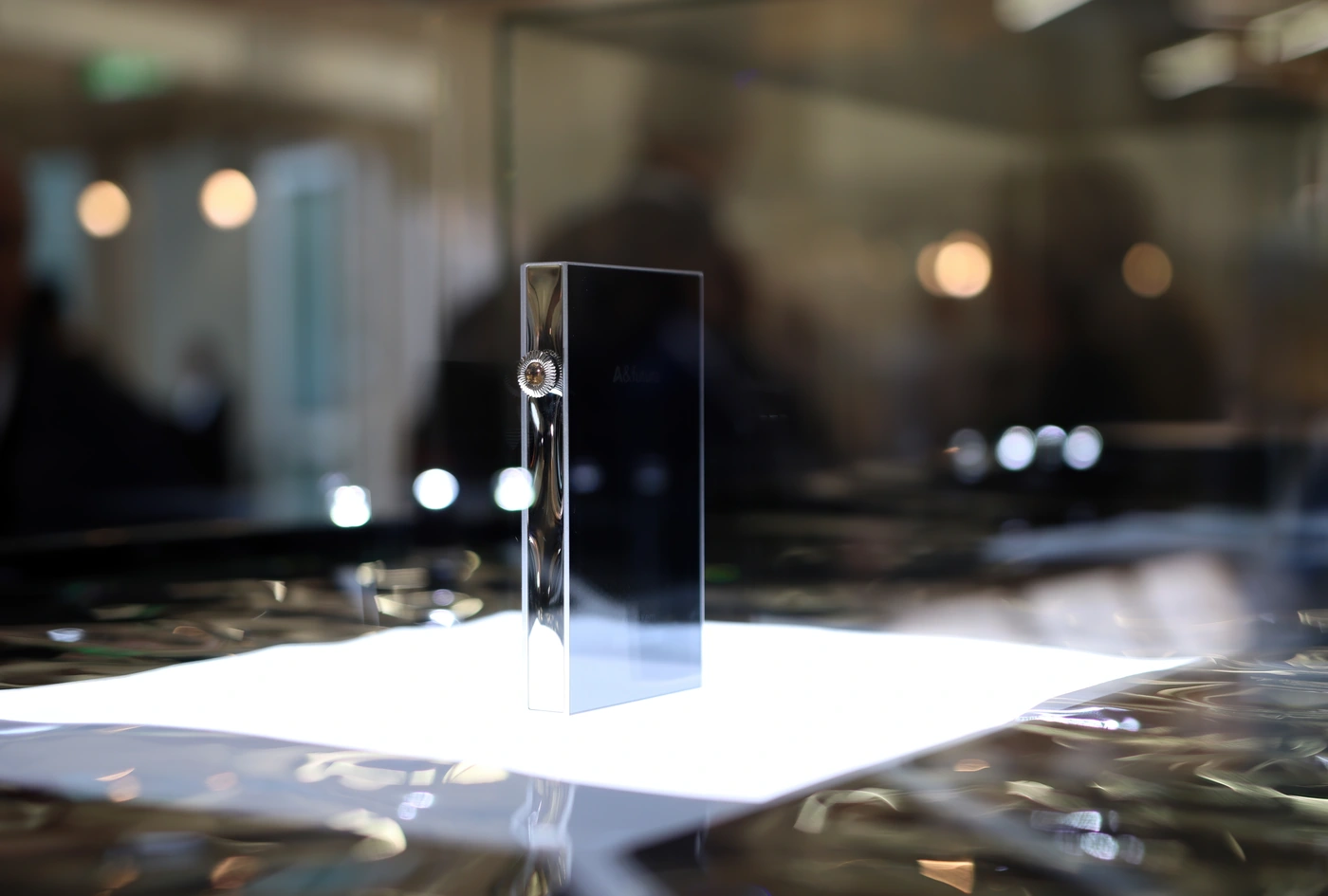 The next company we met is, naturally, Astell & Kern, and I gotta say, they have so many of their products available at high-end Munich, they are literally everywhere, in every booth, serving as the sources. My girlfriend absolutely loves the playlist they made for the show, they even included some KPop and J-Pop that we normally enjoy, so it has been super pleasing meeting them. You can see Astell & Kern SP3000, SE300, as well as some of the ones that I reviewed in the past, like Acro CA1000T and SE180. The best part is that Astell & Kern are as professional and friendly in person as you'd expect them to be based on their flawless products, and as I've been telling them right at the booth, it makes sense that most systems are powered by their DAPs, they are one of the public favorites in this kind of shows.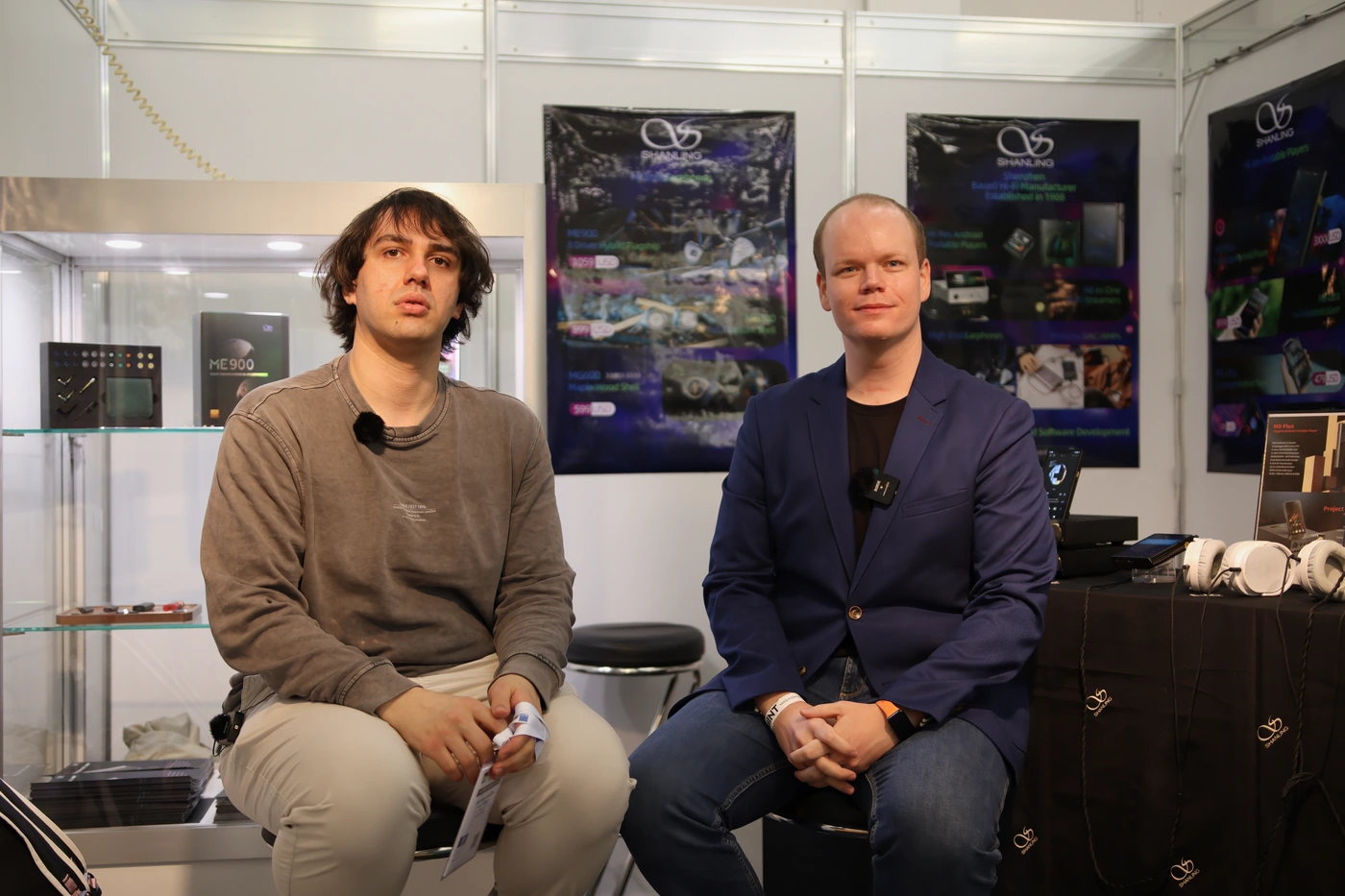 Right across Astell & Kern, we met with Shanling and Mr. Fran from Shanling is one of the biggest reasons I even came to High-End Munich, so we even had an interview, so please check out my video review on Shanling. They have a large number of high-end products, but also some interesting entry-level dongles I've reviewed like Shanling UA5, Shanling UP5, the DAPs being both small like Shanling M0 PRO, and big like Shanling M3 Ultra. 
Next is Spirit Torino, a company that makes headphones by hand, in italy. They have some beautiful models, and while I did review the Super Leggera, they have many other models, even some wireless models. I loved the sound and comfort of their other models, and I am eagerly looking forward to officially reviewing the newer models. The team is super friendly and likes to talk, if you have the chance to drop by at any show and meet them, both Mr Adrea and Mr. Giordano are super nice folks to meet in person. 
We also met with the team behind HIFIMAN, but we didn't manage to take many photos, there were simply too many people around, though I have to say, the sound of HIFIMAN headphones is almost the best at the show, especially if you drop by to try Susvara, the new Audivina, or some of the models that I did review like Svanar, HE1000 V2 Stealth, or Arya Stealth. You really should check out HIFIMAN Headphones if you want the sound some of the other flagships have, but for a more pocket-friendly price.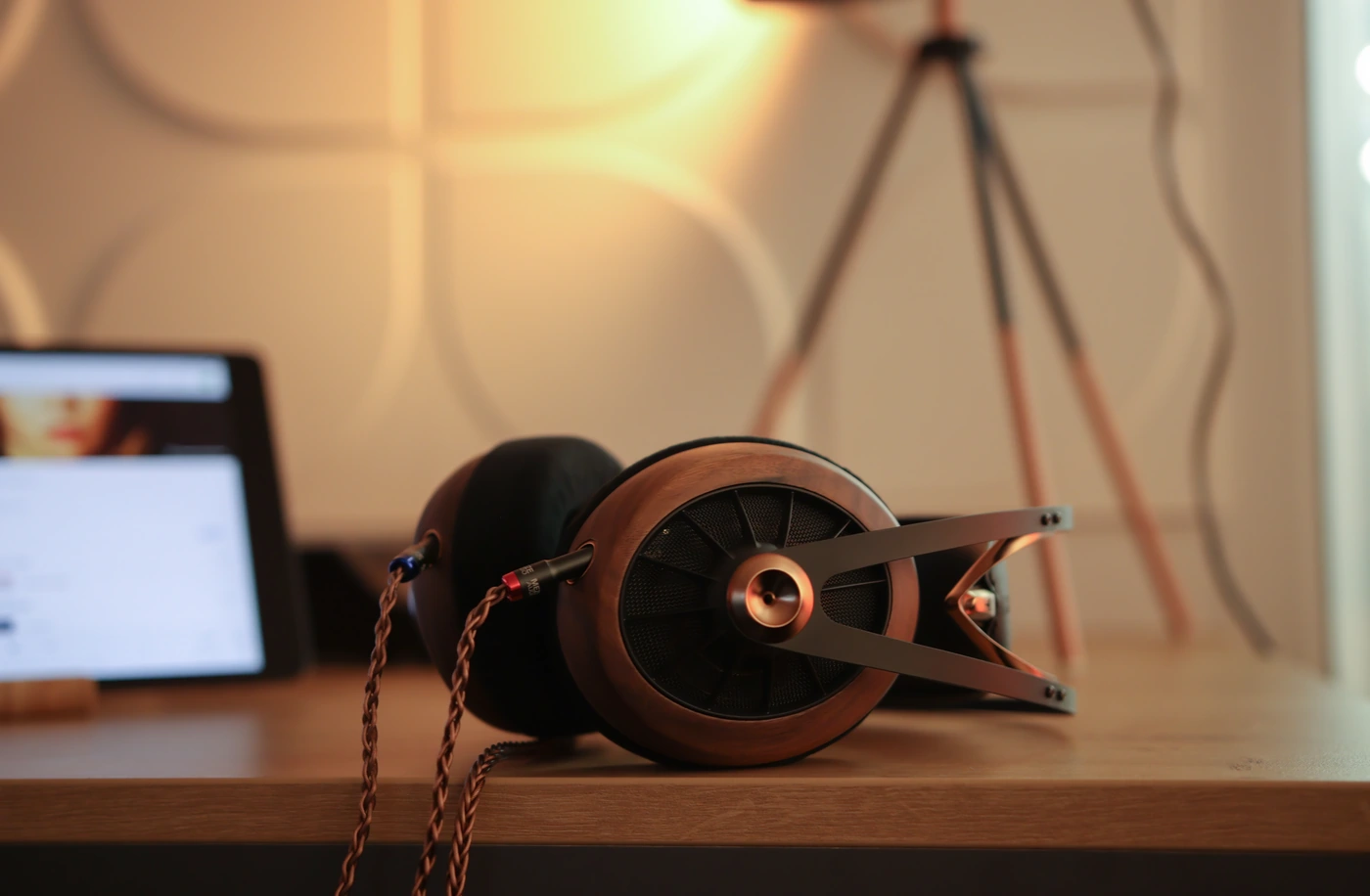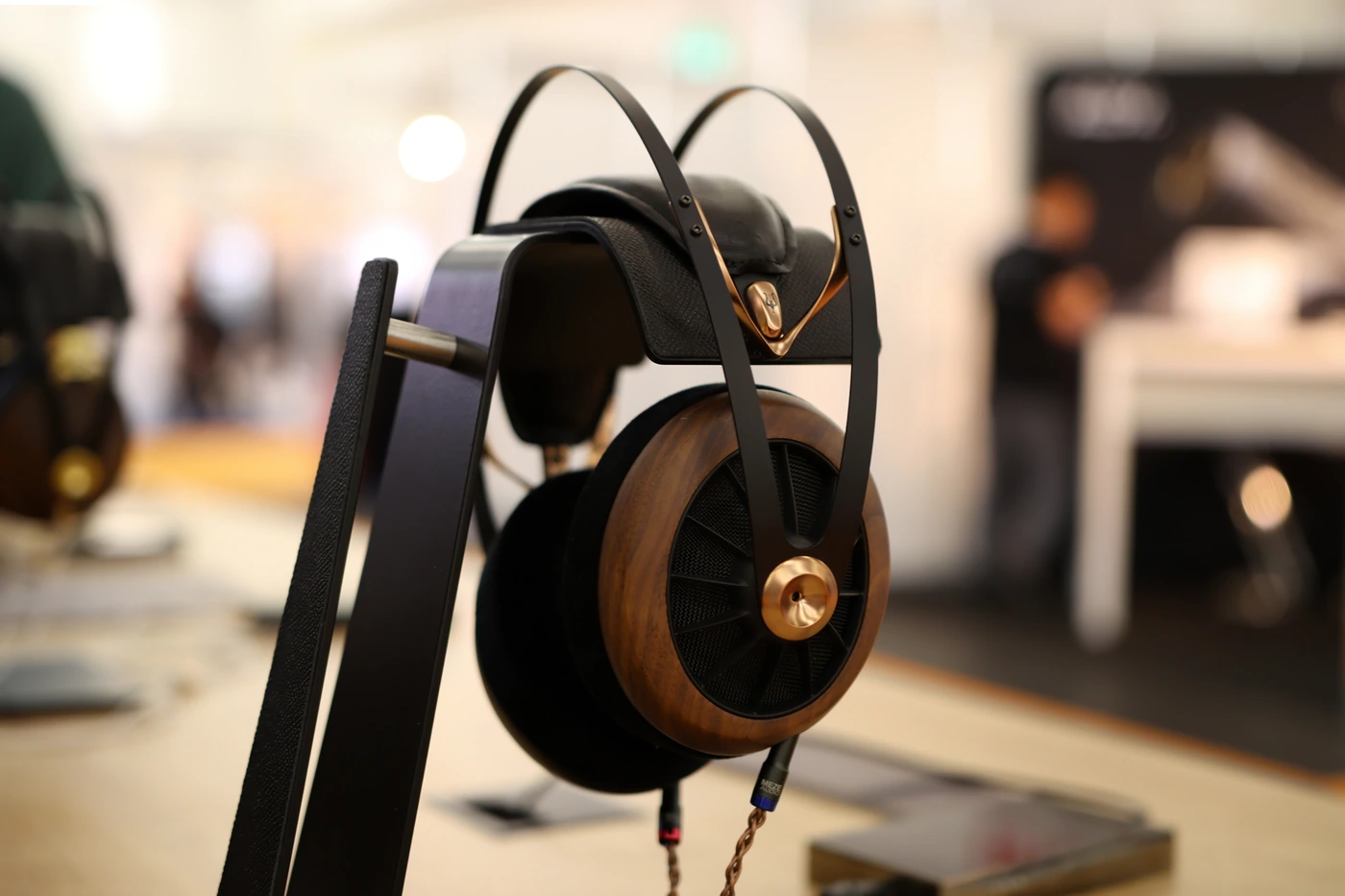 Meze from Romania has been the last company we heard from on the first day, and man, I am so sorry that I missed reviewing their headphones before, the sound of Meze 109 is incredibly good, I expected them to be quite mid, but they're super nice, punchy and dynamic. I did review the Meze 99 Classic and Rai Penta, and found that 99 Classic needs EQ to be enjoyed with my typical taste, but Meze 109 is super and I am hoping that you'll be seeing a new full written review exploring it here, as well as other headphones from Meze like the Empyrean or Meze Liric. K
After this meeting we're slowly becoming too tired to keep walking, so as the first day ends, we head back home, and during this day the public transport still works, but we don't have time to purchase any groceries, so eventually we got some dessert from the hotel restaurant and ate some leftovers from the days before. 
Day 2 – We're finally getting used to it 
The second day, we start super early, we wake up, only to learn that indeed there's a strike and we can't move freely around Munich. Uber and Taxi cars don't even come all the way to the NF Hotel we're staying at, so we have to navigate the day with hope and prayers to make sure it works out.
Happily, there is a single metro train that is still working, so we hop in, and drop by in the center of Munich, from where we purchase some more Rischart sandwiches which will be our entire food for the day. 
This day is already spicy, but we arrive early and we start our thing right away, when we meet once again with Ultrasone, and while I try to investigate and focus on some of the companies near them, Mary goes ahead and helps the nice folks at Ultrasone with some more pictures of the new team proudly holding the headphones and showcasing to us their new work. We already started working on a review exploring the Ultrasone Signature Pure, so please check out Audiophile-Heaven for my upcoming review about it. You have to admit, they have to be in top ten happiest companies that have a booth at High End Munich in 2023.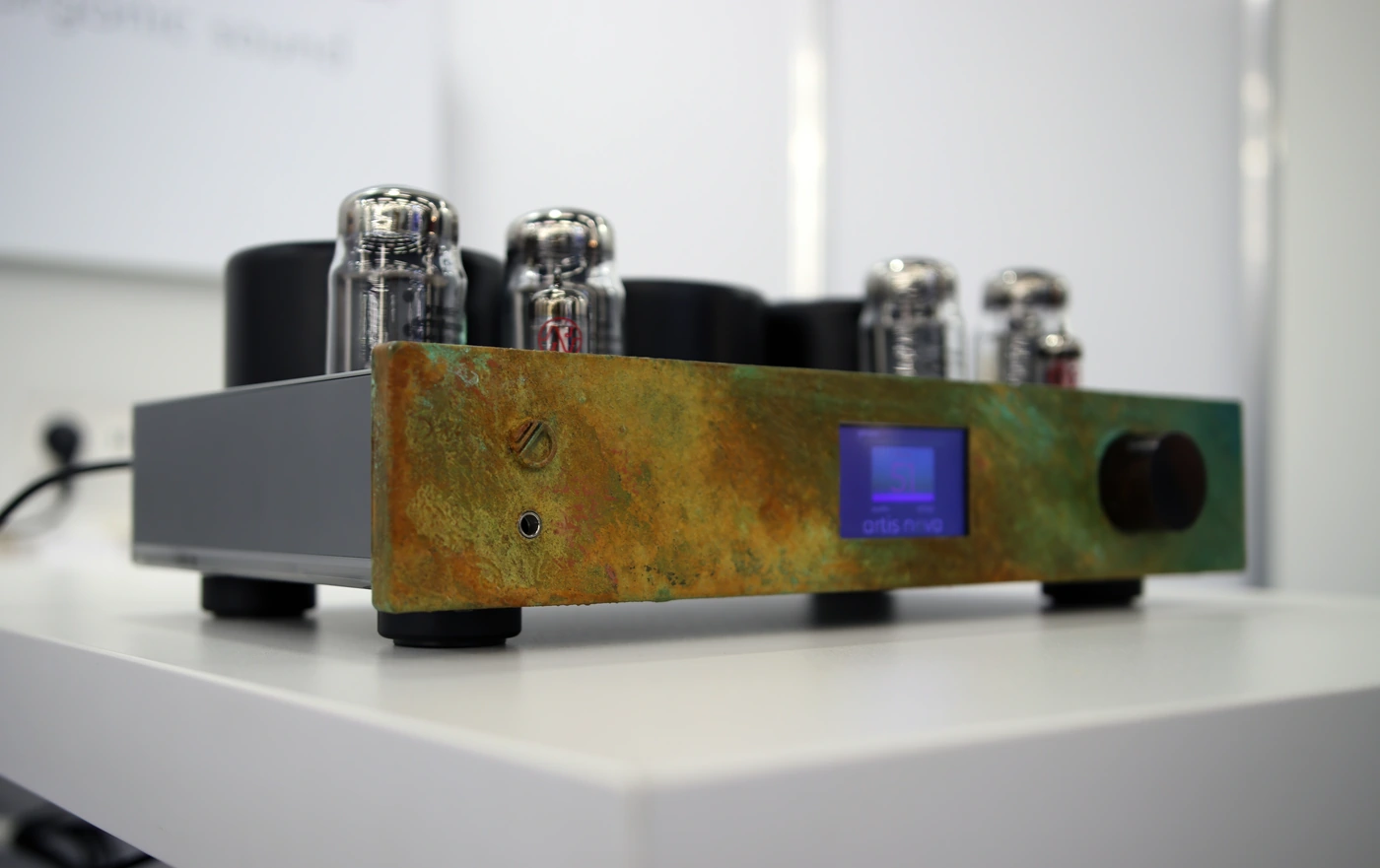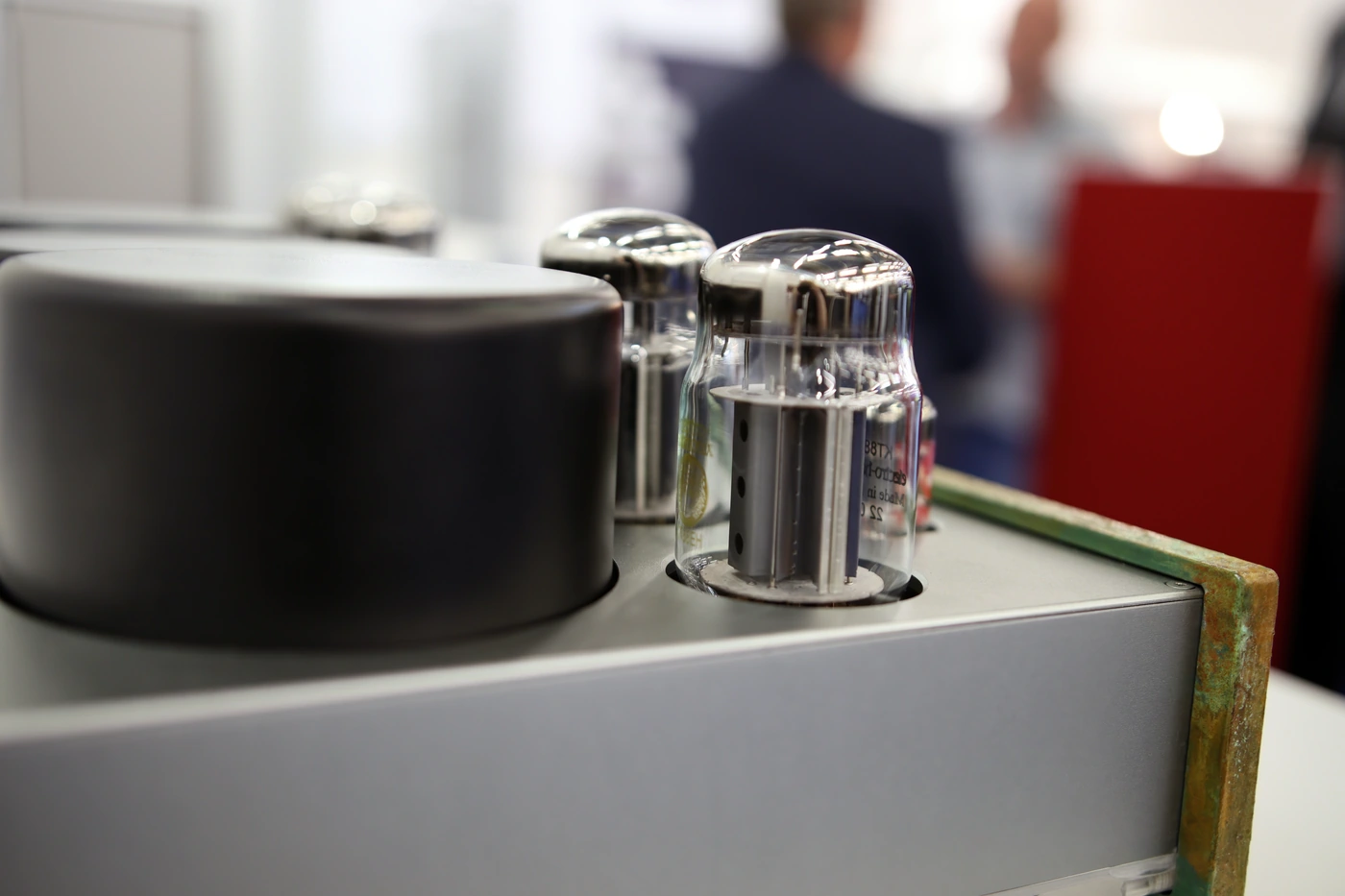 We stop to explore Artis Nova Sound, a company that has a very special design for their products. From what I understand, their products are handmade and designed separately, so I have to explore some more before being able to tell for sure how they sound, and what exactly they create. We really liked the design, so we stopped for a few shots though.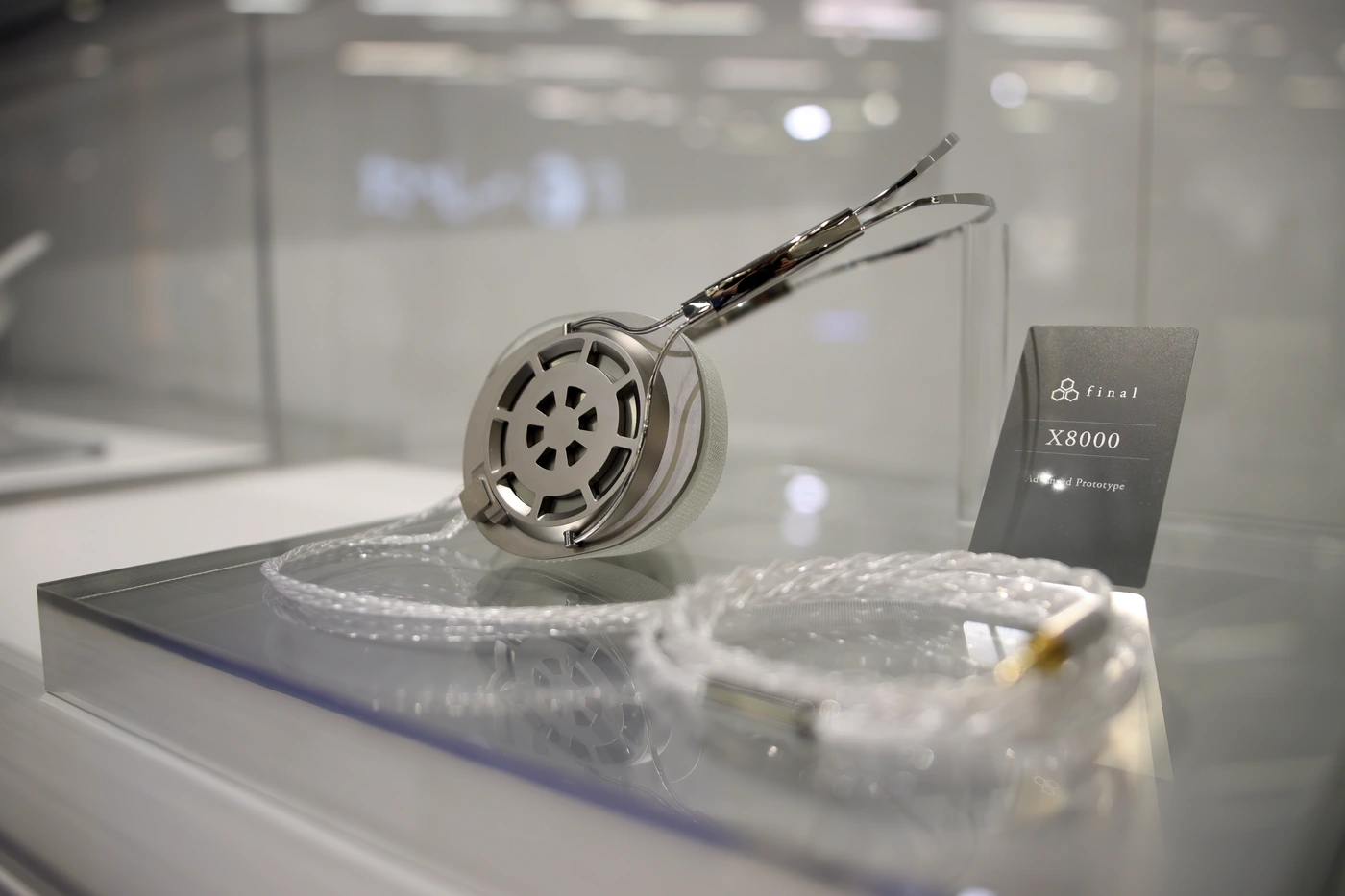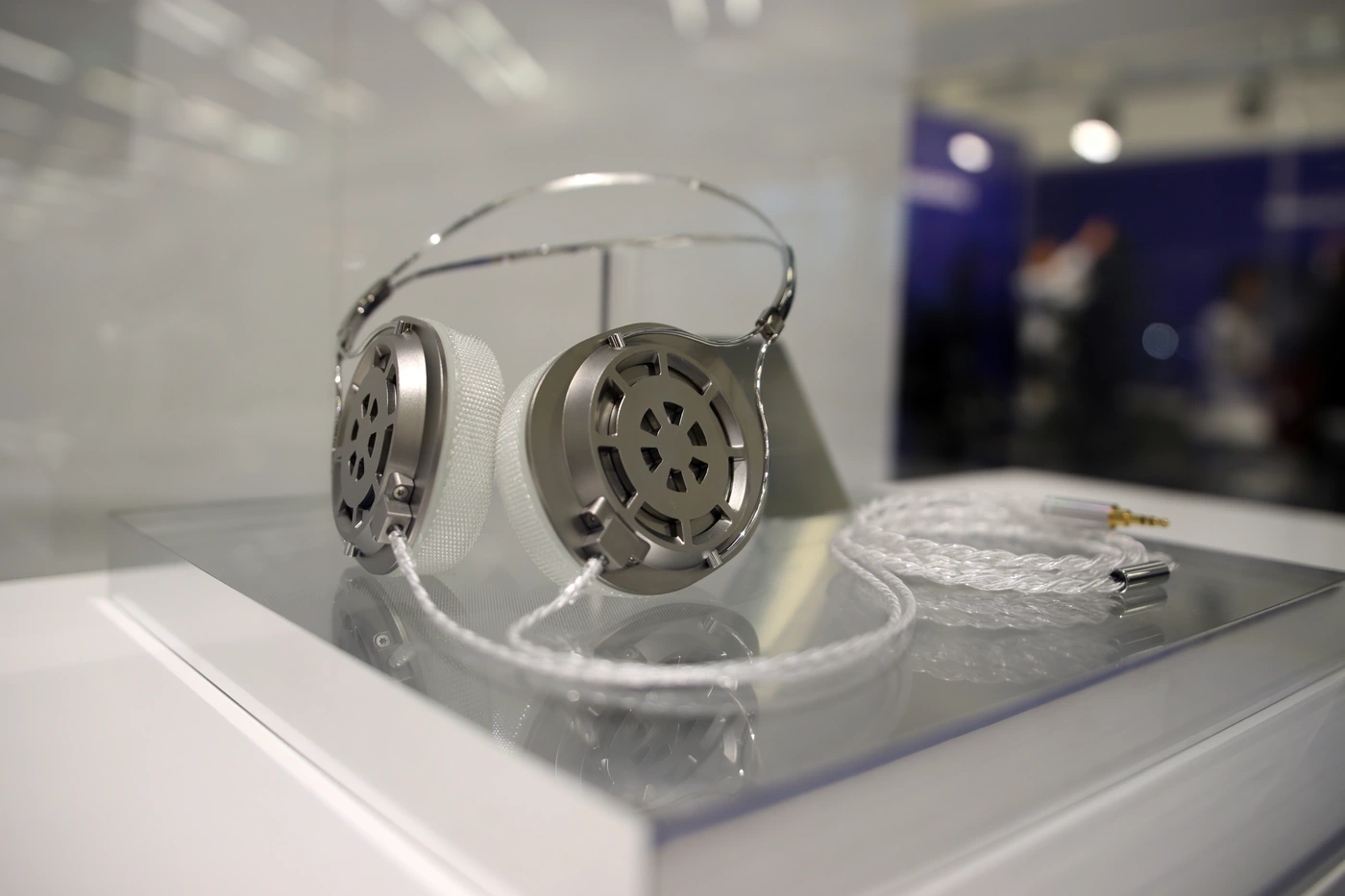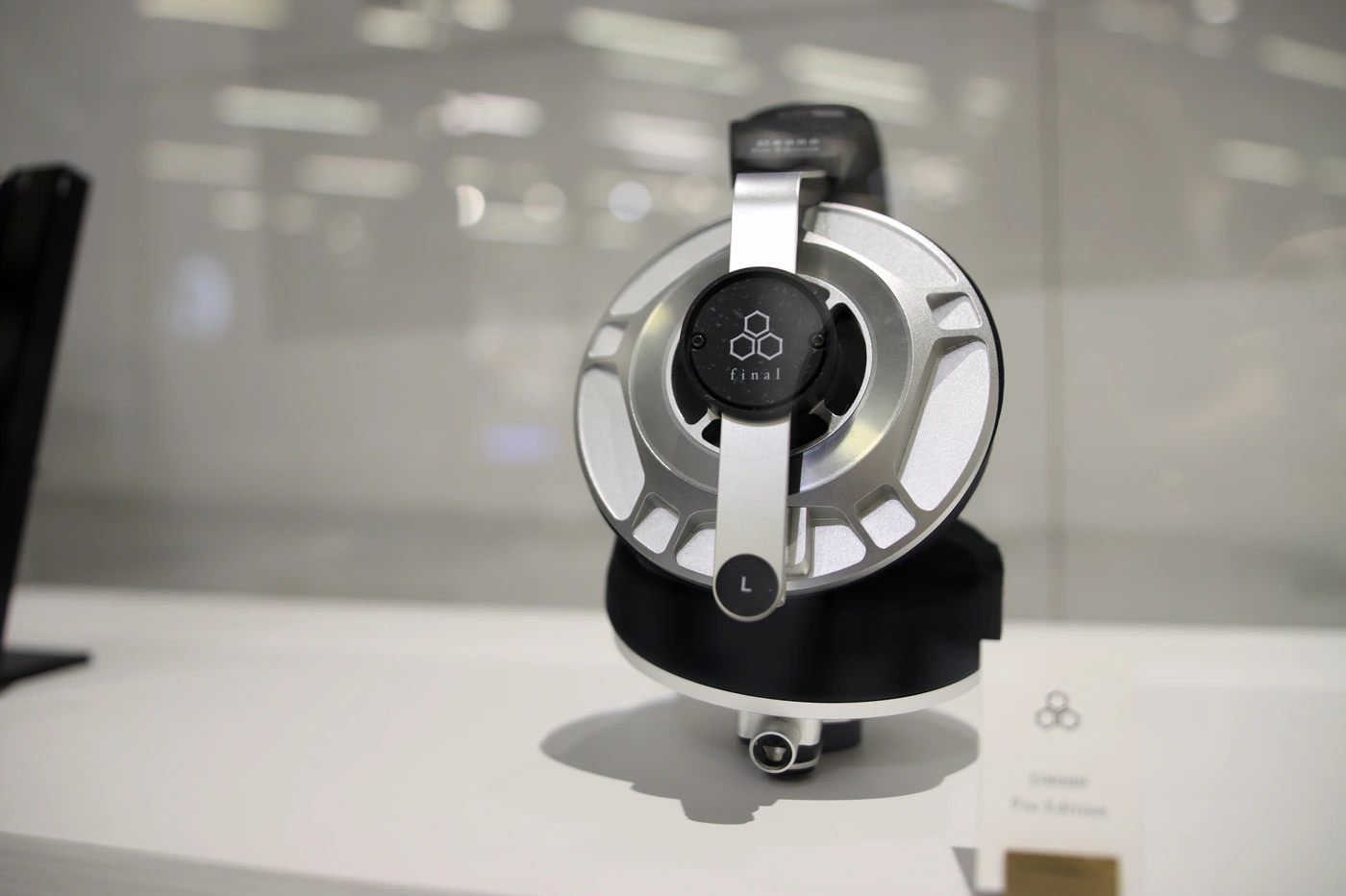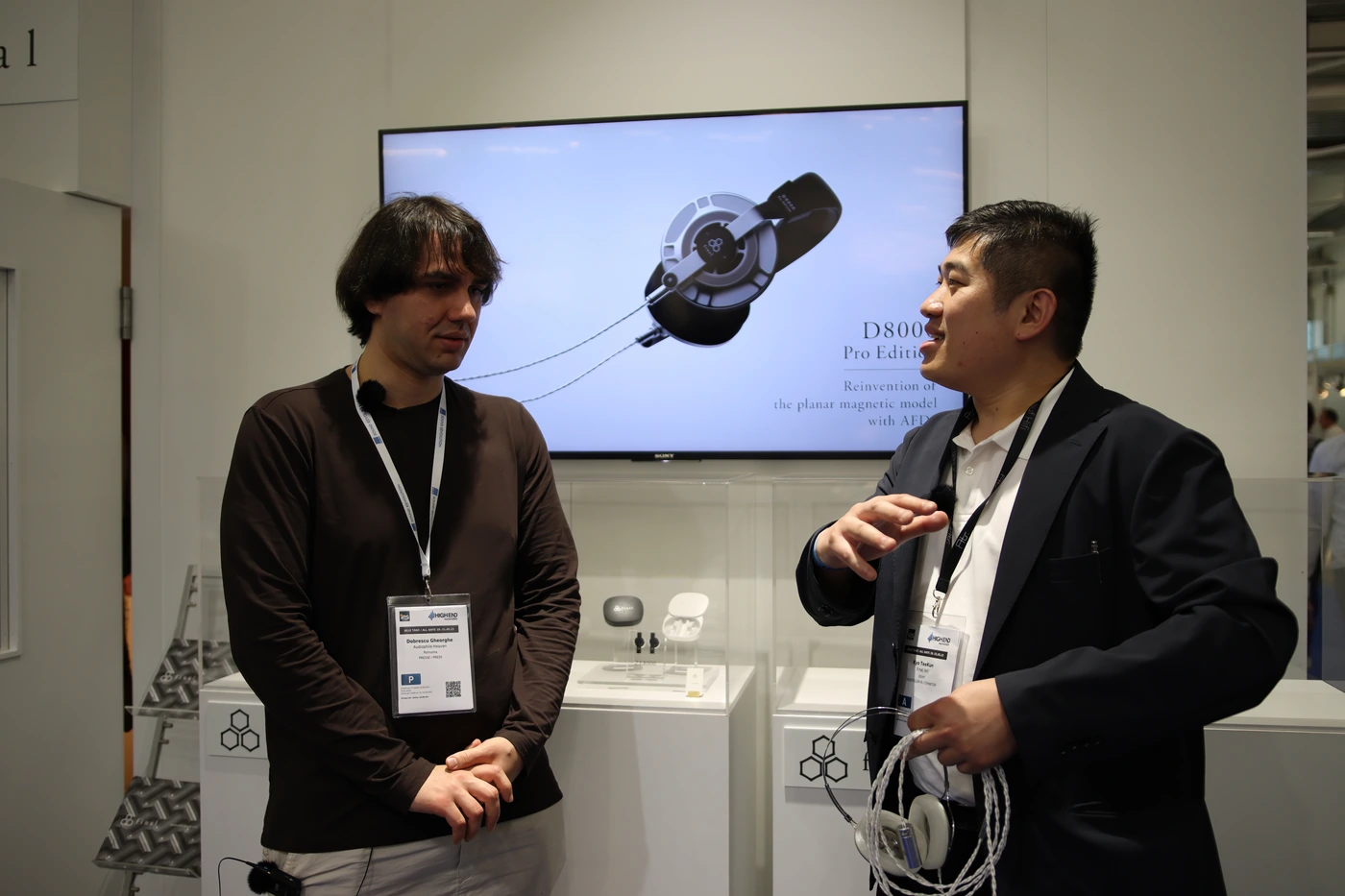 Thanks to Jackrabbit media, we drop by to meet with Final Audio, where we take an interview about their new project, the X8000 Headphone, which has a design that is completely new, different from everything I've ever seen in my entire life. This is a headphone that has hollow earpads, a small yet super solid design, and is promised to be the next best thing that will be available to us music lovers. I am hopeful that I'll get the chance to review their D8000 PRO Headphones, and I really loved the A8000, B3, and B1 IEMs that I reviewed in the past, so hopefully you'll get to learn more about the sound of the new products from them soon.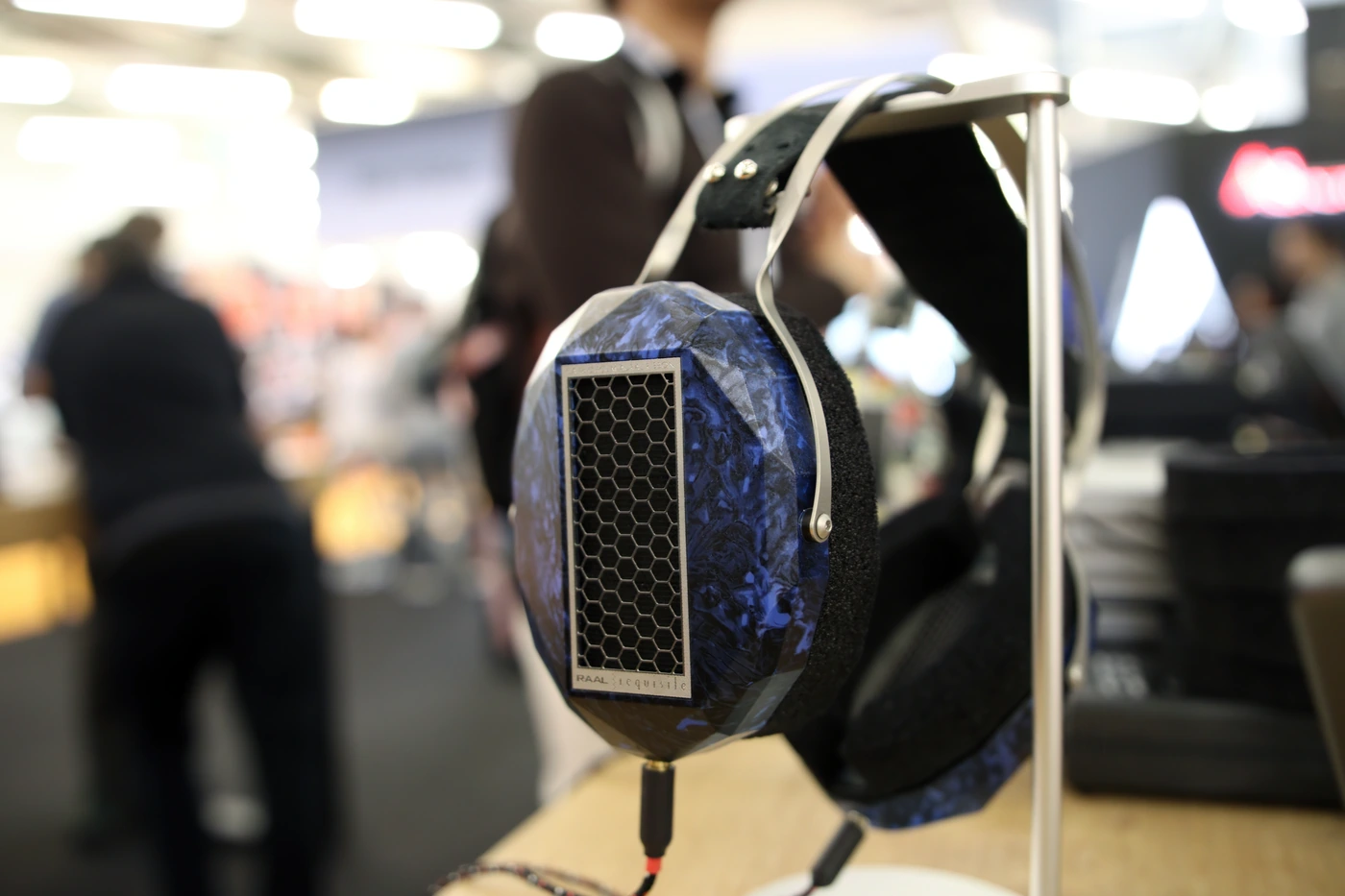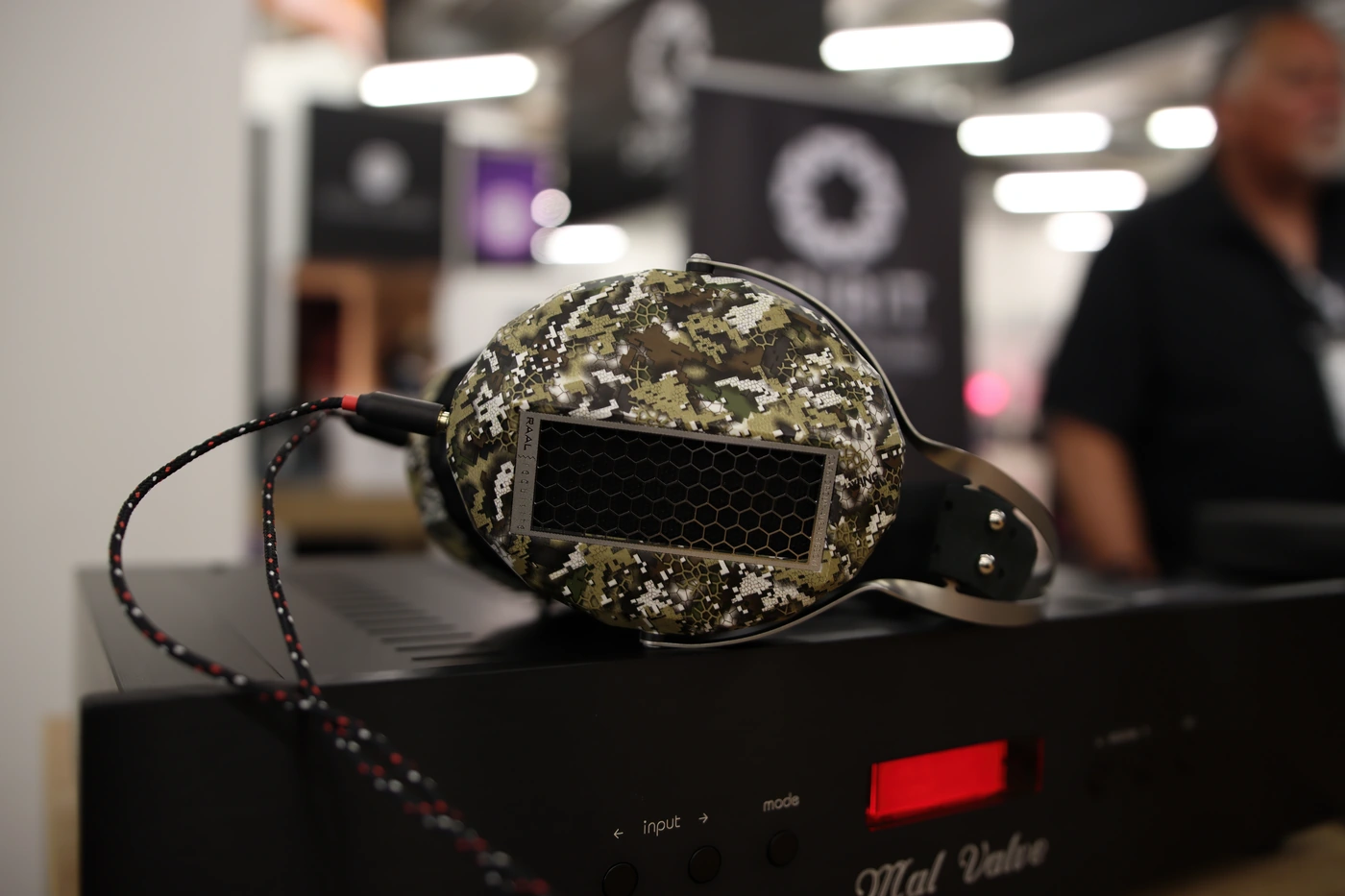 We also stopped by to meet and speak with Mr. Danny from Raal Requisite, and this company has some headphones that I fell in love with at the first audition. I initially was looking forward to reviewing the CA-1A, but now I absolutely want to review the SR-1B too, those are headphones made of dreams that sound like heaven. They have a unique fit and comfort, and SR-1b is an open design, you don't even feel like you're wearing headphones, but the sound is better than what you get with most speakers, the comfort is sublime, and the sound is warm, yet airy, extremely wide, detailed and super pleasing to the ear.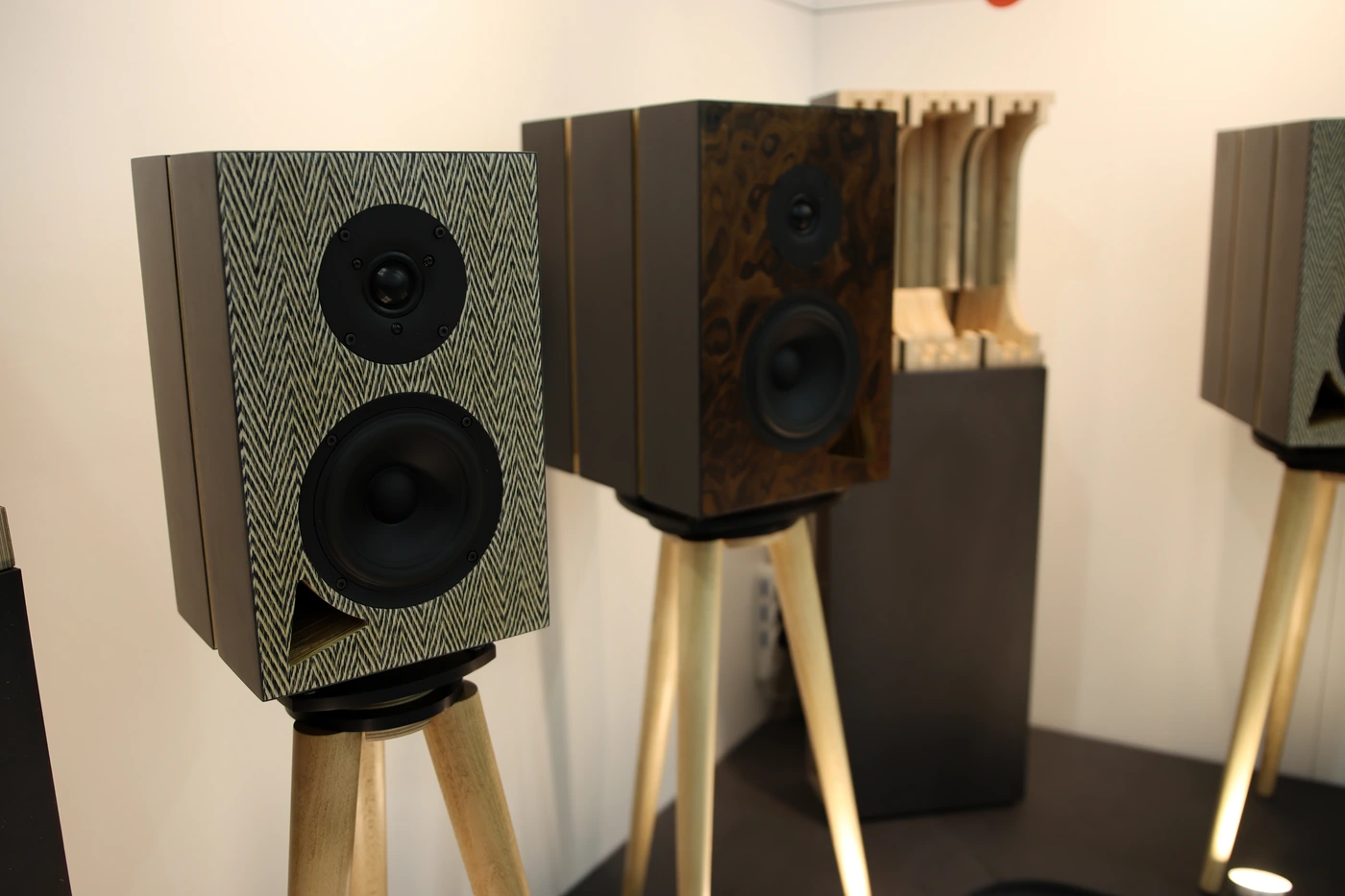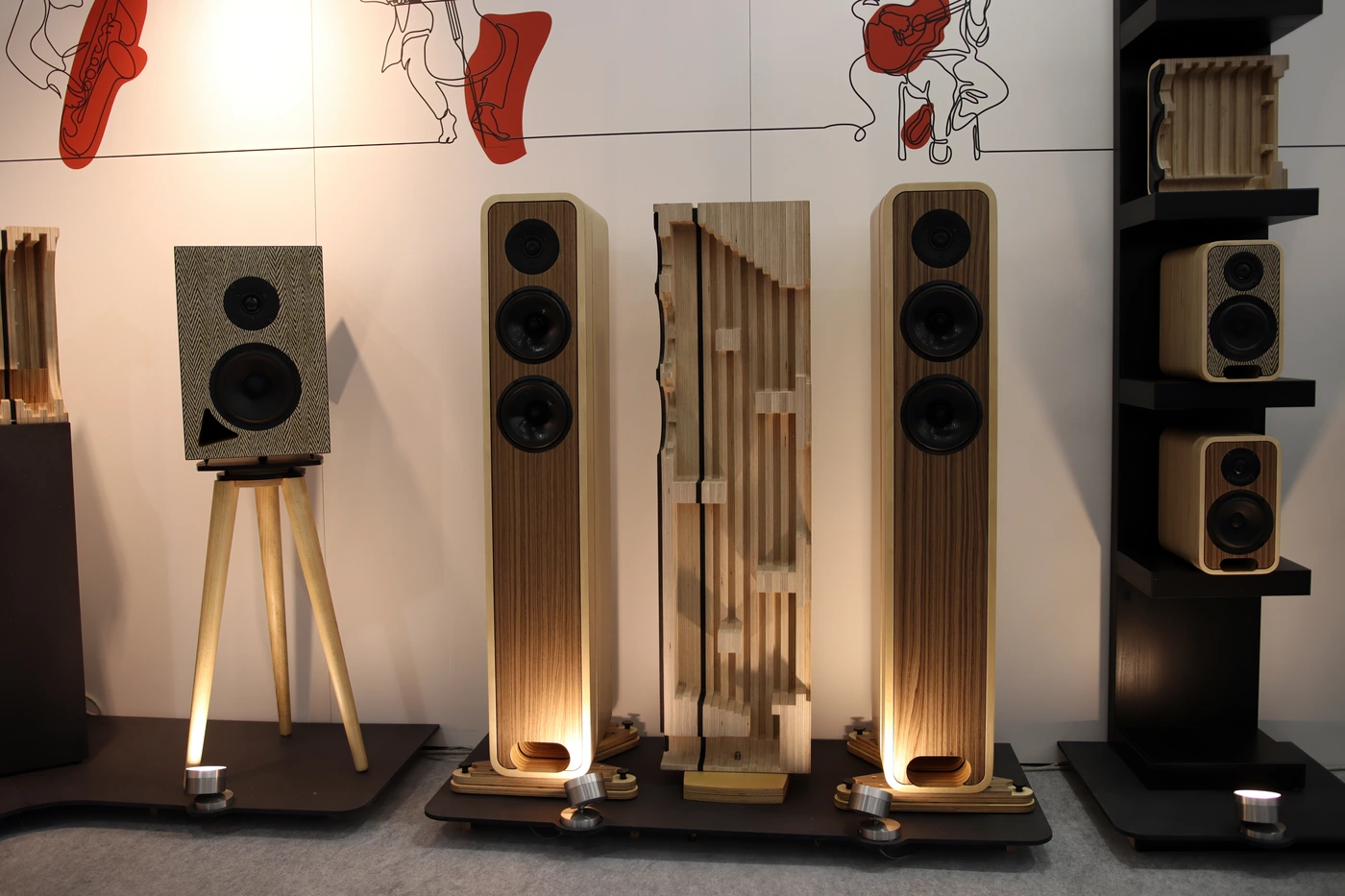 We also saw some beautiful speakers, made by Mr. Walter Carzan, namely the Audel Wooden Speakers. Those all look super beautiful and have outstanding build quality, so it is interesting to see someone work so hard to make good looking and good feeling products.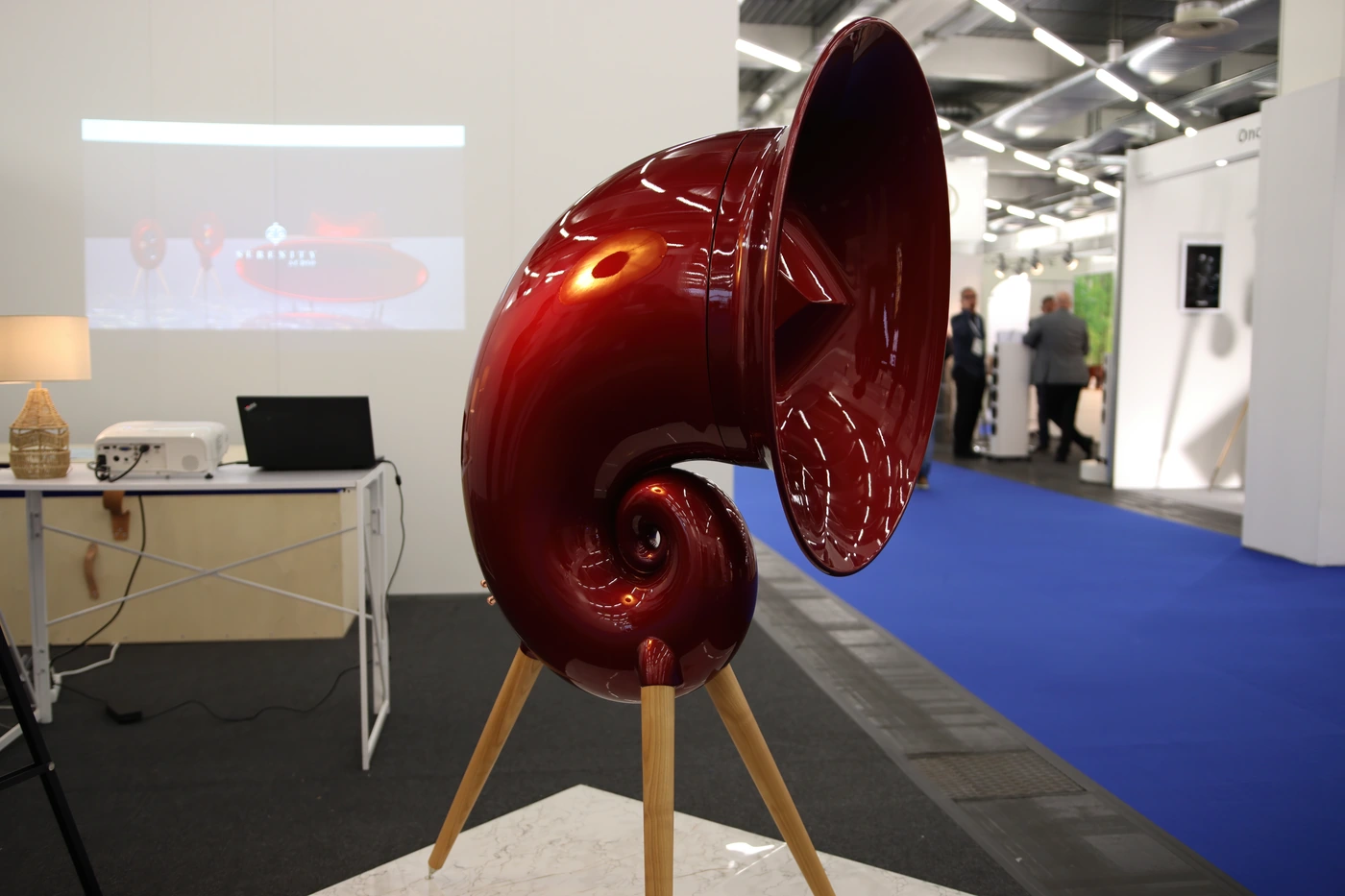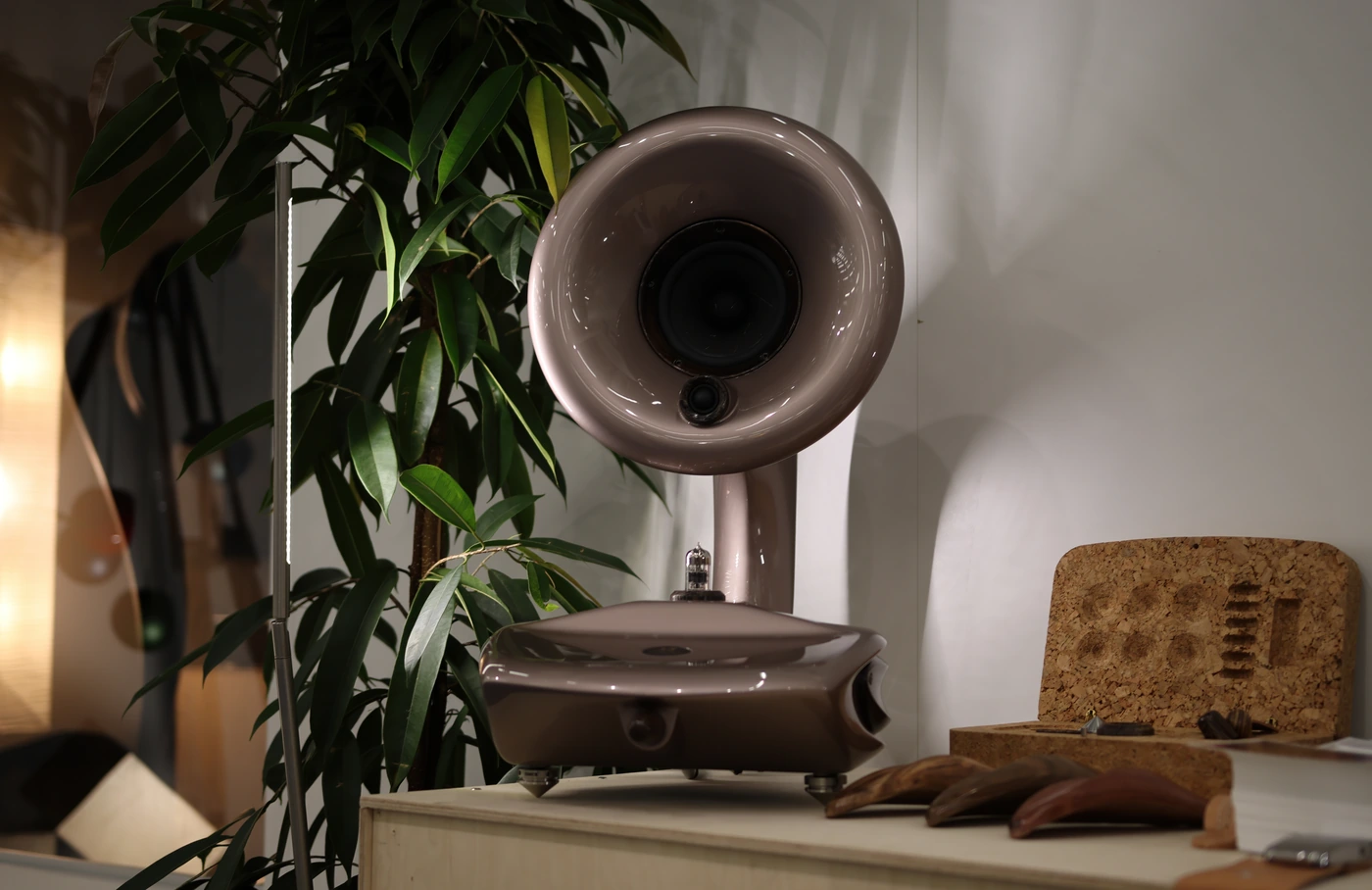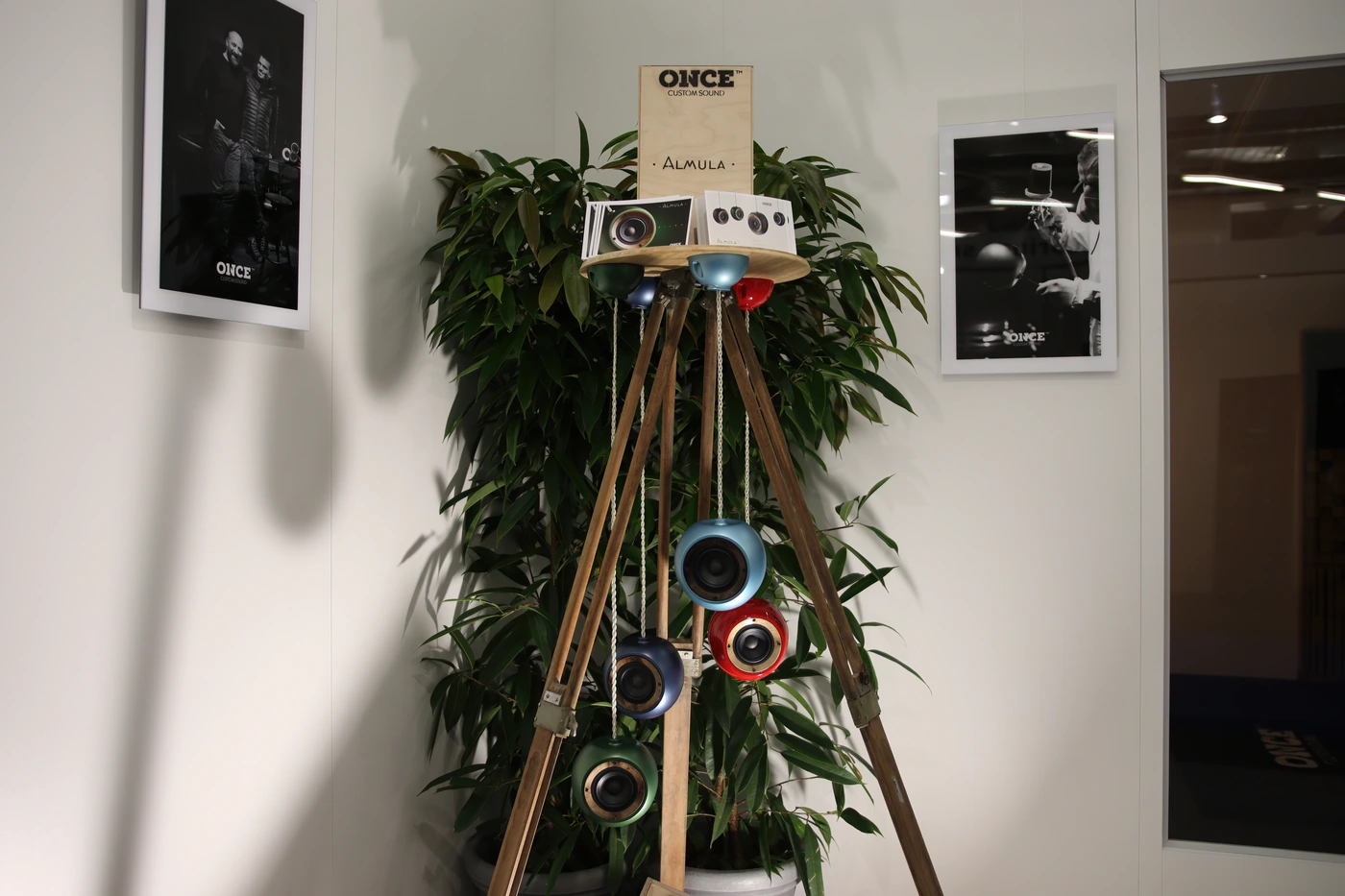 The next ones look like pieces of art, but we haven't had the chance to learn too much about them, as the people working the booth were quite busy. 
Keces is another company that attended the High-End Munich event, and I'm happy to have seen them once again, they made super good products in the past, and have even convinced me with their S3 DAC / Headphone Amp, to the point where I made multiple videos on it, and a full written review. I am looking forward to reviewing more Keces products in the future, as they make some solid stuff for the money generally.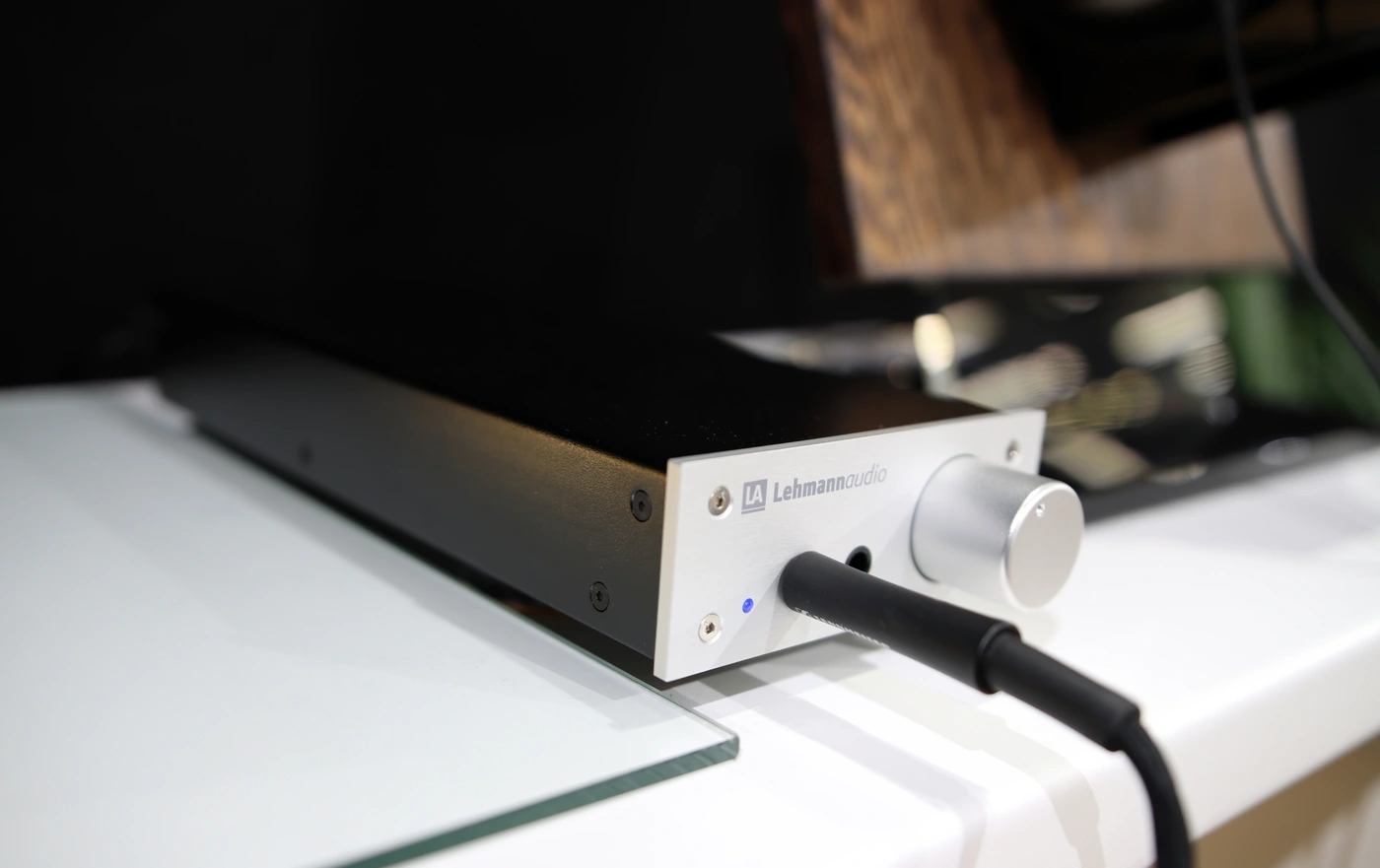 We had the pleasure of meeting with Lehmann Audio, and will hopefully work on reviewing some of their products in the future. This is a top tier company with skilled engineers working to provide us with good looking, premium products, and I like the simple approach to the shape of their products. I actually heard many good things about them from friends, so it was pleasing to see such a large and dedicated team taking care of all their business.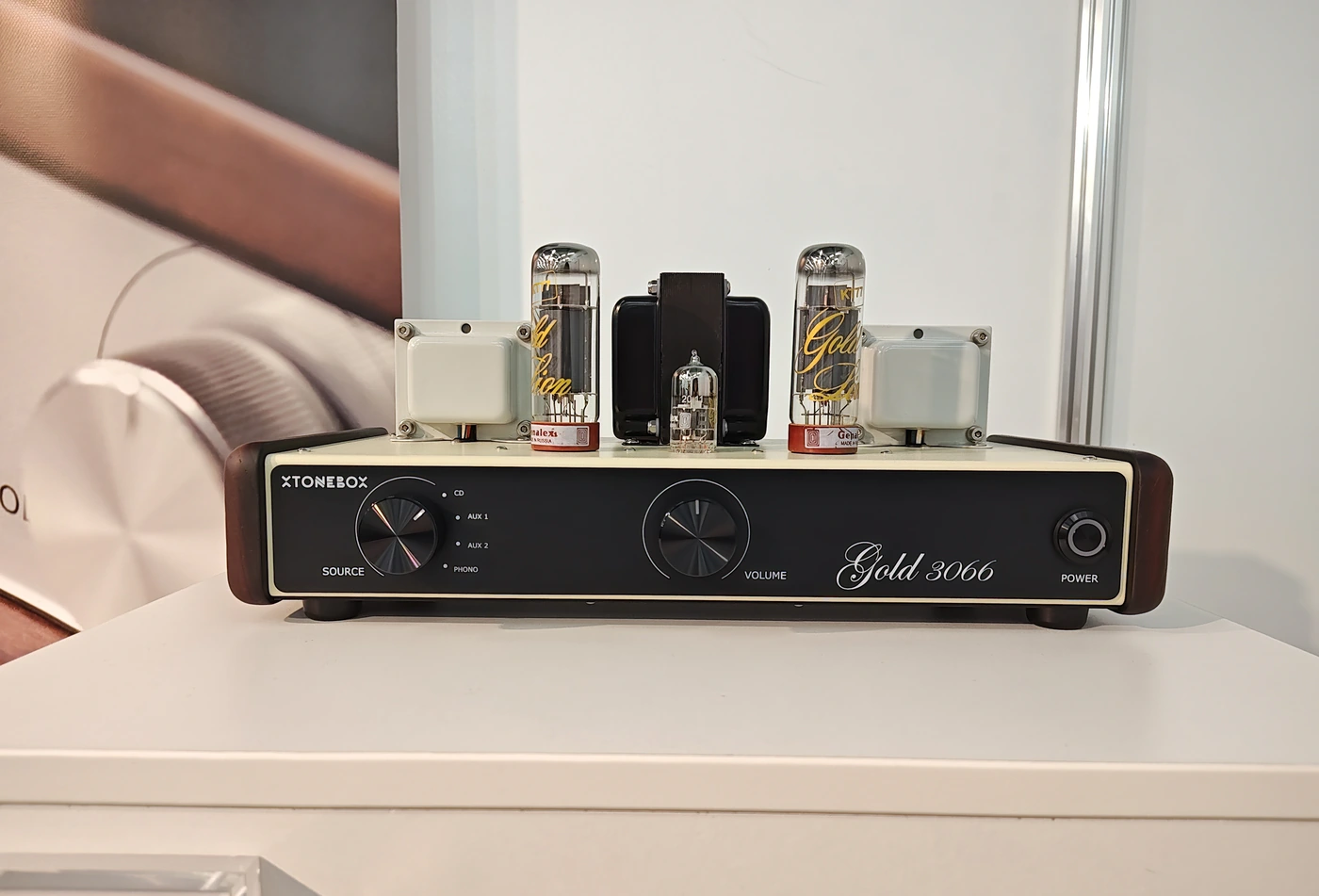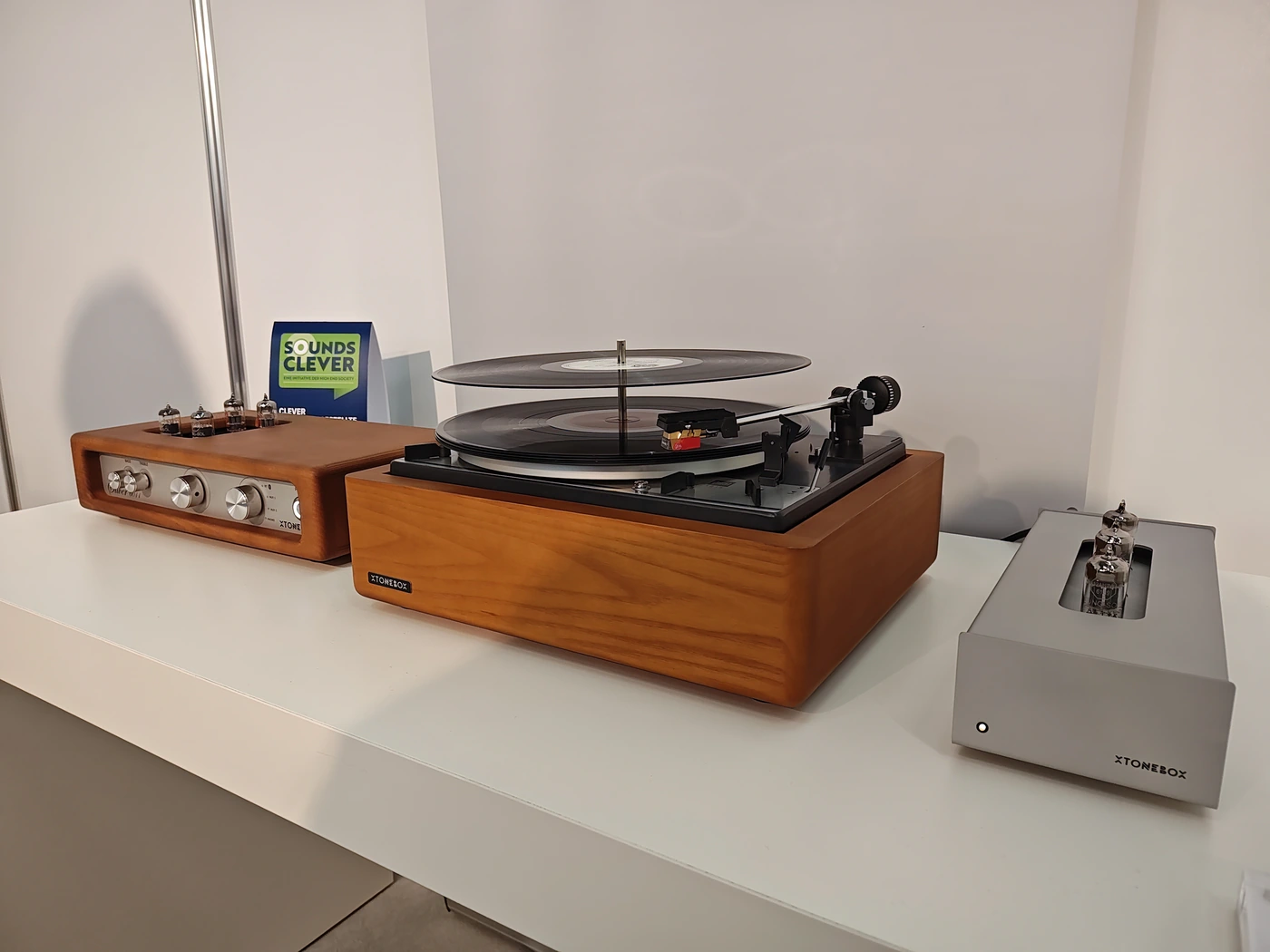 If you haven't heard about XToneBox yet, you'll be forgiven. This is a company I didn't know too much about before the event either, but they have some really cool looking, vintage looking tube amplifiers, preamplifiers, speakers and more. We'll hopefully also be reviewing some products from them soon, so please be on the lookout for this.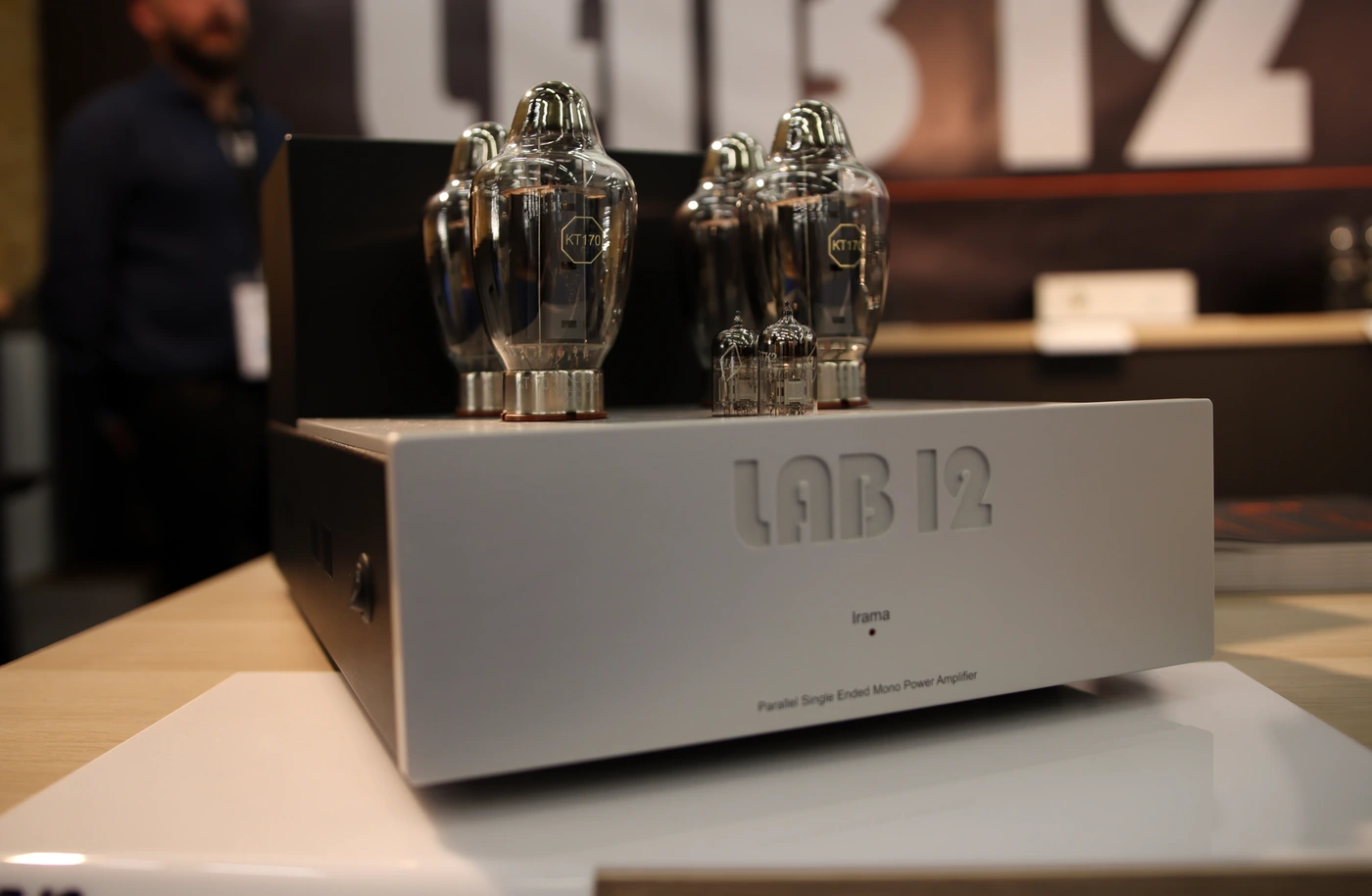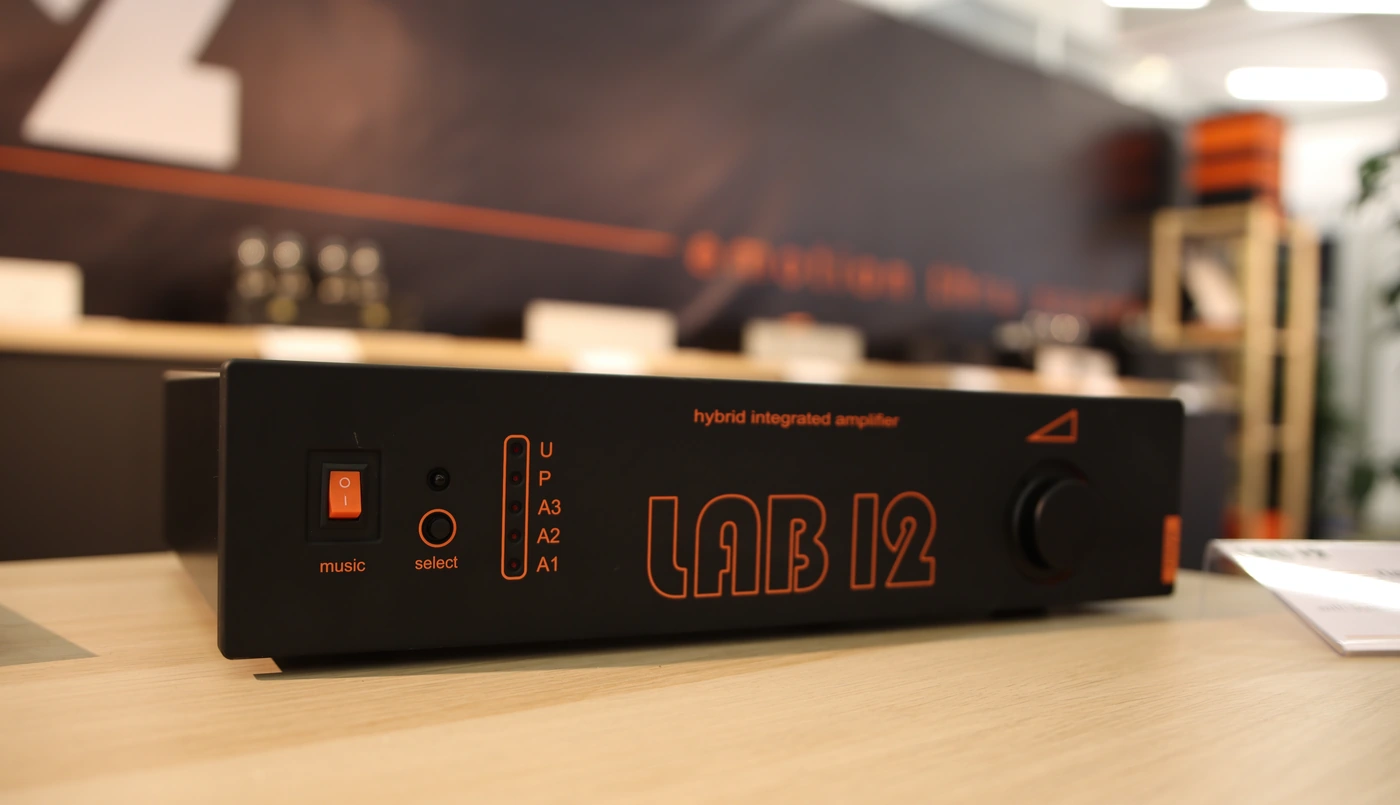 You likely know who LAB12 is and will be delighted to hear that we're looking forward to a collaboration with those guys, they make some of the best sounding devices, according to users, and they even gave us some cute bags with some introductory papers of their works.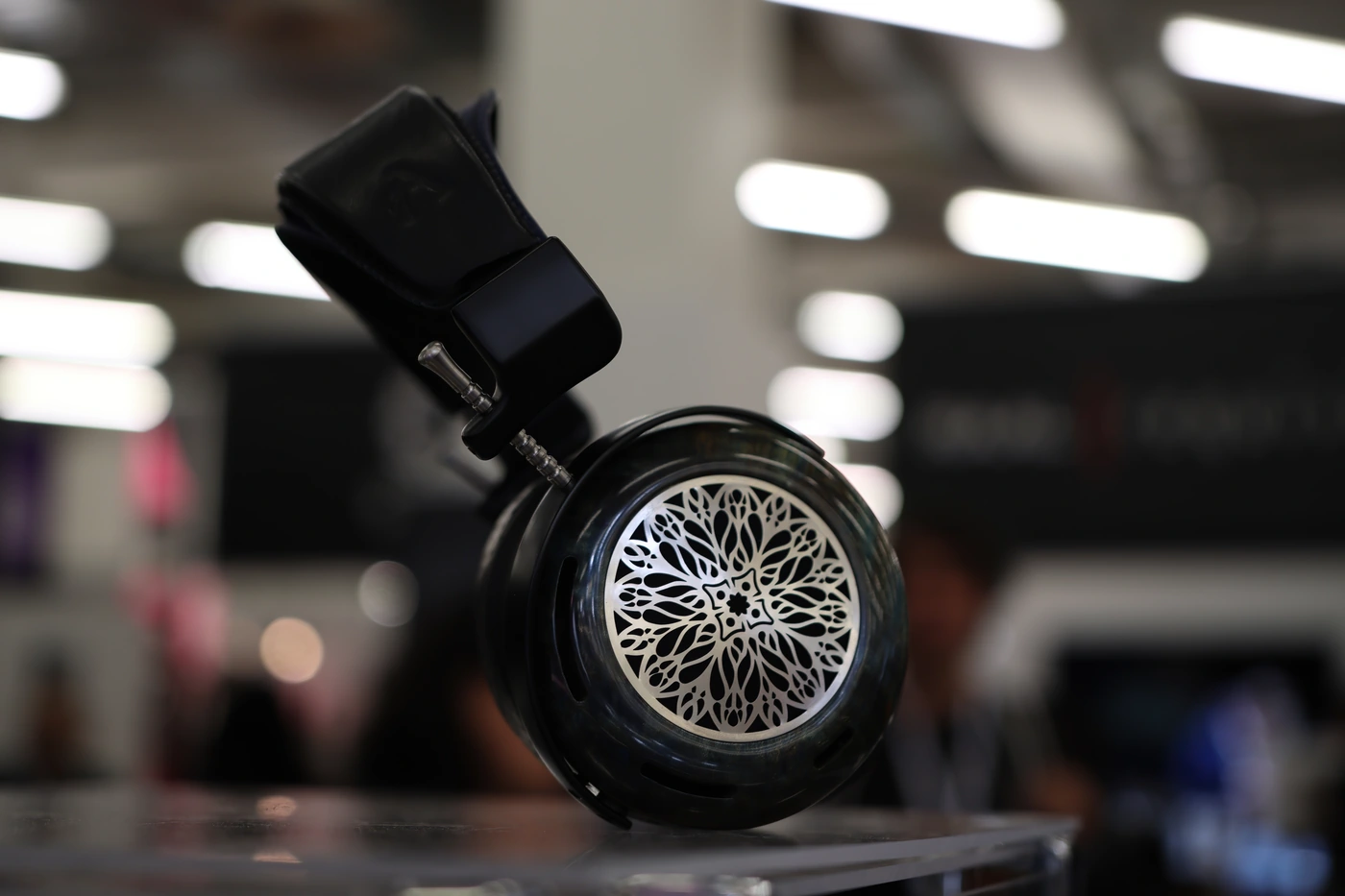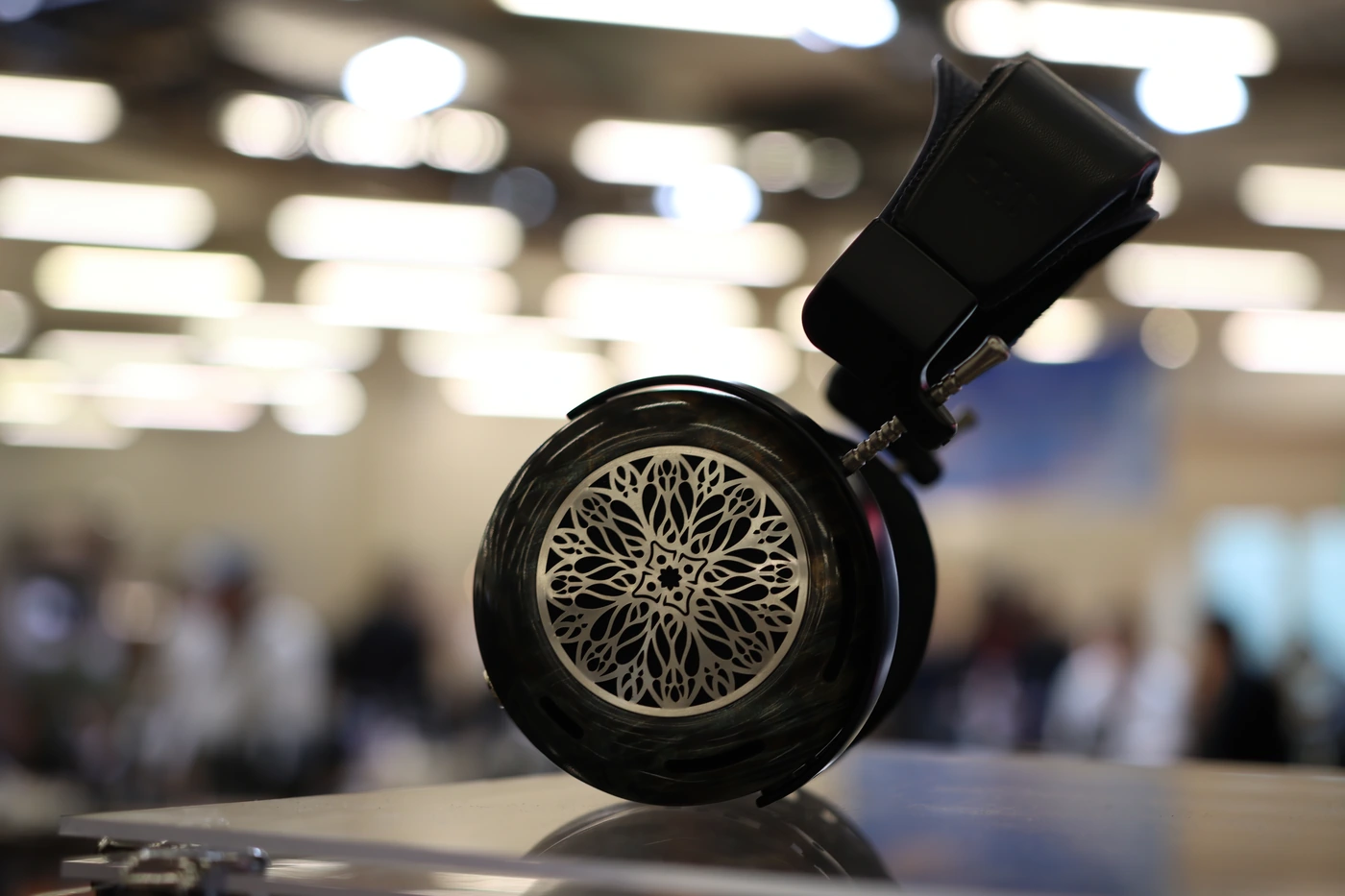 ZMF Headphones are some of the best out there for those who want a traditional headphone, but what may not have been aware is that the company is run by a family, and just like I went to High-End with Mary, my girlfriend, Mr. Zach from ZMF was out there with his wife, and we all got along quite well. The company is now expanding with new headphones, and they all feel super comfortable, so it will be interesting to learn how they sound once we get to work on reviewing some of them. The design part they surely got nailed down nicely.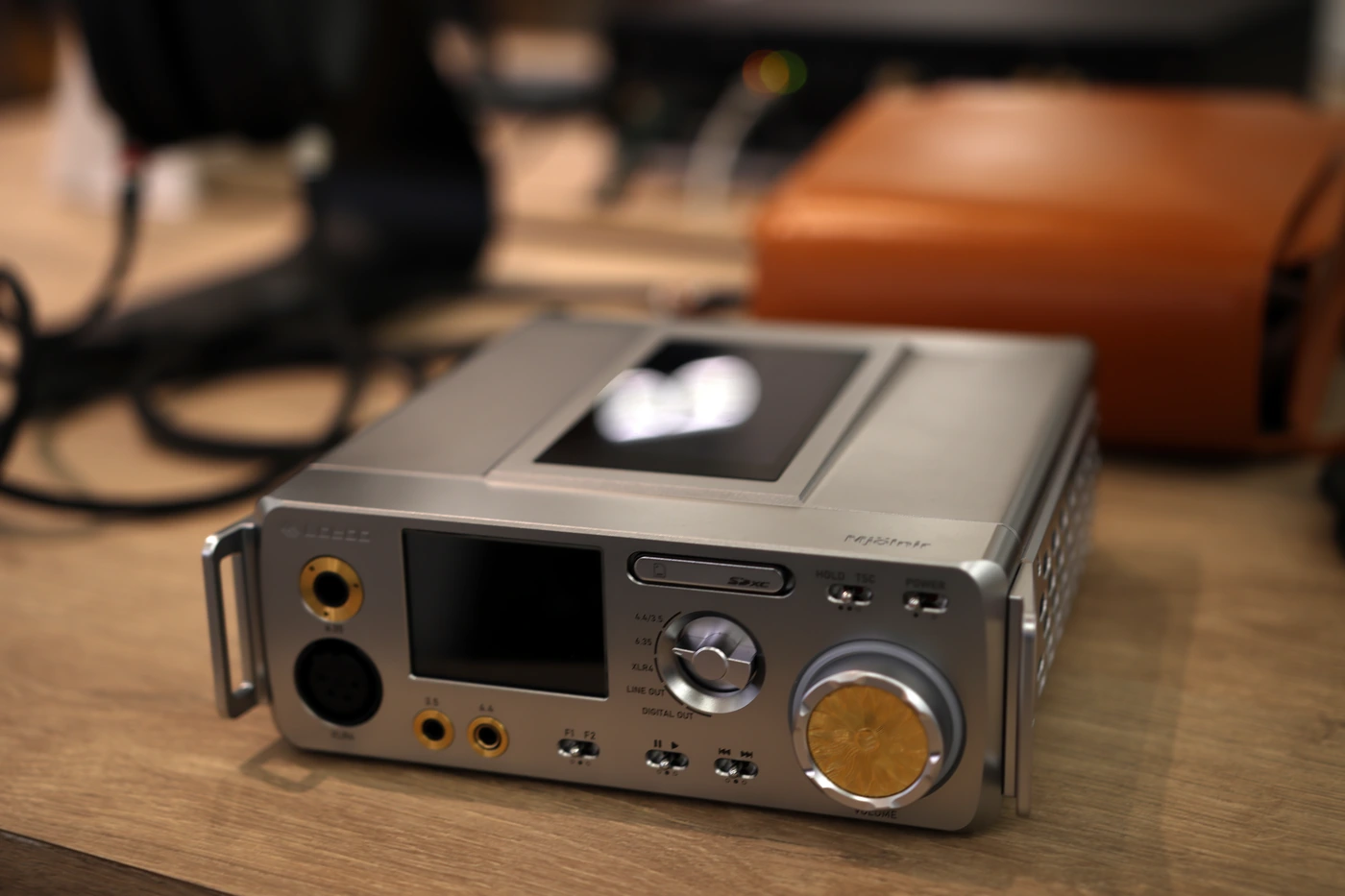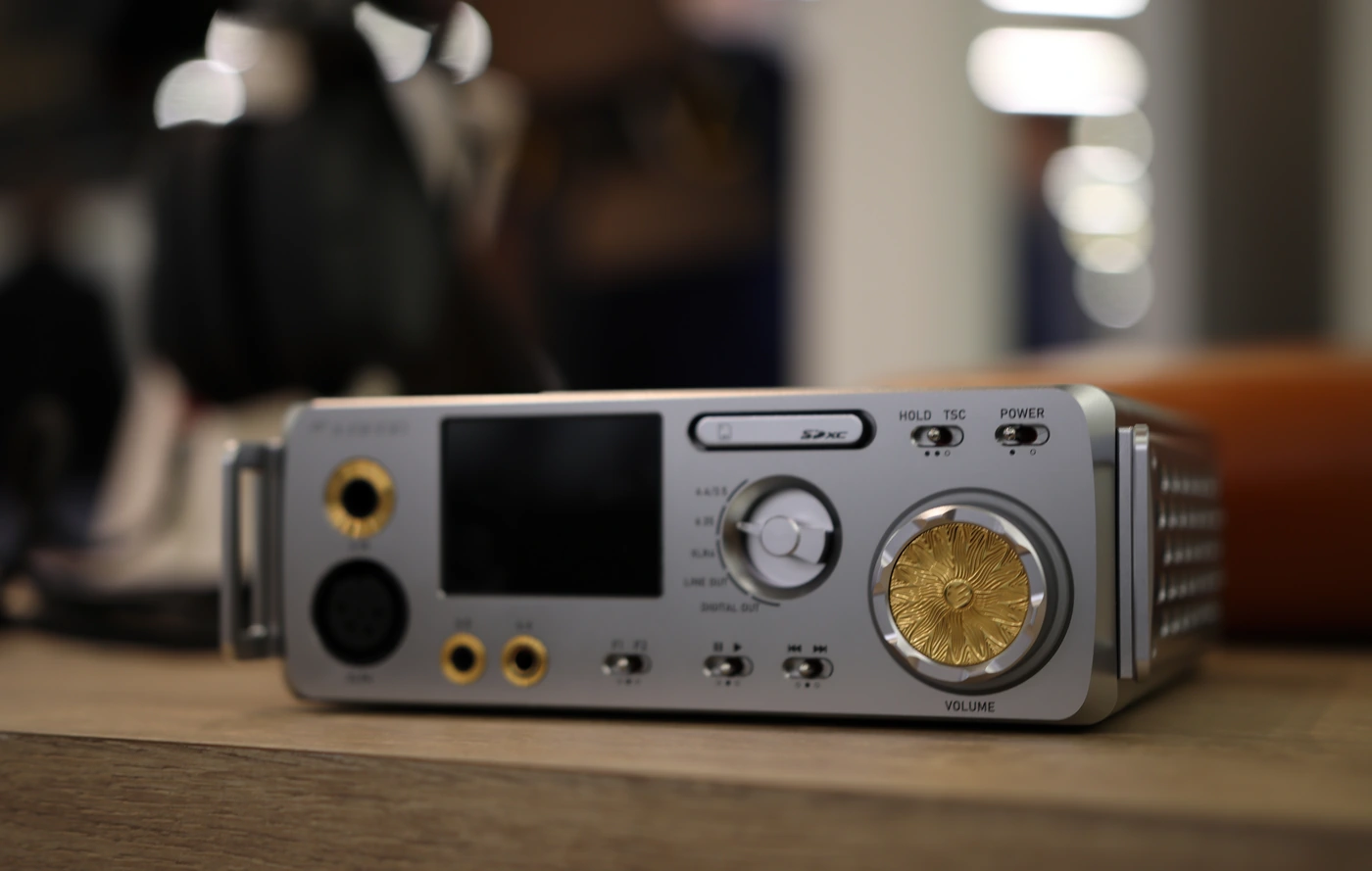 Lotoo is not a new company when it comes to my review experience, and I've reviewed countless products from them, such as Lotoo PAW 6000, Lotoo PAW S2 and others, but the new stuff they have is on an entirely different level. They now have a Mjolnir, a huge desktop DAP that is still portable, but which has outputs for all your headphones, power to drive literally everything, and a beautiful build quality. I had the chance to briefly compare the new Mjolnir to iBasso DX320 MAX Ti, and found that both have super high driving power, excellent dynamics, and detail, and both have a really powerful sound. The overall environment of High-End Munich was a bit too noisy for me to take note on the finer details of the sound, but we're looking forward to reviewing the Mjolnir officially once it is released and more units are available, as to this moment there are just two units in existence, and both of them have been showcased at high-end Munich. 
We visited some old friends from Audio-Hungary too, and they have some outstanding products now, with much better aesthetics and design, and if you read my review on Qualiton APR204, they surely know how to tune those, so we're hopefully going to be exploring other products from the company as well in the near future.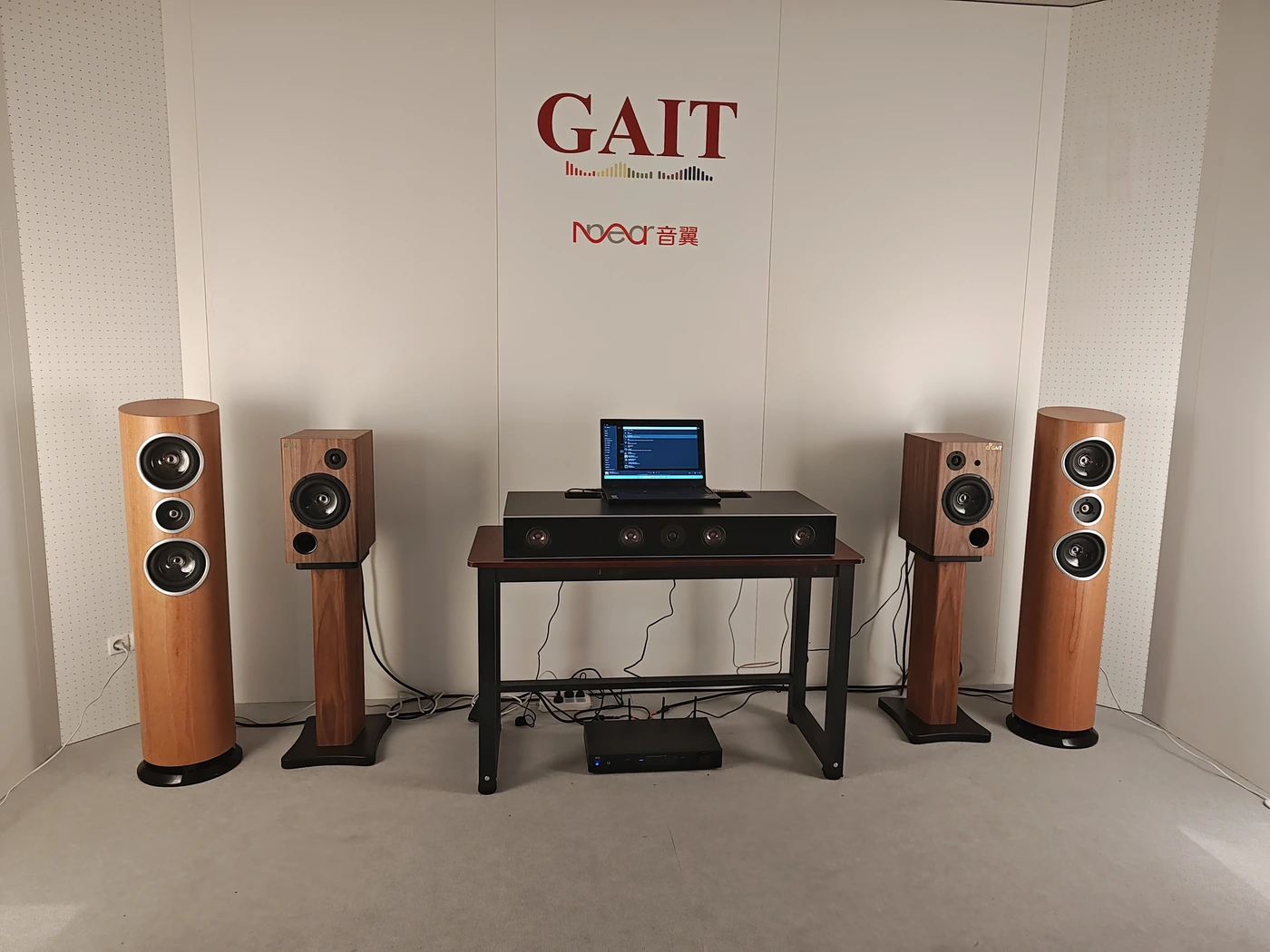 We also met with the guys from GAIT, a company that specializes in building glass drivers for speakers, and while it may sound very novel, but does not seem to have a strong base, the sound of their stuff was really awesome, very dynamic and punchy, so I'm looking forward to reviewing this one too.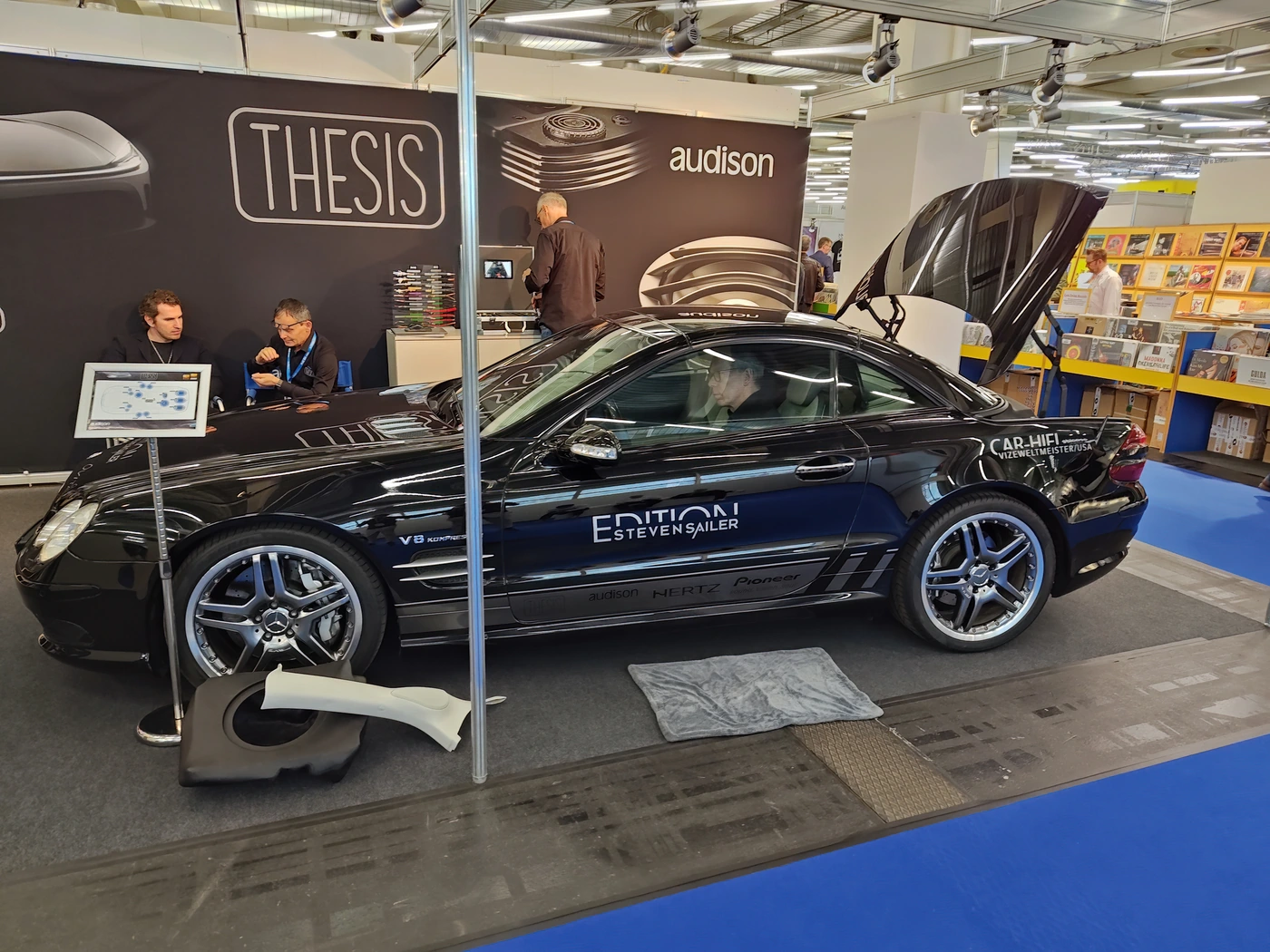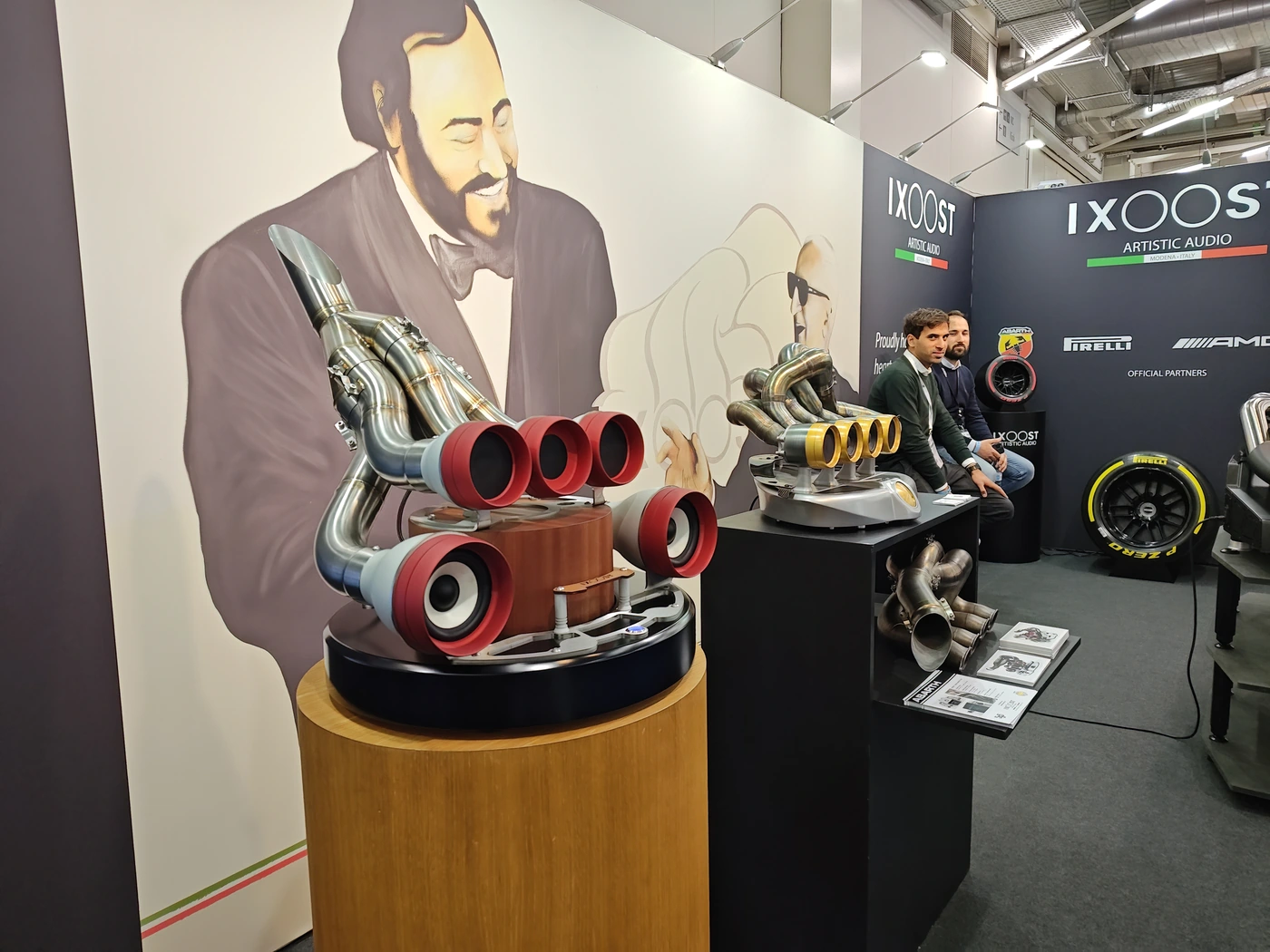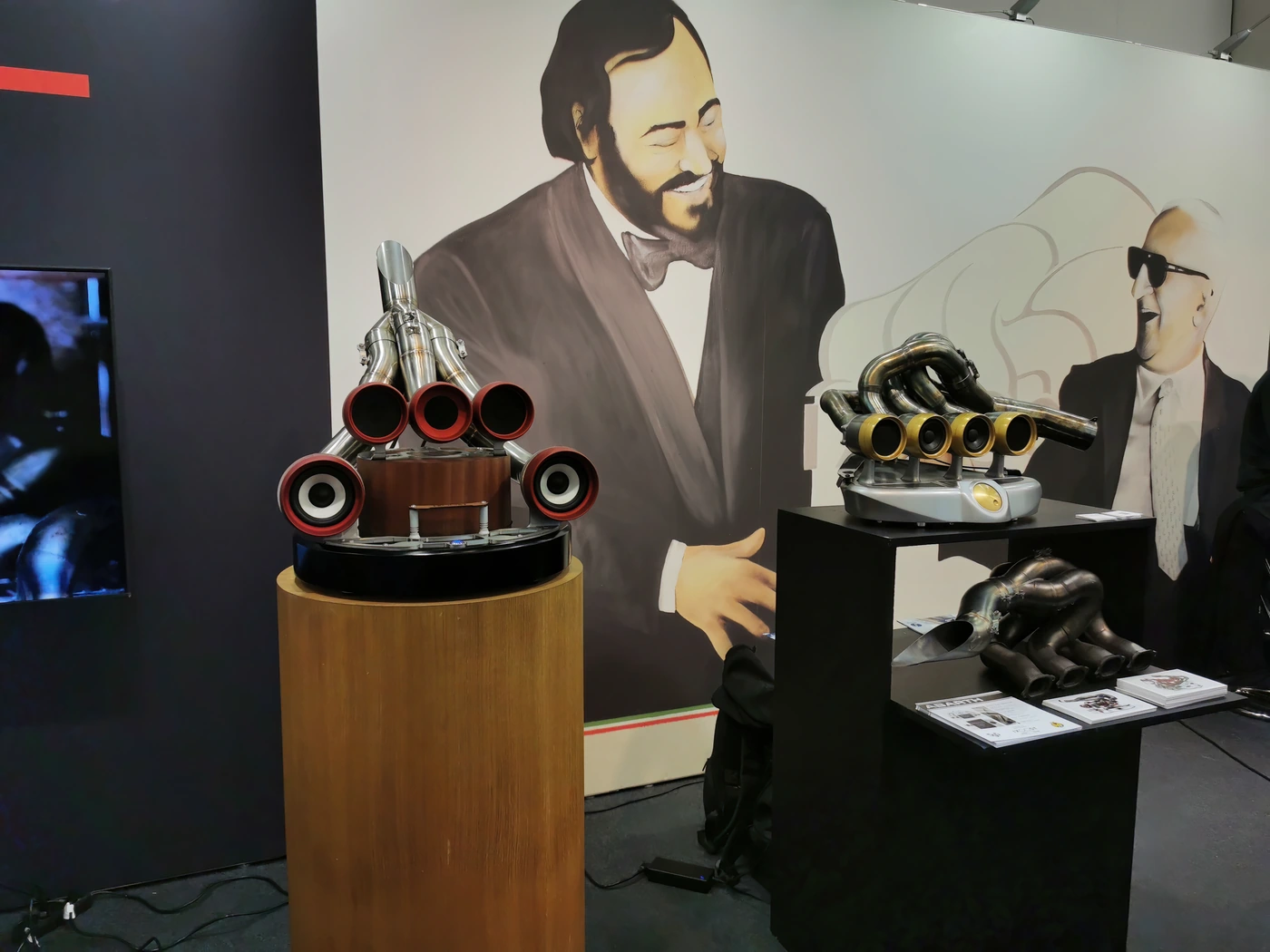 I should also mention the cars and the strange speakers and builds, which are card inspired, as there seems to be some kind of tradition for it. We didn't get to hear the car audio part too much, as the queue for listening to those was too long, but nonetheless I enjoy a good song with my ride.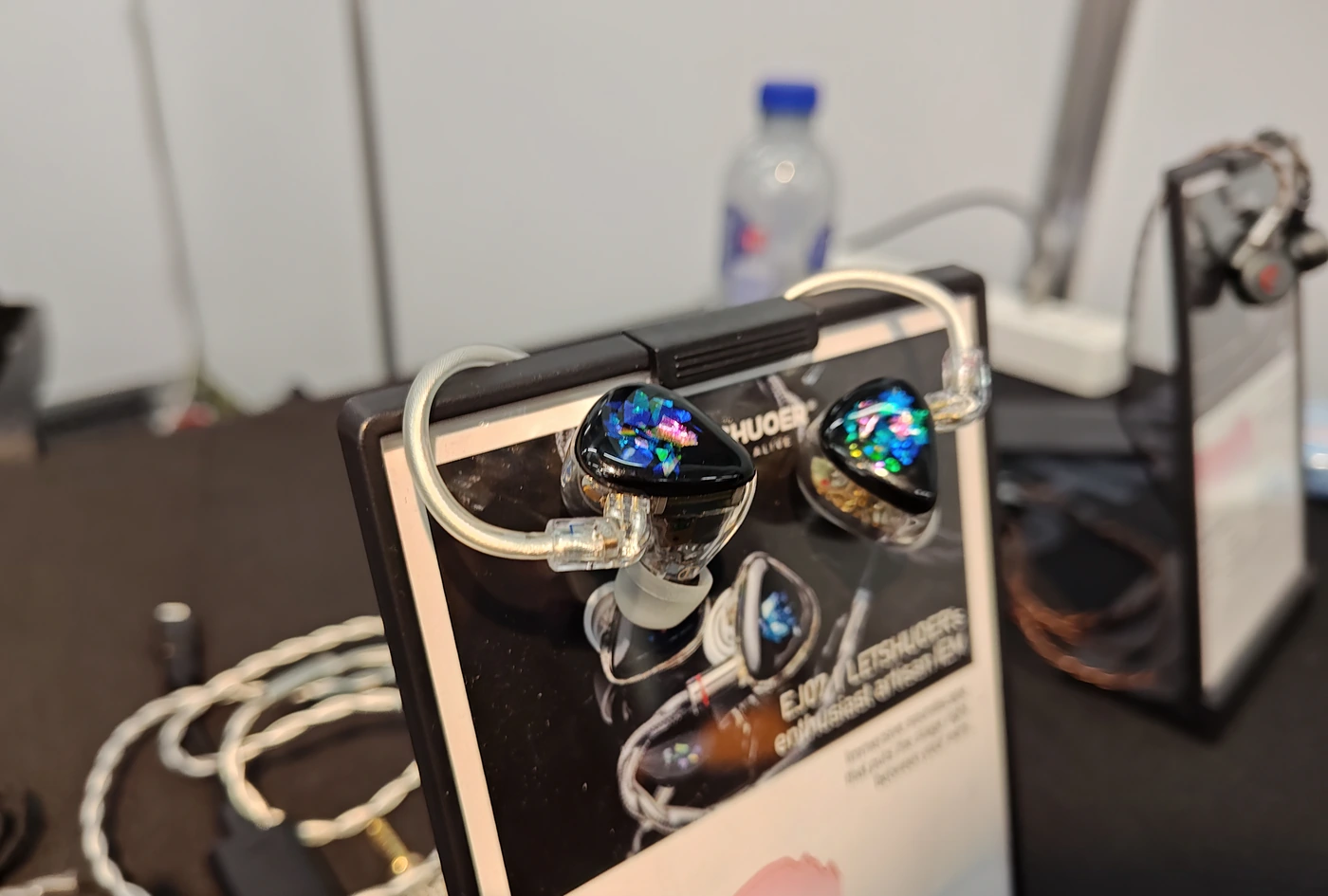 One of the friendliest companies there is Letshuoer, and they have a large selection of Chifi IEMs, but now they make some cool flagships too. I actually have reviewed some of their IEMs in the past, such as D13, but also the Tape from when they were named just Shuoer. They had to change the name to not inflict copyrights infringements on the Shure company, but either way, I heard some good tunes with their flagships Cadenza 12, which I will hopefully be reviewing in the future. 
Two companies I wasn't prepared to learn are so professional and have experts of their products on hand are Sennheiser, where I actually spent some time listening, but Mary was too tired to take any more photos, as well as SPL, which I have to say, makes incredible products. By this point Mary was so tired that she actually went to the booth of WOD Audio, a german company / seller / distributor and rested with the super friendly folks from Dekoni Audio, Wod Audio and iFi Audio, so there's no more shots that we have been able to take at the end. We also had an awesome time talking with Mr. Lukasz from Feliks Audio, but we spent more time listneing than taking photos there, as Mary found a system she really liked, but I recall having some content for the video so pleas be on the lookout for it too. It is a bit ironic that for some companies where we both had a lot of fun, such as HIFIMAN and Sennehsier, and SPL, we have very few photos because at that moment we were both either engaged in the conversation or with the folks there, next year we will put in more effort to make sure we also get image coverage. 
The last day ended with us fatigued to the point where I couldn't really stand right anymore, but we've been really happy to have met so many wonderful people, to learn about so many interesting products and to hear so many new interesting headphones, speakers, DACs, AMPs and systems in general. 
Other adventures we had in Munich
We actually arrived in Munich 2 days before the event, so while attending High End Munich was the main reason we got to Germany, we had some time to roam around the mighty German City. I wanted to give you the good stuff about audio, and add a few more notes and stories about our experience as a bonus only if you're curious to keep reading.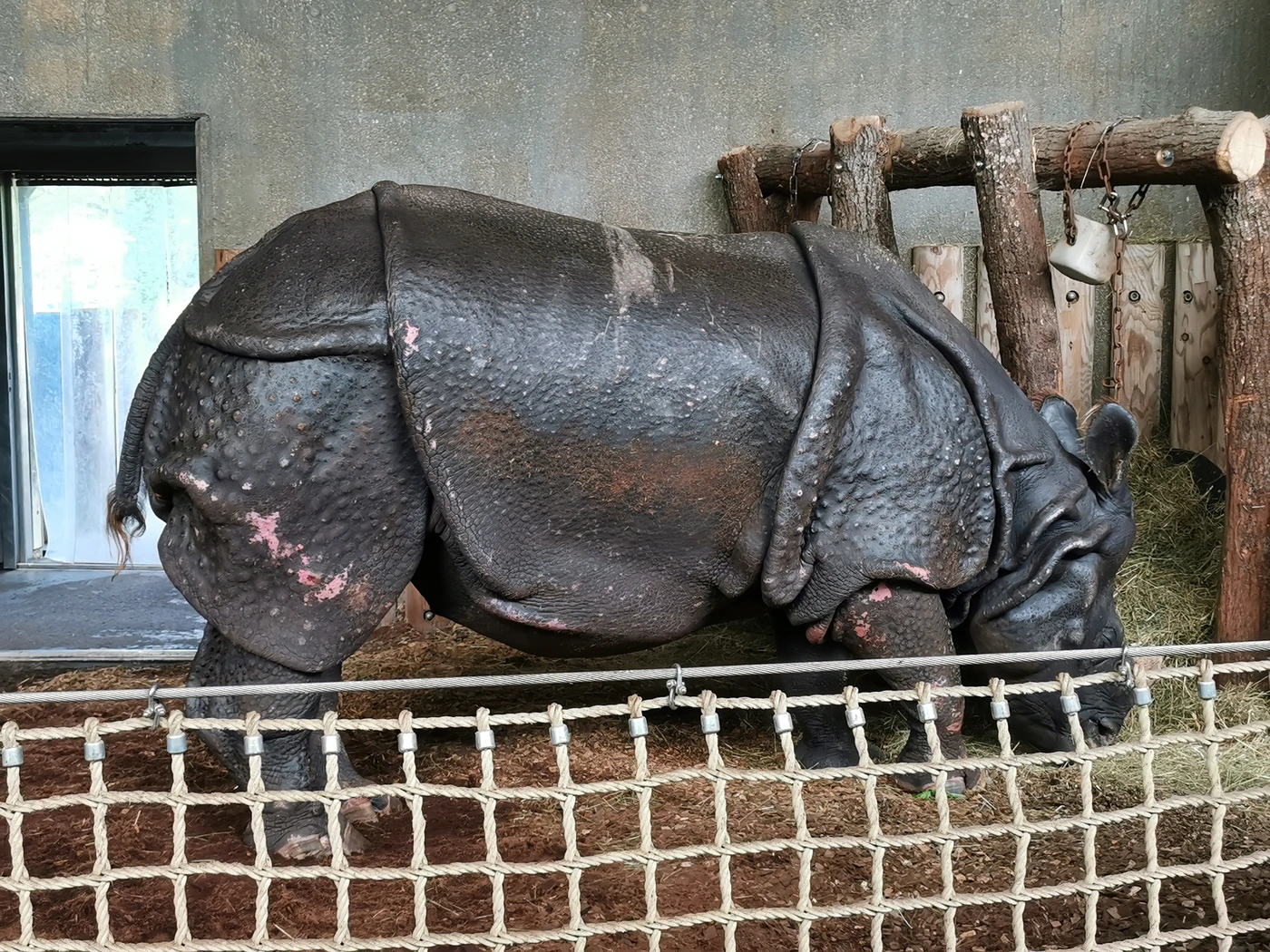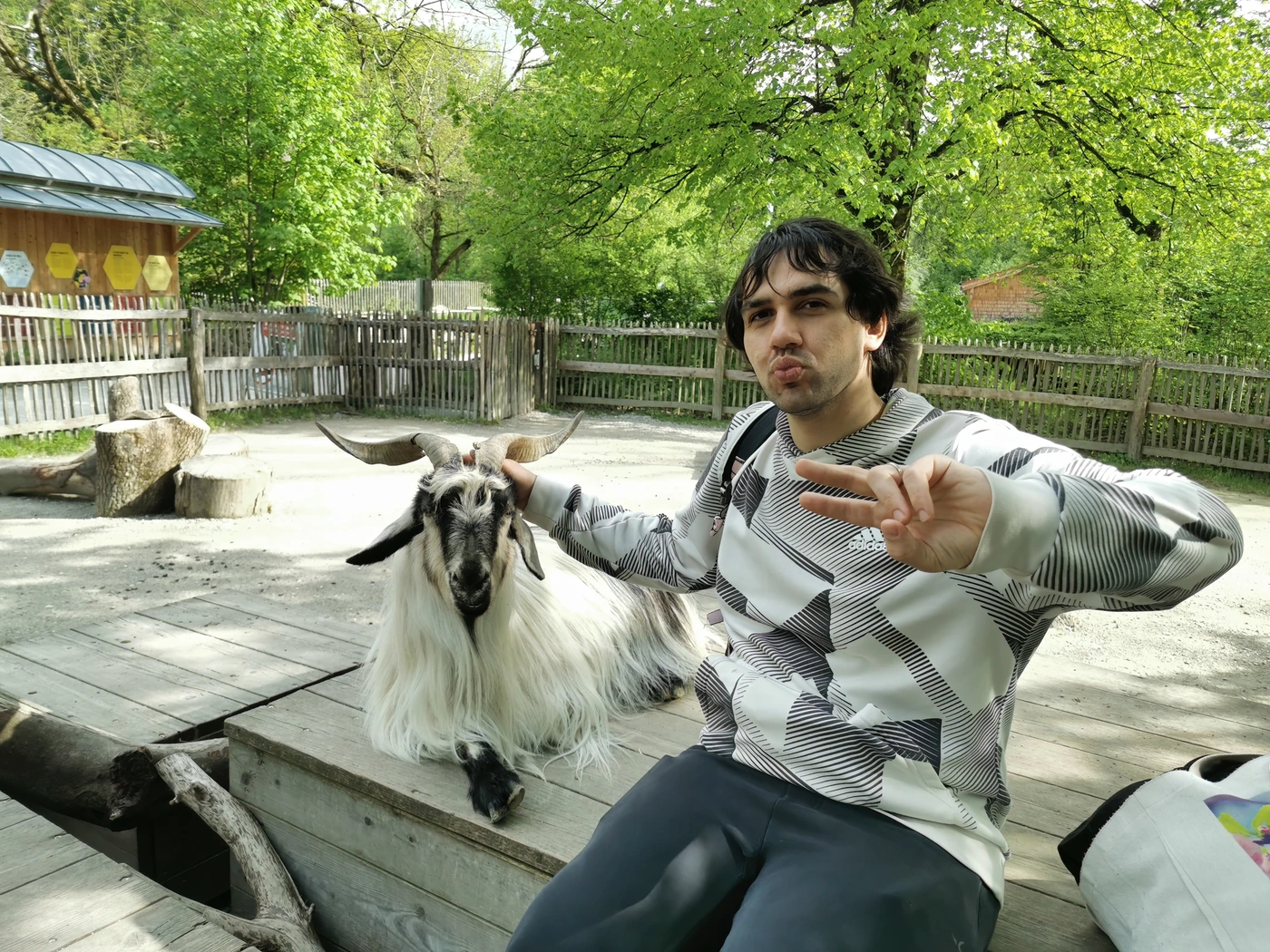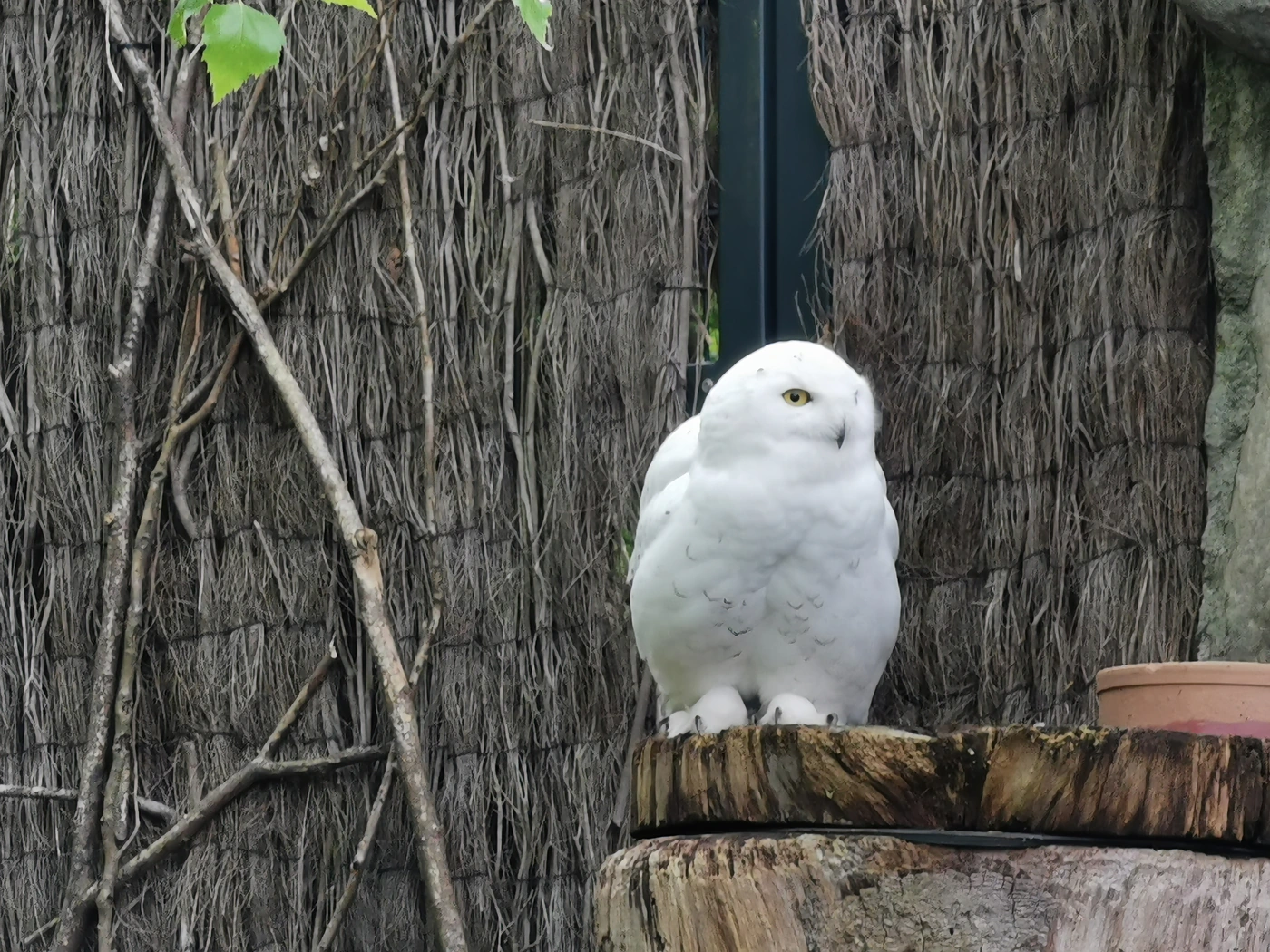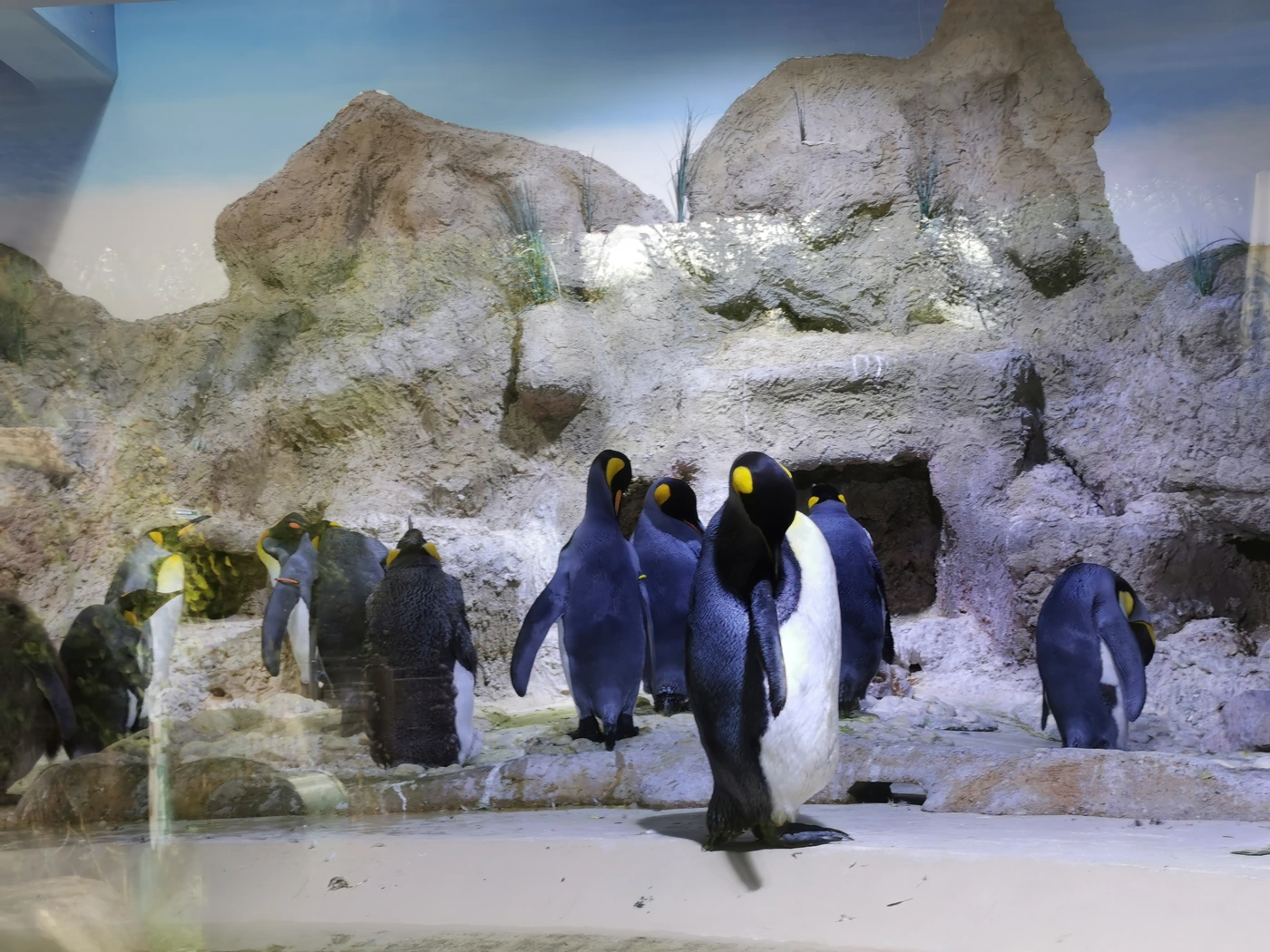 We actually managed to stay just enough in Munich to visit a Zoo, and take some photos with the animals there, they have much better living conditions that what we have in Romania, and as I've been saying, drinking, especially beer is a huge part of the local culture, which is different from Romania where it is illegal to drink on the streets. You can actually see the anticipation in our eyes, as this little Zoo Trip happened before High End Munich 2023 started, so we were actually wondering what it will be like at this point.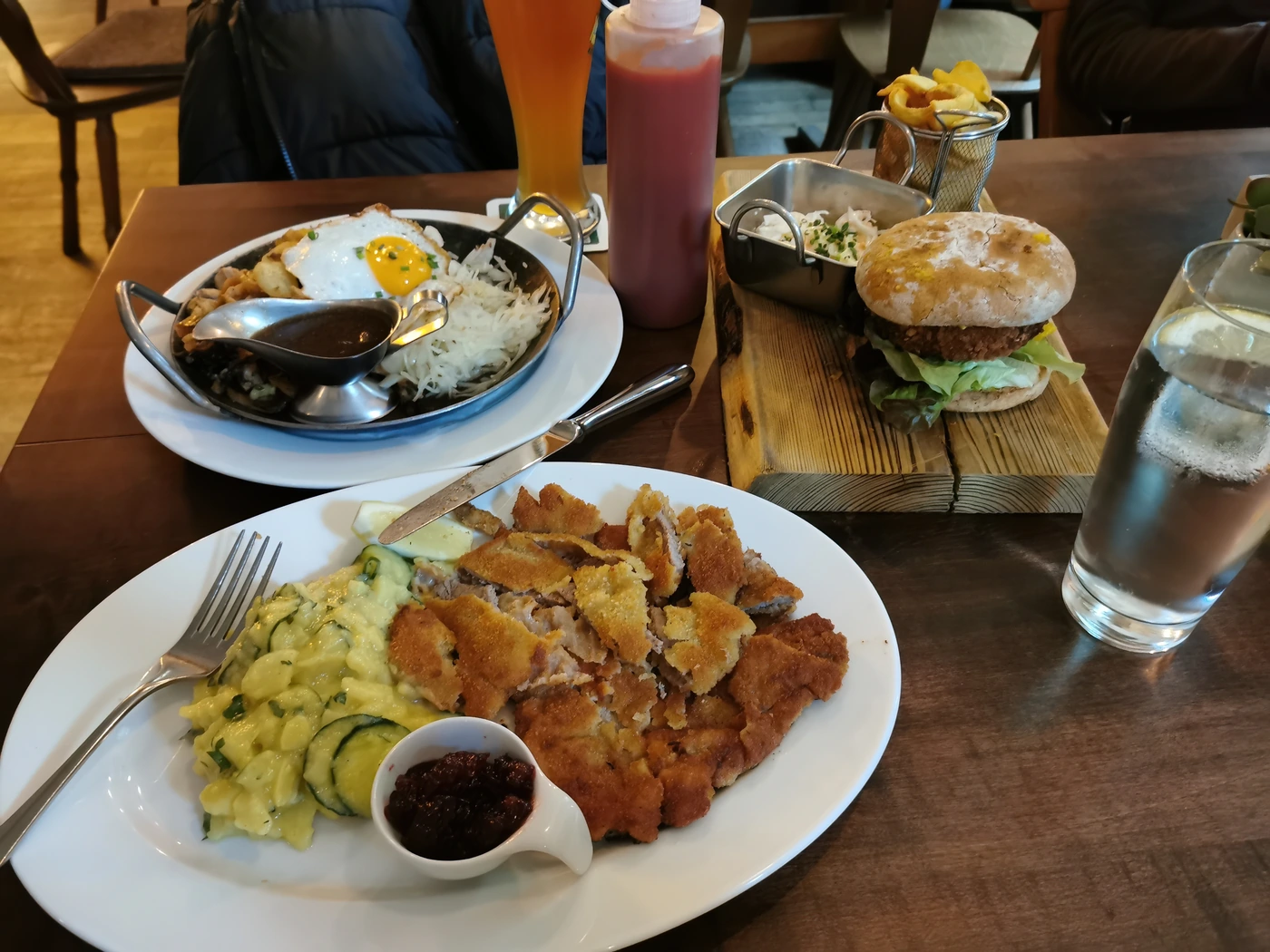 After our little trip to the Zoo, we decided to check out a local tavern with traditional German food, so we had some Schnitzel and some potato salad, along with some eggs and a vegan burger. I'm actually shocked to say this, but they made the best tasting Vegan burger I tasted in my entire life, and it doesn't have any soy, rather being made like a patty of vegetables. Another cool thing about High End Munich is that there was free coffee for those attending the first two days, Mary tried to purchase one and got it for free, which was quite lovely.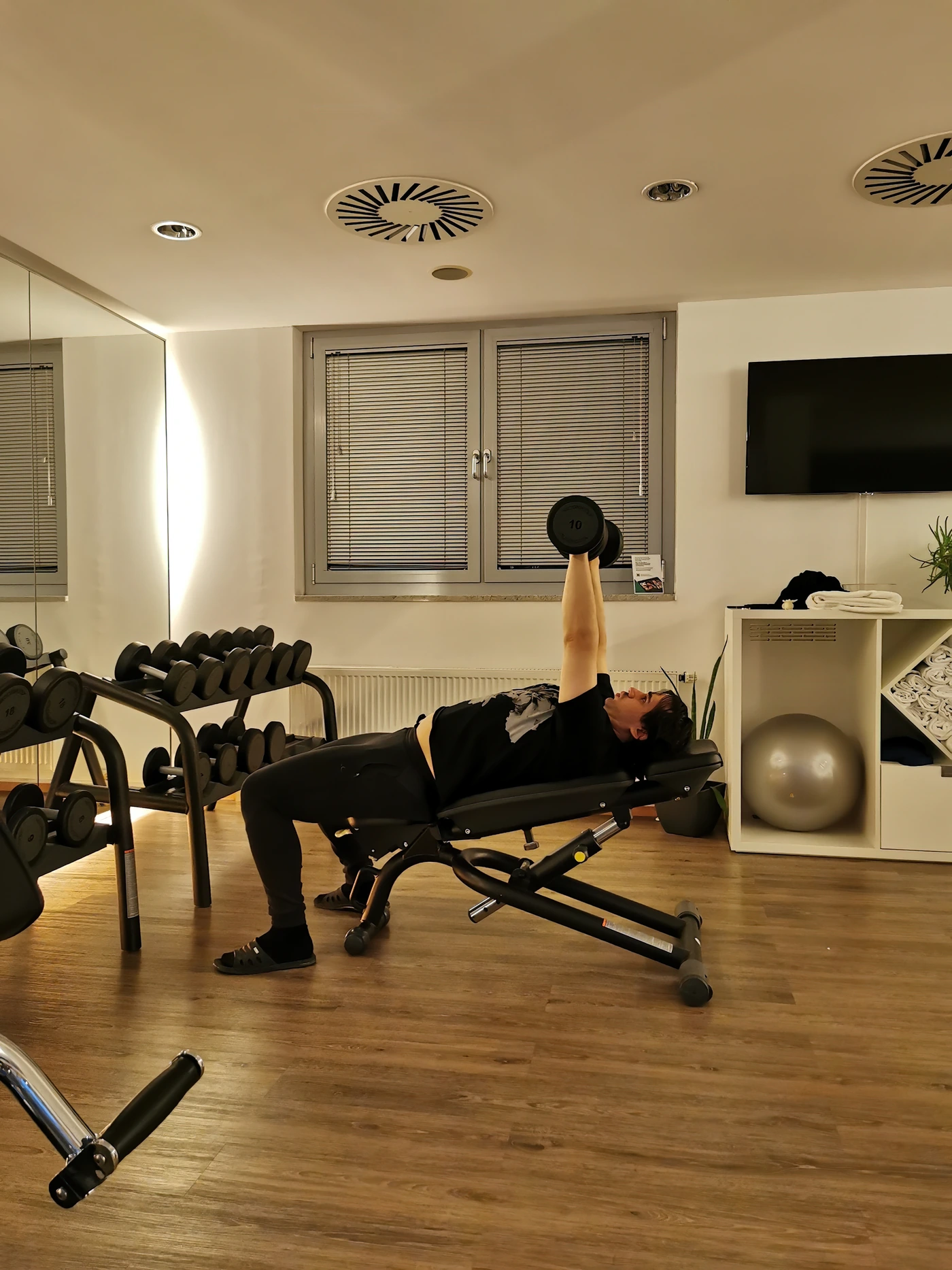 The hotel where we stayed had a Gym, so we went out for some workouts, to end the day on a hype note. Exploring the city itself can be complicated, as it is with any city if you're just using google maps and don't know where everything is, but the experience of actually being there is quite pleasing.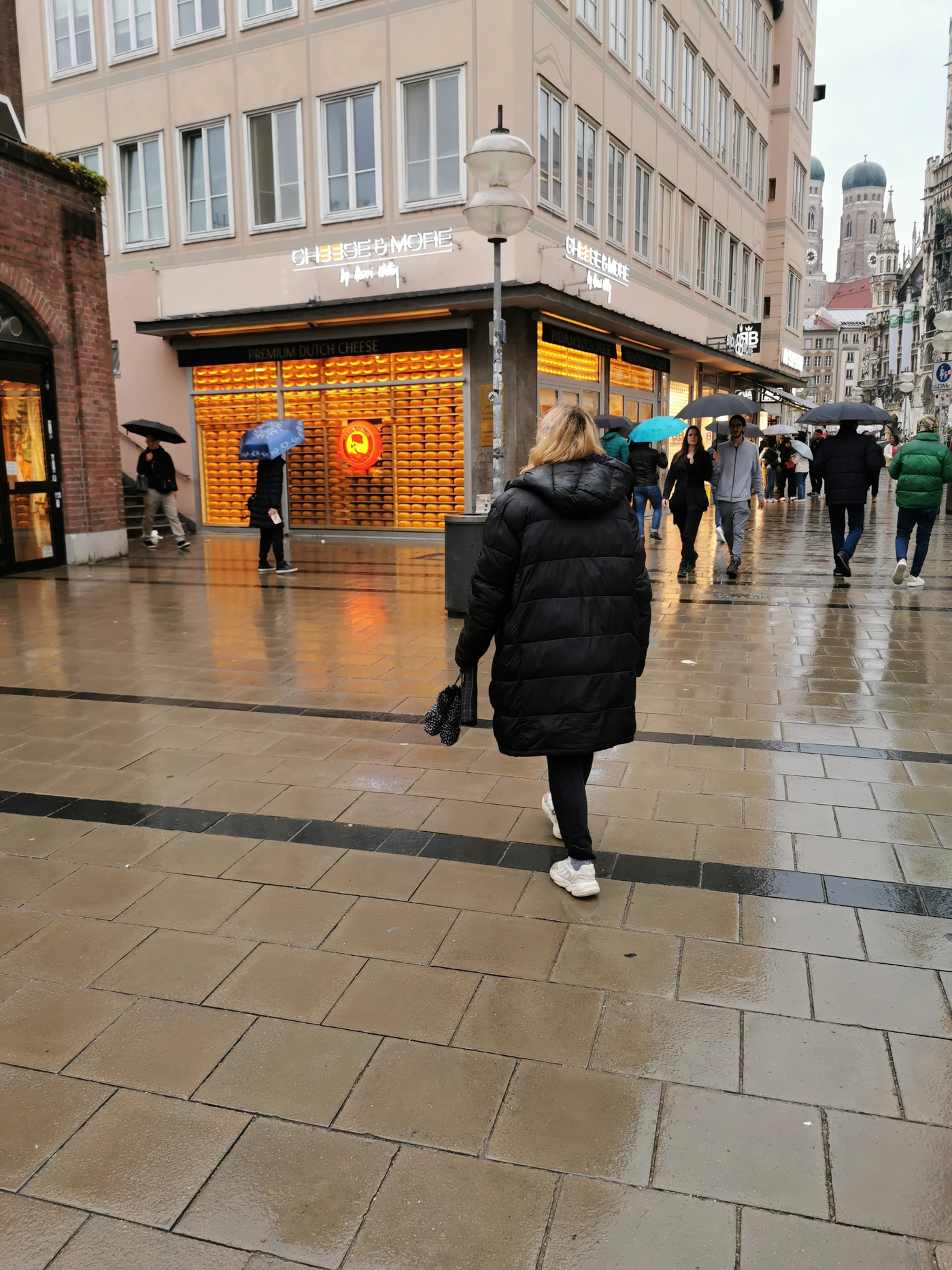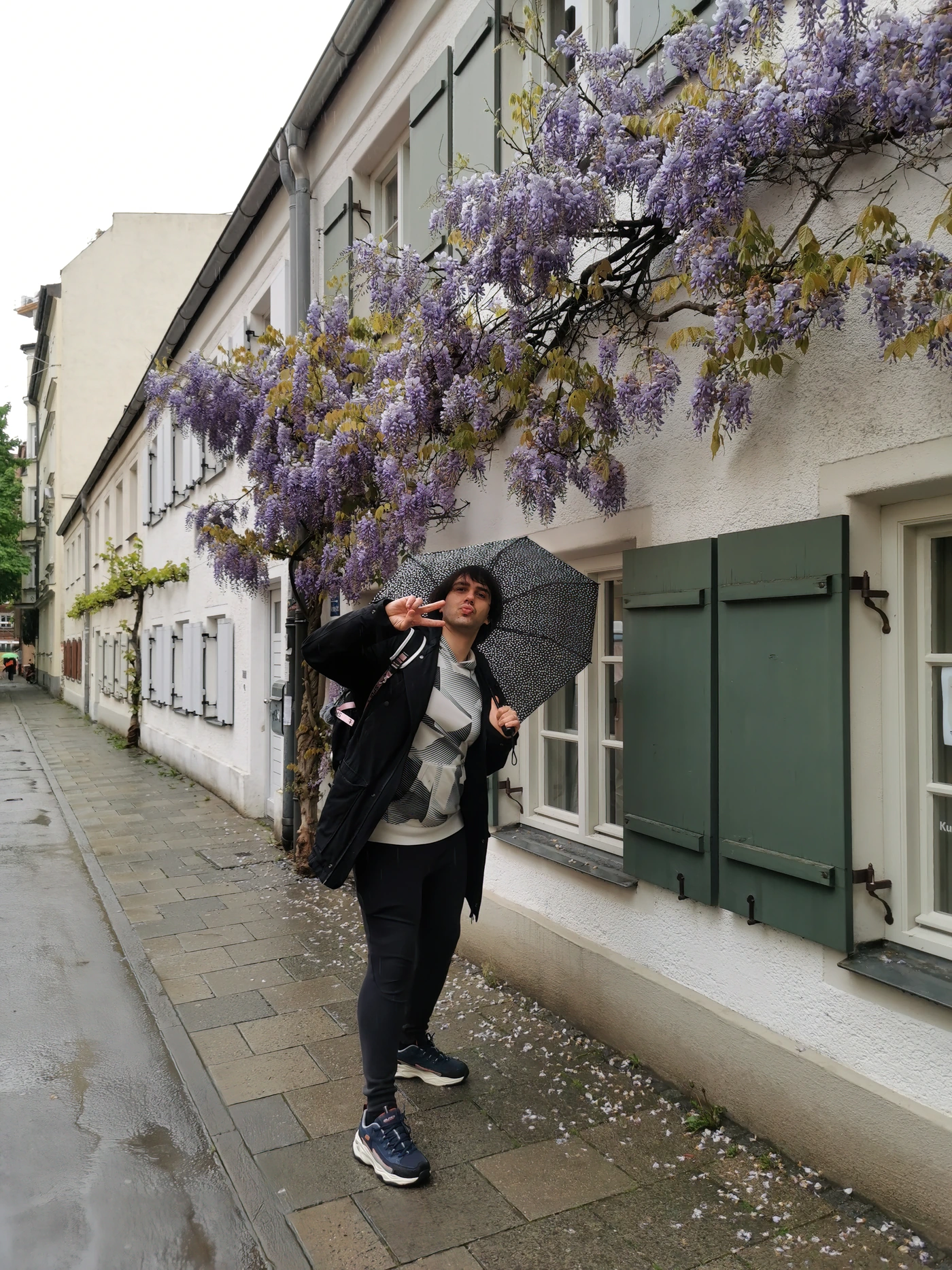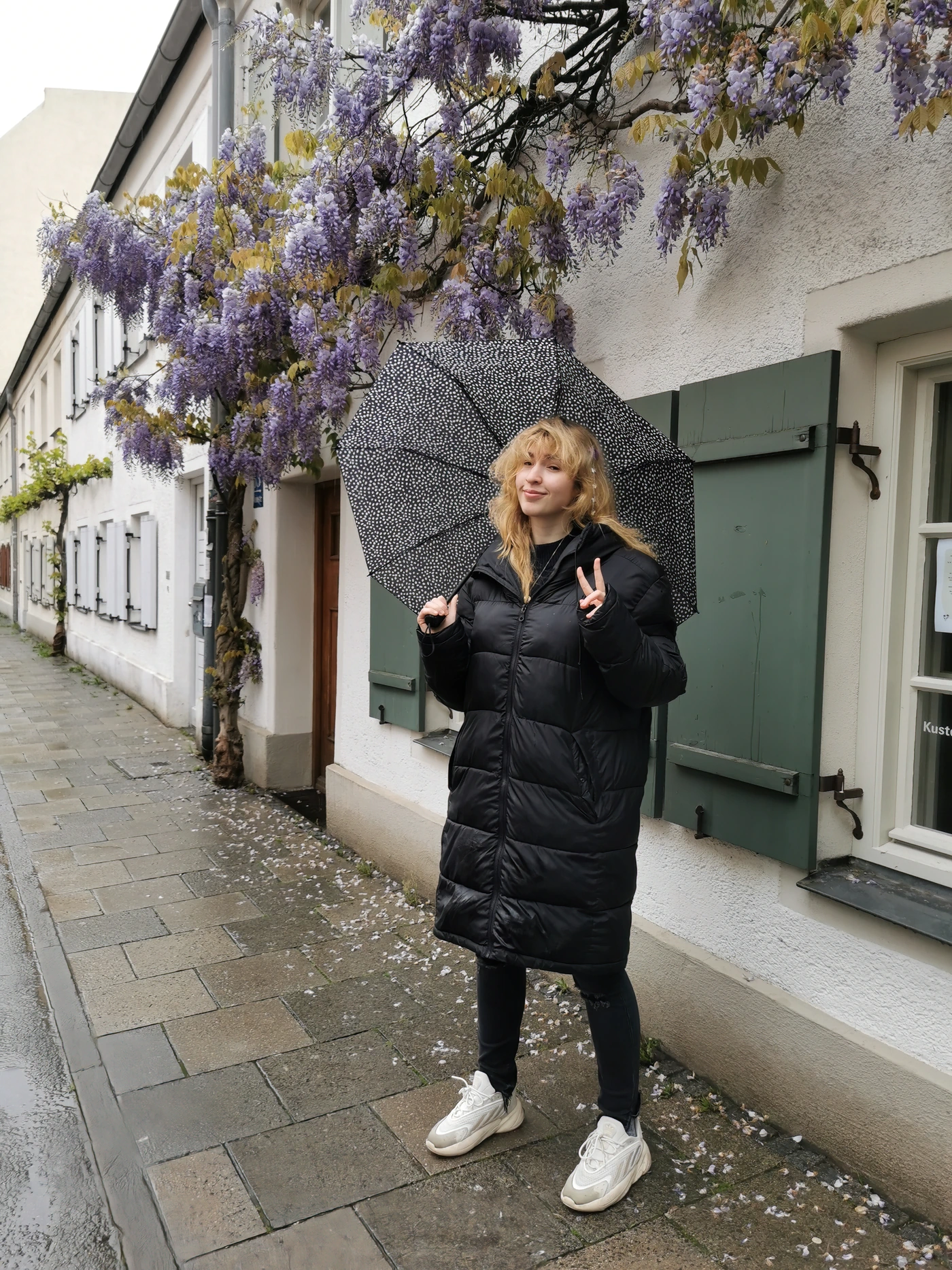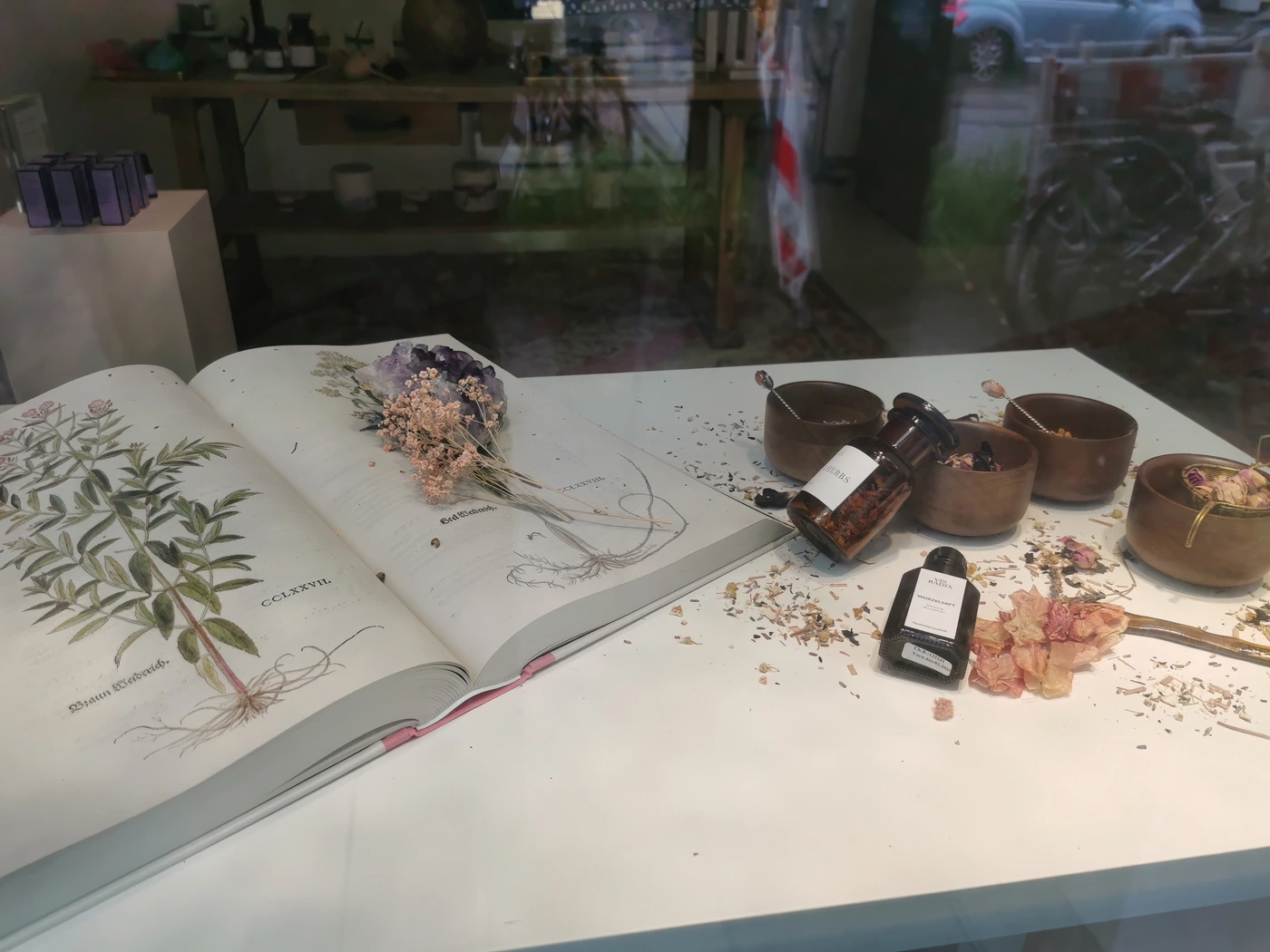 You can see a lot of flowers, although the city itself is always in construction and you can't enter certain roads, especially if you went by car. It is clear that Munich tries to appeal as much to tourists as it tries to appeal to those who live there, but I found that having malls and shopping places close so early is not a fun experience, since in Romania most malls close at 22, with some being open up to 23, and if I work late, I need to still find something open once I finish my job.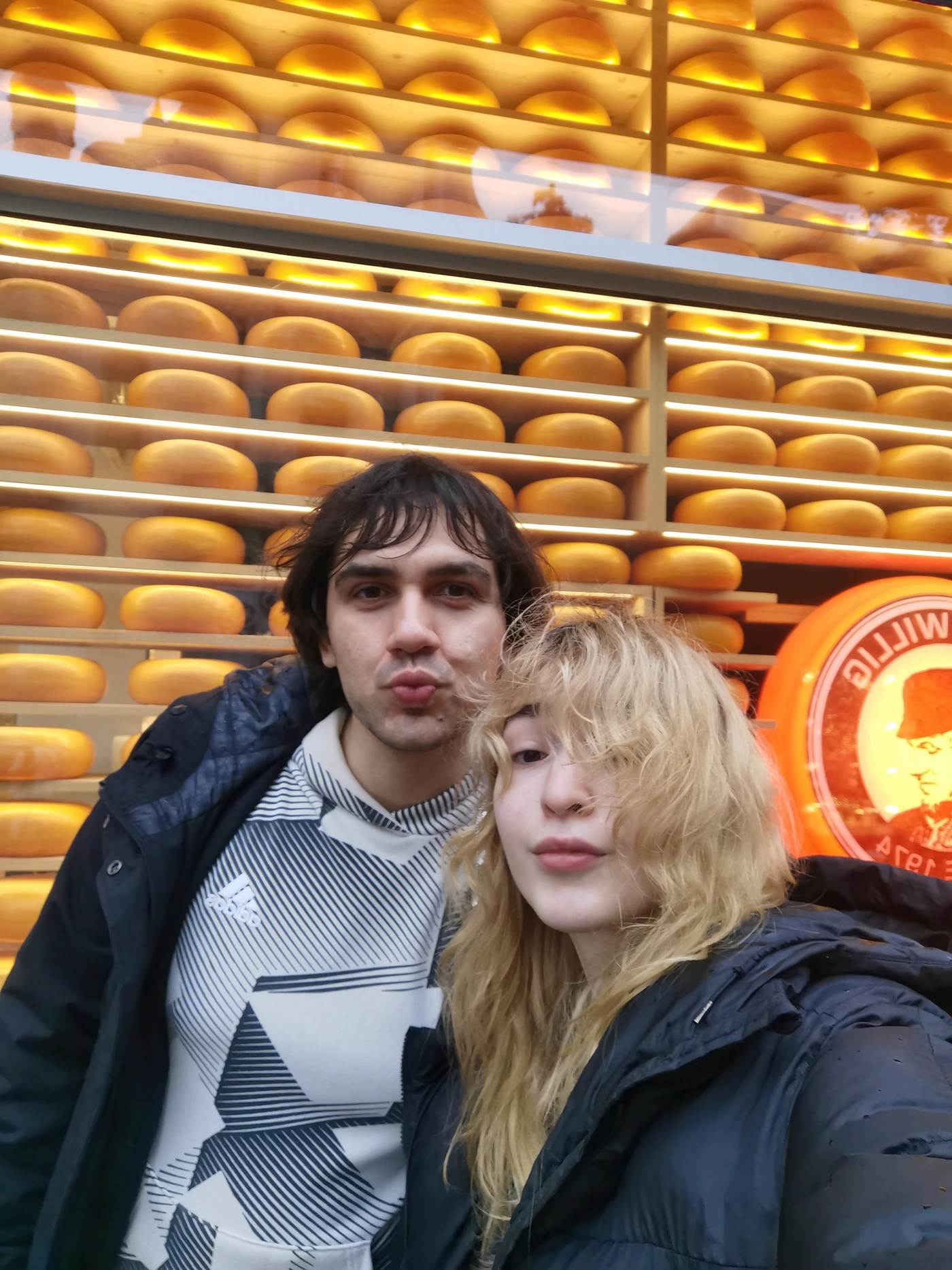 One of the seemingly biggest attractions is a cheese house, and castles are always present, but if you know anything about architecture and especially Gothic architecture, you'll likely understand what is going on and why all the buildings look so impressive and large. If there's anything that bothered me a lot, and which you'll see in the video we're going to post soon, Germany uses almost exlusively CFL lamps for lights, which is shocking. Especially at High-End Munich, the lights were pretty bad for video filming. Not only those are much less energy efficient than LED lights and consume much more power, they flicker like crazy and almost half of our video content has a lot of flicker, so what we'll be sharing is more of a vlog and video adventure throughout our experience, rather than our typical review. We hope you will be looking forward to it though.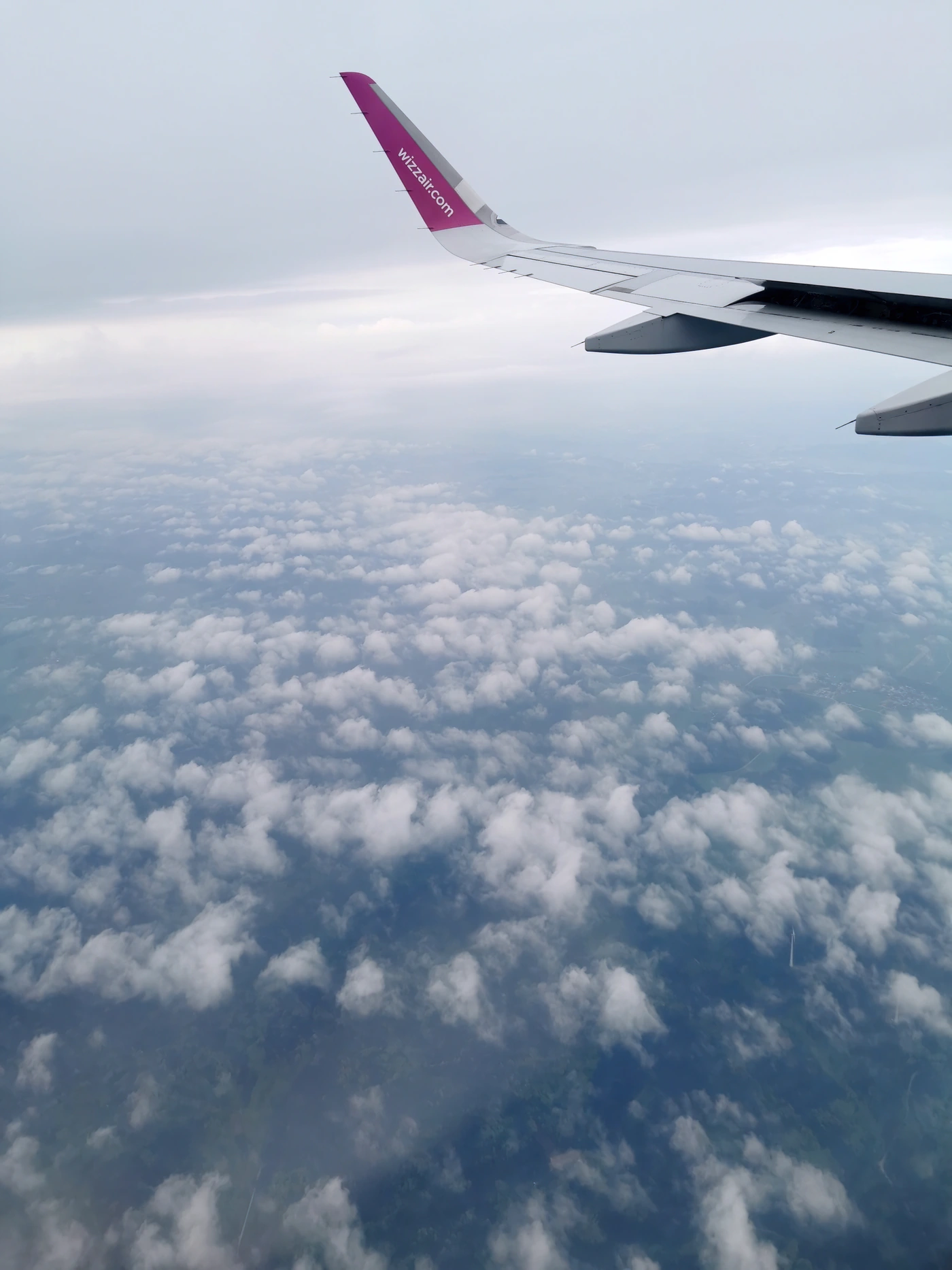 On an important, yet often forgotten point, on the day of our departure from Germany, both because we woke up so early and because we were incredibly tired, and because there were so many folks in attendance, I managed to catch a cold, and my nose was quite blocked. This is not a cause for concern for most folks, but if you include a plane flight, please remember that you can risk your ears and hearing if you fly with a blocked nose, so try to learn the Valsalva Manuver, to have a decongestant spray on hand, and also be prepared to feel a discomfort. It seems that I actually feel discomfort while flying regardless whether my nose is okay or not, but in this hobby, a blocked nose can even affect the ears, so take care and be well. 
Conclusion and Closing thoughts
Our adventure at High-End Munich 2023 has been super interesting, and we're happy to have had the chance to participate. Everyone has been super pleasing to work with and to meet in person, plus all the products we've seen here have been interesting. If you're working in audio or enthusiastic about audio, it is a show that's really nice to explore. I can't say for sure if it is worth going there if you're not planning to make any big purchase, but if you're close, it would be downright sad not to visit.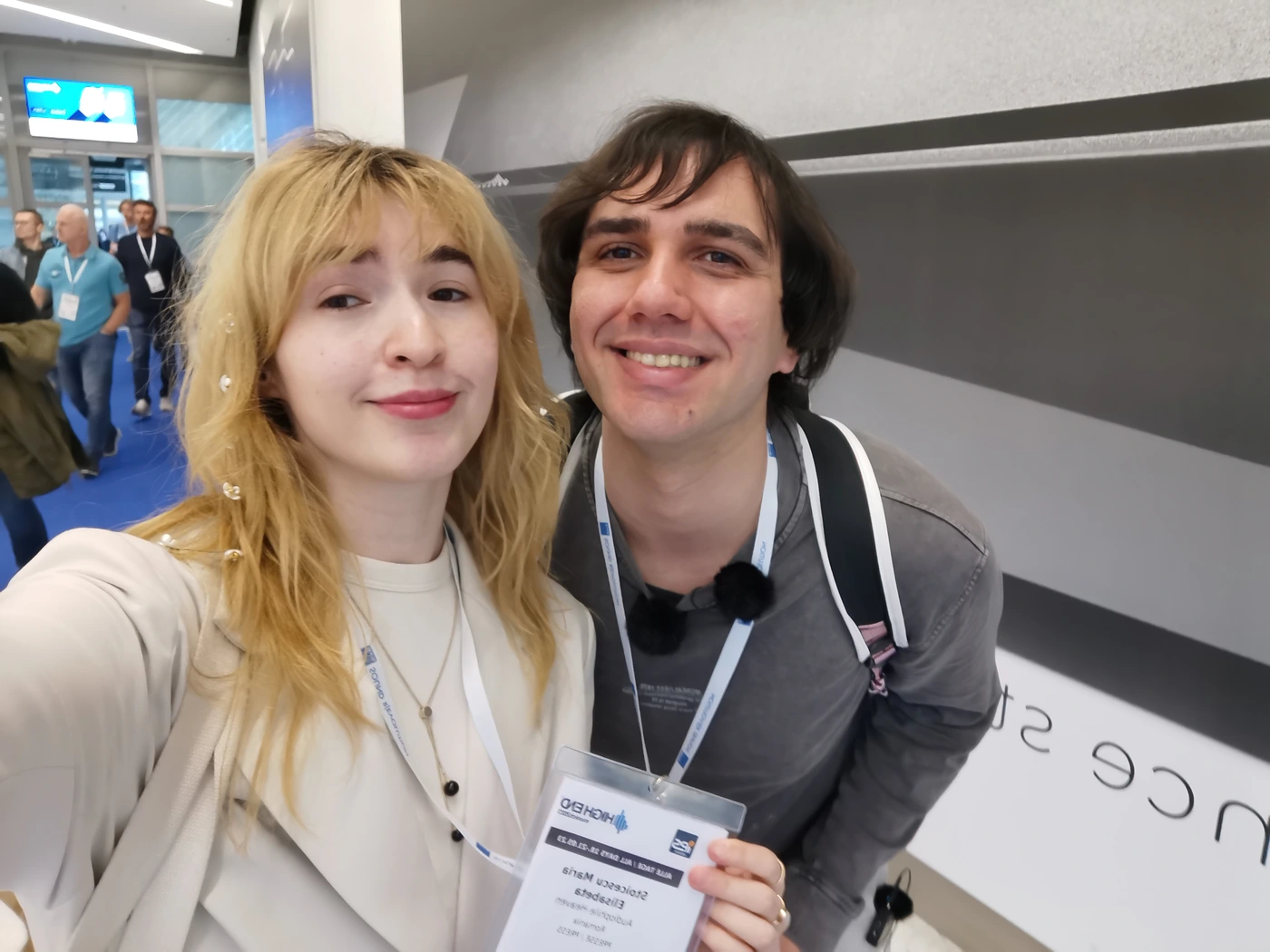 While we've been exploring the portable part / DAC / Amp part a lot, the speaker part of the show is even more interesting. This is the place where most large deals are signed, and where companies decide what they'll be working on for the rest of the year, so if you want to see how the biggest show about audio looks like, it is an excellent idea to try to attend High-End Munich next year, and don't worry, they'll welcome you nicely. Just try to get some tickets for plane and hotel before the show starts, otherwise it will get pricier to attend. Also, make sure your ears are ready to be taken by suprise if you decide to come.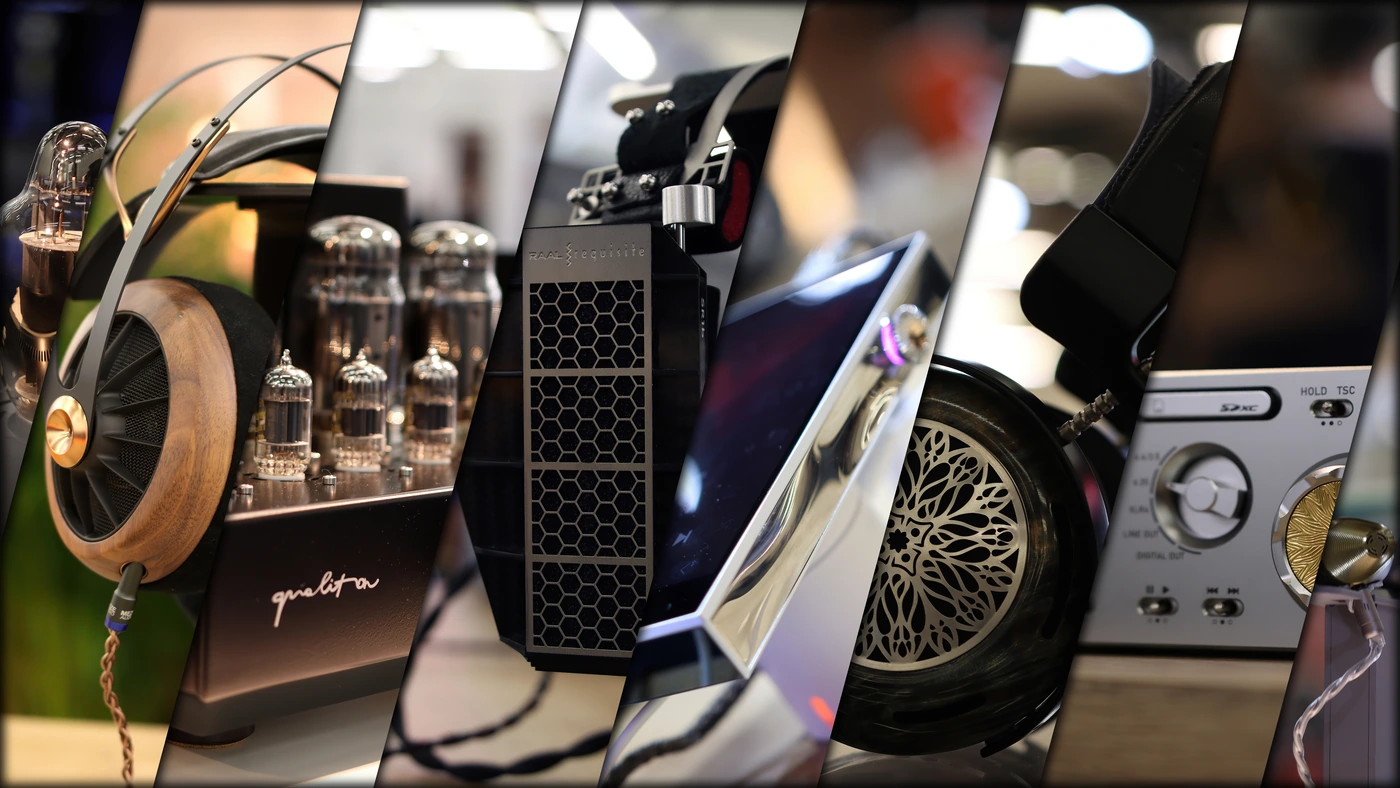 We want to thank the event and to everyone for having us at High End Munich, and to you, the reader for having made it through our article about our adventure, and we hope you'll check out Audiophile-Heaven again for more, and that we'll bring more and better content to you until the next big thing! 
Links 
In today's review we aren't reviewing anything in particular, but we used many of our personal funds to be able to do this coverage, so one thing we can request from you, is that if you need something from Amazon you could use our affiliate links so that we could afford to improve the quality of our work. Thank you! 
You can grab your stuff from www.amazon.com here: https://amzn.to/45w7scl
If you're in the UK, you can grab your stuff from www.amazon.co.uk here: https://amzn.to/43z4uSi
And if you're from Europe, you can grab your stuff from www.amazon.de here: https://amzn.to/43z08dQ
---
---
--- Please remember to stay safe, and always have fun while listening to music!---
 - If you have a dime to spare, and donate, to help us with electricity and work expenses, it would make my day much brighter, as it would help me improve things around the website and increase the frequency of my posts - 
---
Full Playlist used for this review
We listened to more songs than those named in this playlist, but those are excellent for identifying a sonic signature.  PRaT, Texturization, Detail, Resolution, Dynamics, Impact, and overall tonality are all revealed by those songs. We recommend trying most of the songs from this playlist, especially if you're searching for new music!
https://www.youtube.com/playlist?list=PL_cjBXGmwSHSdGcwuc_bKbBDGHL4QvYBu
--- Contact Us ---






---
---