Meze RAI Penta IEMs Review – Radically Smooth
RAI Penta is an IEM or In-Ear Monitor from the Romanian producer Meze, which should be really interesting, but I will be perfectly fair to them, since I never got to review the Empyrean, which I really wished, so pardon me if I'm a bit too cold throughout the review, but I'm still a bit disappointed about that. The price point of the Rai Penta is about 1100 USD. It is made to compete with the best, so it will be put against Beyerdynamic Xelento, Clear Tune Monitors CTM Da Vinci IX, Dunu DK-4001, and Campfire Atlas. The pairing list will include FiiO M11, iBasso DX229 and QLS QA 361, all of which should make an interesting partner for the RAI Penta.
Introduction

Meze is a company from Romania who understood one thing from the start, that the customer satisfaction, along with the marketing are really important things. They invested lots in their marketing, having friendly and quick personnel, and they also kept improving with every chance, they have some of the best warranty you can get worldwide, and they are known to be in top 3 most reliable companies out there. Their products are never priced the lowest out there, but you do get the support you deserve for what you're paying, and that speaks volumes, as at times they are better than Beyerdynamic and Sennheiser in offering help to their customers, and I know for sure they are much better than Denon (check out my Youtube video for more about that).

It should be noted that I have absolutely no affiliation with Meze, I am not receiving any incentive for this review or to sweeten things out. I'd like to thank Meze for providing the sample for this review, with me being responsible for paying the custom taxes. Every opinion expressed is mine and I stand by it, the purpose of this review is to help those interested in Meze Rai Penta find their next music companion.
Product Link 
You can check out www.amazon.com and get your Meze Rai Penta from there once it is in stock: https://www.amazon.com/s/ref=as_li_ss_tl?k=mexe+rai+penta&ref=nb_sb_noss_2
Packaging
First things first, let's get the packaging out of the way: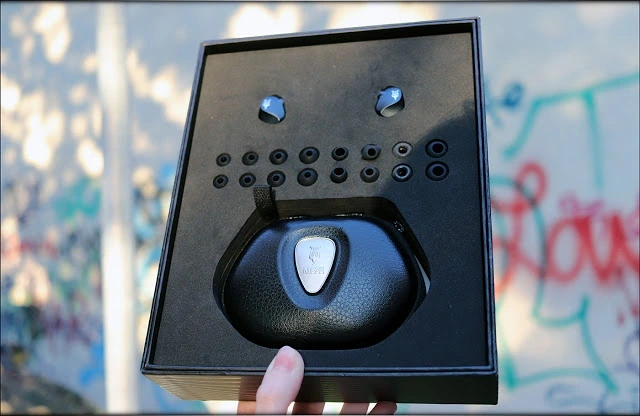 The package is not the best out there, and if I can say that, it is a bit of a letdown. The package itself is not bad, and you have a beautiful carrying case, but it lacks extras like a secondary cable, and you mainly get the IEMs, a few pairs of tips, a cable, and a case. For the price point, most of the competitors either include multiple cables, or modular cables.
Ironically, the cables of most competitors are not better than the ones found on Rai Penta, so they somewhat make up for it, but for those who like large packages, even FiiO's FA9 and FH7 come with larger packages, and with more extras.
All in all, Meze emphasizes the quality of the package and not the number of extras or the overall quantity, and the quality is top notch, from the cable, to the carrying case included with RAI Penta.

What to look for when purchasing a high-end In-Ear Monitor
https://www.audiophile-heaven.com/what-to-look-into
Build Quality/Aesthetics/Fit/Comfort
The build quality of Rai Penta is outstanding, they are a full metallic IEM, with vents so they do not have any driver flex, and the best part is that they are quite ergonomic. The shape does not include any hard edges or odd shapes, so the IEM has a smooth surface, sits nice in my ears, and would fit smaller ears well too. The aesthetics are also a ten out of ten, and Meze is known for being one of those companies who knows how to produce a beautiful IEM or Headphone, their 99 Classics and 99 Neo still being pretty good in the ~300 USD price points, and let's not forget, those two pairs are the first I seriously reviewed on Audiophile-heaven many years ago.
The fit of the Rai Penta is even better when you take into account the flexible cable that does not conduct microphonics, and the cable should be worn over-the-ear, so you also get a secure fit. The passive noise isolation is not great, about 15 dB of passive noise isolation in practice, as they are quite open, and the vent that protects you against driver flex is quite large. This also means that they leak quite a bit, so you don't get an IEM that isolates that well, but this translates to some benefits in the sonic quality department.

The connectors at the IEM level are high-quality MMCX, and they are better than your run-of-the-mill MMCX, the click is more secure, and you're not likely to break them easily. The best part is that you can use aftermarket cables, like Dunu Hulk, or FiiO Silver cables, if you want to, and although Dunu Hulk is not in my top recommended cables to use with the Rai Penta, because both are somewhat thick and warm, I do recommend silver cables for them, for a plus of brightness and sparkle.

Sound Quality

The sound quality of the Rai Penta is generally great, but they have a very specific signature, which is smooth, relaxed, lean, detailed, yet unintrusive. The dynamics are a surprise, as they are quite dynamic, but for a signature that does have a lot of mid presence, and a rolled off treble, they sound much more detailed than most competitors, like for example, Xelento, which is incredibly smooth, but fails to have the definition of the Rai Penta. The different drivers have a vastly different decay, which blends in nicely. The tuning is made for listening rather than assessing the best technical performance, and they have a slightly easygoing type of signature, without losing that rich touch in between.
The bass is generally controlled, it is slightly warm and has a large decay, which makes it really easy to listen to them, as they have a really large sustain in between notes. It is not overly punchy, and it has enough warmth to apply some magic to music, but while acoustic instruments have a good depth and fullness factor, they aren't designed for EDM and Electronic music, being a top choice when listening to Jazz, Pop, Downdempo, and higher fidelity music. Acoustic music works especially well, and everything that doesn't rely on a bump factor in the bass will work out beautifully through the Rai Penta.

The midrange is the major strength of Rai Penta, with a slight dip in the lower midrange (500hz-1kHz), and a more forward plateau between 1kHz and 3.5kHz. Their presentation of a soundstage is rounded, with both depth and width extending vastly, like a mini HIFIMAN Arya. Guitars come through as musical, lean, and smooth without a texture emphasis, but a musicality and lean factor emphasis. The tuning favors male voices slightly, with a slight dark overtone, and music tends to sound relaxed coming out of Rai Penta, rather than dramatic and peppy. It is similar to Dunu DK-4001, which was tuned in the same style in general, although DK-4001 follows a more technical approach, where Rai Penta leaves everything to music and the effortless flow of sound.

The treble is rolled off in general, with the most presence being in the 7kHz-9kHz, the above still having some presence, enough for them to have air and width, but most of the soundstage relies on how layered music is in the 1kHz-3kHz. It is polite and smooth, the texture of the treble in general is meant to be relaxing, and there's nothing that could offend even the most picky of listeners, although one could argue that this doesn't mean that percussion lacks definition, it is just how a company wanted to be polite and smooth in the tuning until the very top end.
Youtube Video

https://www.youtube.com/watch?v=5FbMWQI2bW0
Comparisons

The comparison list could go on forever, since there is a large list of competitors, given the price point, but the most notable and important / relevant competitors are Dunu DK-4001, Clear Tune Monitors CTM Da Vinci IX, Campfire Atlas, and Beyerdynamic Xelento.
The price points of those IEMs are really close to that of Rai Penta, so all of the comparisons should come in handy if you're looking for an interesting flagship when reading this review.

Meze Rai Penta vs Campfire Atlas (1100 USD vs 1300 USD) – Campfire Atlas does not have a perfect package either, and at their price point they are also controversially minimalistic, but they do come with more, and better tips from the default, where Rai Penta does not come with spinfit or Final Tips. The fit is actually better for Rai Penta, as they do not have driver flex, which Atlas has, and they are smaller, but Atlas allows for both straight-down and over-the-ear wearing styles. The sound is quite different, with Atlas being much more energetic, more aggressive, more detailed, more grand, with a wider stage. The midrange is more natural on Rai Penta, and although they totally lack treble, in comparison, Atlas has a pretty peppy treble that can sometimes be fatiguing, you're either going for smooth and lean, or V-Shaped, punchy and energetic between those two.

Meze Rai Penta vs Clear Tune Monitors Da Vinci IX (1100 USD vs 2000 USD) – The package of the Da Vinci IX is much better than that of the Rai Penta, with a plastic, but better case, two cables coming from the factory, and with the 2000 USD price tag, they are much worse deal, and their price to performance ratio is much worse than that of the Rai Penta. The comfort is actually better on Rai Penta, and there is no driver flex on either, but Da Vinci IX is a bit larger. The sound is comparable, although on Da Vinci IX, it is warmer, more romantic, thicker, more bassy, and with a slightly higher treble presence, so basically a bit more engaging, more dynamic and more V-Shaped. Rai Penta is more lean, relaxed, smoother, cleaner in the midrange with less grain (Da Vinci IX is not grainy, but Rai Penta feels even smoother), and Da Vinci IX has a larger soundstage. For almost double the price, it is interesting to see how you're getting some minor improvements, but not enough to recommend CTM IX over Rai Penta, even for those looking for a musical, lean, and smooth presentation.

Meze Rai Penta vs Dunu DK-4001 (1100 USD vs 1300 USD) – DK-4001 has a very similar signature to Rai Penta, and it is priced much more sensibly, at 900 USD, almost 200 USD less than Rai Penta. For this price, DK-4001 has a better package, with a better, modular cable, more tips, better tips, and presented professionally. The comfort is also better on DK-4001 which manages to be more ergonomic, to have a slightly smaller body, and still have zero driver flex, zero cable microphonics, just like Rai Penta. The sound, though, is a bit more technical on DK-4001 with slightly less even harmonics, and more odd ones, with Rai Penta sounding smoother, sweeter and more musical, despite DK-4001 being already quite into this presentation. DK-4001 has a larger soundstage with a deeper space in between instruments, but Rai Penta sounds a bit more dynamic, and although DK-4001 has technically more detail, Rai Penta has an edge when it comes to micro details.

Meze Rai Penta vs Beyerdynamic Xelento (1100 USD vs 1000 USD) – Xelento is a great example of how enthusiastic I was when I started reviewing, as it is a warm, smooth performer, with almost zero grain. Starting with the package, Xelento has a better package, with more accessories, but Rai Penta has the better fit and comfort, as Xelento has a pretty serious driver flex, and although they are not large, it is much easier to wear and feel comfortable with Rai Penta, than relying on the shallow fit of the Xelento. The sound is more detailed on Rai Penta, with more treble presence and air, and a bit more coherent sound. Xelento is smoother, but to the point where I often miss the treble in its signature, and although it is extremely warm, bassy, and full, I often find myself searching for an EQ to tune in a bit more sparkle. This does not happen with Rai Penta, which ends up being more balanced overall, more mid-focused, but without losing as much from both ends, and while the warmth and bass of Xelento surely make it a basshead's favorite poison, Rai Penta will be a top choice for those looking for an easy way to enjoy a Jazz piece, some soft pop, or even some classical.

Recommended Pairings

The pairing list will include some notable DAPs or Music Players, like iBasso DX220 running AMP 9, FiiO M11, and QLS QA 361. Only the best flagships are fit to pair with Rai Penta to get the best performance out of it, although they are not very sensitive to hiss, and they are fairly easy to drive.

Meze Rai Penta + iBasso DX 229 (1100 USD + 900 USD) – When pairing DX220 with AMP 9, you have access to not only the best of audiophile tech in a DAP, but also the sound that makes it worth to order such an expensive DAP. There's a magical midrange with DX229, and that midrange works especially well with Rai Penta, giving them a more musical and more detailed presentation. There's also the EQ function which works very well on DX229, and I have to admit, more often than not, I find myself dialing in some bass and some treble to Rai Penta, but that's just my guilty pleasure talking.

Meze Rai Penta + FiiO M11 (1100 USD + 460 USD) – There's no hissing with M11, which surely is a relief, since that was an important test for Rai Penta. Here's one of the things that it got better than the Atlas, which has quite a bit of hiss with M11. In fact, even more recent Campfire IEMs are a bit sensitive to hiss, but more about that in the full video and in-depth reviews of them. M11 is bright, somewhat glaring, with a digital edge, and a wide presentation, and it pairs perfectly with Rai Penta, giving them a bit more air, more edge in the highs, less overall dark cast, and a clearer, more detailed sound with a better overall revealing ability. The stage is also wider, and the whole synergy is simply great, especially considering the price point of M11, you would find yourself a perfect match.

Meze Rai Penta + QLS QA 361 (1100 USD + 800 USD) – QLS QA 361 is a DAP I know I don't mention enough, but the support for it seems to have become sparse, and the company behind is not as open as I wish it was, so it is hard for me to tell what will become of it. Still, for those who either got it, or really fancy the design and build, the sound is still amazing, with one of the most gentle presentations out there, a beautiful overall detail level, and with no background noise. With Rai Penta, you have access to a truly magical pair, with a smooth midrange, smooth treble, effortless presentation with enough bass depth to be fun and with just everything that makes Rai Penta good, but without the compromise of it lacking detail, as QA 361 is detailed, yet musical.

Value and Conclusion

Meze Rai Penta surely is a questionable thing when it comes to its value, it costs 1100 USD, and you can totally find better value in other IEMs, even those that follow the same signature. Not to mention package that is better, like Dunu DK-4001 which is a much easier choice, but at the end of the day, just like when I reviewed the Meze 99 Classics, my first official review on Audiophile-Heaven, I can't help but say that Meze Rai Penta is indeed worth the money. It isn't the IEM itself, it is that smart tuning that was made with enough care and passion for us music lovers to keep coming back to it for a listen.

Often it is much easier to recommend IEMs with great value, but Rai Penta is easy to recommend based on sound alone, although the build quality is great, it is a comfortable IEM, even for smaller ears, and it does not have any driver flex, microphonic noise, and it even manages to look cool.

The sound is smooth, relaxing, yet in a natural way, without losing the detail and technical ability in the process, just making sure to emphasize a natural sound that's not unnaturally thick or bland, simply musical and lean.

At the end of the day, if you're looking for what could be your next purchase as a musical flagship, if you appreciate both design, but also comfort, if you want to have a natural, slightly warm sound, with a liquid, musical midrange, and if you dislike strong treble, but still want some air, Meze Rai Penta makes an excellent purchase even now, and don't forget to check with Meze, they sometimes include extra cables and specials with their IEMs and Headphones.
---
--- Please remember to stay safe, and always have fun while listening to music!---
 - If you have a dime to spare, please donate, and help us! It would make the day brighter for me and my wife- 
---
Full Playlist used for this review
We listened to more songs than those named in this playlist, but those are excellent for identifying a sonic signature.  I recommend trying most of the songs from this playlist, especially if you're searching for new music! The playlists are different for Spotify, Tidal and Youtube, and based on the songs I enjoy and are available on each!
https://www.youtube.com/playlist?list=PL_cjBXGmwSHSdGcwuc_bKbBDGHL4QvYBu
https://open.spotify.com/playlist/5J3oloz8Riy9LxEGenOjQ0?si=979ba4f082414be7
https://tidal.com/browse/playlist/330fd544-8e5b-4839-bd35-676b2edbb3d5
--- Contact Us ---





---