Cleer ARC TWS Earbuds – Free Ears Sound
Cleer Arc is a $ 109 USD pair of True Wireless Bluetooth Earbuds, with large 16.2mm dynamic drivers, and 7 hours of battery life, and the stars of today's review. They will be compared to Dunu Kima, Moondrop Stellaris, and LyperTek Z7.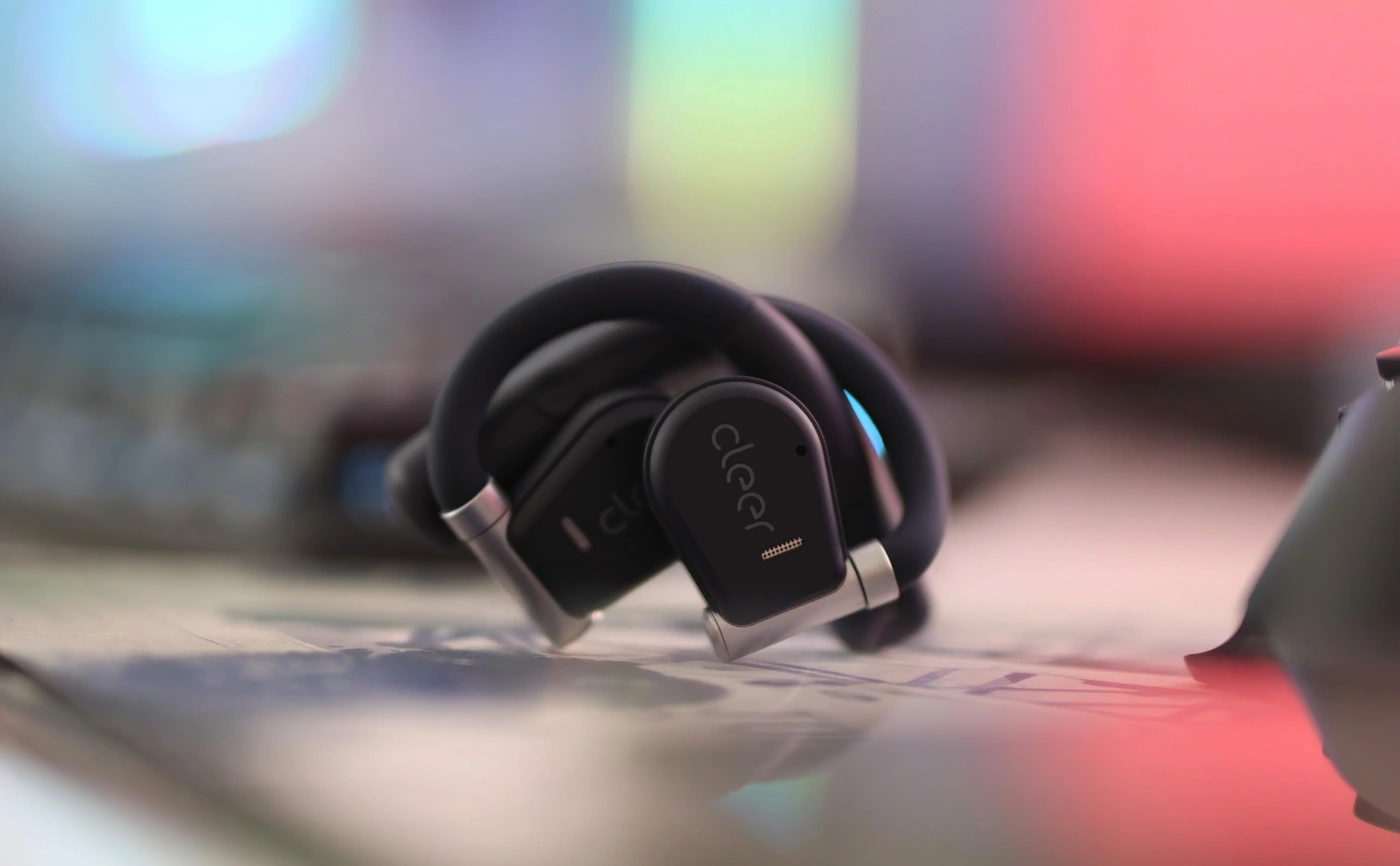 Introduction
Cleer is already a star in our reviews, thanks to Jackrabbit media, the company that takes care of PR for them, but also for Final Audio, and Lypertek. Cleer Audio makes entry-level products with good performance, good comfort and generally high price / performance ratio. The best place to order those products from is Amazon, where you will get the best prices, best return windows, and outstanding support. 
It should be noted that I have absolutely no affiliation with Jackrabbit media or Cleer, I am not receiving any incentive for this review or to sweeten things out. I'd like to thank Cleer for providing the sample for this review. Every opinion expressed is mine and I stand by it. The purpose of this review is to help those interested in the Cleer Arc Earbuds find their next music companion. 
Product Link
You can grab a pair of the Crosszone CZ-10 Headphones from www.amazon.com here: 
Build Quality/Aesthetics/Fit/Comfort
This is a true wireless earbud, with large dynamic drivers 16.2mm in size. They have a very unusual case that is more of a pouch with zipper, but with the charging cradle being glued to this case. There is a tail USB cable with a Type-A connector connected to the case to charge it.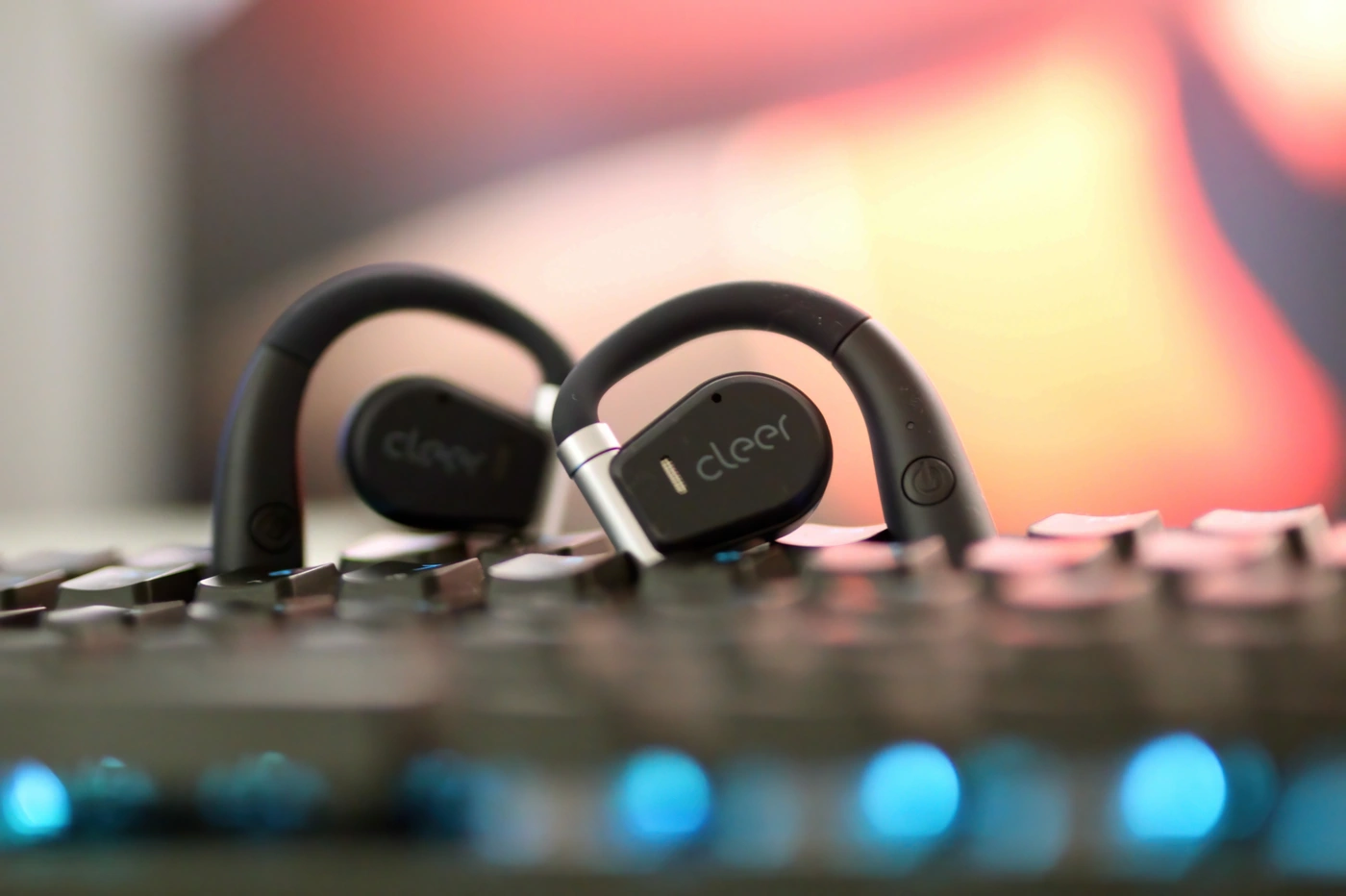 This is an Earbud not an IEM or in-ear, there is no part that goes inside of your ear, they basically sit around your ears, and they make a loose contact with your ears. Most of the weight rests on the outer part of your ears, and the fit is a bit tight. The fit is also very open, and ARC provides almost no passive noise isolation. This also means that there is quite a bit of leakage.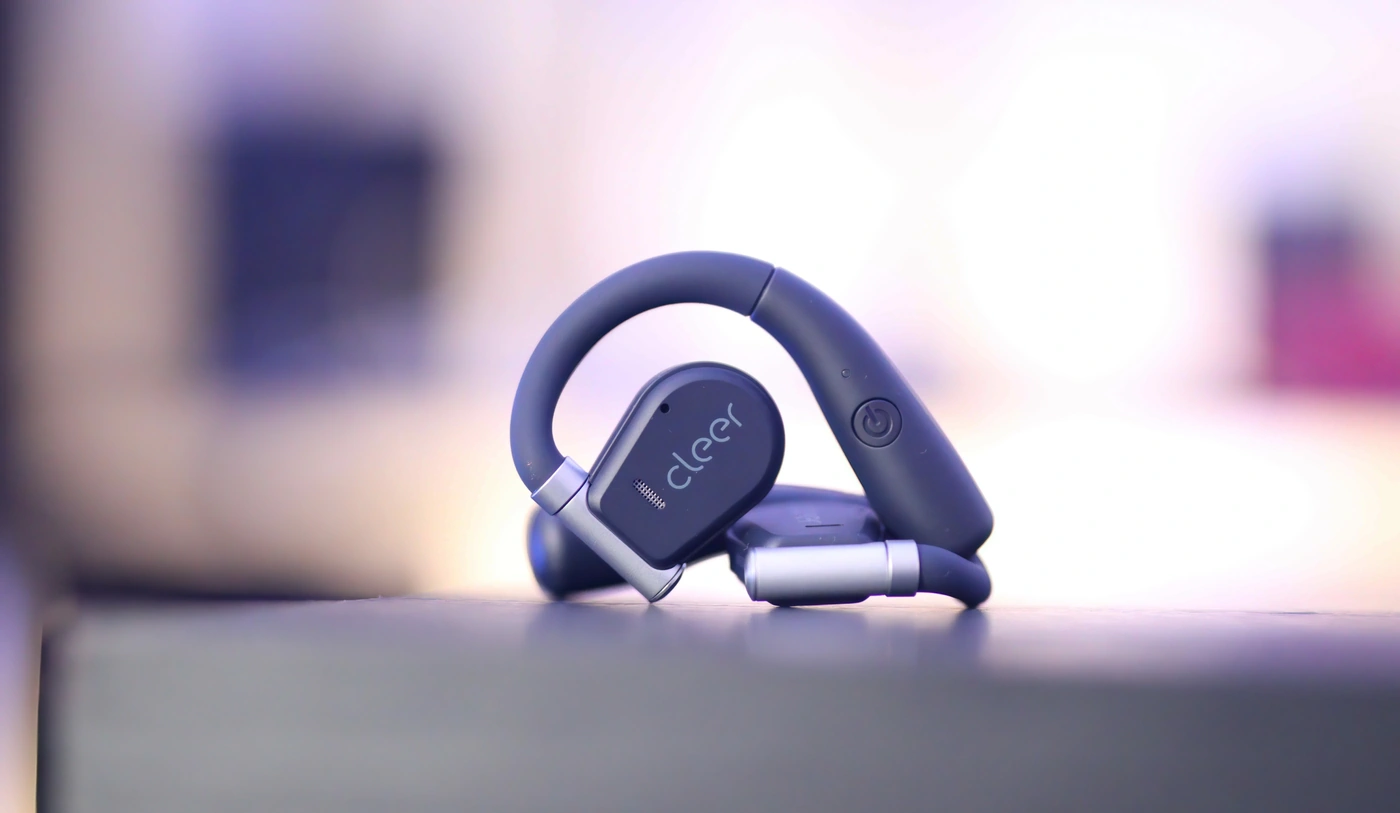 The TWS Earbuds have a combination of touch controls on the face of the earbuds for controlling playback, but also physical on/off switches. The battery life is around 7 hours as quoted by the company, and I would say around 6 hours if listening loud. It is important to note that the case is a charging cradle, and it does not have a battery.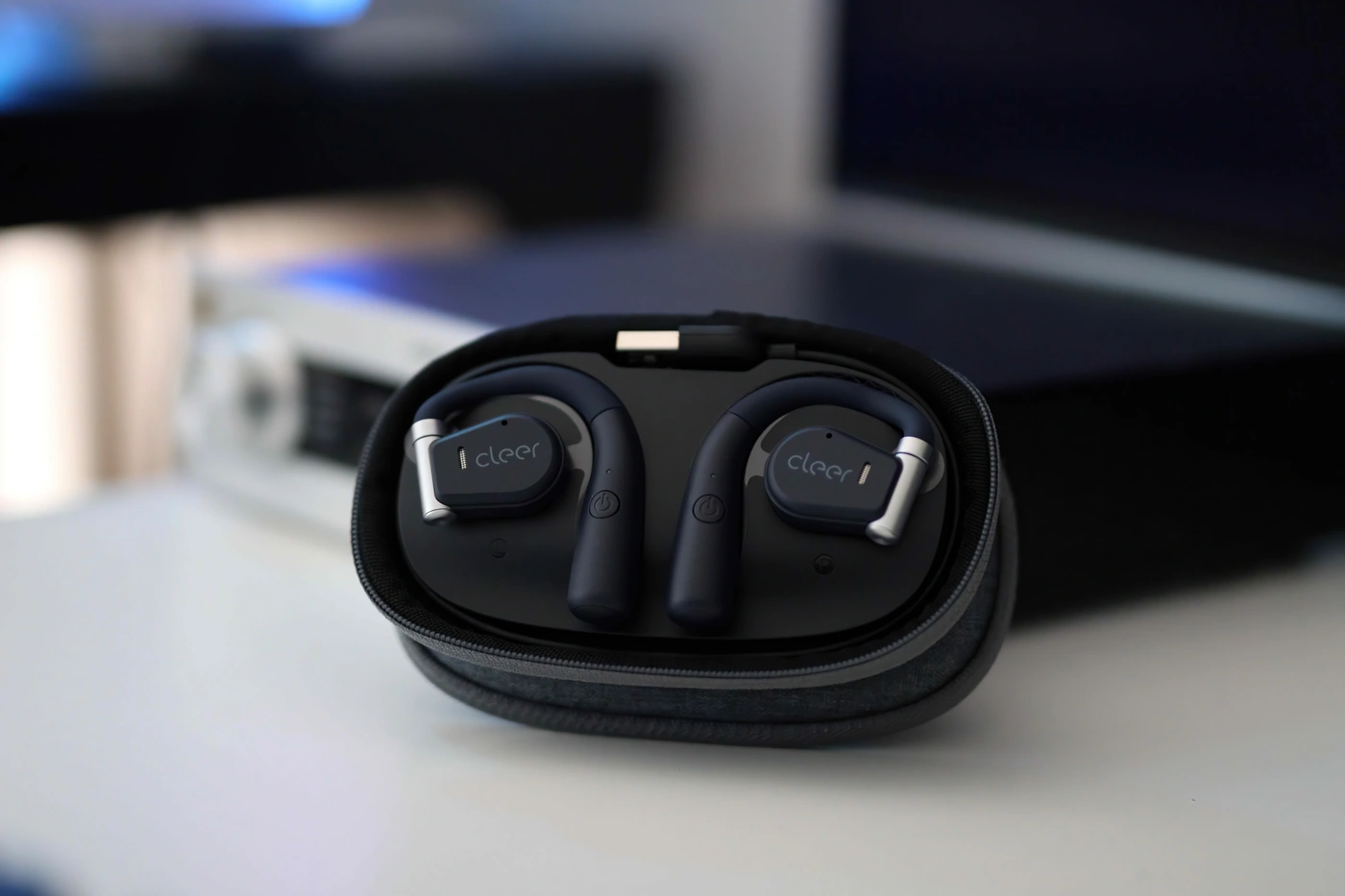 There is a useful Cleer+ App for you to EQ the Earbuds, and you can even upgrade the firmware using the app. The Bluetooth protocol used is aptX, which is surprising but a welcome addition. 
Sound Quality
While this isn't the first open ear earbud that I am reviewing, the whole idea is new to music lovers, and I think it all goes back to those earphones that you clip on to your ears that were popular many years ago. The whole sound of Cleer ARC is pretty warm in the midrange, with sub-bass roll-off, a wide presentation, and with a natural midrange. The treble extends naturally, but it also rolls off after about 11kHz, giving the whole sound a pretty vintage presentation. This means that the sound would work well for old rock and metal, but is not great for Pop, EDM, or commercial music. The maximum volume is rather high, reaching around 90dB, but they don't handle very loud music as well as medium listening volumes.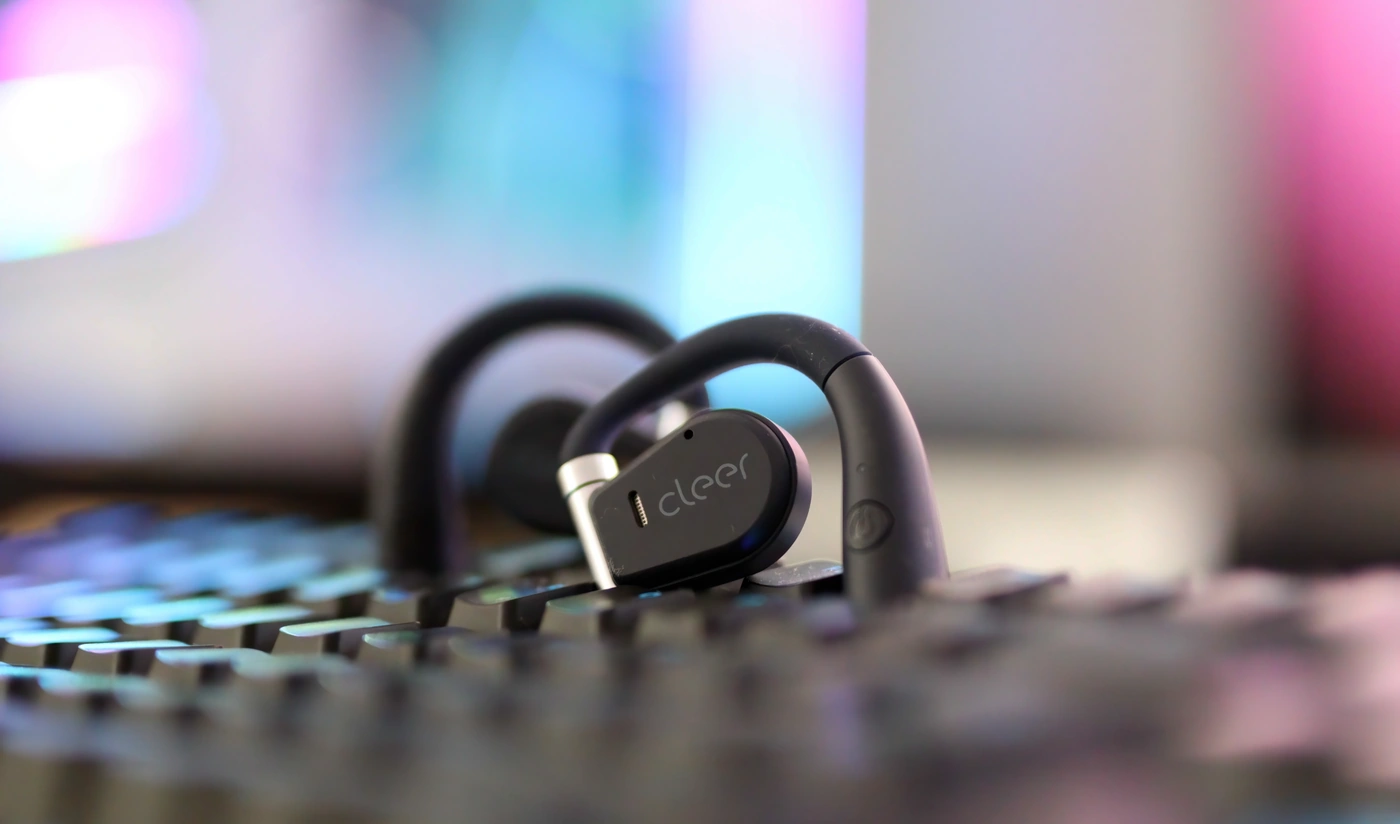 The bass has a total roll off in the sub bass, and most of the bass energy starts above 100 Hz, which means that you will get a sound that is mostly focused on the midrange. The bass has a bit of warmth in the upper bass, above 150Hz.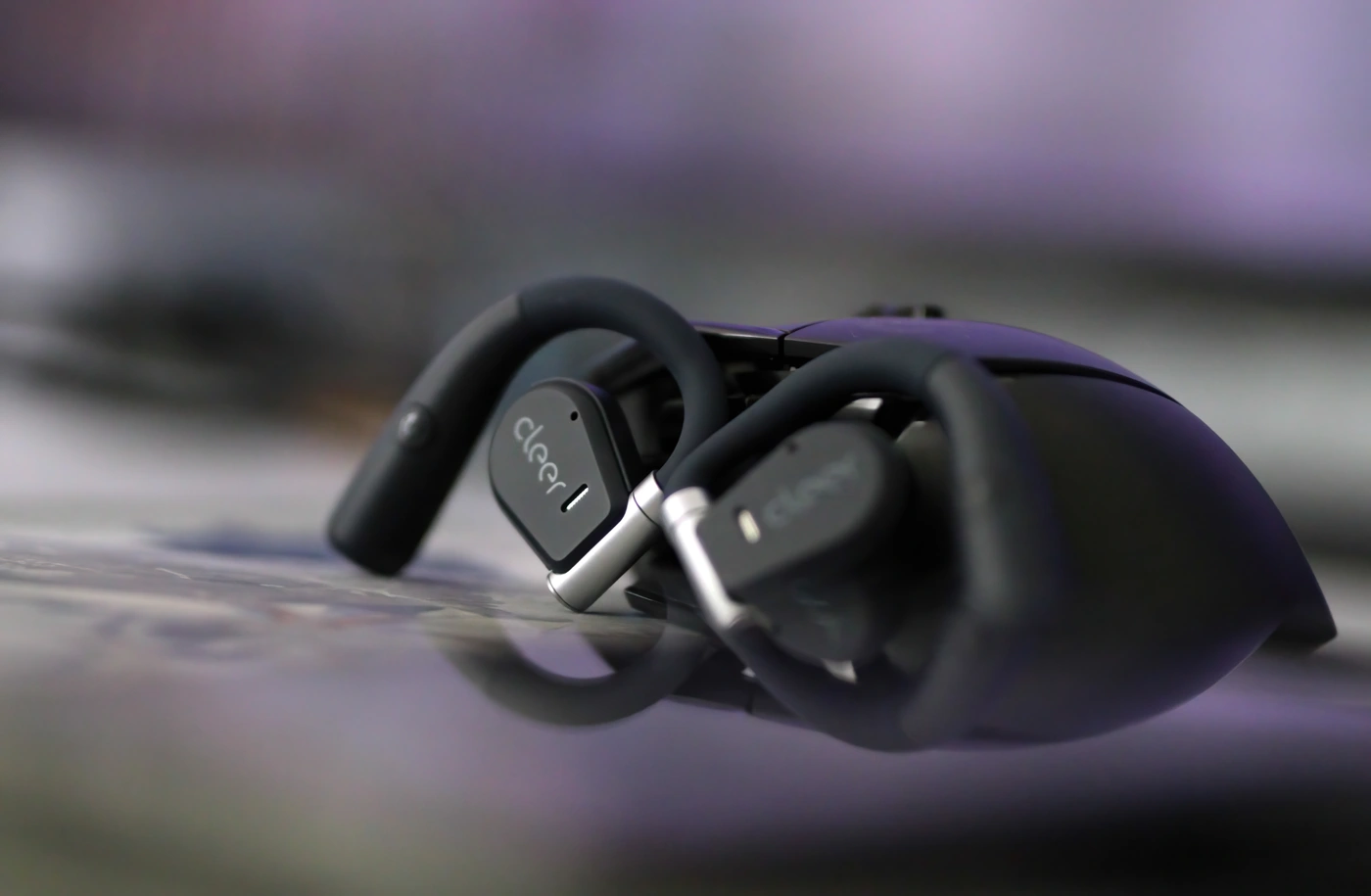 The midrange is clean, warm in tuning, and wide. The fit is generally the same for everyone, since they try to pinch the ears as much as possible to make contact with your ears. There is no metallic or hot sound in the midrange, and happily the upper midrange is also somewhat dipped and rolled off, making the sound somewhat vintage sounding, open, similar to a tape player.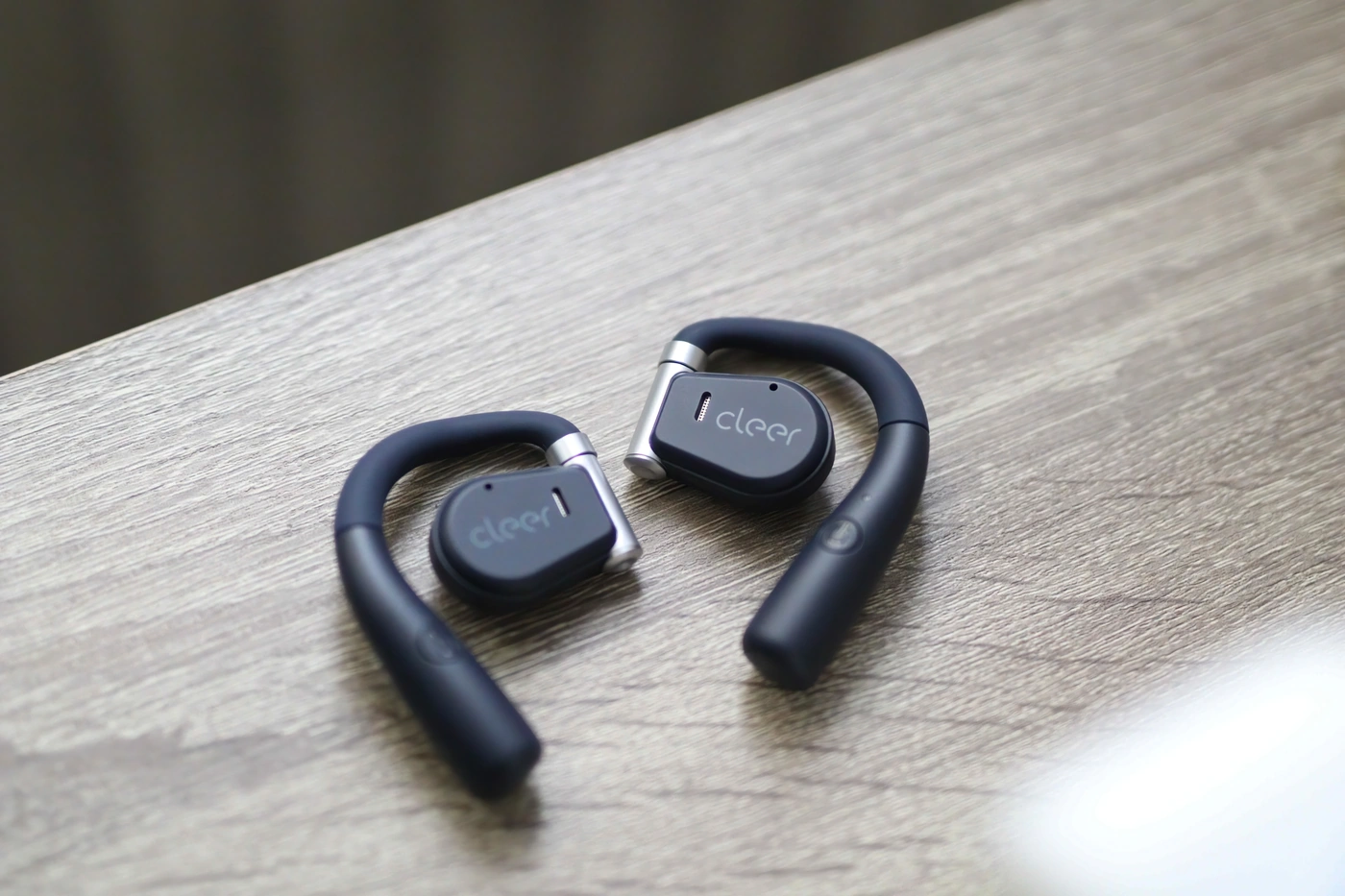 The treble extends well up to about 10kHz, after which it rolls off as well. There is some information in the highs, and it is not rolled off entirely, it has a smooth texture, and not a harsh or a metallic one. 
Comparisons 
Cleer ARC vs Dunu Kima (109 USD vs 99 USD) – We have a lighter IEM in Dunu Kima, but it uses silicone tips to stay in your ears, while Cleer ARC does not. The sound is actually a bit more detailed on Dunu Kima, but it doesn't sound more natural than Cleer ARC, and in fact Dunu Kima has quite a skewed frequency response, while Cleer ARC gets the midrange right, but there is little besides the midrange.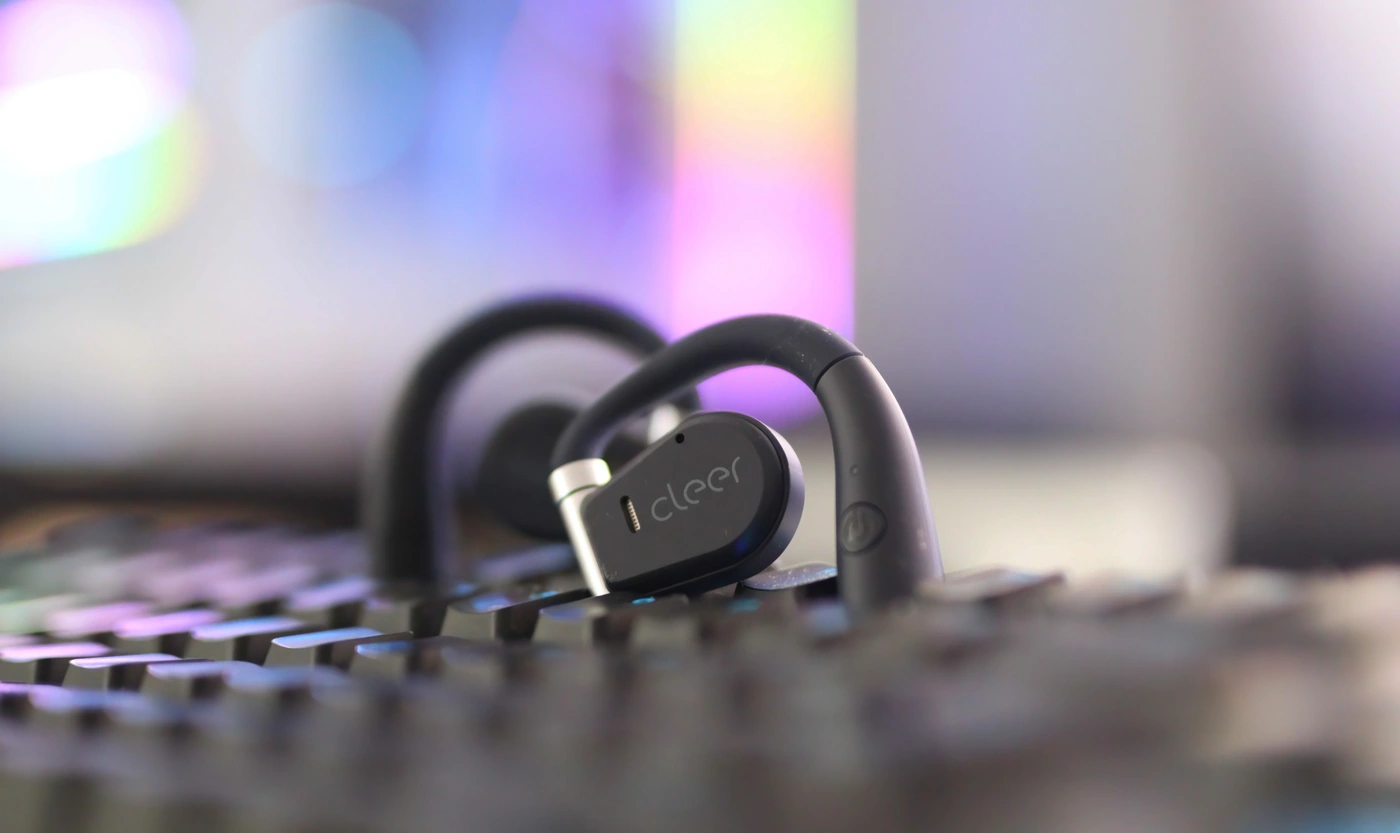 Cleer ARC vs Moondrop Stellaris (109 USD vs 94 USD) – Stellaris is much larger than the Cleer ARC, it is heavier, but it uses silicone tips to stay inside of your ears. Despite the fact that Stellaris has a much more detailed sound, with better resolution, it causes more fatigue for the wearing, since it is heavier and larger, so here's a good moment to showcase that Cleer ARC can be comfy to wear in comparison. 
Cleer ARC vs Lypertek Z7 (109 USD vs 89 USD) – Both of those are presented by the same company (Jackrabbit), so it is interesting to notice that they have a very different presentation and sound. Z7 is a very traditional IEM, with silicone tips, but I can understand the appeal of the ARC if you have any kind of problem with the ears. The sound of Z7 is generally more detailed, has no roll off, and is more resolute, so it is a better IEM to check out sonically, if you don't need or want an open ear / on ear / earbud design. 
Value and Conclusion
At the end of the day, the price performance ratio of Arc TWS is not quite as high as that of other Cleer Audio products, but no open ear earbud to date has a better price performance ratio, and the tech is somewhat novel, so there is still a lot of development to be had. This is going to be perfect for someone who wants to hear music but doesn't want or cannot have anything in the ear canal, but the quality is not exactly the same as what IEMs can offer at the same price.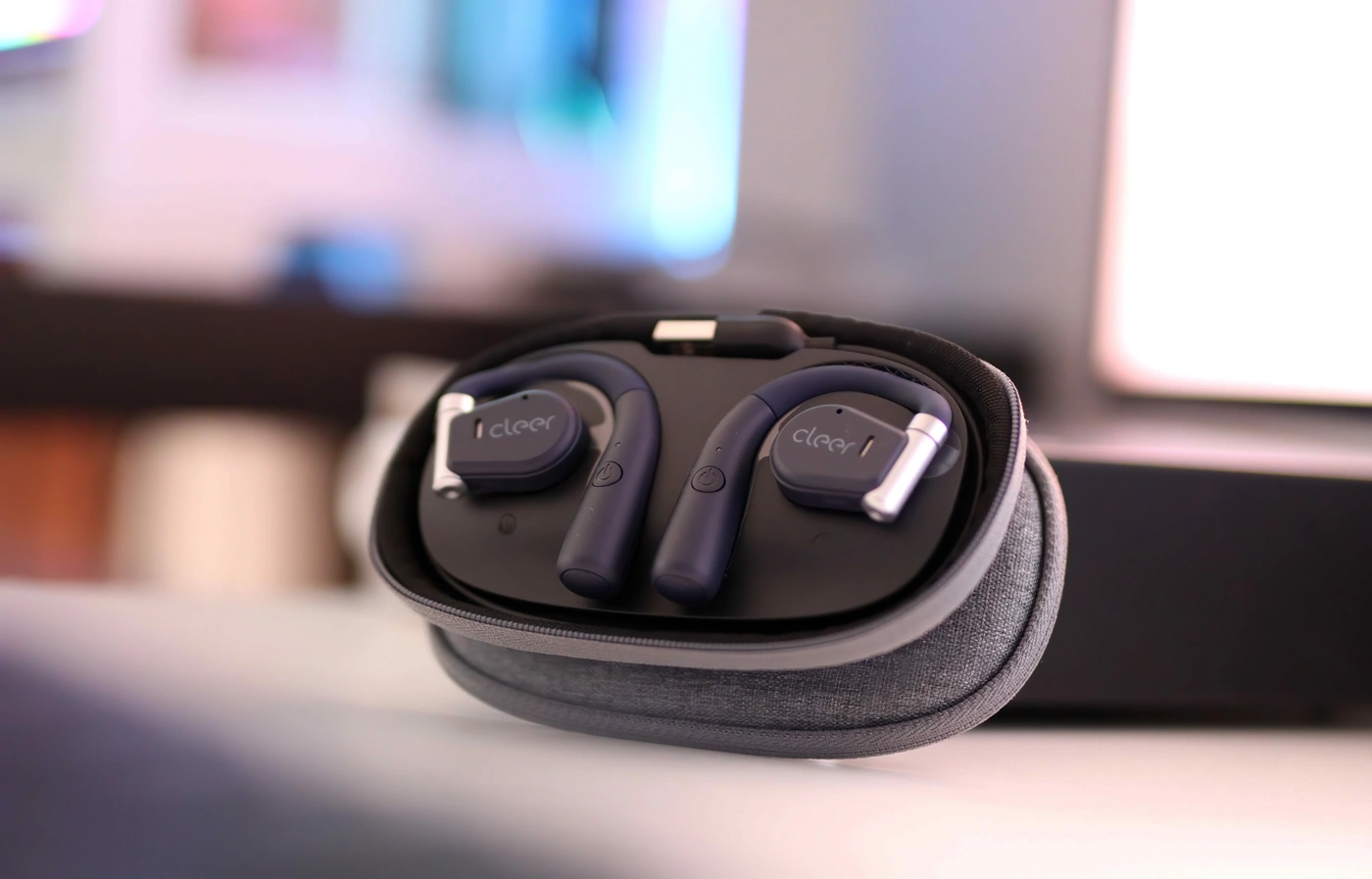 At the end of the day if you want something open ear, an earbud that will always stay in place, and if you don't mind the bass and the treble roll off, Cleer Arc is an interesting product, that with a bit of EQ and maybe more power has great potential and should prove to be fun to use for those in need of such a solution. 
Product Link
You can grab one from www.amazon.com here: https://amzn.to/3ChzZVz
If you're in the UK, you can grab one from www.amazon.co.uk here: https://amzn.to/3MQZcLi
And if you're from Europe, you can grab one from www.amazon.de here: https://amzn.to/3qo0OVb
---
--- Please remember to stay safe, and always have fun while listening to music!---
 - If you have a dime to spare, please donate, and help us! It would make the day brighter for me and my wife- 
---
Full Playlist used for this review
We listened to more songs than those named in this playlist, but those are excellent for identifying a sonic signature.  I recommend trying most of the songs from this playlist, especially if you're searching for new music! The playlists are different for Spotify, Tidal and Youtube, and based on the songs I enjoy and are available on each!
https://www.youtube.com/playlist?list=PL_cjBXGmwSHSdGcwuc_bKbBDGHL4QvYBu
https://open.spotify.com/playlist/5J3oloz8Riy9LxEGenOjQ0?si=979ba4f082414be7
https://tidal.com/browse/playlist/330fd544-8e5b-4839-bd35-676b2edbb3d5
--- Contact Us ---





---