Audeze LCD-5 – Flagship Performance Supremus
Audeze LCD-5 is the top dog planar magnetic headphone, and it is on a kill streak to destroy all the competition, with a price tag of 4500 USD, to match the ambition that went into designing and producing it. Given the design, purpose and overall market position, LCD-5 will get compared to absolutely all of the other flagships I reviewed in the past, including Kennerton Thror (3000 USD), Rosson RAD-0 (2600 USD), Spirit Torino Super Leggera (2000 USD), Crosszone CZ-1 (2000 USD), HIFIMAN He6SE (1800 USD), Sendy Audio Peacock (1500 USD), and HIFIMAN Arya Stealth (1600 USD). For such a special flagship I will be including pairings with the best sources available to music lovers, including Audio Analogue AAdac (4000 USD), Feliks Euforia paired with a Smyth A16 Realiser DAC / Processor (2000 USD + 4000 USD), Violectric HPA V340 paired with a Keces S3 DAC (2000 USD + 1300 USD), Cyrus One Cast (2000 USD), and an Astell & Kern SE180 Music Player running the SEM2 DAC/AMP module (1500 USD).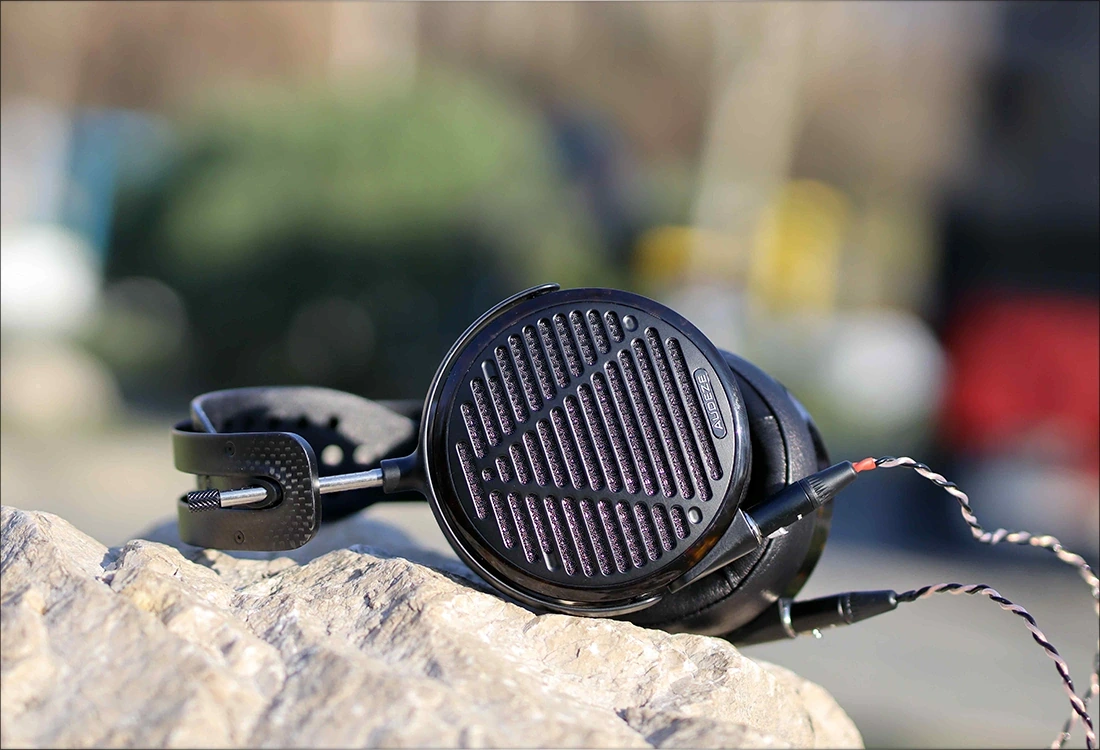 Introduction
Audeze is the top company when it comes to Planar Magnetic Headphones, and this is without a doubt. They are pioneers when it comes to designing planar magnetic drivers, and make everything in-house, with their technology having been the most popular for the longest of time. Although many new companies are picking up the pace and releasing amazing products, Audeze has a special place for all music lovers, especially for those looking at the maximum quality planar magnetic drivers can get. The company nowadays is spread all over the world, having sellers and distributors spread far and wide, so you can typically listen to and purchase Audeze headphones locally, with local support. Audeze is from California USA, and they are in top 3 companies worldwide when it comes to offering warranty and being helpful with their customers, but they are available on Amazon as well, if you prefer Amazon's delivery methods.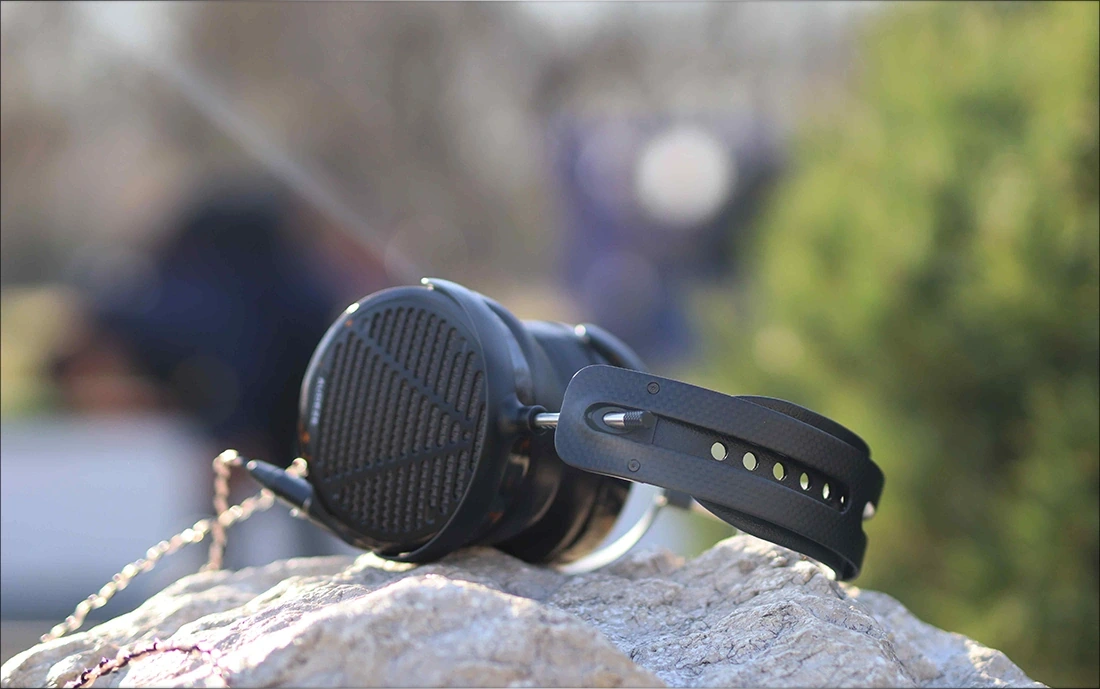 LCD-5 in particular has a story of its own, since it goes for the title of a flagship, and it is Audeze's way of making the king of flagships in the headphone world, journey which started all the way back in 2009, when they introduced the LCD-2, then LCD-3 in 2011, then LCD-4 in 2015. LCD-5 is the current step of this journey, and it improved absolutely everything, giving your ears and soul reasons to celebrate, but your wallet reasons to fear, as the more you learn about it, the more you become sure that you also want it. LCD-5 comes with improved cables, less weight, better earpads, and a better structural integrity than the older series. 
It should be noted that I have absolutely no affiliation with Audeze, I am not receiving any incentive for this review or to sweeten things out. I'd like to thank Audeze for providing the sample for this review. Every opinion expressed is mine and I stand by it. The purpose of this review is to help those interested in Audeze LCD-5 Planar Magnetic Headphones find their next music companion. 
Product Link
You can grab one from www.amazon.com here: https://amzn.to/377sLYa
If you're in the UK, you can grab one from www.amazon.co.uk here: https://amzn.to/3kBfqdG
And if you're from Europe, you can grab one from www.amazon.de here: https://amzn.to/3kwIjYL
Packaging
First things first, let's get the packaging out of the way: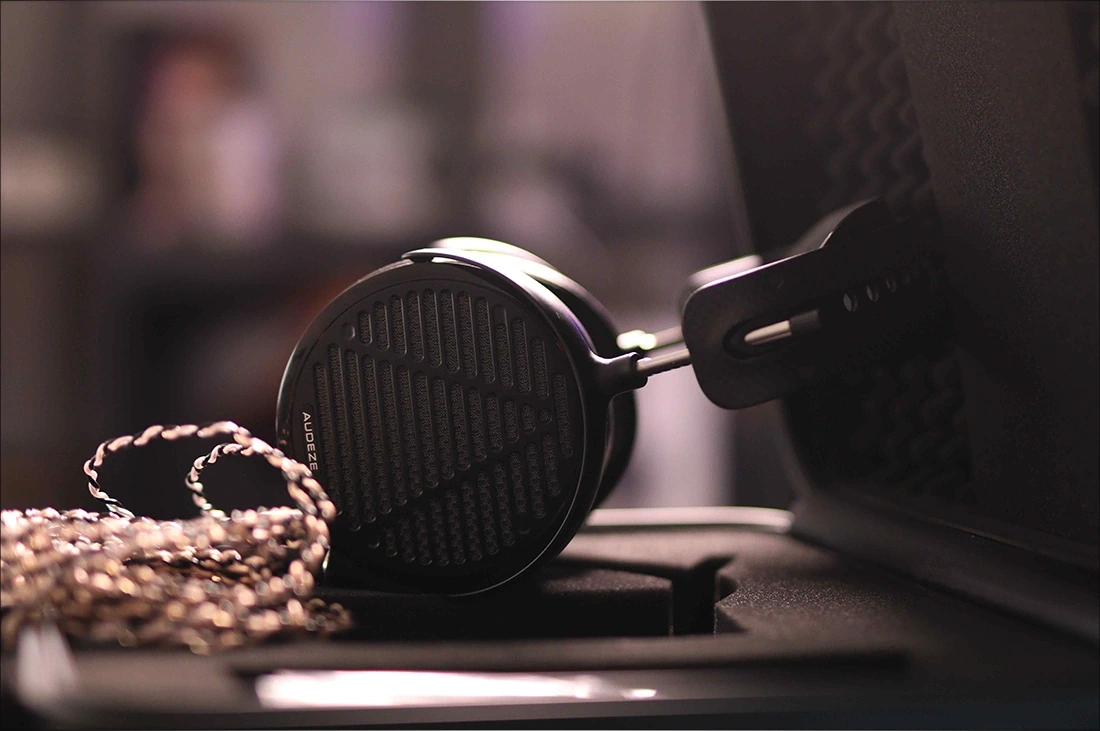 I always said this, but Audeze likes to be over-the-top when it comes to the package of their headphones. When dealing with planar driver technology, I learned from experience that having good support and allowing no impact to reach the drivers is the best way to have a long loving relationship with your headphone, so it makes sense that the case of LCD-5 is made of metal and has super thick padding on the inside, with thick foam walls and just the right cutout to keep the headphones in perfect condition during transport. The main metallic case, which can be locked, also comes in a larger cardboard box, where it is fixed by hard foam, making sure that LCD-5 will reach you safe and sound. Inside the main package we can find: 
Audeze LCD-5 Headphones

Premium braided 2.5 meters cable with a 4-Pin Mini XLR Plug and a 6.3mm jack

Aluminum Travel Case

Certificate of Authenticity

Warranty Card

User Guide
Build Quality/Aesthetics/Fit/Comfort
The redesign operation on LCD-5 started with the drivers, so the headphones feature the award winning Fluxor magnets, and Fazor Waveguides, along with their new Patent-Pending Parallel Uniforce voice coil, All of this helps with keeping the distortion levels as low as possible and provide better control over the diaphragm movement, for better sonic resolution and precision. The acoustic chamber of LCD-5 has been improved over the previous headphones, and it now has even better precision for the imaging and soundstage, and the meshes / cups are designed for lower sonic reflections, and for better transparency, making LCD-5 more open than the previous Audeze headphones.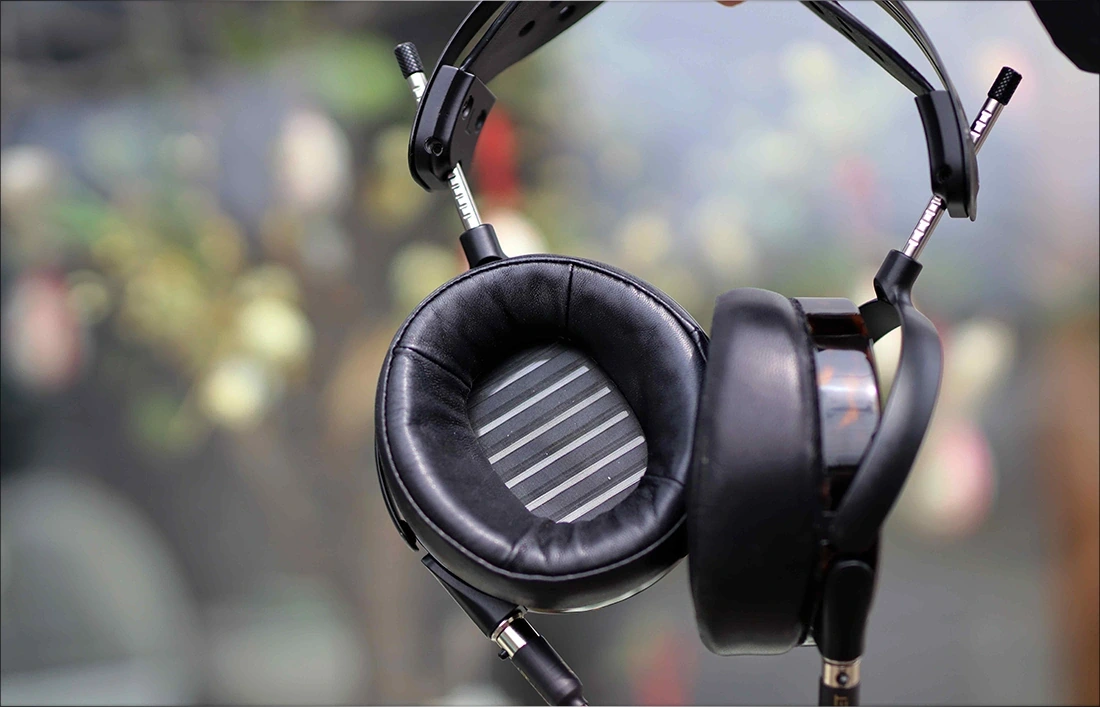 The new low-profile Fazor Waveguides help LCD-5 reduce diffraction and interaction with the ear, for a more pure sonic transmission. Of course, it wouldn't be Audeze if they didn't improve on the ergonomics and comfort as well, so the whole frame and build has been re-engineered, and now they use magnesium and aluminum for the frame, making LCD-5 2/3 the weight of the previous flagships, improving vastly on the comfort we're used to seeing with Audeze headphones. The earpads are more narrow and shallower, but still have more than enough space for my ears, plus the premium leather pads feel really nice to the touch. Everything is hand assembled in California, USA, and LCD-5 has changed their design so drastically that describing how they feel feels like a whole new headphone than the previous Audeze experience. 
The earpads are sculpted, internally sloped and they help reduce reflections, along with unwanted resonances. The ergonomics are better than with older Audeze models, the earpads feel less thick, and you now barely feel that you're wearing a pair of headphones. Somehow, LCD-5 drops in their ideal listening position while being worn, with much less wiggle and trial and error necessary to get the best fit and the best feel for them. The earpads also have less contact area with your head and ears, which reduces wearing fatigue, and increases the seal / ergonomics for all shapes and sizes. I could feel this as well, and wearing an LCD-5 is superb, they are light, and I can keep them on my head for hours. They have a slightly stronger clamping force than older Audeze models, but only slightly so, with no need to worry about it. In fact, combined with the new design, the whole comfort is heavenly.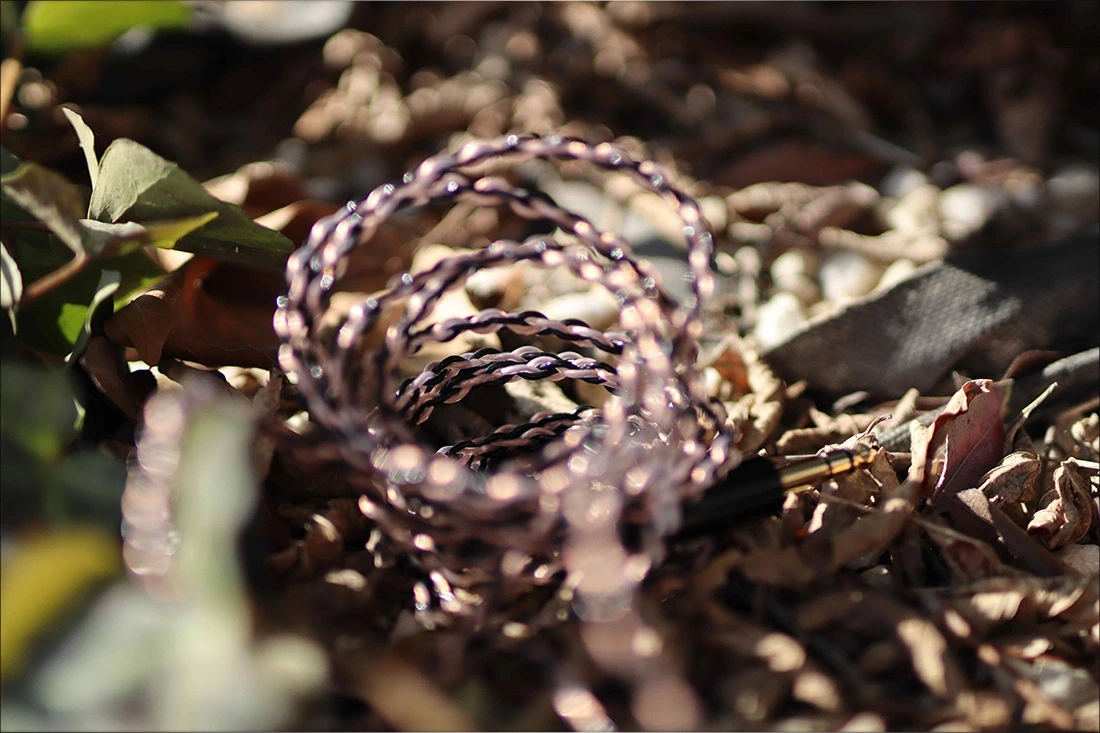 We have a much better cable as well included with the new LCD-5, an ultra high purity balanced cable, with OCC high purity copper strands, for a low capacitance and low resistance. The cable has superb sound, and I can confirm this as I wanted to add an extra cable while reviewing LCD-5, to check how good the default cable is. For this, I have used the Eletech Inferno cable, made especially for LCD-5, and the default cable really makes itself look much more flexible, lighter and more ergonomic. A huge surprise is that LCD-5 is also now driveable from a portable source, like Astell & Kern SE180, so you could take them for a walk, although the long length of the default cable, and the 6.3mm large plug means that you will need to use an aftermarket cable for this. The new Audeze cable is so good that I find myself using it more often than not, and sonically it is perfectly transparent, with aftermarket cables changing the sound considerably less compared to older Audeze models such as LCD-Mx4, where aftermarket cables had more impact.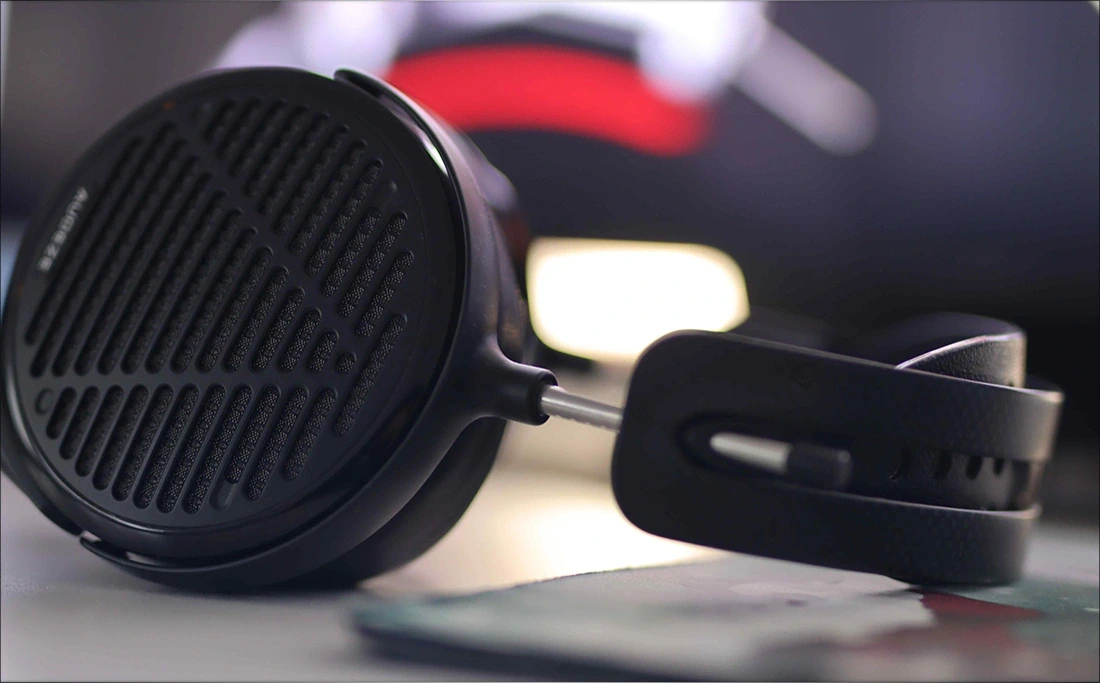 The drive factor of LCD-5 is super good this time around, and you can see this from the technical specifications, as they have a much better sensitivity than most of the Audeze Line-up, at 90dB / 1 mW, which indicates that LCD-5 will pretty much be rather driveable from portables. In fact, using the Eletech Inferno cable, I am able to drive LCD-5 from Astell & Kern SE180 rather well, although the bass depth and volume is a bit better when using a Class A desktop headphone DAC/AMP such as Cyrus One Cast. 
No review is complete without talk of the leakage and passive noise isolation, but Audeze LCD-5 is fully open back in design, so you can expect them to have very little passive noise isolation, which I found to be true. They have about 5 db to 7 dB of passive noise isolation while being worn, not quite the most open headphones I've heard, but the passive noise isolation is negligible. The leakage amount, though, is not extremely high, and while I could leave them on my desk to give me some background music while they're playing super loud, I can have ear bleeding levels playing on my head, while to the outside world, they are quieter than my smartphone's speaker's maximum volume. I could measure a volume of 40dB above the ambient room level, maximum leakage, using a SPL meter. 
LCD-5 is also technically very capable, and they have a rated frequency response of 5Hz all the way to 50 kHz, and a maximum SPL of >130 dB, basically enough to bring the live concert to your room and head. This is nothing compared to how good the overall presentation is in person, so without drawing the talk much, let's proceed to the Sound Quality part of the review. 
Sound Quality
We can talk about the headphone with the best overall transparency ever created, and Audeze outdid themselves with LCD-5 big time. Most of their headphones are somewhat colored, and where Audeze LCD-Mx4 was a bit thick and warm, smooth up top and quite hard hitting, and Audeze LCD-XC is really neutral and clean sounding, with less bass emphasis, LCD-5 is that one Audeze headphone that has no particular coloration. LCD-5 is an open window to your music, both figuratively and literally, this is that one headphone that shows music as it is, with all its nice parts, and bad parts alike. LCD-5 makes the ultimate listening, mixing, mastering, movie, gaming and the ultimate headphone I've tested to date, both sonically and as far as the comfort goes.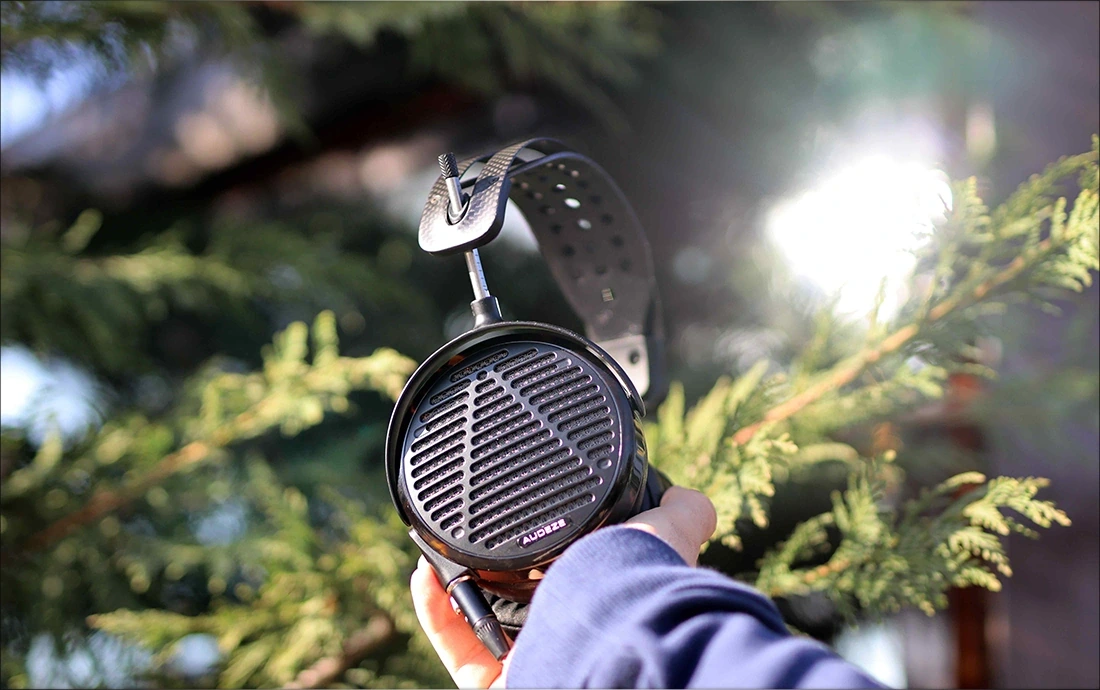 To drive LCD-5, I've used a multitude of sources, including Cyrus One Cast, the main source that gave me the best overall presentation, but also more complex setups, including separate DAC and AMP units, like using Mytek Brooklyn DAC+, both alone and as a DAC powering the Audio-GD Master 19, Smyth A16, Audio Analogue aaDAC, Feliks Euforia, Violectric HPA V340, and Keces S3. I've even been able to pair LCD-5 with portable sources too, such as Astell & Kern SE180, Astell & Kern SP2000T, iBasso DX300, Lotoo PAW6000, since I have an Eletech Inferno cable that goes from 4.4mm Balanced to the mini XLR plugs that LCD-5 requires. Generally speaking, LCD-5 is very transparent and reveals the source quality effectively, so the better the source is, the better they will sound. The best overall sound I heard from LCD-5 was, ironically, from Cyrus One Cast, which is not a very special DAC/AMP on paper, but it does have a Class A Headphone Amplifier inside. Portables can power LCD-5 nicely, like SE180, but you will hear less bass quantity and extension, compared to a desktop source that has more power. 
The Audeze LCD-5 is special as a headphone, because it stays really dynamic, detailed, clean and fun sounding regardless of the volume you're listening to. This means that they can be enjoyed quietly, with music playing whispers to the listener, but also at medium and normal listening volumes, and they can even turn into full sized concert speakers for your head. I naturally tend to listen louder than it is recommended, but recently I wanted to start taking better care of my ears, so havin a headphone that can stay dynamic, clean and detailed at low volumes is ideal. LCD-5 is super capable of staying fun, clean and especially dynamic at low volumes, which indicates that the drivers have really good quality. They need much more power than my usual headphones, but are easier to drive than HE6SE and LCD-4.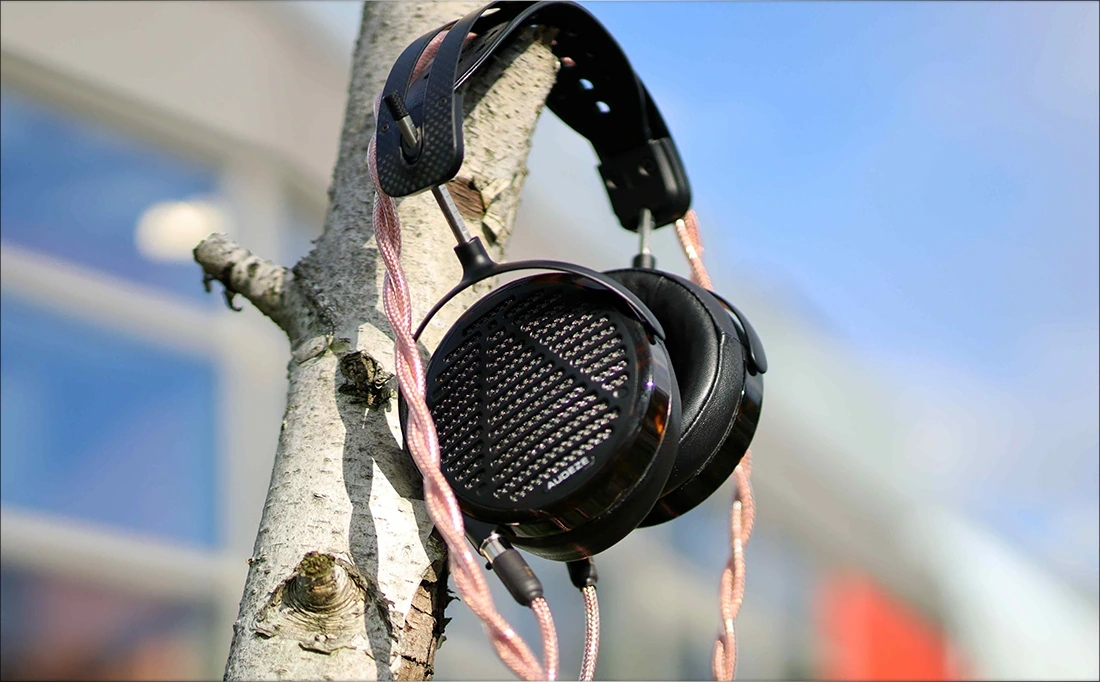 The bass of Audeze LCD-5 is super detailed, clean and emphasized above the neutral, to give all instruments a really satisfying impact and body to musical instruments. You never know how much emotion there is in acoustic music until you hear it presented the way LCD-5 presents it. For example, even simpler songs like "Jill Tracy – Haunted By The Thought Of You" have a clear body to each drum hit and Tracy's voice is heavy, bearing the weight of each word as she sings. The bass guitar has a really satisfying clean actuation in the background, while the piano has the perfect timbre and amount of body. LCD-5 isn't all about being natural only though, and technical music that's made to sound quick is super quick, a great example of this being Vini Vici, Armin van Buuren ft. Hilight Tribe – Great Tribe, a song that goes from pretty slow to extremely quick, and fast. LCD-5 is fully capable of keeping up with the entirety of the song, and when the song reaches the native american incantations, if you close your eyes, you can feel yourself standing right in the front of the tribe chief, with the percussions nimbly playing all around you. I also tested the bass distortion and roll off, for which I use a pretty old and basic song, Brokencyde – Teach Me How To Scream, where LCD-5 shows zero roll off and zero distortion, but a super full bass note, where they literally make my ear canals vibrate and resonate with the bass, at loud volumes. The song is super bass boosted, and LCD-5 has a pleasing tonal balance, being focused on all frequencies, with a slight emphasis on the sub bass and the treble. This is a song that shows driver distortion on some headphones, where it sounds ok while you're wearing the headphones, but if you take the headphones off and play it, you can hear the driver distorting badly. 
Starting on the midrange of LCD-5, I noticed something that I never thought about, but their background is really black. Not just inky black, but if you ever went from any IPS display to an AMOLED display, and saw that infinite contrast ratio, this is how the background noise floor of LCD-5 feels like, it has absolutely zero noise. A great song to start is Dance Gavin Dance – I'm Down With Brown Town, where although the song is quite old, relative to DGD's style, it has a rich background information, with the guitars being cleverly layered, LCD-5 doing an excellent job at presenting all of them, musically, with no unwanted noise and with no distortion, either in the foreground or the background. Switching to a newer song, like Evaporate, DGD's style comes to life even more, LCD-5 being able to fully render the high dynamics between John Mess's voice and Tillian's sweet singing. The texture in Tillian's voice has a certain coarseness to it, that LCD-5 is able to present, highlighting a good micro detail and texture resolving ability, but LCD-5 somehow makes everything pleasing, and even though the song has extremely energetic layers of guitars, LCD-5 keeps the whole song musical, clean and detailed, always expressing the textures in a pleasing and euphonic way.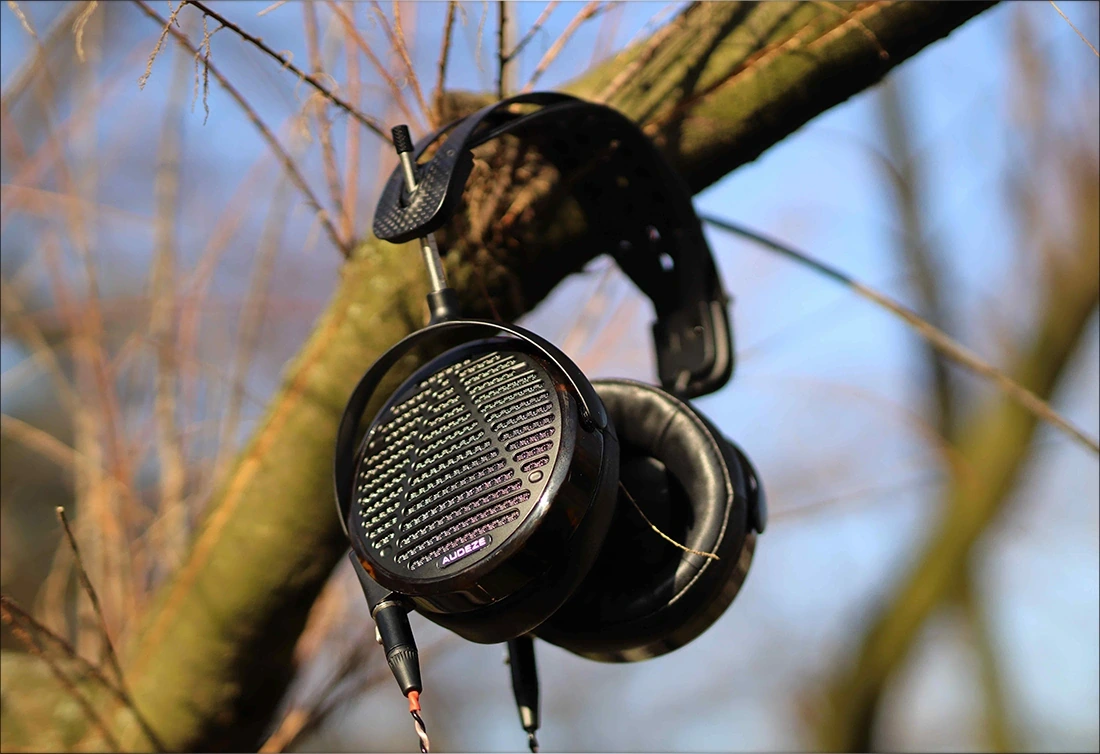 It was truly a revelation to listen to one of my favorite songs through LCD-5, The Swimmer, performed by Jarrod Alonge, the song itself being a cover mockup after the song The Sinner by Memphis May Fire. There's such rich background synth information that LCD-5 is able to resolve, you can notice many micro progressive patterns playing in the background, along with superb emotion in the voices, and a deep and satisfying bass. The cymbals have a realistic presentation, with realistic impact and the cymbals have all the air and extension they're supposed to have. 
For treble, I switched things a bit, and played some ChuggaBoom – Fat Guy In a Little Coat, a song that has extreme amounts of energy, and a powerful presentation. The overall cymbal extension is superb, and where with Audeze LCD-MX4, I always felt like increasing the treble a bit, and with LCD-XC, I wanted to switch the tonal balance to have slightly less treble and more bass, I can't find anything I'd switch around with LCD-5, they simply sound perfect the way they are from the factory. The treble is super well extended, and airy, LCD-5 has a wide and holographic presentation, which holds precision above the impressive factory. This means that while the soundstage is wide, airy and holographic, it is so in an immersive way, instrument placement and separation stays precise. If I didn't emphasize this enough throughout the review, LCD-5 is extremely punchy, but wide and the punchy effect comes from each instrument having excellent dynamics, rather than the headphone creating a wall of sound that keeps pushing onto you, regardless of the volume you're listening at. When listening to some old fashioned Infant Annihilator, every cymbal hit can feel like a little needle pinch, but that's the way the mastering and mixing is designed on their The Palpable Leprosy Of Pollution album, and LCD-5 stays true to the source, although I would lean towards saying that LCD-5 has a considerably sweeter presentation than how I heard other headphones massacring the mangled yet sweet solos of Infant Annihilator. 
Comparisons 
Audeze LCD-5 vs Crosszone CZ-1 (4500 USD vs 2000 USD) – Starting with the comparison between LCD-5 and CZ-1, we have two very capable headphones, also two harder to drive headphones. The fit of CZ-1 tries to make it more comfortable on your head, with less clamping force, but the overall weight is comparable between them, and similar, at the subjective level. The sonics are quite different, with CZ-1 being considerably more gentle, and avoiding impact the way LCD-5 is very impactful and has more dynamics and more details, where CZ-1 sounds less focused, and manages a larger, yet less separated soundstage. LCD-5 goes for a better separated soundstage that follows the acoustic information available in the recording more, and with better accuracy. LCD-5 has a more spot-on tonality, where CZ-1 can sound soft, and have a softening effect on both male and female voices. 
Audeze LCD-5 vs Kennerton Thror (4500 USD vs 3000 USD) – LCD-5 has a massively better comfort than Thror, which is much harder to adjust, and ends up feeling heavier than LCD-5 regardless of the adjustments you make. Thror has a worse default cable, and sounds more neutral than LCD-5, but not in a good way, as it has a bit of bass roll off compared to LCD-5, which sounds perfect end to end, where Thror is somewhat bright. The detail levels are better on LCD-5, and it has better dynamics, better impact, and a wider soundstage with better instrument separation. Usually, the law of diminishing returns would kick in, and by the point we reach the price of LCD-5, we wouldn't necessarily have to expect that it is better than options, even 50% cheaper, but surprisingly enough, it keeps winning against opponents. 
Audeze LCD-5 vs Rosson RAD-0 (4500 USD vs 2600 USD) – RAD-0 is a unique headphone, made by an ex-Audeze engineer, Mr. Alexander Rosson, and it inherits many of the technological advancements Audeze had at that date, but follows the old sound Audeze used to have (check LCD-2 for example), with a thick, smooth, deep and easy to enjoy presentation. Placing them side by side, LCD-5 has a much more natural sound, with better dynamic impact, better resolution, more details, and a much better extension in the treble. RAD-0 is much smoother, warmer, thicker and has much more focus on the bass. LCD-5 has a more natural midrange, better tonality, and better instrument separation. RAD-0 is the basshead / smooth sound lover's dream, while LCD-5 is transparent, it sounds like music should sound, no coloration, no problems, and a perfect sound. The choice between them is clear, if you want a smooth, colorful sound that's thick and chub, RAD-0 surely does it, while if you want to hear music through a transparent window that shows everything, LCD-5 should be the obvious choice here. 
Audeze LCD-5 vs Sendy Audio Peacock (4500 USD vs 1500 USD) – Peacock is a headphone I'm still using on a daily basis, and a headphone I really love and enjoy. The overall sound is very different, and the comfort is different too, because Peacock has a much larger earcup, but also a harder earpard, which makes the comfort comparable as the final result. The perceived weight is slightly higher on LCD-5, but not by a huge margin. At the sonic level, LCD-5 is more neutral, and has better extension in both the bass and the treble, with much better sub bass impact, quantity and detailing, but also better upper treble sparkle, air and extension. LCD-5 has a more neutral sound with slightly less warmth, but better overall impact and dynamics. The midrange is more natural on LCD-5, which has better details as well. LCD-5 is about 3 times more expensive than the Peacock, but if you want a king, you need to be prepared to feed a king. 
Audeze LCD-5 vs HIFIMAN He6SE (4500 USD vs 1800 USD) – The comfort and build quality are better on LCD-5, and HE6SE has basically the same ergonomics, shape and design as HIFIMAN Sundara, which can be somewhat uncomfortable, especially as HE6SE feels heavier than LCD-5 in person. The overall sonics are much brighter, more aggressive, and can be more fatiguing on HE6SE. LCD-5 manages to have more detail, and better resolution, all while having better clarity, a more natural midrange, and better bass extension with more low presence. LCD-5 and HE6SE both have outstanding tuning to the midrange, and both have good voicing, but LCD-5 manages to have a more natural overall sound. LCD-5 feels like a huge upgrade from HE6SE in both design, comfort, aesthetics, but also in sound, every aspect of it, especially soundstage size, where HE6SE can be narrow, and LCD-5 is wide, holographic and has better dynamics than He6SE. 
Audeze LCD-5 vs HIFIMAN Arya Stealth (4500 USD vs 1600 USD) – Arya Stealth is not much lighter than LCD-5, which was a big surprise for me, because I was expecting any Audeze to be heavier than Arya Stealth. Arya still has slightly better comfort because the ear cups are much larger, and the clamping force is lower, but in sonics, LCD-5 provides better overall refinement, better resolution, better detail, better dynamics, and a much better instrument separation. The soundstage size is comparable between the two, and LCD-5 stays more dynamic and more engaging at all volume levels, while Arya Stealth tends to sound a bit better at lower and medium volumes. Even taking all of this into account, Arya stealth is more affordable, and although the overall tuning is similar between them, and LCD-5 is more natural, and has a better tuning, I need to mention that Arya Stealth is a veritable, more affordable alternative to LCD-5, if you don't have the money. Of course, LCD-XC and LCD-X are both other more affordable alternatives to LCD-5. LCD-5 wins here once again, by a good margin. 
Audeze LCD-5 vs Spirit Torino Super Leggera (4500 USD vs 2000 USD) – Just looking at the comparisons list, I can say that maybe I bitten more than I could chew, but I knew that for the headphone that wants to assert its dominance as the best of the best, it should be compared to all the competition that I could find relevant throughout my collection. Super Leggera has a smaller design, which makes LCD-5 considerably more comfortable, but they are also harder to drive and will need a beefier source than Super Leggera. The overall tuning is more neutral on LCD-5, which has better extension in both the bass and the treble. LCD-5 also reveals more details from music than Super Leggera, both in the micro and the macro details. If you have the money to go for LCD-5, and if you prefer a more neutral sonic presentation, LCD-5 should be the option to go here, while if you prefer a warmer, smoother presentation and have a more limited budget, Super Leggera is still an excellent choice. 
Pairings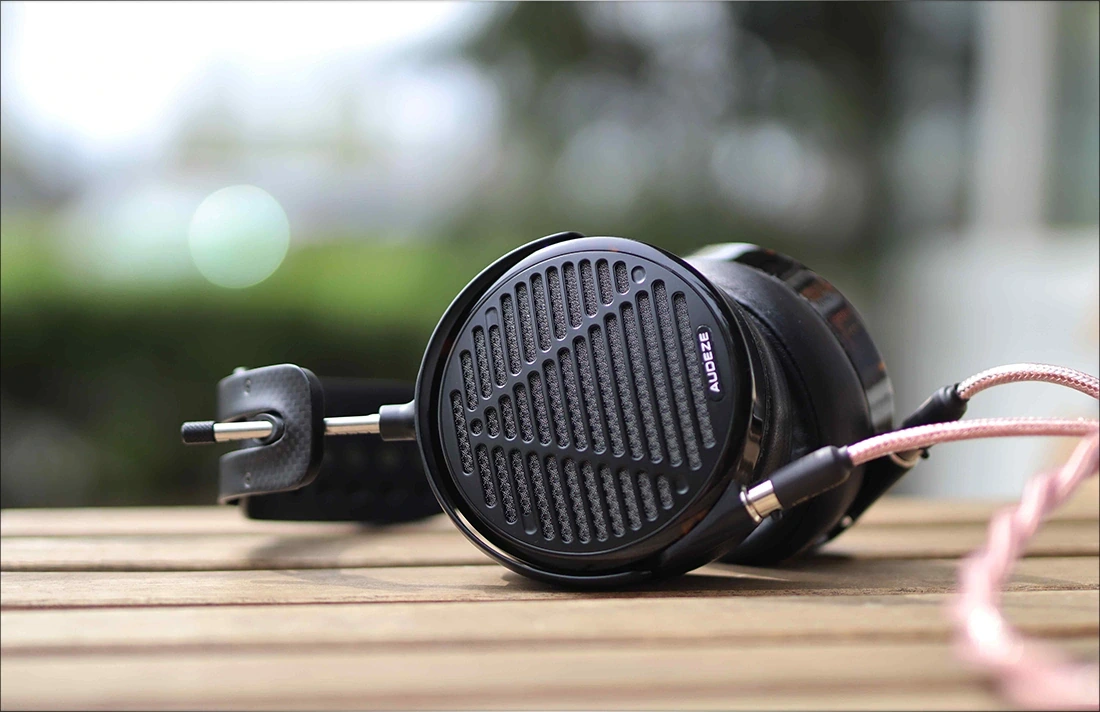 Audeze LCD-5 + Cyrus One Cast (4500 USD + 2000 USD) – This has been, by far, the combo I have used the most. The main reason is that I'm already using One Cast as my main music media center, having my speakers connected to it, and where some of the portables I typically use failed, for example SE180 and DX300, because they don't have quite enough power, One Cast surely has. The overall sonics are super impressive, and One Cast has super good dynamics, a wide, holographic soundstage, and superb musicality as well. There's not a single part of One Cast's sound that I'd want to change, the only drawback being that it theoretically doesn't have a balanced output, but for how well the SE output is implemented, I feel that you could get an LCD5, One Cast and be done for a long time to come. 
Audeze LCD-5 + Audio Analogue aaDAC (4500 USD + 4000 USD) – aaDAC is unique in many ways, and the overall presentation is quite different from One Cast and the other sources, the most noticeable thing being the increased dynamics, which come in trade for a lower bass quantity and depth. aaDAC has a unique way of presenting the bass with a slight roll off, compared to most sources, but it tends to extract slightly better dynamics and details from music. I enjoy the signature greatly, and it feels like if you want to make the LCD-5 more ethereal, even more dynamic and snappier / quicker, aaDAC is a great DAC/AMP to power the LCD-5 from. 
Audeze LCD-5 + Smyth A16 + Feliks Euforia (4500 USD + 4000 USD + 2000 USD) – We have a more complex setup here, and if the shape won't discourage you, you'll have an outstanding experience. A16 can produce an EQ for LCD-5 in its own unique way, improving on the stage, and making it even more holographic, at the cost of some mid-range naturalness that it has with all of the other DAC/AMPs. Basically, if you're ready to trade the magical smoothness and naturalness of LCD-5 for a wider, more holographic soundstage, A16 is the best tool to increase the size of their stage. Euforia is also great and gives them a neutral, clean and dynamic sound. Euforia also seems to focus more on the macro details, giving the LCD-5 a neutral, yet easy to enjoy sound. 
Audeze LCD-5 + Keces s3 + Violectric HPA V340 (4500 USD + 1300 USD + 2000 USD) – this is the kind of pairing I love to bits, S3 has a really natural and clean sound with little distortions, and HPA V340 has the right amount of power, dynamics and punchiness for LCD-5. As an amplifier, HPA V340 is fully able to drive LCD-5 to their maximum ability, and it ain't quite that pricey, making the perfect amplifier if you want to squeeze everything from LCD-5 and still stay on a relatively natural budget. You won't need aftermarket cables, or any other complex accessories, but you will need time, because you'll have your ears glued to the setup for long periods of time. I appreciate that this setup has the most natural presentation, but a more focused sound, with a more narrow soundstage than when using One Cast or A16. It does have better control and better sub bass presence though. 
Audeze LCD-5 + Astell & Kern SE180 Music Player (4500 USD + 1500 USD) – As every setup presents the music the best way it can, but with some trade offs, SE180 also can drive LCD-5 quite well, and you can get them to concert levels as far as the volume goes, but there's a minor drawback here, in the bass, where I noticed that all portables present slightly less bass than their desktop counterparts. The resolution and detail levels are insane though, and LCD-5 is perfect for that time you want to hear a really wide and holographic stage, but with a superb amount of smoothness and a very clean transition from each musical note to the next, as SE180 seems to improve on the musicality of LCD-5, making them smoother and more refined than most sources. The bass has slightly less impact, so if you found LCD-5 to be too forward and too hard hitting, using SE180 may help tone them down and bring them to a more personal experience for the listener, the stage also being more focused using portables. 
Value and Conclusion
At the end of the day, the question is, is Audeze LCD-5 worth the asking price tag of 4500 USD. That is a question you have to answer yourself, because only you know how much you're ready and willing to invest in a high-end flagship headphone, and how much headphones in general are worth to you. I can only tell you that, in my humble experience, as a reviewer, which at this very moment is of 400 written reviews and 300 video reviews, I have never heard any headphone that I could say sounds better than LCD-5. This is the very summit of everything I've heard, and not because it is impressive, but because it has that ultimate transparency, clarity, resolution and detail. Even though we always talk about the law of diminishing returns, and how investing more doesn't always result in a direct increase in quality, LCD-5 is pricey, but totally worth its asking price.
Audeze LCD-5 is also not just impressive technically, but they are built with the user in mind, they are made to be usable, not ridiculously hard to drive like most electrostatics are, and it is a comfortable headphone, lighter than the original Audeze Headphones, better suited for portable usage as well, if you get an aftermarket cable, with a good package to protect them during shipping, and with good technical design for long term usage.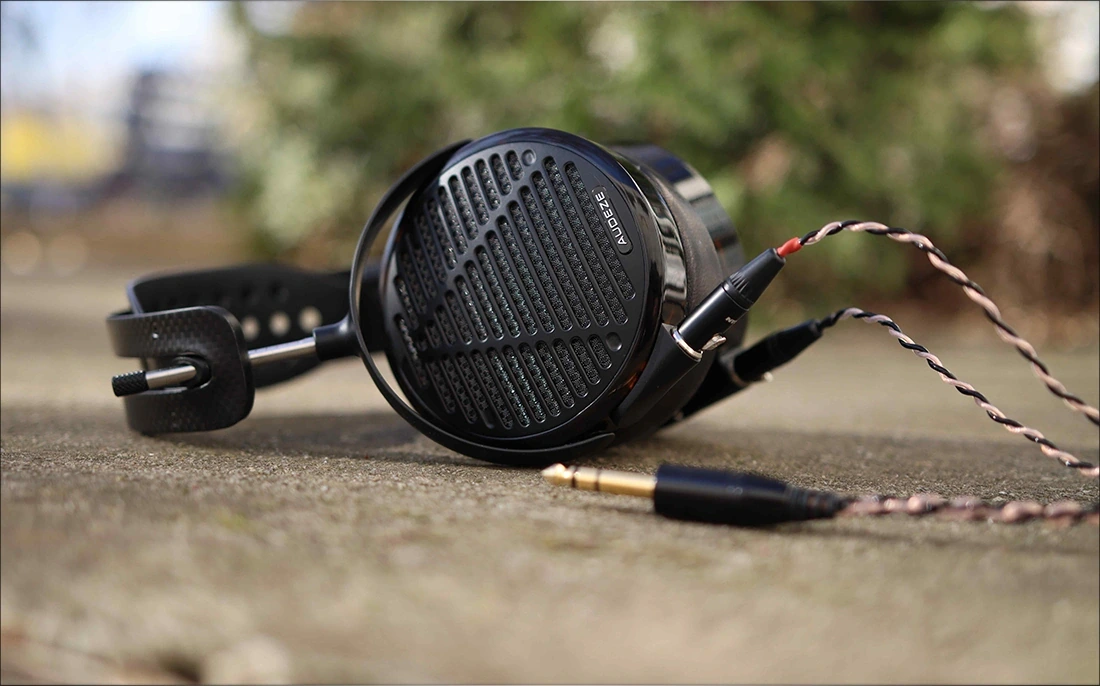 Audeze makes sure that you can power LCD-5 easily, but they can take a lot of power, so you never have to be concerned yourself with the fear of burning them, and where I can hear some distortions if I pump volume into other headphones, and get them loud, LCD-5 presents absolutely none. Even if not wearing them, and playing music at levels that turn them into mini speakers, I can hear absolutely no distortion, and LCD-5 is superb for all usage scenarios I can think of.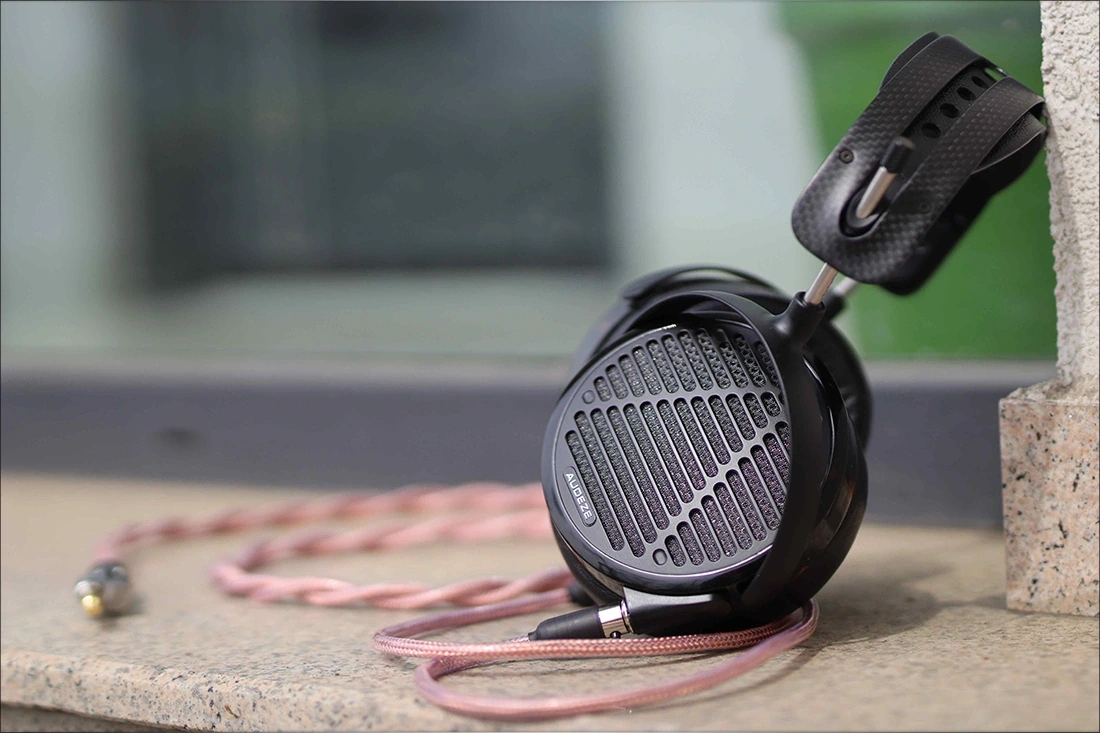 A headphone like this is going to have the crown in Audiophile-Heaven's Hall Of Fame, as the best headphone I've heard to date, and it is going to take the central spot in my Hall Of Fame. I see this is a challenge to every other headphone manufacturer, Audeze set a bar that everyone needs to try to surpass, and hopefully at a more affordable price point, but even as things stage, LCD-5 is a really recommended purchase if you want the final flagship.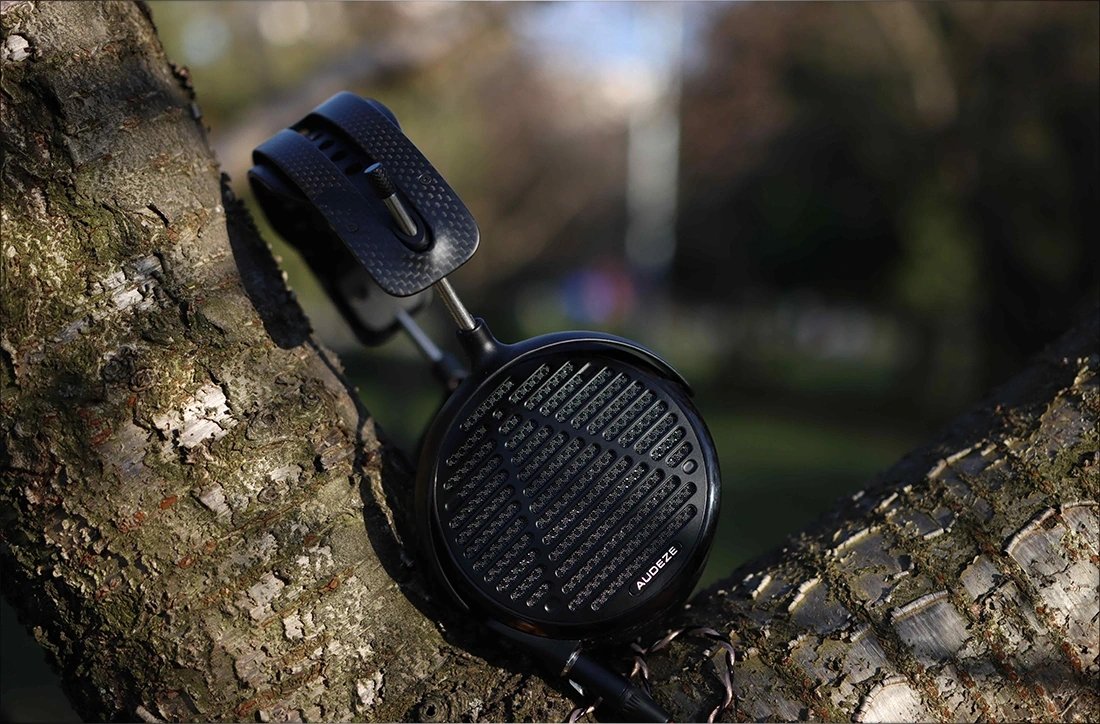 I always had this little logic, we're too poor to make poor purchases. It is unwise to get something that is 15% more affordable, if going for the final piece would bring you three times the happiness. I made this mistake many times in the past, went for slightly cheaper external HDDs, slightly cheaper cameras, slightly cheaper CPUs, but I always regretted and ended up paying more to upgrade along the way, so I surely would've been better off if I went for the best units for me instead. LCD-5 is the final end headphone I can recommend so far, as a conclusion of my reviewing history, for anyone who's looking for a true flagship headphone that's finally practical, comfortable, fun to use, transparent, has excellent instrument separation, superb detailing, clarity, and in 2022 I really hope that someone will challenge it, because things get super exciting every time I put LCD-5 on my head. 
Product Link
You can grab one from www.amazon.com here: https://amzn.to/377sLYa
If you're in the UK, you can grab one from www.amazon.co.uk here: https://amzn.to/3kBfqdG
And if you're from Europe, you can grab one from www.amazon.de here: https://amzn.to/3kwIjYL
Technical Specifications
Style – Over-ear, open-back
Transducer type – Planar Magnetic
Magnetic structure – Fluxor™ magnet array
Phase management – Fazor™
Magnet type – Neodymium N50
Diaphragm type – Nano-Scale Parallel Uniforce™
Transducer size – 90 mm
Maximum SPL – >130dB
Frequency response – 5Hz – 50kHz
THD – <0.1% @ 100 dB SPL
Sensitivity – 90 dB/1mW (at Drum Reference Point)
Impedance – 14 ohms
Max power handling – 5W RMS
Min recommended power – > 100mW
Recommended power level – >500mW
Blazingly low weight – 420g
---
---
--- Please remember to stay safe, and always have fun while listening to music!---
 - If you have a dime to spare, and donate, to help us with electricity and work expenses, it would make my day much brighter, as it would help me improve things around the website and increase the frequency of my posts - 
---
Full Playlist used for this review
We listened to more songs than those named in this playlist, but those are excellent for identifying a sonic signature.  PRaT, Texturization, Detail, Resolution, Dynamics, Impact, and overall tonality are all revealed by those songs. We recommend trying most of the songs from this playlist, especially if you're searching for new music!
https://www.youtube.com/playlist?list=PL_cjBXGmwSHSdGcwuc_bKbBDGHL4QvYBu
--- Contact Us ---






---
---