Fosi Audio BT20A PRO HIFI Stereo Amplifier – Entry Sonic Punch
Fosi Audio BT20A PRO is a $ 99.99 USD HIFI Desktop Speaker Amplifier, with Bluetooth 5.0, promising 300w x2 Power for Speakers, and running in Class D, with a line out too. It will be compared to other speaker amplifiers from the price range, including AIYIMA A07 PRO (89 USD), Fosi Audio BT30D PRO (109 USD), and Arylic A50+ (200 USD).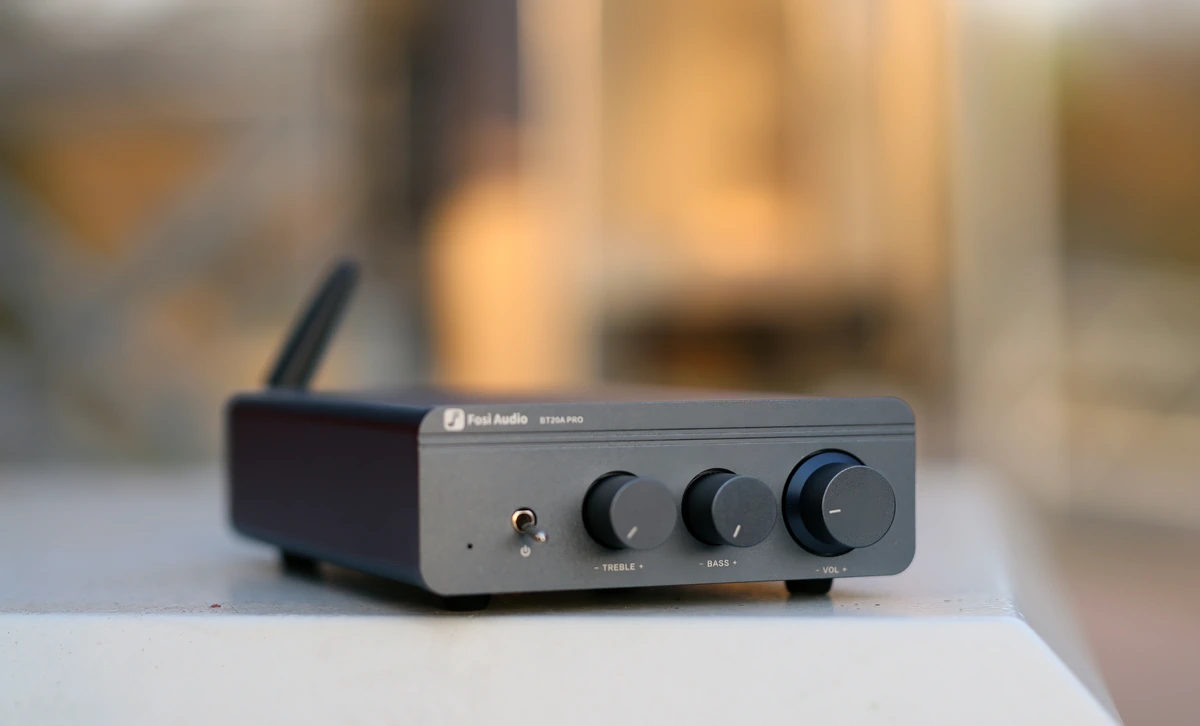 Introduction
Fosi Audio has became one of the most popular brands for entry-level speaker amplifiers and setups, so it is nice to see them being taken seriously by more and more music lovers from all across the world, for what they really are, a company that makes and sells super affordable hifi equipment. The best part is that Fosi Audio is available and fully supported over Amazon, where you have long return windows, just to make sure you're happy with your new purchase, good warranty support, and good build quality, to the point where a product from Fosi Audio is super unlikely to ever break. 
It should be noted that I have absolutely no affiliation with Fosi Audio. I'd like to thank Fosi Audio for providing the sample for this review. This review reflects my personal experience with the Fosi Audio BT20A PRO Hifi Stereo Amplifier. Every opinion expressed is mine and I stand by it. The purpose of this review is to help those interested in the Fosi Audio Bt20A PRO find their next music companion. 
Product Link
You can grab one from www.amazon.com here: https://amzn.to/42ZEDTD
If you're in the UK, you can grab one from www.amazon.co.uk here: https://amzn.to/42ZI0Kv
And if you're from Europe, you can grab one from www.amazon.de here: https://amzn.to/3BMXB4d

There is an official link as well, here: https://bit.ly/3ZzldDu , and you can use this 15 % off promo code:MKTBT20APRO15
Build Quality/Aesthetics
Starting with the overall design, Fosi Audio BT20A PRO is the same product as AIYIMA A07 PRO internally, and in the sonic part, so a lot of things will be similar between them, and I'm just reviewing them one after another, so for me it is surprising how two companies designed their products to be almost the same. Starting with the build, BT20A PRO is a bit smaller and looks a bit better, being gray in color, it has an LED Light at the front, an on/off switch, no Bluetooth / RCA selector, but it has three wheels. The internals are driven by TPA3255, with replaceable OP AMP chips, and the default is a Dual NE5532 that is socketed and can be replaced with others.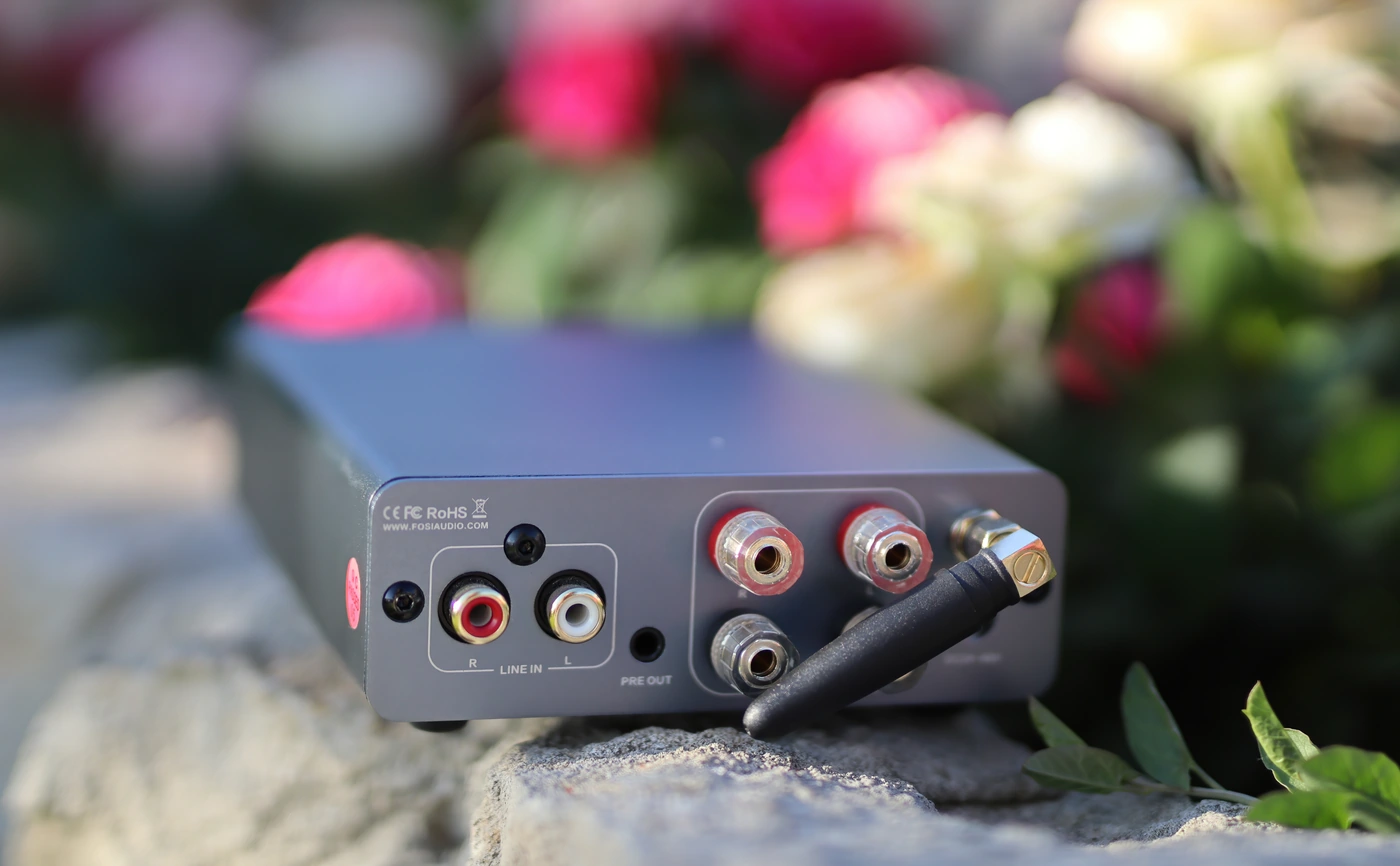 One wheel for volume, one wheel for treble and one wheel for bass. The volume wheel is usable all the way through, since there is absolutely zero background noise even at maximum volume. This being said, just like with AIYIMA A07 PRO, the promised power is all there, so if you set your DAC at 0 dB gain, you will have most of the energy early and won't be able to get above 9-10 o'clock on the volume wheel. I was able to test the volume wheel all the way to the max by setting the EverSolo DAC-Z6 to -51dB. I'm still surprised that they have zero noise, no buzzing, nothing. The bass and the treble sliders lock in zenith position, or at 12 o'clock, but this doesn't work well, because there the bass and the treble have some roll off, and the best overall sound is usually with both at 3 o'clock. Any higher, and the sound distorts, lower and the sound loses energy, detail or clarity.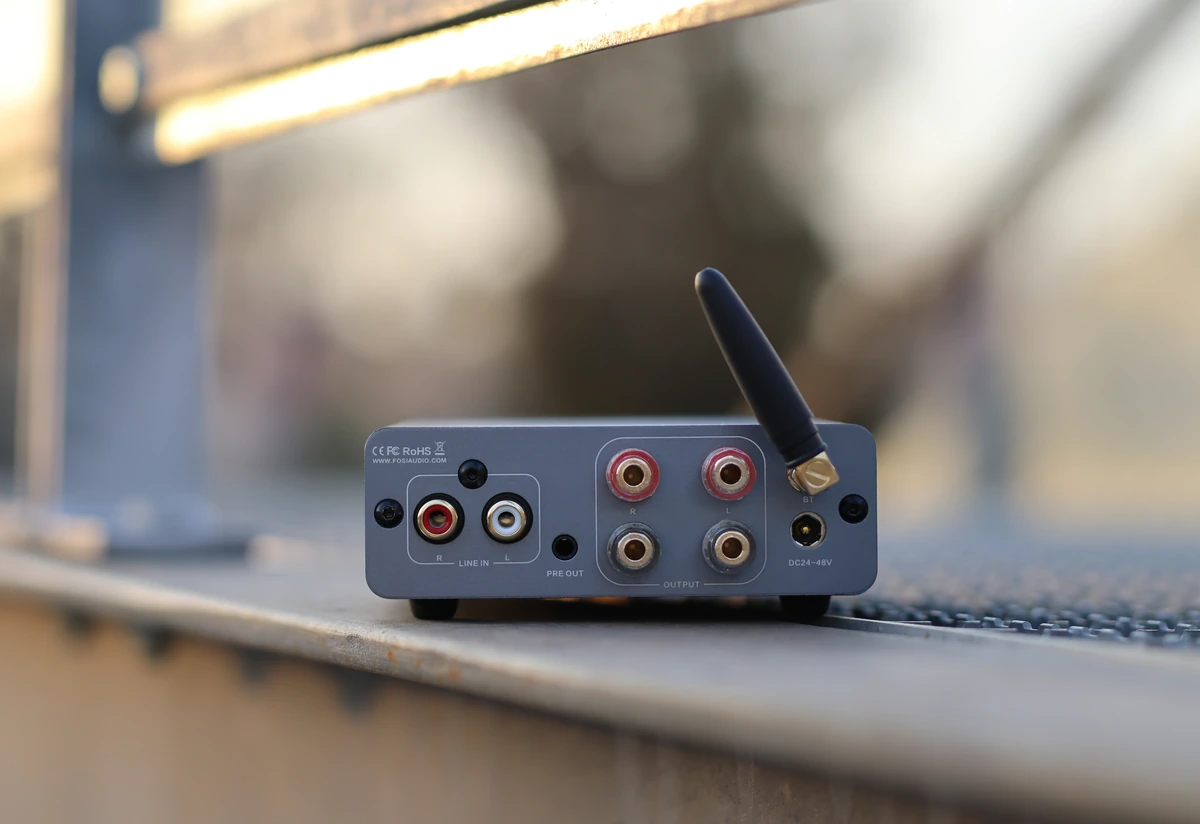 The best sound is with the volume set at 3 o'clock, but as I said in my AIYIMA A07 PRO Review, this is more than plenty, and if you have speakers that are so hard to drive that they would need this kind of power, you likely know what you want and will have a higher end power amplifier, and if you have the kind of entry-level speakers that this amp is likely to get paired with, you will notice that you can mainly only use the first portion of the volume potentiometer. 

They are also the first ones that explain what 300W x2 means in their fine print, that's a peak power that can be achieved with a special AC DC adapter, and it is most likely the max power that can be achieved before the amplifier burns out. This can only be achieved with a special AC/DC adapter, which is not included in the package. As per their own Amazon page and information, at 32V / 5A, the rated power is 100W for a 4 OHM impedance, and 50W for an 8WM impedance, with a peak of 125W for a 4 OHM impedance and a peak of 62W for an 8 OHM impedance.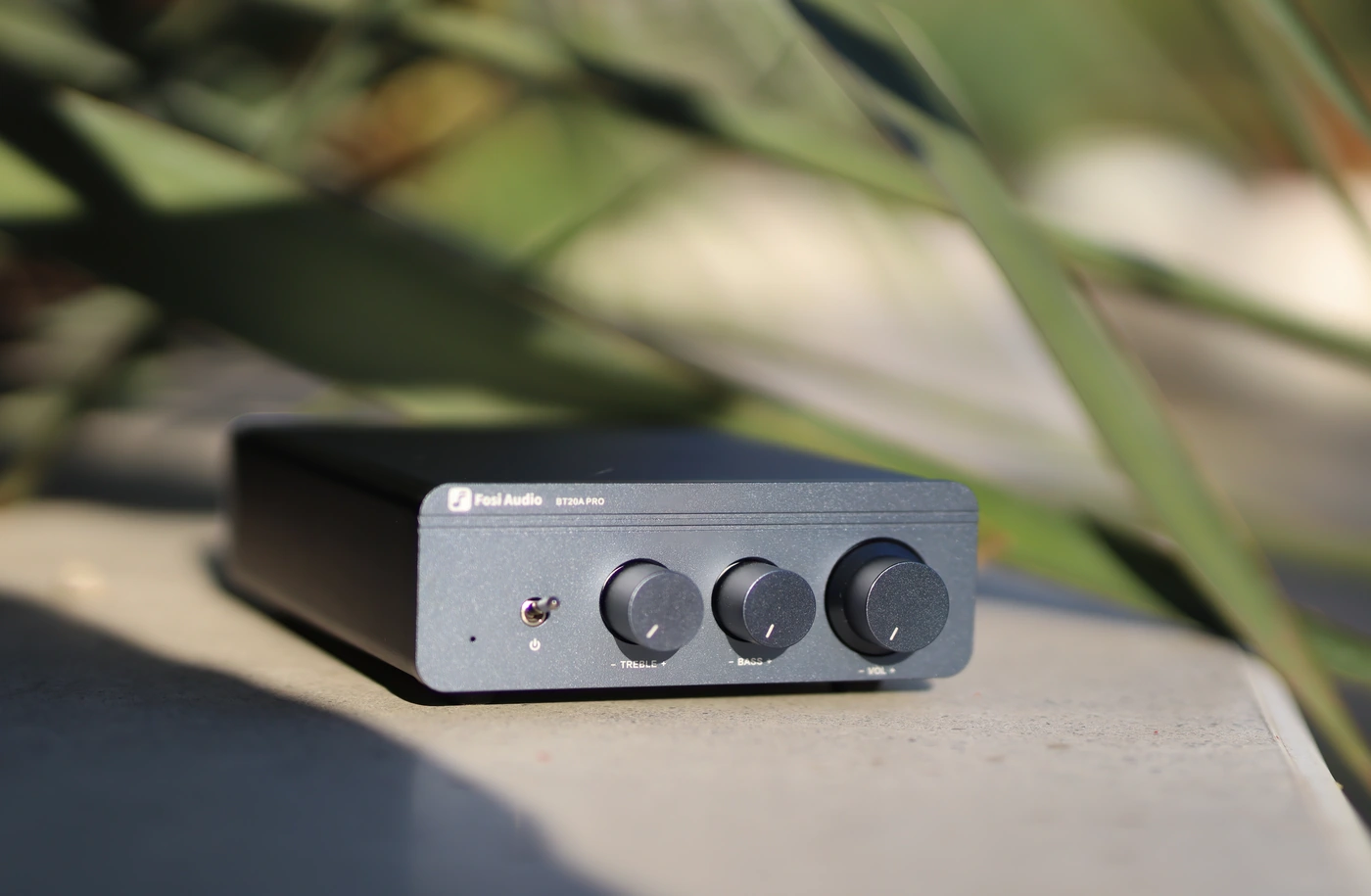 Bluetooth is only capable of SBC as far as codecs go, and I notice that the bug I've seen with AIYIMA A07PRO, where there was a noise if I didn't enable Dolby on my smartphone, is not present for BT20APRO. This being said, the Bluetooth sounds a bit worse than it did on AIYIMA A07 PRO, since the connection quality is lower, and I recommend reading more in my article exploring Bluetooth Algorithms and how it all connects together. Fosi Audio BT20A PRO prefers the Bluetooth connection and will prioritize it, it will mute the RCA input, as long as someone is streaming Bluetooth to it.  
Sound Quality
For today's review, I've paired the Fosi Audio BT20A PRO with an EverSolo DAC-Z6, and an Astell & Kern ACRO CA1000T as DAC sources, and it has been powering a selection of speakers, including KLH Model Five, Buchardt S400, NHT C3, and Taga Harmony 806F speakers to get an idea of its power and ability. The EQ wheels are super useful, you can define how much weight and bass you want in your music, and how much treble you want as well, the sound can be smoother or crisper, and you can get quite a bit of bass and impact. The bass with all the speakers above is strong, so much so, that I barely feel the need for a subwoofer anymore. The whole sound is very similar to that of the AIYIMA A07 PRO.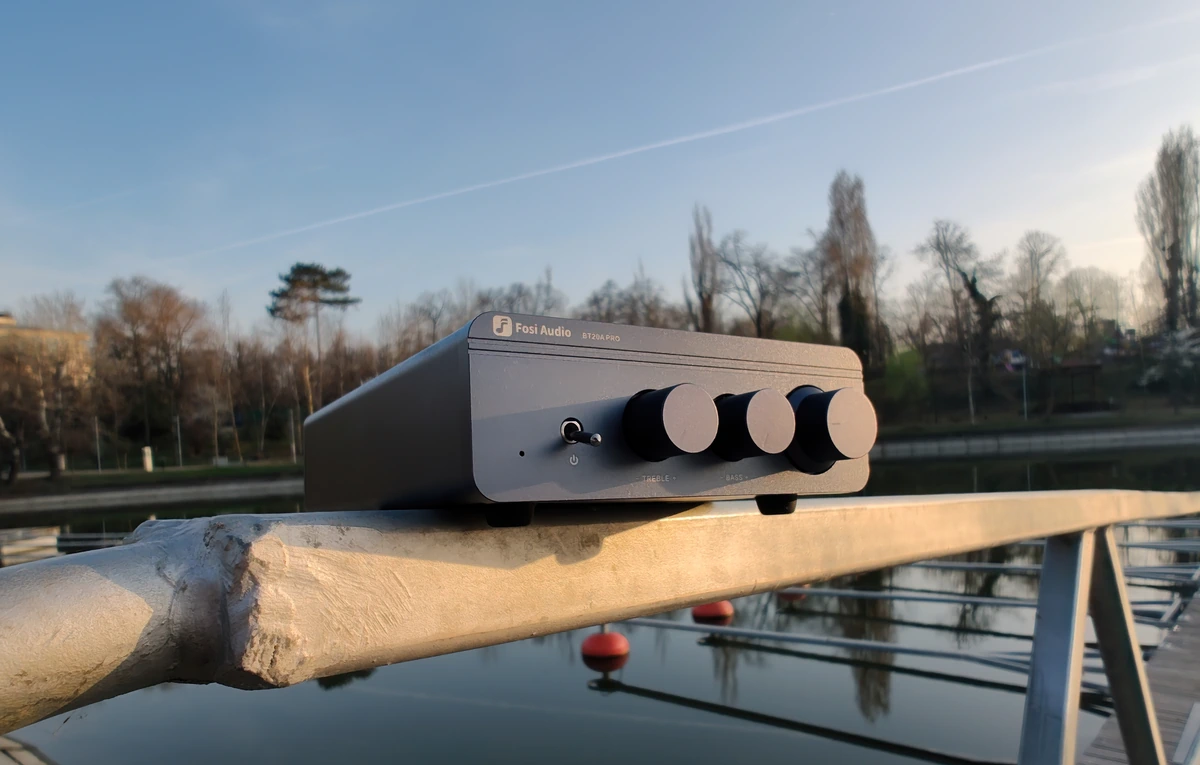 The bass of Fosi Audio BT20A PRO is clean, somewhat slow in speed, and is good with rap, EDM and pop, but not quick enough for technical music styles, like technical death metal. There's a bit of coloration in the bass if you use the bass wheel and set it to 3 o'clock which is where the AMP seems to sound best, it can give some extra upper bass and lower midrange, which can veil the midrange a bit.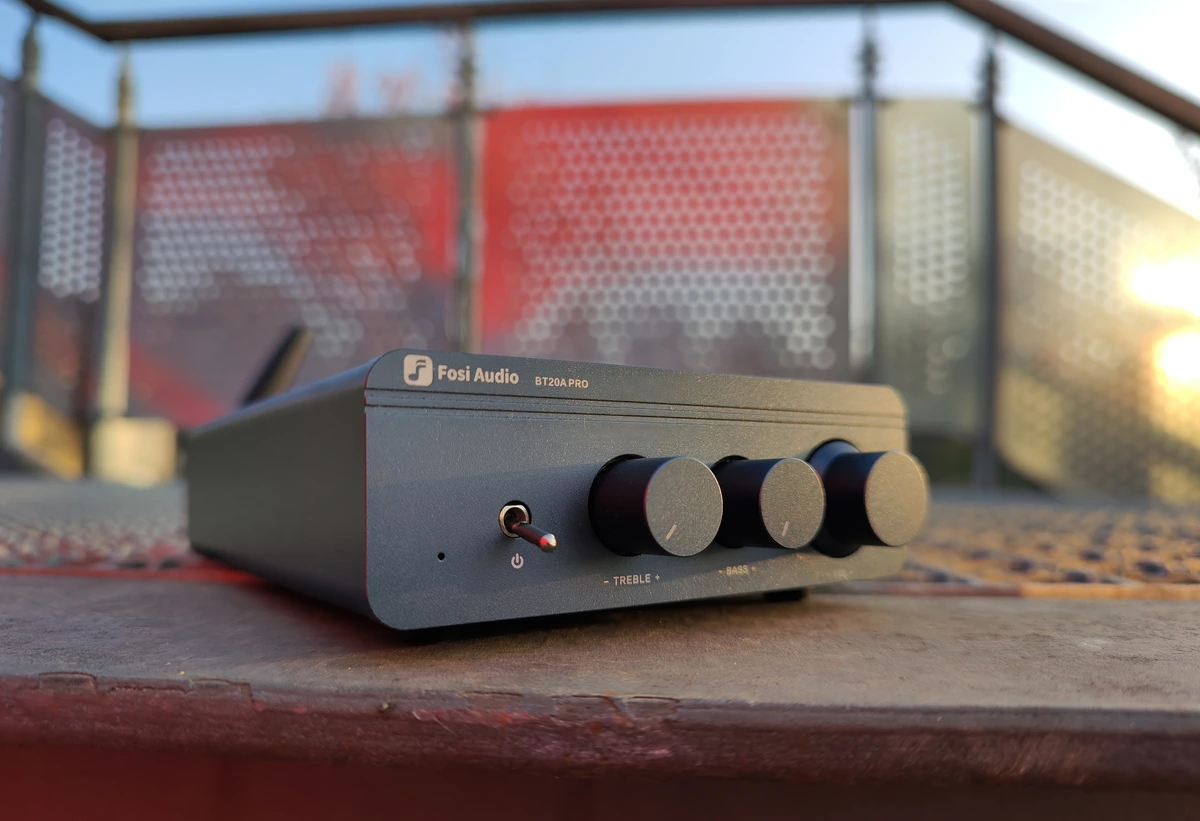 The midrange is clean, with a fair amount of detail and a good stereo imaging. In fact, this is surprising, but the soundstage is good, to very good, especially considering the amount you pay for BT20A PRO. We have a non-fatiguing presentation, with a smooth texture, the sound emphasizes male voices more than female voices, and the dynamic range is decent.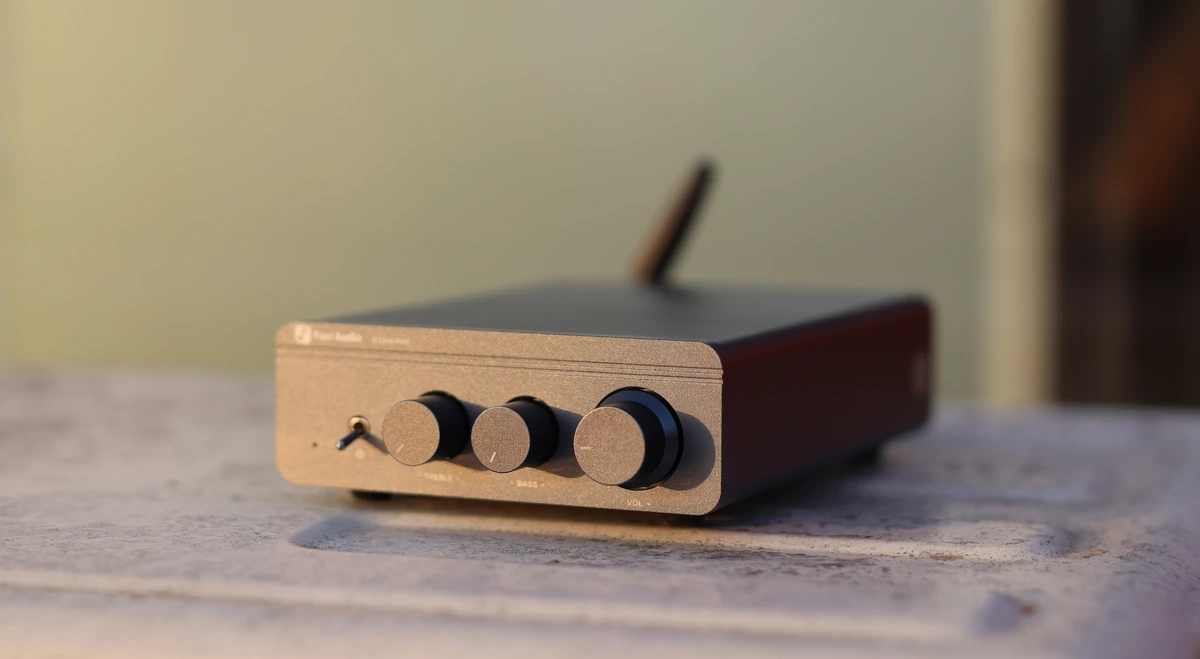 We have a treble that is mostly smooth, even with the treble wheel set to 3 o'clock. I would say that you can set it to max, but it can become a bit harsh in that situation, at least with Model Five. Generally speaking, the treble isn't the most impactful and it is generally relaxed and has a smooth texture, but is present and does not roll off unnaturally. 
Comparisons
Fosi Audio BT20A PRO vs Arylic A50+ (99.99 USD vs 200 USD) – We have a lower driving power as quoted by a50+, and that can be heard, as it can struggle at loud volumes, plus A50+ has a much louder background noise level, with audible buzzing and noise. This being said, A50+ is a more complex device with streaming, while BT20A PRO has Bluetooth, and that would be about it for streaming. I prefer having traditional speaker connectors as we do with BT20A PRO, than having the connector that A50+ uses. You should purchase the one that has all the features you need, if you need the streaming of A50+ has, go for it, while for more power, and less hassle, for a lower price, BT20A PRO is a better option.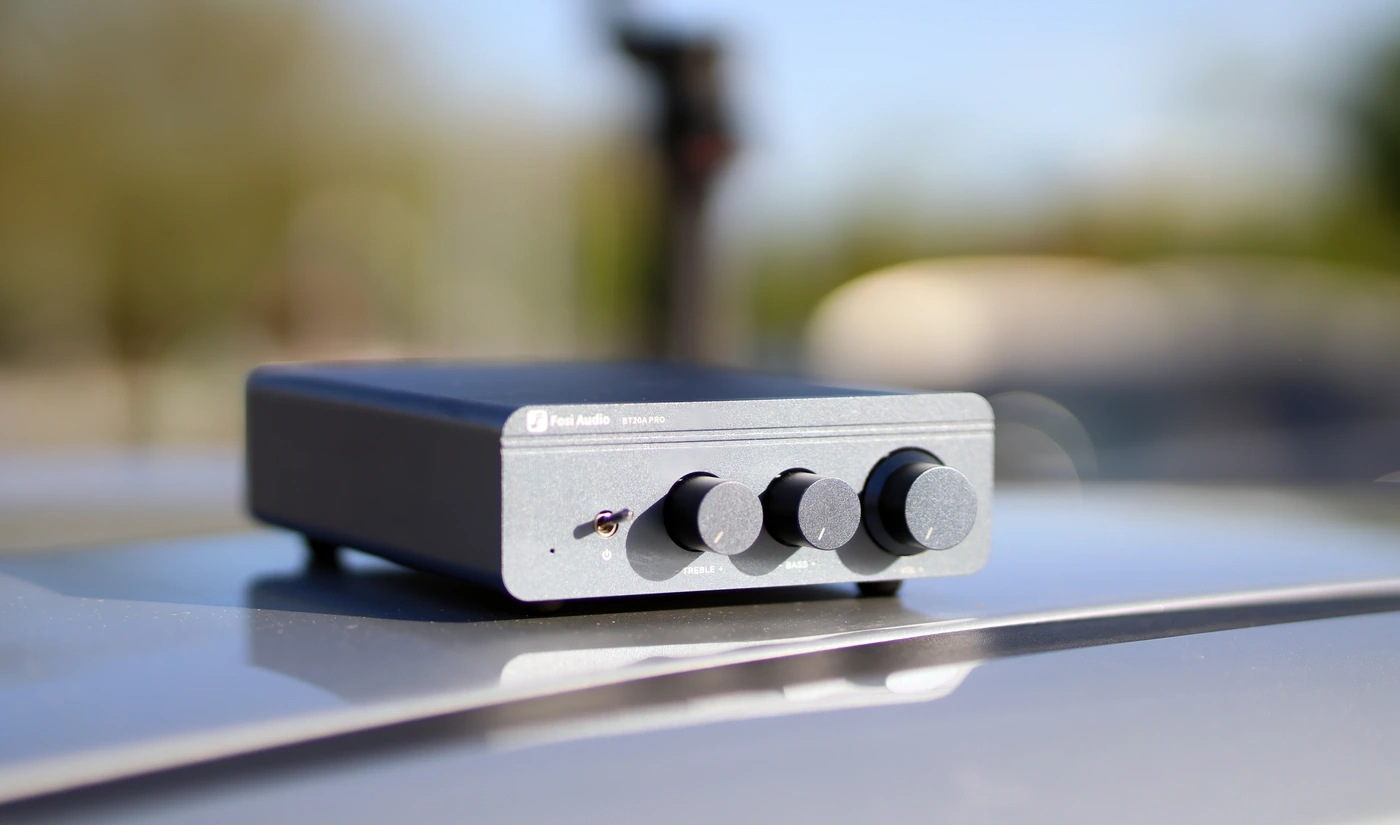 Fosi Audio BT20A PRO vs AIYIMA A07 PRO (99.99 USD vs 89 USD) – We have a very similar sound out of both, and a very similar design, both internally and externally. I prefer having a Bluetooth switch that allows me to select the input, as we do on A07 PRO, and A07 PRO has better Bluetooth algorithms, so it sounds better if you need bluetooth, but it is a larger device, while BT20A PRO is smaller and more ergonomic. The sound is really similar, and I doubt most people will be able to tell the difference, so pick the one that looks better for you, you're likely to have a very similar experience with the two of them. 
Fosi Audio BT20A PRO vs Fosi Audio Bt30D PRO (99.99 USD vs 109 USD) – We have a larger device that is more versatile in BT30D PRO, with more abilities, including the ability to power a passive subwoofer. The sound is very similar, I noticed that BT20A PRO is a bit quieter in the background, meaning it has zero noise. I would pick the one that has the features I need, for example, if you don't have a passive subwoofer, BT20A PRO looks cleaner, has interchangeable op-AMPs, and is smaller, which I think is a bonus. Sonically, you're really not likely to notice a difference. 
Value and Conclusion
At the end of the day, Fosi Audio makes it clear that their product has a super good price / performance ratio, they offer an excellent amplifier for a very low price. The package is good, it has good driving power, and BT20A PRO is a nice overall deal for sure.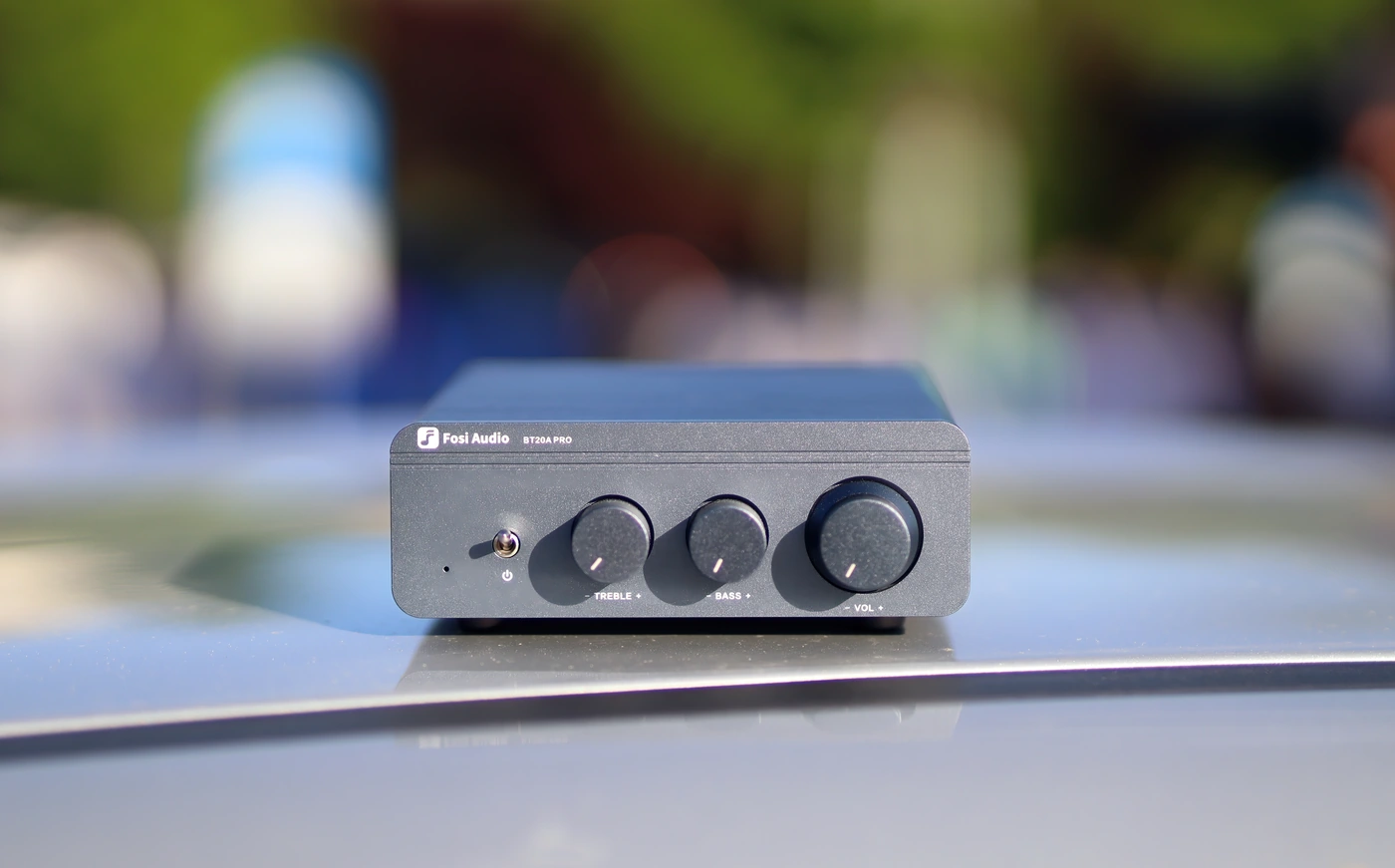 At the end of the day, if you're looking for a mini sized Class D HIFI Speaker Amplifier, with good driving power, two EQ Wheels, which comes with a good AC DC adapter, and which has traditional speaker ports, and Bluetooth, Fosi Audio BT20A PRO is fully recommended. 
Product Link
You can grab one from www.amazon.com here: https://amzn.to/42ZEDTD
If you're in the UK, you can grab one from www.amazon.co.uk here: https://amzn.to/42ZI0Kv
And if you're from Europe, you can grab one from www.amazon.de here: https://amzn.to/3BMXB4d

There is an official link as well, here: https://bit.ly/3ZzldDu , and you can use this 15 % off promo code:MKTBT20APRO15
---
--- Please remember to stay safe, and always have fun while listening to music!---
 - If you have a dime to spare, please donate, and help us! It would make the day brighter for me and my wife- 
---
Full Playlist used for this review
We listened to more songs than those named in this playlist, but those are excellent for identifying a sonic signature.  I recommend trying most of the songs from this playlist, especially if you're searching for new music! The playlists are different for Spotify, Tidal and Youtube, and based on the songs I enjoy and are available on each!
https://www.youtube.com/playlist?list=PL_cjBXGmwSHSdGcwuc_bKbBDGHL4QvYBu
https://open.spotify.com/playlist/5J3oloz8Riy9LxEGenOjQ0?si=979ba4f082414be7
https://tidal.com/browse/playlist/330fd544-8e5b-4839-bd35-676b2edbb3d5
--- Contact Us ---





---