Ultrasone Signature DXP – The Legend Continues
Ultrasone is a pretty well-known company, and some of their most loved headphones are from their Signature Series, like the mighty Signature Pro and Signature DJ. The newly released Signature DXP is coming to take a place next to its brother, Signature Studio, which we reviewed in the past, but this time with a different tuning.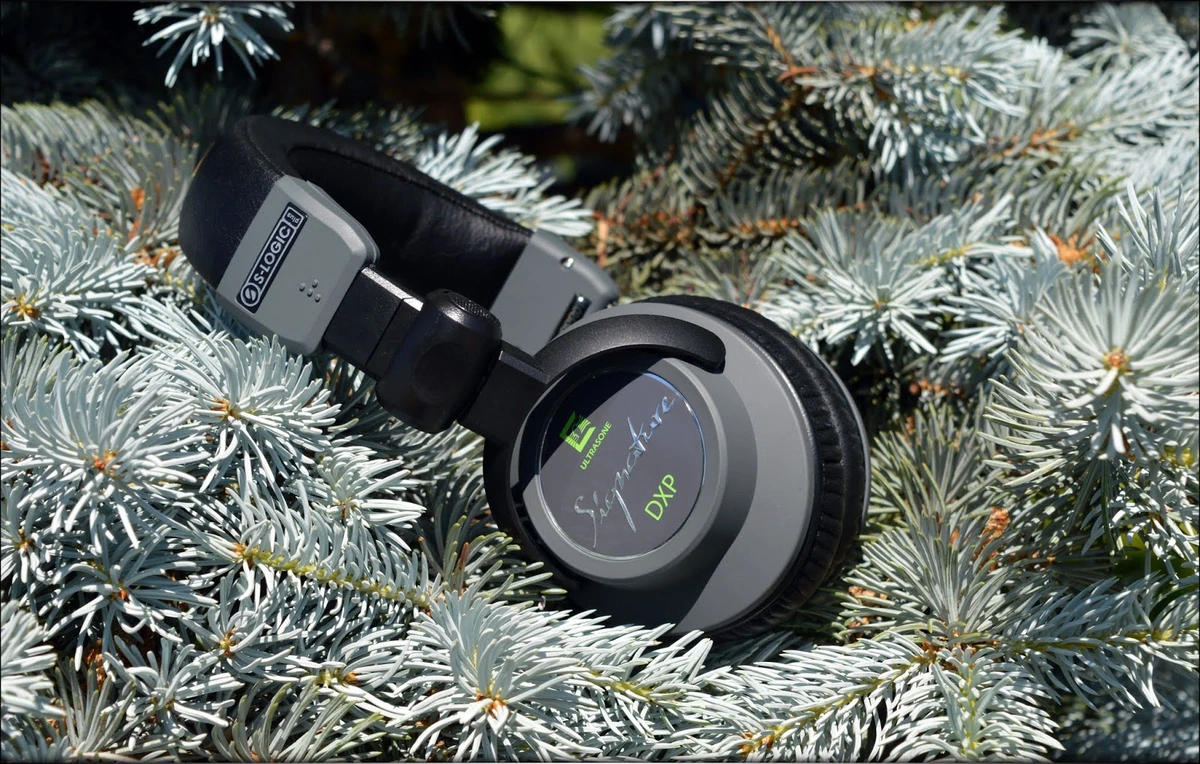 Introduction

Most music lovers have had at least a chance to hear about Ultrasone and their mighty headphones, including the less expensive, but very impressive DJ One and DJ One Pro, as well as the Pro8XX series, and the Signature series. They also have an Edition series, which is much more notorious for being really different from model to model, for example Edition 5 and Edition 8 sound really different from each other. Ultrasone are known for taking extreme amounts of pride in their work and in their headphones, and they are known for having extreme work qualities, to the point where the build qualities of their headphones are some of the best there are. As a company from Germany they have a true German quality to their work, and this can be seen in some of their models aging beautifully and still being used by music lovers, after more than five years of service. Of course, five years is just the time Ultrasone warrants their headphone, the longest warranty in the headphone world, but their models actually survive for much longer. They are also very open and communicative, and they will do great efforts to help their customers and fans with any issue they might encounter, although those are extremely rare. 

It should be noted that I have absolutely no affiliation with Ultrasone, I am not receiving any incentive for this review or to sweeten things out. This review is not sponsored nor has been paid for by Ultrasone or anyone else. I'd like to thank Ultrasone for providing the sample for this review. The sample was provided along with Ultrasone's request for an honest and unbiased review. This review will be as objective as it is humanly possible, and it reflects my personal experience with Ultrasone Signature DXP. Every opinion expressed is mine and I stand by it, the purpose of this review is to help those interested in Ultrasone Signature DXP find their next music companion.
Product Link
You can get Ultrasone Signature DXP from www.amazon.com here: https://www.amazon.com/Ultrasone-Signature-DXP-Closed-Back-Headphones/dp/B07DP8VB6P/

Packaging

First things first, let's get the packaging out of the way: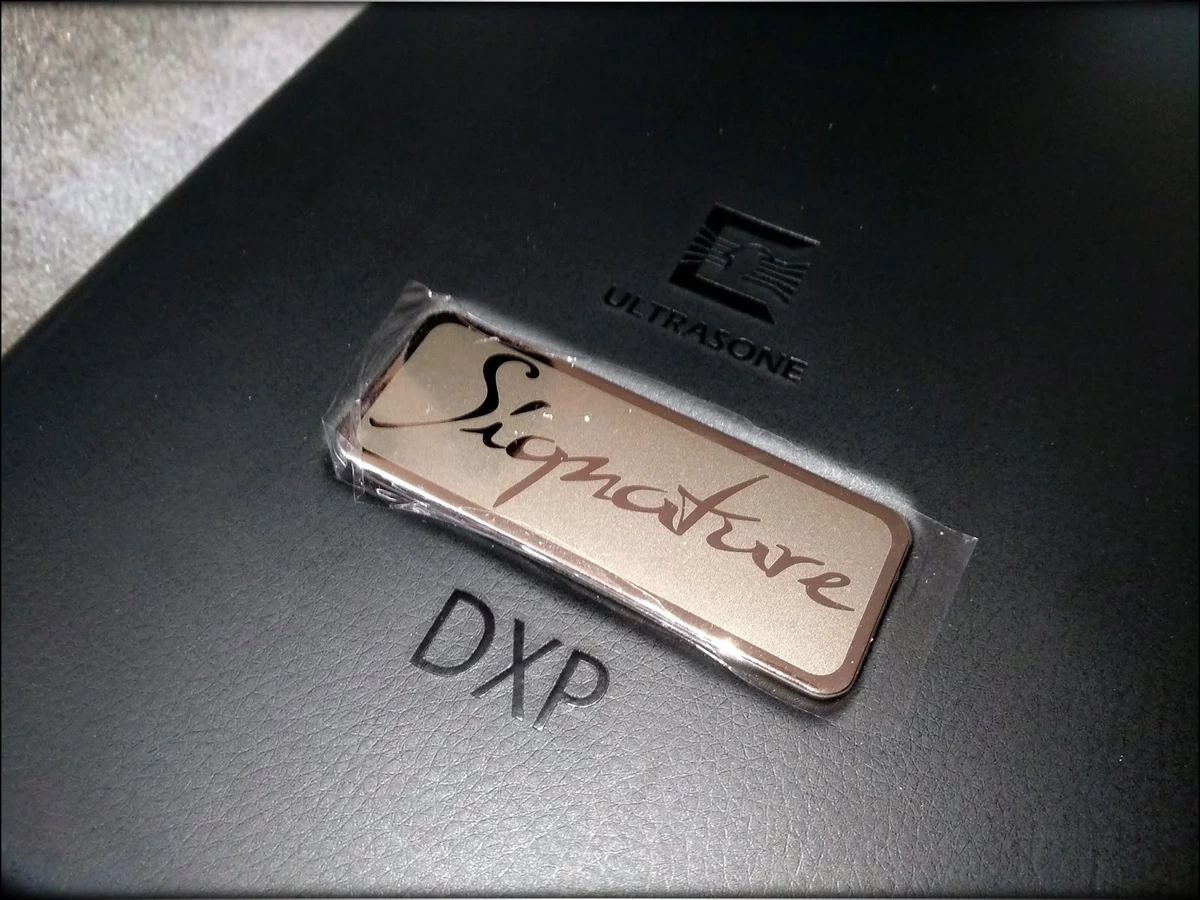 The packaging of Signature DXP is very similar, if not identical, to that of their Signature Studio brother. In this aspect, the more expensive Signature DJ and Signature Pro also come in a very similar package, which has proven itself to provide a very nice overall presentation and first contact with the headphones. 

The outer package is made out of cardboard, and has a nice design etched to it, along with a nice render of the Signature DXP Headphones. Inside, you can find the carrying box, a leather box, protected by a layer of foam, which protects the carrying box from scratches and other issues. 

The leather carrying box has a metallic "Signature" logo on it, and it is made from what seems to be leather, or at least a really nice imitation of leather. The zippers are smooth in action, and although the box doesn't offer a lot of protection to the headphones, not being the hardest box out there (Ultrasone DJ One Pro had a much harder and protective carrying box), the one Signature DXP has is rather nice to the touch and has a much more stylish approach to storing your headphones. It also has that really nice space for the headphones, making them stand really nice while inside. 

Inside the package you can find a straight short cable, a coiled cable, the headphones, and some silica to protect the headphones from too much humidity. There are some things we might have liked to have been included with Signature DXP, like a second set of ear pads, but given the nice material those are made of, and the quality of the pads already installed, along with the pocket-friendly price tag of Signature DXP, we feel the overall package is quite good. 

The pads are rather resilient, as we've been using Signature Studio for a good while now, and they don't seem to have any traces of usage or wear so far, and it has been over a year of usage now, so we trust that Ultrasone did a good job not only with the headphones, but also with the pads. 

All in all, the whole package feels luxurious, well put together, and well-designed. 



Technical Specifications

Impedance: 32 ohms
Sound pressure level: 115 dB
Transmission range: 5 – 30,000 Hz
ULE technology (ultra low emission)
Removable cables
3m Spiral cable with gold-plated 6.3 mm jack plug
1.2m Straight cable with gold-plated 3.5 mm jack plug
Weight without cable: 290 g
5-Year manufacturer's warranty


Build Quality/Aesthetics/Fit/Comfort

Starting with the build quality of Ultrasone Signature DXP, they are really similar to their brothers, Signature Studio. They are a mostly polycarbonate (plastic) headphone with a leather-like material on the headband and the ear pads. After checking on Ultrasone's site, the material for the cups seems to be leatherette The cups are padded with what seems to be glass, and most of the headphones seems to be fairly resilient. 



Having had Signature Studio for more than a year now, and having had Ultrasone Dj One Pro for almost 4 years now, we can safely say that Ultrasone headphones can really take a beating. In fact, Dj One Pro looks exactly as it did the first day I bought it years ago, when I first had a more high-end pair of headphones. 

Signature DXP doesn't creak when adjusted, and the size adjustment mechanism is smooth, the overall headphones looking as high-end as you can expect. 

The one detail that is different from most of other Ultrasone Models is the color scheme, Signature DXP being a Gray headphone with Green and black accents, being quite different from the typical monochrome approach Ultrasone had thus far. This is not for the better or for worse, since aesthetic taste differs quite a bit from user to user, but we can safely say that you can take Signature DXP with you both in public, and to work, even if you work in the music industry, without an issue.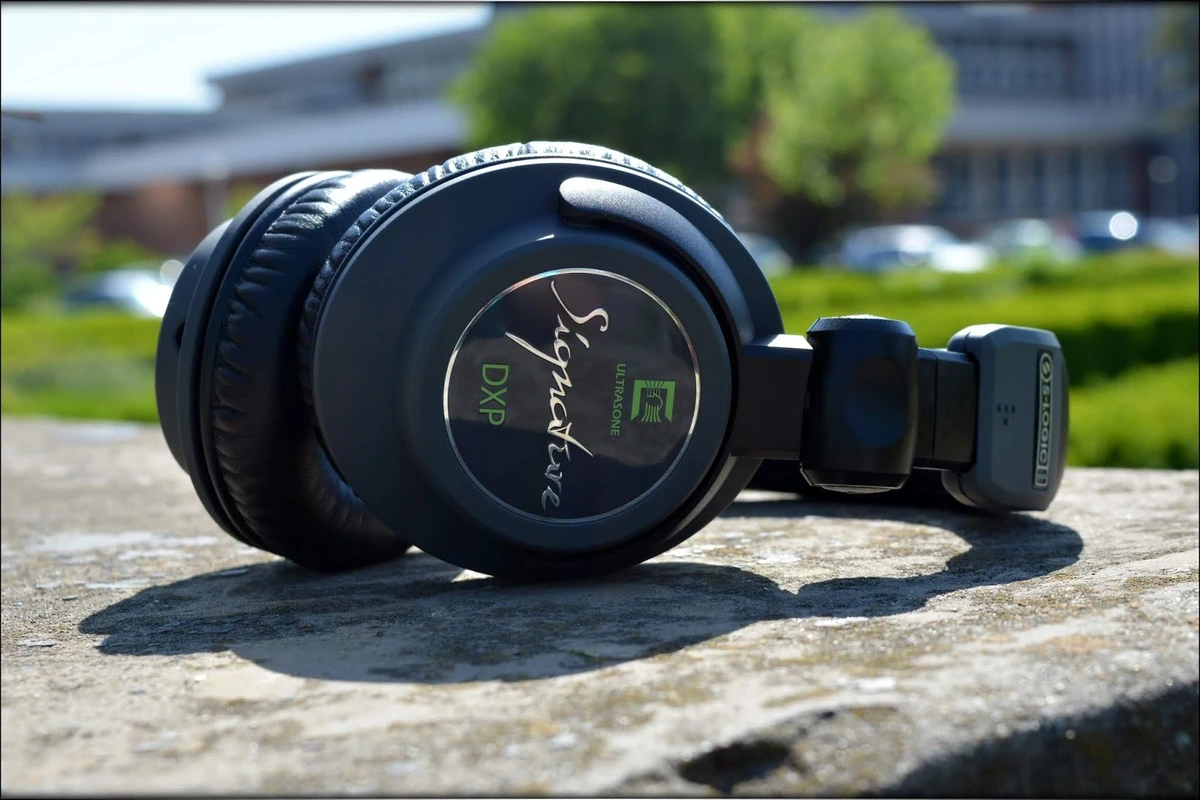 Now, the fit and comfort, are something we need to take a second before talking about. We've been spoiled quite a bit by owning headphones with really good fit and comfort, like Audeze LCD-MX4, Beyerdynamic Amiron, and even Sennheiser HD660S. It is impossible to ignore the fact that those headphones are incredibly comfortable and will raise the minimum comfort bar we have for headphones, since our expectations grew the time we used those. 

Placed in perspective, Signature DXP is a more portable headphone, intended to be portable, so their size is smaller, and considerably so. If you need portability, then none of the larger headphones can't be considered as portable as Signature DXP. We did tests where we used (and still use) LCD-MX4 portably, aka, while going on a walk through Bucharest parks and such, but it is hard to consider LCD-MX4 anywhere as portable as Signature DXP. 

The comfort, on the other hand, is not at the same place. Signature DXP is pretty small in its ear cups, and although I can't say my ears really touch the driver or the inner parts, the ear cup itself isn't quite that large, so it might be a bit of an issue for those who are looking for a larger headphone. Most closed back headphones are pretty small, so this is not quite an issue with their design, but an issue you need to consider with all ultra-portable headphones. The earcup size will be able to fit most ears, but there's not much space left, thing which means that if you have really large ears, you might get a slightly more On-Ear fit than over-the-ear. 

This isn't a large issue though, and we even review on-ear headphones and we know people who use on-ear headphones daily and with great comfort and happy results, but it is fair to mention those things. 

Other than that, the clamping force is exactly as it should be, not too strong, so they don't sit too tightly, neither too loose, so they don't fall off your head if you're walking, dancing or head-banging. The headband comes in contact with the head mostly at the top of the head, but the really thick padding takes care of comfort for you, and the weight isn't quite that high, so the overall comfort is actually pretty great. 



Sound Quality

When it comes to their sonic signature, Signature DXP is quite intriguing, by being slightly different than most headphones, all while being very enjoyable. The best way to describe them is a V-shaped headphone, with a thick and very satisfying sound, and an open, large, airy and relaxed signature, excellent textures, and a nice yet smoother top end. 



The bass is pretty deep, and with good fit, goes as low as you can expect it to go. The mid-bass and the lower bass are the focus, with the 50Hz – 100Hz areas being enhanced rather strong, Signature DXP having an excellent overall impact. The bass texture is quite incredible, and Signature DXP is great at showing the difference between different bass sounds, as well as revealing micro-details in the bass. 

The midrange is quite impressive on its own, when it comes to textures. While it isn't exactly recessed, there are some midrange areas, especially the upper midrange, which is rather recessed, especially when compared to the lower midrange and the bass. This means that most music is not quite that sibilant nor fatiguing nor metallic when being played through Signature DXP, the area that's responsible for those effects being smoothed. Especially cymbal crashes can feel hot if that area is a little enhanced, some headphones adding a bit of bite to it for better reproduction of acoustic guitar bite, at the cost of that area feeling hot with other music types. In this sense, Signature DXP does a great job at providing a great balance between the music having enough bite, but not feeling fatiguing or hot. 

The treble is yet another interesting point for Ultrasone Signature DXP, as those are pretty smooth, yet the treble doesn't feel subdued or too smooth. This is one interesting thing they managed to do, but basically, the upper midrange/ lower treble, and the upper treble, are both lower in amount when compared to the main treble body, which means that you can feel the hotness missing, but you do not get tired of the treble. 



Ultrasone has a strategy for reducing listener fatigue, and what we can tell by hearing their headphones, is that they reduce the hottest type of treble by a little, along with reducing the highest treble octaves by a little. This results in a sweet and generally happy sound for their headphones, although sad music sounds just as convincing and impressive. 

At the end of the day, the main sound will surely be a delight to anyone looking for a broad-style and versatile headphone which can be combined with almost any music, be it rock, punk, pop, electronic, classical, or even jazz. There simply isn't anything that won't sound pretty darn amazing on this one, and although this isn't something we say often, we feel that it really is a headphone that does almost everything well. 



Soundstage

Ultrasone employs a ton of technologies in their headphones, the best known being the S-logic technology. It basically means that the driver is attached to a metallic plate halfway in the ear cup, and this metallic plate has holes in it. There are two types of soundwaves, in this situation, some which get directly to your ear, which are the forward part of the music, and some which will come out of the driver's back, hit the earcup, then come to the listener through the holes in the metallic plate, creating a genuine sensation of soundstage and air. A bit of knowledge in physics and biology is needed to understand how and why this works, but the shortest version is that with this technology, the ears receive both the signal, and reflections, which would typically result if you'd be listening to music from further away, or in a larger scene. 



The subjective impression is somewhat similar to what you'd expect, the sound has both the forwardness and aggressiveness necessary to enjoy some metal music and some punk, but also the openness and airiness necessary to enjoy some classical, or some really 3D-sounding pop or electronic. In all cases, you can't get bored of their sound, regardless whether you're listening to one genera or another, but we should also note that some ears work better than others with the S-Logic technology, and we generally recommend testing Ultrasone Headphones before buying, where possible. We only met with people who had an excellent experience with those headphones, but we also talked with some people who perceive the S-Logic technology as slightly bright instead of open and airy. To place it all in one sentence, the soundstage is large, but they don't lack the more direct approach needed for rock and metal, being a headphone that should work well with both your more and your less aggressive music. If the S-logic technology works well with your ears, you will feel a large soundstage, akin even to HD800's mighty soundstage, but at the same time you don't really feel the distance usually implied by such a large soundstage. 



ADSR / PRaT

The ADSR and PRaT (Texturization) of Ultrasone Signature DXP are quite impressive, the response time being quick and the textures being revealed well and everything feeling snappy. The textures in music like Mindless Self Indulgence are really well expressed and both textures and micro-textures are really easy to hear and distinguish. What we found quite interesting and intriguing is not that the textures are revealed well in the music of Mindless Self Indulgence, but that you can hear new textures in music you already knew, especially in guitar-driven music, like Dance Gavin Dance, or Machinae Supremacy, all sorts of micro textures being revealed with elegancy and effectiveness, so you do experience a lot of previously unheard things, especially if you're coming from a headphone with smoother textures (regardless of their price, there are high-end headphones that don't focus so much on revealing textures, so this experience can be felt even when comparing Signature DXP to more expensive models, but more on this in the comparison part of the review).


Portable Usage

The portability of Ultrasone Signature DXP is as good as you can expect from an ultra-portable, closed-back headphone from Ultrasone. 

Starting with their weight, they are pretty lightweight and they are also comfortable.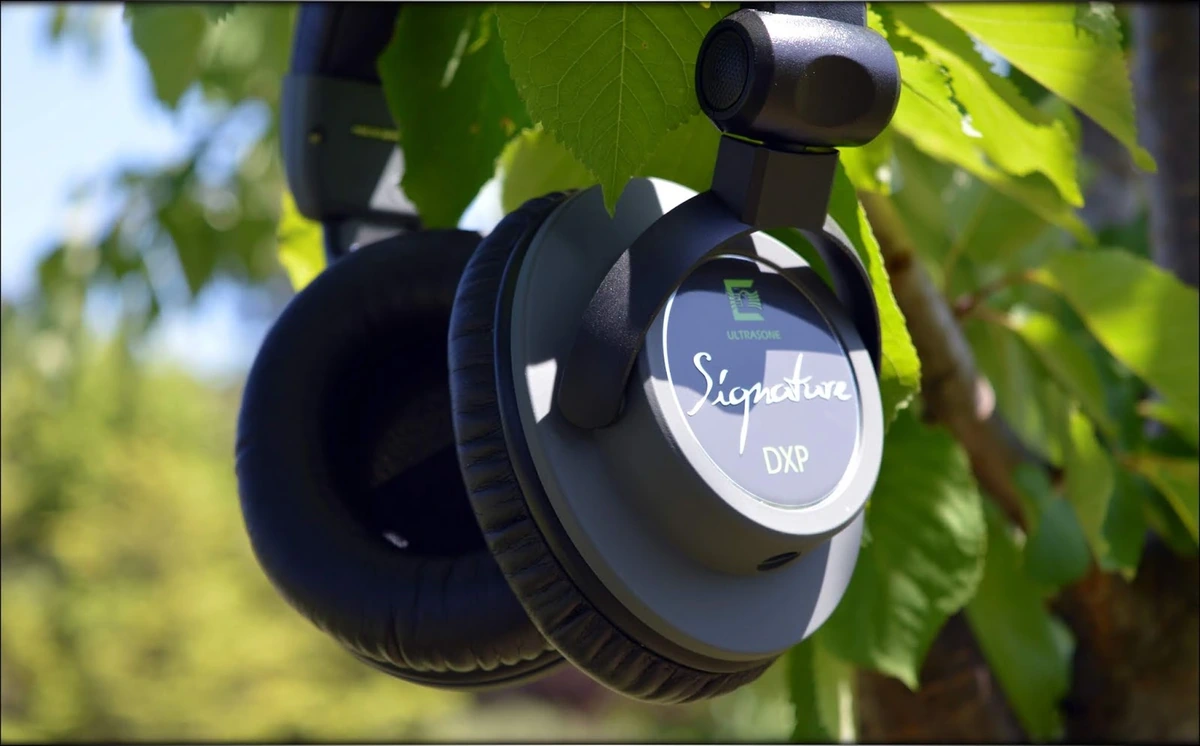 When walking, even if it is quite hot outside, Signature DXP doesn't get exceedingly hot, and in fact, I'd have a hard time saying when I noticed sweating, and this is something quite interesting because Romania is currently experiencing one of the hottest summers we had in a few years. 

Ultrasone DXP is fairly easy to drive, not exactly driveable from a smartphone, and clearly not to their maximum potential, but they are driveable from most portable sources, not to mention that today you have a ton of mini-devices which can drive them, like a Type-C to 3.5mm DAC/AMP like those made by Audirect and HIDIZS which are very lightweight and far outweigh the sonic performance of any smartphone. The point is that those aren't hard to get loud, but to squeeze the last drop of performance you will require something a little better, but anything from a Cayin N5ii and upwards should do a great job. 
Ultrasone Signature DXP is not picky about the output impedance of its source, so you can safely use it with a Hiby R6, for example, and you also get all the convenience of R6's power. 

The cables included with them are good, the straight cable being what most people will use while out and about, and that is a pretty nice cable fort portability, the only thing that might be missing from it being a remote / microphone thingy, but since many audiophiles avoid those, Ultrasone decided to not include a remote-based cable with Signature DXP like Ultrasone Signature DJ had. 



All in all, those are very portable headphones that are a ton of fun to use while out and about, they are light and sit well on the head, they are comfortable even in full Romanian summer, they isolate well from the outside noise, and people will not hear what you're listening to, to the point where I was blasting full-volume metallica in my headphones while waiting patiently to pay for my groceries, but no one knew what was going inside my headphones. Traffic noise, and construction noise didn't bother me one bit either, with Ultrasone Signature DXP, and I know that those are audible if the headphones don't isolate, as I do hear traffic and such when walking with LCD-MX4. We'd still advice you to not be too brave when using closed-back, well-isolating headphones and out and about, as you need to hear what is going on around you, especially when it comes to cars. 

All in all, this is a lovely headphone to use outside, and, like all Ultrasone Headphones I tested to date, Signature DXP was made with portability in mind. 



Comparisons 

Now let's the fun begin. I'll do the comparisons as in-depth as possible, and with the headphones closest to Signature DXP in price, regardless whether they are similar or not, since most customers and especially those new to this hobby don't always know whether they want to start on the road of closed-back or open-back and such. Since Signature DXP can stand well against much more expensive headphones when it comes to certain characteristics, like its PRaT, comparing it to more expensive headphones does make sense as well. 



Ultrasone Signature DXP vs Ultrasone Signature Studio – Since we reviewed Signature Studio and its price is very similar to that of Signature DXP, it makes sense to start with this little comparison. Starting with the package, Signature Studio and Signature DXP have pretty much the same package. There are no real differences to mention in the packaging, Ultrasone using the same cardboard box, same carrying case, same cables, and the same headphone body between the two headphones. The construction quality is also pretty much the same, the only real difference being in aesthetics, as Signature Studio looks quite different from Signature DXP. Trying to compare them, Signature DXP is more edgy, but also looks more urban and more ready to be taken out, while Signature Studio looks sleeker, more elegant and more professional. Some people might also feel that the all-black Signature Studio looks more mature, while the Gray-and-Green Signature DXP looks younger and more energetic, and along those lines, this is also how they sound. The driver size is a little different between them, Signature DXP having a 50mm Mylar driver, just like Signature DJ, while Signature Studio comes with a 40mm Mylar/Titan driver, just like Signature Pro (larger drivers are usually known for bigger bass response). Signature Studio has a more mature sound, with the biggest difference between those two headphones being in the bass, where Signature Studio is much tighter, has a quicker, more revealing, but less impactful and more precise bass. In comparison, Signature DXP feels thicker, more satisfying, deeper, more impressive and more impactful, and with the treble sparkle, they also feel more balanced. The treble is also slightly different, with the Signature Studio have slightly more expansion and extension in the treble, with a brighter overall sound and more treble sparkle, but Signature DXP doesn't feel like too smooth either, being really nice as well. Both headphones have that juicy and enjoyable midrange, similar to Sennheiser IE800, which is a midrange loved by many, sometimes even favored over more revealing, but more mature midranges, and both headphones have incredible PRaT and ADSR abilities, being able to resolve textures and micr-textures that other much more expensive headphones will blend more organically, but reveal less of. The overall soundstage is crazy good on both, up to HD800 levels, and this is given by the S-Logic technology employed in both headphones. All in all, the decision between those two models is quite simple, both are Ultrasone and both are great headphones, but the question is along the lines of : Do you want a thicker, bassier, more satisfying sound, or a more analytic sound? If you prefer more bass with a slightly smoother treble, then go for Signature DXP, and if you want a tighter, brighter and more analytic sound, then go for Signature Studio. 
Ultrasone Signature DXP vs Sennheiser IE800 – We can't miss this comparison because IE800 is like a standard, a point of reference we need to always go back to when comparing headphones, and Signature DXP is no exception. IE800 is an aggressively V-shaped In-Ear with a very strong sub-bass, and a glimmery treble. Its instrument separation and detail are still some of today's best, years after its release. Now, IE800 is priced around 500 USD new right now, so close to the price of Signature DXP. When looking at the package, with IE800 you're getting IE800, a few tips and the carrying case. Ultrasone Signature DXP surely packs a larger package, with the headphones, two cables, and a large carrying case included. For the sake of it, IE800, its case, and a DAP (Digital Audio Player) have enough space, along Signature DXP, in Signature DXP's case. I actually used to carry IE800, Ultrasone DJ One Pro, and FiiO X5 in Dj One Pro's case back in the day. The wearing and comfort are quite different, with IE800 being an in-ear, with a mostly good fit, but with custom tip locking mechanism, so no Spinfit tips can attach to it, while Signature DXP is an over-the-ear headphone, with a comfortable fit. The portability is better for IE800, since you can probably just place them in a pocket and forget about them, while with Signature DXP you need to take their carrying case, or at least the headphones, which are larger, but those are still ultra-portables. Now, let's go to the important part, the sound. Sennheiser IE800 starts by having more sub-bass, and quite a bit more sub-bass. Signature DXP is more balanced across their bass, having a strong sub, mid and even upper bass, having a pretty rounded bass overally. The lower amounts of mid and upper bass in IE800 mean that it will sound thinner in comparison to Signature DXP, and this is quite easy to notice. Signautre DXP has a much more satisfying sound, especially in the bass, where it is tangible, while IE800 goes just as low, if not lower, but is thinner on an overall level. The midrange is extremely sweet on both, and very textured, but one thing that is easy to notice is that IE800 is a bit more distant from the listener, and has a touch better instrument separation (it is the benchmark for instrument separation after all), but Signature DXP has a considerably larger and more expanded soundstage size, in every direction, width, depth and height, everything can travel more freely across the listening space with Signature DXP. Stereo Imaging is excellent on both, no one can complain about either, and the treble is another point where they are quite different. IE800 doesn't walk the same path as almost all other headphones do, IE800 isn't hot in the 7-9 kHz region, where things are usually sizzling hot, but the emphasis in IE800's treble is above 9kHz, which leads to what some have called a splashy treble. Of course, this is not something bad or good, but a matter of taste, some prefer their treble to sound a bit more like this, while others prefer a hotter or more direct impact from a cymbal crash. Signature DXP has its emphasis around the 9-11kHz area, but their treble is not exactly even through and through, as Ultrasone employs a special technology to reduce fatigue, so both the 7-9kHz area is attenuated, but also the upper treble area is attenuated, the cymbal crashes are smoother when compared to IE800, but they don't lack impact or life, just feel less tiring. Compared to anything that has the hotspot at the 7-9kHz area, Signature DXP feels pretty heaven sent, as they really get rid of the hotness without taking away much from music, although acoustic guitars do sound better when the headphone has a hot treble in that area. At the end of the day, both IE800 and Signature DXP are still excellent buys, and the main thing that separates them is not the detail in the sound, as both are incredible, but if you prefer more instrument separation, and a more extended treble, with a stronger sub-bass, but a thinner sound, you will probably like IE800 more, while if you prefer a thicker, more even sound, with more textures revealed, with a more organic approach to instrument separation, but with a larger soundstage, then Signature DXP surely will satisfy you well. Both great choices, but each to do a different job, we feel that customers of both will be pretty happy with what they're getting. 
Ultrasone Signature DXP vs Beyerdynamic Amiron – Although there are some differences between Ultrasone Signature DXP and Beyerdynamic Amiron, especially in the fact that Amiron is open-back and DXP is closed-back, we feel that deciding between those two models might be on the mind of some of our readers, especially those who are newer to high-end headphones and who want to experiment. The package is excellent for both headphones, both come with carrying cases, although Amiron's carrying case is smaller, but has good space inside, while Signature DXP's case is larger physically. Amiron comes with a single, long cable, while Signature DXP comes with both a straight cable for portable usage, and a coiled, longer cable for desktop usage. In terms of build quality, both are built really well, but Amiron has metallic insertions in the headband and in the size adjusting mechanism, so we trust it will hold well, although to be fair, the size adjusting mechanism is thicker on Signature DXP, since they are made to be used outdoors, and in more risky environments. The comfort is very different, Amiron being a large, light headphone with much less clamping force, a much larger and deeper earpad, with velour on the earpads, and with velour on the headband, they basically feel like a feather on the head, with everything about them being so comfortable that you literally forget you're wearing them. Signature DXP, on the other hand, has the isolation. Amiron is made to be used indoors, so it is open-back, it wasn't designed with portable usage in mind, so it will be one of the best indoors headphone we reviewed, but if you need a travel headphone, then Signature DXP, with its higher clamping force, closed-back design, and good passive isolation will prove to be more of a travel and walking companion. On this noe, while both of the headphones in the comparisons before are comparable in terms of power needed to drive them, IE800 and Signature Studio being similar to Signature DXP, Amiron is not. Amiron requires quite a bit more power to be properly driven and to squeeze all the performance in them, and no Type-C to 3.5mm small DAC/AMP can't drive Amiron, the lowest equipment we recommend for Amiron being Burson Play, FiiO Q5 + AMP5, iBasso DX200 + AMP5, or something like iDSD Black Label. This further enhances the feeling that Amiron was made to be used while inside, and although something like Burson Play would make a lovely addition to your system that you'll surely use for years with a lot of other equipment, it is something you need to consider if you decide to go with Amiron, as they don't get loud enough nor have their best performance if underpowered. Now, to the sound, Signature DXP and Amiron are quite different. The overall tonality, sound, and presentation feel more mature, smoother and more relaxing on Amiron, with a tighter bass, less amounts of bass, with a lower amount of thickness, and with a more mature timbre. Where DXP was designed to be non-fatiguing by removing the hot part of the treble, Amiron doesn't have this technology employed, so its treble feels more enhanced all across the spectrum, although Amiron has a slightly smoother PRaT /ADSR presentation, so the textures feels a tad smoother and less enhanced than they do on the energetic and revealing Signature DXP. The soundstage is comparable in size and instrument separation, although if you're in a quiet listening environment, and using a really good DAC/AMP like Burson Play or iDSD Black Label, Amiron will also have a slightly better instrument separation. At the end of the day, if you're looking for one of the best closed-back headphones there are, a companion to take with you anywhere you go, and a headphone to enjoy at any time of the day, then Ultrasone Signature DXP should really be at the top of your list, while if you're looking for an ultimate headphone for indoors relaxing and soft-music listening, a headphone that sits like a feather on your head, then Amiron will probably make the better choice. 
Ultrasone Signature DXP vs Ultrasone Signature DJ – Ultrasone Signature DJ was released by a while now, and it became one of the classics of headphones, being probably the headphone most recommended when someone asks "What is the ultimate closed back headphone?". While  a large number of new headphones appeared on the market, some more expensive than Signature DJ, it still held its ground as one of the top choices for many music lovers, and it is for a good reason, the soundstage is almost impossible to beat, its sound is balanced all across the spectrum, it has an amazing build quality, proven by the pairs which look like new even after more than five years of usage, and by all the happy customers who wouldn't let go of their Signature DJ. The new Signature line from Ultrasone, which includes Signature Studio and Signature DXP, seems to be competing with their older, but really loved headphones, Signature DJ and Signature Pro, most reports indicating that the new DXP and Studio are meant to offer most of the experience of their more expensive brothers, but at a more affordable price. We'd like to note that Ultrasone, however, did not go down on build quality, and both Signature Studio and Signature DXP still come with 5 years of warranty, literally the longest warranty on any headphone on the market. To that end, Signature DJ comes in a very similar package with Signature DXP, both coming with that large and high-quality carrying case, with that beautiful "signature" metallic plate on the front. The main difference here, would be that Signature DJ comes with a remote, white cable, instead of the straight cable that DXP comes with. The build quality is incredibly good on both, but Signature DJ is white in color, and has a thicker glass on the headphone cup. The biggest difference between them would be in comfort, and mostly in the fact that Signature DJ has its ear pads and headband made from Ethiopian Sheep Skin leather, while Signature DXP seems to have the earcups made from a different material, which on Ultrasone's site is named leatherette. This has some influence over their sonic abilities, but first we'd like to note that virtually all the other aspects of the headphones are the same, including the driver size, which is 50mm on both DJ and DXP. While we can't confirm directly, there is a chance that the same driver was used in both Signature DJ and Signature DXP, since the materials seem to be the same, along with the Impedance, SPL and other characteristics (Also, the same seems to be true for Signature Pro and Signature Studio, which seem to share a lot of things in common). Now, the sound, is pretty similar. In fact, it is so similar, that it is hard to tell them apart, the largest difference between Signature DXP and Signature DJ being that Signature DJ seems to have a slightly juicier midrange, a slightly tighter bass, a slightly more enhanced treble response, and a better overall musical note reproduction. A lot of those characteristics might come from the difference in earpads, and It is a known fact that the pads of Signature DJ are made from real leather, while the ones for Signature DXP are made from leatherette. At the end of the day, if you want the best version of Ultrasone experience, you will inevitably be invited by the mighty Signature DJ, which is a proven headphone at this point, and if you want to save some cash, and if you aren't looking for the most premium materials, like glass and leather, you'll probably be quite happy with Signature DXP, as the sonic performance of the two is quite close and while the most picky listeners might feel the improvement in Signature DJ, most people will probably have a hard time telling them apart. 



Recommended Pairings

You should keep in mind that Signature DXP comes with a single ended connector, which is 3.5mm in size on the shorter cable, and a 6.3mm connector on the longer cable. No Balanced cable and connection is possible with Signature DXP, and we don't recommend modding them for one, as for the most part it might not be worth the trouble, since they can be driven really well and sound really good from a Single Ended connection, provided that the source is up to the task. On this note, they can get loud enough and enjoyable from almost any source, as long as it is a decent one, and most Type-C to 3.5mm DAC/AMPs should do a fairly good job at driving them.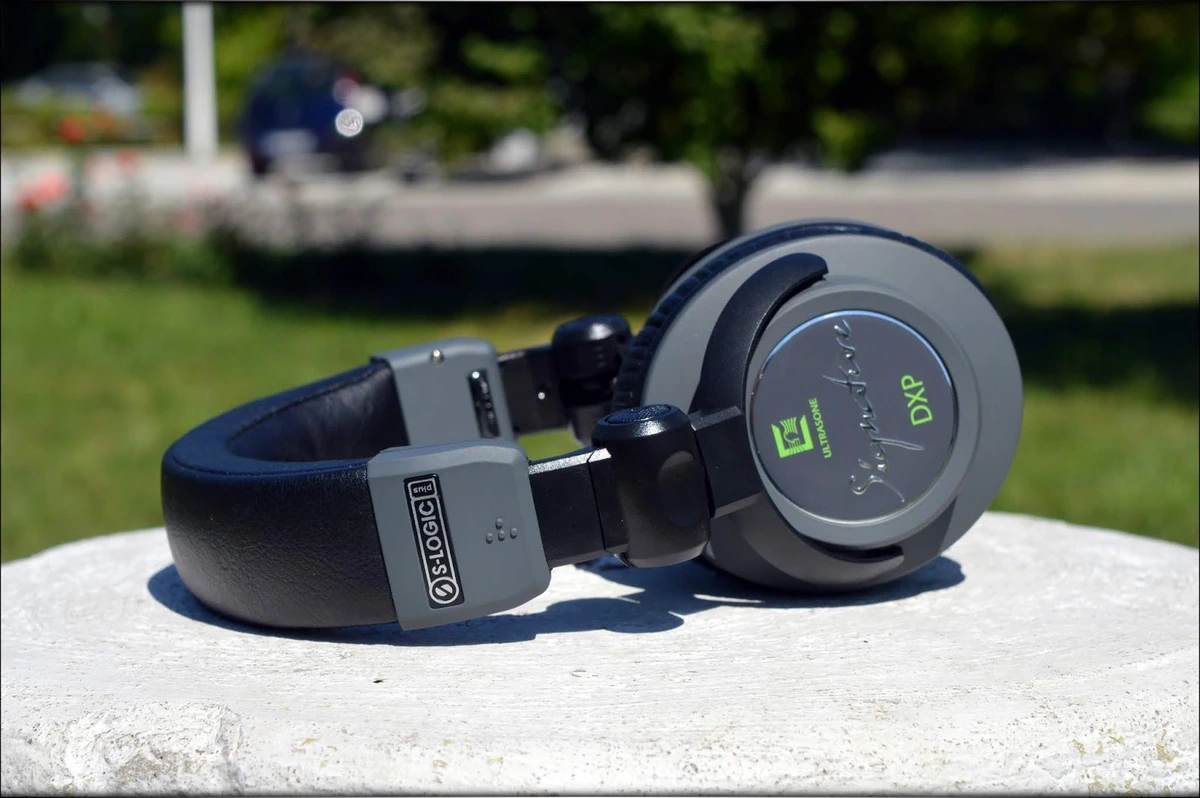 Ultrasone Signature DXP + iBasso DX200 / DX150 (AMP5) – iBasso DX200 + AMP5 has been a favorite of ours for a very long time, and so is DX150, when using its AMP5 module. The fact is, you can't even use AMP4 / AMP4S / AMP3 with Signature DXP since they can't be connected to a balanced amplifier, so the best module for DX200 we tested to date is still the good old AMP5. The sonic signature is most impressive with this pairing, with DX200 breathing a really clear and vivid sound to Signature DXP, very good transients and textures, and a juicy and lively midrange. The soundstage is larger than on most sources, with the depth of the soundstage being quite impressive as well. The bass is heavy, hits deep, and has excellent impact, while the treble is sharp and clear, but not tiring nor sibilant. With DX200, and DX150's technical ability, as well as bells and whistles in connectivity, like Streaming Services, this setup can be the ultimate portable setup for a really long while. 
Ultrasone Signature DXP + FiiO X7mkii / Q5 (AM5) – Very close behind DX200 and DX150 running their AMP5 comes FiiO X7mkii and FiiO Q5 with FiiO's own AMP5, thing which isn't quite surprising, since we kept mentioning during their reviews as well, that those devices are really close in performance. FiiO's X7mkii and Q5 juiced by their AM05 are very similar in sound to DX200 and DX150 running their AMP5, the main difference being that DX200 has a touch more detail and more revealing power, and they add a little more impact to the sound, but cost quite a bit more, being making FiiO's setups the more pocket-friendly approach.  
Ultrasone Signature DXP + Hiby R6 – Hiby R6 keeps appearing in our recommended combo lists because, while it isn't exactly quite as good as X7mkii or DX200, it is really really convenient. We know that some people want a one-device-then-forget approach, and R6 can provide that with Hiby's magical software enhancements, namely Hiby's really good Equalizer implementation, along with Hiby's Mage 8-Ball-sound-thingy approach. Basically, Hiby have taken the software approach to the next level, employing high-quality DSP (Digital Signal Processing) techniques, giving R6 a boost in value and usability, and since it is powered by a quick snapdragon CPU, Hiby R6 is also one of the most fluid and quickest DAPs in usage. Of course, the sound is not quite as detailed as X7mkii, Q5, DX150, or DX200, all of those making better choices for those looking for the absolute ultimate music experience, but the level of convenience R6 brings, along with the power inside it make it a really interesting choice for a portable setup since it can drive virtually anything, from IE800, all the way to Signature DXP and LCD-MX4. Without engaging any of its DSPs, R6 sounds thicker, more bassy, with a less open soundstage and with slightly less instrument separation than either DX150/DX200 or X7mkii, but it also costs less than those setups (if we factor that we mainly recommend either setup on their additional AMP5 setups) and makes up for a really nice choice if one is looking for simplicity. 
Ultrasone Signature DXP + Burson Play – Burson Play is a slightly newer device in our arsenal, and it mostly is the main desktop DAC/AMP we are going to be using as a reference from this point forward. We'll have a full review on it, where we compare it to iDSD BL and other DAC/AMPs as well as other DAPs, but the short version is that if you're looking to have a desktop device, then Burson Play makes an incredible device, being less expensive than iDSD BL (our prior desktop benchmark), but having an incredibly good sound. To cut the chase, with Signature DXP, it gives them a really energetic sound, further strengthens their texture reproduction, and gives them one of the most impactful sounds you'll get of them. The levels of control and depth, as long as the overall size of the soundstage made possible by this little DAC/AMP are out-of-this-world and we really think that if you're sitting at a desk, you will want to look into it to pair your Signature DXP with.  



Value and Conclusion

The value of Signature DXP is rather good, as they are priced lower than Signature DJ, this time being priced at 500 Euros. This is a very similar price to the Signature Studio, and we can safely say that even if one of them will be on sale, or could be found at a discount, most people will probably make the choice based on their sonic preferences, since the two are pretty different in their sound, or at least enough that you'd want to pick the one you like better.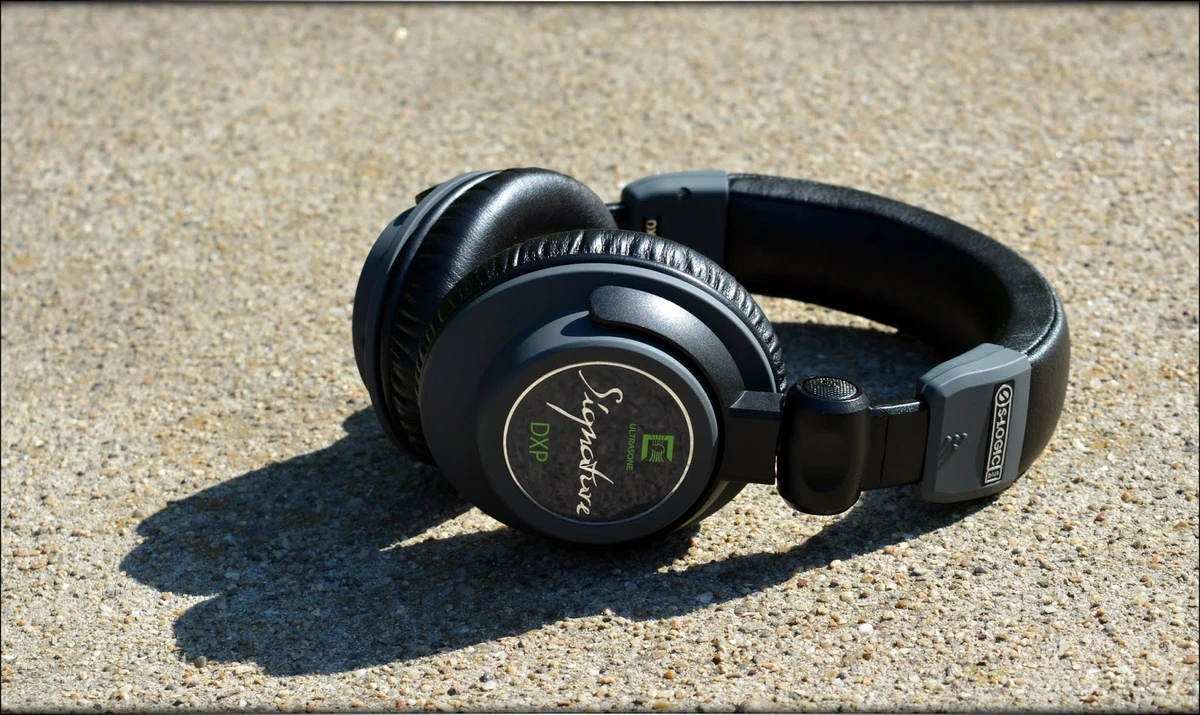 The build quality on both is quite excellent, and the thing is that Ultrasone themselves take so much pride in their work and trust their build quality so much that their Signature Series are pretty much the only headphones we know of which come with five years of warranty. Of course, their warranty isn't an insurance, so it doesn't protect against drops and such, but with normal wear, those headphones are made to last more than five years, and this speaks a lot about the build quality. 
The headphone itself is made out of high quality plastic, and most of it feels really nice in hand, especially the cups, which have that glass-like material on the outside. The headphones are gray with green accents this time, looking a bit younger and more playful, as well as more energetic and edgier than other Ultrasone Headphones, which usually look pretty sleek and sexy, as well as pretty elegant, but less appealing to a younger market.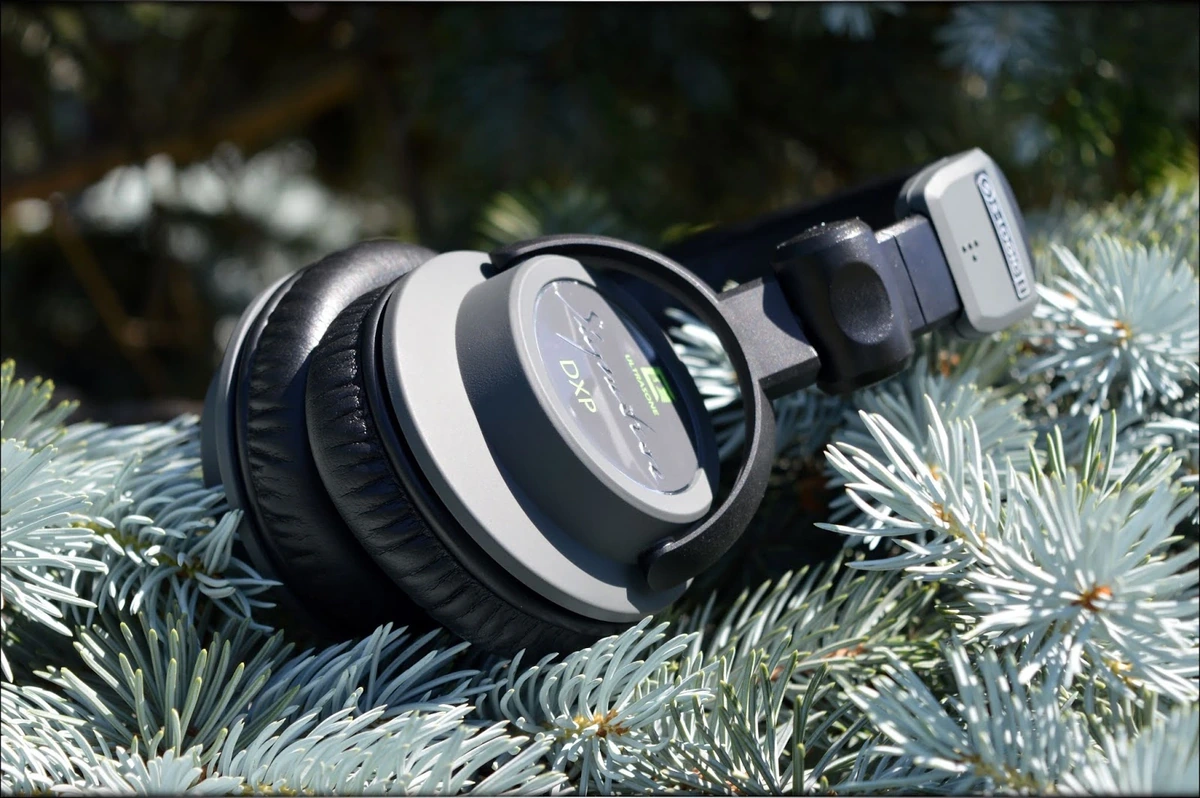 The sonic performance of Signature DXP is also in line with their aesthetics, as they have a really playful, fun, and enjoyable sound, packing a strong punch in the bass, having a juicy, musical, vivid, dynamic and sweet midrange, and having a smoother treble, which you could listen to for days in a row. With all the detail, and their large soundstage, they sure make a very compelling listen and a very impressive overall experience. There's nothing we could badmouth about their signature, being very universal and fitting well with almost any music style thrown at them, Ultrasone Signature DXP will surely be a delight to many listeners who are looking for a headphone employing Ultrasone latest technology but being more affordable than their other offerings.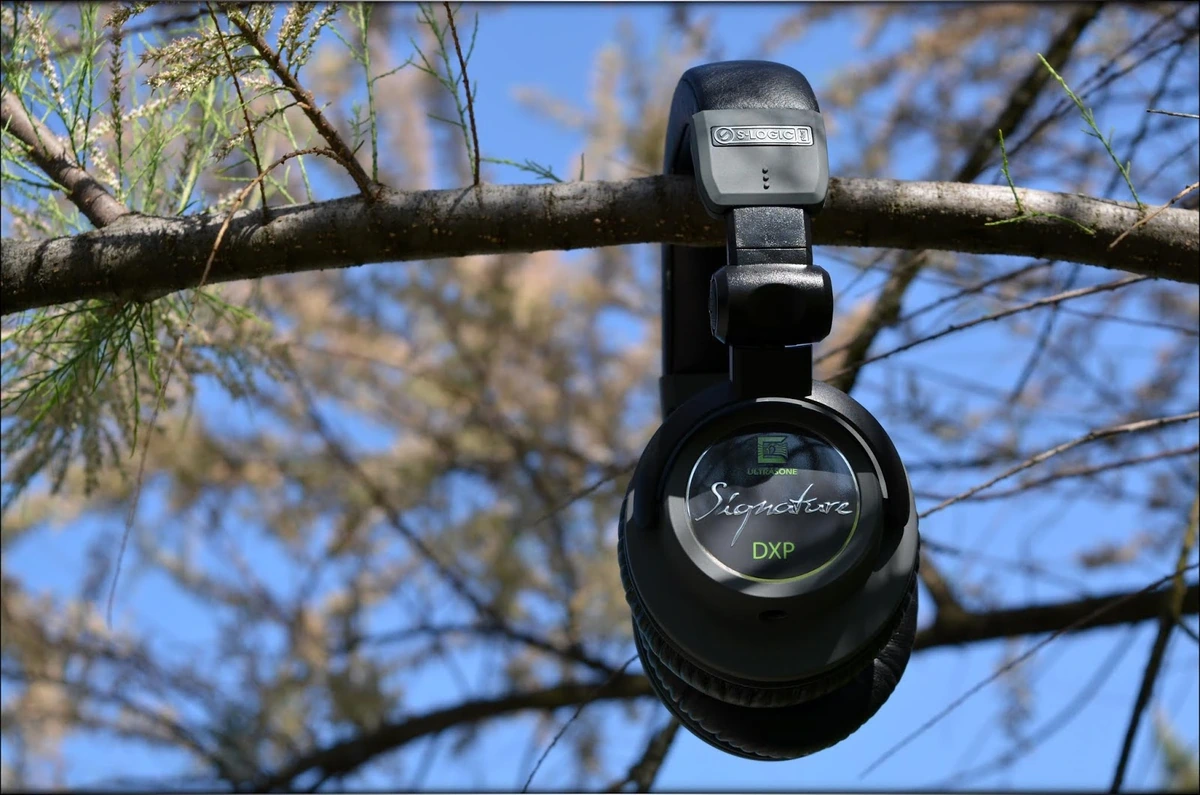 At the end of the day, if you're looking for a really crisp and clear closed-back, portable headphone, with a very good build quality, and a textured, energetic, vivid, dynamic, and punchy sound, you should totally check out Ultrasone's Signature DXP model, as we feel they'll become a top headphone in everyone's recommendation for one of the best closed-back affordable headphones you can get, with a few of the other options also being also from Ultrasone, as making closed-back headphones is something they're really good at. 

Product Link
You can get Ultrasone Signature DXP from www.amazon.com here: https://www.amazon.com/Ultrasone-Signature-DXP-Closed-Back-Headphones/dp/B07DP8VB6P/
---
--- Please remember to stay safe, and always have fun while listening to music!---
 - If you have a dime to spare, please donate, and help us! It would make the day brighter for me and my wife- 
---
Full Playlist used for this review
We listened to more songs than those named in this playlist, but those are excellent for identifying a sonic signature.  I recommend trying most of the songs from this playlist, especially if you're searching for new music! The playlists are different for Spotify, Tidal and Youtube, and based on the songs I enjoy and are available on each!
https://www.youtube.com/playlist?list=PL_cjBXGmwSHSdGcwuc_bKbBDGHL4QvYBu
https://open.spotify.com/playlist/5J3oloz8Riy9LxEGenOjQ0?si=979ba4f082414be7
https://tidal.com/browse/playlist/330fd544-8e5b-4839-bd35-676b2edbb3d5
--- Contact Us ---





---