Audeze LCD-MX4 – Precisely Amazing!
Audeze released LCD-MX4 as an easier-to-drive, lighter and more studio-oriented version of the highly acclaimed Audeze LCD-4, which was known to stand well even against titans like Sennheiser HE-1. We'll look into what LCD-MX4 brings to the table, and into whether it will be an interesting choice for your next headphone. 
Introduction
We are quite honored to be reviewing a product from a company as well-known and beloved as Audeze. Their LCD-MX4 headphone is a newly released model, but they have been in the market for a pretty long time now, and they have been bringing fun and joy to music listeners everywhere for a good while now. Coming from USA, Audeze employs the highest quality of work in designing, producing and selling their headphones, and this standard is kept high as well in providing after-sales service, as they are known to be some of the friendliest company out there when it comes to helping customers with issues, if any shall arise with their products.
It should be noted that I have absolutely no affiliation with Audeze, I am not receiving any incentive for this review or to sweeten things out. This review is not sponsored nor has been paid for by Audeze or anyone else. I'd like to thank Audeze for providing the sample for this review. The sample was provided along with Audeze's request for an honest and unbiased review. This review will be as objective as it is humanly possible, and it reflects my personal experience with Audeze LCD-MX4. Every opinion expressed is mine and I stand by it, the purpose of this review is to help those interested in Audeze LCD-MX4 find their next music companion. This review is part of a mini-tour organized by Audeze to get their product better known to music producers and companies working in producing music.
Product Link
You can get Audeze LCD-MX4 from www.amazon.com here: https://www.amazon.com/Audeze-Over-Ear-Open-Back-Headphones-Magnesium/dp/B077XLLDKW/
Packaging
First things first, let's get the packaging out of the way: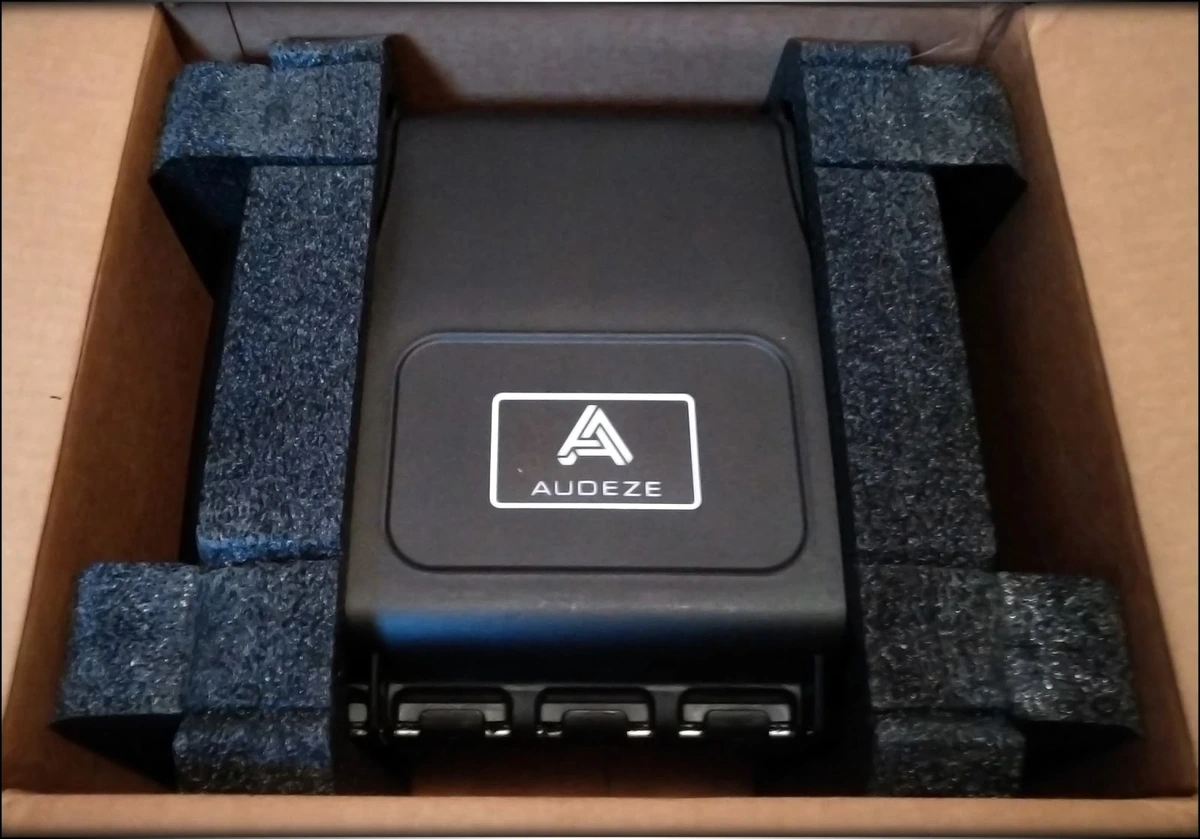 Starting with the packaging, Audeze LCD-MX4 is here to impress. They don't come in what we'd consider the typical package for a headphone, but instead they come packaged in a solid, sturdy-looking package that we usually see professional equipment being carried in. There's no glamor in the package, and Audeze seems to care mostly about the safety of their products, providing what we can safely name the sturdiest, most resilient looking package we've seen a headphone coming in. The inside of the hard plastic box is padded with a high-density foam to keep the headphones safe during transport, and although there aren't quite that many accessories included with LCD-MX4, you have all your needs checked by Audeze.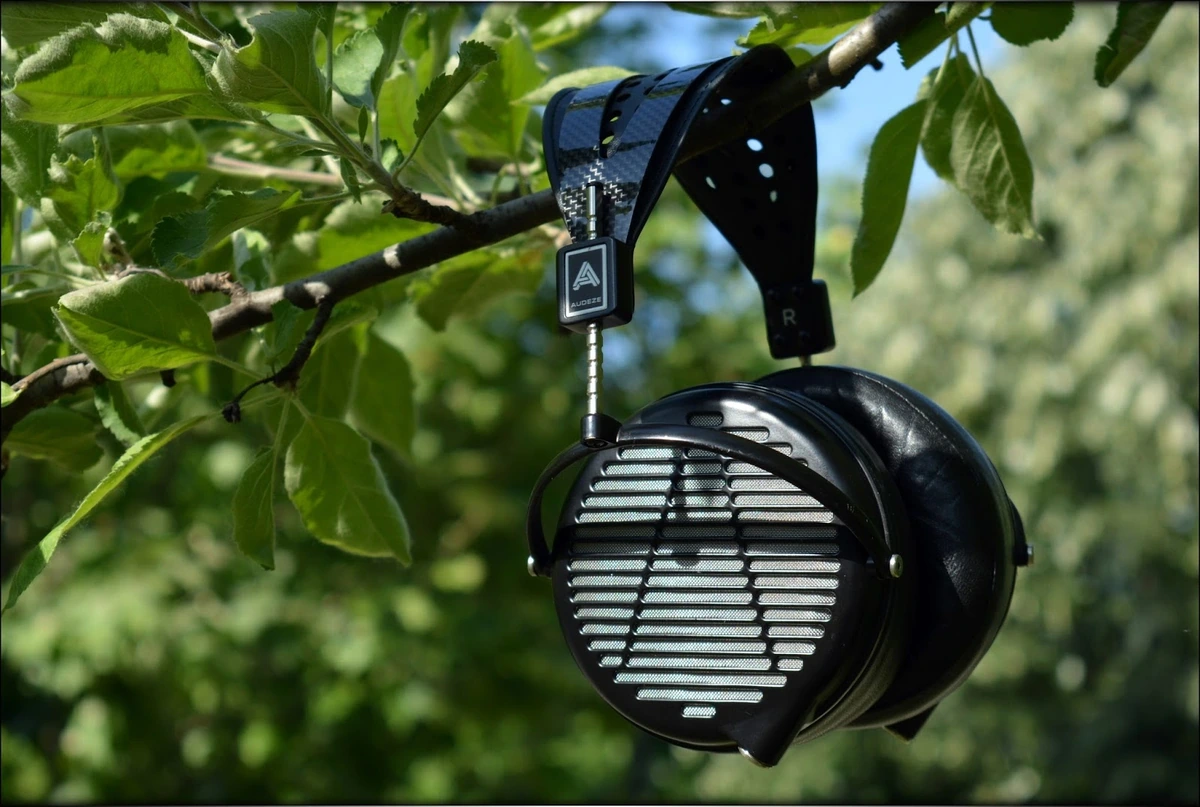 There is a professional cable, that, we figured is better than the average cable that comes with a pair of headphones. It is braided, a little long, and it is terminated with 6.3mm connectors, but we feel that Audeze went with this configuration because it will be most useful to most users.
There is a USB Stick with interesting data from Audeze, and there are the usual manuals and papers for he headphones.
Audeze made sure to include a 3.5mm to 6.3mm adapter with their LCD-MX4 headphones, thing which we found very good, especially given their compatibility with portables, and how easy they are to drive from a less powerful source.
Other than this, we can note that Audeze really didn't include more than it is absolutely necessary with Audeze LCD-MX4, but then we wonder, what else could we desire? Given that those are headphones intended for a professional environment usage, balanced cables probably weren't the most interesting accessories to include with their headphones, and other than that, probably only a secondary set of pads would have been welcome, although given the quality of the one already included, and the high cost of a set of pads, it is understandable that they come with only one pair.
All in all, we feel like Audeze included all the basics necessary for LCD-MX4, but there isn't a lot of extra included. On the bright side, the quality of the things included in the package is extremely good.
Technical Specifications
Features:
-Planar magnetic drivers for better dynamics and frequency response
-Premium leather for style and durability
-Made in our Southern California facility
-Flux density 1.5 Tesla
-Large ultra-thin Uniforce diaphragms
-Double Fluxor™ magnetic arrays
Technical Specs
-Style – Over-ear, open-back
-Transducer type – Planar magnetic
-Magnetic structure – Double Fluxor™ magnet array
-Magnet type – Neodymium N50
-Diaphragm type – Ultra-thin Uniforce™
-Transducer size – 106 mm
-Maximum power handling – 15W
-Maximum SPL – >130dB
-Frequency response – 10Hz – 50kHz
-THD – <0 .1="" 100db="" font="">
-Impedance – 20 ohms
-Sensitivity – 105 dB/1mW (at Drum Reference Point)
-Power requirement – >100mW
Build Quality/Aesthetics/Fit/Comfort
Let's start with the build quality of LCD-MX4.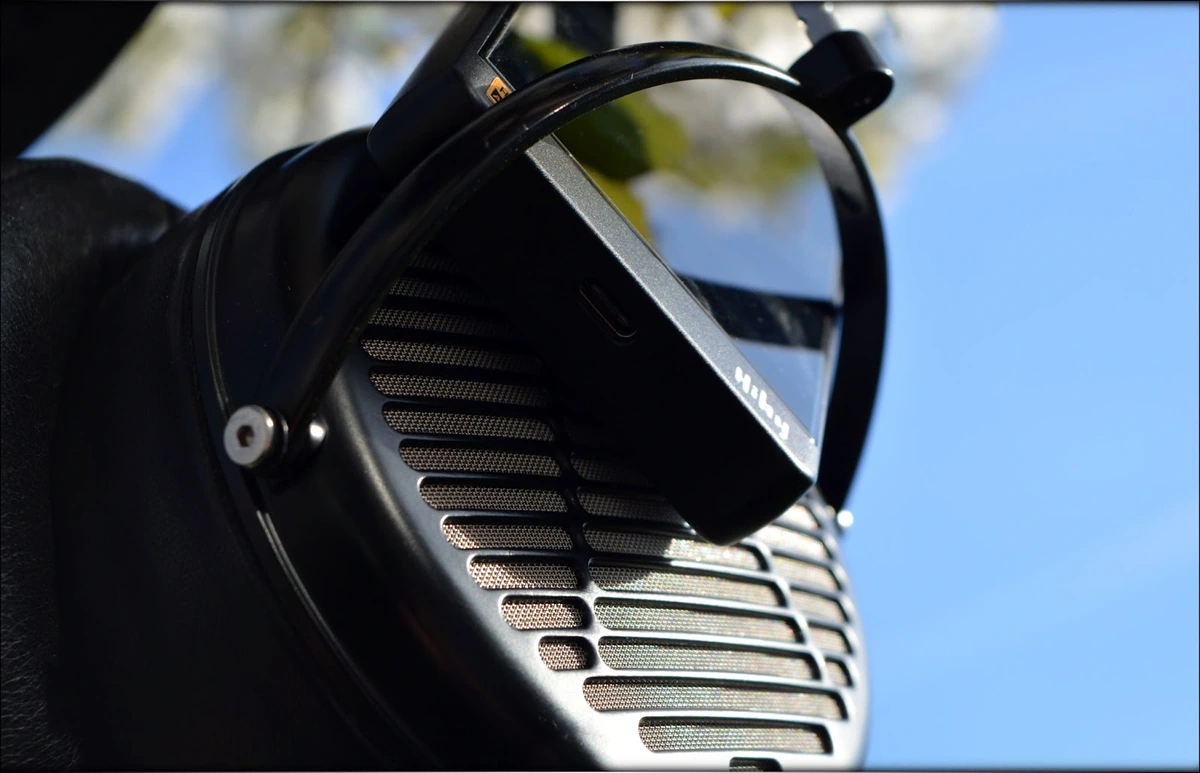 Well, what can we say. It is bullet proof. They are made out of metal, with metal hinges, and leather earpads. Audeze literally makes those from the highest quality materials around, there's virtually no plastic, the top of the headband is made out of carbon fiber (from our understanding), the part of the headband that touches the head is made out of real leather, earpads are made of leather, everything is simply outstanding. The hinges are also all metal, the highest quality available. There's nothing that we expect to break, all of LCD-MX4 is literally built from the best possible, metal on metal on leather on high quality textile inside the cups with planar drivers, the very definition of a proper high-end headphone.
The aesthetics of LCD-MX4 actually are much better than they might seem at first sight, those headphone are absolutely stunning in person. The carbon fiber headband gives them an electric, elegant and modern look, while the smooth cups with large size makes the one wearing them feel really stylish. While we don't say this often, we find larger headphones to look better, so LCD-MX4 is one of the best looking headphones there are.
The cups have a fine metallic mesh woven to protect the drivers from debris, and it does a really good job, it permits the headphone to be open, while it closes down on the debris, allowing for a really interesting sound.
The fit and comfort is, in one word, one of the best we tested to date. We said it. There's nothing quite as comfortable as LCD-MX4. In fact, we tested LCD-2 as well recently,  and they are just as comfortable. LCD-MX4, and the LCD-series in general holds its ground right next to HD800S from Sennheiser, and Beyerdynamic Amiron or higher end Beyerdynamic headphones, all of which are pretty much incredibly comfortable. The only drawback when using an Audeze headphone can be the weight, but that isn't that much of an issue in practice. As we'll explore in the portability factor, we have been using LCD-MX4 while on-the-go a lot, and we found them to be incredibly comfortable in every situation they've been in, including walking at a faster pace with them.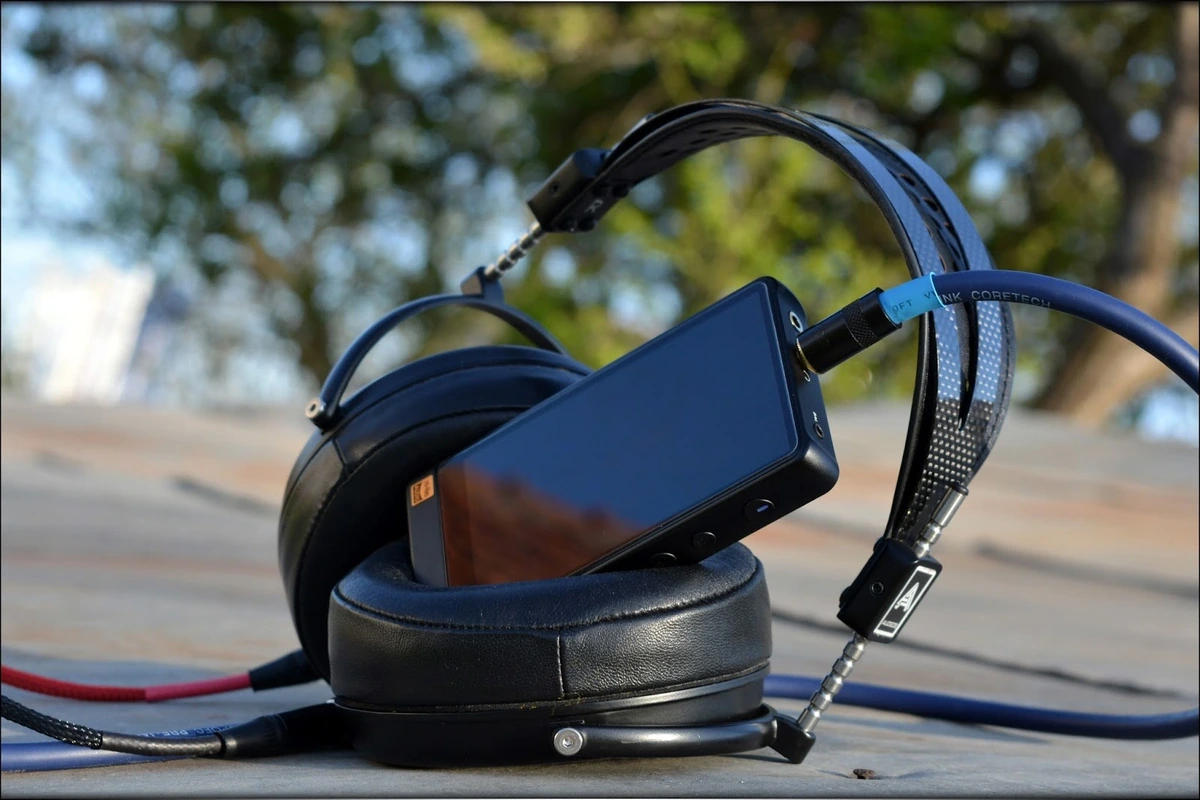 The fit is over-the-ear, with extremely large and gentle pads, which, although have a gentle contact with the ear, and provide excellent comfort, will not let your ears touch the inner parts of the driver, so the only thing touching your ears, or the areas around your ears, are in fact the very comfortable parts of LCD-MX4 that you will come to love. The headband is made from two parts, a soft and very flexible genuine leather band which keeps the comfort up, combined with two stripes of carbon fiber which give the headphones a very good structural resistance.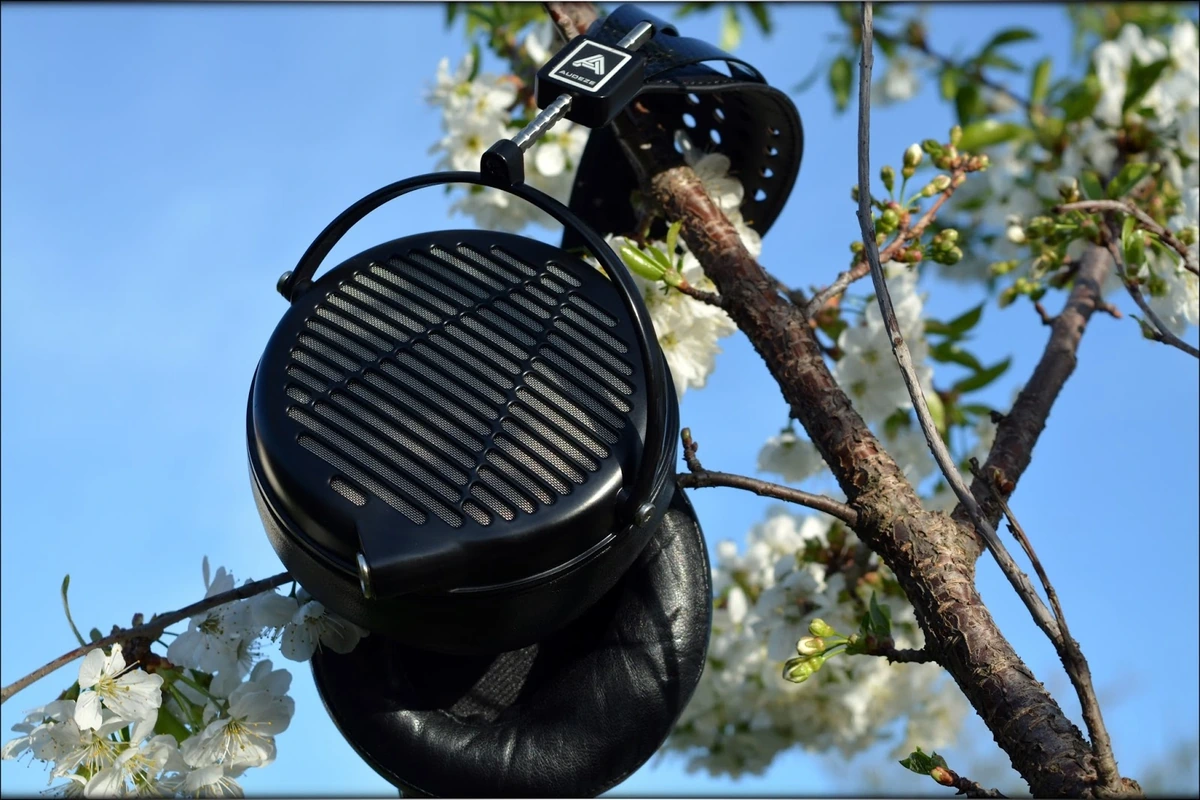 All in all, we couldn't be more happy with the construction quality, the fit and the comfort of LCD-MX4, and we're sure that you're going to have a lot of people admire you if you ever decide to take them on a walk, so the aesthetics are at a golden level as well.
Sound Quality
The sonic signature of LCD-MX4 starts with what we'd call a very well balanced signature. The midrange is very clear, the bass is extremely punchy, impactful and comes through with a lot of energy and size, while the treble is smooth and relaxed, but well extended and reaching up to the highest octaves without issue. Starting to describe the tonal balance, the midrange doesn't quite feel recessed, thing which is interesting, because on LCD-2 (when we tested one), the overall signature was more V-shaped, and even on LCD-4, the whole tonal balance seems to be more V-shaped than it is on the LCD-MX4. 

Now, Audeze was never shy of using EQ profiles for their products, so we will also get to Equalizing LCD-MX4, but first, we should describe the overall sound without any EQ implied.
The start, the bass, is probably the thing that made me fall in love with Audeze in the first place, the first time I heard one. I can still remember that day, it was a few years ago, when owning an Audeze headphone was something only the richest and the most distinct of people could do, when owning an Audeze was akin to being part of the highest of society in Bucharest. I was new to this city back then, and the first place I knew I had to visit was AVstore, back when they worked at their older location. Only two models really caught my eyes from their whole array of headphones back then, and those were Audeze LCD-2, and Sennheiser HD800.
When I plugged in LCD-2, to their WooAudio Wa22, a beast of an amplifier, I was shocked. The bass of Audeze back then literally made me reconsider what bass should be like in a headphone. Coming back to LCD-MX4, they surely have a bass even better than what I felt back then, the Planar headphones bass in general is just unbelievably deep and impactful, literally visceral and impressive. Those are not very linear in the bass, but you can tell that it is a clean, clear, high-quality bass that is there to impress, to make one ask for more and keep listening to it with every bass-driven song.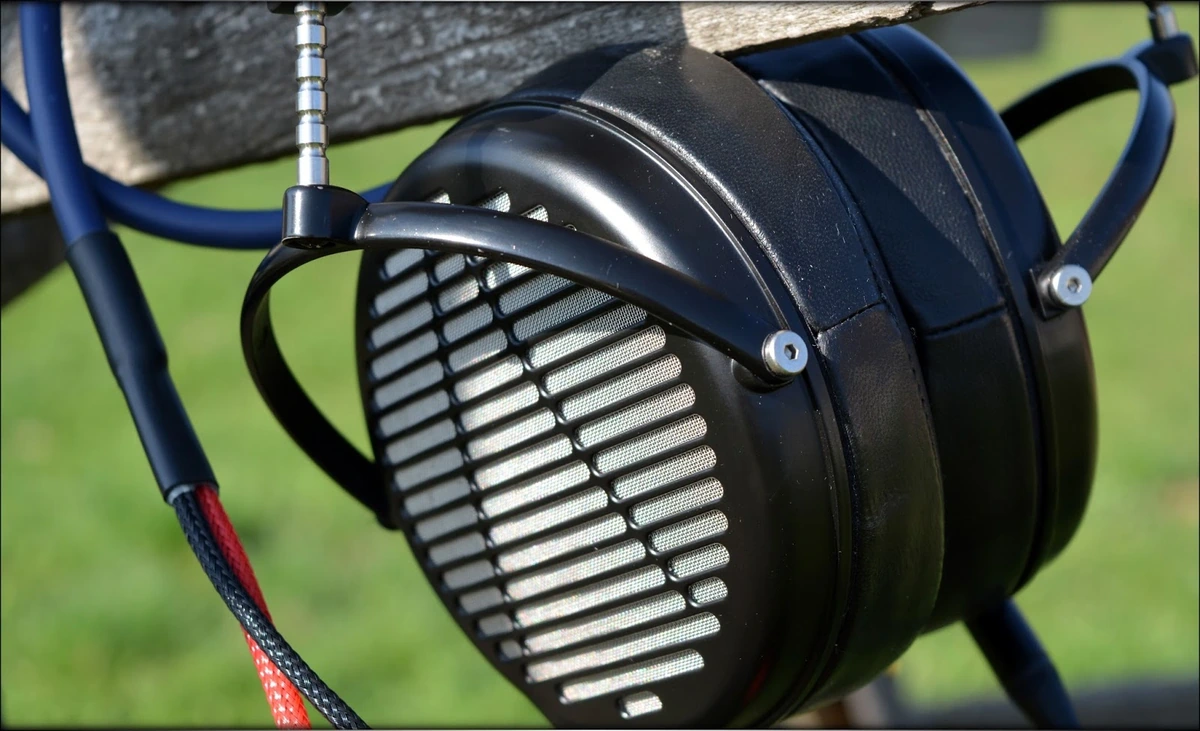 The midrange is pretty interesting, by default being a little enhanced in the middle point of the midrange, and a little in the lower midrange, and the upper bass, leading to a slightly full, thick and meaty sound that many will surely welcome. To be honest, this makes all male vocals exceptionally fun to listen to, and we truly appreciate the fact that Audeze placed so much care into creating a convincing and realistic reproduction.
The upper midrange, on the other hand, is slightly subdued in comparison to the lower midrange, leading to a rather comfortable listening experience with LCD-MX4, and since they are aimed at sound engineers who spend many hours with their headphones on, we're glad that Audeze also considered working on a sound that will not cause any fatigue. On the other hand, this also means that the violins and the female vocals are slightly lower in energy than a guitar or a bass guitar, so music heavily relying on female vocals needs a few dBs added to the upper midrange / treble area.
The treble of LCD-MX4 falls in line with the upper midrange by being slightly relaxed, and while we actually felt that LCD-2 series had more treble expression, the treble of MX4 is actually something we'd recommend for long hours of listening. In a few words, the treble is very well extended, and it reaches the highest octaves, so there is no roll-off, but it is on the smoother side, with no grain and with less impact than the bass, or the upper bass and the midrange, leading to maybe, a bit of thirst for more cymbal-driven metal music. On the other hand, this kind of treble works really well for actually using LCD-MX4 for many hours in a row, and it helps notice finer details in the treble. With the smoother texture of the treble, a wider range of music becomes enjoyable with LCD-MX4, so we feel that those are really good for listening as well as using in a professional environment.
Equalizing
Audeze is a very open and professional company, and they are very open about the Frequency Responses of their headphones, subsequently making the Equalizing process much easier and giving us more opportunities to customize and enjoy their products to the fullest. LCD-MX4 is actually one of the best headphones we've seen when it comes to how much Equalizing they can take without having any kind of issues with their sound. They never get harsh, they never sound out of phase, and they never sound bad in any way, even with pretty drastic EQ profiles. It should be noted that we are fans of aggressive EQ profiles.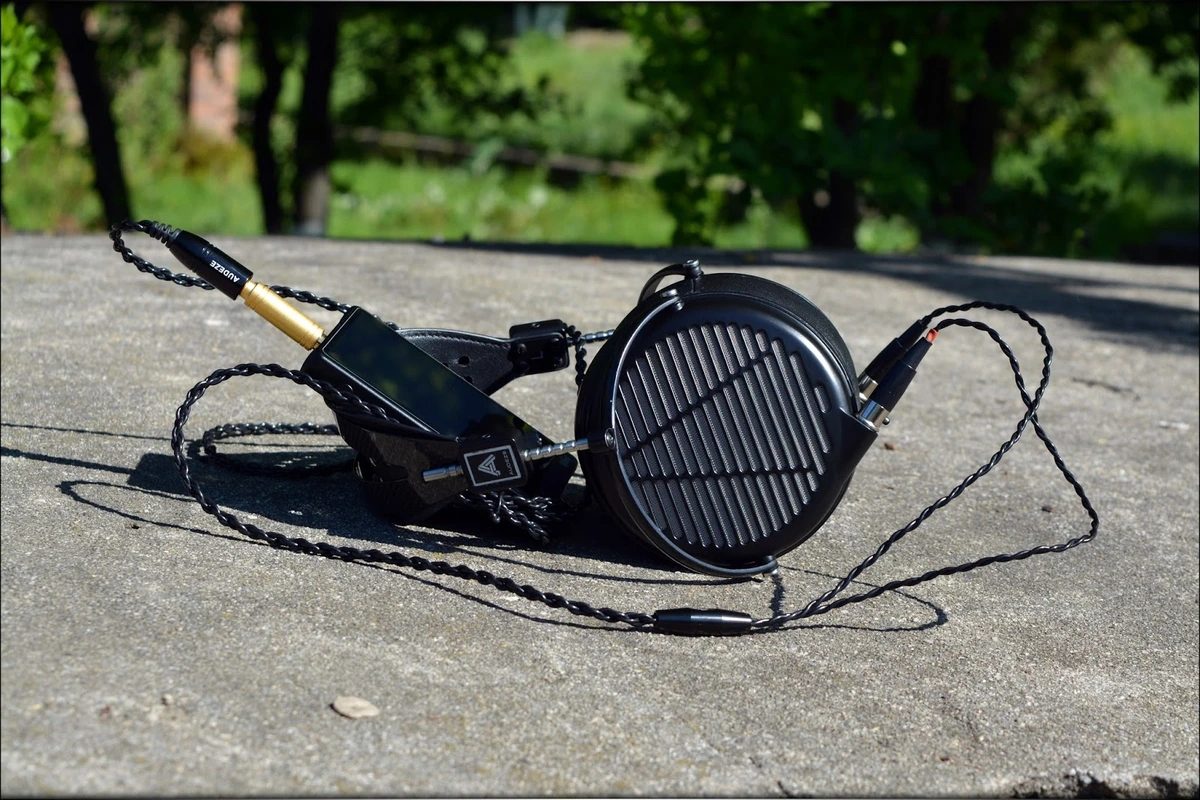 The main EQ profile we created for LCD-MX4 is pretty simple. Unless mentioned here, all the other sliders should be left untouched, only those mentioned should be changed. 
AMP – -7dB
31Hz – +6.5dB
62Hz – +2.5dB
8kHz – +2.5dB
16kHz – +7dB
The changes with this Profile are immediate, things open up more, and there is a whole another level of energy in the treble and the upper midrange. The sound becomes slightly more fatiguing, that's for sure, but we like it better that way, especially for electronic music and metal, which are our main types of music. This includes rock and even old rock, along with pop, electro-pop and all kinds of commercial music. We haven't tested this profile with vocal-centric music, but from our experience with bands like Sirenia, it really brings more life to the female vocals, although we'd like to note again, that it makes the cymbals pretty strong. What is amazing is how good the actual cymbal rendering becomes now, Audeze made LCD-MX4 work well for long period listens, but with this EQ profile they can sound as raw and energetic as a live metal concert sounds like, and with the amazing bass this EQ profile infuses in MX4, they also feel like an entire live metal concert experience.
We are very impressed when a headphone is able to obtain such excellent results with EQ, as it is an indicator of its already extremely low distortion and excellent technical ability.
Soundstage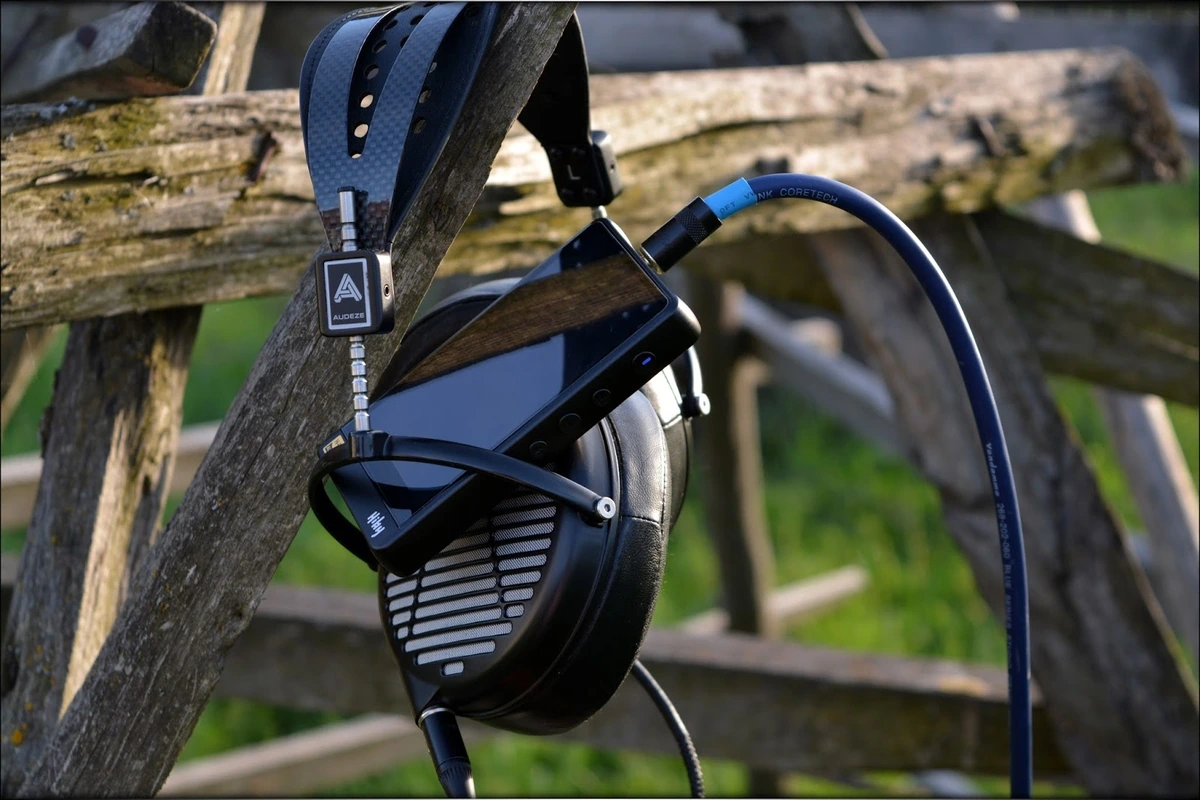 The soundstage of LCD-MX4 is something we haven't spoken a lot so far, and the main reason is that it actually deserves a whole section of its own. Starting with the size, the size of the soundstage is big. It isn't HD800-levels of large and wide, but the instrument separation and instrument definition is better, instruments stay well defined from each other, similar to how IE800 handles them, which is our golden standard. The size of the soundstage though, is much larger than a IE800, it reaches pretty far and pretty wide, but also deep. The stereo imaging is top notch as well, things can travel through the sonic landscape and feel coherent on the entire road (like special effects employed by Incubus in their Science album). It is easy to note how great the soundstage is with Incubus's songs because they tend to have a lot of effects that require good headphones to render the transition from left to right, and to actually render the effect of a sound traveling through the landscape. LCD-MX4 passes all tests with flying colors, and it even does so while providing very impressive instrument separation. A soundstage addict will most probably be fully satisfied by the wonders Audeze did with their headphones.
ADSR / PRaT
The ADSR and PRaT (Texturization) of LCD-MX4 are quite impressive, and although the price already implied that they will be like this, it still is impressive to analyse them. Bands like Mindless Self Indulgence or Masa Works Design present music with interesting textures and pretty vivid overall presentations, while instruments like guitars and violins sure feels textured and lively as well. It is most interesting to notice how the EQ profile we provided above also improves the PRaT and ADSR of LCD-MX4, the simplest explanation being that increasing the upper midrange and the treble, along with the bass will make small dents in the textures more obvious, combined with the already excellent abilities of LCD-MX4's driver, leading to a top-class experience for those purchasing a pair of LCD-MX4.
Portable Usage
We didn't remove this little part form our Beyerdynamic Amiron review, and we won't remove it from Audeze LCD-MX's review either. The reasoning behind this is simple, although both of those are desktop-class headphones made mainly to be used indoors, they still can be used portably with the right resources.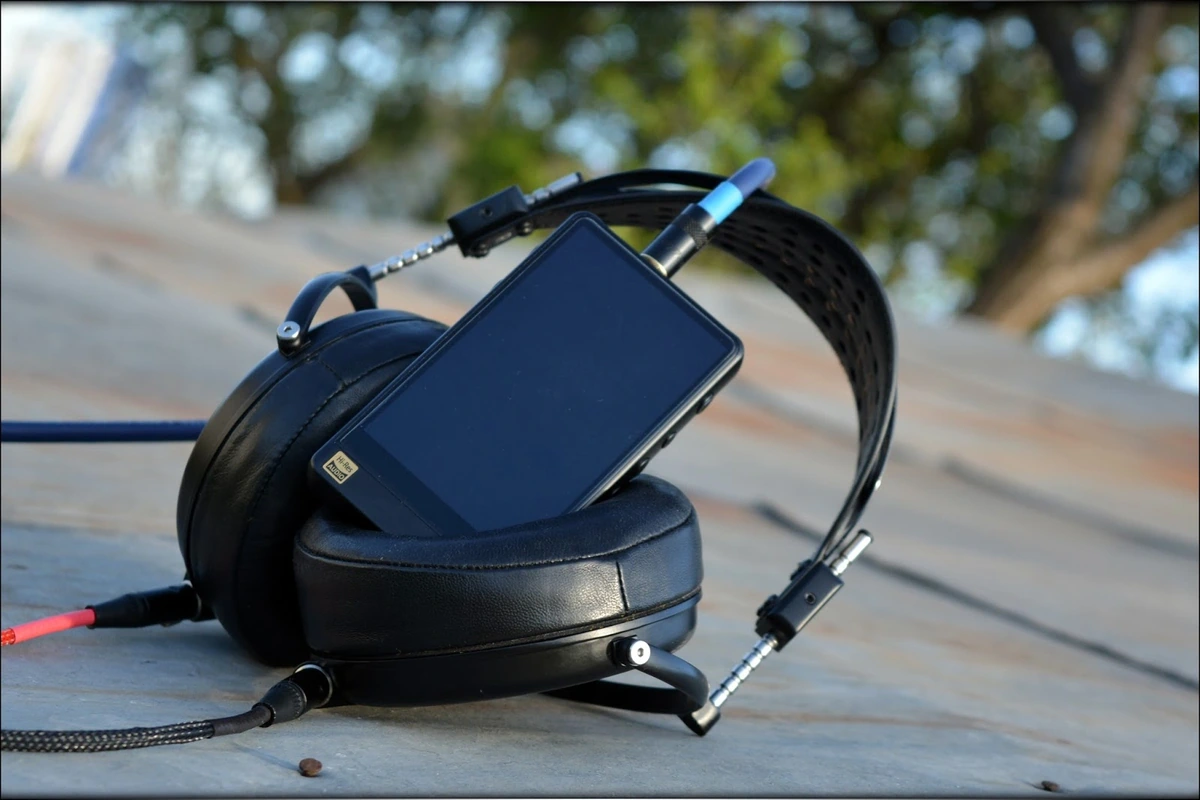 Starting with the shape and size factors, LCD-MX4 is rather large and it is on the heavier side of things, even with the weight reduction when compared to other Audeze models. This doesn't mean much for portable usage, as I've been taking them with me on long walks, sometimes in the amounts of five hours trips through the streets of Bucharest, and I never noticed any kind of neck strain. The main reason why they don't come off as fatiguing, judging them by their weight, is because that weight is really really well balanced over the head. There's no hotstop that becomes painful after long hours of usage, the ears don't touch any hard parts of LCD-MX4, and all hard parts are far enough from the head that even walking with LCD-MX4 will feel relaxing, although their weight most certainly doesn't disappear entirely.
The cable provided by Audeze is a high-quality cable that we recommend you to use, and although it is long for portable usage, Audeze included a 6.3 to 3.5mm adapter, that will surely make LCD-MX4 work with portable sources. The other cable you can notice in some of our photos is for showcase only, although it was custom made, it doesn't provide the same sonic quality as the original LCD-MX4 cable. It is nice for taking photos and for portability though.
The drive factor of LCD-MX4 will impress most people, as, LCD-4 series are very well-known for their very hard to drive nature and for requiring exquisite amplifiers to be drivel properly. On this note, LCD-MX4 can actually be driven from a portable player. Although we are not sure whether they would work their best straight out of a laptop or a smartphone, they surely sound sweet out of FiiO X7mkii / FiiO Q5, iBasso DX150/DX200 and even the tiny Hiby R6. It is unclear how Audeze managed to keep the impedance so low and the efficiency so high, without sacrificing much sonic quality, but they sure did an amazing job, and we can guarantee that with a little touch of EQ, LCD-MX4 will feel properly driven from a portable DAP and that they will work pretty well even out of a smartphone strapped to a DAC/AMP.
They leak some sound, that is for sure, and this might be a con for using them in public. If you're listening loud, people are going to also listen to your music, but at low volumes they don't leak quite that much, and we were able to use them fairly frequently at low volumes, even in areas where high noise was not recommended. They still are an open back design and will act as such, we cannot recommend them for portable usage in areas where you'd want to keep the noise at a minimum, but they can be used casually, even in an open-space office, if you keep the volumes fairly low.
Comparisons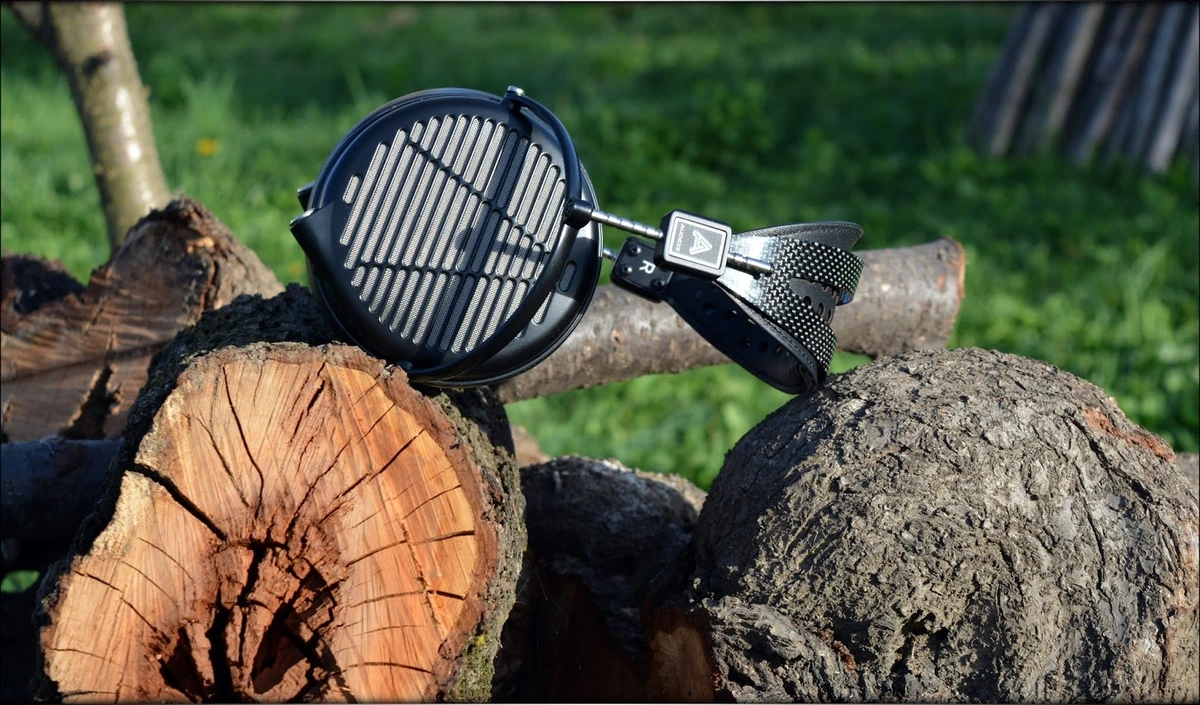 Audeze LCD-MX4 vs Audeze LCD-4 – Probably the question that's on everyone's mind is how these compare to the mighty LCD-4 series. Well, we need to mention how practical each of them is. In a few short words, LCD-4 is probably the best headphone we managed to get a personal listen to by the date of writing this review, excluding the mighty Sennheiser HE-1. On the other hand, LCD-4 costs around 4000 USD and they require an amplifier usually at least half of their price, to many times more than their price, to achieve their full potential. This arises from having a very hard to drive nature, thing which makes owning LCD-4 complicated. You can't take them on the street, and most professionals probably don't have a strong amplifier connected to their workstations when mixing and when producing music. This is where LCD-MX4 comes in. Although they have a slightly less appealing sonic performance, with a hair less detail and precision, and with a less V-shaped signature, so with a more midrange forward signature, especially the upper bass and the lower midrange, LCD-MX4 is driveable. It is driveable from portables, it is driveable from any workstation. This is a new thing for Audeze headphones, an entire new horizon of possibility, you can actually hear much better detail in your music, you can spot things at the moment of mastering. All in all, LCD-4 is the better performer for music, but the cost of owning and driving it makes it more complicated of an acquisition than LCD-MX4 which, as a setup can cost as much as LCD-4 costs without any amplifier. IT should be noted that at the moment of writing, LCD-4Z exists, which is a full-fledged LCD-4 but with a lower impedance. We cannot comment yet on how it sounds, or on how easy it is to drive, but Audeze sure is on a roll with their new headphones.
Audeze LCD-MX4 vs Beyerdynamic Amiron – We did this comparison when we reviewed Amiron as well, but it is interesting to mention it again, as it will help those reflecting on this specific choice. Starting with the build quality, both are well built, and both are comfortable. Amiron is actually harder to drive, and requires more power than LCD-MX4, thing which is surprising. Amiron has much less bass in amounts, with a tighter overall presentation, it has a less present upper bass and lower midrange, with an enhanced upper midrange and lower treble, after which it is a little stronger in the treble than LCD-MX4. Amiron is much more fluid and softer in the transients and overall presentation, where LCD-MX4 is much more precise and harder, with more impact and a better overall revealing ability. For 1000 USD, Amiron is much less expensive, and LCD-MX4 feels more expensive in perspective, but given its technical ability and build quality it sure is worth the money as well, it just is a different headphone made for a different purpose. 
Audeze LCD-MX4 vs Ultrasone Signature DXP – This comparison mightn feel unfair due to the large differences between the two headphones, Signature DXP, a closed back, ultraportable headphone with an open-sound, and LCD-MX4, a fully open-back headphone, with a large size and all-metal build with a very precise sound. Starting with the build quality, Signature DXP is mostly made of plastic, although we admire the fact that Ultrasone included glass insertions in the earcups. The earpads of DXP are much more solid and aren't nowhere near as large as those of LCD-MX4, but Signature DXP is much more portable in perspective, and if you need something portable, and something you can listen to while riding the subway, DXP sure makes a more compelling option than LCD-MX4 which is fully open back. Signature DXP and LCD-MX4 have a somewhat similar bass presentation, with lots of impact, although the punciness of LCD-MX4 is much more touchable than that of DXP. The midrange has more upper midrange emphasis on DXP, while it feels like it has more body for LCD-MX4. The treble is quite different, being rather relaxed and fatigue-free on LCD-MX4, where it feels more vivid, vibrant and energetic on DXP. The overall detail and transient response is fairly better on LCD-MX4, with more background instruments being expressed more lively, more of the underlying textures being shown to the listener, and even more foreground instruments being more obvious in music, but that is to be expected given their price and nature. DXP feels like a very capable portable option for those who want a really awesome sound, similar to LCD-MX4, but with a lower price, and with a different overall shape. Of course, DXP won't be at the same level, but it is roughly one sixth of the price of LCD-MX4, so it still is a very competent headphone for that price point.
Audeze LCD-MX4 vs Sennheiser HD800S – Two titans, from two great companies, placed against each other. HD800S from Sennheiser is quite the interesting headphone, with the largest, widest and probably most expanded soundstage, the lightest headphone and most comfortable headphone that's been around for ages in its HD800 incarnation. LCD-MX4 comes with a heavier construction, more metal in its body (HD800S is mostly made of plastic, although it is a high quality plastic), and with an entirely different sound. HD800S is pretty much neutral in its bass, with a tight and linear presentation, where LCD-MX4 has more impact, feels more punchy, and goes much higher in quantity. HD800S feels quicker in comparison, but the lesser amount of bass works well for certain types of music, while it doesn't for other types, like say, Electronic and Dubstep. The midrange is quite different, with LCD-MX4 having a fuller, meatier, thicker midrange, where HD800S feels thinner in its presentation. The overall tonality is spot-on for both, but HD800S feels more emotional in the upper registers, with more upper midrange and lower treble emphasis. The treble is higher in amount on HD800S, but both HD800S and LCD-MX4 are similarly detailed in the upper registers. LCD-MX4 has a smoother texture for its treble and it is less fatiguing, but it is also less revealing of the details it has, basically, HD800S brings the overall details forward more than LCD-MX4, especially in the treble, but also in the midrange, where LCD-MX4 is leaner and sounds easier to listen to and to work with, if keeping them on the ears for many hours in a row. All in all, both are outstanding headphones, but for different reasons. HD800S is the king of analytical sound, it is a microscope for your music, where LCD-MX4 is more natural, it is easier to work with, less fatiguing, and will provide much improved bass impact, so aggressive music sounds much more fun and energetic, where HD800S might reveal the aggressive parts of aggressive music more aggressively.
Recommended Pairings
On the pairings, please keep in mind that in our tests, LCD-MX4 was not driveable from any of our current smartphones, Mi Max 2, Samsung T580, or our laptop, but it was driveable and with excellent results from FiiO Q5, iFi iDSD Micro BL, Hiby R6, iBasso DX200 and DX150 (AMP5), and from FiiO X7mkii (AMP5). The results with Opus #1s were so and so, but it works well with Opus #2.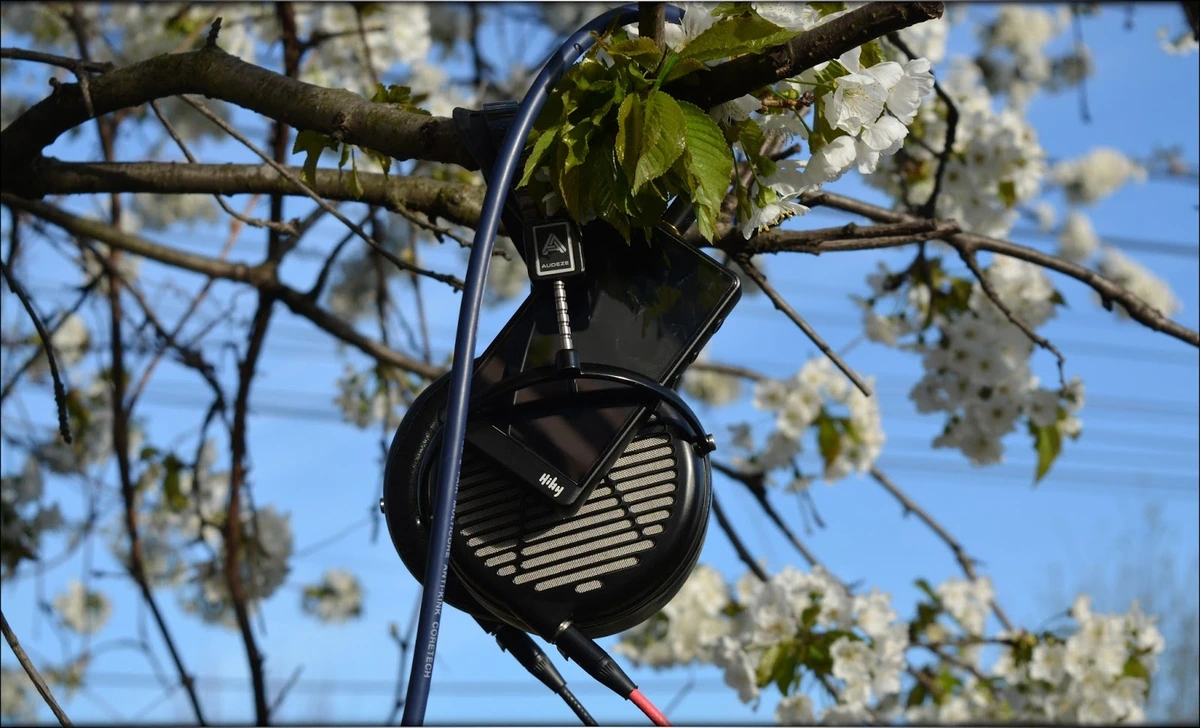 Audeze LCD-MX4 + iBasso DX200 / DX150 (AMP5) – One of the best combinations there is, imagine driving one of the worlds best headphones from a portable, and a pretty sexy-looking one at that. The levels of power and the sonic signature is extremely similar between DX150 and DX200 when rocking AMP5 for both, so you can consider those results with both. The main headline of this pairing is that it sounds deep, it has a fierce impact, and it presents music with lots of emotion. The PRaT is excellent, the soundstage is sized well, and the overall sound feels well balanced, and expresses music very lively. There are very few other pairings that would work better with LCD-MX4, and we're really happy to note that if you're looking for one of the best experiences possible with them portably, DX200 / DX150 really puts out some power and some detail for your ears.
Audeze LCD-MX4 + FiiO X7mkii / Q5 (AM5) – As we noted in our FiiO Q5 review, the sonic performance of Q5 is very very similar to that of X7mkii when running the same amplifier module, to the point where we feel we could safely say that they sound the same. As for their sonic ability, just like DX200 and its AMP5, everything feels top notch. The depth and impact of all music is unbelievably good, along with the detail presented by X7mkii and AM05. The tonality is also good, and the overall sound is clean. The soundstage is deep and wide, with good instrument separation and clarity.
Audeze LCD-MX4 + Hiby R6 – While Hiby R6 isn't exactly at the same sonic levels as DX200 and FiiO X7 Mkii, it sure is close and most users might have a hard time noticing the actual difference after applying a little EQ. The most sizable difference is that R6 is quieter than X7mkii or DX200, if either is running their AMP5 units, but R6, even with an aggressive EQ profile, can get pretty loud, and for most cases, loud enough with LCD-MX4. The more fluid UI of R6 (which is relying on a more modern Snapdragon CPU when compared to the iBasso or the FiiO DAPs), feels like a very nice overall experience. Not only LCD-MX4 has a lot of impact and sounds very controlled, it also bears good depth to its music, and has a good amount of detail. The soundstage isn't exactly as deep as X7mkii for this pairing, but it still is very deep and as wide, if not a hair wider than either X7mkii or DX200 (AMP5). All in all, this is also a very recommended pairing if you're looking for a very portable solution for your Audeze LCD-MX4.
Audexe LCD-MX4 + iFi iDSD Black Label Micro – Here things get a little more interesting, as iFi iDSD Micro BL has a lot more power than either of the DAPs above. In practice, this power will not be necessary, and most of the times, we found ourselves using it on normal power. The one advantage that iDSD Micro BL has, is the 6.3mm connector, which means that you don't require an extra 3.5 to 6.3 adapter, as when using most portable DAPs. Balanced cables and aftermarket cables do solve this little issue, but with the amazing sound of iFi iDSD BL, it is a good excuse to get one. The sound is deep and punchy, with slightly more treble sparkle and slightly more bass impact. The EQ might get a little tricky though, as one needs to make sure that the app and DAP they are using will allow iFi iDSD BL to take in some EQ if you're planning on using any EQ profile with LCD-MX4.
Value and Conclusion
At the end of our review, we need to consider every aspect of Audeze LCD-MX4 stacked against their price, which unfortunately is not very pocket-friendly at all. Priced at roughly 3000 USD, Audeze LCD-MX4 is clearly one of the most expensive Headphones we've tested to date, and it clearly also has probably the most reasons to be.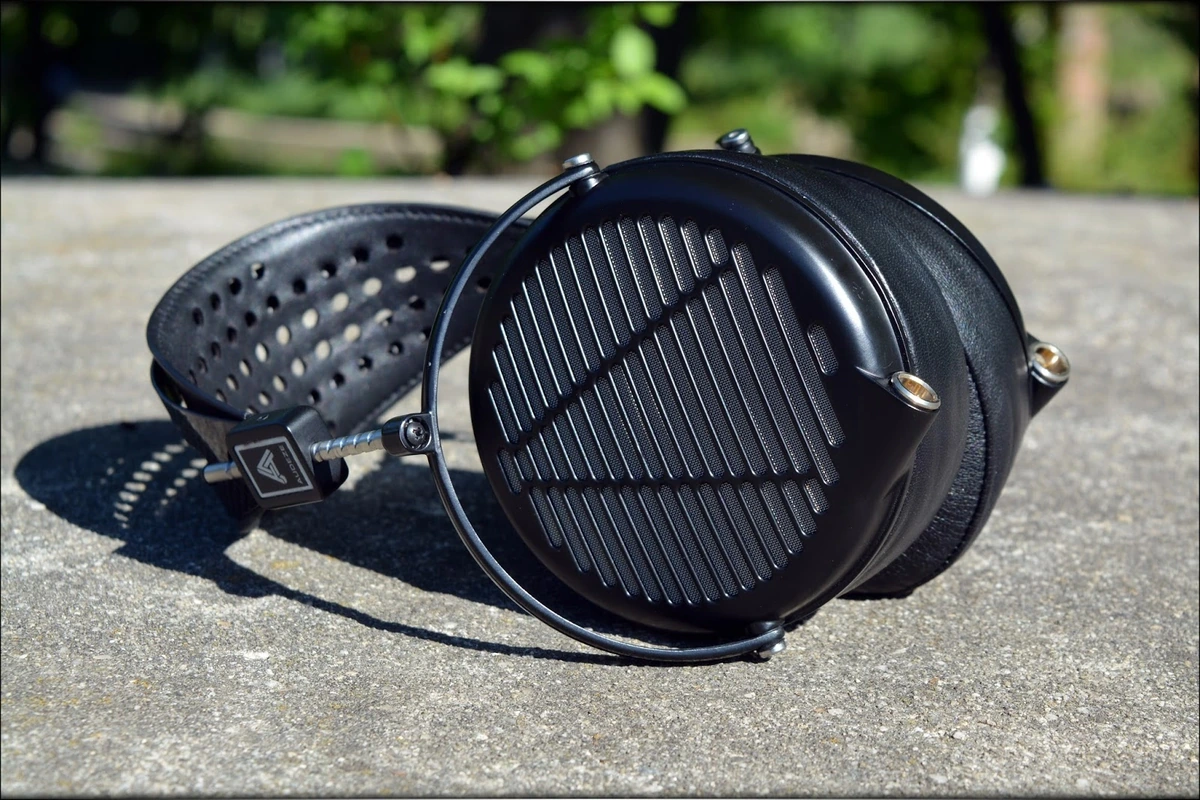 First, the build quality is fully metal. Here we're not talking about plastic with metal insertion, but actual metal built quality, from end to end, with carbon fiber insertions in the headband. While adding a little to the weight, Audeze guarantees that they've used an alloy that would reduce the end weight on the user's head compared to their other headphones. We found this to be true, and we managed to keep LCD-MX4 in usage for almost ten hours at once, without any kind of fatigue. The leather headband, and the thick, comfy leather earpads also add to the premium, as even the best other leather imitations can't quite match the levels of comfort and convenience Audeze earpads bring. 
The cable out of the factory is also quite excellent, with the only visible downside to it being the length, and the 6.3mm connector on it, as we'd prefer if it was ended in either a 4.4mm balanced with a 3.5mm single ended adapter included, or ended in 3.5 with a 6.3mm adapter included, for better portable usage. Although, given the intended public for Audeze LCD-MX4, we feel that the inclusion of a 6.3mm adapter with the official cable is not a bad idea at all, as mot professionals will probably be plugging those in a fairly meaty workstation or amplifier, as opposed to a portable player, so they won't feel any disadvantage when it comes to the cables used, and might even agree that Audeze took a very good decision there.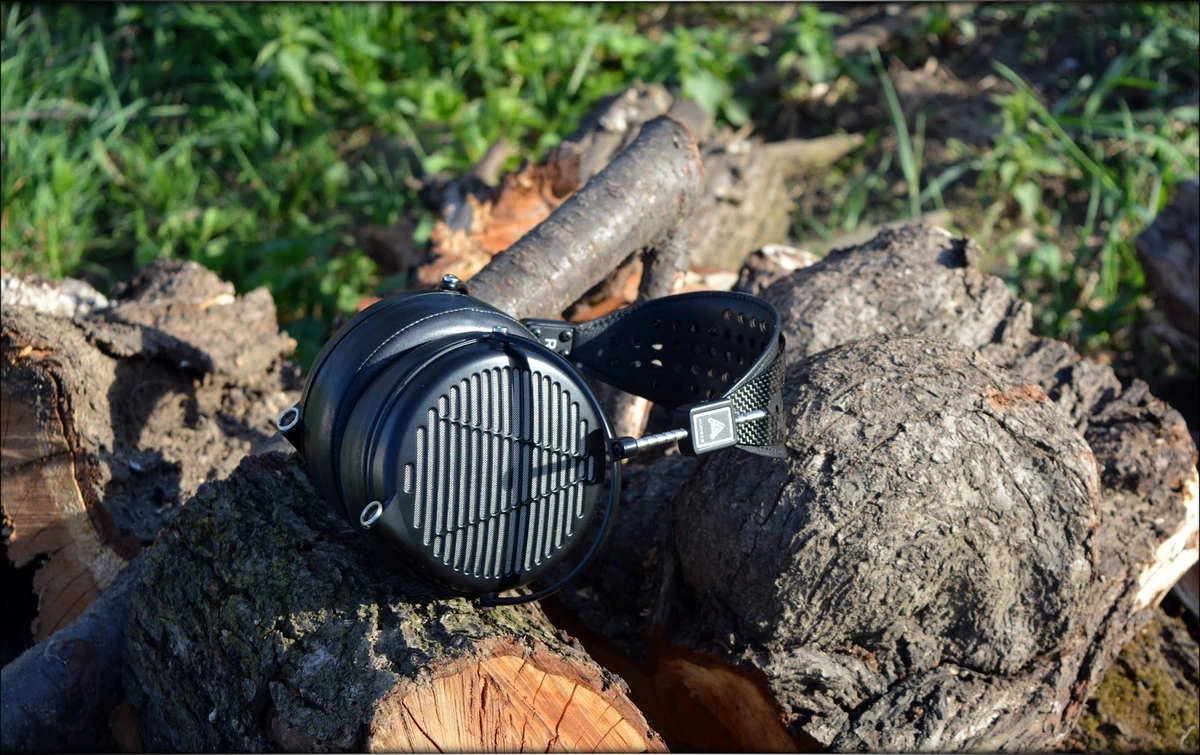 Now, the sound. Audeze LCD-MX4 is made for both the music lover who wants one of the ultimate listening experiences possible, as well for the professional working in the music industry and looking for the ultimate music production tool to use in their workstation. For the music lover, Audeze LCD-MX4 presents the music with one of the best impacts, and might require a little bit of EQ to bring up some more detail and energy in the upper treble, but still makes up for an amazing experience, while for the music producer, LCD-MX4 brings a lot of improvements over other, equally amazing Audeze headphones.
First, the weight of MX4 has been adjusted so that one can keep working with MX4 for long hours of usage, and the Frequency Response has also been adjusted in such a way that now you can keep working without worrying about auditive fatigue from your work. Although there is a little detail loss when compared to the big boss, LCD-4, LCD-MX4 is much more practical for those who need it in this shape, as a lighter, easier to drive, and leaner headphone for long hours of work. We know that someone using them might keep them on the head for hours on a row, every day of their work, so here LCD-MX4 surely feels like an improvement, just like a higher end DSLR camera feels like an improvement over the mainstream cameras once you get above a certain point of photography.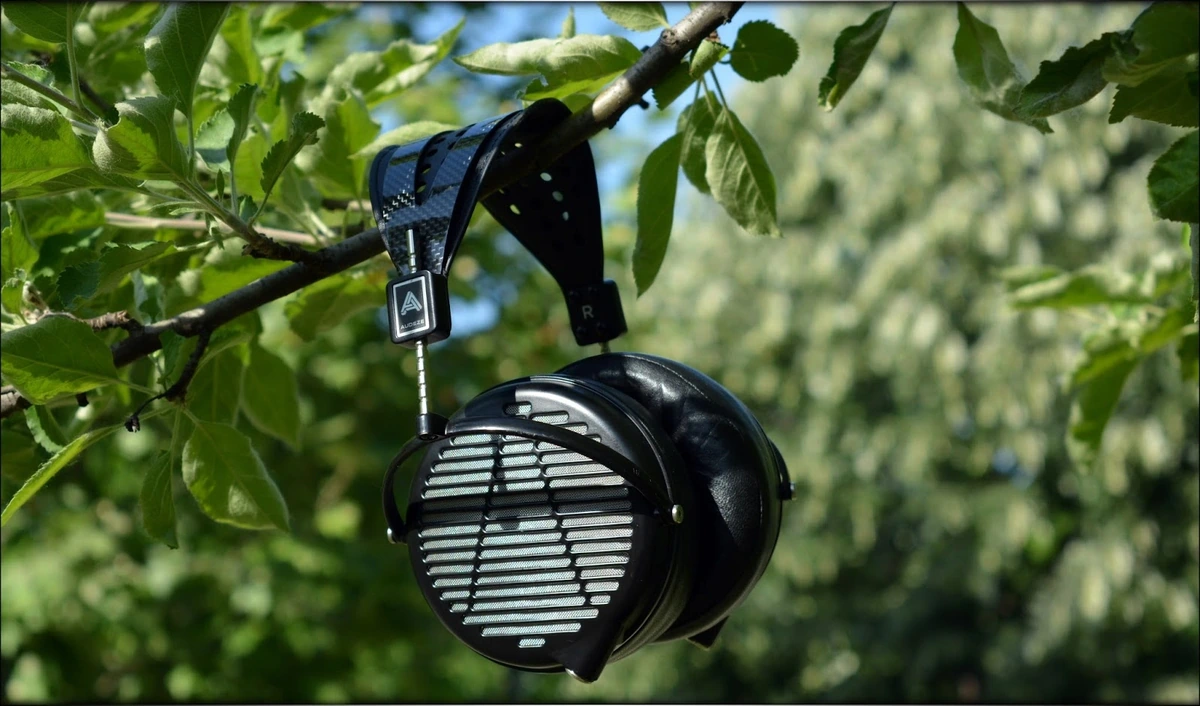 In the end of our review, we're looking at a very expensive, premium headphone that is very capable and which, to a very passionate music enthusiast, or to a professional working in the music industry will surely be worth the asking price. Of course, there are always less expensive options, that sound amazing, even from Audeze, but the mix of technical ability, impact, depth that LCD-MX4 provides along with its other characteristics is undeniably going to appeal to many.
The sound can be described as deep, impactful, well balanced, satisfying, well toned, on the smoother side, and very revealing and detailed. Audeze doesn't joke when they make a headphone, and we don't joke either when we say that you surely should check them out if you're looking for a really capable headphone. They're not quite LCD-4, they're intended to be LCD-4Z either, but they surely are LCD-MX4, a headphone made as amazing, by the same company behind those genius level headphones. 

Product Link
You can get Audeze LCD-MX4 from www.amazon.com here: https://www.amazon.com/Audeze-Over-Ear-Open-Back-Headphones-Magnesium/dp/B077XLLDKW/
---
---
--- Please remember to stay safe, and always have fun while listening to music!---
 - If you have a dime to spare, and donate, to help us with electricity and work expenses, it would make my day much brighter, as it would help me improve things around the website and increase the frequency of my posts - 
---
Full Playlist used for this review
We listened to more songs than those named in this playlist, but those are excellent for identifying a sonic signature.  PRaT, Texturization, Detail, Resolution, Dynamics, Impact, and overall tonality are all revealed by those songs. We recommend trying most of the songs from this playlist, especially if you're searching for new music!
https://www.youtube.com/playlist?list=PL_cjBXGmwSHSdGcwuc_bKbBDGHL4QvYBu
--- Contact Us ---






---
---