Meze 99 Classics – Great potential for 99C
Meze 99 Classics are a well-renown headphone produced by Meze Audio Romania. 99c promise to bring a natural sound along and an elegant design along with great comfort
Meze Classics 99. The title says it all – great potential and elegant style.
Head-fi banners showing a classy headphone started popping up a while ago and ever since they did, you can't stop but wonder: How does that sound like?
Meze is a Romanian headphone producer that even though is pretty new, made a statement with their headphones and their great customer support. They're one of the few companies that not only offer great support to their customers but actually listen to them, as seen with C99 which was modified after reviewer and market feedback came into Meze. Even though there are very few companies to answer to customer requests, those who do always do a good job as the customer knows best what they wish for.
I didn't really know about Meze before 99 Classics headphone got in my attention and I'm actually sad about it. For one thing, I am Romanian, and it is a shame for me to not know that there is a Romanian headphone producer and for the other thing, the headphones themselves sound really interesting.
Product Link
You can get Meze 99 Classic from www.amazon.com here: https://www.amazon.com/Meze-Classics-Walnut-Headphones-Black/dp/B018VZBH5M/
First impression with Meze as a whole company is a very good one. They respond very well to customer requests, answer well to your needs and are very supportive, ready to walk that extra mile for you.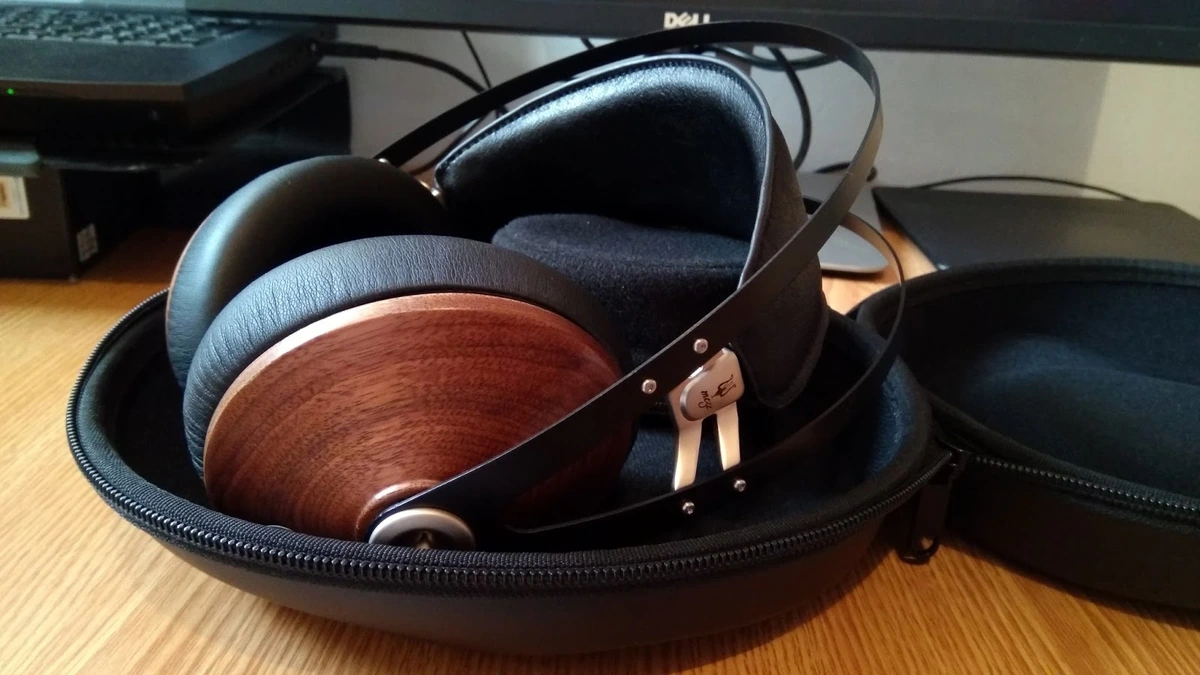 Meze 99 Classics come with a carry box that slightly reminds one of a biker helmet, but with a unique elegance to it. The zippers were really smooth (appreciable on high end products) and the case did not degrade one bit even after some usage, being thrown in backpack with other supplies.
The headphones themselves sound similar to Oppo PM series or Sennheiser HD5XX series, depending on the music and source that's being used. Given the price range and looks, the sound was fair upon first listening and they were not necessarily a WOW headphone but rather a good headphone. In the 300$ price range the fight is quite fierce, but then again, no other 300$ headphone received a rather better than good or fair upon first audition.
Another thing that's related to the first audition is the comfort. While 99C looked a bit small after opening the box, with a bit of adjusting, the ears fit well inside the cups and the headphone band makes the headphones themselves really comfortable. 99C upon first listen was comfortable and sits well on the head. The weight is low and they don't cause fatigue.
 99C comes in a cardboard box, in which you find the carry case. Inside the carry case are the headphones themselves, two cables, a pouch for carrying the cables and an airplane (I think?) adapter. The inside of the carry case is made of a fine material that leaves no scratches on the headphones and the carry case is hard, preventing damage to the headphones, even if they are thrown in a backpack with other objects. The cables must be disconnected for the headphones to be carried inside the carry case, but the connectors are easy to use and the whole experience was nice. HD380Pro for example, has really awkward connectors that are a pain to connect, even after owning them for more than 3 years.
The addition of two cables to 99C is very welcome as they are different lengths and one of the cables includes a remote (and I think microphone). The short cable is ideal for outdoors usage while the longer cable makes a fine computer companion, especially if working as a digital artist and having to move around quite a bit. The cables are braided and look resistant, any damage that's to be done, will be done to the thing they are plugged in , before the cables will get damaged.
Given the size and shape of the headphones, the only accessory that might be lacking from the box is a second pair of ear pads, as seen with Ultrasone headphones, but 99C pads might hold up better in time, so it seems like a fair trade.
The inside of the cardboard box is made of a hard sponge, this adds to the unpacking experience.
I really appreciate that Meze included a little warning about listening levels in their little book – instructions paper. It is always good to know that prolonged exposure to loud noises can be dangerous. The paper also includes a frequency response graph which shows that 99C is fairly flat in its response.
99C is one of the classiest / most elegant headphones out there. The headband design, while slightly reminding of Autio Tehnica series, feels good in person and it is sturdy. The headband is made out of leather or pleather, but it is soft and doesn't seem to take any damage from being worn.
The cups of 99C swivel a bit and this makes the headphones more adjustable. This comes in handy as they need a bit of swiveling around for getting the best fit possible, but I also have big ears.
The cups are made out of wood, and have a smooth design. Since this is a rare feature, Meze must be commended for walking that extra mile for delivering a better experience to their customers by including a real wood.
The cables are covered in a braided fabric and come in different lengths, making 99C a good headphone for both indoors usage and outdoors. The jacks with which the cables are connected to the cups are 3.5mm and they feature a tight and secure lock. In the time I had 99C, the cable did not fall once and it didn't get any scratches either (from plugging and unplugging the cables) 
The headband mechanism is actually nice to wear and while I feared that the metal parts will get scratched, they are good and well, even after a considerable amount of usage. There are no scratches on any art of the headphone after extended usage, so the build quality is good. The earpads did not degrade either in the time I spent with 99C.
Aesthetically speaking, 99C would easily fit with a bow and tie costume, but they will fit in with a sport shirt and a pair of jeans as well.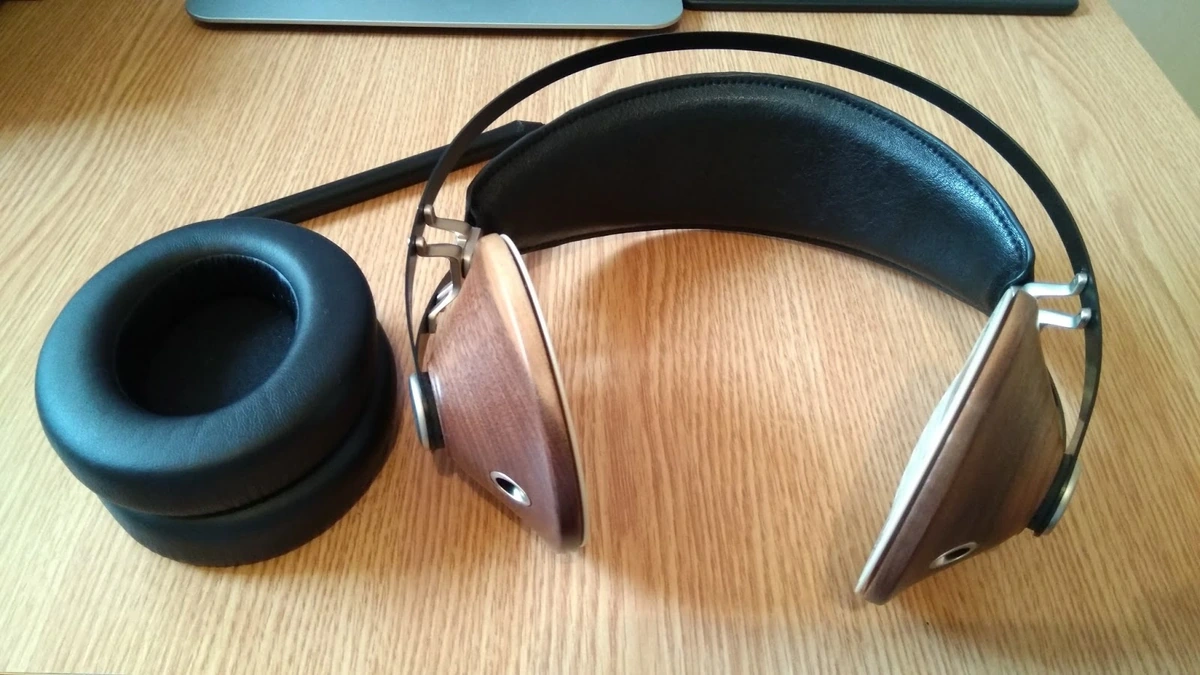 When asked about the comfort of 99C, the best way to describe them would be comfortable. The cups are a bit small in size for people with larger ears, but will fit most people well. The cups have good depth and provide comfort for many hours of listening.
Being worn outside, 99C does not get very hot and can be worn even when jogging or taking a longer walk outside although the weather will play a role in this.
The isolation of 99C is extremely good, to the point where I was able to listen to music very loud and my wife couldn't hear my music at all. 99 Classics isolates very well from the outside noise. It is almost impossible to hear a conversation while wearing the headphones, even louder noises are muted, making 99C a great choice for those in need of a well isolating headphone.
After 8 hours of continuous usage, 99C still feels nice to wear and the headband didn't get uncomfortable at all. This is even more interesting as I did doubt the system itself before trying them on, but 99C surprises in a good way, making them a very interesting choice even for long nights of work.
Compared to Dj1P and HD380Pro, 99C isolates much better and it is the most comfortable to wear out of the bunch, both because the cable is long enough, the headphones are not heavy and the cups have enough width / height / depth.
This came as a surprise, especially as they are not advertised as this, but 99C are one of the best isolating headphones I tested to date, regardless of price segment or other constraints.
99C offers two different types of sound: One is their natural sound and the other is their Equalized sound. They also respond very well to different sources making source synergy an interesting pursuit, but they will play really good with any source thrown at them.
Because my Equalization algorithm for 99C is very aggressive, I will split every part of the audio spectrum in Natural and Equalized descriptions. All components of the sound change with aggressive Equalization due to the phase change, but certain aspects of the sound will stay the same, regardless of the EQ applied
99C is a natural sounding headphone, with sweet sounding mids, smooth treble and good extension both ways. They amazed me again in their sound as the presentation is rather wide, and instrument separation is very good, thing which is amazing since they were not advertised as such. The instruments are vivid in general and the texture quality is insane for their price point and very good for any price point. The sound without any EQ can be described as enthusiastic and detailed, well textured, smooth and airy. There is a hump on 250-500 Hz. I tracked this specific sound to the wood in the cups as wood has its own acoustic properties and tends to enhance the 250 – 500Hz area.
Classics 99 have a solid bass that can hit even down to the lowest octaves, but is also very fast and can respond well to tracks, playing textures with very good agility. On the stock setting, the bass is slightly enhanced, or rather the 250 – 500 Hz area is enhanced due to the wood in the cups. Wood is known for its acoustic properties and for offering this kind of resonance. After hearing 99 Neo which have their cups made of plastic and them not presenting the same bump in this area, but having the same drivers, it is easy to point the small bump in bass to the wood construction.
This bump in bass gives the headphones an euphoric and sweet presentation, the drums in rock songs sound crisp and the snare drum has a very good presence. Regardless of the Equalization applied, the bass is generally well rounded and it is a delight to listen to. Although the bass is enhanced sometimes, it does not take over the mids and the presentation is well balanced.
When put against a much more expensive model, namely ie800, C99 is able to hold its ground and shows a similar presentation in bass quality and detail but a smaller amount of sub-bass. This change is actually for the better as the amount is feels just right.
With the song Gorillaz – El Manana, the bass area is well rounded, clean and albeit the headphones are very solid in general, the bass of this song has a good reverberation and has the fluid feeling of this song. The bass also has good stage for this song, being heard through all the stereo space.
With Infected Mushroom – Becoming Insane, the bass has good hit and impact, it also covers the right amount of space it should. The texture is there and doesn't lag behind (as seen on some models, where the bass doesn't keep up with the song). The upper bass also has enough speed to do its part for the mid parts of this song, making all effects sound their best.
The Glitch Mob – Our demons: The bass doesn't overwhelm the rest of the frequencies, but is strong enough to give the song the impact it needs, the drops having the right amount of strength and presence. The texture of the bass is vivid and it doesn't lag behind the mids, giving the whole song an overall coherent sound.
This is where the Equalization begins to play a role in the sound. The default midrange is pretty forward, detailed, well textured and all instruments are rendered well. This would be a similar signature when compared with most 300$ headphones, so there is no problem with going for this signature. The soundstage with no EQ is pretty intimate, and 99C are great headphones for metal music since the forward mids will make all voices sound strong and guitars have a sweet / euphoric tint to them. It is pretty important to know what you pair 99C with. Paired with FiiO X5-3, the music sounds happy and even death metal has a friendly tone to guitars. Combined with the rather silky top end in the default presentation, 99C + X5-3 sounds friendly and every single piece thrown at them is returned enjoyable and most mistakes in songs are slightly masked leading to a sound that is well detailed, forward but never dull.
After Equalizing the sound with custom phase and Frequency response tests, the midrange improves to the point where it easily competes with that of Sennheiser ie800, a headphone costing more than twice the price of 99C. The phase of the sound is affected as well, but the negative effects by phase changes are mitigated by a wider soundstage albeit with less depth. The tests are made using mastering and analysis tools, but the results are staggering. Since the EQ applied is quite aggressive, it is possible for 99C to have even better transient response and texturing than Sennheiser ie800 with enough EQ, but it makes the sound a bit excited leading to every single error / bit of noise come as twice as strong.
The higher midrange is slightly recessed in the default signature, making the pianos and violins have a friendlier sound, especially for people who are sensitive to treble. On the other hand, the default signature does not present any loss in detail.
Rammstein – Ich Will: Regardless whether we're talking about the Equalized or the default signature, I was surprised to notice that the little noise at the first "Ich Will" parts was there. It sounded like it was part of the song on the default signature, while the equalized signature made it clear that it was a noise, and even made it an offending noise. Another really nice effect is that the "Ich Will" that was coming from the monitors worn during the record are easily heard in the mix.
Obscurcis Romancia – Sanctuare Damne: The piano is always heard and every note, regardless of the length is easy to be heard. The voices bear the strength they should and there is a good texture to all guitars and the voices. It is easy to discern all guitars and they don't smear on each other. The effects / keys are kept in their designated place and don't come neither too forward nor are lost. The guitars have a really nice transient response and the textures are really crisp resulting in a very well rounded general sound. Cold guitar picks bear the necessary resonance to them in both mids and bass, and the fastest parts of the song have precise attack and don't lag behind. It is also possible to notice the fingers moving on the frets at times, effect which I greatly appreciate.
Iron Maiden – Dance of the dead: The guitar picks are really crisp and they don't come too forward but are not erased either. The voice has great presence, but it has a more natural response after EQ albeit it is very good without any EQ. Unique guitar notes are easy to discern and there is no smearing between distinct notes. The guitar solo is tasty and is presented vivid, with enough bite and the background guitars are not erased but rather create the right type of rhythm and company to the song.
Female voices present just the right amount of sweetness and crispness Jill Tracy's voice sounds fluid and melodic, the prophecies made in her music are received through the entire body and the music works well.
Teddy Loyd w Daoko – Me Me Me : Her voice sounds clear, has the right amount of sweetness and depth. Without EQ, the song is euphoric and has a special type of melody to it. It is a fun experience and the whole song sounds sweet and warm. The song is easy to listen to and will cause no listening fatigue. Even though the song is slightly prone to sibilance, 99C presents no sibilance in either stock form or after applying aggressive EQ.
By now it is time that I explain what EQ I have been applying to them. The treble is changed entirely by EQ and the stock treble and EQ'ed treble have less in common compared to the midrange and bass, which are less affected by the EQ.
As for more details, the 250 Hz area is where it is a bit strong by default, and if increasing the 16 kHz area, it is a must to decrease the 8kHz area otherwise the treble can come in a bit hot. There is a specific spike that happens in the treble if the 8 kHz area is not decreased when applying such a strong enhancement on the 16 kHz area. 
The magic part of Equalizing 99C : Most headphones do not respond very well to aggressive EQ. For example, EQ-ing Ultrasone Dj One Pro with a similarly aggressive EQ results in distortions all across the soundscope and will be unbearable. With 99C, the amount of EQ that can be applied before distortion occurs is incredible. To put it in better words, I didn't get any distortion regardless of how much EQ I applied – be it a 21 dB enhancement or a over 30 dB of treble enhancement. This is quite exciting as most headphones will distort from as little as 10 dB of EQ.
From this perspective, the drivers found in 99C are a golden grail of headphone drivers and act like a pot of clay which you can model to your liking. If you like sound vivid and sparkly, you can achieve it, if you like your sound bassy and impactful, you can do that and if you like your sound sweet and euphoric – then it is your lucky day as this is their default sound.
I generally don't get as excited about this since I haven't been able to apply this much EQ and adaptation to any headphone in the past.
The EQ profile applied above will allow for a much stronger (and questionably harsher) treble, a larger sounstage and a slightly more sibilant sound. The disadvantages are vastly overwhelmed by the advantages in this case, at least for those ears. 99C is able to sound more or less like Sennheiser ie800, a pair of IEMs costing more than 2X their price. The signature of ie800 was the guide to obtaining this EQ as well.
While the stock sound will be loved by a large part of the buyers and 99C does not appeal to exactly the same market as ie800, it is baffling to know that you can obtain the sound of ie800 out of them. The same applies for most signatures as 99C does not distort under heavy EQ.
The treble of 99C in stock form is silky smooth, slightly rolled off and it is extremely forgiving. This means that many songs that would otherwise sound harsh will now sound smooth and happy. With Jazz and Classical, the music keeps its euphoric tonality that is present in 99C in general, leading to a very fun and pleasurable experience.
With metal, the treble can be too smooth and silky at times, resulting in an experience that is more fun and friendlier than it should. Many people prefer this type of signature, where the treble is silky smooth, but I frankly prefer a harsh / sparkly treble.
On the happy side, 99C responds extremely well to EQ and after applying the trick above, the treble extends up to 20kHz and has the right amount of sparkle and fizzle to it, without being sibilant or too harsh. Taste being relative, the EQ I apply might be too aggressive or not aggressive enough for you. The only way to get the best results for you is to play with it until you're happy with the results.
Royal Repulic – 21st Century Gentleman:
No EQ: The treble is clear and vivid, all instruments are audible, but they are not very loud and the cymbal crashes are very smooth. The sibilance is absolutely zero and there is no trace of listening fatigue. I could get used to this relaxing sound – the bass is smooth, the mids are forward and melodic and the treble is laid back and relaxed.
EQ'ed: The treble is a bit sibilant, it is much louder and it is harsh. The decay of treble is a bit longer than it should. The whole sound is sparkly but there is no trace of distortion or aliasing. The coherency is still very good. Because the treble is increased, the bass to treble ratio changes and this makes the headphones sound less bassy, but there is no loss of impact.
The offspring – Me and my old lady:
No EQ: The cymbals are audible, but they are quite quiet and there is a trace of very slight roll-off. There is no sibilance to this song (this song can be quite sibilant). The rhythm of the cymbals is not lost either way and it works well for the whole composition. The bass is strong and has a good presence, but it gets a bit strong in the 200-400 Hz region making the attack strong. It works fairly well with this song and it increases both the musicality and the euphoria of this song. (Me and my old lady is a song that's supposed to have some Euphoria to it.)
EQ'ed: Each cymbal crash is pretty long and it leaves a trace of tingling. The spark in treble are there and the cymbals sound crash-y as they would sound when a cymbal is hit in the same room as the listener. The song is a bit colder after the EQ is applied, but it sounds very good nevertheless.
Incubus – Summer Romance:
No EQ: The singer's voice is very deep and it is well separated from the bass. The bass is pretty strong and it is enhanced over the whole song, giving it a warm presentation. Due to the treble being slightly recessed, the song is very smooth but it is not dark. There is no rolloff noticeable in this song and the song is airy but silky smooth. The symbols and special percussion instruments are always heard and are not masked but the smooth nature of the headphones and the strong bass makes them sound like a background instrument. The soundstage of the song is quite good and it extends well on all planes, except for the bass which is forward and which sounds a bit stronger. This also gives the song more impact and considerably increases all low notes attack and decay. The textures are not affected and they sound just right on both guitar and voices and trombone. The bass texture is fluid and fairly precise while it stays forward.
EQ'ed: The singer's voice is deep and profound, it plays well along the bass notes. The cymbal crashes are harsh and sparkly, the effects are coming from a wide area around the listener and the guitar notes come from where they were recorded. The bass is considerably recessed after the EQ is applied. As the song had some effects applied at certain parts (Like a static noise), this is also enhanced by the EQ while without EQ it is almost not noticed. The sound is arguably harsher and there is less overall bass impact, a very similar mids impact and there is much more treble impact with the EQ applied. Since many people are sensitive to strong treble, the EQ might not work well for everybody. The background guitars are not affected in their texture and details, but are affected in their tonality. There are certain effects that are better exposed this way – some of those effects can be considered noise or distractions from the song so it is a matter of taste whether you prefer hearing every single detail in the song (including the errors) or a relaxed and smooth sound.
The soundstage of 99C is very good for headphones of all types and one of the best soundstages in a closed back headphone. It can easily rival the soundstage of the largest soundstage bearing headphones like Ultrasone Signature Dj or Ultrasone Dj One Pro. Compared with most headphones in the ~300$ range, 99C has a larger and deeper soundstage (With EQ applied). With no EQ applied, the soundstage is still large and will expand well in both width and depth, but the bass will be forward and it will not fill the whole stereo space. Since this is a typical characteristic of wood, Meze 99 Neo will feature a different bass and their soundstage is well expanded in all directions.
Regardless whether there is an EQ applied or not, the soundstage expands very well and will be one of the first things to notice when you first listen to 99C. When coming from ATH – mXX series, 99C will sound considerably less congested, will sound open and airy. In 99C sound, the sound comes from every area in the 3D audio space.
The soundstage and instrument separation are comparable to ie800 and given that ie800 is my current benchmark for both soundstage and instrument separation (in both terms of quality and precision), 99C does a much better job than expected. It is generally easy to tell the voice apart from the bass notes on which certain syllables are sang and it is easy to tell even four guitars apart in one song, even if the guitars are singing at the same time.
Inubus – Calgone: The song has parts that are very hard to render for most headphones, like the bass notes that are overly aggressive or the guitars that are already quite distorted. 99C plays all well and doesn't add any more distortion so each musical note is easy to tell apart. The voice stays clean although with no EQ added it does a pretty strong impact.  
Dope – Addiction: The song has an effect at the start of the song that's supposed to be played somewhere in the right and to the back of the listener. 99C plays it exactly in that spot and doesn't bring it forward nor displace the effect. The guitars are easy to tell apart from each other during the solo and there is absolutely no smearing. The scream is sustained very well during the solo and the whole song has a certain enthusiasm / sweetness to it, albeit the screamed part keeps its intended warmth and strength.
Space electro – xxx:The song has a very good width to it and there is no congestion to the voice nor the instruments / effects. The bass has very good presence across the entire sonic scape. The key effects are played at their intended positions (they move around the listener both in the front and in the back of the listener) and there is no trace of smearing between instruments. With Dj1P, there is smearing on certain parts of the song and this causes many of the details / effects to be lost.
Infected Mushroom – Wanted to: The soundstage is really good. The female voice has just the right amount of drive to it and it doesn't sound try but melodic. The male voices are melodic as well and act to their intended role. All effects are very wide and have a good depth to them. The bass attack is very good and the whole song is clear and vivid. The cymbals are pretty smooth regardless of whether the EQ is added or no, leading to a very fun experience either way. The speed of the song in the very fast segments of it is good and the song doesn't feel lagging, the decay times are very good and the song has the right amount of speed.
99C has been tested with FiiO X5ii, X5-3, Xiaomi mi max, Custom ESS DAC solution and a few other devices. The overall impression is that 99C is fairly easy to drive, but responds very well to a better source. It is able to pick small changes in the sound caused by different DACs (both Dj1P and ie800 are less sensitive to different DACs). 99C requires very little power to be driven to their maximum potential but won't distort even at extremely loud, being really good headphones for metal music or loud listeners.
The transient response is affected quite a bit by the source, but it is not affected by the volume at which music is played. This means that a higher volume will not result in worse transients and 99C will keep its qualities across a wide range of volumes.
Listened directly from Xiaomi mi max (smartphone), the sound is pretty fluid and the transient response is nowhere near as good as from the custom ESS solution or FiiO X5-2. With X5-3, the transient reponse gets even better and the textures of each instrument are even better, making X5-3 one of the best DAP s you can pair 99C with. Xiaomi mi max is seriously rolled off in comparison and while X5-3 is a very smooth DAP, there is no trace of roll-off and the music is sweet and euphoric.
I cannot forget the first time I noticed the crisp textures of 99C as I was using them together with the tour unit of FiiO X5-3. I was listening to a song from The Offspring – vultures. This song has quite an interesting texture to all the instruments, especially to the guitars. A lot of this texture is only heard on ie800 and very expensive headphones / IEMs, so I had a shock when I noticed the fine details while I was walking outside with the headphones on my head. It was just a matter of seconds before I synced my steps to the beat of the music and there was no way for me to pause the song until the last second of it.
FiiO X5ii is no slouch either, but its bigger brother offers a much better texture and transient response in comparison. I didn't have enough time to test 99C with other sources like ifi iDSD or Chord products or Sony 1Z, but as soon as I get a bit of free time, I promise to test and continue this description page.
Ie800 – This is a hard comparison. When it comes to price, ie800 costs about 2 times as much or more new. In their default shape, 99C has a texture that is comparable to ie800, but ie800 has an upper hand when it comes to the crispness of textures. This upper hand is given especially by the different bass to treble ration which causes the bass to have another decay for ie800. After applying the EQ which intended to simulate an ie800 inside 99C, they are about on par, with 99C having the upper hand in instrument textures, but ie800 having a slight upper hand in transient response. All in all, 99C performs way above its price point and can be compared to TOTL headphones after applying the EQ. If you want to walk the extra mile and EQ 99C, you can have an ie800 in headphone form (I was searching for this for a good year before first hearing 99C!!!!!!!). This being said, my FiiO X5ii and X5-3 are not able to apply the said EQ as good as my computer is. This is partially because X5-3 is very smooth and X5ii only has a play range of 12dB and the EQ presented above requires a larger dB sway to work as it is intended and achieve the phase shift.
Dj One Pro – In stock form for both, DJ1P has a considerably less forward bass range and midrange, sounding distant at times. Dj1P has a very good soundstage for a closed back headphone, and 99C has more or less the same width, height but better depth. 99C has a smoother top end. Dj1P has a very recessed snare hit that makes most percussion instruments sound weak. After applying EQ on both, 99C has a better overall soundstage, a considerably better drum impact and general sound and a considerably better texture and instrument separation. The amount of EQ that Dj1P can take is less than what 99C can take, resulting in a signature that isn't even half through close to the ideal point. Dj1P will distort after too much EQ, while 99c stays crisp and clean. 99C wins in almost all aspects when compared with DJ1P and this stays true when it is compared to most other ~300$ –  500$ headphones.
LCD2 / LCD4 / HD650 – 99c has a similar sound to all of those, but 99C presents a considerably more forward bass and mids. Compared to HD6XX, 99C has a larger soundstage in both width and depth, and comparable textures and instrument separation. HD6XX is an open back headphone so there are sound characteristics that are inherent to the open back design that 99c does not poses. Comfort wise, 99C is actually quite comfortable, and it is comparable with HD6XX even though 99C has a smaller cup size and a different mechanism of adjustment on the head. When compared to LCD series, 99C boasts a similar signature, but LCD series are quite heavy and I couldn't wear them for more than 20-30 minutes in a row, where 99C is quite light and can safely be worn for hours in a row with no back neck. I do recommend that they are taken at 20-30 minute intervals to let the ears breathe and it is always recommended to take a pause from computer work at 30 minute intervals for best health.
99C will not leave you poor and given their rather sane price point of 300$, I would call 99C one of the best value headphones on the market at this moment. There are very few other headphones that boast a similarly good value. The stock performance of 99C is good, but the potential found in them makes the value be rather crazy good when everything is taken into account.
A cheap headphone? A comfortable headphone? A Romanian headphone? An incredible headphone?
You might think that I had a bias towards liking them as Meze is a Romanian company, but after hearing every single headphone that I could hear to date, I am quite hard to impress. To be honest I was rather curious what a Romanian headphone producer could make. I did not expect this. I don't even know what I was expecting to be honest and it doesn't matter.
99C is one of the best headphones you can get your hands on provided you either like the default tuning or provided you're ready to play a bit with them and EQ them. Always remember that there is no single headphone that has a perfect tuning and that every single headphone needs some EQ to achieve the best sound for you. Everyone hears differently so there are chances that you will want a different signature from me from the start, but this is even more the reason to play and experiment. 99C is one of the headphones with the highest tolerances to EQ I had ever played with and besides headphones that are really hard to drive and which inherently allow for a large EQ headroom, 99C is the most EQ'able headphone I had. Ie800 cannot accept 4dB of treble to be added as it causes sibilance, and DJ1P will cause distortions after 14dB of treble being added, while 99C safely holds its ground regardless of the EQ added.
You can enjoy 99c even with a smartphone or a laptop, but they will tell you when you feed them from a good source. A FiiO X5-3, FiiO X5-2, FiiO X7, or similar device is able to drive 99C very well and I probably wouldn't ask for a different DAP than a FiiO one since they also offer the best Price/Performance ratio of the moment.
I hadn't had the chance of testing the Balanced mode of 99C, but I'll make sure to let you know if I manage to test it.
In this point in time, I fully recommend 99C as the sweetest deal you can get at this price, and I personally recommend them for a broad range of preferences as you can EQ them to sound as you like, but keeping the advantage of crisp and clear sound, well defined textures and good details, and good soundstage. 
You can get Meze 99 Classic from www.amazon.com here: https://www.amazon.com/Meze-Classics-Walnut-Headphones-Black/dp/B018VZBH5M/
---
---
--- Please remember to stay safe, and always have fun while listening to music!---
 - If you have a dime to spare, and donate, to help us with electricity and work expenses, it would make my day much brighter, as it would help me improve things around the website and increase the frequency of my posts - 
---
Full Playlist used for this review
We listened to more songs than those named in this playlist, but those are excellent for identifying a sonic signature.  PRaT, Texturization, Detail, Resolution, Dynamics, Impact, and overall tonality are all revealed by those songs. We recommend trying most of the songs from this playlist, especially if you're searching for new music!
https://www.youtube.com/playlist?list=PL_cjBXGmwSHSdGcwuc_bKbBDGHL4QvYBu
--- Contact Us ---






---
---