Audio Analogue AAdac – Italian Master Design
AAdac is the masterpiece DAC made in Italy by Audio Analogue, and is meant mainly to be combined with their amplifiers, and CD players, which have a similar aesthetic. It is priced at 3500 EUR or about 4000 USD, and is part of their Pure Line, so it will compete with the absolute best I reviewed before, like M2 Tech Young MK III, SW1X DAC I Special, iBasso DX300, Feliks Euforia, Wells Milo, and Mytek Brookyln DAC+. The trick here is that aaDAC has both a normal DAC function, but also works as a Headphone Amplifier, and it is one of the best of its kind I know of. For the pairings part of today's review, we'll go with Kennerton Thror, Audeze LCD-MX4, and Crosszone CZ-1.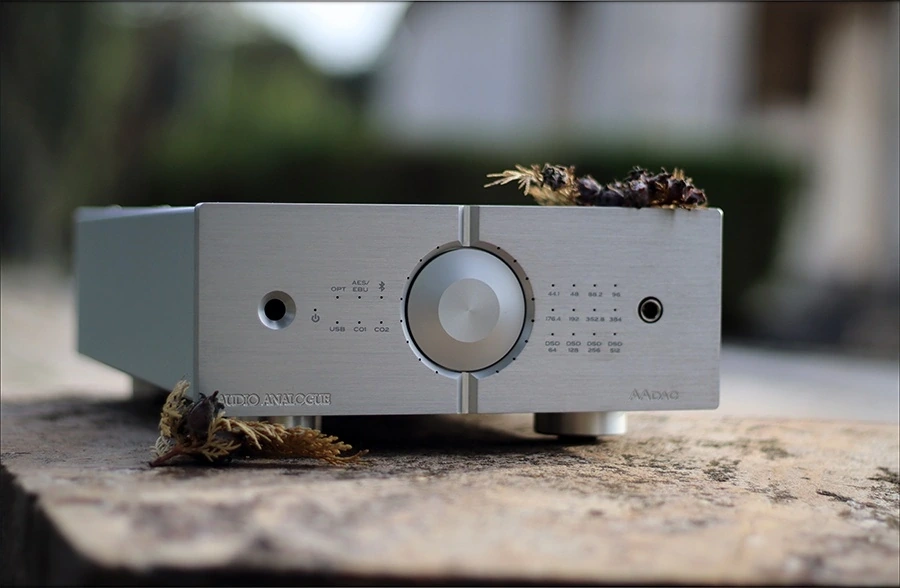 Introduction
There's a long story behind Audio Analogue, and they've been designing some amazing desktop components for years, but they really caught my attention when they decided to include a headphone amplifier in their systems. This isn't to say that their DACs didn't already have a nice functionality and price/performance ratio, but Audio Analogue decided it is time to also invest in us Headphone Lovers. With the advent of high-end headphones, more and more people who are into hifi prefer to get something small to isolate from the stress of their daily lives, and with many music lovers having kids and neighbors, headphone amplifiers are indeed needed now more than ever. This is how the story starts with the AAdac USB DAC from Audio Analogue. 
It should be noted that I have absolutely no affiliation with Audio Analogue. I'd like to thank Audio Analogue for providing the sample for this review. This review reflects my personal experience with the Audio Analogue AAdac. Every opinion expressed is mine and I stand by it, the purpose of this review is to help those interested in Audio Analogue AAdac find their next music companion. 
Product Link
You will be able to grab one of those aaDACs once they get available on Amazon, here: https://amzn.to/3cMYEoM
Packaging
First things first, let's get the packaging out of the way: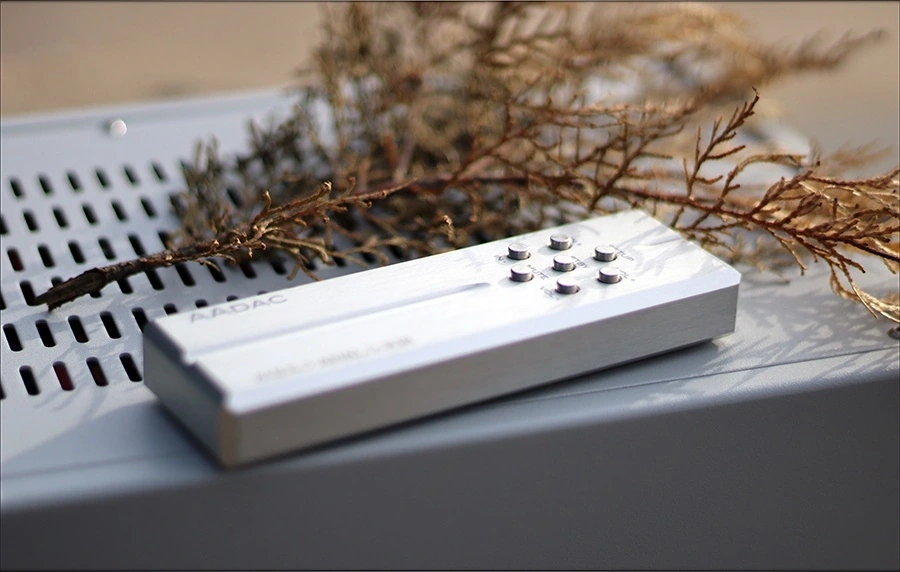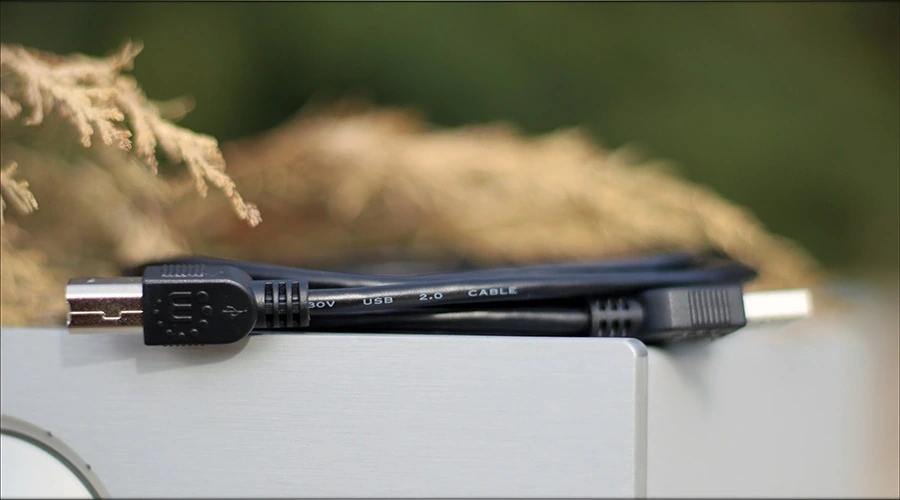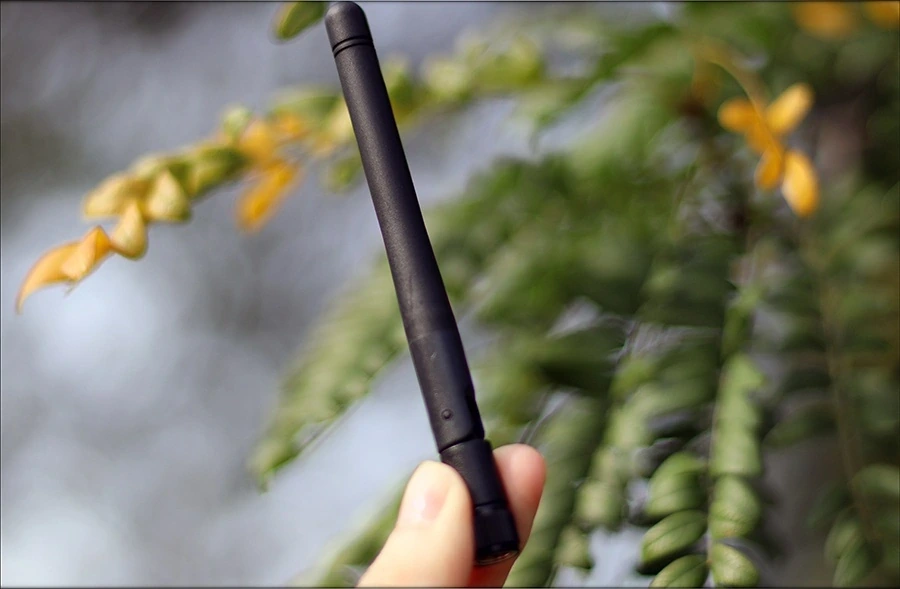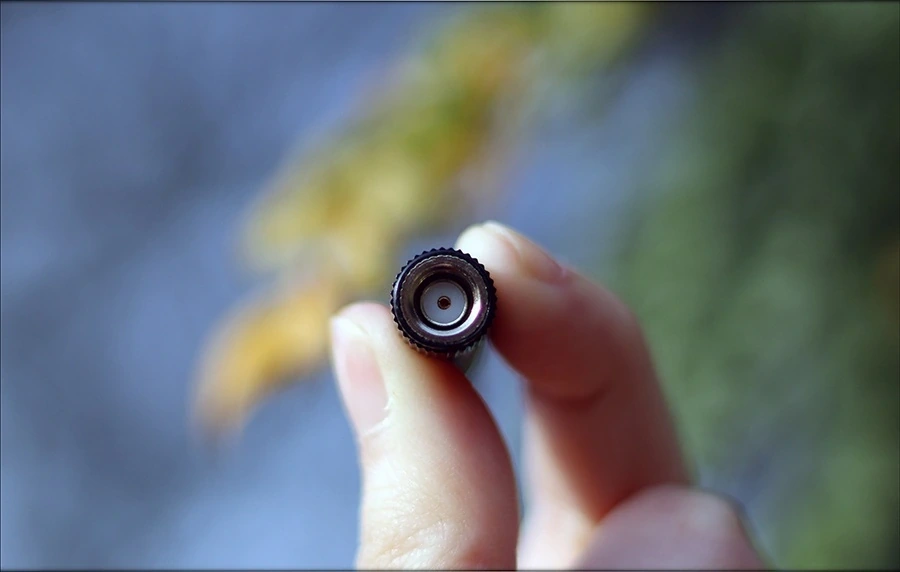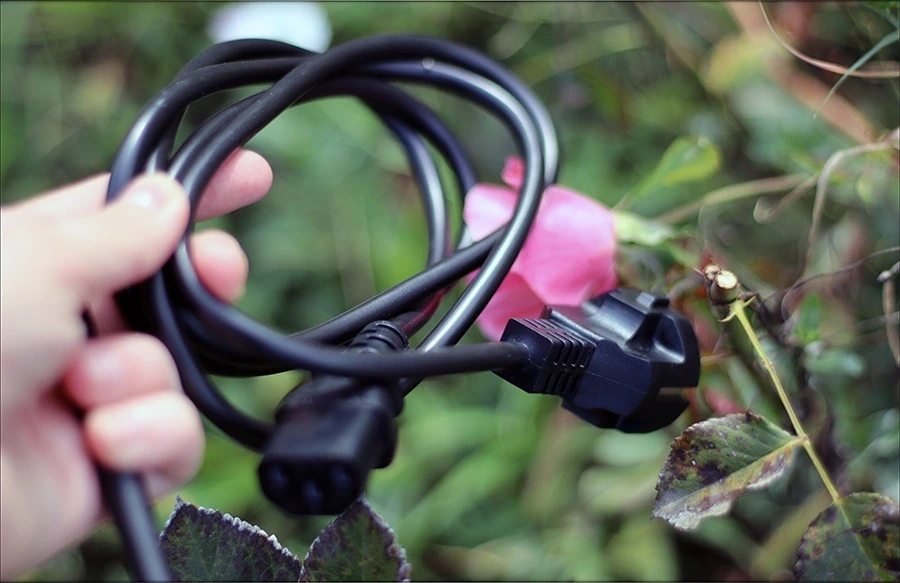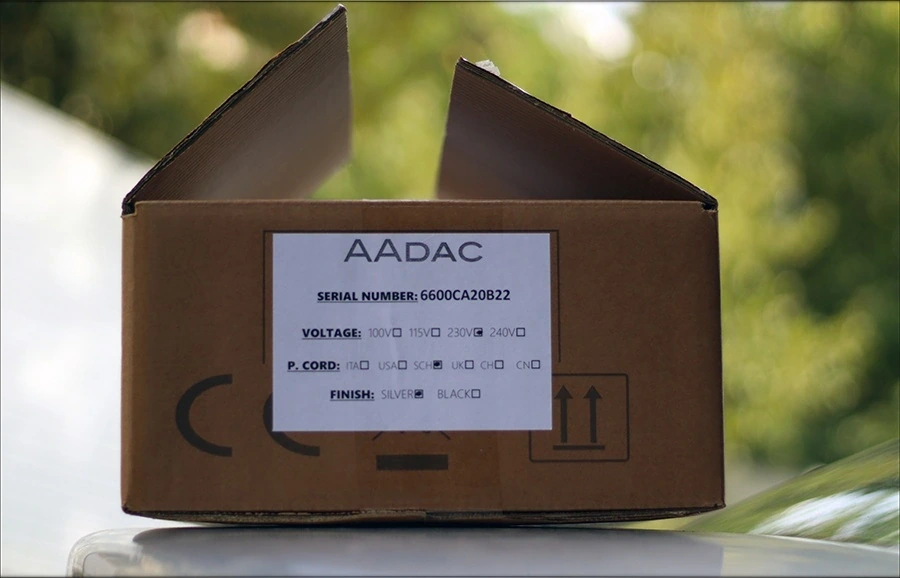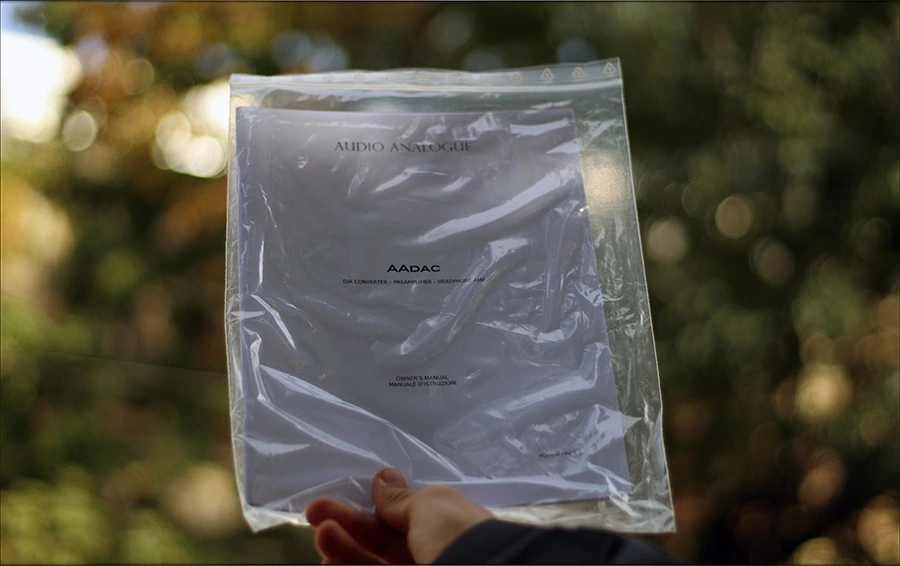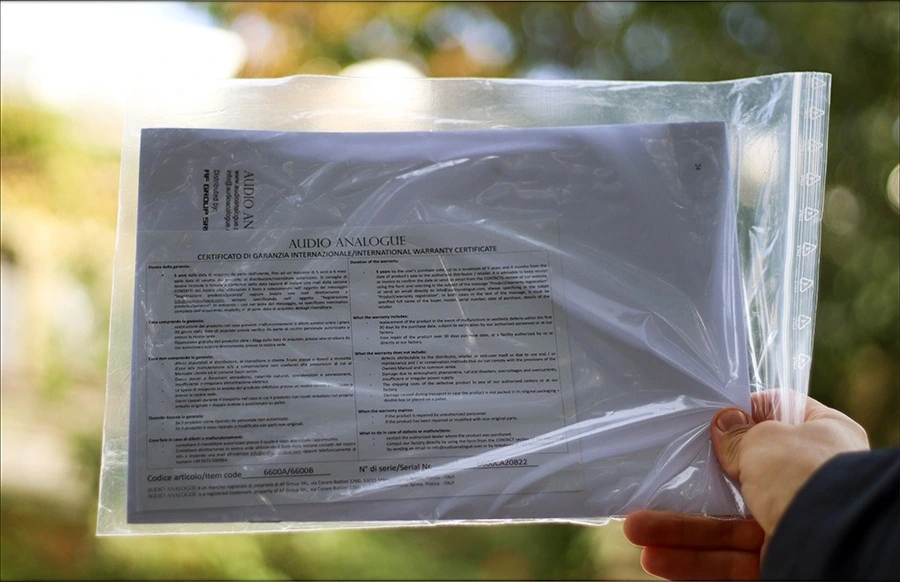 The package of the AAdac is as exquisite and amazing as the entire product is. It comes with manuals, a power cord, an antenna, since it has bluetooth aptX connectivity too. There's also a high-quality USB cable in the package, and a large, weighty metallic remote to control the AAdac.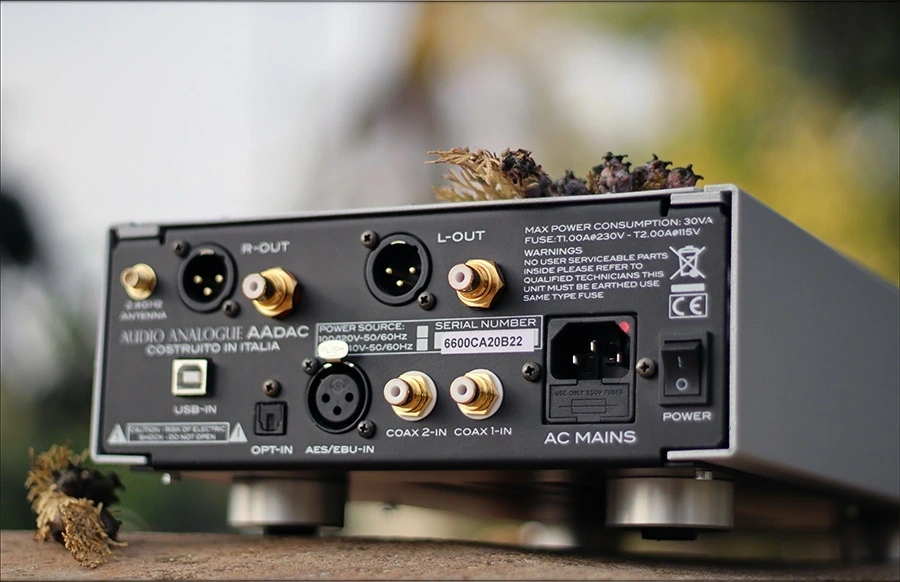 All in all, the package is amazing, and it is presented as a flagship DAC/AMP should be presented. 
Technical Specifications
Channels – 2
Output level – 2.9 µV (22 Hz ÷ 20 kHz )
Output level(A weighted) – 2.1 µV
Output voltage – balanced(1kHz/0dB) – 3.35 VRMS
Output voltage – unbalanced(1kHz/0dB) – 3.35 VRMS
Dynamic range(A weighted) – 124 dB
THD+N(1dB, 1kHz, FS = 48 kHz) – -108 dB
ENOB – 17.65 BIT
Standby power consumption(230VAC) – 0.7W
Dimensions(HxWxD) – 100x220x390 mm
Weight – 5.5 Kg
Build Quality/Aesthetics/Functionality
Audio Analogue is one of those companies that's really honest about their products and their performance, and I trust them with making a high-end DAC/AMP for me. They have an ESS Sabre ES9038 at the base of the AAdac, and they also bundle the DAC with Amanero USB drivers and stages that can read up to 32 Bit / 384 kHz, which is the highest PCM signal you'll ever find music in. 
The entire unit is made of metal, with hard edges all around, and it has a unique shape where it is long and narrow rather than wide as most desktop DAC/AMPs, In fact, for those passionate about having a tidy aesthetic for their setup, Analog Audio has an entire line based on the same aesthetic language. All their units are made with the highest quality components available, and all of them have those tall feet to stand, allowing for excellent cooling. In fact some of the folks around have opened up the units, and noted that every component is cherry picked.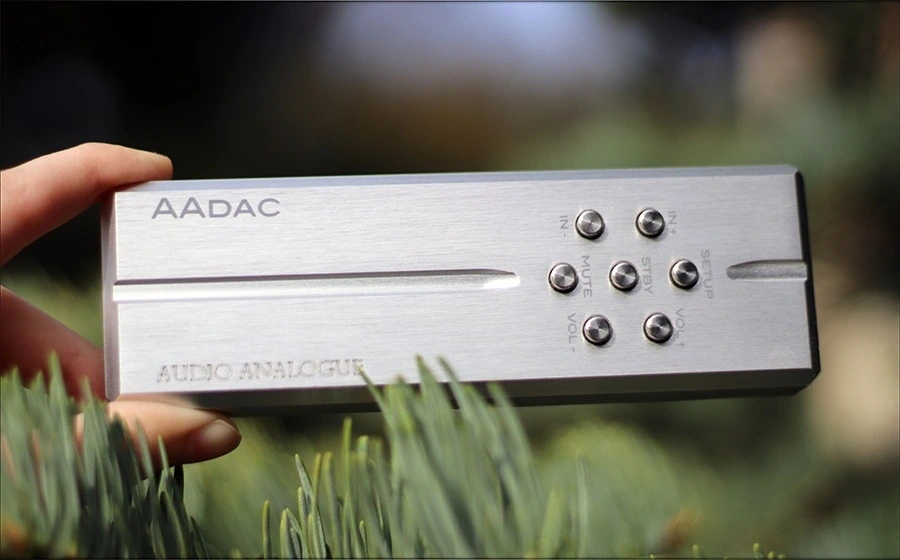 The AAdac can also handle native DSD decoding up to DSD512m and features 7 different digital filters. It gets quite complicated to change those filters, since you need to use the remote and it doesn't have a display, but after doing it once or twice you get the hang of it. 
The front of the unit has a large volume wheel that can also click to be used for selection, and it has a large IR or infrared receiver that you point the remote at. The remote works from angles narrower than 45 degrees, and next to it you can find the on/off indicator light. To turn the unit on or off, you either use the remote, or click the volume wheel. On the left of the volume wheel, we have the input indicators, while on the right we have the data rate indicators.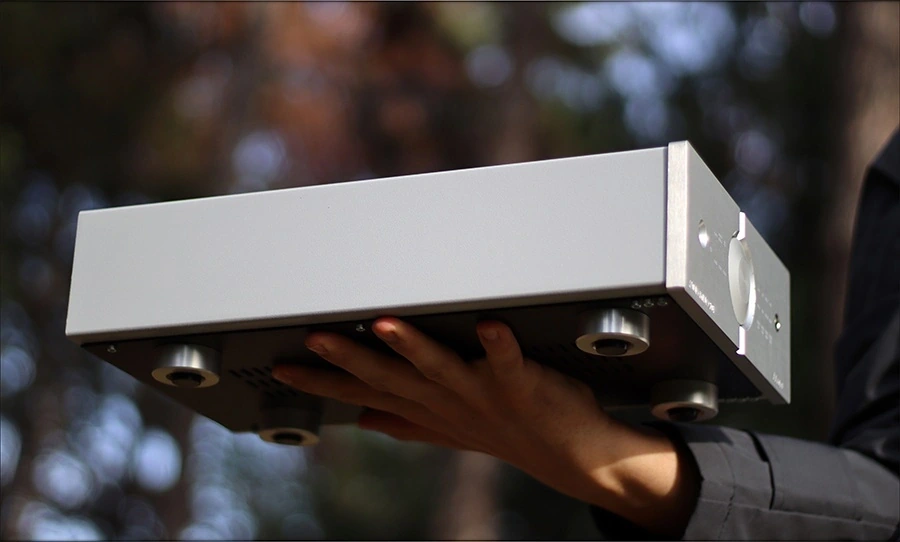 The volume wheel has lights all around it, that indicate the current volume it is set at. The volumes for DAC and for Headphone AMP are separate and inserting a headphone always sets the volume to zero. This is a good practice since it has tons of driving power and it could burn a headphone if you had something turned really loud and then inserted a much more sensitive headphone.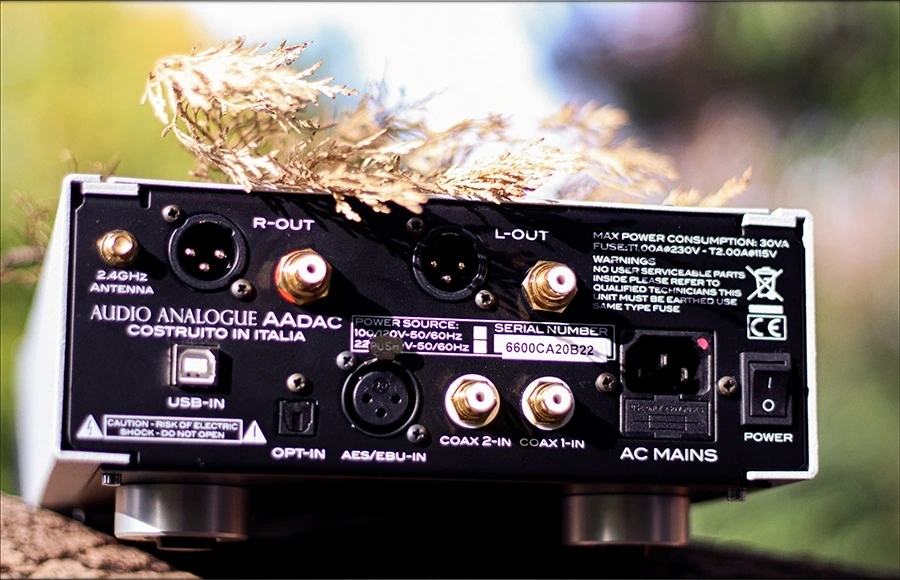 This is something unique to Analog Audio, but their units actually have one of the best coolings I've seen in a DAC/AMP out there, and indeed, the AAdac never runs hot in my experience. Even better, it is stable in the setup, and while some folks already have larger tube amplifiers and need to worry a lot about placement, AAdac works really well for me.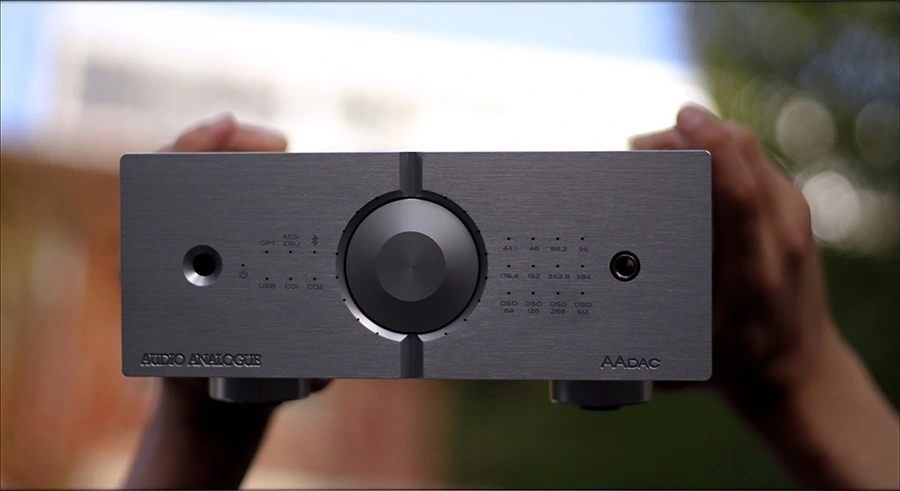 At the back of the unit, we can find the USB, Optical, AES and two Coaxial inputs. The AC mains is backed up by a fuse, which means that even if a voltage spike is to happen in your power line, the AAdac won't burn out. 
The hifi / speaker outputs are in two modes, one Single Ended based on RCA jacks plated with gold, and one in XLR Balanced outputs, with pins also lated with gold. The 2.4GHz Antenna is in the RP-SMA standard, and you can connect a larger, better antenna if you'll feel the need to.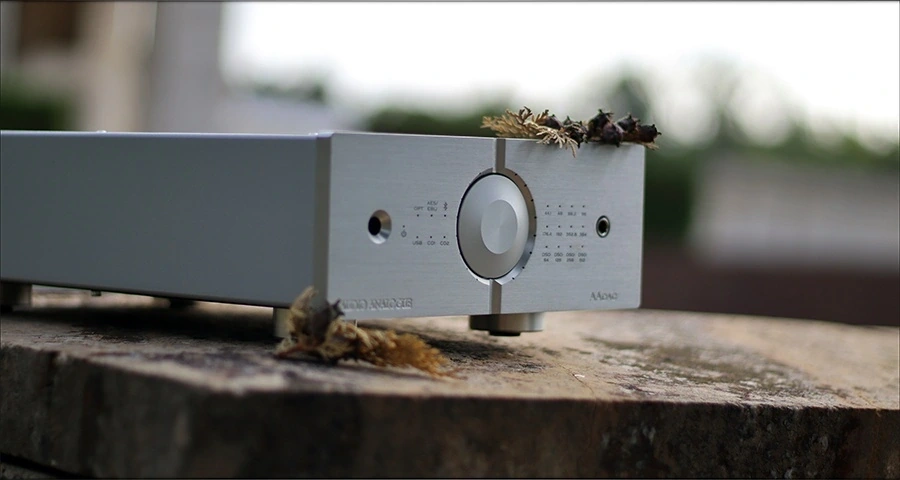 In my personal experience, the AAdac does deliver on their promises of ultra low noise and ultra low distortion, and it has the ability to be used as both a standalone DAC, or Preamp + DAC, where you can use the volume control. Given how easy it is to change the volume and the settings using the remote, I always used it in PreAMP mode, as it introduces no extra noise and the sound is perfectly as good as if using it as a standalone DAC. In fact, for me this works much better because usually I set it to a slightly lower volume to allow my speaker amplifier to be set at a higher volume. This allows me to find that sweet spot of power delivery, dynamics while keeping the speakers at the lowest distortion possible.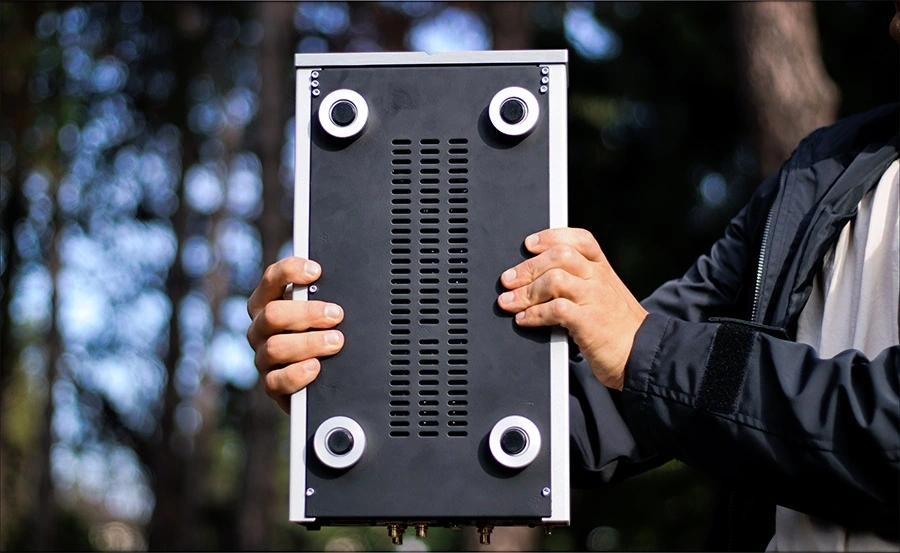 Analog Audio is the only company that I know so far to truthfully rate the ENOB or Effective Number of Bits, of their units. ENOB is a measurement of Dynamic Range, and the 17.65 BIT is extremely high, and helps explain why the sound of the AAdac is so detailed, clean and dynamic / punchy.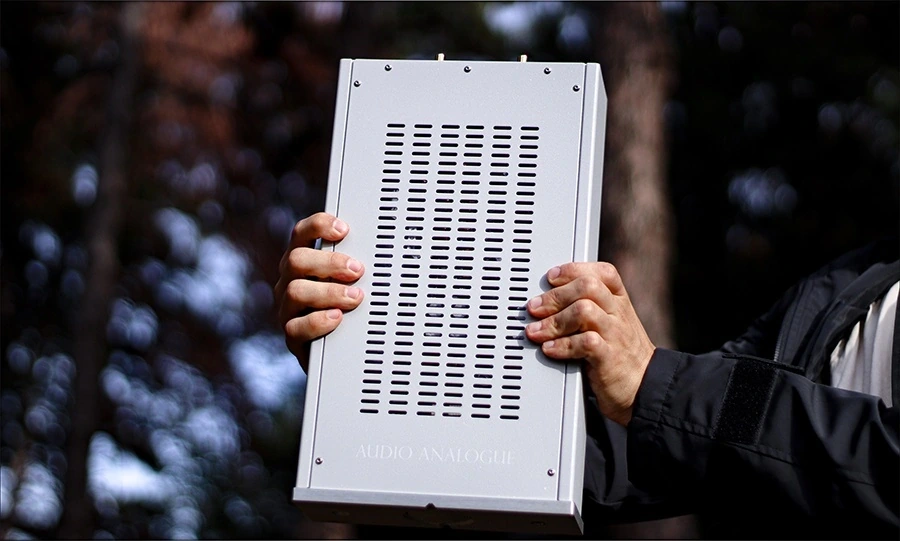 While most purists won't be so thrilled about aptX, I find it a really nice addition to an already excellent unit. I love being able to stream some music vita BT, especially when I invite some people over and we want to test things, but from our sources. Even if you just want to spend a lovely night with your significant other, it is much quicker and more practical to just start some music from a portable source via BT. I want to note that the Bluetooth connection is much cleaner than I expected, and while it doesn't reach quite the level of dynamics and clarity of the wired connection, it is excellent and totally usable with the AAdac. 
Video Review
Sound Quality
Since we're talking about an ultra high-end DAC with the AAdac of the Pure Line from Analog Audio, I actually was not sure what to expect. They are named Analog Audio, but Analog means both warm, but also honest and natural. Analog doesn't have to mean false or thick or too warm, it should mean honest and true to life. And this is what I am hearing with the AAdac. It is one of the most natural sounds that can still be extremely dynamic, realistic, and well extended both ways. While most Hifi guys will be curious about the DAC alone, for me, the headphone output is rather important too, since it is designed well and made to surpass most headphone amplifiers we have available today up to 1000 USD. Feliks Audio Euforia may be a bit more potent as an amplifier, but it is also very specifically made for amping headphones.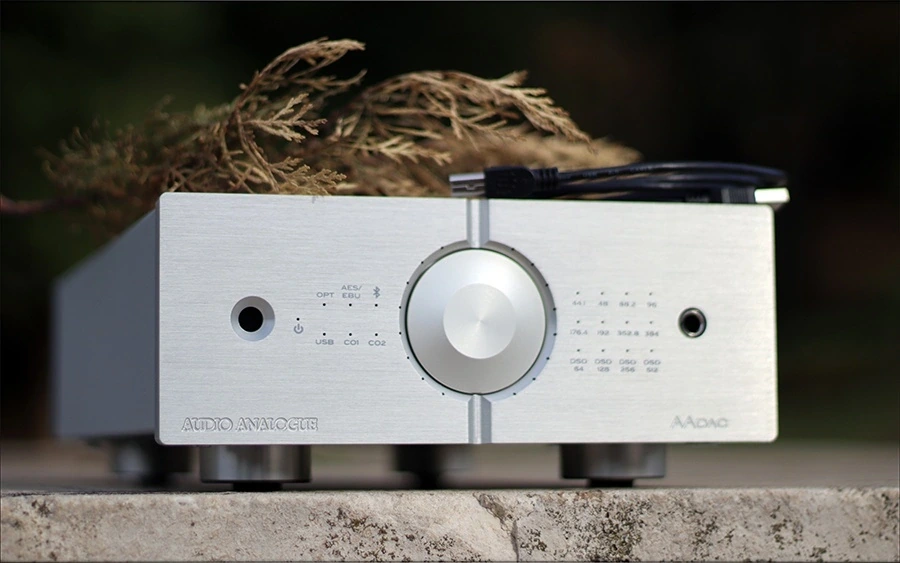 Starting with the bass, we have a delightful snappy and quick bass. The bass body is excellent and so is the overall extension. If using the headphone output, the bass is ever so slightly warm, and extends nicely into the sub lows. When using the AAdac as a full time DAC, the bass has excellent extension and quantity and a kick for detail. It has a really easy time with complex songs, multiple basslines, and works as well as expected. I recently started going back into music production and acquired a piano, and since I also used to play guitar, I can tell you that the AAdac is spot-on when it comes to producing an honest and realistic resonance. There's no extra coloring, the bass is exactly as much as it should be naturally. 
The midrange is the biggest surprise by far, where I was not expecting this type of colorful, vivid presentation. Usually, analog means a bit warm, and that is it, but for AAdac, it means vivid, colorful, and expressive. There's a waterfall of detail raining on you, but it all makes sense, it is all natural and honest. I am not one to shy away from detail, even if it is digital, but AAdac does things very different than I am used to, and it can be said to sound better than entry-level R2R stuff. To explain this, if you ever listened to a very complex song, and you heard some parts of it, and you needed to stop and think to yourself whether what you're hearing is normal or random noises, that is a detailed, but unnatural sound. With AAdac, you never have to stop and think what you're hearing, you instinctively know. It has all that detail, but it all makes sense. Also extremely pleasing is the dynamic range, which is way out of what I'm used to hearing. 
If you've been reading Audiophile-Heaven for a while, you probably know that I have reviewed quite a long list of products, including very expensive ones, some surpassing AAdac's price point of 3500 Eur, so here the issue is not about the price at all. AAdac is truly magical with its dynamic range, it is better than what I heard when testing upwards of 10.000 Euro Dacs in romanian showrooms. AAdac simply gives life to music, and this is what an Analogue Dynamic Range should sound like. Even if a song has three guitars playing at the same time, with a piano and a large orchestra in the background, like those from Dimmu Borgir, or Haggard, AAdac is able to give everything a place. Everything stands out, and you don't need to squint to hear it, you don't need to focus on each sonic part alone, you listen and enjoy everything.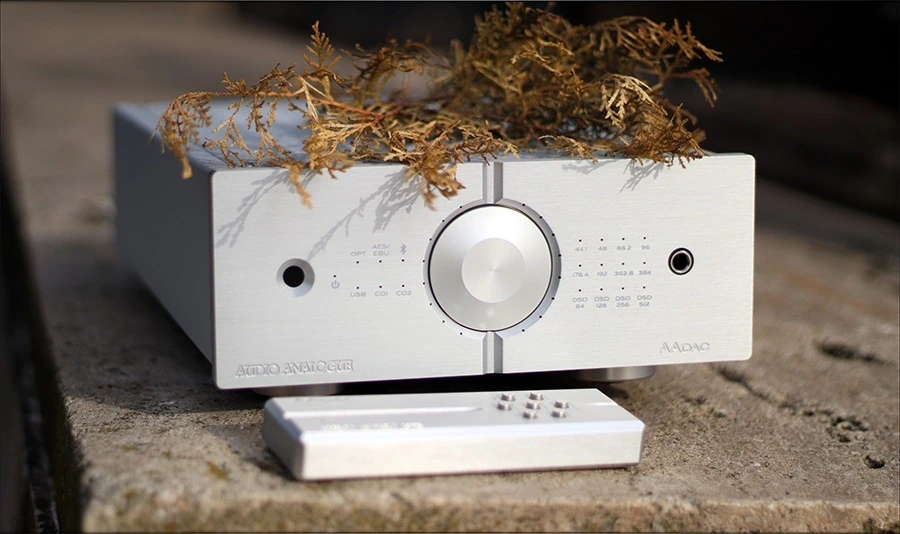 The soundstage is huge, both wide and deep, in a pretty spherical fashion. The presentation is also really holographic, and compliments both Jazz, Classical, but also EDM, Rock, Metal. The excellent levels of detail work for all music styles, and even the most aggressive technical death metal or grindcore has all the details in, while softer music and gentler voices hold their entire emotion with the AAdac. 
This holds true both for the DAC part as well as for the headphone output, and AAdac has a really transparent headphone output, where you're mostly hearing the DAC amplifier for headphones, so it is usually the same dynamic signature playing, not something lesser with the cans. Emotional, Vivid, Dynamic and Punchy is the best way to describe the midrange experience with the AAdac.  
The treble is really good at resolving subtleties, but when I started analysing the treble I realised how rich and organic the sound of the AAdac actually is. There's no trace of compression and airy songs, recorded in a large space sound large, intimate room songs sound intimate, everything is presented as it should be. Imaging and instrument separation are top notch, even with complex orchestral pieces composed by Enescu and interpreted by the BBC Philharmonic are kept in line and don't thicken or get crowded. All is humane, has a rich spirit and vivacity, and if you have been to a certain concert, you'll see that the recording played through the AAdac is the closest you'll be able to get to the real thing. 
Comparisons
The main comparisons I went for are with the Mytek Brooklyn DAC+, Wells Milo and Feliks Euforia. This is as far as its prowess as a headphone amplifier goes. For testing it as a DAC, I will be comparing it to the M2 Tech Young MK III, Sw1X DAC I Special, and DX300, along to the Brookyln DAC+. There are many beautiful sounding DACs out there, but stuff that's digital doesn't really sound as good as something that's truly analogic in the first place.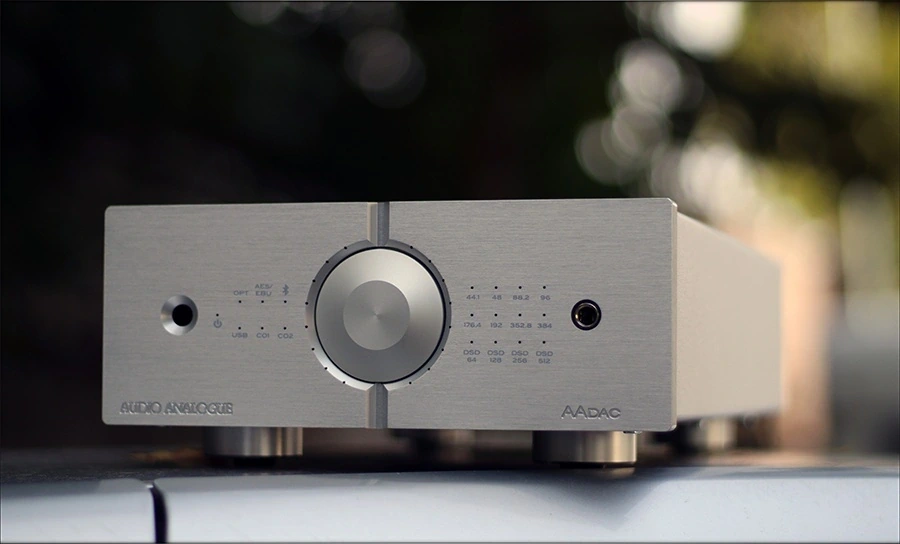 Audio Analogue AAdac vs Mytek Brooklyn DAC+ (4000 USD vs 2200 USD) – Starting with a full comparison between the Brooklyn DAC+, it surely has a display that could be useful. Mytek also designed it to be much smaller and fit on a desktop better, if you're using it as your central DAC/AMP. We can see that Audio Analogue made their AAdac more as a Hifi piece of equipment for enthusiasts and designed it to be ready for those with a serious system behind. AAdac has a more natural overall sound, slightly softer, and more realistic. DAC+ has a warmer sound with more overall punch in the upper bass / lower mids, where AAdac is more balanced all across the range, with more detail and a much better dynamic. The dynamics are a huge thing, because they were great on the DAC+ to begin with, but what AAdac has been doing is simply insane. The nuance and finesse of the AAdac is out of this world, while DAC+ has a really nice sound, but you can hear that it is about half the price of the AAdac. The return of investment is attenuated by the time we reach something like AAdac, and it isn't necessarily double the value of the DAC+, but when you pursue the absolute best sonic performance possible, AAdac is surely the answer between those two. 
Audio Analogue AAdac vs M2 Tech Young MK III (4000 USD vs 1600 USD) – Feature-wise, I like the fact that Young has a display, even small as it is. The outputs are better on the AAdac, and the sound is much more natural on AAdac. The one spot where Young is a bit better is at the soundstage, where it is wider and a bit more holographic. AAdac is much more natural, more musical, more dynamic and has far better detailing than the Young MK III. There's also something magical about the overall clarity of AAdac while keeping the finer nuances in music that makes me go for it far more often than most of the competition. Young is detailed too, but AAdac is not just detailed, it is naturally detailed, effortless, and manages to convey everything without the shrill and cold tuning of the Young. 
Audio Analogue AAdac vs iBasso DX300 (4000 USD vs 1200 USD) – DX300 can also be used as a DAC, and it is a fairly potent one too. It is clear that DX300 is a bit more versatile as a device, but for hifi guys with speaker setups in particular, it may be more practical to get a desktop DAC. At the sonic level, DX300 is natural, punchy, dynamic and vivid. It is superb, a DAP that can totally keep you entertained for days, weeks, months, a life even. AAdac is actually even more dynamic, even more punchy, even more detailed, and has an even more natural sound. Before hearing AAdac, you wouldn't know that it is possible to be even better than DX300, but it is, and AAdac manages to deal an even better sonic performance. The price is much higher for the AAdac, but it is a full fledged desktop DAC with a proper flagship headphone output, as well as a balanced output, and multiple filters. DX300 could act as a transport for it actually, but I wouldn't go that route in general, since you could be using a computer or a smartphone with bluetooth for AAdac. 
Audio Analogue AAdac vs SW1X DAC I Special (4000 USD vs 3000 USD) – The connectivity and build quality is clearly much better for AAdac. SW1X has only a Coaxial input by default, and has only Single Ended outputs, all the other features being ones that you have to pay more for. AAdac wins easily when it comes to the connections, and overall usability, along with overall design. Sw1X DAC I Special has a unique tech inside, with a tube DAC, powered by a Tube Power Converter. This is nothing to sneer at, but in actual sonic performance, AAdac manages to be even more natural, have even more dynamics, have even more detail, and an even juicier midrange, with a more vivid presentation, and with a better bass. This can be said after I already posted my review on Sw1x, and if you read it, I really enjoyed its tuning and sonic performance, AAdac just manages to improve further on the sound, based on a similar overall tuning, but improved in every area possible, especially soundstage. 
Audio Analogue AAdac vs Feliks Euforia (4000 USD vs 2500 USD) – Euforia is a standalone headphone amplifier, and it is based on Tube Tech, opposed to the Solid State tech inside of the AAdac. We are only comparing both as a headphone AMP, and using AAdac as a DAC for Euforia Here. In terms of overall detail, they are toe to toe, with Euforia having an edge in overall euphonics, but sounding more neutral, where AAdac is slightly warmer, more juicy in the mids, and Euforia having a slightly more sparkly treble. Both are enjoyable, but if you can only have one, Euforia pairs best with warmer, more musical headphones, like Audeze LCD-MX4, or Rosson RAD-0, where AAdac pairs really nicely with everything, including Sennheiser HD800S, HIFIMAN Arya, and even Kennerton Thror. 
Audio Analogue AAdac vs Wells Milo (4000 USD vs 2200 USD) – Milo is also a headphone amplifier only, and can't be used as a DAC, so we will be powering it from AAdac as a DAC. The biggest difference here is that Milo can't be used even as a PRE, which would have been a rather useful feature for a product with such a nice sound. The comparison between AAdac and Milo reveals that Milo has more driving power for power-hungry headphones. It is also warmer, while AAdac is more natural, more rich and organic, and much more nuanced. The overall detail is considerably improved on the AAdac, with a deeper stage, better dynamic, and even with a more controlled sound, as long as the headphone is not too power hungry. 
Pairing 
For the pairing part of today's review, I mainly went with headphones, as articles about speakers are still in work, and it will still take me a little while to get to reference those. Once those are up, I will be referencing this review, and I will surely be using the AAdac in other reviews as well. The main headphones I will be pairing the AAdac with are the Audeze LCD MX4, Kennerton Thror, and Crosszone CZ-1, all flagships and all rather picky with their source too, to test the limits of AAdac's Headphone Amplifier stage.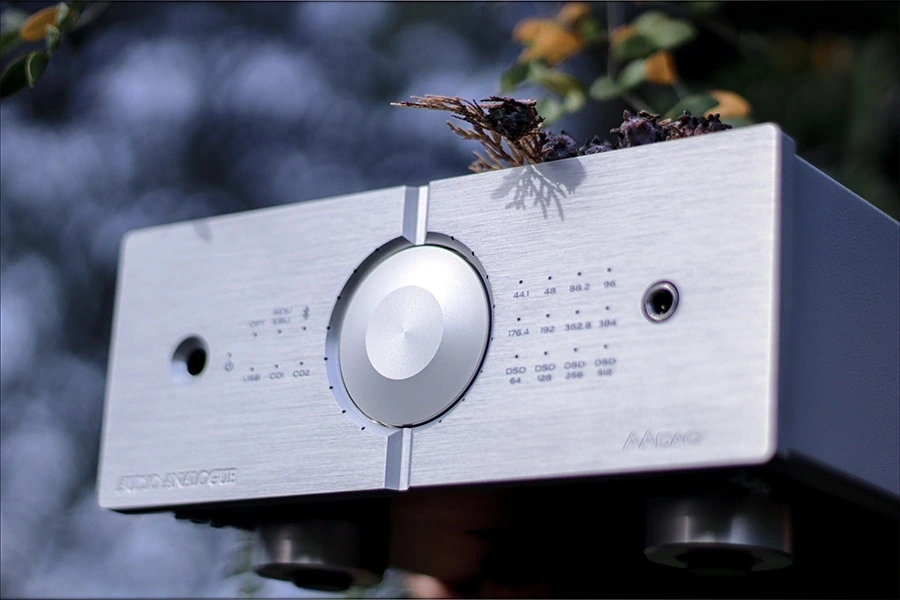 Getting my entire collection through the AAdac was a task that took me weeks to finish, and in all honesty, only one headphone was a bit too much for it, and that was He6SE from HIFIMAN, while everything else is up and properly driven, even at loud volumes. 
Audio Analogue AAdac + Kennerton Thror (4000 USD + 3000 USD) – If you've read my review about the Thror, you'll know it is a headphone made for those who love the neutral, clean presentation of this Russian Premium headphone designer. There's a good amount of detail, and also exceptional dynamic to the pairing between the AAdac and the Thror. There's also excellent overall clarity, and if you love detail, you'll love the sound of the AAdac driving Kennerton Thror. 
Audio Analogue AAdac + Audeze LCD-MX4 (4000 USD + 3000 USD) – MX-4 is a headphone that needs something a bit more neutral, and appreciates a more neutral source rather than a thick or smooth one. This is because despite being made for mixing and mastering, MX4 is already fairly smooth and thick itself, and AAdac is able to give them a beautiful, rounded, clean, crisp sound with a ton of detail. The part that impressed me the most about this pairing is the dynamic, as I never thought or felt like MX-4 is that dynamic of a headphone. This changed today, when I heard them driven by a really dynamic source with an excellent detail, and I can rest my case and keep rocking the MX4 for more listening rather than mostly mastering and mixing. 
Audio Analogue AAdac + Crosszone CZ-1 (4000 USD + 2500 USD) – If you've been following Audiophile-Heaven long enough, you'll know that CZ-1 is one of the most detailed headphones out there, but with a twist. They employ multiple drivers to create a true honest soundscape, and for this they need a really high-end source. It is not just about the power, but about the dynamics, authority and control, all reasons why AAdac totally can drive the CZ-1. In fact, the sound is so lively and uplifting that you sometimes turn around as you hear something that happened right behind you. At other times, you have shivers going down your neck from the emotion and nuance you can hear in your music, as AAdac drives the CZ-1. 
Value and Conclusion
The value of the AAdac is actually excellent, and despite the rather high price tag, it totally delivers more than most competitors can. This comes from someone who heard it all, and to tell you straight, I was expecting much less from the AAdac, so it was a really fun surprise to see it having so many features, along with that awesome sound.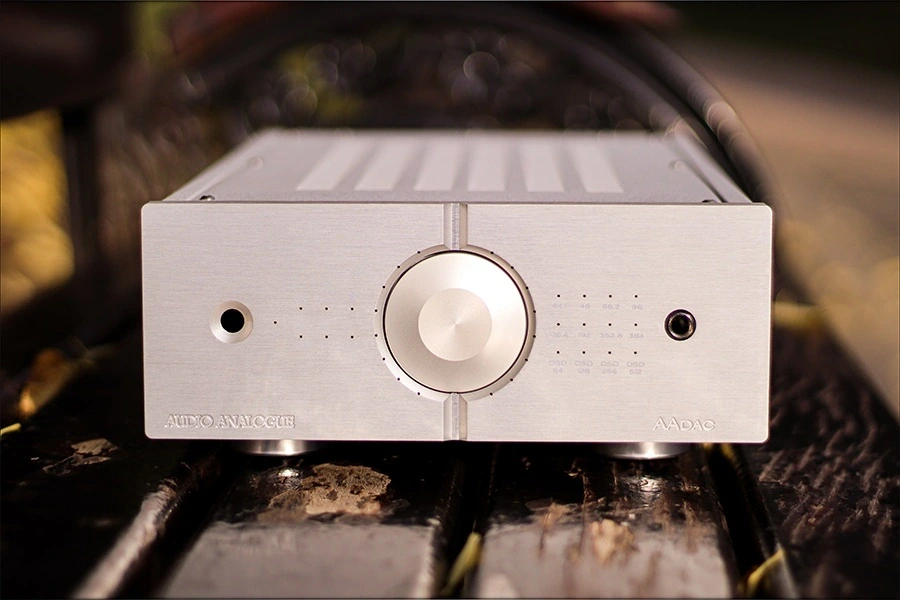 The package is rich, and the AAdac comes with a full metallic remote that will help you configure and use it, along with the manuals, and antennas for the bluetooth part of the DAC. If you thought that you've seen it all, AAdac has Bluetooth Antennas and besides being one of the best high-end DACs for music, it has this little part with streaming that will totally bring more fun to your experience.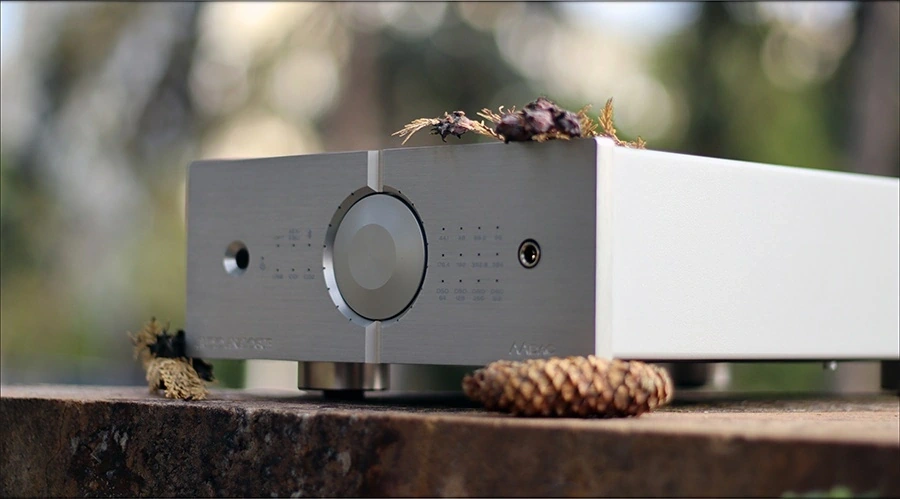 There's even more to talk about, as it has multiple sonic filters, and the AAdac also has XLR outputs, two Coaxial inputs, a fuse protecting its heart, and an optical input. We can't forget about the USB input which is designed really well, better than it was on the Mytek Brooklyn DAC+, as AAdac has absolutely no noise when being used via USB.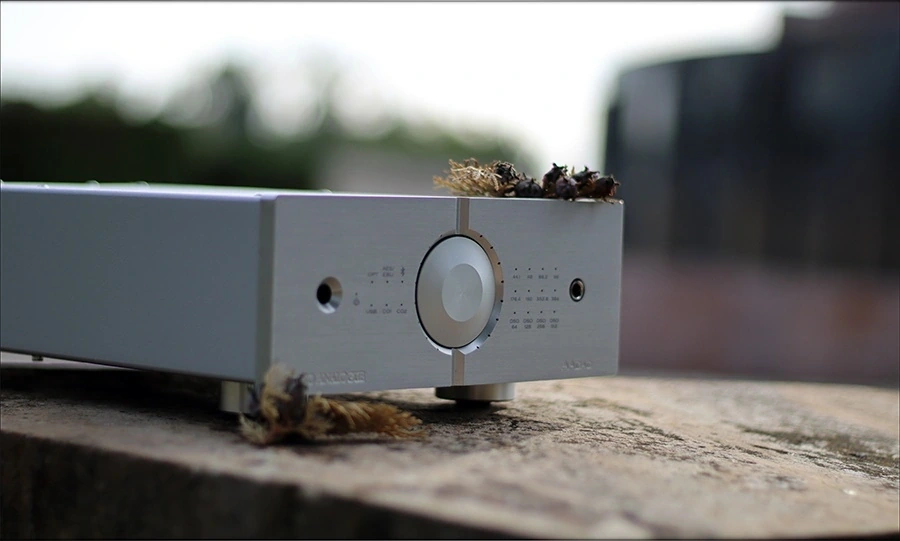 Before the end of today's review, I feel like AAdac totally earned a place in Audiophile-Heaven's Hall Of Fame for being one of the best DACs people will be able to hear to date, and with the availability going up and you being able to listen to it in showrooms all over the world, even in smaller countries, AAdac feels, looks and sounds like one of the best DAC / Headphone AMPs made to date.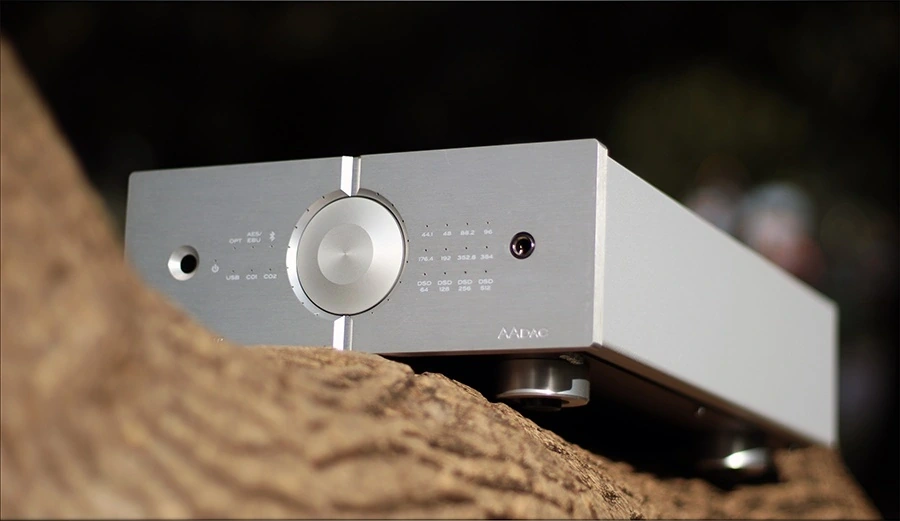 At the end of today's review, if you're looking for the finest, and if you want a unique shape to your music, if you want to hear all your music has to offer, but prefer a fine nuanced sound, with tons of detail, and the utmost dynamic you can get, AAdac from Analog Audio is one of the best I can recommend to you. 
---
---
--- Please remember to stay safe, and always have fun while listening to music!---
 - If you have a dime to spare, and donate, to help us with electricity and work expenses, it would make my day much brighter, as it would help me improve things around the website and increase the frequency of my posts - 
---
Full Playlist used for this review
We listened to more songs than those named in this playlist, but those are excellent for identifying a sonic signature.  PRaT, Texturization, Detail, Resolution, Dynamics, Impact, and overall tonality are all revealed by those songs. We recommend trying most of the songs from this playlist, especially if you're searching for new music!
https://www.youtube.com/playlist?list=PL_cjBXGmwSHSdGcwuc_bKbBDGHL4QvYBu
--- Contact Us ---






---
---