iBasso DX320 DAP Music Player – Ultimate Sonics
Ibasso DX320 is the 1599 USD flagship DAP or Digital Audio Player made by iBasso, with a modular AMP design, two colors available for purchase, and with new ROHM MUS-IC DACs instead of ESS or AK chips. Given the price point, it will be placed against the wall and compared to all the other flagships, including Astell & Kern A&Futura SE180 (1500 USD), Lotoo PAW 6000 (1200 USD), FiiO M17 (1800 USD), Astell & Kern A&Ultima SP2000T (2500 USD), iBasso DX300 (1200 USD), and Dethonray Prelude DTR1+ Music Player (1000 USD).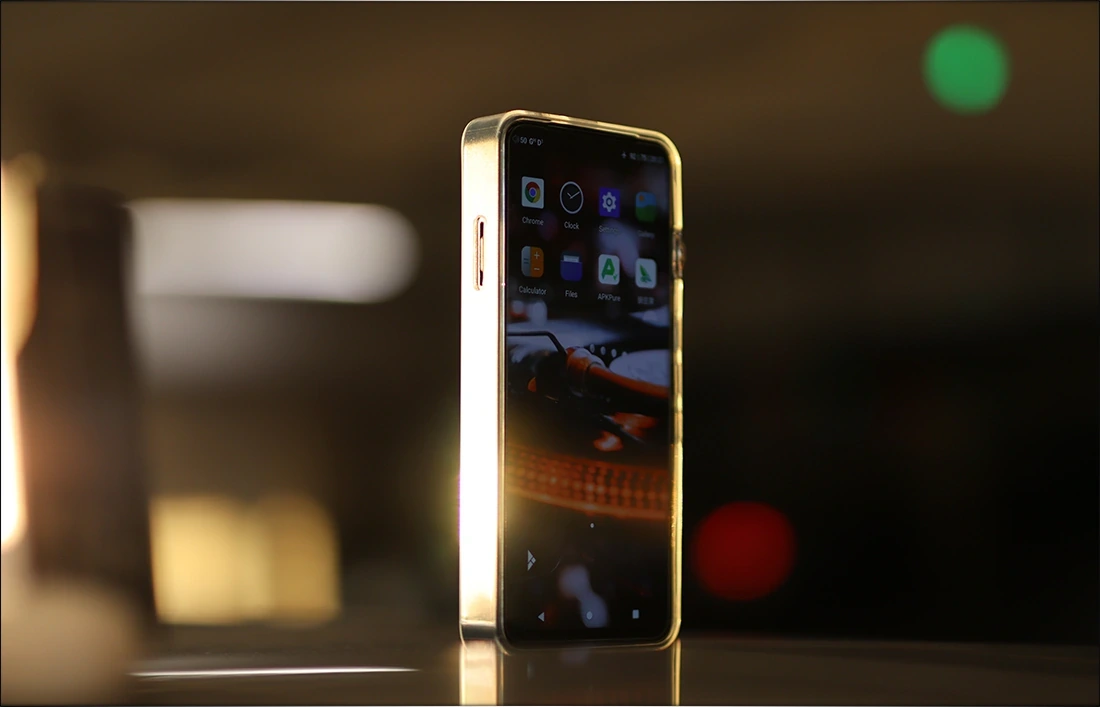 Introduction
iBasso has always been a pioneer when it comes to DAPs, and it is to no surprise that they'd be the first company to implement a new DAC design in their line of music players, but when they stated that it sounds completely new and better than the older designs built upon the ESS chips, I was exactic to hear the new DX320. The company is super reliable, and you can find their products both directly on the iBasso website, but also on Amazon, Linsoul and many other shops across the world, so you should be able to get a unit locally, if import taxes and shipping would be a problem for you. The default AMP Module is named AMP11 MK2s, and it should be the baseline for the sonic performance for today's review. 
It should be noted that I have absolutely no affiliation with iBasso. I'd like to thank iBasso for providing the sample for this review. This review reflects my personal experience with the iBasso DX320 Music Player. Every opinion expressed is mine and I stand by it. The purpose of this review is to help those interested in iBasso DX320 find their next music companion. 
Product Link
You can grab one from www.amazon.com here: https://amzn.to/3oFIsuM
If you're in the UK, you can grab one from www.amazon.co.uk here: https://amzn.to/3cTGBQA
And if you're from Europe, you can grab one from www.amazon.de here: https://amzn.to/3cSKzc7
Build Quality/Aesthetics
I'm delighted to report that iBasso took everything they did right in their DX300 music player and built upon to release the new DX320. We have a whole new design built around the BD34301 EKV DAC running in dual mode, the pinnacle of ROHM's MUS-IC series of IC or Integrated Circuits. ROHM promises dynamic range, and a SNR of 130dB, along with a THD of -115dB, both excellent numbers for a flagship product. Also learning from the competition, iBasso uses a FPGA Master or a full programmable Gate Array chip developed in-house, to act as the audio controller for DX320.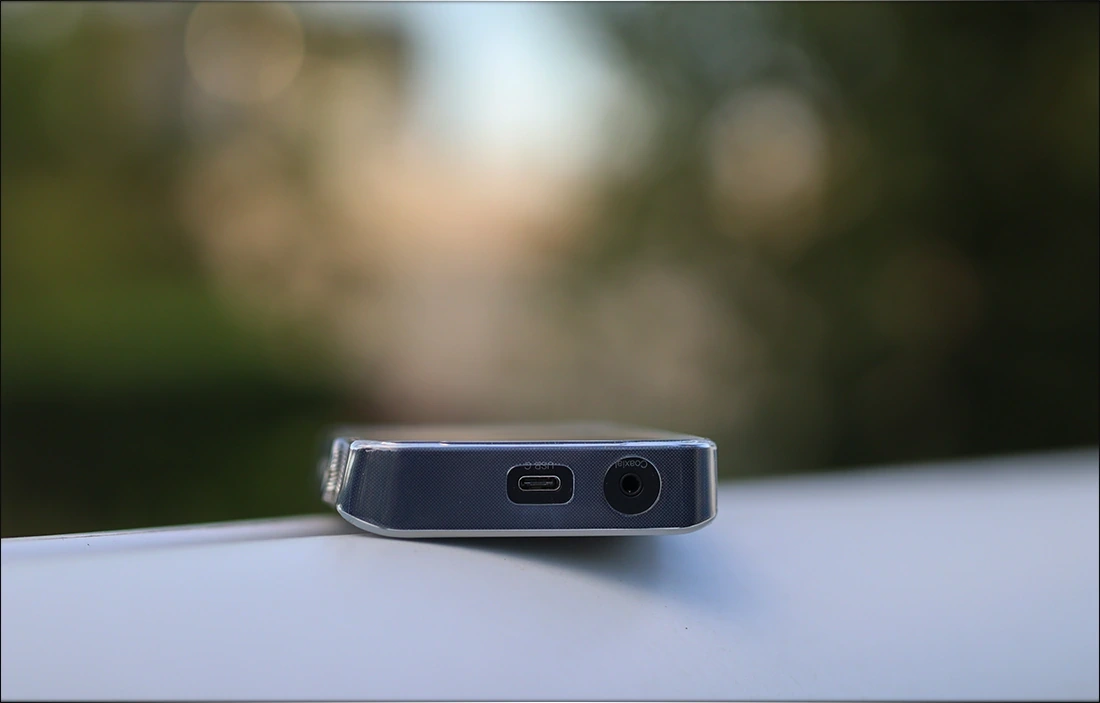 This FPGA Master acts slightly different from how most Music Players are implemented and it requests audio data from the SoC or the CPU, having enhanced signal integrity checking algorithms. iBasso also installed two Accusilicon femtosecond oscillators to achieve perfect audio clocks, and to reduce jitter. Since Android in general doesn't give high priority to audio processing and to the audio output, iBasso uses the new FPGA master to increase the priority of the audio scheduling and to create a stable and interference-free audio output for DX320, despite the DAP still relying on Android to work.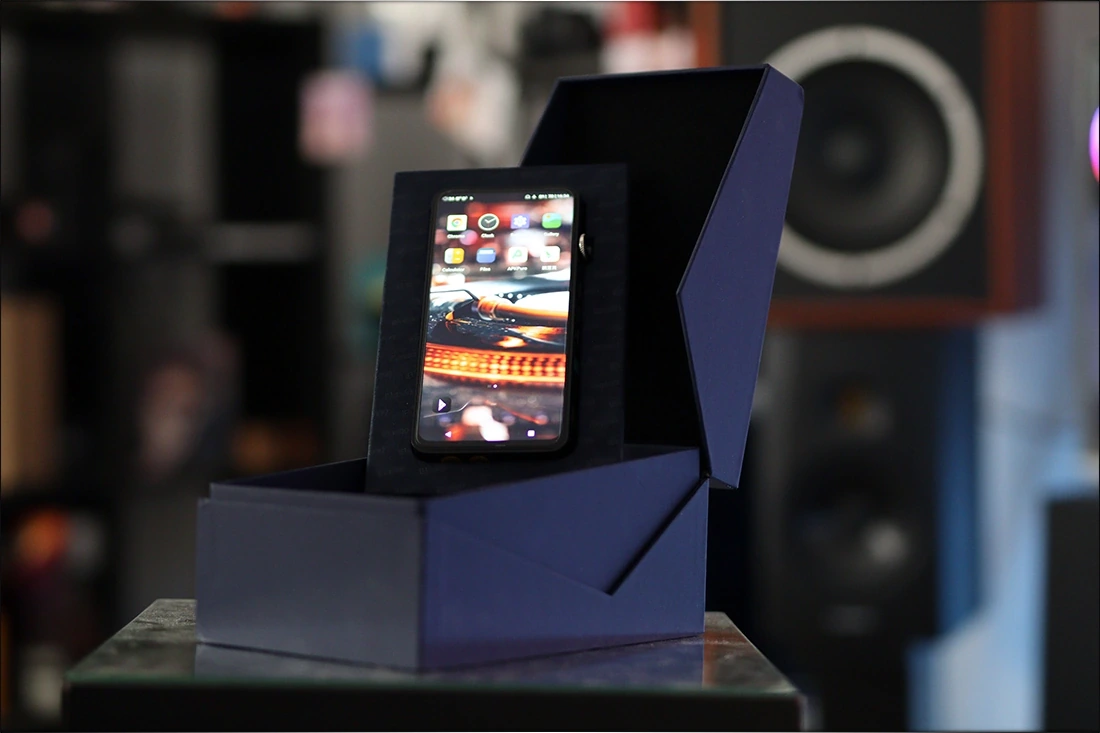 The battery part is handled by two batteries, separate in design, to offer DX320 the best battery life, along with the cleanest sonic output possible. This design is similar to what we previously saw on DX300, and we have a 4000mAh battery for the digital operation of DX320, and a 2000mAg battery for the Analog and audio amplification part of DX320. The battery is also easily replaceable, and I did replace batteries on previous iBasso DAPs, the process taking less than 5 minutes, batteries being easily available on Amazon or directly from iBasso, effectively prolonging the life of the DAP to tens of years (the original DX220 I had is still going strong after years of loyal service).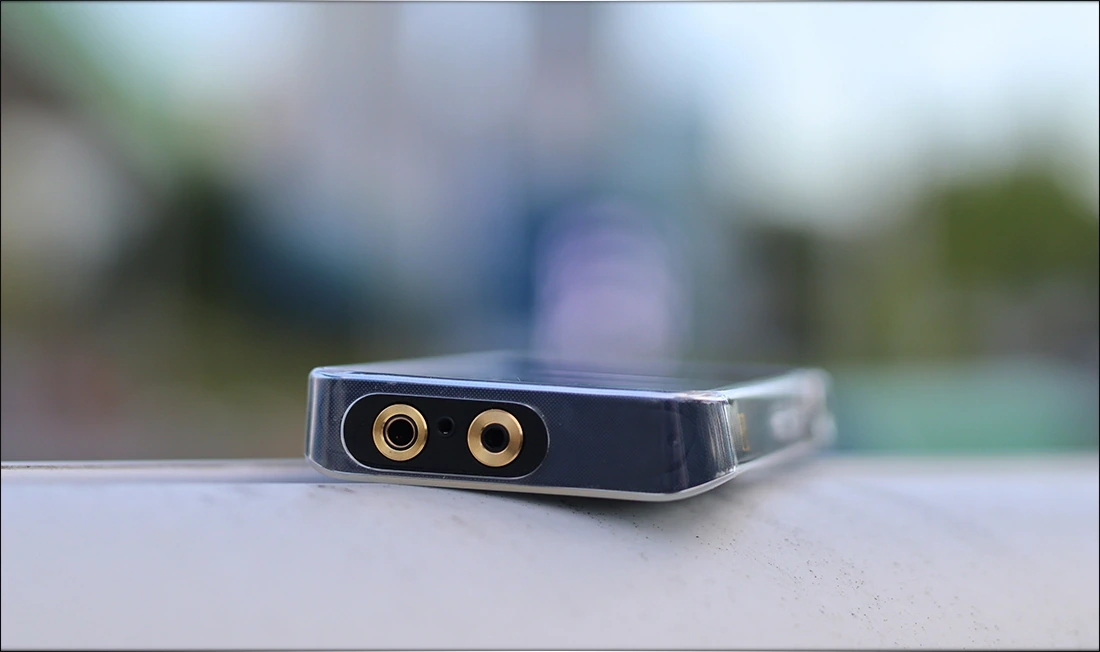 On the physical level, DX320 is a large, monolithic music player that resembles a thicker smartphone more than a geeky audiophile music player. With the AMP modules, and the headphone outputs at the bottom and the USB input, plus the Coaxial output at the top, it feels right at home in my large hands. The display is a bit wider, and the whole unit feels larger than my Xiaomi Black Shark 4 smartphone, despte Black Shark 4 having a slightly larger display, 6.67″ in size. The display ratio makes the DX320 slightly wider, which gives it a larger appearance. 
The volume wheel on the right side of DX320 doubles as the on/off/power button when you press on it, and beneath it there are 3 physical buttons, forward, play/pause and backward. The whole usage is natural, you can assign how the buttons work, and the volume wheel has a maximum of 63 steps instead of the usual 100. This works well for me, as it requires fewer steps to achieve the desired volume level. You generally don't use too much granularity on a DAP, and I either go at 50, 55, or I stay at 30-35. We have USB 3.1 for the USB port, allowing for a super fast data transfer on DX320, and there's the usual Coaxial Output at the top of the player, which supports up to 384 kHz for PCM and DoP up to DSD128. 
Under The Hood / Functionality
Since we music lovers always ask for a smooth OS and operation, iBasso implemented a Snapdragon 660 CPU on DX320, with 6GB of RAM and 128 of ROM or internal Memory. This space can be used for offline Tidal files and other files for streaming services, but also be loaded with your own flac or DSD files. The 14nm 8-Core CPU is enough to play any game smoothly, including complex ones, but most importantly Visual Novels. Since Visual Novels have a strong emphasis on music quality and beautiful soundtracks, the huge display of DX320, combined with its superb output would make it perfect to play games like the upcoming visual novel Eternal Hour produced by my company, Seventh Heart Studios. The 6.5″ 2340×1080 display is superb in color reproduction and bright enough to be seen in broad daylight. There's a little LED light right above the display which shows that the unit is turned on and what data rate it is currently processing.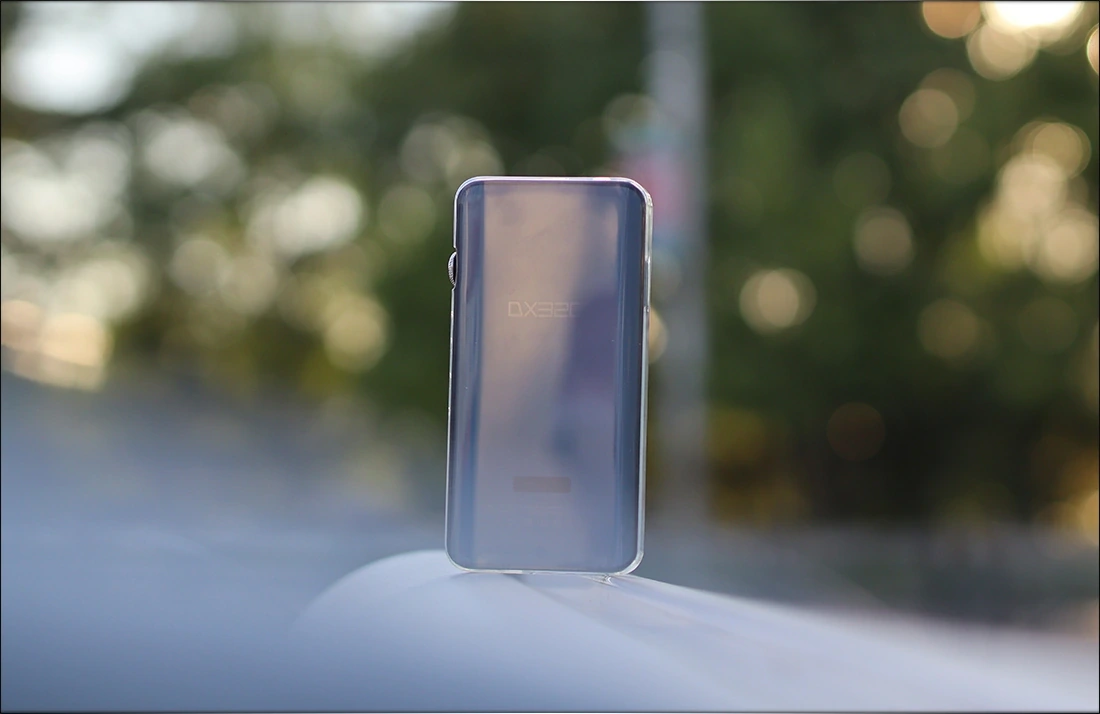 The default AMP11 MK2s amplifier module has three headphone outputs, one in single ended 3.5mm mode, and two balanced outputs, one in 4.4mm and one in 2.5mm. With many modules already available, including AMP13, a NuTube AMP module, DX320 is going to be a pleasure to use even if you'll eventually want to upgrade the sonic part. Speaking of AMP11 MK2s, it comes with circuits based on AMP8, the most popular module ever designed by iasso, and it has a huge power of 1200mW over a 32 OHM impedance. The maximum voltage reaches 7.1 Vrms, and this should be enough for basically any headphone you would ever see yourself taking outside, but in my tests, it is enough even for Audeze LCD-5 as long as you don't plan to play music at ear blasting levels. 
The measured technical specifications of DX320 give it a SNR of 125dB, a dynamic range of 125dB, and a THD of -112dB. This is better than even some flagship DACs costing tens of thousands of USD can do. The output impedance of 0.38 OHMs for the headphone output is super low and quiet enough for all your sensitive IEMs, and in practice I noticed no background noise or hissing with any IEM I tested DX320 with, including Campfire Vega 2020, Campfire Dorado 2020, Unique Melody MEXT and Fir Audio VxV.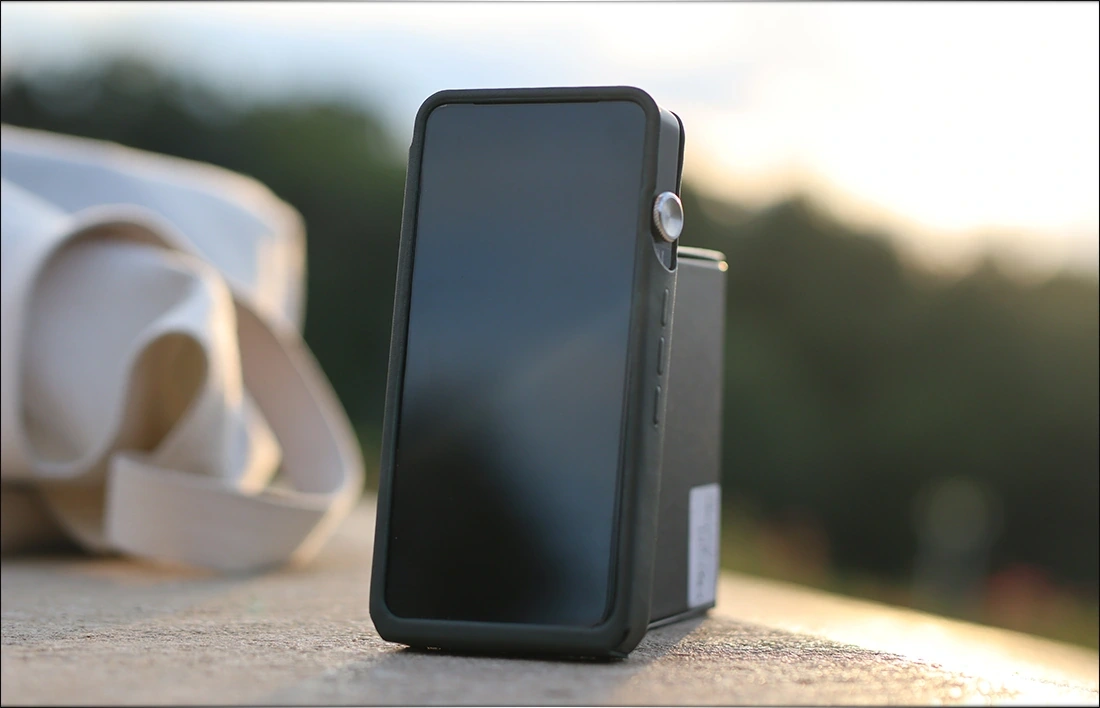 There's also 5G WiFi support on DX320, with 2×2 MIMO Wifi antennas, so two input and two output channels. For those who want to enjoy Bluetooth, there's support for Bluetooth 5.0, with a strong signal and coverage. The Wifi is also great, with no random disconnects, and a super fast rate both when using DX320 connected to my router (modest one provided by the ISP), and if using my smartphone as a hotspot. 
The Battery Life of DX320 is pretty much excellent, and after multiple power cycles reaching about 10 hours of total playback, or about 9 if I'm playing quite loud, 55/63, with flac files, and driving a multitude of headphones, including Sendy Audio Peacock, HIFIMAN Arya Stealth, Unique Melody MEXT, Fir Audio VxV, or Dita Fidelity. It takes about 2.5 hours to charge DX320, if you have a fast / quick charger that uses either QC 3.0 or PD 3.0, both fairly popular standards. In practice, I was able to get quick charge using my girlfriend's Huawei P30 PRO charger, and also the charger provided with Xiaomi Black Shark 4, which has a 67W quick / fast charge. The 120W charger made by Xiaomi does not work, so the charger will need to be QC 3.0 or PD 3.0 compatible, like 99.9% of quick / fast chargers are. I do not have a slow charger around the house to test how long it would take. You can configure DX320 to charge while it is used as a USB DAC. The digital battery depletes faster than the analogic one, with about 30%, at least when using AMP11 MK2s, but even so, for a normal 3-5 hours trip, which is the longest I ever listened to a DAP, it has above 50% remaining, and more than Astell & Kern SE180 or SP2000T has after the same play time. Even DAPs like PAW6000 that have a much longer promised battery life, in reality, have about the same play time as DX320. 
Software
If you ever read about or used an iBasso Music Player in the past, you have probably heard about their excellent dual OS mode, which allows it to run Android 11 and Mango OS, for an open Android mode, for apps, games, Tidal and all of the awesome stuff you could desire, but also Mango OS for a very minimalistic Music Player experience free of Android hassle. DX320 supports pretty much any app I tried to run on it, although it does not come with Google Play Store (which is banned in China), instead running APK Pure. You can even run Fate Grand Order, and Eternal Hour for Android too.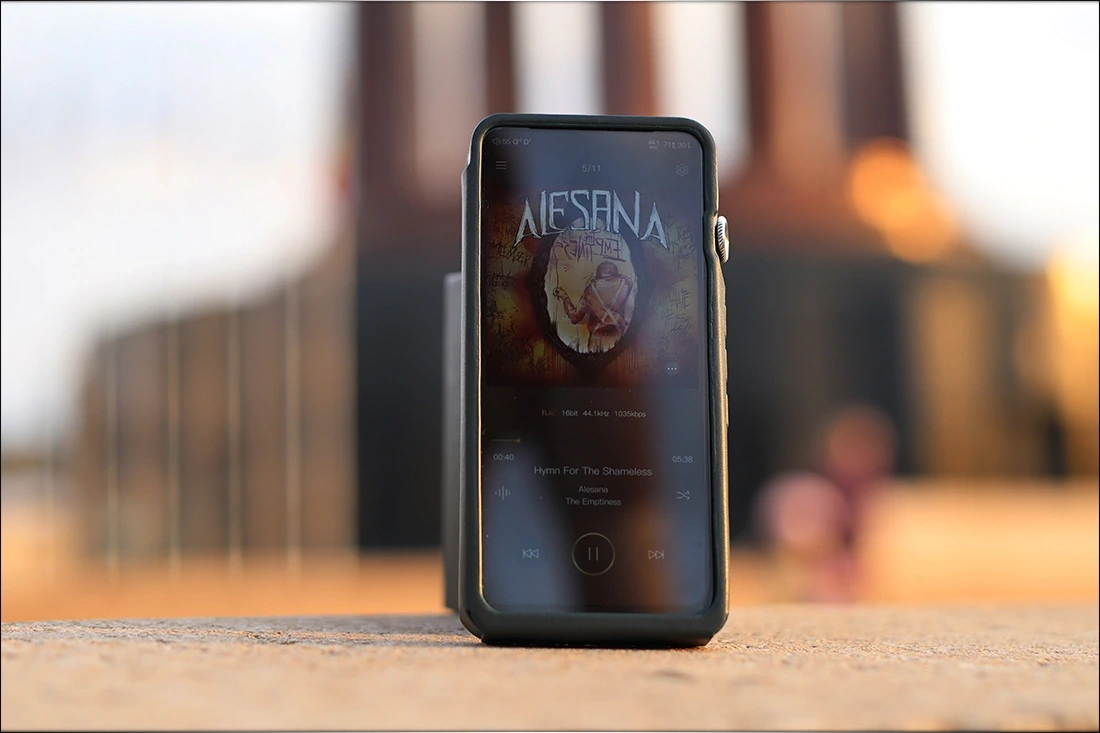 Both the Android Mode and Mango Mode will bypass the SRC algorithms at the system levels, allowing for the maximum sonic performance possible. Both systems are very fluid, and at a subjective level, besides not having a high refresh rate, which would have been pretty useless on a DAP, DX320 is as smooth as any flagship smartphone you can buy, especially as it has much fewer apps running in the background usually. Mango OS will disable the Wifi and Bluetooth too, for a better sonic performance with lower EMI or Electromagnetic Interference. The battery life might be slightly better in Mango OS too, since it disables any other apps to improve on the CPU and RAM usage, but I got a satisfying battery life while using Android mode as well. If you're a fan of MQA, you'll be delighted to hear that DX320 supports MQA 16X in both Android and Mango Mode. 
We also have the best part for any Music Player, a professional parametric EQ, embedded within Mango. If you don't feel like using a stuffy and complex parametric EQ with variable Q factor, and filter types, there is a graphic equalizer with 10 bands, and with very granular adjustment for each band. The parametric EQ allows for extremely precise control, but I did not spend a lot of time using it since I nowadays either get a simple graphic EQ I can recommend, or I don't use EQ at all. Engaging the graphic EQ drops the volume by 12 dB, but there's enough headroom for you to get as much as you need, even for quiet recordings and very hard to drive headphones. Now, the parametric EQ is something else entirely, a true gem. Nothing on the market is quite as advanced as DX320 when it comes to the parametric EQ, and it does not automatically drop the volume when you engage it, opposed to the graphic filter, so you will have to compensate to avoid clipping. You have not only variable Q factor, and very precise frequency and dB Quantity, but also a large number of filter pass, including:
Low Pass Filter

High Pass Filter

Band Pass Filter

Notch Filter

All Pass Filter 

Peaking Filter

Low Shelf

High Shelf
The new DX320 allows for high and low gains on AMP11 MK2s, and it allows for just two digital filters, on the new ROHM DACs, a Slow Roll Off and a Fast Roll Off Digital Filter. This being said, it supports gapless playback, and a true shuffle mode. We have support for Left / Right balance, DSD filtering, DSD Volume Compensation, and an Unplug Pause feature, which will pause when the headphones are disconnected. You can turn the LED indicator at the top on or off, and you can set DX320 to use the artwork as a wallpaper for the Mango app. The artwork can be shown as rectangular or rounded, and you can find the setting for this in the display settings, from the advanced options, in the Mango app. DX320 can play through folders, a feature I appreciate a lot.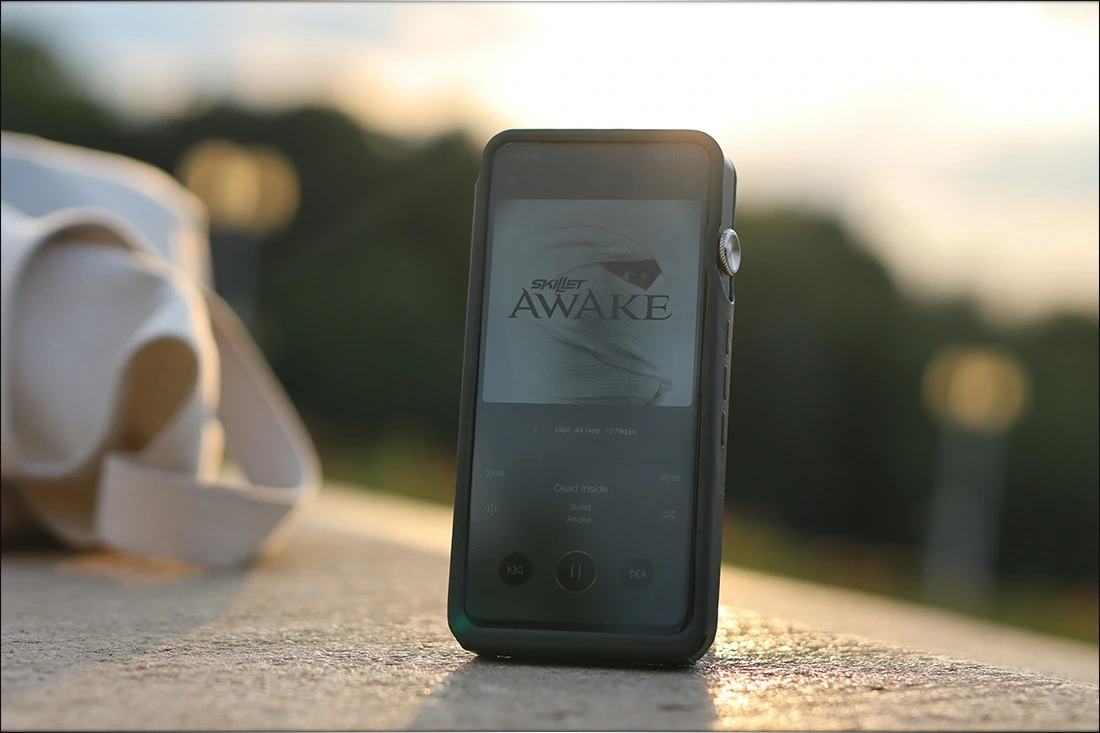 Although many have complained that DX320 cannot turn off by itself, being an Android device, it can be set to have a sleep timer, and to shut down after a certain amount of time, and it can also be configured to shut down after the last song has completed. All in all, using DX320 is fun, and it is capable of all the features a high-end DAP should be capable of, with a strong battery life, good software support, and great versatility in features. There was not a single file I threw at it and it wouldn't read, it can go through folders with thousands of songs easily and smoothly, and reads all the tags of my music properly, including music with titles in Japanese. While some users noted a small difference in signature after a firmware upgrade, I would not avoid upgrading the firmware for a specific sound. iBasso is the kind of company that will answer customer requests, and they keep upgrading their DAPs even to this day, for DAPs I reviewed over two years ago, basically you don't just purchase a product and are left alone, but you're supported on your entire trip with them. 
Sound Quality
It is important to note that DX320 plays well with both IEMs and headphones, and with AMP11 MKIIs, the power delivery over the balanced output is enough for very hard to drive headphones, and you'll have no trouble with your hard cans, including iBasso SR-2, iBasso IT07, Ambient Acoustics MAD 24, Oriveti OV800, Audeze LCD-5 through Eletech Inferno, HIFIMAN Edition XS, Earsonics ONYX, IMR Dark Matter, HIFIMAN Arya Stealth, Sivga SV023 and RAPTGO HOOK. Generally, with IEMs there is no background hissing or noise, and with a super low output impedance of just 0.38 OHMs, even Campfire Ara and other highly sensitive IEMs will be dead silent with DX320. Even better, the headroom allows it to have more than enough power for driving even LCD-5 rather well, with a full, satisfying bass, and outstanding resolution.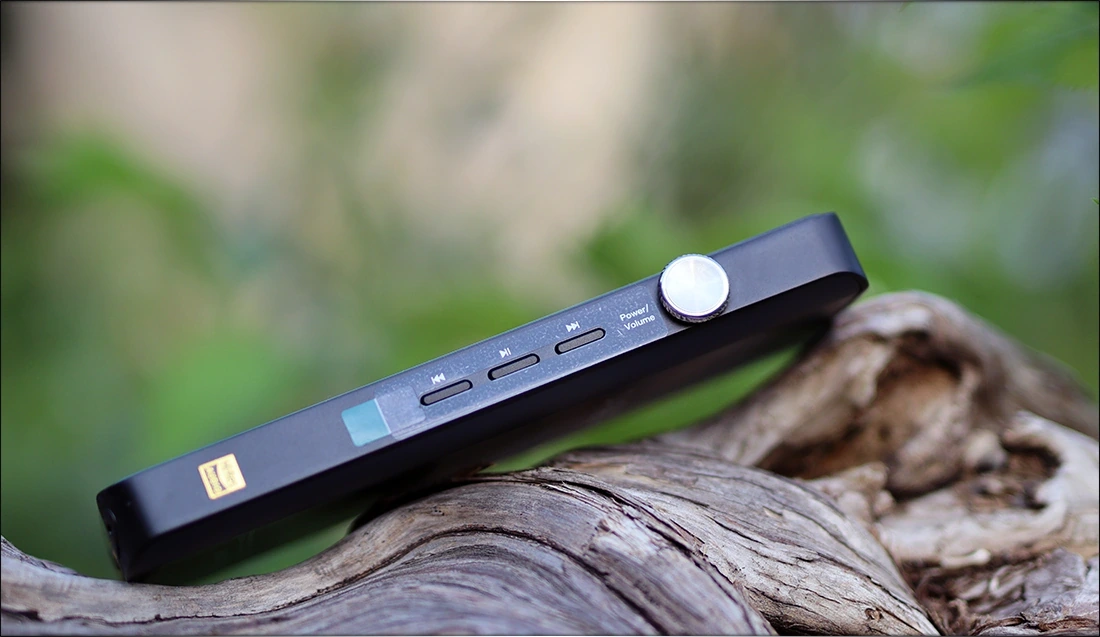 Naturally, you'd expect a portable music player priced at the level of DX320 to do some damage when it comes to sonics, but I honestly wasn't ready for a DAP to be this good, especially as I very recently reviewed SE180 and SP2000T. We have a really natural, forward, aggressive and clean presentation from DX320, which is dynamic and punchy. In fact, this is something that happened to me, but I had to give it while driving Sendy Audio Peacock a few times to my girlfriend Haru to confirm with me whether it sounds quite different from Astell & Kern SE180, because I thought my mind was playing tricks on me. While I was not a big believer of them using a new DAC manufacturer changing the sound a lot, DX320 has an entirely different level of dynamics and punchiness from DX300 and SE180, it is on a different chapter entirely. The sound is much more forward and punchy, more aggressive, but it has a more punchy bass presentation too. I usually rely on Cyrus One Cast for driving large headphones because it has the best bass quantity and resolution from the desktop equipment that I have on hand always (since it is a stereo AMP too), but DX320 can drive most headphones even better, more punchy, with better bass impact and depth. 
Speaking of the bass, DX320 with AMP11 MK2s has a really raw and impactful presentation. The bass depth is spectacular, and it is something you will hear even with IEMs, not just headphones, it's like a thick dark outline to music that draws more definition, better separation and nuance. Surprising is the fact that it is not overly analytical in its bass presentation, rather giving headphones a rich and bold allowance of bass, a full and warm presentation with an earth-shaking impact. This doesn't mean that it is colored in the frequency response, but while some sources and DAPs can struggle to give especially hard to drive headphones the bass they need, DX320 drives them effortlessly, it delivers full blows with natural speed, it delivers a rich and realistic impact. Even better, the bass is well controlled and never loose or out of control. DX320 sounds more like a high-end desktop headphone amplifier than a portable music player, and this is when driving full sized headphones at ear bleeding volumes, not at quiet and normal volumes.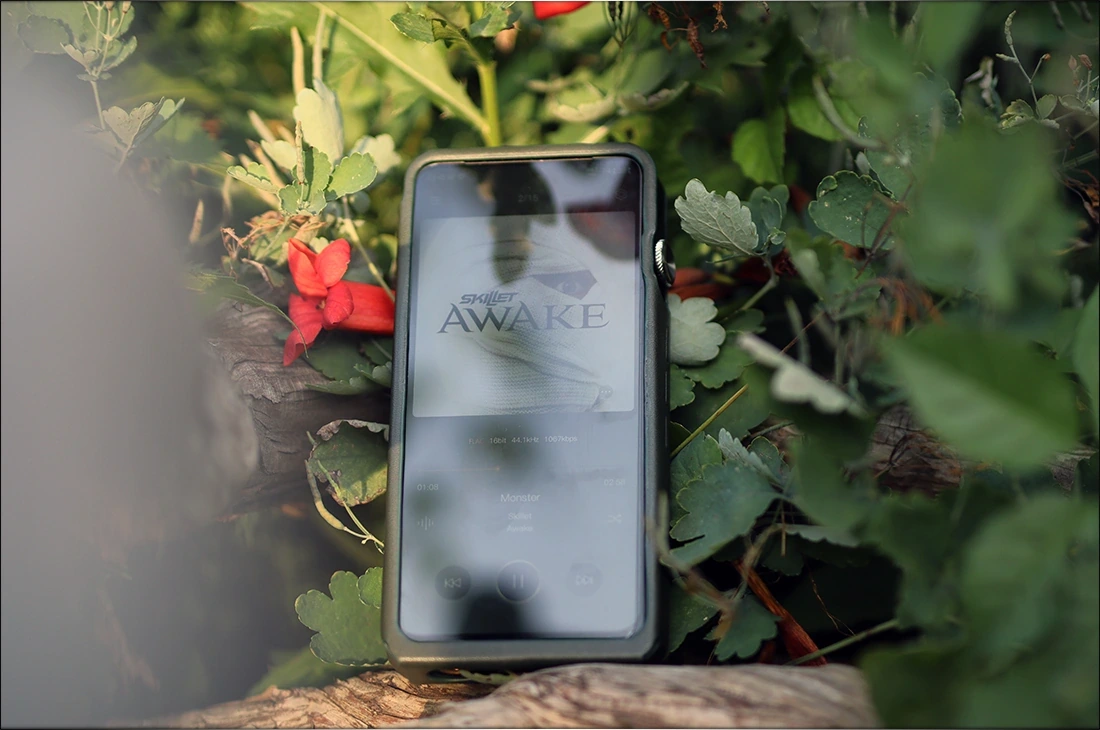 Pushing DX320 further to its limits, the midrange is also surprisingly clean and has a low distortion, so you can bring DX320 to 60-63, literally the maximum volume, with headphones that ask for it like Sivga SV023 or Audeze LCD-5, and it still won't distort or mis present your music. The midrange of DX320 is different from all the DAPs I tested to date, being more aggressive, more nervosa and more forward, more punchy and more dynamic. It has such a specific and unique presentation that upon bind testing, it is recognizable by a newcomer in the first 10 seconds. If DX300 would be a precise studio, DX320 is a live concert, and I'm absolutely in love with live concerts and that raw emotional presentation. Bold and heavily outlined, well separated and detailed, the sound of DX320 has certain details and intricacies that other DAPs don't highlight as well and you'd easily miss when enjoying them. Especially with rock, and pop music, guitars and background instruments are much better outlined on DX320 than on any other DAP I tested to date. Female voices like those of Hime Hina are super sweet, bearing that childish, yet energetic presentation for which I crave their music. Pianos have full leash over your emotional state, while even super aggressive music like Grindcore or Technical death metal makes sense, guitars in particular always sounding sweet and well controlled on DX320. Somehow, it manages to have such low distortion and such a high headroom that you're always craving for more of its music, making me spend hours on a row listening to it, but also powering me to have more inspiration when working on my Visual Novel project Eternal Hour, and programming it. 
The treble of DX320 is super well extended, and while it has more sparkle and better air than most competition, it comes through as sweeter and more controlled than I expected it to be. The treble is indeed more peppy and has excellent energy, but it is distortion-free and never harsh, DX320 has a unique way of being smooth in the textures, giving all music musicality, and a lively, energetic presentation. I can't emphasize this enough, but I never felt like lowering the volume on DX320 regardless of the headphones I was using, including Audeze LCD-XC and Audeze Euclid and HIFIMAN He6SE. DX320 knows how to play a natural, bright, open and well extended treble, but a musical and natural one. DX320 is not bright, it has a good treble, so you'll love it, regardless whether you have bright or smooth headphones. Energy is never bad in music, people never run from treble, people run from false, bright and shrill treble that imitates real resolution, but DX320 relies on no tricks, just pure, awesome sound. 
If we're to be honest, the dynamics of DX320 alone will be enough to make you go for it. But the super well layered soundstage and superb imaging will make you come back again and again. DX320 defines a stereo image that's really hard to miss, it has better instrument separation than most DAPs, and most of this can be attributed to its huge headroom, as it is the first DAP I'm never compelled to push to its absolute MAX with any headphone, even those that are ridiculously hard to drive. It won't distort, but the volume and bass and resolution is enough even at 55/63, you don't need to climb all the way to the mountain peak to find peace. 
Comparisons
iBasso DX320 vs iBasso DX300 (1599 USD vs 1199 USD) – It is time to compare the new to the old, and to see in detail what changed since iBasso designed and launched DX300. The shape, ergonomic and packaging is fairly similar, so the outer design differences won't be very noticeable. The AMP compatibility is also there, and most AMP modules that work with DX300 will work with DX320 and vice versa. The battery life is higher on DX300, which consumes less, and the display is exactly the same too, but the Android version has been updated from Android 9 to Android 11. The differences start to appear in the DAC which has changed, along with the default AMP module, and DX320 has theoretically lower power compared to DX300, by a few mW, but in practice, and to my ear, sounds more dynamic, and the headroom is bigger. Both DAPs support streaming and apps with no issues. Both support MQA. Subjectively, using the new DX320 feels smoother, although both have the same CPU and GPU, and the same RAM. The new Android 11 support is nice, and DX320 feels much closer to how my smartphone feels. The overall sonic performance, both with their default AMP card is quite different, DX320 having a more forward, more detailed, more dynamic sound, with a bolder and stronger sub bass presence and control. The overall resolution is improved on DX320 which can reveal more dynamic, but which can also sound more natural and organic at the same time, everything seems better defined and more realistic. If both are using the same AMP module, the differences are lower, but still exist, and they are generally in favor of DX320 which sounds more natural, realistic and clean, more forward, and punchier. 
iBasso DX320 vs Lotoo Paw 6000 (1599 USD vs 1200 USD) – We have better software and support on DX320, which has wifi, support for Tidal and a much larger, easier to see on display. Both devices have a good battery life, but PAW 6000 can survive a bit more, and consumes less in standby. PAW 6000 supports LDAC for Bluetooth DAC function. Both have USB DAC functions. The sonic performance is quite different, and while both have good detail levels, DX320 is more forward, more dynamic and has a deeper bass. Lotto PAW6000 is softer, lighter and considerably less fatiguing, but also a bit more intimate in its presentation. DX320 is more holographic and wider in sound, with a bolder, stronger bass. If you're a bit fan of impact and lows, DX320 would make the obvious option here, while if you enjoy a softer, more mellow presentation that's still very technically able, PAW6K is still an excellent option. I want to emphasize on the fact that PAW 6000 does not have Tidal Streaming and many of the functions of DX320, so if those are important for you, it would be a good idea to check out DX320, or DX300, if you have a lower budget for audio.  
iBasso DX320 vs Astell & Kern A&Futura SE180 (1599 USD vs 1500 USD) – Here things start to get interesting because both DAPs have a good package, good build quality, and good software. DX320 comes with a better case from the factory, while SE180 does not come with a case from the factory. The USB DAC function is present on both, DX320 needs a little update to eliminate delay on its USB DAC function. Both support Tidal and Streaming, but you could even install games on DX320, and it has a more colorful, brighter, bigger display that makes navigation and usage better. The corners and edges on SE180 make it less practical for actual on-the-go usage. In terms of sonics, they are two very different monsters, and I would describe SE180 as really smooth, clean and thick, with a magical bass and smoothness to its sound, while DX320 is an aggressive, impactful and fun sounding DAP with a bolder midrange, better treble extension and airiness, and more overall instrument separation. I've used SE180 extensively, for tens of hours and can say for sure it is fully worth the money, but DX320 presents music in a more dynamic fashion, it is surely refreshing to hear something outdo SE180 at dynamics and boldness. The overall resolution is about the same, slightly better on DX320 where it shows certain details better, but both are outstanding music players. Bottom line is, if you prefer an aggressive and dynamic sound, it is DX320, while if you prefer a smoother, thicker, warmer, more balanced sound, SE180 it is. Also, it is really important to note the shape and ergonomics, SE180 is smaller, and more edgy design, while DX320 is larger but more ergonomic. Both have replaceable AMP modules and a high number of AMP modules available on the market now. The actual usable battery life is similar. 
iBasso DX320 vs Dethonray Prelude DTR1+ (1599 USD vs 1000 USD) – Although DTR1+ is less pricey than DX320, I always commented that it has an outstanding sound, so it makes a good comparison here. The overall shape and ergonomics are better on DX320, which has a smoother design, while DTR1+ is more blocky in design. Feature wise, DX320 has it all, while DTR1+ needs a microSD to even start, and that's about it, it has no connectivity and no USB DAC function. The battery life is similar between the two, with DX320 actually having a slightly better battery life in real life. The sound is what would make you go for either, and both are outstanding, but very different too. DX320 is forward, punchy, dynamic and aggressive, with a bold and strong bass, and an airy, open and sparkly treble. By comparison, DTR1+ has a much smoother, more thick and warmer sound, with more focus on the lower midrange and less focus on treble. DTR1+ is relaxing and effortless, while DX320 is really punchy and dynamic, vivid, but also never relaxing, always up to start a fight. 
iBasso DX320 vs FiiO M17 (1599 USD vs 1800 USD) – Although I never made a formal review on M17, I was able to borrow one from a friend to get an idea on how it sounds. The overall results are all in favor of DX320. First off, the temperature seems to still be an issue for FiiO, and while I can understand there being the need for a desktop DAP, we're in the music hobby, having a DAP that needs a fan defeats the entire purpose of a portable or a music player. The ROHM DACs in DX320 are better both on paper and in real life experience than FiiO's Dual ES9038 PRO DACs. Although M17 can achieve a higher maximum power, the control at high power is not as good as DX320 has at high powers, and you can't really use M17 for long at those power levels. DX320 is considerably lighter at 310 grams vs M17 at 610 grams. Even though M17 has a much larger 9200mAh battery, and it has quick charge with QC4.0 and FD, it takes far more to charge M17, about 4.5 hours compared to the 2.5 hours it takes to charge DX320. The battery life is still similar, with DX320 actually surviving more in real life practice. Then again, M17 gets incredibly hot during usage, and comes with an incredibly noisy 80mm fan to cool it off, while DX320 barely gets warm even if it is used while charging / while used as a DAC / AMP. FiiO's software is closer to a vanilla android, but it tends to have more random bugs and glitches, while with DX320 I experienced no bugs except for the slight delay if using it as a USB DAC. iBasso is known to offer better software support and updates for much longer and for older products compared to FiiO. In fact, for iBasso, you can purchase it from basically any seller, including direct, while for all FiiO products I do not recommend purchasing directly from FiiO as support has generally been poor for customers. Using both with full sized headphones, M17 has more driving power, but using both with IEMs, especially if using both over the 4.4mm Balanced jack, DX320 has far less noise and hissing, as it has a super low output impedance of 0.38 OHMs, while FiiO M17 has a huge output impedance of 2 OHMs, which will be audible with most IEMs and even some headphones. The actual sonic presentation is more dry, more analytic on M17, while DX320 comes through as sounding more dynamic, more punchy and more colorful. If I was comparing them to anything, M17 sounds exactly like you'd expect a solid state device to sound like, dry, a bit clinical, analytical and neutral. DX320 is more forward, more punchy, more dynamic, more colorful, more organic and more pleasing to listen to, more musical. I would compare DX320 to really well implemented tube AMPs, and it even has the AMP module with tubes, AMP13, while M17 sounds pretty neutral and flat in comparison. Both DAPs have a sparkly treble, but it is colder on M17, while it has a more natural presentation on DX320, although DX320 manages to extract a bit more detail in the finer treble from rock and metal songs. At the end of the day, DX300 MAX or a future DX320 MAX should be really interesting to hear, and I hope my friend will allow me to borrow his M17 again to to match with DX320 MAX if there will be such a DX320 and I hope I'll get to hear and review it. 
iBasso DX320 (with AMP11 MK2s) vs Astell & Kern A&Ultima SP2000T (1599 USD vs 2500 USD) – The final battle is the hardest to win for DX320, as not it stands against an opponent that actually has the same Tube tech iBasso imbues in their AMP 13. At the physical level, SP2000T is smoother, more ergonomic than SE180, and about equal to DX320. Both are excellent music players, SP2000T has actually a similar battery life or a slightly lower battery life compared to DX320, depending on what modes you're using on both. The background noise is slightly higher on SP2000T thanks to its tube AMP design, especially if you're using the tube mode. USB DAC function is present on both, and Wifi speed is similar, but in certain situations can cause extra noise for SP2000T, while I didn't notice any effect on using even AMP13 and Wifi for DX320. The driving power is similar between the two, but DX320 has a slightly better control at maximum volume, especially as I had the chance to test both extensively with the same pair of headphones. At any rate, both can drive IEMS and hard to drive headphones, and both have a similar maximum volume with the same headphone. SP2000T has a more granular volume control, while DX320 has fewer volume steps, which I found to prefer, as I'm either around 55 or 60 on DX320, and don't need to further detail that volume level. In terms of sonics, I will most probably return to SP2000T when I'm reviewing AMP13 for DX320, because the sonics are fairly similar if you're running SP2000T in full solid state mode and DX320 in the Tube+OP-AMP Mode. SP2000T has the tube as the main selling point, but while the AMP module is replaceable on DX320, it is not on SP2000T, which might cause some concerns over the maximum usable life of SP2000T. This being said, SP2000T's NuTube has a huge quoted battery life and it should last for more than 10 years of actual usage, so it shouldn't be an issue. SP2000T has a really dynamic and engaging sound, which is similar to DX320, but DX320 is more forward and more punchy. The dynamics in particular are slightly higher on DX320, while SP2000T always has a higher number of harmonics and a slower decay, which can make the sound more pleasing and closer to a tube sound than DX320 sounds like with the default AMP11 MK2s. If you're using AMP13 on DX320, it can sound fuller and even more tube-like than SP2000T, but it will have a lower maximum volume, as it has a tube-only mode (using the corner headphone output on DX320). SP2000T can indeed sound more rich, especially with acoustic music, while DX320 sounds more organic and punchy, more dynamic and has a cleaner presentation. Both are quite impressive, and I'm curious if DX320 will have a similar rich presentation when paired with AMP13, so please check out Audiophile-Heaven in the future too, because my review on that will be coming along as well. 
Value and Conclusion
We've seen a price increase for DX320, which now costs 1599 USD instead of the 1199 USD the older DX300 cost at launch. This being said, everything improved massively compared to the good old DX300 and the new DAC architecture is totally worth it. In fact, even if you purchased it for DAC usage, it would still provide better value than most DACs in that price range, given the fact that DX320 can be used as a Roon Endpoint, it has Tidal Streaming, along with Bluetooth DAC and USB DAC functions, it can drive most headphones out there, and has a beautiful design, with a superb 6.5″ IPS display, and a rather strong battery life.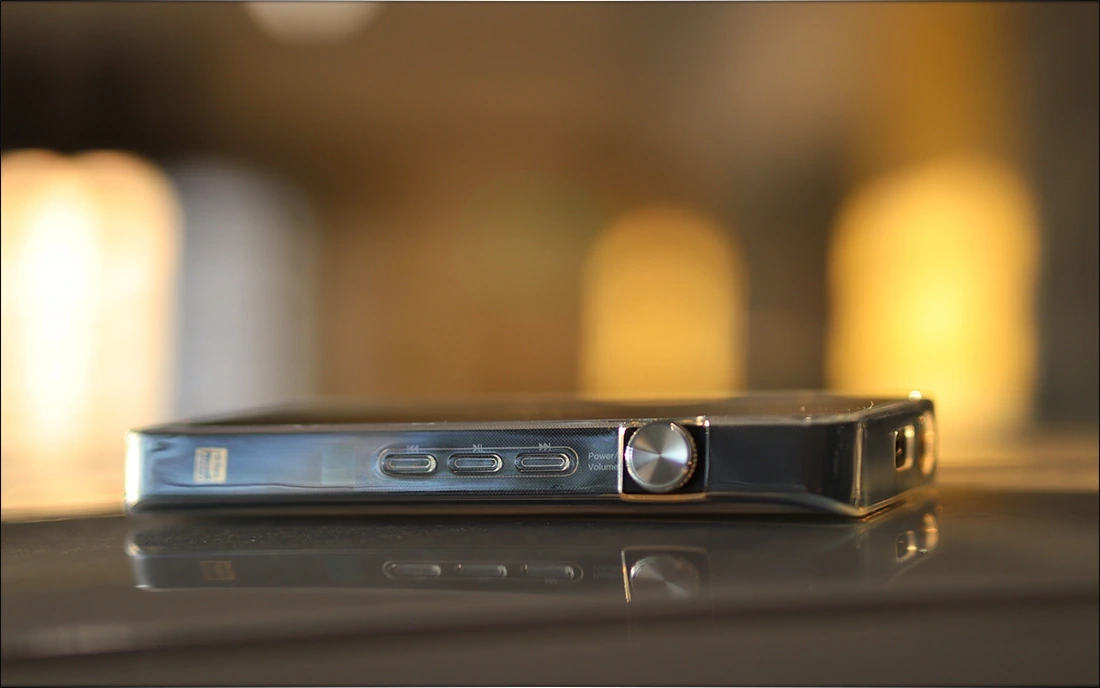 Before the end of today's review, I want to add iBasso DX320 to Audiophile-Heaven's Hall Of Fame as one of the best DAPs ever designed and engineered by mankind, and with iBasso's strong support behind, I'm sure it'll be relevant for years to come, just like DX 300 and DX240, both of which will remain in the Audiophile-Heaven Hall Of Fame for their exceptional performance, price to performance ratio, and ingenious design.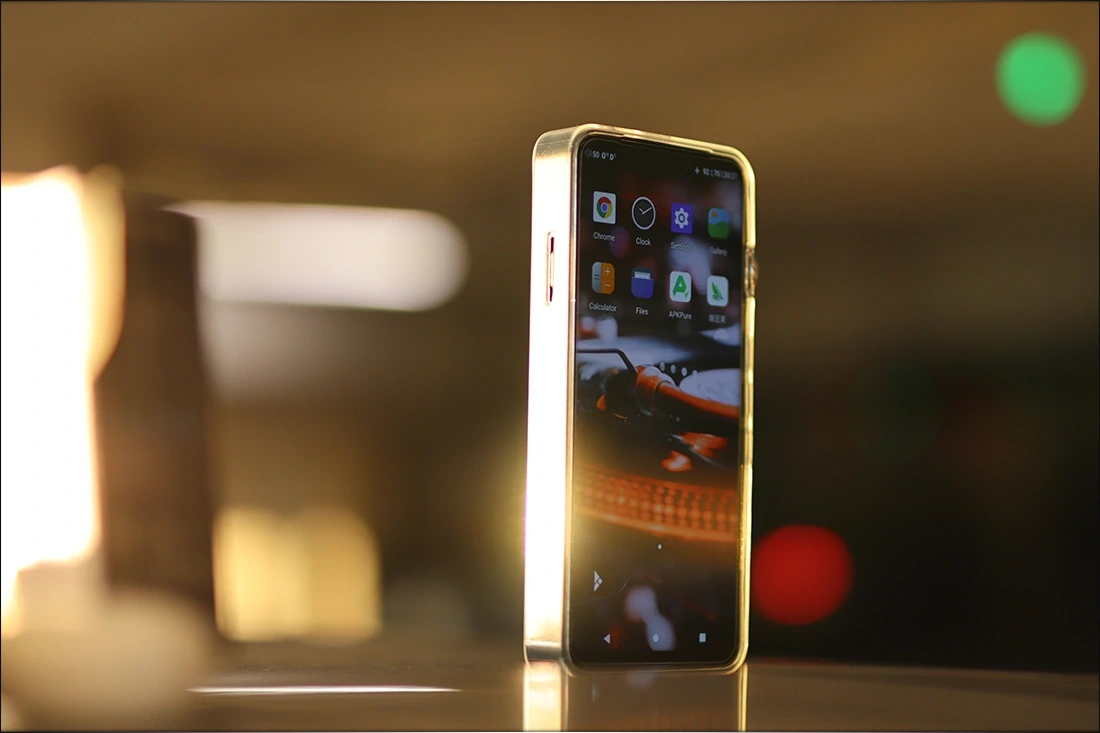 At the end of today's review, if you're looking for the ultimate sonic performance, but if you want versatility as well, if you want a DAP that can do pretty much everything, but won't feel far from the quick and snappy smartphone experience, and if you're looking for a sleek, ergonomic and elegant design, with good battery life, iBasso DX320 is an excellent choice, capable of driving most headphones out there with ease, but with no background noise and at the current price of 1599 USD, a great deal for the first DAP in the whole world to implement the new ROHM MUS-IC DAC Chips. 
Product Link
You can grab one from www.amazon.com here: https://amzn.to/3oFIsuM
If you're in the UK, you can grab one from www.amazon.co.uk here: https://amzn.to/3cTGBQA
And if you're from Europe, you can grab one from www.amazon.de here: https://amzn.to/3cSKzc7
Package & Unboxing
The unboxing experience of DX320 is interesting, and as always, iBasso provides geometric packages with a rich set of accessories. Although you'll see a clear plastic case in many of the photos used in today's review, that one case does not come with DX320, but rather with AMP13 NuTube Module, which I will be reviewing later on as well. The full package of DX320 includes: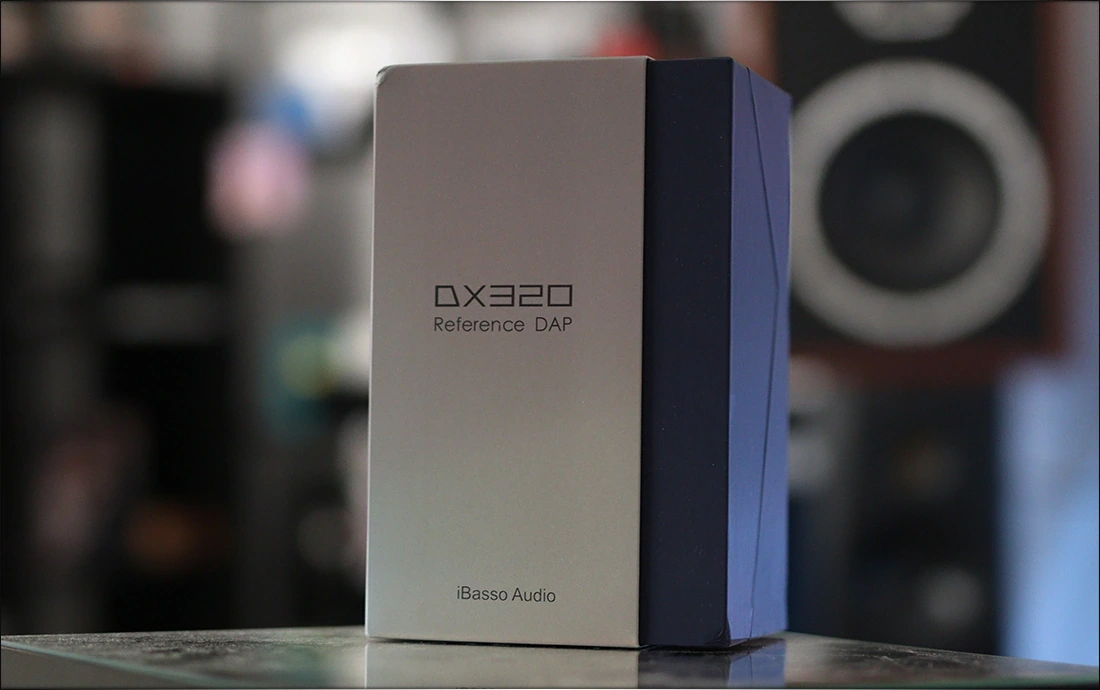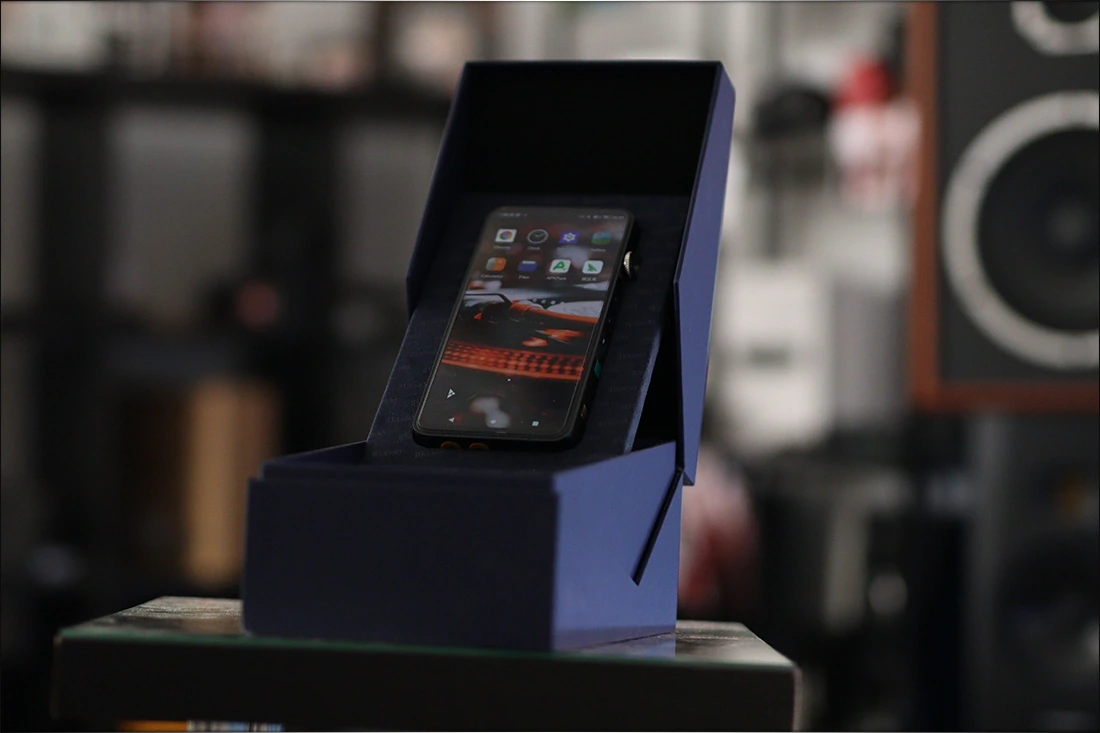 iBasso DX320 Music Player

Leather Case

Manuals 

Burn-in Cable

USB Cable

Glass Screen Protectors

Coaxial Cable

AMP11 MK2s Amplifier Module (installed on DX320 from the factory)
Technical Specification
DX320 has a pretty nice spec sheet, and it includes: 
(with amp11 MK2s)
Model: DX320

Color: Black/Green

Screen: 6.5″ IPS full screen (2340×1080,

Audio Format: MQA, APE, FLAC, WAV, WMA, ACC, ALAC, AIFF, OGG, MP3, DFF, DSF, DXD, and DST

USB C: USB 3.1

Output Port: 4.4 mm/2.5mm Balanced Phone out (Line out)/ 3.5mm Single Ended Phone out (Line out)/ 3.5 coaxial output/ USB OTG output

WiFi: 802.11b/g/n/ac (2.4Ghz/5Ghz) 2×2 MIMO

Bluetooth: V5.0

RAM+ROM: 6G LPDDR4X, 128G ROM

Battery: 3.8V 4000mAh Li-Polymer battery for the digital section and 3.8V 2000mAh Li-polymer battery for the AMP card section.

Charging Time: 2.5 hours

Average Play Time: 10 hours (The play time varies with different resolutions, volume used and headphone/IEM loads.)

Size: 162mm*77mm*17mm

Weight: 205g

Contents: DX320 Player+AMP11 MK2s / USB-C cable / coaxial cable / burn-in cable / Leather case / screen protector
4.4MM/2.5MM BALANCED PHONE PORT:
Maximum Output Level: 7.1Vrms

Output Power: 1200mW@32ohm, 168mW@300ohm

Frequency Response: 10Hz~40kHz +/-0.3dB

S/N: 125dB

Dynamic Range: 125dB

THD+N: -112dB (no Load, 2.8Vrms), -110dB (300R Load), -103dB (32R Load)

Crosstalk: -120dB

Output Impedance: 0.38ohm
3.5MM SINGLE ENDED PHONE OUT:
Maximum Output Level: 3.5Vrms

Output Power: 380mW@32ohm, 40mW@300ohm

Frequency Response: 10Hz~40kHz +/-0.3dB

S/N: 125dB

Dynamic Range: 125dB

THD+N: -112dB (no Load, 2.8Vrms), -110dB (300R Load), -103dB (32R Load)

Crosstalk: -120dB

Output Impedance: 0.38ohm
---
---
--- Please remember to stay safe, and always have fun while listening to music!---
 - If you have a dime to spare, and donate, to help us with electricity and work expenses, it would make my day much brighter, as it would help me improve things around the website and increase the frequency of my posts - 
---
Full Playlist used for this review
We listened to more songs than those named in this playlist, but those are excellent for identifying a sonic signature.  PRaT, Texturization, Detail, Resolution, Dynamics, Impact, and overall tonality are all revealed by those songs. We recommend trying most of the songs from this playlist, especially if you're searching for new music!
https://www.youtube.com/playlist?list=PL_cjBXGmwSHSdGcwuc_bKbBDGHL4QvYBu
--- Contact Us ---






---
---