Earsonics ONYX IEMs – French Melody
ONYX is the name of the latest high-end In Ear Monitor handmade in France by the French company Earsonics, priced at 490 EUROs or roughly 561 USD. This is a proof of art movement made by the company, trying to create the most affordable high-end IEM they could, all while including all their best technology inside an IEM that's made to last. Given the price point, it will be compared to other high-end IEMs like Campfire Mammoth (650 USD), Moondrop Illumination (800 USD), Metalure Wave (600 USD), and NX Ears Baso (550 USD). 
Introduction
Earsonics is getting more and more interesting, but to be honest I'm writing this introduction after having heard the Onyx and having spent some time with it, as it has been under NDA since it arrived to me and until now. I have around 20 IEMS in queue for reviewing at any given moment, so whatever gets ear time for me must be really good, Onyx being an IEM that got absurd amounts of ear time, only in light of its sound. The tech inside is interesting, your top of the line hybrid setup, with BA and Dynamic Drivers, all cast in plastic, then placed inside a metallic case for best sonics. The company is really trusty, answers communications quickly and is deeply involved with music loving communities, being there for you, ready to back their products, which are all hand made in France. 
It should be noted that I have absolutely no affiliation with Earsonics, I am not receiving any incentive for this review or to sweeten things out. I'd like to thank Earsonics for providing the sample for this review. Every opinion expressed is mine and I stand by it. The purpose of this review is to help those interested in Earsonics ONYX find their next music companion. 
Product Link
Official Link: https://www.earsonics.com/store/produit/onyx/
You can grab one from www.amazon.com here: https://amzn.to/3uE26eM
If you're in the UK, you can grab one from www.amazon.co.uk here: https://amzn.to/3oEamrr
And if you're from Europe, you can grab one from www.amazon.de here: https://amzn.to/3Lp6lko
Packaging
First things first, let's get the packaging out of the way:
The package of Onyx is really nice, but Earsonics is the only company I know that includes only two sizes of tips with their IEMs, rather than three. They have Foam tips, two sizes, double flange tips, two sizes, and single flange tips, two sizes. I like Single Flanged tips the most, both for sonics and comfort. 
There is also a high quality carrying case included with Onyx, and the usual paperwork. The cable included with Onyx is a high-end one, and there's also a cleaning tool to keep your Onyx as sparkly as possible. All of this comes in a matte black box, offering a high-end unboxing experience for Onyx. 
Build Quality/Aesthetics/Fit/Comfort
The build quality of Onyx is great, they are cast in a metallic shell, with something unique, the Acrylic Heart technology. This basically means that all the drivers inside of Onyx are cast in an Acrylic shell, and they have the True Wave patented technology as well, basically a special tube inside the bore that helps guide the sound in Onyx for the least distortions and reverberations. 
We have a combination of dampers and passive filters that help filter the sound of the 4 drivers inside of Onyx. They have a hybrid configuration with a full sized dynamic driver, and three balanced armatures, two for mids and one for treble. The low impedance of 16.5 Ohms means that Onyx is inherently slightly sensitive to hissing, so you should try to use them with a high-end source, my favorite pairings being with iBasso DX240 + AMP 8 MK2, Lotoo PAW 6000, Dethonray DTR1+ Prelude, and Astell & Kern SE180 + SEM2. 
The company acquired experience over decades, and while they are extremely popular with music makers and within Europe, some of the USA-based music lovers as well as Asian music lovers may not have heard yet about the company that's actually worth hundreds of thousands of Euros in capital. Onyx is their road to making their best sound affordable and offering it all, along with their handmade magic, for just 490 EUROs. 
We have a detachable cable with a 2-Pin connector for Onyx, and the default cable is a high-end UnHr 4C Cable made of Silver. The cable is not very tangle-prone and not springy, and does not carry any microphonic noise. The IEM shell is exactly the same as the one found on Corsa, but that does not mean that the inside parts are the same, just the metallic shell that cancels unwanted vibrations and noise. Metal is theoretically the best material to make your IEMs and Earphones from, but usually tends to suffer a bit from being heavy, and if the IEM is not well designed, you will feel some shocks, like it used to happen with early TRN models. Onyx has no such issues, and having all the drivers isolated in the Acrylic Heart provides the best of both worlds – the sonic abilities of a Metallic Shell, and the customizability and support of the Acrylic Heart.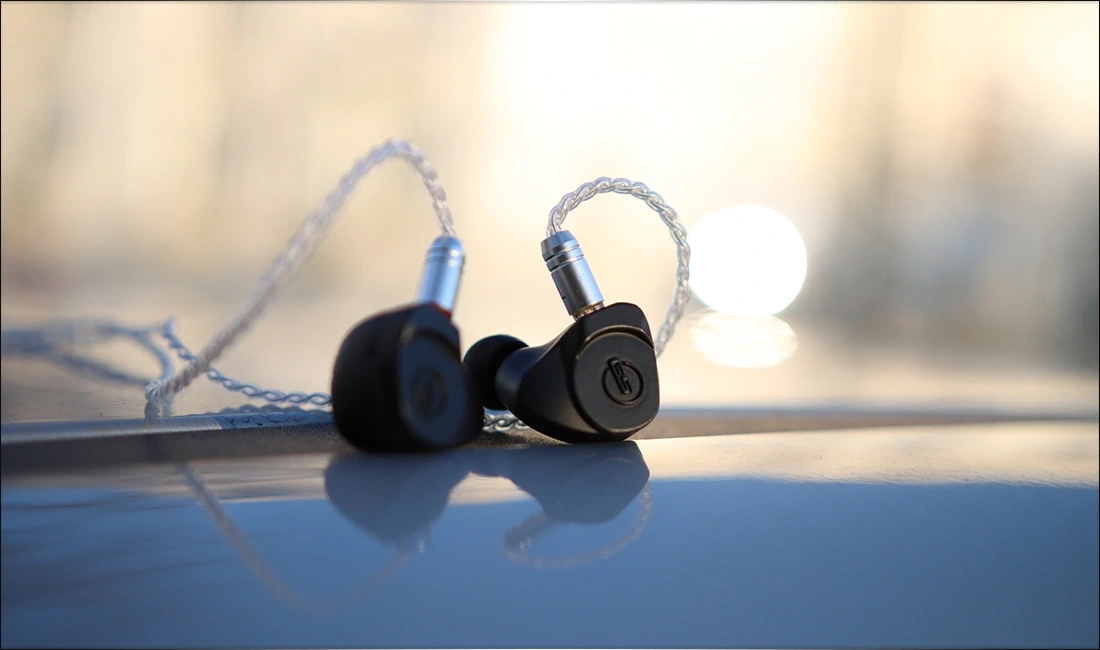 The IEMs themselves are really comfortable, slightly on the large and heavy side of things, but they fit my ears perfectly. You can remove the faceplate using a screwdriver, but that should not be needed, since the company offers one of the best warranties and support out there. The company is not a consumerism oriented company like most Chifi companies, and they avoid releasing unfinished things often just to push the next, rather refining each product, making them by hand, and offering the best experience possible with them. To achieve this while keeping the cost of Onyx low, they plan on selling those directly only, to cut off distribution costs, so my usual Amazon links may not work until the company hopefully puts the Onyx there. 
Onyx has a low impedance, and has an extremely high sensitivity of 122db/mW, but in reality I am around 100 / 150 on Astell & Kern SE180 for a medium listening volume, so they are not exactly easy to get loud despite the very friendly specifications. They are comfortable though, and I never felt like taking them out of my ears, plus from all the testing I tend to be sensitive to poorly fitting IEMs lately, something which will be reflected in most future reviews, Onyx providing an excellent comfort for me. Passive noise isolation is great, with 20-25 dB of passive noise isolation, and the leakage of Onyx is zero, as my girlfriend could not hear me blasting death metal at ear bleeding levels, two meters away from her. 
Sound Quality
Earsonics Onyx is the kind of IEM that I tried once and I knew it was love. Some IEMs I appreciate after a while, some I never learn to love truly, and some, like Onyx, I know I love right away. The sound is exactly what I am looking for, in so many ways that you will feel my review is tilted, but the only thing that could tilt my words is the raw performance of what I'm reviewing. If you honestly think I care what any company or third party thinks about my words, you need to remember the reason I am writing – for you – the reader. With that out of the way, I've been using Onyx with a few high quality sources, including iBasso DX220, iBasso DX240, Astell & Kern SE180, Astell & Kern SP2000T, Lotoo PAW 6000, Dethonray DTR1+, and others. Generally speaking, Onyx is somewhat sensitive to hiss, and I recommend high end sources. It also scales a lot with the source, so entry-level sources won't provide an experience that's as fun as flagship DAPs. This being said, iBasso DX160 is more than enough for driving Onyx. 
The overall signature of Onyx can be described as engaging, energetic, vivid, U-Shaped and distortion-free. The point to which it is distortion-free is extreme this time around, and this is an IEM with a really strong sub-bass and treble, but which is never fatiguing, an IEM that has excellent imaging and instrument separation, all confined in a natural soundstage. The level of detail that Onyx has is comparable to most flagships like Unique Melody MEST MK2, and Campfire Ara, but all is packaged with an impactful bass and sub bass, the dynamic driver doing an exceptional job at keeping the sound balanced and enjoyable. From the really natural and slightly midrange forward, bright signature that Corsa had, I assumed that the company would always go for pretty natural sound, Onyx only keeps the musicality and beautiful voicing for female voices from Corsa, and packages it all in a much more puchy tuning. 
The bass of Onyx is deep, fun, full, impactful and enhanced considerably above the midrange. The sub-bass along with parts of the mid bass are heavily boosted, and Onyx has a strong and bold sub-bass punch, rumble and impact. The bass has a natural to slightly quick character, so it is revealing, and helps recognize textures in electronic music, listening to Rap, EDM, Pop and Dubstep being a really revealing experience, while the whole tuning has enough musicality that Bass in Jazz music, along with Rock is natural and smooth. I am head over heels after having a strong sub bass with my music, especially since I enjoy some hood rap and trap, Onyx being able to deliver bass deep and full enough to satisfy any basshead lusting for some of those lows. The bass of Onyx extends as low as 20 Hz, and is enhanced as high as about 60 Hz, so there's both sub bass, and some punchiness in the mid bass that you feel in your jaw, but you also hear with every drum hit. You could say that they're so rhythmic that they give you a dance fever, you feel the need to stand up, and move your body to the music you're enjoying. Even on very brash songs like Nekrogoblikon – Chop Suey, the chorus has extremely deep and earth-shaking bass notes, presented naturally smooth. The voicing is sweet, and the guitars are always musical and playful, although the cymbals are bright and sparkly. No sign of fatigue, and this is one of those bands everyone finds fatiguing, both in ideology, videographic content, and recording. 
We reach the midrange of Onyx, which is something else entirely, really detailed, clean and distortion-free. You don't really understand what distortion-free means here, until you hear another ~600 USD IEM side by side, and feel the need to increase the volume on Onyx because you can. You can hear more of your favorite sounds with absolutely zero distorts, and you can enjoy more of those sweet voices without fearing they will become harsh once you reach ear bleeding levels. Onyx presents music maturely, with a ton of textures, but those are smooth and not fatiguing, plus it has one of the sweetest presentations for female voices, but also natural presentations for male voices. It is immensely musical and enjoyable. Even ethereal sounding music like Mili – world.execute(me); sounds incredibly vivid and sweet, detailed, with a strong bottom end, and a sparkly top end, all without being fatiguing. Switching back and forth with some Chifi IEMs, even those around the price point, you will notice that they are also detailed, but harsh. Somehow, Earsonics managed to apply the passive filters and dampeners in just the right way to make Onyx detailed, yet fatigue-free. 
Earsonics managed to deliver a really bright and peppy treble, with tons of air and a healthy extension up to 16-17kHz, yet deliver it in such a manner that it is never fatiguing or too much. The treble texture is fairly smooth, and treble speed is slow, character slightly wet, in such a way that Onyx delivers music enjoyably, yet bright and vivid. It reminds me a lot of the original IE800, and the signature I enjoyed from them, but Onyx is far more refined, more detailed, and has a more musical midrange. In songs like Reol – The Sixth Sense, the treble is presented vividly, sparkly and bright, energetic. The bass is deep, hits with every occasion, while Reol's Voice is as sweet as I've ever heard her. 
Onyx has a natural staging, in both width and depth, and their sound is remarkably dynamic and punchy, surprising in how good the instrument separation and overall refinement is. Onyx has great imaging and separation. Bringing the voices and singers slightly closer to the listener is part of why Onyx is so enjoyable, as you hear all that delightful bass, bright treble, but never lose the voicing and forwardness / actual instruments and music from music. We're most sensitive to midrange, and we literally have evolved to listen for human voices, so the way Onyx has a natural stage compliments their sound well, for Rock, Metal, Pop, EDM, Dubstep, Rap and Commercial Music in general, even Punk and Downtempo.  
Comparisons 
Earsonics ONYX vs Moondrop Illumination (561 USD vs 800 USD) – We have good IEMs here, Illumination is a bit smaller, but not much lighter than Onyx, so the comfort is comparable between them. The sonic presentation is fairly different, with Illumination focusing on having a soundstage as wide as possible, but also losing some treble extension in the process, and some bass extension, Onyx sounding better in both how low the bass can go, but in how high the treble can go, with Onyx having better overall imaging and instrument separation. The resolution and raw detail is comparable between them. Illumination works better with classical, orchestral and music that is supposed to sound wide and expand a lot, where Onyx sounds better with pretty much everything else, especially because Onyx has a special musicality and texture smoothness that makes it more musical, and better controlled at extremely high levels, where Illumination can become a bit harsh. The two do follow a somewhat similar V-Shaped tuning, so they are directly comparable. 
Earsonics ONYX vs Metalure Wave (561 USD vs 600 USD) – I still enjoy the Wave every now and then, and it is not an IEM that has faded away for me. The construction quality is equal between them, and a 10/10. The overall comfort is equal, they are about the same weight, and about the same size, and both have a smooth, ergonomic inner part. Wave is deep, lush and full, where Onyx brings more treble and more edginess to the sound. The overall signature is deeper, more lush, fuller, and smoother on Metalure Wave. Wave also sounds more bassy, wider, and has a much smoother texture that flows more naturally, you could say it is more musical. Onyx sounds more edgy, more live, more lively, presents a bit more detail in music, also more dynamics, a more precise stereo imaging, and better overall instrument separation. I love both, but when I feel like a pure basshead I go for Wave, while when I want some treble bite and sparkle, I go for the Onyx. 
Earsonics ONYX vs NX Ears Baso (561 USD vs 550 USD) – Nx Ears Baso did not arrive to me with a case, so I am not sure what the default package looks like, but the carrying case is better on Onyx. The default cable is better on Onyx as well. The overall comfort is equal, slightly better on Baso which is somewhat smaller, but also slightly heavier. The sonic presentation is more edgy, more forward, more dynamic and more detailed on the Onyx. Baso sounds smoother, with less treble energy, less bass impact, and a more intimate sound. Onyx sounds wider, with more depth and better overall imaging and separation. 
Earsonics ONYX vs Campfire Mammoth (561 USD vs 650 USD) – We have two high quality IEMs here, one that's bass heavy, and one that's V-Shaped. The comfort is equal, although Mammoth is a bit lighter, and smaller. Default cable quality is slightly better on Onyx, which has a thicker, better constructed cable, which is a bit more tangle-prone. The overall design is more edgy, and cooler on Mammoth. The overall sound is much thicker, deeper, more wooly and smoother on Mammoth. Onyx is brighter, more impactful, more dynamic, and presents more detail in music. Mammoth has a slightly wider soundstage, with more depth, but Onyx has better imaging and instrument separation. Onyx sounds more live, more forward, more aggressive, more punchy, Mammoth is smoother and more relaxing. 
Value and Conclusion
At the end of the day, Onyx has tremendous value, and consider it is a handmade IEM, offers perfect quality control, plus the company doesn't want to sell you the next IEM next year, they want you to have a long lasting IEM you'll be enjoying for a while. That's something to respect and a good reason to go for a product, Onyx being an excellent example of a well done IEM that could have cost much more for the sonic performance, but the company decided to do every music lover a favor and offer it for a really good price.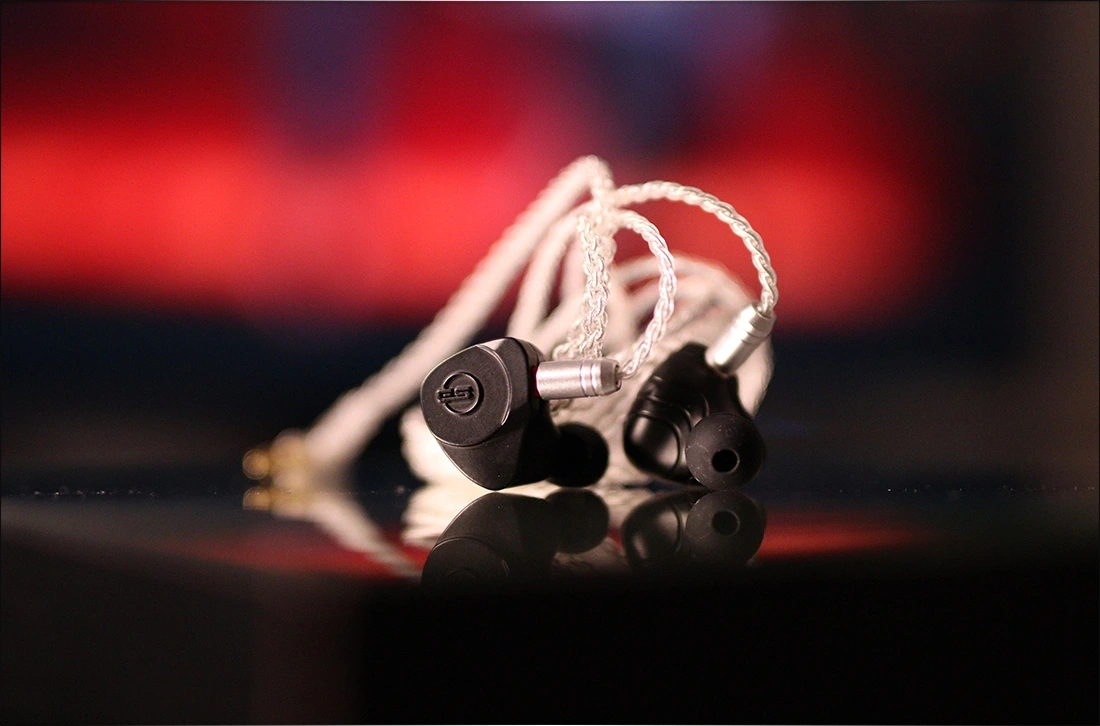 The package is not that interesting, and this is literally the only IEM in the whole world that comes with two sizes of tips instead of three, but the construction quality is excellent, cable quality is excellent (silver cable included in the price), and the comfort is superb. 
If you're into a strong, vivid, dynamic and punchy sound with a strong sub-bass, strong bass, clean and detailed, distortion-free midrange, and a bright, yet non-fatiguing treble, then Onyx has a superb sound. In fact, where Corsa didn't quite make it to Audiophile-Heaven's Hall Of Fame, Onyx does and this is an IEM I really enjoy on a personal level. 
At the end of today's review, if you're looking for a high-end IEM for a fair price, if you want a bold, vivid and dynamic signature with extreme clarity, if you want a handmade IEM, designed by professionals, and if you want to taste what zero-distortion music sounds like, Onyx is an excellent offering and you can taste a flagship for a mid range price with this one, so fully recommended purchase from me. 
Product Link
Official Link: https://www.earsonics.com/store/produit/onyx/
You can grab one from www.amazon.com here: https://amzn.to/3uE26eM
If you're in the UK, you can grab one from www.amazon.co.uk here: https://amzn.to/3oEamrr
And if you're from Europe, you can grab one from www.amazon.de here: https://amzn.to/3Lp6lko
---
---
--- Please remember to stay safe, and always have fun while listening to music!---
 - If you have a dime to spare, and donate, to help us with electricity and work expenses, it would make my day much brighter, as it would help me improve things around the website and increase the frequency of my posts - 
---
Full Playlist used for this review
We listened to more songs than those named in this playlist, but those are excellent for identifying a sonic signature.  PRaT, Texturization, Detail, Resolution, Dynamics, Impact, and overall tonality are all revealed by those songs. We recommend trying most of the songs from this playlist, especially if you're searching for new music!
https://www.youtube.com/playlist?list=PL_cjBXGmwSHSdGcwuc_bKbBDGHL4QvYBu
--- Contact Us ---






---
---