Dethonray Prelude DTR1+ Music Player – Beautiful Music Box
We're reviewing a music player priced at 1000 USD, named Dethonray DTR1+ and made for those who don't want no touchscreen, and who want a pure music experience with no distractions. This means that the first competitor it needs to have is QLS QA361 (700 USD), a DAP also made on this philosophy, but also high-end DAPs from this price bracket like FiiO M11 PRO (650 USD), iBasso DX240 (950 USD), and Lotoo PAW 6000 (1200 USD). For the pairings part of today's review, we will be doing pairings with Dethonray's own Tender 1 IEMs (700 USD), Campfire Audio Ara (1300 USD), Sendy Audio Peacock (1750 USD), and Crosszone CZ-10 (900 USD).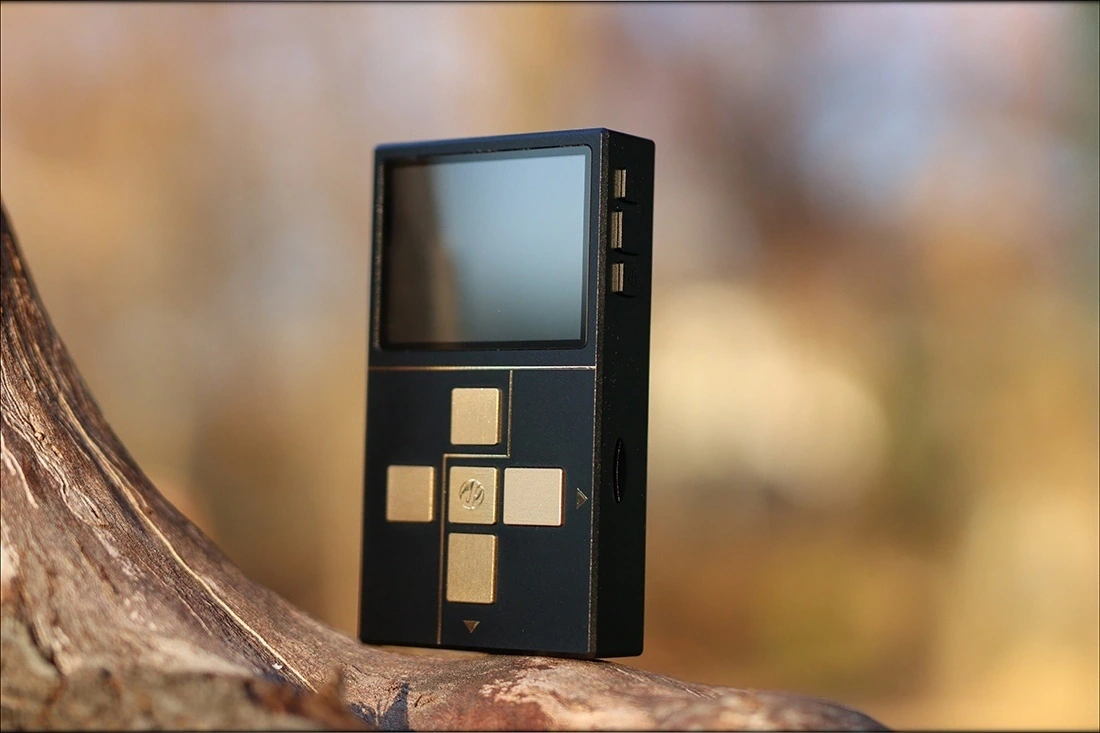 Introduction
While Dethonray is not a new company on the market, this is the first review I am writing about their products, and DTR1+ shows an entirely different approach from most audio companies, with a minimalistic and practical design. The best part about DTR1+ and the company is that we have someone who wants to focus on sound alone, and while I personally like to have extended usage scenarios, there are many readers who asked me when are we getting a new high-end minimalistic DAP, so this one is all for you. Dethonray is sold through Amazon, Linsoul, Hifigo, and all the popular shops, so you don't have to worry about warranty, but if build quality is any indicator, I can safely say this is not your average Chifi DAPO, there whole unit is much more solid and easier to take apart and fix. It took me less than 1 minute to take it apart, you can replace the battery in less than 2 minutes and put the unit back together. 
It should be noted that I have absolutely no affiliation with Dethonray. I'd like to thank Dethonray for providing the sample for this review. This review reflects my personal experience with the Dethonray DTR1+ Prelude. Every opinion expressed is mine and I stand by it. The purpose of this review is to help those interested in Dethonray DTR1+ Prelude find their next music companion. 
Product Link
You can grab one from www.amazon.com here: https://amzn.to/3E1yf0Y
If you're in the UK, you can grab one from www.amazon.co.uk here: https://amzn.to/3dVTvuD
And if you're from Europe, you can grab one from www.amazon.de here: https://amzn.to/3p0W1WN
Package & Unboxing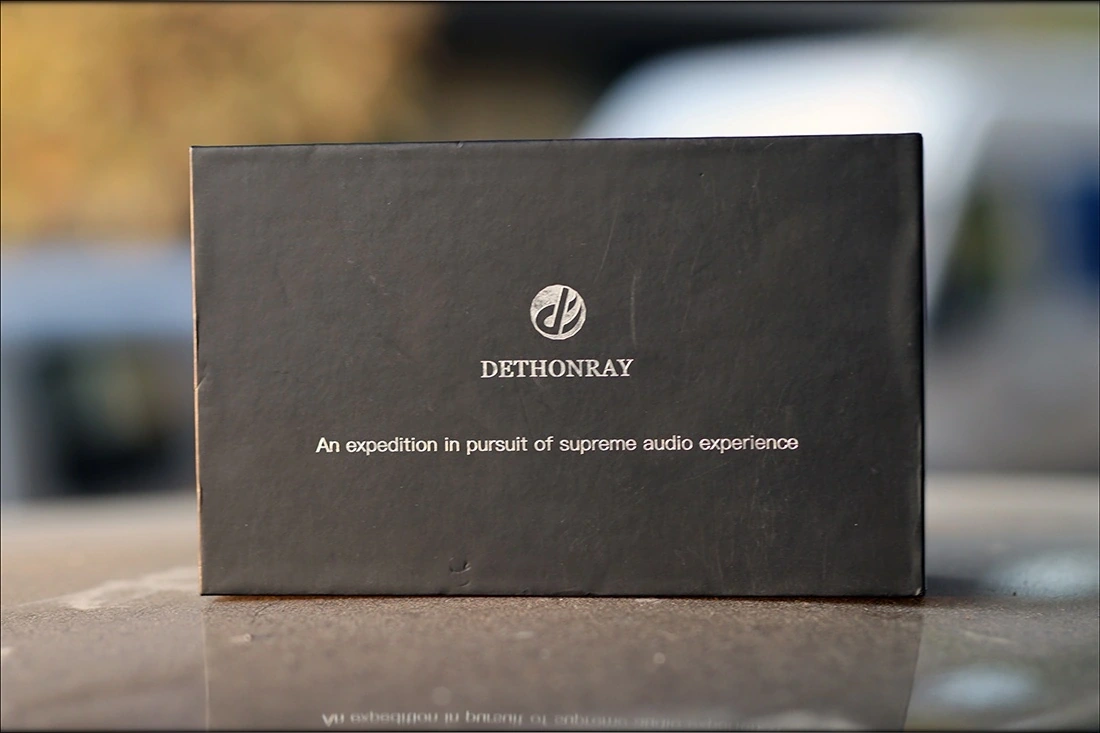 The unboxing experience of the DTR1+ is minimalistic and practical, with the package not being a big focus for the company. You will have to pay attention to the USB converter, as you can use a Type-C cable to connect to their own USB box, but you will need their thing to charge the DTR1+. The unit has a Micro-HDMI connector. 
Build Quality/Aesthetics/Functionality
We can see the "practical" and minimalistic approach with DTR1+, as it is a DAP made for those who don't want any bells and whistles, just a music player that works, and which won't break on you when your solo hits. Although the unit is designed with build quality in mind, I noticed that the golden writing on the back started to peel, as the unit is very scratch resistant and the back of the unit doesn't have a sticky surface. 
The unit is simple, and it only uses buttons for navigation, with 5 total buttons at the front, 4 acting as directional arrows, and the center button acting as a select button. You can use the left and right button for forward and backward navigation through the DTR1+'s menus. On the right side of DTR1+ we can find three buttons, a plus volume button at the top, a volume minus button in the middle, which is larger in size, and a power button at the bottom.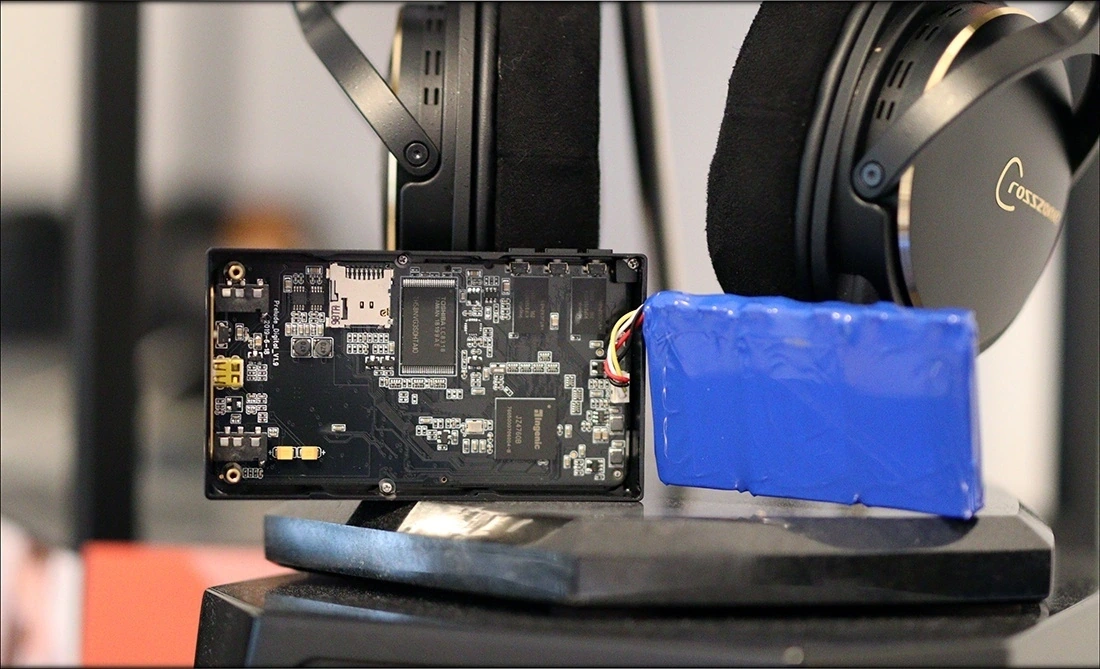 Beneath the volume buttons, we can find a microSD slot, and we have no buttons on the left side and the top of the unit. DTR1+ does not have any internal memory, and relies on the single microSD slot for playing music, having a maximum capacity of 1 T for the microSD slot. It can read all of the popular file formats, including WAV, FLAC, WMA, Mp3, APE, AAC, ALAC, AIFF, DFF, DSF, OGG, ISO and DTS files. 
We have both outputs at the bottom of DTR1+. As it has a 3.5mm Headphone output, and a 3.5mm Line Out. Both of those are Single Ended. The bit depth and sample rate supported are both redbook files, and up to 768kHz / 32 Bit files. The unit sports a really strong SNR of 117 dB, and a low THD of just 0.008%. The Maximum Power Output is 6VRMs + 6VRMson a 16 OHM load, basically the same as Astell & Kern SP2000T on the balanced output. All of this is supported by a AK4490EQ DAC, part of their Verita series, which supports up to 32Bit / 768kHz, as well as DSD decoding.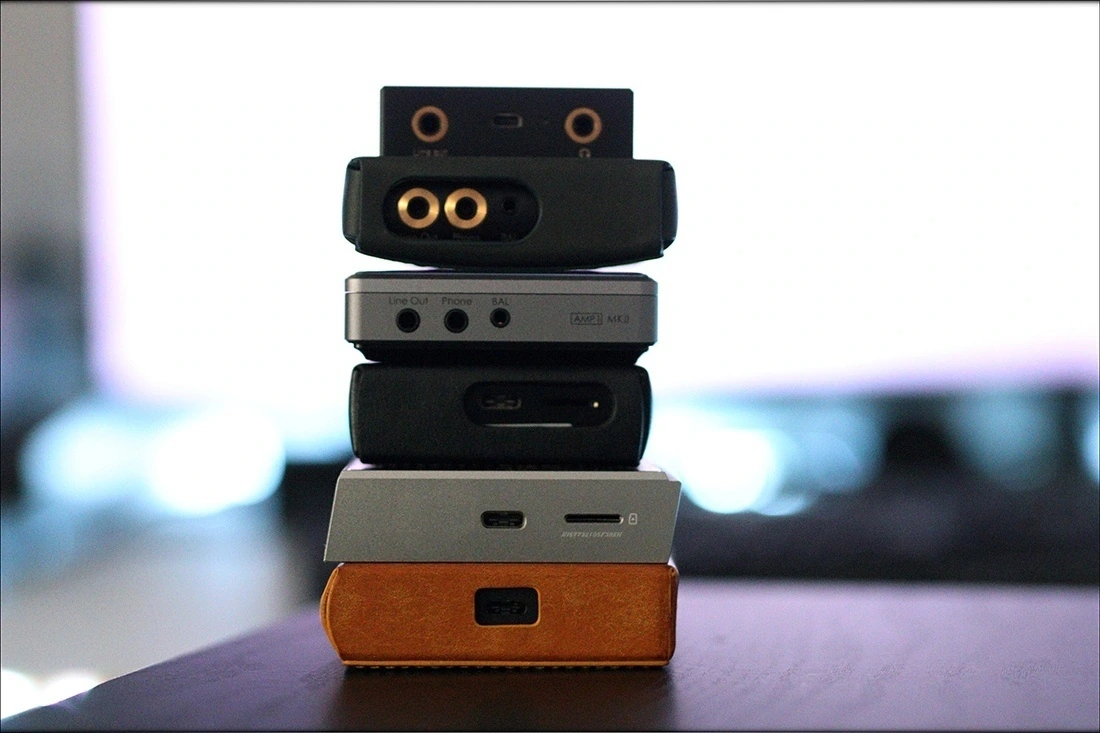 The electronic part of DTR1+ is the most impressive feature about it, as it has a dual battery system, separate power input for the audio and the software part of DTR1+. In fact when I tried taking it apart, the battery does look customised for it. Having more connectors, and a different design than the batteries I've seen in iBasso DX240 and iBasso DX220. Speaking of the battery, you can get around 7-8 hours of actual battery life using high volumes, and hi-res files. Charge times are slower, taking around 1.5-2 hours to fully charge DTR1+. DTR1+ is really well isolated from electromagnetic interference, having a thick metallic case, thick and solid solder joints. Since I saw this online, I want to correct it, the back is made of metal, not plastic.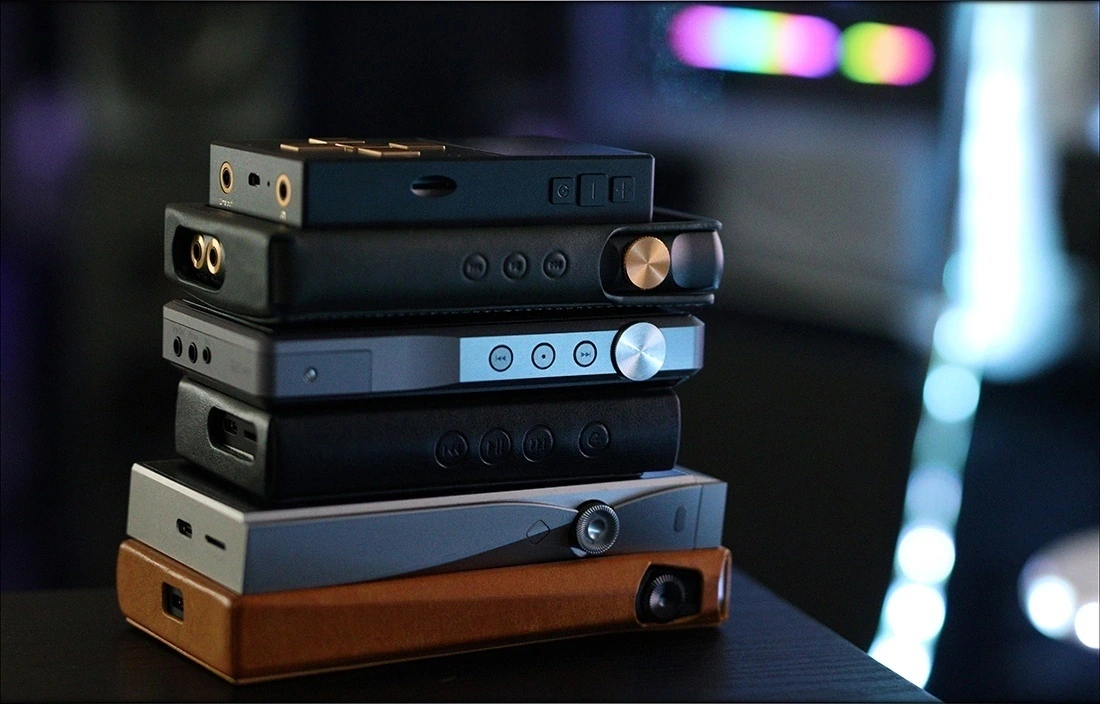 The unit is incredibly ergonomic in hand, has the perfect size for a portable DAP, the edges are not harsh and do not cut into my hands, plus the corners are chamfered just enough to make handling of DTR1+ comfortable. You can use the mini HDMI port to charge the DTR1+, but it can't be used for using it as a USB DAC or for file transfer. The design of the charger is done this way to prolong the battery life, as the battery and DTR1+ does not get even warm, but the converter unit where you plug in a Type-C USB cable does get quite warm. At maximum volume, playing Redbook CD files, and playing at Extra High Gain, with HIFIMAN Ananda, the unit gets warm, but not hot to the touch, even after a few hours of playback, which is how long just the sonic impressions part of today's review took to write. 
Software
Dethonray DTR1+ is based on a deeply customised Linux install, using an OSS Sub-system, which is rated to have a 30% higher efficiency than the ALSA system used in previous releases. The overall GUI is named "Ocelot", with a Graphics Abstract Layer, and System Control Module, promising extremely quick file navigation, and indexing up to 160.000 songs.  Given the nature of DTR1+ I expect most people to use Flac files, as well as hi-res files more than they use Mp3 files, so you shouldn't be able to read the file limit.
We need to use the 2.32 TFT screen to navigate the DTR1+, which has a lower than typical brightness, which is also why I didn't manage to take many photos of the display and what the image looks like. It feels like it has the same display as FiiO X5 Mk2 used to have, but I haven't seen that DAP in years, so I'm just talking from memory. 
We have a Gain function that goes from Low to Extra high gain, for very hard to drive headphones. Most IEMs and headphones sound best on Extra high gain, except for those with really low headroom like Etymotic ER3SE, which feel overdriven on Extra High Gain, but sound alright on High Gain. The background is black and has no hissing, plus no problems, regardless of the gain setting. DTR1+ supports album art, along with showing the bit depth and data rate of the song that's being played. You can do individual clicks for volume control but keeping the volume button pressed works as well, for changing the volume, if you want to do higher adjustments. The same can be said for the navigation buttons, you can press once, or keep pressed to browse a longer folder list. 
DTR1+ supports shuffle, and as far as I can tell, from a rather large folder, I got no repeats, and it is able to avoid going for a similar song list every time I try to do a shuffle. Since I removed all replaygain data from my music, I'm unable to confirm whether it supports replaygain, but it supports playthrough folders when it finishes a folder, it can read CUE files, and allows for disabling or enabling button navigation while the display is turned off, although he option is called "switch track when lcd off". We have multiple filter options, but like with most DAPs, I can detect only minimal differences between different filters. 
You can seek through a song by keeping the right button pressed, or seek backward by holding the left button. Pressing the up or down buttons will change the song regardless of how long you keep them pressed. 
Sound Quality
I've used a multitude of IEMS and Headphones to test DTR1+, including Campfire Ara, HIFIMAN Arya Stealth, Audeze LCD-XC, Unique Melody MEST MK2, Final Audio A8000, Etymotic ER3SE, AIAIAI TMA-2 Studio, Moondrop Illumination, and Sendy Audio Peacock. The company takes such great pride in their Tender 1 IEMs, that I can confirm it sounds absolutely amazing with them. They optimised the pairing so well, that I would say DTR1+ gives a more beautiful sound to DTR1+ than any other source, including more expensive DAPs like Astell & Kern SE180, or iBasso DX300, or Lotoo PAW 6000. It is surprising to say, but while I'm almost maxed out on the volume when using Dethonray Tender 1 as IEMS, with Planar magnetic headphones like HIFIMAN Ananda, HIFIMAN Arya Stealth, or HIFIMAN Sundara, I am getting a loud, controlled, distortion-free signal, and most importantly, loud enough, at around 60/70. 
The sound of DTR1+ can be described as extremely natural, dynamic, engaging and slightly thick, meaty, and powerful. I am surprised by the detail level it is able to render, as well as by how velvety, clean, and controlled its sound is. It is extremely capable of driving anything it touches, even though it only has a 3.5mm output, and I would compare its 3.5mm Single Ended output with SE180 + SEM2's 4.4mm Balanced output. DTR1+ is incredibly analogue-sounding, similar to how magnetic tapes, and Vinyl have a certain musicality and thickness to them, a certain coherency and smoothness for all music. Where I was always fearing to increase the volume on QLS QA361 because it was too gentle, and it would sometimes edge on distortion, I am heading towards the absolute maximum volume DTR1+ is able to push because it has a perfectly black background, and a smooth texture presentation. Even the maximum amount of bass it is able to push is controlled, clean and delightful to listen to. 
The bass of DTR1+ is absolutely delightful, deep, clean, and heavy. The impact of the bass is natural, not overly hard, not soft either. The bass speed is also natural, and the bass notes blend beautifully with vocals, and other instruments. Even on songs like All Time Low – A Love Like War, the bassline is heavy, thick and controlled. The bass never becomes overpowering, but it is really enjoyable, because you can clearly tell every bass note when the bassist touches it, without it ever distorting. Even on bass-heavy songs like Master Of Death – Ultima, the bass is controlled, at maximum volume, ultra high gain, running headphones like HIFIMAN Ananda and Arya stealth. This tiny DAP can actually play the heavy, choked basslines of Master Of Death in a clean and controlled way. The transparency is superb, and the overall depth is incredible.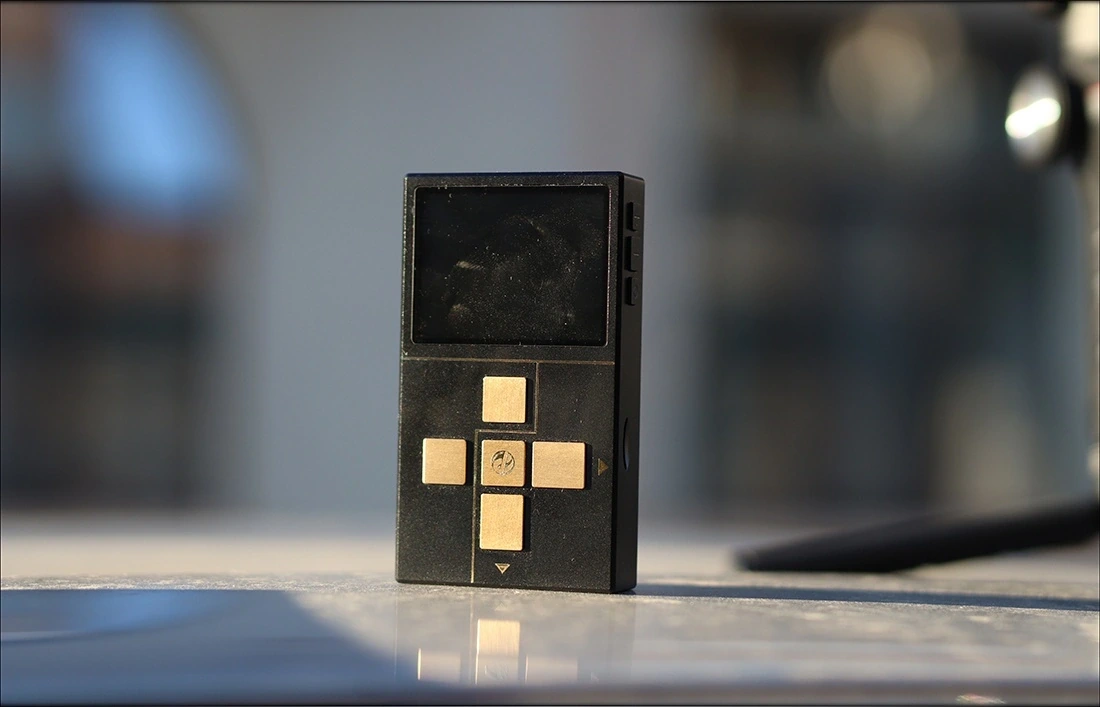 The midrange of DTR1+ is also superb, as it presents music in a really smooth, natural and analogue-sounding way. There's a superb amount of detail and clarity that DTR1+ has, which helps create a deep and wide soundstage. I'm able to tell instruments apart much more easily, as it has super instrument separation and imaging, plus a slightly thick presentation to the midrange, which adds to how fun listening to it is. On songs like Escape The Fate – Gorgeous Nightmare, DTR1+ portrays the voices really sweet, the guitars juicy and detailed, but everything is smooth and fatigue-free. This is very different from the way DX240 would portray everything forward and aggressive, with a stronger attack, DTR1+ making music out of even the most aggressive songs played through it. The overall soundstage is huge, but also deep, rounded in size, and DTR1+ has micro-details that can put Sony 1Z to shame. Well, the maximum volume can also put Sony 1Z to shame, DTR1+ being the kind of DAP that has power to drive LCD-XC, but control and low noise to keep Campfire Ara and Dethonray Prelude1 controlled.  Even on very complex songs like Dance Gavin Dance – The Cuddler, DTR1+ is able to play all of the guitar lines simultaneously, without breaking a sweat. It keeps both John Mess and Tillian singing in their own space, without ever botching up their voices, keeping all lyrics clean, while the bass line is thick, heavy and authoritative, giving the whole song substance. 
DTR1+ has an airy and clean treble, with excellent overall smoothness in texture, but good energy and presence. To explain on this, I'm still on Dance Gavin Dance – The Cuddler, and I can hear the cymbal crashes, but they are not intruissive at all, yet I can clearly call whenever they hit a cymbal. Drums are also aligned perfectly to the guitars, but the texture of the cymbal crashes is smooth, so they are never fatiguing or overbearing. On songs like One Morning left – Reetu Inda House, the cymbals are presented behind the voices, playing in the background, DTR1+ offering a studio view, almost like you're between the band, and they're singing especially for you. Once again, I can notice that sweet and delightful bassline that's clean and distortion-free, and a really black background. All effects in the song are presented cleanly, with good detail and an expressive touch for the voices. Pianos in particular are magic on DTR1+, they are presented in such a way that you always stop and think, this is how a real piano should sound like. Each piano key has weight, but they have a natural weight to them, you can close your eyes, and portray the pianist pressing each one of them. For a piano player, the experience of playing piano needs to have some weight to each keynote, and this is why people fell in love with the DTR series, the way sound has substance and weight, but a natural one, it is not dark, it is natural and analogue-like. 
Where I could call DX240 the most "live" DAP I heard to date, DTR1+ will be the most analogue-like DAP I heard so far. It is like magnetic tape, it has thickness, it has substance, it has weight to each musical note, it has a magical smoothness to all textures and its sound is mature and refined. Perfect for enjoying absolutely everything, from metal to rock to emo to dubstep to industrial, and perfect to pair with any headphone or IEM, from HIFIMAN Ananda, Audeze LCD-XC, Campfire Ara, and especially Dethonray DTR1+.
Comparisons
Since I don't want to repeat this in every comparison, except for QLS QA361, every other DAP on the market has a more complex function and more abilities than DTR1+, this one being the most basic of them all. This doesn't mean that it can't sound better, just that it won't be a good choice if you rely a lot on Tidal, Spotify, or if you need something more complicated than playing music from your microSD card. I will focus on the default sonic presentation of each DAP, comparing how they sound, how well they drive headphones, rather than focusing on the usage and features part of the review. 
Dethonray Prelude DTR1+ vs Lotoo Paw 6000 (1000 USD vs 1200 USD) – The first comparison I draw is between a really gentle sounding DAP, the 6000, and a really full and natural DAP, the DTR1+. The overall soft presentation of PAW6000 is great for room music, and it helps if you want to have less impact, and more focus on gentle details and nuance. DTR1+ sounds fuller, deeper, and more impactful, with a deeper soundstage, and more rumble to the sub-lows. Both DAPs have excellent control at extremely high volumes, and PAW6K has a great overall clarity, but DTR1+ has that magical sweetness and warmth of "analogue" mediums, not being colored, but rather playing music very smooth and fatigue-free. 
Dethonray Prelude DTR1+ vs QLS QA361 (1000 USD vs 700 USD) – This one is the true competitor for DTR1+, and QLS did a great job at sounding gentle and soft, but Dethonray does not care about any of that notion, sounding much more full and with better impact, a more natural sound, and better dynamics. Generally speaking, DTR1+ is fuller and deeper, more airy in the treble, and has much better control at loud volumes, where QA361 tends to introduce some distortion, with both headphones and IEMs. It is hard to look back on the review for QA361 and say I would've known it could have less distortions, since only now I heard something that is cleaner and fuller. All in all, I recommend DTR1+ much more to those looking for a simple DAP that sounds good, it is much more analogue-like, with better overall detail levels, a wider and a deeper soundstage, more impact, and much better dynamics. 
Dethonray Prelude DTR1+ vs iBasso DX240 (1000 USD vs 950 USD) – Where I could call DX240 the most live DAP I reviewed to date, DTR1+ is the most analog sounding one. The sound of DTR1+ has much more depth, more control at high volume, with lower overall distortion, but also less aggressiveness, a laid back presentation, with more focus on sounding full and refined. DX240 sounds much more forward, more aggressive, can present more detail, but the soundstage ends up being deeper on DTR1+, the overall tonal balance is slightly brighter on DX240, while it is fuller and more natural on DTR1+.
Dethonray Prelude DTR1+ vs FiiO M11 PRO (1000 USD vs 650 USD) – The overall sound is much fuller, more controlled and has lower distortion on DTR1+. There's a much better overall detail level on DTR1+, with more control, and better driving power on the single ended output. This becomes relevant with headphones that don't come with a balanced cable, and M11 PRO can sound digital, with glare and some edge, it can be somewhat fatiguing, put right next to DTR1+ which is smooth, well rounded, clean and controlled, with an excellent extension both ways, and tons of micro detail. The soundstage is wider, and much deeper on DTR1+, as it shows why paying for a DAP that can do only music can be worth it, when it does it really well. 
Pairing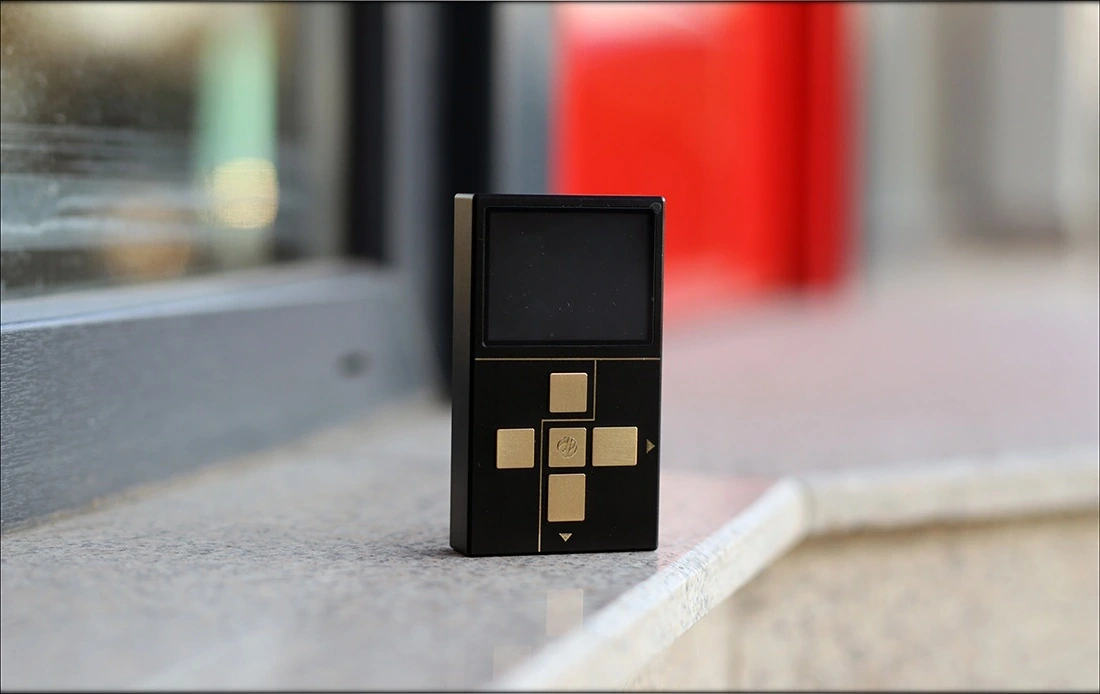 Dethonray Prelude DTR1+ + Dethonray Tender 1 IEMs (1000 USD + 700 USD) – The company clearly made Tender 1 to be driven from DTR1+, and I noticed that at all sonic levels, from the quietest, to the loudest, there is absolutely no distortion, and no sign of struggle. The sound is full, detailed, clean and very well rounded. There's a sense of fullness in the bass, a wide soundstage, and the midrange is extremely natural. The treble is airy, with a nice sparkle to each cymbal crash, and Tender 1 is simply a different IEM when powered by DTR1+. 
Dethonray Prelude DTR1+ + Crosszone CZ-10 (1000 USD + 900 USD) – If you read my review on SE180, or the one on CZ-10, you'll know for sure that those headphones can push some impressive bass and keep a wide soundstage, DTR1+ having that same magical, dynamic and engaging sound that SE180 has with CZ-10. The bass is full, rounded and rumbly, with a full and thick presentation, while the treble is clean, airy, and the soundstage is wide, clean and well separated. The pairing is really convenient because there's no Balanced cable for CZ-10, so a source that's optimized to sound at its best on Single Ended is perfect for pushing CZ-10 to their limits, distortion-free and fatigue-free. 
Dethonray Prelude DTR1+ + Sendy Audio Peacock (1000 USD + 1750 USD) – Peacock is one of my favorite headphones, especially when talking about a smooth, full and natural sound. DTR1+ simply strengthens that sound, giving Peacock an even better dynamic and a wider soundstage, with a more airy treble than most sources, and with excellent control, even at maximum volumes. The only inconvenience I found while playing with the pairing, is that DTR1+ has only 3.5mm SE outputs, and using the default cable of Peacock means you'll need an adapter from 4.4mm to 3.5mm SE. 
Dethonray Prelude DTR1+ + Campfire Audio Ara (1000 USD + 1300 USD) – I love the overall punchiness and detail of the pairing, but there's something else about DTR1+'s sound that makes me yearn for pairing it with more headphones and IEMs. The overall sound tends to be really rounded, and very grain-free, it has a special smoothness in both the lows and the midrange, giving me the option to go much louder than most sources, exactly as I describe it in the sonic part of the review, it tends to have a magical analogue-like sound, similar to magnetic tape. Ara takes advantage of this, because it ends up sounding really clean and detailed, well rounded and full in the lows, with a wide stage and good overall clairty.  
Value and Conclusion
At the end of the day, DTR1+ has a high price tag, but it doesn't follow the "smartphone" business model of offering a short lived product that barely meets up with your daily usage expectations. It goes for doing one thing, and does it really well. The musical, organic and fun performance of DTR1+ is completely unique, and it manages to beat the other minimalistic DAP really well, dethroning QLA QA361 and taking its place as the best button-based high-end DAP I can recommend right now. 
The software is minimalistic, but if all you do is browse folders and play music from a microSD card, you will feel right at home. The buttons are large, satisfying to press, and the whole DAP feels ergonomic. In fact, for a portable music player, it has just the perfect size, with a fairly good battery life, it does not get hot during usage, and DTR1+ has a beautiful design, with that Black & Golden accents aspect.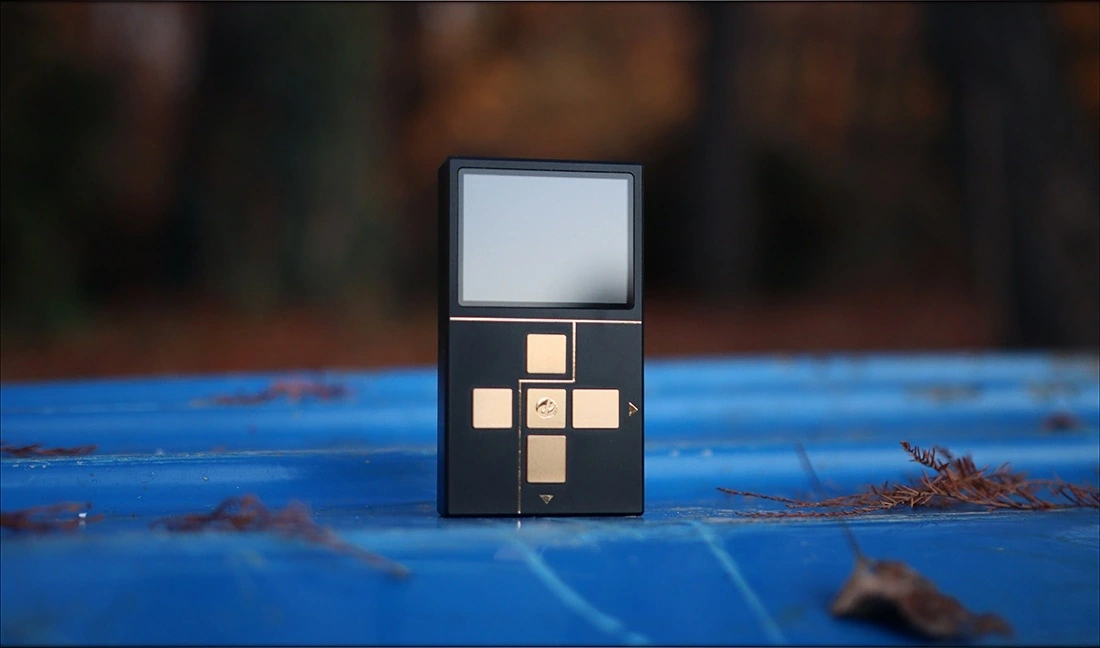 Before the end of today's review, I want to add DTR1+ to Audiophile-Heaven's Hall Of Fame, thanks to its superb audio performance, reliable build quality, and great ergonomics. Despite all shortcomings when it comes to its design, DTR1+ wins easily when it comes to its sound, making it a real champ for music, and for its minimalistic yet useful design.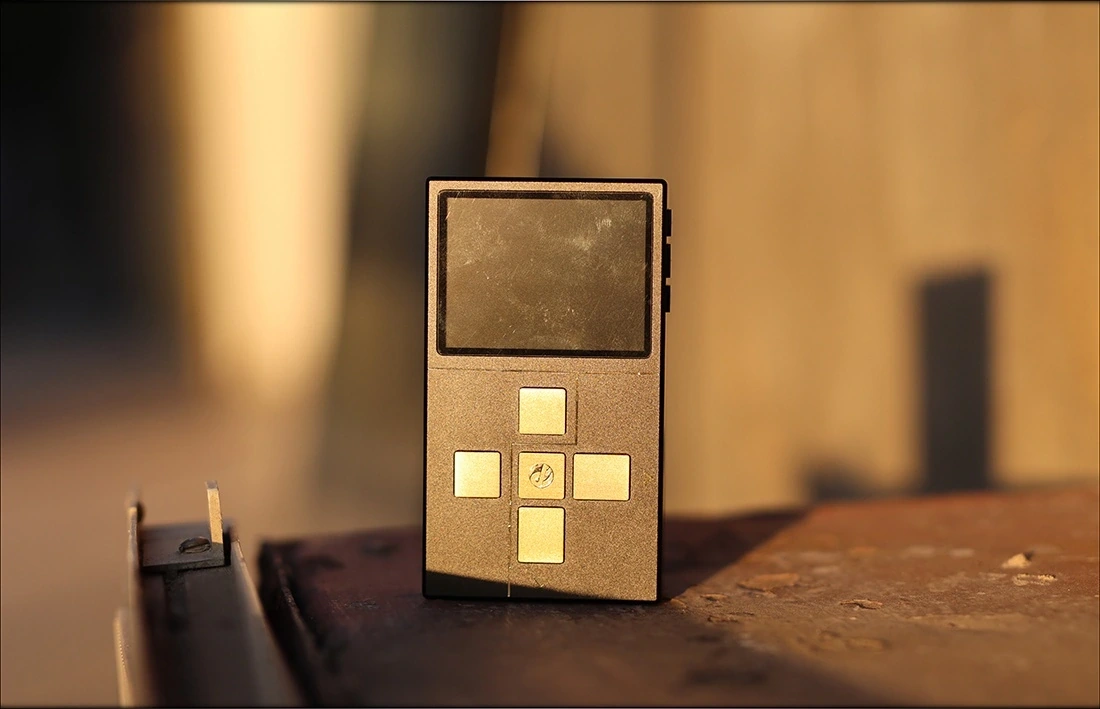 At the end of today's review, if you're looking for a simple music player that still uses buttons, if you want a natural, thick and distortion-free sound, with excellent control and a dynamic, punchy sound, DTR1+ should be perfect for you, making you feel both happy and at home with this tiny yet powerful music box. 
Product Link
You can grab one from www.amazon.com here: https://amzn.to/3E1yf0Y
If you're in the UK, you can grab one from www.amazon.co.uk here: https://amzn.to/3dVTvuD
And if you're from Europe, you can grab one from www.amazon.de here: https://amzn.to/3p0W1WN
---
---
--- Please remember to stay safe, and always have fun while listening to music!---
 - If you have a dime to spare, and donate, to help us with electricity and work expenses, it would make my day much brighter, as it would help me improve things around the website and increase the frequency of my posts - 
---
Full Playlist used for this review
We listened to more songs than those named in this playlist, but those are excellent for identifying a sonic signature.  PRaT, Texturization, Detail, Resolution, Dynamics, Impact, and overall tonality are all revealed by those songs. We recommend trying most of the songs from this playlist, especially if you're searching for new music!
https://www.youtube.com/playlist?list=PL_cjBXGmwSHSdGcwuc_bKbBDGHL4QvYBu
--- Contact Us ---






---
---