Cyrus One Cast Smart DAC / Integrated Amplifier – English Media Flagship
We're finally having a look at a masterpiece from a British company, and namely One Cast from Cyrus is the star of today's review. Priced at 2000 USD, One Cast is a full sized entertainment center, and it features a high-end DAC, a Class AB Headphone Amplifier, a Class D Stereo Amplifier, streaming abilities, Bluetooth, Wifi, and compatibility with most current streaming services out there, including a high-end MM Phono Stage for Turntables, making it the best, most complete media center, streaming and music entertainment solution I reviewed to date. This means that it needs to be compared to the best, including Mytek Brooklyn DAC+ (2000 USD), AudioAnalogue AAdac (4000 USD), iBasso DX220 MAX (1880 USD), Keces S3 (1300 USD), and Smyth A16 Realiser DAC / HT DSP Unit (4000 USD). Since this is a high-end flagship unit review, I will also feature pairings between Cyrus One Cast and HIFIMAN Arya Stealth (1600 USD), Audeze LCD-XC (1800 USD), and Sivga Peacock (1500 USD). We will also explore how One Cast fares driving speakers like Buchardt S400 (1800 USD), and NHT C3 (1000 USD)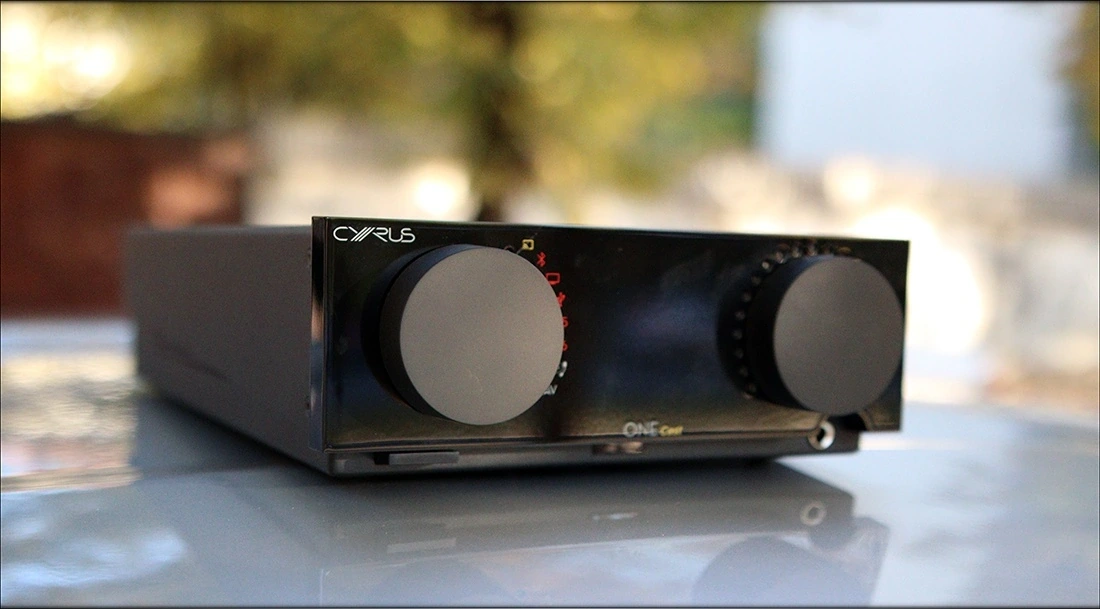 Introduction
Cyrus Audio is a company that's actually not new to me personally, as I reviewed one of their products before, the soundkey, a mini DAC/AMP that had one of the best sonic performances I heard at that moment, so the company is known to be promising. They are also known for technology that delivers what it promises 100% of the time, and despite them not flaunting the DAC chip exactly, or the OP-AMPs, those who used a Cyrus product before know and can testify how satisfied they are. The warranty level is top level, in line with the best companies out there, but so is the production quality, so you're unlikely to need a warranty with Cyrus One Cast. 
It should be noted that I have absolutely no affiliation with Cyrus Audio. I'd like to thank Cyrus for providing the sample for this review. This review reflects my personal experience with Cyrus One Cast. Every opinion expressed is mine and I stand by it. The purpose of this review is to help those interested in Cyrus One Cast find their next music companion. 
Product Link
You can grab one from www.amazon.com here: https://amzn.to/331SPS6
If you're in the UK, you can grab one from www.amazon.co.uk here: https://amzn.to/3sZ71X8
And if you're from Europe, you can grab one from www.amazon.de here: https://amzn.to/3mXEAF4
Packaging
First things first, let's get the packaging out of the way: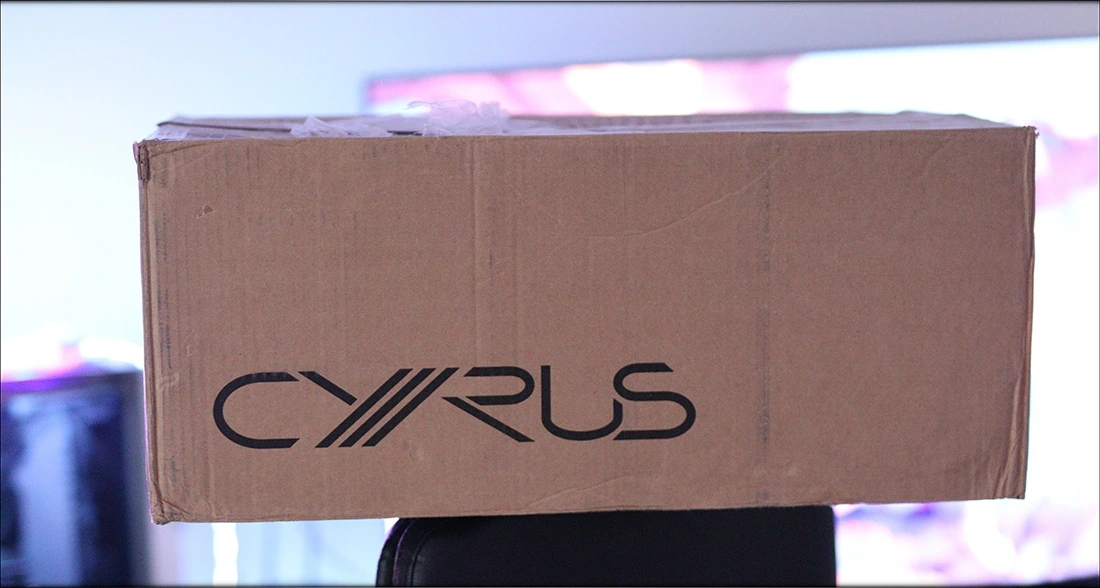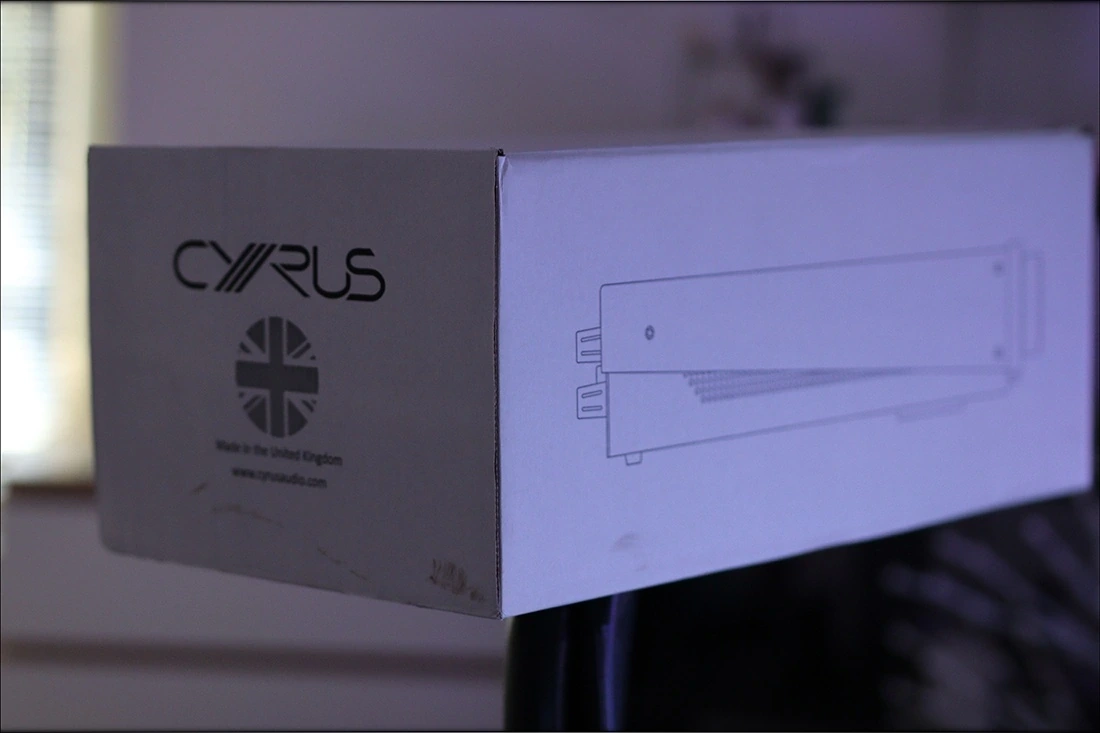 This time around, the package is amazing, there's no need to rush while unboxing the One Cast as there is simply too much extra you may miss if you don't pay attention.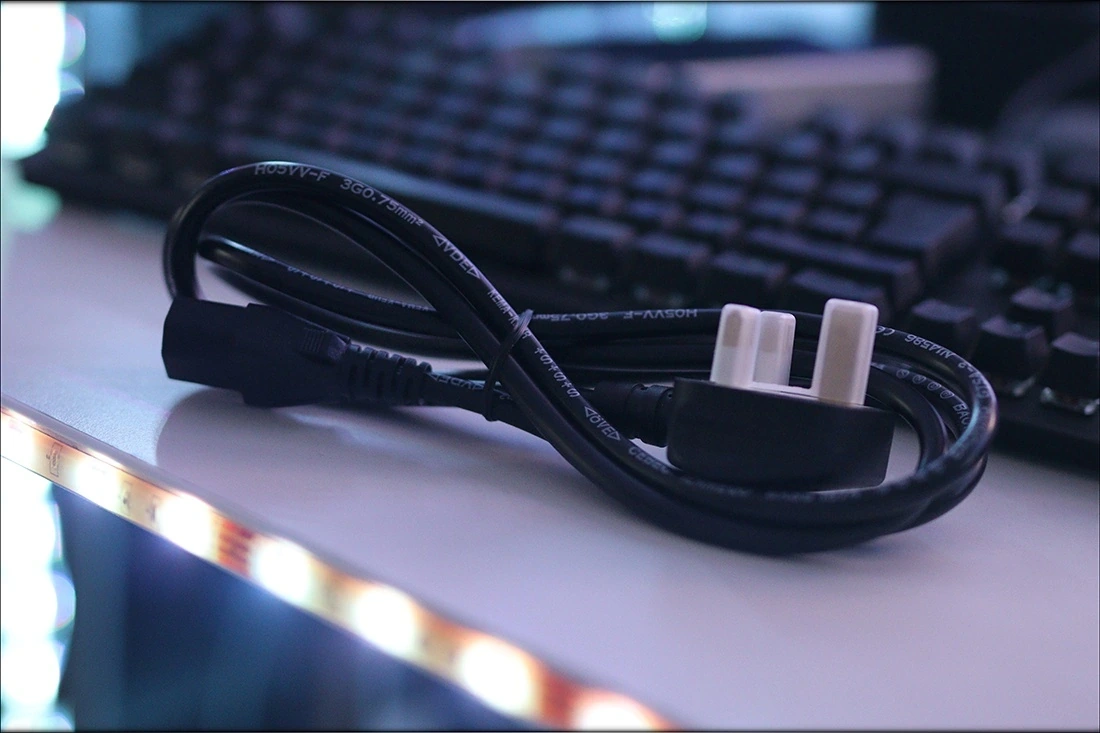 We have the DAC/AMp/Streamer unit and the power cord, but there's also a lot of extra. Besides the in-depth technical information, manuals and documents, we have a USB stick with goodies, but also a keychain accessory with the Cyrus logo (big goodie for a geeky person like me), along with the remote and batteries for the remote.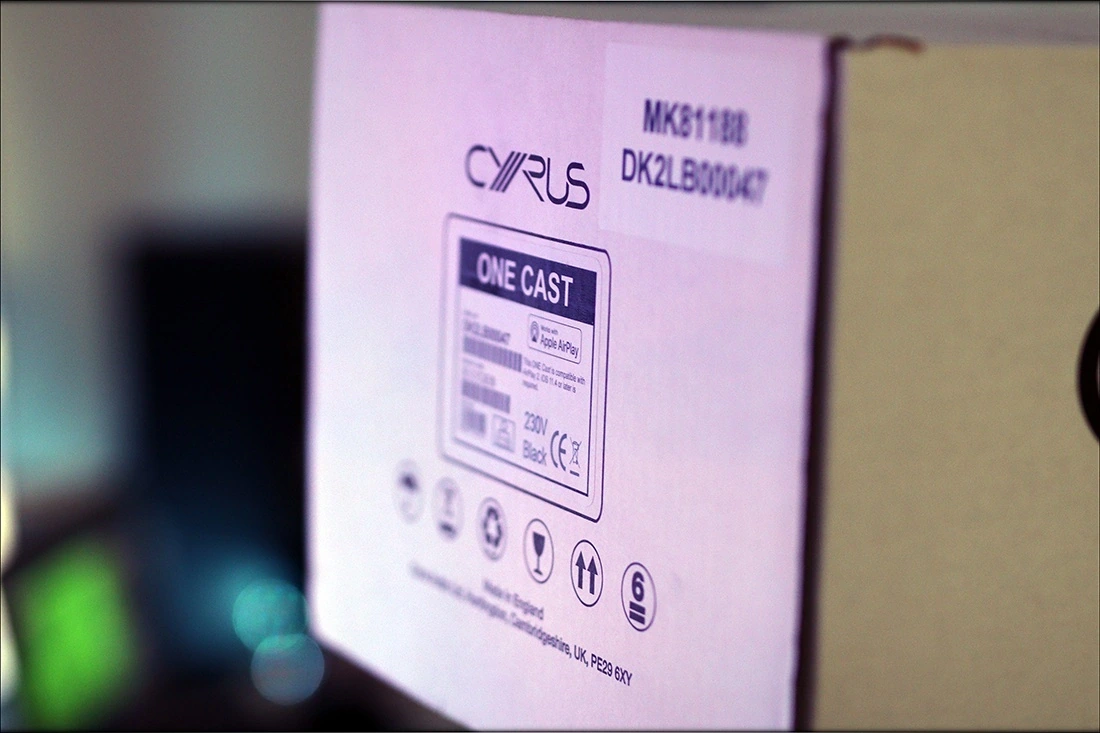 While you need to get through two boxes to really discover the Cyrus One Cast, you can be sure that it is going to be worth the effort, and the DAC/AMP/Streamer/Integrated is protected well during shipping, you're really unlikely to receive it with any defects. 
Build Quality/Aesthetics/Features
The unity is heavy, very long, but not very wide, with a good amount of ventilation and smooth curves defining the chassis. The front has a piano finish, but which has proven to be pretty scratch resistant so far. The left wheel is used for selecting the input, while the right wheel is used for selecting the volume of the One Cast. The two huge wheels have a slightly wobbly motion, but they are matte and complete the design of the One Cast rather nicely, giving it a bit of personality, with the symmetric design.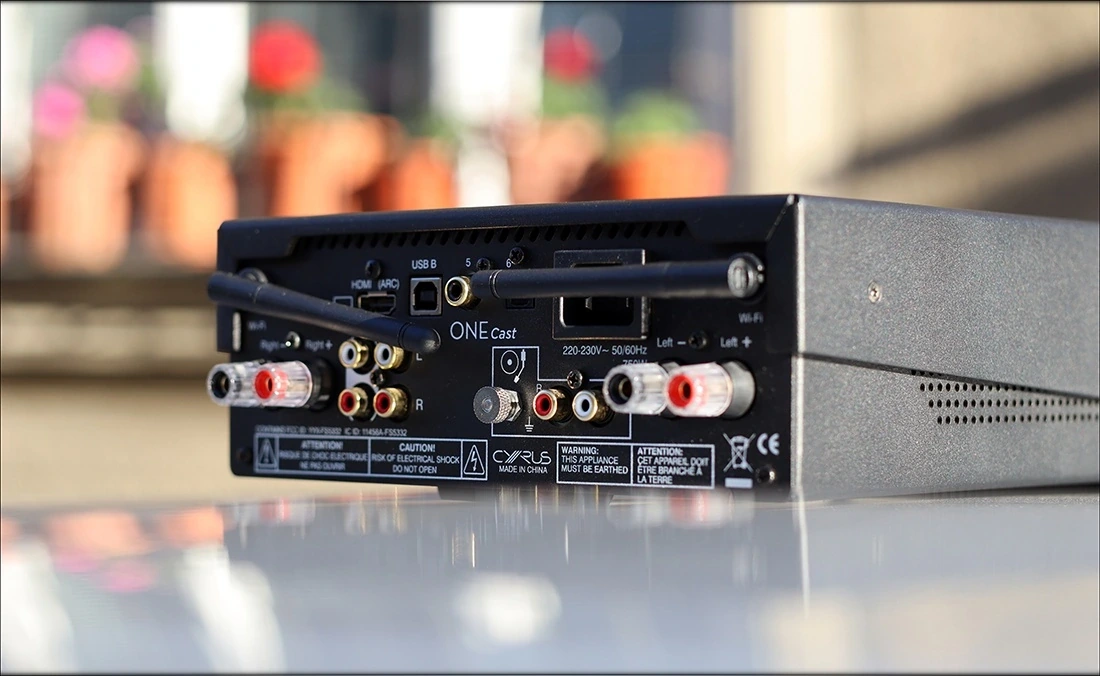 At the back, we have a wide selection of inputs, including Wifi Antennas, HDMI Arc, USB, Coaxial, Optical, Single Ended RCA, and Phono MM input. The outputs include a full sized speaker output, RCA Pre outputs, and the headphone output at the front. The headphone output is right below the right volume wheel, on the corner, while beneath the right wheel for selecting inputs, you can find the standby button. There's a super tiny LED light in the middle, where the Infrared Receiver for the remote is as well, hidden beneath the OneCast logo. 
There's quite a bit to explain here, so I have split this part a bit, because Cyrus One Cast is the last media center entertainment center you will need, and or at least it can cover any usage scenarios you can think about. I feel the need to explain what the Cyrus One Cast is, so to put it in a few words, it is a streamer, or rather a media center. It is a USB DAC / sound card, but also has strong streaming abilities, integration with usage as a DAC towards an external AMP, it is a Phono Preamplifier, has Stereo Speaker Amplifier functions, Headphone Amplifier functions, and it has Bluetooth decoding abilities as well. That's a handful to take all at once, so let's explore each part as we go. 
The DAC chip is an ESS ES9018K2M DAC chip, which can decode 32 Bit / 192 kHz, DSD128, on USB, and which can decode 24Bit / 192 kHz on the Optical input. This covers the vast majority of music out there, making it ideal for Tidal and other streaming services, including Airplay 2, which is supported. The full list of streaming apps includes Tidal, Spotify, Qobuz, Deezer. I mainly use it as a sound card, because I find the USB input really good, clean, with no noise inherited from my PC, plus it sounds slightly better than the optical input. In theory, using it as a Streamer, with Tidal would work the best, but I personally don't think it is necessary, especially as to my ears it sounds similar to using Streaming apps or using it as a USB DAC. We have support for HDMI ARC as well, and since I'm a big TV buff, I like having HDMI Arc on any device I consider purchasing.

I'm excited about this, because I'm also reviewing streamers that need that streaming environment, but do not sound as good when used as a USB DAC, so Cyrus did a superb job with the One Cast and its USB input here. There is no dedicated app, which I'm happy about, because most of them are lower in quality than the airplay 2, Apple Home Pod, or the ChromeCast on the Google Home app. Voice recognition and commands are supported, including Google Assistant, Siri and Alexa. The Wifi goes as high as 802.11 a/b/g/n/ac, while Bluetooth has SBC only. There's an MM Phono stage included as well, with a grounding post, and RCA inputs.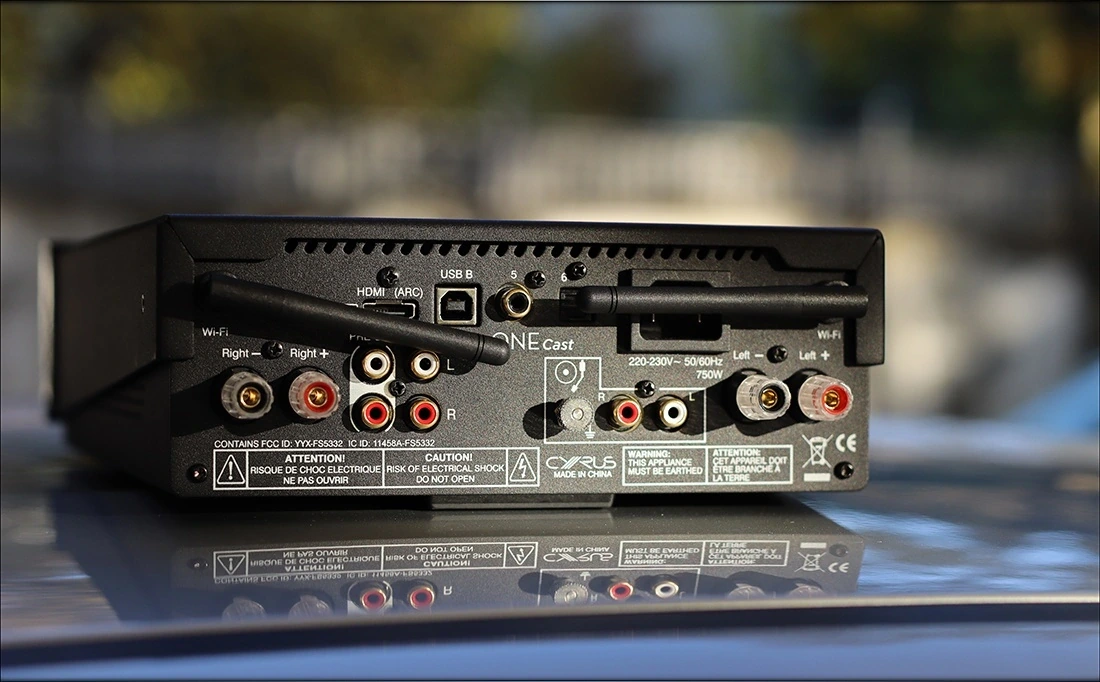 We have support for Bluetooth and Wifi, and One Cast can be controlled by an Apple Homepod, Amazon Echo/Dot, and Google Home, as long as they are all connected to the same Wifi network. I noticed no additional noise and no extra distortion when using the One Cast with the Bluetooth or the Wifi turned on, which is excellent. The problem was mostly mitigated by the fact that the antennas are on the outside, while the case has a thick metal construction that filters interference. You can lock all controls, which I find useful sometimes, as I tend to touch the One Cast volume wheel with my hand while typing. Indeed, I may be slightly different than your average hi-fi user, but I'm happy to report that I find every part of One Cast useful here. 
Functionality
We can begin here to explain what Cyrus One Cast is, what it does and how it can control your entire setup from just one device, this also being a big part why I'm still using it, despite having a ton of other pieces of equipment. First, let's note the fact that it has both speaker outputs and Headphone outputs, the headphone output being a 6.3mm single ended jack. The headphone amplifier part runs in Class AB, it has a superb sound, and it has excellent control over any headphones, low noise for IEMs, making One Cast ideal regardless of what you're using. I tested it with both heavy, hard to drive headphones, like HIFIMAN Arya Stealth, Sendy Audio Peacock, and Audeze LCD-XC, but also with IEMs, like Campfire Ara, Moondrop Illumination, Metalure Wave, and Unique Melody MEST MK2. 
The speaker output has a power of 100W in 8 OHMs, and it features the Cyrus 4th generation of Hybrid Class D Amplifiers, based on the SID technology, or Speaker Impedance Detection. If you have a HIFIMAN He6SE, this may be interesting, and Cyrus One Cast would make driving the He6SE fun, but from the speaker output. I'm really enthusiastic to see no fans, and no ugly heatsinks, as Class D was used, but we do get the creme de la creme Linear Power Supply, with a huge toroidal transformer at the back. In fact, you can see that it leans towards the back, where the unit is the heaviest. 
If you plan on using both the speaker output, and the headphone output, Cyrus One Cast mutes the speaker output when a headphone is inserted, and I have taken advantage of this even by inserting an empty 6.3mm adapter when I needed to quickly mute the sound. The headphone output can also push out 1W per channel, with an impressive -128 dB Noise ratio, while the speaker can push an extremely low distortion of 0.02% THD at 8 OHMs, at maximum volume. Imagine that I can turn the volume the ear bleeding levels with Buchardt S400, as well as NHT C3, but enjoy a distortion free sound. 
A function that no reviewer mentioned, but which I found to be incredibly helpful is that One Cast can output sound through both the speaker output, as well as the Pre RCA output at the same time, with no handicap on the sonic performance. While it may seem like a small thing, or something you're not very likely to use, I actually use it a lot for powering an active subwoofer, while powering the main speaker setup I'm using now, the NHTC C-3 with the speaker output. 
Sound Quality – Speaker Output 
I kept thinking hard and wide about how to tackle the sound quality part of today's review, so I decided that I have to split it in two, following the speaker driving performance, as well as the pre output, in one part, and the headphone driving part separately, as I do actually use it for both, on a daily basis. I usually need to stop what I'm doing so I can fully focus on the sound of the headphones, but I had the Cyrus One Cast running for the past few months, and I need to say, it is exemplary. I mainly paired it with NHT C3 Speakers, as well as Buchardt S400, and it has excellent control for both.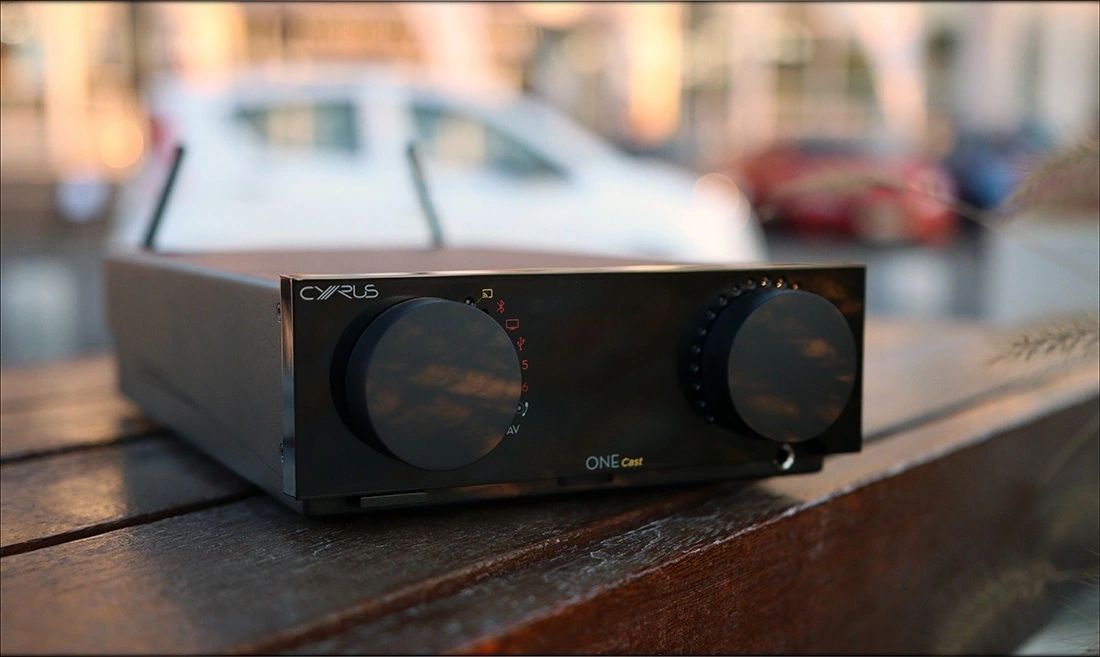 One little trick I've done is add an active subwoofer, and since both those speakers are unable to reach lows very well, I have been using the Adam T10S subwoofer, which I found to do an excellent job. It has a manual crossover cutoff that I set to 80Hz, so the sub doesn't play any frequency above 80Hz, and I would have loved to set it even lower, but happily the final sound is fun like this. I actually ended up liking NHT C3 more than the Adam T7V I was using before, and nowadays I'm using the Cyrus One Cast + NHT C3 + Adam Audio T10S as my main listening setup. It has better detail, a more holographic presentation, and a more natural midrange than the Adam setup I was using before. The Adam audio subwoofer is connected via RCA from the preamp output of One Cast. This means that I can balance the bass to speakers ratio, and they will change volume together, all controlled by One Cast. 
The general sound of One Cast is slightly warm, with a natural midrange, an airy and well extended treble, wide soundstage, holographic presentation and outstanding dynamics. Just like most Class D based AMPs I reviewed to date, it has extremely good control up to its maximum volume, but at that volume I'm physically unable to stay in the room anymore, as the walls and floor begin to rattle. With zero distortion for the entire volume it can push, Cyrus One Cast makes the most impressive control center if you're into both loud and quiet listening. I disabled the subwoofer for those tests, as I wanted to see how Cyrus One Cast together with the speaker sounds like, and what kind of sound it pushes.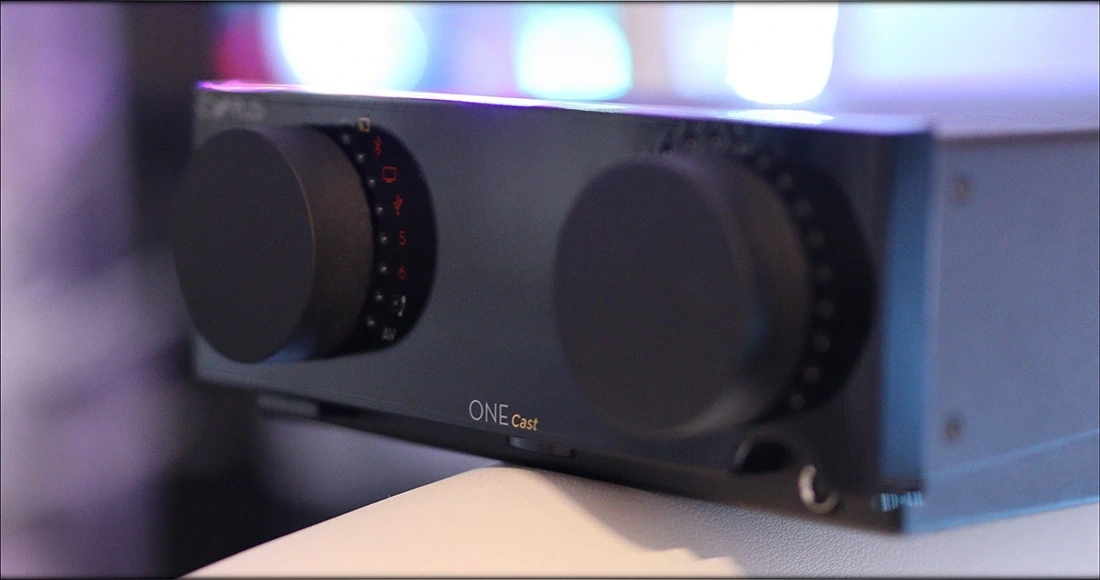 The bass is extremely quick and detailed, with reach as low as your speakers can reach. The nuance is excellent, and One Cast is slightly warm, having a good amount of body and presence. The lower bass will usually be lost on bookshelf speakers, so for a short time I plugged in Spendor S8e, an older pair of towers that I have, and it quickly became apparent that One Cast is totally capable of rendering lows, as low as 30 Hz, but below that you'll really need a subwoofer, or some really beefy speakers. 
The midrange of One Cast is delightful, sweet, musical and organic. I expected it to have some kind of glare, or simplified presentation, but it is extremely detailed, and textured, with a wide and holographic presentation. In fact, the stage is so clean and layering so good, that I ended up swapping NHT C3 in and taking T7V out of my listening setup. Especially if you set your listening room perfectly, you will find that One Cast has an open sounding stage, with a good micro detail presentation, and I am willing to say it is so good that it would put some of the vintage stuff to shame if put head to head against it. 
The treble of One Cast is clean, detailed, airy, but non-fatiguing in character. There's no coloration in either direction, and it doesn't present a particularly gentle treble, it is natural and clean, with a good amount of energy as high as 16 kHz, but it doesn't have a fatiguing character at all. Taking into account that it has both the DAC and the AMP inside, I'm unable to tell whether the DAC is the smoothest part or the AMP, but the final result is musical, on the slightly smooth side, especially when it comes to textures, but also clean and fatigue-free. I love the fact that it can extract detail and present it naturally, because it made listening to music such a better experience, compared to the self powered Adam Speakers that are kinda hot and fatiguing if you pump the treble extra, or lack detail if you don't use their EQ to increase their treble. The one thing that Cyrus One Cast does far better than most Class D AMPs I tested to date, is the dynamics. One cast has a really dynamic and engaging presentation, where many competitors are usually slightly less dynamic.  
Sound Quality – Headphone Output 
We get to the headphones too, and since we're on audiophile-heaven, we need to do this. I do tons of reviews on headphones and portables, so you know I've been using the One Cast with headphones a ton too. I have been using HIFIMAN Arya Stealth, HIFIMAN Ananda, Sendy Audio Peacock, Audeze LCD-XC, and AIAIAI TMA-2 Studio the most with One Cast, as far as headphones go. I also have been using it a lot with IEMs, thanks to the low noise floor and good control it has, so I want to mention Moondrop Illumination, Campfire Ara, Campfire Mammoth, Earsonics Corsa, 7Hz Timeless, FiiO FH5S, and QOA Adonis the most with Cyrus One Cast. Overall, it delivers a really beautiful and well-rounded experience, with good dynamics, excellent punch and slam, and a really full bass. The detail level is well worth the price point, and while the bottom end tends to be deliciously presented, the treble is really clean and airy as well.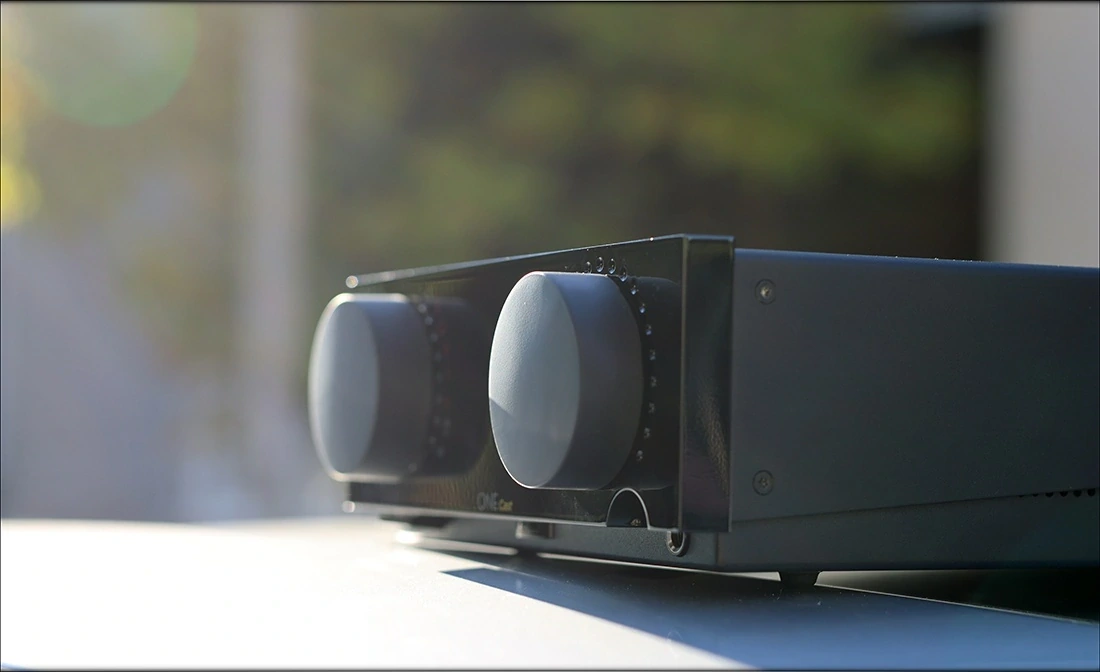 The bass of Cyrus One Cast when driving headphones and IEMS is enhanced, and tends to get better, the louder you listen, being more neutral at low volumes, and higher in quantity / intensity at higher volumes. The slam is incredible and can make HIFIMAN ananda rattle my brain while listening to YFU Baby – Too Fast, being quite nuanced and clean. Regardless of the music I'm playing on Cyrus One Cast, I am in love with the bass presentation, clean and deep, and it reveals why you'd want a desktop Class A amplifier. The only DAPs that get a similar amount of bass / impact / slam, or even better are Astell & Kern SE180 and SP2000T. One Cast focuses on raw quantity of the bass, without really thickening the midrange too much. Even with songs like Green Day – 21 Guns, the bass is prominent, and easy to distinguish from the guitars and the voices, giving a really satisfying substance and presentation to the song. 
The midrange of One Cast is detailed, vivid, and dynamic. The overall midrange presentation is slightly behind the bass, but also slightly in front of the treble, which seems to be smoother and pushed slightly back for a more comfortable and refined listening. Cyrus One Cast has a really wide and holographic presentation with excellent imaging, and you'd expect no less from a 2000 USD DAC/AMP, but it always bears a wow factor for me, even after months of listening to it. The control is also excellent, with no distortions in the midrange regardless of the volume it is playing, and even when the headphones dance on my head, the sound is still clean and controlled. In fact, this is surprising, but it has better dynamics and overall nuance than AMPs like Wells Milo (if you use it as the DAC for driving Milo). Even at low volumes, Cyrus One Cast has great nuance and refinement, and the texture of the midrange is on the slightly smooth side, so it never comes through as fatiguing. 
The treble of Cyrus One Cast when driving headphones and IEMs is clean, smooth textured, but has good quantity and enough presence to be interesting. One Cast never comes through as fatiguing, and it is always the kind of DAC/AMP that's smooth, fun and adds spice to music, without taking the first place and overcoming the other elements in a song. The high end extension goes all the way to 20 kHz, but Cyrus managed to refine the treble in such a way that it is enjoyable and fun to listen to. For example, a really stupid song like We Butter The Bread With Butter – 20 KM / h, which uses to sound really fatiguing and overbearing on most systems, sounds fun, playful and musical on Cyrus One Cast, and the solo is really enjoyable, with a pumpy low end and tons of slam to each bass note. 
Comparisons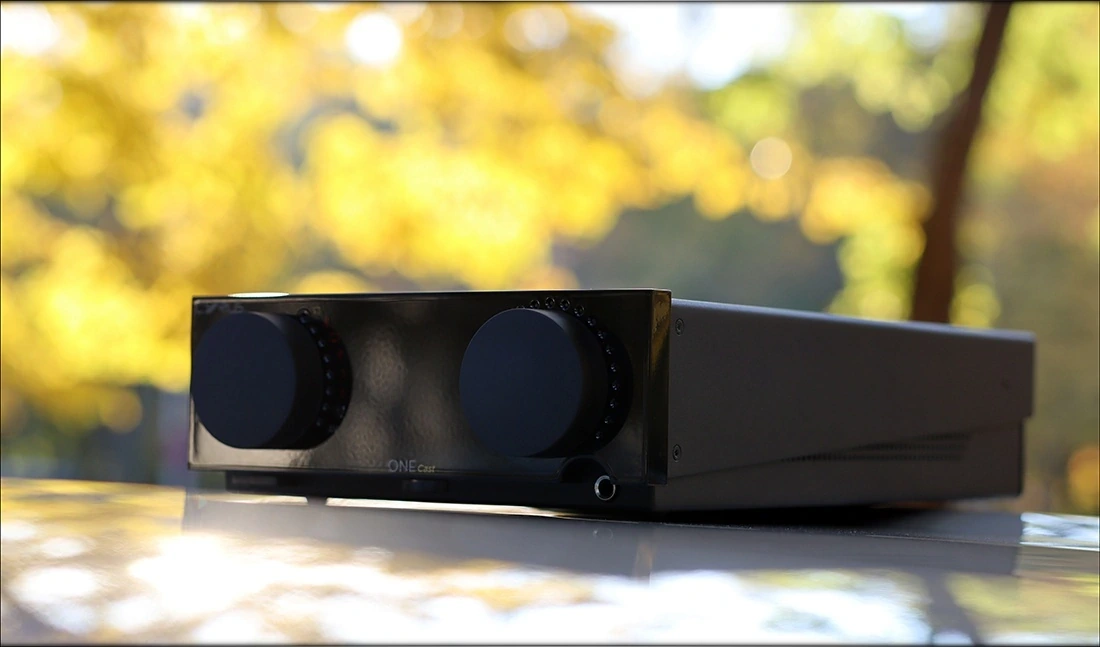 Cyrus One Cast vs Mytek Brooklyn DAC+ (2000 USD vs 2000 USD) – You can tell from the start, that for the same money, you get far more function from Cyrus One Cast, as it is able to drive headphones, speakers and act as a DAC, but also as a streamer and receiver. Differences in sonics are also present, and not necessarily in the advantage of Mytek, which has less function. You would imagine that with One Cast being a more recent device, it would have some improvements, but the improvements are actually quite high, and on the headphone output, it has almost the same power as the Brooklyn DAC+, and a more neutral sound, with similar detail and resolution. The biggest surprise is when driving IEMs, where Cyrus One Cast has a lower noise floor, and better control. Used as a DAC, Mytek needs an optical input to be silent, as the USB input can be noisy, so One Cast is easier to recommend if you have a computer, and at the end of the day they have similar support for high resolution playback. The DAC performance is slightly better on the Brooklyn DAC+, with slightly better overall micro-detail, a wider soundstage, and more dynamics. Cyrus One Cast wins in depth and overall impact. The tie is too close, and I feel more comfortable recommending Cyrus One Cast for most users, since it can act as a control center for your entire home (headphone + speaker + DAC + receiver). The background noise levels are lower on One Cast with both IEMs and Headphones, and also using it as a DAC for a full sized setup. 
Cyrus One Cast vs AudioAnalogue AAdac (2000 USD vs 4000 USD) – AAdac is much larger physically, but has that long yet narrow design too. Both devices have no display, but both use a volume wheel and a remote for most controls. There's more you can do with One Cast, as far as streaming goes, but AAdac comes from a higher price bracket. At the end of the day, I used both as DACs and as headphone amplifiers, whilst having to add that One Cast can be used as a high-quality stereo amplifier. The overall sonic performance of One Cast is more natural, more balanced and with more overall bass reach, and bass impact. AAdac is lighter in the bass, but has better dynamics and more overall micro detail. Both sound wide, but AAdac sounds a bit wider, and a bit more refined. One Cast is more practical as a device, AAdac being larger, and harder to get used to. AAdac makes sense if you have more expensive amplifiers and speakers, but for most setups that are around 1000 USD for an AMP, or speakers below 5000 USD, you may be better off with the convenience of having an all-in-one setup like One cast rather than a more complex setup like AAdac. The background noise levels are equal with both DAC/AMPs as both DACs and Headphone Amplifiers. 
Cyrus One Cast vs iBasso DX220 MAX (2000 USD vs 1880 USD) – I decided to introduce some portables in the comparison because DX220 MAX is the kind of One Kilogram DAP that you expect some crazy destko guys to be using, rather than portable music players enthusiasts. You can totally stream on DX220 MAX too, and it has better headphones support, having support for 4.4mm Balanced headphones, but at the end of the day, the driving power is actually similar between DX220 MAX on Balanced and One Cast on single Ended. DX220 MAX is truly a novelty product, with excellent build quality, but One Cast, while taking more space, can also drive speakers, and while it has a less interesting DAC than DX220 MAX, it will be more useful for those who need a single solution for their entire setup. The sound of DX220 MAX has slightly more detail, but One Cast tends to sound wider, with more impact and control at high volumes, especially for headphones that are Single Ended Only. The overall dynamics are better on Cyrus One Cast, especially at high volumes, while very quiet passages are rendered slightly better on DX220 MAX. The background noise levels are lower on DX220 MAX with both IEMs and Headphones. 
Cyrus One Cast vs Keces S3 (2000 USD vs 1300 USD) – We have two devices, one that has a DAC/AMp and one that has a DAC/AMP/Stereo AMP, so the difference in price between S3 and One Cast may come from the addition of the Stereo AMP part on One Cast. The overall sound of the DAC is slightly better on S3, with more warmth, and a smoother presentation, but One Cast actually has a slightly better Headphone AMP, with more overall width and a more holographic presentation. S3 has a deeper presentation, and is smoother and warmer, where One Cast is more engaging and more dynamic, and more punchy. One Cast has the Speaker AMP to its advantage, and has better Streamer abilities, so if you're looking for a smoother, warmer presentation that's more natural, S3 will be your options, while if you're looking for a wide, holographic presentation, with a more engaging nature, One Cast will be your best bet. The background noise levels are lower on One Cast with both headphones and IEMs. 
Cyrus One Cast vs Smyth A16 Realiser (2000 USD vs 4000 USD) – We have Cyrus One cast versus a DAC, that's more of a pairing option, rather than a comparison, because A16 as a DAC / Digital Effects Processor, is much stronger than One Cast when it comes to enhancing a listening session. I would actually recommend pairing A16 with One Cast, for the best speaker / headphone performance, if you're looking for a really holographic experience (you can see both in the background of many videos I made recently). On the other hand, comparing them as headphone drivers, A16 has similar power to One Cast, but One Cast tends to have more control at extremely loud volumes. The EQ'ing and special effects that A16 does are indeed magical, and can transform any headphone, but One Cast is enjoyable on its own, and I would add it as a headphone / speaker AMP to A16, for better control, lower distortions, more dynamics and a more authoritative sound over hard to drive or picky headphones / IEMs. The background noise is slightly lower on One Cast, with both IEMs and Headphones. 
Pairings 
Although I didn't focus much on it, One Cast can totally drive IEMs too, and it has a very low background noise, even with sensitive IEMs like Campfire Atlas, or Etymotic ER3SE. The main reason I focused mainly on full sized headphones, is that usually IEMs have Balanced Cables, and it is easy to purchase an aftermarket balanced cable, while for headphones it can be slightly more complicated, aftermarket cables being more expensive, especially if they are of good quality, so you can easily found good sources for IEMS, but it can be slightly hard to find a really good single ended source for Headphones.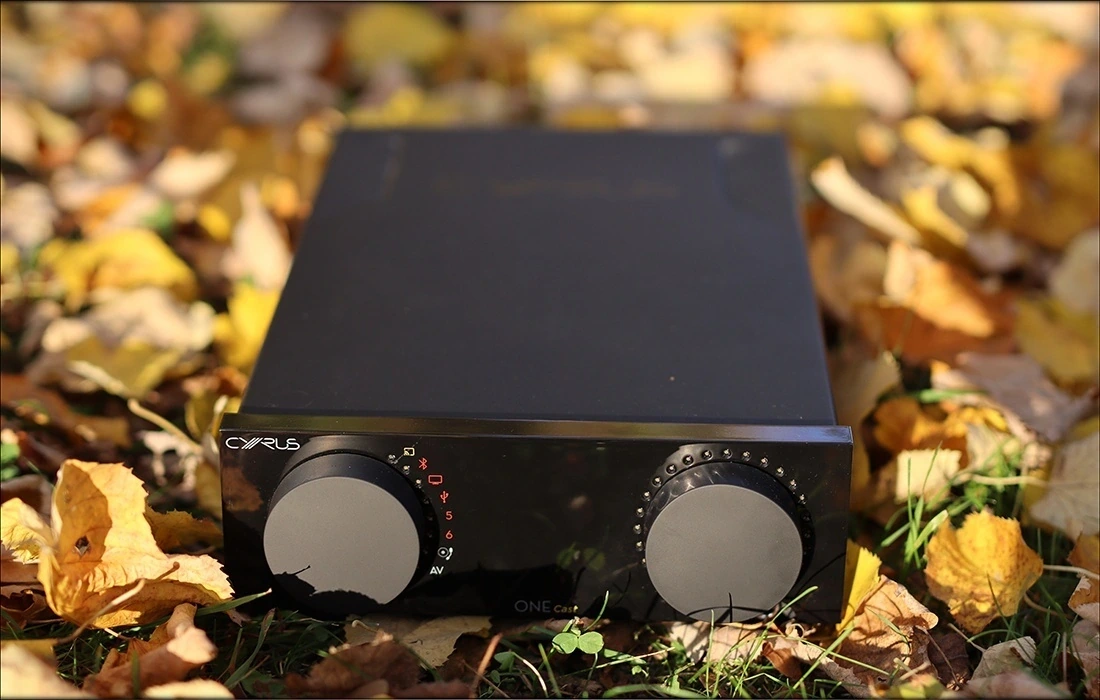 Cyrus One Cast + HIFIMAN Arya Stealth (2000 USD + 1600 USD) – Arya Stealth is one of the headphones that surprised me the most in 2021, as I was assuming they are a refresh of a headphone just for the sake of marketing, but actually ended up being a worthy upgrade to the original HIFIMAN Flagship, and a headphone with lots of power, great overall impact, and excellent ergonomics, so you'll be delighted to know that a DAC/AMp like One Cast is fully able to drive them well, with a delightful amount of dynamics, great impact, and huge soundstage, with a both wide and deep presentation.  
Cyrus One Cast + Audeze LCD-XC (2000 USD + 1800 USD) – The Planar drive test is usually where the weaker AMPs fail, as Planar magnetic headphones can be tricky to do well, and LCD-XC is one of the most picky headphones, as it has a really revealing sound, tons of detail, but not a lot of bass from the factory, so it was very surprising to see that One Cast has more than enough detail, clarity and impact to give to LCD-XC. The overall sound is really balanced, natural and clean, with an excellent amount of detail, and a holographic, well separated presentation. 
Cyrus One Cast + Sivga Peacock (2000 USD + 1500 USD) – Peacock is one of my current favorite headphones, and One Cast is more than fully able to power them fully, but also balance out their sound, which can be really full and deep, but have less focus on the highest and the treble. One Cast actually balances that nicely, as it presents music with a ton of air, a holographic sound, and with excellent dynamics. I appreciate the overall clarity and low distortion of Peacock when driven from One Cast, and that AB Class AMP can totally push some impact in the Peacock. 
Cyrus One Cast + Buchardt S400 (2000 USD + 1800 USD) – We know that S400 can be somewhat picky with the AMP, as they are not exactly the easiest to drive speakers out there, so I was pleasantly surprised to hear the pairing, where One Cast has not only enough power and control, but also a deep, powerful sound, extremely low distortions, even at maximum volumes, and an airy, clean treble. The overall dynamics are impressive, with a good sense of width and depth, S400 sounding more balanced with One Cast than most Amplifiers, thanks to One Casts's brilliant treble and holographic presentation. You can still add a subwoofer, if you want to complete the low end response, as I presented above in the full written review, which makes me often go for One Cast, even above much more expensive AMPs like Jadis Orchestra, which does not have a subwoofer output, and which makes it complicated to use the setup as S400 + an active subwoofer. 
Cyrus One Cast +  NHT C3 (2000 USD + 1000 USD) – We knew quite well that this review wasn't going to be all about headphones and IEMS, but I couldn't believe my ears the first time I connected NHT C3 to One Cast. In fact, this is the main reason I switched, and most of the time, I liked using my Adam Audio T7V Speakers more than your run of the mill AMP + Speakers setup, but One Cast convinced me that there's much more to be heard if you take the time to connect proper speakers to a proper AMP. The C3 Speakers have a beautiful, detailed, clean and full sound with tons of details, and a wide soundstage. One cast has more than enough power to drive them, but not just to drive, and actually control them. The sound is incredibly detailed, clean, and well-powered. You could easily throw a party that could send you to the police the next day, just using this setup. What is even better, is that I am using C3 with my Pc, rather than as a streamer, so I am fully able to enjoy C3 and One Cast for Gaming, Movies, Youtube and all my misc needs, rather than being able to use the combo for music alone. 
Value and Conclusion
You can say that the unit is a bit pricey, but for the vast amount of features it offers, I think it is perfect in pricing. You don't just get a DAC, or an AMP, or a Streamer, or an Integrated. For this price, you get all of them, and all of them in uber quality. The only parts that I do find disappointing are the lack of an ethernet port, lack of aptX or LDAC, and lack of a balanced headphone output / XLR outputs for the DAC. Folks looking for Hi-Res may want more DSD and Hi-Res support, but most of my albums are redbook CDs, some even MP3 recordings that I was never able to find anywhere, so I'm far more forgiving of no Hi-Res support than someone who mainly purchases their music from HDTracks. Cyrus One Cast has perfect driving power, it has perfect control over any speaker you may throw at it, it has a great sound, and can do streaming too.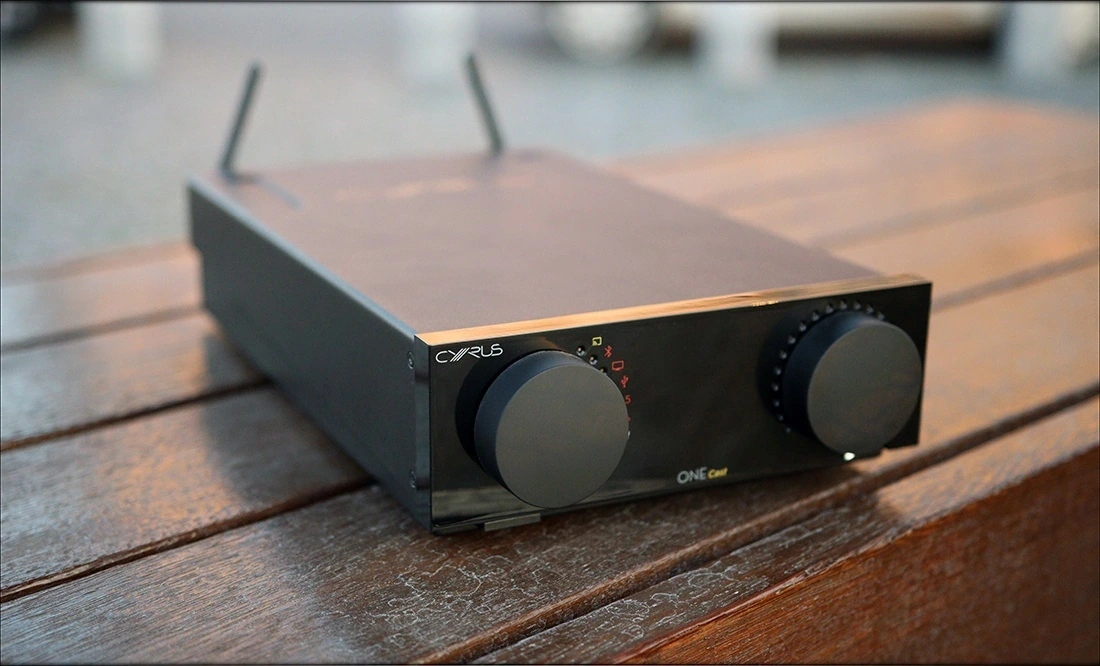 You're more likely to need to upgrade your TV, computer, keyboard and mouse sooner than you'll need to upgrade the Cyrus One Cast, and trust me, I have that upgrade itch. Nothing really survives on my desk longer than a month usually, especially as I need to continue writing reviews, so Cyrus One Cast is right in that category next to iBasso DX220, Astell & Kern SE180, and NHT C3, products that I've been using for the past months, and with which I've been fairly happy with. 
Before ending today's review, taking into account the raw performance, wide usability, and great support for Cyrus One Cast, I need to add it to Audiophile-Heaven's Hall Of Fame, as one of the best Streamers I interacted with over the past years, and as one that I can recommend as a full media center that should power all your needs, even if you're a bit special and have headphones, speakers and a subwoofer too.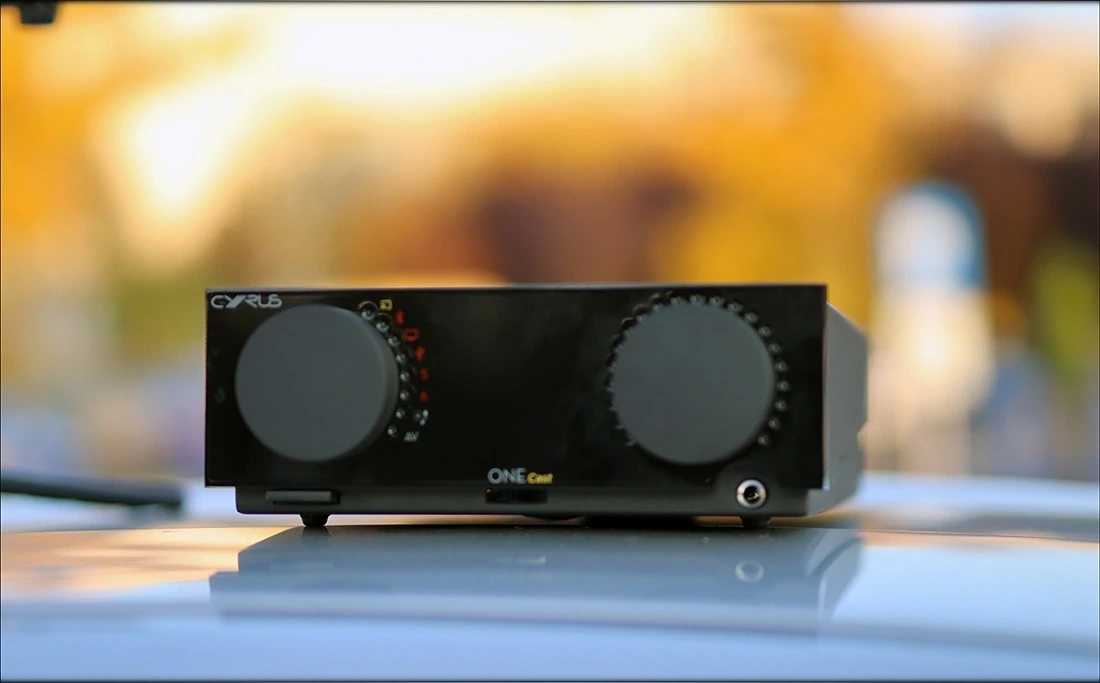 At the end of the day, I have to admit, you're presented with a product that can do more than your car, and which should fill in the spots for most music enthusiasts, regardless how you prefer to listen to music. As long as it is physically possible, there's a high chance One Cast can do it, including powering your speakers, powering your headphones, powering an external subwoofer, powering an external Amplifier, and doing all with great refinement, extremely low noise, and tons of detail, all worthy of its price tag. 
Product Link
You can grab one from www.amazon.com here: https://amzn.to/331SPS6
If you're in the UK, you can grab one from www.amazon.co.uk here: https://amzn.to/3sZ71X8
And if you're from Europe, you can grab one from www.amazon.de here: https://amzn.to/3mXEAF4
---
---
--- Please remember to stay safe, and always have fun while listening to music!---
 - If you have a dime to spare, and donate, to help us with electricity and work expenses, it would make my day much brighter, as it would help me improve things around the website and increase the frequency of my posts - 
---
Full Playlist used for this review
We listened to more songs than those named in this playlist, but those are excellent for identifying a sonic signature.  PRaT, Texturization, Detail, Resolution, Dynamics, Impact, and overall tonality are all revealed by those songs. We recommend trying most of the songs from this playlist, especially if you're searching for new music!
https://www.youtube.com/playlist?list=PL_cjBXGmwSHSdGcwuc_bKbBDGHL4QvYBu
--- Contact Us ---






---
---