Motion & Emotion – iBasso SR2 Tesla Headphones
iBasso SR2 is the latest headphone from the DAP producer iBasso. Those are their second iteration of the SR Series, and happily they are priced at 500 USD, which places them right in the middle of the midrange price range. Despite this, they will be compared with headphones more expensive, like Audeze LCD-2C, HIFIMAN Ananda Bluetooth, Dan Clark Aeon Flow, Focal Elear, and LSA HP-1. In terms of pairings, they will get paired with iBasso DX220 MAX, FiiO M11 PRO, and Audio-GD Master 19 driven by a Topping E30 DAC.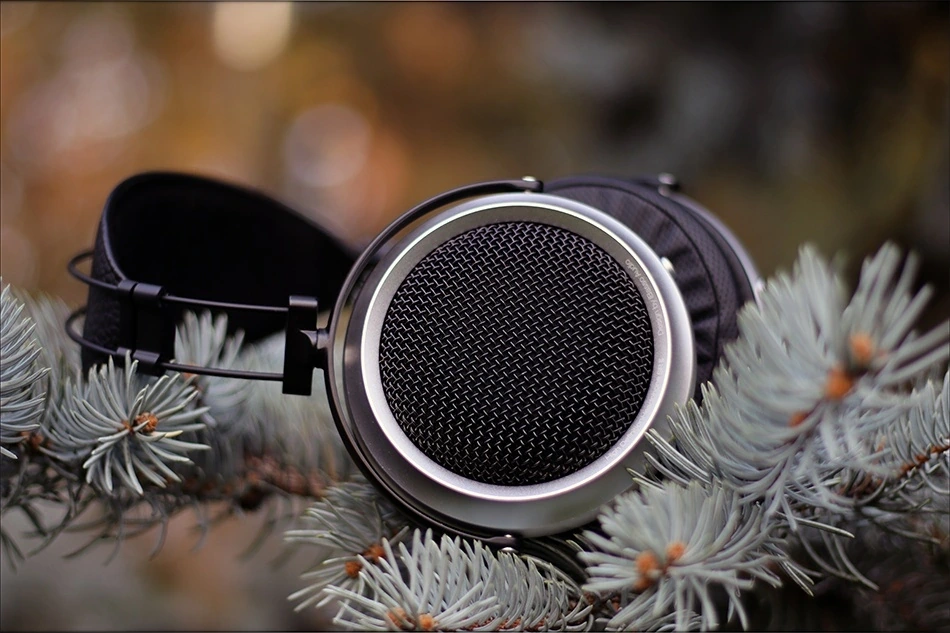 Introduction
iBasso is one of those companies that are known to stand behind their products. For long after they've been released, and they are also known to never give up on serving their customers. It is the consistency of their service that makes them one of the best companies you can purchase from, you know that regardless whether it is a high-end ambitious DAP, or an entry-level DAC/AMP, they will still offer you warranty to the best of their ability.
It should be noted that I have absolutely no affiliation with iBasso, I am not receiving any incentive for this review or to sweeten things out. I'd like to thank iBasso for providing the sample for this review. Every opinion expressed is mine and I stand by it, the purpose of this review is to help those interested in iBasso SR2 find their next music companion. 
Product Link
You can always get your iBasso SR2 Headphones from www.amazon.com here: https://www.amazon.com/iBasso-SR2-High-Definition-Audiophile-Headphone/dp/B08FK6DZLG/
Packaging
First things first, let's get the packaging out of the way: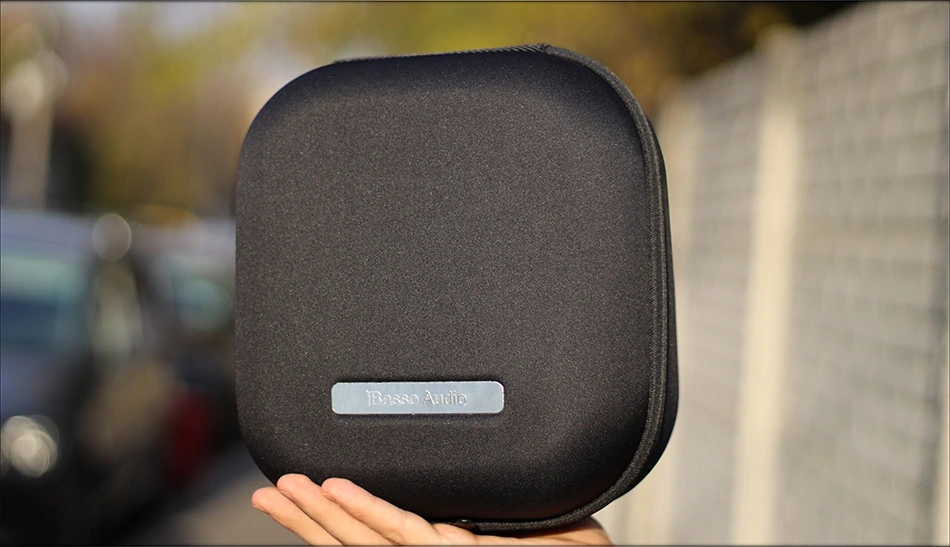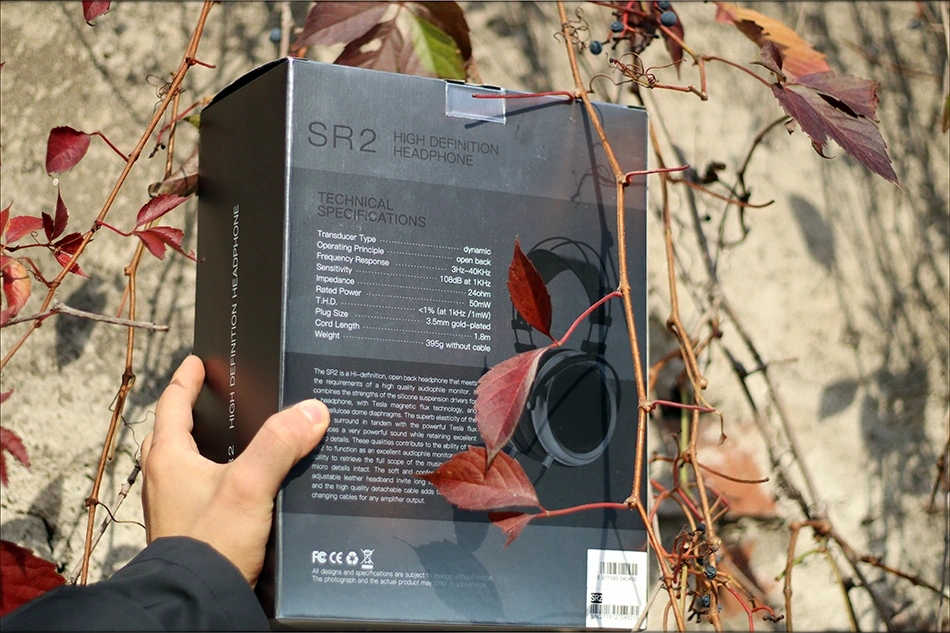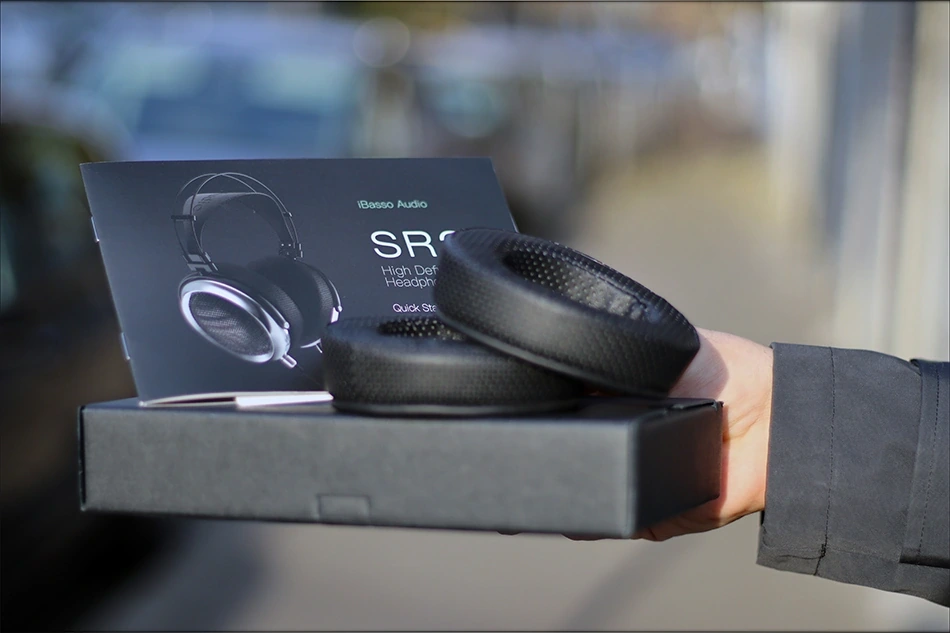 The package of SR-2 is amazing. Given their price point of about 550 USD, you'd expect them to be a pretty average deal, but they totally outdid themselves. Besides the headphones, you will also receive a beautiful carrying case, a high-quality braided cable, ended in a 6.3mm Single Ended Jack, and a set of spare pads.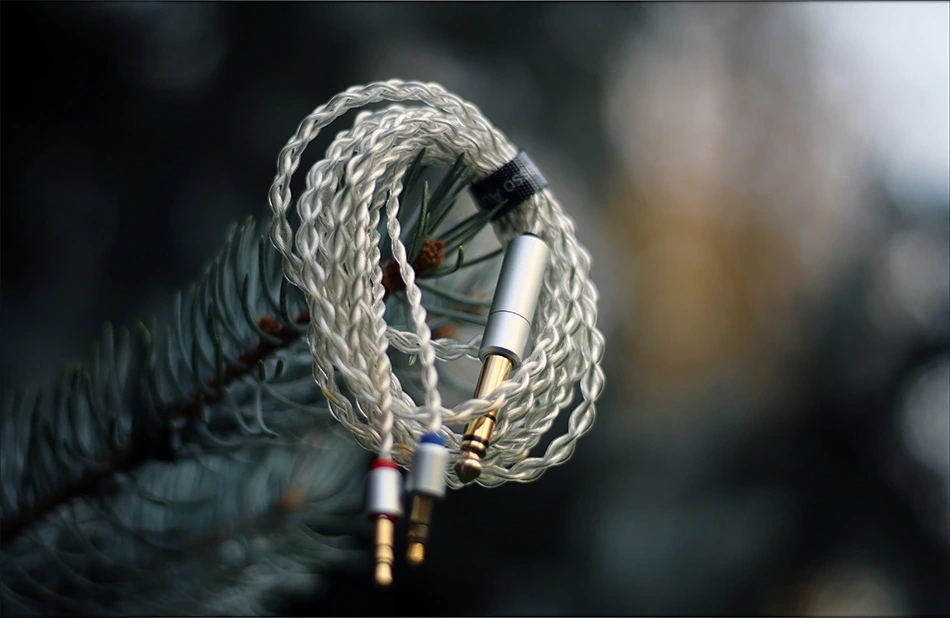 Very few companies include spare pads, and this is true even for very expensive products, which makes SR2 and iBasso immediately stand out from the crowd. The pads are not exactly spare either, but they're a way to tune SR2 with a different sound. 
Technical Specifications
Impedance – 24 Ohms
Sensitivity: – 108dB/mW
Frequency Response Range – 3Hz-40kHz
Plug – Gold-Plated 3.5mm
Rated Power – 50mW
Cable Length – 1.8m
Build Quality/Aesthetics/Fit/Comfort
iBasso SR2 is a headphone that first takes you by surprise with its weight, as it is extremely light. Even when compared to lighter headphones, like the Focal Elear it competes with, it feels light. Not only light, it feels comfortable. The earpads are fairly soft, and you can adjust the height of the headphone in such a way that they will fit pretty much any head.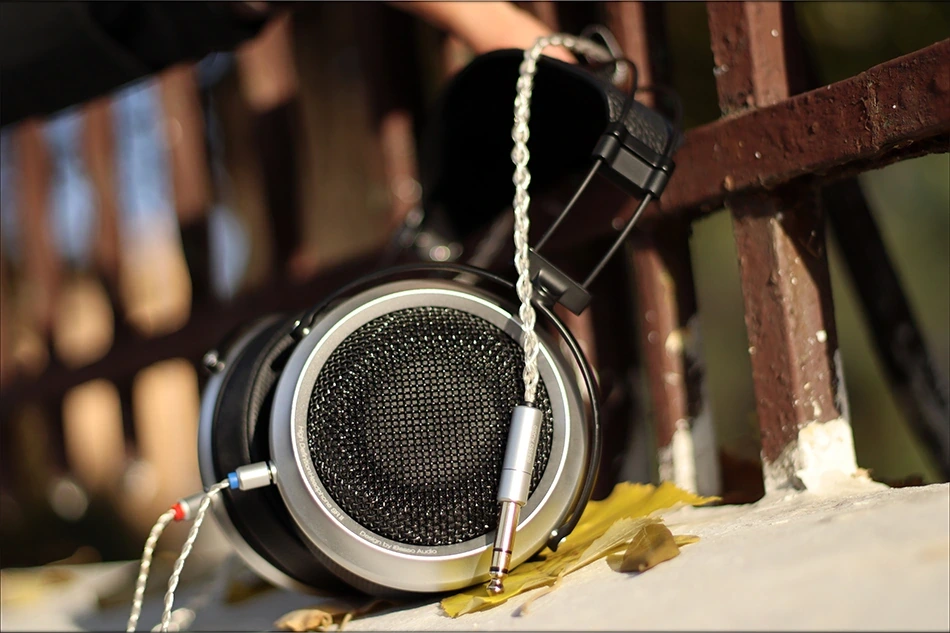 I have a medium sized head, and they sit at about medium. You should find comfort regardless of how hard this usually is with other headphones, SR2 is fairly comfortable in general. 
One slight disadvantage I noticed was that the adjusting mechanism is a bit soft, so they may slide a bit lower. My unit is an early one, so this may have been fixed, but even if not, you can introduce a small bit of paper in the adjusting mechanism to make them stay. 
The cable ended in a 6.3mm Single ended jack is one of the best cables I've seen in a portable headphone, beating the cable that Audeze ships their headphones with, and heavily destroying the cable that Focal uses for their headphones.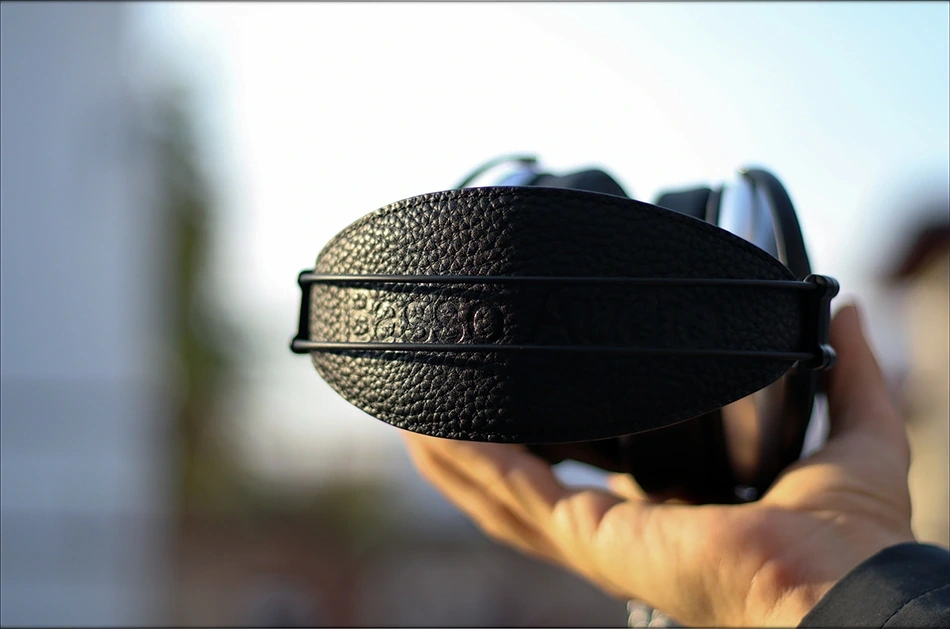 The comfort is perfect at the earpads level, they are soft, and breathable, so I could wear SR-2 for about six hours without feeling the need to take them off. On the other hand, there are two pairs of earpads included in the package, which are different sounding. The default being the reference, while the second pair is a bit softer and more mellow. 
SR-2 doesn't isolate at all, and they aren't headphones made to listen in open spaces, but they aren't fully open either. Compared to a headphone like Beyerdynamic Amiron, they offer a bit more isolation, and more isolation than Sundara too, but only by a few dB. In total, they are between 5 and 8 db of passive noise isolation, which still is something. 
When it comes to pairing and driving them, they aren't necessarily need, but I've been using an accessory like this one to connect them to a 3.5mm single ended output. They work fairly well from the SE output of DX220 MAX, and DX220 with AMP9 has more than enough power to drive SR2 also. 
All in all, the build quality includes metal, leather, but they managed to keep SR-2 light and comfy, which is a total win in my book. 
Youtube Video
Sound Quality
Musicality and how the midrange is presented are the two factors that made me fall in love with SR2 and their presentation. They are a light sounding headphone in general, snappy and quick, but their bass is quite authoritative when it has to. Despite being detailed, they are easy and forgiving, and clean at the same time. The mids are rich, full of nuance, flavor, while the treble is extended and smooth in texture, without loosing presence. Some of my impressions may differ a bit when compared to my Youtube Video, which may be because I grown accustomed to SR-2 more, and also because they have more burn-in now. 
The bass is typical of a dynamic driver, clean, intense, and honest. SR2 is not exactly a basshead headphone with tons of sub-bass, and I could recommend many others for that purpose, like those from Audeze, but the bass of SR2 is generally clean, free of distortioin, and there when it is supposed to be there. The tonality is tilted towards warm, with the bass adding some weight, and rich flavor to the mids. Controlled is another good way to describe the bass, with great rumble when it is called for. 
The midbass is higher in quantity, relative to the sub-bass, with the most surprising factor being how natural and substantial music can sound, all while coming from an open-back headphone. They remind me a bit of Brainwavz Alara, but with a much more natural tonality, and without the extra thickness / darkness that Alara could present sometime. This doesn't go to say I didn't like Alara, but SR-2 is most certainly less colored. 
The midrange of SR-2 is rich, full bodied, clean, musical and detailed. Like everyone else, I love their timbre, which is perfect for a classical piece, even for those with huge orchestra arrangements. Definition is top notch, with details to go on for days, but they are a forgiving headphone, so even if you prefer older Iron Maiden albums, you'll still love the way SR-2 portrays those. 
Voices are presented forward compared to most of the instruments, and this helps with defining the overall presence of a song, and while both male and female voices sound nice, SR2 favors deeper and male voices more, thanks to their rich midrange. The upper midrange is safe, and there's no peak, instead there being a slight dip in the upper mids to counter the "fatiguing" sound you may sometimes get from a headphone that goes for more clarity through upper mids / treble. A good example is the Soundmagic HP1000, which is very clear and precise, but has quite a peak in the upper mids, and switching back and forth reveals that SR-2 manages to have even more details, without any peakiness. 
SR-2 manages to easily convey emotions in voices, and you'll hear enthusiasm, sadness, happiness, and even love hidden in songs you've known for ages.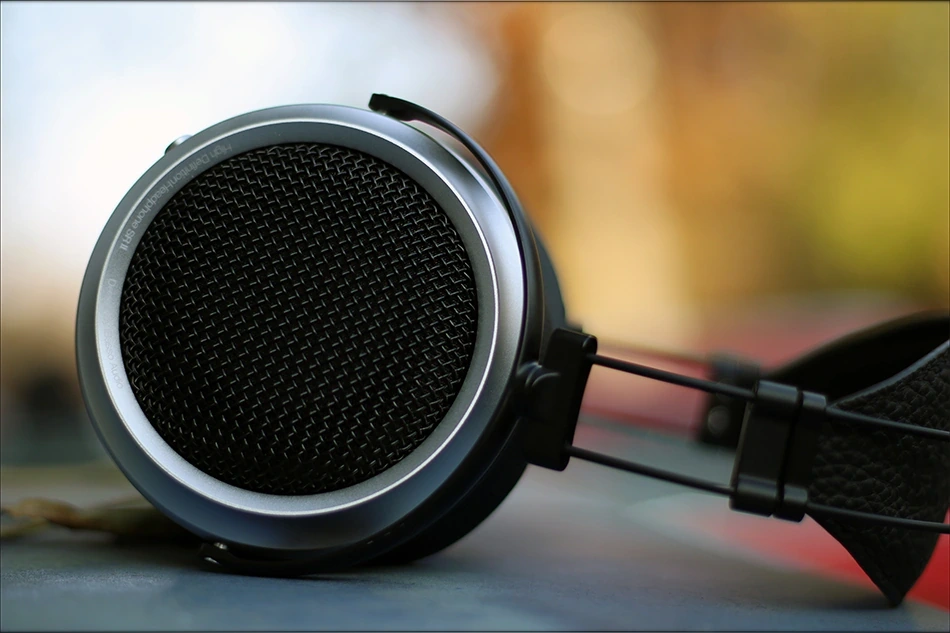 The treble is generally smooth and silky, with a slight warmish tint. There's no trace of grain, sibilance or even fatigue while listening to SR-2. Speed of the treble is fast, and since SR-2 is open, it has a larger soundstage than a closed back. The height is good, and so is the depth, and while the width is decent, SR-2 has an excellent imaging and separation. This all means that you will hear a very rounded soundstage, with a natural presentation, no exceptional size in any direction. 
Comparisons 
I did my best to include a lot of comparisons, and all of them more expensive than the SR-2. To fight, I picked Ananda Bluetooth, and the others are Audeze LCD-2C, Dan Clark Aeon Flow, Focal Elear and LSA HP-1. All of those are very good headphones which I loved, so SR-2 has a light of fighting to do.
Brainwavz Alara is a worthy competitor too, but since it is often not on stock and not available, I kept up with your requests, and did my best to include mostly more pricey competition, so you know what would compel you to still go for SR-2. 
iBasso SR-2 vs Audeze LCD-2C (550 USD vs 800 USD) – Starting with a heavy one, literally, LCD-2C is much heavier than SR2. The comfort is generally better on SR2 also thanks to their more ergonomic earcups, which despite being thinner than what Audeze uses, manage to keep my ears cooler and just stay better. LCD-2C has a nice amount of bass, a heavy, thick and somewhat grainy, dry sound with a good amount of detail. SR-2 is considerably more fluid, sounds effortless by comparison, with more treble, a more natural midrange, no grain, and a much better soundstage. For heavy music, or if you want to hear your music thick, deep, and a bit dark, LCD-2C is still a good choice, but if you want to check on a natural, wide, and open sound, iBasso SR2 makes a better choice. The drive factor is somewhat better for SR2 too, it is easier to drive than LCD2C, making it easier to carry around, and the cables it uses are far more generic than the mini XLR found on LCD-2C. 
iBasso SR-2 vs HIFIMAN Ananda Bluetooth (550 USD vs 900 USD) – Ananda Bluetooth is a BT Headphone so many will disqualify it for this comparison from the get-go, but I think there's a good reason to keep comparing it too. The first thing is the hassle-free experience of bluetooth, you can just pair Ananda BT with your smartphone, and you're good to go. Then, you need at least another 400 USD of a DAP for SR-2, so unless you get at least DX160 from iBasso, or a FiiO K5 PRO, you won't get them to sing well. The comfort is a bit better on Ananda Bluetooth, although both are quite comfy. The overall sound is warmer on Ananda BT, with less treble emphasis, more distortion at the highest volumes in the midrange, but more and deeper bass. SR2 sounds more natural in the midrange, with a more open sound, a slightly more intimate soundstage, but better overall placement / instrument precision. The package is a bit better for SR-2. 
iBasso SR-2 vs Dan Clark Aeon Flow (550 USD vs 500 USD) – Dan Clark Aeon Flow is generally less comfortable than SR-2, with a slightly heavier, tighter fit. The earpads are soft too, but SR-2 feels more comfortable. The drive factor is much much harder for Aeon Flow, it is much harder to drive, and requires a much stronger source than SR-2. The sound is considerably more V-Shaped on Aeon flow, with more treble sparkle and more bass depth. The midrange is a bit thin sounding, with the detail being similar between the two, but SR2 having a much more natural midrange, and a more warm presentation. Aeon Flow can be a bit bright at times, where SR-2 sits right at the level where it is natural and fun to listen to. Getting aftermarket cables for SR-2 is really easy, and almost impossible for Aeon Flow, since Aeon uses proprietary connectors. 
iBasso SR-2 vs Focal Elear (550 USD vs 1000 USD) – Focal Elear is another big story, because when I reviewed it, I had a lot to complain about. The build quality of Focal Elear is disastrous compared to SR-2, and Focal Elear feels like a bad joke, or a toy. It crackles in every way possible, and even wearing it you can hear it crackling on your head, like it is about to give in at any second. SR-2 is really comfortable, and feels well made, with a much better ergonomic, fit and build quality. The sound is better on SR-2 too, with a better overall clarity, a more transparent and cleaner midrange. At least with the upgraded earpads I was using, Elear sounded quite warm, but a bit grainy with a bad overall separation, but good soundstage. SR-2 is more intimate but wins in instrument separation, and placing of instruments. Out of the two, I would choose SR-2 every single time just based on the build quality, as I couldn't put up with Elear and their crackling sound which was easy to notice even with loud music and while I was standing on my chair working. 
iBasso SR-2 vs LSA HP-1 (550 USD vs 1500 USD) – LSA HP-1 is a great headphone sold by Underwood Hifi from USA. They are a spinoff from Kennerton and their headphones, and LSA HP-1 feels well made, has a great sound, and is quite neutral. By comparison, SR-2 is a bit lighter, and actually feels more premium than LSA HP-1. The build quality of both is good, but it is easier to find aftermarket cables for SR-2. SR-2 also comes with spare pads, being pretty much the only one from today's comparison list that does. The sound of SR-2 sounds more natural, where LSA HP-1 can be a bit too neutral and edges on brightness. The soundstage is wider on LSA HP-1, but the dynamics and impact are better on SR-2, unless you listen extremely loud, situation in which they are similar. With LSA HP-1, I had a slightly less convincing comfort because the back of the earpads didn't make absolutely full contact with my ears 100% of time, and this broke the seal, leading to an anemic bass, where this wasn't a problem with SR-2. 
Recommended Pairings
The recommended pairings part of the review will include some spicy sources, like iBasso's own DX220 MAX, but also FiiO M11 PRO, and Audio-GD Master 19 driven by a tiny Topping E30 DAC. 
You can't really drive the SR2 so well from a smartphone like the Xiaomi Redmi Note 9s or Huawei P20, but you could do really well with a portable DAC/AMP like iFi xDSD, or FiiO Q5s. iBasso has more affordable DAPs like the DX160 which can drive SR2 nicely, and the total price of the combo would be around what you pay for the Ananda BT, which makes it a very compelling offer. 
iBasso SR-2 + iBasso DX220 MAX (550 USD + 1880 USD) – The Max is totally the best way to drive and enjoy your SR-2. It has more than enough power to drive them, but also support for apps, Tidal, MQA decoding, and if you want to experiment a bit with SR-2, it also has EQ. I never felt like EQ'ing them, but you may be able to tailor them to your preferences even more. The overall clarity of the pairing is insane, with excellent dynamics and punch, and the soundstage is fairly large, but also deep. DX229 also works really well with SR2, and you could drive them from an iBasso DX160 too, but the best sound is achieved with the best source, which in this situation is the DX220 MAX.
iBasso SR-2 + FiiO M11 PRO (550 USD + 650 USD) – With M11 PRO, the best thing about the pairing is the soundstage. M11 PRO has a really holographic presentation and this gets transferred to SR-2, which can be engaging and dynamic with M11 PRO. The support of M11 PRO is similar to a midrange smartphone nowadays, and you get support for MQA, Apps, Hi-Res, DSD, EQ and everything else. The presentation is more wide than it is deep in terms of soundstage, with a good amount of treble sparkle, and also a deep bass. 
iBasso SR-2 + Topping E30 + Audio-GD Master 19 (550 USD + 130 + 880 USD) – Topping E30 received some changes after I reviewed it, and now has a smoother and more natural sound (thanks to a change in phase applied by Topping), so pairing it with a larger Amplifier like Master 19 is a great way to explore SR-2, and how well it reacts to changes in DAC / AMP. The overall details are impressive, and so are the dynamics and impact. There's no trace of grain, and SR-2 seems to like more power, providing a more vivid presentation with the help of Master 19.
Value and Conclusion
The value of SR2 is quite clear, they are totally worth their asking price. In fact, from the 550 USD price range, only Dan Clark Aeon Flow can keep up in any way, and even then, the sound is vastly different and designed for a different taste.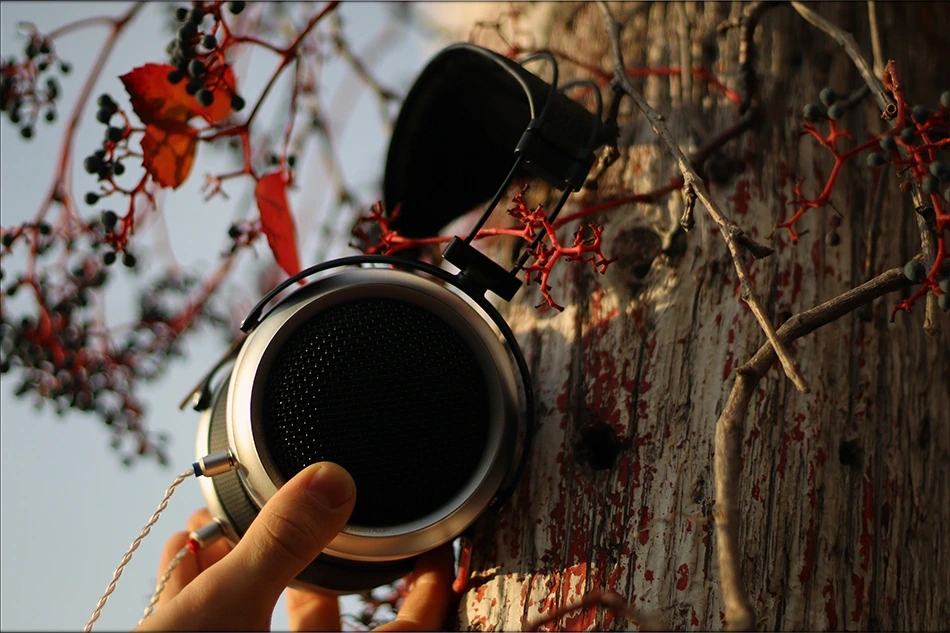 The package of SR-2 is excellent, with a high-quality cable from the go, a spare set of pads that can change the sound slightly, and with an awesome carrying case. 
You can get awesome comfort from SR-2 while wearing them, since they can be adjusted to any head size and shape, and they have an open, or even semi-open design that isolates a bit from the outside noise, and doesn't leak absolutely everything you're playing in. 
Furthermore, the sound is rich, tonally correct, forgiving, controlled and clean, making one of the most natural and pleasing listening experiences out there, an experience that speakers costing many times more can't hope to match. 
In fact, before the end of this review, I will be adding SR-2 to Audiophile-Heaven's Hall Of Fame for being one of the best headphones I heard to date, in both sound and comfort, design, ergonomics, price and support from the company who makes it. 
At the end of today's review, if you're looking for a comfortable, light, and well-made headphone, with a natural tonality, rich sound, with a natural soundstage, and with an excellent amount of detail for the price, I wholeheartedly recommend SR-2 from iBasso as one of the best I've heard and enjoyed so far. 
Product Link
You can always get your iBasso SR2 Headphones from www.amazon.com here: https://www.amazon.com/iBasso-SR2-High-Definition-Audiophile-Headphone/dp/B08FK6DZLG/
---
---
--- Please remember to stay safe, and always have fun while listening to music!---
 - If you have a dime to spare, and donate, to help us with electricity and work expenses, it would make my day much brighter, as it would help me improve things around the website and increase the frequency of my posts - 
---
Full Playlist used for this review
We listened to more songs than those named in this playlist, but those are excellent for identifying a sonic signature.  PRaT, Texturization, Detail, Resolution, Dynamics, Impact, and overall tonality are all revealed by those songs. We recommend trying most of the songs from this playlist, especially if you're searching for new music!
https://www.youtube.com/playlist?list=PL_cjBXGmwSHSdGcwuc_bKbBDGHL4QvYBu
--- Contact Us ---






---
---