Pamu Slide 2 ANC TWS IEMs – Magnetic Force
Pamu Slide 2 is a new TWS IEM priced at 159 USD, made by Padmate Tech, as an upgrade to the original Pamu Slide Mini, which I reviewed on Audiophile-Heaven. They are currently in a pre-order phase on Indiegogo for about 80 USD, and given the price point, will be compared to Grell TWS 1 (200 USD), GravaStar Sirius Pro+ (150 USD), and Nuarl N10 Plus (165 USD).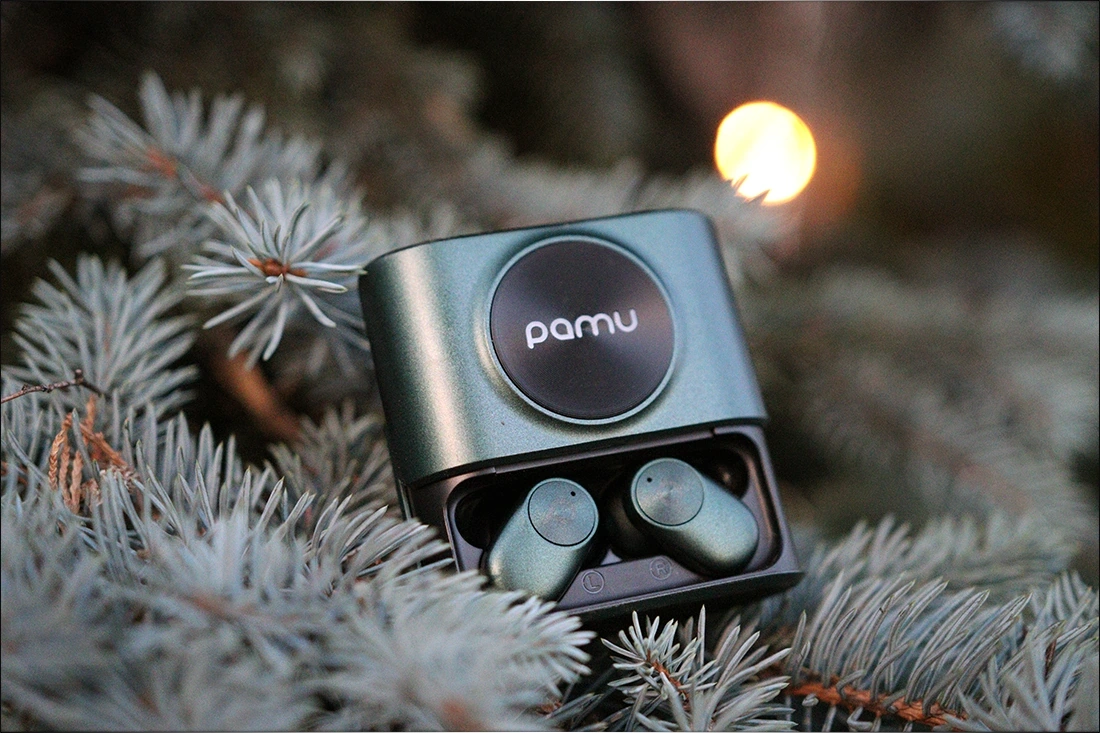 Introduction
Padmate Tech is a pretty popular company from China, with a rich product offering, from headphones to TWS, but with the rule of thumb being that everything they make is bluetooth. The new Slide 2 is the latest chapter in their life, and given how many products I reviewed from them, you know that they are here to stay and won't go anywhere any time soon. They already made one, which I have, as well as other units that other reviewers have, so you know that they won't chicken out of delivering the indiegogo promised units. 
It should be noted that I have absolutely no affiliation with Pamu or Padmate Tech, I am not receiving any incentive for this review or to sweeten things out. I'd like to thank Pamu / Padmate Tech for providing the sample for this review. Every opinion expressed is mine and I stand by it. The purpose of this review is to help those interested in Pamu Slide 2 find their next music companion. 
Product Link
You can grab one from www.amazon.com here: https://amzn.to/3zh84UT
If you're in the UK, you can grab one from www.amazon.co.uk here: https://amzn.to/3yNrM9v
And if you're from Europe, you can grab one from www.amazon.de here: https://amzn.to/3cpULIF
You can check the current Indiegogo campaign for the lowest prices here: https://www.indiegogo.com/projects/pamu-slide-2-the-most-funded-earbuds-now-upgraded/#/
Build Quality/Aesthetics/Fit/Comfort
Pamu Slide 2 comes in a green case, at least the version that I got, but there are options for white and black as well. The case slides it's face upwards to reveal the TWS IEMs, hence the name Slide 2. The new version is pretty feature-rich, and they now rely on Bluetooth 5.2, along with ANC. 
There's a really cool LED stripe at the bottom which shows much much battery is in the case, and it slides when the case is charging. Slightly odd, there is no LED light on the TWS IEMs themselves, so there is no way to know when they're open and in pairing mode. Despite having Bluetooth 5.2, we have only AAC, and SBC, with no LDAC or aptX.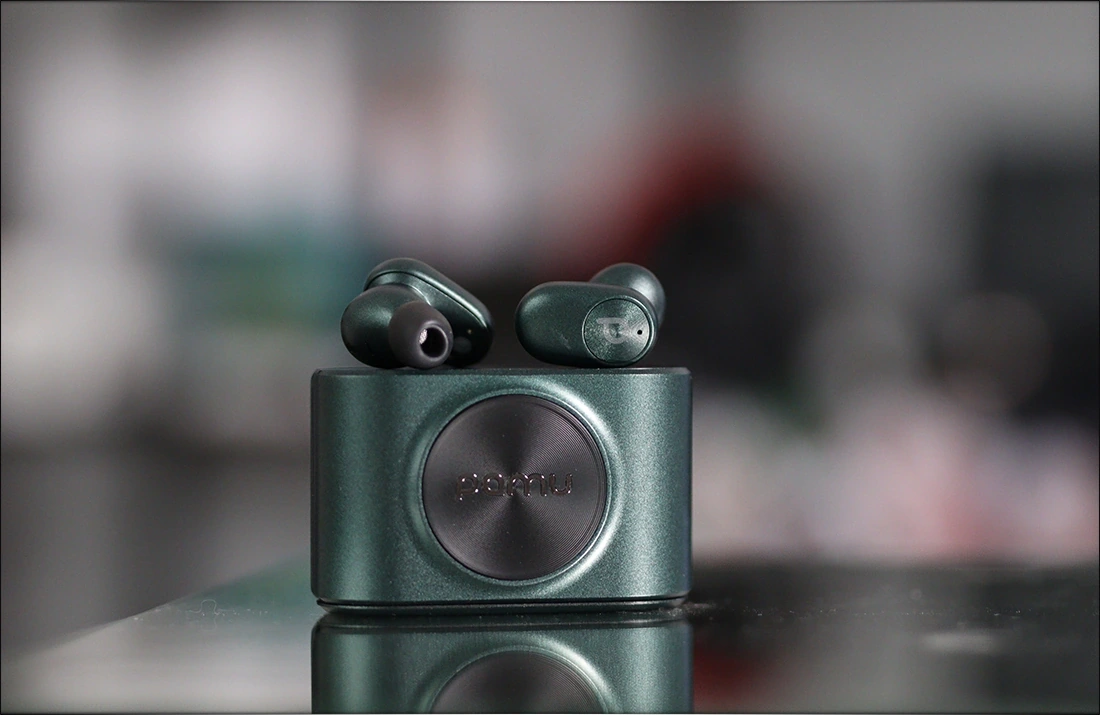 After you place them in your ears, Slide 2 are very comfortable, with a very ergonomic shape. As odd as it sounds, and as odd as they look, they fit like a glove in my ears, the tips being of a very good quality as well. The maximum volume is also excellent, and there is no background hiss while playing music and using them in normal, ANC off mode. There is no separate volume control, and adjusting the volume on Slide 2 adjusts the volume on the phone. 
Speaking of ANC, to gain access to their more advanced features, you need to download and install the Pamu app, which is a huge inconvenience, especially as it requires you to make an account in their app to use. Oddly enough, the app works well after you install it, and it is easy to use, pretty intuitive and well designed. You can use the faceplates to adjust volume by sliding on them. One press to pause, two presses to change song and close a call. 
The ANC works just ok, it cancels most of the low end sounds in the room, booms and bass sounds, but my keyboard is actually audible quite clearly with ANC turned on, and so are voices. The Wind Noise Reduction seems to do exactly the opposite as turning it on, I can clearly hear my computer's fans, while with just ANC turned on, they were not audible. The Audio Passthrough works as intended, and it feels like you're not using any kind of IEM at all. There is a Mode A and a mode B for ANC, but there is no difference between them. 
Using ANC degrades the sound a bit, and once you install the app and turn on ANC, there is no way to turn off ANC, only on and passthrough. Using the Game mode does not seem to change the sonic experience in any way, so I am not sure why there are options to enable and disable it. The Vocal Enhancement is a boost for the passthrough mode. 
There is EQ and automatic in ear detection, which works as intended, and the IEMs will stop playing while you're wearing them, and start playing when you insert them. The EQ is quite effective, and they start with EQ turned on, and once you install the app you have to live with the guilt of using EQ because they sound considerably better with one of the EQ profiles enabled. The POP mode is the intended / designed mode that Pamu Slide 2 comes with. This being said, as we'll explore below, you're pretty much required to install the app and use it to set the EQ to normal.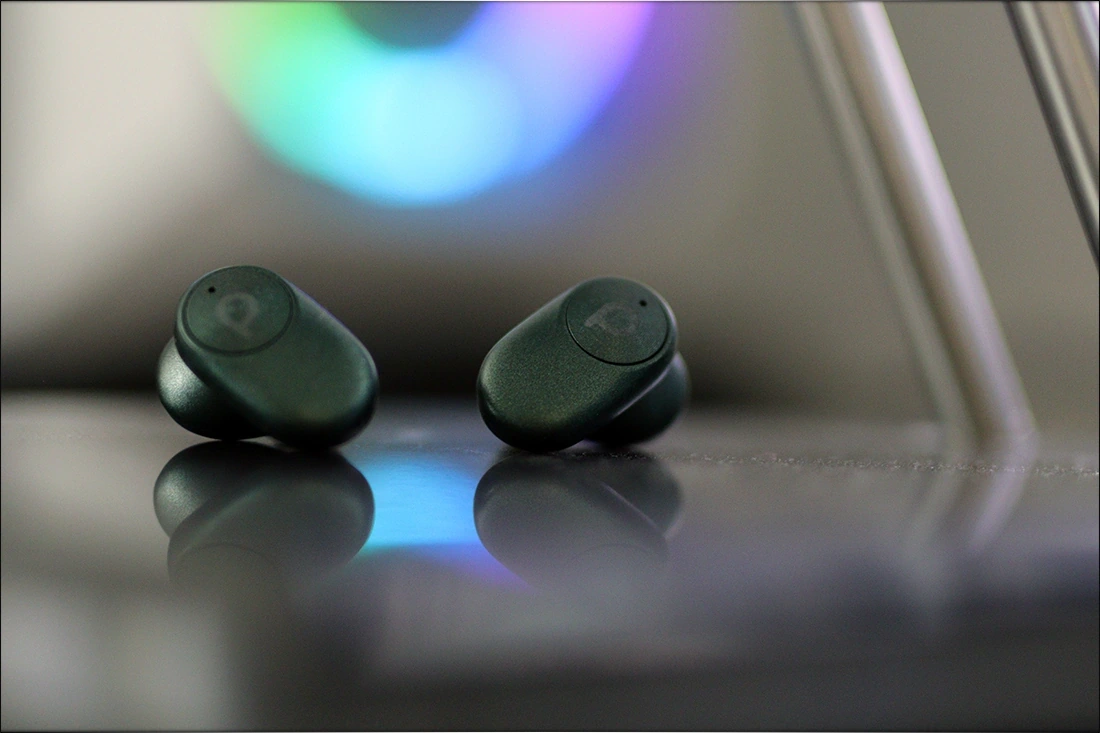 The battery life is fairly good with a promised battery life of 6.5 hours for the IEMs, and about 5 hours measured by me, and the case offering 4 additional charges. It takes 1.5 hours to charge the IEMs, and 1.5 hours to charge the case from 0 to full. The case has wireless charging enabled, and it takes 2 hours to charge it using the wireless charging. 
Sound Quality
There's not a lot of info available on the drivers and inner parts of Pamu Slide 2 available online. Initially, I was going to take impressions with the EQ set to POP rather than normal, because this seems to be the intended way of you listening to Slide 2. The sound has the best overall detail, best bass, and it is the most pleasing this way, and although it is DSP, it is the way they'll sound out of the box, if you don't install the app. In Pop mode, The overall sound of Slide 2 is pretty bassy, with a bold and edgy bottom end, sparkly treble, and fairly good detail / resolution. There is some loudness processing going on, but at the maximum volume, the sound can get extremely loud. The reason I was going to review the sound in pop mode, but gave up, is that there's like an artifact happening at maximum volume where there's a sound like the IEMs are brushing against something if a loud bass note hits. This is a digital processing artifact, because the normal volume can get just as loud, and this problem is not present. 
In normal mode, the sound is pretty good, and although the treble isn't as sparkly, and everything has less dynamics, the maximum volume is still extremely loud. The midrange is more natural, and background information is more apparent, although the soundstage becomes both shallower and smaller. The performance is still in line with what you'd expect from a pair of ~150 USD IEMs, but they now are more balanced and linear in tuning. 
The bass in Normal mode is clean, detailed and extremely large. Most of the bass energy is between 40 Hz and 60 Hz, but to be fair, it is audible as low as 20 Hz, which instantly places Slide 2 at the top of the TWS chain, as most TWS IEMs struggle heavily with bass. The bass above 60 Hz is still very uplifted, and you get a thick, satisfying bass, that's closer to what you hear in a club than in traditional IEMs. This being said, the clarity and speed is much better than on ultra-commercial IEMs like Skullcnady. 
The midrange in Normal Mode is clean, detailed and fairly natural in tuning. In fact, from all the TWS IEMs I heard to date, Slide 2 has, like all previous Pamu TWS IEMs, one of the most natural and honest midranges. The company could try to sell more of their excellent mids than to pump the treble with DSP or Digital Signal Processing. 
Now, to the treble, the reason they are trying to use DSP is that the treble has a pretty strong roll off, with most of the treble energy being around 10 kHz, but it still being more than 5 – 10 dB beneath the midrange. After 10 kHz it rolls off gently and completely. Using DSP and Pop mode will give a V-Shaped sound with a much stronger treble, but the tradeoff is that the whole sound is not as impressive anymore. A big reason why the treble rolls of in normal mode is the Bluetooth connection, which is limited to AAC and SBC. Even with all of this being said, the sound is really enjoyable as it is, slightly smoother, but with a big bass and a natural midrange, and I could enjoy Slide 2 as my main TWS IEM for a long time in their default, natural mode. No tricks are needed really. 
Comparisons 
Pamu Slide 2 vs Nuarl N10 Plus (159 USD vs 165 USD) – The build quality is similar between the two, and Slide 2 actually looks more interesting than N10 Plus. The feature selection is better on slide 2 as well, with better support for wireless charging, similar support for passthrough mode, but better support for EQ. The comfort is similar between the two, with Slide 2 actually being slightly lighter, so more comfortable than N10 Plus. The sonic performance is generally smoother, and darker on Slide 2, while it is more resolute, technically more capable, and wider, deeper and with more instrument separation on N10 Plus. N10 Plus is also considerably brighter, which makes Slide 2 more relaxing, handling hard edges, and harder music better than N10 Plus. 
Pamu Slide 2 vs GravaStar Sirius Pro+ (159 USD vs 150 USD) – The overall comfort is better on Sirius Pro+ , which is smaller and lighter too. The design is more edgy and cooler on Sirius Pro+ too. The EQ modes are more effective on Pamu Slide 2, but they should most probably limit the maximum volume a bit, so they don't run into sonic artifacts when you're listening at maximum volume. The overall presentation is actually quite similar between Sirius Pro + and Slide2, both are thick, heavy with a strong bass and a smoother treble. The maximum detail and resolution is slightly better on Slide 2, while the soundstage is wider and deeper on Sirius Pro+. 
Pamu Slide 2 vs Grell TWS 1 (159 USD vs 200 USD) – Grell TWS 1 has a larger body for the IEMs, which makes Slide 2 more comfortable. Slide 2 also has wireless charging. I could not use the EQ features of Grell TWS 1, so Slide 2 wins too. The ANC implementation is much better on Grell TWS 1. The maximum volume is comparable between them. The sonic performance is actually comparable between Slide 2 and TWS 1, both having a good maximum volume, good detail and a stronger bass. Slide 2 has more bass than TWS 1, but TWS 1 has better resolution and more treble extension, along with a much wider and deeper soundstage, and better instrument separation. If you're looking for a thicker, bolder sound, with more low end and a darker presentation Slide 2 should be perfect for you, while if you're looking for more detail and resolution, Grell TWS 1 would be better for you.  
Value and Conclusion
At the full price tag of 159 USD, Pamu Slide 2 is not very competitive, compared to what you can find on the market, but given that they are currently being sold on indiegogo for 79-89 USD, the value is quite good and most alternatives around 100 USD are not as feature rich nor as good sounding as Pamu Slide 2. Most of the kinks and problems I complained about are at a software level and can be ironed out with firmware updates. The IEMs are well driven in their natural mode, they have good energy, and an impactful sound. There's no background noise to distract you from music.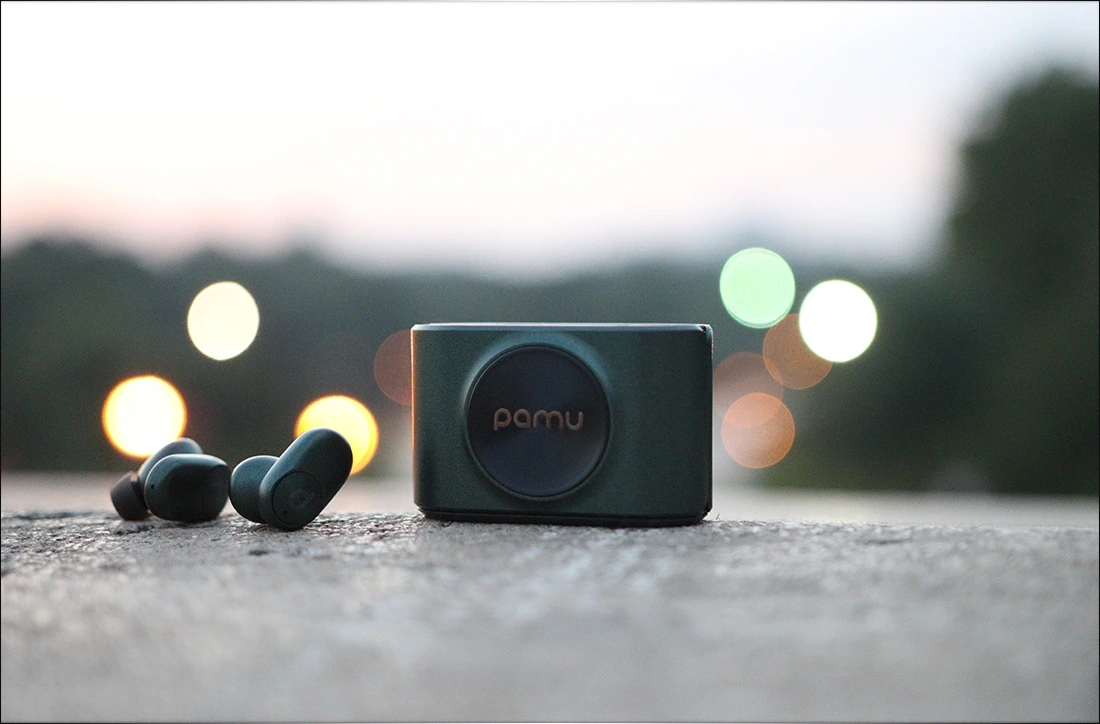 At the end of the day, Pamu Slide 2 is a good TWS IEM, and if you're looking for a good-priced TWS IEM with a futuristic design, ANC, strong bass, good maximum volume, and good battery life, Pamu Slide 2 is a good option. 
Product Link
You can grab one from www.amazon.com here: https://amzn.to/3zh84UT
If you're in the UK, you can grab one from www.amazon.co.uk here: https://amzn.to/3yNrM9v
And if you're from Europe, you can grab one from www.amazon.de here: https://amzn.to/3cpULIF
You can check the current Indiegogo campaign for the lowest prices here: https://www.indiegogo.com/projects/pamu-slide-2-the-most-funded-earbuds-now-upgraded/#/
Packaging
Let's get the packaging out of the way:
The package of Pamu Slide 2 is minimalistic, similar to what other TWS IEMs offer. 
Pamu Slide 2 TWS IEMs 

Charging Case

USB Cable

4 pairs of tips, one of which is already installed on them

Manual 
---
--- Please remember to stay safe, and always have fun while listening to music!---
 - If you have a dime to spare, please donate, and help us! It would make the day brighter for me and my wife- 
---
Full Playlist used for this review
We listened to more songs than those named in this playlist, but those are excellent for identifying a sonic signature.  I recommend trying most of the songs from this playlist, especially if you're searching for new music! The playlists are different for Spotify, Tidal and Youtube, and based on the songs I enjoy and are available on each!
https://www.youtube.com/playlist?list=PL_cjBXGmwSHSdGcwuc_bKbBDGHL4QvYBu
https://open.spotify.com/playlist/5J3oloz8Riy9LxEGenOjQ0?si=979ba4f082414be7
https://tidal.com/browse/playlist/330fd544-8e5b-4839-bd35-676b2edbb3d5
--- Contact Us ---





---