HIFIMAN EF400 Balanced DAC/AMP – The R2R Music Magician 
HIFIMAN EF400 is a 599 USD balanced DAC/AMP with an R2R DAC inside, the Himalaya recipient of 2022 VGP Technology Award in Japan, and with a fully balanced design for the headphone output part. It will be compared to the best DAC/AMPs I reviewed on Audiophile-Heaven in the past, including Matrix Audio Element i (1150 USD), Pro-Ject DAC Box DS (400 USD), Palab M1 Mini (500 USD), Soundaware A1X PRO (700 USD), and even Aune s6 PRO (550 USD), SMSL DO200 Balanced DAC (490 USD), and Keces S3 (1300 USD).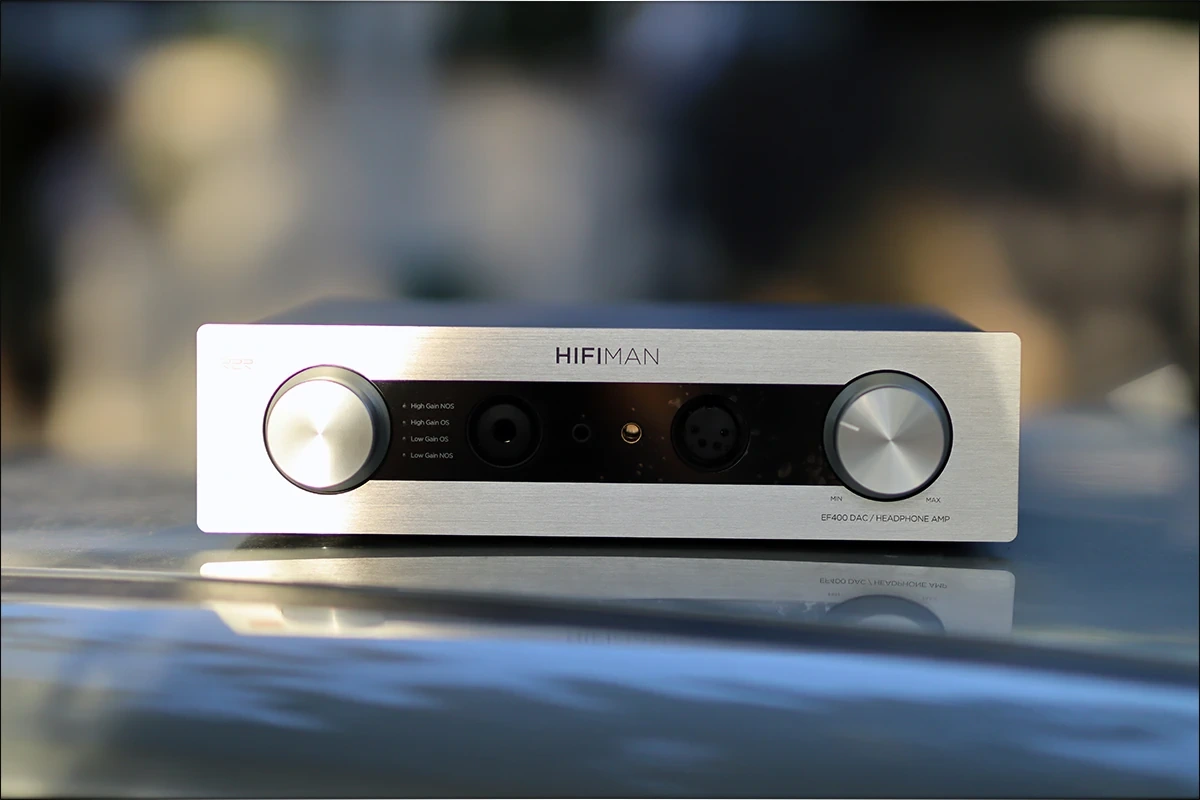 Introduction
HIFIMAN is the music lover and audiophile's best friend. They basically have everything, from top-of-the-line DACs to AMPs to Headphones, and everything in between. They have some of the best price / performance ratio in the market, and despite being so large, they still have superb support and warranty conditions, along with many technological innovations, making them one of the most favored audio companies for beginners and enthusiast audiophiles alike. Given their rather positive position in the market, they often have big sales, with HE1000 V2 being one good example, a headphone that performs superb for its 3000 USD price point, but which HIFIMAN decided to put on sale for 2000 USD, literally slicing 33% of the price for everyone to enjoy.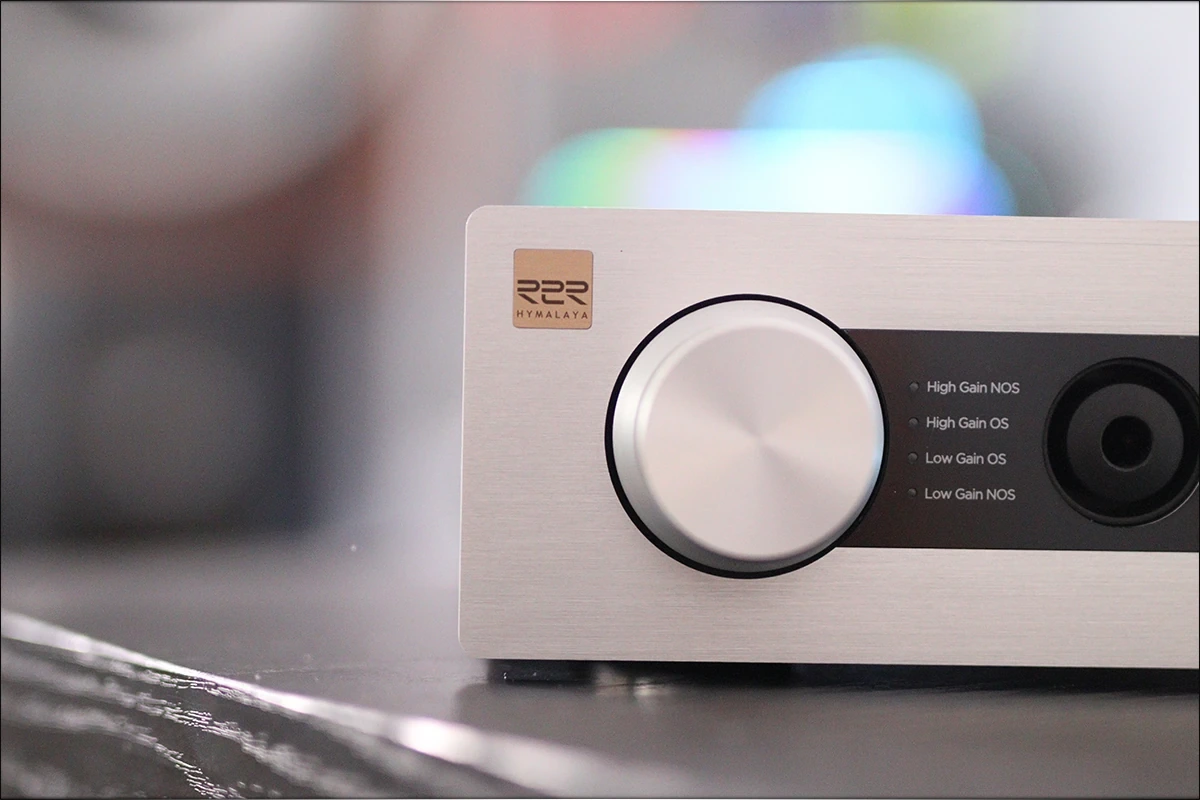 It should be noted that I have absolutely no affiliation with HIFIMAN. I'd like to thank HIFIMAN for providing the sample for this review. This review reflects my personal experience with the HIFIMAN EF400. Every opinion expressed is mine and I stand by it. The purpose of this review is to help those interested in HIFIMAN EF400 R2R DAC / Headphone AMP find their next music companion. 
Product Link
You can grab one from www.amazon.com here: https://amzn.to/3M2j1OZ
If you're in the UK, you can grab one from www.amazon.co.uk here: https://amzn.to/3fDhJhd
And if you're from Europe, you can grab one from www.amazon.de here: https://amzn.to/3C8Ukfh
Build Quality/Aesthetics/Features
HIFIMAN EF400 is an R2R DAC, featuring one of the rarest, highest quality DACs in the whole world, HIFIMAN's own Himalaya DAC module. This is a super-efficient and super resolute, yet analogue sounding DAC configuration, that HIFIMAN developed in-house, under the leadership of Dr. Fang Bian. 
Something you don't get to see with most DACs is a fully balanced design, to the point of FULLY Balanced. We have a DAC array processing the left and a different DAC array processing the right channel. This continues to separate buffers and LPF, with the volume control having four channels and controlling each of those separately. Then, the headphone output has two Dual Channel constructions, resulting in a fully balanced design. The class of EF400 is AB, meaning that it has the advantage of being detailed, strong and vivid as a Class A DAC, but consuming less and producing less heat, so being better for long term usage, as a higher class (since heat inherently degrades electronics).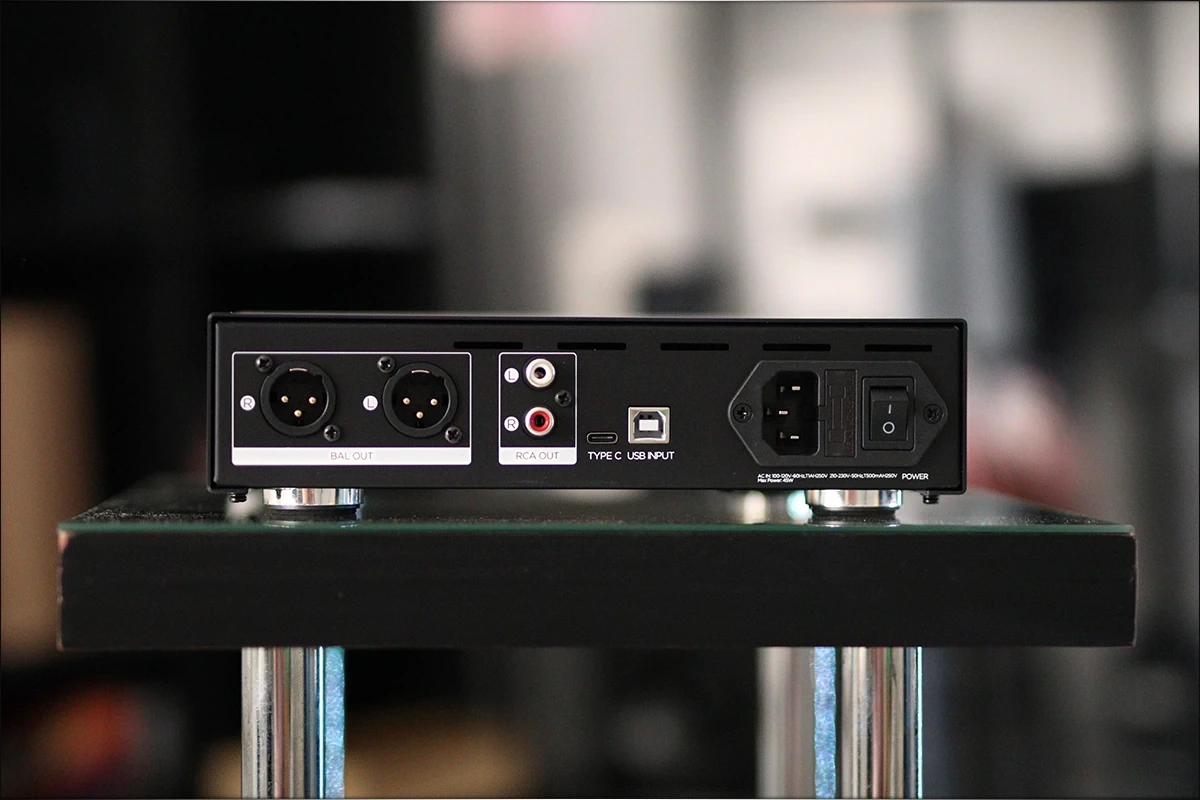 Physically, we start really strong as the EF400 is a large, sturdy amplifier with a superb silver frontal part, and with two wheels at the front. It has a volume wheel that is large and has good rotation, being a fully analogue volume wheel. This means that it turns smoothly with no steps or clicks, but HIFIMAN uses a high-quality volume wheel as it offers super good and reliable control even at the first few steps of the volume. Next, we have the selector wheel, which is for selecting the gain level and whether you want to use OS or NOS filters.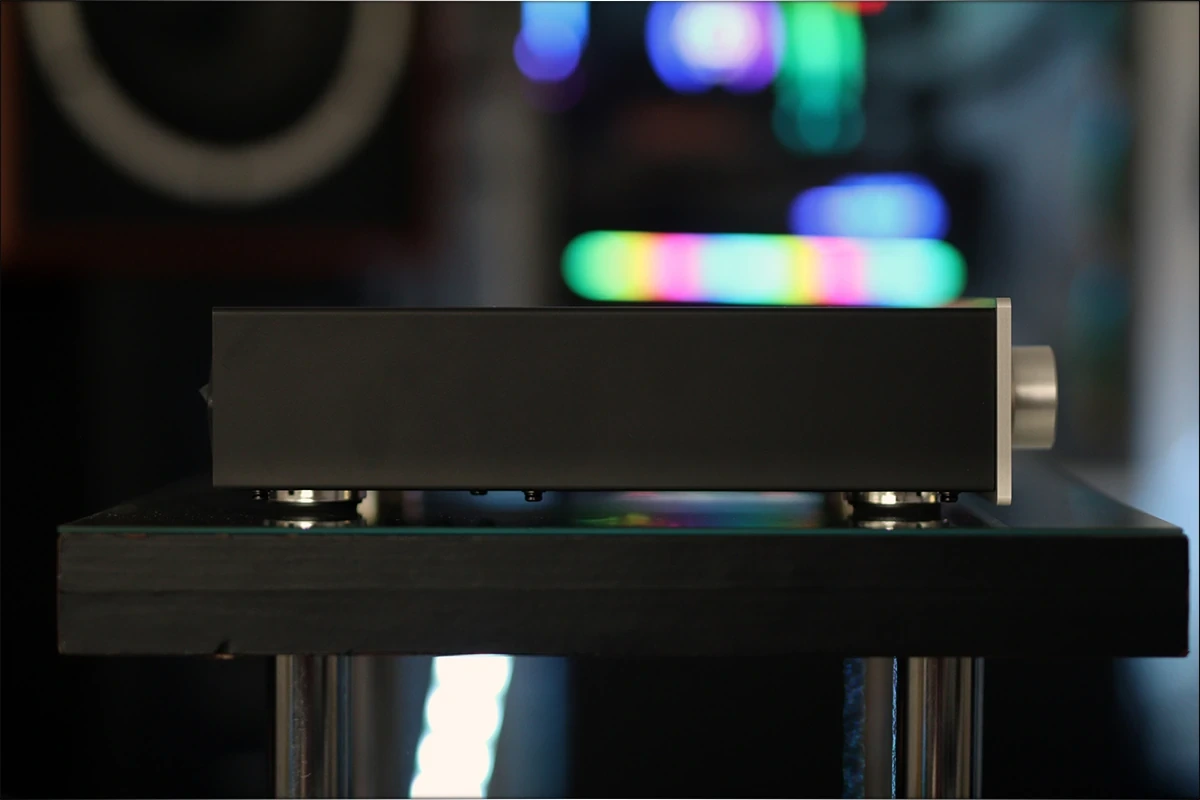 If you're not used to hearing about NOS and OS filters, that's normal, as those are some rare features even in the audiophile world. NOS basically means Non Over Sampling, while OS means Over Sampling filters. As EF400 has an R2R DAC, it can run either filter less, which is the NOS filter mode, or filtered, which is the OS filter mode. We will explore down in the Sound Quality part of today's review how each sound like. To explain what the technology does, Over Sampling will have a more traditional sound, which you can find in most Audio products, as it will apply oversampling filters to the signal, which will change how the filter reacts to impulse response. On DAPs or music players such as DX320 or SE180, those are under the label filters, and usually DAC designers bundle their DACs with multiple ways that a filter can react.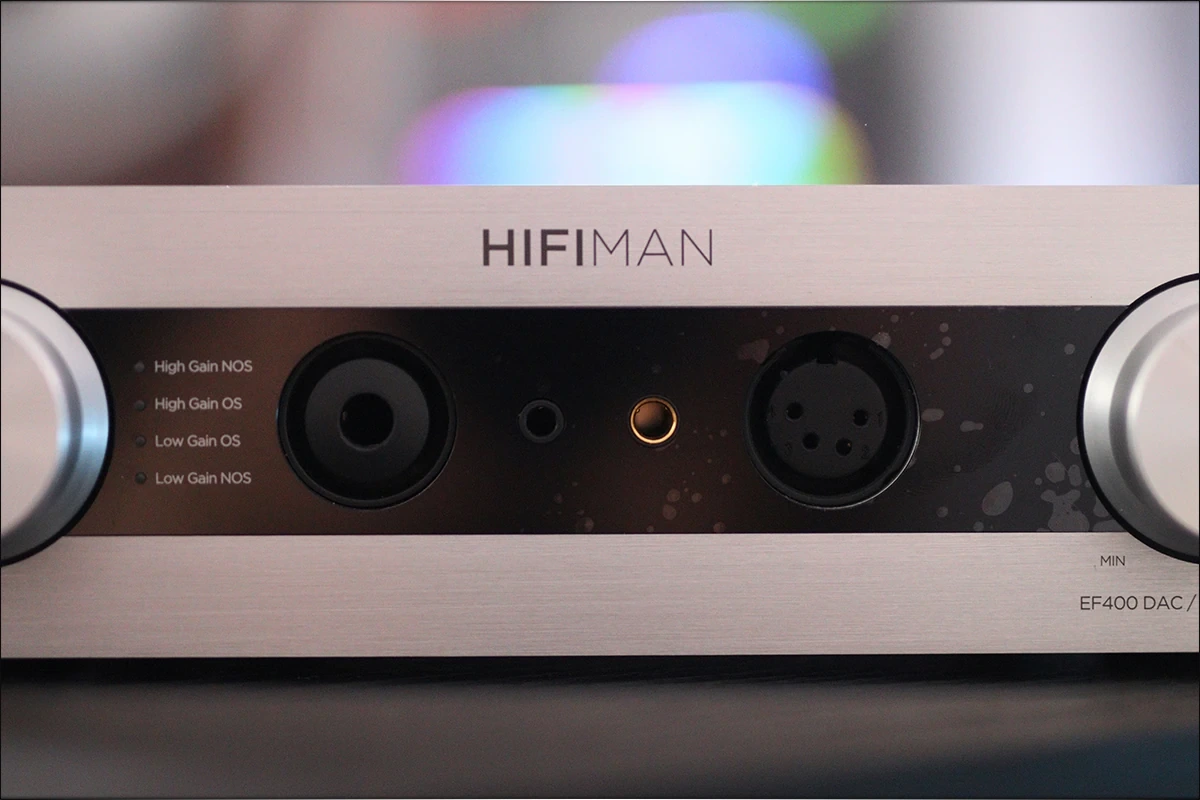 On the other hand, we have NOS modes which apply absolutely no filtering over the signal, and which would theoretically be more accurate and produce a better signal. This is usually possible with R2R DACs as traditional Delta Sigma DACs cannot function without a filter, or at least I've never seen an implementation that tried to do this. There's also the Tube DAC Tech developed for DACs like the SW1X DAC, but that's another story entirely. 
Getting into more tangible terms, we have both a USB Type A input, or USB-B, and a USB Type-C input on EF400. There's also a balanced output for the DAC part, so you can connect it to desktop AMPs or speakers, and RCA outputs as well. The power input uses a traditional and common Cattle Plug, and it has a fuse for protection. It is much better to use EF400 as a standalone DAC if you use the Balanced output instead of the RCA output, as the RCA output can be a bit noisy, while the Balanced output is quieter, and has better sonic performance as well. 
Back to the front of the unit, we have 4 headphone outputs, and this was a huge surprise to me, as it may be for you. The 4 Headphone Outputs include a 6.35 Single Ended Output that plays along a 3.5mm Single Ended output, and we have two balanced outputs too, one that's 4.4mm Balanced and one that's XLR. Naturally, they will sound different and have different driving powers, but I always recommend using the balanced outputs if you can as they're bound to offer the best performance thanks to their design.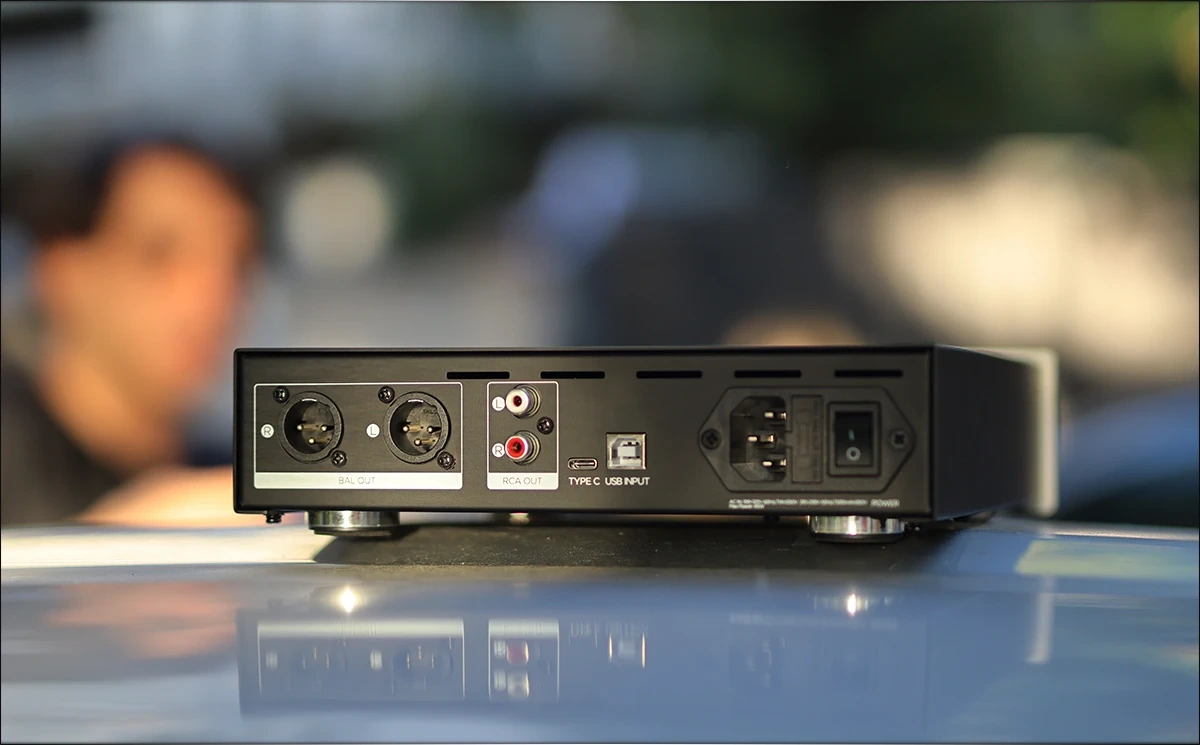 If you're into technical data, HIFIMAN has super performance for EF400, with a SNR / Signal To Noise Ratio of 118dB, and a THD that's between 0.002% and 0.004%, well below the threshold of human hearing. The maximum output power is a whopping 4.4W per channel, enough to drive any headphones on the market, including warriors like the mighty Audeze LCD-5. 
Subjectively, EF400 works flawlessly, it is a DAC/AMP with no need for drivers, and which can even connect to a Type-C USB cable instantly. There is no DAC or DAC/AMP delay, and it works for gaming, music listening, movies and basically anything you'd typically do on a computer. Even better, it doesn't get uncomfortably hot during usage, and is generally super pleasing to use. There's a very tiny LED light that shows it is working, and it looks professional, is heavy and sits very tight on my desk, but has about enough space below my Monitor making a super welcome addition to my overall setup. 
Sound Quality
We should first start by mentioning that we've been using a multitude of headphones and even speaker systems to test the abilities of EF400. While in the past you'd have to spend a lot to be able to drive heavy headphones, nowadays it is becoming more and more affordable, to the point where a device like EF400 makes higher weight amplifiers pretty much obsolete. The full list of headphones I've been using EF400 with includes Dan Clark Aeon Flow Noire 2, HIFIMAN HE1000 V2, Audeze LCD-5, HIFIMAN Edition XS, AIAIAI TMA-2 Studio, KLH Ultimate One, Sendy Audio Apollo, Sendy Audio Peacock, Crosszone CZ-8A, Audeze LCD-XC, and Kenneton Thror and others. I also connected EF400 to stereo HIFI AMPs including Cyrus One Cast, SMSL AO200, and Burson Funk, to drive speakers such as NHT C3, Buchardt S400 and KLH Model 5. All in all, EF400 has performed exemplary in every single situation, so much so, that I decided to try it with IEMS, including SeekReal Airship, Astrotec am850mk2, Ambient Acoustics MAD16, and Periodic Audio Be Beryllium V3.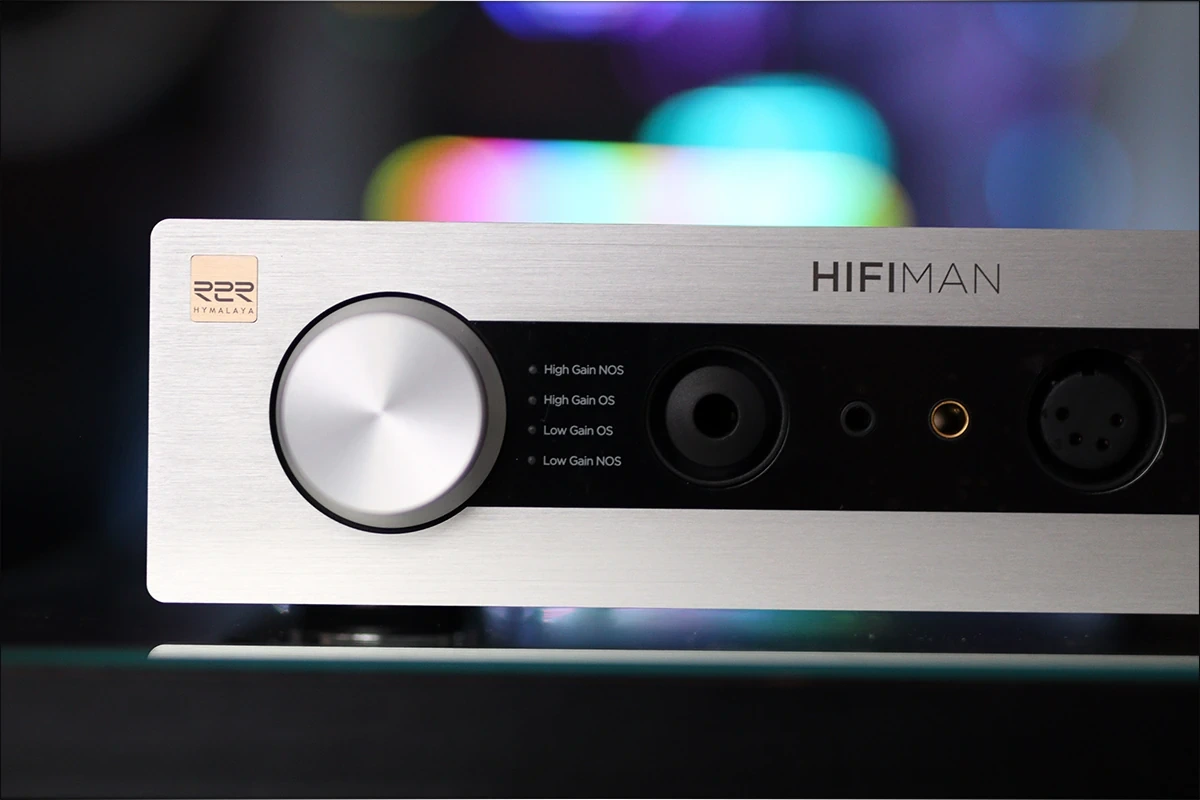 Driving sensitive IEMS out of EF400 can be a bit tricky, and you'll really need Low Gain, as with both high gain and low gain, you can hear some music playing at minimum volume. There is no volume imbalance starting with the volume meter being set at 8 o'clock, which should be perfect for literally everyone. Even with extremely sensitive IEMs, there is absolutely ZERO hissing and background noise, which is super surprising for a DAC/AMP that has 4.4 W per channel, or 8.8W at max. 
Through all those comparisons, I was able to understand the signature of EF400, and since it is an R2R DAC/AMP, it has a pretty specific signature, with NOS and OS having different presentations. There is no baseline here, and you should use OS or NOS based on what kind of sound you're looking for. Just keep in mind that OS means Over Sampling, and this is how it should sound when compared to most DAC / AMPs out there, while NOS is a special mode that only R2R DACs usually have. High gain seems to also have a huge effect with EF400, and instead of a volume attenuator, low gain is the baseline for the sound, and high gain is a gain switch, and not a volume selector. It adds real gain, and you can hear it with most music, being similar to what I hear when I turn the gain and drive higher on my Boss Katana MK2 Guitar AMP. If you're using the high gain setting on EF400, you generally get a more vivid, more punchy presentation that gives more insight in the details of your music, as well as makes textures harder and more prominent. 
Starting with the bass, we have a really deep, clean and extremely fast bass. The quantity is neutral, and there's no more bass than it should be, but the impact is more than enough to punch holes through the fabric of reality, with a pair of headphones that holds its bass well. More than surprising, if you turn the volume loud, EF400 can prove that if you ever experienced unsatisfying bass, it was most probably the AMP / DAC struggling to keep up with the lows. EF400 has a stronger impact, higher and a better-defined bass in the OS mode, and a warmer, slower, softer and gentler presentation in the OS mode. Going high gain will make the bass even faster, and increase the quantity of the bass a bit, making the whole sound more dynamic, vivid and punchy.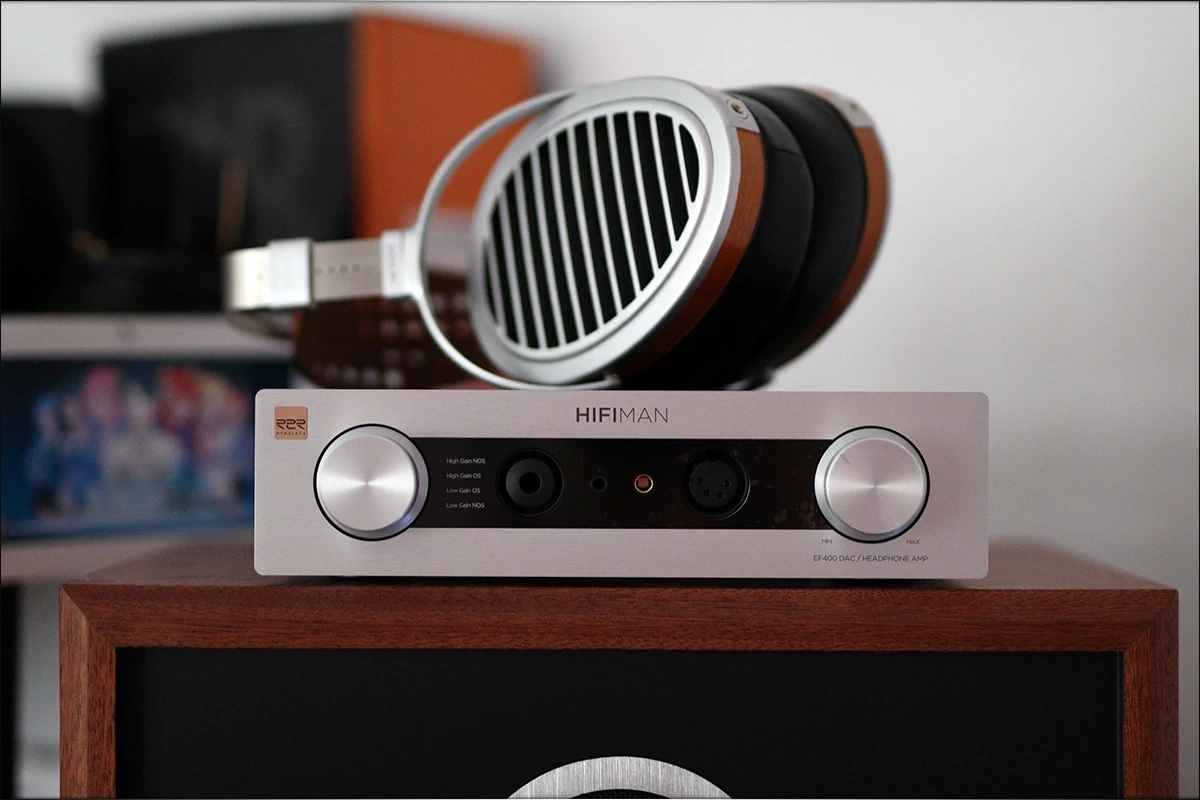 The midrange is clean, dynamic, vivid and punchy. EF400 is surprisingly detailed and clean, with a super wide and holographic presentation in the mids. The main tonality is neutral-natural with a slightly cold presentation in the OS mode. If you're using EF400 in the NOS mode, you get a much softer, gentler and smoother presentation that is much less fatiguing, but also has slightly less detail and resolution. The gain also has an effect and using high gain will give you a slightly more driven sounding midrange, but also better impact, detail and resolution. EF400 is comparable to Cyrus One Cast, but with more detail, better soundstage, and with a more forward and aggressive sound (OS mode). While most audiophiles tend to fancy the idea of a NOS mode at first, I know from my review on Denafrips Ares II, and from the mails received from you guys, that you ended up wanting more impact than Ares II has, so I'm here to say this, EF400 has all the impact you may need, especially if you want to engage the OS mode. You also won't need to use any other amplifier, and using EF400 has pretty much the same detail, clarity and impact as using Audio-GD Master 19. 
The treble of EF400 is the place where the OS and NOS filters make the biggest difference, as NOS mode will roll off the sound earlier, and result in a smoother, leaner and softer sound, while OS mode will sound much brighter, cleaner, with more air and better micro detail. Gain selection doesn't make a big change to the treble of EF400, and it generally is a very capable AMP that can have both a really well extended, airy and neutral sound, but also a softer, lighter and less fatiguing presentation. 
Comparisons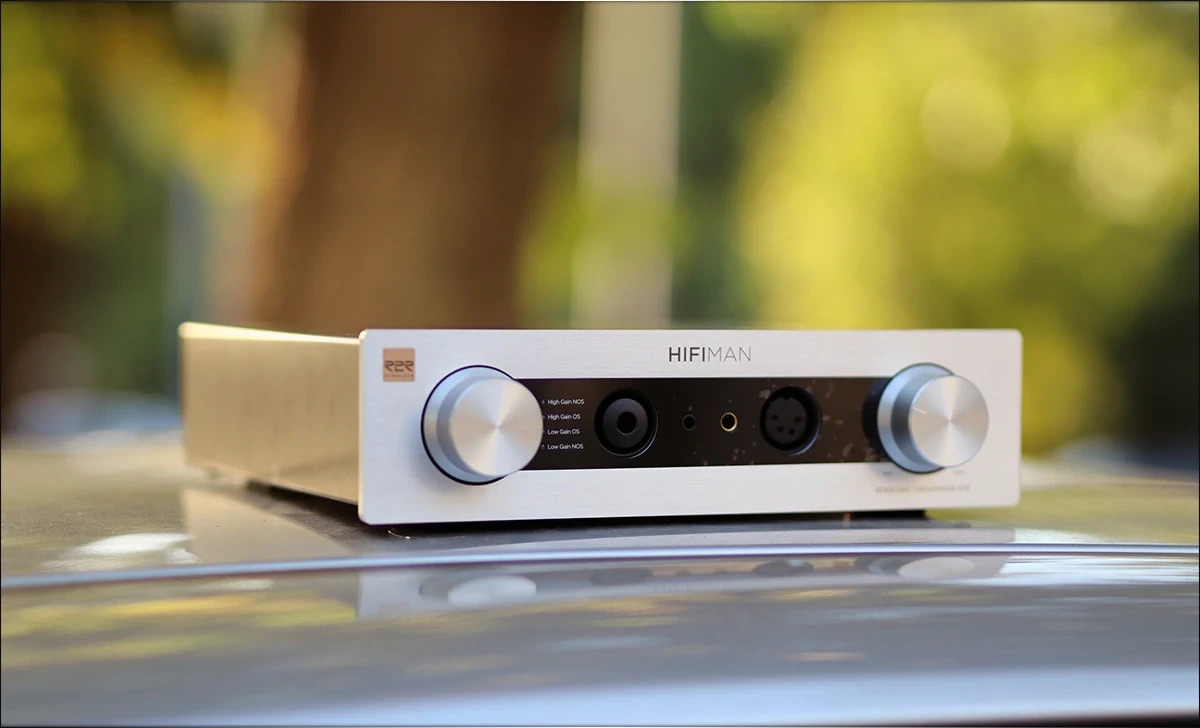 HIFIMAN EF400 vs Aune S6 PRO (599 USD vs 550 USD) – We have better driving power from EF400, which can drive much heavier headphones, with ease, offering better control and lower distortion. The overall soundstage is a bit wider on Aune S6 PRO, but it is deeper and has better layering on EF400. We have better overall detailing and resolution on EF400, which is able to play more complex pieces with lesser struggle, and in tonality EF400 is warmer, more natural, and a bit gentler, S6 PRO seeming brighter, colder and more digital in comparison. If you're looking for a great overall DAC/AMP with better overall compatibility for both IEMs and Headphones, EF400 wins in most aspects, except for the case in which you'd like a cold and bright sound, where s6 PRO would be the natural choice. The 4.4mm balanced headphone output on S6 PRO surely is welcome, as is the better DAC output and the GAIN selector that allows for both OS and NOS filters, features that are exclusive to it. 
HIFIMAN EF400 vs Matrix Audio Element i (599 USD vs 1150 USD) – We have a slightly wider usage scenario for Element i, which is more of a streamer, but with a headphone AMP and a DAC output function. In the general sense, I prefer using EF400, as over the USB input it makes things simpler, and it has a quieter Headphone output, with lower noise, more resolution, better detail and a wider, deeper soundstage. Element i has a more traditional Delta-Sigma sound, while especially if you play with the OS / NOS filters of EF400, you can get a gentler, more refined sound, typical of R2R setups. The driving power is vastly better on EF400, and it has a 4.4mm balanced headphone output, plus it has better construction quality, being more solid and having better stability on my desk. 
HIFIMAN EF400 vs Pro-Ject DAC Box DS (599 USD vs 400 USD) – Since Head Box DS is just a DAC, I thought it would be good to compare it as a standalone DAC to using EF400 as a standalone DAC, but as soon as the comparison started, it ended. The resolution and clarity level of EF400 is just vastly better than that of Head Box DS, and EF400 has a much better resolution and impact, with better soundstage size. In fact, placing them side by side shows what a few years of development can lead to, especially as Head Box DS was received ok when it was released. Now, it simply sounds compressed and bland, compared to the very musical, resolute and clean sounding EF400. 
HIFIMAN EF400 vs Palab M1 Mini (599 USD vs 500 USD) – While Palab M1 Mini is a portable DAC/AMP, I liked it quite a lot back when I reviewed it, and still like it nowadays. It doesn't have a battery, so it is more similar to a Questyle M15 than it is to an iFi Hip-dac2, but compared to EF400, it feels like a miniature version of it. The EF400 has better driving power, especially over the balanced headphone output, and it has better overall resolution and detail, but the M1 Mini doesn't fall very far behind. Even more intriguing, both have good depth, although EF400 sounds wider and is more holographic. While I love both, if I can get a desktop DAC/AMP, I would go for EF400, it simply has better control, lower distortion and a Full Balanced DAC / AMP design that offers better stereo imaging and stereo separation. M1 Mini is quite efficient as a portable though, and if you don't mind the somewhat high power draw, it is similar in tuning and performance to EF400, but as a minified version you can enjoy on the go. 
HIFIMAN EF400 vs Soundaware A1X PRO (599 USD vs 700 USD) – For the streaming part of A1X PRO, I would much rather get a separate Pi Streamer and use it as a DAC, as it can be somewhat slow to process inputs and can be somewhat slow to react. I prefer the volume control of EF400 over the click 1-step-at-a-time control of A1X PRO. The overall resolution and clarity is better on EF400, which has better driving power, better control, a more gentle, less digital sound, with better instrument separation and soundstage. EF400 is more punchy, more vivid and sounds simply more realistic than A1X PRO which sounds rather compressed and flat by comparison. Both have a hint of warmth, but it is done more pleasingly on EF400, which goes for a more natural tuning / signature. 
HIFIMAN EF400 vs SMSL DO200 Balanced DAC (599 USD vs 490 USD) – Things start to get more interesting when we place EF400 against other Balanced DACs, especially those that are from the same price point. You'd assume from the start that DO200 is better as it does a much simpler job, having just the DAC part you need to worry about, and as it is from a reputable company that's been flavor of the month lately too, but EF400 actually sounds much better if you're looking for a clean, natural sound. The trick here is that the EF400 has much better bass impact, sub-bass presence and treble extension, with more air and soundstage width. DO200 has a flatter sound with more midrnage presence, but less dynamics and impact, while EF400, gentle as it is, has better impact and resolution. Generally speaking, I would recommend EF400 for most people here, especially as it has the ability to use NOS and OS filters, and as SMSL is actually releasing an upgrade from DO200, named DO200 MKII, to still stay competitive on today's market. 
HIFIMAN EF400 vs Keces S3 (599 USD vs 1300 USD) – The last is never the least interesting, as they say, and S3 is a high quality DAC/AMP priced much higher than EF400, so you'd imagine that EF400 doesn't really stand a chance. You'd be surprised to learn that you're wrong here, and EF400 actually has a much better sonic ability than S3 in many aspects, including the overall tonality, which is more natural, the headphone driving power and control at loud volumes, and the background noise / hissing, which is lower on EF400. The overall clarity is also much better on EF400 if you're listening to simpler songs, and it struggles less with complex passages, making it a more ideal purchase, especially as it has a much pocket-friendly price. 
Value and Conclusion
Before the end of today's review, it is instantly obvious that HIFIMAN EF400 has super value, and it is one of the best DAC/AMPs you can grab around 500 USD, easily defeating most of the competition when it comes to desktop devices. It ain't quite portable, but it is nimble in sound, and it doesn't need special cables, filters or anything else to work, it is a plug in device that doesn't even need drivers with Windows 10.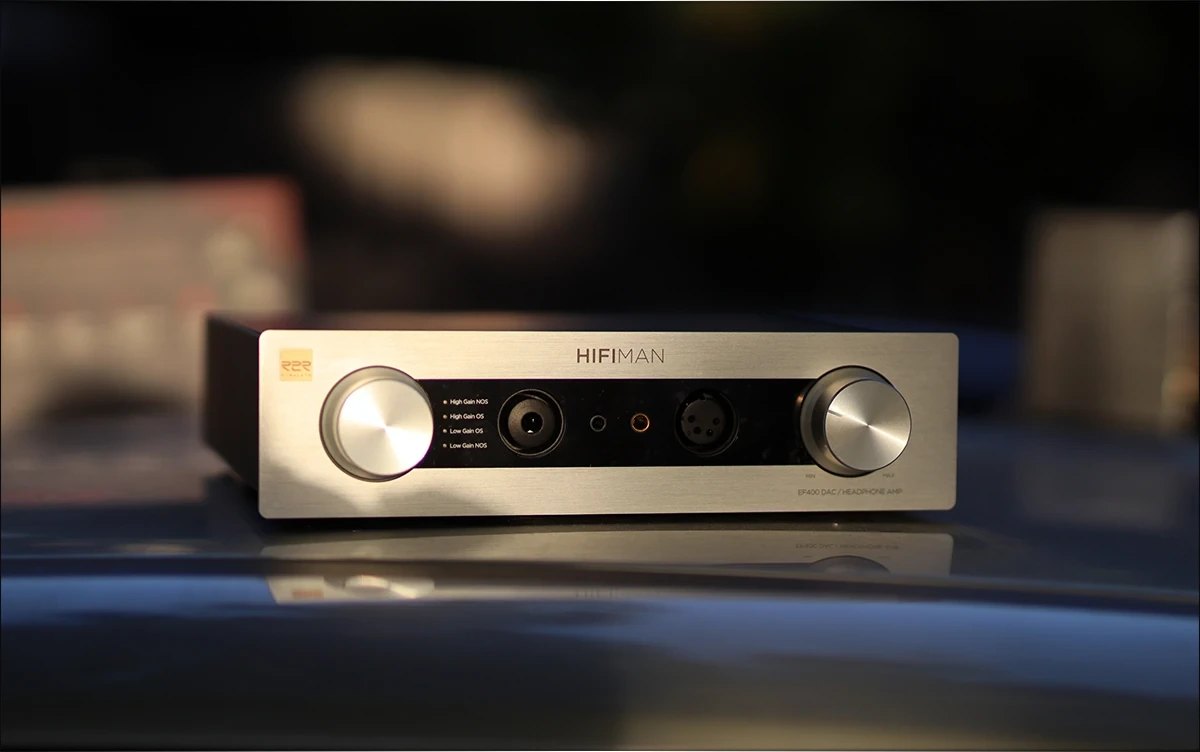 It has superb driving power, and with that R2R DAC it is an instant favorite and creeped right up in Audiophile-Heaven's Hall Of Fame as one of the best DAC/AMPs ever to have been designed.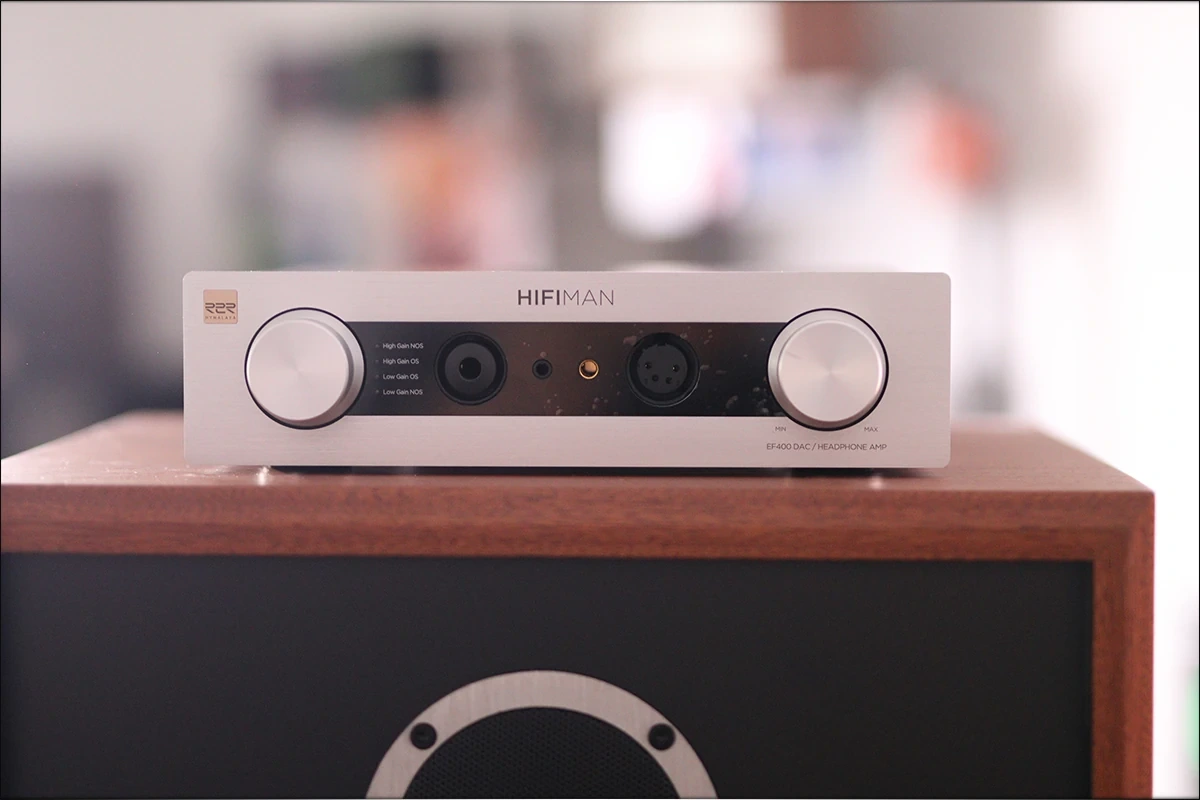 At the end of today's review, if you're looking for a high-end headphone amplifier and R2R DAC, a super sturdy device that will accompany you longer than any headphone will, and something to really give you the most pleasing of listening experience with fine tuning options, HIFIMAN EF400 R2R DAC/AMP is the best I can recommend today, especially for its super price point of 599 USD. 
Product Link
You can grab one from www.amazon.com here: https://amzn.to/3M2j1OZ
If you're in the UK, you can grab one from www.amazon.co.uk here: https://amzn.to/3fDhJhd
And if you're from Europe, you can grab one from www.amazon.de here: https://amzn.to/3C8Ukfh
Tech Specs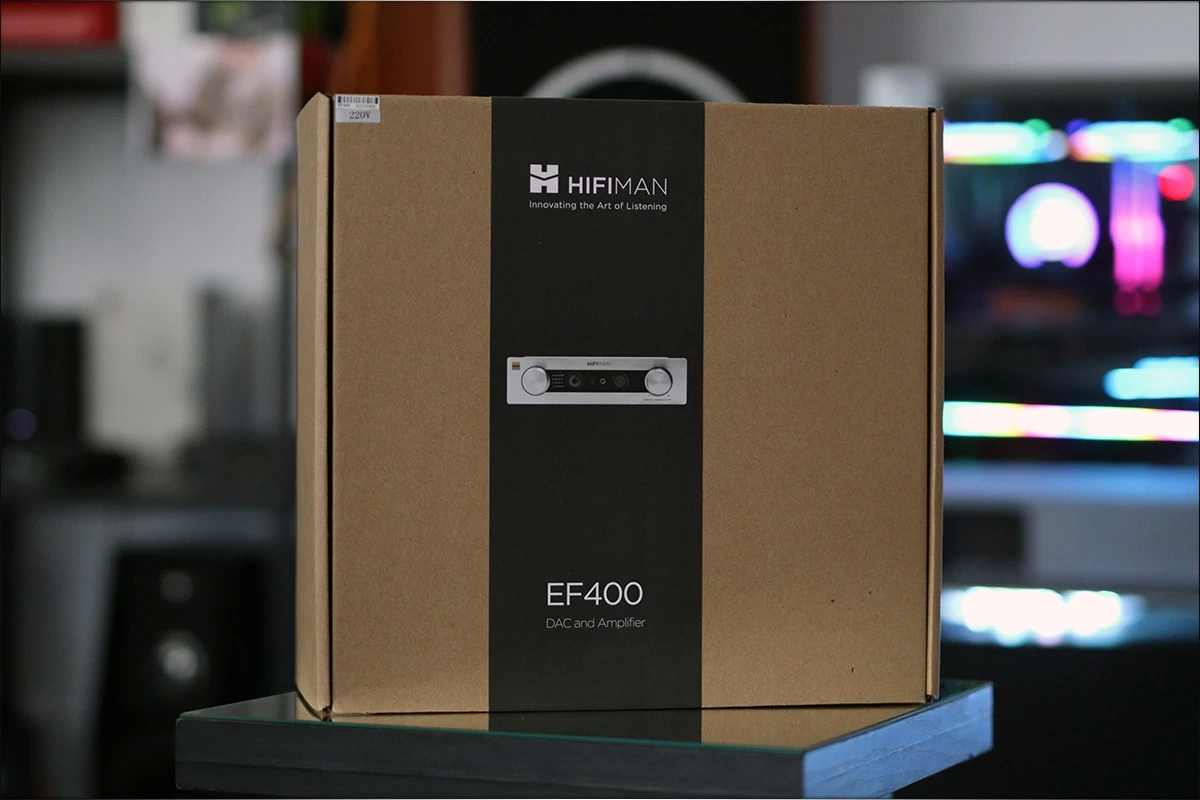 THD+N (Line out): Between 0.002% and 0.004%

Channel Separation: 125+/-3dB

Signal to Noise Ratio: 118+/-3dB (A Weighted)

Maximum Power Output: 4.4 W per channel

Dimensions: 246.5mm(L)×228mm(W)×61mm(H)

Weight: 3.08kg
---
---
--- Please remember to stay safe, and always have fun while listening to music!---
 - If you have a dime to spare, and donate, to help us with electricity and work expenses, it would make my day much brighter, as it would help me improve things around the website and increase the frequency of my posts - 
---
Full Playlist used for this review
We listened to more songs than those named in this playlist, but those are excellent for identifying a sonic signature.  PRaT, Texturization, Detail, Resolution, Dynamics, Impact, and overall tonality are all revealed by those songs. We recommend trying most of the songs from this playlist, especially if you're searching for new music!
https://www.youtube.com/playlist?list=PL_cjBXGmwSHSdGcwuc_bKbBDGHL4QvYBu
--- Contact Us ---






---
---