SMSL AO200 Stereo Amplifier – Rabbit's Foot, Either Quick Or Lucky
S.M.S.L AO200 is a full sized, full powered 50W Speaker Stereo Amplifier priced at 280 USD, and designed with many features like a USB input, Bluetooth input, RCA and XLR inputs, and runs in class D. Today we will compare it to other stereo amplifiers, like Burson Funk (550 USD), Taga Harmony HTA800 (650 USD), and Cyrus One Cast (2000 USD).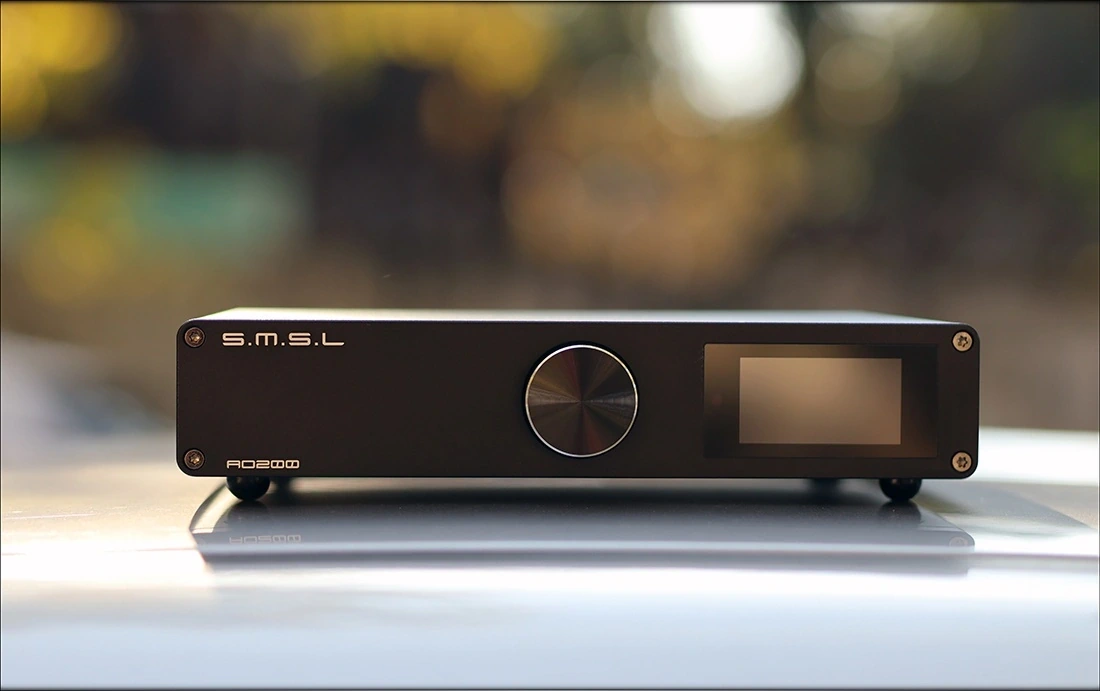 Introduction
While I can't even really find online what SMSL stands for, I can say for sure that I'm happy with the service of AOSHIDA, the store that sells the AO200 we're reviewing today. I'm actually really thankful for the patience and good will of the store owner, Yihua, as I've delayed my reviews on the NF Audio IEMs they launched with months. Many months at that, as my schedule got complicated during the summer. Happily, I am back now and I can say that over the time more and more of my friends have been recommending Aoshida for their service, excellent warranty, quick shipping and great products. If you're interested in the best source for audio products, Aoshida Store is really great, especially if you're looking for NF Audio, SMSL and Topping products. 
It should be noted that I have absolutely no affiliation with SMSL or Aoshida Audio. I'd like to thank Aoshida Audio for providing the sample for this review. This review reflects my personal experience with the SMSL AO200 Stereo Speaker Amplifier. Every opinion expressed is mine and I stand by it. The purpose of this review is to help those interested in SMSL AO200 find their next music companion. 
Product Link
You can grab one from www.amazon.com here: https://amzn.to/3CesahB
You can also grab one from the official AOSHIDA Store: https://aoshida-audio.com/products/smsl-ao200
Packaging
First things first, let's get the packaging out of the way: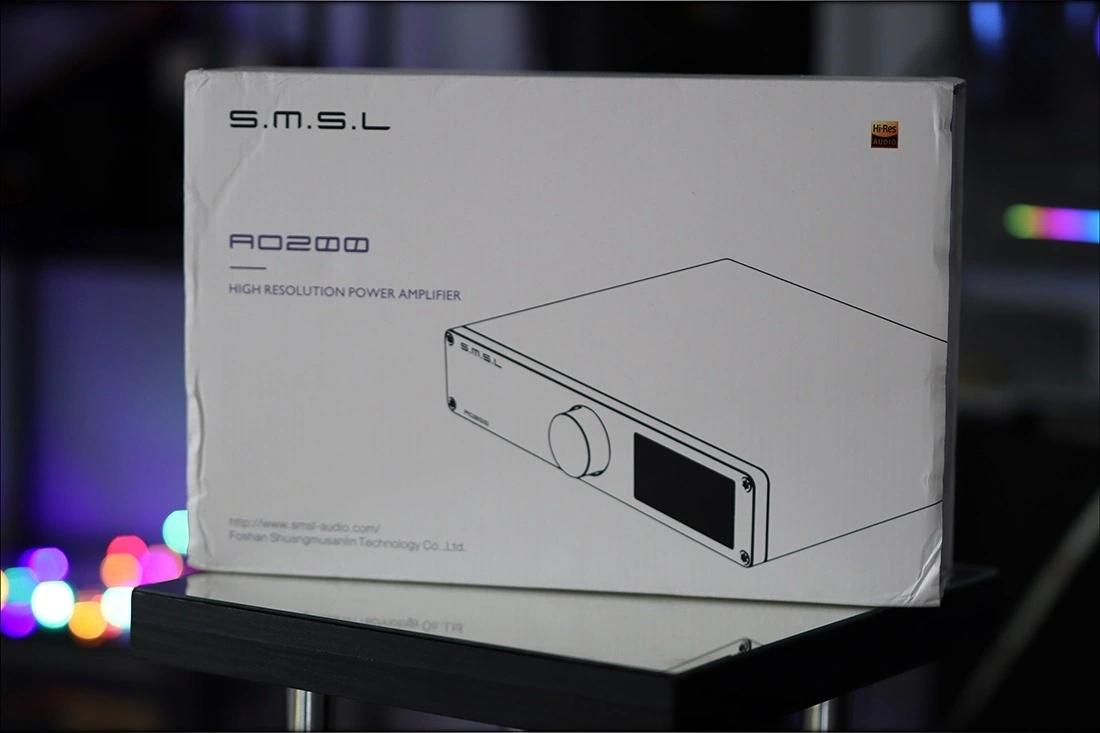 The package of the SMSL AO200 is actually quite impressive. It comes with an antenna for the Bluetooth connection, a USB cable for using it as a USB DAC, a power cable, and a remote.
This is actually great for the price of 280 USD, and SMSL AO200 also comes packaged nicely, with good protection. 
Build Quality/Aesthetics/Functionality
This is by far the smallest, most nimble looking mini amplifier I reviewed to this date. This is not a headphone amplifier, and even headphone amplifiers are usually larger, but a full sized stereo amplifier made to drive bookshelf speakers, with a full blown 50W at 8 OHM for speakers. This is downright amazing, and the typical consumption of 40W at normal volumes is also great, but you can reach 300W of direct power draw if you're listening to really dynamic songs. The standby power of 0.5W is also great, and AO200 has tons of inputs and outputs.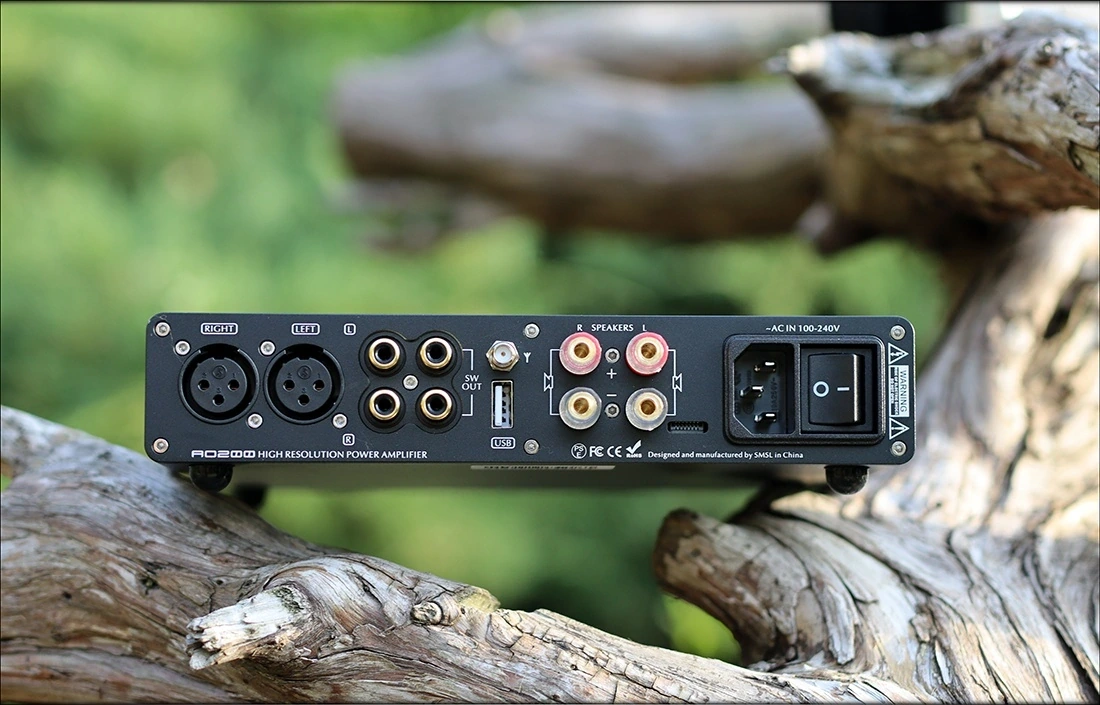 The most obvious way to use it is as a speaker amplifier with preamp embedded. This is by far the best way to use it, and using it over the XLR connectors means getting the absolute best sonic performance from AO200. I'm using such extensive language, because the difference in the sonic performance between using the XLR and the RCA connectors is quite large. 
You can use SMSL AO200 as a Bluetooth receiver, but it doesn't support any fancy protocols, which means that you're mainly locked to SBC and AAC. The DAC inside is not that great either, and you're not going to get the best performance, even a Topping E30 or FiiO K5 PRO will provide a better DAC performance, so I really recommend leaving the USB input as well as the BT input as second options in your usage plan with AO200. 
AO200 can also read external hard disks, but it is minimalistic, as you can't really select the song, and you can't shuffle, and it will be playing the songs one after another until it finishes the root folder of the hard disk or flash memory.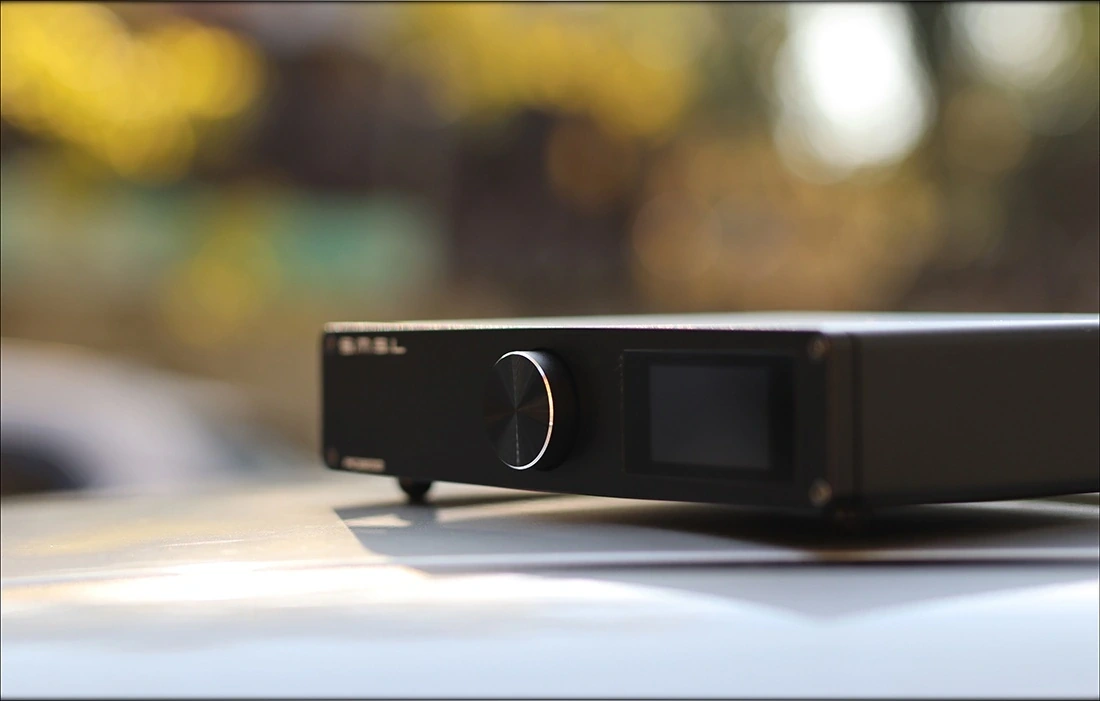 To explain what Class D, as we will mention it a lot throughout the review, Class D refers to the efficiency class. You would generally want your devices to be as efficient as possible, but in audio in particular, you want a Class that's closer to A as possible where A powers the amplifier with full power at all times. This is because in audio you need the power to be available immediately (the amplifier to have a high slew rate), which will result in better dynamics, better details, and better overall sonics. The downside is that Class A is much more expensive to make, takes more space, runs hotter, and is far more expensive than Class D. Class D can sound as good, but we have to dig higher in price to reach high-performance Class D Amplifiers. The Class is not a power consumption category, but more of a design category. The lower the class is, the more it tends to cut out the power while that power isn't used, and that leads to a worse theoretical performance. Thanks to today's advancements in micro conductors and in overall technology, a Class D amplifier released today at 1000 USD, can generally match a Class A amplifier released about 10-15 years ago at the same price. 
The unit does get warm during usage, and I'm impressed that it doesn't straightforward melt down given the size. I cannot for the sake of my own good emphasize how tiny it is for a full sized desktop amplifier, and light too. Class D amplifiers go a really long way, and although they aren't as popular as Class A or Class AB amplifiers, they have their own merits. For one thing, my main listening rig includes Adam Audio Speakers with embedded Class D amplifiers inside. AO200 is really responsive, the remote works perfectly and the volume has enough granularity so you can configure the volume anywhere you need.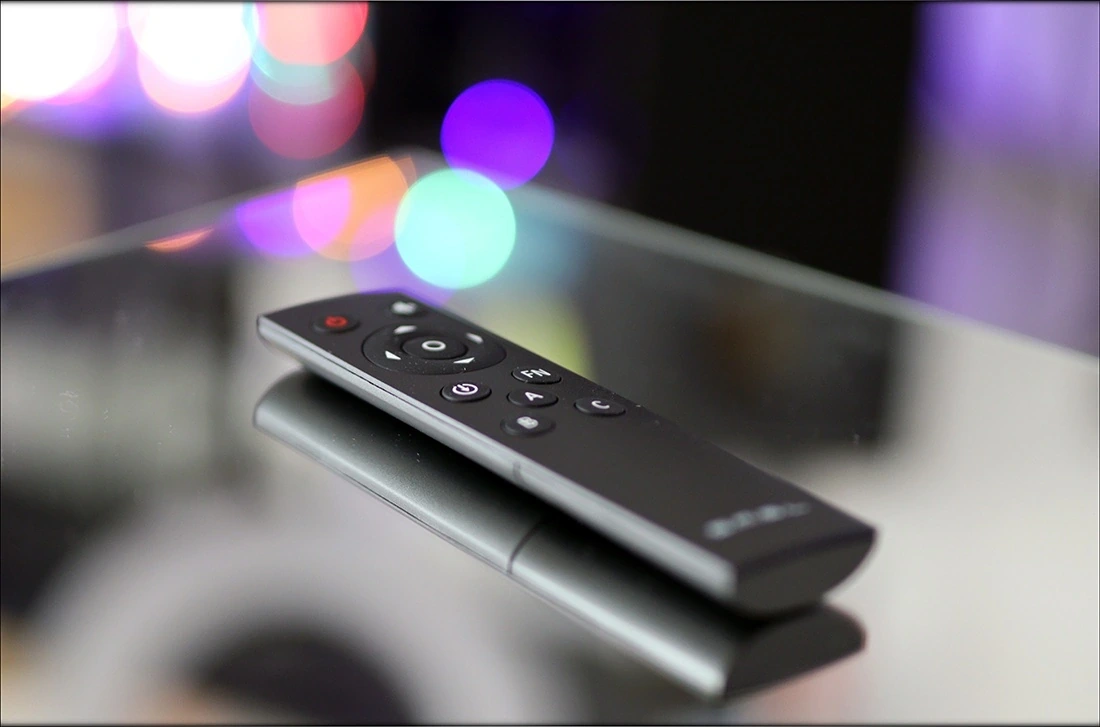 There are EQ profiles enabled, and you can tweak the sound of AO200 quite a bit, plus the best part is that it has a subwoofer output, so if you have any active subwoofer, it should make your bookshelf speakers sound much better. I would recommend using a subwoofer with configurable crossover. 
The amplifier part is handled by two Infineon MA12070 chips, and the volume controller is a NJW1194 chip. Everything works well, there is no background noise, no problem that I detected while using AO200, no weird microphonic like we've seen with MT-602, and generally AO200 is perfect when it comes to its usage. 
Sound Quality
The overall signature of AO200 is really quick, not the most corpulent out there, but with great control and punchiness. It actually has something in common with my current speakers, Adam Audio T7V, and you can hear that Class D running. For some reason, all amplifiers designed to run in Class D tend to share a certain tuning that sounds a bit like it is trying hard to be engaging. The AO200 is exceptional with details and dynamics, it is excellent for loud music, crowded metal songs, and for punchy music. It doesn't have the best control at low volumes, so quiet piano songs aren't exactly made for it, and it is on the thinner / brighter side of tunings, so you don't have a lot of extra bass by default. 
It feels funny having to review the default signature when you can tweak that and any increase in bass is at the click of a button on the remote, and usually when I review a speaker setup, I do so after I fully configured them to my liking and found the best settings for my room. Feels a bit unfair towards the AO200, which can get just as thick and impactful as any other amplifier out there by selecting the Bass, Super Bass or Rock presets in the EQ settings. It always has one EQ setting selected, and it defaults to Direct, which is basically the linear signature it can offer. SDB, which is a SMSL patent seems to sound good too, but tends to affect the midrange a bit too, so I can't fully recommend it, for my setup it tends to give the mids a slightly hollow presentation. 
The bass of AO200 in its default state is quite linear – neutral, but with exceptional speed and overall punchiness. I am expecting almost nothing from a 280 USD stereo amplifier, but it can push the drivers on the Buchardt S400 Speakers out of their cones, and quickly. In fact, for those speakers in particular, I prefer the default signature, the speakers have plenty of body and warmth, so a faster and more punchy bass is really welcome. With NHT-3C, the sound is better balanced, with a more natural presentation, if selecting the Rock or Bass presets, as far as the bass goes. I actually prefer using the Rock preset for the Buchardt S400 to pep up the treble energy a bit, as the S400 is fairly smooth and relaxed in the highs.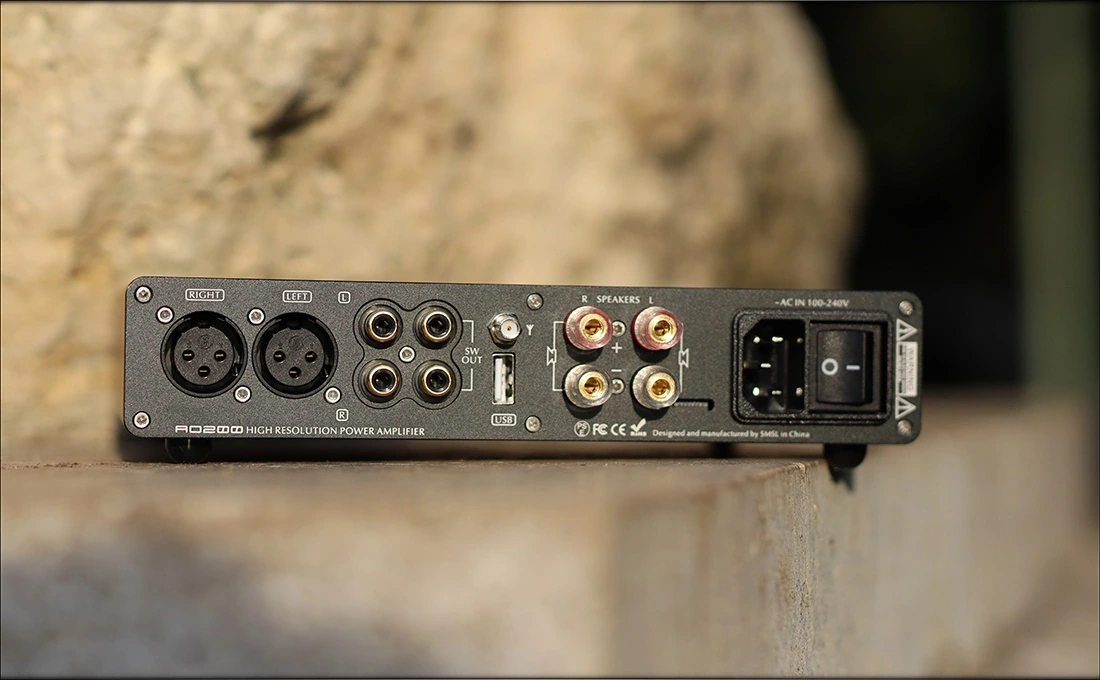 The midrange of the AO200 seems to be pushed slightly forward and close to the listener, especially thanks to its linear bass and smoother treble in the Direct preset. The overall midrange speed is high, so it is quick, resolves details nicely, but it is best listened with loud music, listened medium-loud and with punchy music. You can feel the limitations of a budget device if trying to listen to some emotional piano songs that are quiet and slow, and you will feel the limitations with classical or Jazz music. EDM, Pop, Metal, Rock and most mainstream music sounds fun and engaging. AO200 is able to convey a natural soundstage, and it has a rounded presentation with equal depth and width, but you should keep in mind that the size itself is moderate, not overly large nor tiny or congested. 
The treble of AO200 is fairly well extended, but there's a bit too little of it, and most speakers will become a bit too relaxed and lack the sparkle / pinch in the treble that I like with my rock and metal. To solve this, you can easily enable the Rock preset on AO200, and it should provide a more peppy treble, and contrast it with some bass too. Seems to me like a really easy solution should be pointed out since it is part of its intended usage scenario, especially as Class D amplifiers tend to integrate this kind of EQ by default (My Adam Audio Speakers, Edifier S1000DB, and most amplifiers that run in Class D tends to have some kind of EQ enabled for easy access to music enthusiasts).
Comparisons
The main comparisons for the 280 USD AO200 are far more expensive because I haven't tested many amplifiers that were this affordable yet, and as a quick giveaway, you could easily go for AO200 if you wanted quality, to stay on a budget, and if you want to get a really good bang for your buck. The competitors today are Burson Funk, Taga Harmony HTA-800, and Cyrus One Cast, all of them far more expensive than AO200. It can't win entirely, but it can offer a good performance for what you're paying and be fun, which is the purpose when going for such an affordable stereo amplifier.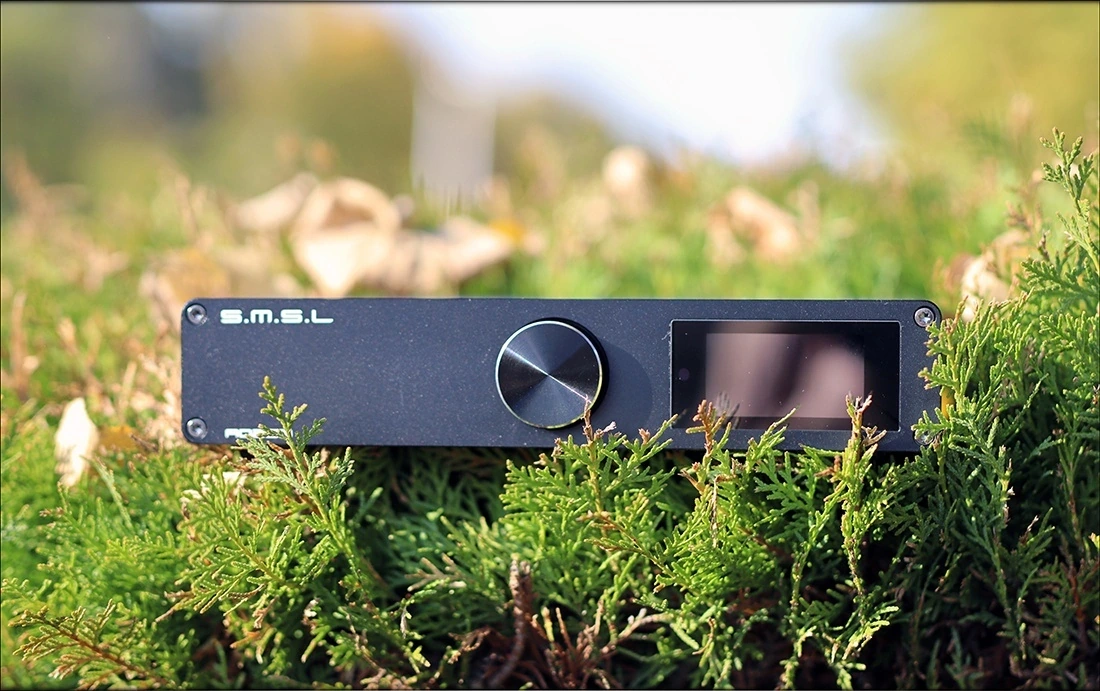 SMSL AO200 vs Burson Funk (280 USD vs 550 USD) – Funk is a headphone amplifier, and a stereo amplifier, but it is actually double the price of AO200. For double the price you do get double the function, and the sound is actually somewhat comparable. Funk struggles less with quiet passages, and it has more detail, while AO200 has better bass speed, and it is easier to use an EQ with AO200, which actually makes it easier to recommend, especially for beginners, or folks who don't have a good room, with proper treatment, and who want something simple, yet effective for driving their speakers. Burson Funk surely can sound better, but it is less configurable, and if you're not into its default sound, you'll have to use something like Equaliser APO for Windows, which can be a handful to install and set up, where AO200 can easily be configured using its EQ function. AO200 won't reach the exact performance of Funk regardless how much you play with the EQ, but it can sound more pleasing if you take the time to experiment with the EQ and tune it for your speakers. Most speakers in this price range won't be very transparent either, so they will benefit from some light EQ. 
SMSL AO200 vs Cyrus One Cast (280 USD vs 2000 USD) – One Cast is really pricey in comparison to AO200, about 7 times as pricey, and you get a far more complex, more complete product for that price, One Cast including a really good DAC (which I actually used to evaluate AO200), a headphone amplifier, and streaming abilities that include every streaming service and scenario under the sun. AO200 can do just the power amplifier part, and One Cast has better technicalities, better dynamics, better power delivery, and better overall clairity, but at 7 times the price, I wanted to highlight and emphasize on the fact that it is a Class D Stereo Amplifier, and with the new developments in tech, Class D has been getting more and more popular. In fact, One Cast is the best overall streamer / DAC / Stereo aMP / Headphone AMP I can recommend for around 2000 USD, and AO200 has some of that magic. While the AO200 costs just 1/7 of the price of the Cyrus One Cast, as far as the speaker amplifier part is concerned, it sounds much better than 1/7 of the performance of the Cyrus One Cast. 
SMSL AO200 vs Taga Harmony HTA-800 (280 USD vs 650 USD) – Taga Harmony has some interesting amplifiers, but their entire entry-level range is plagued with horrendous background noise that made me drop some of the reviews I was trying to do about their products and return the products. HTA-800 is already fairly pricey, and this one doesn't have the background noise issue, and it has more than enough power, enough even for floorstanding speakers. IT has a DAC too, but just like AO200, the DAC performance is not great. The overall sonic differences are that HTA-800 is a hybrid design that uses a tube preamp, so it sounds more colorful in the midrange, warmer, but also slower. AO200 sounds clearer, with better detail, quicker, but more neutral, and struggles more with quiet songs and with quiet passages in complex songs. HTA-800 is far more expensive, and AO200 can be an interesting alternative if you don't need the power of HTA-800 and if you're willing to sacrifice the overall warmth for a more precise sound. Despite the two being released rather close to each other, there's a rather big difference in the technical ability, but Taga Harmony is not known for going for the most technical sound. 
Value and Conclusion
The value of AO200 is clearly its strong point, and if you want to see how much performance per dollar you can squeeze, you can always rely on a Class D amplifier, and with SMSL being one of the kings of value, it is all good to go. The value is also supported by AOSHIDA who provides excellent products for us, and they have more in store if AO200 isn't exactly what you're looking for. Please keep in mind that while the product is almost everything, the purchase experience and customer support matters in this hobby, and one negative experience can break many days of listening due to anger and mental fatigue, so make sure to use the shops and places you feel most comfortable with. 
At the end of the day, if you're looking to power up some bookshelf speakers, if you have an active subwoofer, if you like great price / performance ratio, and if you're looking for an entry-level Class D Stereo Amplifier, the new AO200 from SMSL should prove to be an excellent companion for years go come. 
Product Link
You can grab one from www.amazon.com here: https://amzn.to/3CesahB
You can also grab one from the official AOSHIDA Store: https://aoshida-audio.com/products/smsl-ao200
---
---
--- Please remember to stay safe, and always have fun while listening to music!---
 - If you have a dime to spare, and donate, to help us with electricity and work expenses, it would make my day much brighter, as it would help me improve things around the website and increase the frequency of my posts - 
---
Full Playlist used for this review
We listened to more songs than those named in this playlist, but those are excellent for identifying a sonic signature.  PRaT, Texturization, Detail, Resolution, Dynamics, Impact, and overall tonality are all revealed by those songs. We recommend trying most of the songs from this playlist, especially if you're searching for new music!
https://www.youtube.com/playlist?list=PL_cjBXGmwSHSdGcwuc_bKbBDGHL4QvYBu
--- Contact Us ---






---
---