HIFIMAN HE1000 V2 Planar Magnetic Headphones – Music Magic
HIFIMAN He1000 V2 is a 2999 USD Planar Magnetic Headphone designed for the music lover that really knows what they want, and which is the world's first headphone with a diaphragm that is only nanometers in thickness. It comes with a three-year stellar warranty by HIFIMAN, and it also can be found at 1999 USD right now, making it quite the steal and an excellent deal at about 33% off its usual price. HE1000 V2 will be compared to other high-end headphones, including some from HIFIMAN, such as HIFIMAN Arya Stealth (1600 USD), Audeze LCD-XC 2021 (1800 USD), Kennerton Thror (3000 USD), Audeze LCD-MX4 (3000 USD), and Crosszone CZ-1 Dynamic Headphones (2000 USD).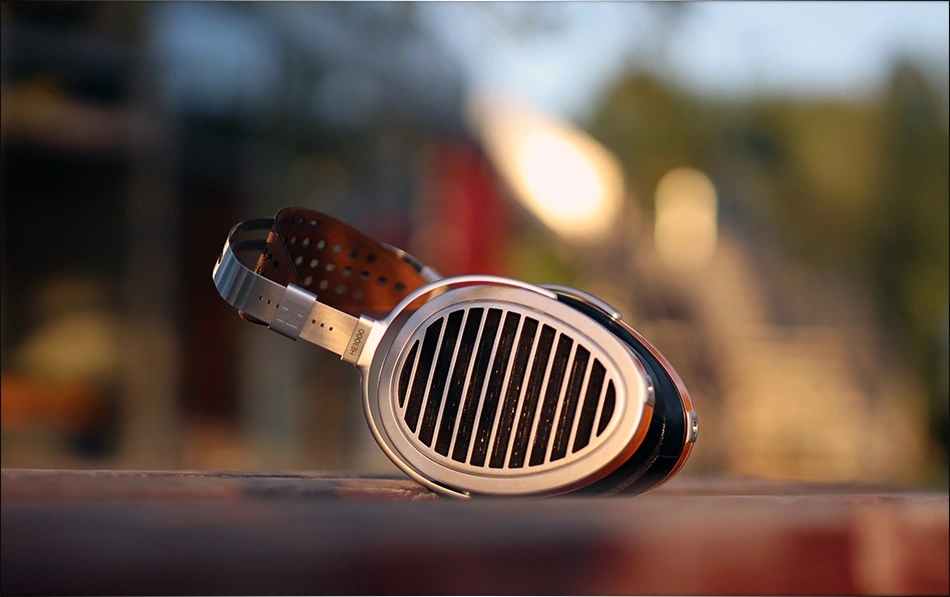 Introduction
HIFIMAN has become a different company over the years, and from the upcoming, and growing company from China catering only to acquainted audiophiles from China, they're now one of the most popular headphone companies in the whole world. In fact, HIFIMAN is now so successful, that even in Romania, I personally know more folks having a HIFIMAN Headphone than Audeze or even Skullcandy. HIFIMAN has one of the best warranty supports out there, they offer upgrade options when they release new versions of their headphones, and are fully transparent with information about their headphones, making them one of the first options to recommend when someone asks me for advice on headphone purchase. If you're looking to get a good deal, you can check out Amazon, as HE1000 V2 as well as other HIFIMAN Headphones go on sale often and you get the best support and warranty as well. I hope that sometime in the near future I'll be able to have an interview with Mr. Fang from HIFIMAN, as I'm a fan of the sound they're able to pull, so I'd love to give you some previews of what's in the future for HIFIMAN.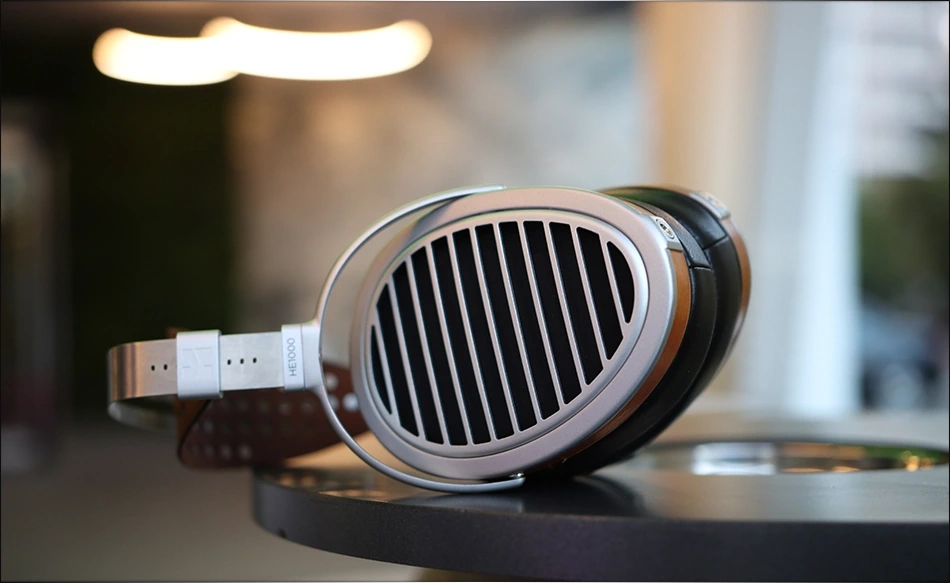 It should be noted that I have absolutely no affiliation with HIFIMAN, I am not receiving any incentive for this review or to sweeten things out. I'd like to thank HIFIMAN for providing the sample for this review. Every opinion expressed is mine and I stand by it. The purpose of this review is to help those interested in HIFIMAN HE1000 V2 Planar Magnetic Headphones find their next music companion. 
Product Link
You can grab one from www.amazon.com here: https://amzn.to/3QbusnO
If you're in the UK, you can grab one from www.amazon.co.uk here: https://amzn.to/3KInqpF
And if you're from Europe, you can grab one from www.amazon.de here: https://amzn.to/3RukXkH
Build Quality/Aesthetics/Fit/Comfort
HIFIMAN HE1000 V2 follows a different color pattern and design, along with a different level of quality compared to all the other HIFIMAN Headphones I previously reviewed. It feels close to an Arya Stealth, but the frame is metallic this time around, and although the whole headphone feels much better built, the weight didn't increase much, and at 420 grams, HE1000 V2 is one of the lighter flagship / high-end headphones I heard to date. I have not heard the original He1000, so most of my comparisons will be drawn to Arya Stealth, but when seeing and feeling HE1000 V2, it feels like HIFIMAN placed it in a different class, the silver color, the wooden texture, and the brown leather headband support just feel on a whole different level from Arya Stealth.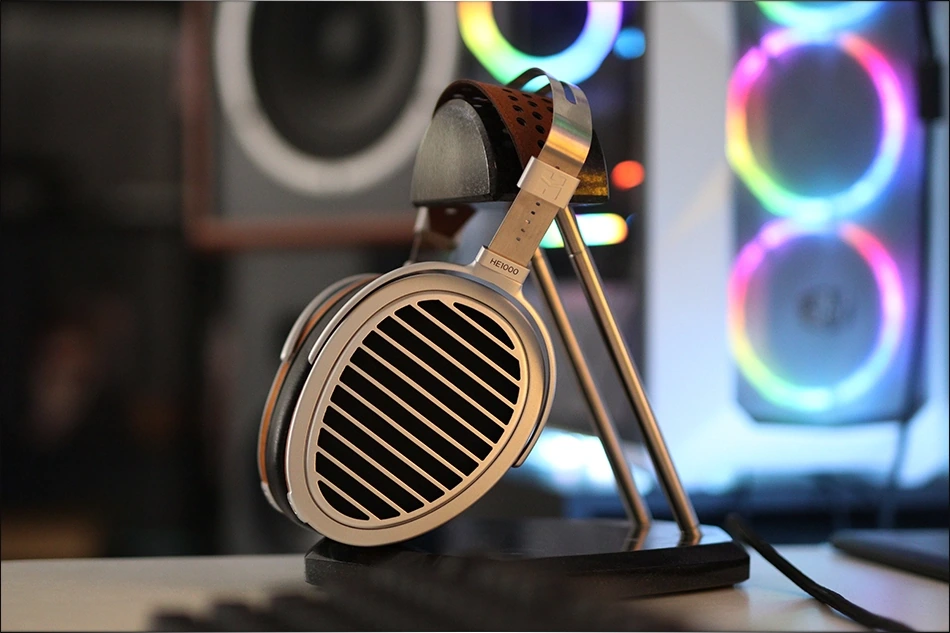 HIFIMAN has always been an innovator when it comes to headphones, and although they're not celebrated enough as such, they are one of the forefront companies when it comes to developing new tech, especially with planar magnetic drivers. The diaphragm, or the moving part of HE1000 V2's driver is only a nanometer in thickness, being the first headphone to be developed with such a thin diaphragm. This is usually important for headphones as it allows the diaphragm to move faster, and provides better resolution, better detail, and with conductions that have a thickness Submicron in size, HIFIMAN surely went all-on when designing HE1000 V2. 
The magnetic that sits behind HE1000 V2 is asymmetric in design, and it is much closely related to HIFIMAN Arya Stealth than it is to other traditional planar magnetic headphones, HE 1000V2 following a design that has ,magnets only on the other side of the driver, to allow for better transparency and lower reflections inside of the ear cup for HE 1000 V2. In fact, they went so far with this idea, of offering the lowest reflection level possible, that they designed the ear cup itself to have a "Window Shade" design that basically allows sonic waves to escape HE1000 V2 the best, so that they don't reflect back in the cup, and so you don't hear distortions caused by the interference of what you're supposed to hear and the waves escaping the headphone.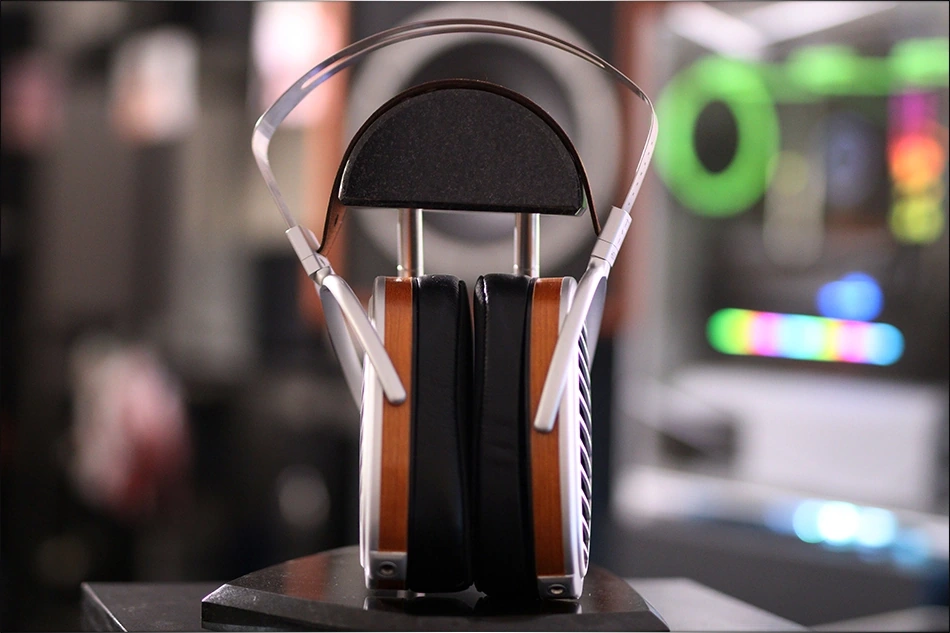 Touted as a luxury product, HE1000 V2 helps me understand why HIFIMAN is considered a flagship brand in China, and why wealthy Chinese audiophiles prefer to go for a HIFIMAN Headphone instead of Sennheiser and Beyerdynamic. The craftsmanship on HE1000 V2 is so good that they're in line with what Audeze offers with their LCD-2, and what Rosson RAD-0 offers as well. The only slight downside might be the default cable selection, which although rich, doesn't include a 4.4mm balanced cable. This might be intentional though, as HE1000 V2 is quite hard to drive, and with an impedance of 35 OHMs, but a SPL of 90 DB, you'll need a pretty strong amplifier to properly drive them.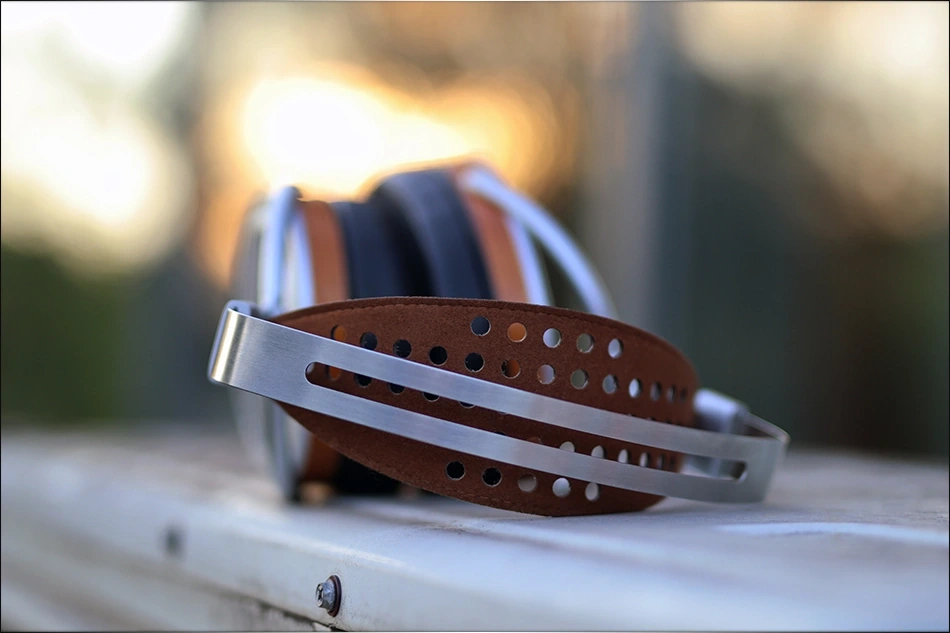 Wearing HE1000 V2 is super comfortable, and I could hear no microphonic noise with the default cable. The earpads are angled, and they're also covered in a Polyester material that will degrade much less than the Velour that's used for He1000 and other HIFIMAN headphones, and which also offers much better sonic performance. 
For walking outdoors I replaced the original cable with one that ended in a 4.4mm jack. Surprisingly, both Astell & Kern SE180, and iBasso DX320 are excellent at driving HE1000 V2 portably, and DX320 is actually my favorite source for them indoors as well.  Of course, I paired HE1000 V2 with other high-end amplifiers, including HIFIMAN's own EF400, which does an excellent job with them too, but also with Violectric HPA V340, Cyrus One Cast, Smyth A16 Realiser, Audio Analogue AAdac, and Keces S3 DAC/AMP. All of those can drive HE1000 V2 well, but you should keep in mind that sources with lower power might result in a sound that's too quiet to be practical. 
Sound Quality
HIFIMAN He1000 V2 is not the most pricy headphone I reviewed on Audiophile-Heaven, but it is one of the most technologically advanced, so it is interesting to see how all the tech HIFIMAN developed affects the sound and how it all creates a certain presentation for HE1000 V2. Since we already established that they've been tested with a variation of sources, both R2R sources and classic ones, desktop and portables, it would be more useful to explore how HE1000V2 sounds like, and what the default signature is. I would describe them as extremely open, detailed and transparent, with a wide and holographic imaging, a slightly bright tonality, but with outstanding bass reproduction, and especially low distortion, even at extremely high volume. 
The bass of HE1000V2 is unique in every way, they have a tuning that's perfect for classical and acoustic music, but works extremely well for metal, rock, pop and EDM. The bass has a superb extension down to the lowest registers, but HE1000 V2 isn't the type of headphone to rattle on your head unless the song is asking for it. Somehow, the bass is fairly enhanced and uplifted, without giving the whole sonic a thickness or darkness as it happens with most true basshead headphones like Rosson RAD-0. The bass is also extremely fast on HE1000 V2, to the point where it can react correctly to extremely fast songs like technocore pieces, but the bass of HE1000 V2 has a ton of nuance too. Around 2000 USD, nothing comes close to this kind of control in the bass, the only other headphone I know that does a similarly good job being Audeze LCD-5. Especially if your music is electronic, you'll notice more micro details in the bass, as HE1000 V2's resolution and speed allows for those details to shine through the song. With all this being said, the bass is never dry and has a smoother texture. The upper bass and lower treble do not inherit any extra weight or punch from the main bass, and generally speaking HE1000 V2 shows a pretty natural tonality for the midrange.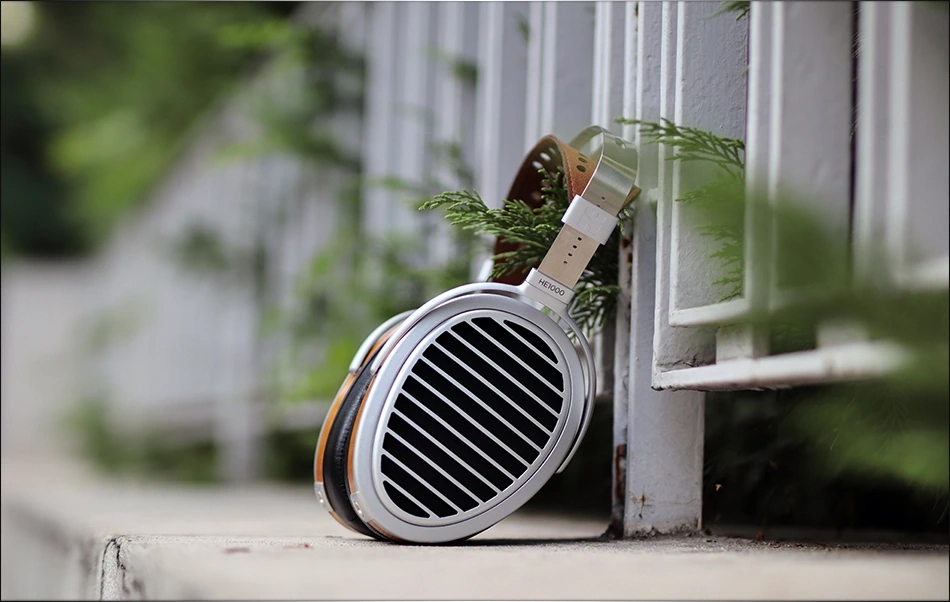 In fact, the whole sound of HE1000 V2 is magical, and this includes the midrange, they have a spot on tonality, perfect timing, and a really beautiful musicality to them. The soundstage is by far the first thing that surprises you, He1000 V2 is expansive, to the point where I often feel like I'm not wearing any headphones while using them. Sounds can come from very close to you or from very far away, and HE1000 V2 is perfect at highlighting this difference. Stereo imaging and instrument separation are also top notch, and so is detailing and micro detailing / resolution. In fact, HE1000 V2 and LCD-5 show pretty much the same level of detail in music, although they have a different peak emphasis, with LCD-5 having more focus in the upper midrange and lower treble, while HE1000 V2 has a more natural middle midrange peak that sounds quite pleasing and natural. I'm especially absorbed by the way HE1000 V2 presents multi layers of instruments with ease, they are an effortless sounding headphone that can render rich details, but sound smooth and clean at the same time. Indeed, the midrange never comes through as fatiguing, dry or crowded, everything has space to breathe, and this might help explain how HE1000 V2 made it to my head more often than basically any other headphone I've been reviewing for the past few weeks. 
The treble of He1000 V2 is super natural, clean, and well extended. From experience, I would classify HE1000V2 as natural / slightly bright, as there's a bit more upper treble than I'm used to hearing, but this treble is far from scathing or harsh, it is smooth, fluid and clean. HE 1000 V2 has a unique way of presenting music, it is sweet, natural and clean, but places good emphasis on the sub-bass and main bass, has lower upper bass and lower midrange, more midrange, and a very linear upper midrange and lower treble presentation, with a slight mid treble and upper treble lift, to help emphasize air and space in music. You probably have guessed by now that HE1000 V2 doesn't look like a forgiving headphone, but you'd be forgiven for thinking that. Somehow, I can listen to and enjoy the most foul, cursed and dynamically compressed music, and enjoy it through HE1000 V2. Despite being plenty revealing and having a rich and controlled sound, with extreme resolution, they also make music sweet and energetic, enjoyable, they can play a grindcore song and make it sound fun. HE1000 V2 is the most holographic sounding headphone I've heard to date, especially with songs that aren't recorded as such, they can give a certain magic to metal, rock and EDM even if it is heavily compressed dynamically, thing which most headphones fail to do. This does mean that most music can be wider sounding than their default, but I heavily prefer this sound to a more intimate presentation if it is done well, like with He1000V2.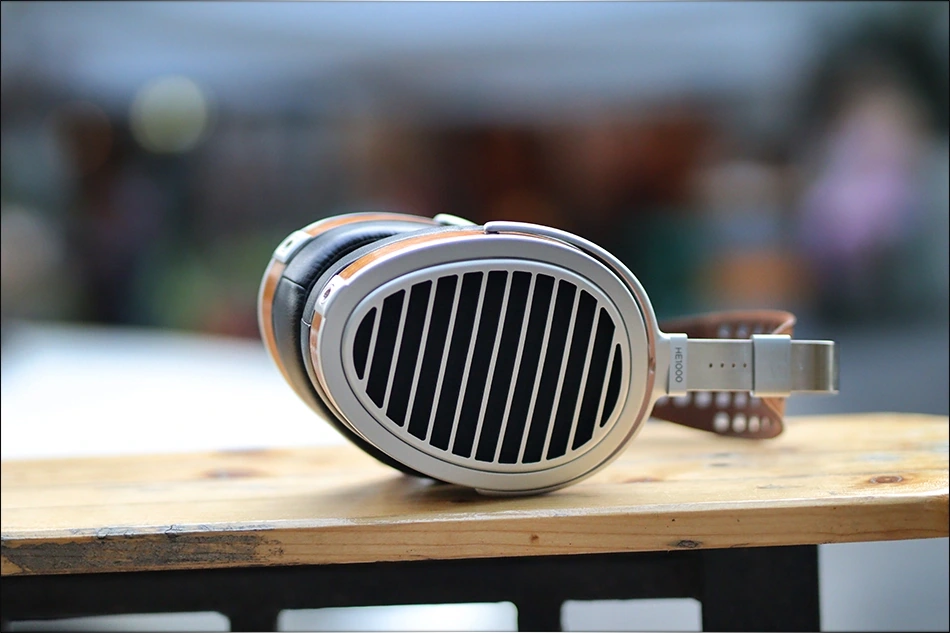 I would say that HE1000 V2 is a universally likable headphone, unless you're a decided basshead or want a low-energy headphone. They are energetic, uplifting and super fun, they aren't the thickest out there, and the treble surely ain't rolled off. If you're someone who loves live music, concerts, and a vivid experience with music, you're quite likely to enjoy HE1000 V2, and if you're into superb dynamics, it will surely treat you right. Lately, I've been starting to think that dynamics are what makes or breaks a headphone, with cans like HE1000V2 proving that extreme amounts of dynamics can make music more enjoyable, and even though it is far from being the most expensive headphone I've reviewed to date, HE1000V2 is one of the most, if not the most dynamic headphone I heard, including other flagships. Although this level of dynamics are usually promised by electrostatic headphones, I never heard any provide the level of impact and dynamics of a He1000 v2 driven by an iBasso DX320, or HIFIMAN EF400, and this goes to show that you can have an outlandish experience even without complicated setups, just your favorite headphones, a DAP or a desktop DAC/AMP and your favorite tracks.  
Comparisons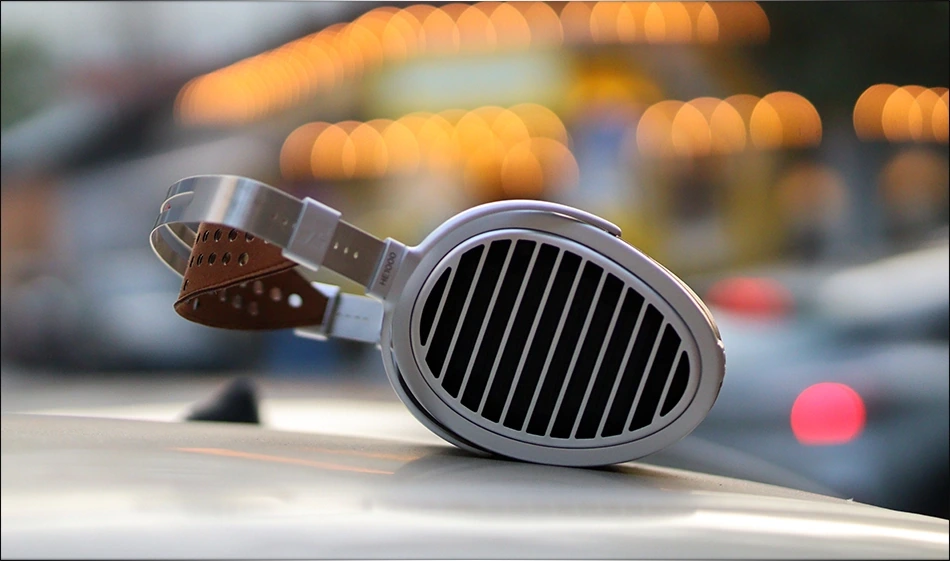 HIFIMAN HE1000V2 vs Audeze LCD-MX4 (2999 USD vs 3000 USD) – Starting with a hard one, the comfort and overall ergonomics are better for HE1000 V2 as they have larger earpads with more space inside, and a lower weight than MX4. Although both are fairly hard to drive, you can start up MX4 rather easily compared to He1000 V2, which is considerably harder to drive. The overall tuning and signature is pretty different, with LCD MX 4 being the kind of headphone you'd want in a studio for long hours of work, warm, thick, somewhat dry sounding, precise and snappy, but with a very smooth and relaxed treble, to never pierce your ears. By comparison, HE1000 V2 sounds much lighter, with lower bass, but better sub-bass impact, with a lighter, thinner midrange, and with a brighter, more extended treble. The soundstage in particular is much wider, and more holographic on HE1000 V2, although LCD MX4 has better instrument separation. Both headphones are pretty consistent with their intended purpose, but it is much easier to recommend HE1000 V2 if you're going to be listening to a lot of music, and LCD-MX4 if you're going to be sitting in a studio and want to work on music with a smoother, fatigue-free headphone. 
HIFIMAN HE1000V2 vs Crosszone CZ-1 Dynamic Headphones (2999 USD vs 2000 USD) – The comfort is He1000 V2 is once again, slightly better than the comfort of CZ-1, thanks to their larger earpads, and better weight distribution mechanism. It is easier to drive a pair of CZ-1 than it is to drive a HE1000 V2, but both are fairly hard to drive. The presentation is much softer, gentler and has much lower impact, lower bass quantity and it is generally more easy on CZ-1, which sounds quite feathery and light, also a bit thin. By comparison, HE1000 V2 has considerably higher bass quantity, more impact, better bass reach in the low registers, and more detail, a more rich midrange, and it simply sounds more realistic and transparent. The treble is less sharp on HE1000 V2, but it is also more detailed, making them an especially good headphone for rock and metal. Layering and instrument separation are also higher on HE1000 V2, which is the point since CZ-1 has a very blended sound. 
HIFIMAN HE1000V2 vs Kennerton Thror (2999 USD vs 3000 USD) – We have a much better comfort on HE1000 V2 which is lighter, has softer ear pads that better fit most heads, and which has a softer, more flexible headband. The overall sonic performance is very different, with He1000 V2 having a better bass depth, better bass impact, more bass, better midrange tonality, more resolution, better detail, more richness in the midrange, and an easier to enjoy treble, despite still having a fairly open and somewhat bright tonality. Thror has a hotter treble that has more volume in the upper midrange and lower treble, but which can be fatiguing, and they have much lower bass, which creates a pretty sharp and thin sound that can be hard to enjoy outside of specific music styles, like classical, where Thror has a unique transparency and really high attack. The general feeling is that with most music, He1000 V2 is more transparent, and more resolute, having much better layering and instrument separation, being able to present multiple layers of guitars in rock and metal better, all whilst having lower distortion at high volumes. 
HIFIMAN HE1000V2 vs Audeze LCD-XC 2021 (2999 USD vs 1800 USD) – Here we have a starker difference between the two headphones, as LCD-XC 2021 has a very different build, it has smaller but much thicker earpads, with a heavier design, and with a different headband support design. While both headphones are rather comfortable and have a nice design, HE1000 V2 is more of a looker and has a more premium build. LCD-XC is easier to drive, but both are fairly hard to drive. The sound is much brighter on LCD-XC 2021, with them having a far brighter, more revealing sound, but revealing of mistakes. In overall resolution and details, HE1000 V2 is more detailed, and has a wider soundstage, with a deeper presentation too, having a more holographic image, although LCD-XC 2021 has a slightly better instrument separation. The turning itself is extremely different, HE1000 V2 is slightly warm, it has a more natural midrange, and a more smooth and more relaxed treble, despite it still being a pretty bright headphone, while LCD-XC 2021 is much brighter, has a much stronger midrange, with a richer treble, smoother midrange and more neutral bass, being a headphone clearly designed for mixing and mastering music, and less for listening, compared to HE1000 V2. 
HIFIMAN HE1000V2 vs HIFIMAN Arya Stealth (2999 USD vs 1600 USD) – With both headphones being made by HIFIMAN, and both being around the same price point for the street price , I can say that HE1000 V2 has a better build quality, and despite them having pretty much the same shape and design, HE1000V2 is more comfortable too. The drive factor is better for Arya Stealth, which is easier to drive and control, especially with an entry-level source, but both are fairly hard to drive. The sound is actually rather different, Arya Stealth is slightly darker, smoother, more relaxed and laid back. He1000 V2 has a better bass, with more impact, better punch, and it also has an increased soundstage, a more holographic presentation, with much more detail, and a richer midrange. Everything that's played through He1000 V2 is more dynamic and punchy, with lower distortion, although both headphones are exceptional, wide, and do have a similar signature in general. 
Value and Conclusion
At the end of the day, priced at 2999 USD, HIFIMAN HE1000 V2 already has superb value compared to everything that's on the market, but when you hear that they have about 30 % off that price and you can even find it for 1999 USD, you should get ready to have fun. Practically, at 1999 USD, it enters the realm of Arya Stealth and if you can get HE1000 V2 at that price, you literally have a golden deal on your hands. 
In fact, I enjoy HE1000 V2 so much that I can safely say that ever since receiving them, they got the most ear time from me, and made it so high in my listening list that I'm going to be adding them to Audiophile-Heaven's Hall of Fame as one of the best headphones to ever have existed, both comfort, sound and overall usability wise. 
At the end of the day, if you're looking for a super wide, clean and dynamic sounding headphone, with superb comfort, low weight, and which is drivable from a wide selection of sources, and if you want the best soundstage money can grab, paired with superb impact and a delightful musical sound, HIFIMAN HE1000 V2 is an excellent choice, and one of the best headphones you can go for. 
Product Link
You can grab one from www.amazon.com here: https://amzn.to/3QbusnO
If you're in the UK, you can grab one from www.amazon.co.uk here: https://amzn.to/3KInqpF
And if you're from Europe, you can grab one from www.amazon.de here: https://amzn.to/3RukXkH
Packaging
Let's get the packaging out of the way. With HE1000 V2 you will receive: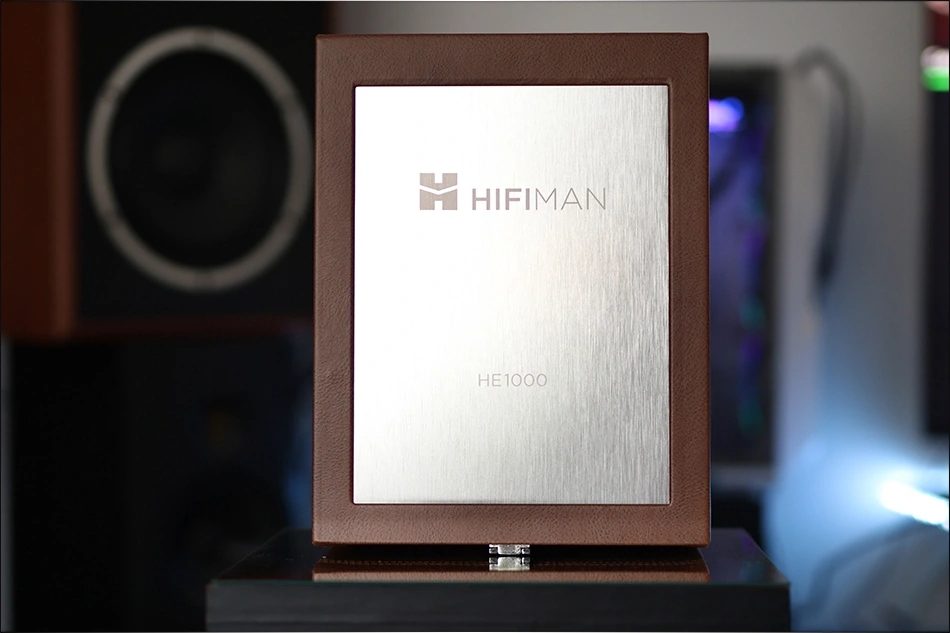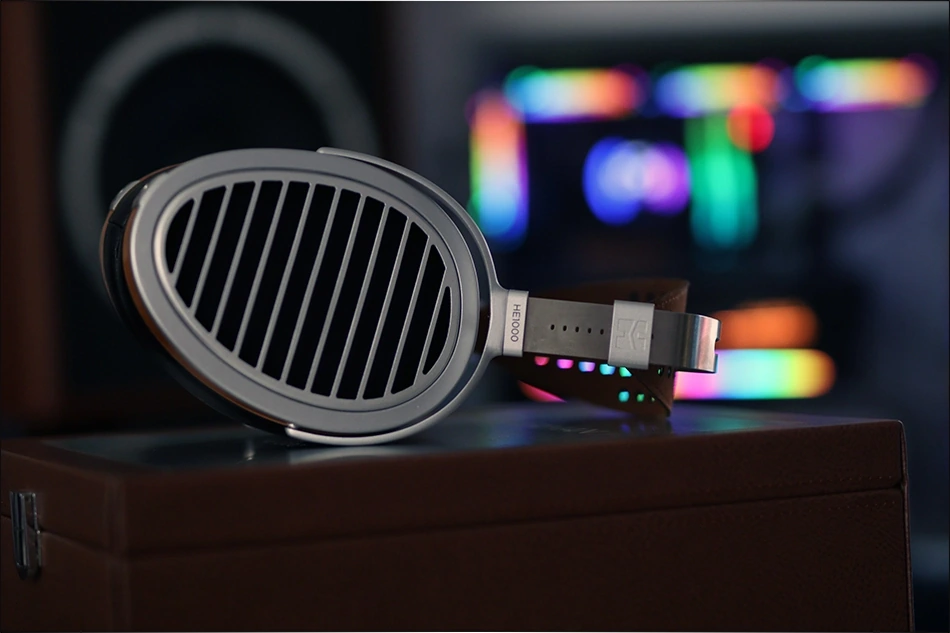 HIFIMAN HE1000 V2 Planar Magnetic Headphones

3.5mm to 2×3.5mm Single Ended Cable

6.3mm to 2×3.5mm Single Ended Cable

XLR to 2×3.5mm Balanced Cable

Warranty Card

Manual

Storage / Presentation Case
Technical Specifications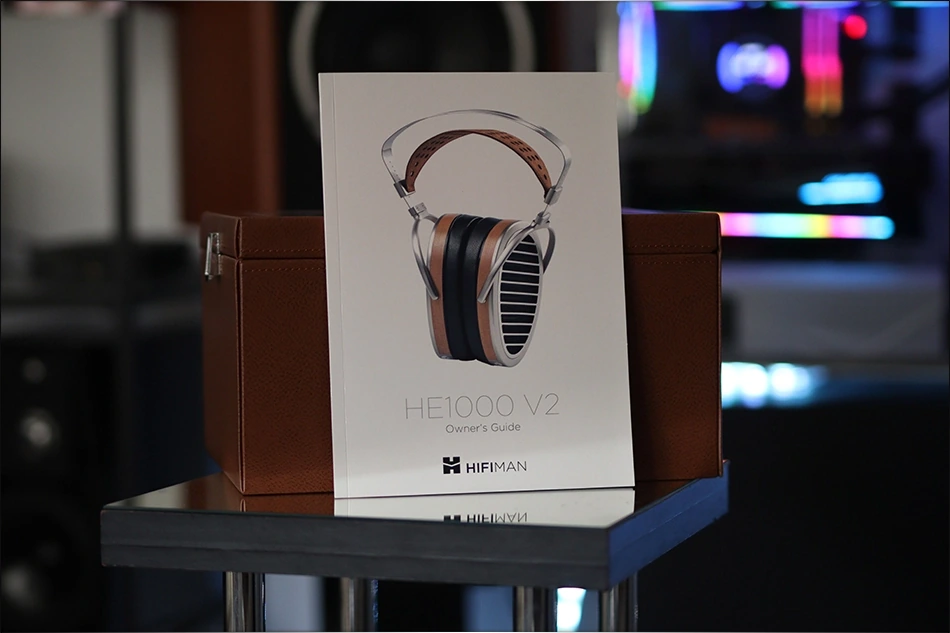 Impedance: 35 Ohms
Frequency Response: 8Hz-65KHz
Sensitivity: 90dB
Weight: 420g
---
--- Please remember to stay safe, and always have fun while listening to music!---
 - If you have a dime to spare, please donate, and help us! It would make the day brighter for me and my wife- 
---
Full Playlist used for this review
We listened to more songs than those named in this playlist, but those are excellent for identifying a sonic signature.  I recommend trying most of the songs from this playlist, especially if you're searching for new music! The playlists are different for Spotify, Tidal and Youtube, and based on the songs I enjoy and are available on each!
https://www.youtube.com/playlist?list=PL_cjBXGmwSHSdGcwuc_bKbBDGHL4QvYBu
https://open.spotify.com/playlist/5J3oloz8Riy9LxEGenOjQ0?si=979ba4f082414be7
https://tidal.com/browse/playlist/330fd544-8e5b-4839-bd35-676b2edbb3d5
--- Contact Us ---





---