Hifi Expert KLH Ultimate One – Basshead Impact From Future
KLH Ultimate One is a high-end, open-back pair of headphones priced at 400 USD in Europe (including taxes), sold and fulfilled by Hifi Expert in Romania. Given the price point, the main competitors will be Sendy Audio Apollo (500 USD), Sennheiser HD660S (500 USD), Avantone Pro Planar (450 USD).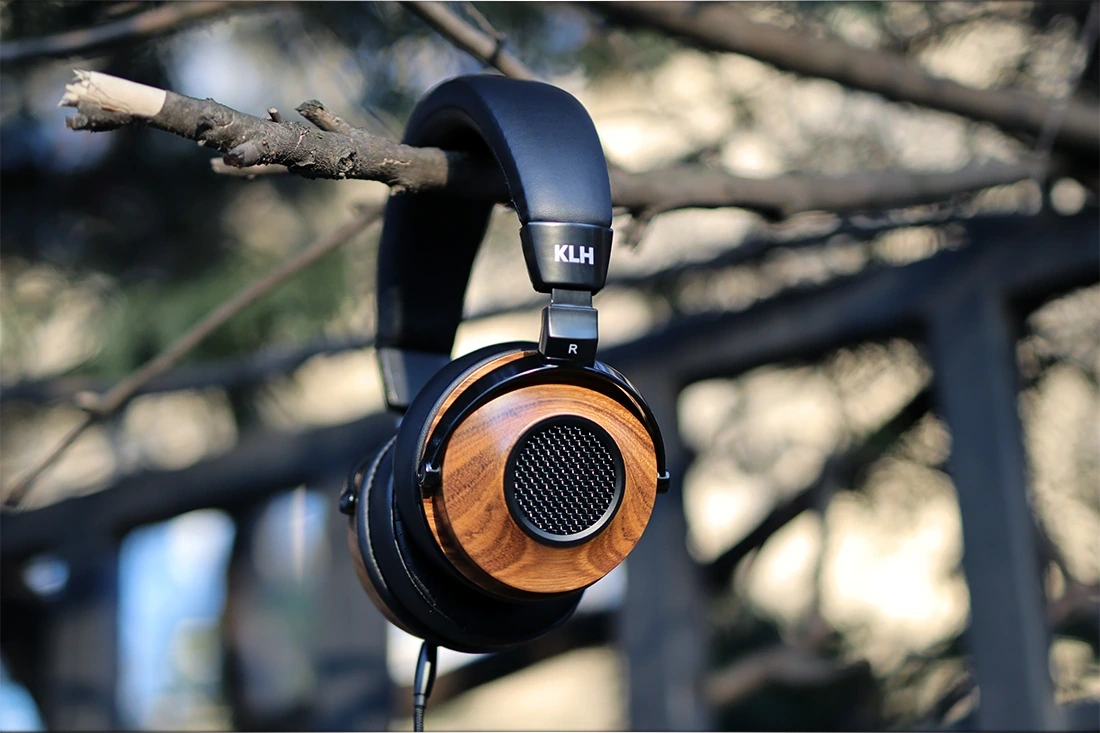 Introduction
If you've been following Audiophile-Heaven, you probably know that we are from Romania, and the team is basically me and my girlfriend, taking photos and doing reviews, plus friends whom we change sonic impressions with. But the heavy work is done here, locally, in Bucharest, so it is always interesting to see how local shops react to the existence as well as interest of a reviewer, Hifi Expert being the shop that is the most fun to visit. They are the official dealer / importer / distributor for Yamaha, as well as other big name brands like Aurender, Triangle, and others, and they have large showrooms with tons of products for music lovers to test and enjoy. Taking a visit to Hifi Expert is a wonderful experience, as you're met by a team of knowledgeable, warm and friendly folks ready to help you with every step of your audio journey. 
They are ready to help with both new customers, and entry-level folks, but also with audiophiles who already have a huge system and want help with room treatment and acoustic measures, as Hifi Expert has everything in store, from entry level IEMs and Headphones, all the way to high-end flagship Speakers, streamers, and more. I appreciate the fact that Hifi Expert is selling those for the equivalent of 400 USD, which is a good price considering the Ultimate One pricing in other European Countries. 
It should be noted that I have absolutely no affiliation with Hifi Expert or KLH, I am not receiving any incentive for this review or to sweeten things out. I'd like to thank Hifi Expert for providing the sample for this review. Every opinion expressed is mine and I stand by it. The purpose of this review is to help those interested in KLH Ultimate One find their next music companion. 
Product Link
Official Link: https://hifiexpert.ro/produs/casti-klh-ultimate-one/
You can grab one from www.amazon.com here: https://amzn.to/3oPgsp7
If you're in the UK, you can grab one from www.amazon.co.uk here: https://amzn.to/3rMoYXQ
And if you're from Europe, you can grab one from www.amazon.de here: https://amzn.to/3gN9Q6f
Packaging
First things first, let's get the packaging out of the way: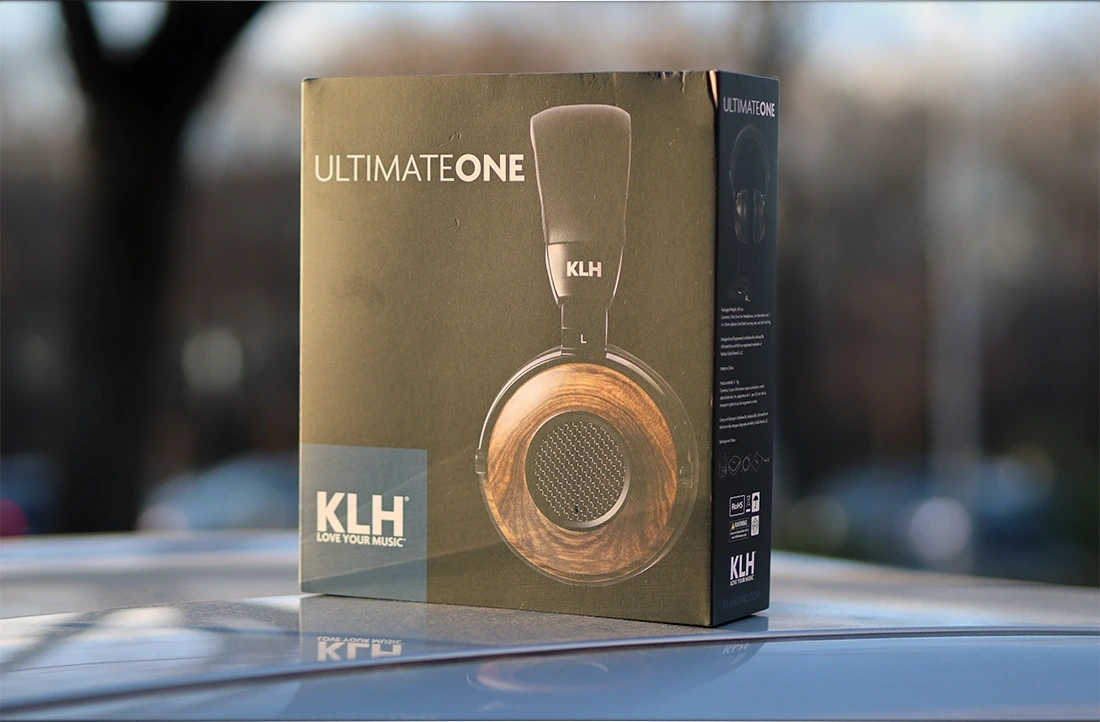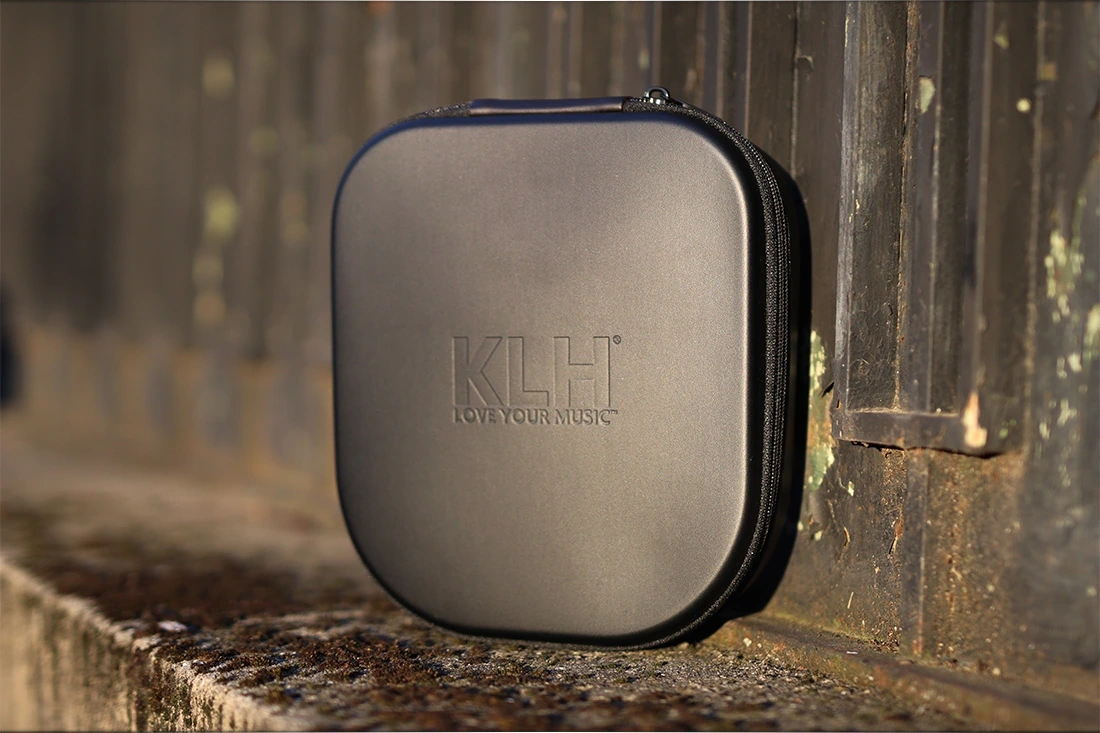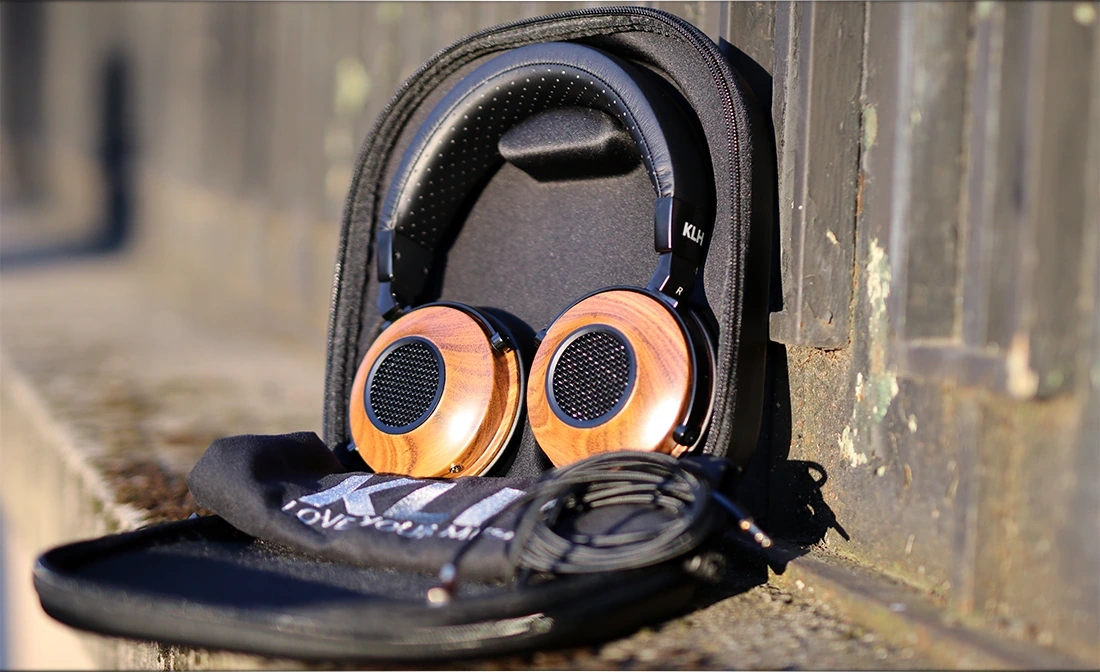 The package of KLH Ultimate One is actually a high quality one, with a nice carrying case, a carrying pouch and the cable included in the package. 
Build Quality/Aesthetics/Fit/Comfort
KLH Ultimate One is a high-end headphone, made from wood and plastic, with metallic parts supporting the earcups and the adjusting mechanism. It looks as high-end as it goes, with a really nice adjusting mechanism that is smooth, and with a detachable cable, based on a single 3.5mm Stereo 3-Pole Jack, found on the left earcup, at the bottom.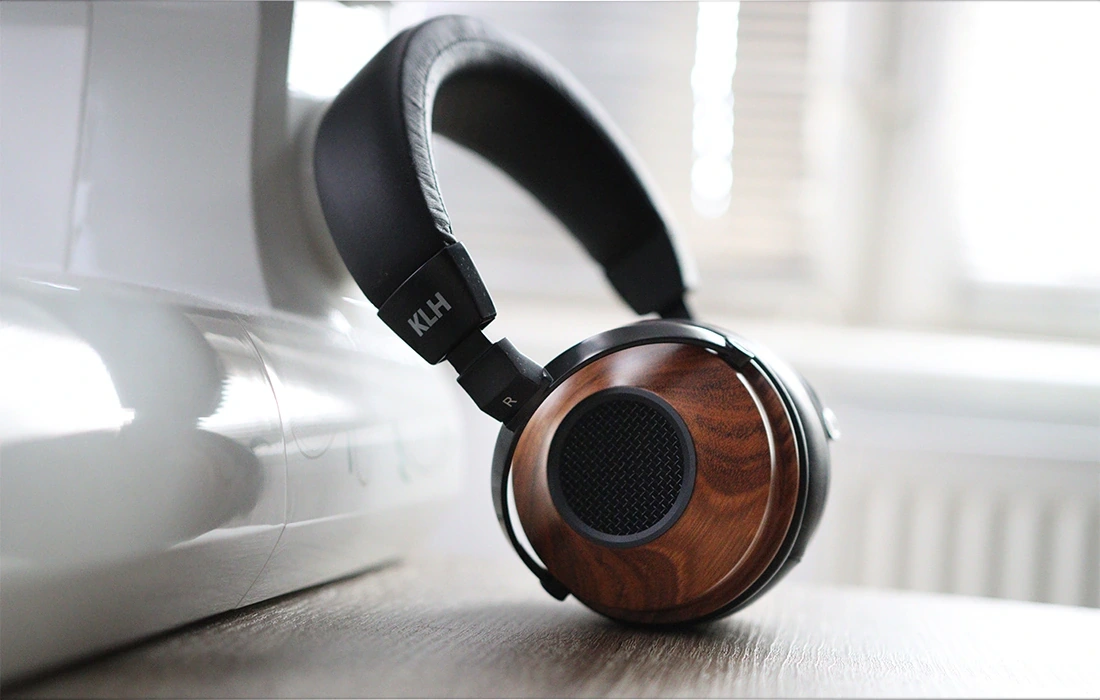 The cable is quite long, and it is ended in a 3.5mm single ended jack, with a spring stress relief, and can work with an adapter from 3.5mm to 6.3mm for bigger pieces of equipment. The cable is ultra flexible, and does not conduct microphonic noise. The cable is also made of pure silver litz and has a braided textile cover material to help with its integrity long term. The headphones are made in the USA, with a large 50mm Pure Beryllium Driver, and with Premium Lambskin for the headband and Earpads. The wood of the cups is Zebrawood, and it helps with the acoustic integrity of Ultimate One, plus they are fairly light at 340 grams, but still feel really well made. 
Diving deeper into the specifications of Ultimate One, we have 32 OHMs of impedance, which is a fairly typical impedance, and we have a sensitivity of 97 dB, which means that Ultimate One is going to be somewhat hard to drive from portables. The comfort of Ultimate One is fair, they are mostly soft in the earpads and the headband, but the earpads are small for my ears, and the fit is leaning towards being on-ear rather than over-the-ear. This being said, once you've been wearing the Ultimate One for a while, about 10 – 20 minutes, the earpads get softer, and they become more comfortable. I have medium towards large sized ears, so that plays a role too, as for my girlfriend the earpads are more than okay.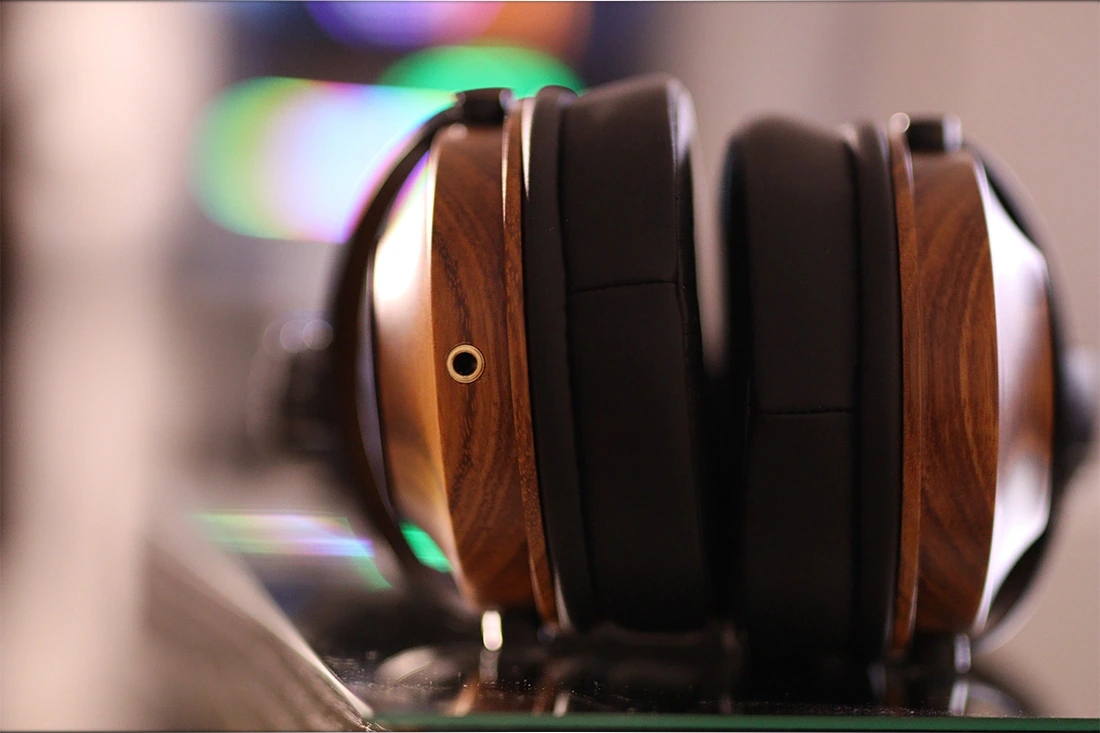 Ultimate One is a fully open back headphone, so they do not isolate, and the leakage levels are medium for an open back headphone, those around you will hear music at a conversational level, if you are blasting it fairly loud, and will hear your music whispered if you're listening at medium listening levels. Ultimate One isolates enough so that I cannot hear my own typing sounds if I'm playing music, even at fairly quiet levels. The leakage levels are lower than a HIFIMAN Deva PRO, but higher than a Beyerdynamic Amiron. 
Sound Quality
For driving the KLH Ultimate One, I've been using high-end sources, including Astell & Kern SE180, iBasso DX240, Cyrus One Cast, Dethonray DTR1+, and Lotoo PAW 6000. KLH Ultimate One is fairly silent with all sources and will not reveal too much background noise, and it is fairly independent of the source, sounding good even with more  affordable sources, including FiiO M11 PRO, iBasso DX160, Lotoo PAW S1, and Hifi Walker H2 Portable Music Player. I am going at a solid 70% on most sources, and close to 85% in volume for loud listening, so Ultimate One needs some juice to play well, and their large Beryllium dynamic drivers surely love a powerful source.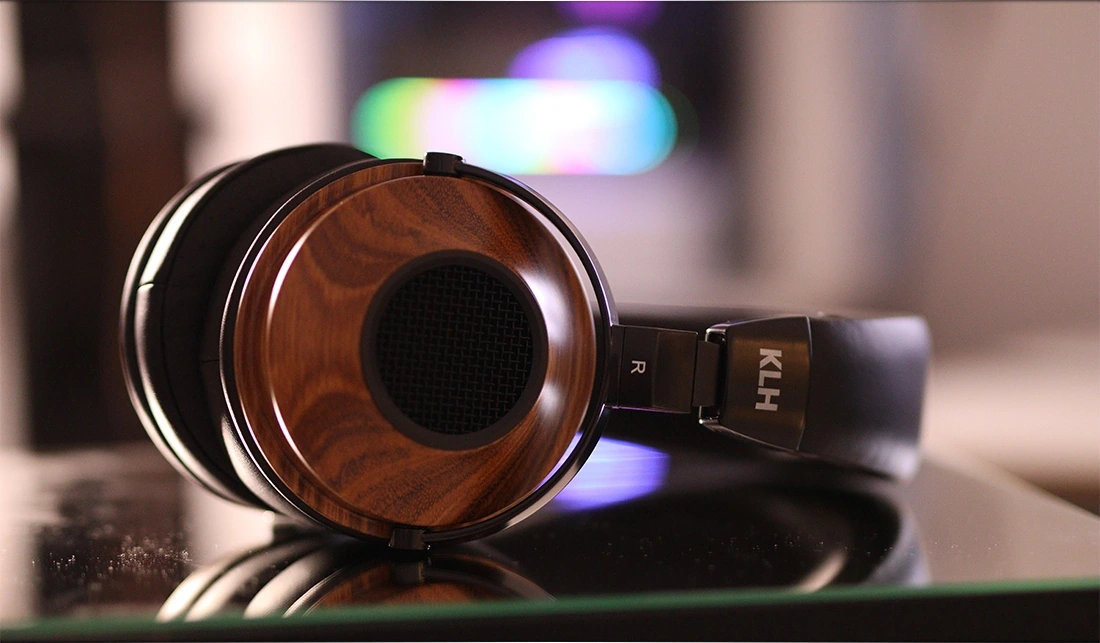 The sound of Ultimate One can be described as lush, smooth, fluid, thick, very well separated, forward in voices, with a smooth and gentle treble, tons of dynamics, details, and a very precise soundstage. When you first hear them, the sound is slightly dark in tuning, with more lower midrange, and bass than upper midrange and treble, but that feeling goes away fairly quickly, and as you listen more, you start noticing more of their beautiful sound, a sound with tons of details, but excellent imaging and a musical presentation. Ultimate One sounds best at high volumes, where it is the most dynamic, most punchy and most colorful. 
The bass of Ultimate One is a central element of their sound, with a strong, bold, impactful bass that's as rumbly as it is thumpy, and which bears excellent detail and nuance. Ultimate One is excellent for rock, metal, but also for EDM, Jazz and classical, having the needed bottom end to render music full, lush and deep. Even songs like Apashe – Witch sound clean, with a deep and rumbly bottom end that vibrates the headphones on my head, feat almost impossible to get with most competitors that just render a bodiless vibration. Ultimate One has a really good amount of depth and can render bass as low as 20 Hz if you really push them, but they are best for music that's rhythmic as their bass has a natural speed and is capable of keeping up with quicker and more expressive music. If you need a way to think about KLH Ultimate One's bass, it sounds like a high-end subwoofer, will sound beautiful with any music style, but still won't distort even with bass boosted songs, Ultimate One having a huge headroom for EQ.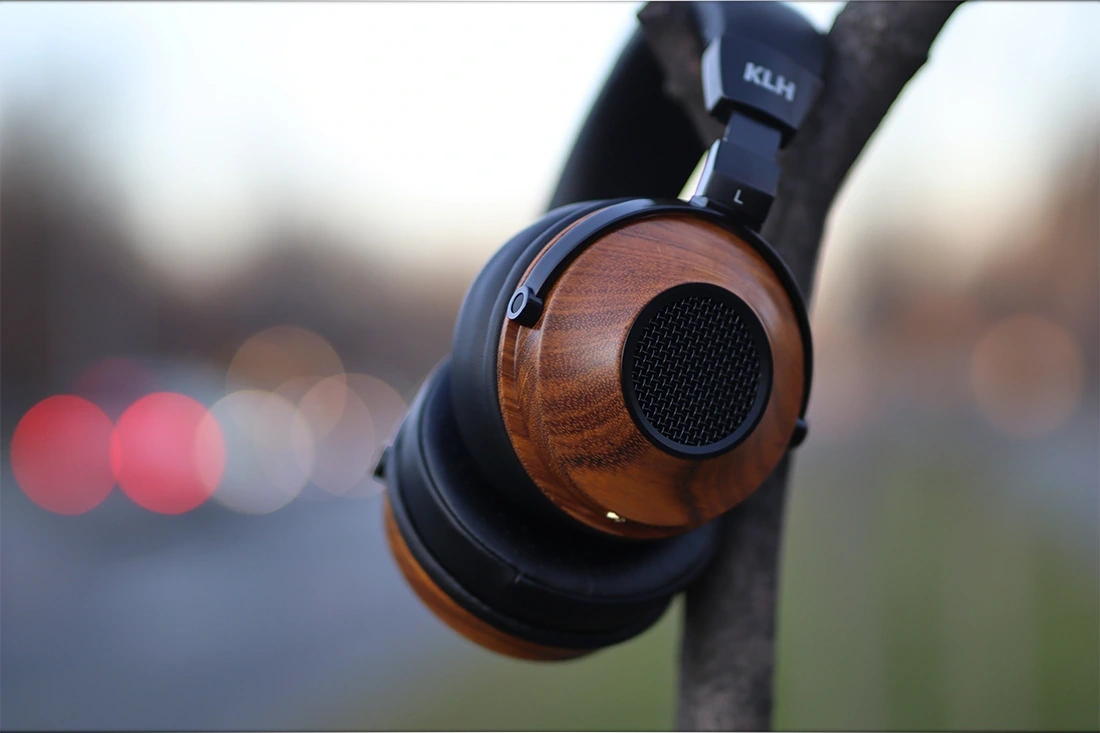 KLH designed a really musical midrange that's thick, laid back and lush. I actually noticed that I'm pumping more and more volume as I Ultimate One is distortion-free, and the laid back character means they're never fatiguing nor bothersome in any way. The midrange is smooth, clean and detailed. There are hints of some extra thickness, especially in the lower midrange, but the upper midrange is pleasing, for both more strident instruments like trumpets, but also for female voices which are presented sweet, fun and appealing. Ultimate One is one of the best headphones I heard in my entire reviewing time when it comes to instrument separation and stereo imaging, it doesn't simply cut instruments apart from each other, it just defines them really well. This is all aided by extreme amounts of dynamics. KLH managed to nail the tonality really well, and like most IEMs and Headphones based on a Beryllium driver, Ultimate One is able to deliver a musical and pleasing experience, with punchiness in both lows and mids. 
The treble of Ultimate One is smooth, fluid and gentle, presented with a good amount of attenuation. Ultimate One is the kind of Headphone that will never be hot headed or troubling, but will still manage to be enjoyable and sparkly when it should. KLH managed to nail an interesting signature where the treble does not roll off completely, but it is pushed behind the midrange and the bass, still having enough presence for sound to be airy and wide. KLH Ultimate One is generally deeper than it is wide. 
Comparisons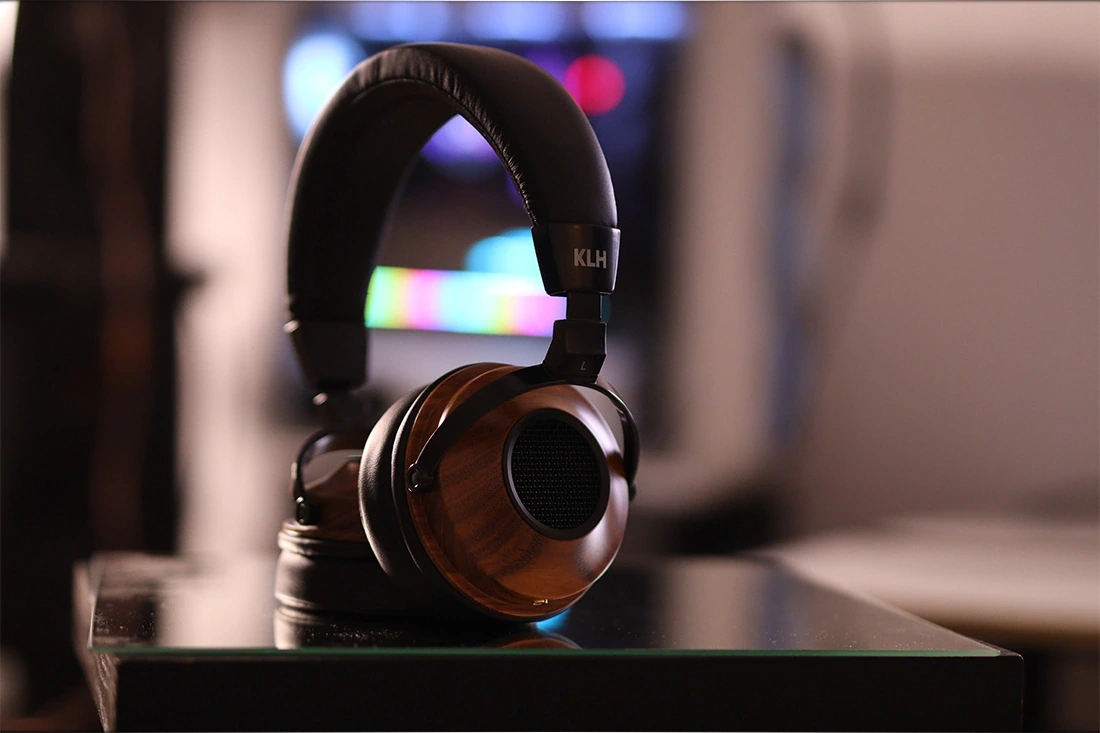 KLH Ultimate One vs Sennheiser HD660S (400 USD vs 500 USD) – Starting with the epic HD660S, a headphone that's better known that most, the sound of Ultimate One is actually much more pleasing, more relaxed, and with a much deeper, stronger, and more fluid bass. In fact, even the comfort is Ultimate One is better, as HD660S has a really tight, and hard earpad, and a hard headband, providing what I consider to be one of the most uncomfortable experiences for an open back headphone out there, although both of them have a really good build quality. The detail level is better on Ultimate One, but the tuning is a bit darker, more lush and thicker than HD660S which sounds brighter. KLH Ultimate One is more relaxing, it is smoother in the treble, where HD660S is actually brighter and can be harsh and fatiguing at times, compared to Ultimate One. If you have any love for bass, and if you enjoy a more detailed, yet musical sound, with good imaging and a natural soundstage, I recommend Ultimate One  here, as both in comfort and overall sonics it is a better but much less known headphone than Sennheiser mighty warrior.  
KLH Ultimate One vs Avantone Pro Planar (400 USD vs 450 USD) – Pro Planar actually is similar to Ultimate one in many ways, but it has larger earpads, and I would say a more industrial design. Most folks will prefer the zebra wood design of Ultimate One, and the sound is actually equal in detail, but Pro Planar has a slightly more dry sound, with more congested presentation, that helps reveal a bit more detail and textures in music, especially in the upper midrange and lower treble. Ultimate One is a better listening headphone, being smoother, having a better sub-bass extension than Pro Planar, and Ultimate One has better imaging and instrument separation. They are both excellent and work well for a multitude of usage scenarios, Ultimate One being better for listening, and enjoying music, while Avantone Pro Planar is a better Mixing / Mastering / Music Production Headphone. 
KLH Ultimate One vs Sendy Audio Apollo (400 USD vs 500 USD) – Apollo is more comfortable than Ultimate One, with much larger earpads and much softer earpads. This won't matter as much for folks with small ears, but it will for those with elephant-like ears such as yours truly. The build quality is equal between them, and Ultimate One is more portable, coming with a flatter case, where the Apollo Carrying Case is a bit too bulky for me to consider truly portable, although arguably both offer great deals of protection to the headphones. The overall sonics are quite different, both headphones being smooth, clean, and musical, in similarities, but KLH Ultimate One having a bold, strong, and impactful sub-bass and bass, where Apollo is much flatter and more creamy in presentation. While those words don't make much sense before listening to them, Apollo has a softer impact in the bass, and more focus on the midrange, with a softer general sound, yet a similar level of detail to Ultimate One. Ultimate One is the headphone to get here if you like bass, and if you like impact, and an impressive, emotional sound. 
Value and Conclusion
HiFi Expert and KLH presented us with a headphone that's a bit tight in the earpad size, but provides one of the most satisfying basshead experiences I've had with open back headphones, all without forgetting the technicalities and keeping an excellent detail, resolution, clarity, and instrument separation. In fact, Ultimate One brings all the advantages of a Beryllium coated driver, mixes them with a heavy and punchy presentation, and gives it a smooth treble, effectively creating one of the most engaging headphones ever created for rock, metal, rap, pop, electronic and more.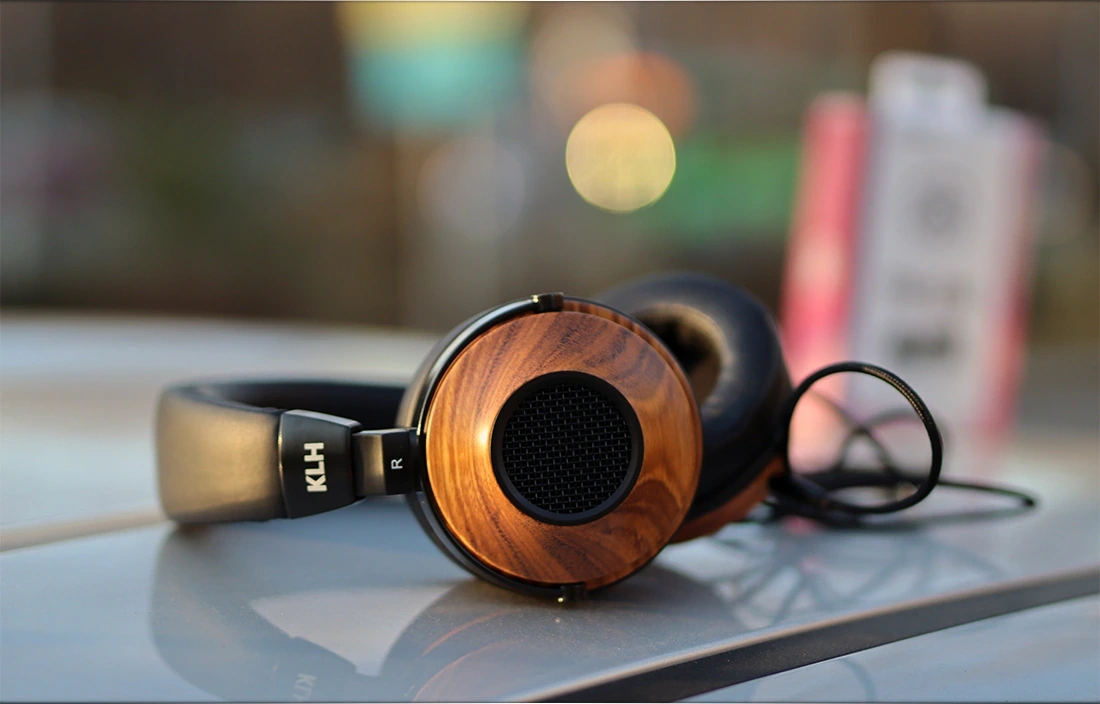 Before the end of today's review, KLH Ultimate One deserves a place in Audiophile-Heaven's Hall Of Fame for their engaging, punchy, deep sound, and for the resolution, detail and clarity they have. You should also check out HIFI Expert, the shop selling the Ultimate One, as it is one of the warmest, coziest, and most friendly hifi places I've seen in Romania, with a varied offer, and excellent prices, in relation to the typical European Prices.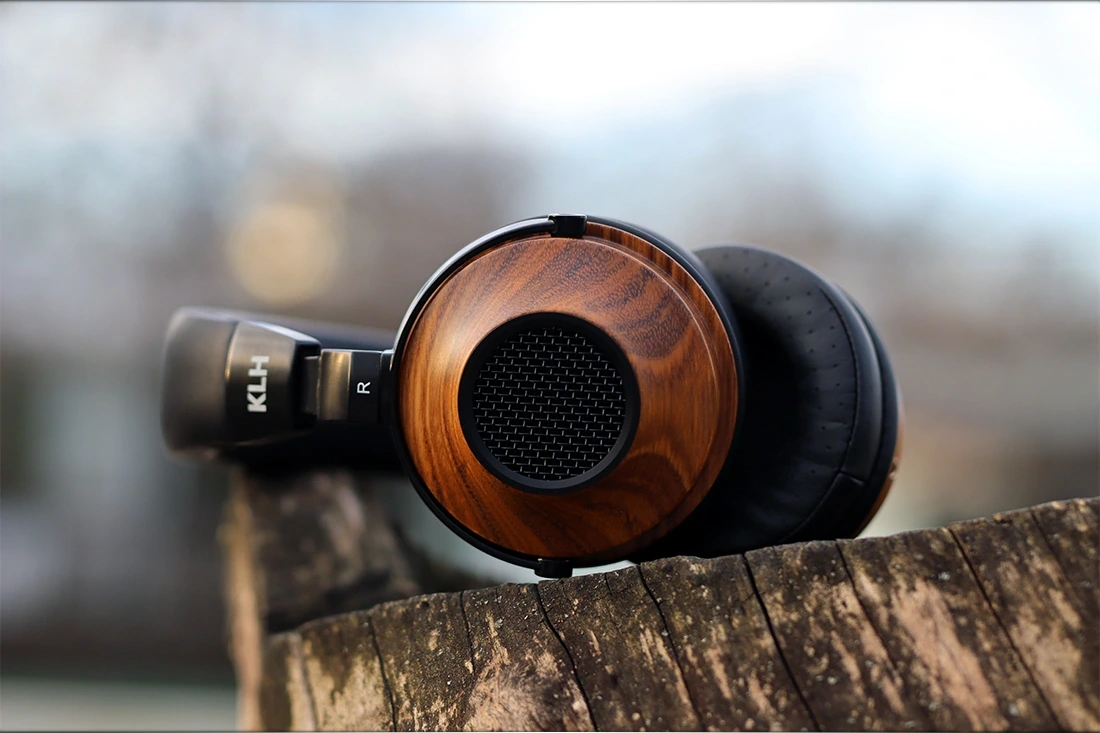 At the end of the day, if you're looking for a heavy, satisfying, lush, smooth and fluid headphone with excellent detail, excellent build quality, a punchy and impactful bass, smooth and musical midrange, and a smooth treble, but with a good soundstage, KLH Ultimate One should be perfect for you. Coming with a carrying case, and a one sided cable made of Silver, it should satisfy all listeners universally, regardless of your favorite music style. 
Summary In Romanian
KLH Ultimate One este o pereche de casti deschisa, produsa in USA, de catre KLH, si vanduta in Romania de HIFI Expert, unul dintre cele mai mari magazine audio din Bucuresti. Acestea sunt o pereche de casti deschise, cu driveri mari de Beryllium, piele de miel pe earpads si pe headband, dar si cu o constructie metalica care sa ofere integritate structurala castilor.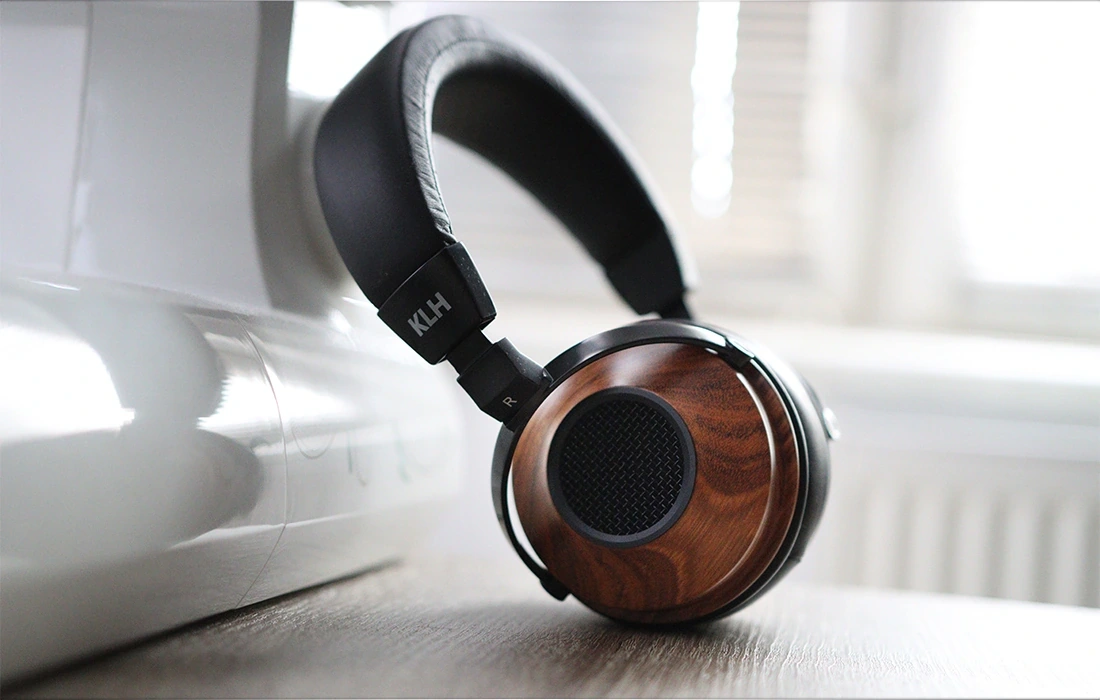 In ciuda materialelor de inalta calitate utilizate in constructia KLH Ultimate One, avem parte de o greutate redusa, de doar 340 de grame, iar design-ul deschis permite un sunet mai aerisit decat cel tipic castilor inchise. Cablul este detasabil, si cu o conexiune de 3.5mm in partea inferioara a castii stangi, si are o lungime de aproape 2 metri, venind cu un adaptor de la 3.5mm la 6.3mm pentru sursele de putere inalta. 
Subiectiv, castile sunt comfortabile, iar earpad-urile sunt moi, dar marimea lor este micuta, pentru mine devenind on-ear mai mult decat over-the-ear. Cablul este de calitate foarte buna si nu transmite zgomotul microfonic cu usurinta. Datorita design-ului deschis, KLH Ultimate One nu ofera izolatie impotriva zgomotului ambiental, iar muzica se aude si in exterior, dar nu la fel de tare ca si restul castilor deschise, cum ar fii Hifiman Deva Pro.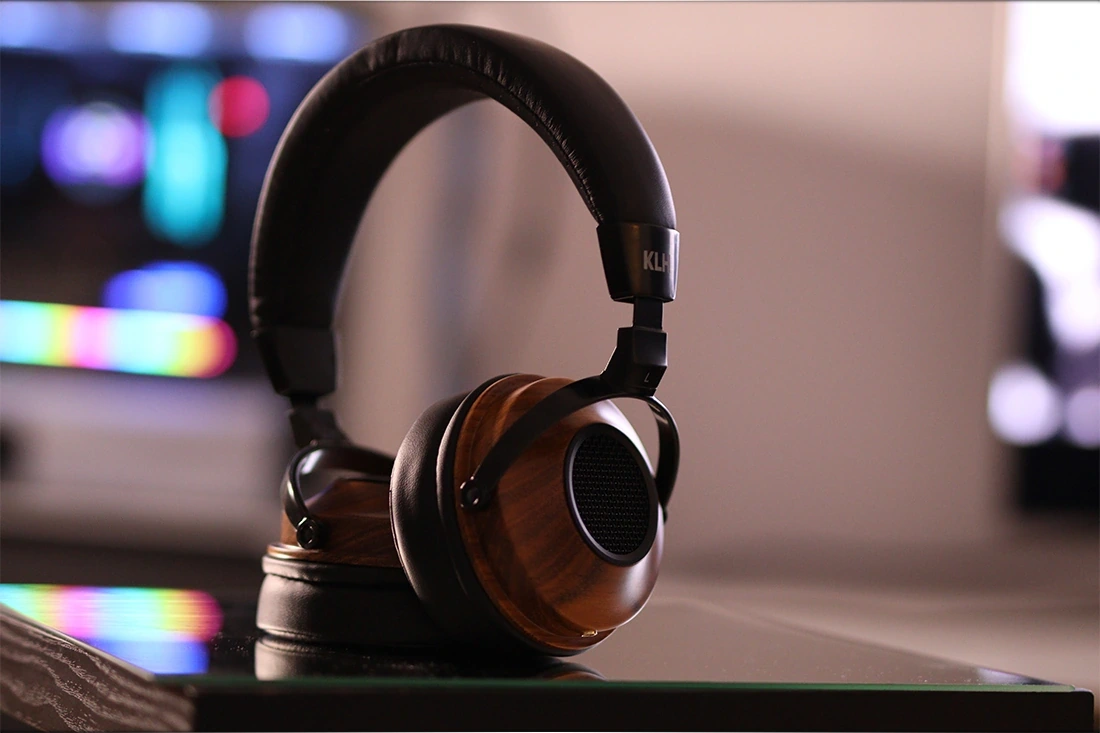 Sunetul castilor KLH Ultimate One este unul puternic, plin de impact si viata, si cu o prezentare a joaselor plina, si muzicala. Ultimate One sunt un adevarat vis pentru orice iubitor de bass, de muzica electronica, dar si de Jazz sau rock, oferind un sunet atat de plin si care coboara in joase, pe cat este muzical si separat. Ultimate One ofera inalte matasoase, usoare si relaxante, dar nu le sterge, oferind o auditie placuta, si neobositoare. 
Cea mai frumoasa parte a sunetului Ultimate One este separatia intre instrumente si acel Stereo Imaging, adica precizia cu care Ultimate One plaseaza instrumentele in scena, si definitia pe care o ofera fiecarui instrument. Ultimate One este capabil sa redea nivele ridicate de dinamica si detalii, iar acest lucru este cel mai usor de sesizat la volume inalte, unde sunetul lor devine mai clar si mai bine definit, iar mediile apar mai in fata comparat cu joasele care devin mai controlate.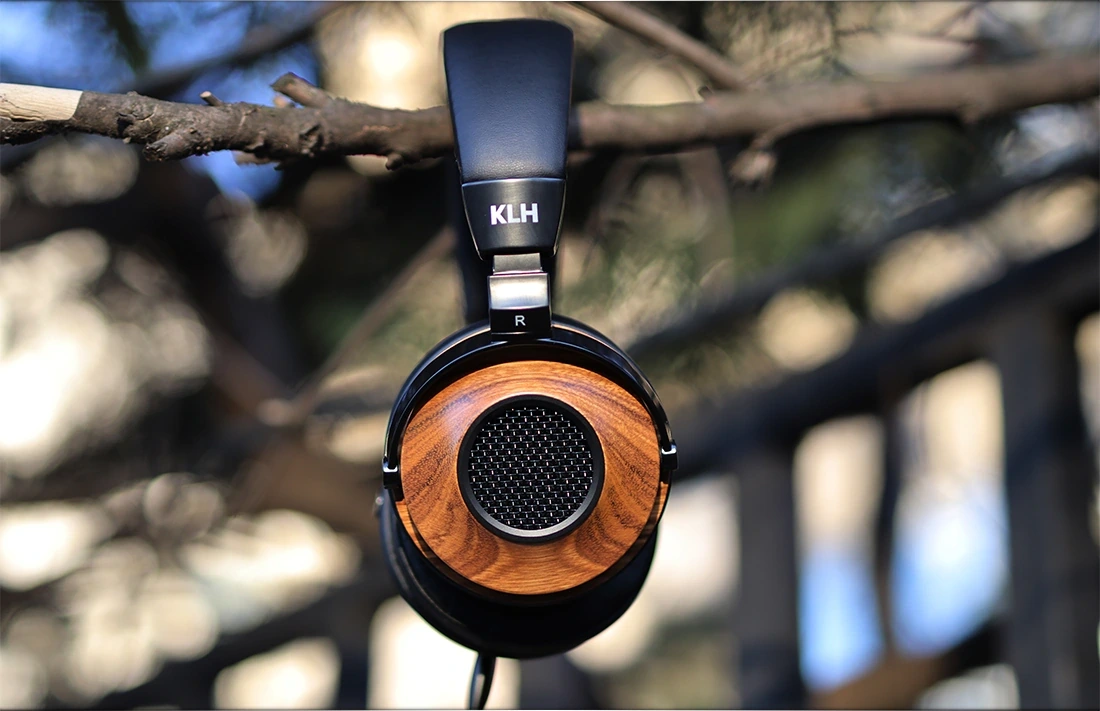 Atat experienta cu KLH Ultimate One, cat si experienta cu HIFI Expert este una surprizintator de placuta chiar si pentru un audiofil ca mine, care am compus peste 400 de articole si recenzii. Atunci cand intri in magazinele HIFI Expert esti intampinat de oameni care inteleg sunetul, si care nu vor sa iti vanda, pe cat vor sa te ajute sa identifici ceea ce ti-ar aduce fericirea, acele produse potrivite pentru tine. Am fost placut surprins si de oferta variata, preturile foarte bune, chair relativ la ce preturi poti gasi in Europa si USA, iar daca inca nu ai avut sansa, chair iti recomand sa arunci o privire in unul din showroom-urile lor, ambele fiind in zona Universitate Bucuresti, iar cel nou, Yamaha, unde se pot si testa KLH Ultimate One fiind la 2 minute distanta de la metrou.  
Product Link
Official Link: https://hifiexpert.ro/produs/casti-klh-ultimate-one/
You can grab one from www.amazon.com here: https://amzn.to/3oPgsp7
If you're in the UK, you can grab one from www.amazon.co.uk here: https://amzn.to/3rMoYXQ
And if you're from Europe, you can grab one from www.amazon.de here: https://amzn.to/3gN9Q6f
---
---
--- Please remember to stay safe, and always have fun while listening to music!---
 - If you have a dime to spare, and donate, to help us with electricity and work expenses, it would make my day much brighter, as it would help me improve things around the website and increase the frequency of my posts - 
---
Full Playlist used for this review
We listened to more songs than those named in this playlist, but those are excellent for identifying a sonic signature.  PRaT, Texturization, Detail, Resolution, Dynamics, Impact, and overall tonality are all revealed by those songs. We recommend trying most of the songs from this playlist, especially if you're searching for new music!
https://www.youtube.com/playlist?list=PL_cjBXGmwSHSdGcwuc_bKbBDGHL4QvYBu
--- Contact Us ---






---
---