Pro-Ject DAC Box DS – (Un)Limited Smooth Performer
Pro-Ject designed many DACs over the years, but the DAC BOX DS will surely remain in the history of mankind as one of the kindest, smoothest and most peaceful sounding DACs to ever exist. It is priced at 430 USD at the moment of writing this full written review, but it is a fairly old unit that has been slowly shifted out, so you may be able to find it for cheaper. Today's comparison list will include Pro-Ject Pre Box S2 Digital, Singxer SDA-2 DAC/AMP, and iBasso DX160.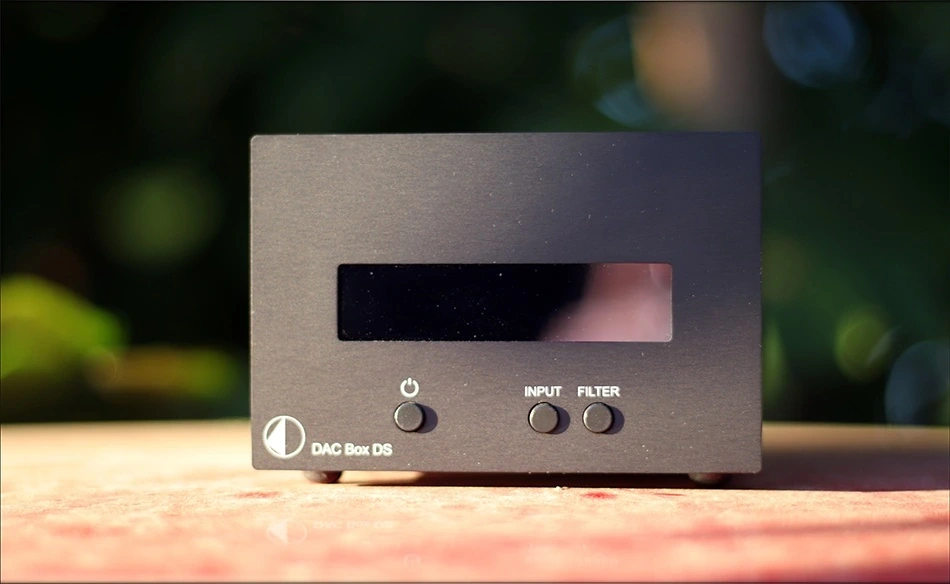 Introduction
Pro-Ject is the standard of European Companies in audio, and they have a huge range of products, including DACs, AMPs, and even some turntable stuff. They have everything, from really affordable, to really expensive crazy amplifiers and turntables. There's a product for everyone, although they usually are not cheap, in package, build or price, and if you're looking for the best pris / perf ratio, Pro-Ject usually is lower rated than Chifi companies. What you do get with Pro-ject is the best quality they could deliver over all, even if that costs a bit. 
It should be noted that I have absolutely no affiliation with Pro-Ject. I'd like to thank Pro-Ject for providing the sample for this review. This review reflects my personal experience with the Pro-Ject DAC Box DS. Every opinion expressed is mine and I stand by it, the purpose of this review is to help those interested in Pro-Ject DAC Box DS find their next music companion. 
Product Link
You can always grab a Pro-Ject DAC Box Ds from www.amazon.com here: https://amzn.to/2STkgZE
If you're in the UK, you can grab a DAC BOX DS from www.amazon.co.uk here: https://amzn.to/3dTIfPJ
And if you're from Europe, you can grab a Pro-Ject DAC BOX DS from www.amazon.de here: https://amzn.to/3qV2l1l
Packaging
First things first, let's get the packaging out of the way: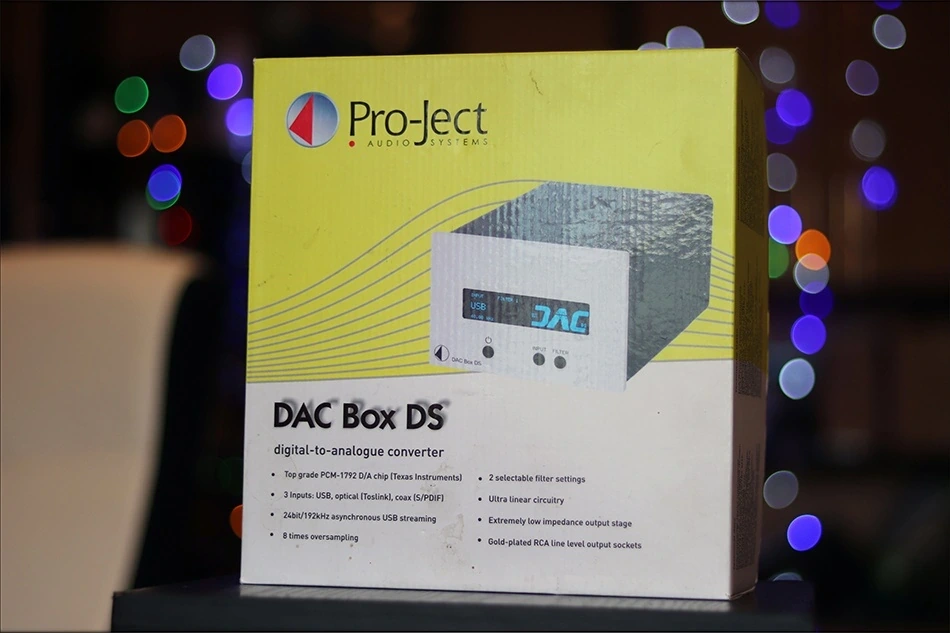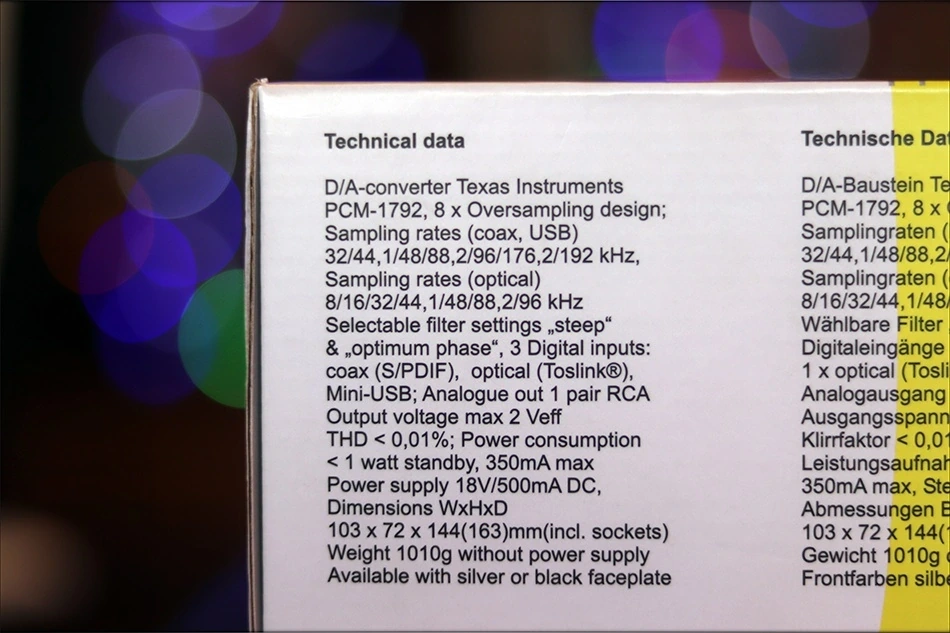 You should totally read my other reviews about Pro-Ject products, because their package is always the same, looks the same, works the same. The box of the DAC Box DS includes a power brick that can combine and work with any socket type.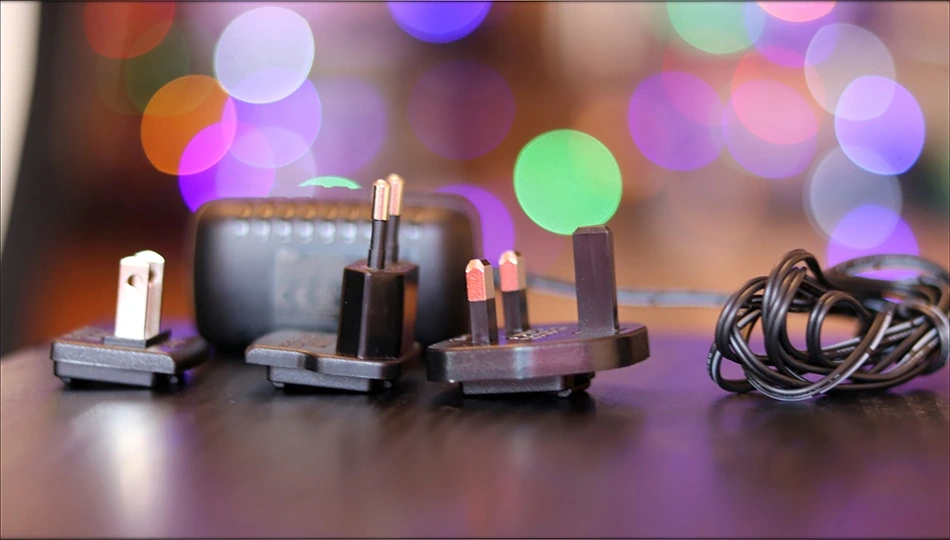 That is all, no USB Cable, no remote, and nothing else really, besides the manuals / drivers. 
Build Quality/Aesthetics/Functionality
The build quality is quite simple, with one large metallic box, and with no connectors at the front. This is because this one is only a DAC and does not have a headphone amplifier inside. Instead, the DAC Box DS has all the connectors at the back, and they include a rich selection of inputs like Optical, Coaxial and USB.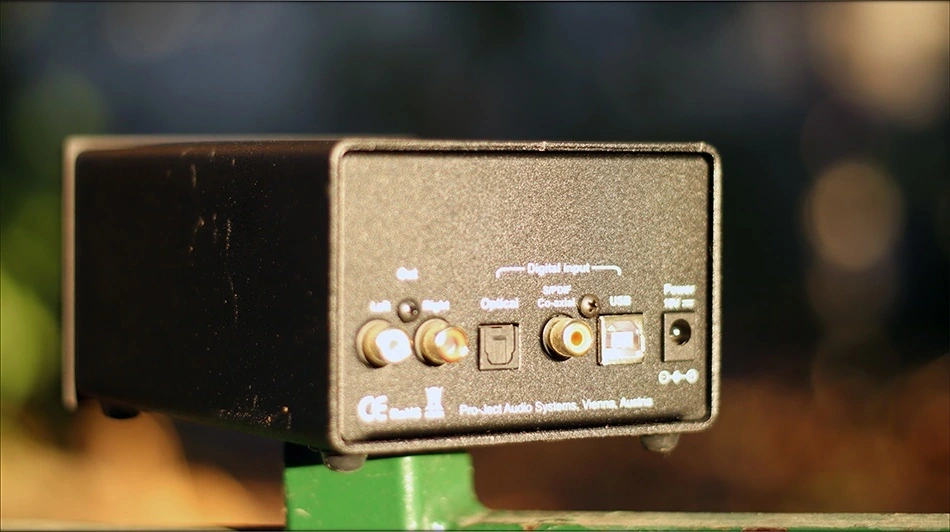 The power deliver is 18 Volts, and the power brick is capable of delivering it, and I see no reason to upgrade the power brick to something aftermarket like iFi's power bricks. 
The output is a single ended, 2 x RCA output, with gold plated connectors. The front of the unit has a power button, an Input and a Filter button, and a small display, with nothing else notable in the build. I noticed good overall build quality, the unit is rather hefty, and while I haven't opened it yet to see what exactly is heavy inside, it has good overall compatibility with my desktop PC and I have seen no issues there. The USB Connector is one of those Type A connectors, like old printers used to have.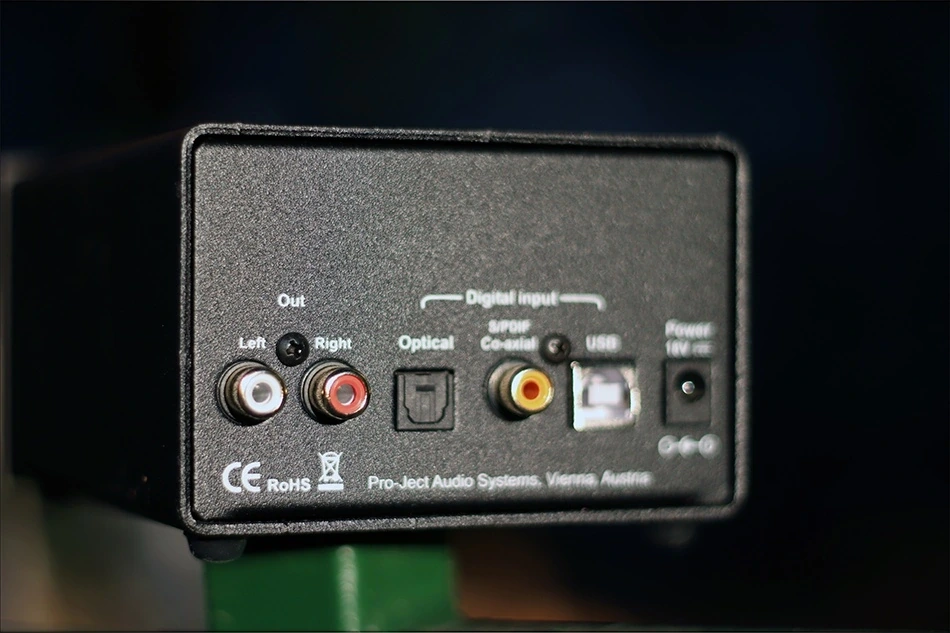 Setting up the DAC BOX DS is simple, you install the drivers, which are also available online, or you don't install them at all. It works either way. Connecting the cables is next, and I noticed that it does not make a loud pop when it turns on, at least on my system, which is fairly good. Some expensive products have that on Single Ended connectors, like the Qualiton APR204, but it is good on balanced. 
Video Review
Sound Quality
The biggest concern with expensive products, and at 400 USD the DAC BOX DS is quite pricey, is the sonic performance, and it surely does not overperform, and actually, in a technical way is a bit of an underperformer. In a practical way, it sounds quite clean, smooth and fun, but it lacks the edge in detail and resolution that many newer DACs have. The softer, more compressed sound works well if you're the type who get tired fast, or the type who wants a musical experience, but it is not for metalheads or rockers by any means.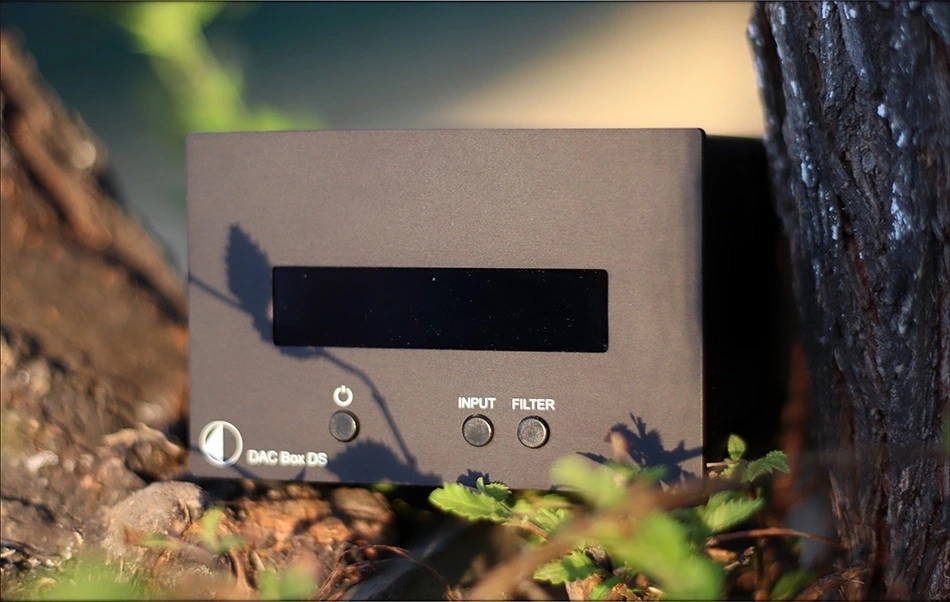 The bass is softer, slightly larger in body and presence, and goes down fairly well, as low as 20 Hz, but it is not especially thick or punchy. The softer presentation works well with Jazz, and certain classical music, but it is not for those who want the biggest or the largest bass possible. I get a feeling that the DAC BOX DS matches fairly well with really bright and peppy speakers that you just can't tame, or with really energetic amplifiers, like those from Roksan.
The midrange is as deep as it is wide, which is modest in size, and it is fairly compressed dynamically. The detail is fair, but not abundant, and the overall clarity is actually good. I am getting the feeling that the entire sound was made as fatigue-free as it was humanly possible, all while sacrificing the technical aspects a bit. This is a common technique, and some companies exaggerate a bit on it, but Project is not one of those companies usually. Their "house sound" tends to be fairly neutral and natural, not this smooth usually. 
The treble is smooth and relaxed, with little amounts of energy. It does not roll off too quickly, but the treble is so relaxed and smooth it could never in your entire life offend a fly. The sound in general is a bit too relaxed and smooth for rock, metal and EDM. It can be quite enjoyable with Jazz, Classical and downtempo. 
Comparisons
The main competitors for the DAC BOX Ds is an expensive DAC for the overall technical performance, so I tried to pick a versatile list of competitors. The list includes the Pro-Ject Pre Box S2 Digital, iBasso DX160, and Singxer SDA-2. There are many DACs and AMPs in this price range, and the best part about it is that you can get so much for the money now, and if you want really smooth and relaxed sound, there are options for you as well.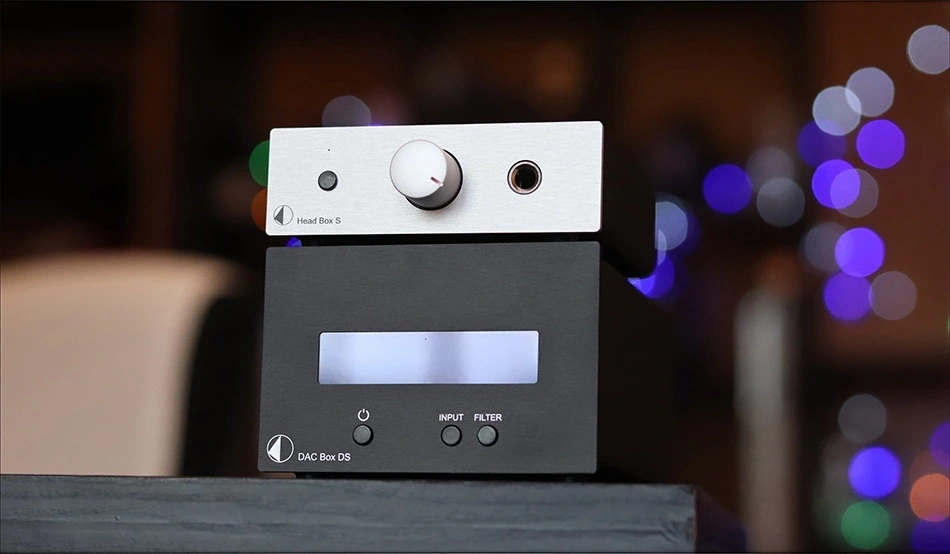 Pro-Ject DAC BOX DS vs PRO-Ject Pre Box S2 Digital (430 USD vs 500 USD) – Surely, the S2 digital is newer, but it is so much better in every way possible. In fact, I have to say this right away, it has more functions, sounds more clean, more clear, more detailed, with better dynamics, better punch and more overall resolution, to the point where I don't really see anyone getting the DAc BOX DS above the S2 Digital. The only part that the DAC BOX DS does a bit better is being really smooth, but that comes at the cost of dynamics and overall resolution which suffers from it. 
Pro-Ject DAC BOX DS vs iBasso DX160 (430 USD vs 420 USD) – You could actually get a DAP that does so much more than the DAC BOX DS, like DX160, and which can still act as a DAC with the right cables. At the end, as long as it does the job, there's no reason to go for a desktop DAC when you could have a DAP that can also drive headphones at the same price. The release price of DX160 is actually lower than that of the DAc BOX DS, and I honestly consider that you should do a bit of market research when you make an expensive purchase, because even Pro-Ject has good products, but when you consider what Chifi stuff is out right now, you could get a similar quality from Topping and their E30, so there are reasons to consider the alternatives too. Pro-Ject always provided great service, but now the game will need to be stepped up with technical performance too. DX160 sounds way cleaner, with more dynamic range, more clarity, more resolution and more detail than DAC BOX DS, when both are used as DACs. DX160 also has headphone driving abilities, and is portable, making it an easier choice and the solution that I would recommend more here. 
Pro-Ject DAC BOX DS vs Singxer SDA-2 (430 USD vs 700 USD) – SDA-2 is quite a bit more expensive, and surprise to no one, has more technical performance than the DAC BOX DS. On the other hand, it can also drive headphones, even having a Balanced XLR connector. I wanted to make a point here, that the SDA-2 cannot be found second hand, or at good prices. You basically will have to pay about 700 USD for it. With the DAC BOX DS, you can find it for 150 USD or so on the used market, as it is an older product. This means that you could have a more mature setup for less if you decide to spend some time looking for it. The sonic comparisons here are in favor of the SDA-2, with better dynamics, more detail, better resolution and all. DAC BOX DS is the smoother, more relaxed, and less technical presentation. 
Value and Conclusion
As I've been explaining throughout the review, DAC BOX DS has poor value, and it is one of the DACs that I generally don't recommend if you're into good price / performance ratio products. It is not a bad product by any means, but a poor price / value, at least technically, means that you can totally find products with more detail out there. The problem is that there is a market for people who just want a smooth, and Pro-Ject decided to deliver a product to them as well.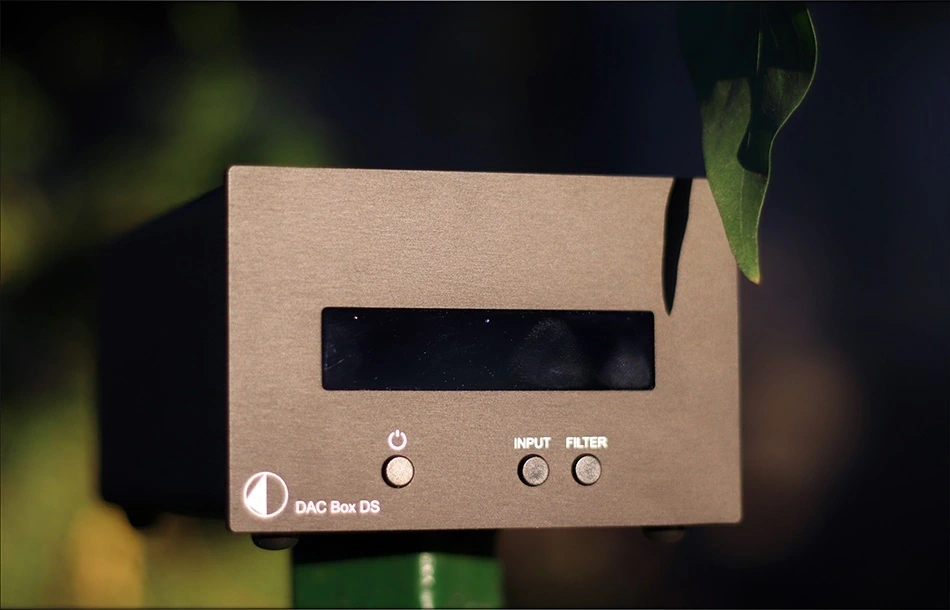 The package has the same awesome Pro-Ject design, and the build quality is really excellent. You can connect the DAC BOX DS to a speaker setup, or to an amplifier, like I did with their own Head Box S. It is fairly practical and small, works well with any desk, and the black version is really aesthetic too. 
At the end of the day, if you're looking for a smooth performer, if you don't mind a slightly dynamically compressed presentation, and if you want something to be enjoying without much focus on the technical performance, then DAC BOX DS would be a fitting option for you. 
Product Link
You can always grab a Pro-Ject DAC Box Ds from www.amazon.com here: https://amzn.to/2STkgZE
If you're in the UK, you can grab a DAC BOX DS from www.amazon.co.uk here: https://amzn.to/3dTIfPJ
And if you're from Europe, you can grab a Pro-Ject DAC BOX DS from www.amazon.de here: https://amzn.to/3qV2l1l
---
---
--- Please remember to stay safe, and always have fun while listening to music!---
 - If you have a dime to spare, and donate, to help us with electricity and work expenses, it would make my day much brighter, as it would help me improve things around the website and increase the frequency of my posts - 
---
Full Playlist used for this review
We listened to more songs than those named in this playlist, but those are excellent for identifying a sonic signature.  PRaT, Texturization, Detail, Resolution, Dynamics, Impact, and overall tonality are all revealed by those songs. We recommend trying most of the songs from this playlist, especially if you're searching for new music!
https://www.youtube.com/playlist?list=PL_cjBXGmwSHSdGcwuc_bKbBDGHL4QvYBu
--- Contact Us ---






---
---