AIAIAI TMA-2 Studio Wireless+ – The Portable Ones
AIAIAI TMA-2 Wireless+ is a high-end headphone with a comfortable design, and a price tag of about 350 EUROs / 390 USD. Given the price range, they will be compared to Sendy Audio Apollo (500 USD), Avantone Pro Planar Magnetic Headphones (450 USD), iBasso SR-2 Open-Back Dynamic Headphones (500 USD). 
Introduction
AIAIAI is the first company to have developed studio headphones with a wireless transmitter, and this is not your run of the mill Bluetooth codect, but rather a full sized wireless sending unit with a full lossless codec embedded. The headphones have an entirely new tech behind the Wireless transmitter / receiver, with the W+ Link technology, but also adds support for Bluetooth 5.0 and 80 hours of battery life for the headphones. Cabled usage is always supported on AIAIAI Headphones, and despite the selling point being the wireless connection, like with most headphones, the wired connection might end up sounding best. 
It should be noted that I have absolutely no affiliation with AIAIAI, I am not receiving any incentive for this review or to sweeten things out. I'd like to thank AIAIAI for providing the sample for this review. Every opinion expressed is mine and I stand by it. The purpose of this review is to help those interested in AIAIAI TMA-2 Studio Wireless+ find their next music companion. 
Product Link
You can grab one from www.amazon.com here: https://amzn.to/3ueykf9
If you're in the UK, you can grab one from www.amazon.co.uk here: https://amzn.to/3q2jOpn
And if you're from Europe, you can grab one from www.amazon.de here: https://amzn.to/3MO3jXx
Build Quality/Aesthetics/Fit/Comfort
If you ever visited the AIAIA Website, you probably know that they have some of the best design and aesthetics for their webby, so we expect great things from them always. The headband of TMA-2 Wireless + is slightly different than that of the other headphones, and this one has the necessary receiver for the W+ Link and Ultra Low Latency Lossless Audio, Bluetooth 5.0 as well as the cabled connection.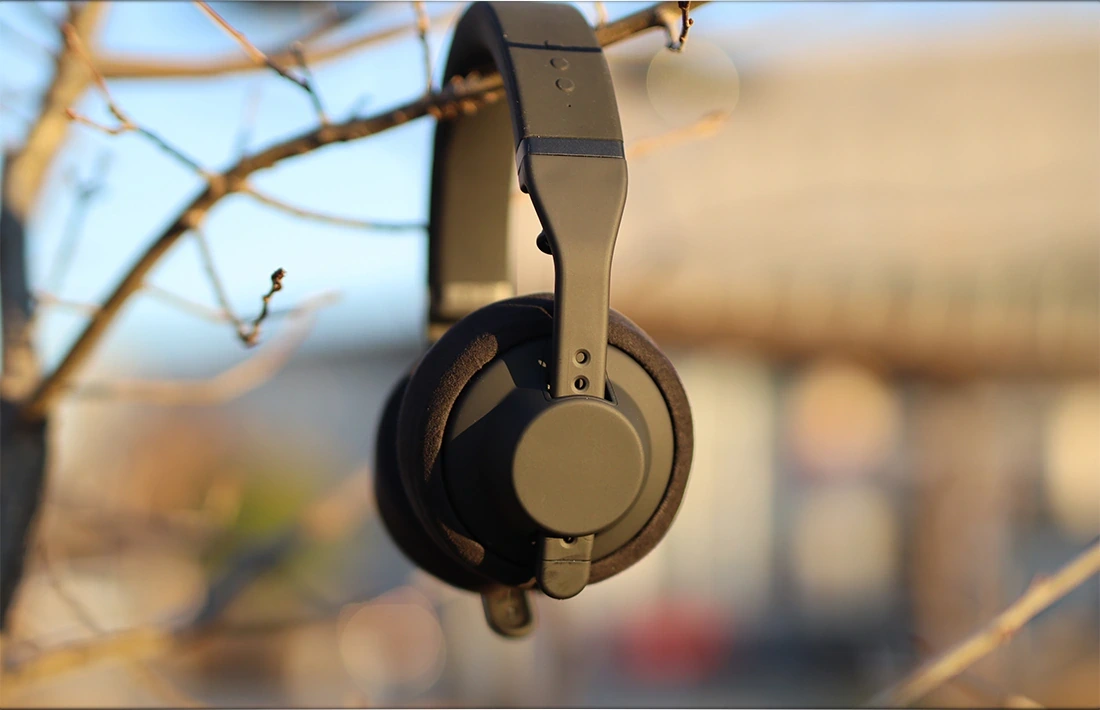 You basically play IKEA or Lego when purchasing an AIAIAI Headphone, as you have to connect absolutely everything by yourself, but if you ever assembled a PC computer, or very basic furniture, everything will make sense and combine together just fine. The headphones come with a lot of extras, but at the end of the day, the two most magical components are the headband, and the transmitter for the W+ Link. If you haven't already, please take a look at my reviews on the AIAIAI TMA-2 HD and AIAIAI TMA-2 Studio Headphones, as I covered a lot of the usage and overall build quality in those reviews. 
To recap a bit, the headphones are covered in a soft touch material, and they come with the largest earpads, being fairly comfortable and well made. The headband doesn't creak, but there is some slight noise if you pinch / squeeze the earpads. There's no driver flex while wearing the AIAIAI TMA-2 Wireless +, and they isolate fairly well from the outside noise, with about 10-15 dB, depending on the frequency. They do not have any kind of active noise canceling, but they are ok for usage in fairly noisy environments. 
The latency for the W+ Link is about 16ms, which is better than most Bluetooth connections have, and it allows for lossless and uncompressed data transmission. The data rate is 16bit for the wireless signal, and it uses dual antennas. The best part is that they come with a proprietary transmitter, but you can quickly switch between it and Bluetooth, and wired, with zero hassle. AIAIAI Quotes a battery life of over 80 hours, but I wasn't able to test long enough to tell for sure how long the battery life really is, but it should be beyond 15 hours, which is as long as I can test reliably with my current equipment. As long as you charge them once in a while, TMA-2 Wireless+ should not run out of battery.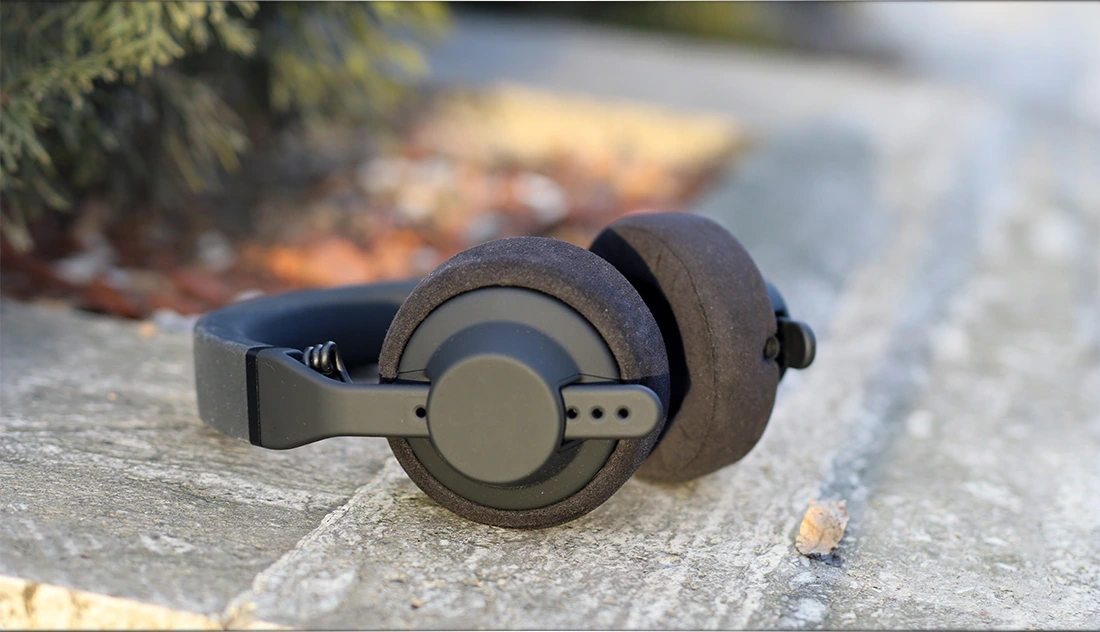 The drivers are made using a bio diaphragm, but this is not as sensitive and prone to damage as most Bio based products are, and you will find that TMA-2 Wireless+ survives well to everyday usage (tested with the original TMA-2 HD, that uses the same drivers, which are S05MK2). AIAIAI also uses help from Mr. Richie Hawtin, when designing their headphones, offered a headphone with a 40mm driver, 32 OHMs of impedance, and a sensitivity of 97dB. To use the Wireless connector, you basically turn on the headphones, by pressing the middle button on the headband, and then use the switch, found on the right ear to select whether it is using the Bluetooth input or the Wireless mode. When you engage the wireless mode and TMA-2 Wireless+ detects it, they will have a faint hissing in the background, which is always the same, regardless of the listening volume.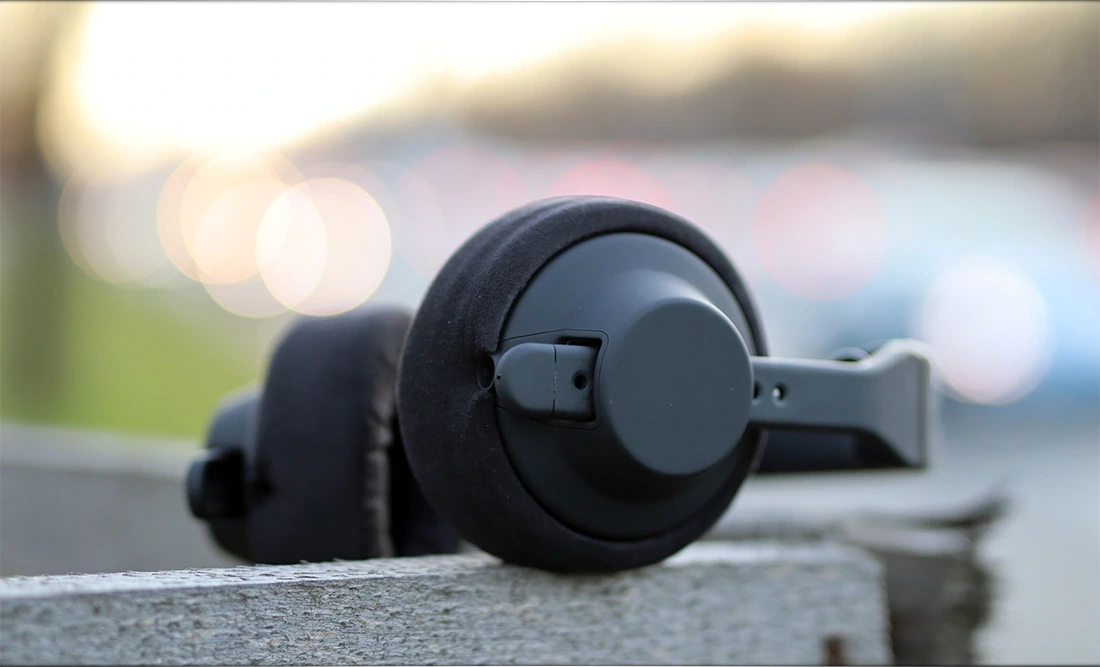 To enter Bluetooth mode, you use the physical switch found on the lower part of the headband, on the right side, and you need to keep the top and bottom buttons pressed at the same time until the LED starts flashing. Although TMA-2 Wireless+ isolates a bit from the outside noise, especially with music playing, it leaks a bit, and music is mostly audible to those around you. 
Sound Quality
I have tried using AIAIAI TMA-2 Wireless + in many configurations, including Wireless, using their Transmitter, Wired and even via Bluetooth, but the results have always been constant, the best sound being the one over the wired connection. Using the transmitter increases the noise floor slightly, and you can hear the amplifier of the headband turning on, as it produces a slight hiss in the background, which is easily drowned out by medium listening volumes. The latency using the W + Link connection is much lower than even aptX LL, which is unique to AIAIAI, and no other company managed to pull this yet. Using AIAIAI TMA-2 Wireless + via Bluetooth has a lower background noise level, and it produces a very quiet, high frequency tone two seconds after music is playing, after which it goes completely silent. You can actually tell apart the modes because the W + Link has a much higher bandwidth, and you can hear more details in the background, especially at high volumes, where background information is much better presented using the TMA-2 with their W + Link Connection. 
Overall, TMA-2 Wireless+ has the same sound as TMA-2 Studio, which has more or less the same sound as TMA-2 HD, as all of them are using exactly the same drivers and earcups, as well as earpads, and the originals had excellent sonic performance, so TMA-2 Wireless+ also has an excellent sonic performance, but it adds that wireless W+ Link connection to the package. This is a headphone that sounds best at higher volumes, and it becomes more controlled, more detailed, more dynamic and more engaging the higher you go in volume. 
The signature of TMA-2 Wireless + can be described as clean, deep and fairly fun. The bass response as well as the overall detail is best over the wired connection, where TMA-2 Wireless + has the most impact and the most engaging sound. Engaging the Wireless connection for the W+ Link lowers the overall volume of TMA-2 Wireless, while disengaging it and switching to wired / Bluetooth increases the maximum volume you're getting from the wired connection. I love electronic music played through TMA-2 Wireless, and they are able to deliver a good amount of punchiness, excellent staging, and great overall clarity. For most of today's sonic notes, I've been using them wired, connected to an Astell & Kern SE180 Music Player, but also tested them connected to an iBasso DX300, Lotto PAW6000, Dethonray DTR1+ Prelude, as well as Astell & Kern SP2000T.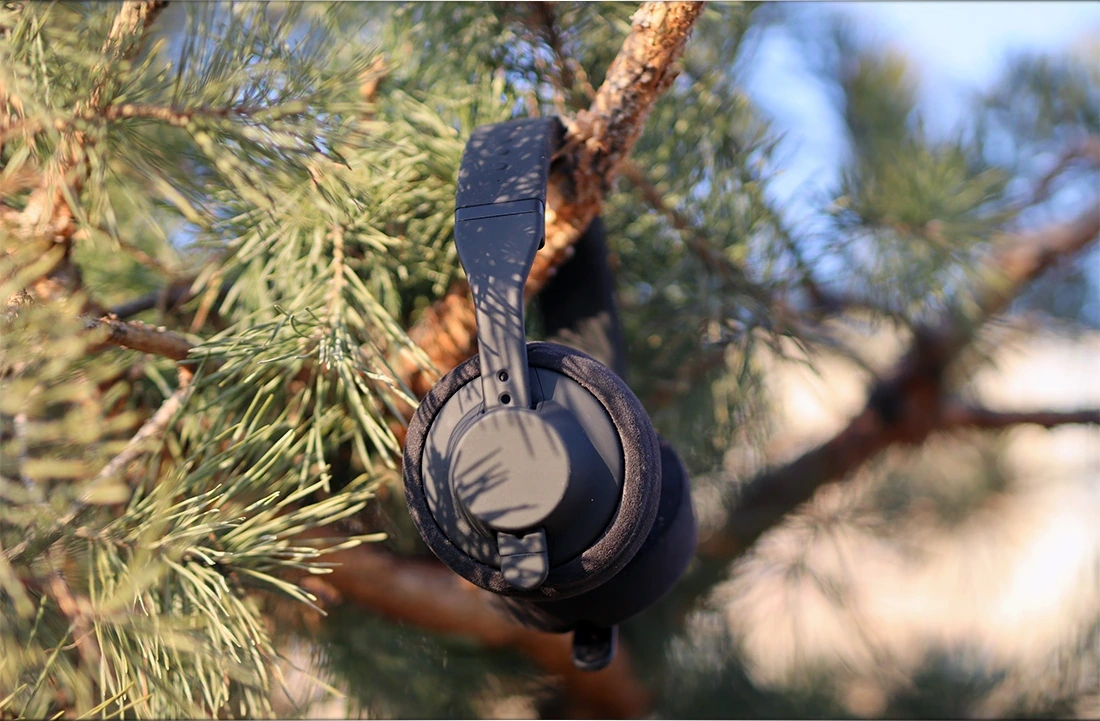 The bass of AIAIAI TMA-2 Wireless + is deep, has a natural speed and excellent overall acuity. The bass response climbs as low as about 25 Hz, although most of its energy starts to be truly expressed around 35Hz. The bass feels quick enough for all electronic, metal and fast paced music, but it also has enough nuance and detail for Jazz and room music, AIAIAI having a remarkably good bass presentation for their price class and size. If you touch the back of the drivers while they are playing a bass heavy song, like Touhou Riddim, you can feel the TMA-2 Wireless + Vibrating in your hands. 
We have a clean, clear and fairly crisp midrange with TMA-2 Wireless+. The midrange is very well layered, and has very good instrument separation, but also feels fluid and is never dry or fatiguing. Despite the signature and frequency response that AIAIAI posted on their website, the sound over the wired connection is fairly V-Shaped, and the midrange never feels very forward, or fatiguing. The signature they have posted there is fairly accurate for the W + Link, where the bass is lower in amount, and the sound becomes more reference, giving the midrange and treble a boost over the lows. In wired connection, the sound is just clear, clean and enjoyable with all music styles, and listening to Calliope Mori – The Grim Reaper is a Live-Streamer is simply musical, playful and enjoyable, with Karen's voice being presented really musical, well toned, and the background instruments being clear and well defined from the forward ones. 
The treble of TMA-2 Wireless + is clean, on the smooth end, and fairly well controlled. Since this is a headphone music producers are likely to be using during their creative process, it is a good thing that it is not overly sparkly and fatiguing, but they aren't boring either, and there's a peak in the upper midrange / lower treble, as well as one in the middle treble that give music enough sparkle and presentation to cymbals so you don't have to mentally search for them. All in all, TMA-2 Wireless is fun and has an engaging signature, good enough for all music styles, with a particular affinity for electronic, pop, rock, and commercial music. Female voices are presented particularly sweet, and everything tends to sound sweet, fun, and enjoyable from TMA-2 Wireless +, as they show good versatility for all music styles. 
Comparisons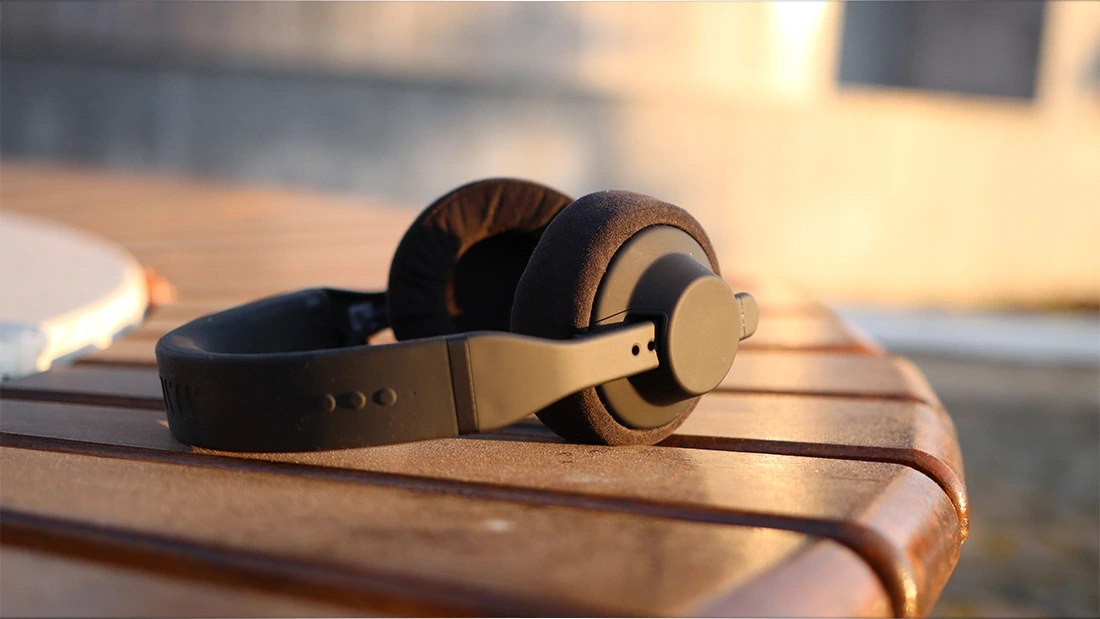 AIAIAI TMA-2 Wireless+ vs Avantone Pro Planar (390 USD vs 450 USD) – those two headphones have been made and sold for the same purpose, music production, mixing and mastering, but they are very different in their design and presentation. The overall comfort is better on Pro Planar which is larger, but also heavier, and has larger earpads. TMA-2 is more portable, and has Bluetooth / Wireless connection options, where Pro Planar has the option of having the cable connected either to just one cup or both at the same time. The overall sonic performance is comparable in levels of detail, but the soundstage is actually wider, more holographic on TMA-2, but also more open in the midrange on Pro Planar. Pro Planar can get considerably louder, with lower distortions, but requires a much stronger source to do so, and both headphones are slightly problematic if driven from an entry-level source. TMA-2 is more natural, has a more natural bass, more natural midrange, where Pro Planar is thicker, more dry, more smooth in the upper midrange, and has a slightly darker overall presentation. 
AIAIAI TMA-2 Wireless+ vs Sendy Audio Apollo (390 USD vs 500 USD) – Apollo is a really smooth and clean headphone, but if you're looking for bass and impact, TMA-2 Wireless+ is going to provide much more, with more low end reach, and less gentleness. Apollo is the kind of headphone that makes music enjoyable and smooth, clean and fun, but TMA-2 Wireless+ gives considerably more body, more weight and more depth to each musical note. The soundstage width is similar between them, while the overall level of detail is comparable. Some might say that Apollo is better refined and smoother, more mature sounding, but if you're listening to some EDM, Rock or Metal, you're going to have a better experience with TMA-2, Apollo being the kind of headphone I recommend for sure when you're most tired and need to relax, while TMA-2 is a universally likable headphone with good detail that I can recommend for any listening scenario. 
AIAIAI TMA-2 Wireless+ vs iBasso SR-2 (390 USD vs 500 USD) – We have one closed back headphone, and one open back, with very different designs and purposes, but similar price points, so the comparison should be made for those who aren't sure which is best for them. First off, AIAIAI does leak quite a bit, but it isolates quite a bit from the outside noise, so if you need isolation, AIAIAI wins for sure here. The sound is more impactful, has more low end and more bass impact on TMA-2, with more depth, where it has a wider soundstage and a more natural midrange on SR-2, which has more focus on smoothness in the overall sound, as well as refinement. The overall detail level is actually comparable, and AIAIAI proves to be a worthwhile competitor, AIAIAI has more width than it has depth, where SR-2 is slightly better with timing, especially if you're used to acoustic instruments.  
Value and Conclusion
At the end of the day, the sonic performance of AIAIAI TMA-2 Wireless+ is enough to still warrant their price point, but mostly for the wired connection sonic performance, and for the overall package. The W+ Link is ingenious, and it delivers on all the promises made, and we can say that the headphones are well made and comfortable, just like every other headphone made by AIAIAI. 
At the end of the day, if you're looking for a really good mastering headphone, with low latency wireless support, Bluetooth support, good battery life, and a punchy, fluid, detailed sound with tons of dynamics, AIAIAI TMA-2 Studio Wireless+ should be perfect for you and should make a good purchase for your studio, or listening pleasure. 
Product Link
You can grab one from www.amazon.com here: https://amzn.to/3ueykf9
If you're in the UK, you can grab one from www.amazon.co.uk here: https://amzn.to/3q2jOpn
And if you're from Europe, you can grab one from www.amazon.de here: https://amzn.to/3MO3jXx
Packaging
First things first, let's get the packaging out of the way: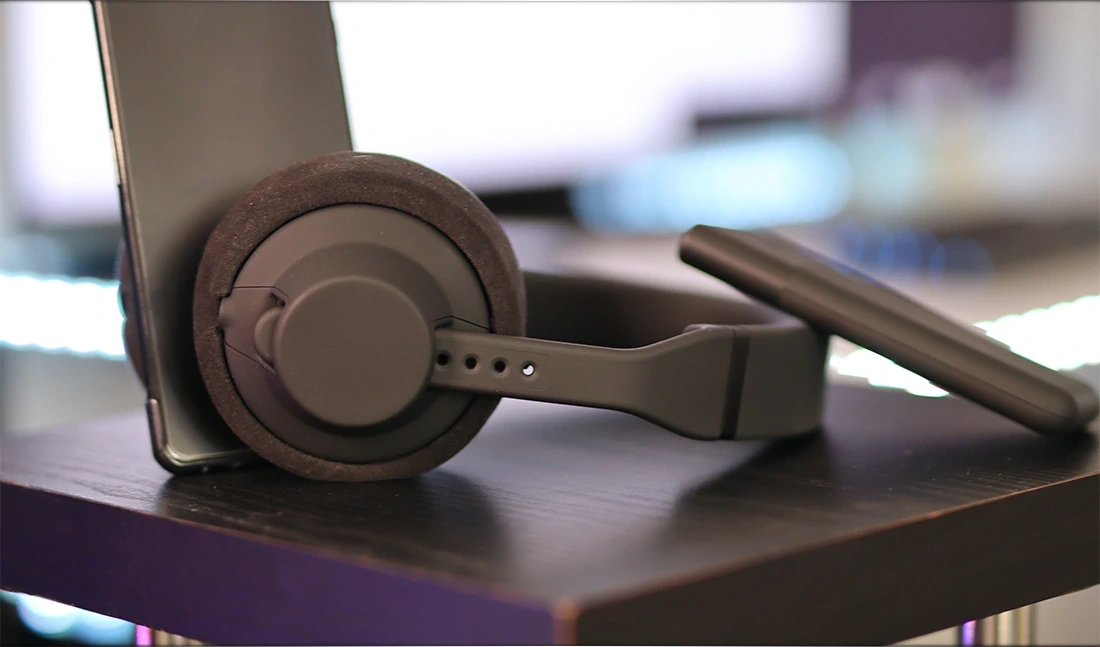 The unboxing experience of all AIAIAI Headphones is fairly similar, and all of the components come packaged individually in their own plastic wraps. I like the modular approach, as it ensures that not only you get the best package possible, but you are able to fix the headphones by replacing a single component if something breaks down. The total package contents of the AIAIA TMA-2 Wireless+ Studio is: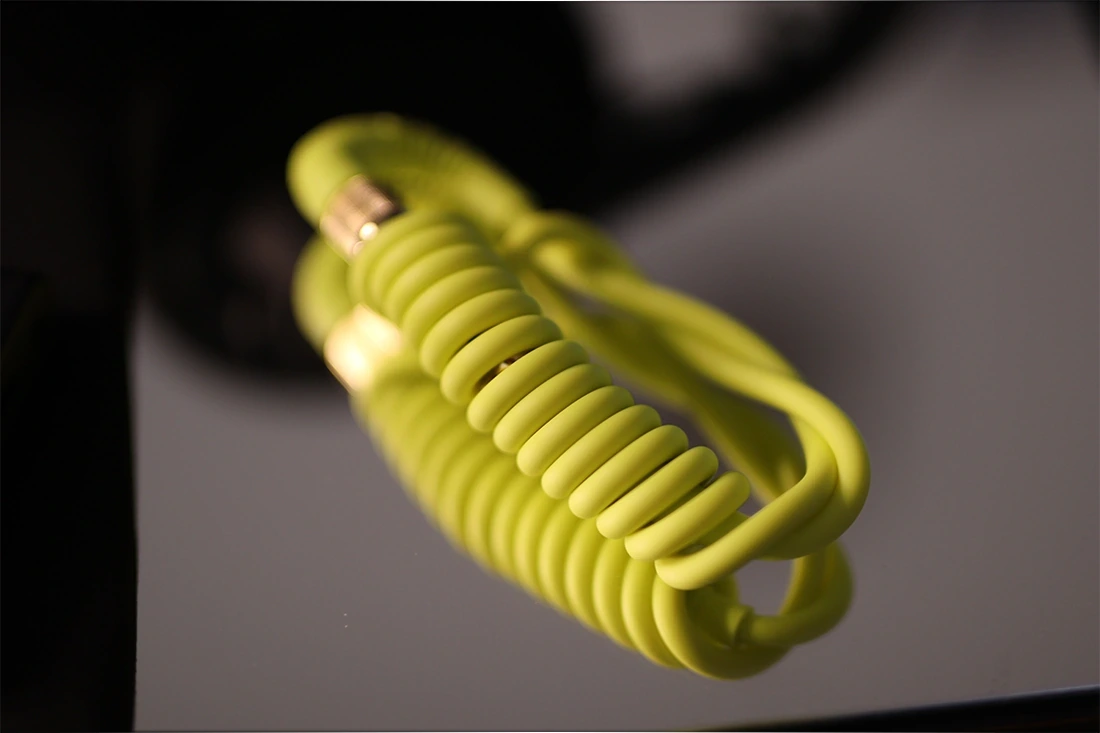 H10 · Ultra-low latency – Wireless+
Headband with three connection modes: W+ Link for wireless ultra-low latency and lossless audio, Bluetooth® 5.0, and cabled. Built-in microphone, includes USB-C charging cable.
W+ Link transmitter for wireless ultra-low latency connection. Connect the 3.5mm jack to any analog output to transmit wireless audio.
S05 · Detailed sound – Bio-diaphragm
Engineered with a 40mm speaker diaphragm made from stiff bio-cellulose for more defined high-frequency details, more pronounced mid-range, better dynamics, and more natural tonality.
E08 · Over ear – Alcantara®
Ultra soft over-ear memory foam cushions covered with Alcantara®, an aesthetic, functional, and CO2 neutral material. Highly comfortable and ideal for longer listening sessions. Provide a spacious, open sound with low isolation.
C02 · Coiled – 1.5m – Adapter
Coiled black 1.5m thermoplastic cable with soft touch surface. Extends up to 3.2m. Perfect for DJing or small studio use. Comes with 1/4 to 1/8 screw-on adapter.
Designed to protect your headphones from dust and scratches, the A01 protective pouch is made from soft nylon and features a mesh inside. Fits any TMA-2 and Tracks headphone.
---
---
--- Please remember to stay safe, and always have fun while listening to music!---
 - If you have a dime to spare, and donate, to help us with electricity and work expenses, it would make my day much brighter, as it would help me improve things around the website and increase the frequency of my posts - 
---
Full Playlist used for this review
We listened to more songs than those named in this playlist, but those are excellent for identifying a sonic signature.  PRaT, Texturization, Detail, Resolution, Dynamics, Impact, and overall tonality are all revealed by those songs. We recommend trying most of the songs from this playlist, especially if you're searching for new music!
https://www.youtube.com/playlist?list=PL_cjBXGmwSHSdGcwuc_bKbBDGHL4QvYBu
--- Contact Us ---






---
---