Key To Music – Cyrus Audio Soundkey
The little Cyrus Audio Soundkey is a DAC/AMP in the 150 USD price range, having a few competitors like the FiiO K3 (110 USD), Shanling M0 DAP (110 USD), and the Audirect Beam DAC/AMP (100 USD).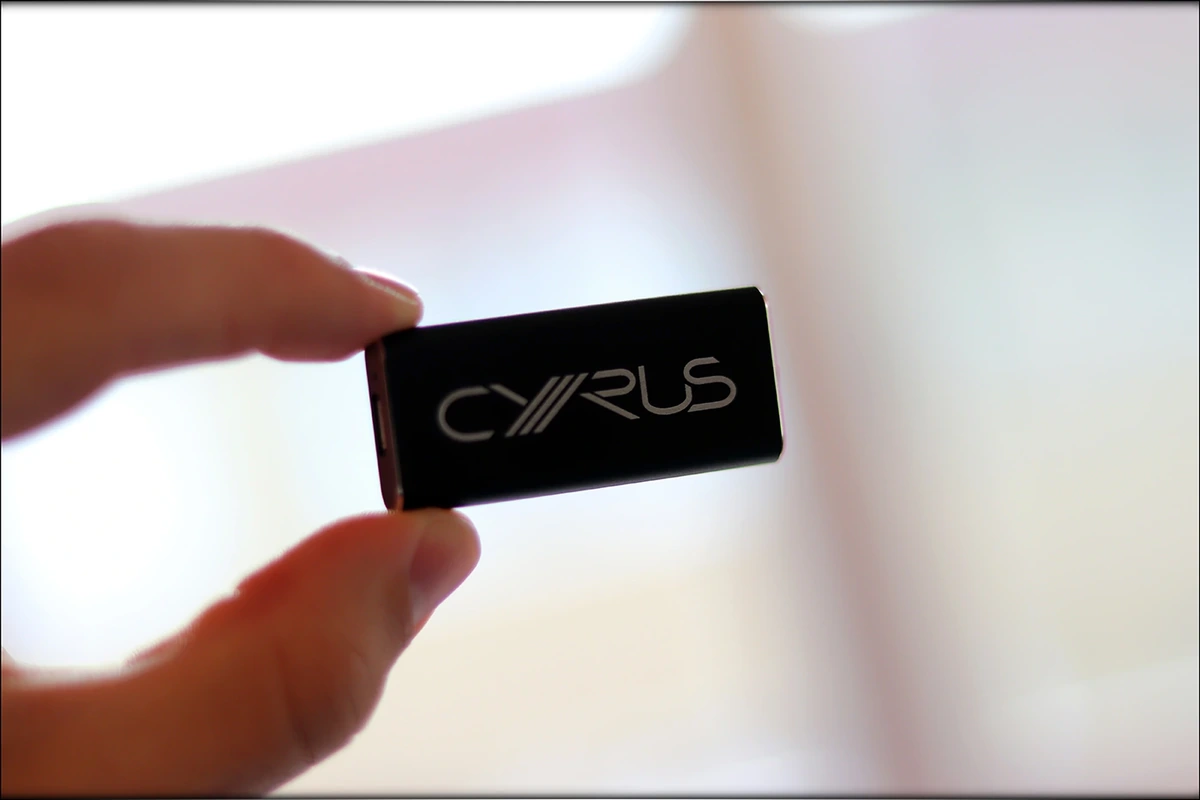 Introduction

Cyrus Audio is actually quite well known among enthusiasts, although they are quite specific with their products, having a different design for most of their products than for the soundkey. Since the sample for today's review is provided by HIFI Center, I can tell you more about this shop from Romania, who has both an excellent experience with Hifi products, and also a wide selection, including portables, FiiO products, but also high-end speakers and stereo setups. If you need someone to know what they are doing, HIFI Center will surely be able to give you a helping hand, and provide an excellent aftermarket and warranty service! 

It should be noted that I have absolutely no affiliation with Cyrus Audio or HIFI Center, I am not receiving any incentive for this review or to sweeten things out. This review is not sponsored nor has been paid for by Cyrus Audio or HIFI Center or anyone else. I'd like to thank HIFI Center for providing the sample for the review. This review reflects my personal experience with Cyrus Audio SoundKey. Every opinion expressed is mine and I stand by it, the purpose of this review is to help those interested in Cyrus Soundkey find their next music companion.
Product Link (no affiliate links)
You can always get Cyrus Soundkey from www.amazon.com here: https://www.amazon.com/s/ref=as_li_ss_tl?k=cyrus+soundkey
Packaging

First things first, let's get the packaging out of the way:



Since the product itself is a bit basic, most parts of the review will be a touch shorter than my typical articles, but let's start with the packaging. In terms of package, the Soundkey actually comes pretty well equipped, with the unit, and two cables. It is my understanding that if you purchase now, you get 3 cables. 

You basically get the SoundKey unit, a micro to micro USB cable for connecting it to a smartphone, a USB to micro cable, for connecting it to a computer, and a Type-C to microUSB cable to connect the soundkey to a more modern smartphone. 

All in all, the package is good enough for all practical reasons, and there's nothing else that could have been necessary from a DAC/AMP of this size and shape, maybe except for a strap if you were planning on strapping it to your smartphone, but that's pretty impractical.  



What to look in when purchasing a high-end DAC/AMP

https://www.audiophile-heaven.com/p/what-to-lookl.html



Technical Specifications

Improved clarity, more realistic sound
Works with Windows Vista+, Android 5+ and iOS9+ (all require OTG connection)
3.5mm Jack for headphones connection
Robust aluminium casing
Extremely low current, conserving your phone's battery life



Youtube Video

https://www.youtube.com/watch?v=Ab5BtqI5DeQ



Build Quality/Aesthetics/UI/Firmware

Okay, so it is basically one piece of metal, with one 3.5mm headphone port at one end, and with a microUSB port at the other end. There's nothing else to say about the build quality, it is well put together, and it gets only moderately warm during usage, so it is safe to use in any environment. It does not get scratched easily. 



The aesthetics are simple, but striking, with good taste silvery accents at all edges. 

The UI and firmware are also basic, but work. Every smartphone I tried the Soundkey with have detected it without any fuss, and my Desktop PC was able to use it without any issues as well. In fact, it is so hassle-free that I would be able to give it a thumbs up as an overall product simply because it works so easily.

It doesn't draw much power from a smartphone, and with my Mi Max 3 smartphone I can barely tell that I'm using it in terms of power draw, even if using it at maximum volume. This being said, it has a good amount of driving power, and is lightweight, making it a pretty ideal portable DAC/AMP, especially for those smartphones that do not come with a 3.5mm headphone jack. 

I am pleased about the overall build quality and firmware of the SoundKey. 



Sound Quality

This is an interesting part in this review, because I wasn't expecting the SoundKey to be anything special, but actually, it is a really good portable DAC/AMP. 

The sound can be described as neutral, slightly bright, clear, clean, fun, well extended, detailed and slightly analytical. 



Starting with the bass, SoundKey has a short yet impactful bass that works really well with fast paced music. There is a good extension in the lows, but if you're a basshead, you may be better off with a thicker sounding DAC/AMP, like the Audirect Beam or the Shanling M0. On the other hand, if you appreciate speed Soundkey surely delivers nicely in that aspect. 

The midrange is generally very clean, clear, well textured, and a bit on the analytical side. The soundstage of the Soundkey is wider than it is deep, but it has a really good width for the 150 USD price range. There is a good amount of texture, so instruments that are textury, like trumpets, really shine with it. The upper midrange is not enhanced in a special way, so you don't get a hot or metallic tinge with your music. 

The treble is clean and very nicely extended, with a lot of air between the instruments. This is actually what impressed me the most about the SoundKey, most DAC/AMPs that are uber portable, especially in this price range, tend to have a rolled off or smooth top end, but the sound key doesn't it has a really nice amount of bite and sparkle, making it a really good fit with metal music. 

Overall, the driving power is also pretty good, and so are the dynamics, making the Soundkey a very impressive DAC/AMP in terms of sonics. 



Potable Usage 

When you look at it, you know it is going to be a good portable DAC/AMP, but let's be honest, how portable is it? 



Well, it is pretty portable. It doesn't get hot during usage, only barely warm. Furthermore, it doesn't have a lot of battery drain from your smartphone, so you don't need to worry if you're running low on bat, the Soundkey isn't going to kill your day. 

The driving power is enough for pretty much any portable IEM, and even for some headphones, including Brainwavz Alara, which is impressive, to say the least. 

The only thing that you need to be honest about, and honest with yourself more than anything, is whether you like the idea of having a little cable going out of your smartphone, into the Soundkey then into a headphone / IEM. It is a unique design, and it doesn't stack well to a smartphone, so it will look a bit different from a thicker unit that would stack to its transport. 



Comparisons

The main competitors to the Soundkey at the moment of writing this review are the Audirect Beam, FiiO K3 and Shanling M0. They are not all the same kind of device as the Soundkey, but they all make very good comparison points. 



Cyrus Soundkey vs FiiO K3 – Starting with FiiO K3, they are pretty different devices. The thing that is interesting here is that K3 is a desktop device only, and drains a portable way too fast to be practical as a portable DAC/AMP, and its physical size and shape makes it even less ergonomic for portability. In terms of sound, when placing them side by side, the Soundkey sounds more bright, more open, more airy, where K3 sounds more hot and a bit metallic in the treble. Both have good details and similar size for their soundstage, and both are pretty clearly good products, but they are intended for different usages, but, this being said, you can use the Soundkey both for portable and desktop usage, while K3 is only for desktop. 

Cyrus Soundkey vs Shanling M0 – Shanling M0 is an ultraportable DAP from Shanling, and at a pretty similar price, so you may be considering whether you should be getting a DAP instead of the Soundkey. Here, the main differences are that M0 has a very small display, and not very practical to use in real life. Furthermore, the sound of M0 is very different, M0 is smooth, rolled off at the top, thick-ish, and has a smaller soundstage, where Soundkey has a brighter, more clear, wider, more airy overall sound. Soundkey also has a quicker overall sound, and a quicker bass. In the end, if you need a small DAP for running, M0 surely makes sense, while if you need streaming services and something that is more neutral in tuning, Soundkey makes a lot of sense. 

Cyrus Soundkey vs Audirect Beam – I noted in my review that the Beam is a bit on the smoothly textured yet bright in signature. Since both are DAC/AMPs, the only thing I want to mention about the differences in build quality between the Cyris soundkey and the Beam is that the Beam gets MUCH hotter during actual usage, and that the Beam is smaller physically, and has a volume / song change knob, which may be good, or bad, depending on whether you assume you'll be using that. In terms of sound, the soundkey feels like an upgrade from the beam, with more textures, more resolution, more details and clarity, and with more impact. The Soundkey is also almost 50% more expensive though. 



Pairing 

For the pairing part of this review, I have chosen FiiO FH5, Final Audio E5000, and Ultrasone Signature DXP. It should be noted that because it is on the bright neutral side of things, you don't want to pair the Soundkey with headphones or IEMs that are already bright, and you want to pair it almost exclusively with thick, lush, or slightly rolled off headphones / IEMs, to take advantage of synergy when doing a pairing. 



Cyrus Soundkey + Ultrasone Signature DXP – Ultrasone Signature DXP is a headphone that's been in my tops for a while now. I even use it while recording and playing the guitar. When it comes to the pairing with the Soundkey, the fun fact is that the Soundkey actually compliments DXP quite well, gives it a wide soundstage, a pretty well extended treble, and a quick bass, complimenting their default signature, and pulling their sound a bit more towards the Signature Studio, but just a bit. If you have DXP and want to make it a bit more neutral and a bit quicker, with more air, the Soundkey is a great opportunity to do that. 

Cyrus Soundkey + Final Audio E5000 – Final Audio E5000 is another IEM that pairs really nicely with the Soundkey because E5000 is pretty darn thick and lush usually. Soundkey tones down on that, and makes E5000 more neutral, quicker and a bit easier to listen to. This is something you may desire, especially if you ever felt like E500 was a bit too thick and lush for you. On the bright side, Soundkey also has enough power to drive e5000, and that one is known to suck a LOT of power, and to be hard to use with most portables. 

Cyrus Soundkey + FiiO FH5 – FiiO FH5 is another good example, because it is well known, and a lot of people have been complaining that it is a bit too lush or a bit too mid-forward, and that it lacks some air, and treble extension, or that the bass is a bit too forward. Happily, Soundkey is exactly what FH5 needs to sound more even and neutral, to be more natural. One again, Soundkey proves to have enough power for FH5. 



Short Review in Romanian 

Deoarece magazinul care mi-a oferit sample-ul pentru acest review este din Romania, voi adauga si un mic rezumat in Romana. 



Cyrus Soundkey este un DAC / AMP pentru telefoane, dar care poate fii folosit si la desktop. El este conceput ca sa mearga bine cu casti, in special cu casti care au un sunet mai cald si mai gros, cu care se imperecheaza foarte bine. Pe de alta parte, Soundkey nu merge foarte bine impreuna cu casti reci sau analitice, el insusi fiind putin rece si analitic in sunet. 

Fiind un aparat micut si destul de ergonomic, este usor de recomandat, in special pentru ca nu mananca mult curent din telefonul la care este conectat.

Cea mai buna parte din a utiliza acest Soundkey este faptul ca are si suficienta putere pentru a duce majoritatea castilor mici (In-Ear), dar totusi face fata cu brio si la cateva casti mai mari cum sunt cele Ultrasone, sau majoritatea celor On-Ear.  

Soundkey este vandut de HIFI Center, care ofera o garantie si suport foarte bun la achizitie. 



Value and Conclusion

It has been really fun reviewing the Cyrus Soundkey, and considering its price point, of 150 USD, it makes a good entry on the market. There are DAC/AMPs that are cheaper and similar in shape and design, but the Soundkey surely delivers something new in terms of sound, so it holds its place on the market. 



The package and even the build quality is pretty basic, but it comes with everything you will require to use it, and for a DAC/AMP that's supposed to withstand the test of time, a simple, ergonomic design is the best design possible. Furthermore, it doesn't get scratched easily, so you don't have to worry, and you can take it outside. 

The sound is a unique one, slightly bright-ish, clean, powerful, clear, and pretty textured. The best part is that in the more entry-level price area, there are a lot of headphones and IEMs that are a bit too thick or too warm, or that roll off too early, which makes the Cyrus Soundkey a very welcome entry. 



At the end of this review, if you're looking for a clean, clear, powerful, crisp, dynamic and punchy DAC/AMP that has a good amount of speed to its bass, can drive most IEMs and even a good number of headphones, and which is pretty practical, you should totally consider the Cyrus Soundkey. 
Product Link (no affiliate links)
You can always get Cyrus Soundkey from www.amazon.com here: https://www.amazon.com/s/ref=as_li_ss_tl?k=cyrus+soundkey
---
---
--- Please remember to stay safe, and always have fun while listening to music!---
 - If you have a dime to spare, and donate, to help us with electricity and work expenses, it would make my day much brighter, as it would help me improve things around the website and increase the frequency of my posts - 
---
Full Playlist used for this review
We listened to more songs than those named in this playlist, but those are excellent for identifying a sonic signature.  PRaT, Texturization, Detail, Resolution, Dynamics, Impact, and overall tonality are all revealed by those songs. We recommend trying most of the songs from this playlist, especially if you're searching for new music!
https://www.youtube.com/playlist?list=PL_cjBXGmwSHSdGcwuc_bKbBDGHL4QvYBu
--- Contact Us ---






---
---