HIFIMAN Arya Organic – Stealth, Nano, And Comfort
HIFIMAN Arya Organic is a $1299 USD pair of open-back planar magnetic headphones, with exceptional sonic performance, good price / performance ratio, and the latest iteration of the HIFIAN Arya series. While we already reviewed the Ananda Nano, and it was the most pleasing of the Nano series, the new Arya Organic gets the same treatment, and improves over the original Arya Stealth by adding the new Nanometer Thickness Diaphragm. This being said, the Arya Stealth was already using a Nanometer Diaphragm, so Arya Organic is a tweaked version of an exceptional original. Today we will explore the sound of the Arya Organic, and compare them to other high-end headphones, including the Arya Stealth (1599 USD), but also HE1000 Stealth (2999 USD), HIFIMAN Audivina (1999 USD), Audeze MM-500 (1699 USD), Spirit Torino Super Leggera (1999 USD), AND Crosszone CZ-8a (1700 USD).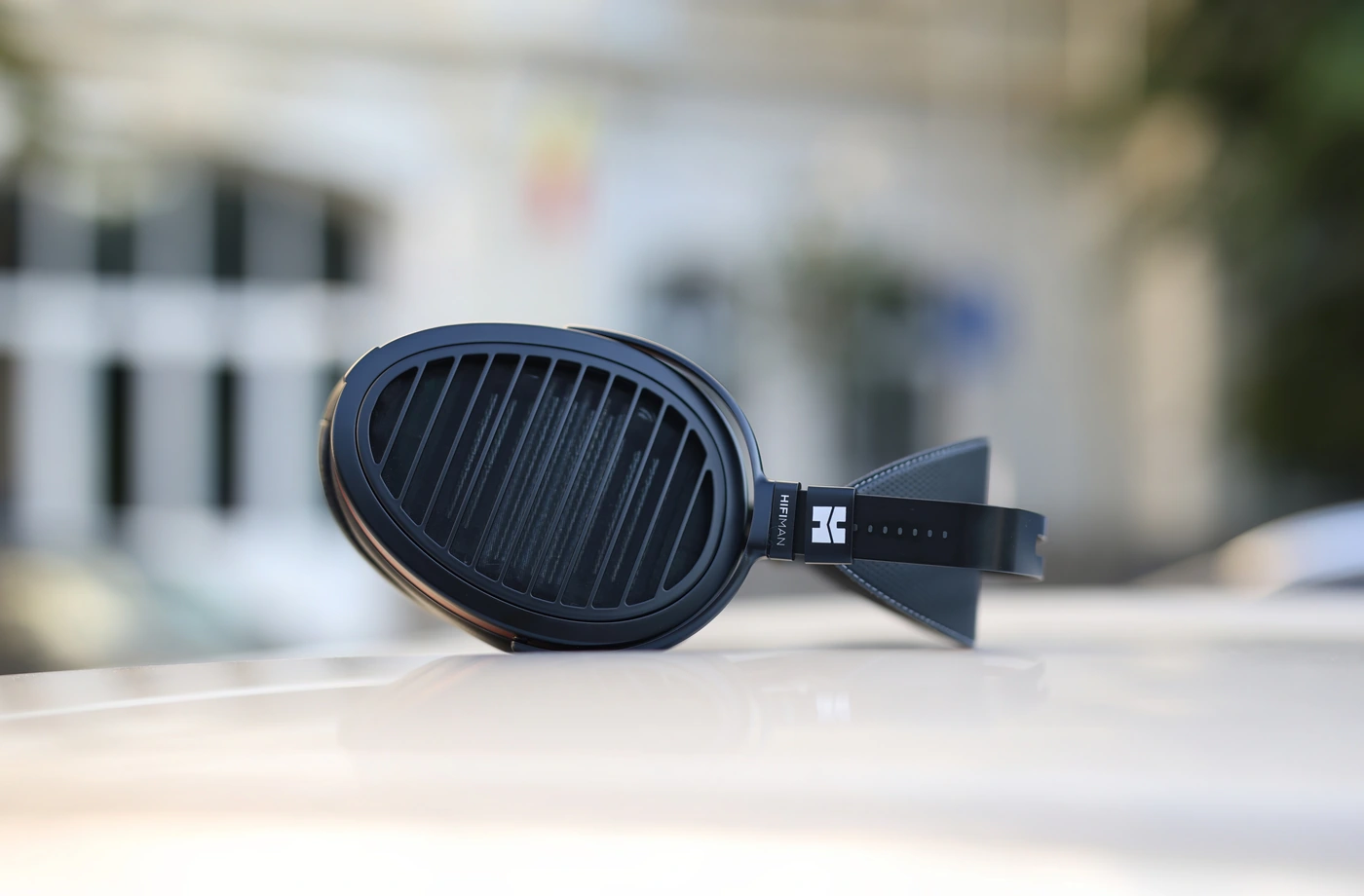 Introduction
HIFIMAN is not just an outstanding company serving music lovers, but they also have multiple sales going on. While the new Arya Organic is currently selling at its full price, I must share that both Arya Stealth and He1000 Stealth are currently selling for much less than their launch price. Currently, Arya Stealth is selling for 899 USD, while HE1000 Stealth is selling for 1399 USD, both being great deals if you're looking for headphones on a tighter budget. As we will see, this doesn't undermine the new Arya Organic, and the crafty engineers of HIFIMAN managed to squeeze even better performance out of the Arya series, now launching something I can consider to have the best of all worlds. The color is just right, comfort is just right, and as we will see, sound is also just right with today's champion. I always recommend purchasing from Amazon, because As an Amazon Influencer, I earn from qualifying purchases, but HIFIMAN in particular has their own store set up, where you can find different prices and different offers available, so I would recommend checking both to see where the best price is at. HIFIMAN has exceptional warranty and quality for their products. 
I'd like to thank HIFIMAN for providing the sample for this review, in exchange for my honest opinion. We are not receiving any incentive for this review and Audiophile-Heaven has no affiliation with HIFIMAN beyond this review. This review is the description of my personal experience. 
Product Link
You can grab one from www.amazon.com here: https://amzn.to/3MqxFRs
If you're in the UK, you can grab one from www.amazon.co.uk here: https://amzn.to/47yTqqD
And if you're from Europe, you can grab one from www.amazon.de here: https://amzn.to/3seqLIh
Build Quality/Aesthetics/Fit/Comfort
Ananda Nano made waves in the audiophile community, and it has been one of the most successful new models of headphones launched in 2023, it is exceptional for its sound, how good it looks, and yet, the comfort is slightly less good than that of the Arya series. This is because the new Ananda Nano has a tighter headband that's supposed to offer stronger support, but the Arya Stealth did not adopt that new headband, and it is as comfortable as Arya Stealth and Arya the original, having a relaxed fit, with a large and deep ear cup, thick and soft earpad, and with a high quality cable. Although for Arya Organic we do not receive the same transport case as that of the new Audivina, we do get a high quality cable with it.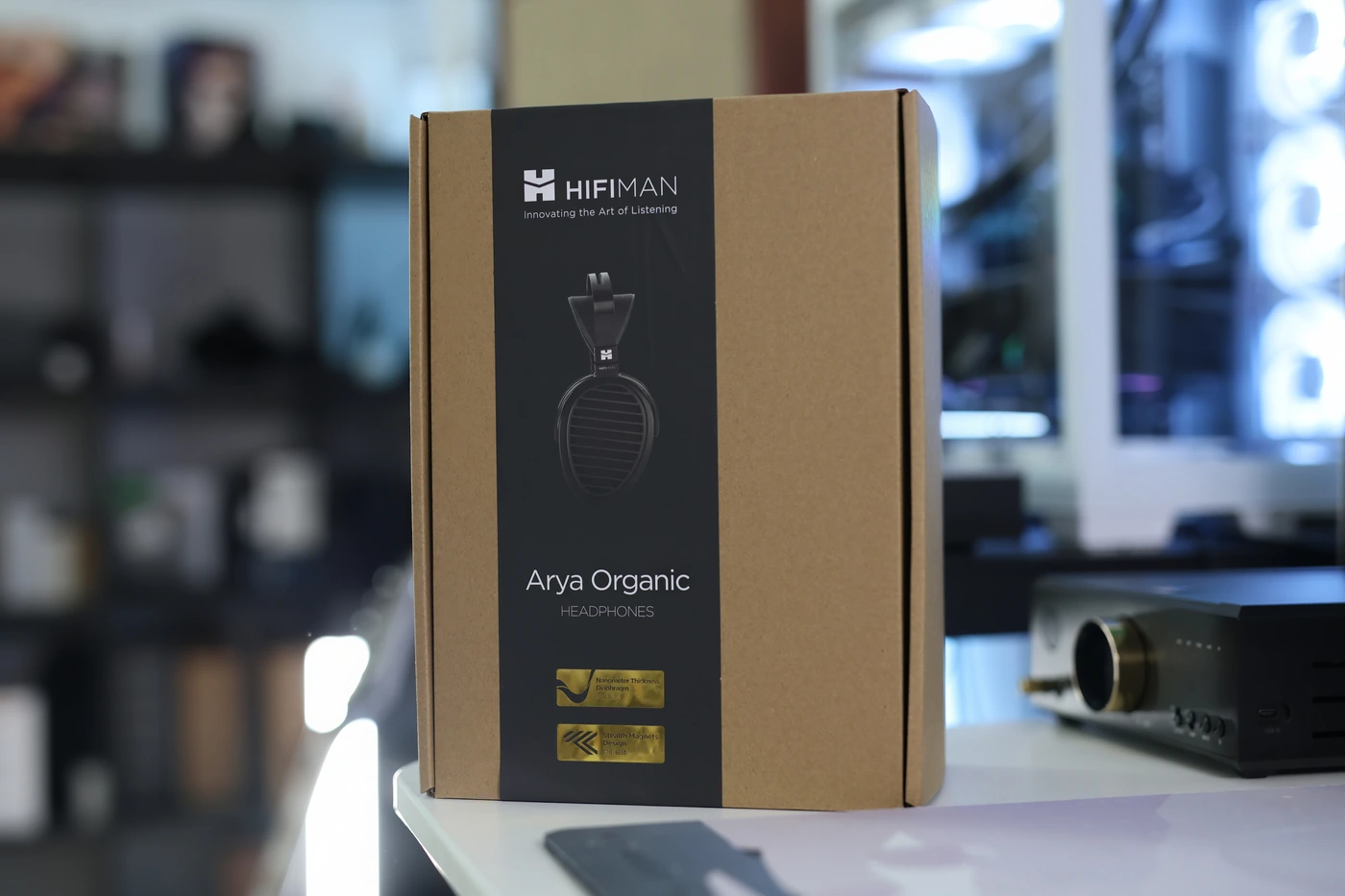 The design of the Arya Organic has both the stealth magnets and the Nanometer Thickness diaphragm, but those seem to have been present in the Arya Stealth as well. This being said, the new Organic version has a bit of brown accent on the earcup, which resembles wood, although I think those are ornamental. It is still good to be able to tell them apart, and know which one I'm listening to when comparing. The Nanometer Thickness Diaphragm is basically a really thin membrane that can react quickly to impulse, moves really fast and allows for better detail, dynamics and transient response. The upgrade of the new Arya Organic is that it uses a membrane more similar to HE1000SE than the diaphragm and magnet assembly used in the Arya Stealth.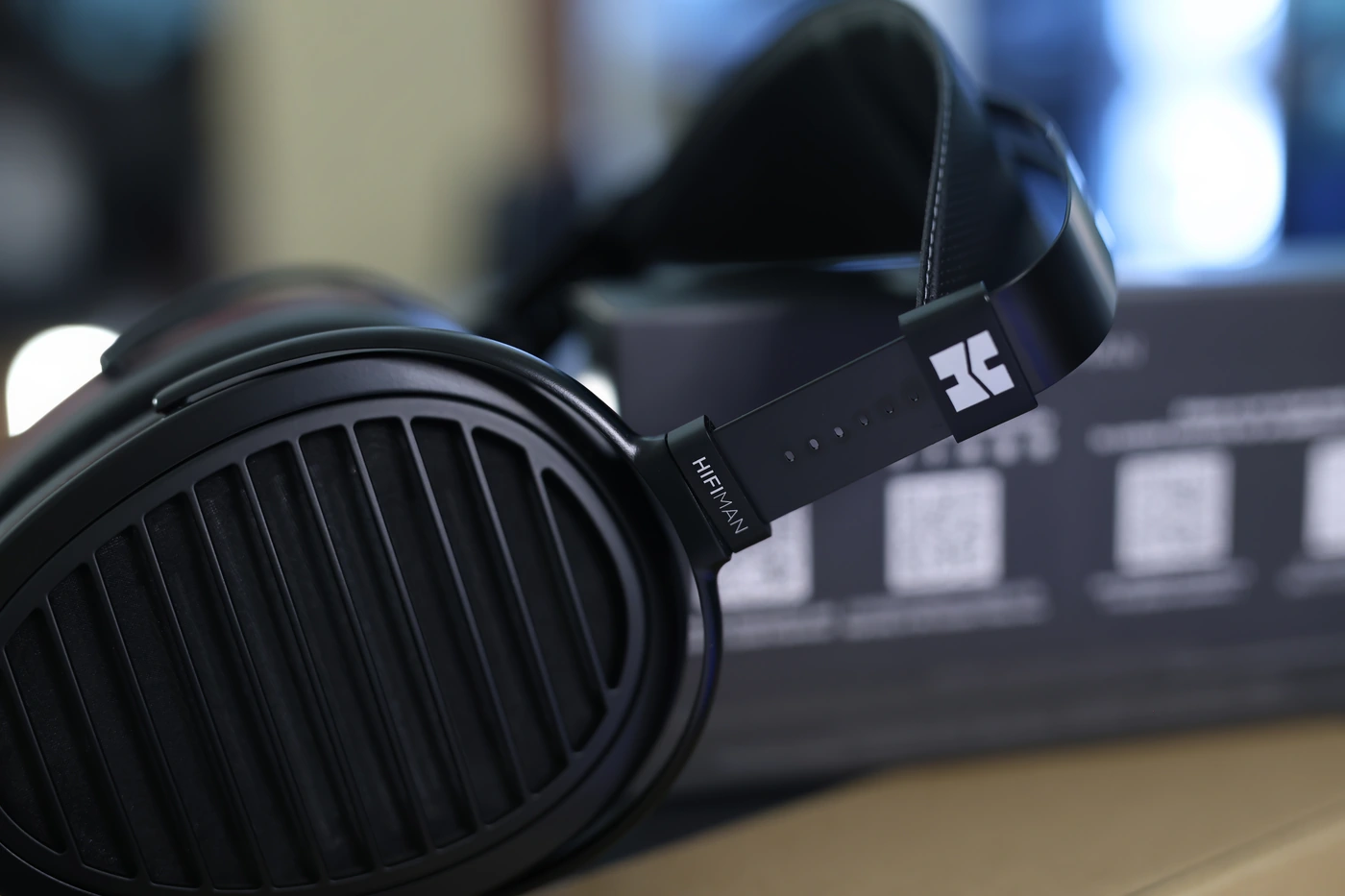 We still have the Acoustically invisible Stealth Magnets, which are basically a special design for the magnets that allow the sonic waves to passs through the magnets with no reflections and no interference. The acoustically transparent design dramatically reduces wave diffraction and turbulence that degrades the sound. This helps with improving the THD and lowering overall distortion, and this technology is unique to HIFIMAN, no other company employing it or analog ideas at the moment. It is most important to have acoustically transparent magnets with a planar magnetic driver because those use a complex, and large array of magnets, and they can have a noticeable effect on sound.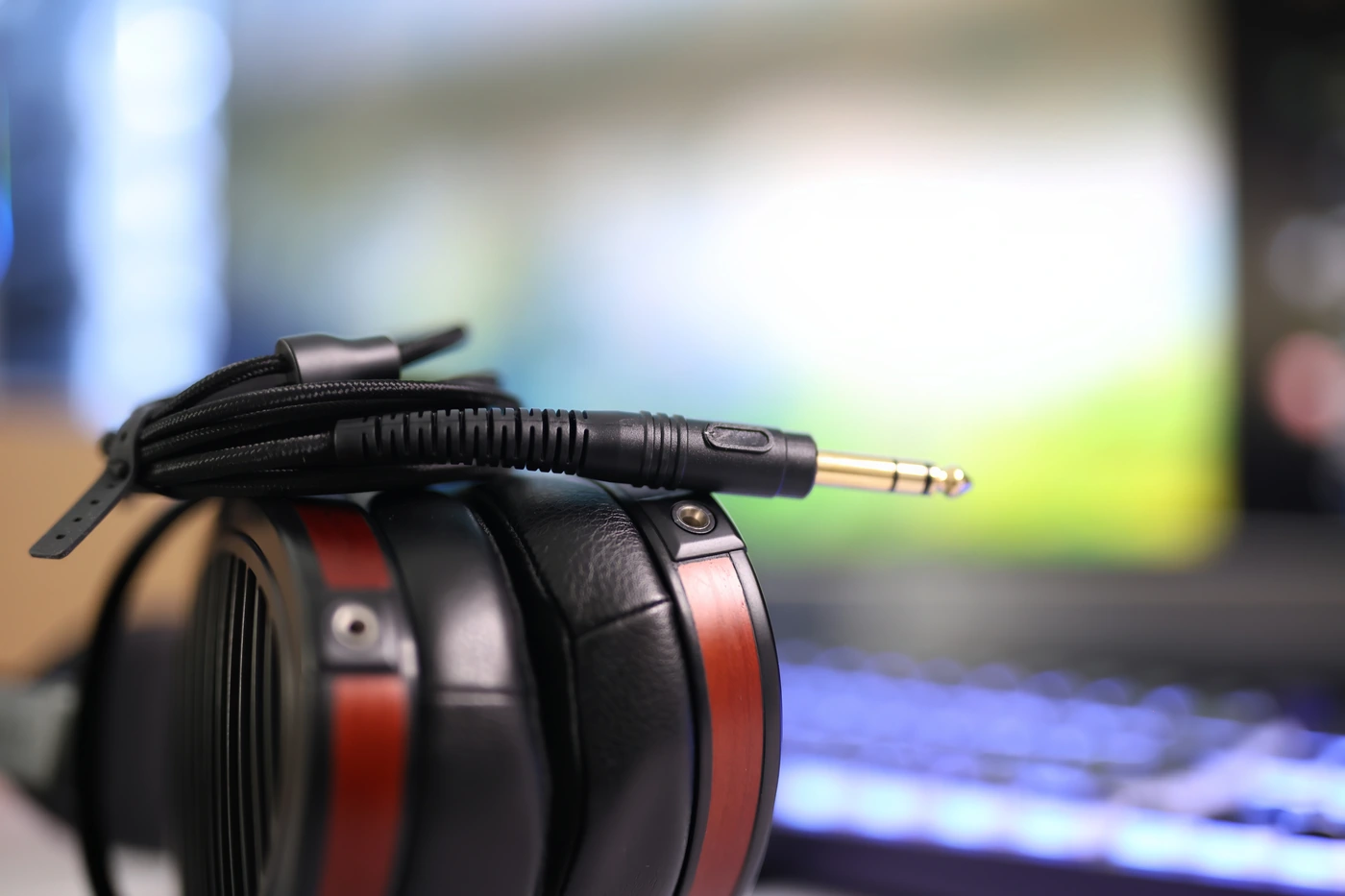 We still have the Window Shade system, which is how the ear cups are designed, for driver protection, and for an optimized open-back design. Speaking of the headphone chassis, it uses a metal structure that is created by CNC milling and hand polishing. The surface is polished by hand, and the headband is not one of the most comfortable headbands out there, very similar to the original Arya and Arya Stealth, but different from the headband mechanism of HE1000 Stealth and Ananda Nano. 
We have Asymmetrical Ear Cups that follow the natural shape of the human ear, and 3.5mm jacks for the cable, so all the cables compatible with Meze Audio and HIFIMAN Headphones will work just fine with Arya Organic. We have just one cable with Arya Stealth, and it is a large 6.3mm Single Ended cable, with a woven textile exterior, and Crystalline Copper inner structure. As always, I rely more on aftermarket cables when listening to headphones that use a 3.5mm jack as most amplifiers out there have a better Balanced output, including HIFIMAN EF400 and EF600.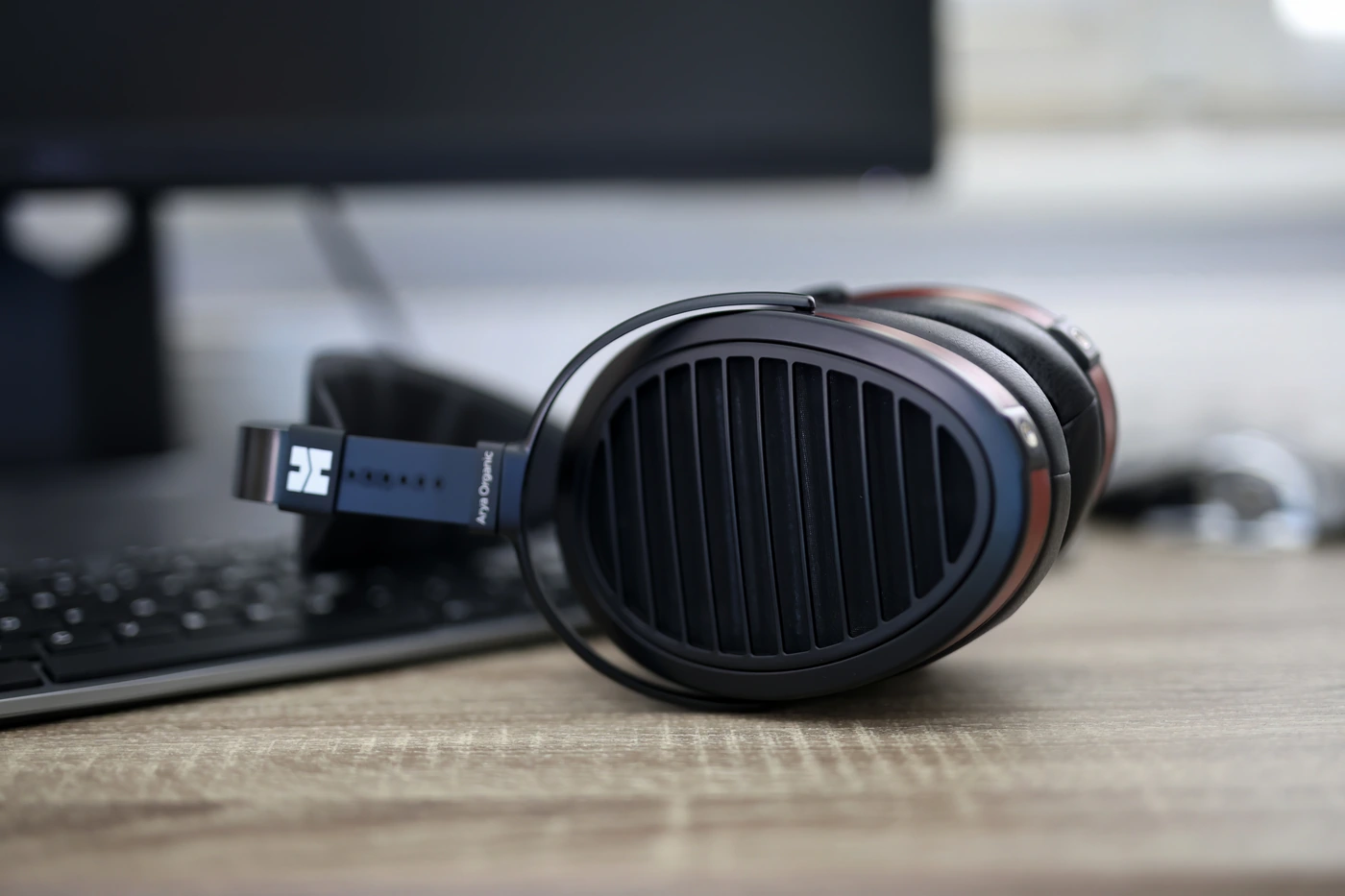 The specifications of the Arya Organic quote the sensitivity to be very low, at 94 dB, so they need a performant amplifier, but they have a low impedance of 16 OHMs. Here we can see a change of impedance, as Arya Stealth had an impedance of 32 OHMs, but the same SPL. Although the weight is noted to be 440 grams, you can barely feel them on your head, as the weight is evenly distributed and they feel really natural on my head, without putting too much pressure on the neck, and no pressure at the top of my head or ears. The design is fully open-back and Arya Organic doesn't isolate at all, so you will hear everything that's happening in your room, and your friends will hear all the music you're listening too, although the leakage level doesn't compare to the volumes you're hearing inside of the earcups. I generally prefer the comfort of Arya Organic over the Ananda Nano, and they look more professional, plus the black color on the ear cups and the headband is much more scratch resistant and they will look new even after months of usage, while Ananda Nano and HE1000 both can gather scratches after days if you place them on a rough surface. 
Sound Quality
Since I did mention that Arya Organic is somewhat hard to drive, the main amplifier and DAC I've been using to review them has been HIFIMAN's own EF600, which is quite exceptional, if you can put up with the shape and design. I've also been using other DAC/AMPs, including JDS Labs Element III MK2 Boosted, Shanling H5, SMSL DO400, Matrix Mini-i PRO 4, iFi Audio go Bar, Aune S9c PRO, iBasso DX320 MAX TI, Hiby R6 III, and Astell & Kern SE180. Arya Organic is somewhat power hungry, and portable sources like iFi Go Bar can struggle, or reach almost their max when driving the Arya Organic, and I would recommend relying on either very powerful DAPs like iBasso DX320 MAX TI, or at least DX320 the original, or desktop setups that are totally capable of driving the Arya Organic. While JDS Labs Element III MK2 Boosted has EQ options and is quite interesting, I never felt like I would need EQ for Arya Organic, and EF600 is just the sweet spot for Arya Organic, or Aune S9c PRO, both of which pair really well sonically with it.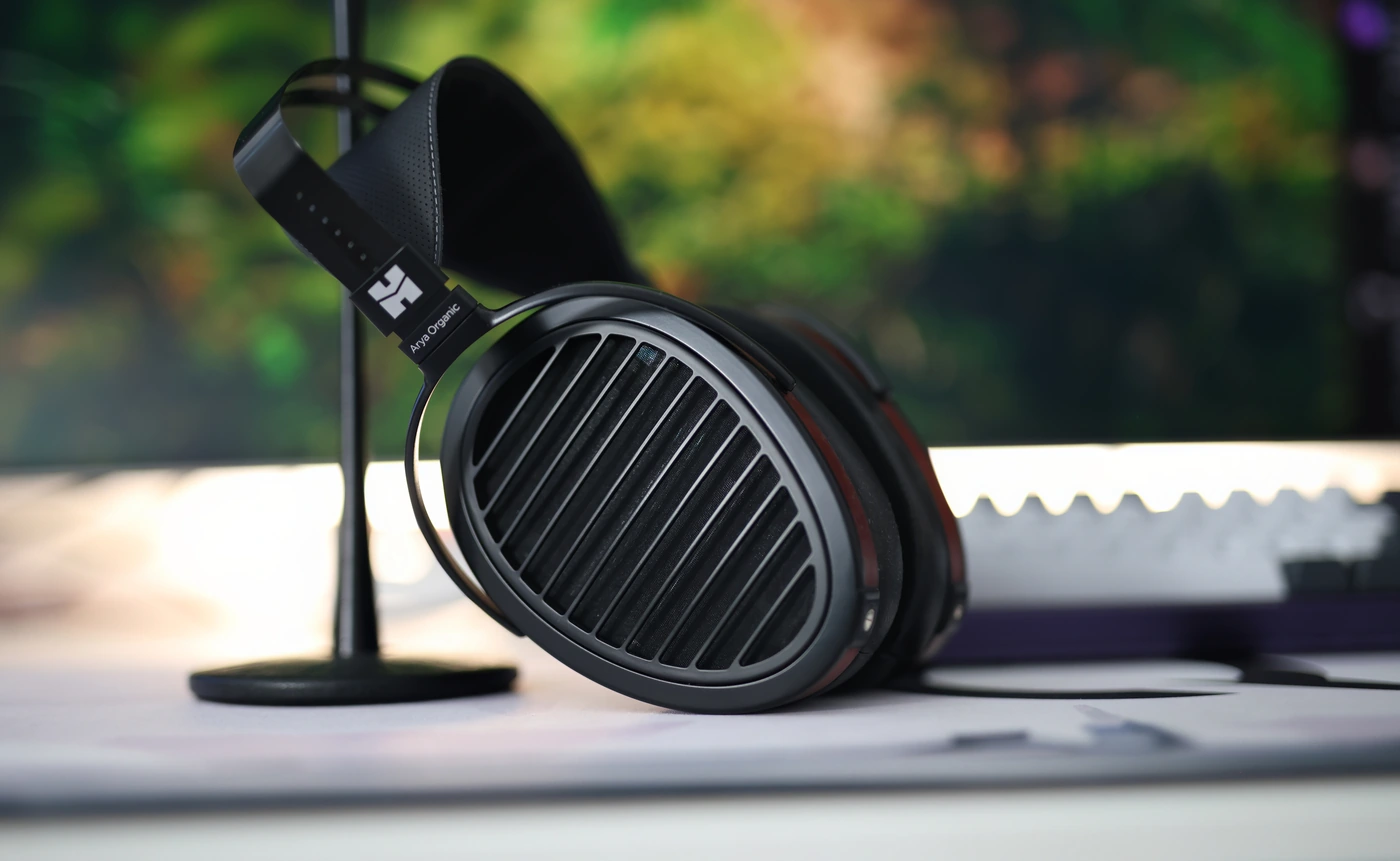 The signature of the Arya Organic can be described as a brighter, airier and more precise version of the Arya Stealth, with better resolution, much improved detail and a more holographic soundstage, especially laterally. The bass is deep, powerful and impactful, and it has a slower decay, reaching super low frequencies better than Arya Stealth and most HIFIMAN Headphones, similar to Audivina. The distortion is kept really low even at louder volumes, but despite the brighter presentation, it sounds like a more open Arya Stealth, yet it is still an Arya, with a relaxed overall presentation, a smooth midrange, and a sound that can make any rock song a trip in the world of the singer, rather than just a random listening experience. This kind of signature works exceptionally well for everything that's acoustic, like Post Hardcore, Emo, Rock, but it works well for Metal, Pop and even EDM. Arya Organic can easily go from playing Lorna Shore to Enter Shikari, to Nirvana, all the way to Zomboy, Lady Gaga and some Mozzart. Pianos are the most realistic I've heard from headphones below 2000 USD, Jazz and Jazz Fusion bands sounding genius from Arya Organic. The signature is generally neutral – natural, with a hint of warmth in the bass, and a hint of extra sparkle in the treble, but not quite enough for me to consider Arya Organic V-Shaped or U-Shaped.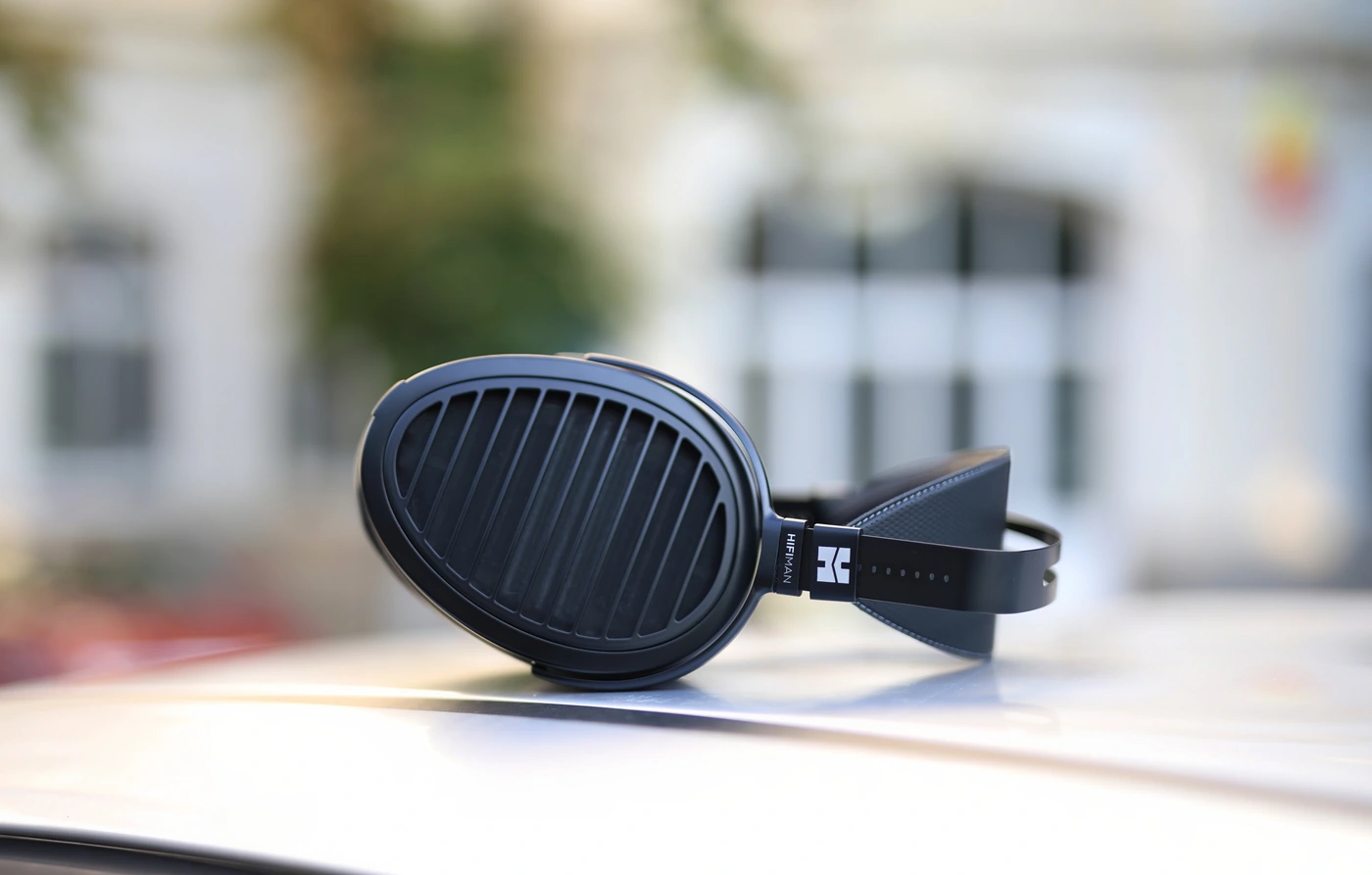 Starting in the sub lows, Arya Organic seems to have improved the bass response over all of the other Arya iterations, but it is not just the bass being a bit better, the whole sub low is super nuanced, and capable of reproducing bass as low as about 30 Hz. While Arya Organic is not designed to rattle on your head, they are expert headphones at revealing nuance in Jazz songs, and generally in music. The bass is best for slower music, where allowing the bass to play in a huge space, allowing the bass to gain power and presence, gives substance and presence for the song. The mid bass seems to be somewhat increased in presence too. The upper bass tends to revert to a full neutral position, which means there's no boominess and no thickening of either male or female voices.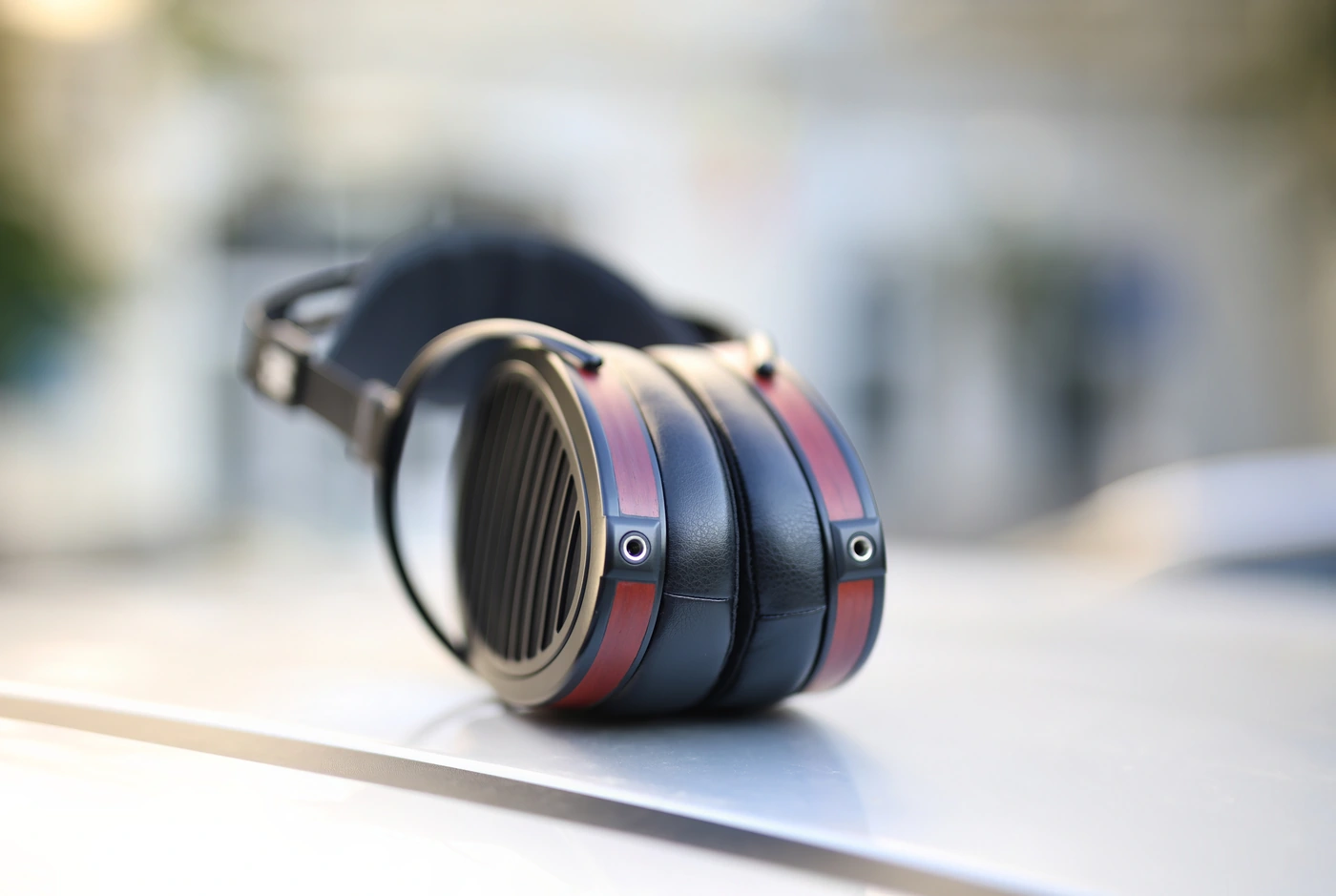 In fact, Arya Organic improved the midrange a lot over the Stealth and Arya classic, and the best way I can describe it is Arya Organic sounding far more vivid, more detailed and much more enjoyable. This time around, the midrange emphasizes both male and female voices equal well, it is able to keep up with juicy guitar solos, but emotional pianos too, basically Arya Organic is perfect for all music styles, the midrange sounds superb with both pop, but also classical, the midrange is rich, and actually does sound very organic and natural. To put it in more words, the texture of Arya Organic is rich, they can sing all blowing instruments, violins as if they were played in front of you, even large orchestras sound delightful. But those textures are not as harsh as with most headphones, and usually, it sounds more fluid and smoother than even the real thing. You don't need perfectly recorded albums, and even older iron maiden songs will sound pleasing with Arya Organic, although newer and better recorded / mastered / mixed music will sound better. Like most high-end flagships, Arya Organic is excellent at making lyrics easy to understand, even with metal and rap music, you hear every word, and this indicates ultra low distortion, and exceptional handling of dynamics, as usually poor dynamics or high distortions can drown out voices in music. Instrument separation is more than outstanding, it is incredible, you can tell apart a single violin from a huge orchestra, and the same can be said about complex orchestral songs where you can clearly tell apart each violin, each component of the sound. This more analytical approach still allows for songs to be smooth and enjoyable, which I find surprising, given that the detail is more plentiful than both the original Arya which was quite a bit more fatiguing, and the Arya Stealth, which was smoother and bassier.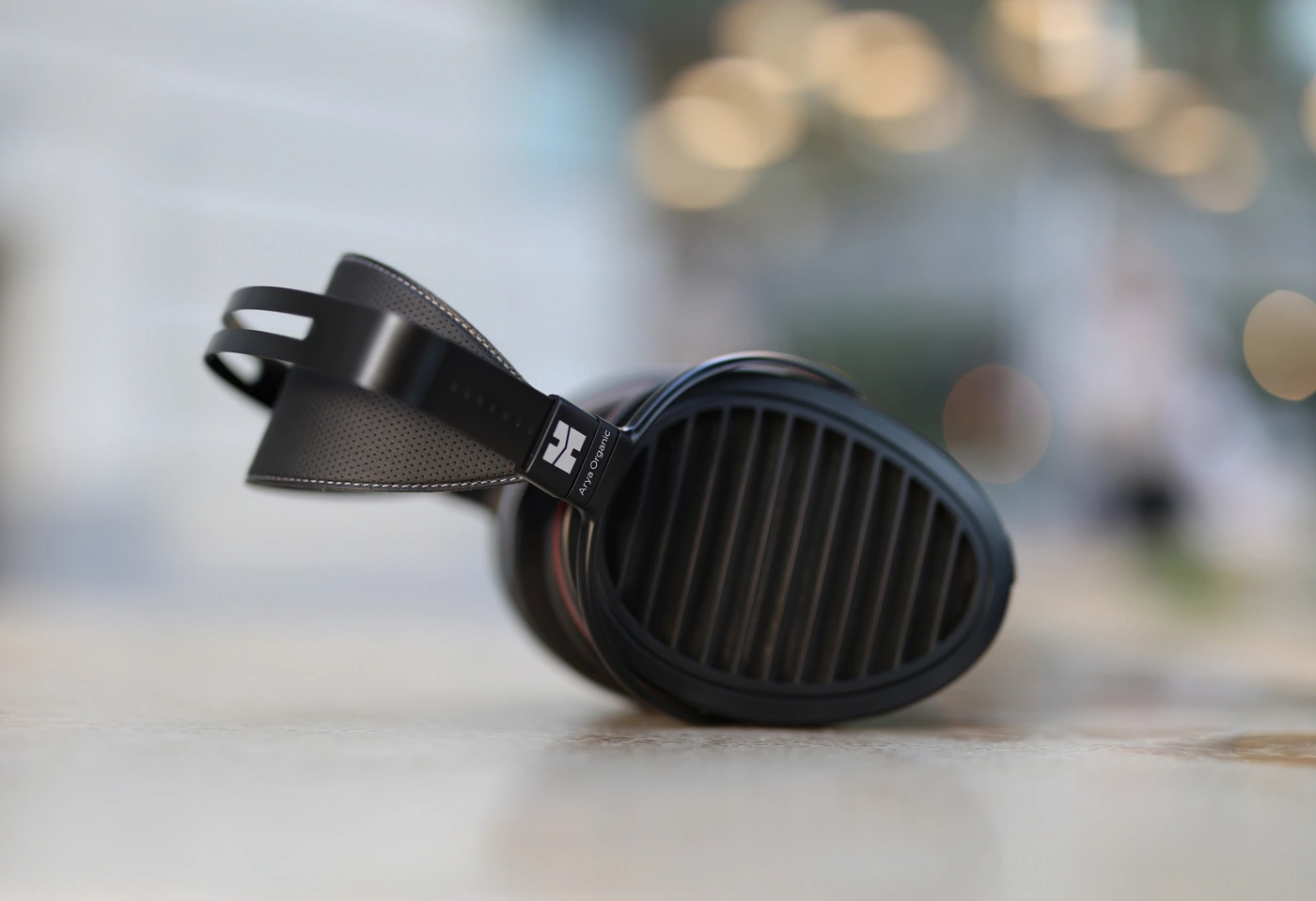 The treble is clearly brighter than Arya Stealth, and even brighter than Arya the original even, it is brighter than HE1000SE which I also have on my desk and did a lot of comparing with, but this should not be taken as a negative, it is airy, detailed, and aids with the incredible resolution I keep talking about when it comes to Arya Organic. The treble is sparkly, airy, and allows for a huge, holographic soundstage. The staging is far wider, more holographic than what we've heard from Arya Stealth, and Arya the original. Basically, this is the perfect evolution from all of the Arya iterations, if you want to hear everything, if you want to get more sparkle and air, and if you want to get the best resolution possible. We have a slightly smooth texture to treble, which makes it non-fatiguing, and the treble is also enjoyable. The treble extends all the way to 16-17kHz (and that's about where I hear up to, so I literally can't tell what happens above), but it also has most of the energy between 10 kHz and 12 kHz, so cymbals will sound bright and revealing, without getting the 7-9 kHz metalling tinge or harshness. All in all, Arya Organic is incredibly enjoyable, and regardless whether you want to torture your finer senses with some Infant Annihilator, get hyped for some metallica, want a classy evening with Jazz or if you want to just dance with Lady Gaga, Arya Organic is enjoyable for all of them, versatile and puts the enjoyable part in music, sound detailed, lively, vivid, vibrant and clear. The richness of the midrange aids with how enjoyable they are in general, and I find myself enjoying Arya Organic far more than anyone would've thought I would, being the Ananda Nano of the Arya series. 
Comparisons 
HIFIMAN Arya Organic vs Crosszone CZ-8a (1299 USD vs 1700 USD) – It is always good to start strong, and I would like to mention that CZ-8a will soon be getting a new version, which is the enhanced version, and which I will be reviewing too, but the CZ-8a is still a great headphone, that is comfortable, just like Arya O, but with the difference that Arya Organic has a larger earcup, with more space for my ears, and it is also slightly heavier, but the weight has a slightly better distribution which results in a moderately better comfort. The overall sonic presentation is quite different, with CZ-8a having a far more forward midrange, less bass and much less treble, sounding rather smooth, lean and laid back in comparison to the Arya Organic which sounds more detailed, bassier, with a much brighter treble, having more air, more sparkle and a deeper soundstage. Both sound really wide, but the instrument separation is better on Arya Organic, while CZ-8a has a more combined sound that separates less. I would grab CZ-8a if I wanted a really mid forward headphone with a smooth treble and fluid texture presentation, and I would grab Arya Organic if I wanted a bright, revealing, vivid sounding headphone with excellent dynamics, outstanding precision and a better sub bass and bass.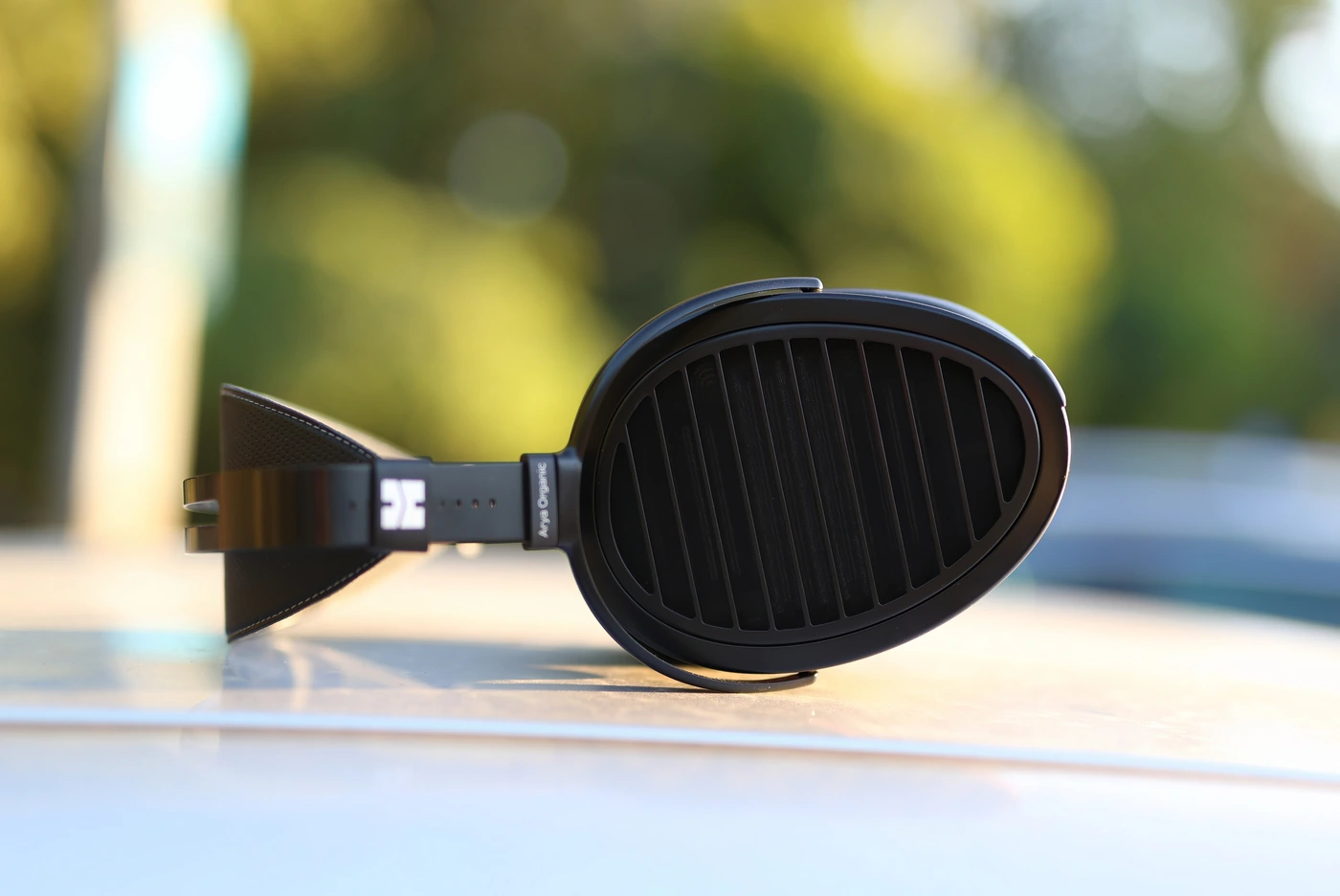 HIFIMAN Arya Organic vs HIFIMAN Arya Stealth (1299 USD vs 1599 USD) – You can't really call this a complete review without including Arya Stealth, the previous iteration from the Arya series. The best parts of Arya Stealth have been kept, including the comfort, outstanding design, and long-term reliability of the components as Arya Stealth is still going strong in my home. Everything is very similar, including the power needed to drive them and the overall passive noise isolation, which is low, but the sound changed quite a bit, with the new Organic sounding much more vivid, more detailed, brighter and more detailed than the Stealth. It feels like Stealth was the smoothest version, with a pleasing treble that couldn't offend anyone, while Organic goes for being that honest friend who wants to let you in on all the micro secrets of this world. Arya Organic also sounds richer in the midrange, more organic, as you would call it, basically allowing for better texture representation, better resolution, and a wider, more holographic soundstage. In stark comparison, Stealth sounds smoother, more laid back, more relaxed, leaner, and is far more forgiving with bad albums. While I found great enjoyment with most of my music with Arya Organic, it tends to reveal mistakes more easily than the Stealth, which is a headphone that really wants to be friends with everyone and forgive every single little mistake that's been done to it. If you want a laid back, more relaxed approach to music, with a smoother treble, ARya Stealth is a good option even now, and especially since it has a very good price, while if you want to get the most dynamic, most engaging, most revealing and clearest sound of the Arya series, Arya Organic delivers on all of those, and then some, boeing my favorite Arya and one of my favorite headphones for rock, metal and electronic music.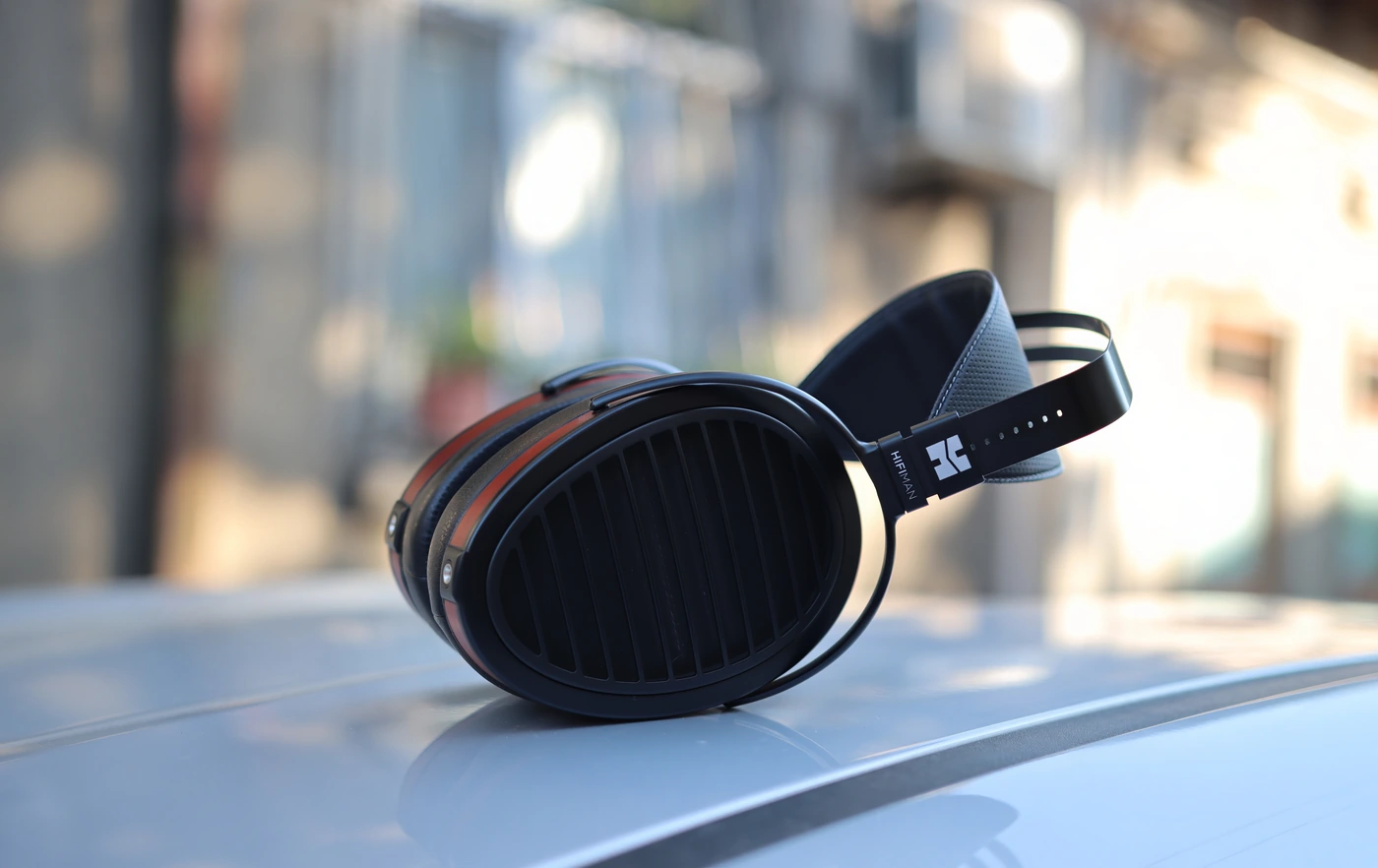 HIFIMAN Arya Organic vs Spirit Torino Super Leggera (1299 USD vs 1999 USD) – Ergonomically, Arya Organic is more comfortable than the Super Leggera, as Arya Organic has a deeper, bigger earpad, with a softer earpad, softer headband and feels lighter too, thanks to the better weight distribution mechanism. The default cables of the Super Leggera are better, as Arya only comes with one cable that has a large Jack and for today's review I've used quite a few aftermarket cables, and also borrowed some cables from He1000SE and other HIFIMAN Headphones, to be able to connect the Arya to a balanced source. The passive noise isolation is better on Super Leggera, although both of them leak a lot and people in your room will hear what you're listening to quite clearly. Super Leggera needs less power to be driven well, Arya is quite power hungry. Both headphones sound excellent with rock and metal, but for very different reasons, and Arya Organic has a more solid, deeper bass that can keep its cool in harsher conditions, while Super Leggera has a much warmer midrange, lusher and warmer bass, but with an earlier roll off. The midrange is warmer, smoother on Super Leggera, it sounds more musical and more romantic, while Arya Organic sounds more neutral, more precise, has better detail and better resolution. The treble is pretty good on both, both have a fun texture, that is non fatiguing, both sound natural, clean and detailed, and both have a good extension, and the treble can also sound similar at times. The takeaway is that if you enjoy a deeper bass, want larger headphones with large ear cups and if you want a more lively, more punchy sound, Arya Organic should be your choice, while if you want something smaller, handmade and that is more of a boutique product, with a more romantic, warmer, thicker sound but less sub bass, Super Leggera is your perfect candidate.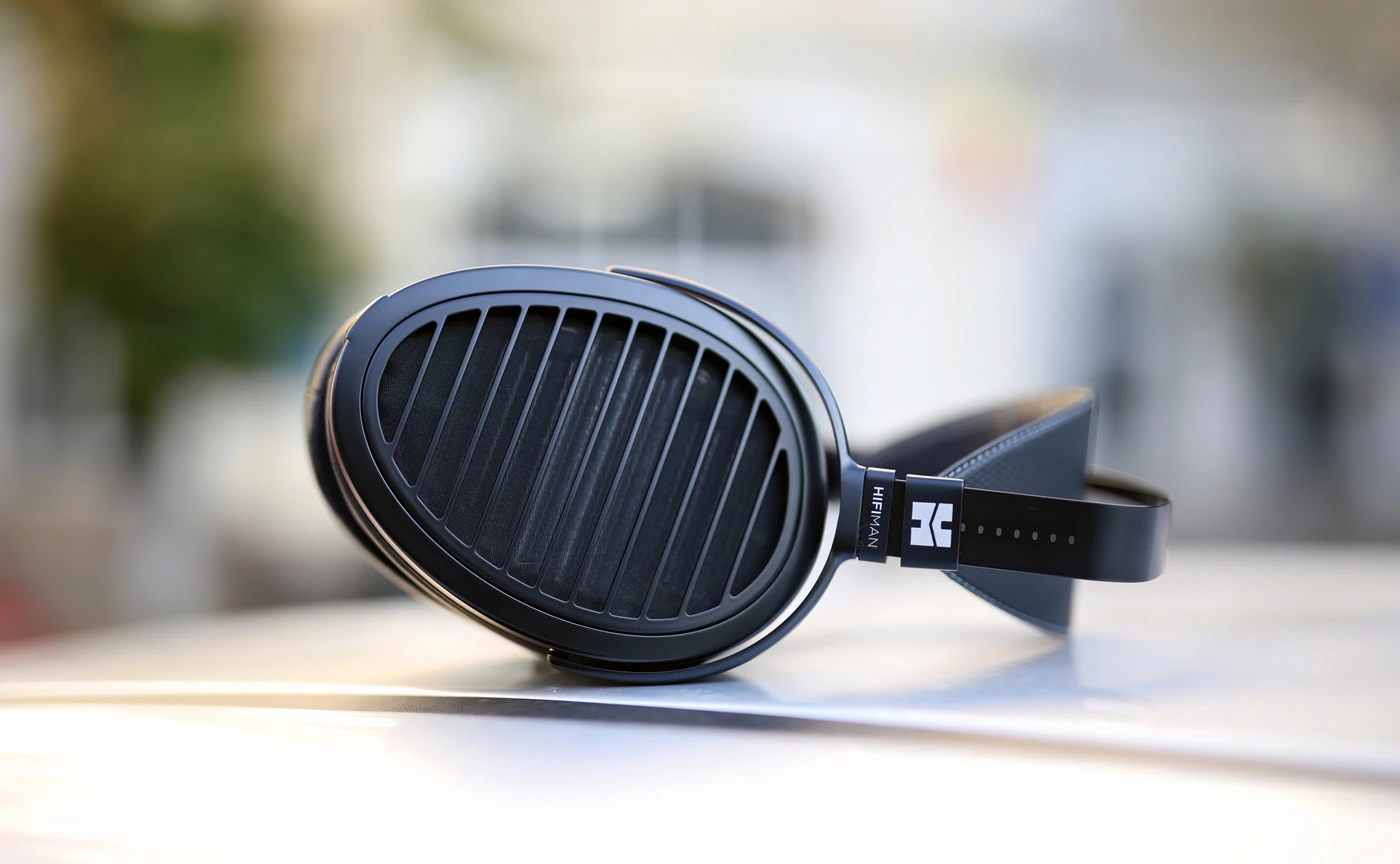 HIFIMAN Arya Organic vs HIFIMAN HE1000 Stealth (1299 USD vs 2999 USD) – With great sound comes great comfort, and both HE1000 Stealth and Arya Organic are as comfortable, they both have about the same earpad shape and size, they are both about as heavy, although the silver color of the He1000 Stealth makes it more prone to scratches and usage signs, as I had the experience of it having minor scratches from weeks of usage, while Arya Organic looks nice and new even after more than a month of usage. The power needed to drive them is similar, although at times it feels like He1000 Stealth actually eats a bit more power to sound as loud as Arya. The sound and signature is quite similar, and the differences are actually finer nuances and subtleties, also some technical differences. For two headphones that have a similar street price, 1400 USD for HE1000 Stealth, and about 1300 USD for Arya Organic, they do have similar levels of detail and resolution, and it feels like HIFIMAN improved the new arya Organic versus the original Arya Stealth and Arya, so they reach similar resolution, with HE1000 Stealth being a bit bassier, but also the bass being slightly shallower, with Arya Organic having a more solid bass body. Most of the impact is in the midrange for both of them, and the treble is slightly smoother, less forward on HE1000 Stealth, and more forward, more airy and more punchy on Arya Organic. In fact, Arya Organic has one of the most forward and airiest trebles of all HIFIMAN flagships that follow this design, with only Ananda Nano being a bit brighter, but both of them sound less harsh and more musical, more fluid than the original Arya, HIFIMAN sharing with us their exciting technological advancements and how they improved the sound of their new headphones. The midrange can be somewhat different between HE1000 Stealth and Arya Organic, He1000 Stealth sounds a bit more mature, smoother all around, while Arya Organic sounds more live, lively, vivid, and more punchy in the midrange. This means that you should get the Arya Organic if you're looking for a more lively, more concert-like and vivid sound, and get HE1000 Stealth if you're looking for a smoother, more laid back and more relaxed sound.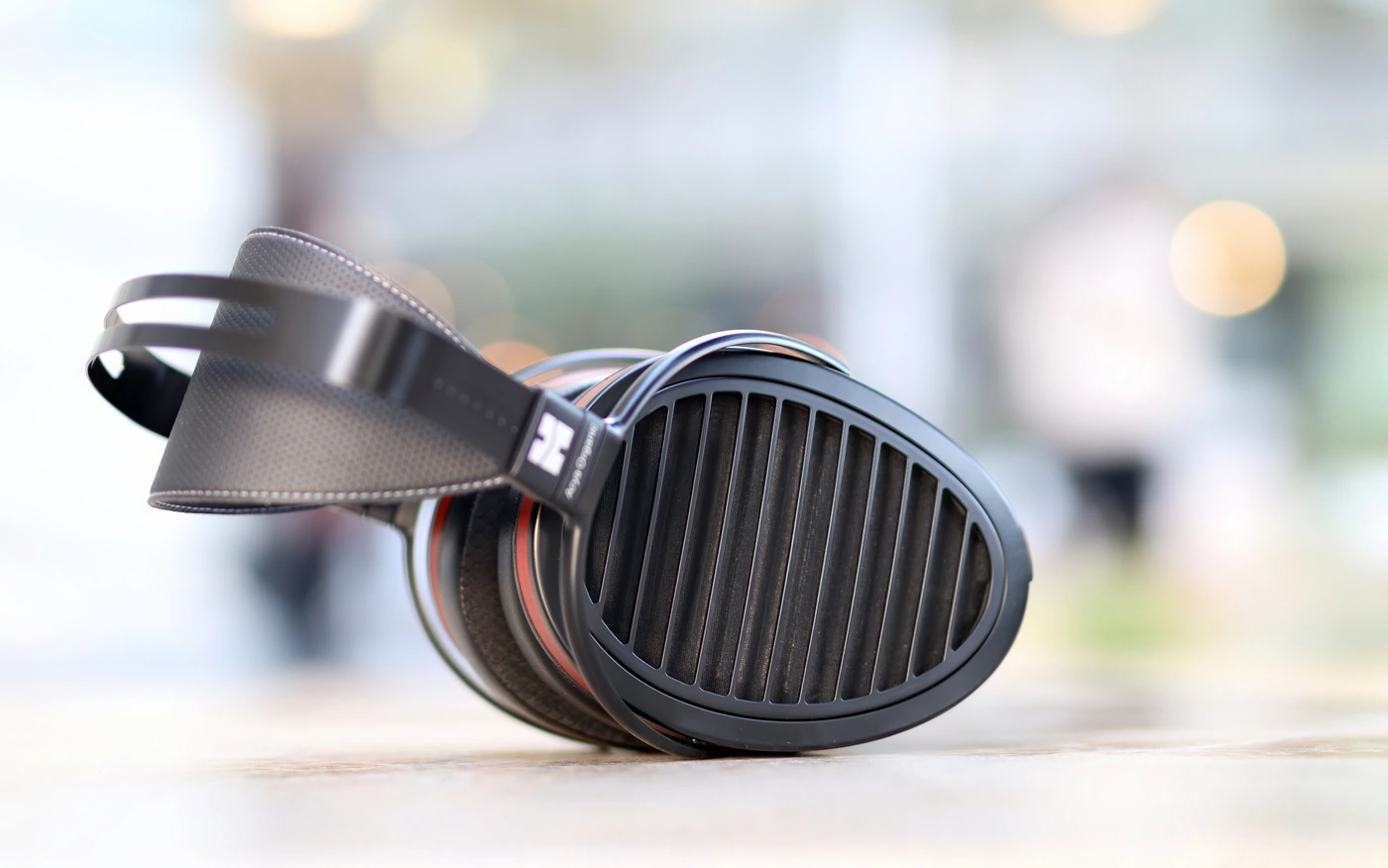 HIFIMAN Arya Organic vs Audeze MM-500 (1299 USD vs 1699 USD) – Starting with the shape and comfort, MM-500 has a much heavier design, they are heavy and tight, which makes them uncomfortable after long periods of wear, while Arya Organic stays comfy even after I've been having them for over three hours on my head. The power needed to drive them is different, as MM-500 is actually really easy to drive, while Arya Organic is quite power hungry. MM500 has a bit more passive noise isolation, while Arya is fully open. The sound is quite different, and although both have excellent detail. MM 500 sounds really thick, lush, heavy and bassy, with a rolled off, smooth and lean treble compared to the Arya Organic that has an open, detailed, vivid, bright-neutral and clean sound. The soundstage of Arya is far more holographic, more open, wider and deeper, while MM-500 handles sub bass better, and can put more backbone into music. For rock, metal, and for generally listening to music Arya Organic offers a more natural experience, while MM500 is great for rap, EDM, and music where you either want more bass, or when you want precision and to work in a studio. Out of the two, Arya shows problematic records better though, as the brighter tuning can reveal sibilance more easily, while MM-500 will be enjoyable even with extremely harsh records, so studio work can also be great with Arya Organic, especially since you can keep those on your head for long with no issues.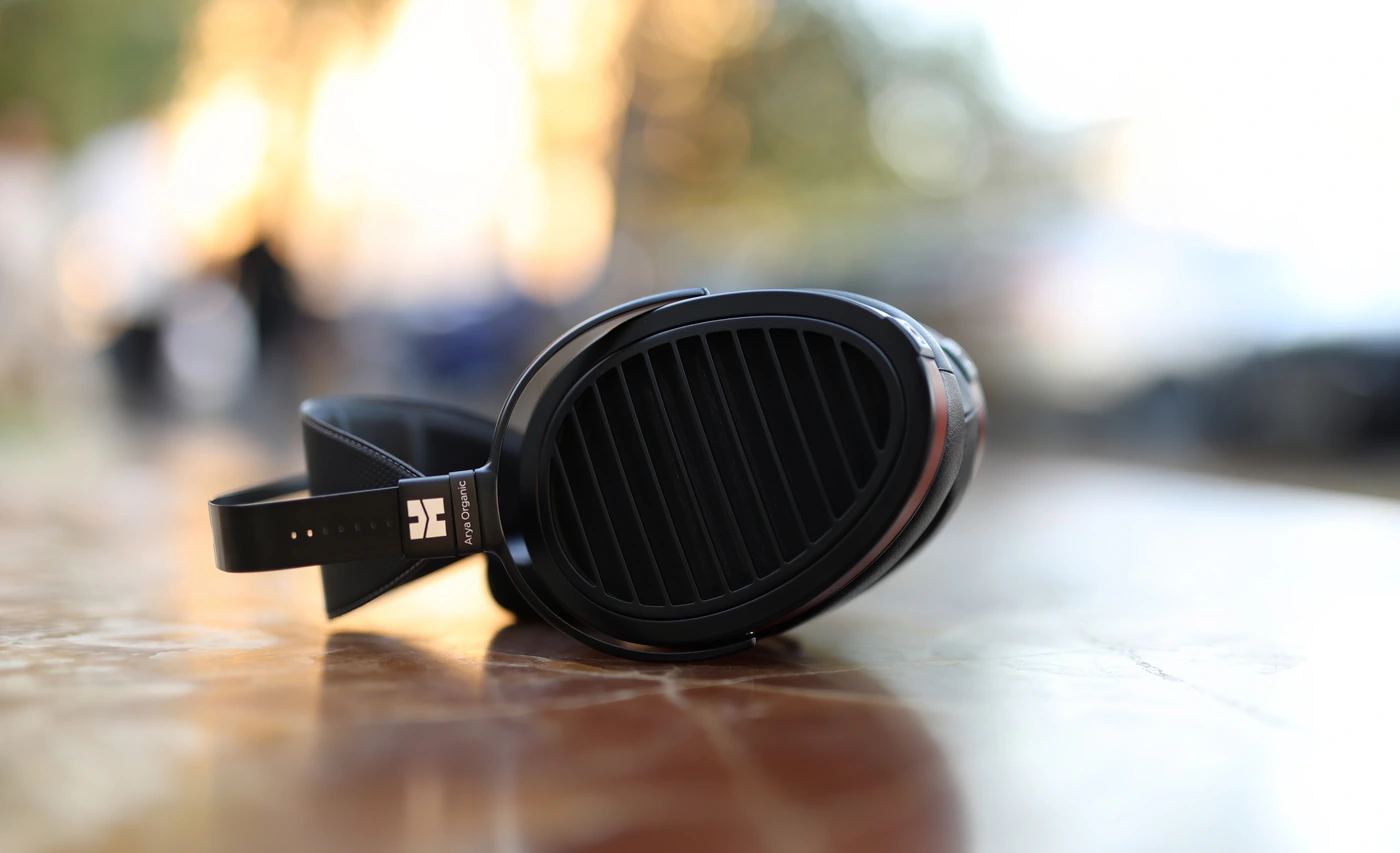 HIFIMAN Arya Organic vs HIFIMAN Audivina (1299 USD vs 1999 USD) – Although Audivina is closed back, it does not offer much passive noise isolation, and the whole point of their design is to have a wide soundstage, allowing for sound to resonate in the cups in a calculated way. The comfort is similar between Audivina and Arya Organic, although Audivina is heavier than Arya Organic. Only Audivina comes with the nice transport case, although it is also easier to scratch and damage Audivina, while Arya Organic will not show scratches and scuffs. Both are hard to drive, need about equal power, and need the same kind of source to sound their best. Sonically, they are both flavors of neutral with a bit of extra bass, and a bright, open sounding treble, with a lot of air, although Audivina has more focus on bass, more mid bass, which gives it more body to music, it sounds somewhat thicker and deeper, while Arya Organic sounds more even all across the range. Arya Organic has a slower bass, but more impact in the midrange, and the midrange of Arya Organic is more natural, while Audivina sounds a bit wider, deeper and more holographic, the distance it puts between the listener and the music is slightly less natural than how Arya Organic handles things. Detail and resolution is insane on both, both can show the finest micro details in every song, Arya Organic shows a more natural cymbal crash, which manages to be fatigue-free, while Audivina is quite different, it has more of a peak around the treble, 12.5 kHz, which makes Arya Organic more natural. All in all, Arya Organic sounds a bit lighter, more dynamic, and a bit more natural in the midrange, while Audivina has a bit more bass, more sub bass, more treble sparkle, and sounds wider. 
Value and Conclusion
While HIFIMAN always knew how to price their headphones fairly to the market, Arya Organic is just the kind of high-end experience the market needed after such a successful launch like Ananda Nano. Anada Nano is simply superb, it is a headphone that simply devours the ~600 USD market, and it is easy to see how people love a bight, but clean signature, Arya Organic providing that, but more, a really pleasing midrange, a clean and deep bass, and a super good resolution and detail, all at a price lower than the launching price of both Arya the original and Arya Stealth.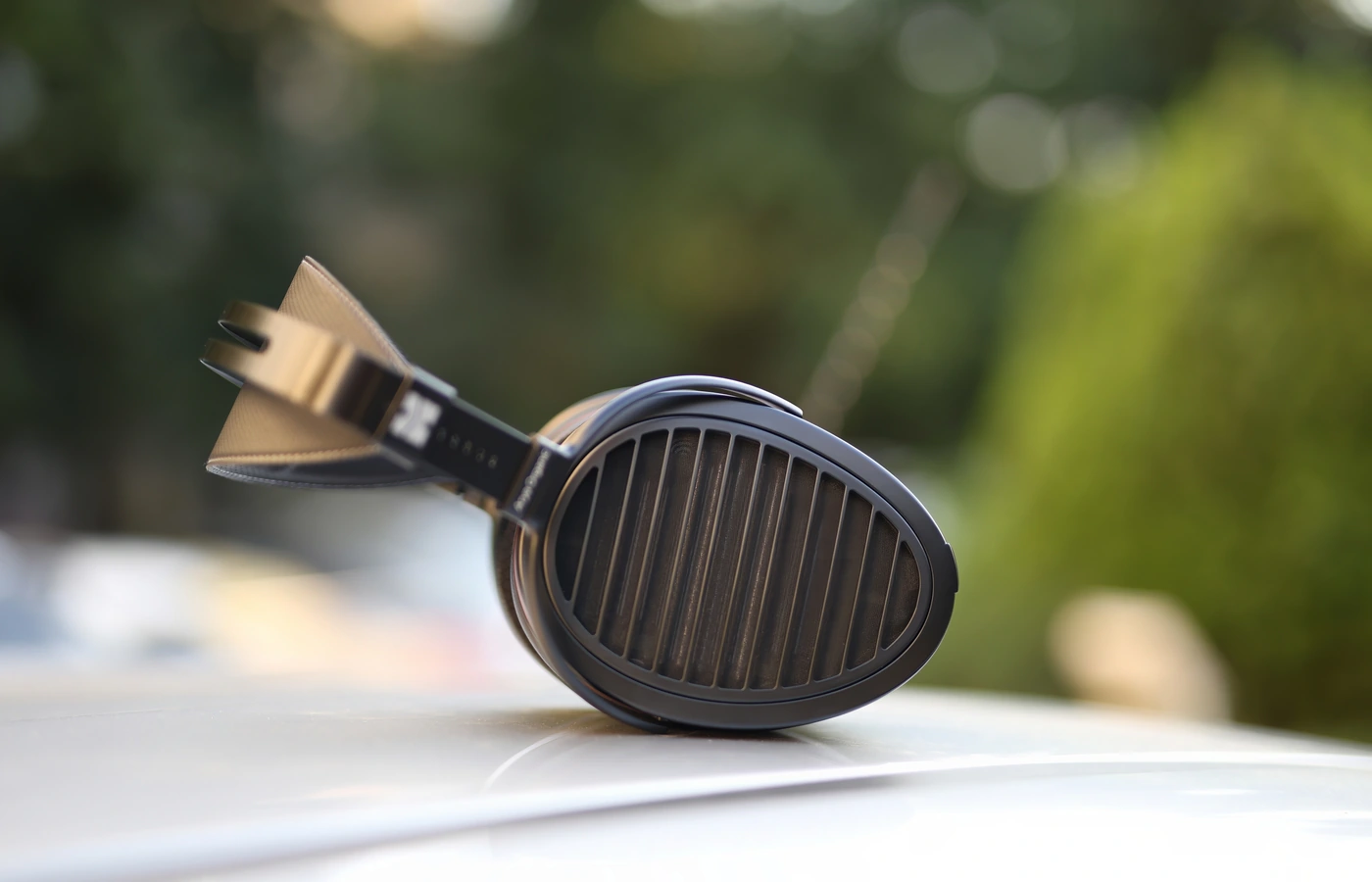 Before the end of the day, I want to remind you that if you feel like you can't spend the money on Arya Organic, there's a huge sale happening for Arya stealth, and HE1000 Stealth, but I have to give the crown to Arya Organic, as it will be replacing the Arya Stealth in the Audiophile Heaven Hall Of Fame for its exceptional performance, outstanding comfort, and great price / performance ratio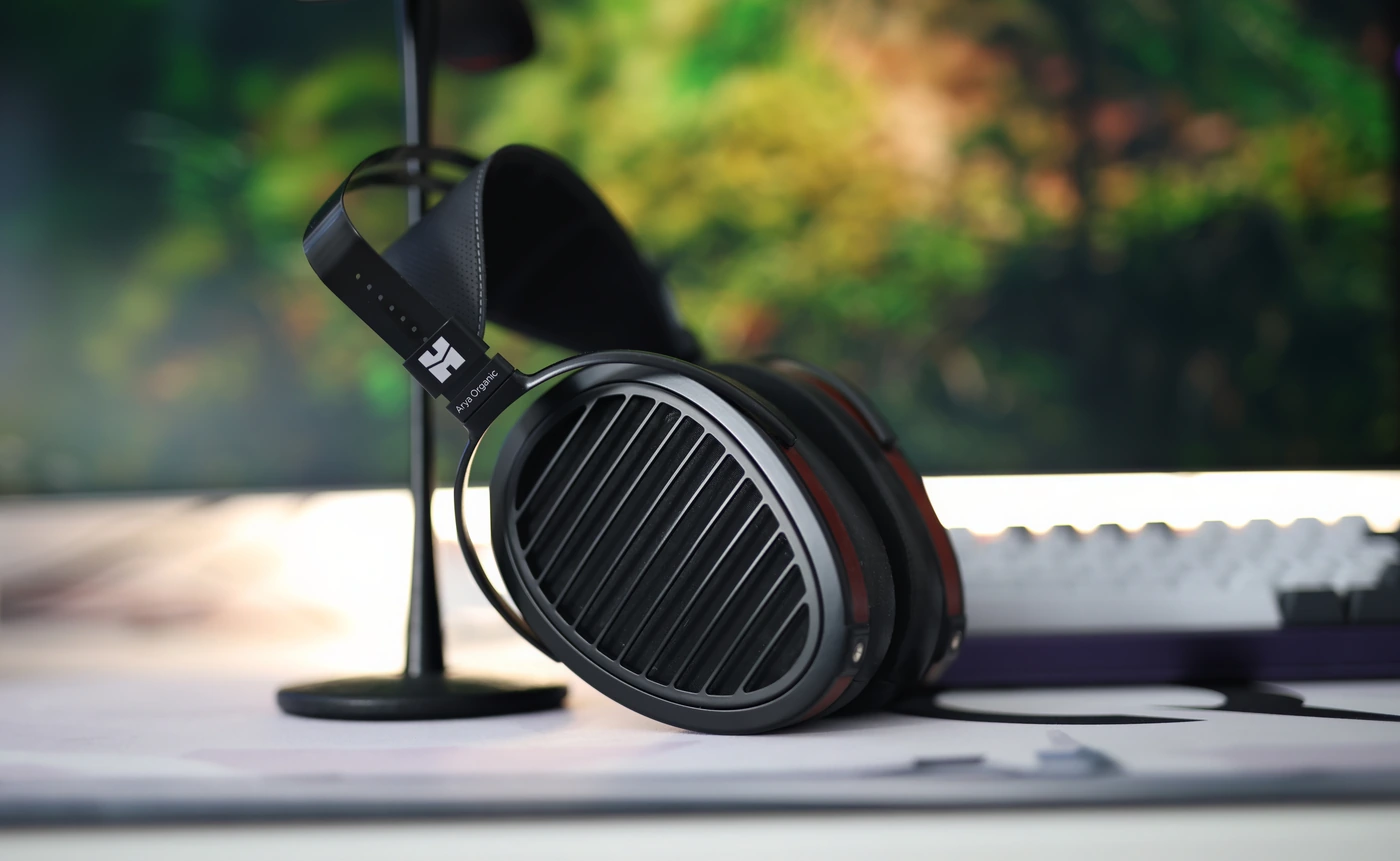 At the end of the day, if you're looking for an outstanding experience, if you enjoy music, and if you want to get a comfortable listening experience HIFIMAN is always there for you, but if you want a vivid, punchy, revealing and dynamic sound, with a deep bass, bright and airy treble, and outstanding detail, HIFIMAN Arya Organic is one of the best headphones you can get. 
Product Link
You can grab one from www.amazon.com here: https://amzn.to/3MqxFRs
If you're in the UK, you can grab one from www.amazon.co.uk here: https://amzn.to/47yTqqD
And if you're from Europe, you can grab one from www.amazon.de here: https://amzn.to/3seqLIh
Technical Specifications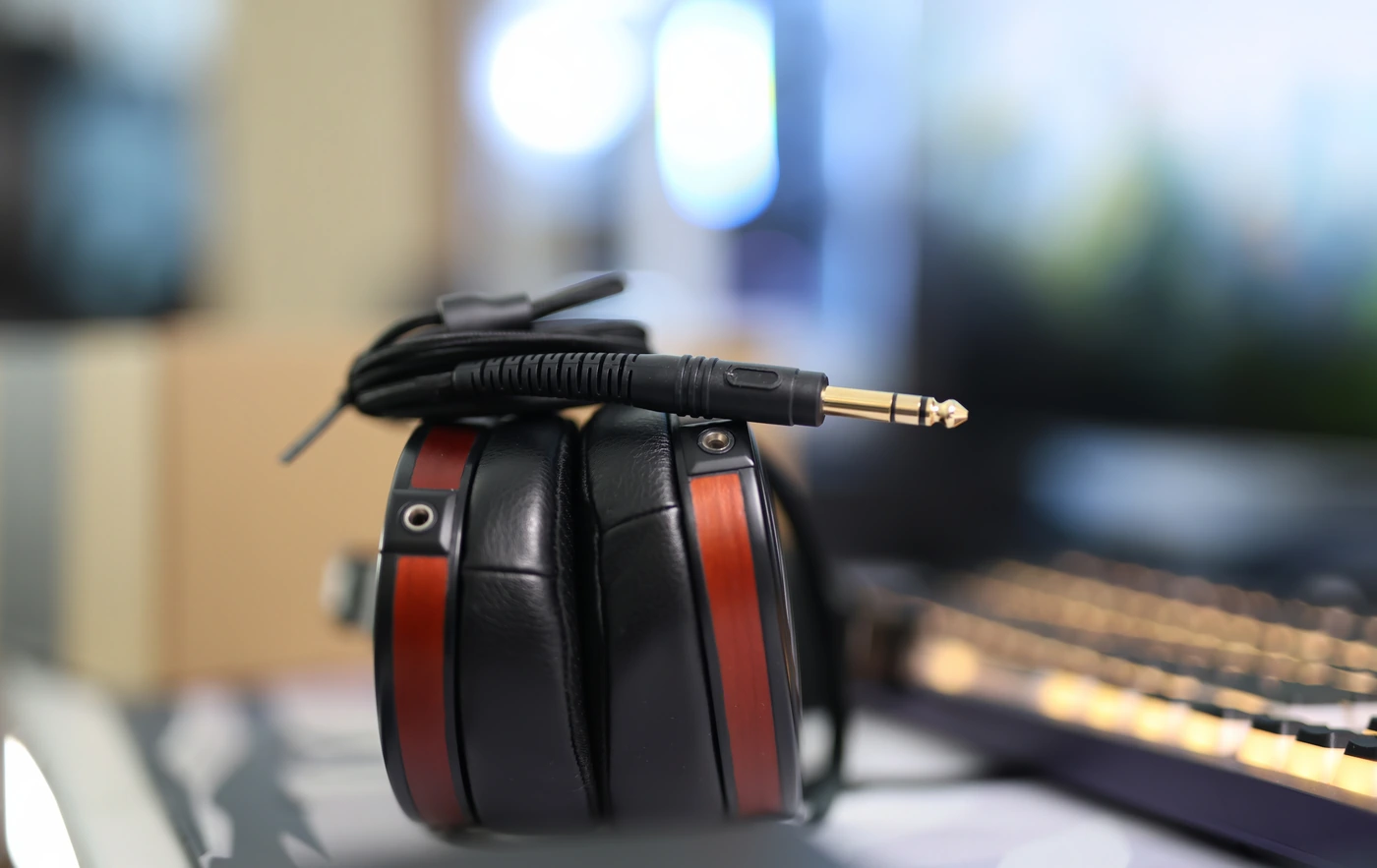 Frequency Response – 8Hz – 65KHz
Sensitivity – 94 dB 
Impedance – 16 Ω
Weight – 440 g
---
--- Please remember to stay safe, and always have fun while listening to music!---
 - If you have a dime to spare, please donate, and help us! It would make the day brighter for me and my wife- 
---
Full Playlist used for this review
We listened to more songs than those named in this playlist, but those are excellent for identifying a sonic signature.  I recommend trying most of the songs from this playlist, especially if you're searching for new music! The playlists are different for Spotify, Tidal and Youtube, and based on the songs I enjoy and are available on each!
https://www.youtube.com/playlist?list=PL_cjBXGmwSHSdGcwuc_bKbBDGHL4QvYBu
https://open.spotify.com/playlist/5J3oloz8Riy9LxEGenOjQ0?si=979ba4f082414be7
https://tidal.com/browse/playlist/330fd544-8e5b-4839-bd35-676b2edbb3d5
--- Contact Us ---





---