Aune S9C PRO DAC Headphone AMP – The Silver Lining Of Flagships
Aune S9C PRO Reference is a $699 USD high-end DAC / Headphone Amplifier and currently the flagship from Aune's 2023 offering. It comes with 2 DAC chips, namely the ESS ES9068 DAC chips, it has up to 5 Watts of power over the balanced headphone output, a USB input with no delay, LDAC Bluetooth input, and superb performance all across the usage scenarios. This means that it will also be compared to the best DAC / Headphone Amplifiers, including Aune S6 PRO, HIFIMAN EF400 R2R DAC, Singxer SDA-2 Balanced DAC / Headphone AMP and Soundaware A1x PRO.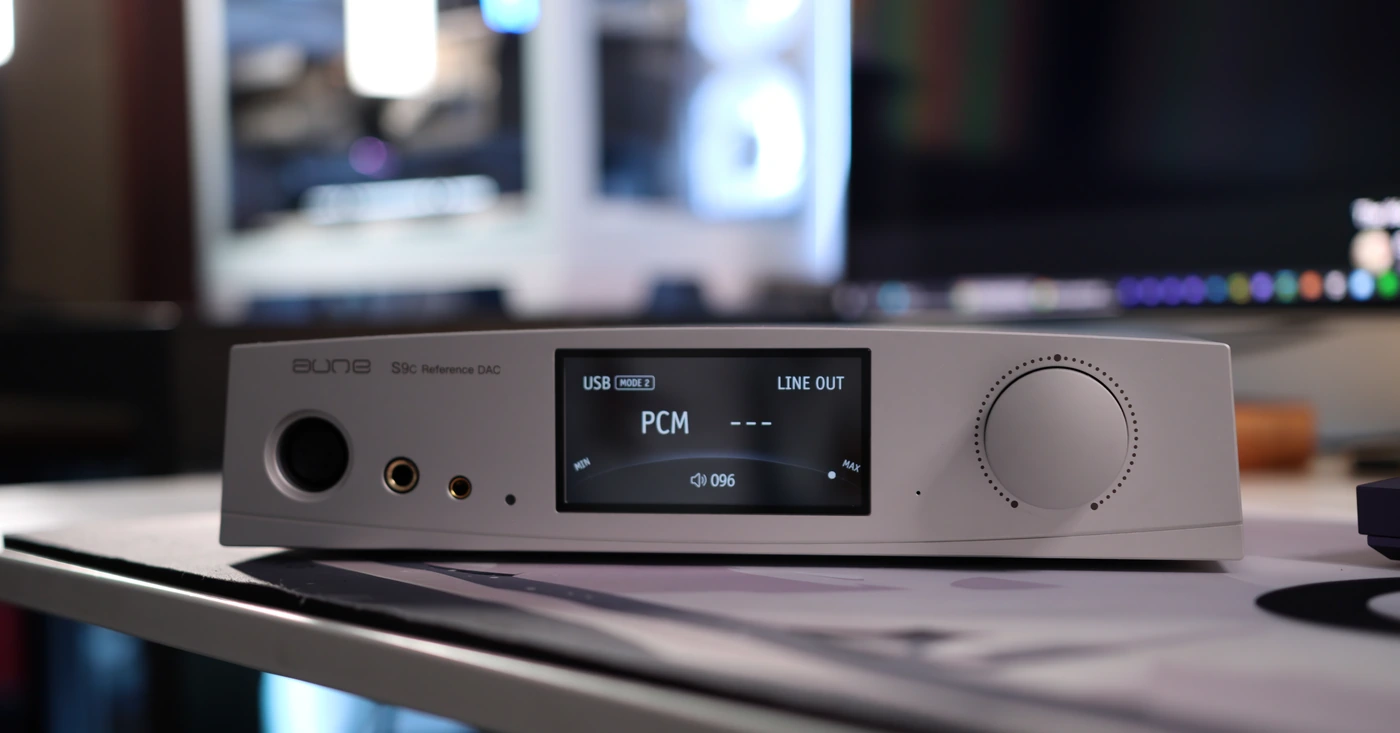 Introduction
Aune S9C is the latest flagship DAC / Headphone Amplifier designed by the Chinese company, and this time they really outdid all expectations. We have a Dual DAc chip, with up to 5 W of power for the headphone output, a Twin JFET, External Clock support, and PLL Clock Synchronization, to name a few of the features that Aune implemented in the new S9C PRO. Before we even start diving in today's review, I have to state that it is a huge upgrade over Aune S6 PRO that I reviewed in the past, and despite its somewhat meek price point of 699 USD, it performs considerably better than most of the competition, and Aune's house sound has now matrued and has everything we have been requesting them to add. Aune products can be purchased directly from their website, there is an Aune Store that operates globally, but you can also find their products on Amazon, where you will have the best support, return time, and likely the lowest prices available in the entire world. 
It should be noted that I have absolutely no affiliation with Aune. I'd like to thank Aune for providing the sample for this review. This review reflects my personal experience with the Aune S9C PRO Reference DAC Headphone AMP. Every opinion expressed is mine and I stand by it. The purpose of this review is to help those interested in the Aune S9C PRO Reference DAC Headphone AMP find their next music companion. 
Product Link
You can grab one from www.amazon.com here: https://amzn.to/46KNDOS
Official page on aune's website: http://en.auneaudio.com/index.php?s=/Home/Article/detail/id/569.html
Find your local distributors here: http://en.auneaudio.com/index.php?s=/Home/Article/lists/category/68.html
Aune's official online store: https://mall.auneaudio.com/S9c-Pro-DAC-with-Headphone-Amplifier-p22193450.html
Build Quality/Aesthetics
Starting with the outer design, we have one of the most beautiful DAC / Headphone Amplifiers I've seen to date, and I am totally happy that I went for the Silver option, as Aune S9C PRO looks astonishing. It has an arching top, although the angle is lean, and you can place other devices on top if you absolutely must, and I tested this by having JDS Labs El DAC II+ Balanced on top, to test it against the S9C PRO.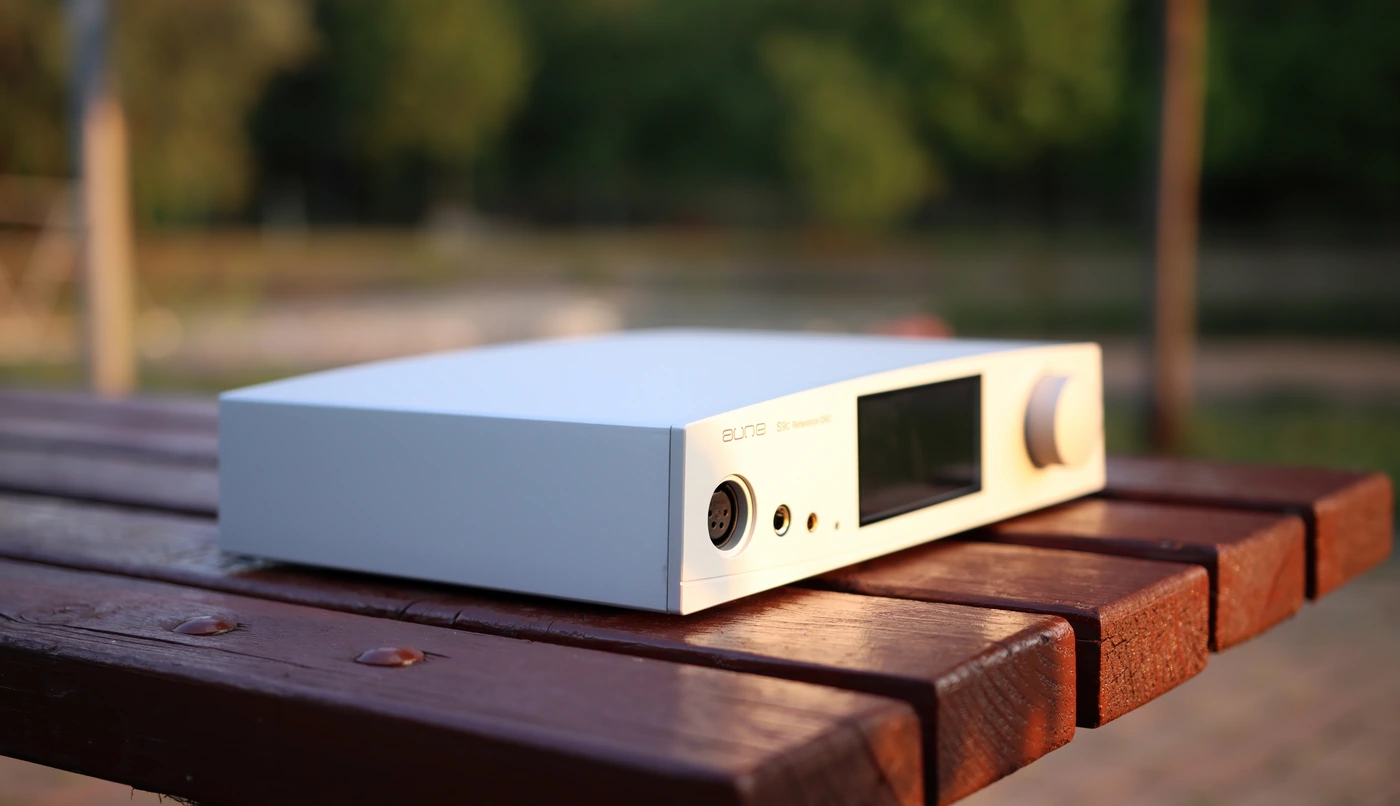 Starting with the DAC chip inside, we have a Dual DAC configuration, running Two ESS ES9068AS DACs in Clock Sync Mode. There are 1080 components in total inside of the Aune S9C, and we have a capacitor array with 23900uF Capacitance, and up to 5000mW of power for the headphone amplifier, with Twin JFET per channel. Speaking of which, we now have three headphones outputs, to cover the needs of everyone, and S9C ships with a 4.4mm Balanced Connector, a 6.3mm Single Ended connector, and an XLR Balanced connector. Given the huge power output, it can easily drive Audeze LCD-5, HIFIMAN HE1000 V2 Stealth, and most other headphones on the market. The headphone output power is very different between the balanced and the Single Ended output, and you will totally notice this if you plug in some headphones without a balanced cable.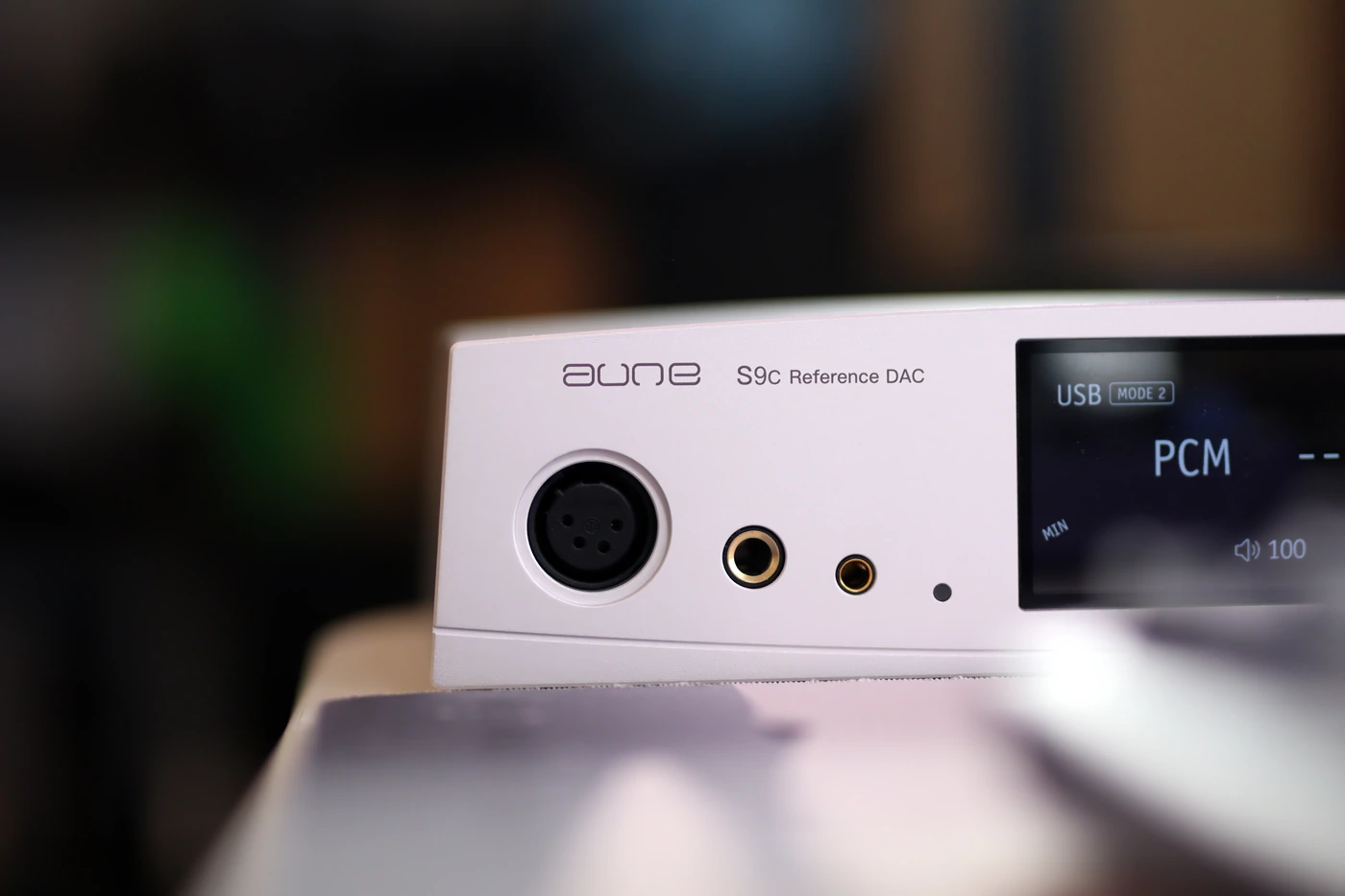 We also have a neat display at front which can show the current output, volume, data rate, and which reminds you that S9C is currently turned on. Speaking of the data rate, we have support for all the highest data rates available, including DSD up to DSD512, MQA up to 16X, and High Resolution PCM up to 768kHz / 32 Bit. There is support for LDAC Bluetooth too, and aptX HD too. Although the sound from the Bluetooth input is slightly below the sound when using it via USB, it is very close and totally a worthy addition to the DAC / AMP.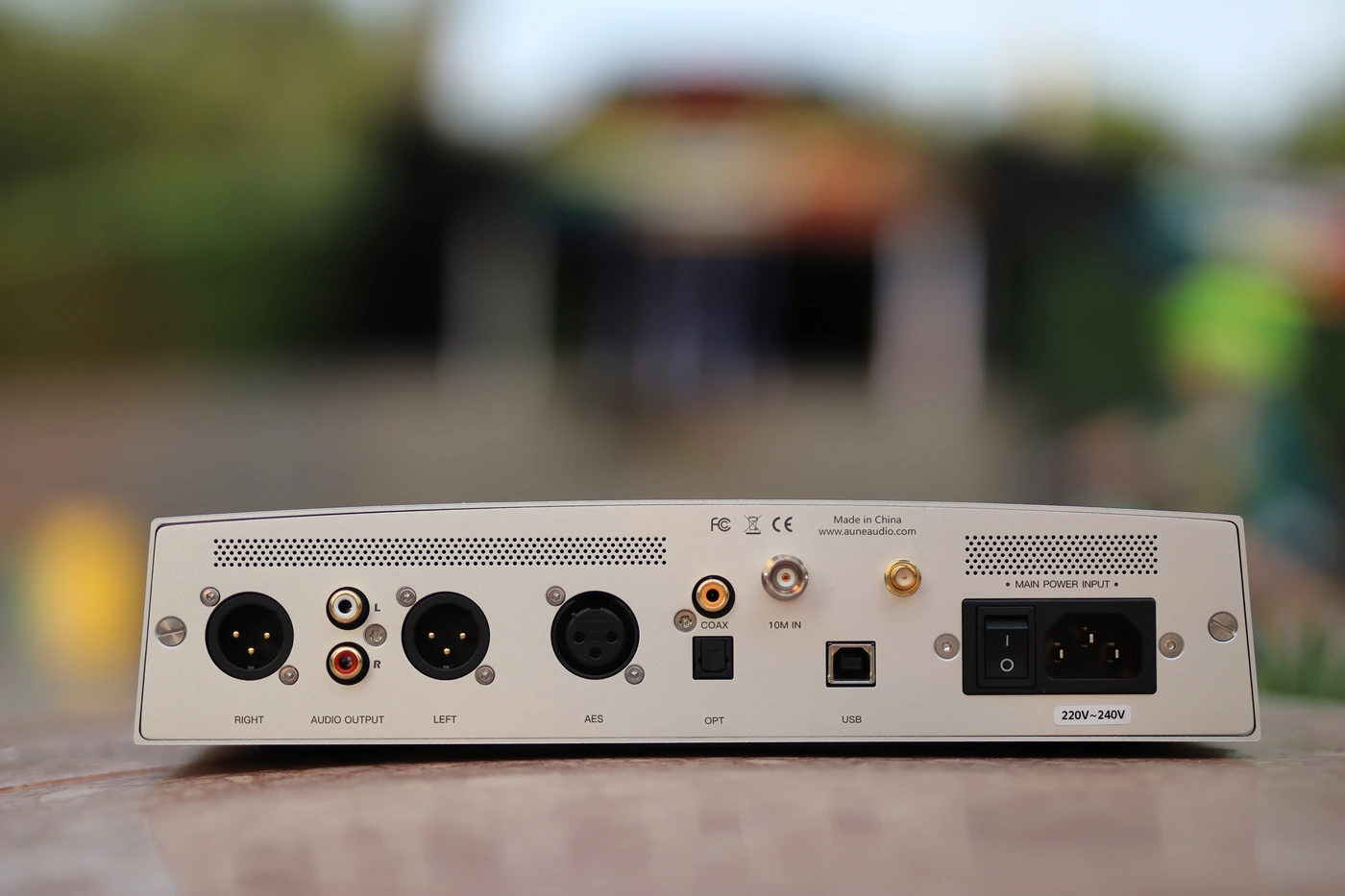 At the back of the DAC / AMP we have the inputs, and we have USB, Coaxial and Optical inputs. There is an Antenna port, and we have a power input, since the unit has an internal power transformer, with 50W Low-Ripple Toroidal power. I noticed that the unit can run a bit warm, even when there is no music playing, but it does not turn hot. For a DAC this can be a bit unusual, so I would recommend not keeping it above amplifiers or other hot running devices, to make sure it has the longest and best life possible.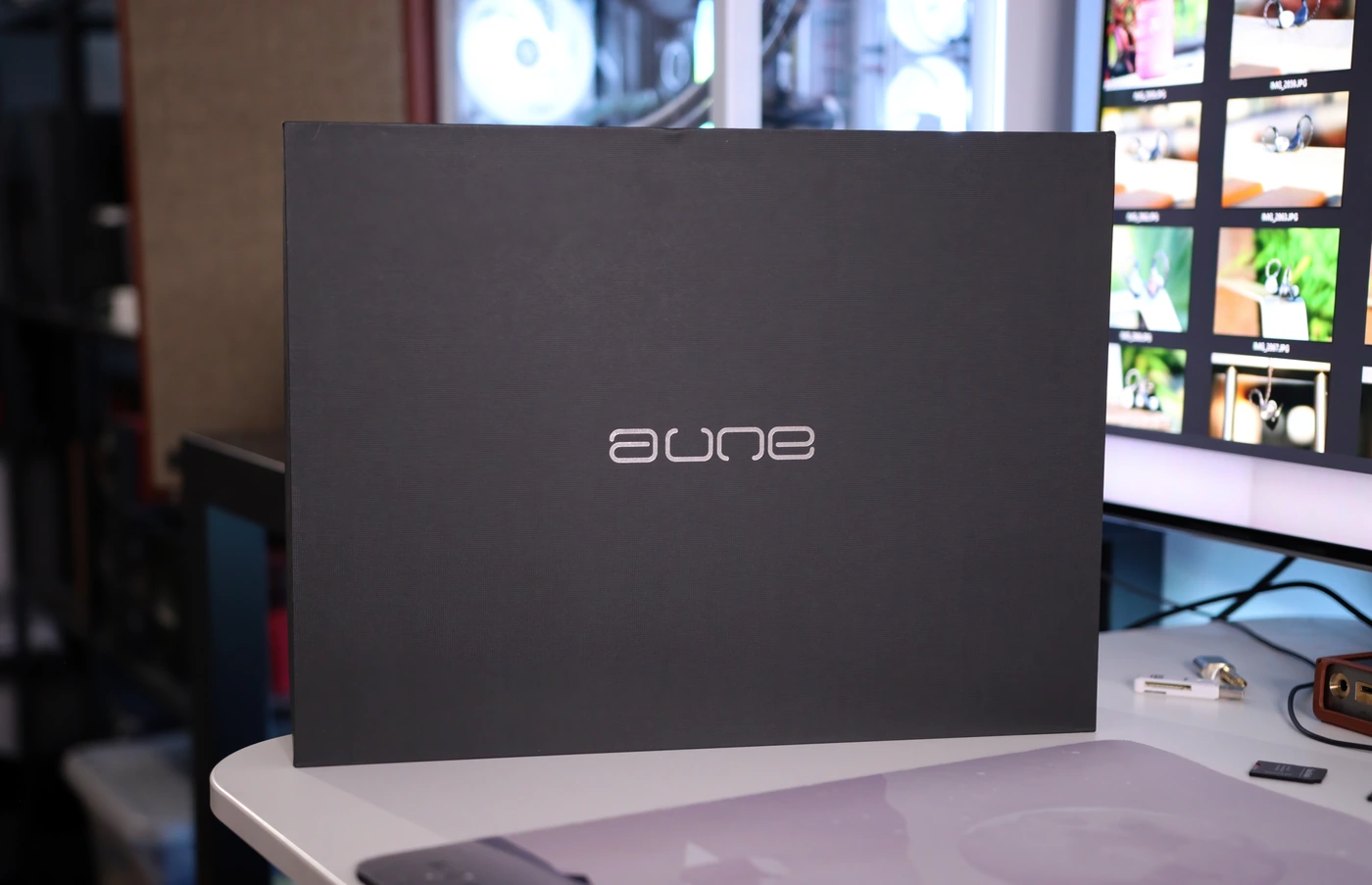 The volume wheel at the front can be used by pressing it to select the input and cycle through them, but you will need the included remote to select the output and the filter. There are two filters that have a slightly different signature, but it is not a huge change. Mode2 has a wider soundstage that I reckon most music lovers will love to bits. If you're a measurement buff, the line out noise floor is as low as 2.04 uV, THD+N is 0.00022%, and the headphone output has a noise floor as low as 7.71uV and a THD+N of 0.00058%. This puts Aune S9C pro at the top of the list when it comes to the technical performance of a DAC / Headphone AMP. The remote works only if pointed about at the sensor which is on the right to the headphone outputs, and in between the 4.4mm output and the display.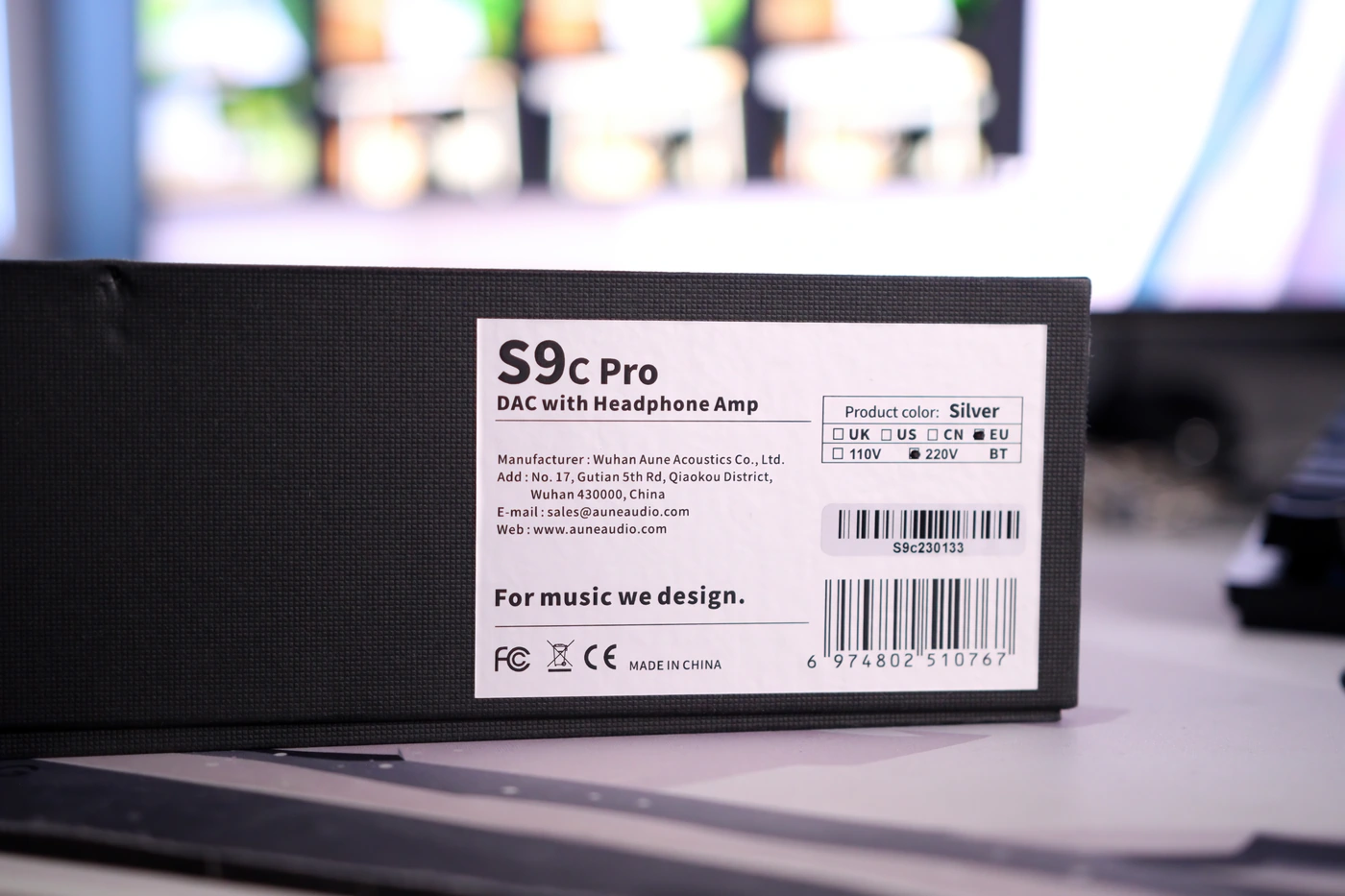 You can use Aune S9C for both driving headphones, but also speakers, as it has both the three mentioned headphone outputs, but also two line outs, one in unbalanced RCA format, and one in XLR Balanced format. The RCA output has a maximum voltage of 2.2 Volts, while the XLR Line Out has a power output of 4.99 Vrms. The headphone output has an output impedance of 1 OHM, which is very low for a high-end desktop DAC, but will show minor hissing with ultra sensitive IEMs that have an impedance of 16 OHMs or less.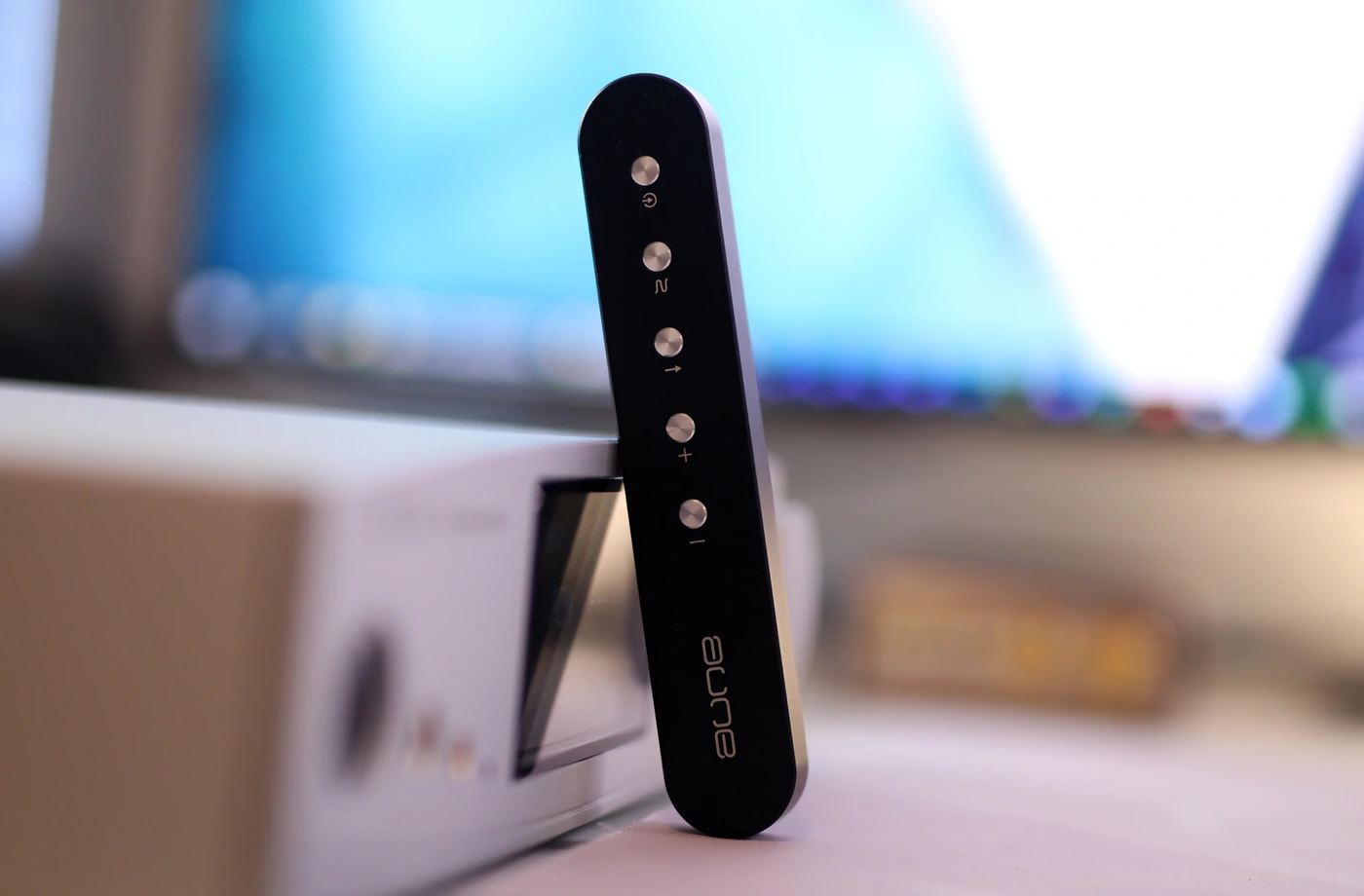 To add some topping on the cake, the S9C PRO uses an onboard ISS differential isolation transmission technology, where the IIS signals from the USB input, and the ISS signals from the coaxial / AES / Optical inputs are converted and reshaped by the PLL core and the signal are transmitted and received by the symmetrical circuit chips. The transmission is literally free from interference, pure and clean. All in all, the DAC is super pleasing to use and I have not noticed any inherent issues with it, it does not inherit any kind of noise from the USB cable, it is always super clean, with no problems, it does not need a driver to work, and it has superb performance all across its inputs and outputs. It has the quietest input from all the DACs in the price range I've heard, and most of them exhibit a bit more digital noise or noise of some sort, while Aune S9C is super silent. 
Sound Quality
When it comes to pairing Aune S9C with headphones and IEMs, I tried it with absolutely everything, including Audeze LCD-5, HIFIMAN HE1000 Stealth, Meze 109 PRO, Sennheiser HD660S, Verum One MK2, iBasso SR3, Erzetich Thalia, Austrian Audio HI-X60. It can drive all of those headphones with ease, and has outstanding control, detail and refinement with every single one of them. I also tried pairing it with IEMs or In-Ear Monitors, including iBasso IT05, Unique Melody Maven PRO, Dita Perpetua, HIFIMAN Svanar, Letshuoer DZ4, and Meze Rai Penta. With most of them, it is dead silent, although there is a very faint silent hissing audible at times with IEMs, but it disappears as soon as you play some music, and is not noticeable. It also has more than enough control for IEMs, even over the balanced headphone output, where it is easily able to deliver both loud volume around 20-30 volume, and quiet listening between 1 and 15 in volume. Since the volume goes from 1 to 100, it is more than capable of offering something for everyone. Since the volume controller is digital, there is no channel imbalance even at volume 1 out of 100. With headphones, you wouldn't believe how fierce it is when it nears the maximum, yet how controlled and still detailed and distortion free it can be. The sound of S9C PRO when it is used as a DAC for a large speaker system is similar to that of its headphone amplifier, which indicates that it has a really clean and uncolored headphone amplifier integrated inside, and that Aune can deliver the full performance of the DAC to the headphone output without adding any distortions. I have tested its dac performance by using it as a DAC for a Cyrus One Cast Amplifier driving a pair of KLH Model Five Speakers, and a Burson Funk Amplifier driving a pair of NHT C3 Bookshelf Speakers.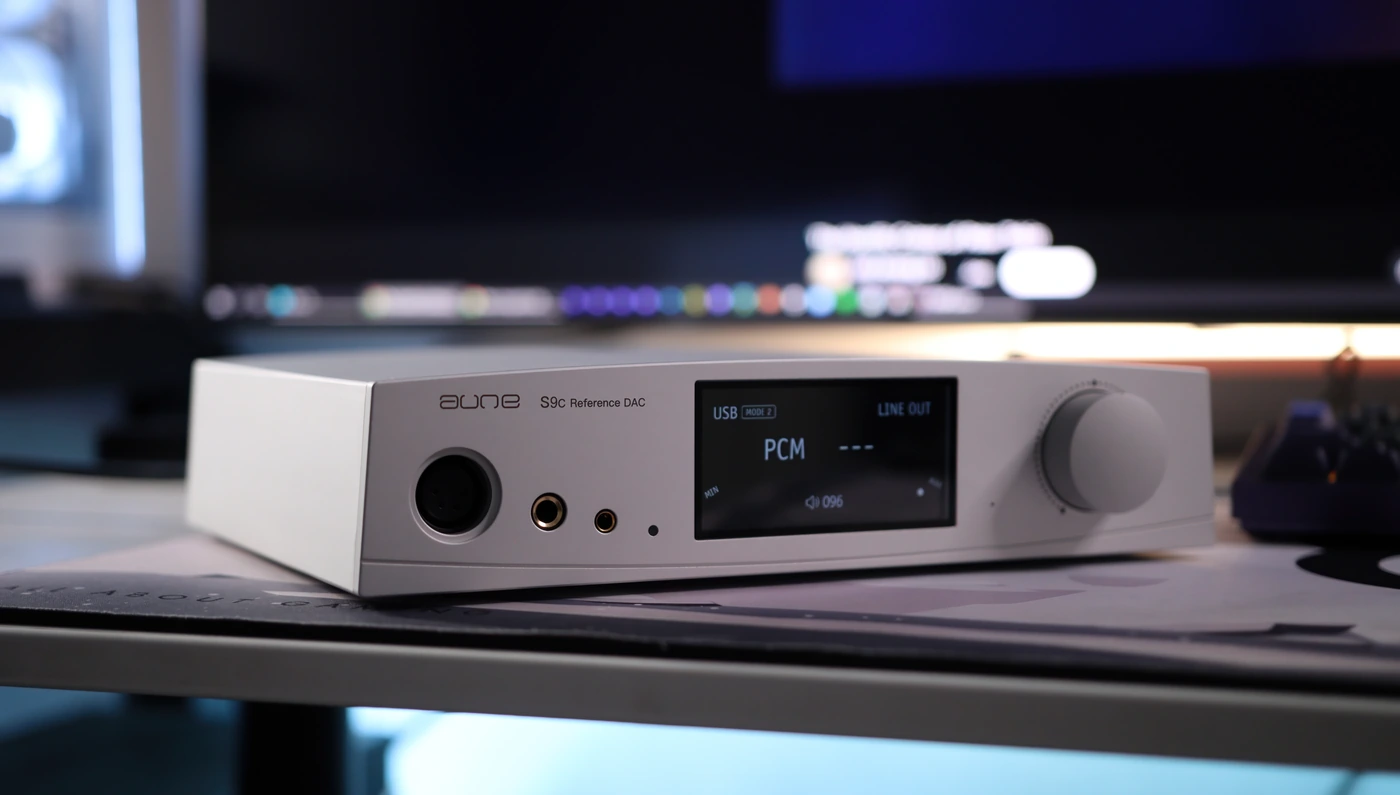 The overall resolution of Aune S9C PRO is super detailed, super clean, slightly analytical, extremely wide and holographic. This seems to be becoming a house sound for Aune Flagship DAC / Headphone Amplifiers, and they all have been following this kind of tuning, where Aune gives them a really holographic, yet neutral presentation with superb imaging and instrument separation, placing high emphasis on giving listeners the widest soundstage possible, expanding sound in every direction possible, but also now having outstanding depth and control. Back when I reviewed the Aune S6 PRO, I had two main complaints, and those were the driving power being a bit low, and the sound being a bit too bright with not enough bass. Things have now changed and S9C PRO fixes everything that I wasn't such a big fan of, and even over delivers. It is always refreshing to see a company listening to their fans and customers, as well as reviewers, and Aune produced here a DAC / Headphone AMP that we can all be proud of.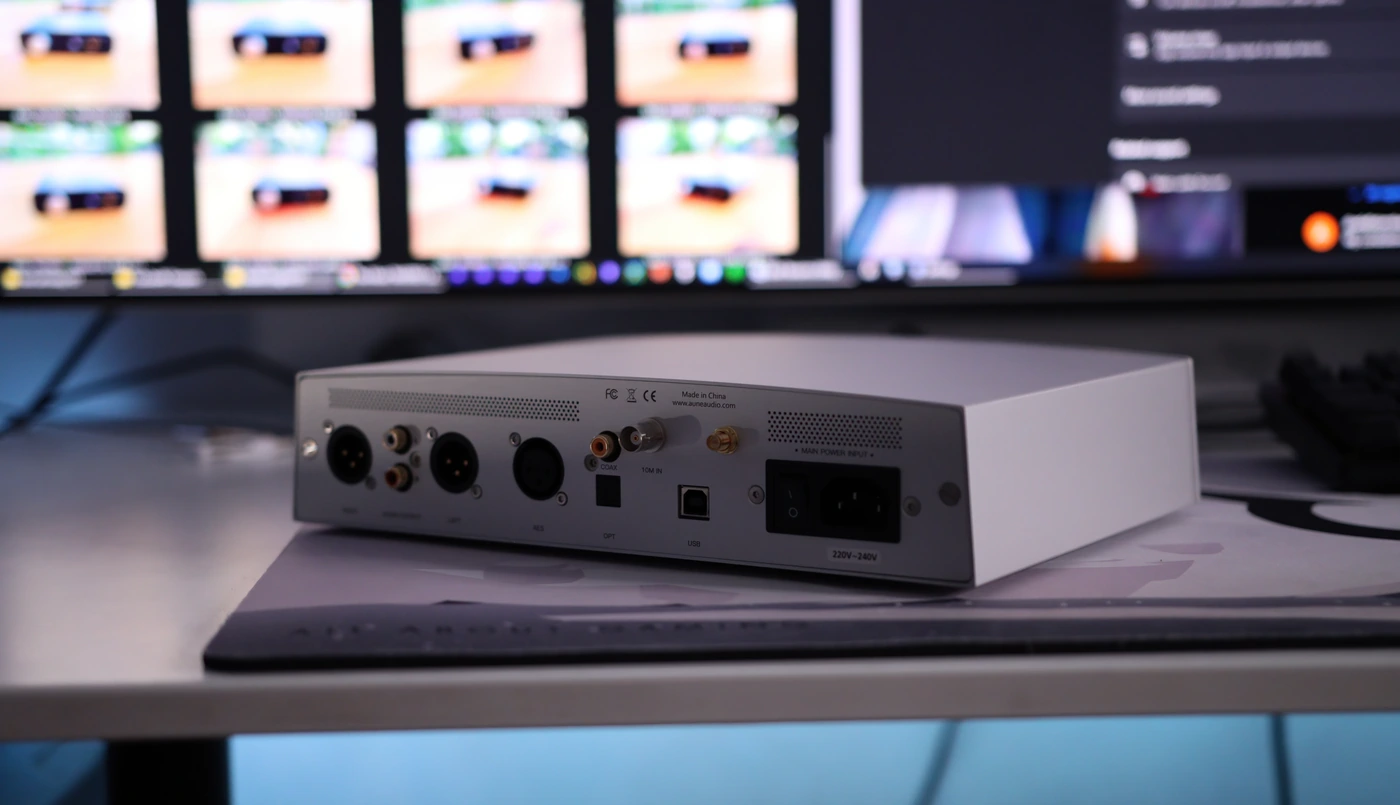 Starting with the bass, I think this is where they made the largest improvements over the S6 PRO, and it delivers a performance worthy of its asking price. We have a really deep and impactful bass presentation with a nuanced and detailed bass. The bass can totally keep up with all music, regardless of how fast it is, and it is more than enough in quantity for all music styles. One trick here is that S9C PRO is a pretty neutral sounding DAC / Headphone Amplifier, so it won't color the sound with extra bass or extra warmth, but it does highlight all the details that were originally recorded in the song, it shows the bass where it was there, and it can deliver an impactful blow to the listener of the headphones are warm sounding or bassy.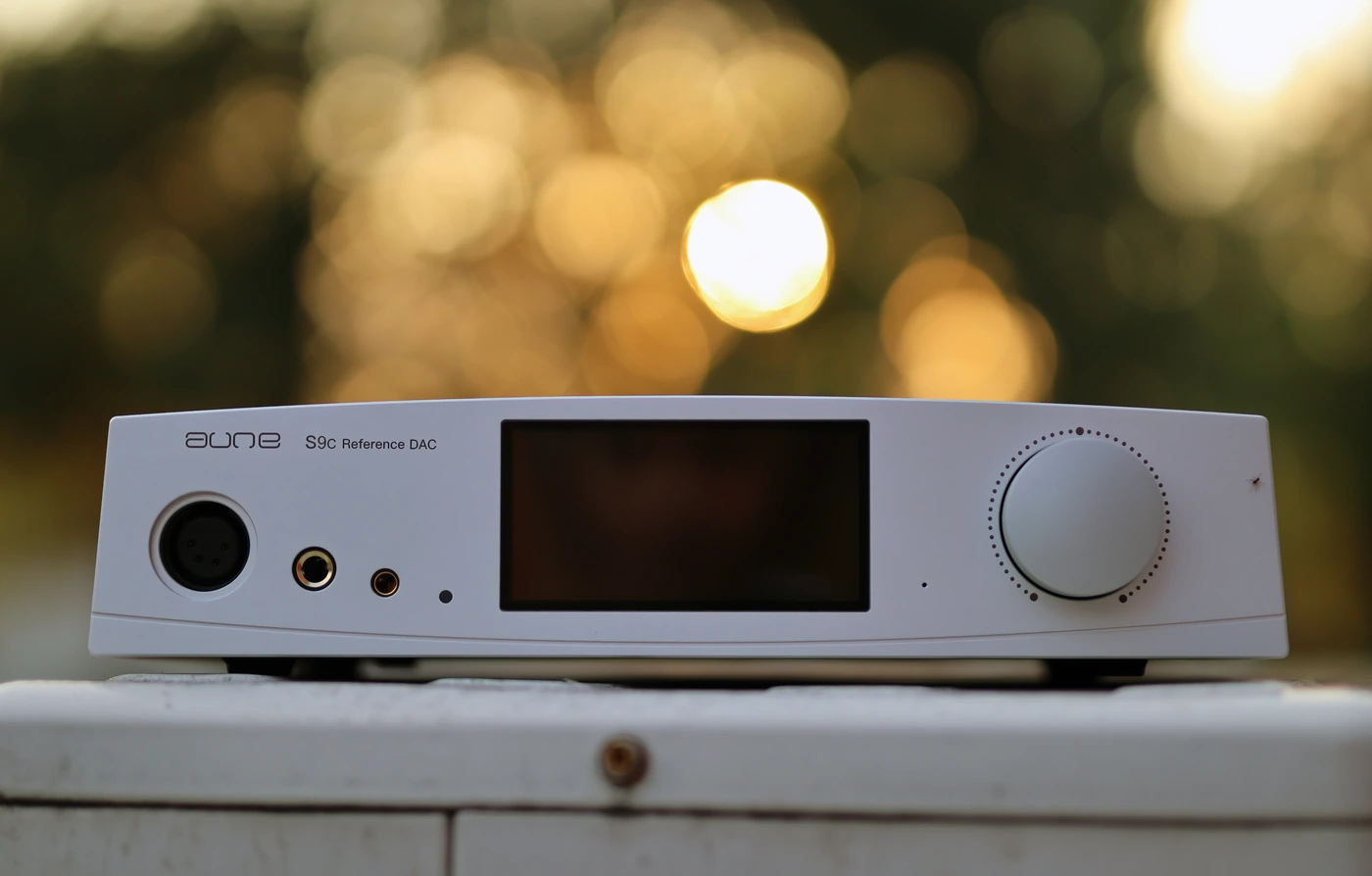 The midrange is where things start to get really interesting, because S9C is the kind of DAC / Headphone AMP that has a specific tuning, it is made to sound wide, holographic and have the best imaging you can imagine. To describe it, regardless of what your current system looks like, it will instantly improve the imaging and soundstage, it can instantly make music go from normal and kinda bland to super dynamic, super expanded, and well defined. Increasing the perceived distance between instruments, and placing everything more accurately around the listener also increases the overall definition and detail you get from every instrument, making for an instantly addictive listening experience. The upper midrange in particular has a much crisper presentation, better detail and better resolution than basically all of the competition around the price point, it is incredibly sharp and detailed. In fact, even comparing S9C PRO with ultra high-end sources, it can still sound crispr and offer a better outline of the music that is being played than those sources. Despite the midrange sounding incredibly wide and holographic, with an out-of-this-world separation, it can also bring voices somewhat closer to the listener, and S9C PRO has this effect on guitar solos too, making all the important parts in rock and metal stand out much better and have a more vivid presentation, with more color.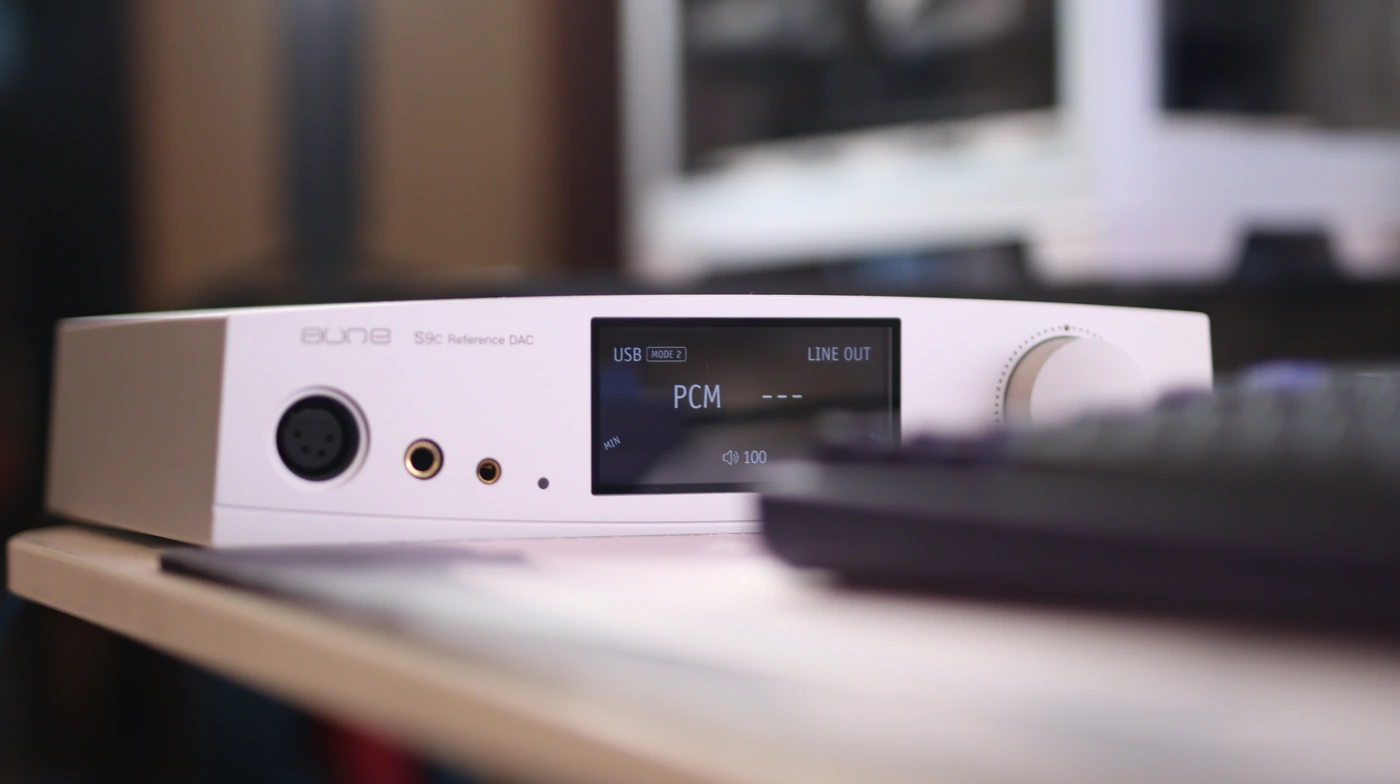 At the trebly end of things, we have an outstanding presentation, with the best clarity, detail and resolution I've heard in the sub 1000 USD price range. Aune has always been a master of creating a bright, clean and detailed sound, but they really outdid themselves with S9C PRO, which has likely the most detailed, most bright yet smoothest textured treble that I've heard, it really is a pleasure to hear every single time, and even going straight from an iBasso DX320 MAX TI to Aune S9c PRO, Aune can have a full Wow factor, and impress with how airy, yet how smoothly textured the treble is. It does have a brighter presentation of the treble, but it is the smoother, non-harsh type that you can enjoy for hours in a row. 
Comparisons
Aune S9C PRO vs HIFIMAN EF400 R2R DAC (699 USD vs 599 USD) – This has to be the comparison most folks are most curious about from the start, and in terms of design, S9C PRO is sleeker, more rounded and feels a bit more coherent in terms of design language. The overall maximum power output is actually comparable in real life practice, and both can easily drive most headphones I have, both have a very low noise floor, although EF400 seems to have a higher digital noise floor for the line out, while S9C PRO is more silent and doesn't have problems with the noise at all. The sound is different, and despite the fact that EF400 is R2R, it does not sound forcefully soft or rolled off or blunted, while S9C PRO sounds quite powerful, direct, vivid and dynamic. The soundstage of S9C PRO is wider, it has a more holographic presentation, a brighter treble and a colder tuning, while EF400 has a warmer midrange, more thickness in the mids and the bass. Both have exceptional bass extension, but S9C seems to present sub lows with a bit more power and strength, while EF400 puts more force in the midrange. Both make excellent purchases, and I like both, EF400 would be ideal if you want a more warm and natural presentation, while S9C PRO is better if you want the widest sound possible, with a slightly colder tuning.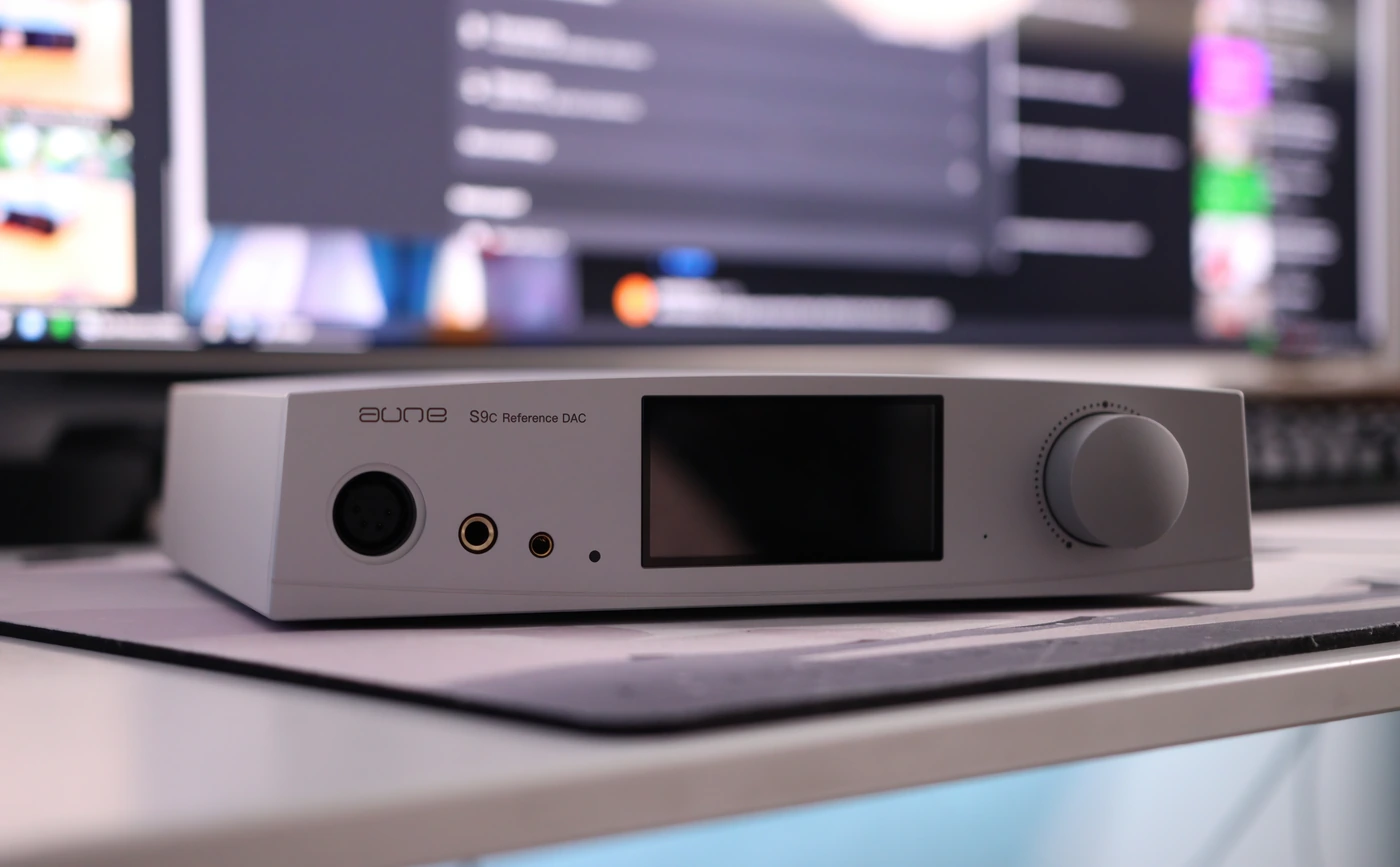 Aune S9C PRO vs Singxer SDA-2 (699 USD vs 700 USD) – Starting with the shape and the build quality, both are made super well and nice, but it feels like S9C PRO is a much more aesthetic device, with an arched top, and the silver color really makes it feel like a true high-end Flagship device. The sound is actually better as it is coming from S9C PRO, with a much higher power output than SDA-2, better control, lower noise floor and a more vivid / detailed sound. The overall signature is brighter, colder, much wider and more holographic as presented by S9C PRO. SDA-2 tends to sound warmer, thicker and have lower treble extension, and also a less edgy sound. I really appreciate the more vivid and dynamic presentation of S9C PRO, and the Bluetooth LDAC and aptX HD input is a bonus on top too. 
Aune S9C PRO vs Soundaware A1X PRO (699 USD vs 699 USD) – A1X has a slightly more versatile design, being a streamer too, besides being a DAC / Headphone Amplifier, but at the same time, it has some pretty serious shortcomings, including the volume adjustments that needs to be done with one increment per key press. A1X PRO has a headphone output, but it has a much lower power output, while S9C pro has a higher headphone output power, lower noise floor, lower hissing and much better clarity all across the sound. In fact, comparing them, A1X PRO sounds really warm, thick and somewhat smooth and somewhat rolled off in the treble, while S9C comes through as much more dynamic, cleaner, more vivid, more punchy and much more holographic. All in all, S9C PRO is a much better source both when acting as a DAC and as a headphone amplifier. One thing you may not be able to do with S9C PRO is read USB sticks or microSD cards directly, but it does have LDAC and aptX HD inputs, so with a smartphone you should be able to open up all the usage scenarios you would typically have with your streamer and turn S9C PRO into a good solution for any stereo or headphone system. 
Aune S9C PRO vs Aune S6 PRO (699 USD vs 550 USD) – We can see how one company can evolve from having made a pretty good DAC / AMP to now having designed a true killer flagship. I always felt like the S6 PRO has a slightly limited power output, well S9C PRO has more than enough power output for basically any task, it is able to drive all the headphones under the sun. The price has increased by 150 USD, but the power is now much better. The background noise with IEMs seems to be quieter with S9C PRO, the output impedance is set at 1 OHM, so there can be a very minor hissing with sensitive IEMs, but S6 PRO had a bit too, and in every direction possible S9C PRO is a full upgrade and worthy upgrading to if you're already rocking S6 PRO. The most important aspect I would say is the sonic performance, S9C PRO has a wider soundstage, better detail, better resolution, the sound now has a much much better dynamic range, and a much improved clarity. I would classify it as a whole new device, and while S6 PRO managed to earn a place in the Hall Of Fame back when it was released, S9C PRO will replace it entirely and it highlights much better the ability of Aune and how vivid and punchy the sound they make can be. 
Value and Conclusion
As we've been reviewing quite a few high-end and even TOTL DAC / Headphone Amplifiers, it is interesting to see a company making one that is priced really well for the performance, and it feels refreshing saying this about a product that costs below 1000 USD. Aune S9C PRO has the highest price / performance ratio from all the recent DAC / AMPs I reviewed, and it simply blows the competition out of the water when it comes to cost / performance and package quality. Not only this, but it comes with a remote, something most of the competition does not have, and the technical sonic performance is simply insane.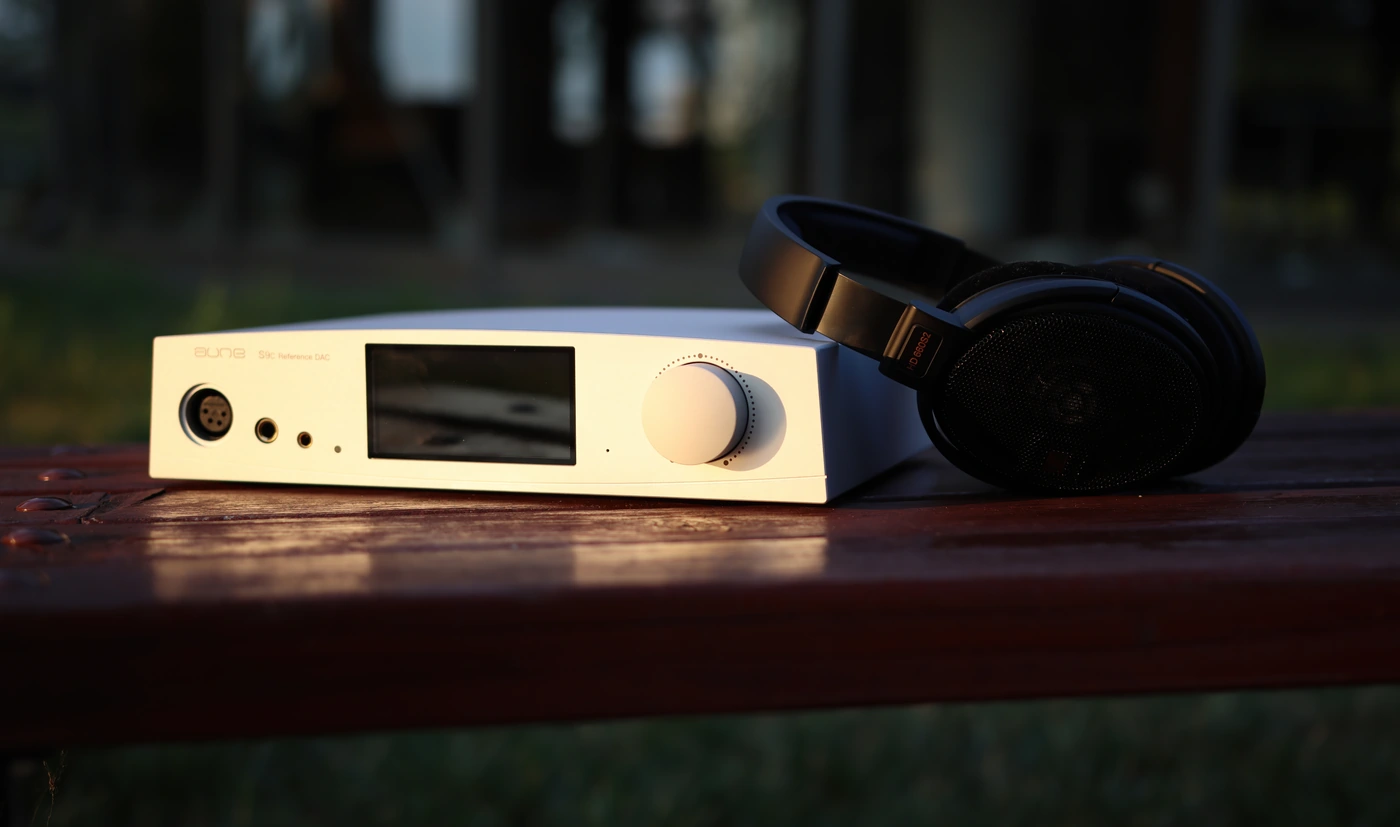 Before the end of today's review, I want to add Aune S9C to Audiophile-Heaven Hall Of Fame as one of the best DAC / Headphone AMPs I have ever heard, with superb dynamics, control and impact, outstanding soundstage, and a super holographic presentation, plus a really deep and nuanced bass.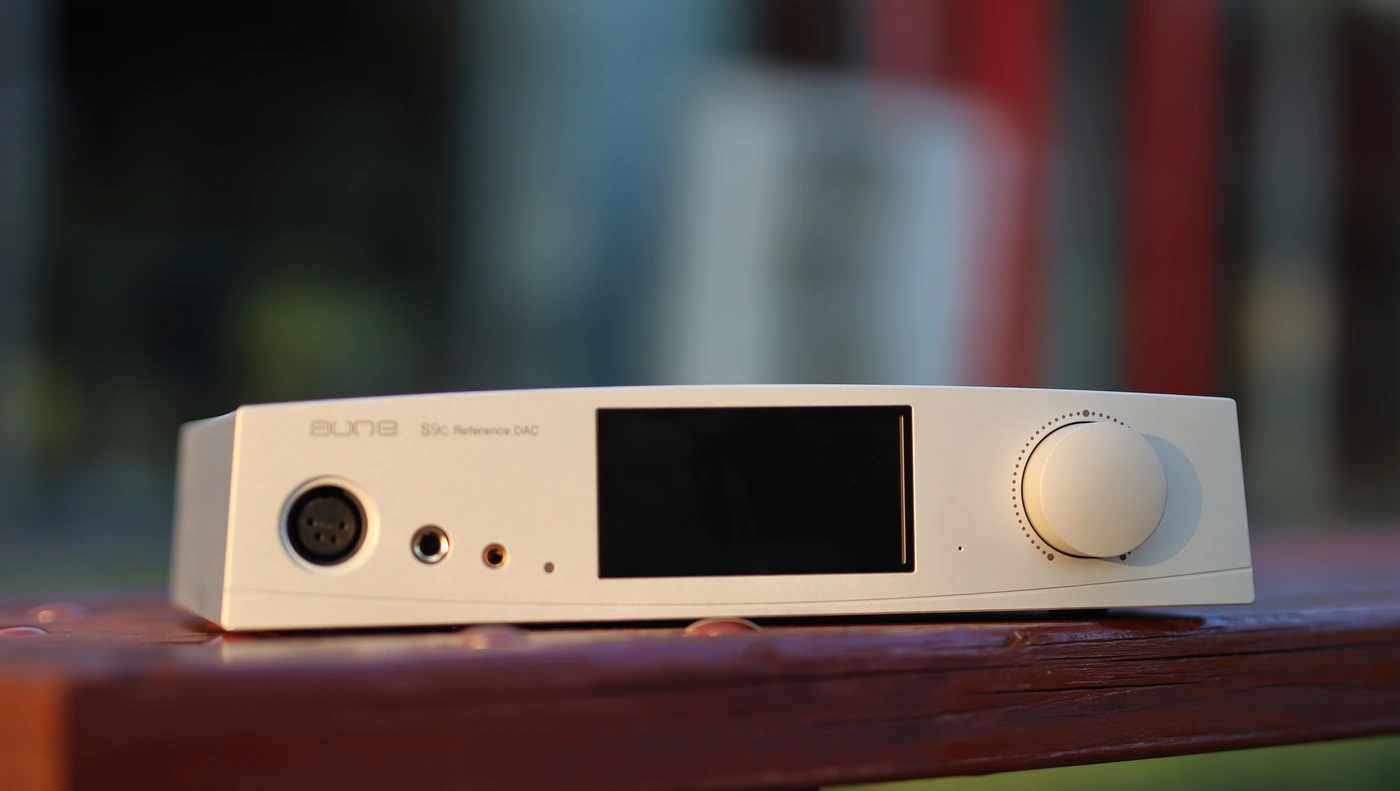 At the end of the day, if you're looking for a simply superb DAC / Headphone AMP with outstanding resolution, impactful low end, and a bright, crispy treble that brings detail and resolution in music forward, which shines a revealing light on all your favorite tracks, but paints them musically and smoothly, with a superb imaging and stereo separation, Aune S9C PRO Reference is simply outstanding and one you really shouldn't miss hearing and considering for a long-term music source partner. 
Product Link
You can grab one from www.amazon.com here: https://amzn.to/46KNDOS
Official page on aune's website: http://en.auneaudio.com/index.php?s=/Home/Article/detail/id/569.html
Find your local distributors here: http://en.auneaudio.com/index.php?s=/Home/Article/lists/category/68.html
Aune's official online store: https://mall.auneaudio.com/S9c-Pro-DAC-with-Headphone-Amplifier-p22193450.html
---
--- Please remember to stay safe, and always have fun while listening to music!---
 - If you have a dime to spare, please donate, and help us! It would make the day brighter for me and my wife- 
---
Full Playlist used for this review
We listened to more songs than those named in this playlist, but those are excellent for identifying a sonic signature.  I recommend trying most of the songs from this playlist, especially if you're searching for new music! The playlists are different for Spotify, Tidal and Youtube, and based on the songs I enjoy and are available on each!
https://www.youtube.com/playlist?list=PL_cjBXGmwSHSdGcwuc_bKbBDGHL4QvYBu
https://open.spotify.com/playlist/5J3oloz8Riy9LxEGenOjQ0?si=979ba4f082414be7
https://tidal.com/browse/playlist/330fd544-8e5b-4839-bd35-676b2edbb3d5
--- Contact Us ---





---