iBasso DX320 MAX TI DAP Music Player – Ultimate Portable Flagship Dream
iBasso DX320 MAX TI is a $ 3499 USD Music Player or DAP designed to be the ultimate companion to your audio journey. It features Android 11, Class A Amplification, 6GB or RAM, 4 ROHM DACs (BD34301EKV) and both a Single Ended and a Balanced headphone output. It is also made to be portable, so it will be a travel companion, being comparable to all of the other high-end flagships, including iBasso DX220MAX, Astell & Kern A&Ultima SP2000T, Astell&Kern ACRO CA1000T, iBasso DX320, Lotto PAW 6000, and Dethonray Prelude DTR1+. Since we're going to have a lot of fun, we'll also be doing pairings, with iBasso SR3, Erzetich Thalia, Ambient Acoustics MAD16, Unique Melody Maven PRO.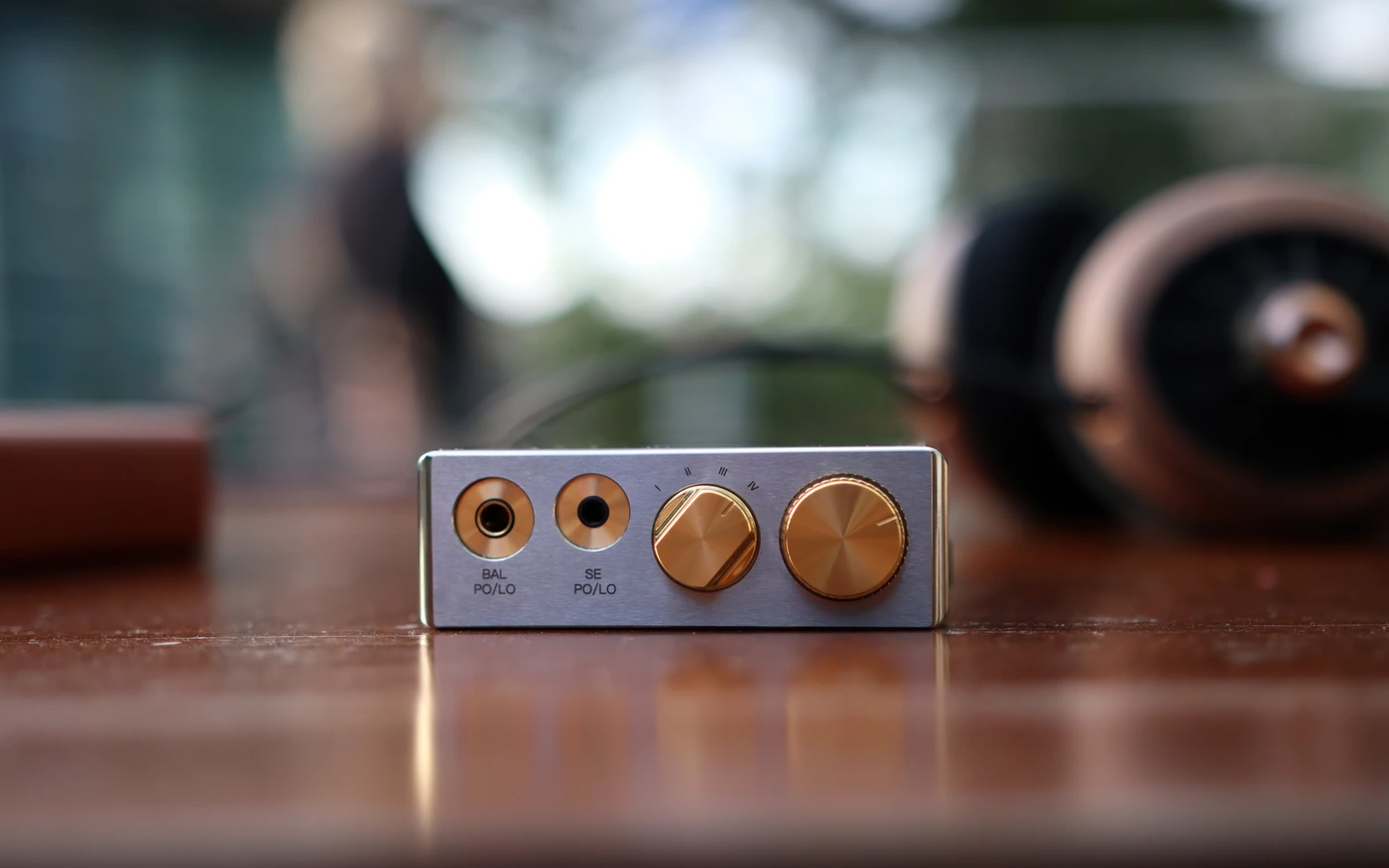 Introduction
Usually, when you think of huge DAPs, you think of music players like Astell Kern ACRO CA1000T, which isn't exactly portable anymore. I tried using it portably, but it is really made for desktop, so iBasso decided to make something that is large, but which you can actually take out with you, thus resulting in the chunky DX320 MAX TI. iBasso has one of the best design teams, and they operate in all fields of audio, creating both some of the best DAPs on the market, but also IEMs, Headphones and DAC/AMPs made for smartphones, so whenever you need something to power your audio journey, iBasso has something for you. I think the best place to purchase iBasso products from is Amazon, they have good return windows, and they have good support, but for limited edition products such as DX320 MAX TI, you will likely have to get in touch with iBasso directly, and they'll likely offer a direct service, worthy of a product so mighty. As it was the case with iBasso DX220 MAX, which was built on the DX220, the new DX320 MAX TI is built based on the DX320, replacing the modular AMP design with a much stronger amplifier, DAC, and other technical aspects, making this the strongest transportable DAP released on the market to date. The whole run is limited to 888 units, so you should hurry if you'd like to grab one. 
It should be noted that I have absolutely no affiliation with iBasso. I'd like to thank iBasso for providing the sample for this review. This review reflects my personal experience with the iBasso DX320 MAX TI Music Player. Every opinion expressed is mine and I stand by it. The purpose of this review is to help those interested in the iBasso DX320 MAX TI DAP find their next music companion. 
Product Link
You can grab one directly from iBasso here: https://ibasso.com/product/dx320max
You can grab one from www.amazon.com here: https://amzn.to/3NJHGt4
If you're in the UK, you can grab one from www.amazon.co.uk here: https://amzn.to/3rjbzZl
And if you're from Europe, you can grab one from www.amazon.de here: https://amzn.to/3NDV01J
Build Quality/Aesthetics
I usually joke around saying that I can take a DAP out regardless of how chunky it is, but DX320 MAX TI really is quite chunky. It is both tall, wide, but also super thick, having a beautiful, bright display at the front. The overall shape and size remind me a lot of the original DX220 MAX, and it follows the same idea, but the inner construction, amplifier part, and volume control are vastly different, so it is a new product, even on the outside. We have buttons for playback control on the right side of DX320 MAX, with forward, backward, and play / pause. We also have a button for turning the screen on or off, but you can also set a double tap to start up the screen, and to close it too. Since you can reverse which button is the forward and which is the backward, there's no engraving on the DAP itself, with the stripe that shows them being a sticker that you will likely remove when actually using it.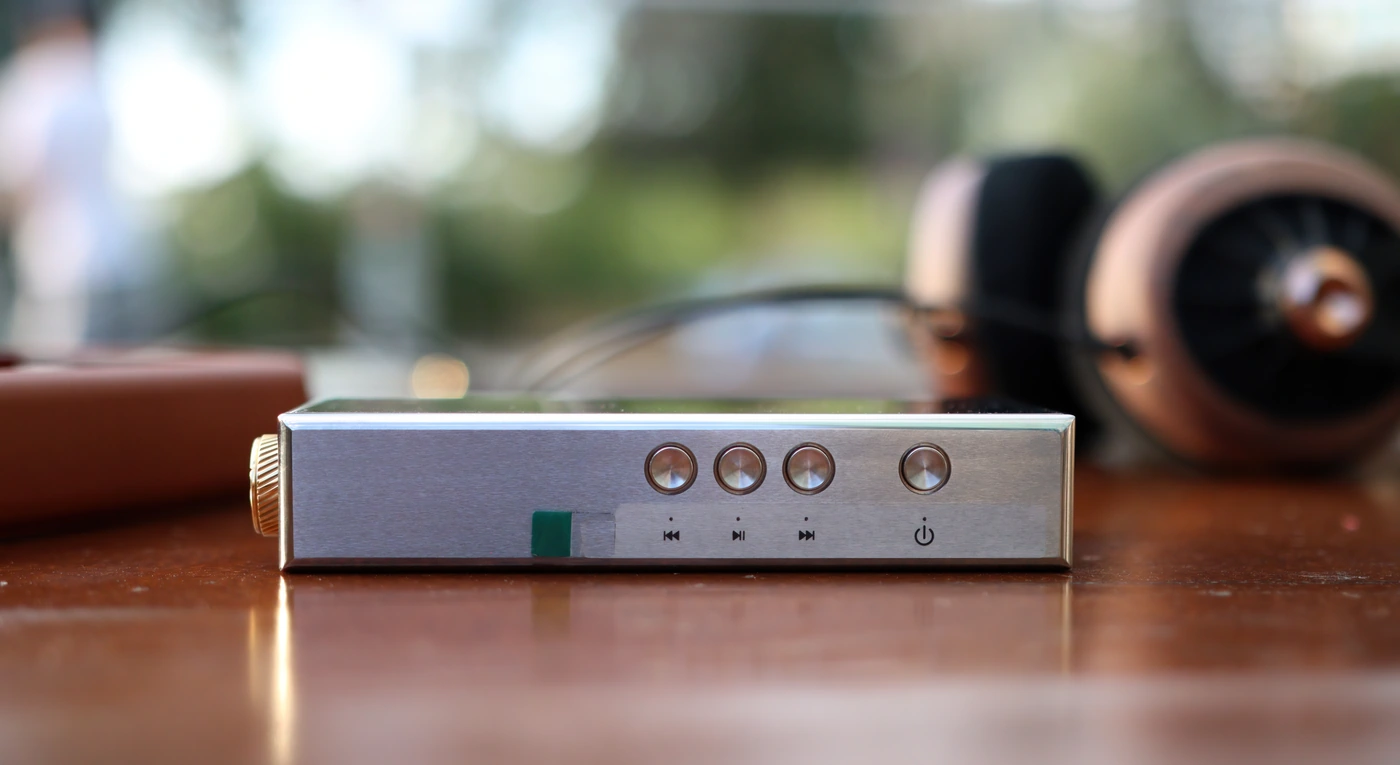 Starting with the DAC, we have 4 DAC chips running in parallel, and all of them are the mighty ROHM BD34301EKV Chips, which have taken the world by surprise when iBasso released the DX320. There is bit perfect playback which supports High Resolution files, up to 32 Bit / 768kHz, and DSD up to 512X files. The whole audio part of the DAP is powered by a FPGA – Master part. While this is not the first time we're seeing a quad-DAC array implemented in a DAP, this is the first time any company implements 4 ROHM BD34301EKV chips, which are graded considerably higher than any Cirrus Logic, ESS, or AK chips. They are known for having the best dynamics, and spatial reproduction, compared to AK which is generally regarded as having the smoothest sound, and ESS which are generally regarded as having the most detailed sound, although they are also usually known to be rather bright and sharp in tonality. The final tuning depends on the iBasso team engineering, and it is interesting to see how DX320 MAX TI is implemented compared to the rest of the market.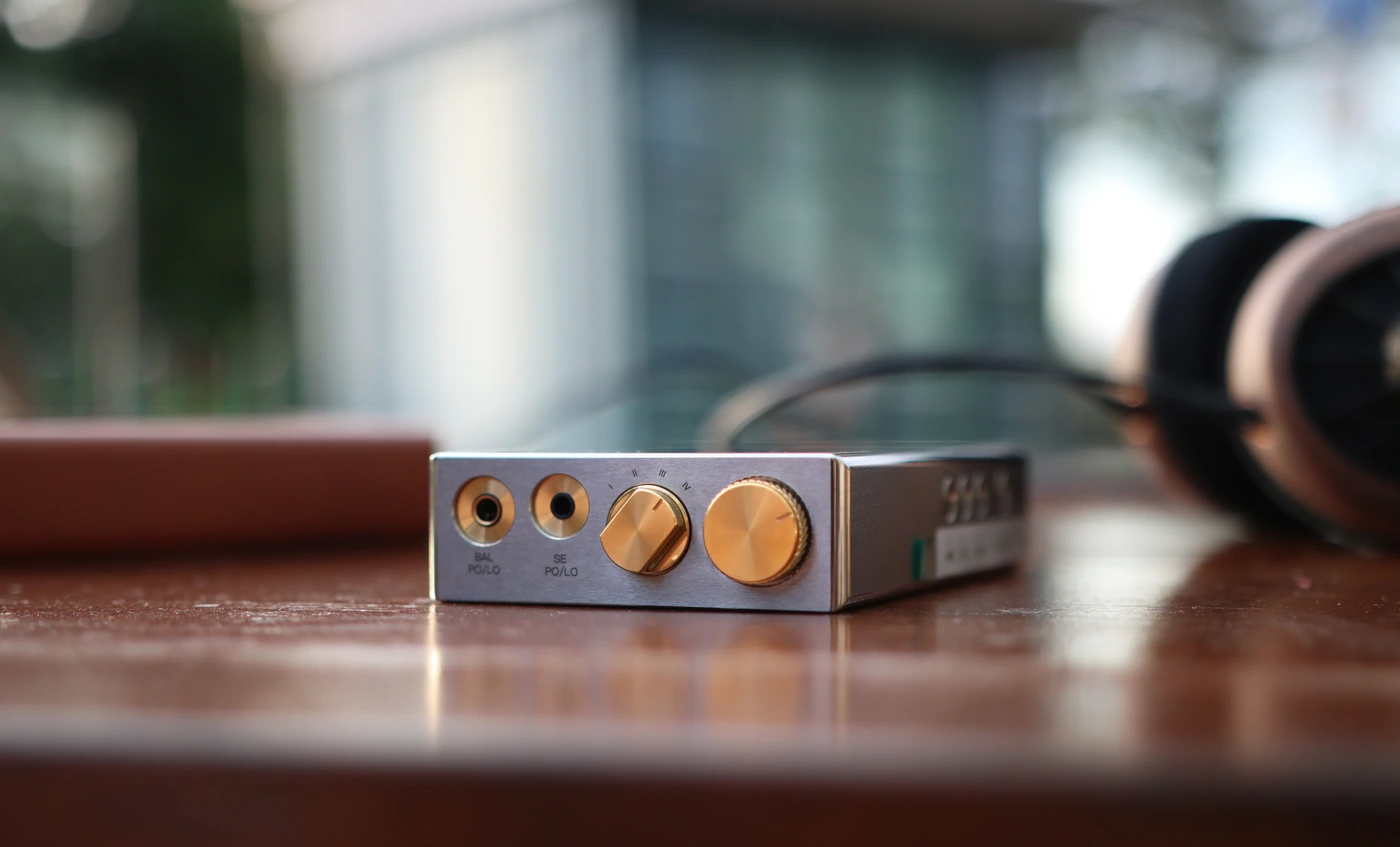 There are two batteries inside of DX320 MAX TI, and this means that it needs to be charged separately for each battery, one of the charger being a 12V DC power charger, for the battery that powers the amplifier, and the other being a type-C USB port that charges the battery powering the OS or operating system. You cannot bypass the internal battery, so this is a DAP in the true sense of the word, relying on the internal battery at all times to work. While it can seem uncomfortable, it also results in a much cleaner sound, since batteries are always the quietest power sources. Since we have USB DAC functions as well as SPDIF, you can easily replace a desktop DAC, and we even have 2.5 Vrms for the Single Ended Output, and 4.5 Vrms for the Balanced output. Seaking of driving power, we have up to 6 Vrms which equates to about 1.2 W for the balanced output, for a 32 OHM impedance load, and up to 9 Vrms for a 300 OHM impedance loads. We also have Wifi, Bluetooth LDAC, local files, microSD support, and support for all your favorite third party apps. 
The volume control is a very interesting upgrade from what we've seen on the previous MAX series of DAPs, and all DAPs on the market actually. iBasso decided to go all in and implemented an analog stepped attenuator with 4 sections for less than +/- 0.1dB of channel tolerance. There are 24 steps for this attenuator. This kind of implementation is usually only seen in high-end desktop setups, and it is known that a stepped attenuator will always result in better dynamic retention and sonic performance at lower volumes compared to all the other designs such as traditional digital volume controllers or relay-based systems. 
The latest firmware has introduced a digital volume control that will help tighten the volume control and offer the volume to go even lower than before, if you're using IEMs, and if you find that Gain I and the first step is still too loud. The whole idea of having that digital volume control is just for this case in particular, as otherwise it is best left at max. This only works for PCM. You should keep in mind that given the design of the volume controller, it is normal for the sound to disappear entirely from each ear between volume steps, and it appears first in the right ear, then in the left ear, turning the volume slider very slowly to the left being the key to achieving the balance. This is the design and when the volume attenuator falls right on the volume spot, the balance is much better than with traditional potentiometers. 
Speaking of that gain, to give you more control over the volume, we also have 4 stages of Gain, from Gain I all the way to Gain IV. Those stages have a 0 dB of gain at level 4, and -15.5 dB at level 1. It was noted in forums that if you push the gain wheel with too much force, it can get disjointed and it will turn considerably more to the left or to the right than it is usual for it, and this has happened to me too, but it takes a lot of force, and it does not break the gain wheel, you can turn it the opposite direction, and it works just fine, and if you turn it the opposite way with enough force, you can put it right back into place. It would be best to not apply too much force on the gain wheel, it turns softly and does not need too much strength to rotate.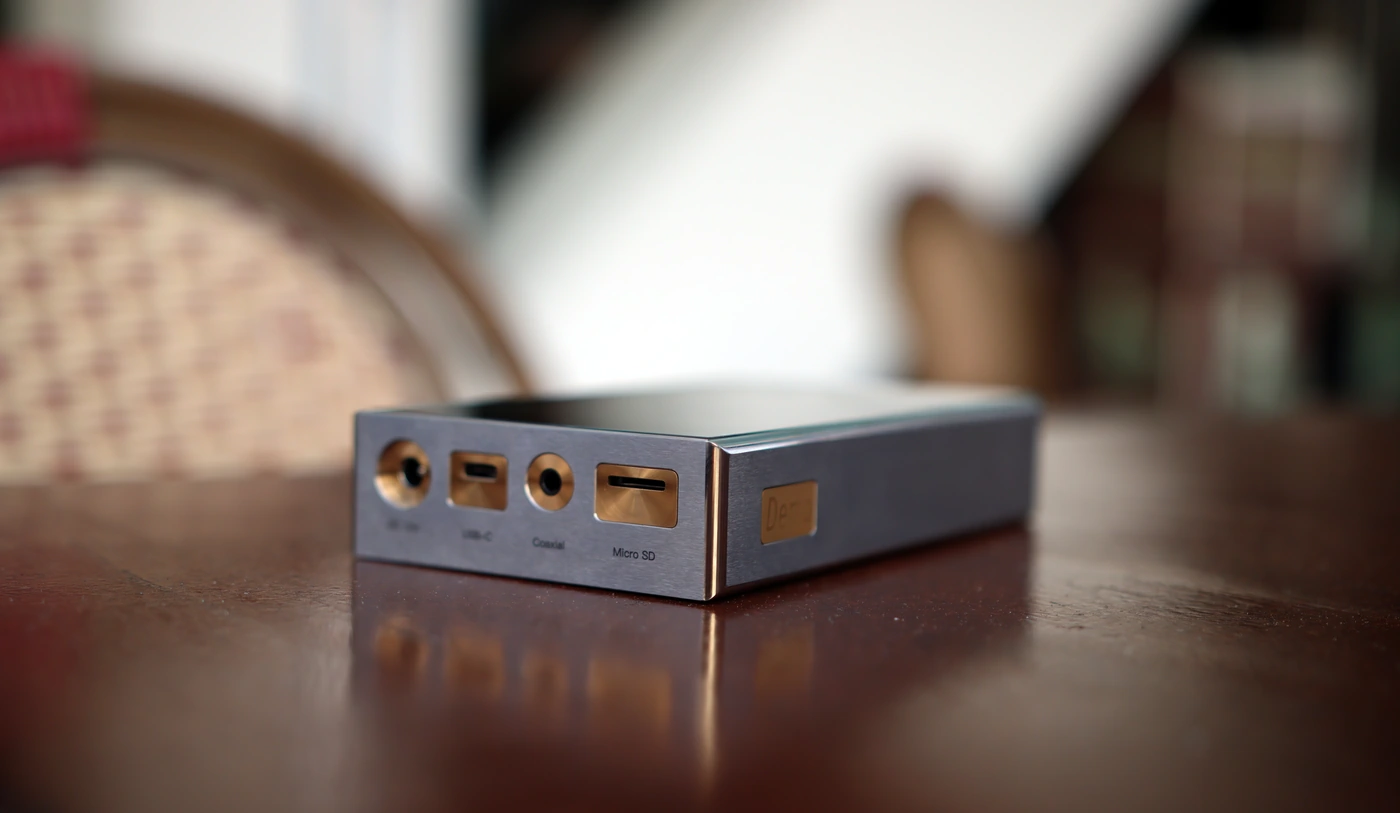 We also have a discrete Super Class A circuit, and while Super is not a descriptor used in amplifier design usually, it is indeed a Class A amplifier, but with many changes from the classic designs. iBasso went all in with the amplification as well and has implemented electrolytic capacitors, along with film capacitors in the DX320 MAX TI. With this design, iBasso has eliminated the switching distortion of transistors, but has that supr powerful Class A amplifier sound, while also reducing heat generation. The outputs work both as single ended and as balanced headphone outputs, but also as line outs. As with most devices that have multiple outputs, it is recommended to not have something plugged in the 3.5mm single ended headphone output and the 4.4mm balanced headphone output at the same time. 
The display of DX320 MAX TI is a 5″ 1080p IPS display with a 60Hz refresh rate. This display has superb visibility, superb maximum brightness, and is visible from any angle, being very smooth in operation. You have to remember that while there are some screen protectors included in the package with DX320 MAX TI, those can affect how sensitive the touch sensor is and it will ultimately affect your performance, so it would be a good idea to try and get a better screen protector from a different source. 
Power / Batteries
This seems to be the norm for iBasso for their flagship DAP series, but with DX320 MAX Ti, we have separate batteries powering the analogic and the digital circuit, to isolate the analogic part from the noise of the digital path. We have a true +/- 8.4V battery pack, with no voltage boosters, to ensure the most silent and highest purity sound output from DX320 MAX TI. The path isolation is achieved by using optocouplers and I2C isolators, and they do a good job.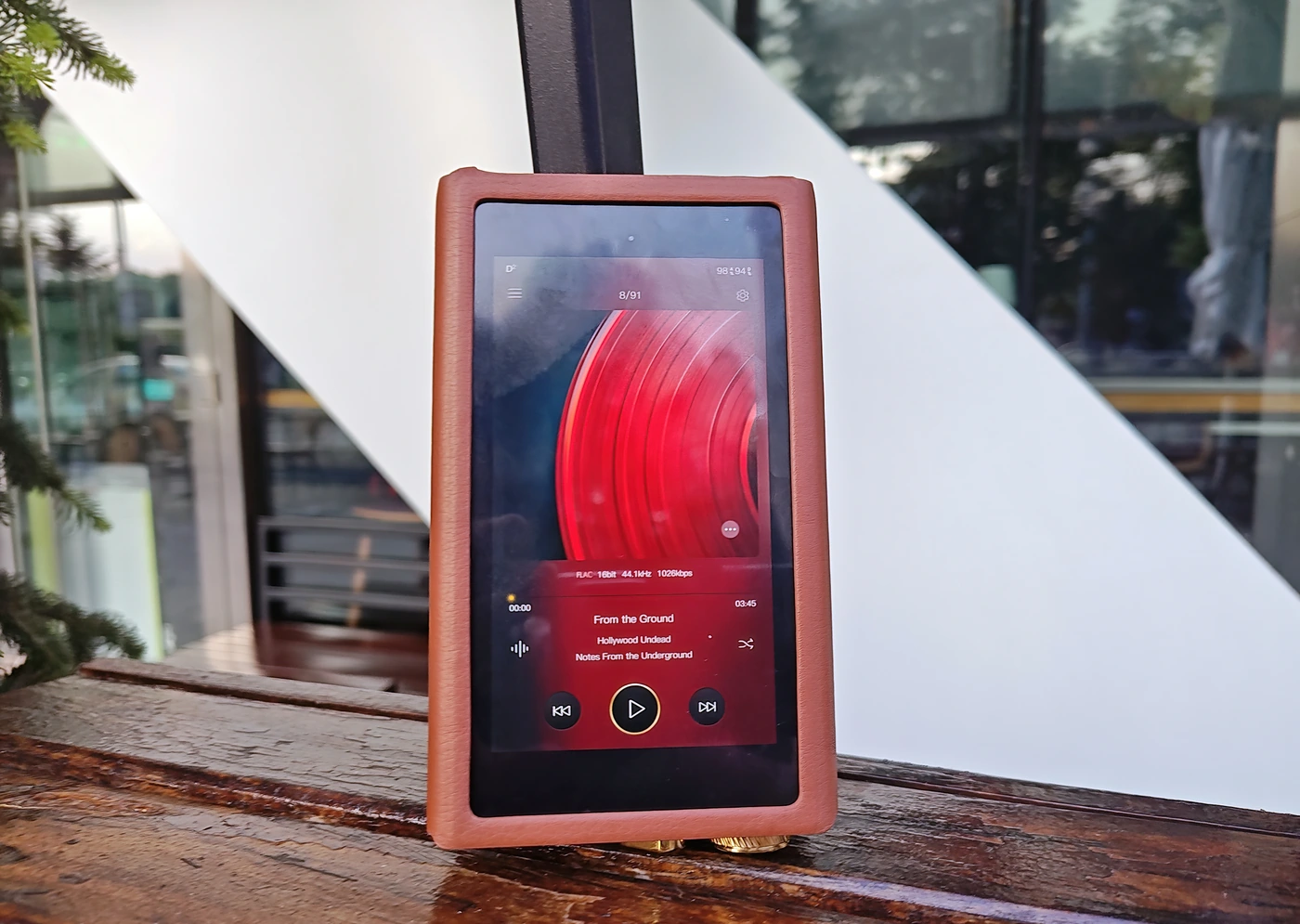 The battery pack is extremely easy to replace, taking less than 3 minutes for a very inexperienced user to open up the DX320 MAX TI by removing the backplate and replacing the batteries. You can purchase a pack of those batteries from Aliexpress, and you could even hot swap them if you were adventurous enough to carry a screwdriver with you at all times. 
This power design, on the other hand, means that you have to use two separate chargers to power DX320 MAX TI, and the digital battery can be charged using a Type-C USB Cable, and I tested this and can confirm that it works alright with all of my power bricks, including PC USB ports, Xiaomi, Motorola and Asus power bricks. The Analogic battery has to be charged with a 12V DC plug, and iBasso includes a dedicated charger in the package for this. The charger can power the analogic battery in around 2 hours, and it takes the digital battery 3 hours to fully charge. You should keep in mind that the 12V plug is different from the one on DX220 MAX, and you should not use the charger from DX220 MAX to charge the DX320 MAX TI, as this one is 12V only, while the older one was 12V – 18V.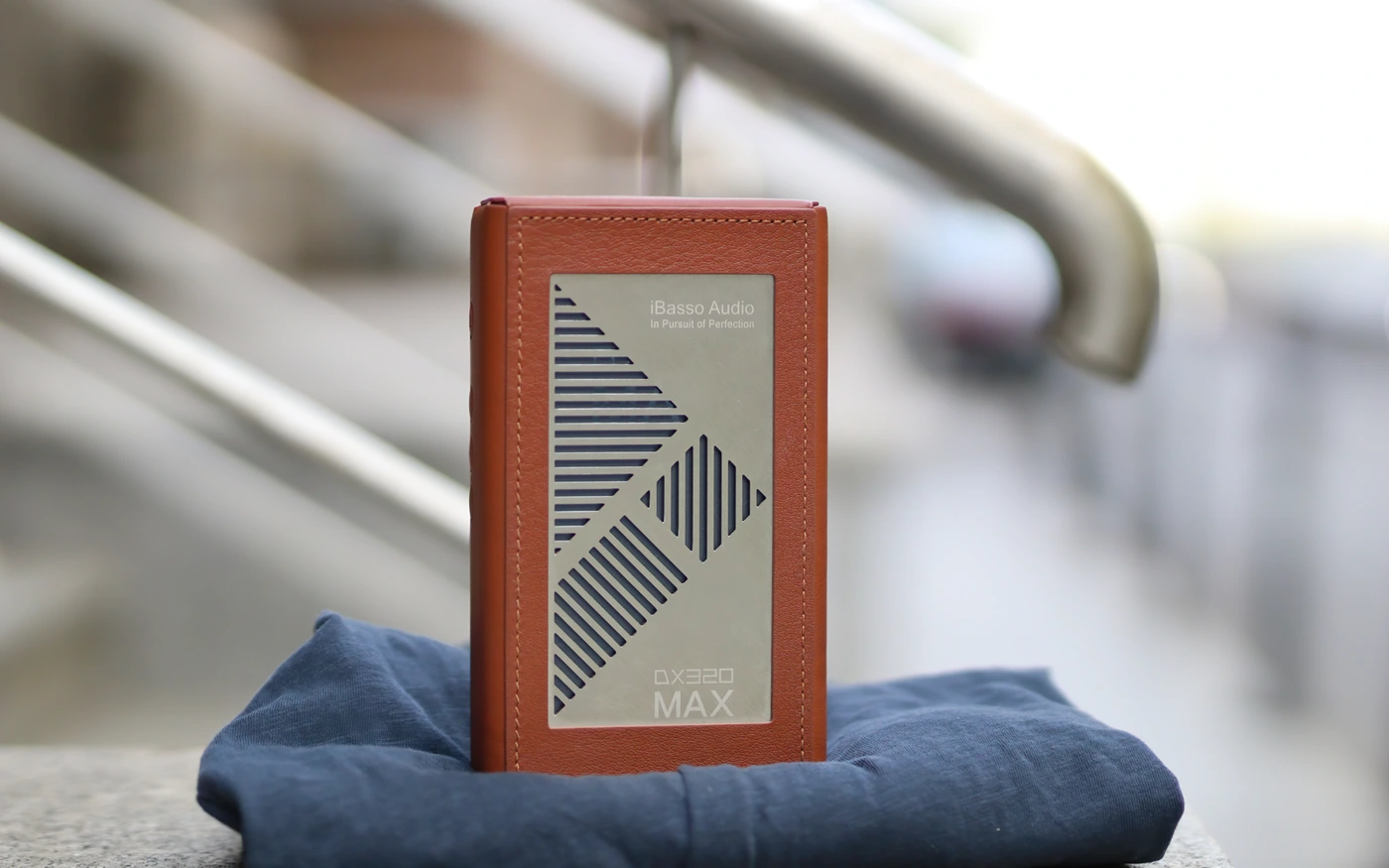 As I was writing above, you can take DX320 MAX TI to fully replace your desktop DAC, and they knew that this may mean it will always be connected to a PC via USB, so there's a trickle charge that stops the DX320 MAX TI from drawing power once it reaches 100% to prevent damage being done to the battery. 
The batteries have an innovative design, and the Digital side has 5 individual lithium polymer batteries, having a total of 6200mAh of capacity with a 3.8V Voltage, while the Analogic part has 4 individual batteries each having a 900mAh capacity but with a high voltage of 8.4V. The promised battery life is around 17 hours of play time using the normal mode, and 13 hours of play time using the Ultimate mode. In my experience, the player has around 11 hours of battery life using a mix of IEMs and headphones, and with a varied volume, using only flac files, and some hi-res files. Usually, when companies state the battery life, they use MP3 files and 50% of volume, while in real life, you're likely to have either hi-res files or flac files at least. The digital battery gets depleted faster than the analogic battery, and it is recommended to do a few full charge / discharge cycles after purchasing DX320 MAX TI to get it up and running and to get the meters to read the remaining life accurately. The latest firmware improves on this too, so make sure to keep your DX320 MAX up to date. 
Under The Hood / Functionality / Software
We have some high-end decoding abilities for DX320 MAX TI, and this includes DSD 512, MQA 16X unfolding, and 32 Bit / 768 kHz. This is all with bypassing the Operating System limitations and engaging in Bit-Perfect playback. Despite DX320 MAX TI being one of the most advanced DAPs on the market today, we have two filter options instead of the large number present on most DAPs, and those allow you to choose between Slow Roll Off and Sharp Roll Off. It is also recommended to enable the Ultimate mode in the Audio part of the settings, which will use all the 4 DACs inside of DX320 MAX TI, providing the best sonic performance possible on the DAC part, although it will increase the power consumption and heat generation.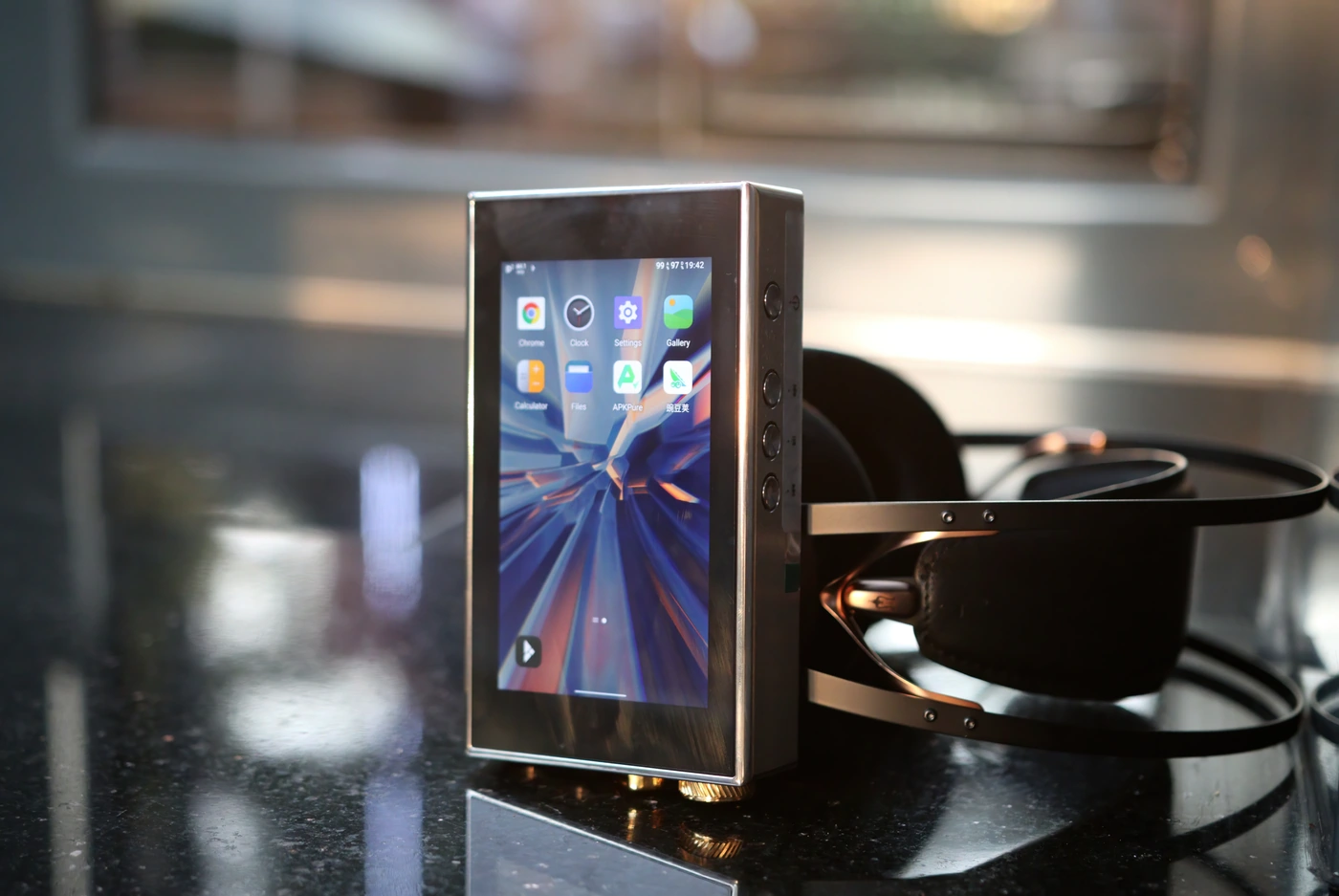 We have LDAC, SBC, and aptX, if using DX320 MAX TI as a transmitter. The receiving part is limited to SBC and AAC. Speaking of Wireless, I also saw superb Wifi Support, and I had no dropouts and super high speeds while downloading files and apps. You can install all Streaming apps out there, there is support for basically everything you may desire, including UPnP. The Bluetooth performance is good, but you'd have better performance with DX320. You have a very stable signal up to 1-2 meters, but it tends to break after that, and the volume controller does not change the volume for most Bluetooth headphones / IEMs, so you will need to use the digital volume adjustment for this. 
The firmware is a customized Android 11 that allows for Dual Booting of Android and Mango OS. The supporting hardware is a Snapdragon 660 SoC and 6GB of RAM. It seems that the older iBasso DAPs have been updated to Android 11, as part of an effort from the company to keep everything updated and running smoothly, even for those who already own an iBasso product. I like seeing this and seeing an update for DX320 MAX TI to a future Android version is not out of the question, if it would provide a better sonic performance.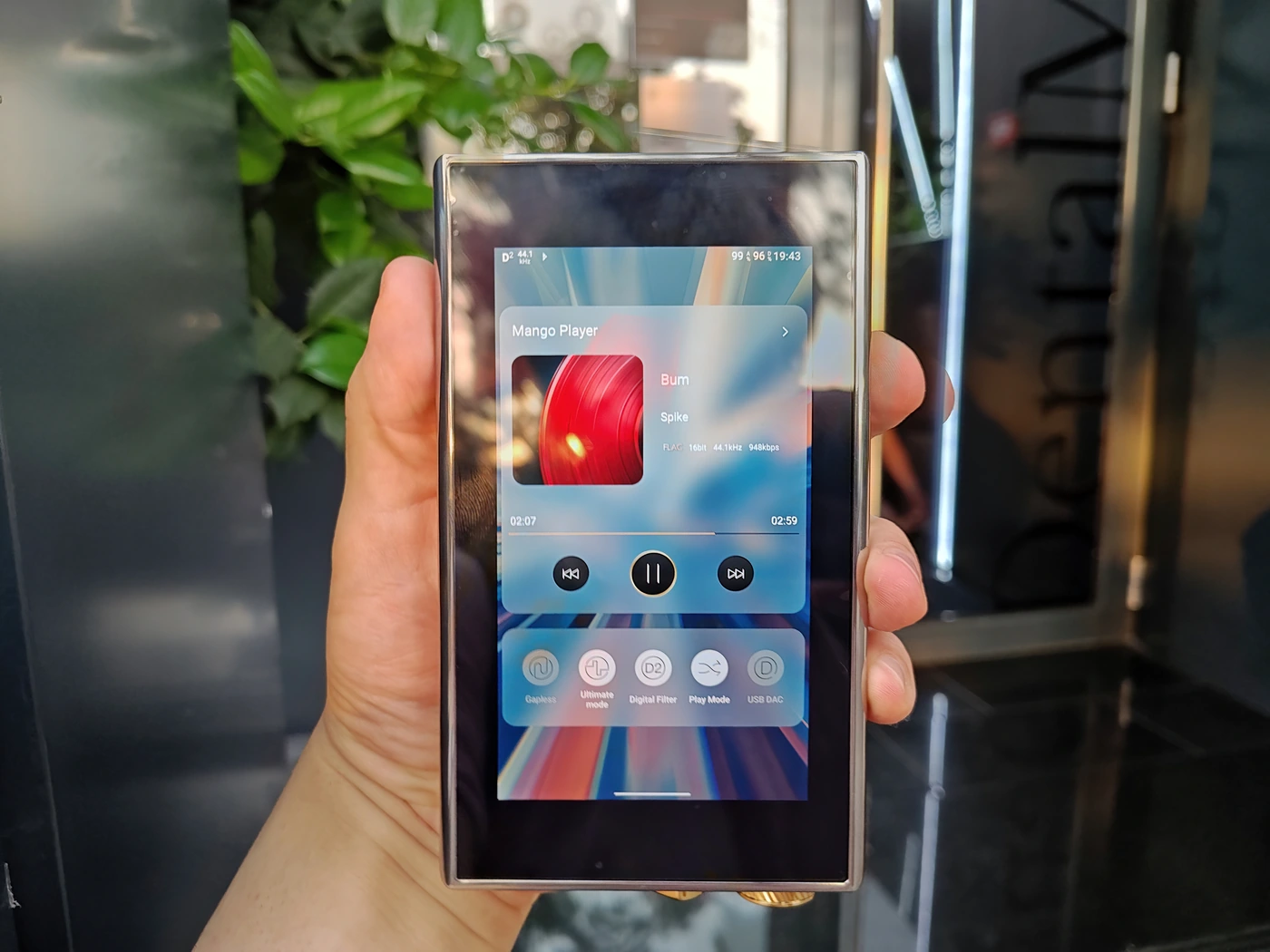 The Android firmware looks as it does with most smartphones running Android 11, while Mango OS is basically a very minimalistic music player that looks exactly like a high-end DAP. If you've seen any of my reviews on previous iBasso DAPs, or if you owned an iBasso DAP before, you'll feel right at home with DX320 MAX TI. While Google Play does not come installed by default, you can install it, you can install Google Services and basically run all your favorite apps officially from Google Store. There is also support for APK Pure, which replaced Cool APK for better integration with the Google Security Framework. While I love having Google's backing, APK Pure can help a lot if you want to install apps that are region locked and unavailable officially for you. Chrome runs just fine, as does Youtube and most games, given the strong CPU and RAM. 
From the Audio settings you can set the Ultimate Mode, which means running all DACs at all times, which is always on, and also the new digital audio controller, which allows you to lower the maximum volume. I also left this at full, as I don't listen quietly enough to need to lower the volume, the Gain switch and the volume switch are more than enough granularity for me. There is a PO / LO or Phone Output / Line Output that allows you to use the two headphone outputs for Line Out too. You can browse DX320MAX via gestures, like with most smartphones, so you should feel right at home and not have to adjust back and forth to a navigation bar. 
USB DAC
While it seems strange to add an entire part of the review just for a single function, this is a big one for me. USB DAC can be tricky to handle with the latest and best DACs as most of them have a fairly large buffer, which can easily cause a delay between the moment the signal is sent to the DAP and the moment you hear the sound. For using DX320 MAX TI, you don't need a USB DAC Driver, and it works as plug and play on both Windows 10 and Windows 11. This is provided by a Universal 2.0 WASAPI driver. To engage the USB DAC function, you need to either enter the Mango APP or Settings on the Mango OS and switch it on. You don't have a Digital volume here, and you only use the Gain Switch and the volume wheel to set the volume.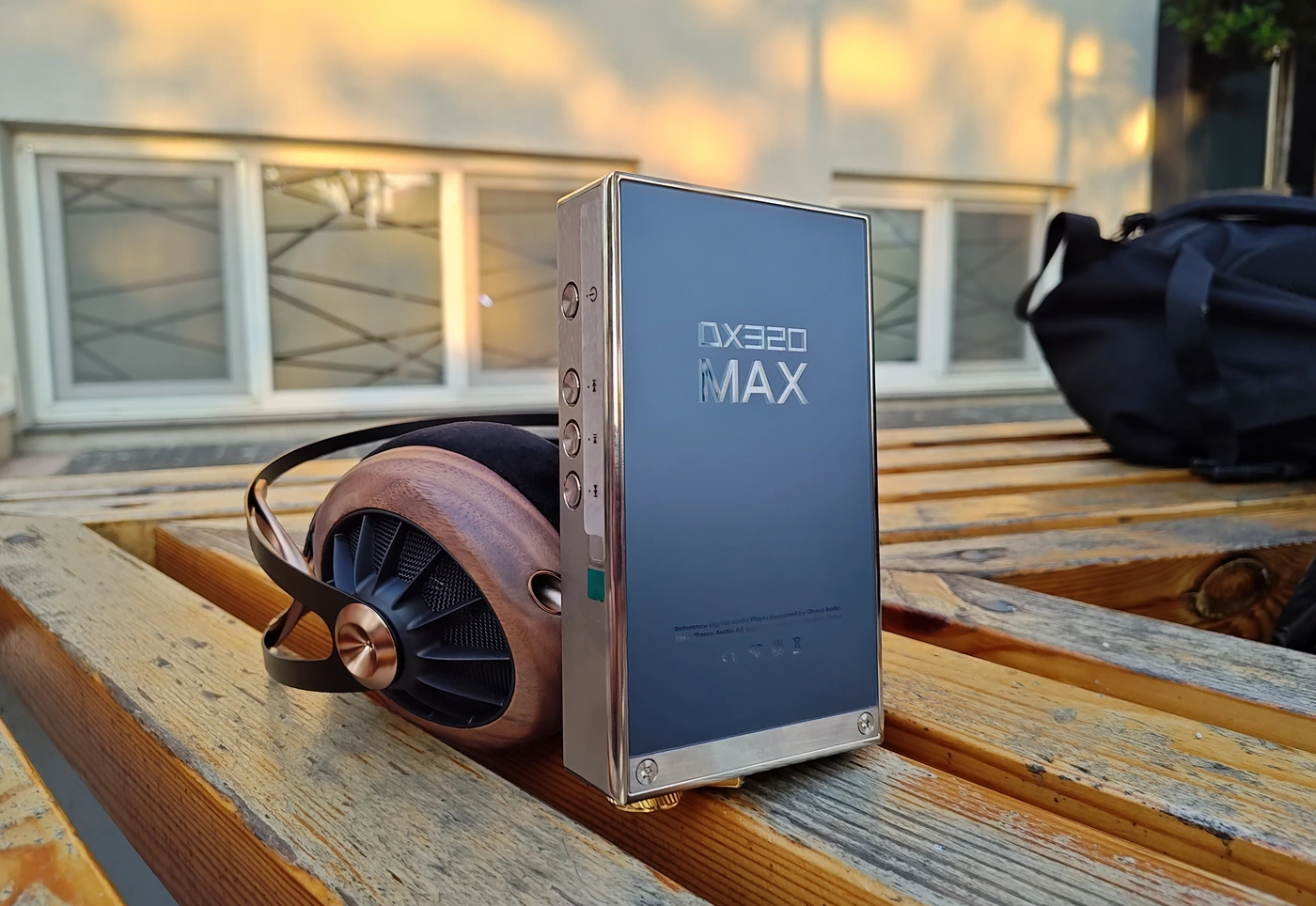 While there is no bitrate or sample rate information, you can set the Digital Filter, between D1 and D2, and the most important aspect, there is almost no delay when using it as a USB DAC. I noticed that the best experience for me is if I switch it on, and then use the Mango shortcut to press on USB DAC, as the delay this way is around one frame or 30 – 40 ms, enough so that you will notice it with any video content or gaming content.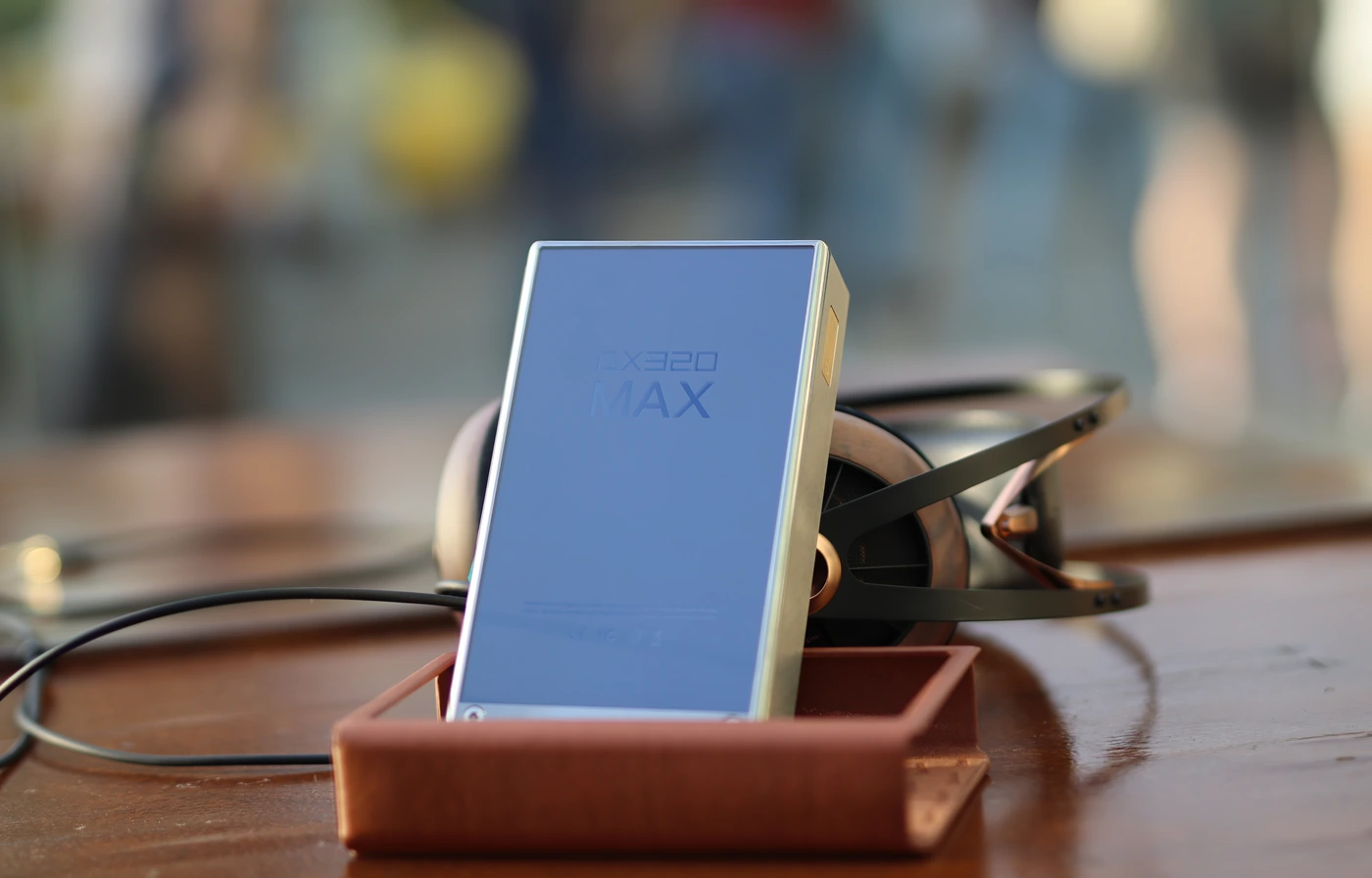 I can even watch videos with a lot of flashing lights that need perfect timing, and I will notice any kind of delay, lip sync is perfect and you can even play games, even shooters with DX320 MAX TI in USB DAC Mode. I am really happy to be reporting this, because the delay when using USB DAC has been my only criticism of DX320, and with TI showing none, I am confident that iBasso will be able to solve it in the future for other DAPs with ROHM DACs as well. 
Sound Quality
We have a huge volume range with DX320 MAX TI, to the point where it can confidently drive large headphones that are hard to drive, but also have a fine and granular control for IEMs, with no hissing or background noise. It is easily able to drive HIFIMAN HE1000 V2, He1000 Stealth and basically all of the other hard to drive headphones to their maximum potential, but has a super good control for IEMs, with a black background and no noise, simple perfection. The full list of headphones and IEMs I've been using with DX320 MAX TI, to take the sonic impressions, which have been taken over a period of almost a month, includes iBasso SR3, Erzetich Thalia, Spirit Torino Super Leggera, HIFIMAN Svanar, Unique Melody Maven PRO, HIFIMAN HE1000 Stealth, Dita Audio Perpetua, OLLO S5X, and Audeze MM-500.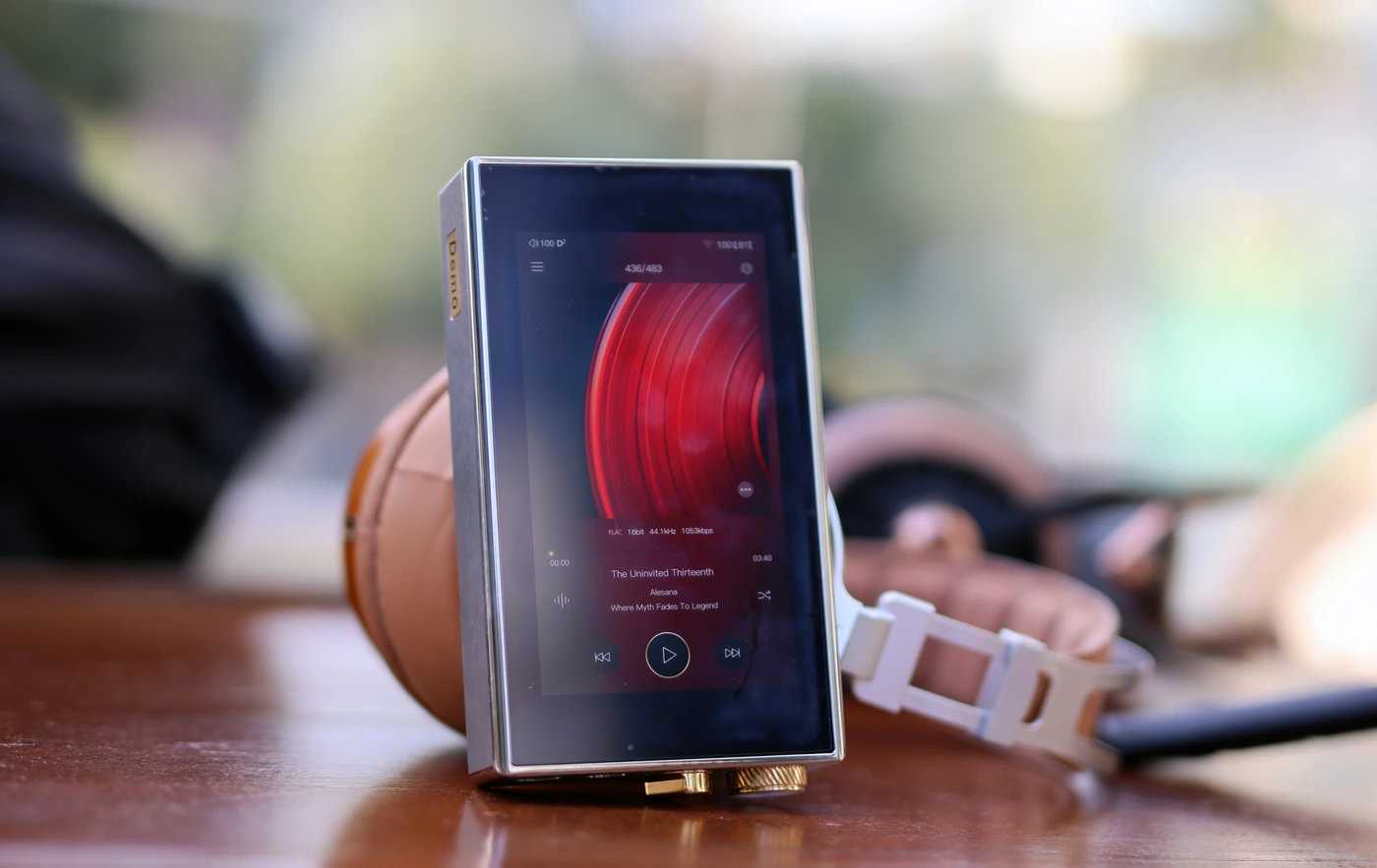 The overall sonic signature iBasso went for this time around is as natural as it is humanly possible, exceedingly dynamic, punchy, detailed, clean and with a super bold bass, a full, warm and lush midrange, and a smoother, clean and airy midrange that's always non-fatiguing, while still presenting music with all the detail there is to present. Transparency is through the roof with DX320 MAX TI, this is the DAP that will show every detail there is, but in a relaxed manner, it is a master of sounding effortless, but sounding like the biggest, most buff boy in the room. Comparing it to most other DAPs, they will sound rather thin or lack the exceptional body and dynamics that it has. The perceived space between instruments and the scale at which instruments play is incredible, and that channel balance thanks to the new volume meter is outstanding even if you're playing music at the lowest volume. At max volume, Gain 4, slider set to max, and digital to max, there's not a trace of distortion, and it makes my full sized headphones sound like I'm in the first row of a metal concert, with the most credible sound of this kind I heard to date, and this applies regardless whether we're talking about it driving high SPL and high impedance headphones like Sennheiser HD660S or low impedance low SPL headphones such as HIFIMAN HE1000 Stealth.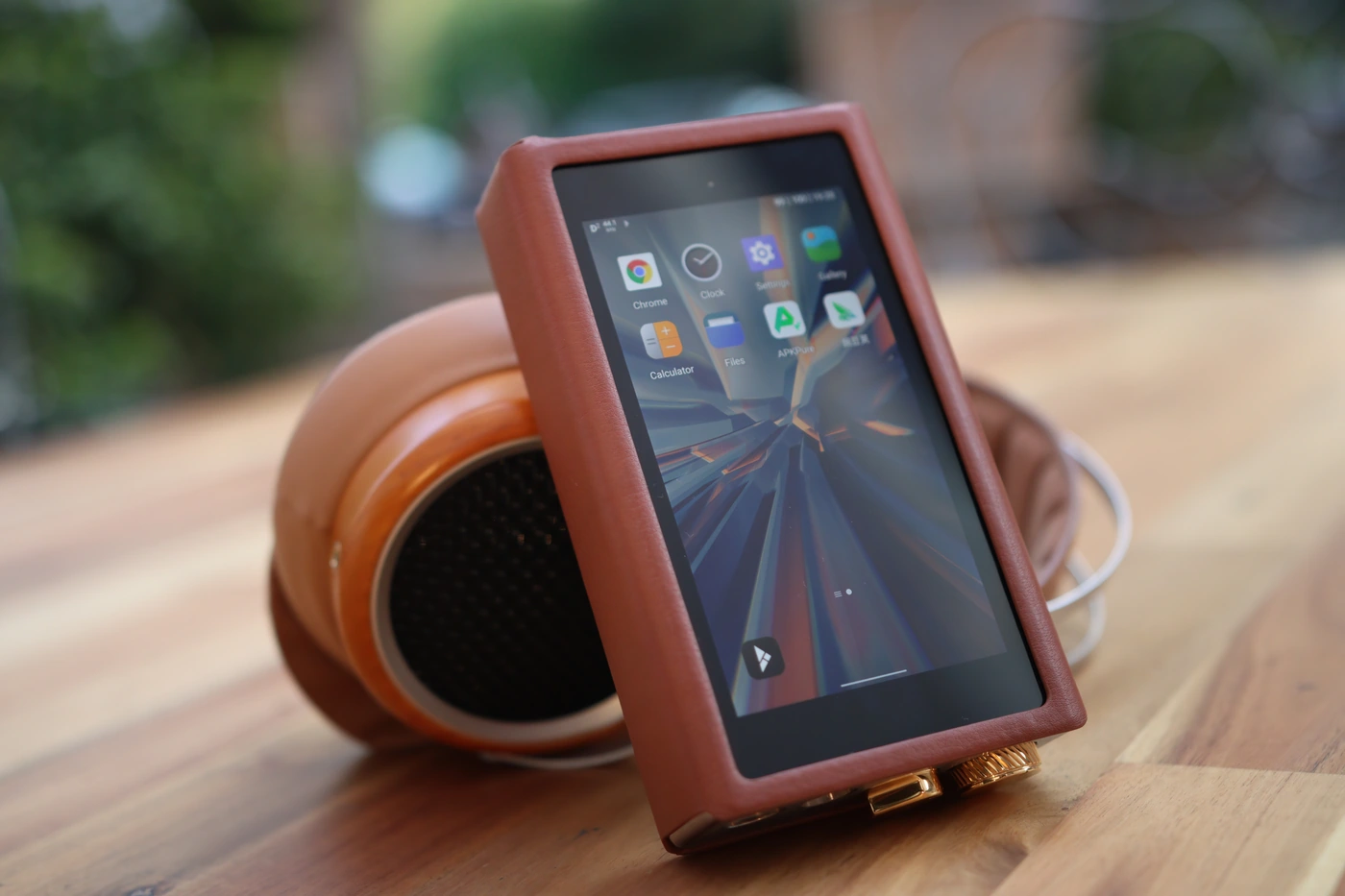 The bass and low end is outstanding, and this is too little said about it. You simply don't expect it to have such a full body, such an impactful low end and exceptional saturation, everything simply sounds deep, impactful and profound. The weight of each musical note is phenomenal, this DAP sounds like the music is being played with emotion, with soul right in front of you. This is not to say that it has a limited space, because everything has a super wide soundstage, even the bass and the low end, the sound is simply real. The attack of each musical note is strong, the fundamentals are also super strong, the sound is all here. This being said, the sound is never too heavy, it is not chugg thick, or delivered to be unnatural, iBasso did their best so that DX320 MAX TI sounds visceral when it has to, so that it has weight to music, but it manages to always stay natural, clean and not make it too busy or too thick. The balance between the heavy bass and the midrange is perfect, there's no exaggeration in any way, it's like a high fidelity bass that is actually great to have always, and which you never grow tired of. 
This actually made DX320 MAX TI my favorite source for many reviews and tests, because while I know that it can deliver a somewhat weightier sound that most sources, it is not colored, so I can enjoy most IEMs and headphones more, having the low end impact and delivery that they deserve. It is important to keep in mind that it can reach 20Hz and make your headphones literally vibrate like some high-end subwoofers, but the bass doesn't have a particular focus on any frequency, it is all really well balanced. 
The midrange continues the exceptional bass in the same dynamic, punchy style. We have a much more vivid presentation of all instruments, especially guitars, but also voices, the better instrument separation and overall clarity helps a lot with the definition of each musical instrument, and making the whole sound as pleasing as possible. Especially comparing the new DX320 MAX TI to DX220 MAX or even to DX320, the sound is thicker, warmer, and you have a much easier time pairing DX320 MAX TI with brighter sounding headphones and IEMs. There is special emphasis placed on fine details and nuance in all songs, making all rock and metal even more vivid, presenting a higher difference between cymbal crashes, between guitar notes, the guitar solos are much better separated and defined from the background instruments, and everything simply sounds alive. Complex songs like those from Haggard, or Wagakki Band have every single micro detail painted with mastery, you hear so much, so clear with DX320 MAX TI. For example, in Sonata Arctica – Black Swan, most sources will paint the whole sound as the guitar, voices, drums, but DX320 MAX TI is able to properly paint background choir voices and synths, to always keep the brighter synths in the picture, without making them harsh or forcing them over the other instruments.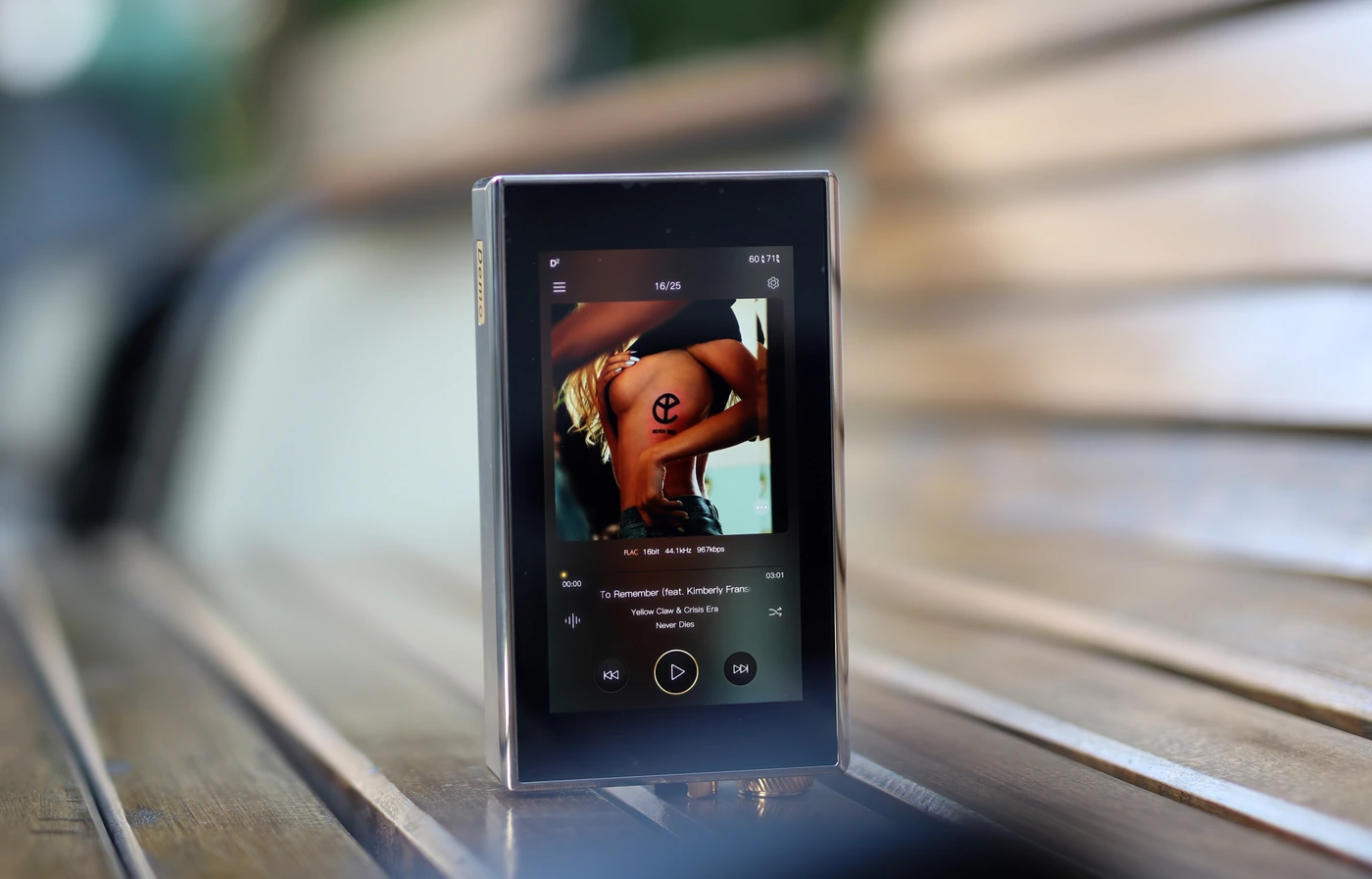 We have a treble that is far less edgy and dry than most iBasso DAPs, so for those who always thought that iBasso had a house sound that is a bit too bright for their lacking, the treble of DX320 MAX TI is not as edgy and aggressive, it is smoother, easier to listen to and digest, but won't take away airness or soundstage form music, rather, it takes away all the fatigue from music, yet it keeps the high energy in percussion and metal songs where you'd otherwise end up super fatigued, bands like Infant Annihilator, Queen Kona, Cannibal Corpse, or even artists like Apahse. In fact, the tonal balance is slightly tilted to be heavy and fluid rather than light and dry, and this makes everything stand out super nicely, music always has exceptional body, even the treble sounds full and natural, without being harsh ever. The refined treble is evident even with music such as Machinae Supremacy and their song – Hubnester Rising, where we have treble presented as a very clean, yet energetic airy set of distinct cymbal crashes somewhere behind the voices and especially the guitars, which have been designed to always play at the front, and lead your mind through the song. 
We also have an exceptional soundstage, and while it feels a bit like the voices and guitars are drawn slightly closer to the listener, compared to most sources, the space behind them is also expanded, creating a much wider, 3D holographic presentation of each song that most sources do. A really good song to study how the new volume wheel that offers improved stereo separation and the better soundstage is System Of A Dawn – NuGuns, where the main solo of the song can really play independently in each ear, the recording itself has a unique mix of guitars playing in the style of traditional middle eastern instruments, and each ear gets its own independent mini solo, DX320 MAX TI being more than fully able to present each really well, while most sources will blend them together a bit. In fact, the whole Steal This Album from SOAD shows this exceptional sound where each ear gets its own guitar playing, as this is how SOAD recorded it, making the listening experience really exquisite. 
Comparisons
While all of those comparisons will explore each of the competitors individually, I want to mention that DX320 MAX TI is the only DAP that has the volume controller designed the way it has, so it always has a higher stereo separation, and lower channel imbalance at low volumes. All of the other DAPs generally have gain levels, and the only other difference that only DX320 MAX TI has is that it is the only one from this list, besides DX220 MAX that needs to have the analogic part amplified separately, and needs a separate charger for that. This being said, the battery life of the analogic part is incredibly long, and it is more like something you have to remember to do weekly.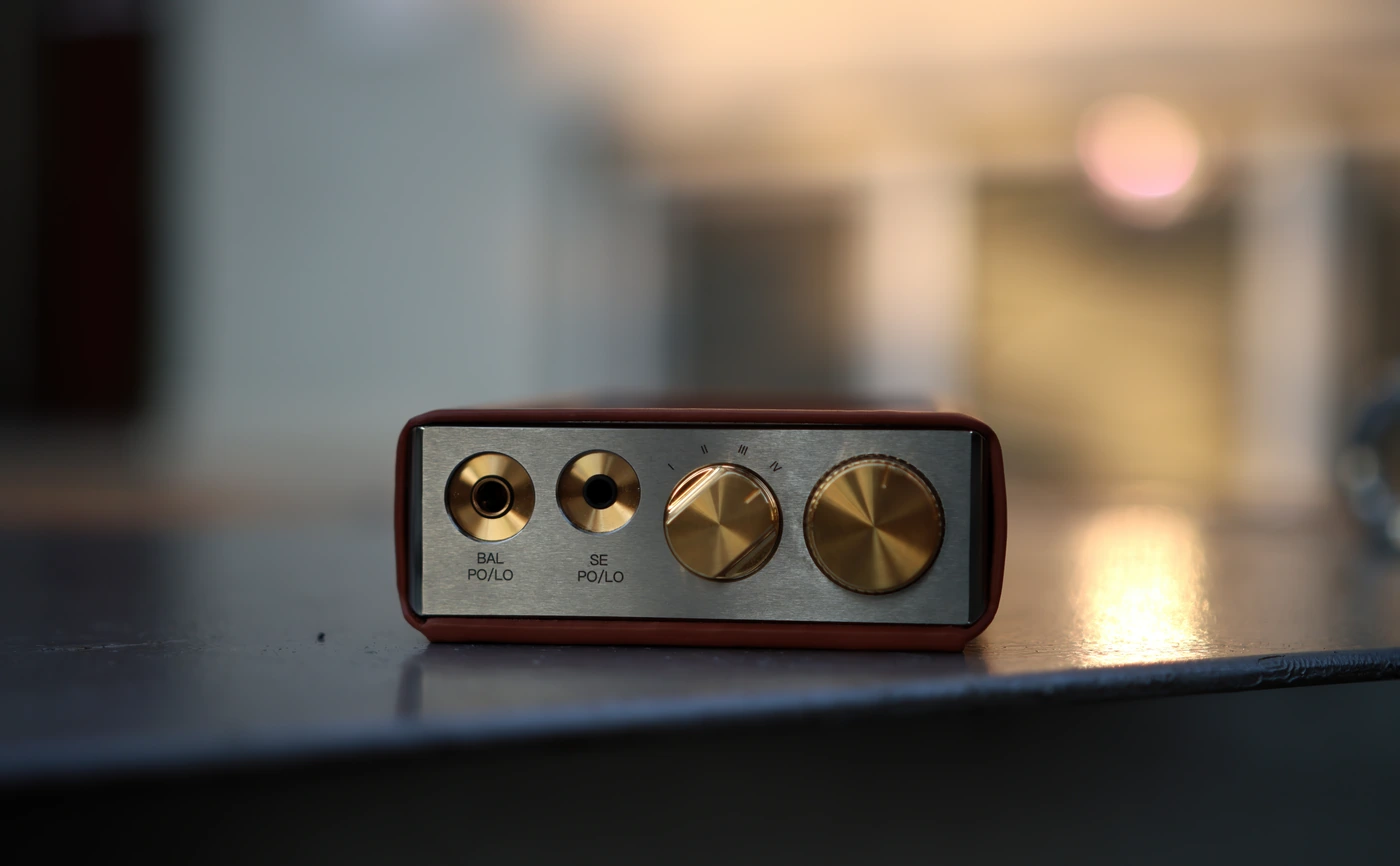 iBasso DX320 MAX TI vs Lotoo PAW 6000 (3499 USD vs 1200 USD) – Starting with something that is much smaller, PAW 6000 actually is an exemplary DAP when it comes to battery life, and to being simplistic yet super effective. The overall sound and tuning of PAW 6000 is generally described as softer, so with a lower amount of bass, but also brighter, with a stronger focus on details, with the risk of it sometimes sounding a bit harder around the edges and brighter. The maximum driving power of DX320MAX is higher, it handles hard to drive headphones, both high impedance and low impedance much better, and it also handles IEMs better, with a lower level of background noise and hissing. The bass in particular is much deeper, with more power and punch on DX320MAX, it has a weightier sound, and also better stereo and instrument separation, it provides a more punchy sound. The treble of DX320MAX is smoother, it sounds less sharp, yet it presents more detail in music, so it can feel like an upgrade over PAW 6000. The avantages of PAW 6000 are the higher battery life, and higher portability, while DX320MAX has the advantages of a better sound, better driving power, lower noise, and a more precise sound with better detail, and a wider and a deeper soundstage. All in all, for sonics alone and if you don't mind the size, DX320 MAX TI is simply a better choice, although it is a pricier choice too. 
iBasso DX320 MAX TI vs Astell & Kern ACRO CA1000T (3499 USD vs 2299 USD) – This is likely the comparison everyone has been waiting for, and even for me it has been a complicated comparison to draw. First off, the portability of DX320 MAX is better, it is smaller, lighter than Acro CA1000T, it feels lighter in hand, and can actually be pocketed. The controls on the side also make it much easier to use it on the go, while CA1000T is clearly made for desktop usage and although I did manage to take it outdoors, you cannot pocket it and it is considerably heavier. The software of DX320 MAX is more open and it allows for other music players too, while Acro CA1000T has higher driving power for hard to drive headphones. The output impedance of DX320MAX is lower, which means less hissing for IEMs. The USB DAC function of CA1000T has no delay at all, 0ms, while DX320MAX has around 30-40 ms of delay. The tuning is actually quite opposite, with CA1000T sounding much more linear and neutral, it has a much lower amount of bass, and a higher amount of treble, and the midrange is generally more neutral. Both bring about the same level of detail forward, and at times DX320MAX can bring a bit more, especially background details like choir voices, synths, and anything that has strong reliance on stereo imaging, for example effects that pan in just one ear. The soundstage size is about the same, they create the feeling of space very well and give you the feeling that music happens all around you and extends very far away from you, both in width and depth. All in all, for desktop only, CA1000T has higher driving power and a more capable USB DAC mode, but DX320 MAX has a smoother treble, higher amount of bass, lower hissing and noise with IEMs, and is also more portable and can comfortably be used outdoors. Both make a 10/10 music player, but they are clearly made for different purposes. 
iBasso DX320 MAX TI vs iBasso DX320 (3499 USD vs 1599 USD) – When the day comes to pass, we have to explore this comparison too, and it is a really interesting one. I generally feel like everything that is supposed to happen portably, happens a bit better on DX320, like Bluetooth, or portability, it is easier to carry it around, and it feels more natural to use in public. This being said, the sound is not really that similar, and regardless what amplifier module you're using, DX320MAX always has the upper hand when it comes to the musical note weight, to how bold and controlled the sound is, and to how clean and detailed it sounds. What they do have in common is the midrange, both are exquisitely dynamic and vivid, both bring the voices a bit forward, and create a really wide soundstage and both make you go WOW every single time you hear them. The maximum driving power of DX320MAX is not that much higher than that of DX320 in person, and I bring both of them to about maximum when out and about, the battery life is actually a bit longer on the traditional DX320. I still would always chose and go for DX320 MAX for the sonic alone, it is an upgrade over the usual, but if you already have the usual and prefer a more neutral – flatter sonic tuning, then you're already having fun, while if you want a fuller, more weighty sound with better impact, even better dynamics, better resolution and micro details, and with a smoother treble that can still be natural and have all the detail it should have, then DX320MAX should make a really worthy upgrade.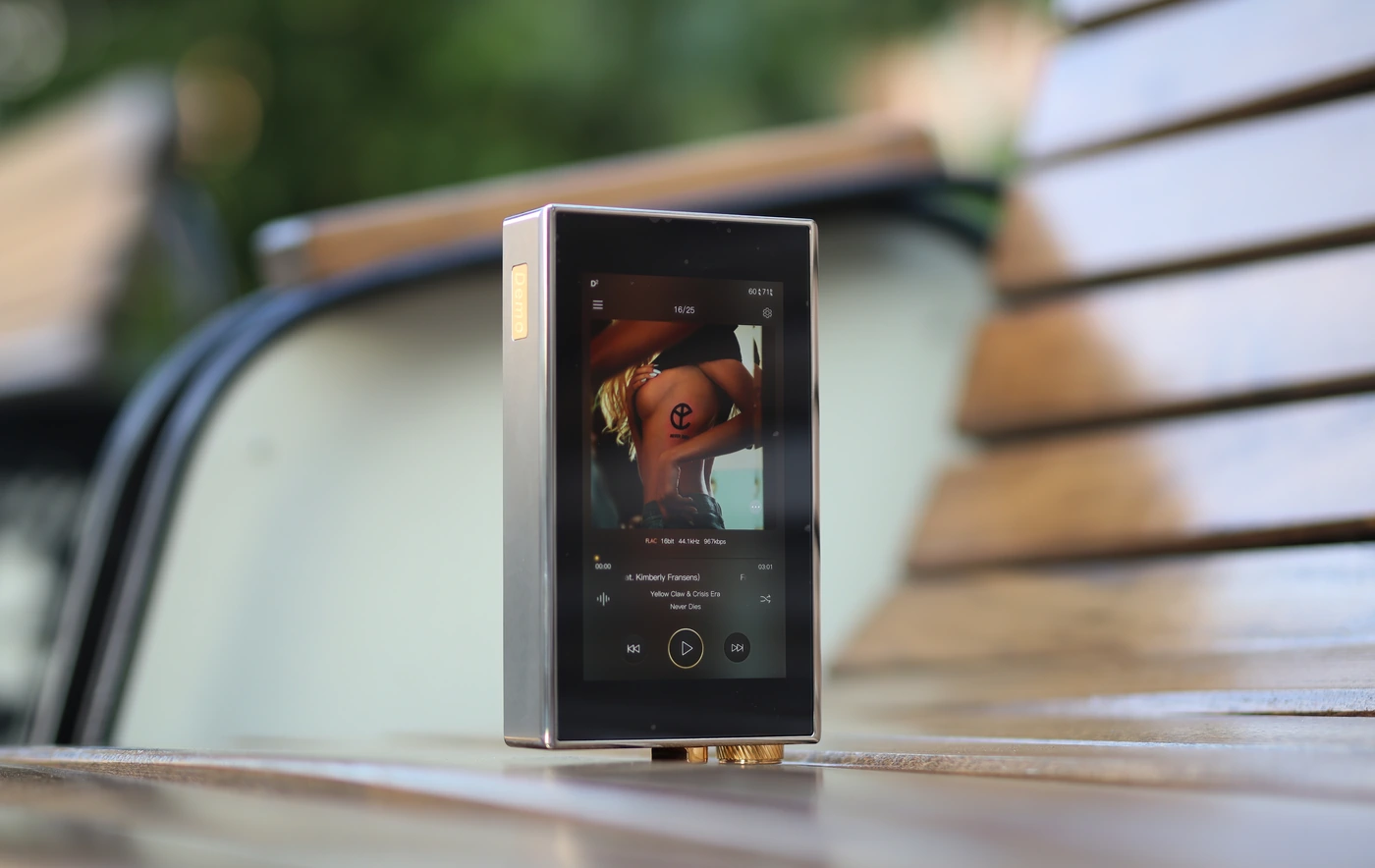 iBasso DX320 MAX TI vs Dethonray Prelude DTR1+ (3499 USD vs 1000 USD) – We have a really bold and warm presentation in DTR1+, and from the sound of my review, you may think that DX320MAX sounds similar, and well, that is correct. In every sense possible, DTR1+ is like a mini DX320MAX, and in every sense possible, DX320MAX is an upgrade in detail, resolution, clarity, control, driving power, lower noise floor and is just a much better DAP in every way possible, both hardware and software, but sonically, they follow the same signature, where both have a bold and heavy bass, that gives each musical note a strong kick and weight, they both have a really vivid midrange, which brings forward the voices, and creates a wide soundstage, and both have a detailed and natural treble that is never fatiguing. If you heard DTR1+ and liked it, DX320MAX is the full course upgrade from it, and it has everything that I liked about DTR1+, but in better quantities, in better quality, and is just generally a better DAP for streaming, reading files, browsing files. The only two downsides to recommending DX320MAX are that it is pricier, and that it is physically larger, but honestly, I pocket it most of the days, and keep my phone and wallet in the other pocket, so I don't think it is too large, it ain't a desktop DAP, just a really chunky large DAP. 
iBasso DX320 MAX TI vs Astell&Kern A&Ultima SP2000T (3499 USD vs 2500 USD) – The overall build is more portable and ergonomic for SP2000T, and it is the second DAP in this list that can use a tube AMP, or rather, it is the third, since DX320 can also use a tube, if you use the modular AMP with it. Now, SP2000T has a really good integration of that tube, giving it a really rich harmonic sound, but it can cut a bit away from the dynamics, making the sound a bit intimate, and increasing the noise floor with IEMs and sensitive headphones, so there are some sacrifices to be made. By comparison, the sound of DX320MAX is bolder in the bass, with a larger, more impactful bass, the driving power is considerably higher at the high end of things, and it has lower noise for IEMs, and the midrange is not quite as rich harmonically, but the soundstage is wider, more holographic, creating a more realistic 3D feeling around the listener. DX320 MAX will have better stereo separation and better instrument separation, making songs more engaging and more vivid, but this comes at the cost of size, DX320MAX being much larger than SP2000T, and being a bit hard to recommend for a summer trip if you don't use a little side bag when you travel. 
iBasso DX320 MAX TI vs iBasso DX220 MAX (3499 USD vs 1200 USD) – We have two devices of the same kind, both made by iBasso, and it is interesting to see how they feel about the same in actual usage, and if you didn't know which is which, you couldn't really tell them apart that well. The battery life is a bit longer on the older DX220MAX, but the sound is considerably improved on the newer DX320MAX, we have a more dynamic midrange, a smoother, yet more detailed treble, and a bolder, heavier bass that really kicks better with all headphones, despite the sound being more natural in the midrange too. If you're already rocking a DX 220 MAX, then DX 320 MAX will sound like an entire scale of an upgrade, it improves on all the little things that make this hobby interesting, it gives music a much more pleasing soundstage, with a more holographic approach, better instrument separation, and much better dynamic range. The maximum driving power is similar, both are good with sensitive IEMs, and there's no large technical difference besides the very different and improved sonic performance of the DX320 MAX TI. 
Pairings
iBasso DX320 MAX TI + Unique Melody Maven PRO (3499 USD + 1799 USD) – Like with most headphones and IEMs in my collection, I found that Maven PRO sounds the best when driven by DX320 MAX, they simply have the boldest bass, most low-end punch, but also the most vivid midrange and widest, most well defined soundstage. The way DX320 MAX can shine with everything just makes you think, I really love ACRO CA1000T, but with IEMs like Maven PRO, there is quite a bit of hissing at low volumes, while DX320 MAX is dead silent, it is perfect for them, and it gives them a heavier, weightier sound with a smoother treble, all of which are welcome additions to Maven Pro which can have an edgy treble by default. The midrnage also becomes more beautiful, more musical and less forced, it feels like driving the Maven Pro from DX320 MAX Ti rounds up every corner, and turns the whole sound fluid, brings guitar solos to life and just makes the entire sound of the Maven Pro more pleasing.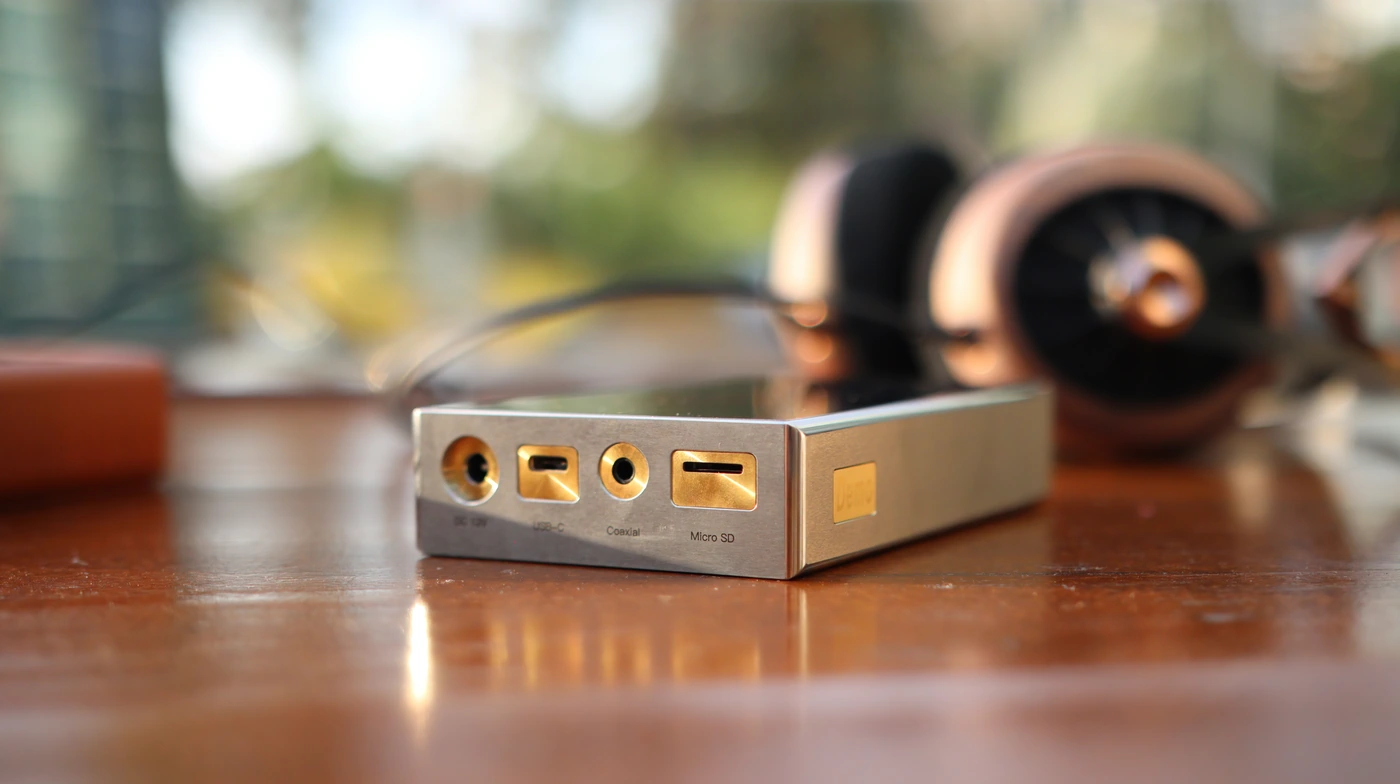 iBasso DX320 MAX TI + iBasso SR3 (3499 USD + 599 USD) – We have a full iBasso setup, and interestingly, this headphone, the SR3 has been the first headphone that I really loved with DX320 MAX TI, and somehow it feels like they were tuned to sound the best together. To put it simply, I was reviewing the SR3, and switching back and forth between DX320 MAX TI and Acro CA1000T, I always liked the sound with DX320 MAX TI better, it simply has a fuller low end, a smoother, more relaxed and fuller sounding treble, with lower hard edges, and more airiness, and the midrange is more colorful, more detailed, more vivid and crisper. I really enjoy this one pairing and it honestly is one of the best there are, especially for classical, pop and acoustic music in general. It feels like iBasso has been inspired by a real life performance to release SR3, and DX320MAXTI completes the pairing perfectly. In fact, DX320 MAXTI is the main source that makes SR3 so enjoyable, it is the perfect source for them. 
iBasso DX320 MAX TI + Erzetich Thalia (3499 USD + 599 USD) – Thalia is a headphone that can really shine if amped really well, but given its price, you see it often ignored, and since it is the only high-end on-ear design that I reviewed recently, I know I had to add it to the review. Overall, the pairing sounds really warm, but super detailed in the midrange, super wide in the soundstage, and the treble is just super full, natural and pleasing. Thalia can really shine with pop, EDM, but also with classical music when driven by DX320 MAX TI, the best sound they have being with metal and rock music, where they really impress with the outstanding instrument separation and definition as DX320 MAX TI gives them.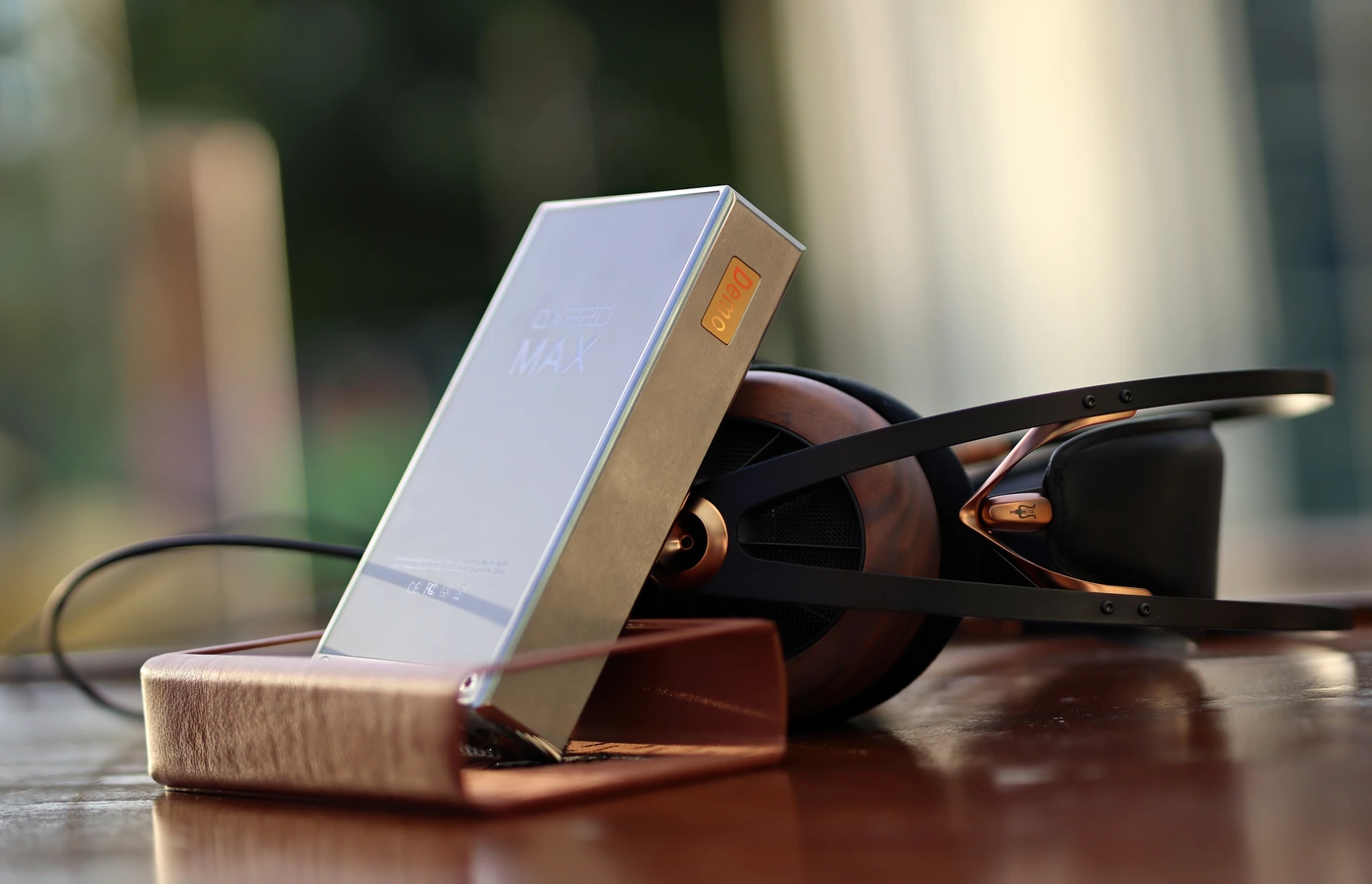 iBasso DX320 MAX TI + Ambient Acoustics MAD16 (3499 USD + 2500 USD) – I feel like I went a bit overboard with the pairings, but this one needs to be mentioned, the way DX320 MAX TI enhances the low end on MAD16, it buffs their entire sound quite a lot, leading to a much bolder, bloomier presentation that really sticks for rock, metal, and even pop. The advantage is that MAD 16 has a naturally super detailed sound, so having the higher amount of low end helps, and although the treble is kept in check, it is never boring or uninteresting, rather, it is airy and detailed all whilst being fatigue free. It feels like MAD16 driven by DX320 MAX TI sounds like MAD24 is trying to sound, but with better detail, better resolution, a more detailed sound, and with a more controlled sound. The way DX320 MAX TI enhances the low end does not distort or sound forced, and it does not take away from the midrange, or thicken them too much, it just makes everything pop out more and have better weight for each musical note. 
Value and Conclusion
When we're reviewing a high-end flagship DAP that is Top Of The Line, it is hard to judge the price and say that it is the ultimate value, but for an enthusiast who is ready to really invest in the best, DX320 MAX TI provides a sound that even most flagship desktop DAC / AMPs don't quite reach, so while it is rather pricey, it is the kind of DAP that everyone can look at and say "The Ultimate Sonics out there". Comparing it to systems that can cost over 50.000 USD, and DX320 MAX TI still coming out on top is saying a lot, and the dynamics, precision, soundstage, engagement and overall clarity it has are just surprising even for someone who you could say has heard them all over the years. 
Before the end of today's review, I will be adding iBasso DX320 MAX TI to the Audiophile-Heaven Hall Of Fame, as likely the best DAP your ears will feast upon, and at leas the best sounding DAP / portable that I know is in existence right now sonically. It might as well be the priciest too, but a device that Hugo 2, FiiO M17 or others can't really even hope to reach sonically, is in itself the biggest achievement we've seen this year.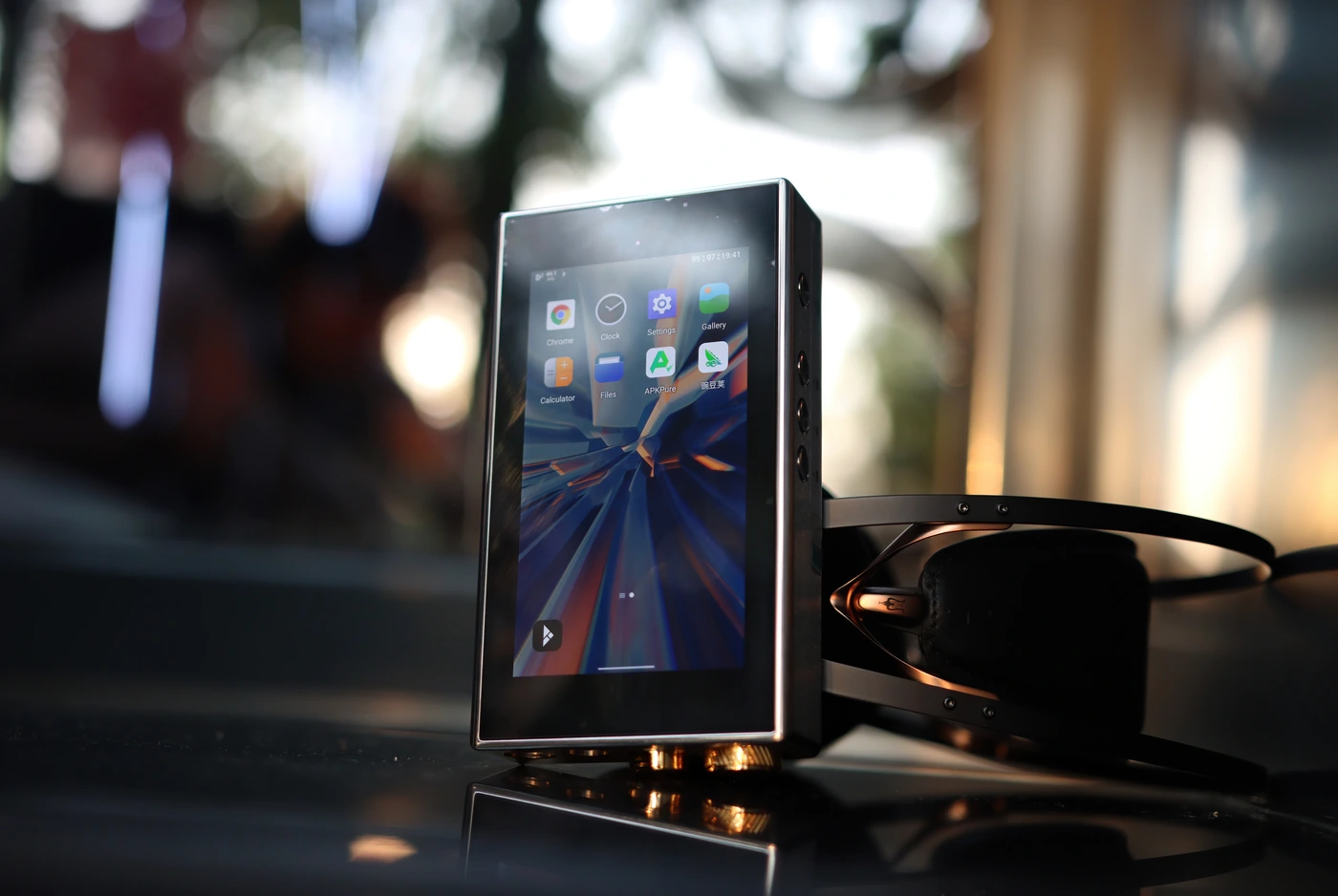 At the end of the day, if it is still available, if you want to hear the best sounding DAP that has ever been created, with the boldest bass, yet the most natural midrange and overall sound, the most dynamic and detailed presentation, all whilst keeping everything controlled, punchy and with superb resolution, iBasso DX320 MAX TI is simply the Top Of The Line Music Player that I heard and tested in 2023, and so far in general, and a fully recommended ultimate DAP solution you can grab. 
Product Link
You can grab one directly from iBasso here: https://ibasso.com/product/dx320max
You can grab one from www.amazon.com here: https://amzn.to/3NJHGt4
If you're in the UK, you can grab one from www.amazon.co.uk here: https://amzn.to/3rjbzZl
And if you're from Europe, you can grab one from www.amazon.de here: https://amzn.to/3NDV01J
---
--- Please remember to stay safe, and always have fun while listening to music!---
 - If you have a dime to spare, please donate, and help us! It would make the day brighter for me and my wife- 
---
Full Playlist used for this review
We listened to more songs than those named in this playlist, but those are excellent for identifying a sonic signature.  I recommend trying most of the songs from this playlist, especially if you're searching for new music! The playlists are different for Spotify, Tidal and Youtube, and based on the songs I enjoy and are available on each!
https://www.youtube.com/playlist?list=PL_cjBXGmwSHSdGcwuc_bKbBDGHL4QvYBu
https://open.spotify.com/playlist/5J3oloz8Riy9LxEGenOjQ0?si=979ba4f082414be7
https://tidal.com/browse/playlist/330fd544-8e5b-4839-bd35-676b2edbb3d5
--- Contact Us ---





---