iFi Audio Go Bar Dongle DAC – Mini Amplifier Maxi Powered 
iFi Audio Go Bar is a $329 USD Premium Ultra Portable USB DAC, with a balanced 4.4mm output, a single ended 3.5mm headphone output, and with iEMatch, along with digital filters, and sound enhancements support. It will be compared to other high-end dongle DACs, including Lotoo PAW S2, Questyle M15, Khadas Tone2 PRO.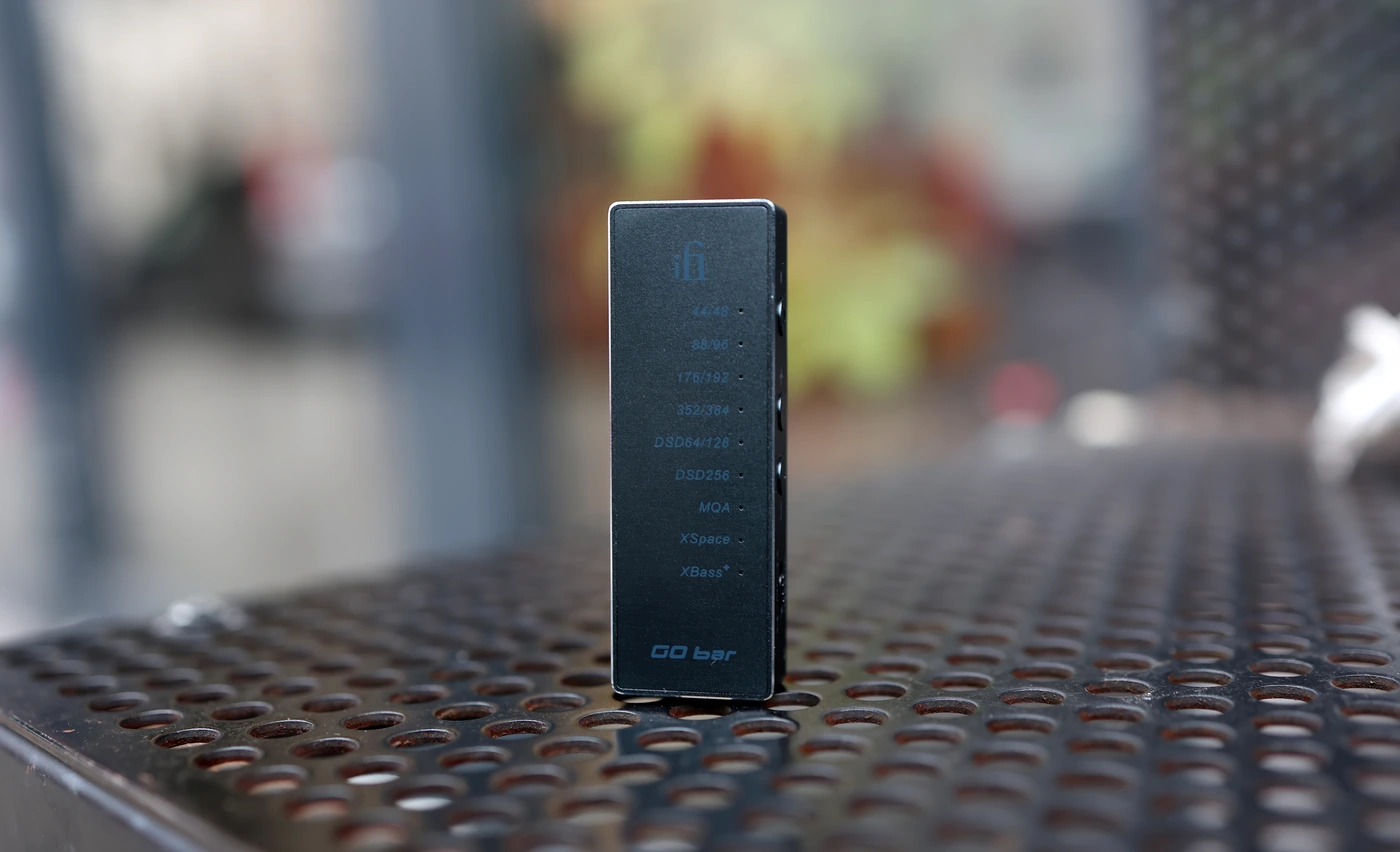 Introduction
iFi Audio is a popular company from the UK, which has been known to produce and launch some superb products in the past, with iFi xDSD being the first one that comes to mind, and not only because I liked it a lot, but also because it is a best seller in Romania, and one of the most popular DAC / AMPs out there. In fact, iFi has designed the product for which I made the first official review on Audiophile-Heaven, which is the iFi iDSD BL Black Label, and it is still a personal favorite of mine, with a lot of driving power and punch, although it is a DAC/AMP that I don't use as much nowadays as it is rather hard to carry around. Back to the Go Bar, I thought that I'll finally have some kind of energy drink to give me a better audiophile hearing, but it seems like the iFi team saw all the dongles out there and decided to simply make the most powerful one, and with almost half a watt of power, it ought to be pretty good too. This is the most expensive dongle made to date, it is about as large as the other two direct competitors, so today we're checking out how it sounds as well, and also what it can do. Purchasing iFi products is best from reputable sources, such as Amazon, but they are known to offer a helping hand to the music lover in need, and will happily answer mails and help you with technical data if you're even in need of anything. 
It should be noted that I have absolutely no affiliation with iFi Audio. I'd like to thank iFi Audio for providing the sample for this review. This review reflects my personal experience with the iFi Audio Go Bar Dongle DAC / Headphone AMP. Every opinion expressed is mine and I stand by it. The purpose of this review is to help those interested in the iFi Audio Go Bar Dongle DAC / Headphone AMP find their next music companion. 
Product Link
You can grab one from www.amazon.com here: https://amzn.to/3OIzOs4
If you're in the UK, you can grab one from www.amazon.co.uk here: https://amzn.to/45Eq7lc
And if you're from Europe, you can grab one from www.amazon.de here: https://amzn.to/45BYtW9
Build Quality / Aesthetics / Design
A central element of design for all dongles is the small size, which allows them to be pocketed, and unlike iFi xDSD or iDSD Black Label, which are rather hard to carry around, to be exceptional walking companions. In fact, Go Bar is so tiny that I almost lost it multiple times during the photoshots and the filming of the b-rolls for today's review, but eventually we managed to find it at the bottom of the product bag and get it back on track for the written review. I think that I did a somewhat low energy video for this one, because it is the first time I'm trying to use zebras and Clog3, and I was rather stressed about changing my video process, but I hope that it will still be fun to watch once it goes live.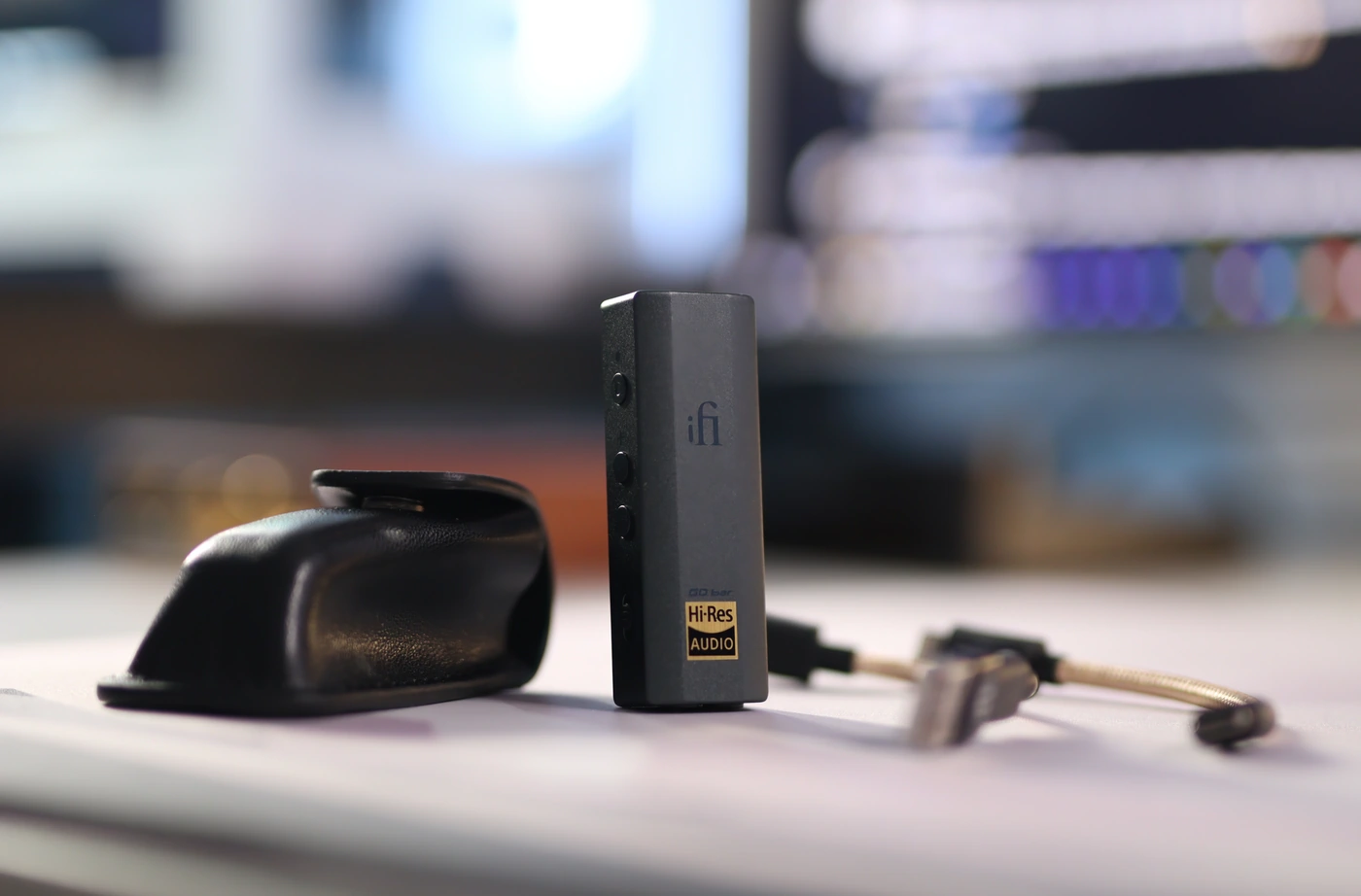 Back to iFi Audio Go Bar, this is one of the trickiest dongles out there, and it is packed with features, ifi having made sure that if a dongle is all the space they have, it shall be filled with joy and opportunities. First off, I've been somewhat frustrated / stressed by having to install a driver for literally every single recent USB DAC, including FiiO K9 PRO, Shanling M1S, JDS Labs Element III MK2 Boosted, and all the others, so today we have a dongle that works without any additional software with literally everything. It is darn nice knowing you can power up your iPhone, Android Phone (Yay Samsung and Huawei), Windows PC, as well as anything else you might have like Linux, and not need to tweak anything to make it work. There is absolutely no USB DAC delay, which is super awesome, and it has its own internal volume, which is also lovely, you can even see how loud you're going by having a row of lights light up when you're increasing or lowering the volume via the + and – buttons. This being said, it goes to sleep almost instantly, so whenever something starts playing, especially if it is set at a loud volume, you will hear an audible pop in your headphones.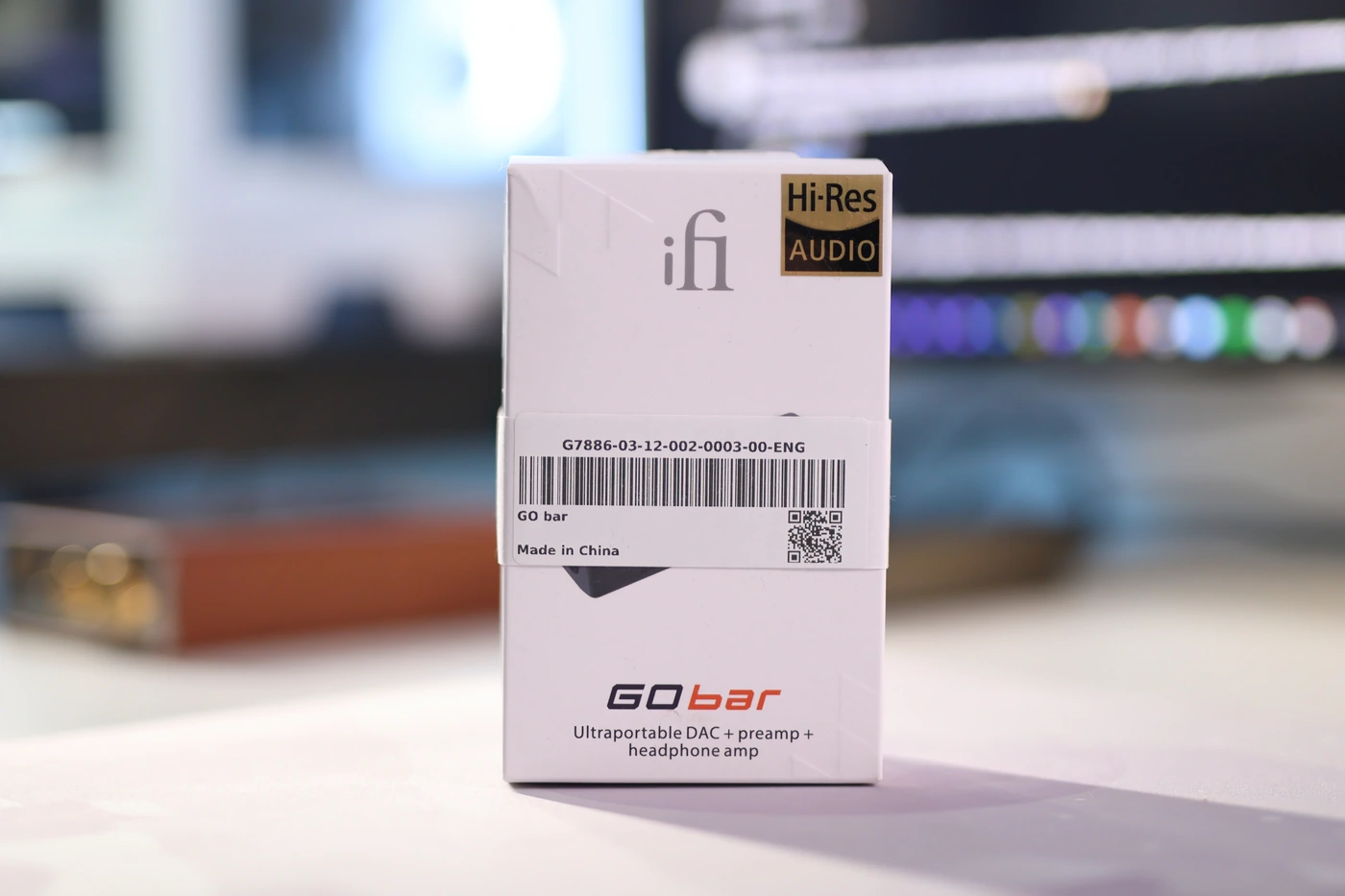 As far as exotic file type support goes, we have Ultra Hi-Res PCM support, up to 32 Bit / 384 kHz, Native DSD support up to DSD256, and 2X DSD. We also have Full MQA decoding, but MQA is going away soon, and is getting replaced by proper flac lossless by Tidal, so this may be slightly less relevant. We have two sonic enhancements, namely XBass+ and XSpace, but both are very mild and will not change the sound heavily when engaged. With two headphone outputs, you may be wondering which would be the best for you, but as a rule of thumb, whenever possible, go with 4.4mm balanced, it is simply better defined, and has more power, plus better dynamics than single ended most of the time. The 3.5mm SE output is still interesting, as it has S-Balanced which helps cut crosstalk noise by 50% for headphones. While this may sound arbitrary, it actually ensures that the Single Ended output sounds almost as good as the balanced output, at least in soundstage and instrument separation.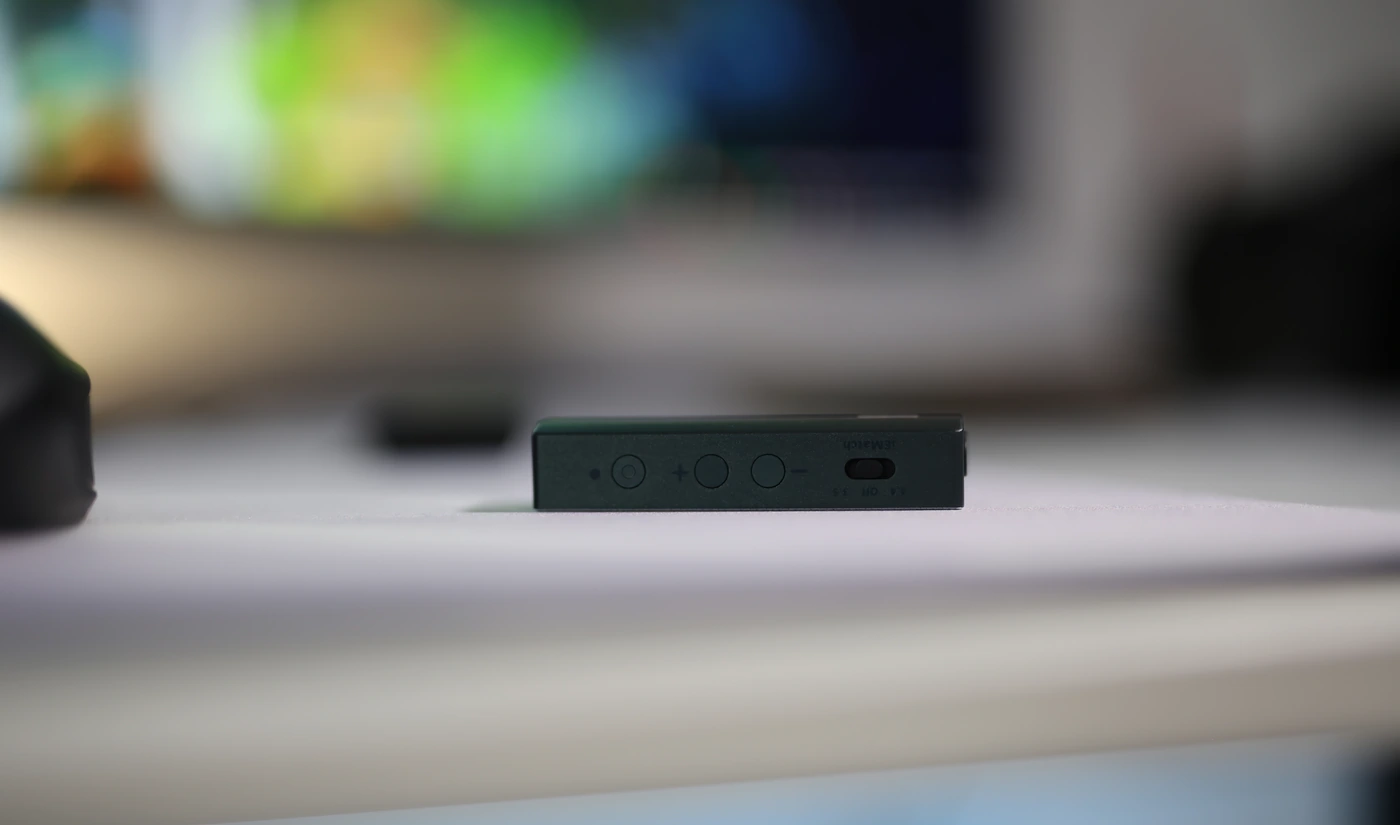 The maximum power is extremely high, 475 mW into 32 OHMs, and 7.5V for a 600 OHM impedance. The power output is the highest for a small tiny dongle from everything I've heard to date. We also have iEMatch, which removes background noise and gives better control for the volume range, but this has the disadvantage of o lowering the dynamic range a bit. We also have a Turbo power which increases the gain by 6rfB to satisfy all the headphones out there for sure. The heart of the Go Bar is an XMOS 16x 16-Core chip that ensures a low latency input, and the latest SuperSpeed USB Standard.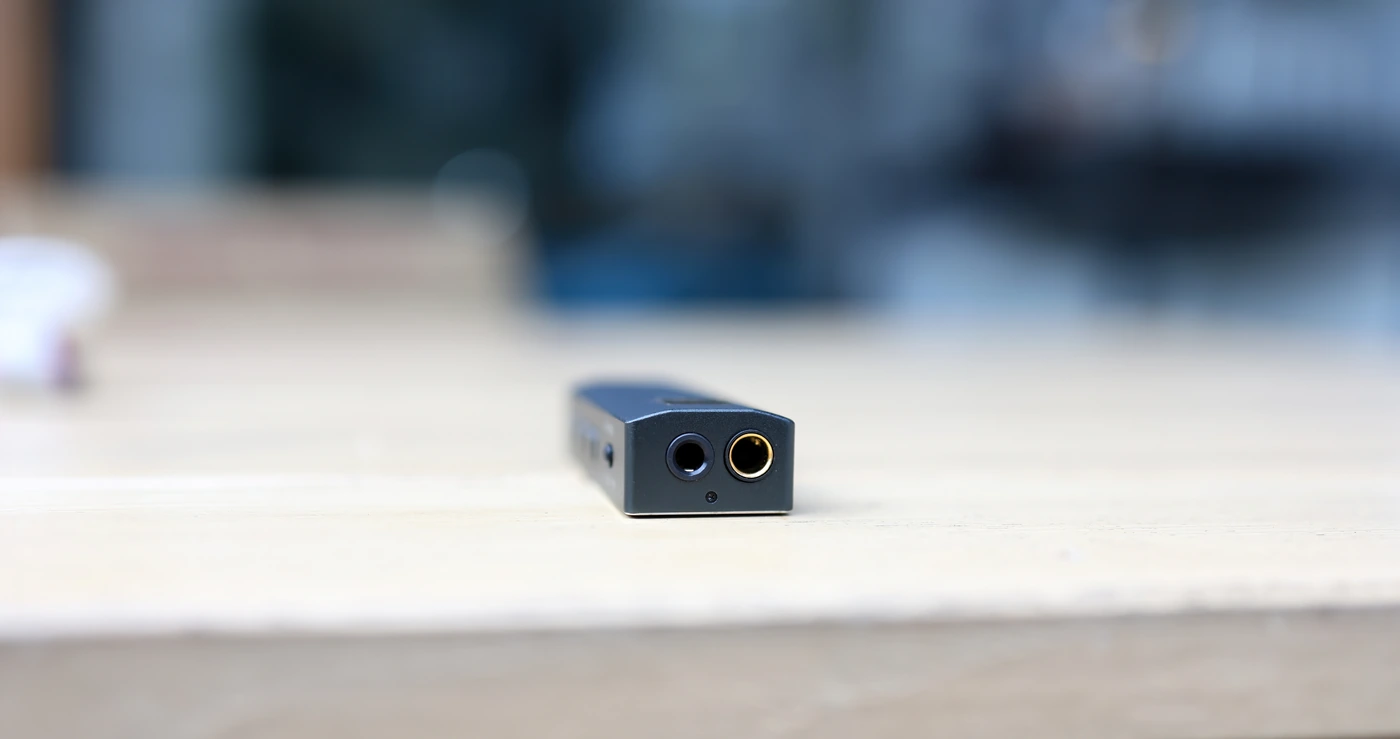 iFi also employs a number of technologies to get to the sound that Go Bar has, including extensive jitter eradication, for which they have the GMT Global Master Timing Femto-Precision clock and intelligent memory buffer to solve jitter for good. The Analog circuit is also really good, as Go Bar has a symmetrical twin-channel output stage. Basically, for the balanced headphone output, we have true balanced with completely separate left and right channels. We also have a TDK C0G Class 1 ceramic capacitors, and Panasonic OS-Con caps with a total of 5410uF for the best noise reduction. If this wasn't enough, ifi employs Tantalum capacitors, and muRata control-type low ESR high-Q multi-layer capacitors.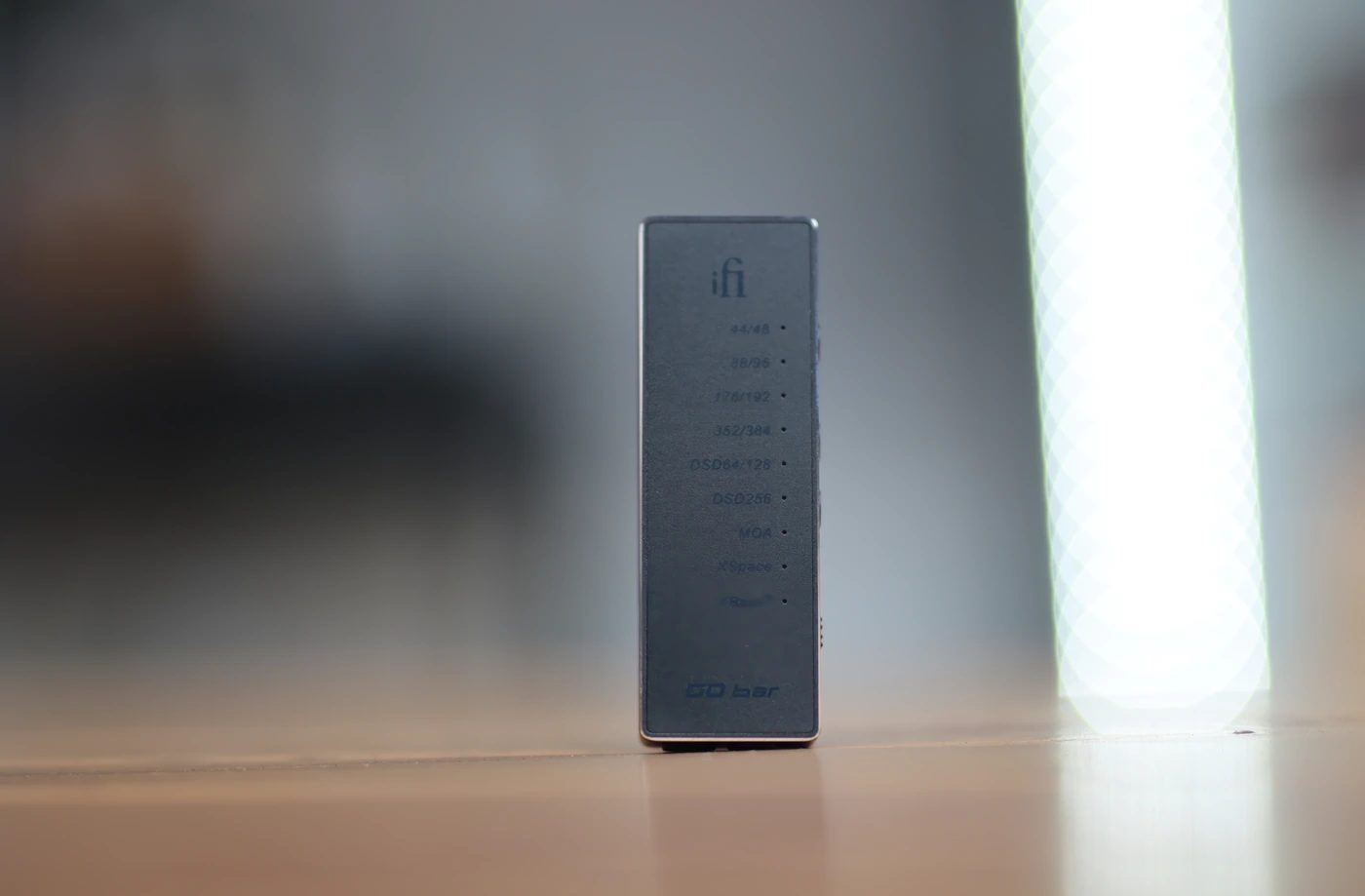 The buttons are a + and a – button, and they can be used for the volume. There is a Power / cycle button that can be used to select the enhancements. The cycle button can also be used to select the filter, and while with iFi Go Bar I've noticed a far higher impact of the filters on the sound, I seem to like the Cyan one best, which is the BP Filter, or bit Perfect, as it provides the best sonic performance and most detail / fastest impact, deepest bass and most satisfying overall sound. The other filters have a far higher impact on the sound compared to most digital filters, and I highly sugges tplaying with them. The default GTO (White) filter is warmer, thicker and smoother. The yellow one is the smoothest, and the red one is a standard digital filter that sounds very casual, and doesn't give any specific sound to the go bar.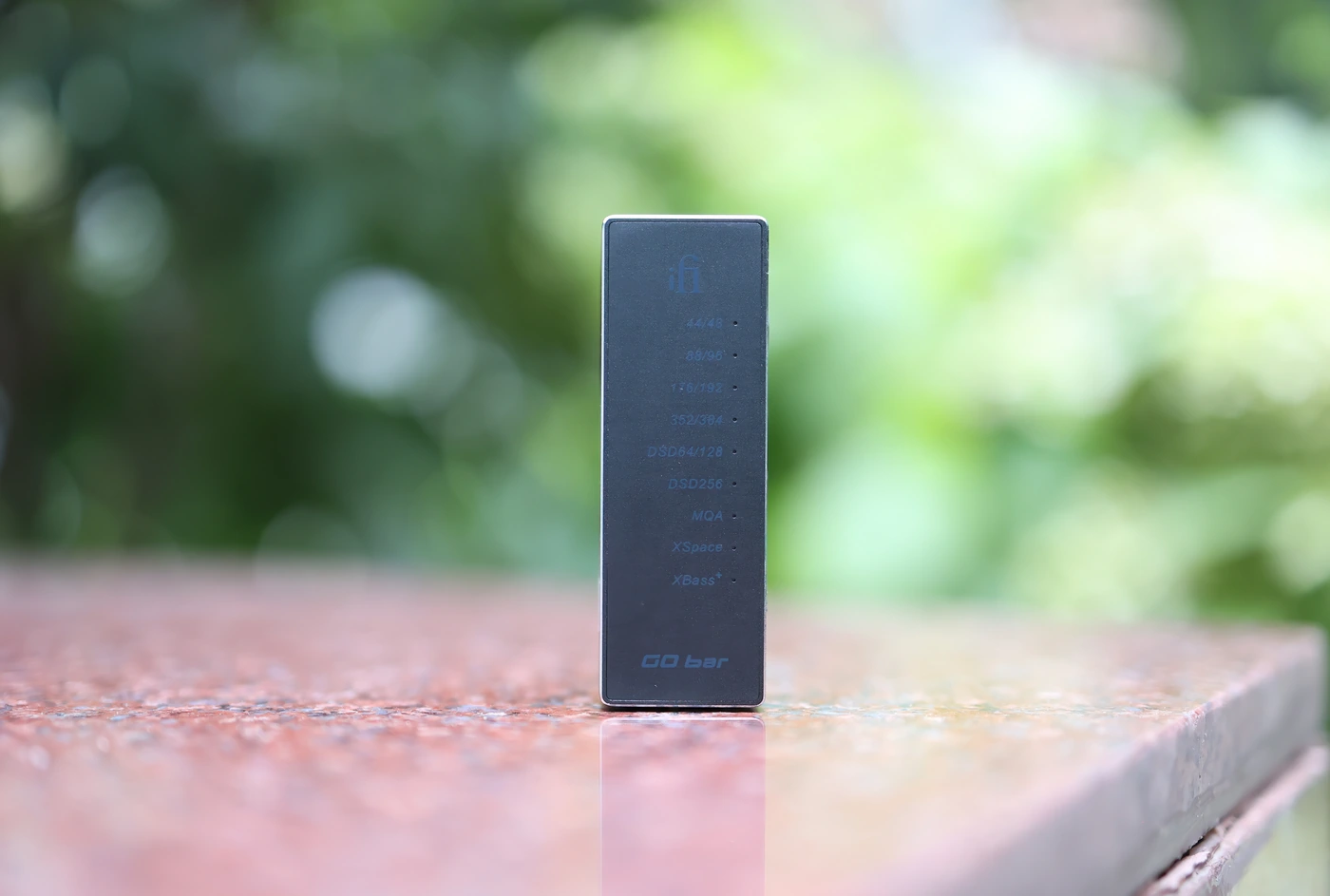 One thing that may be important for all readers is the output impedance, which at around 1 OHM is rather high, and you will notice the noise floor and background hissing with very sensitive IEMs, but in theory iEMatch should fix this. I would actually prefer just using it without iEMatch for the best performance. The Dynamic Range is quoted conservatively, at 109 dB for the Balanced output and 108 dB for the Unbalanced output. We also have a SNr of 132 dB for the Balanced output and 108 dB for the single ended output. The THD is <0.002% for the Balanced output, and around <0.09% for the Single Ended output. The power consumption of the Go Bar is the highest from all the Dongle DACs I tested to date, and while it is efficient and goes to sleep fast, it consumes quite a bit to have the driving power it has, as you'd expect from a dongle with so much driving power. This means that with smartphones you should keep an eye on the battery meter and make sure it doesn't draw more than you'd like. I think that for Samsung S23 Ultra it does not make a huge difference, but if you're on a long road and without access to power, this may be important.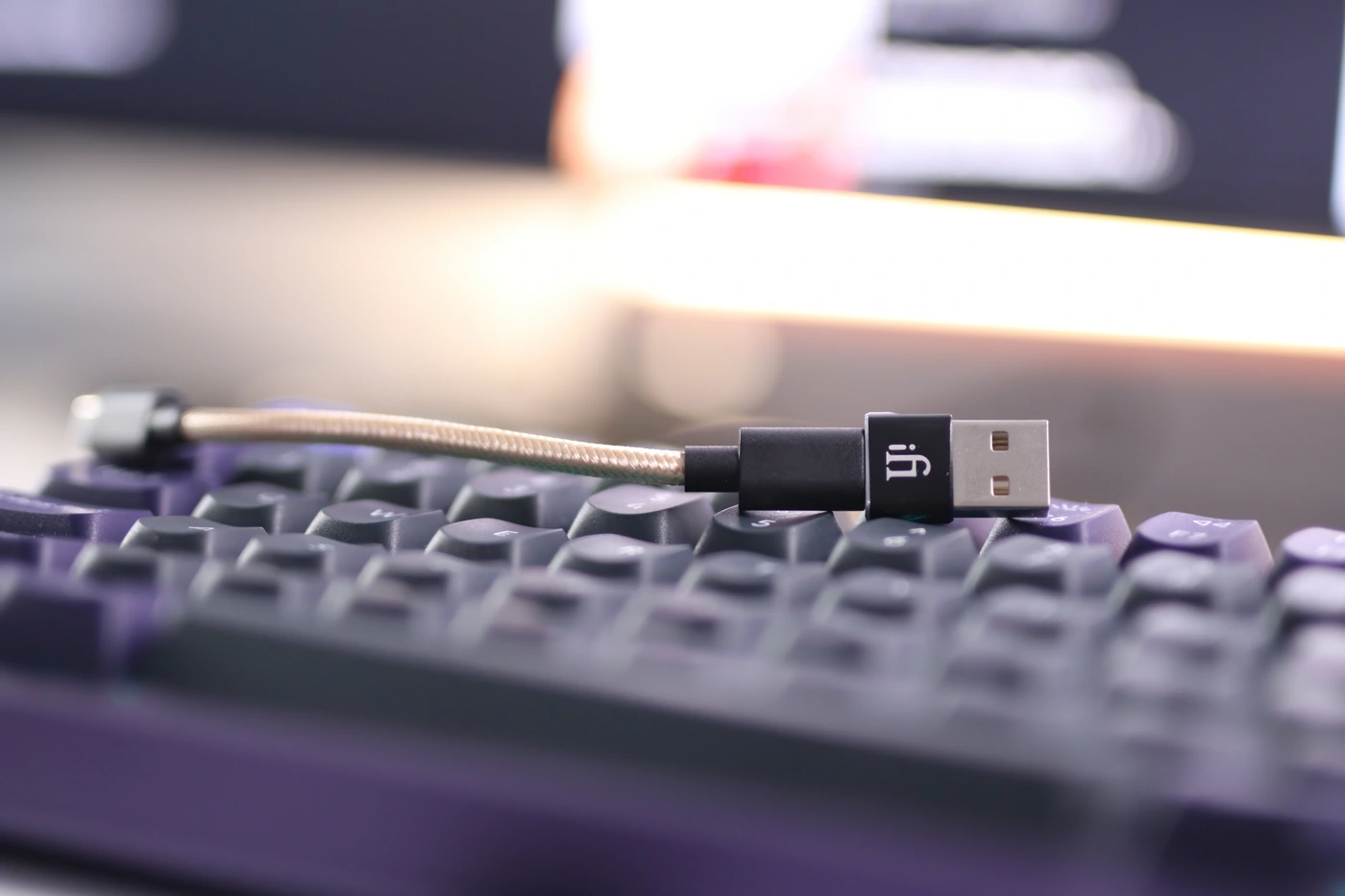 All in all, Go Bar is incredibly powerful, well made, well assembled, has button controls, and comes with a rich package that includes cables for both Android and iPhone, a nice transport pouch, and it works as intended. It gets slightly warm during transport, but it also has really useful data rate indicators on the back, and it has two powerful headphone outputs, both of which sound really good. 
Sound Quality
We went all crazy with the sonic testing of the Go Bar, and seeing so many positive reviews, we believed that we could drive practically anything using it, so instead of being reticent, we went with driving the craziest iems and headphones with it. This includes the best of the best, and hard to drive stuff to, including Sennheiser HD 660S2, iBasso IT05, SIVGa Luan, Meze 109 PRO, iBasso sR3, HIFIMAN HE1000 Stealth, HIFIMAN Svanar, Erzetich Thalia, and Austrian Audio Hi-X60. The most surprising part about today's review is that I found that a single dongle DAC aMP can drive all of those really well, and I mean that they are all driven really well. I always said that you need quite a powerful source for Meze 109 PRO, SR3, and for HD 660S2. Not to mention that a source that is barely as thick as the Eletech Inferno Cable is able to actually put some punch into HE1000 Stealth, I find this to be hubris. The Audeze LCD-5 is still slightly out of bound, but I really wouldn't consider driving a 4500 USD Headphone from a source below 1000 USD.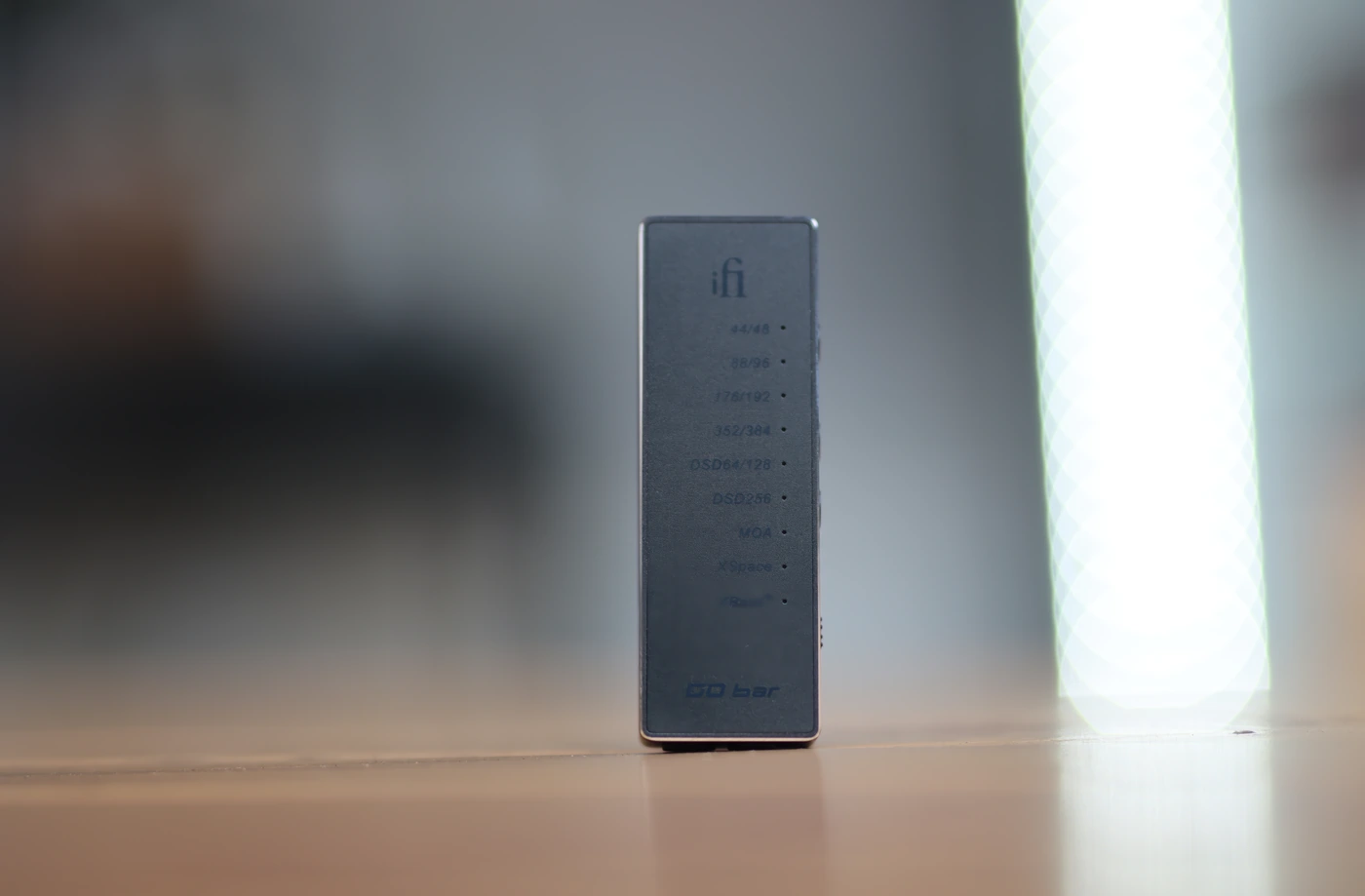 The overall signature of iFi Go Bar depends heavily on the filter you're using, and they make a much higher difference in the sound compared to most sources out there, where the filters are a simple optional feature that barely changes the sound. With iFi Go bar we see a drastic signature change from warm to smooth, to really precise, snappy and even slightly bright. I personally did most of the listening with whether the White fitler, or the Cyan one as I found them to sound the most enticing. The White Fitler is one that I've never seen before on a digital DAC, while Cyan is the most basic bit perfect filter, which sounds the sharpest, most detailed and cleanest. The XBass+ and XSpace are two soft EQ options, xBass+ adding a few dB of bass in the sub-bass and mid bass, but only a few dB, below 5 dB in quantity. xSpace seems to do the same thing, but for treble, and it seems to increase the high-end extension and energy with a few dB, once again around 3-5 dB, and this seems to be focused between 9 kHz and 12 kHz. This will give the feeling of an increased soundstage, and it feels more like adding a bit of salt and pepper to an already great sound, rather than a drastic EQ that could otherwise break your sound.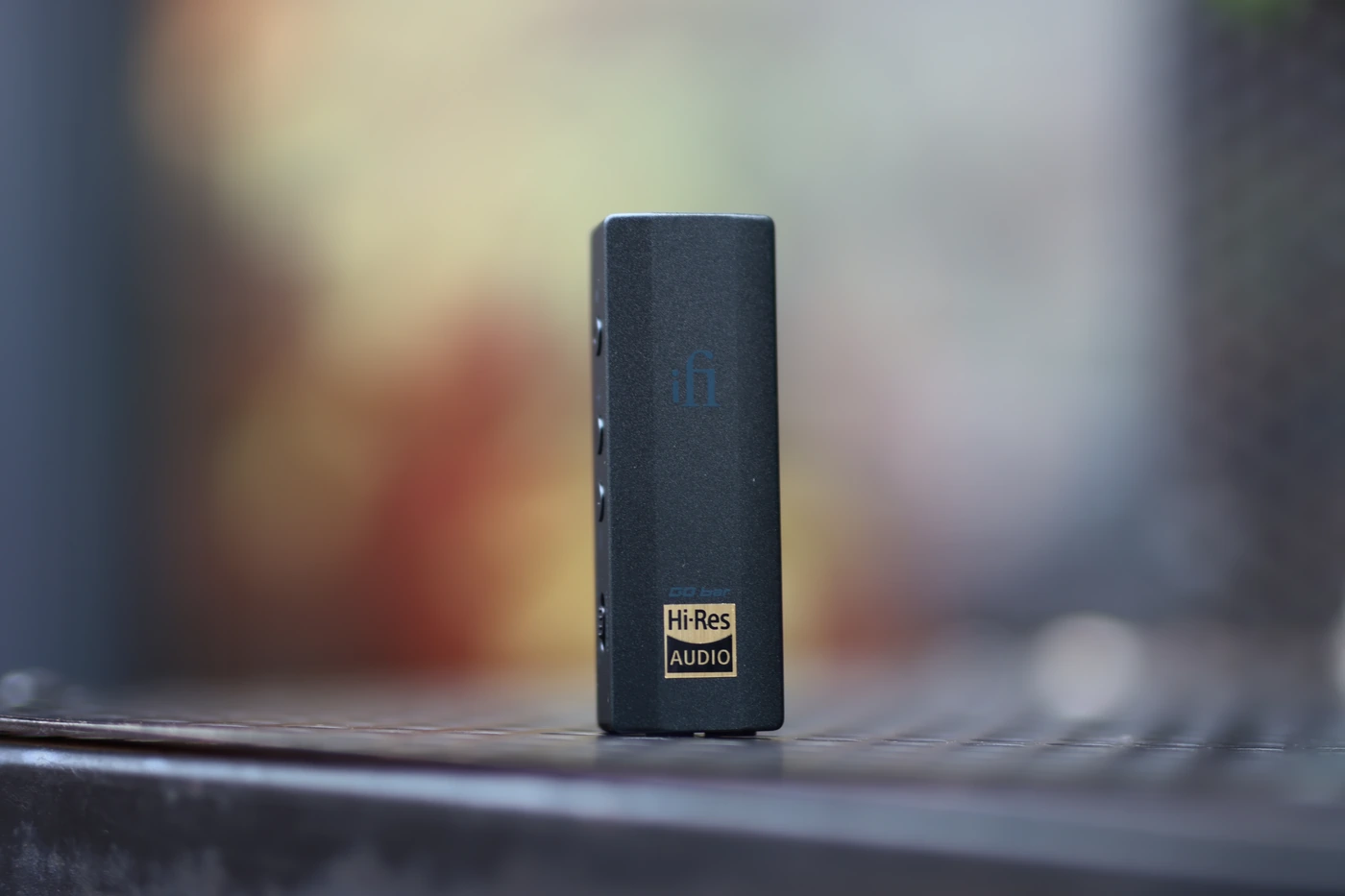 Starting with the bass of the ifi go Bar, it is a really satisfying and deep bass. We have good depth, and if you ever want something more than the neutral presentation it has, you can engage the xBass+, and get 3-5dB of extra push and punch. The bass is generally punchy, and the whole tuning is not colored or too much to handle. Instead, Go Bar is neutral, controlled and has a pleasing low end extension. Overall, the bass is not super fast in the decay, but it is not super slow either, leaving music as it has been recorded, with a very natural overall presentation. The upper bass is natural and not colored in any discernible way, but most of the sound that I can really describe will be in the midrange, where Go Bar is really remarkable compared to most of the dongles that I heard.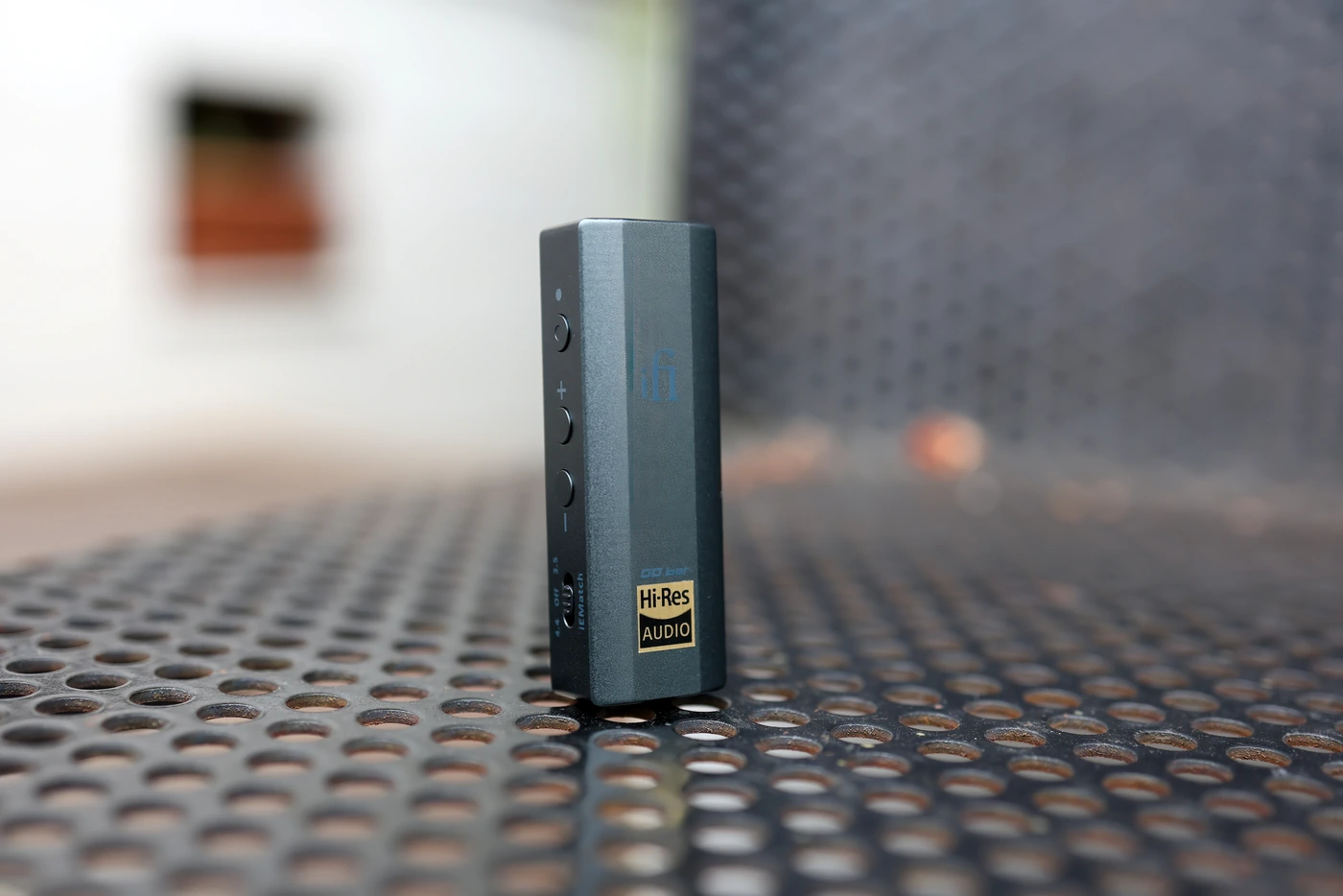 Starting with the lower midrange, we have a dongle DAC AMP that is really powerful, deep sounding and emphasizes both male and female voices. I've been reviewing a large number of products recently that don't have a lot of lower midrange, so iFi Go Bar is surprisingly beefy and strong in the low mids. The first thing that hits you with iFi Go Bar is the soundstage really, and it has a really wide, holographic soundstage that places a huge emphasis on instrument separation, instrument placement and overall resol;ution. To put it briefly, iFi Go Bar will make the lyrics in rock, metal, and pop music easily audible and it will make it really simple to understand what artists are saying, which is usually a characteristic of a really clear and crisp tuning.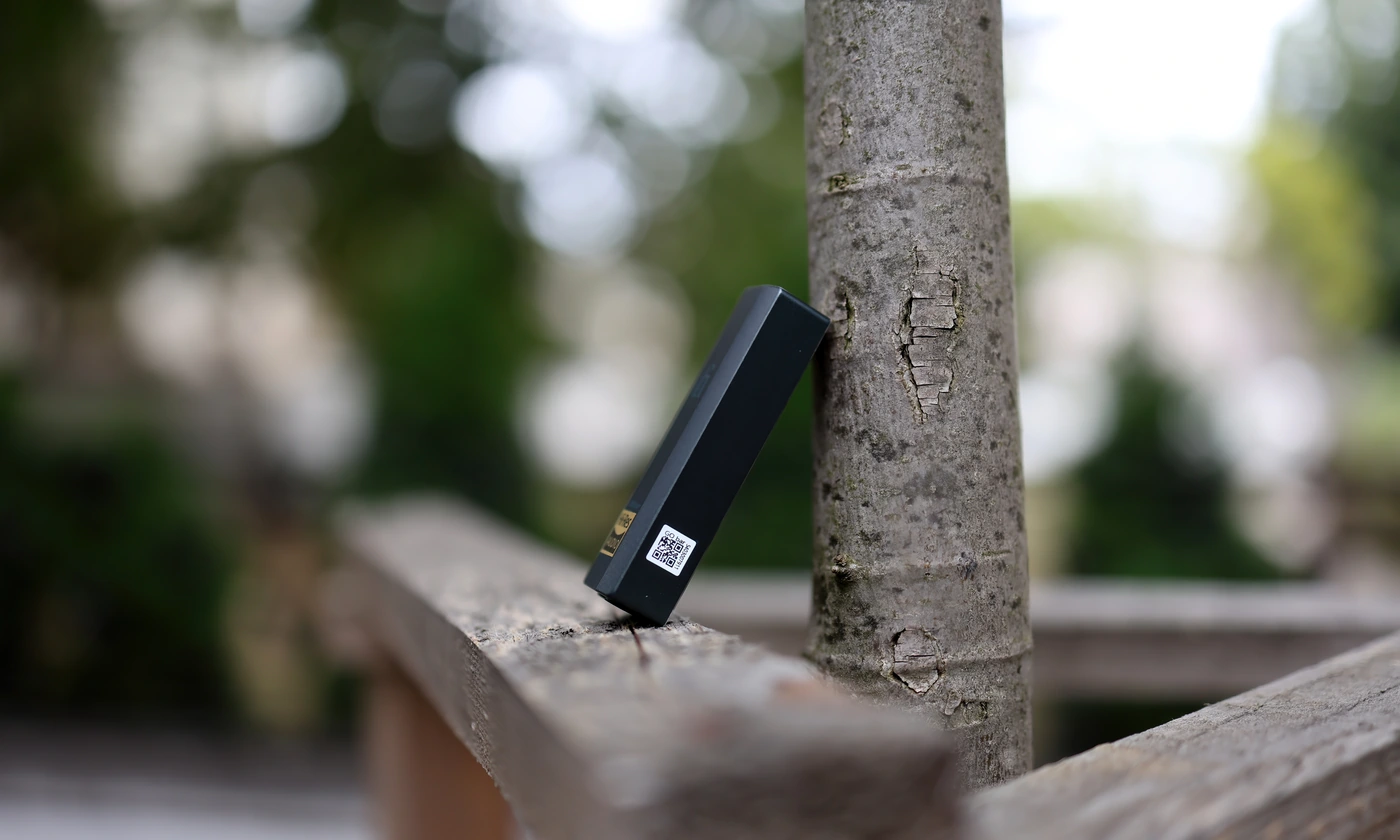 In fact, the clarity of the ifi Go Bar is incredible, and a big part of why it is so clear and detailed is the dynamic range, especially over the balanced headphone output, where it is simply exceptional. Even if your headphones are super hard to drive, iFi go Bar will sound better than most full sized DAC AMPs, including xDSD, as Go Bar has a more dynamic sound, with better resolution and a wider soundstage too. When switching to the higher midrange, it has the same level of engagement for female voices, violins and pianos as it has for male voices. We see a very emotional, sparkly, clean and detailed upper midrange, which manages to steer out of being harsh and metallic sounding. In fact, iFi Go Bar is one of the most precise yet smooth sounding dongle DAC AMPs. The texture presentation is smooth, clean, and does not emphasize a harsher texture, rather allowing you to hear detail where it would exist in an ideal world. This is even with the bit perfect filter, and it does not force detail onto you, but it allows you to hear all the detail there is in your music. The whole sound feels very saturated and contrasty.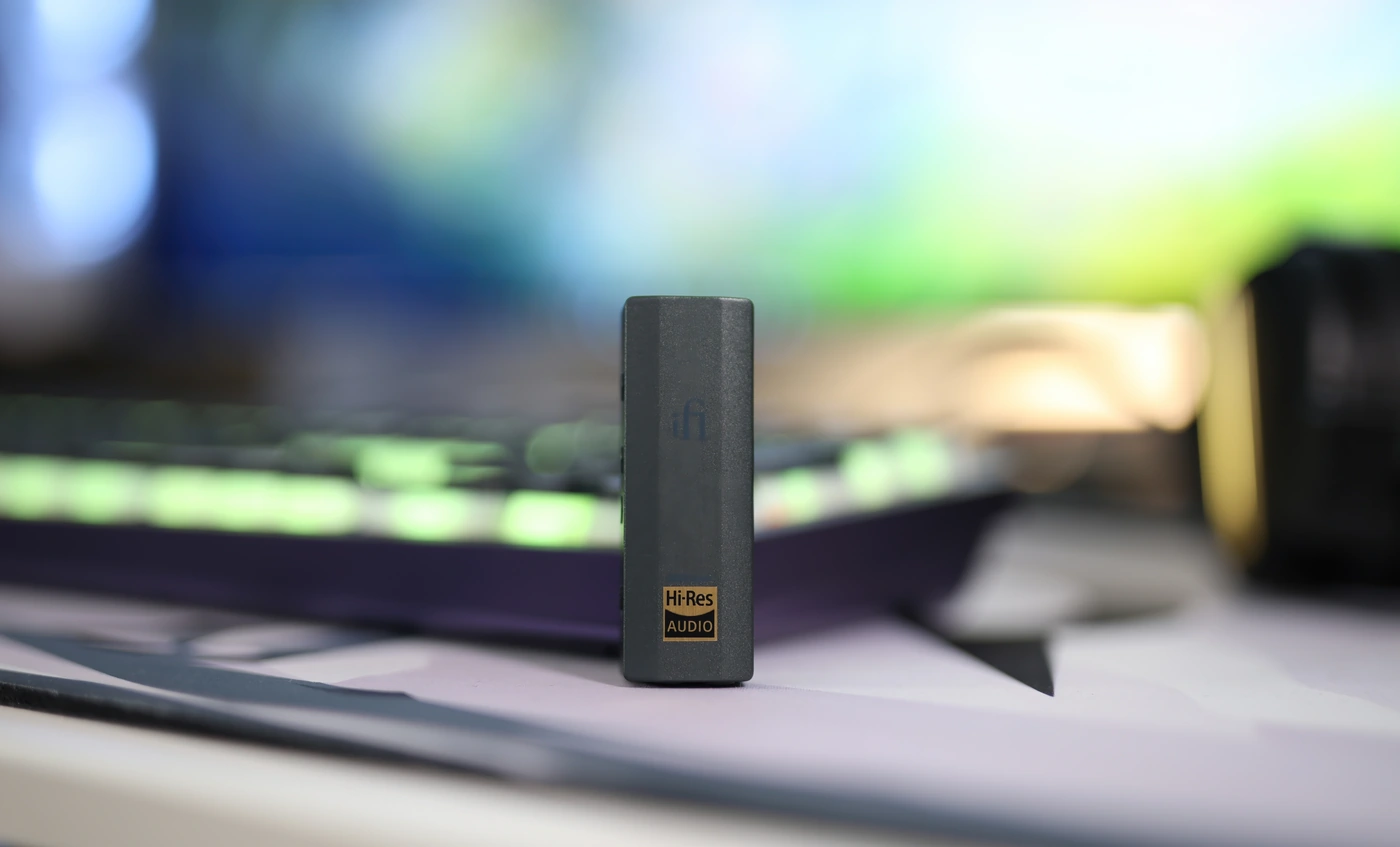 In fact, this is a characteristic of a slightly laid back signature, rather than a forward signature, and iFi go Bar can be said to be slightly laid back, because the treble is not overly sharp or fatiguing, rather it going for a natural and clean treble that has good extension, and a natural amount of sparkle. If you find yourself yearning for more treble, the xSpace option can always up that high-end a bit, and add more air and energy to the music, but it won't change the signature drastically. The whole signature can thus be said to be balanced, dynamic, engaging yet smooth and laid back. iFi Go Bar is exceptional with the dynamics, having a clean and detailed presentation that is enjoyable with every music style. In fact, the thing that is the most remarkable about it is the soundstage, which is also the first thing you will notice as it is a really wide and airy sounding DAC AMP that basically will give music a wide, holographic presentation with exceptional instrument separation. 
Comparisons
iFi Audio Go Bar vs Khadas Tone2 PRO (329 USD vs 250 USD) – The start is actually a comparison with a portable DAC AMP but not a dongle, as physically we have a square mini DAC and Tone2 PRO is actually a bit less expensive than the Go Bar, which may be important to some. Tone2 PRO does consume even more power than the Go Bar, which I think is to be expected given the design and overall presentation of the Tone2 PRO. This being said, the maximum driving power as well as the control at loud volumes is better on the ifi go Bar which handles hard to drive headphones better. The noise floor is similar between them, and both have a bit of hissing with sensitive IEMs, but both have a natural sound with a good emphasis for both male and female voices, both are very dynamic and detailed. The biggest sonic difference is that Tone2 PRO has a higher affinity for female voices and emotion, it is more aggressive and less laid back, and will work a bit better for rock and metal compared to the go Bar which is smoother, more laid back and has a lower level of texture emphasis. Tone2 PRO is far less portable, but a better desktop option if you also want to plug in a stereo system and don't want to deal with no odd weird cables, while Go Bar is a better option if you want to get a simple but effective listening solution for both walking, running, but also sitting at your desktop.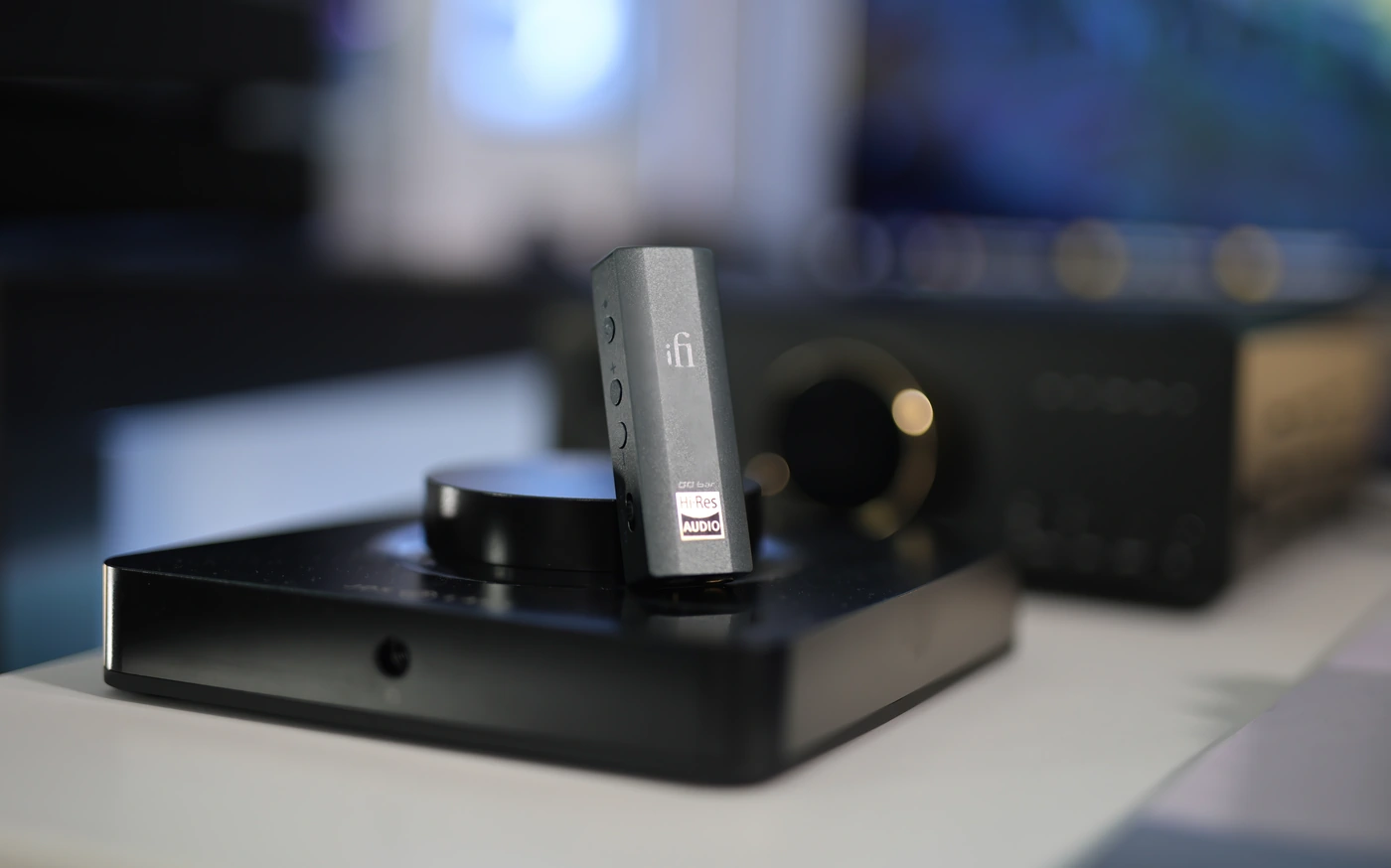 iFi Audio Go Bar vs Questyle M15 (329 USD vs 250 USD) – M15 has to be one of the strongest and most dynamic sounding dongle DACs, although it does have a unique tuning and flavor to its sound. When it comes to the physical device, the two are similar, both are dongle DACs, M15 is a bit wider, larger and also not quite as solid, as that glass screen could be an issue compared to the all-metallic body of the Go Bar. We have high driving power with both, but Go Bar goes much higher when it comes to the maximum driving power it can push, it also consumes more power from the source, but it can handle headphones like HE1000 Stealth much better. For IEMs, both have an audible hissing and noise floor, but with the Go Bar we have iEMatch if you want to get rid of that. The sonic presentation is wider, more holographic as presented by Go Bar, it is more dynamic as presented by M15, but Go Bar can have a bolder sub bass and low end punch in general. M15 tends to always sound a bit thinner and more aggressive in the treble, while Go Bar is more laid back, and has a smoother texture presentation. Both make great dongle DACs, but if you can afford to have a more power hungry dac, Go Bar has a higher driving power, more bass, a bolder sound with lower distortion at maximum volume, and generally has a more rounded presentation. M15 is a great little dongle DAC if you want to have as much impact as is humanly possible, but don't care as much about the bass depth and overall quantity. 
iFi Audio Go Bar vs Lotoo PAW S2 (329 USD vs 279 USD) – This has to be the hardest comparison to make because both of those are super good, they are close in pricing, and S2 actually has a more effective EQ profile that can do more than the xBass+ and xSpace of the Go Bar. Starting with the build, they are roughly the same size, both have a good build quality, both have both a single ended headphone output and a balanced output. Both of them have a super high driving power, but Go Bar has a higher maximum driving power, although it also has a higher noise floor, although you can always engage iEMatch to fix that. Paw S2 has more EQ profiling, and it is better if you want to tweak, while both have a really dynamic sound. The default signature has a warmere midrange on the S2, which has a fuller bass, and a more rounded sound. iFi go Bar sounds considerably more open and wider in the soundstage, it is more holographic, but both have good detail and resolution. All in all, if you're looking for a wide and more laid back sound, but with more driving power, iFi Go Bar should be your choice, while PAW S2 is more of a tweaker's paradise, with a warmer midrange, more forward and more punchy sound. Both are great options and you would be happy with either, but the higher driving power, combined with the higher power consumption of the Go Bar make it more versatile, if you're not sensitive to hissing. 
Value and Conclusion
When it comes to reviewing the priciest dongle DAC AMP out there, you would expect it to be only a fair value, but actually it has excellent value, given that it has only strengths and a single downside, which is the high power draw from the source. Everything else, including the super high driving power, exceptional imaging and wide soundstage, as well as the detail level, yet laid-back nature that makes it enjoyable, along with multiple filter options make iFi Go Bar a really easy to recommend dongle DAC for everyone who has a phone, or a windows PC, or a MAC, or an iPhone, or basically anything else to enjoy music and needs a converter for it.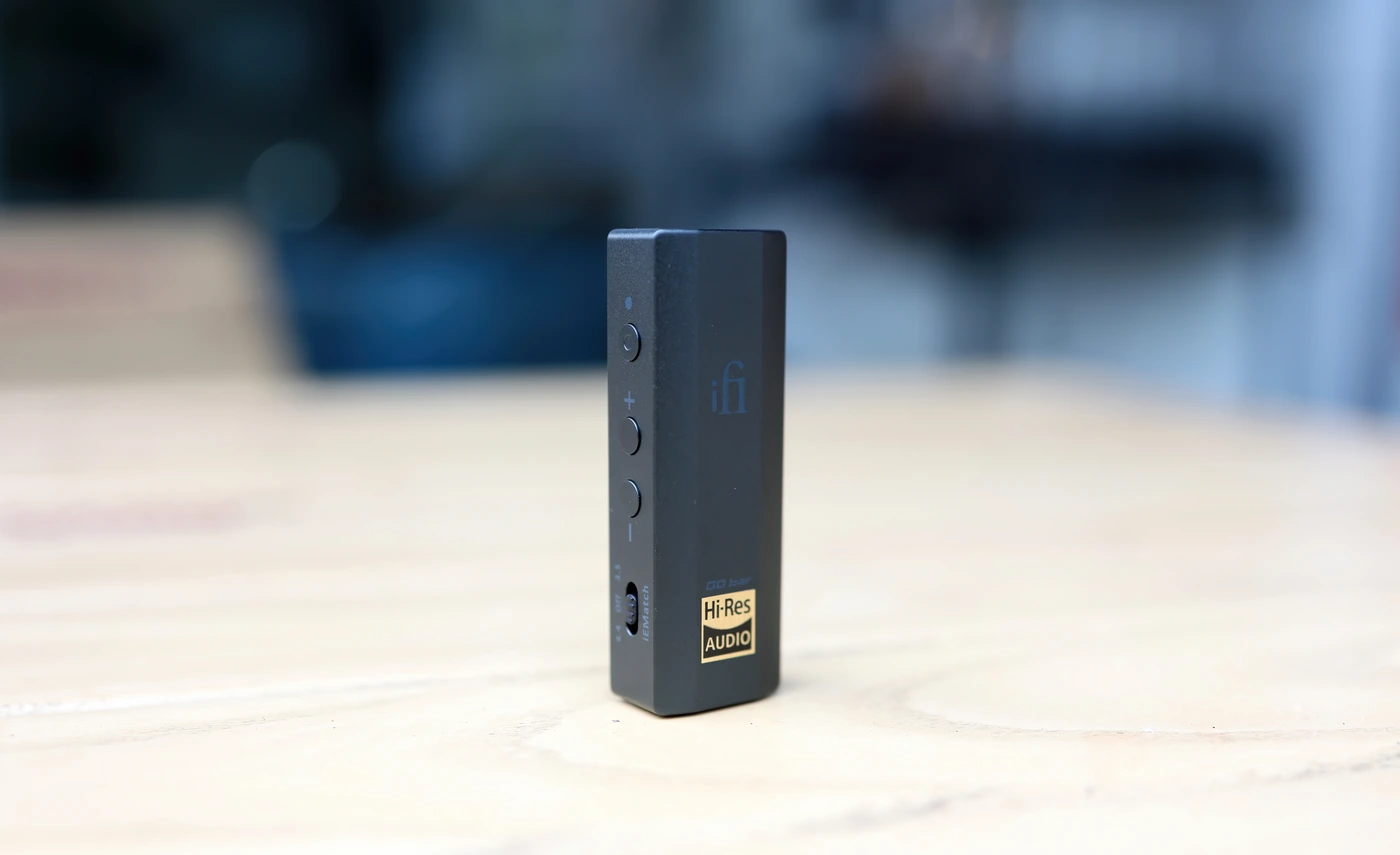 In fact, when you add the support that ifi is known to offer to the mix, and spice things up with the clean track record ifi is known to have, and how their products can survive many years of usage, a tiny device like the Go Bar could see more usage and long hours of play in your home, heart and ears, to the point where I feel compelled to add it to the Audiophile-Heaven Hall Of Fame and award it as a member of what I consider to be the best overall products ever created.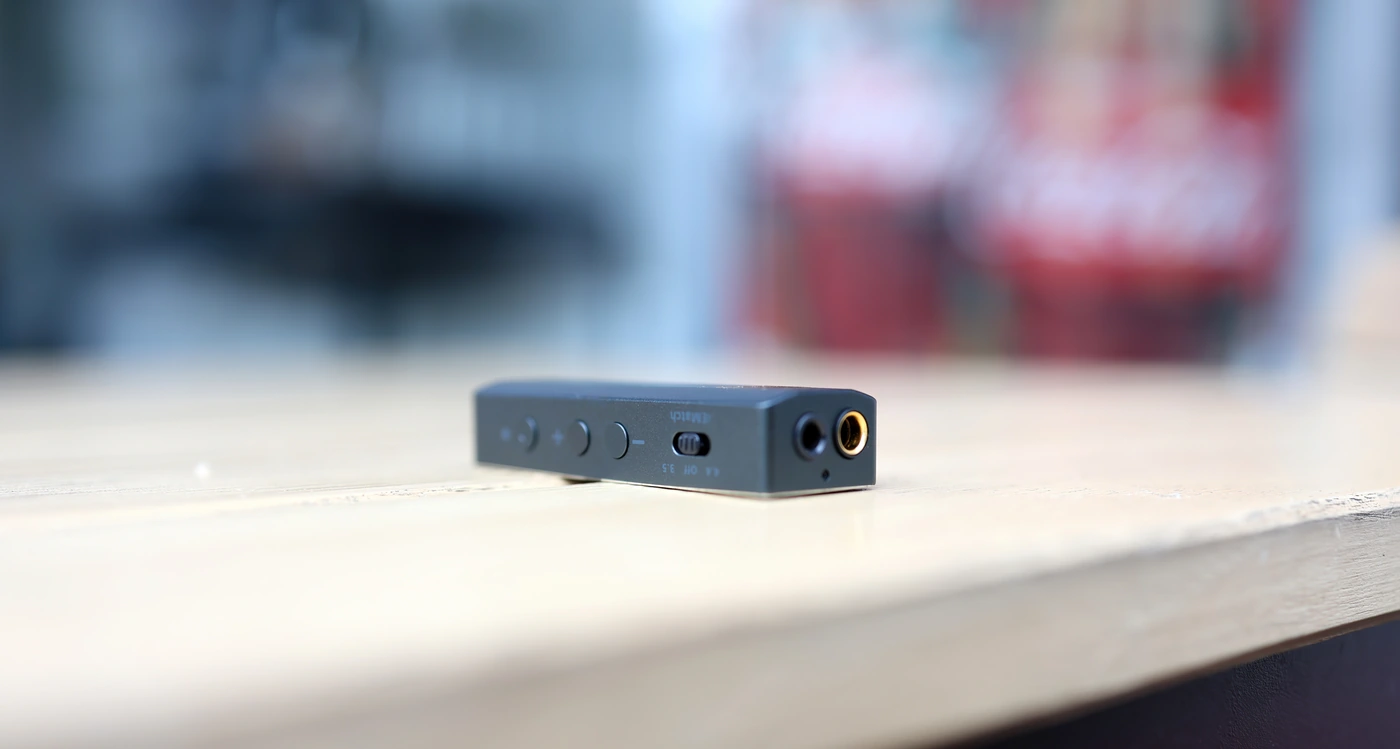 At the end of today's review, if you're looking for an exceptional dongle DAC AMP, with a wide presentation, surprisingly high driving power, fine tuning filtering and fine tuning EQ settings, and with a good build quality, all provided with love by iFi Audio, one of the best in the audiophile world, ifi go Bar is not just a snack, but a full-course meal with seasoning and a nice glass of champagne at the end to make your audio adventure as juicy and delightful as possible. 
Product Link
You can grab one from www.amazon.com here: https://amzn.to/3OIzOs4
If you're in the UK, you can grab one from www.amazon.co.uk here: https://amzn.to/45Eq7lc
And if you're from Europe, you can grab one from www.amazon.de here: https://amzn.to/45BYtW9
---
--- Please remember to stay safe, and always have fun while listening to music!---
 - If you have a dime to spare, please donate, and help us! It would make the day brighter for me and my wife- 
---
Full Playlist used for this review
We listened to more songs than those named in this playlist, but those are excellent for identifying a sonic signature.  I recommend trying most of the songs from this playlist, especially if you're searching for new music! The playlists are different for Spotify, Tidal and Youtube, and based on the songs I enjoy and are available on each!
https://www.youtube.com/playlist?list=PL_cjBXGmwSHSdGcwuc_bKbBDGHL4QvYBu
https://open.spotify.com/playlist/5J3oloz8Riy9LxEGenOjQ0?si=979ba4f082414be7
https://tidal.com/browse/playlist/330fd544-8e5b-4839-bd35-676b2edbb3d5
--- Contact Us ---





---