Matrix Mini-i PRO 4 Music Streamer / DAC / AMP – Does It All, Does It Well
Matrix Mini-i PRO 4 is a $959 USD Music Streamer, high-end DAC, and headphone amplifier / driver with a really smooth, high-end design, a versatile design that can do a lot of things, from music streaming, USB DAC function, Balanced and RCA outputs that work at the same time, all the way to having a touch screen, remote, and AirPlay 2 support. This makes it a very competitive device and I will be putting it against the best of the best, including Aune S9C PRO, Soundaware A1X PRO, Matrix Element i, Mano Ultra MKii and Keces S3. 
Introduction
Matrix Audio, Marix Electronic Technology Co., LTD is a rather popular company, especially with those who aim to have or already have a high-end desktop setup and want a streamer to power it. For most music lovers who are just starting their journey, getting a Matrix device would be like going to the finish line from the stat, especially as those streamers / DACs / AMPs have exceptional DACs, implementations of those DACs, headphone amplifiers, and look very sleek as well. The Matrix Mini-i PRO 4 we're reviewing today feels like an upgrade over the Element i that we reviewed in the past, as it has a much sleeker build, a touch screen display, and a balanced headphone output, along with XLR outputs, giving it an edge over most streamers out there. Matrix Audio in general follows this philosophy of trying to embrace perfect audio performance, but also blend design elements and make their products presentable, give them a nice looker design, and bring your entire home and experience to the next level. Matrix Audio has their own research and development, making new products and engineering new ways for audiophiles to have fun, rather than being a rebranding of other OEMs. Matrix products can be found at local Hifi shops, can be bought from the Matrix Audio official store, and can also be found on Amazon, where I recommend purchasing from for an extended return window and getting enough ear time to know if this will be perfect for you or not. 
It should be noted that I have absolutely no affiliation with Matrix Audio. I'd like to thank Matrix for providing the sample for this review. This review reflects my personal experience with the Matrix Mini-i PRO 4 Streamer DAC Headphone AMP. Every opinion expressed is mine and I stand by it. The purpose of this review is to help those interested in the Matrix Audio Mini-i PRO 4 Streamer DAC Headphone AMP find their next music companion. 
Product Link
Official Dealer List – https://www.matrix-digi.com/contact/dealer
You can grab one from www.amazon.com here: https://amzn.to/3QTEIW5
If you're in the UK, you can grab one from www.amazon.co.uk here: https://amzn.to/3YG2Q0d
And if you're from Europe, you can grab one from www.amazon.de here: https://amzn.to/3qyEKb8
Build Quality/Aesthetics
From the first moment learning about the new Matrix Mini-i PRO 4, we get to learn that this is not just a DAC or a DAC/AMP, but a really potent streamer that has a rich selection of digital inputs, with a complex digital audio processing ability, offering support for most network-based streaming protocols. You will have to use the MA Player and the MA Remote App to get the most out of Mini-i PRO 4 if you're going to be streaming, but it works without any app if you use it as a USB DAC/AMP. All processing is based on the Quad-Core Cortex A-55 CPU that is running at 2.0 GHz. The inputs includes Coaxial, Optical, HDMI ARC and USB Audio input. We have support for all the common data rates, including high-res PCM up to 768kHz at 24 Bit, MQA both 16 and 24 Bit, and DSD as well.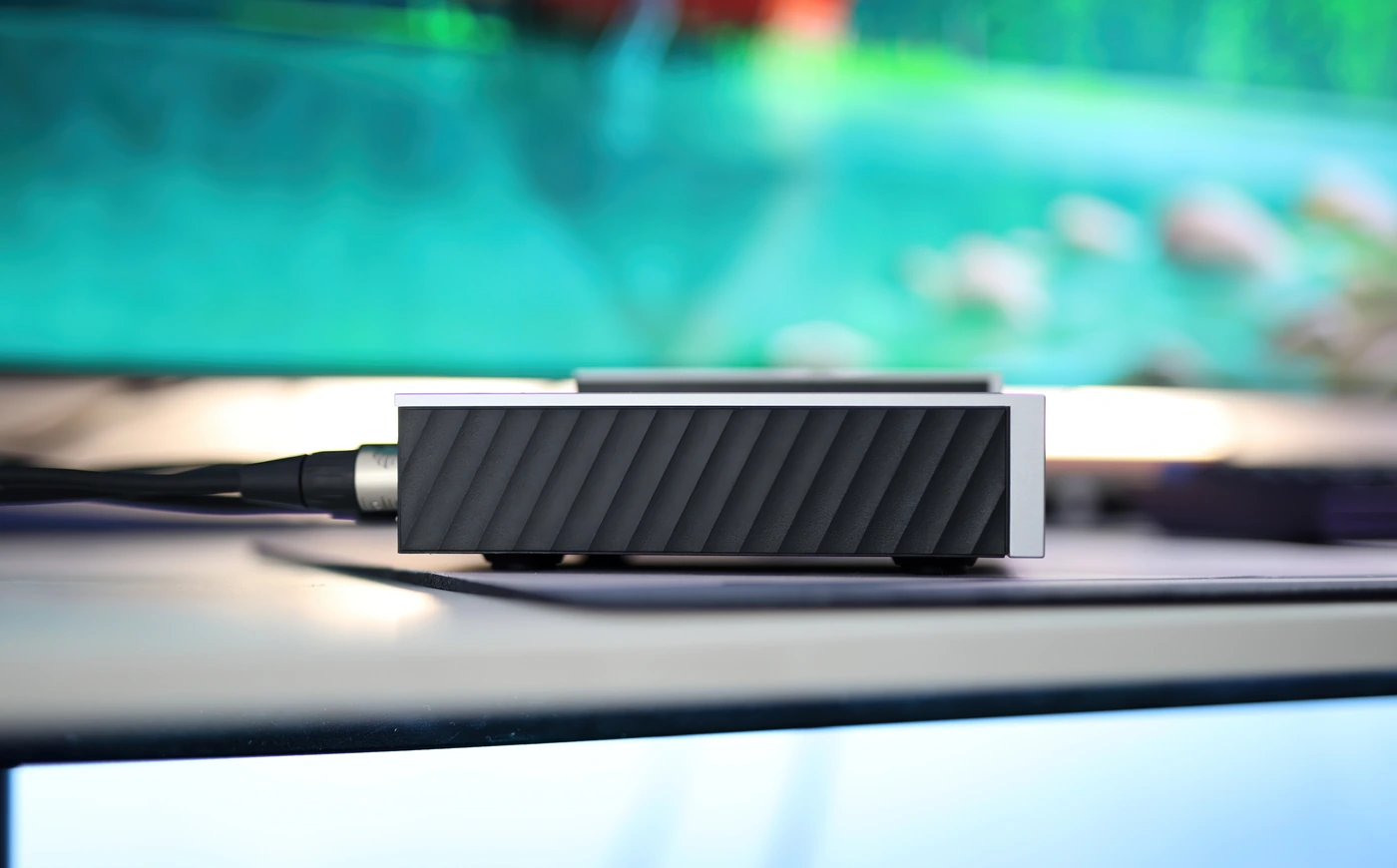 The DAC chip inside of the new Matrix Mini-i PRO 4 is an ESS ES9039Q2M DAC chip, which has a high SNR, low distortion and should deliver an excellent experience for all music styles. The DAC is directly connected to the two headphone outputs, and those include a 6.3 mm single ended large jack headphone output, and a smaller 4.4mm balanced headphone output, based on a fully balanced circuit design. Speaking of the headphone outputs, we have a strong SNR of 117dB for the balanced headphone output, and a similar 116dB for the single ended headphone output. The THD is comparable too, while the output impedance is quoted to be below 22 OHMs for the balanced headphone output, and below 11 OHMs for the single ended headphone output. The maximum driving power for the balanced headphone output is 2200mW at 32 OHMs, and the headphone output will have a 1% THD, while the single ended headphone output has a maximum output power of 1200 mW with a 1% THD as well.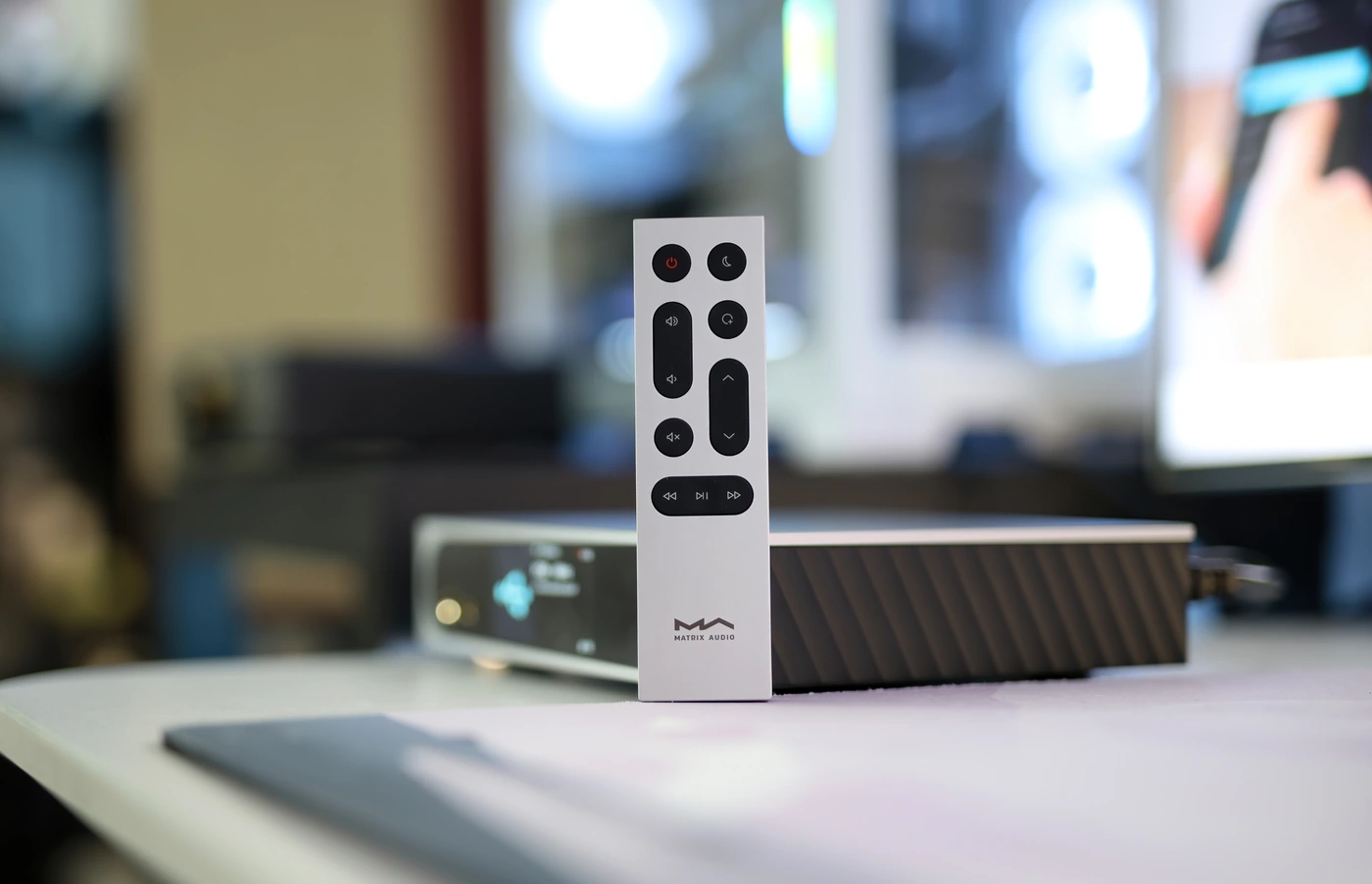 Those numbers would imply that Mini-i PRO 4 would hiss and have a high background noise level with IEMs, but upon testing it with multiple IEMs, it is dead quiet and it has no problems, which is fairly nice, so it is possible that those output impedance ratings are missing something. If you check the numbers, we have a 100dB A-Weighting for the AUX input, which has a THD of 0.0035%, and an input level of 2.1VRMs max. The Line out is extremely capable, having a SNR of 127dB for the XLR output, and 121dB for the RCA output. We also have a channel crosstalk of less than 146dB for the XLR output, and a channel crosstalk of less than 133dB for the RCA output. The output level is max 4.4VRMs for the XLR output, and max 2.2VRMS for the RCA output. Those numbers alone would place Matrix Mini-i PRO 4 way above most high-end flagships that I reviewed to date and make it one of the best audio devices to ever be designed from a technical point of view.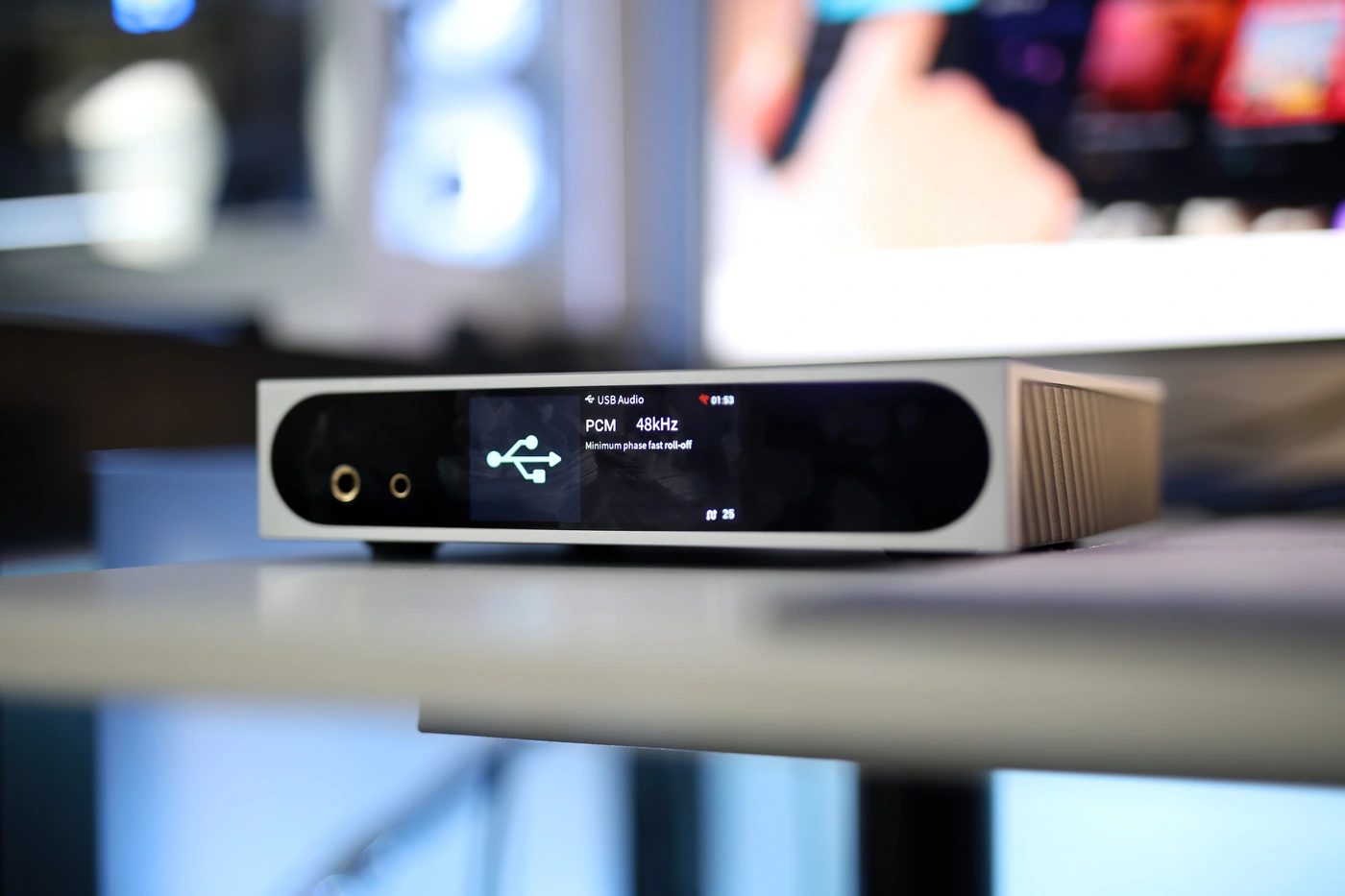 There is a USB Type-C input which offers support for Hard Disks, and has a max power of 5V / 1.5A, and which allows you to connect all USB Mass Storage devices that have a FAT, FAT32 exFAT or NTFS file format. This would theoretically exclude HDDs that have been formatted in a Mac PC. I could not get the USB Type-C input to work well as I did not have adapters and I connected most of the externals with a Type-A USB port to my PC. The power consumption is low at less than 5W for the standby and less than 30W at max. I find this to be comically low, but it doesn't get any hot during usage, staying cool and nice to the touch. Given the low weight of 1.3 KG of the unit, it feels really well made and all of its inputs and outputs work nicely.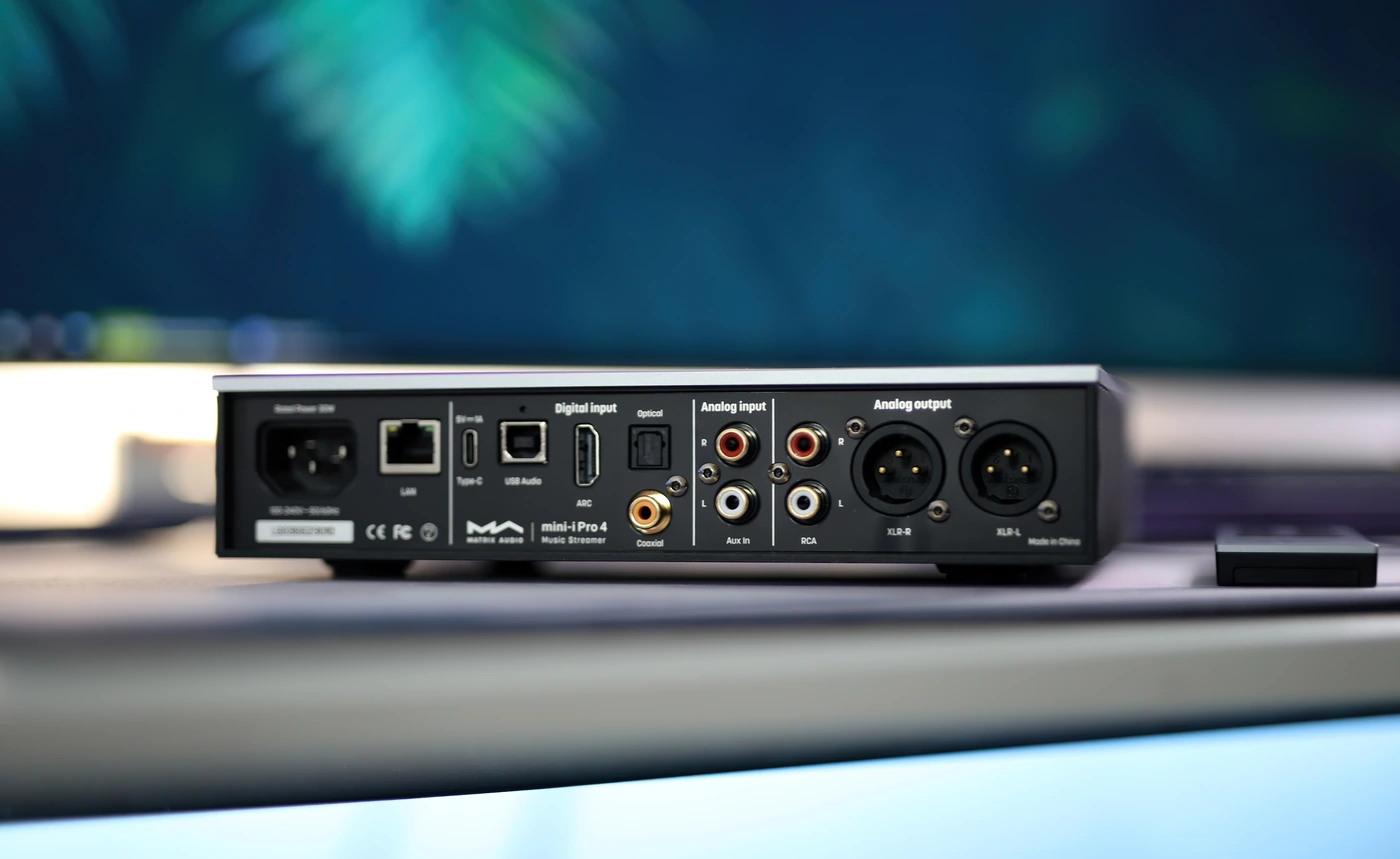 The MA Player is the heart of Matrix Mini-i PRO 4, and it supports basically all of the popular format files, all PCM sampling rates, including MQA, and it should be Roon Ready too soon. While the manual states that you need a USB Driver, I can confirm that Mini-i PRO 4 works without any drivers on my windows PC machine, and I can also confirm that there is no USB DAC delay when using it via USB. I also noticed that it works well over all of the other inputs, tried HDMI ARC with my Samsung 65QN95A TV, Coaxial and Optical with my PC and iBasso DX320 MAX Ti, and Ethernet via the Ethernet cable and with my smartphone. There is no delay, no stutter and no signal loss when using the Mini-i PRO 4 for streaming, every service works as expected. There is no internal memory available, so all streaming is live, but as long as your ethernet signal is stable, and we have 1GBPS signals in Romania, everything works as expected. The Ma Remote app is handy, it works well, and does what it has to really well. I have used the Mini-i PRO 4 more as a USB DAC for my PC than as a streamer, as I find the appeal of streamers less appealing than using my PC with good sound. 
Sound Quality
I have paired Matrix Mini-i PRO 4 with a number of setups, including driving HIFIMAN Audivina straight out of it, but also other headphones, including Audeze LCD-5, HIDIZS MS5, Sivga LUAN, Sennheiser HD660 S2, iBasso IT05, Meze 109 PRO, Erzetich Thalia, and Austrian Audio Hi-X60. When driving IEMs and headphones I have been surprised by how low the noise floor is. To put it simply, there is no noise floor to speak about, and where with super sensitive IEMs, you can hear a noise floor and some hissing with most DAC/AMPs like HIFIMAN EF400, or even JDS Labs Element III MK2 Boosted, Matrix Mini-i PRO 4 shows absolutely none in my tests, at least with the IEMs I tried pairing it with. It also has no trouble driving super hard to drive headphones from the balanced headphone output, being enough even for Audeze LCD-5, and giving them a really dynamic, punchy sound with super good resolution and detail. Regardless whether the headphones have a high or a low impedance, a low SPL or a high SPL, and regardless of the tech of the headphones, be it planar, dynamic or Balanced Armatures, Matrix Mini-i PRO 4 has proven to be versatile and do an exceptional job with all of them.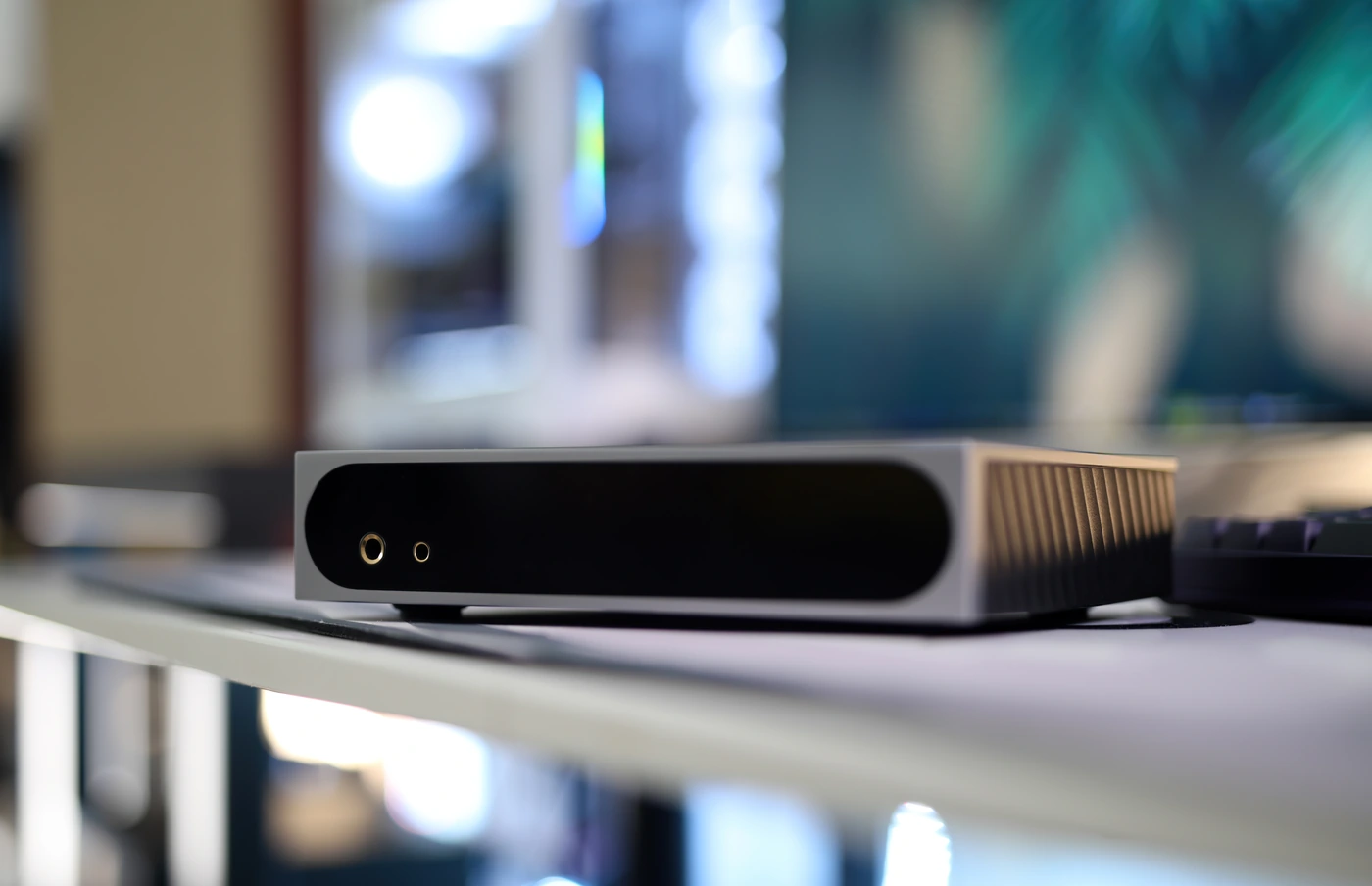 The other pairing test I've done has been with a stereo system, and since this is a unit that will likely see a lot of action in high-end desktop systems, I have to say that it has also proven to have no background noise when being the DAC powering Keces S300+, which is powering a pair of KLH Model Five and a pair of Super Tweeters from Aperion Audio, and the sound is simply super detailed, dynamic and punchy. The best part is that both the XLR outputs and the RCA outputs work at the same time with no degradation in quality, so I can connect Adam Audio T10s as a subwoofer to the setup to get better fundamentals and a fuller low end. I also paired Mini-i PRO 4 with Burson Funk driving a pair of NHT C3 Speakers, and a SMSL AO200 driving a pair of Buchardt S400 Speakers, all of those setups having proven to be incredibly clean with no noise.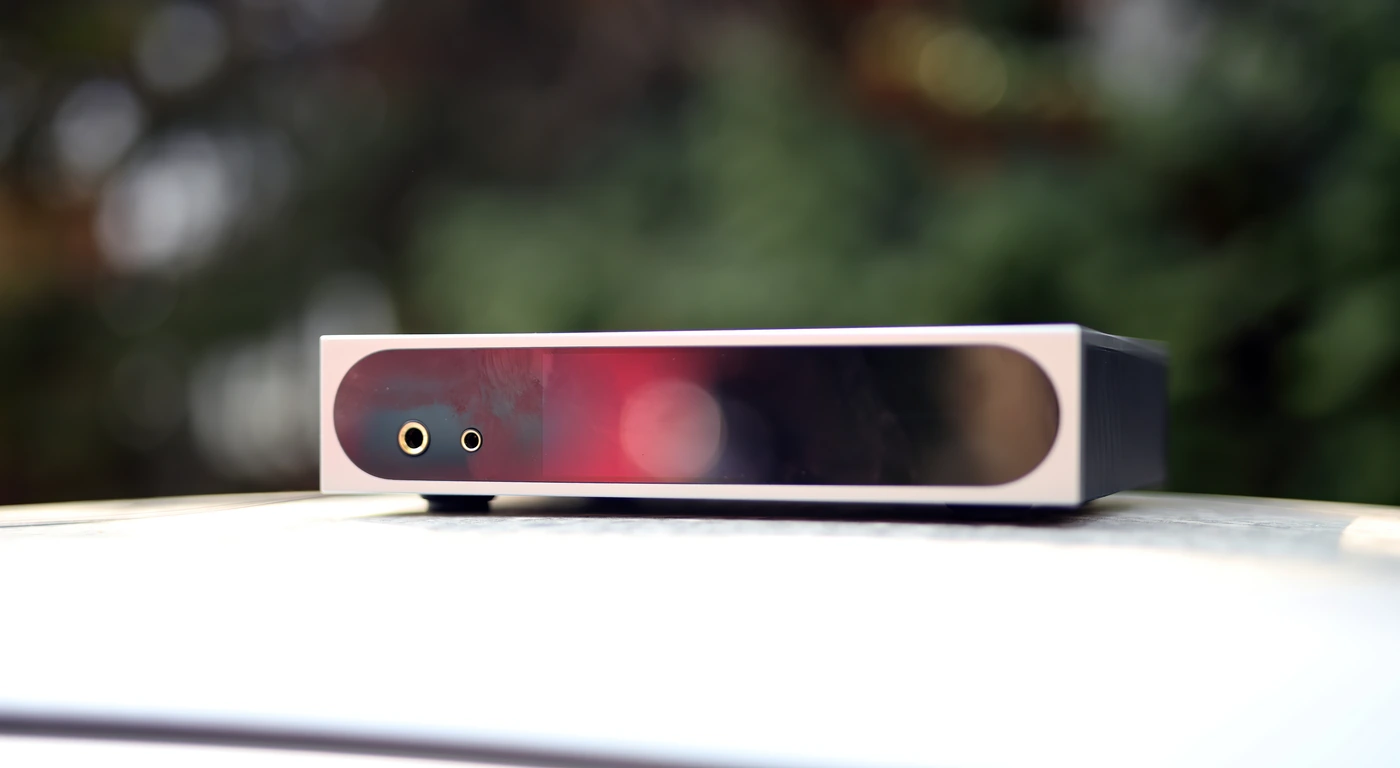 Describing the sound of Matrix Mini-i PRO 4 is easier said than done, especially as the headphone output seems to have a tiny bit of a signature, while the DAC output is very neutral, clean, and to have exceptional dynamics. The headphone output is warm in tuning, has a smoother and softer treble, and a really wide presentation with good depth. All in all, you can see what the headphone amplifier is doing if you try to use Mini-i PRO 4 with a different headphone amplifier like the Violectric HPA V340. This is not bad by any means, and Mini-i PRO 4 can smooth out some of the more aggressive headphones, making an excellent pair for HIFIMAN HE1000 V2, Sivga Luan and Audeze LCD-XC 2021. The DAC output should pair well with everything out there, having the ideal DAC sound, with no coloration, but with good technicalities, such as resolution, clarity and instrument separation.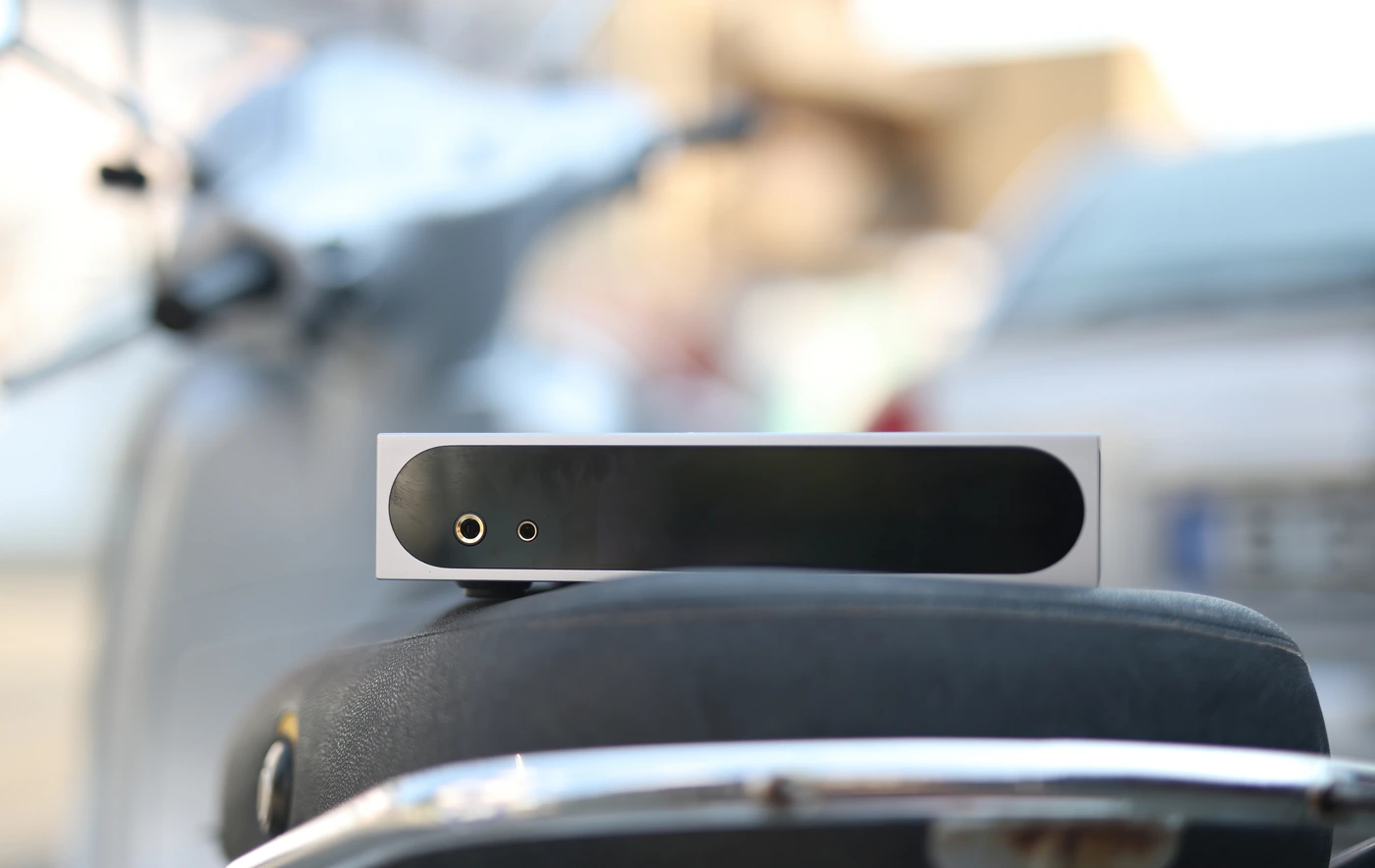 Starting with the bass, we have a deep, quick and full sounding bass. In fact, I noticed this with all of the headphones and IEMS I've paired, it tends to increase the overall amount of low end and punch they have, making them sound beefier, deeper and richer in the low end. This uplift in the bass applies to both the sub bass, mid bass and upper bass, but it is more of a nuance rather than something you're likely to want to EQ out, so it doesn't make even already bassy headphones sound boomy or veiled. The bass tends to resolve finer nuance and detail really well, so even nuanced jazz pieces play really nicely through the Matrix Mini-i PRO 4.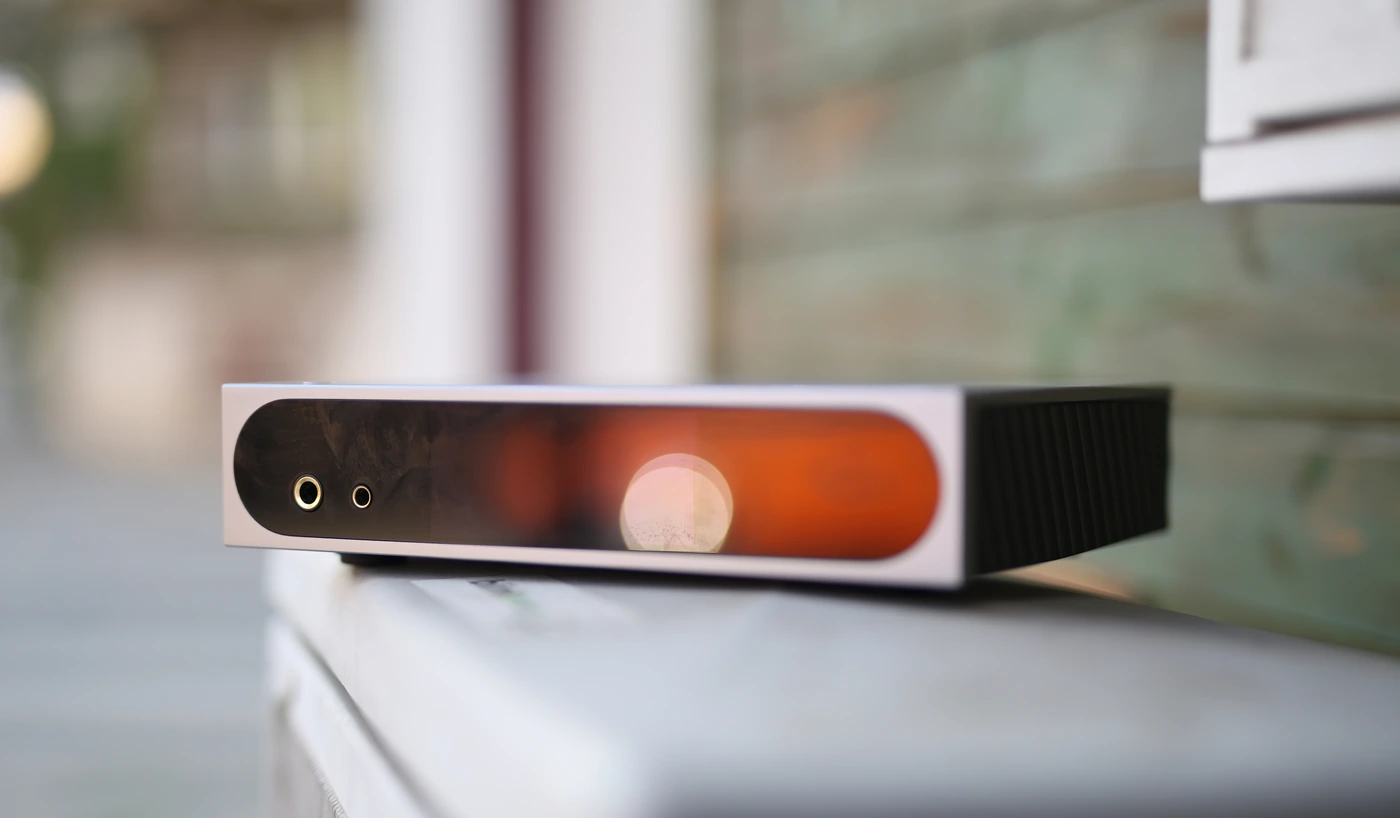 We have a warm sounding midrange, with a slightly smooth and fluid texture for all instruments, which gives a good amount of emphasis to male voices, guitars, drums and punchy music in general. The sound of Matrix Mini-i PRO 4 is clearly aimed at deeper sounding music, although it handles Jazz, Classical Pop and EDM equally well. For metal, it is punchy, deep and heavy sounding, which is super pleasing, but it handles metal sub genres with a stronger low end better, like Djent, Death Metal, and even Punk, rather than Symphonic Metal. The upper midrange seems to be a bit attenuated and more muted compared to the lower midrange, which creates a sense of depth, weight and impact for all music, Matrix Mini-i PRO 4 being the kind of source that favors drums over violins, and heavier piano songs over lighter and sadder ones. The sound of Mini-i PRO 4 thus seems to favor happier sounding music, and it seems to add a bit of energy and substance to all music. Female voices are handled really well though, so even Jill Tracy, Reol or Camellia sounds nice through Mini-i PRO 4.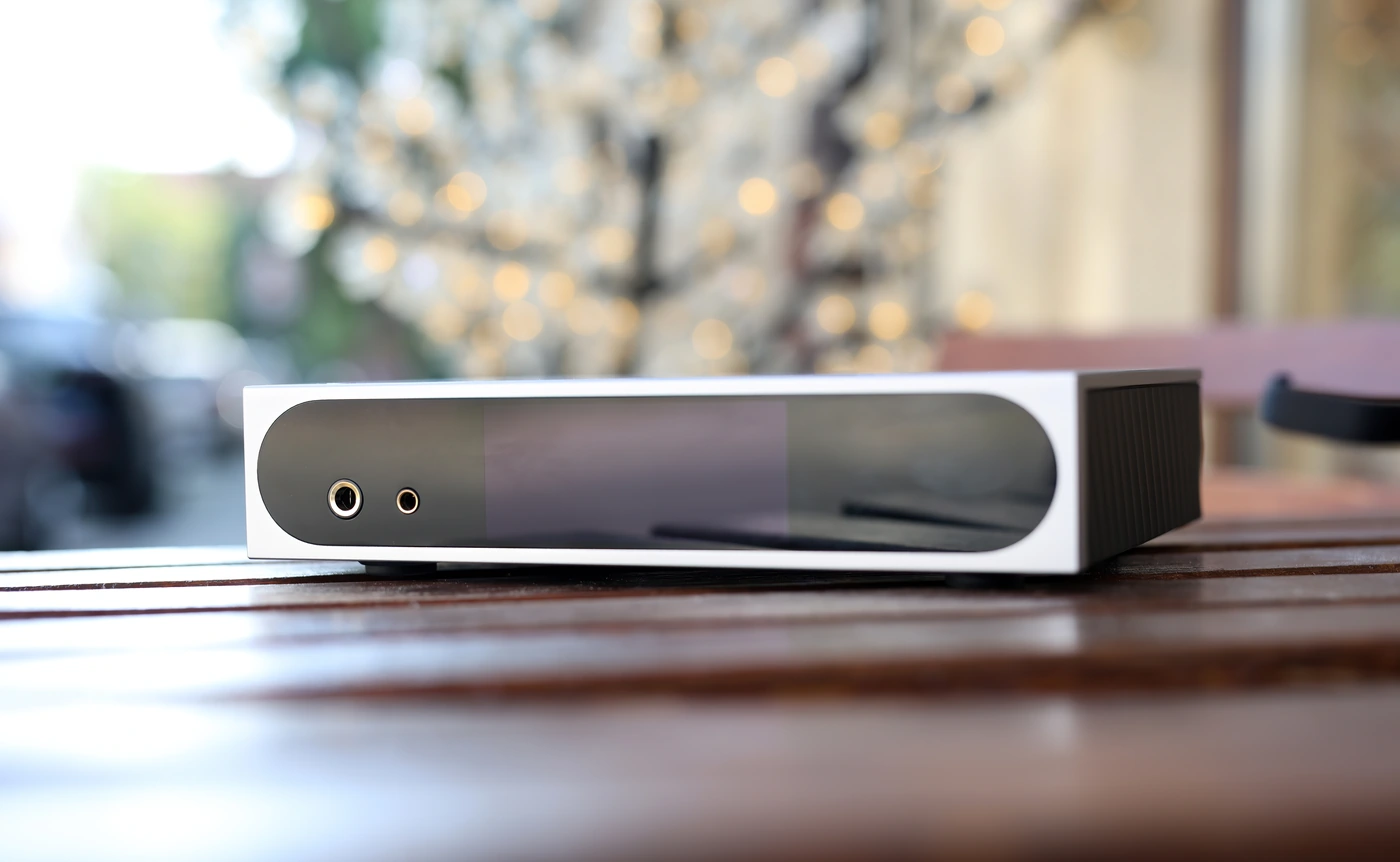 We have a smoother, leaner treble that makes sure the sound is never fatiguing or harsh, and Matrix Mini-i PRO 4 is the kind of source that will make music more relaxed in the treble, give even brighter headphones an easier to enjoy sound, but still allow for a large space for instruments to breathe. The soundstage is both wide and deep, instrument separation is natural, and in fact, this is the thing with the Mini-i PRO 4, it always sounds really natural. This natural characteristic dominates the low end, midrange and treble, you're never going to hear it sounding off, and it never tries to be analytical by sacrificing naturalness and weight from sound. 
Comparisons
Matrix Mini-i PRO 4 vs Aune S9c PRO (959 USD vs 699 USD) – The first comparison shall be the hardest to make this time around, because I found myself loving Mini-i PRO 4 a lot recently, but Aune S9C PRO is one of my all-time favorite DAC/AMPs. The design is super nice on both, I slightly prefer the design choices on Mini-i PRO 4, as I like the larger display, but both are quite good with the inputs and the outputs they have. They both work really well, and Mini-i PRO 4 has more inputs, better streaming support and generally if you need a streamer, the comparison ends here and you grab a Mini-i PRO 4, as S9C PRO is a DAC/AMP rather than a streamer. If you're still around to know how they compare sonically, Aune S9C PRO sounds wider, more dynamic, and has a more neutral presentation, with a colder tonality, more treble, less bass, and it sounds more analytical, while Mini-i PRO 4 sounds warmer, smoother, more intimate, it has more punchy especially in the drums and in the male voices, and lower pitched instruments, along with a more powerful sub bass. Both are excellent music companions, both do their thing really well, and you should get the one that sounds more appealing, Mini-i PRO 4 for a streamer, and Aune S9C PRO for a DAC/AMP. If you don't care about the streaming abilities, Aune S9C PRO for a colder, analytical, wider sound, and Mini-i PRO 4 for a smoother, laid back, warmer, thicker sound. 
Matrix Mini-i PRO 4 vs Soundaware A1X PRO (959 USD vs 699 USD) – I liked the Soundaware A1X PRO back when I originally reviewed it, but I found that the volume adjustment bug was too much to handle for most practical usage scenarios, and happily that is not present on the Mini-i PRO 4, on which you can adjust the volume from the remote, and if you keep the volume button pressed, it will quickly go up or down. You can also quickly tap on the volume buttons on the front of the Mini-i PRO 4, and you can go from 0 to 100 quickly, and it simply works faster, smoother and does't have any of the issues I've encountered with A1X PRO. This being said, Mini-i PRO 4 is also smaller, it looks better than a1x, it has better outputs, especially the headphone outputs having no hissing and no background noise, while A1x pro has some noise on the headphone output. A1X PRO has some features that Mini-i PRO 4, like reading USB sticks, reading external HDDs, and reading microSD cards, but because the firmware is rather slow, you never get to use those and Mini-i PRO 4 is the more natural option with much better support for the inputs it has, and much better online streaming support, being quicker, working better and having no delays, no stutters and no problems on either of the inputs. Sonically, A1X PRO will always sound warmer, thicker, smoother, but Mini-i PRO 4 always sounds more detailed, more linear and more neutral, but has better control, better driving power, better impact, better control at high volumes and a lower distortion. All in all, at this moment Mini-i PRO 4 is a better option, but I heard that Soundaware is also coming up with a new Streamer / DAC / AMP so it will be interesting to see how that stands against the Mini-i PRO 4. 
Matrix Mini-i PRO 4 vs Matrix Element i (959 USD vs 1150 USD) – It has to be hard when we compare two DAC / AMPs / Streamers from the same company, but the surprising part is that I can safely say that I hands-down prefer the new Matrix Mini-i PRO 4. First off, the design is much better, it is a smaller device, with much nicer edges and curves, a nice logo that lights up when it is working, and a power button on the top left side, while the Element i looks more brutalist and industrial, a standard audio device. Then, the DAC performance is marginally better on the smaller Mini-i PRO 4, because it has a lower noise floor, a quieter background level and it also has nicer dynamics and a warmer sound that's more pleasing, although Element i is more resolute and a bit more neutral. On the headphone output, the new Mini-i PRO 4 is much quieter, it has no hissing and no background noise, it has better driving power, and sounds fuller, more saturated, instruments are better set apart from each other, and the whole sound is less forward, yet it is more pleasing. Element i was a bit more neutral and a bit wider in the soundstage, but overall, the more punchy, more dynamic Mini-i PRO 4 I would consider to be an upgrade over the Element i and a nice upgrade at that.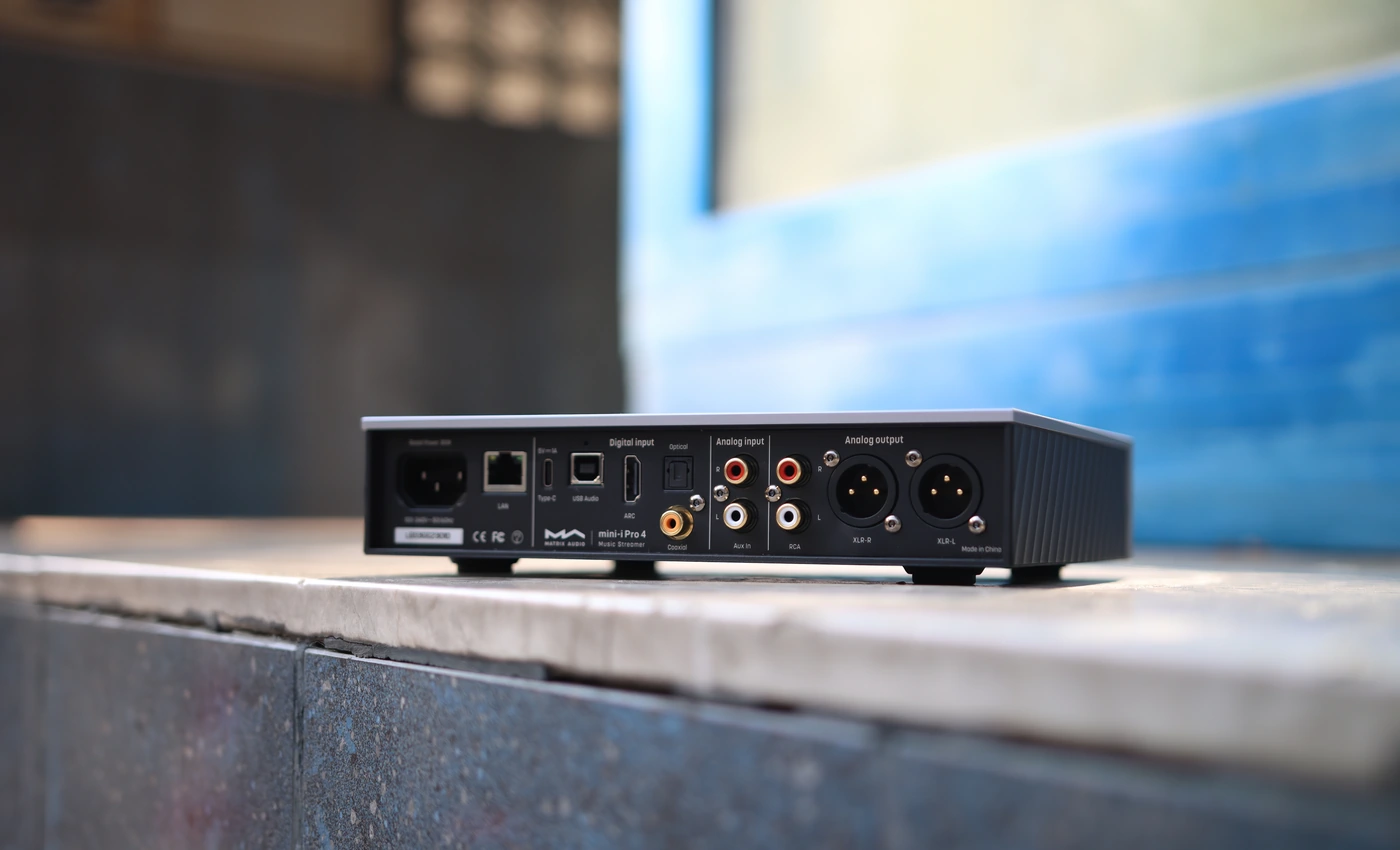 Matrix Mini-i PRO 4 vs Mano Ultra MK ii (959 USD vs 1200 USD) – When it comes to the shape, the two are about equal in size, but Mini-i PRO 4 looks sleeker, more elegant and more modern, while Mano Ultra MK2 feels a bit more like a DIY project when placed right next to it. The overall ability is much better on the Mini-i PRO 4, it has XLR outputs, a DAC inside, a very capable headphone output, and it is a much easier to recommend device for basically anyone, except those who would need a digital output, as Mini-i 4 is an endpoint, and will not output digital to another DAC. This being said, it can output a balanced XLR signal or an RCA signal to a different amplifier, it can take in RCA analog inputs, and a wide selection of digital inputs, making it really versatile. Mano Ultra MK2 is a digital pass-through streamer that adds streaming to a DAC, and outputs only digital signal, having a much narrower usage scenario compared to a Matrix Mini-i PRO 4 which has an exceptionally wide usage scenario and no noise, so here you have to make a choice based on what you need and how you plan to use it. It is not like Magna HIFI, the main shop selling Mano Ultra MK2 would care which you purchase anyways, since they also sell the Matrix Mini-i PRO 4 too.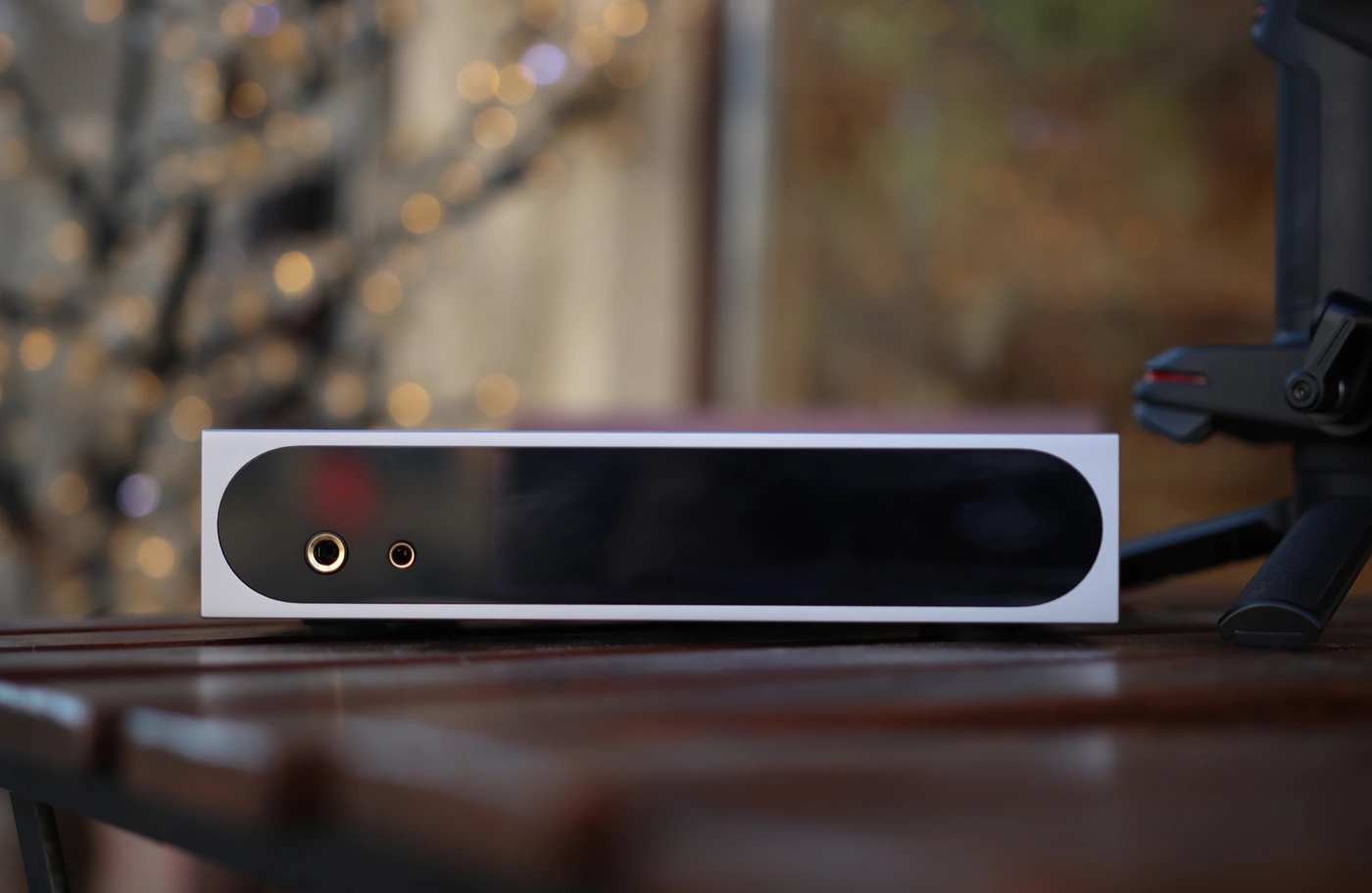 Matrix Mini-i PRO 4 vs Keces S3 (959 USD vs 1300 USD) – We have a hard comparison here, because Mini-i PRO 4 is much smaller than Keces S3, yet it can do much more, it has a really functional design that works well for both stereo systems and headphones, it has a superb design, and it does not weight a lot, while Keces s3 is a DAC / AMP I always wished I used more, but never could have found enough space for on my desk. The driving power is actually a bit higher on Mini-i PRO 4 in reality, it can go higher without distorting, and having a 4.4mm balanced headphone output is much more useful for me compared to the XLR output of S3. The DAC function is similar, and both have a neutral sound, yet simply thanks to the smaller size of the Mini-i PRO 4 and thanks to its remote, it is easier to set up my stereo system using it, making it a more pleasing experience. S3 tends to have a bit more detail and clarity in the treble, it has a sharper and edgier sound, with more treble sparkle, and less warmth, being more reference in the tuning. Mini-i PRO 4 sounds beefier, deeper, has a more intimate staging, but more weight to each musical note, more substance to all instruments, and mini-i PRO 4 is generally a warmer, smoother, more relaxed sounding DAC/AMP that will be less fatiguing in the long run for those sensitive to fatigue. 
Value and Conclusion
It is really easy to get used to what the market offers now, so when something delivers considerably above the price point, we are left in awe, and this is the case with Matrix Mini-i PRO 4, it offers so much function, and everything is so well combined and hassle-free that I kept expecting something to break, something to disappoint, and yet it delivers exceptional performance in every aspect possible. Even more, the sonic performance is actually in line and above what else you can grab around the price point, it offers XLR DAC outputs, and even has a potent balanced headphone output, which sounds a bit warm, delicate, yet punchy and dynamic.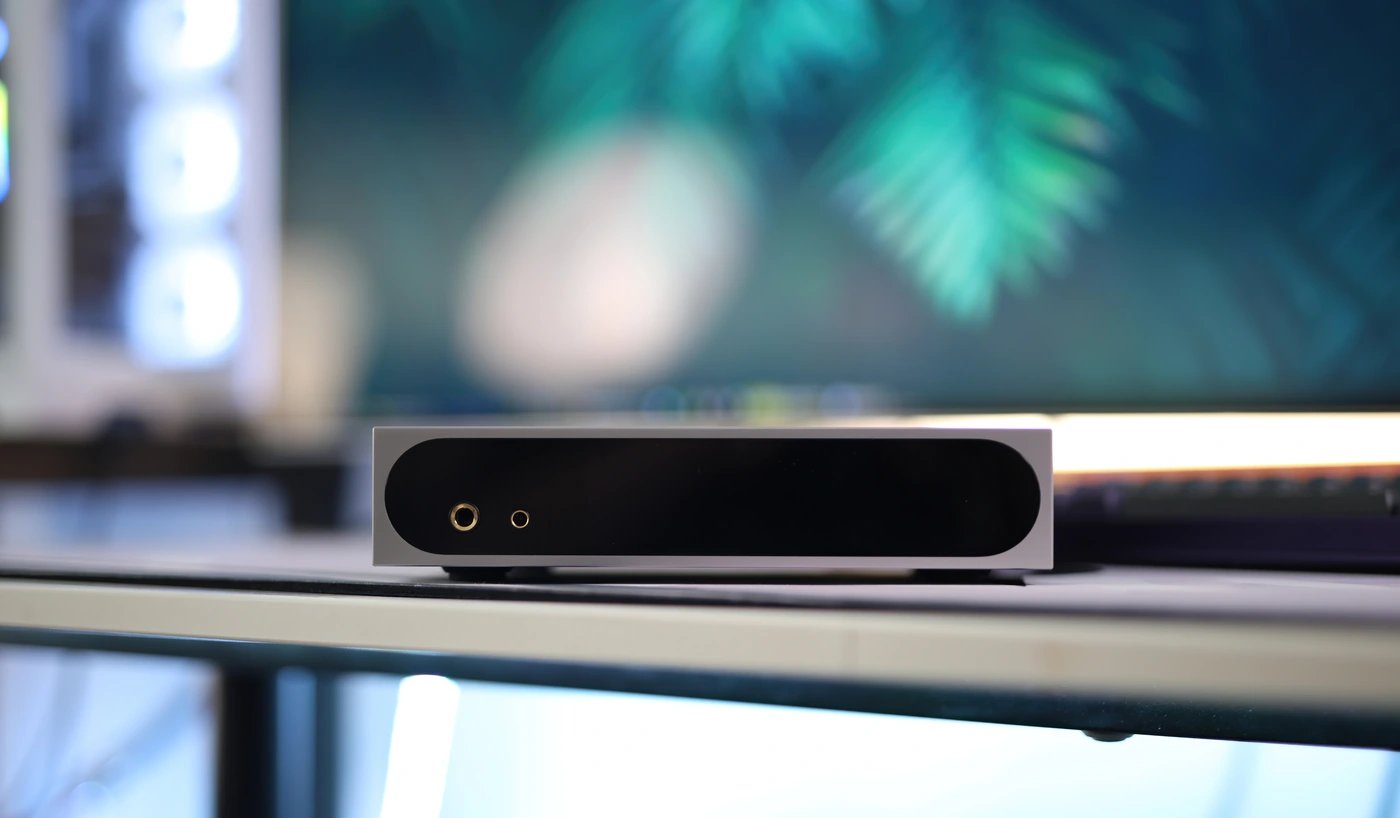 Before the end of the review, I feel compelled to award Matrix Mini-i PRO 4 an Audiophile-Heaven Hall Of Fame for the exceptional sonics, array of abilities it has, and all for the competitive pricing it can offer those for. Even more, it has its own internal power supply that is free of noise, and has zero noise with speakers, zero noise with headphones and even IEMs that have an impedance as low as 5 OHMs, making it a perfect option for everyone who wants and needs an all-in-one solution.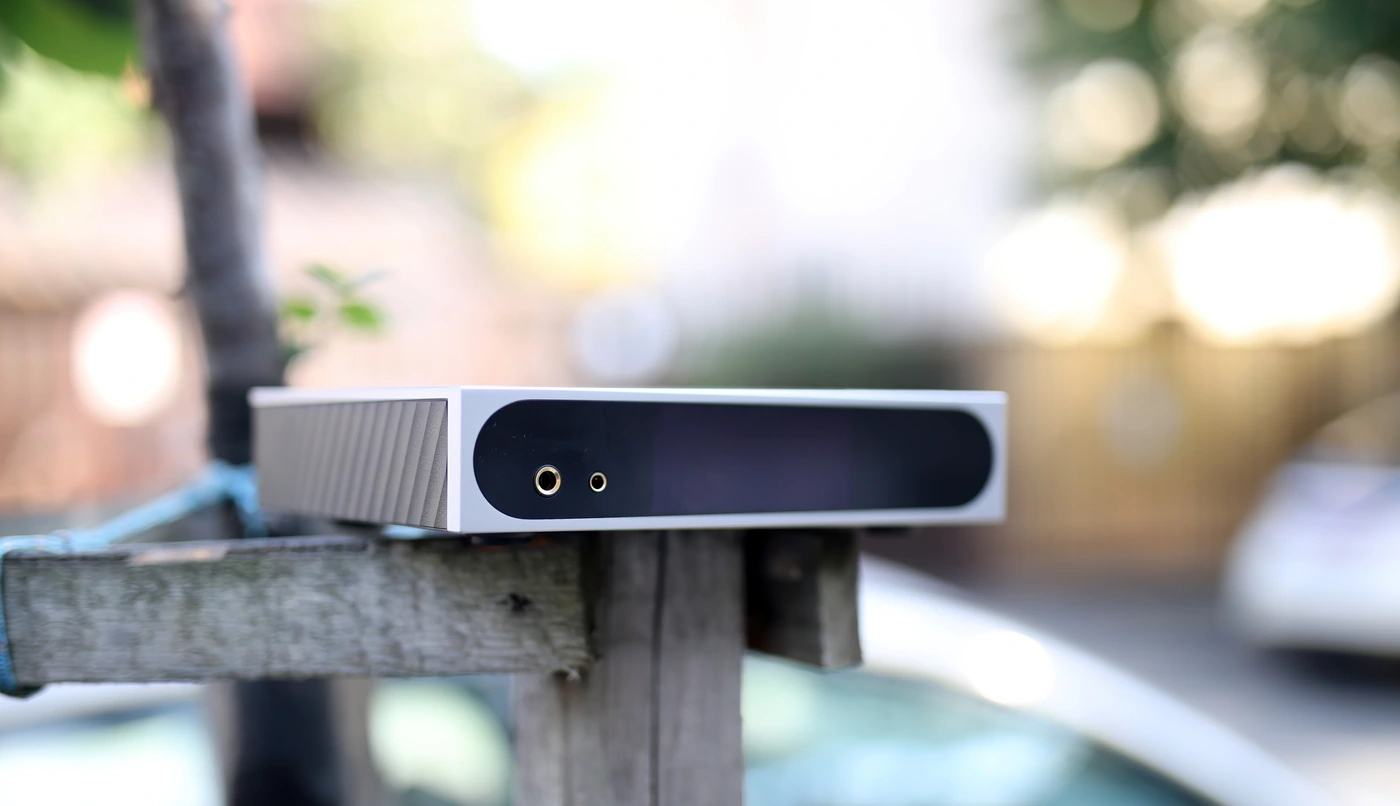 At the end of the day, if you want something that does it all and which does it really well, a dac, a headphone amplifier, a streamer, a USB decoder, an exceptional sound, and a design that will give a modern and sleek edge to your room, Matrix Mini-i PRO 4 is a recommended purchase and a DAC / Streamer / AMP I have come to enjoy a lot and which I consider a really good product.  
Product Link
Official Dealer List – https://www.matrix-digi.com/contact/dealer
You can grab one from www.amazon.com here: https://amzn.to/3QTEIW5
If you're in the UK, you can grab one from www.amazon.co.uk here: https://amzn.to/3YG2Q0d
And if you're from Europe, you can grab one from www.amazon.de here: https://amzn.to/3qyEKb8
---
---
--- Please remember to stay safe, and always have fun while listening to music!---
 - If you have a dime to spare, and donate, to help us with electricity and work expenses, it would make my day much brighter, as it would help me improve things around the website and increase the frequency of my posts - 
---
Full Playlist used for this review
We listened to more songs than those named in this playlist, but those are excellent for identifying a sonic signature.  PRaT, Texturization, Detail, Resolution, Dynamics, Impact, and overall tonality are all revealed by those songs. We recommend trying most of the songs from this playlist, especially if you're searching for new music!
https://www.youtube.com/playlist?list=PL_cjBXGmwSHSdGcwuc_bKbBDGHL4QvYBu
--- Contact Us ---






---
---