FiiO K9 PRO ESS DAC / AMP – Sound Versatility Unbound 
FiiO K9 PRO ESS is a $849 USD DAC / Headphone Amplifier with a multitude of inputs and outputs, a bulky but cool design, and with enough driving power to deal with most headphones out there. Although the XLR port is covered in most photos, and in most images you can find online, it does work, and the volume wheel has a really snazzy LED ring around it. Today we will be taking a look at how it sounds like, writing an in-depth article about it, and compare it with other high-end DAC / AMPs, including Matrix Mini-i PRO 4 (959 USD), Aune S9c PRO (699 USD), HIFIMAN EF400 (599 USD), and Soundaware A1X PRO (700 USD).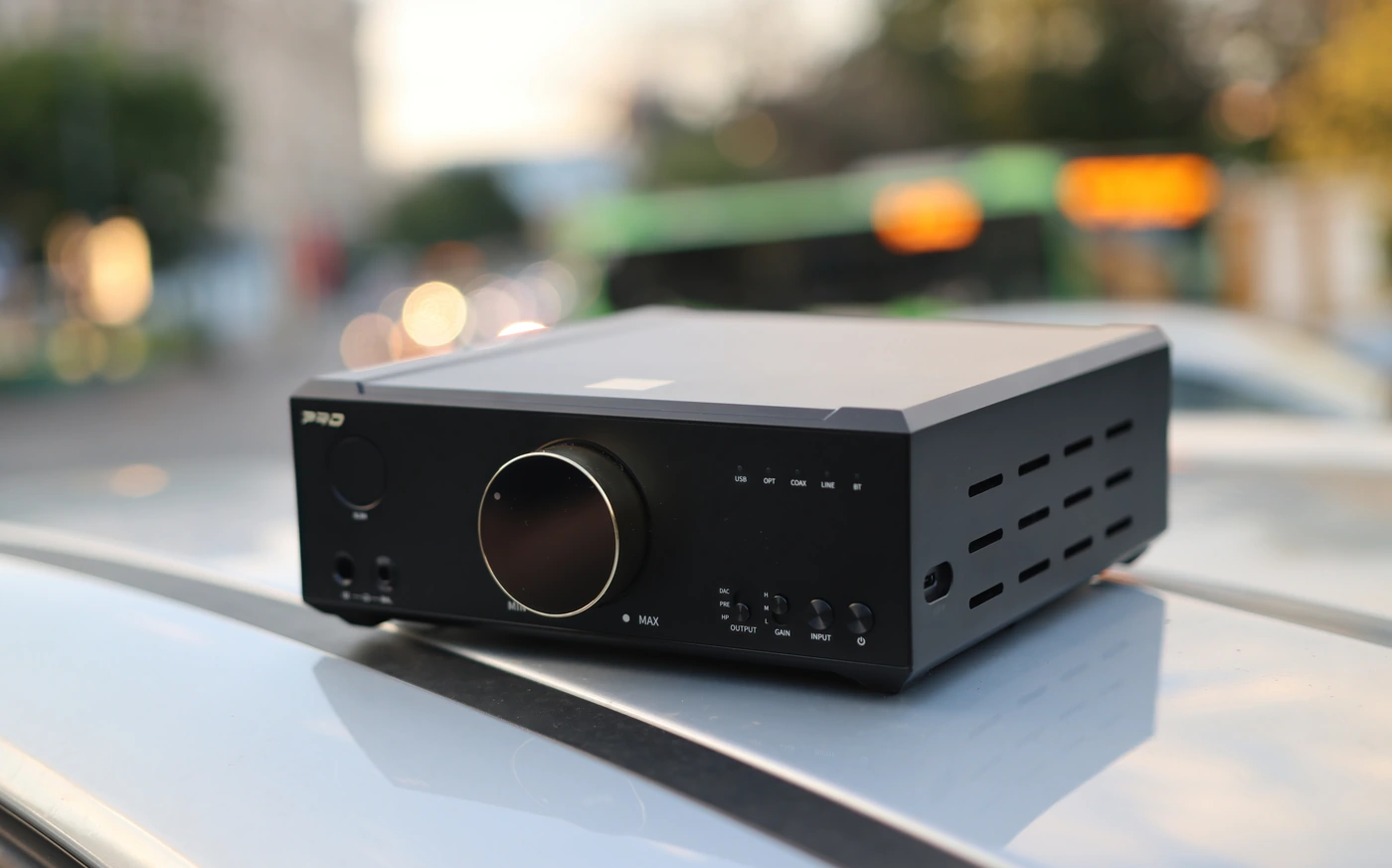 Introduction
FiiO has always been a popular company, and this started back before any of us were invested in the high-end portable scene, with FiiO launching some teeny tiny headphone amplifiers at first, then some super powerful DAPs, and nowadays launching some of the best high-end DAC/AMPs for desktop that you can base your entire system off, as well as high-end players, IEMs, Headphones, speakers and everything you may need for a powerful and pleasing audio setup. FiiO products are generally available from a multitude of sources, including local hifi shops, but they are also available on Amazon, which is the place I would recommend the most if you want long return windows, quick shipping times, and excellent support. To give you some idea of why I'm using amazon, besides the fact that "As an Amazon influencer and I earn from qualifying purchases", I recently needed an adapter for my camera, an EF to R adapter from Canon. I ordered the adapter from Amazon De, which did not have it in store, nor did they have a shipping or delivery time at the moment of purchase, and at the same time I ordered a Canon RP camera from eMag, the biggest electronics shop in Romania. After two weeks, Amazon De delivered the adapter one week early, while eMag is yet to deliver the camera, which appears as available to order and has a promised delivery time of two days. Since Audio products are not essentials that you need for work, you can typically wait when needed, but just know that Amazon will offer a nice experience, nicer than most local shops. 
I'd like to thank FiiO for providing the sample for this review, in exchange for my honest opinion. We are not receiving any incentive for this review and Audiophile-Heaven has no affiliation with FiiO beyond this review. 
Product Link
You can grab one from www.amazon.com here: https://amzn.to/49lcGtp
If you're in the UK, you can grab one from www.amazon.co.uk here: https://amzn.to/45SpeFG
And if you're from Europe, you can grab one from www.amazon.de here: https://amzn.to/45ODqzc
Build Quality/Aesthetics
Physically, FiiO K9 PRO is the largest device FiiO made so far, but also has the beefiest cooling, and the highest driving power, and most versatile usage too. The front of the unit has three headphone outputs, one in 4.4mm Balanced, one in 6.3mm Single Ended and one in XLR formats. We have a volume wheel which has an LED ring around it that will give you a rainbow of colors, but it is small enough to not be disruptive on my desk, even at night when all lights are off. The unit weighs about 2700 grams, and it is 200×224.5x72mm in size. The SNC is high, at 129dB, and the Distortion is kept really low at 0.00025%. The unit is just a bit taller than the space beneath my television, ocne I applied the rubber feet, so if you have a smart TV as a monitor, you could try a rubber pad, or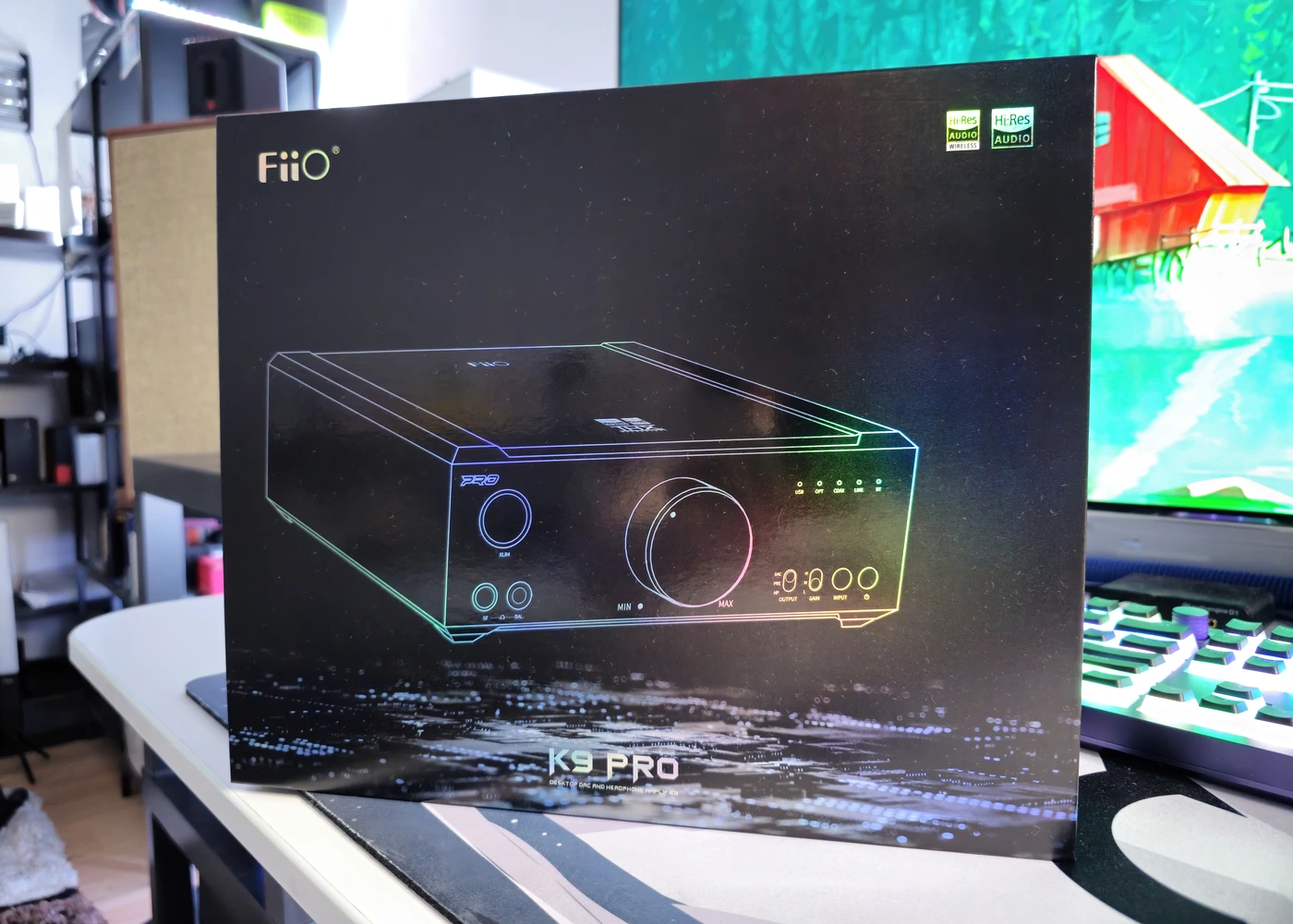 There are also four buttons on the lower right side of the unit, one for output, and this is a hard selector between DAC, PRE and Headphone. This means that you have to manually select whether you want the output to go for full blown DAC, with no volume control, to have volume control, and for K9 PRO ESS to act as a Preamplifier, or to use the headphone output. Those are exclusive, they do not work at the same time, and they do not detect what is connected to the unit. We also have a gain selector, which works for the headphones, and it works for High, Medium and Low, low being a good option for IEMS such as FiiO FH5, and high being more than enough for headphones like HIFIMAN HE1000 Stealth.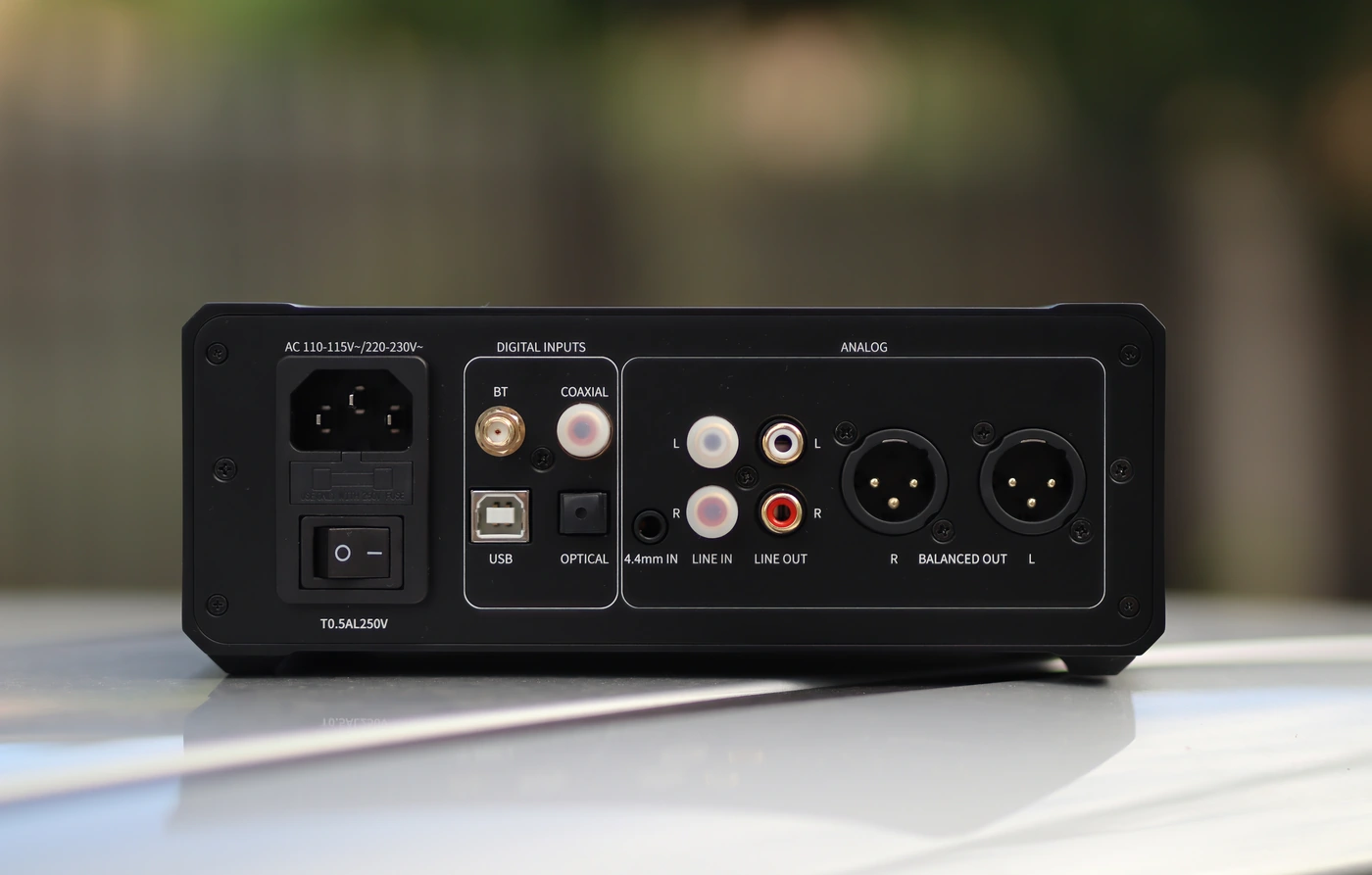 There is an input selector button, which will cycle through the input list, which goes from USB -> Optical -> Coaxial -> Line In -> Bluetooth, and this cycles back to USB. We also have an on/off switch, and the unit does not turn off by itself. The unit gets warm during usage, and even if there is no music playing, and no signal being fed to it, it will still keep being warm, so turning it off after each usage may be important if you want to keep it in the most minty condition, or if you don't want it to consume power while out of usage.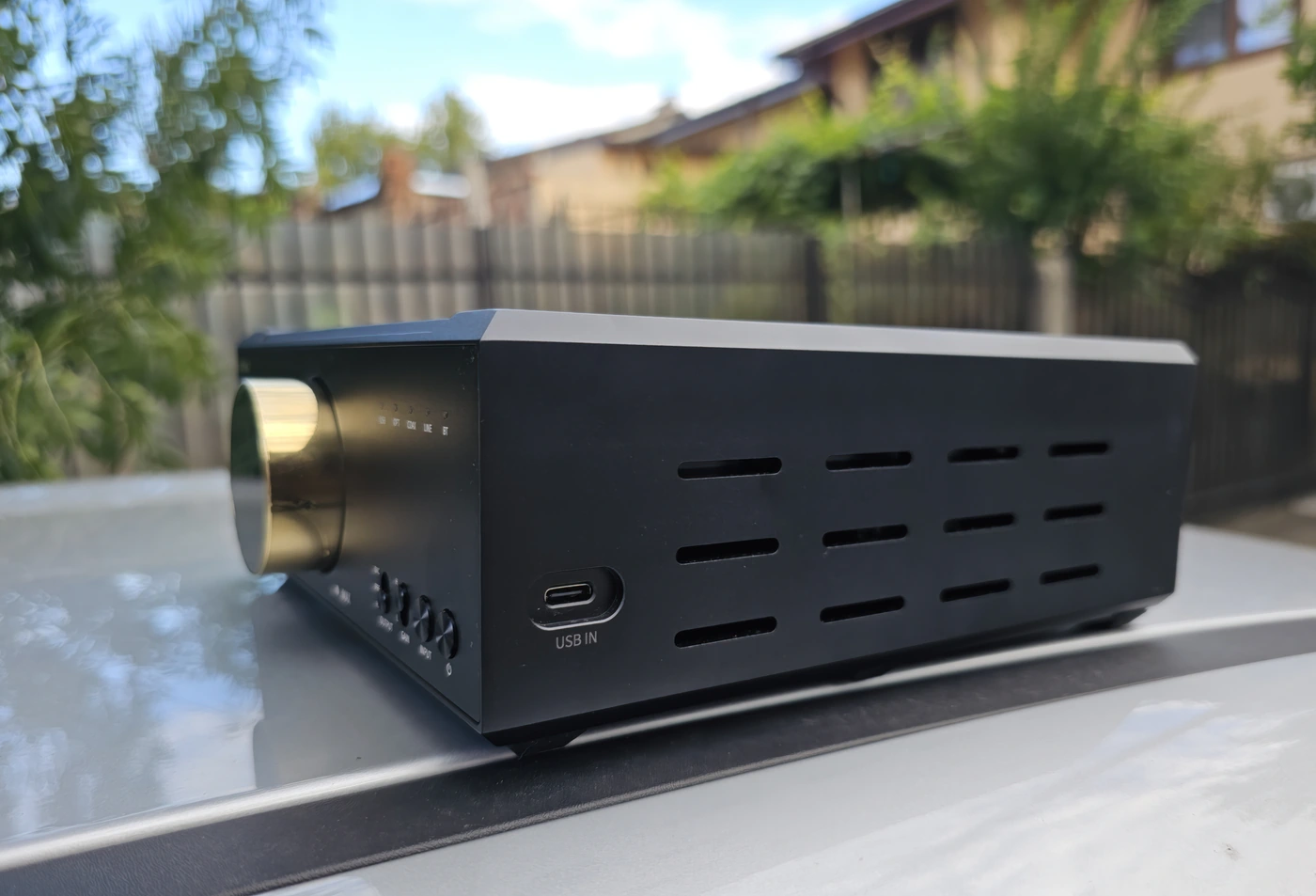 On the sides we usually don't have anything, but FiiO included a USB Type-c port, on the right side of the unit, and it works quite well, and at the back we have a buffet of inputs, including the Bluetooth Antenna, Coaxial Input, USB Input, Optical input, 4.4mm Balanced Line in, and RCA Line in. Together with the power input and the USB Type-C port on the side, FiiO K9 PRO wins easily in having the most versatile input selection for its price range. The output list includes a Balanced Line out, in XLR format, an RCA Line Out, and the headphone outputs at the front. Happily, the RCA and the XLR outputs do work at the same time, and you can have both a Subwoofer connected over the RCA output, and a stereo HIFI Amplifier connected over the XLR output at the same time, with no degradation in sonic quality. Even better, the unit can work with headphones being connected to the headphone output too, and it will not power them if you engage the PRE or the DAC modes.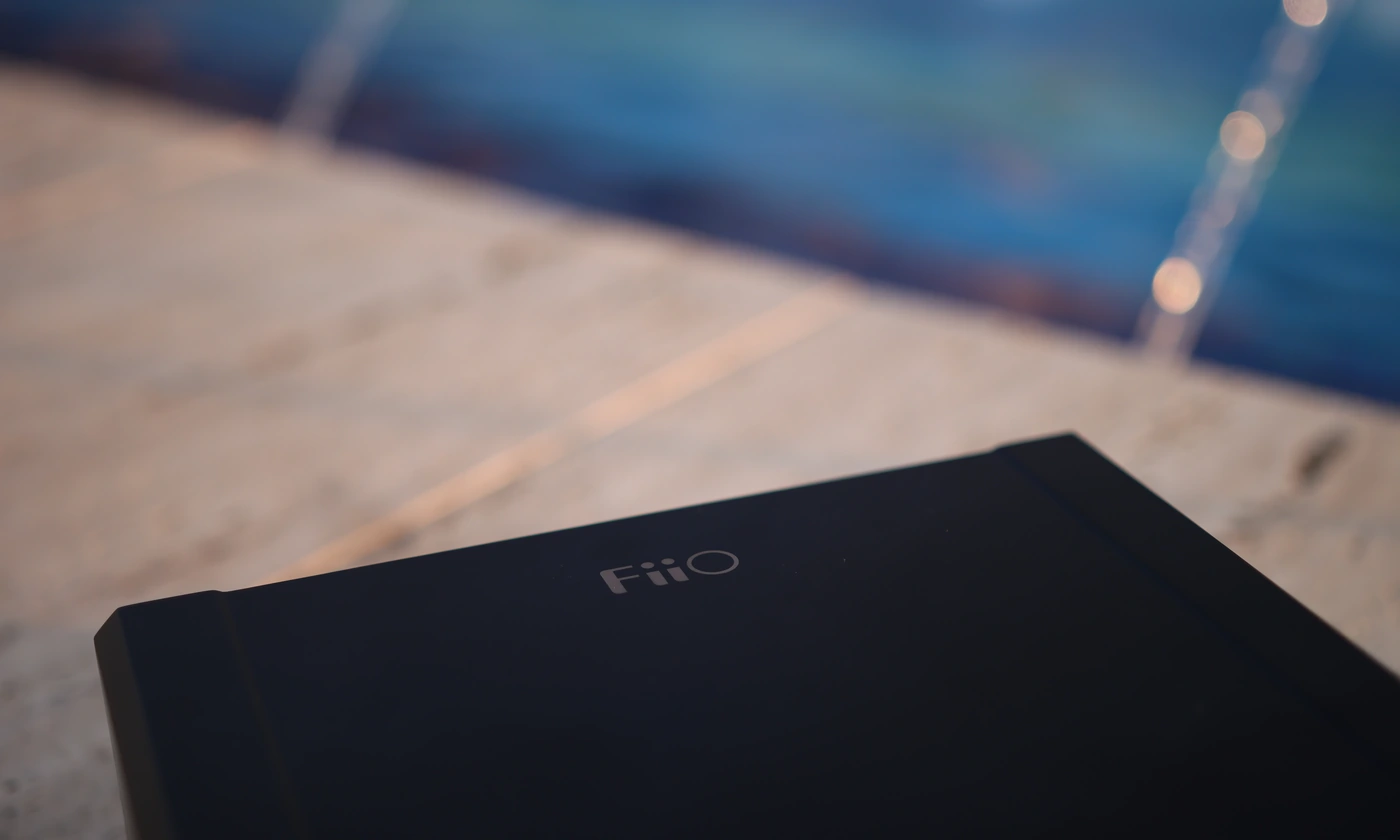 Checking out the technical highlights, we have a Linear Power Supply, which is a super premium in audio, and this comes together with isolated digital and analog power deliveries. Even more outstanding, we have a Dual DAC configuration, with Dual ES9038PRO DACs, which is one of the world's best DACs at this moment. The Headphone Amplifier / DAC amplifier parts are handled by a THX AAA – 788 + , which is known for its high power delivery, and we have a Dual-Mode Clock management too.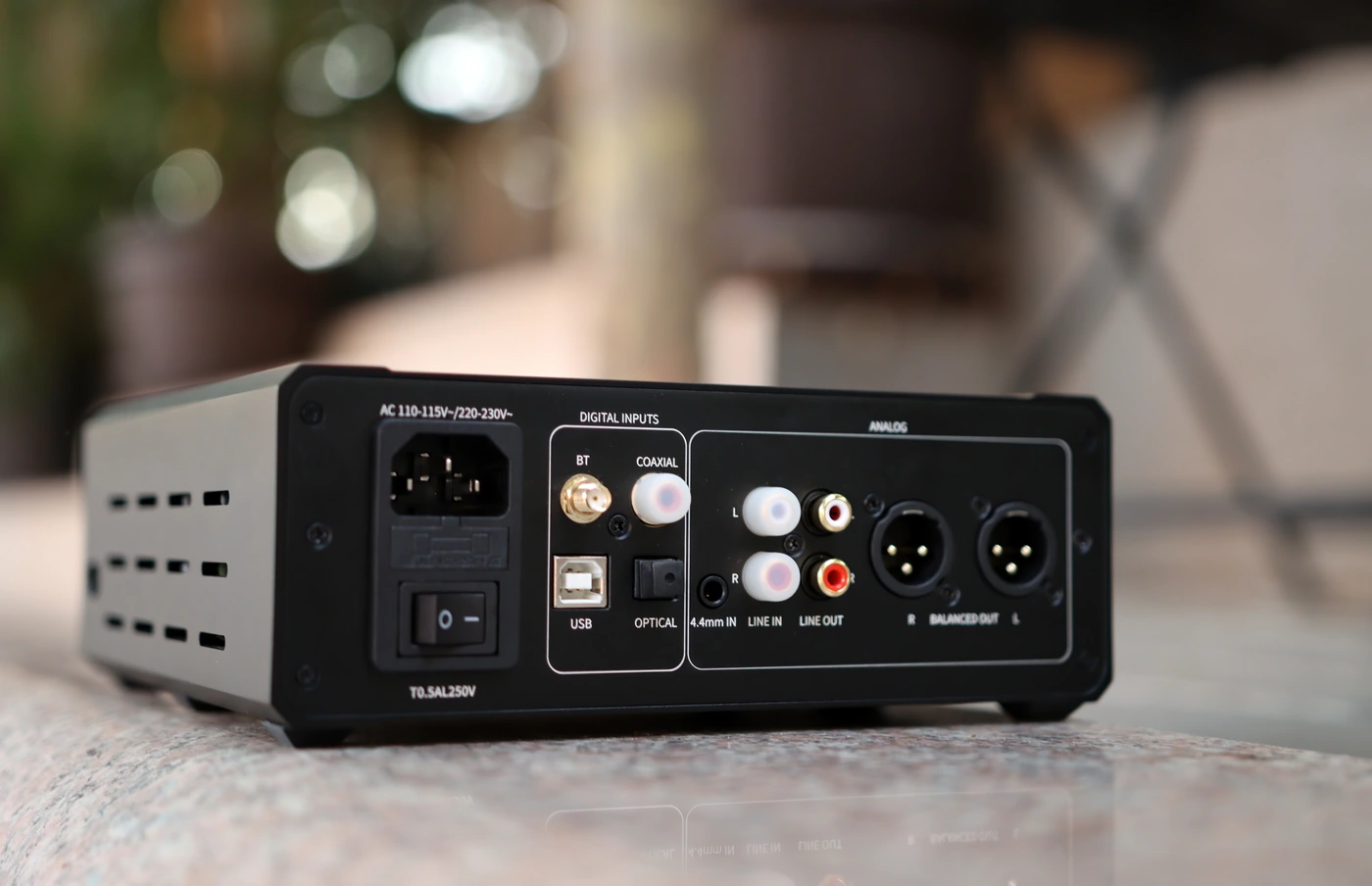 For the Bluetooth connection, we have the QCC5124 Chip, which allows you to connect FiiO k9 PRO ESS with a source over a multitude of codecs,  including LDAC, aptX Adaptive, aptX HD, SBC, AAC. The unit can decode MQA over the USB connection. The headphone outputs have humongous maximum power output, with over 1100mW of power for a 300 OHM load, and over 2100 mW for a 32 OHM load, which is 50% higher than the original THX AAA-788 Amplifier chip. All signals are balanced, and each DAC is used for a channel, each channel is processed separately, which should lead to the lowest distortion, highest quality possible.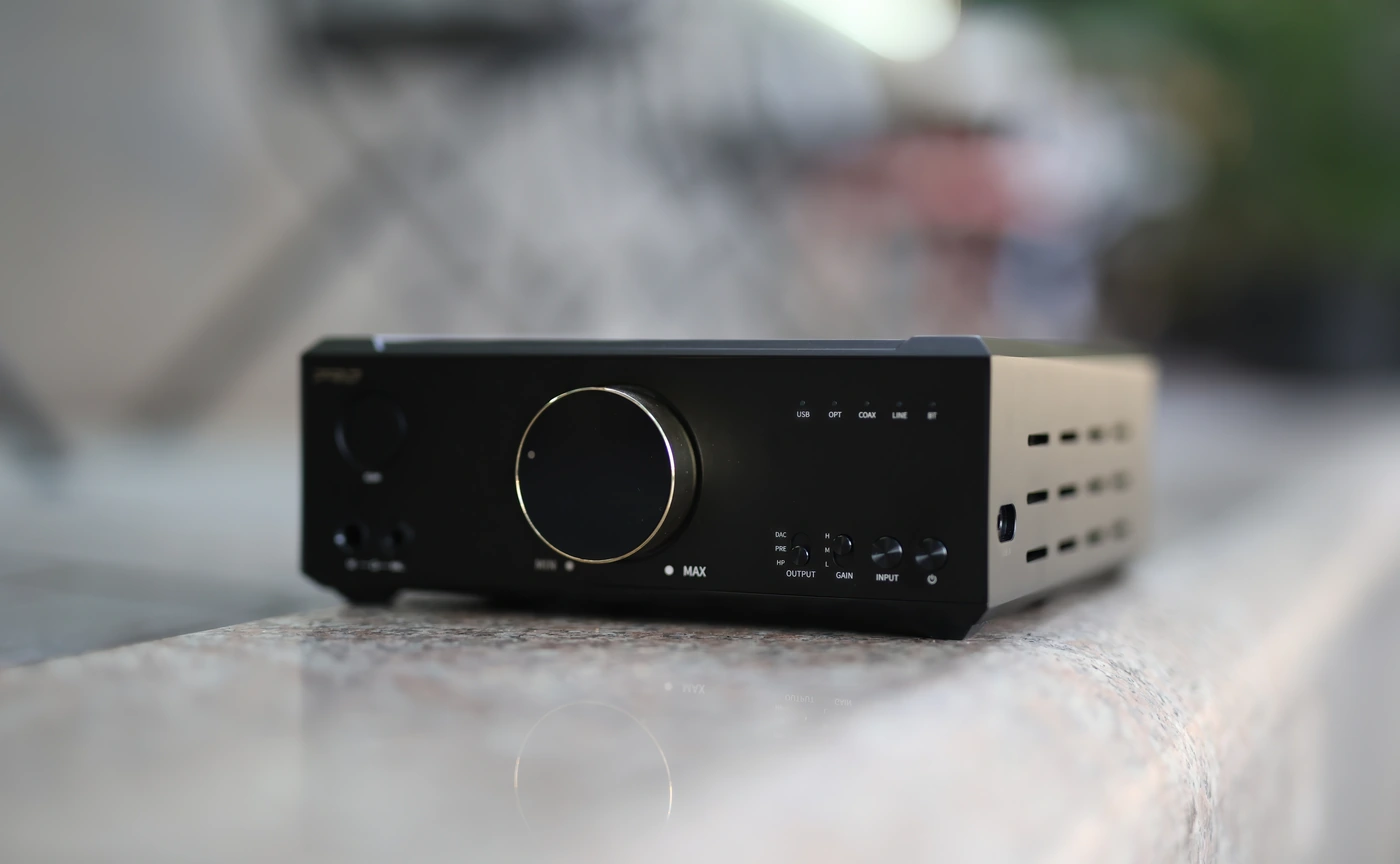 The audio circuit has a six-stage design, with I/V conversion, LPF Filtering thanks to the OPA1612 chips, then Volume Control and Buffer Amplifier steps provided by NJU72315 and OPA1602. At the end we have a Pre-Amplification and Output amplification, controlled by THX AAA-788+. The Power Supply is linear, and it is designed customly for FiiO, with 4 massive 4700uF capacitors. There are ultra-low-noise LDOs employed at every stage of the audio circuit for voltage regulation and to keep the noise as low as possible.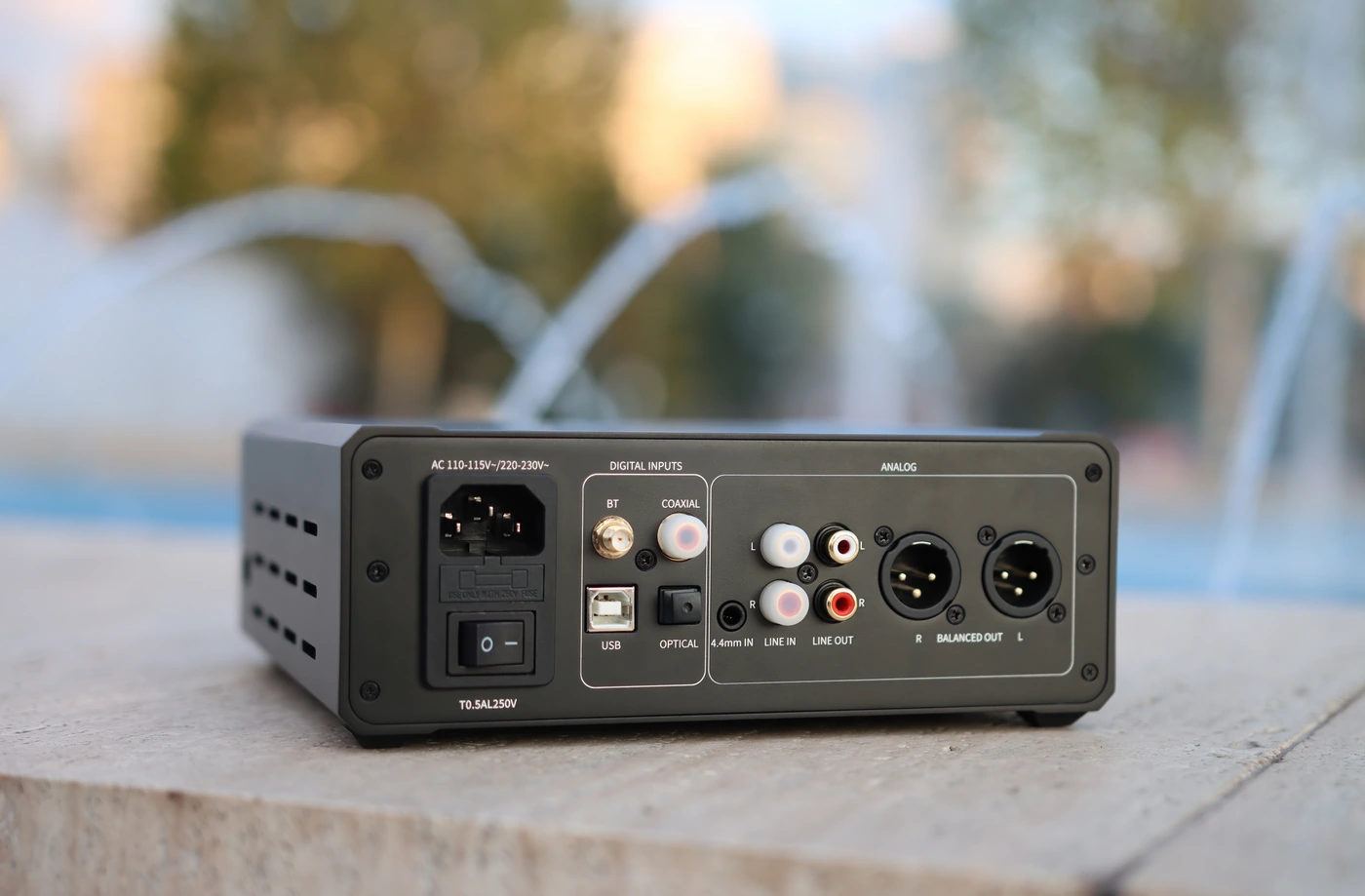 The volume wheel is done fairly well, it is an analog wheel but it leads to a digital controller, so there is almost no left / right imbalance even at very low volumes. The USB input supports up to 384kHz and 32 Bit signals, although for most of us the most important signal rate is still 16 bit / 44.1 kHz, which is how most music is still sold on CD formats. The Bluetooth input is outstanding, and I heard no problems, the sound is basically almost as good as it is over the Bluetooth input, with exceptional dynamics and control, low noise, although if you listen specifically for it, you will hear a bit of compression, but that is to be expected. Full Lossless bluetooth is still under development, and it may take a few more years for it to become reality, so until then LDAC is a good compromise. The THX amp chip behaves interestingly, as for an impedance of 32 OHMs, it has about 2100mW of power over both the balanced or the unbalanced headphone outputs, but for an impedance of 300 OMs, it has a power of 1100mW for the balanced output, but 281mW for the unbalanced output. So it would be best to get XLR cables or 4.4mm balanced cables for power-hungry headphones. The volume wheel starts playing, for the most part, above 9 o'clock, where there is zero balance issue, even with IEMs. 
In subjective usage, the unit is pleasing to use, and this whole part of my review includes a lot of personal usage notes, but you should remember that the driving power is huge, and most importantly, the background noise levels are incredibly low. I am saying this as someone who is afraid of noise, because comparing FiiO K9 PRO ESS, if used as a PRE or DAC for a stereo system, is much quieter than JDS Labs Element III MK2 Boosted, or HIFIMAN EF400, both of which will have a bit of noise if the amplifier doesn't have filtering. FiiO K9 PRO ess is the most silent DAC/AMP I had so far connected to a large system, especially when the AMP used for that system tends to be very sensitive. The unit will get warm during usage if it is winter outdoors, but it can get even hot if you're in summer and if the room temp is around 30C.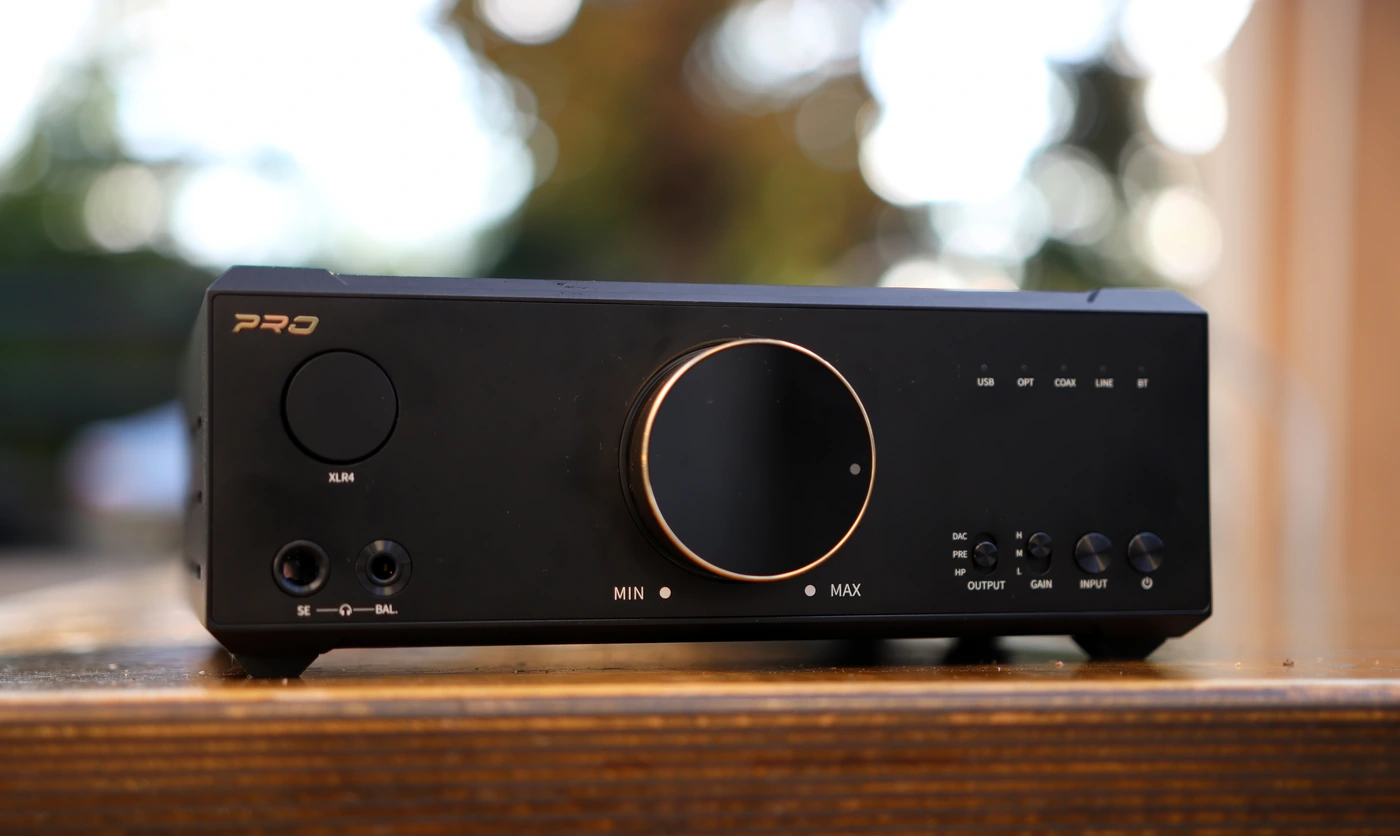 Happily, it doesn't skip bits, it doesn't have any kind of USB DAC delay, so you can play games, listen to music and do everything in real time, and FiiO K9 PRO ESS is remarkably stable with all sources, all inputs and all outputs. The only and I mean only slight inconvenience it has is that it does not turn off automatically, nor does it enter a sleep mode where it would cool off if you forget to turn it off, and there is no remote, so it has to stay within hand reach, if you want to adjust the volume, and use it as a headphone amplifier. Everything works so well though, that most of the time I forget about those things. I tend to not turn off my computer during the week as it is always working on processing something for you guys, but all in all, the unit works remarkably well. 
Sound Quality
When reviewing a DAC/AMp like FiiO K9 PRO, you have to bring a lot of other equipment to make sure everyone will have a fun experience, so my pairing list includes IEMs, like HIDIZS MS5, HIFIMAN Svanar, SeekReal Airship, Westone MACH 60, Oriveti OV800, Ambient Acoustics MAD16, Jomo P3 Percussion, and iBasso IT05. We also brought some of the best headphones out there, both easy and hard to drive, to make sure we're getting a clear picture of what FiiO K9 PRO ESS can drive and if it has any drawbacks, so the list includes Spirit Torino Super Leggera, Sivga SV023, Harmonic Dyne Zeus Elite, Sennheiser Hd660 S2, Crosszone CZ-10, Erzetich Thalia, and OLLO S5X. The list and test wouldn't be complete without amplifiers and speakers, so I've used SMSL AO200 MK2, to power NHT C3, also Keces S300+ to power KLH Model Five, and Burson Funk to power Buchardt S400, with FiiO K9 PRO ESS being the DAC for the setup. I found it most interesting how it has such a quiet background and low noise level that you literally can't hear it is working in the background, after having played with many DAC/AMPs that will show their electronic noise background with beefy amplifiers, especially with Keces S300+ which runs at max volume at all times. For IEMs, the control is superb, and I could not hear any hissing, even with the likes of IMR Dark Matter, which tends to be rather sensitive. On the bright side, FiiO K9 PRO ESS also has more than plenty of power for hard to drive headphones and it doesn't struggle with any of the pairings, instead having super punch, impact, yet a very flat and neutral presentation.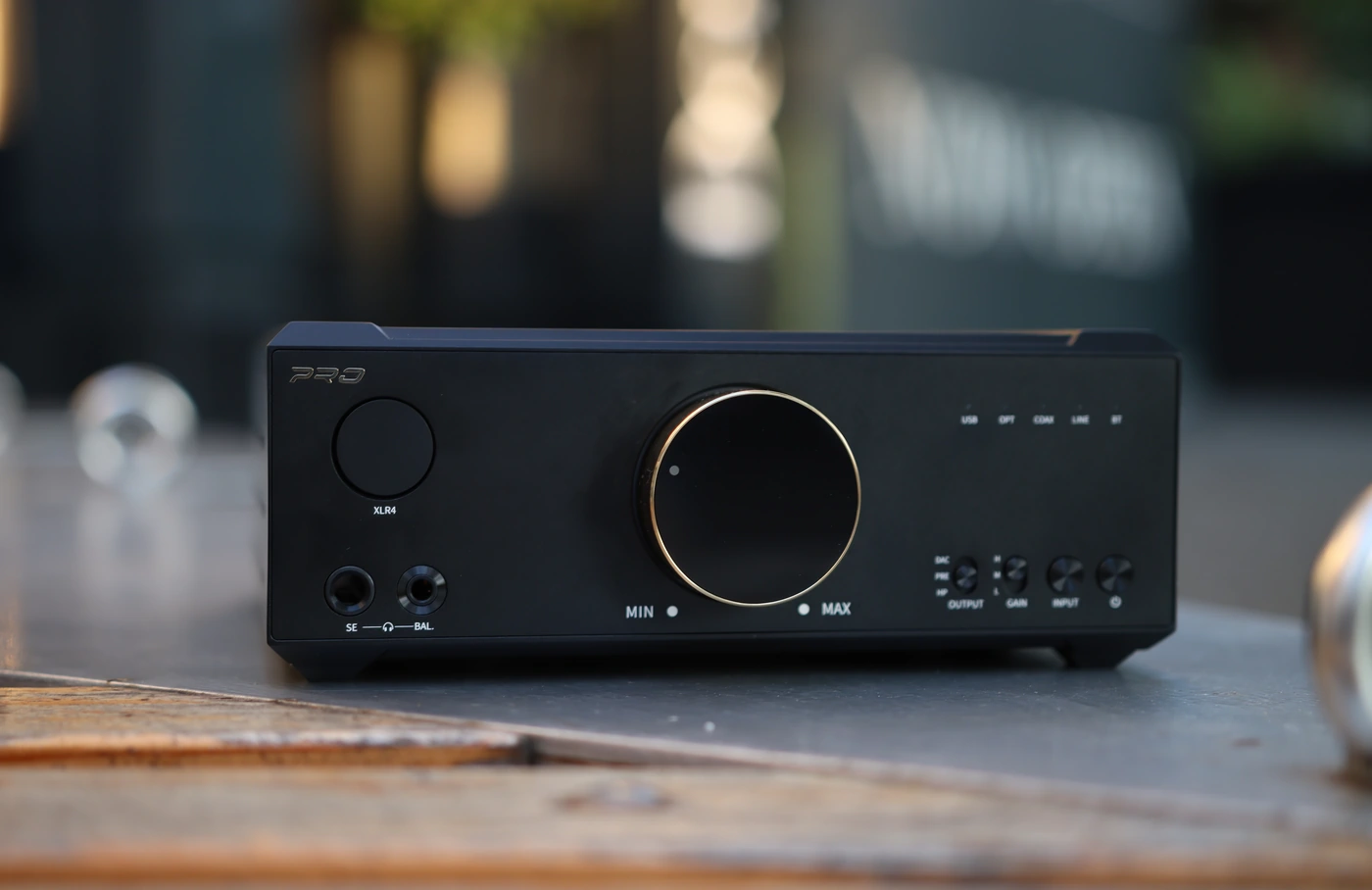 It is interesting to note, but not everyone likes a flat presentation, so when I first reviewed the FiiO K9 PRO ESS in video, I got quite a few comments stating that it sounds fairly flat, and that is true, this is one flat and neutral sounding DAC / AMP. This is actually ideal, as you'd want as little distortion and change in tonality to be created by the DAC/AMP as possible, you want your source to be transparent, and FiiO k9 PRO ESS really is very transparent, it does not induce any kind of coloration, it does not make music brighter, it does not make music warmer, it simply renders music with the flattest, most neutral image possible, without adding anything or removing anything from the song. This can be quite good, if you're looking for this kind of sound, but can also sound less engaging, if you prefer a coloration to be present, be that coloration a touch of warmth, or a touch of treble bite, or both. Given the flatness, K9 PRO does not bring the midrange forward too much either, it is just a pure flat line and that has to be respected. It is easy to color the sound, hard is to control it.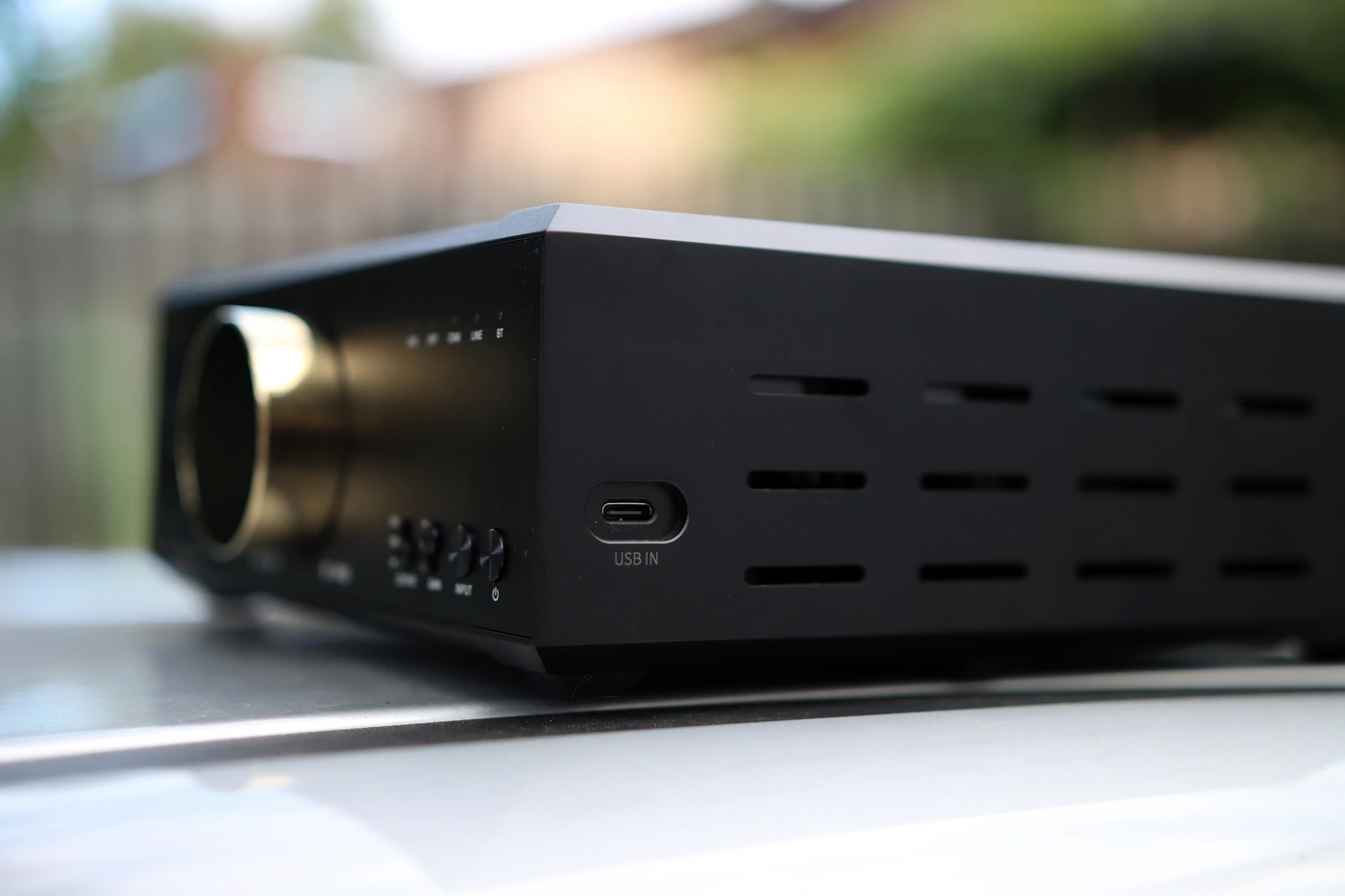 The bass of FiiO K9 PRO ESS is clean, deep and very detailed, quick, capable of rendering death metal, rock, pop, or even technical music with ease. It is not the amount of bass, because it is a DAC / AMP, it is transparent, but the quality of the bass that leaves a lasting impression. Even with relatively slow bands like Protest the Hero, the drums are rendered effortlessly, linear, with a neutral amount of bass. K9 PRO is great at controlling and keeping in-line headphones that tend to color the sound too much in the low end, for example being a sweet pairing with the bass-heavy OLLO S5X, or Audeze LCD-Mx4. The bass of K9 PRO ESS is purely linear, it has the same substance and presence all across the range, from the sub bass all the way to the upper bass, with no special spice for any frequency. The happier part is that the bass can rattle your brains in your head if you're listening to something heavy, or to heavy headphones, as a good DAC/AMP, K9 PRO ESS doesn't cut the bass, it is just dead point neutral. You can expect impactful blows and deep rumble from techno music and electronic music, but you can expect just the natural note decay and depth that rock and metal has, K9 PRO doesn't exaggerate anything, it shows you how it is supposed to sound with no added coloration. FiiO K9 PRO ESS is also excellent at revealing bass distortion in poor recordings, so it needs quality recordings with no clipping to sound good, but if there is digital noise and clipping in your recording, it reveals it easily, a great mastering / mixing tool, but will not be easy on poor albums.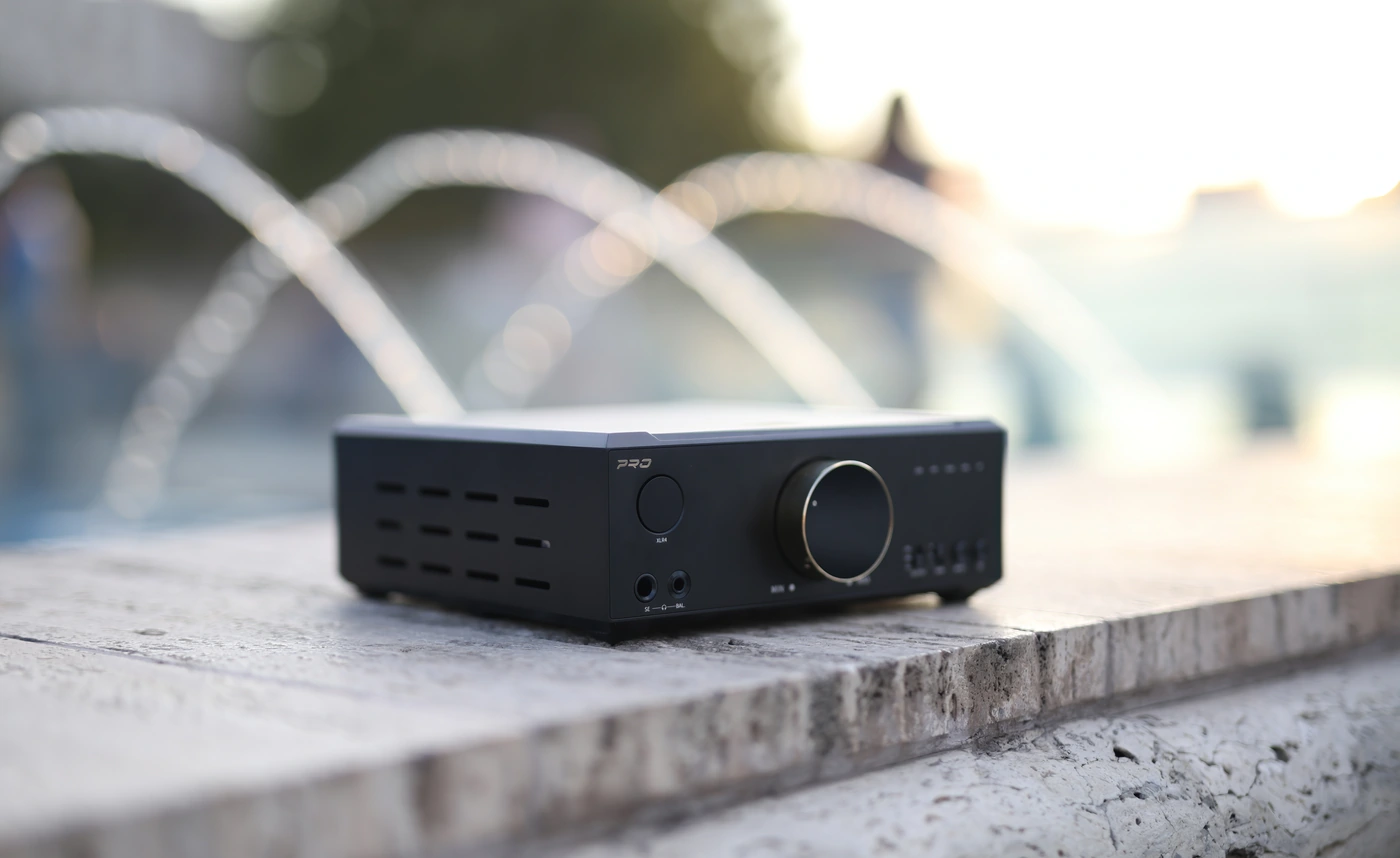 The midrange is also a showing of technical edge, precision and clarity, with FiiO K9 PRO revealing every single micro detail, texture and information that's available for your ears in each song. Music is dynamic, clean and clear, with both male and female voices having a perfect tonality, and a special richness and clarity. For most music, it feels like the singer is sharing the deepest parts of his soul with you, right then and there, but instruments still have a huge space to play, the staging expands both in width and depth, but height too. We have one of the most precise presentations out there, and just as it handles bass with neutrality, and pinpoint precision, the midrange is at times too clear, clipping and mixing / mastering errors are easily revealed, with good albums sounding sublime, but poor albums sounding quite poorly. The dynamics are, at times, too good too. This means that music can sound more dynamic, more airy and less forward than the typical wall of sound we're hearing at times.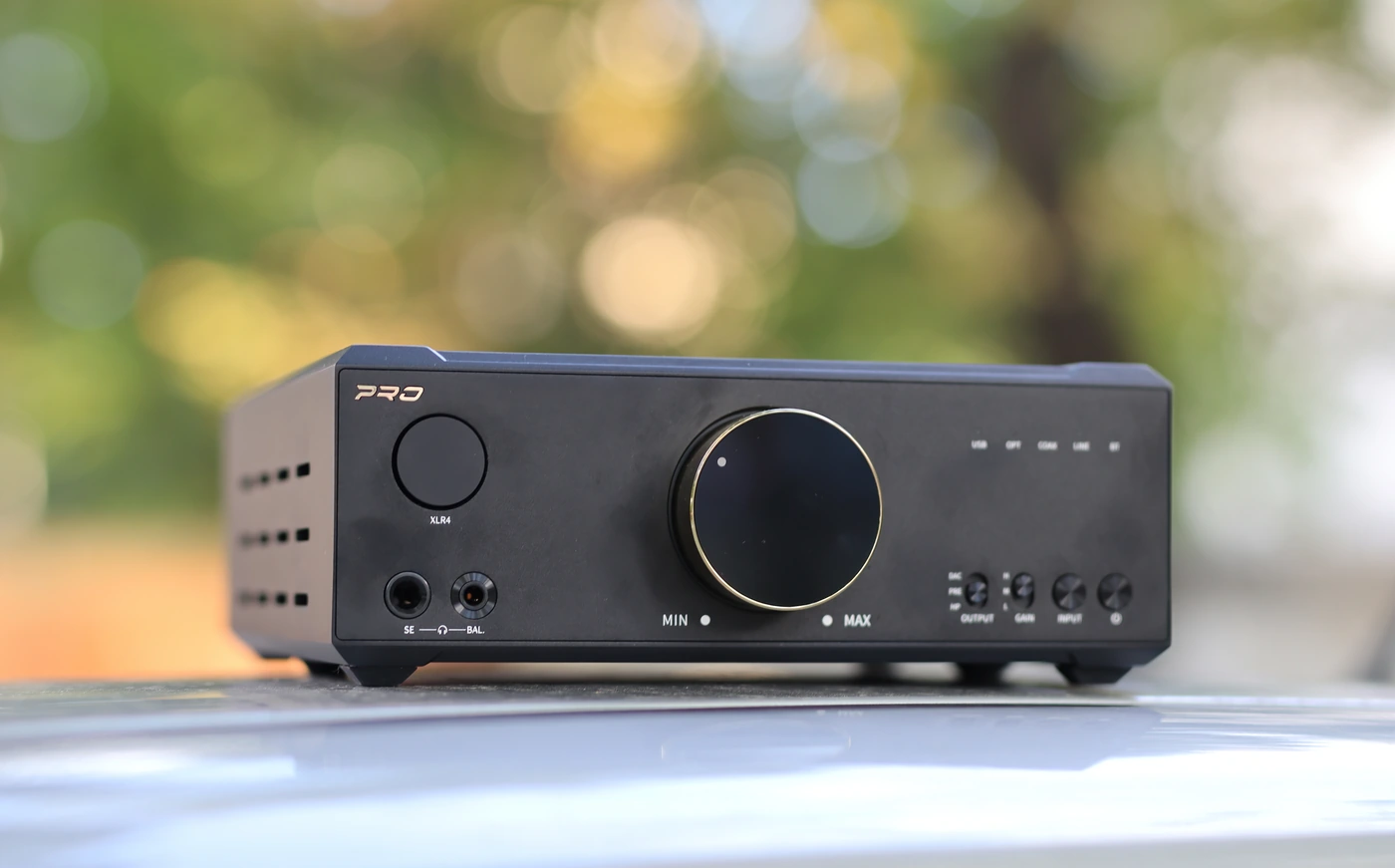 We also have a linear, neutral and clean treble. The treble is smoother in texture and character, with a non-fatiguing presentation that steers away from being too bright or too pushy, instead going for a clean and relaxed top end to finish on a mezzo top note. Somehow, K9 PRO ESS still manages outstanding resolution and detail in the treble, air is plenty, and you will hear the cymbals in all music, including electronic and pop, where it is generally mastered quieter, but it is always free of fatigue, even when the band playing is Infant Annihilator. All music sounds as it was mixed and mastered in the mids and the bass, but the treble is always presented to not offend the listener, to let you enjoy tracks even if the engineer working on the album went too happy-go-trigger with the treble.  
Comparisons
FiiO K9 PRO ESS vs Soundaware A1X PRO (849 USD vs 700 USD) – Starting with the build and design, A1X PRO is an interesting device, which can do streaming, read microSD cards, USB Sticks, and will not require a computer, laptop or smartphone to play music. This being said, changing the volume for it can be a slow process, and FiiO K9 PRO doesn't have any kind of issue for its usage, and the outputs of K9 PRO are better, we have balanced headphone output, both in XLR and 4.4mm formats, we have two DAC outputs, a 4.4mm line input, so it is clearly the more versatile device. The background noise level is lower on K9 PRO ESS, and it has better maximum driving power for large headphones, and a considerably lower noise floor for sensitive IEMs. The overall tonality and presentation is very different, with K9 PRO ESS being much flatter, more transparent, more detailed and more dynamic. A1x PRO sounds considerably warmer, smoother,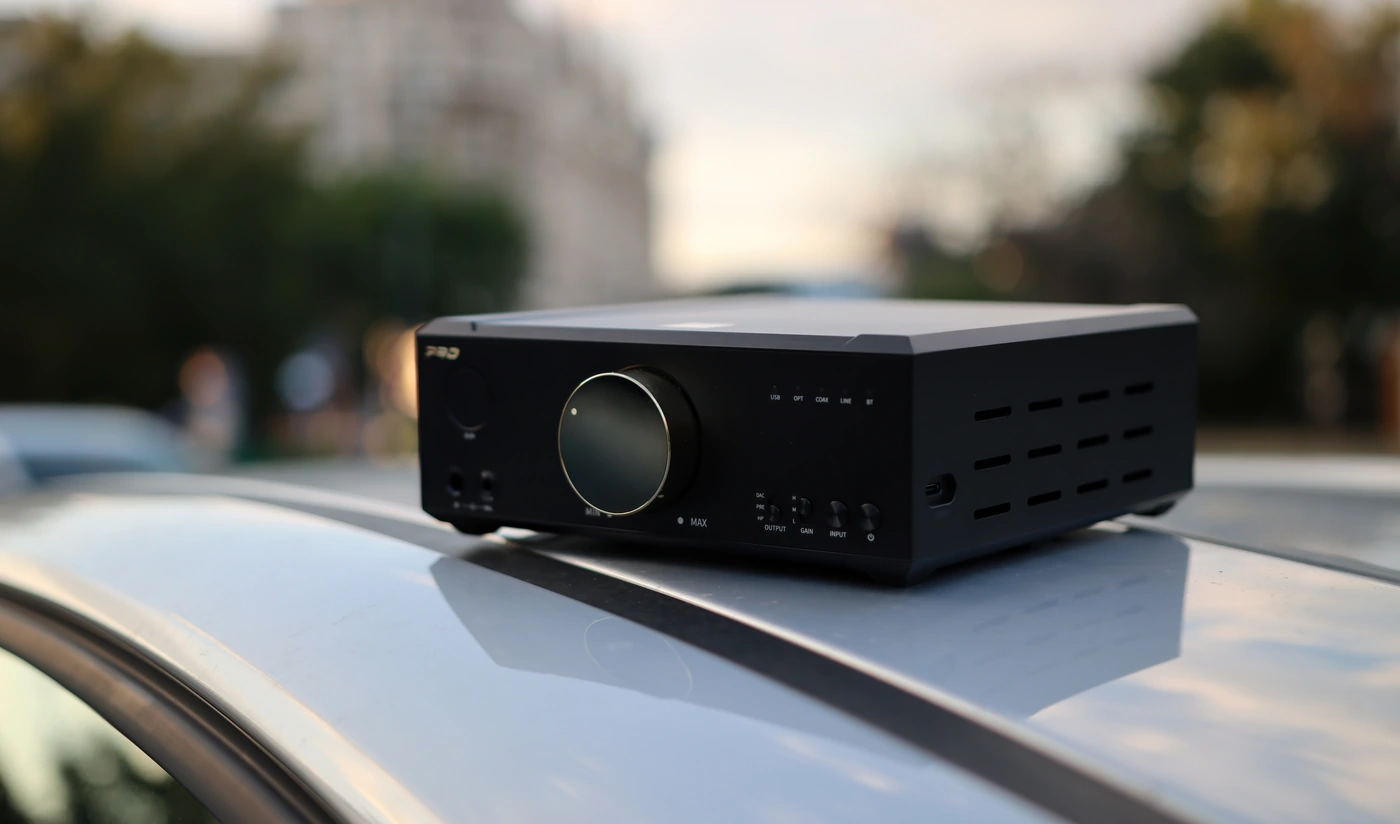 FiiO K9 PRO ESS vs HIFIMAN EF400 (849 USD vs 599 USD) – Starting with the build quality and design, FiiO K9 PRO ESS has a larger number of inputs, larger number of outputs, and handles Bluetooth quite a bit better. The DAC performance is also better, with EF400 having a more audible noise floor, while K9 PRO ESS is dead silent with most speaker systems, isolating the listener from any kind of issues. This is also true for IEMs, where there is a bit of hissing with sensitive IEMs when listening to EF400, but K9 is dead silent and doesn't show anything in the background. The tuning and signature is quite different, and while you would call K9 PRO ESS really flat and transparent, there's a bit of extra warmth and treble sparkle in EF400, which is quite a bit brighter and will highlight dynamics and also treble air more. Both are detailed and have excellent resolution, FiiO K9 PRO shows micro details a bit more, and is also a bit better at revealing textures, although the midrange and treble, and even the bass are all smoother on EF400. All in all, K9 PRO sounds more resolute, EF400 sounds a bit more dynamic, both are very clean and crisp, and both are very capable for their price point. For a higher price, FiiO K9 PRO ESS can deliver more detail, and a better input / output selection, so if you need those, and if you plan to use it as a DAC, it is an excellent choice, while if you want a device that will mainly be a DAC/AMP for headphones and if you have a lower budget, EF400 is still quite good too. 
FiiO K9 PRO ESS vs Aune S9C PRO (849 USD vs 699 USD) – S9C PRO has been one of my favorite DAC/AMPs of this year, so it should be no surprise when I say that this is a hard battle for K9 PRO. Not only does the S9C sound good, but it covers most of the functionality that K9 PRO ESS has, and also can drive headphones really well too. The one thing that is different is that K9 PRO ESS has a slightly lower noise floor when it is used as a DAC, and you will hear a higher noise floor from S9C PRO, but only marginally. The same happens with sensitive IEMs, where S9C PRO has a higher noise floor, and some very minor hissing can be heard with IEMs, while K9 PRO ESS is dead silent. On the other hand, the sonic performance is very different, and S9C draws in more dynamics, it sounds warmer, placing more emphasis on the bass, but also brings forward the treble sparkle and air a bit more, which results in a subjectively more pleasing sound, although the THD is likely a bit higher, while K9 PRO ESS stays flatter, more neutral. Both are exceptional at details and texture, micro details and general resolution, so both should satisfy a listener nicely, K9 PRO ESS is better for those who want absolutely neutrality and no coloration, while s9C PRO is made for those who want a bit of extra color with their music. 
FiiO K9 PRO ESS vs Matrix Mini-i PRO 4 (849 USD vs 959 USD) – There is a bit more that you can do using the Mini-i PRO 4, and I am really happy to report that it is also very quiet when it comes to the background noise, both when used as a DAC, but also when used as a headphone amplifier, it has little coloration and generally a very capable DAC/AMP. The first difference you will notice when comparing the two side by side is that K9 PRO ESS has an even flatter sound, and it makes Mini-i PRO 4 sound a bit warm in comparison. The background noise is lower on K9 PRO, which does a superb job at not sending through any kind of noise to a stereo amplifier, and at isolating the listener from any issues, but the flatness of the sound can be surprising at first, so it is good to keep in mind that transparency is not always the first choice for all listeners. All in all, K9 PRO has a higher driving power, it can handle hard to drive headphones better, but also has a lower noise floor for IEMs, it sounds flatter and more neutral, while Mini-i PRO 4 is warmer, smoother. Both are quite capable, there's some good streaming potential for Mini-i PRO 4, but we also have LDAC and aptX Bluetooth for K9 PRO ESS, which also works flawlessly as a USB DAC, so the only feature it does not have is ethernet streaming, which is the highlight of Mini-i PRO 4. 
Value and Conclusion
It is always easy to tag an entry-level product as having high performance and high value, but when something gets closer to the 1K USD price tag, value usually diminishes and that's the law of diminishing returns. I had this happen to me with cameras, monitors, PC parts, and basically everything out there, but FiiO is one of the devices that opposes this law as strongly as it can, it basically offers everything I could have asked it to offer, and more on top, and despite its price tag being on the hefty side, the performance makes it seem meager for what you're getting. With K9 PRO, you're unlikely to need any ulterior device on your desk, any headphone amplifier or another DAC, it is an all-in-one solution that can power all of your headphones, IEMs, be the DAC of your system, and get the input from all of your devices, even having Bluetooth input so it is surely going to make some listeners happy and never regret the amount spent on the DAC/AMP of their system.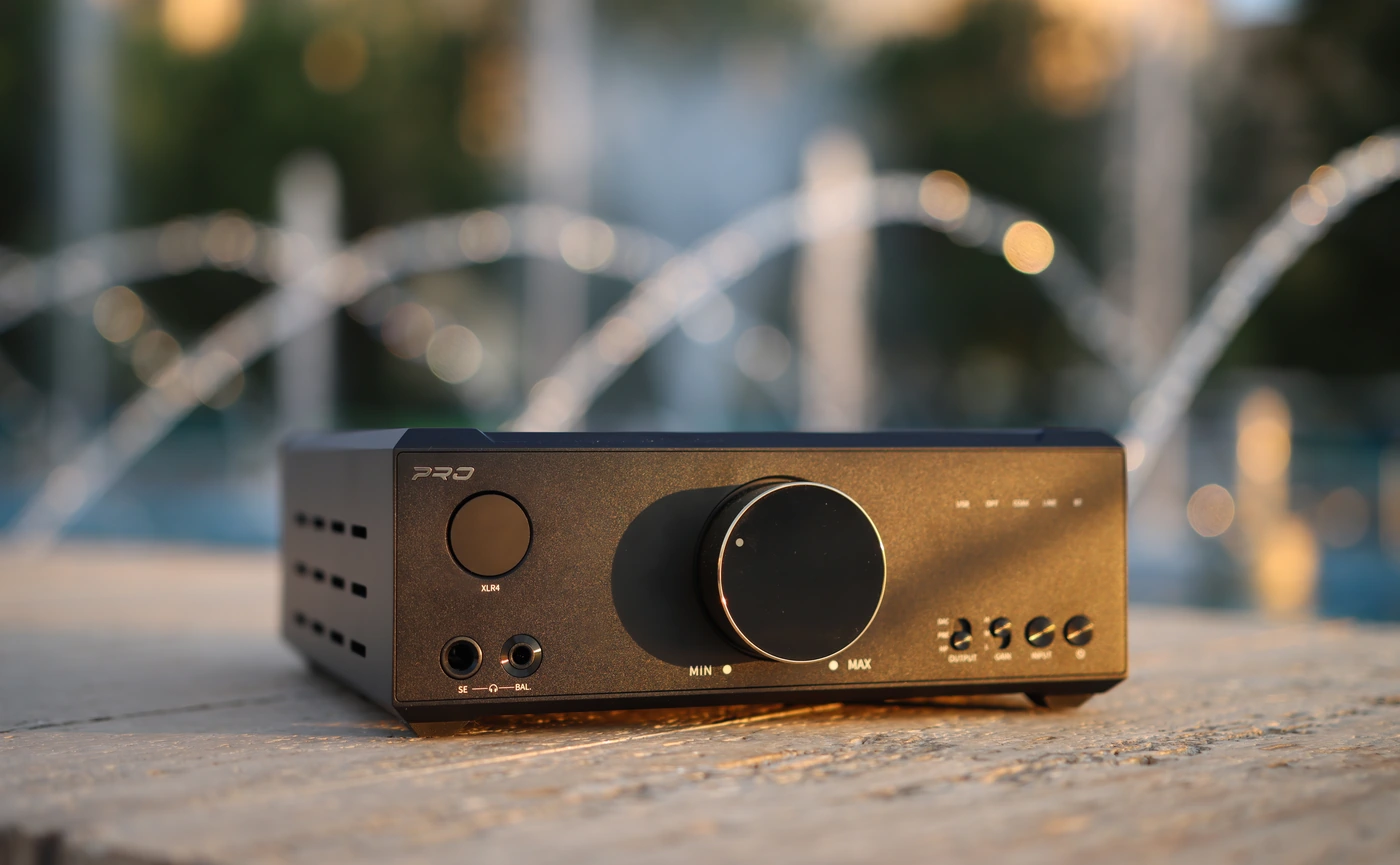 At the end of the day, if you're looking for one of the most efficient, best sounding DAC/AMPs out there, with excellent design, a multitude of inputs, bountiful selection of outputs, and with a really neutral, clean, very detailed and technically capable sound that works for all headphones and IEMS out there, and which has the lowest noise I have heard for its price class, if used as a DAC, FiiO K9 PRO ESS is the champ to go for today. 
Product Link
You can grab one from www.amazon.com here: https://amzn.to/49lcGtp
If you're in the UK, you can grab one from www.amazon.co.uk here: https://amzn.to/45SpeFG
And if you're from Europe, you can grab one from www.amazon.de here: https://amzn.to/45ODqzc
---
--- Please remember to stay safe, and always have fun while listening to music!---
 - If you have a dime to spare, please donate, and help us! It would make the day brighter for me and my wife- 
---
Full Playlist used for this review
We listened to more songs than those named in this playlist, but those are excellent for identifying a sonic signature.  I recommend trying most of the songs from this playlist, especially if you're searching for new music! The playlists are different for Spotify, Tidal and Youtube, and based on the songs I enjoy and are available on each!
https://www.youtube.com/playlist?list=PL_cjBXGmwSHSdGcwuc_bKbBDGHL4QvYBu
https://open.spotify.com/playlist/5J3oloz8Riy9LxEGenOjQ0?si=979ba4f082414be7
https://tidal.com/browse/playlist/330fd544-8e5b-4839-bd35-676b2edbb3d5
--- Contact Us ---





---