SMSL AO200 MKII Stereo Amplifier – Everything's Improved in Part II
SMSL AO200 MKII is a $249 USD Desktop Stereo HIFI Amplifier, with a separate subwoofer output, 160W per channel, Treble and Bass adjustment to compensate for room and speaker limitations, and with a remote for volume and settings adjustment. Today we will review it, exploring in-depth what it can do, how it sounds like, and how it compares to other high-quality stereo amplifiers, including Burson Funk (550 USD), Arylic A50+ (200 USD), Soundavo NSA-250 (300 USD).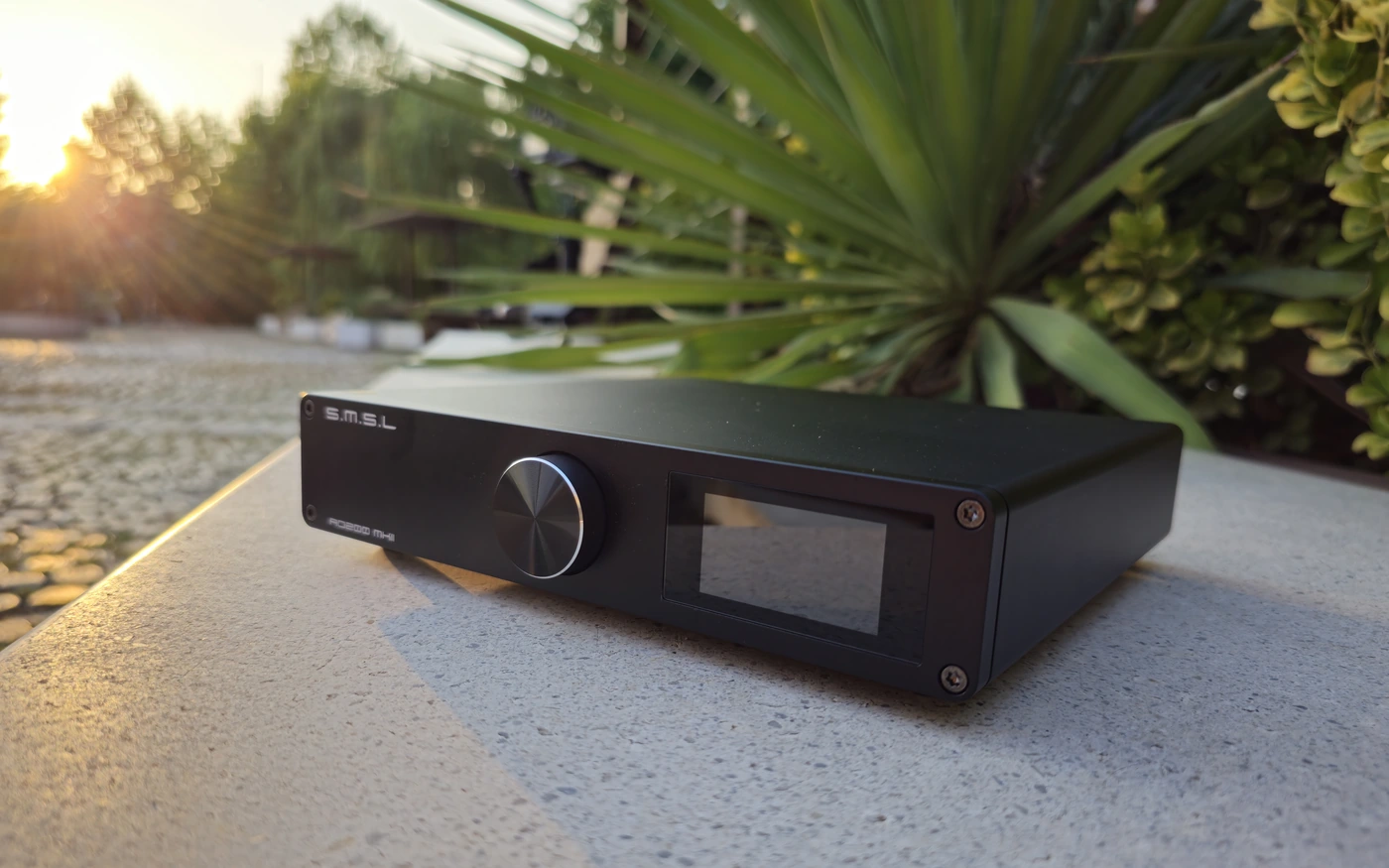 Introduction
SMSL is not a new company in our review rooster, and we know they have been able to provide a really good performance for an entry-level selection of products, but lately they've been making more and more high-end products, trying to break into the flagship price segment, with interesting DACs AMPs, and more. AO200 MKII is an exceptional offering. The best part about AO200 MKII is that it is sold and fulfilled by one of the best, most trustworthy shops that carries SMSL, Aoshida. With Aoshida, you're bound to have fun, they have some of the fastest delivery times, exceptional pricing, and many products that are exclusively sold through them, helping bring the best audio to the western market. It is good to keep in mind that if you're not comfortable using the Aoshida store to buy, they also sell and fulfill orders on Amazon, so you can have the extended return windows of Amazon but still take advantage of the exceptional Aoshida support. 
I'd like to thank Aoshida for providing the sample for this review, in exchange for my honest opinion. We are not receiving any incentive for this review and Audiophile-Heaven has no affiliation with Aoshida Audio beyond this review. This review is the description of my personal experience, and "As an Amazon Influencer, I earn from qualifying purchases".
Product Link
You can grab one from www.amazon.com here: https://amzn.to/3FpObx8
If you're in the UK, you can grab one from www.amazon.co.uk here: https://amzn.to/3S5FyQ7
And if you're from Europe, you can grab one from www.amazon.de here: https://amzn.to/3tG18Av
Build Quality/Aesthetics
SMSL AO200 the original has been an excellent amplifier, but it fell short in some ways, when it came to its presentation. This being said, the product still works brilliantly, and it is a really capable amplifier with a huge driving power, outstanding functionality, and great form factor, so it is nice to see that Aoshida and SMSL are selling a new revision that looks pretty much the same. In fact, the overall build and design is basically the same, with a central volume wheel that you can press to set it up. Furthermore, we have an increased driving power, AO200 MKII being able to offer up to 160W x 2 for an impedance of 4 OHMs, and 85W x 2 for an impedance of 2 OHMs. This driving power is quite huge, and it places AO200 MKII in the range where it should be able to drive literally any speaker out there.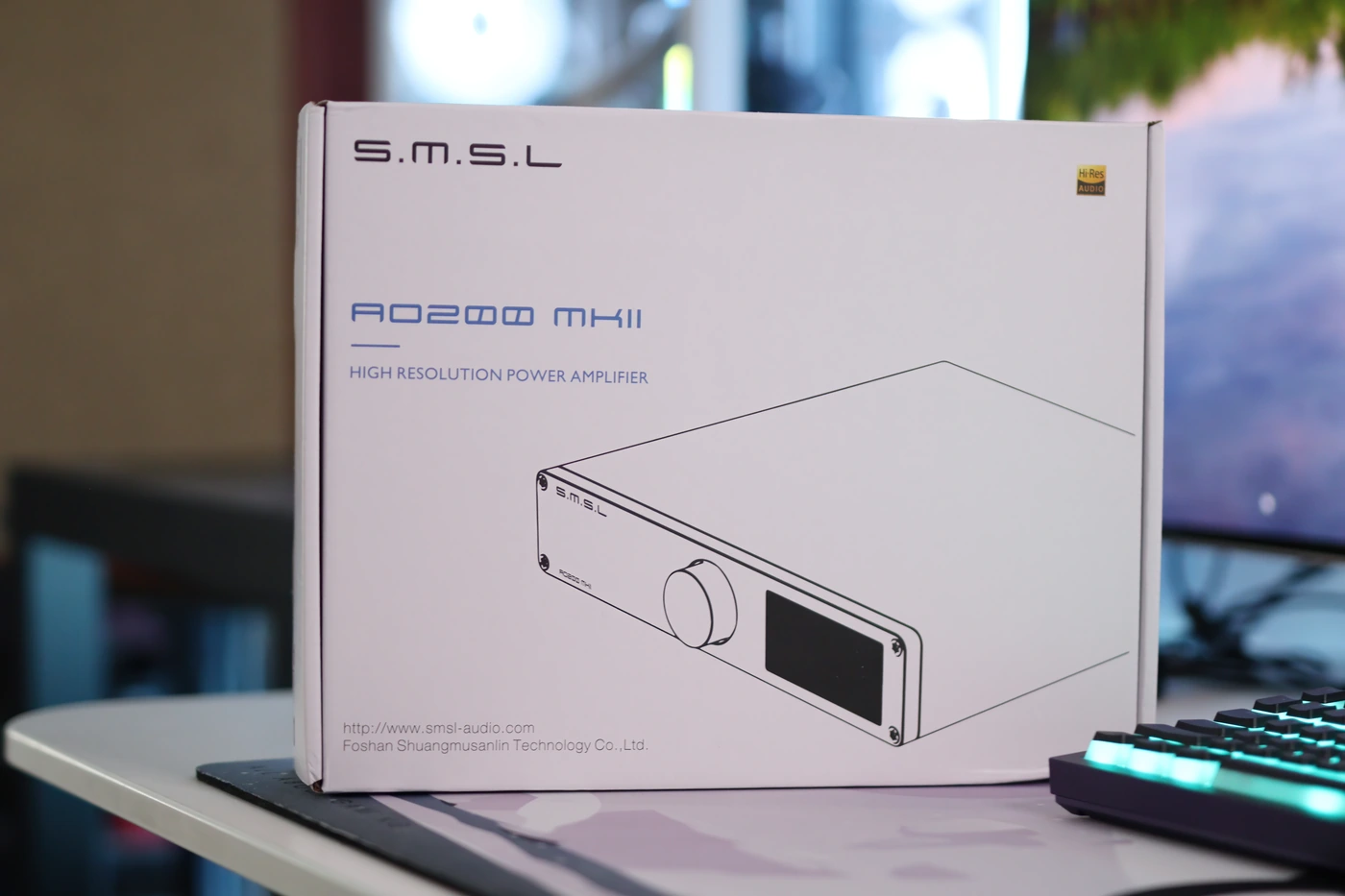 The AMP chip is the mighty, popular MA5332MS chip from infineon, and we have a NJW1194 Volume Control Chip. There's a subwoofer output, which I think is one of the best features of AO200 MKII, as it allows you to connect a subwoofer via RCA. Especially if your DAC does not have dual outputs, or a special subwoofer output, this can be really useful. While the original AO200 was able to offer 90W x 2 at 4 OHMs, the new AO200 MKII has almost double the power at 160W x 2 at 4 OHMs.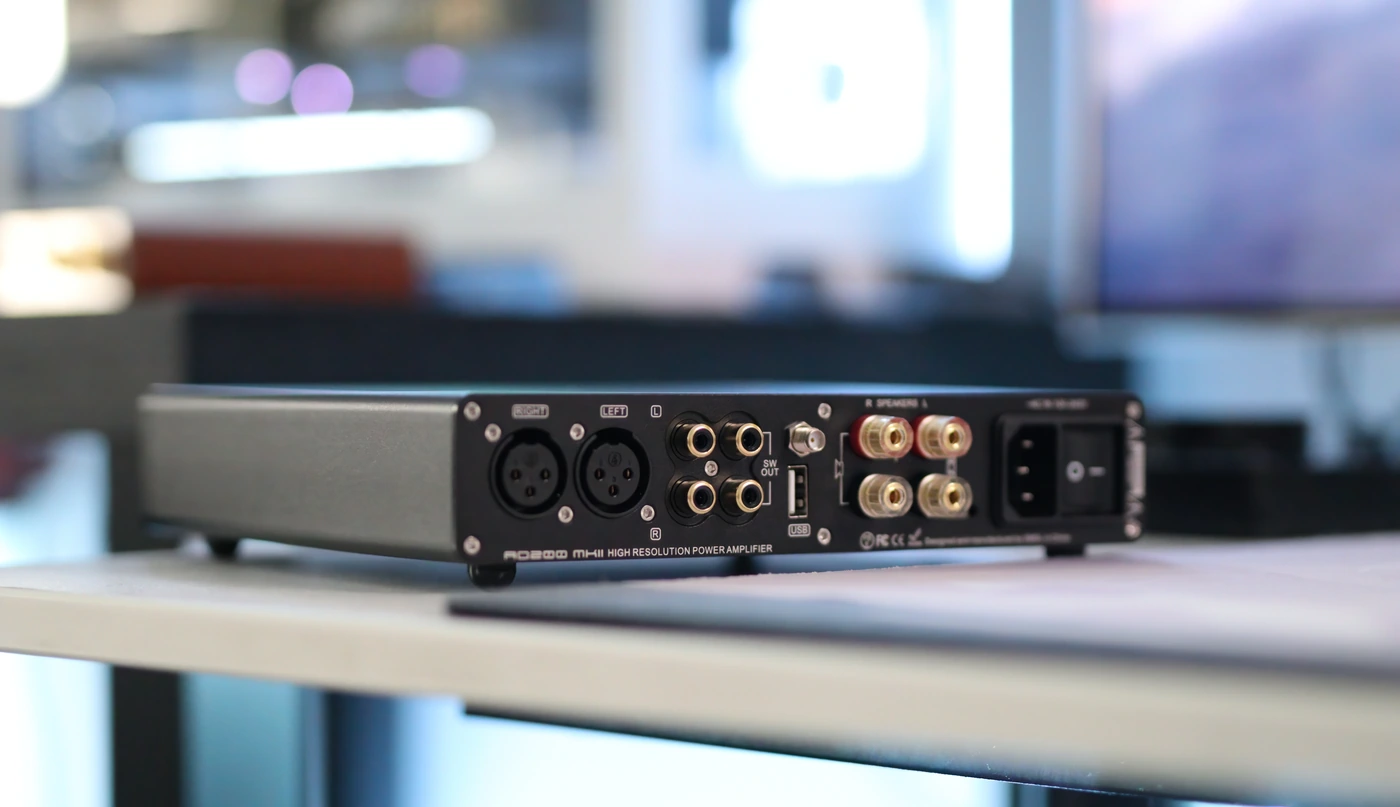 SMSL worked together with Aoshida to make the AO200 MK II and we have circuit protection for overheating and overcurrent, so you won't need to worry even if you're running the AO200 really loud for long periods of time. The standby power consumption is super low, at 0.5W, so even if you forget it is turned on, as long as no music is playing, it shouldn't consume much, or anything at all. The case is made of an aluminum alloy, and SMSL uses CNC precision processing. Together with an anodizing technology and chamfering process, the result is a sleek, modern, and stealthy device. We have Bluetooth 5.0, but if you'll place it near a router, you may hear some interference. The Bluetooth codec list for supported codecs includes SBC and AAC.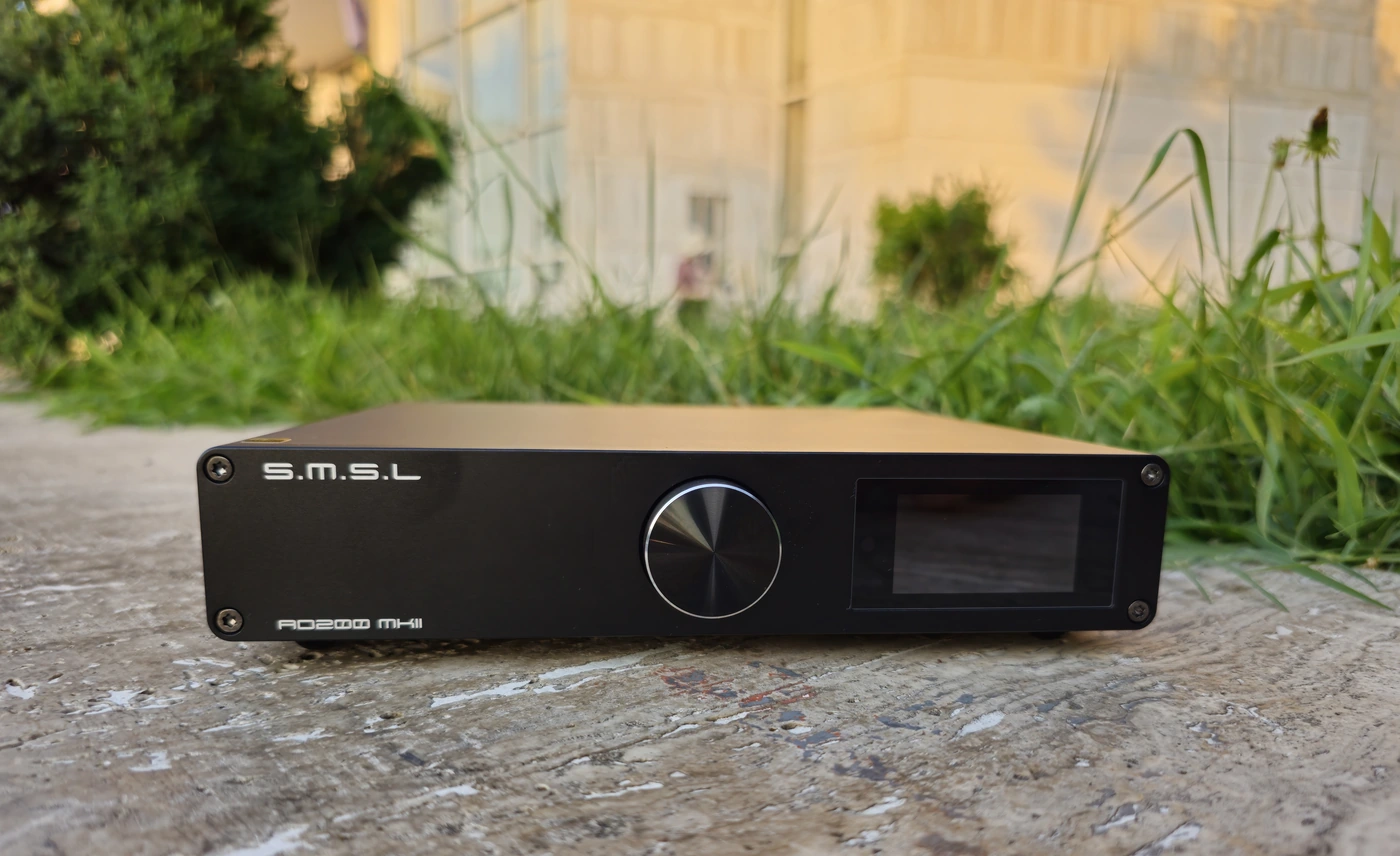 There is built-in EQ, which will apply EQ settings in real time, you can tweak the Bass and the Treble, but you can also use one of the profiles designed by SMSL. It is super practical, and in my experience it really makes up for any speaker or room shortcomings. Together with the OPA OPA1678 chip, the sound is far more natural, stronger, and more dynamic than what we've seen with the original AO200. 
We have a fully balanced design, with XLR inputs, but you can also use RCA inputs too, if you happen to have cables for it. The power modules are customized for the unit, and we can get instantaneous 300W of power from the power delivery, despite the small size and reasonable heat production. The power delivery is handled by a Large Skeleton Low Leakage Switching Power Transformer coupled with a 2-Stage Power Input Filtering. You can use a USB input from desktop PC and laptops, but the sonic experience is best with an external DAC.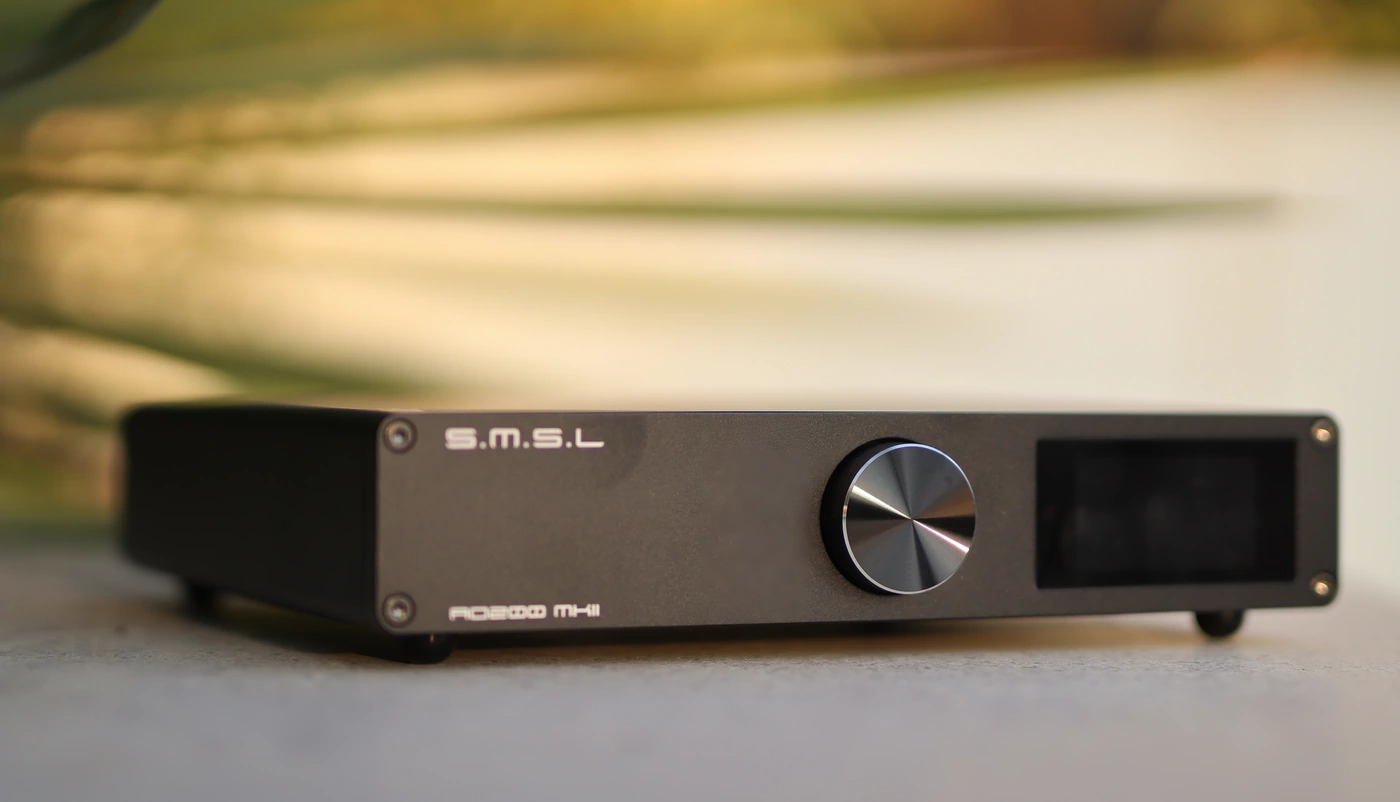 The THD+N is low at 0.004%, and the SNR is quite good at 106dB. We also have a channel separation of 85dB, and an input sensitivity of 290mV with an impedance of 47kOHMs. Listening at normal room volumes, the power consumption is a meager 40W, while the standby of 0.5W is also quite good. The weight is kept low, at 1.6KG, and overall the unit works very well, the EQ works well and regardless of the input there is no noticeable delay. 
The unit does not get very warm during usage, it works as intended, there is no weird background noise at normal listening volumes, and even if you push the unit to the max loudness it has, and use the DAC to control the volume, there is only a very faint hissing audible in the background. Both inputs can be connected with no signal degradation, the sound is also great if you use the subwoofer output too. The unit sounds better if you're using the XLR input, than if you're using the RCA input, but this is dependent on the DAC too, where most DACs will sound better over their XLR output. All in all, AO200 MKII is impressive, looks and works very similar to AO200, but the sound is where it excels. 
Sound Quality
Very pleasing to hear and experiment in person, AO200 MKII is a different amplifier from the original AO200, now we have a more dynamic sound, better impact, and a much improved soundstage. To test the new AO200 MKII, I have been pairing it with a multitude of DACs, including FiiO K9 PRO, HIFIMAN EF400, JDS Labs Element III MK2 Boosted, SMSL DO400, Matrix Mini-i PRO 4. The speakers I powered using the AO200 MKII include KLH Model Five, NHT C3. It is fully able to drive all of them, and the driving power when juicing up KLH Model Five is excellent, and if you're feeling like they're sounding flat by default, you can always use the embedded EQ to add some low end, or some treble, to make the sound more punchy where you need, or where the room or speakers dont excel. For example, for KLH Model five I like to add a few db of treble and a few db of bass too.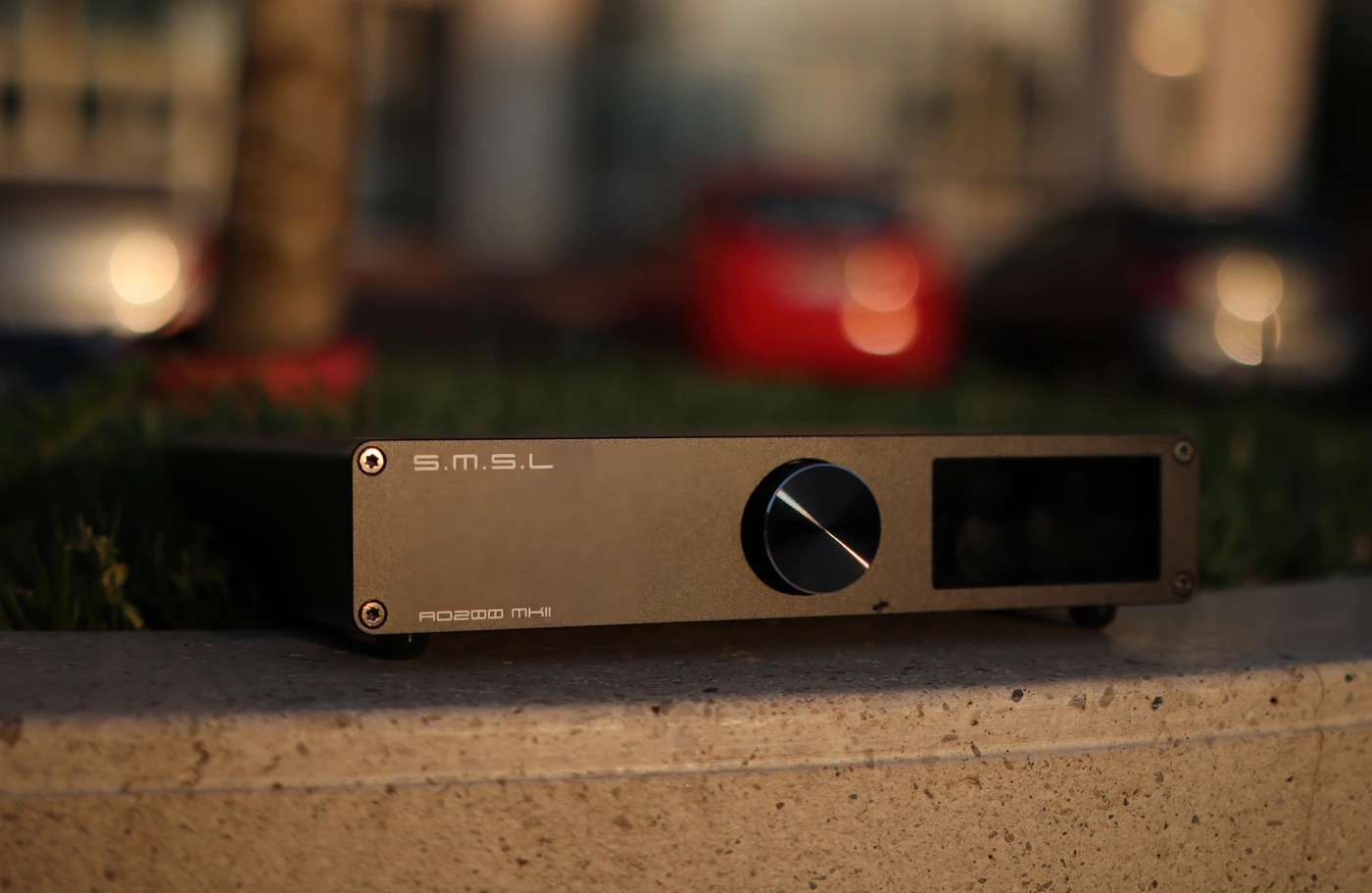 The sound AO200 MK II makes is dynamic, punchy, and reminds me far more of Cyrus One Cast than of the original AO200. We have good to excellent dynamics, a wide and holographic soundstage, and where the original sounds quite flat, the new AO200 is very pleasing, engaging and detailed. It can also easily handle complicated setups, where I have not just the speakers connected, but also the super tweeters from Aperion Audio, AO200 is a capable amplifier that makes all speakers pop and jump. The midrange is lean, clean and allows all instruments to shine and breathe through. We also have a brighter, more airy treble, and a deeper bass that can shake the house if your speakers have the drivers for it.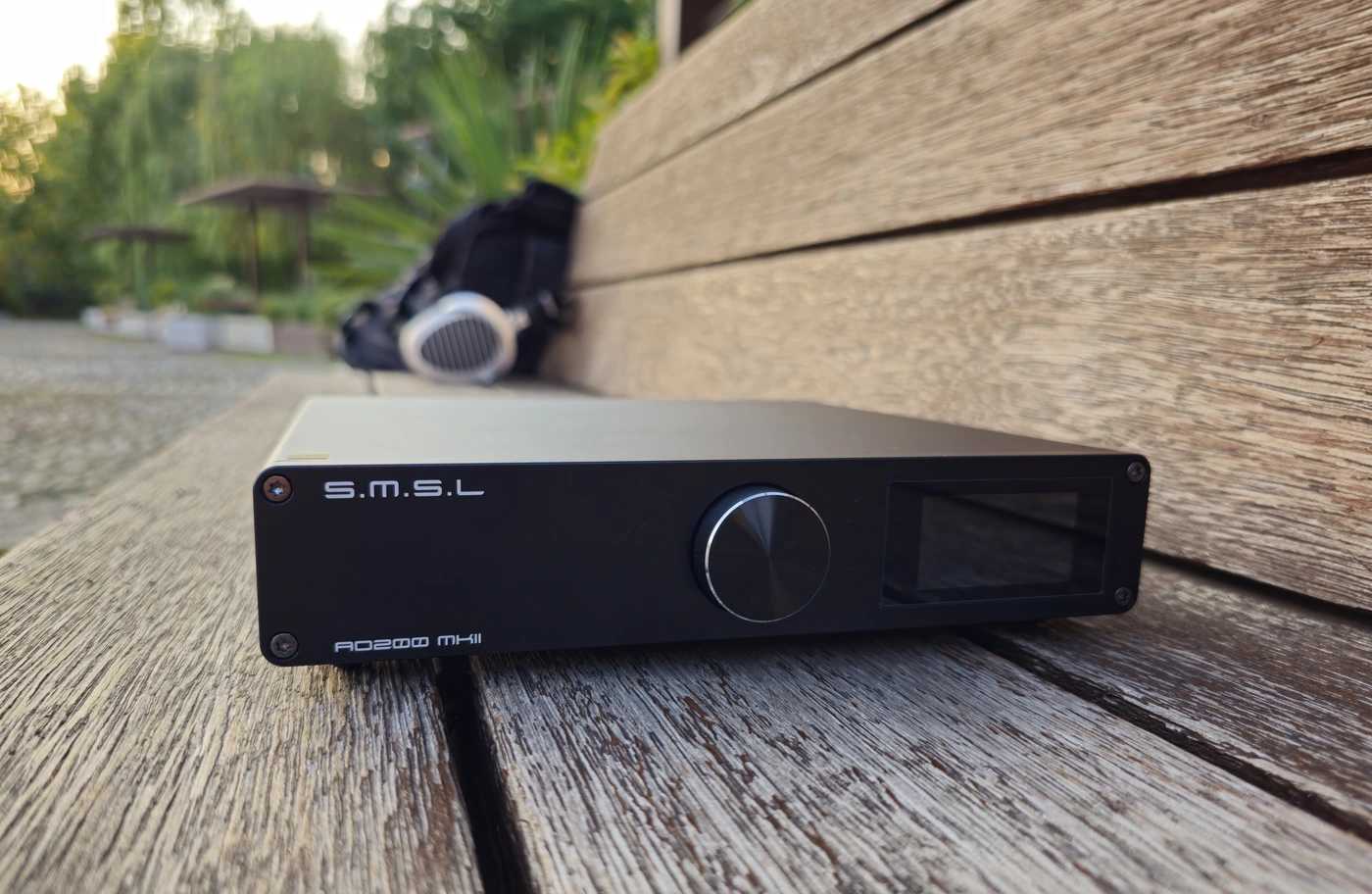 Starting with that bass, the default state of the amplifier has it sounding neutral, but with good impact, natural-quick speed, and with a good amount of power. The fun part about the bass is that you can configure it to be as much as you need and want, and even if you max out the bass boost setting in the EQ, it does not distort or become unbearable. Somehow, both the amplifier and the speakers hold their ground, instead of exploding, providing an earth shattering low end that can help the items of my desk dance as they please.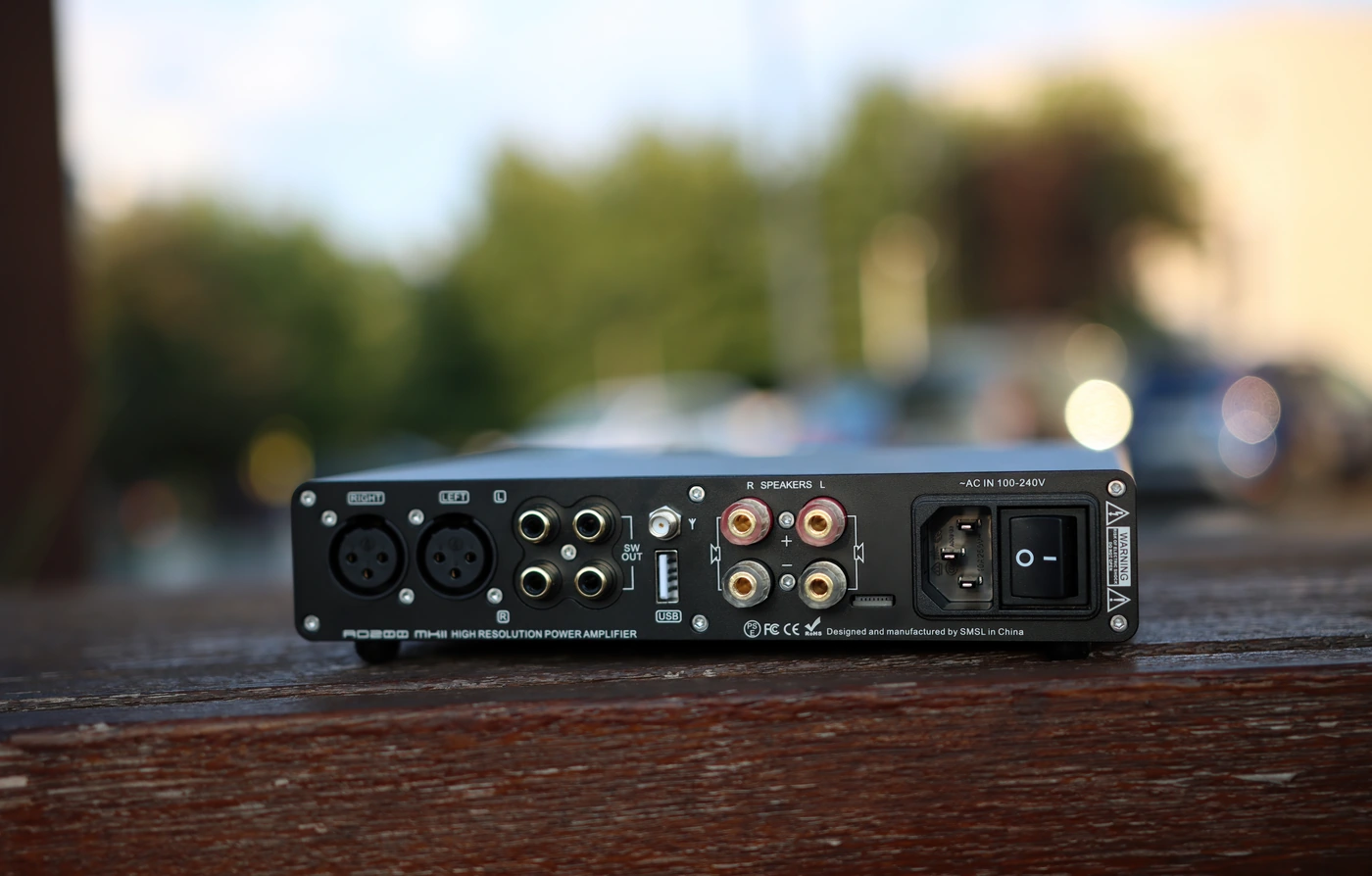 The midrange is where things are smoother, leaner, but clean, clear, and detailed. The midrange tends to have a fluid presentation that is never fatiguing, AO200 MKII has a clean and smooth presentation. We do have a wide soundstage that expands a lot in the lateral dimension, and it has good depth, but it is fairly intimate in height, where it stays within natural boundaries. For rock, metal, edm, commercial music and pop, it all works out perfectly, and as it fits in with all the music that I typically listen to and enjoy, I think it is fair to call the AO200 MKII an excellent commercial sounding amplifier.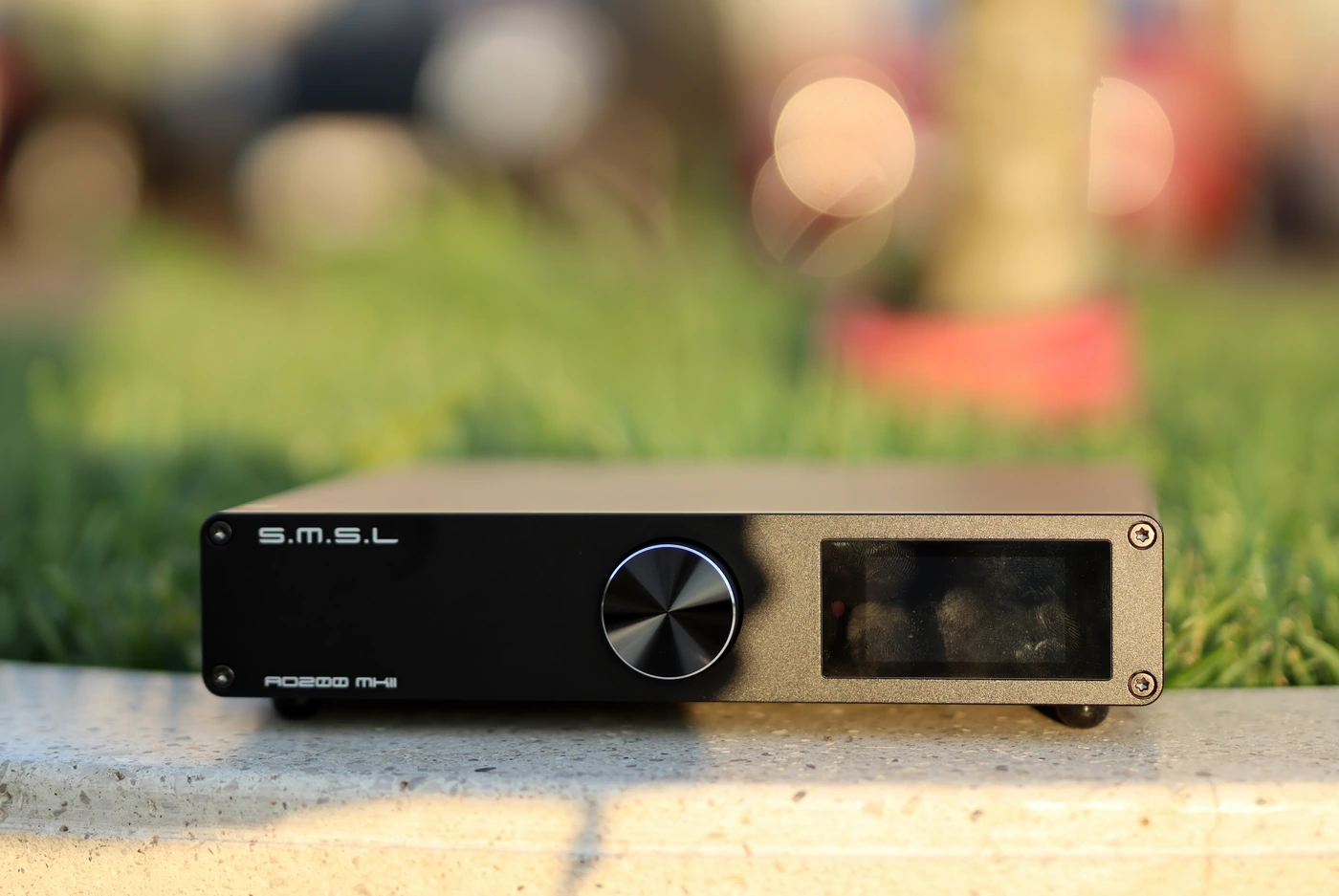 The treble is smooth, clean and fatigue-free at default, but if I am one to employ a pair of super tweeters in my system, I will surely add a few dB of extra treble, but as I found out, I only need a few, compared to the bass, as my room and my speakers both have a strong treble expression. Shockingly, where the original and many other entry-level amplifiers will have some kind of odd electronic noise in the background, AO200 MKII is very clean, and even at max, there's only a very faint hissing audible, but if you go 5-6 steps lower, it is silent, you can keep it at that and take advantage of the excellent dynamics, impact and resolution it has with no fear of noise. 
Comparisons
SMSL AO200 MKII vs Soundavo NSA-250 (249 USD vs 300 USD) – We start with a streamer, and NSA-250 is a potent device, with exceptional build quality, good design, and streaming features. This being said, the power delivery of AO200 is much higher, and while NSA-250 can struggle with KLH Model love, AO200 has more than enough power, it sounds beefier, stronger, punchier in the bass, with better substance, a more airy treble, and improved dynamics. All in all, I feel like AO200 MKII is an excellent choice for those who want the ultimate power for the price paid.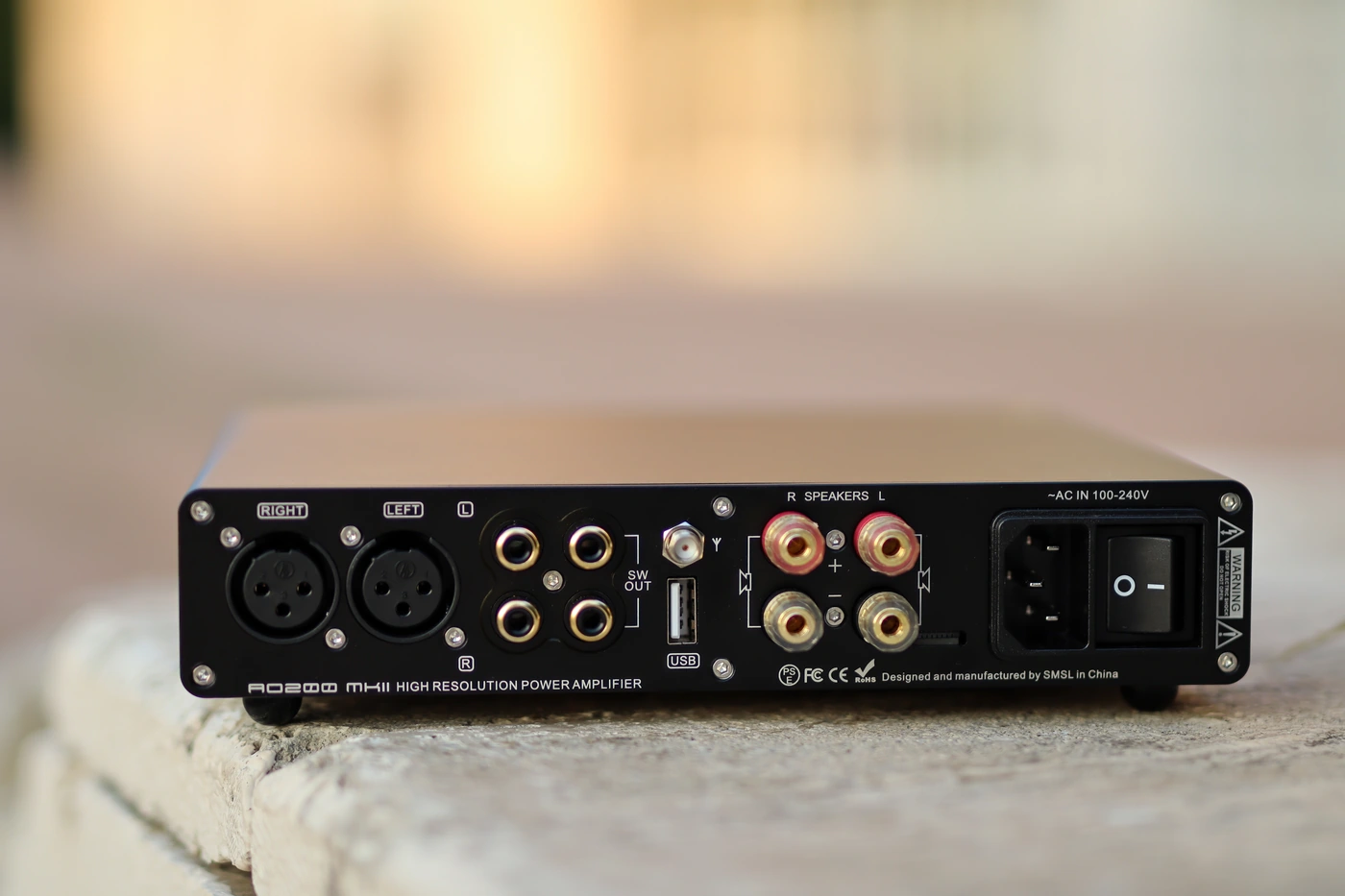 SMSL AO200 MKII vs Arylic A50+ (249 USD vs 200 USD) – Although you can easily use A50+ for its inputs, it is a good streamer, the way it handles the power delivery to the speakers is complicated to say the least, and I prefer the traditional connectors that SMSL has. The driving power is also higher for AO200 MK II, which has a more dynamic, more punchy sound with a lower distortion, much lower noise floor, and better control for all speakers. The difference in driving power is so large that I could easily reach the maximum volume on A50+, but with AO200 MKII, at max volume it would likely lead to a fine for disturbing the peace in the neighborhood. All in all, if you don't need streaming, or if you have a solid source / DAC, AO200 MKII will do a better job as an amplifier, with a more solid design, volume wheel, but without internet digital inputs like A50+. 
SMSL AO200 MKII vs Burson Funk (249 USD vs 550 USD) – Although Burson funk is pricier, the physical device is larger, gets far warmer and takes more space, all while having a slightly elevated noise floor, especially at high volumes. Because Funk is larger, I would want to leave it at the loudest volume possible, and control the volume from the DAC instead, but that is simpler with AO200 MKII, especially as I can easily compensate for the shortcomings of my system in the bass and treble, and get a better sound more easily, while with Funk, the sound has a slightly more solid midrange and better bass, but you can't just increase the bass via EQ with no signal degradation as you can with AO200 MKII. The price difference is also in the advantage of SMSL, and since they both are about equal at driving power, with AO200 MKII at times having even better driving power, even for KLH Model Five, it is easier to recommend and will likely offer a better experience for someone in the entry-level searching for an affordable and practical amplifier. 
Value and Conclusion
As we are used to see from Aoshida and SMSL, AO200 MK II has exceptional value, but where the original had some drawbacks for offering this value, the new AO200 MK II has no drawbacks, just a pleasing, versatile and clean performance, with no technical errors or issues, being the perfect amplifier for someone who wants a hassle-free setup and to enjoy music and forget about what electronic piece they are using.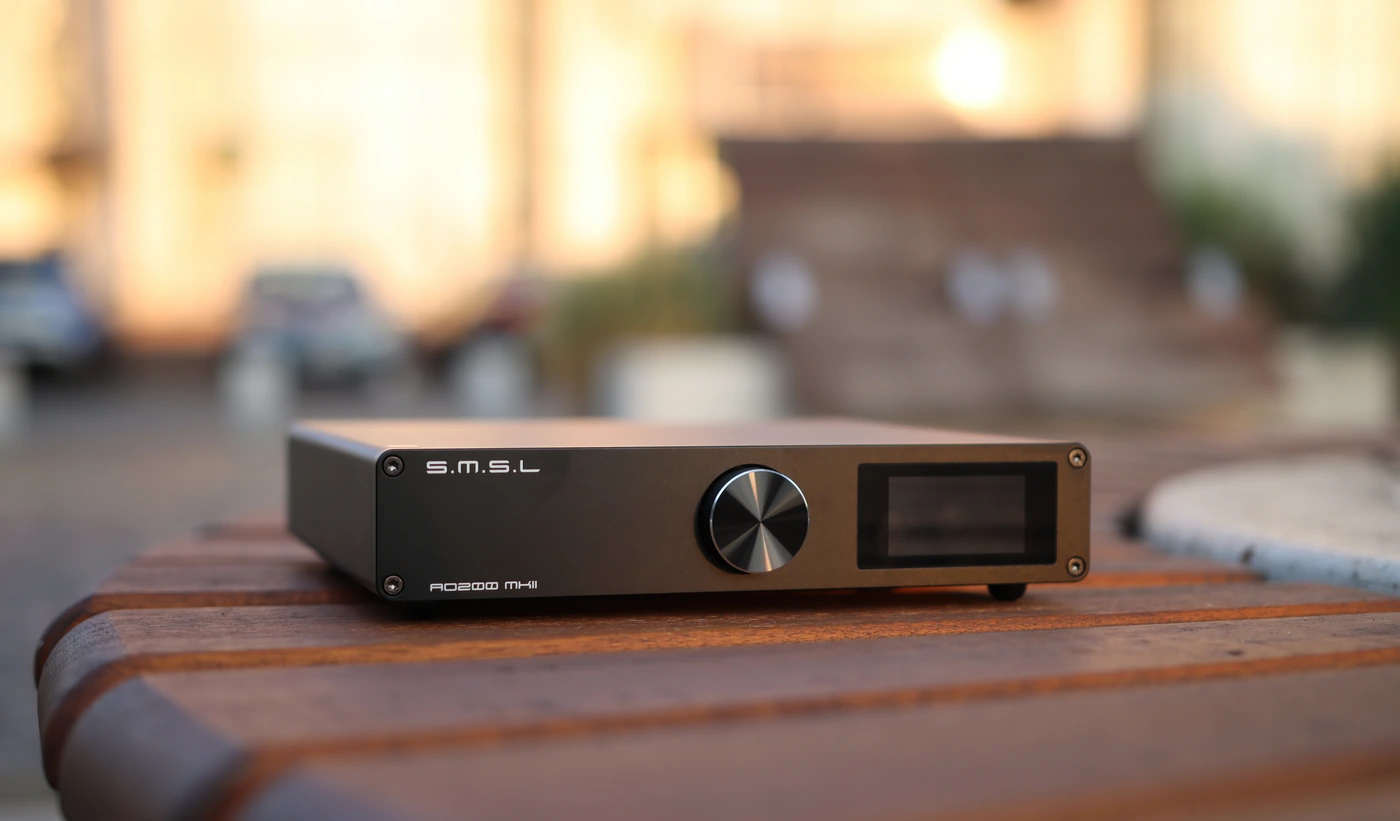 At the end of the day, if you're looking for a powerful entry-level stereo hifi amplifier, with exceptional sonic performance, a clean design, good build quality, and with options for EQ, outstanding support from Aoshida, and a neat design, AO200 MKII is the amplifier to get, and one that I can guarantee with months of personal usage will be enjoyable. 
Product Link
You can grab one from www.amazon.com here: https://amzn.to/3FpObx8
If you're in the UK, you can grab one from www.amazon.co.uk here: https://amzn.to/3S5FyQ7
And if you're from Europe, you can grab one from www.amazon.de here: https://amzn.to/3tG18Av
---
--- Please remember to stay safe, and always have fun while listening to music!---
 - If you have a dime to spare, please donate, and help us! It would make the day brighter for me and my wife- 
---
Full Playlist used for this review
We listened to more songs than those named in this playlist, but those are excellent for identifying a sonic signature.  I recommend trying most of the songs from this playlist, especially if you're searching for new music! The playlists are different for Spotify, Tidal and Youtube, and based on the songs I enjoy and are available on each!
https://www.youtube.com/playlist?list=PL_cjBXGmwSHSdGcwuc_bKbBDGHL4QvYBu
https://open.spotify.com/playlist/5J3oloz8Riy9LxEGenOjQ0?si=979ba4f082414be7
https://tidal.com/browse/playlist/330fd544-8e5b-4839-bd35-676b2edbb3d5
--- Contact Us ---





---