Audioengine D1 24-Bit DAC / H-Amp – Fearless Premium Sound
Audioengine D1 is a 169 USD 24-Bit DAC with a small form factor, ergonomic design, and with a 3.5mm single ended headphone output, and RCA outputs for an external headphone amplifier, stereo amplifier, or powered speakers. Today we will be reviewing it and comparing it with other entry-level DACs, including SMSL M300 SE (105 USD), iBasso DC04PRO (119 USD), and SMSL C200 (219 USD).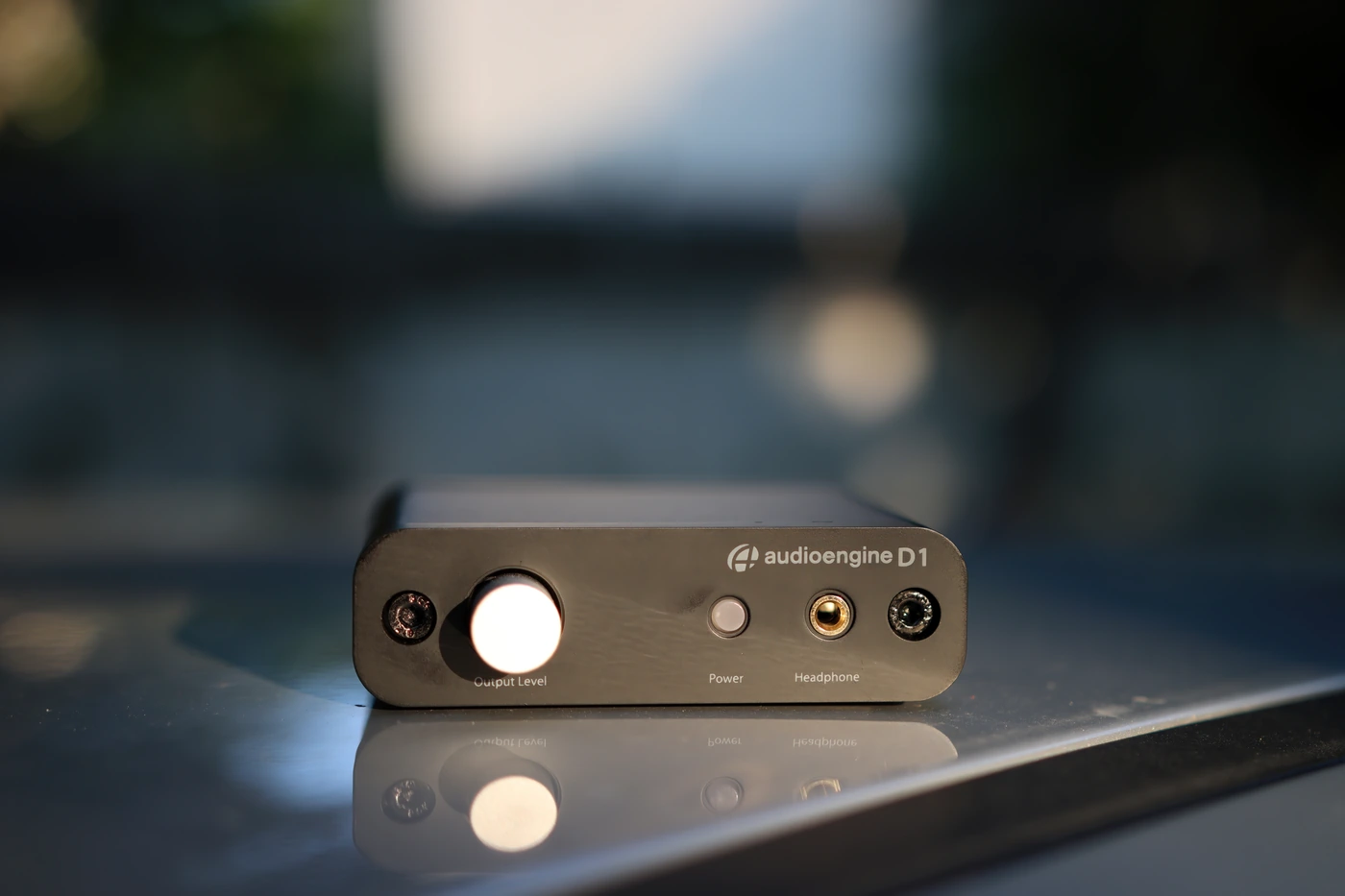 Introduction
Audioengine is one of the companies that stand both behind music enjoyers, but also studios, having designed the super popular A5+ series of speakers, which are used even today in large studios, for their extreme precision, great build quality, and exceptional design. We actually reviewed A5+ before, and although that was way before Audiophile-Heaven was so popular and before I started making video reviews in the quality I am today, the review became super popular and those are speakers I use even today in a bedroom setup. Back to the company, you can find Audioengine products in most local Hifi Shops, as this is a super popular company, and their products should be available on Amazon too, where you can have a long return window to test and experiment, learn if they fit your needs and if sonically they are what you desire. Furthermore, you can rely on the company to be helpful when you're making a decision, and you can find a store on the Audioengine website too, if you want to get the product straight from the producers. Although I keep recommend you to get your products from Amazon, I do have amazing Affiliate links in my articles so I will be getting a few cents from your purchase, Audioengine also has a good return window if you order directly from them, as you can listen to the device for 30 days and still return it if you're not fully satisfied. 
It should be noted that I have absolutely no affiliation with Audioengine. I'd like to thank Audioengine for providing the sample for this review. This review reflects my personal experience with the Audioengine D1 DAC/AMP. Every opinion expressed is mine and I stand by it. The purpose of this review is to help those interested in the Audioengine D1 DAC/AMP find their next music companion. 
Product Link
You can grab one from www.amazon.com here: https://amzn.to/45wTqGO
If you're in the UK, you can grab one from www.amazon.co.uk here: https://amzn.to/44zp84V
And if you're from Europe, you can grab one from www.amazon.de here: https://amzn.to/45BKCzA
Build Quality/Aesthetics
While some DACs try to make themselves seen and have many design elements and are very aesthetic, D1 is part of a rare breed of DACs that stay stealthy and which do their best to blend in with your setup, so you never have to see it while you're using it. Although the unit is really tiny, it still has enough space to have a 3.5mm single ended jack, a volume wheel, and an on/off switch that has an LED light. At the back of the unit, you will find dual RCA outputs that look really nice and sturdy, a USB input, and an optical input.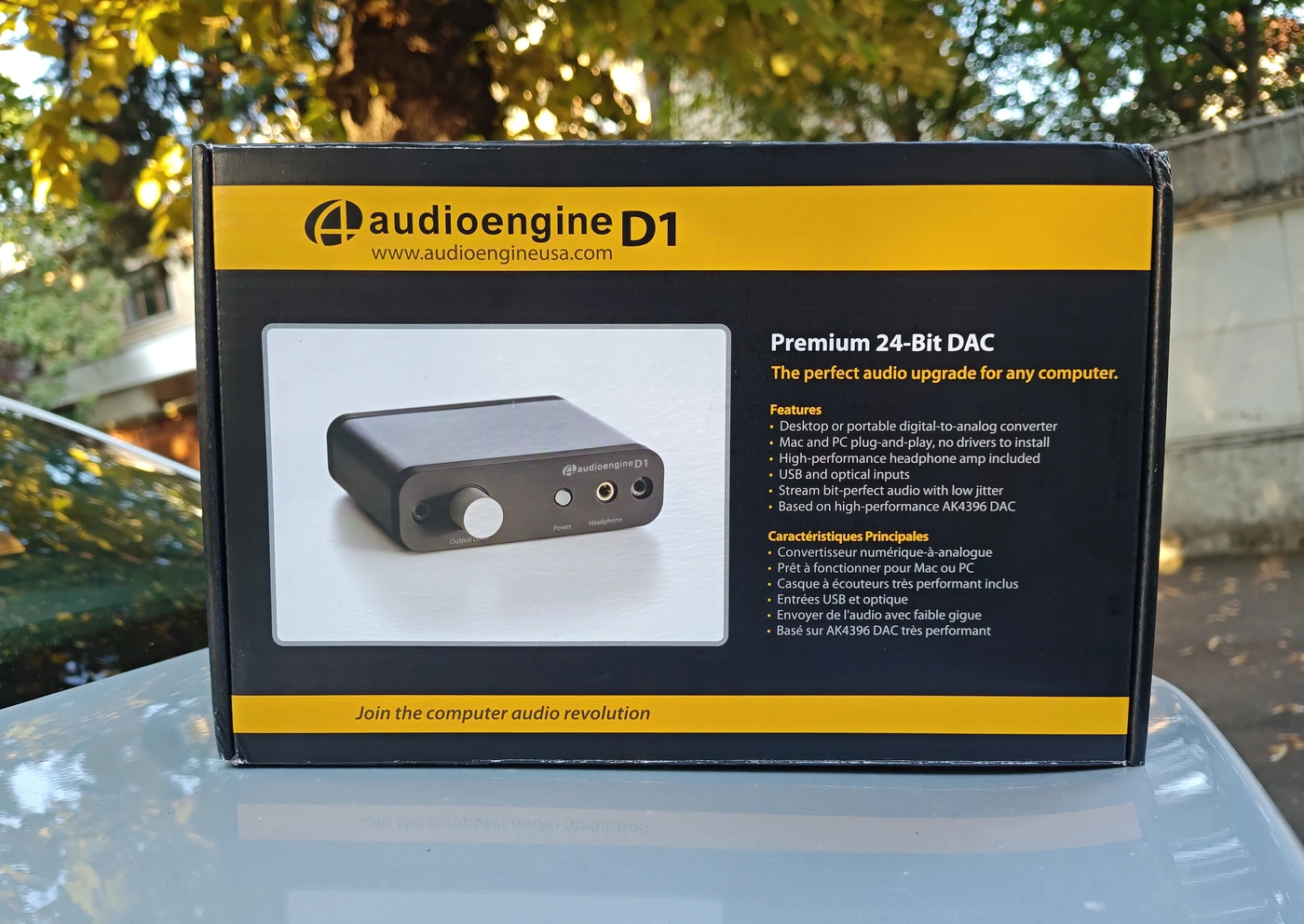 Regardless of whether you decide to use the optical input or not, you will need to have a USB cable connected to D1 as that is how it gets its power. The DAC is considered a high-performance AMP and Preamp, and it has audiophile-grade RCA connectors at the back.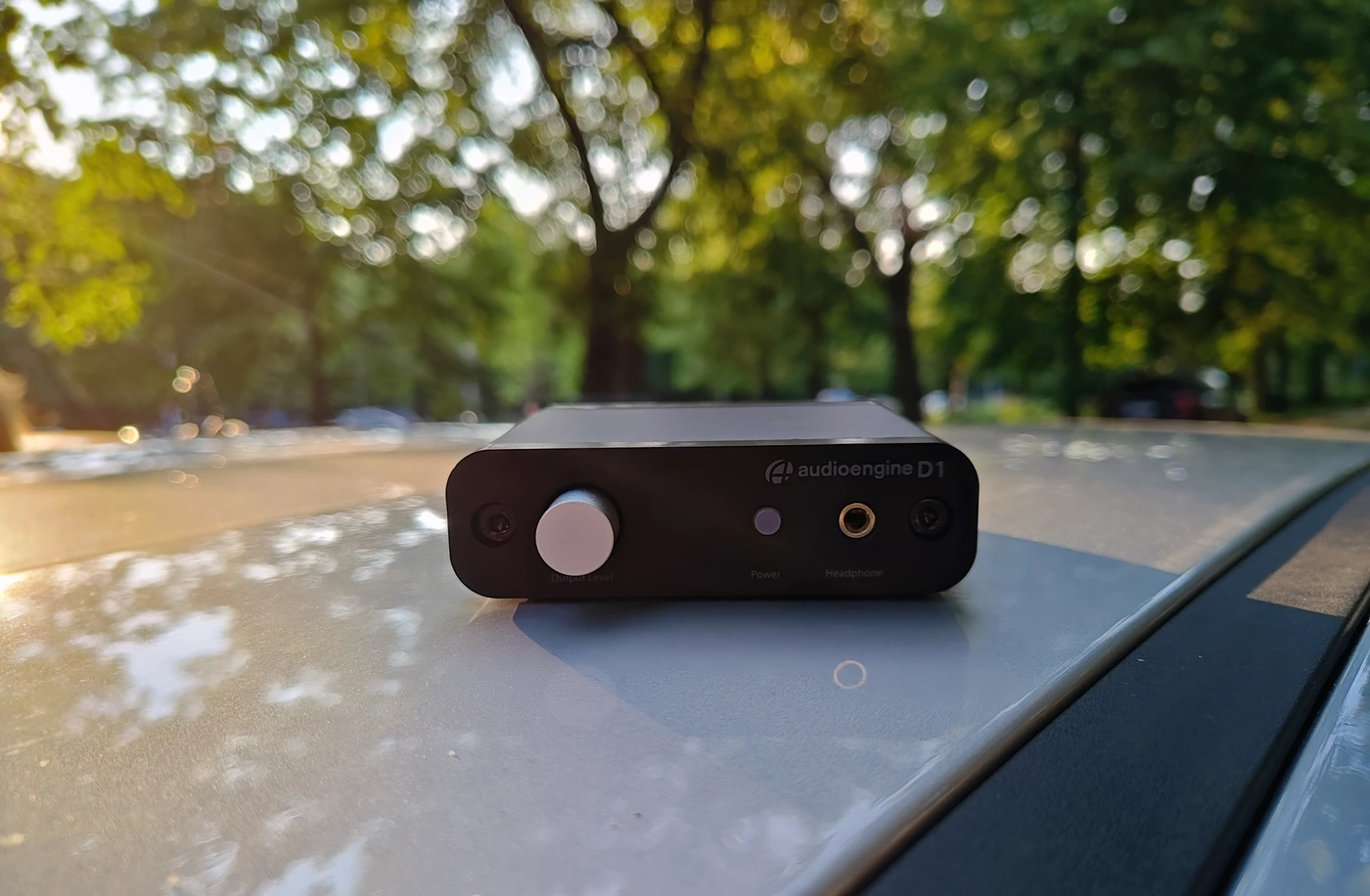 The DAC inside is a rare AK AKM4396 DAC, and the optical receiver is a CS8416 receiver. We also have a TI1020B Controller for the USB input. The RCA output is set at 2.0V RMS, and the output impedance is set at 10 OHMs. There is USB Power Filtering with 2-Stage Reudnant Regulation, and we have a SNR of 110 dB, a THD lower than 0.0025% and a Crosstalk of -85dB. The input modes go as high as only 16 Bit and 24 Bit. This limits the input sample rate to 32kHz – 96 kHz for native playback. Anything higher is resampled to 96 kHz.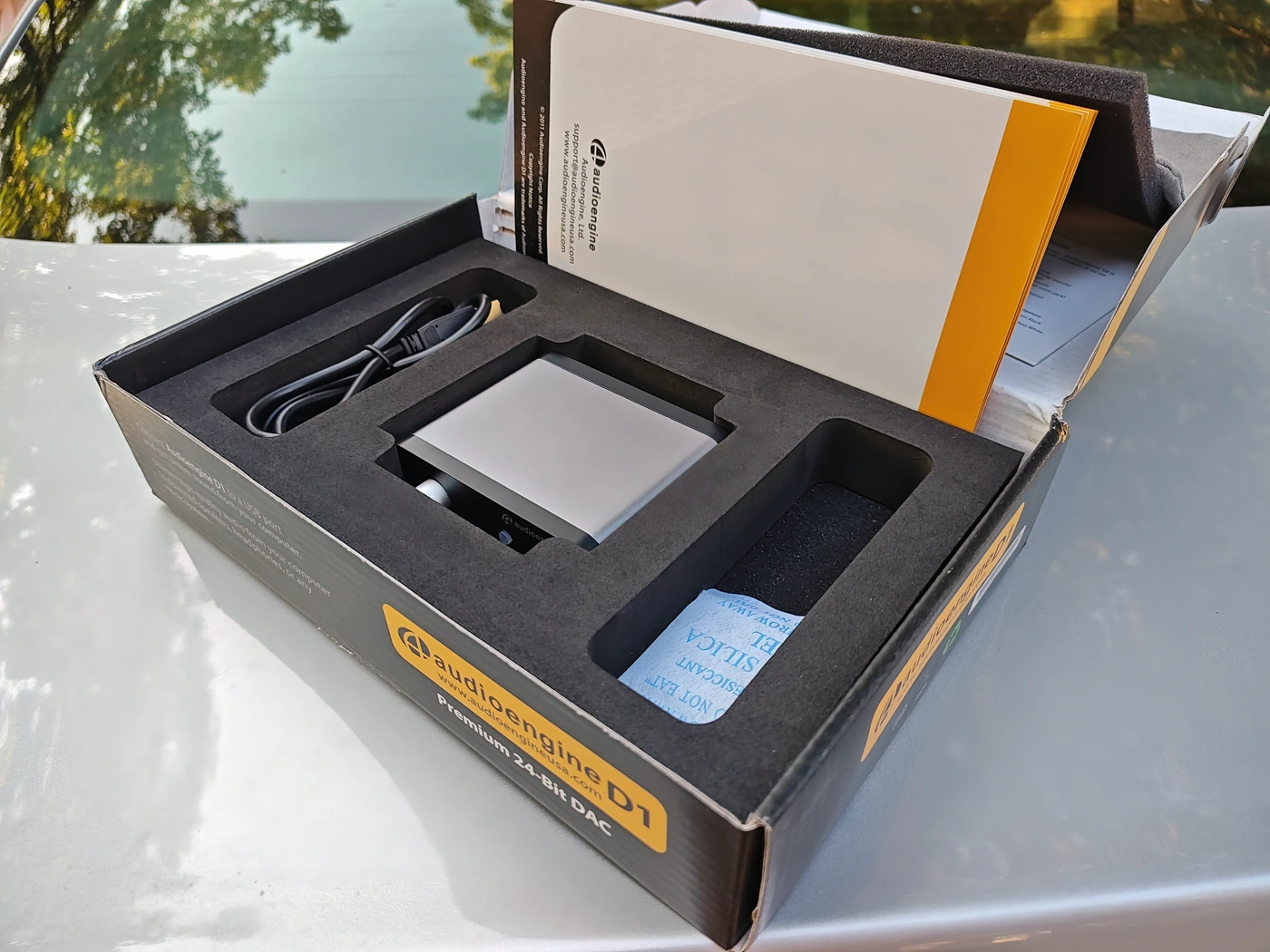 It is mainly aimed at those who are still running an integrated DAC and want to dip their toes in the audiophile quality we're always talking about, more than it is aimed at those who already have a strong setup up and running. The unit does not get hot during usage, and it is fairly small, so you will barely see it on your desk.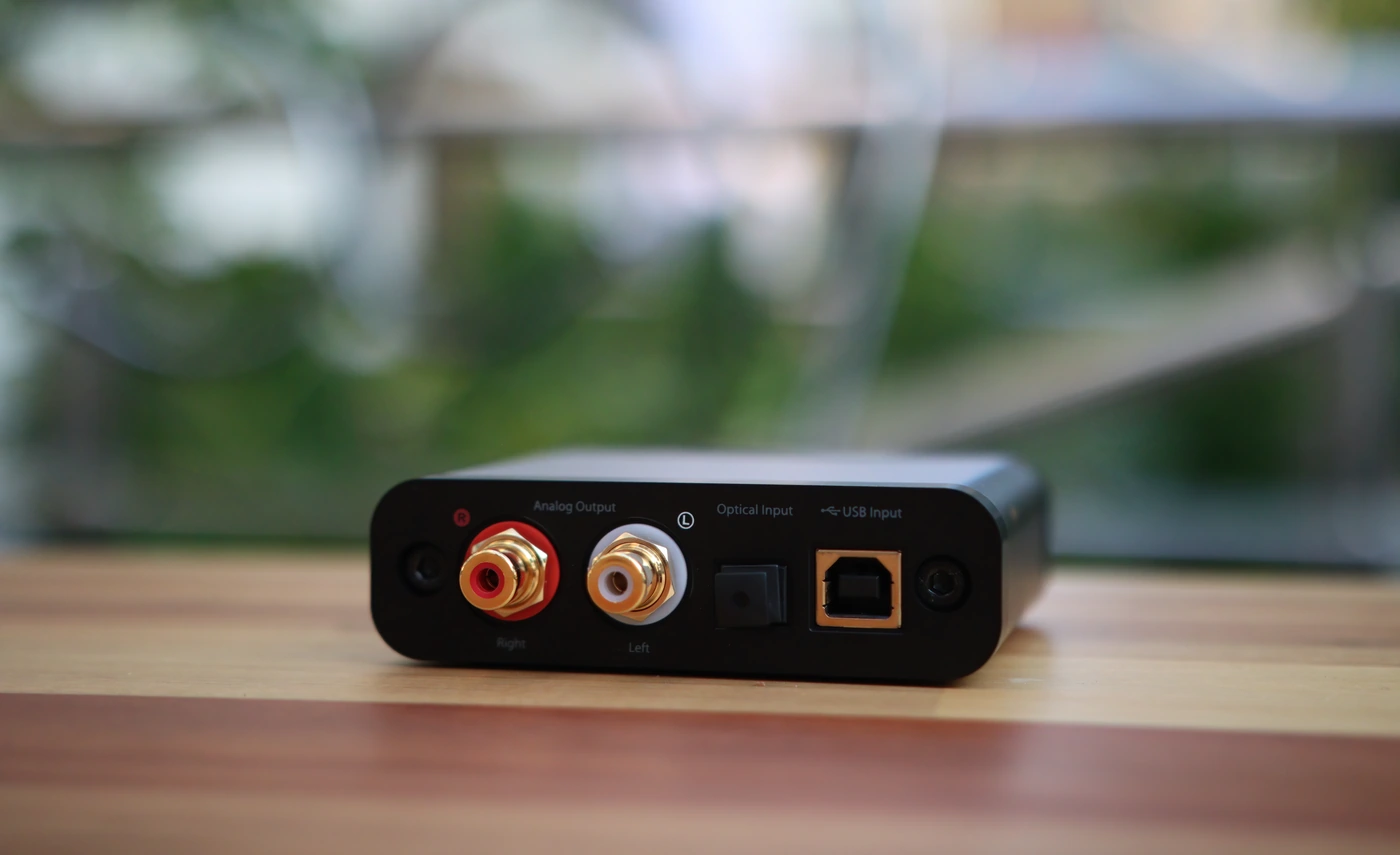 The Driving Power is really high, and with IEMs, you will get loud from 9 o'clock and at around 11 o'clock you won't be able to turn up the volume anymore. The unit does not come with anything on the bottom, so it is scratch prone. I would recommend using some rubber feet or that kind of separator that you get for home appliances to protect its belly.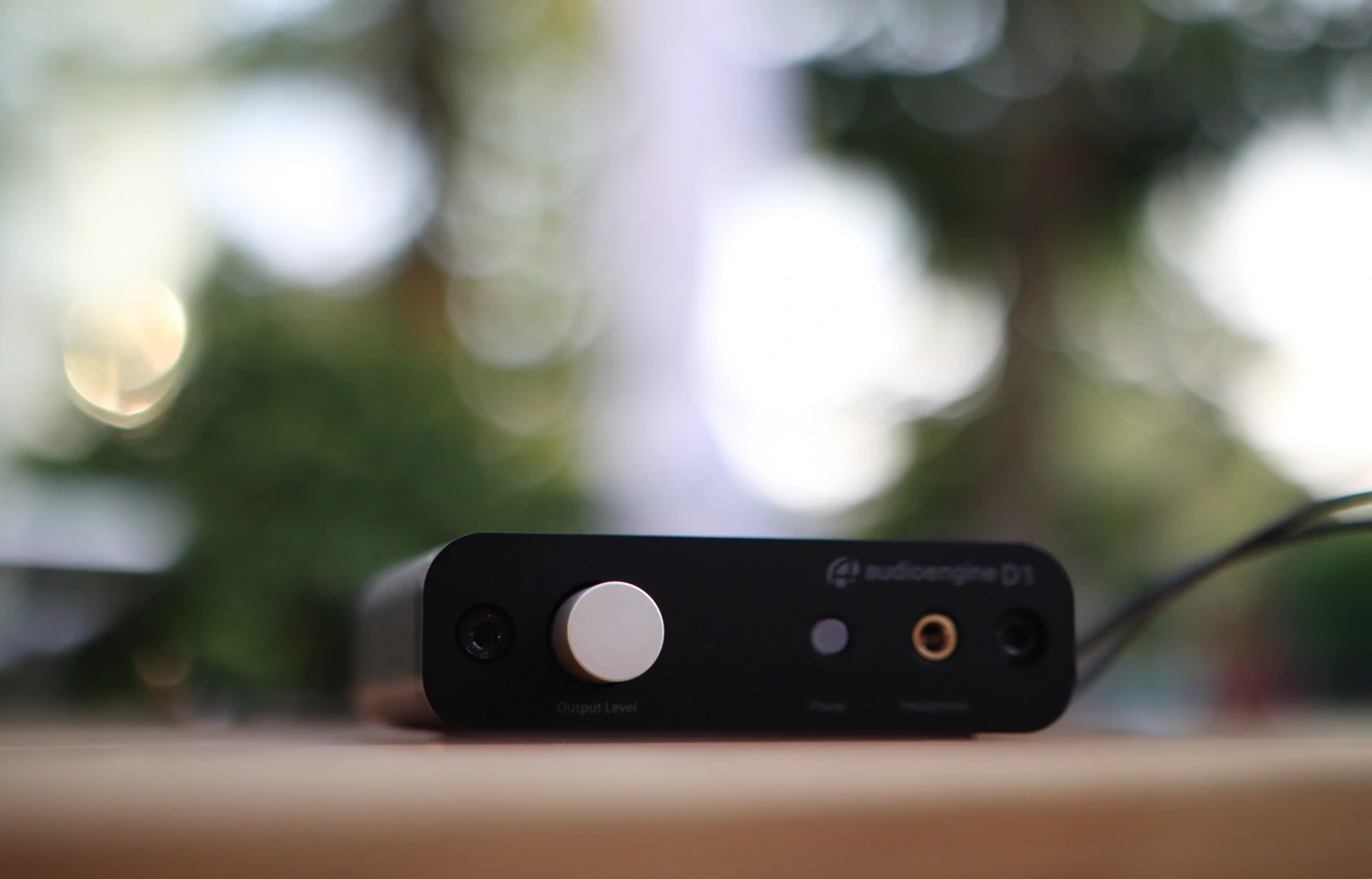 There is no delay if it is being used as a USB DAC, it can keep lip sync perfectly, and I could not notice any problems. It works without drivers with any device without problems. For harder to drive headphones, it is usable about 75% of its maximum volume, above this it distorts. This means that hard to drive headphones such as Sennheiser Hd 660S2, or Meze 109 PRO will reach a maximum of 90 dB without distortions. It is clearly intended to be used with easy to drive headphones and IEMs, and not hard to drive cans. 
Sound Quality
To get a better idea of how Audioengine d1 sounds like, I've been pairing it with a multitude of headphones and IEMs, including Meze 109 PRO, Blon B50, RAPTGO Bridge, Ambient Acoustics MAD16, Ultrasone Signature Pure, HIDIZS MS5, and HIFIMAN Edition XS. The sound changes depending on the impedance of the headphone / IEM connected to it, becoming bassy, warm and full sounding for IEMs, but bright, wide and neutral with harder to drive headphones. The harder to drive the headphone is, the lower the bass and the more treble it seems to have. This indicates that it might have a high output impedance which is likely not linear. All in all, the resolution and detail is surprising, D1 sounds really clean and has very little distortion if you don't push it too loud.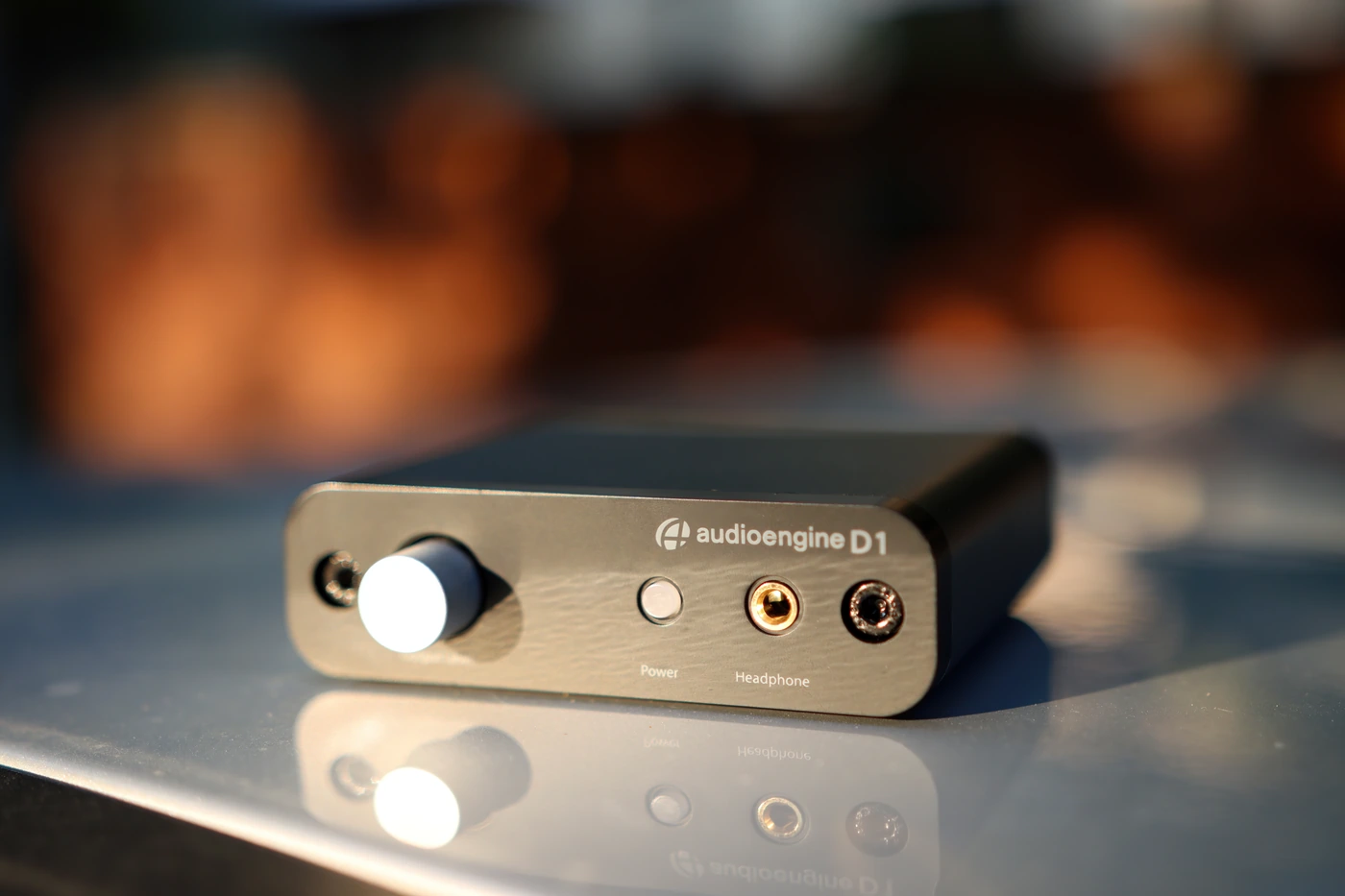 The bass is clean, deep, can easily reach 20 Hz, and with easier to drive IEMs, the bass seems to become larger, wider, less precise, deeper and has a higher distortion. With harder to drive headphones, the bass is cleaner, deeper, more controlled, and especially if you don't push the volume too much, D1 sounds especially cleaner compared to other entry-level DAC/AMPs, and provides a really deep and full sounding bass. The bass quantity is neutral, and the whole signature it presents is neutral once your earphones have a higher impedance, and I would steer away from ultra-low impedance IEMs to get the best results. 
The midrange is where the magic happens, and D1 is super clean, detailed, fun to listen to, and holographic. The soundstage is exceptional in both width and depth, and here it doesn't seem to change much regardless of whether you're powering an IEM or a full sized headphone with a lower SPL or a higher impedance. Male and Female voices are both emphasized equally, D1 is excellent at retrieving and showcasing fine details, even with rock and metal music, the sound is super pleasing, and if your headphones are resolute, D1 will keep up without breaking a sweat. I've noticed a few super pleasing effects, for example, with rap music, the difference between the voices and the background instruments being rather drastic, D1 is able to push the instruments back easily, and create a wider stage, and bring the voices much more forward. This is noticeable even with artists like Apashe and the overall presentation could be considered to be colored.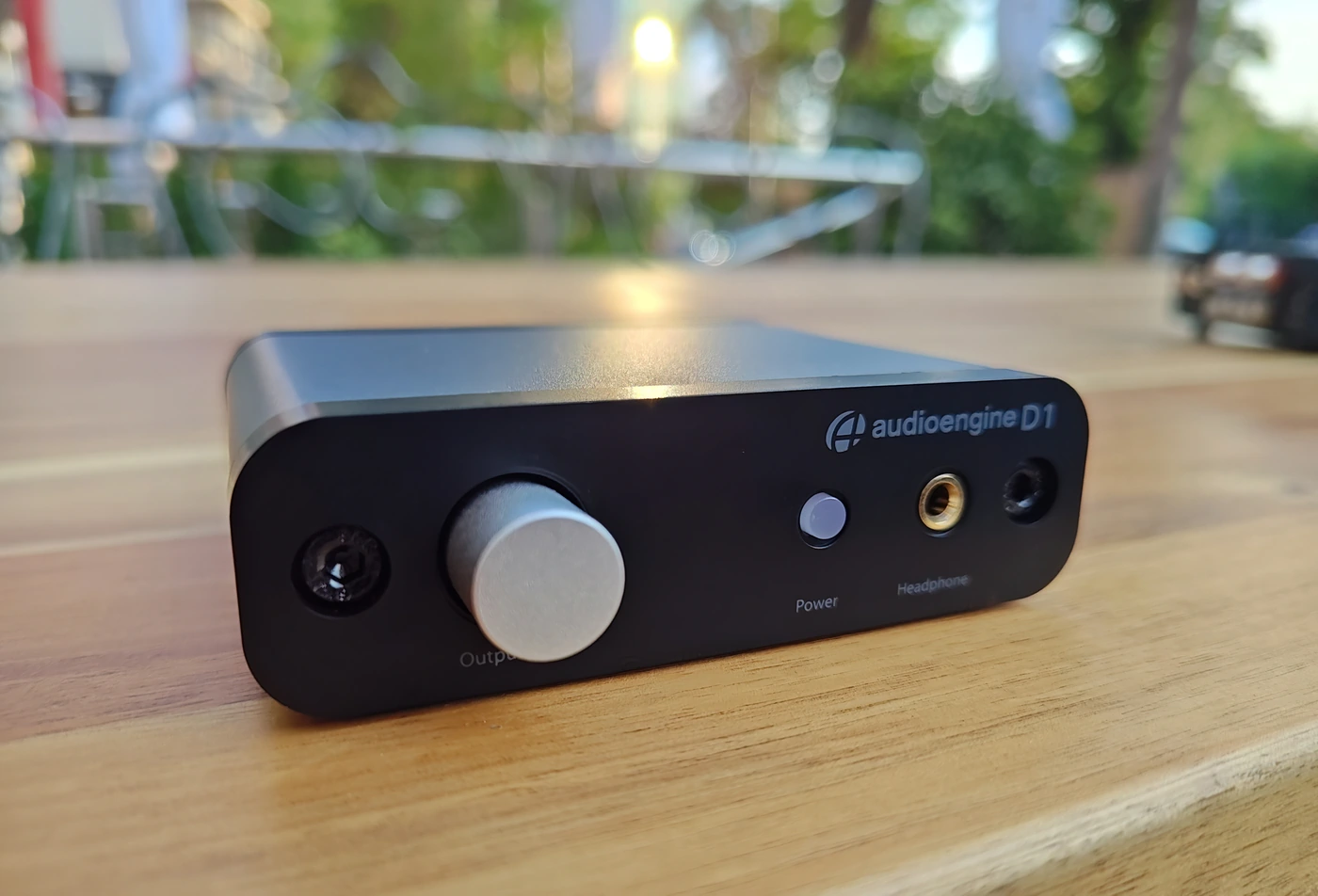 The treble is clean, smooth, and is the non-fatiguing, softly rolled off style that will never be aggressive. Especially with IEMs that are easy to drive, the bass easily outpaces the treble, and the sound is mid bass / midrange centric. The harder to drive the headphones connected to D1 are, the brighter the whole sound becomes, but the treble stays fairly smooth, it is the tonal balance that changes rather than the treble character. If you want a stronger treble sparkle, there are options like Topping E30, Audioengine D1 is tuned to stay smooth and easy to digest even if you're generally sensitive to a stronger treble. 
Comparisons
Audioengine D1 vs SMSL M300 SE (169 USD vs 105 USD) – Starting with the build, D1 is much smaller, more portable and more ergonomic than M300SE, which is a larger device with a bigger footprint. We have dual headphone outputs, and XLR outputs while we have RCA with D1, and a single 3.5mm SE output. The driving power at maximum with no distortion is higher on M300 SE, but it has a bit more distortion in general at all sonic levels, and a higher digital noise level than D1. The sound is somewhat mid centric on both, but D1 has better clarity and detail, and also a higher bass quantity for IEMS, with a smoother, less fatiguing treble. The soundstage is larger as presented by D1, which pushes instruments back and brings voices forward, compared to M300 SE which has a more typical DAC / AMP sound. As always, I would make my choice based on connector options and features, for example, if you need balanced, M300SE has it, while D1 has RCA outputs, likewise, it is possible to get D1 in a 32 Bit Format, while M300Se has different codec support.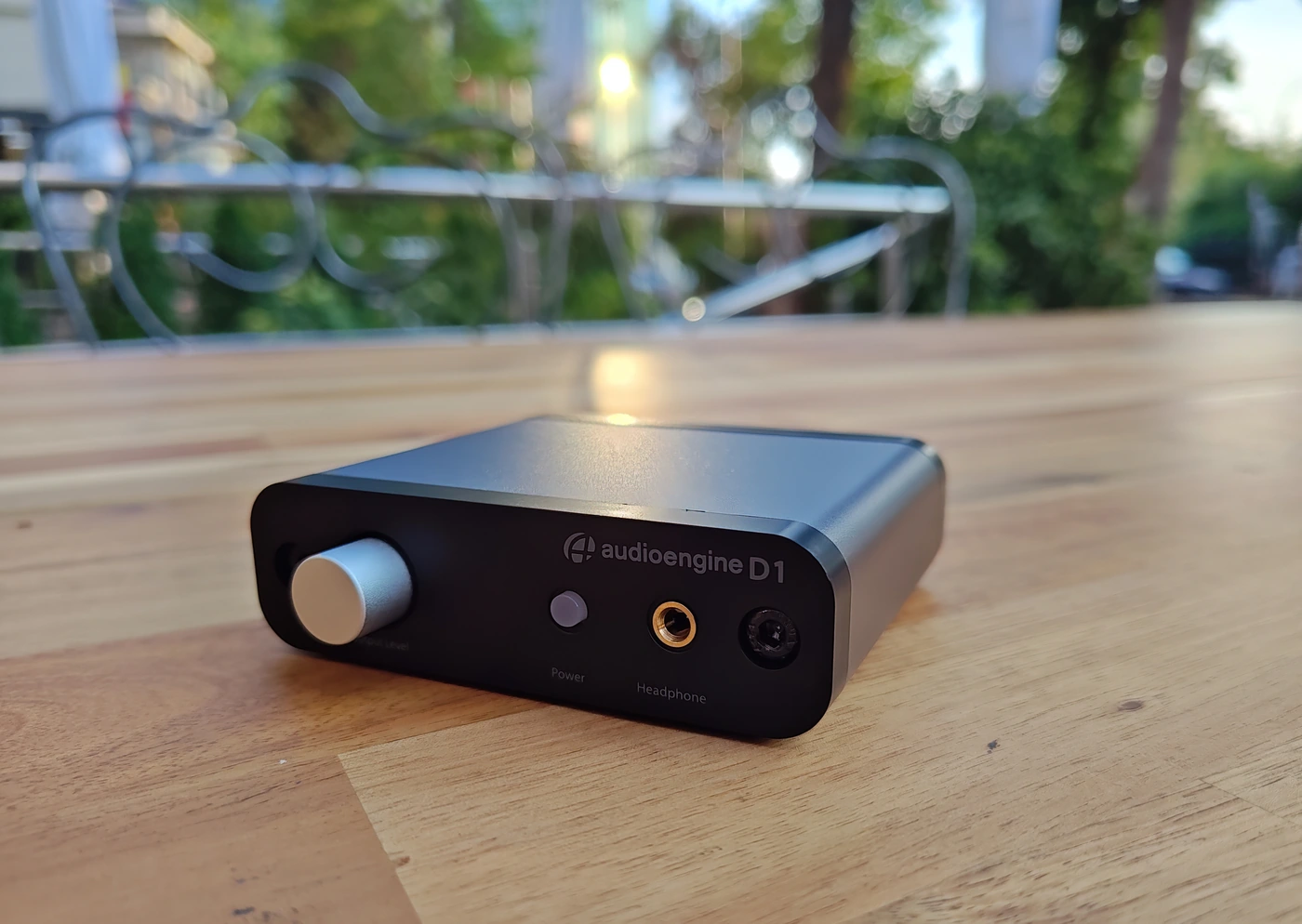 Audioengine D1 vs iBasso DC04PRO (169 USD vs 119 USD) – The shape is different, and so is the concept between D1 and DC04PRO, as iBasso has a dongle DAC here, with only headphone outputs, and no RCA output for an external larger system. DC04PRO has a much higher maximum driving power for hard to drive headphones. The sound is more vivid and more forward from DC04PRO, it has more treble and more edge, which puts D1 in a place to be called much more relaxed, smoother, softer in sound, but still warmer sound with IEMS, with more bass and sub bass, less treble and more separation between the background instruments and voices. Between them, if you need RCA outputs for a larger system, D1 offers this, while DC04PRO is better if you mainly plan to use IEMs and Headphones. The difference in treble and energy levels also implies that for rock and metal, DC04PRO will be better, it presents more energy and sparkle, while D1 is smoother, warmer, thicker more relaxed, and works better for Jazz, downtempo and most electronic music, including rap. 
Audioengine D1 vs SMSL C200 (169 USD vs 219 USD) – We have more similarities now, and SMSL seems to be one of the biggest players in the entry-level range, with C200 having TRS and RCA outputs, and a balanced output for headphones, which is actually just a 4.4mm output that is actually single ended. The price of C200 is higher, and quite a bit so compared to D1, the driving power of c200 being much higher than that of D1, but both reaching a distortion point before the maximum volume. The sound is different, D1 handles bass and subbass much better, it can give subwoofer levels of bass to most IEMs, it has better detail, better clarity, and yet a smoother, more relaxed treble with most IEMs, while C200 is more midrange centric, it doesn't have as much of a coloration, but it doesn't have a strong presence in any part of the sound either. Overall, if you need high driving power for hard to drive headphones, or if you need a more neutral, less colored sound, C200 is the more solid option, while if you want a more colorful sound, smoother, warmer, thicker, and more relaxed sound, Audioengine D1 provides that really well. 
Value and Conclusion
Even though I've put the d1 to comparison mainly against cheaper dongle DACs it would have played as well even against most desktop sources priced similarly, but I formally reviewed only much pricier desktop DAC/AMPs, so I can say that for reference, it is one of the best sounding desktop source with RCA outputs, having exceptional resolution and yet a really smooth and relaxed sound that could take the edge off from the hottest and most stressful day.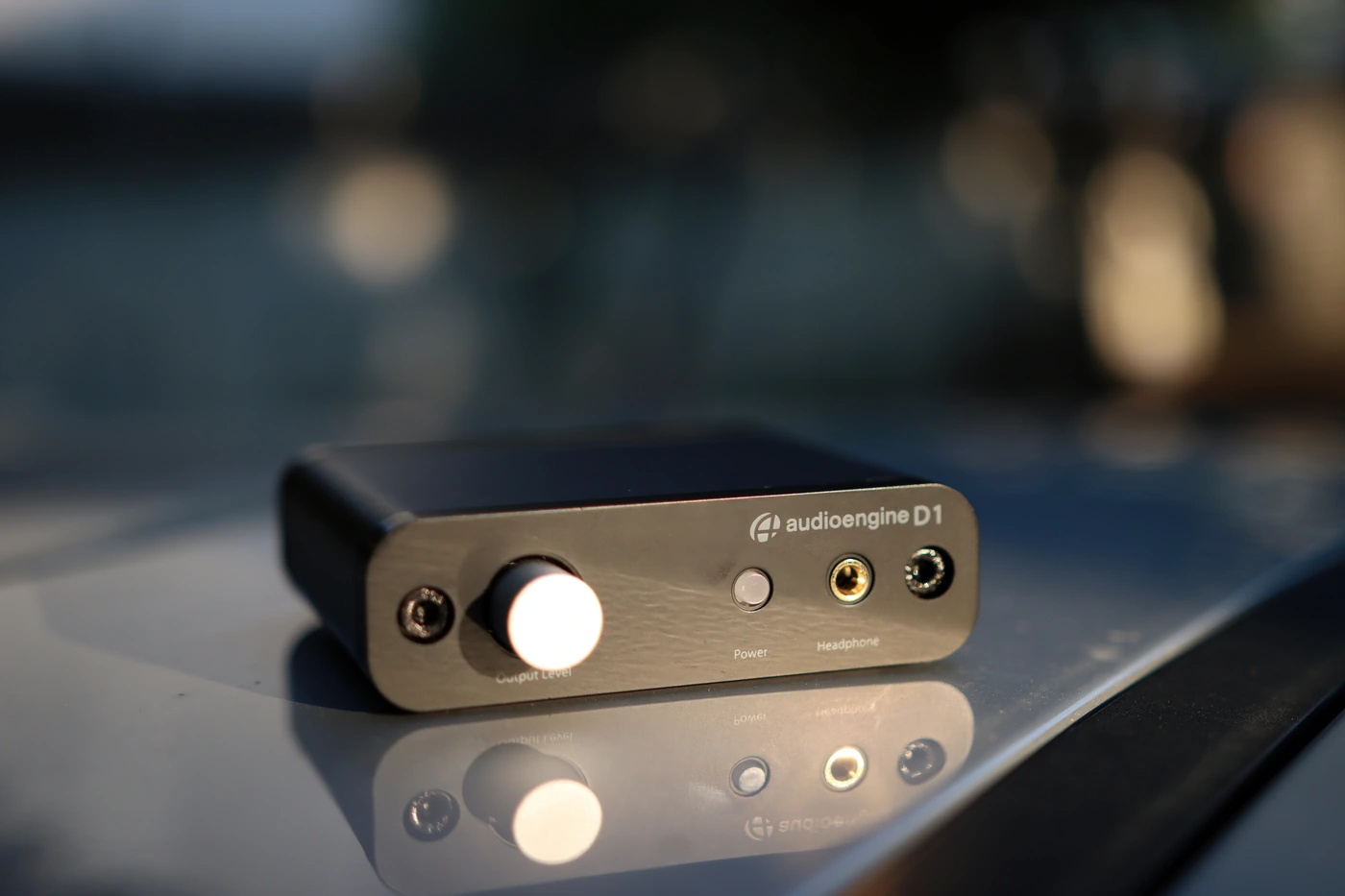 At the end of the day, if you're looking for a mini source to use as a DAC for a larger system, but with a headphone output that is smooth, bassy, warm and delightful for IEMs, for a source that has good control, and a midrange that creates good separation between the voices and the background, Audioengine D1 is one of the best I know of, and a great little device to bring you a lot of musical enjoyment. 
Product Link
You can grab one from www.amazon.com here: https://amzn.to/45wTqGO
If you're in the UK, you can grab one from www.amazon.co.uk here: https://amzn.to/44zp84V
And if you're from Europe, you can grab one from www.amazon.de here: https://amzn.to/45BKCzA
---
--- Please remember to stay safe, and always have fun while listening to music!---
 - If you have a dime to spare, please donate, and help us! It would make the day brighter for me and my wife- 
---
Full Playlist used for this review
We listened to more songs than those named in this playlist, but those are excellent for identifying a sonic signature.  I recommend trying most of the songs from this playlist, especially if you're searching for new music! The playlists are different for Spotify, Tidal and Youtube, and based on the songs I enjoy and are available on each!
https://www.youtube.com/playlist?list=PL_cjBXGmwSHSdGcwuc_bKbBDGHL4QvYBu
https://open.spotify.com/playlist/5J3oloz8Riy9LxEGenOjQ0?si=979ba4f082414be7
https://tidal.com/browse/playlist/330fd544-8e5b-4839-bd35-676b2edbb3d5
--- Contact Us ---





---