Dunu Talos Planar + BA Supertweeter IEMS – Music Lights
Dunu Talos is a $199 USD IEMs with Dual Orthodynbamic also known as planar magnetic drivers, combined with a pair of super tweeters, which are balanced armatures in design, which can be turned on or off. They will be compared to other entry level / midrange IEMs, including HIDIZS MD4 (180 USD), Periodic Audio Ti V3 (299 USD), and RAPTGO HOOK-X (239 USD). 
Introduction
Dunu is one of the most popular audio companies, and they not only are direct competitors to the likes of FiiO, they even made the IEMs for FiiO years ago. Nowadays, Dunu has a lot of unique products designed and marketed directly, with superior quality than everything they had back in their FiiO Days, with the likes of the Dunu Falcon PRO which I reviewed recently. Dunu is known to have super build quality, and they are available through a wide selection of shops and stores, including Linsoul, and subsequently Amazon, which is the best place to order your Dunu IEMs from, for the best warranty, delivery times and support. 
It should be noted that I have absolutely no affiliation with Dunu, and I am not receiving any incentive for this review or to sweeten things out. I'd like to thank Dunu for providing the sample for this review. Every opinion expressed is mine and I stand by it. The purpose of this review is to help those interested in the Dunu TALOS IEMs and find their next music companion. 
Product Link
You can grab one from www.amazon.com here: https://amzn.to/3Ih1elK
If you're in the UK, you can grab one from www.amazon.co.uk here: https://amzn.to/3lNC8Dw
And if you're from Europe, you can grab one from www.amazon.de here: https://amzn.to/3SaSuSL
Build Quality/Aesthetics/Fit/Comfort
The build quality of Dunu Talos is super good, and while most IEMs don't have a package that's interesting enough for me to mention it, Dunu is really neat, and they package those with three types of tips, each in 3 sizes, along with a 3.5mm to 6.3mm adapter, and even a super high quality transport case. Dunu Talos is an interesting IEM internally, with a dual chamber dual sided orthodynamic or planar driver. Those planar drivers are accompanied by a pair of Balanced Armature supertweeters, and you can turn those super tweeters on or off, depending on whether you want a more relaxed treble, at the cost of some resolution. 
Dunu Talos is actually quite hard to drive, and even with Astell&Kern Acro CA1000T I find myself enjoying the Talos on 100/150 with Super gain level, so you'll likely need a high quality DAP to fully enjoy Dunu Talos, especially if you like to listen rather loud. The impedance is low, at 16 OHMs, and the sensitivity is not super high, at 100 dB, which confirms my findings that Talos is hard to drive. On the bright side, I found that Talos does not hiss easily and doesn't show source noise, so you'll be good even if you have a more entry-level source that's noisy. 
The comfort is actually rather good, although the IEM shells are super huge. The small sized tips of Dunu Talos are equivalent to the medium tips of most IEMs, and they have rather large sonic tubes or bores. Leakage level is low, as with most IEMs, and you're not likely to annoy anyone around even if you blast music to deafening levels through the Dunu Talos. The passive noise isolation is super good, as Talos, if placed snugly in your ears, can isolate you with up to 25 dB of passive noise isolation, so even with music playing quietly you're not likely to hear much from the outside.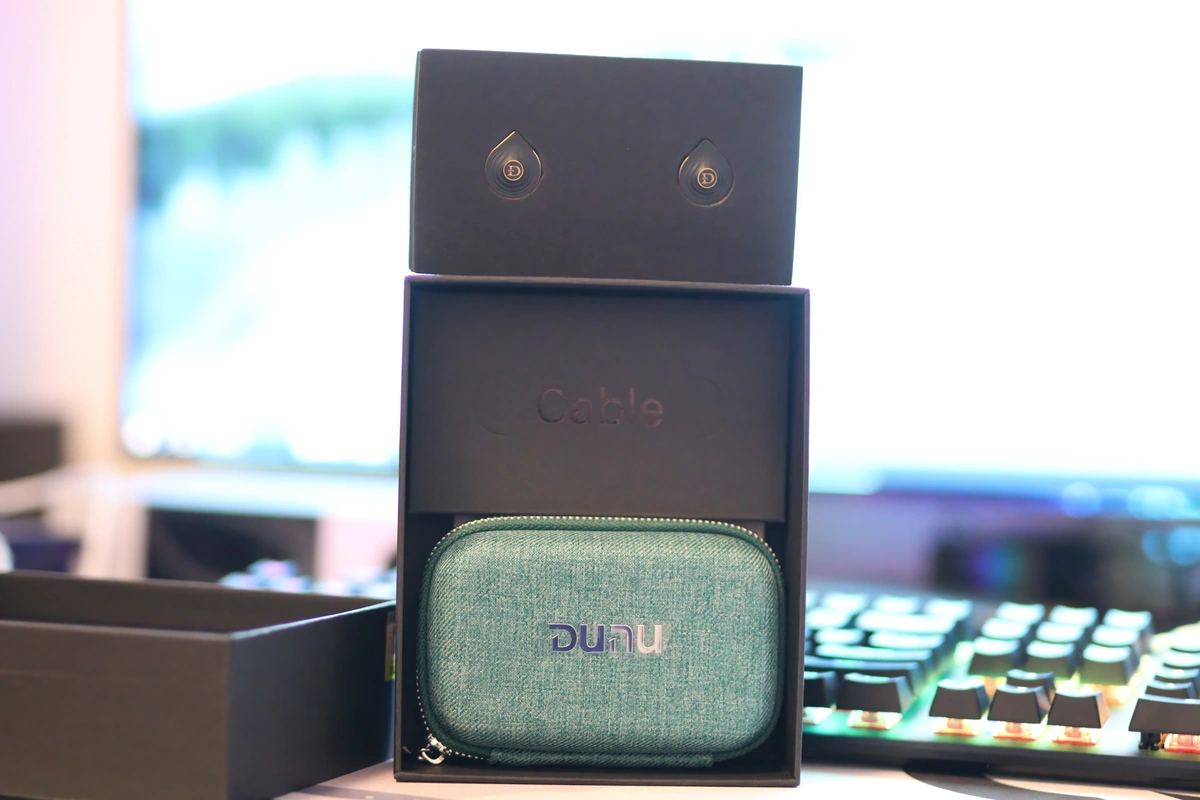 The cable does not conduct microphonic noise at all, especially since it is soft and well made, but the color reminds me a lot of entry-level Chifi cables. The cable connects to Talos via 2-Pin connectors which are solid. 
Sound Quality
I've been pairing Dunu Talos with a selection of sources, including iBasso DC03PRO, Shanling M3 Ultra, Khadas Tea, Fosi Audio K5 PRO, Shanling UA5, HIDIZS S9 PRO, and Mechen M30. All of those can drive Dunu Talos really well, and all of them have a super nice resolution, control and dynamic. Entry-level sources with a low driving power like the Moondrop Dawn can't really drive Dunu Talos properly, so you're best using a source that has enough power and juice for the Talos. The overall sonic signature has two modes, one in which the Balanced Armatures are turned off and one in which they are active. This can be done via a physical switch that can be found on the body of Dunu Talos. Turning the Balanced Armatures, which act as super tweeters, off, will result in a more relaxed sound, and turning them on adds a peak to the sound, which can be a bit unnatural for some ears. 
This being said, all of my listening has been done with the super tweeters turned on, as adding those balanced armatures to the sound of Dunu Talos will turn the sound much cleaner, with better resolution, better detail, and better extension in the upper treble, resulting in more air, clarity and punch. I am willing to say that the overall signature is rather bright, punchy, dynamic, has excellent bass depth, especially in the sub bass, and has a superb overall soundstage. The tuning is U-Shaped which means that the extremities are uplifted considerably above the middle part of the sound.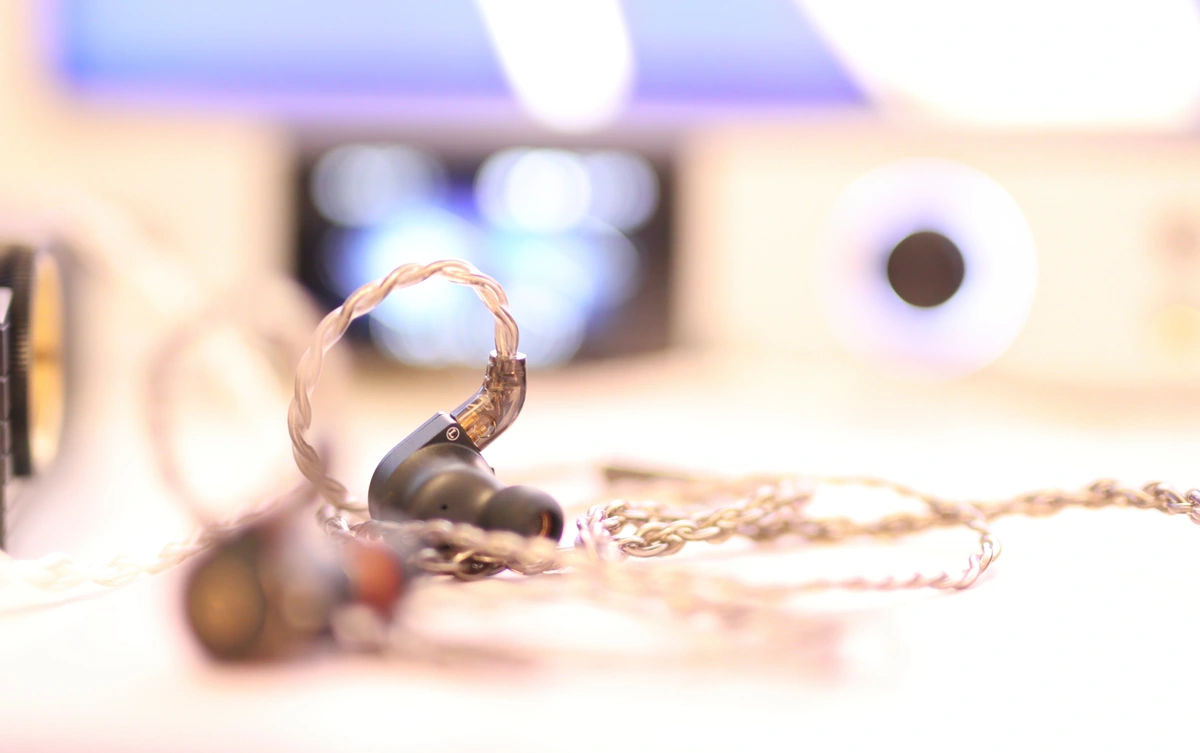 The sub bass of Dunu Talos is rather uplifted, with the sub bass being super audible, and with Talos reproducing infra sonics really well. The uplift decreases rapidly as you reach the middle bass, and the sound can even be somewhat thin at times, with the fundamentals of music not being super strong, so most of the body and substance resides in the sub-bass. This usually is super pleasing and sounds natural for EDM, Dubstep and most electronic music, but for rock and metal, talos doesn't have a lot of warmth for guitars or voices, which can make them sound a bit shrill. For example, songs like One True God – Think About It will sound superb on Dunu Talos, with a wide stage, detailed background and foreground, and a satisfying bass, but for metal the sound can be quite bright in tuning.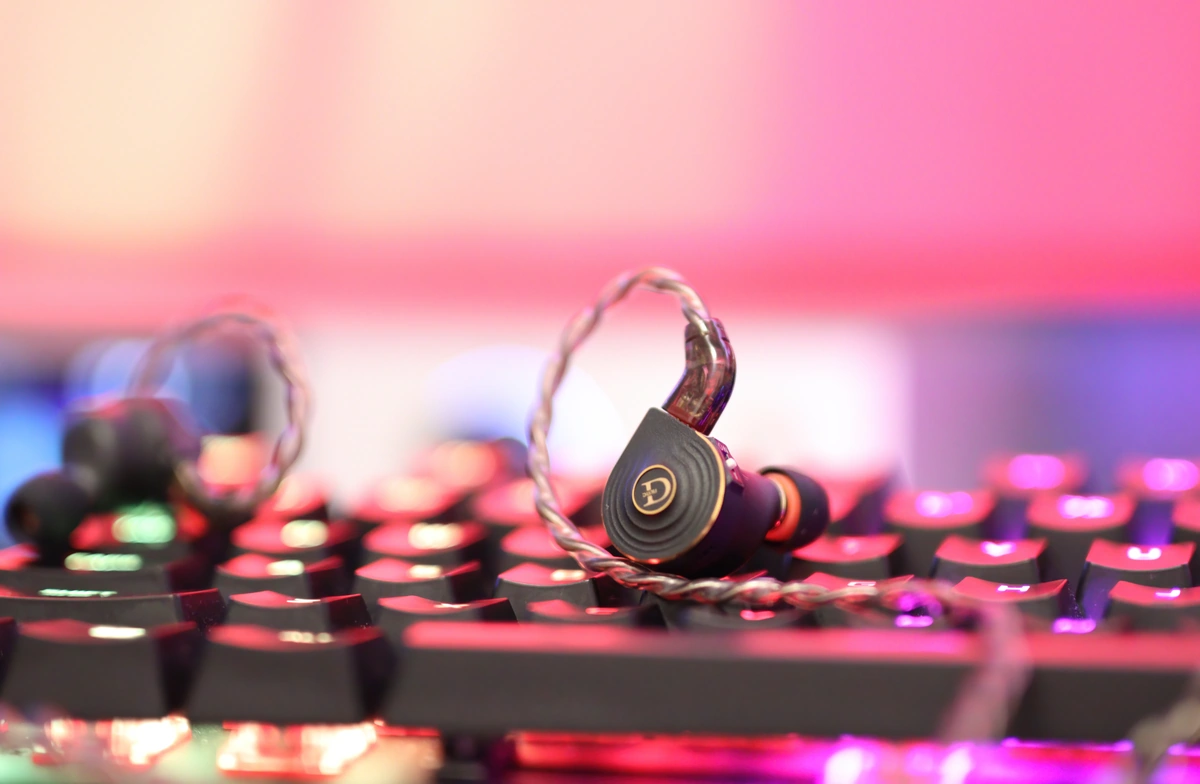 The midrange of Dunu Talos is also really clean, clear and crisp. The detail is super good, with Talos being surprisingly detailed, even better than Dunu's own and older DK-3001 PRO. The background instruments are well separated from the foreground instruments, with Dunu Talos being quite good at creating a wide and deep soundstage, along with a super good instrument separation. Dunu Talos is a great IEM for basically all music styles, as long as you're not sensitive to brighter tunings. This is one again, very situational, but songs like Rings Of Saturn – Fractal Intake are really bright and the guitars are rather cold, while Miley Cyrus – Prisonier sounds really nice, with Miley's voice being presented with good dynamics, the whole song having enough warmth for all instruments, and the treble not being too bright or harsh. 
The treble is really bright in general, with outstanding extension and sparkle. This is with the balanced armatures turned on, and if you turn them off, the sound gets duller, with less treble extension and sparkle. I personally don't see myself listening to Talos without the balanced armatures turned on, as the resolution and technical ability decreases quite a lot if you do it, but I enjoy the U-Shaped signature they provide with the BA's turned on. The sound is not very smooth with the BAs turned off, it just removes the peak in the treble, but the overall character of the sound stays fast and slightly dry. The treble of Dunu Talos is not metallic, nor harsh, but it is quite large in quantity. 
Comparisons 
Dunu Talos vs Periodic Audio Ti V3 (199 USD vs 299 USD) – Starting with an easier comparison, I could say that Dunu Talos is higher in value than Periodic Audio Ti V3, as Dunu Talos comes with a better build quality, more common cable connector, better package, and it is generally made more with the user in mind, and less of a novelty as a product. The sonic presentation is much brighter as presented by Dunu Talos, with more treble sparkle, more air, a wider soundstage, and better resolution. The sound of Periodic Audio Ti V3 is much stronger in the bass, thicker, warmer and smoother, with more low-end punch. If you prefer warmer and smoother signatures, Periodic Audio Ti V3 would be a better fit, while if you're looking for a brighter, cleaner signature, Dunu Talos should be a better match for your tastes. 
Dunu Talos vs HIDIZS MD4 (199 USD vs 180 USD) – The price of HIDIZS is a bit lower, but it still falls in the same entry-level / lower midrange bracket as Dunu Talos, and it is a more recent competitor you guys have been asking me to compare Dunu Talos to. Starting with the fit and build quality, both are made well, but MD4 has more drivers than Dunu Talos, and a smaller, more ergonomic body. The tip quality is better for Dunu Talos which comes with higher quality tips from the factory. The sound is cleaner, brighter, more detailed, with a wider soundstage as presented by Dunu Talos. HIDIZS MD4 sounds a bit more balanced, and more natural, but this comes at the cost of resolution and clarity, and the technical ability of Dunu Talos is higher, and where you could even apply some EQ to Dunu talos to make them a bit smoother, it isn't exactly possible to make MD4 more resolute. 
Dunu Talos vs RAPTGO HOOK-X (199 USD vs 239 USD) – You probably know a bit about RAPTGO HOOK-X, and how I consider it a personal favorite of mine for the midrange price range. The comfort is a bit better for RAPTGO HOOK-X as they are smaller, and more ergonomic, but the default tip quality is a bit better for Dunu Talos. The default cable is a bit better for RAPTGO HOOK-X, as it has a modular cable. The overall signature has similar clarity, resolution and detail, but with the BA switch on, Dunu Talos is a bit brighter, cleaner and has a bit more sparkle, along with better impact for drums and percussion in general. HOOK-X is a bit more toned down, and less fatiguing, but Dunu Talos is just a bit more vivid and dynamic. Both make equally good options, I'd lean towards Dunu Talos if you prefer a bit more resolution and don't mind a bit more sparkle and treble peak. 
Value and Conclusion
With a price point of 199 USD, Dunu Talos has a super price for the performance it offers, and I find it to be one of my favorite IEMs in the entry-level / lower midrange price bracket. The raw resolution and clarity it has are enough to instantly make them great value, but they are built well, comfortable and come with a rich package, like most Dunu IEMs.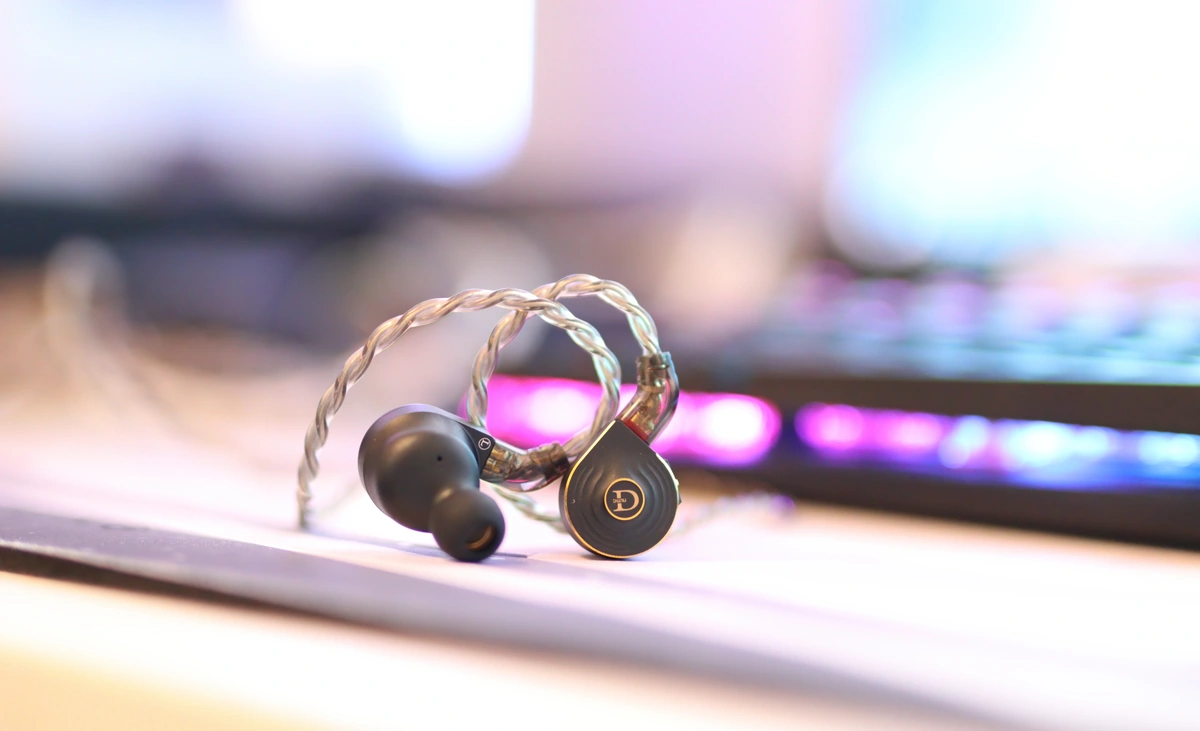 At the end of the day, if you're looking for a U-Shaped sounding IEM with excellent detail, resolution, and for which you can turn off the treble peak, which is comfortable and comes with a high quality cable, and a nice transport case, for 199 USD Dunu Talos is an excellent option and an earphone I enjoy greatly and can recommend, if you're not afraid of how much treble it has to offer. 
Product Link
You can grab one from www.amazon.com here: https://amzn.to/3Ih1elK
If you're in the UK, you can grab one from www.amazon.co.uk here: https://amzn.to/3lNC8Dw
And if you're from Europe, you can grab one from www.amazon.de here: https://amzn.to/3SaSuSL
---
---
--- Please remember to stay safe, and always have fun while listening to music!---
 - If you have a dime to spare, and donate, to help us with electricity and work expenses, it would make my day much brighter, as it would help me improve things around the website and increase the frequency of my posts - 
---
Full Playlist used for this review
We listened to more songs than those named in this playlist, but those are excellent for identifying a sonic signature.  PRaT, Texturization, Detail, Resolution, Dynamics, Impact, and overall tonality are all revealed by those songs. We recommend trying most of the songs from this playlist, especially if you're searching for new music!
https://www.youtube.com/playlist?list=PL_cjBXGmwSHSdGcwuc_bKbBDGHL4QvYBu
--- Contact Us ---






---
---