Periodic Audio Ti V3 Titanium – Terminator Earphones
Periodic Audio Ti v3 Titanium is a pair of high-end In Ear Monitors priced at 299 USD, made with a titanium driver coating, and a single dynamic driver. They are going to be compared to other high-quality IEMS in today's review, including 7Hz Eternal (249 USD), Lotoo LE-M1 (269  USD), and FiiO FH5S (280 USD).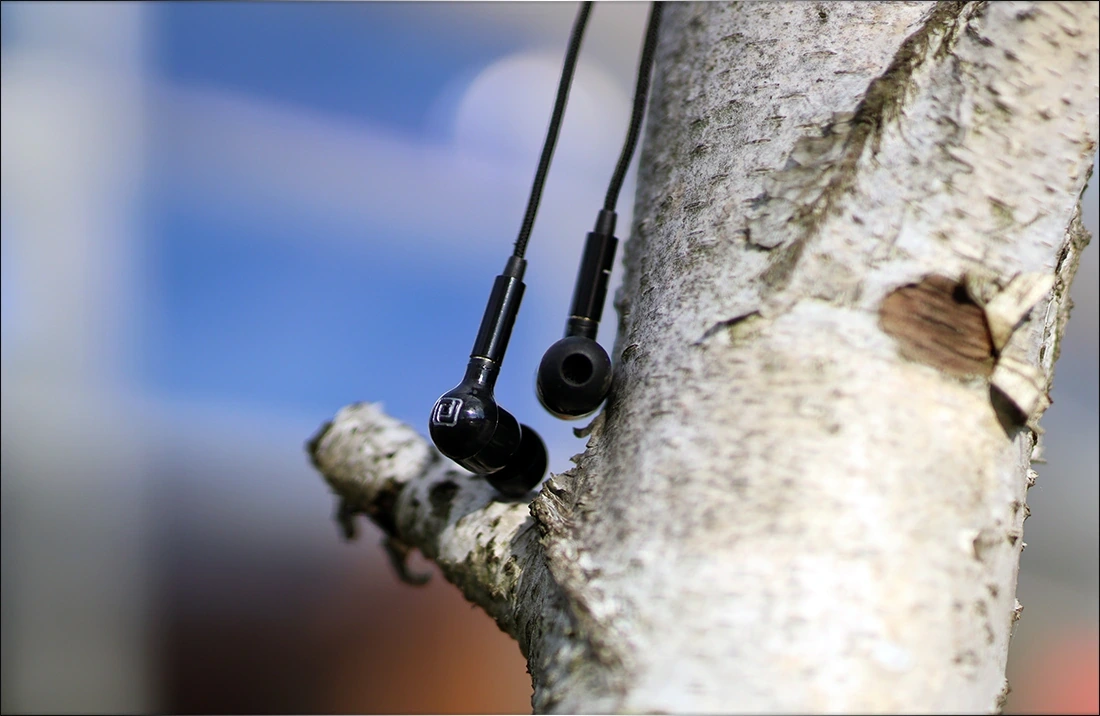 Introduction
Periodic Audio is a growing company from the USA, investing high amounts of work into developing new coatings for dynamic drivers for earphones and IEMs. They have good warranty and support, and happily most of the time are also available on Amazon and other shops. If you need support for purchasing their IEMs, Periodic Audio has the option of purchasing their IEMS in 4 interest-free payments, rather than paying the entire amount all at once. 
It should be noted that I have absolutely no affiliation with Periodic Audio, I am not receiving any incentive for this review or to sweeten things out. I'd like to thank Periodic Audio for providing the sample for this review. Every opinion expressed is mine and I stand by it. The purpose of this review is to help those interested in Periodic Audio Titanium Ti v3 find their next music companion. 
Product Link
You can grab one from www.amazon.com here: https://amzn.to/3Afy2Zo
If you're in the UK, you can grab one from www.amazon.co.uk here: https://amzn.to/3AhNww5
And if you're from Europe, you can grab one from www.amazon.de here: https://amzn.to/3C9IpiG
Build Quality/Aesthetics/Fit/Comfort
With a build that is super similar to the new Periodic Audio Carbon, I invite you to read my review on the C if you're looking for introspection on how the new generation of Periodic Audio IEMs differs from the old one. The short story is that the company now added detachable cables to their IEMs and they're super flexible, similar to a wet spaghetti. That cable can be worn both straight-down and over-the-ear, but wearing the new periodic audio IEMs over-the-ear is better if you're sensitive to microphonic noise. 
The wearing comfort otherwise is excellent, and Periodic Audio has a unique way of making their IEMS super light, which helps with the comfort and fit. There is no Left / Right marking on the IEMS, but there is on the cable. The impedance of 32 OHMs, which means that they won't be hissing with most sources, while the 96 dB of SPL means that most Periodic Audio IEMS will be slightly hard to drive and will require a source with a stronger power output (Periodic Audio Rhodium for example might not be enough to properly drive the Titanium).
I could detect mild driver flex but only on the left earpiece, and it has a metallic ring to it too. Wearing the Titanium straight down results in quite a bit of microphonic noise, and I can hear the cable brushing against my cheek and t-shirt, while wearing them over-the-ear results in a pretty comfortable and hassle-free experience. 
It should be noted that the IEMs are indeed extremely light, to the point where they can feel cheap, but the sonic chamber might be different from the outer plastic casing, since they seem to have a specific resonance. Also, they provide a fair amount of passive noise isolation, between 10 and 20 dB of passive noise isolation, depending on the frequency we're talking about. 
I've been pairing Periodic Audio Titanium v3 with a multitude of sources, including iBasso DX320, iBasso DX170, Questyle M15, ddHIFI TC44C, and Jade Audio Ka1. It has no hissing with any of those and is generally drivable from all of them, although it does scale a bit with the source, and a better source will create a better, more detailed, more dynamic, more punchy sound. 
Sound Quality
The differences between the new periodic audio IEMs are much smaller than they used to be between releases of the old line, as now they all go for a strong, somewhat basshead bass, with a V-Shaped midrange, and a stronger, cleaner, sharper treble. The level of detail and resolution does vary a bit, and the more pricey ones will be cleaner and clearer, like the Carbon and the Beryllium. The Titanium v3 we're reviewing today is still plenty clear and has superb resolution and should not be viewed as inferior to the others, but as having an alternative presentation. 
For today's review and impressions I've used Khadas Tone 2 PRO, IKKO Zerda ITM01 and iBasso DC05 as the main driving forces behind Periodic Audio Titanium v3. It has a generally strong and powerful signature, dominated by a deep and full sounding bass, that extends as low as 20 Hz, and which has a slow and thick presentation. It is fast enough for most EDM, rock and metal, and creates a very satisfying slam and impact for grindcore and deathcore. The bass has a specific warmth that extends all the way into the midrange, but doesn't add veiling or darkening, just warmth and a satisfying weight that accompanies each musical note.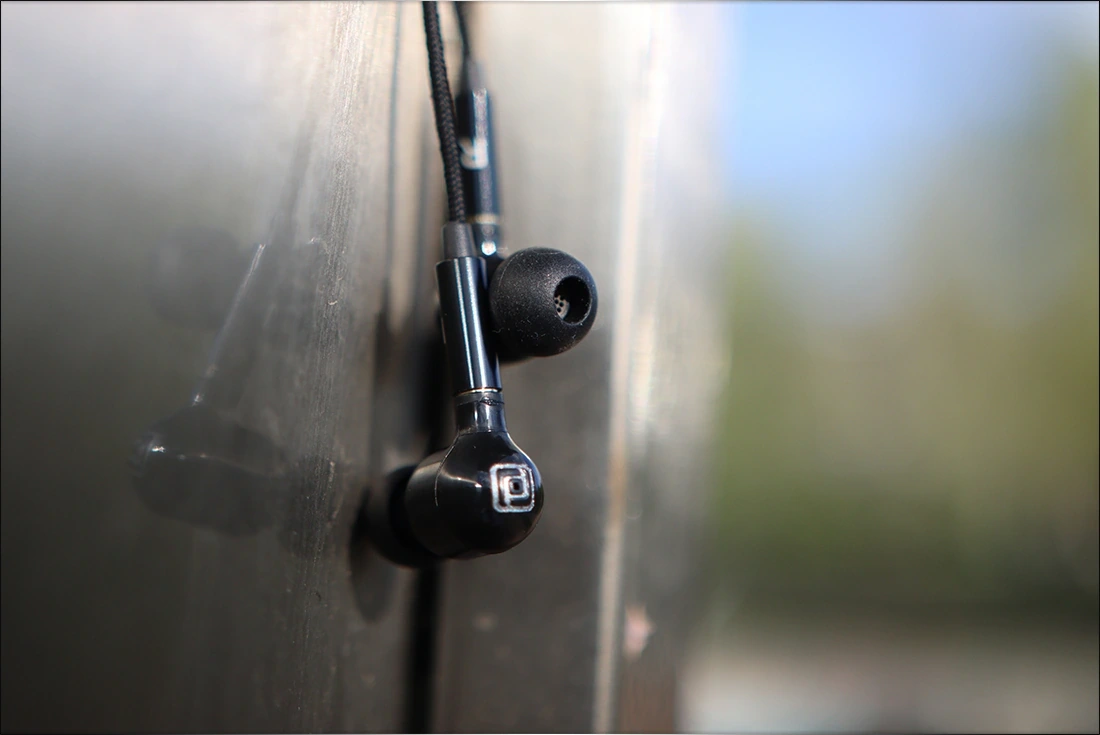 The midrange follows a strong recession in the middle, which results in a distant voicing, and improves the depth and width of the soundstage of Titanium. This being said, Titanium v3 is not a very wide or deep sounding IEM, being by all accounts natural in staging. The instrument separation is fairly good though, and you can clearly tell apart guitars from voices from synths and so on. The midrange dip and coloration enhances EDM and electronic music in general, as well as grindcore, but can make guitars quite aggressive for rock and normal metal. A good example is Alwoods, where Titanium v3 sounds sublime, creating a huge holographic stage, with superb impact to each bass note, and a clean midrange that extends nicely all the way into your head and out of your head. Rock music from bands like Pacifist, for example their song Happiness, is quite aggressive though, and I would say that Titanium is good at revealing recording / mixing / mastering mistakes and problems such as harshness. 
Speaking of harshness, the treble of Titanium v3 is quite uplifted above the midrange, and makes a comeback, resulting in a pretty strong and aggressive, forward and dynamic presentation for the Titanium. The treble extends as high as about 12 kHz, after which it starts falling off gently, the peak of the treble being at about 12 kHz. There's plenty of air in the signature of the Titanium, and the best experience is once again, with electronic, EDM music, where the treble is just the right amount to keep the sparkle up and resolution good. It feels like the Titanium was designed with electronic music in mind. 
Comparisons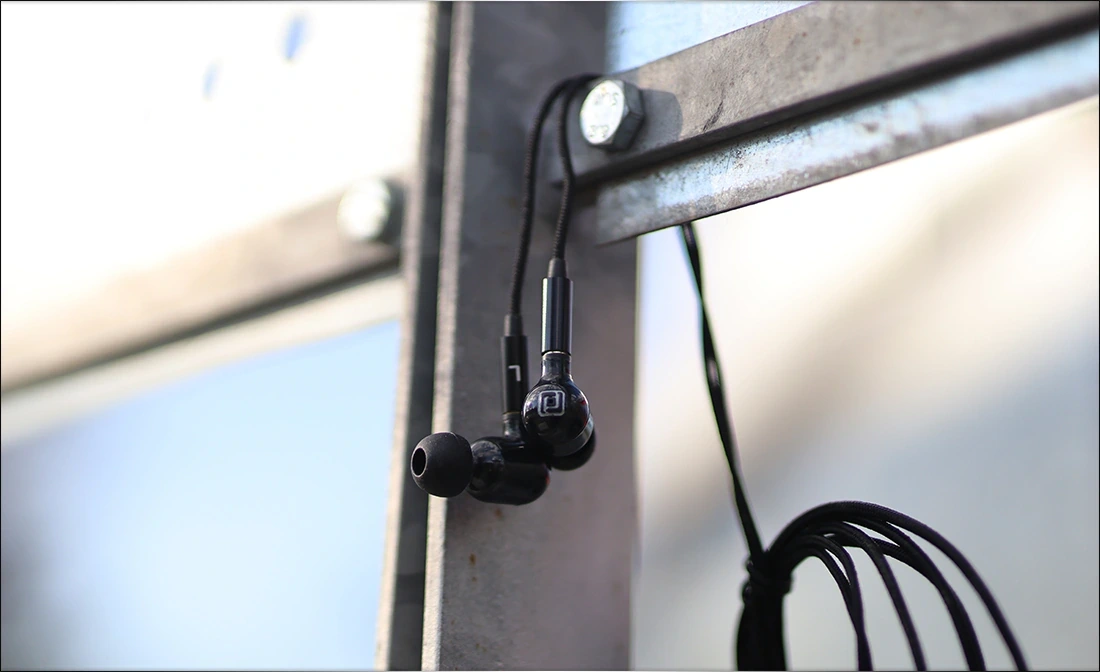 Periodic Audio Ti v3 Titanium vs 7Hz Eternal (299 USD vs 249 USD) – We can start with an interesting comparison. From the start, 7Hz Eternal is a bit more comfortable, although just a tiny bit. The overall design is more aesthetic for the Eternal too. Sonically, Eternal is thicker, warmer, and has a less aggressive treble that is smoother and more relaxed. In fact, its entire signature is more relaxed. In contrast, Periodic Audio Titanium is far more v-Shaped, with a stronger, sharper treble, a more technical sound with a bit more detail and resolution, a wider and deeper soundstage with better instrument separation, and titanium has better overall clarity too. Both IEMs are quite excellent, but if you want a relaxed listen, go for the Eternal, while if you want a more impactful and dynamic listen, with a V-Shaped presentation, PEriodic Audio Titanium is a better purchase. 
Periodic Audio Ti v3 Titanium vs Lotoo LE-M1 (299 USD vs 269 USD) – The two IEMS couldn't be more different, and LE-M1 is an over-the-ear design with superb comfort, and an all-day wear plan ahead, while Titanium is more casual in both the wearing and how it is designed to be used. The overall build quality is good on both, but the sonic signatures are quite different. LE-M1 is super neutral, clean and detailed, has a better resolution and detailing than the Titanium, but at the same time much more linear sound. By comparison, the Titanium is not as technical, but it is much much more slammy, has considerably more impact, more bass, a slower bass, more weight to each musical note, a more recessed midrange, but a similar treble to Le-M1, although Titanium rolls off a bit softer and gentler. Both are good purchases, but for different purposes, Titanium is an excellent listening IEM, while LE-M1 is a great monitoring IEM made for the sound engineer on the go. 
Periodic Audio Ti v3 Titanium vs FiiO FH5s (299 USD vs 280 USD) – The comfort and design of FH5s is a bit better, as they're better made, have a more traditional cable, and more usual body design. This being said, FH5S does not allow for straight-down wearing. The overall signature is quite different, with Titanium having much more impact, better and deeper bass, more weight to each musical note, but subsequently also a slower bass. Titanium also has better resolution and detail, and a more natural midrange, although both IEMs are fairly colored and specific in their tuning. The treble is more naturally extended on the Titanium, both IEMs being sharp and aggressive with the treble. The soundstage is a bit better on the Titanium, with a slightly better width, depth and instrument separation. FH5s generally sounds more blunted and cut off in the upper midrange and treble, and has a less imposing bass, being more linear than the Titanium (although it is not linear in the real sense of the word by any means).
Value and Conclusion
The price point of Titanium v3 is better than that of Be and C (Beryllium and Carbon), so from a simple build quality and design perspective, it has better value than the other Periodic Audio IEMs. The package is still good, and it has detachable cables, so if you're looking for a high-end IEM but at a very good price, Titanium might hit that sweet spot.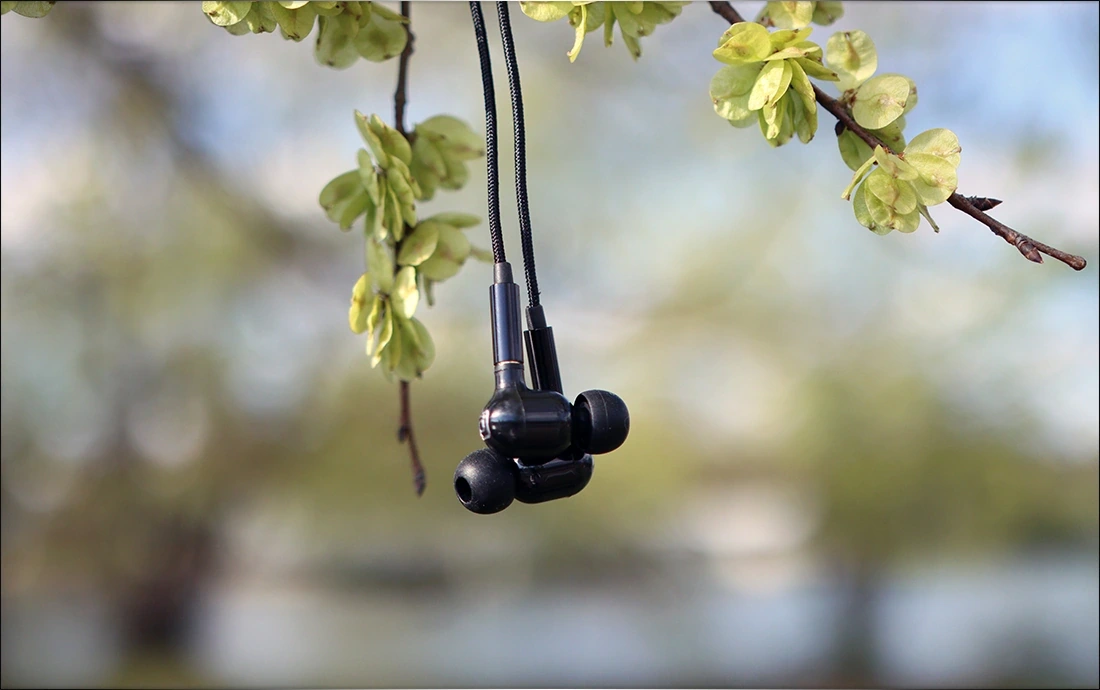 At the end of today's review, if you're into straight-down headphones with good sonic performance, good comfort, and like a warm sonic signature, Periodic Audio Titanium v3 is an excellent option that you should be able to enjoy for many years. 
Product Link
You can grab one from www.amazon.com here: https://amzn.to/3Afy2Zo
If you're in the UK, you can grab one from www.amazon.co.uk here: https://amzn.to/3AhNww5
And if you're from Europe, you can grab one from www.amazon.de here: https://amzn.to/3C9IpiG
Packaging
Let's get the packaging out of the way: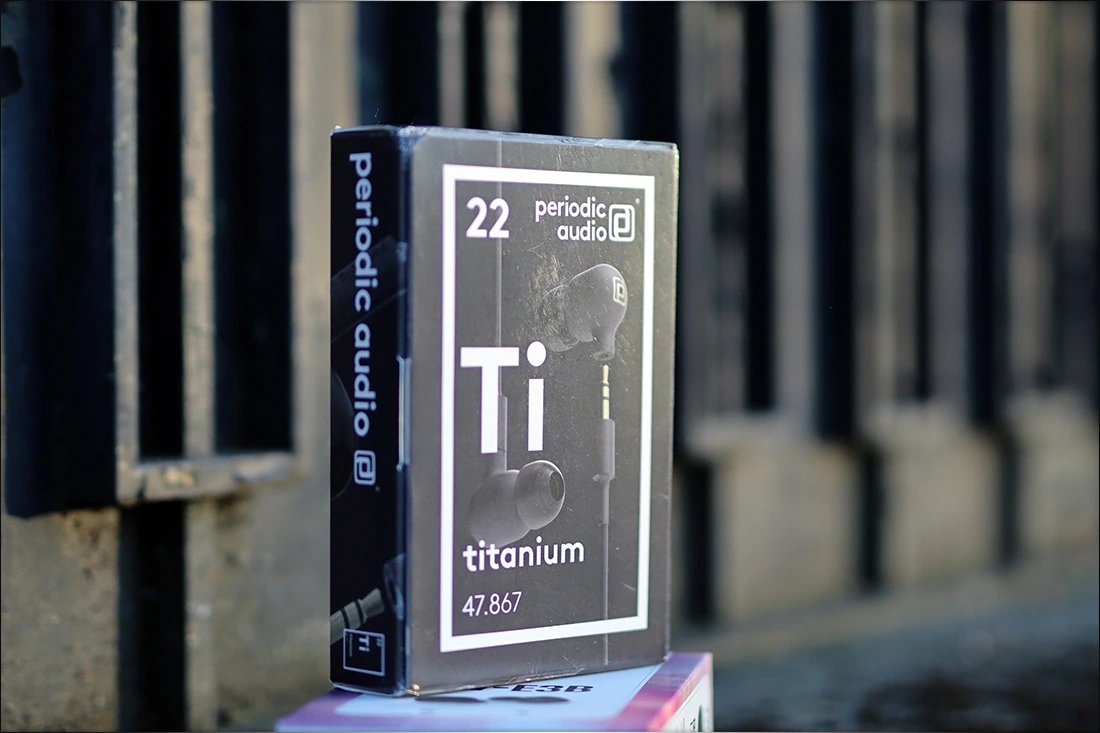 1.2 meter long cable single 3.5mm TRS to dual 2.5mm TS jack and metal shells

Single Flange Tips – Small, Medium, Large

Dual Flange Tips – Small, Medium, Large

Memory Foam Tips – Small, Medium, Large

Protective Travel Case

Gold Plated ¼" TRS Adapter Jack

Gold Plated Dual Mono Airplane Adapter
Specifications
Frequency Response – 16 Hz to 30 kHz

Impedance – 32 Ohms nominal

Sensitivity – 96 dB SPL at 1mW in ear

Power Handling – 200 mW continuous

Peak SPL – 119 dB

THD – Less than 1.5% THD at 1mW

Cable Length – 1.2 m

Mass – 2.8 / 16.7 g (IEM/Set)

Operational Temperature – -20 to +50° C

Operational Humidity – 0-95% Relative Humidity

NRR – 31.3 dB (foam eartrip)

Overall Length – 21 mm

Body Diameter – 12 mm

Nozzle Diameter – 6 mm

Transducer Diaphragm: Pure Titanium foil

Transducer Surround: PEEK polymer

Transducer Frame: 316 Stainless Steel

Transducer Magnet: N48H Grade Neodymium

Enclosure Body: Tritan™ copolyester

Protective Grille: 316 Stainless Steel

Bonding Compound: Cyanoacrylate Adhesive

Sealant Compound: Polyvinyl Acetate

Mounting Tips: Medical Grade Silicone and Urethanes

Connector: IDEEL 2.5mm TS compatible connector (tip hot, sleeve ground)

All components are Finite Element Analyzed for stress, strain, and durability.
---
--- Please remember to stay safe, and always have fun while listening to music!---
 - If you have a dime to spare, please donate, and help us! It would make the day brighter for me and my wife- 
---
Full Playlist used for this review
We listened to more songs than those named in this playlist, but those are excellent for identifying a sonic signature.  I recommend trying most of the songs from this playlist, especially if you're searching for new music! The playlists are different for Spotify, Tidal and Youtube, and based on the songs I enjoy and are available on each!
https://www.youtube.com/playlist?list=PL_cjBXGmwSHSdGcwuc_bKbBDGHL4QvYBu
https://open.spotify.com/playlist/5J3oloz8Riy9LxEGenOjQ0?si=979ba4f082414be7
https://tidal.com/browse/playlist/330fd544-8e5b-4839-bd35-676b2edbb3d5
--- Contact Us ---





---