Rubyoung Master R830 Stereo Hi-Fi Speaker – Art in many ways
Rubyoung Master R830 is the $749 USD star Bluetooth speaker of today's review, and this version is the Alcantara Blue, with the Blue Love cover, and which can be purchased directly from the Rubyoung or hopefully Amazon. The speaker has a Bluetooth 5.1 protocol, and it has a powerful woofer too, so it will be compared to other high-end speakers, including NHT C3 (1249 USD), Vifa Copenhagen 2 (700 USD), and AIWA EXOS 9 (300 USD).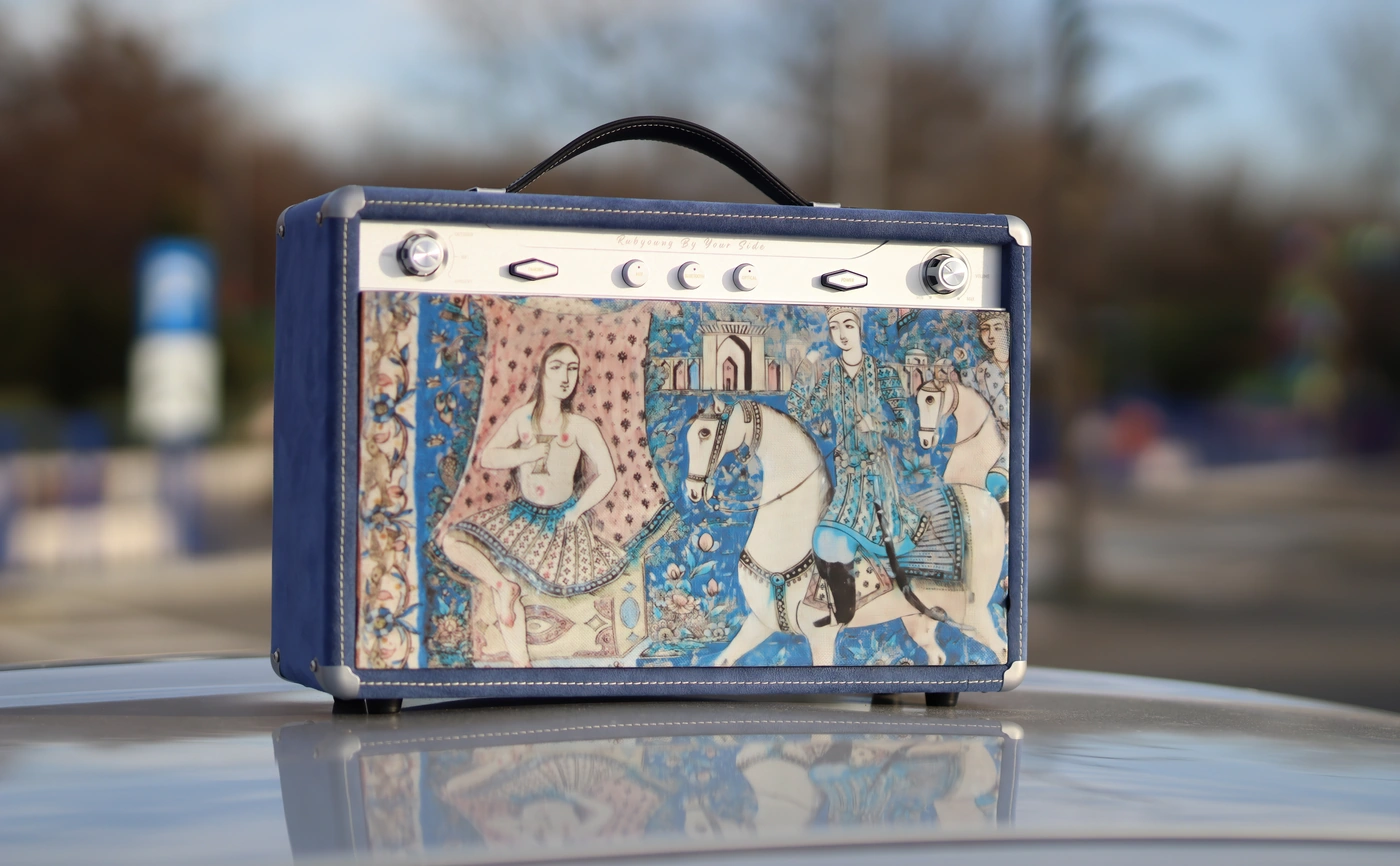 Introduction
I actually have to admit that I know very little about Rubyoung and who they are, but I must also admit that they impressed me so far with the quality, design and overall sound of the R830 Stereo Speaker. I come from a background of using extremely good speakers, including the mighty KLH Model Five together with a Cyrus One Cast Amplifier, and a EverSolo DAC-Z6 DAC, so my setup is not a wimpy one, but R830 really opened my eyes to what is possible with a super nice speaker, and the style just adds to the beauty of such a speaker. The company is super supportive, and very open for their clients, they take delight in making those speakers, and actually and honestly, the parent company that helped tune this is Questyle. Questyle is not a new company, and following my review of M15, the portable DAC AMP, you know this is going to be a really good one, but let's actually explore what the guys at Rubyoung did with the R830.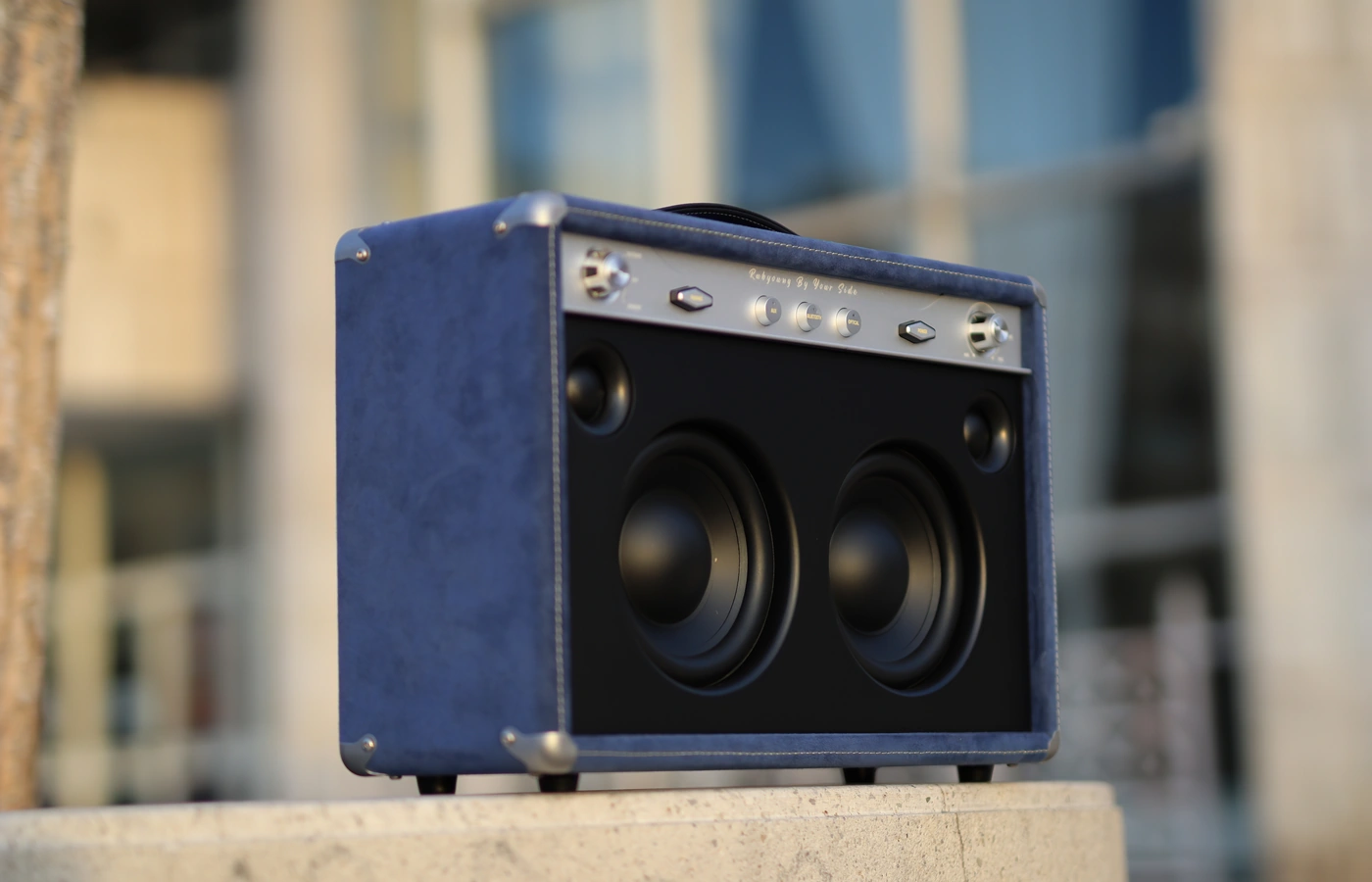 It should be noted that I have absolutely no affiliation with Rubyoung, I am not receiving any incentive for this review or to sweeten things out. I'd like to thank Rubyoung for providing the sample for this review. Every opinion expressed is mine and I stand by it. The purpose of this review is to help those interested in the Rubyoung R830 Bluetooth Stereo Speaker find their next music companion. 
Product Link
Official Link: https://rubyoung.com/products/blue-bluetooth-speaker
You can grab one from www.amazon.com here: https://amzn.to/40e2IF8
If you're in the UK, you can grab one from www.amazon.co.uk here: https://amzn.to/3TEmcQO
And if you're from Europe, you can grab one from www.amazon.de here: https://amzn.to/3ngrw0G
Build Quality/Aesthetics/Fit/Comfort
Starting with the obvious, this is a huge speaker, and it looks like a suitcase, which is stated on the official website to have been the inspiration in the process of designing the R830. It features a super soft alcantara touch material on the outside, along with a face that is removable to show the drivers, and which you can replace with a wide selection of other faces. The speaker is named R830, and it is considered a High Power HIFI Bluetooth Speaker. 
I have to note that although this is a Bluetooth speaker, it is a Plug In Bluetooth speaker, which means that it needs constant connection to a power outlet to work. The one I have has the series 00314, so we know there have been quite a few of those made already. The Peak Power is 240 Watts, which is huge, and as we will explore, it can create enough sound for the rating to make sense. You can use a Bluetooth input, along with an AUX Input, and an Optical Input. From my experience and experiments, the AUX Input sounds the best, while the Bluetooth comes in second, without a large difference between them. There is an Analog Output, although I have not yet figured out what exactly is the purpose of that.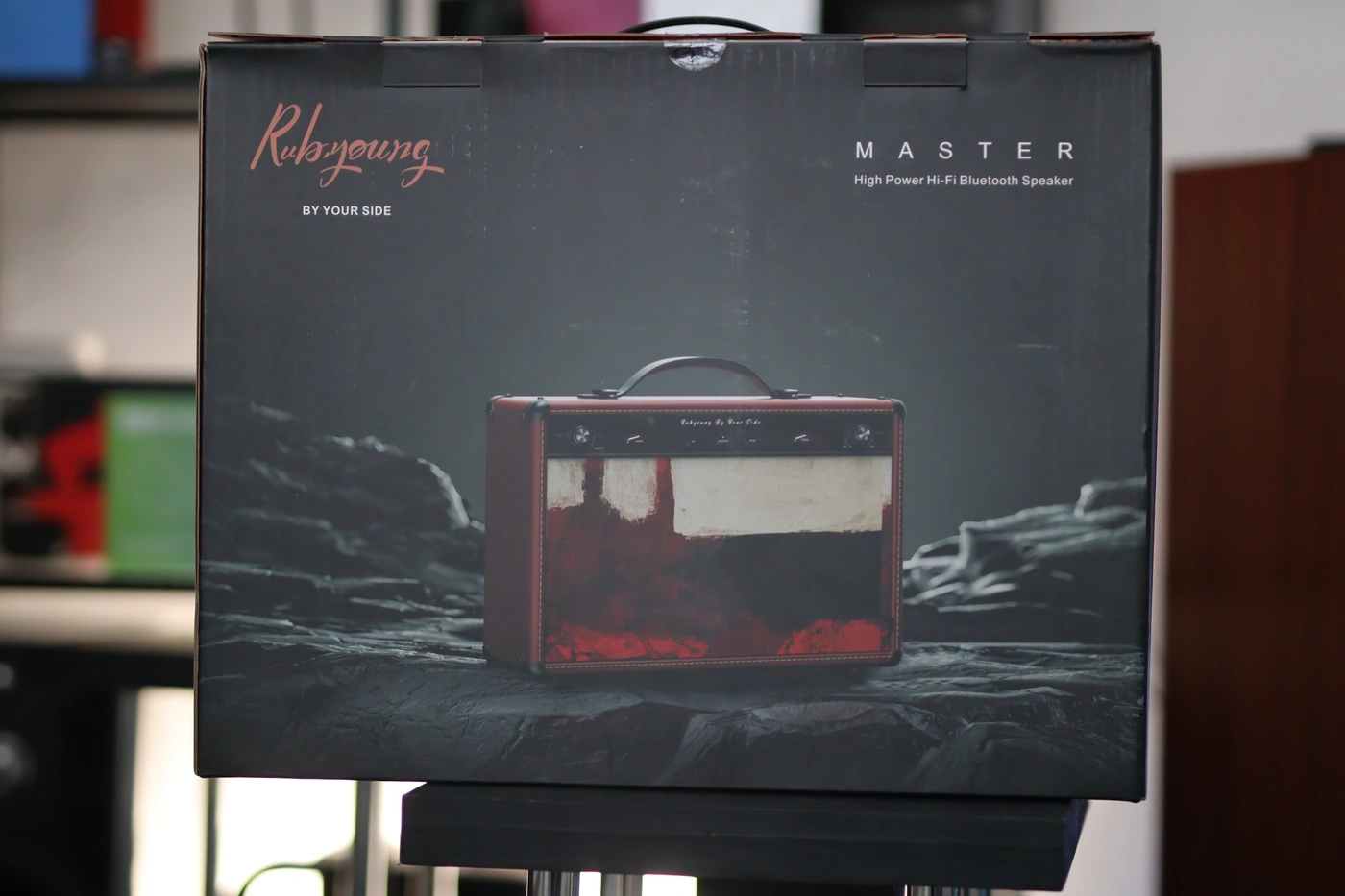 The power input is a 2-Pin AC cord, which is the most common type of power cord that I've seen in Romania for home appliances. The power draw is not high, and the amplifier inside seems to run in Class D, the speaker does not get warm with usage, and it is generally a really good one, with real metal in the build, and which looks and feels high-end. It can be used to give music to any room, and I would really honestly pick a different face than the one I have, but they all should give a funky look to a room and should make good choices. 
The power rating of the R830 is super high, and it has a 120W power rating, with a max peak power of 240W. The frequency response is noted quite meekly at 50Hz – 20kHz, but we will put this to the test, as I personally feel like it can go lower than 50Hz, and it sounds fuller than even KLH Model Five, ar at least the upper bass and lower midrange is warmer, if I don't add the Adam Audio T10S Subwoofer.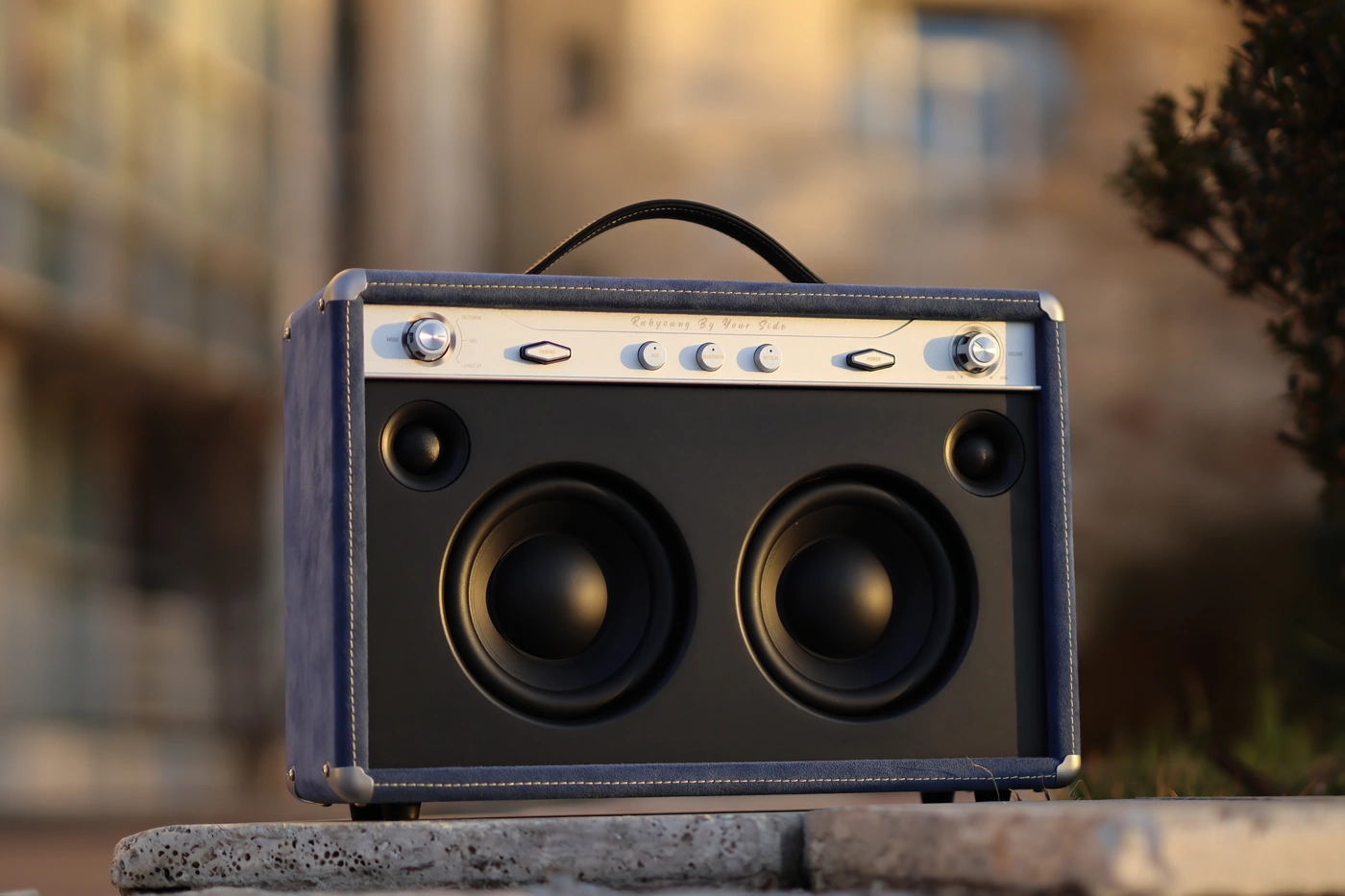 The drivers are 4 in number, and there are two 5.25″ Glass Fiber Woven Cone drivers for the mid woofers, and 2 x cloth dome tweeters for the high end. The crossover has an active two way crossover, and the Bluetooth protocols supported are A2DP 1.3, AVRCP 1.6, HFP 1.6, HSP 1.2 and SPP 1.2. In practice, it can use aptX HD with my smartphone, and the signal is steel solid, with no dropouts, even more than 15 meters away from the smartphone, as I tested with multiple phones of my friends at a party where this speaker was the star of the show.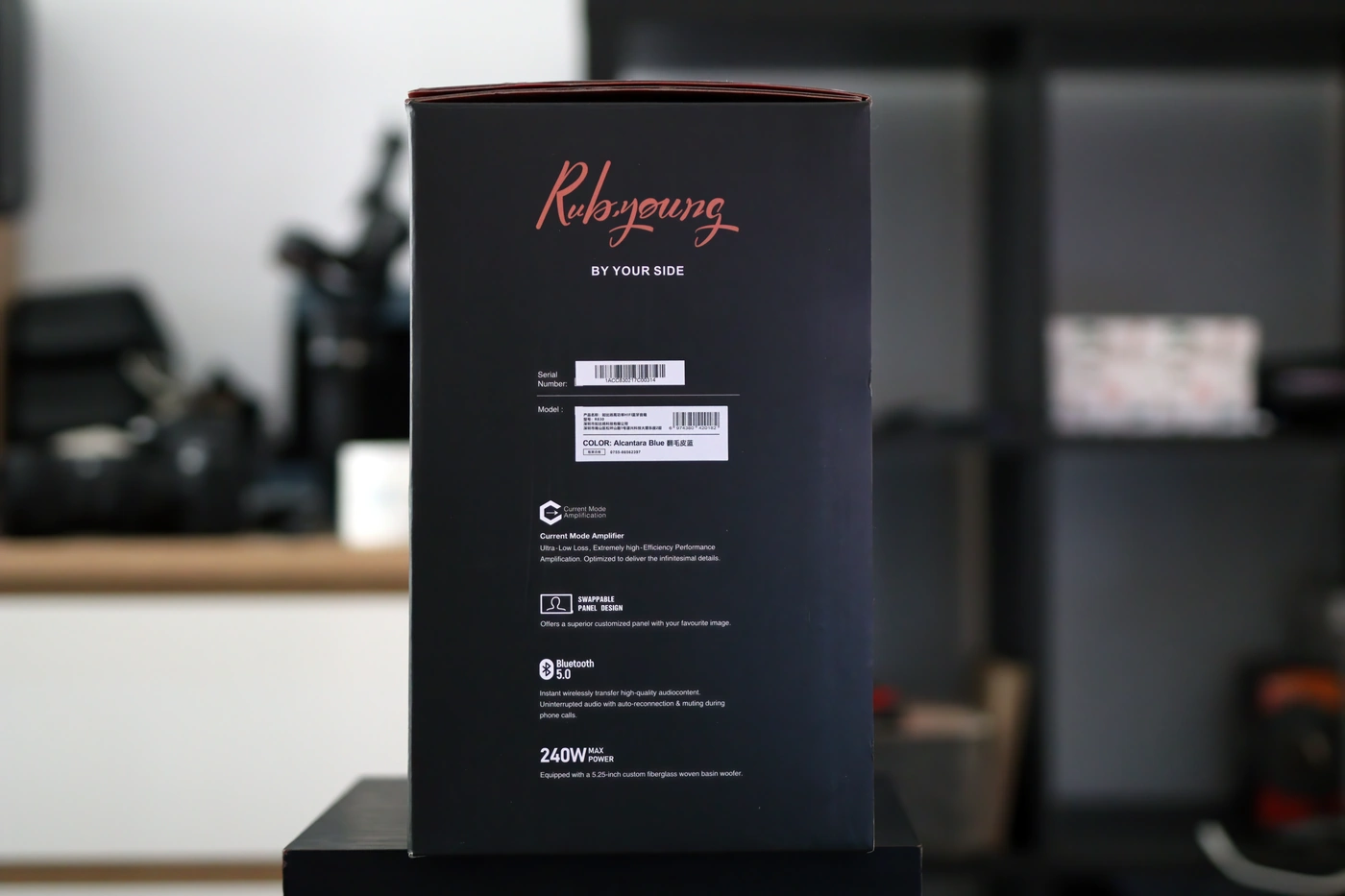 The maximum loudness is incredibly high, enough to make R830 the only speaker needed for a party of over 20 people dancing and having fun. The sound is stereo, but with the drivers being rather close to each other, the soundstage won't be quite that wide from design. The speaker is super solidly built, and I personally have used it almost always with the front cover removed because it can cut a lot from the sonic quality. 
The volume can be brought up to the maximum with no resolution or clarity loss, and at maximum it reaches around 115-120dB in the midrange, which is the best out of any bluetooth speaker I heard or had to date, over Bluetooth. The bass does hold out very well, and the speaker acts exactly as expected. If you're using the AUX connector, the maximum volume lowers to about 95-100dB, but the sound is much cleaner, more detailed, and with better control, lower distortion and it is generally more pleasing. 
Sound Quality
Starting with the sources used for today's review, one has been my smartphone, namely the Motorola Edge 30 Ultra, which is similar to a Samsung S23, but without the Samsung part, for Bluetooth. I also have used a number of DAPs over the AUX cord, including Hiby R6 III, Astell&Kern ACRO CA1000T, Eversolo DAC-Z6, SMSL Do300, Shanling M3 Ultra, iBasso DX300, and Lotoo PAW6000. Overall, the sound has much better control, detail and resolution over the AUX input, but it also has a lower volume compared to the Bluetooth input. The overall sound can be described as incredibly clean, detailed, plseasing, wide, deep, well layered, super clean and incredibly pleasing to the ear. There are three sonic modes, namely HIFI, Outdoor and Ambient, and they mainly turn the sound more dynamic, and more punchy, more detailed and more in your face, which is the Outdoor mode, which I consider the baseline experience, while HIFI sounds more relaxed, smoother and leaner, and the Ambient mode cuts out almost all dynamics, makes the sound rather relaxed, laid back and puts everything in the background. I mainly used the Outdoor mode, which is the most dynamic, most punchy and most detailed mode. I recommend reading more about Bluetooth and how it works, plus how to get the most out of it in my article exploring Bluetooth protocols here – https://www.audiophile-heaven.com/2023/03/bluetooth-sound-quality-guide-what-are-the-codecs-and-how-do-they-work.html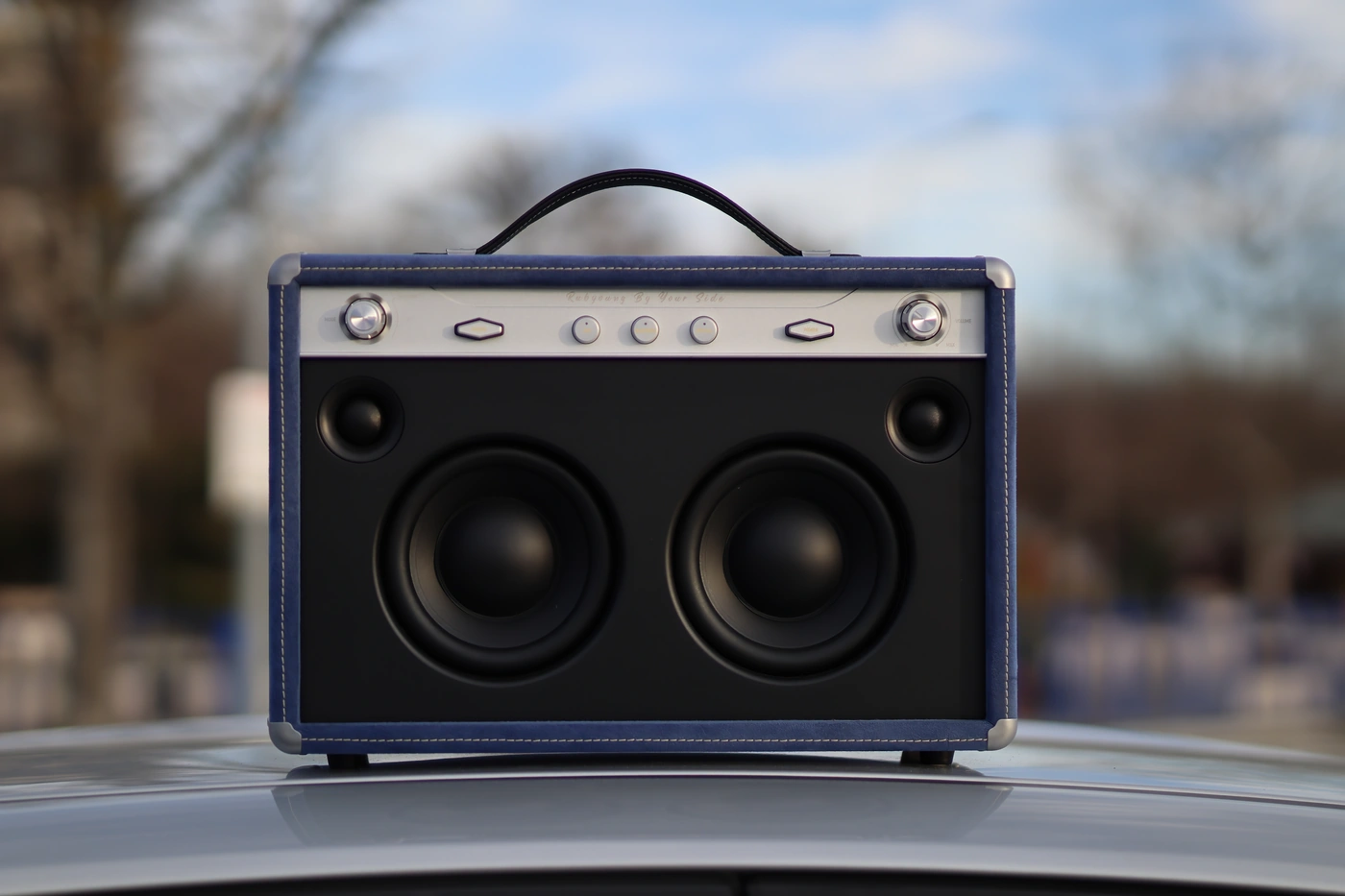 The bass of the Rubyoung R830 tends to be deep and clean, with an extreme accuracy and detail, a really smooth and distortion-free presentation, with the roll off happening around 40 Hz, a bit lower than the specification of the company, but still a bit higher than a subwoofer. This is a limitation of the drivers implemented in R830, both of which are too small to create a larger amount of bass, and no speaker sporting 5.25″ mid woofers won't create a deeper bass. While the fundamental of the bass doesn't reach 20Hz, the main bass body, mid bass and upper bass are warm, pleasing to the ear, super musical, smooth and they have a magical warmth to them. In fact, R830 bears a more pleasing bass than all of the speakers I heard to date, and the tuning is done incredibly well.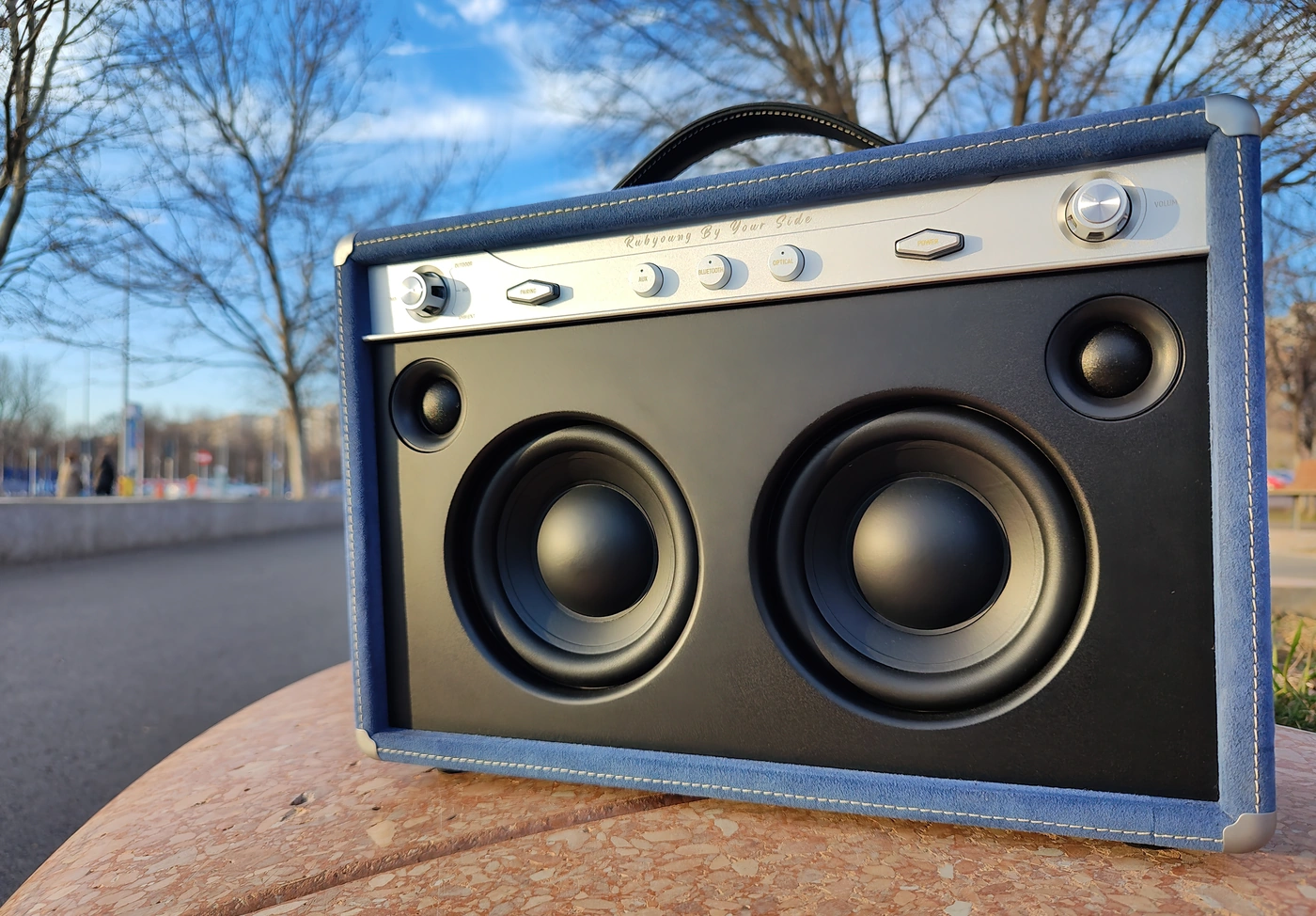 We also have a midrange tuned by the mighty Questyle, and this is no joke, Questyle surely knows how to tune something to sound dynamic, punchy and extremely detailed. I started my quest to review the R830 as a test, play of sorts, but the actual presentation is so good that I fell in love with the sound of it, I never had such a pleasing sounding speaker, in the midrange. In fact, I am willing to say that the raw detail, and how natural, effortless, smooth and clean the midrange is places it above the Aurender s5W, which is a much pricier wireless speaker pair. If there was a sound that is full, delightfull, deep, wide, layered and clean, then R830 has that sound perfectly. The precision of the sound is immaculate, this speaker can have the dynamics I dream of having from a larger speaker setup. Rock sounds clean, detailed, guitar riffs always have superb texture, while both male and female voices are spot on in tonality, rich and pleasing. R830 surely makes music sound more pleasing than any of the full sized speakers I tested to date, from the same DACs as the others I had, and if you're curious, it beats the likes of Edifier Luna, and Edifier S1000DB by a huge margin.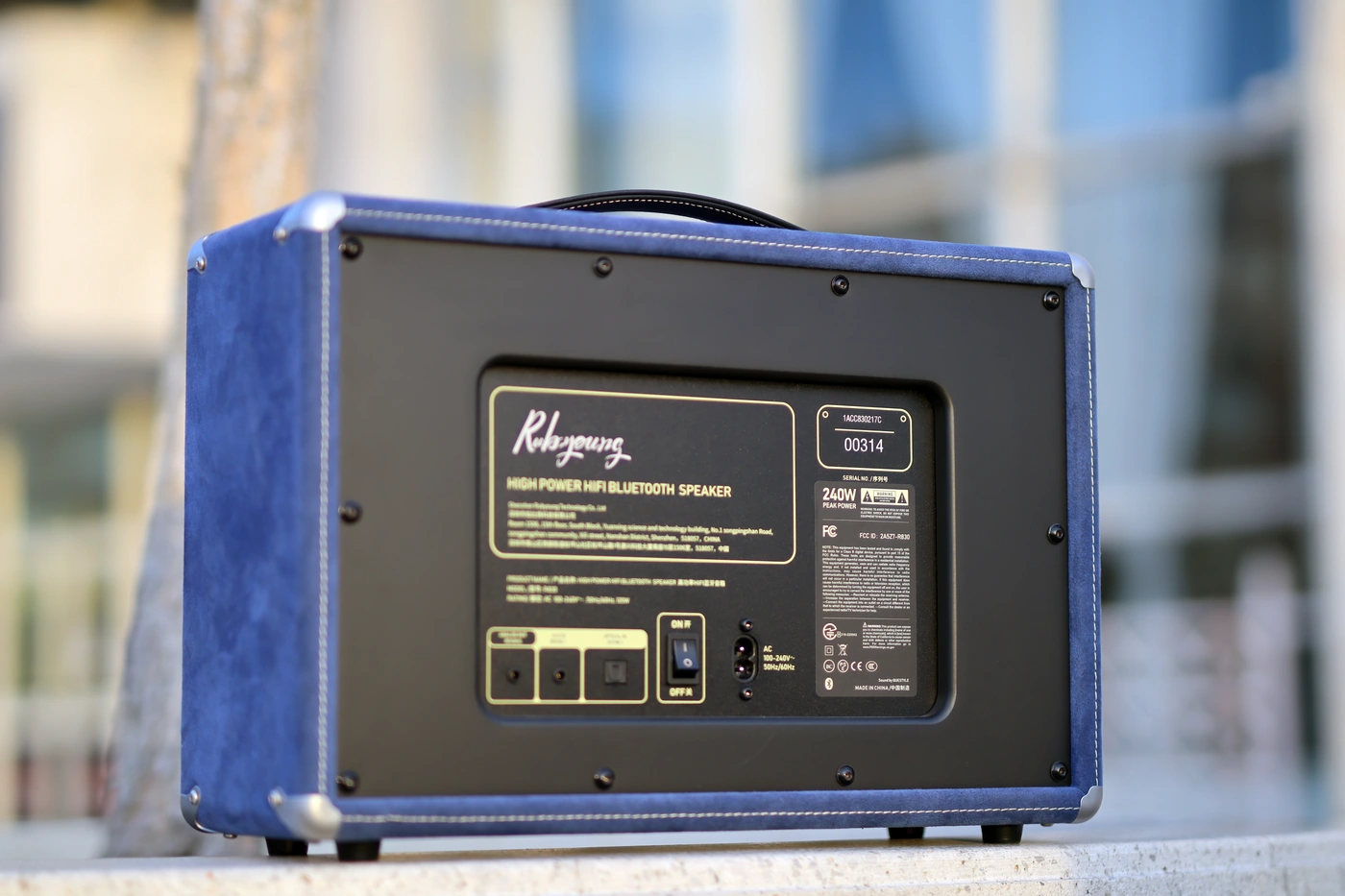 The treble of the Rubyoung R830 completes the picture, as it has a super clean, airy and well extended treble that is always clean and pleasing to my ears, with no fatiguing part. In fact, the few words that really define R830 are effortless, lush, rich and clean. The treble doesn't sound bright or harsh, but the soundstage is really wide and holographic, and R830 has the ability to fill a room easily, and it is the kind of speaker that my girlfriend asked if we could consider to use for our wedding, so you know we trust quite a bit in its ability to play music well. 
Comparisons 
Rubyoung R830 vs Vifa Copenhagen 2 (749 USD vs 700 USD) – We need to start with the most important comparison, and Vifa Copenhagen 2 is the most capable competitor that stands against the R830, and I really liked the Copenhagen 2, it was the speaker that I was somehow lugging around when I first dated my girlfriend, to bring some music to the date, so Copenhagen 2 is an interesting option nonetheless, but the sound of R830 goes much louder, is cleaner, has better control, the bass is warmer, thicker, also more realistic, and the bass also climbs lower in the frequency response, with less roll off. All in all, R830 is a full upgrade over Viga Copenhagen 2, all while having a somewhat similar signature, and both are outstanding options if you're looking for a pleasing, fun and impactful sounding speaker, Copenhagen 2 can be taken outdoors, while R830 is an indoors speaker only that is designed to work best like this, indoors and needs to have constant connection to a power outlet.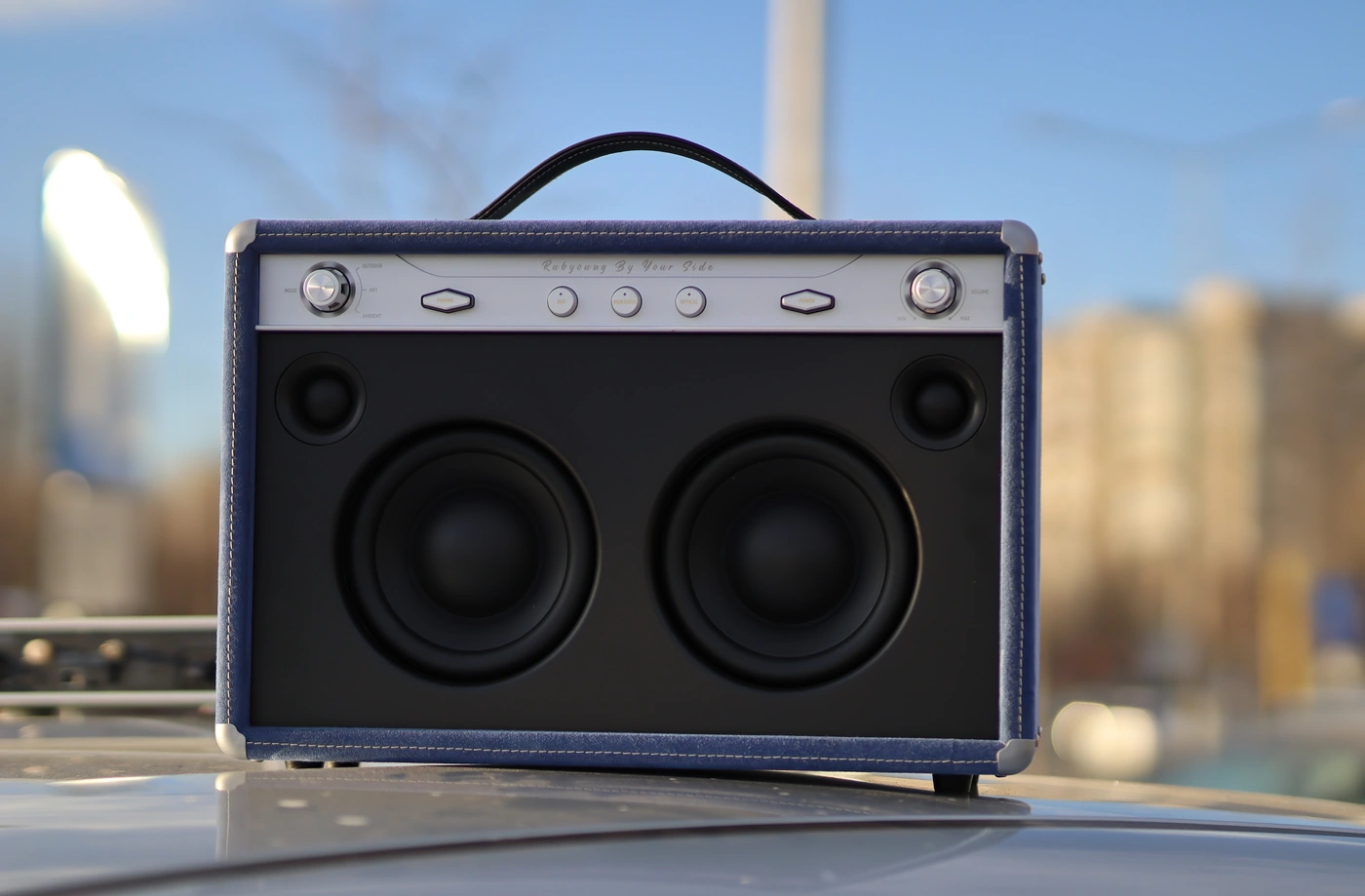 Rubyoung R830 vs NHT C3 (749 USD vs 1249 USD) – We have a different setup entirely here, and the amplifier used to drive NHT C3 has been cyrus one cast, like for most of my recent reviews. The sound is NHT C3 will be considerably wider, with a more holographic soundstage, and a somewhat better instrument separation, but the bass warmth and bass reach is better on R830, and I really need a subwoofer to have a pleasing experience with NHT C3. Also, it is worthy to notice that the R830 has a better clarity, better detail and better impact compared to C3. Of course, C3 can be improved if using a different amplifier, and I do follow a live sound above everything, so my personal bias comes into play. If you want a smoother, cleaner sound that's easier to enjoy with less fatigue, NHT C3 is still a top choice for a stereo system, but if you need something to give sound to a room, something small and that works with both bluetooth, optical and also AUX, R830 makes an outstanding choice, and it is a speaker I considered replacing NHT C3 with, thanks to its beautiful midrange. 
Rubyoung R830 vs AIWA EXOS 9 (749 USD vs 300 USD) – The idea behind the two is similar, but the sound is extremely different. EXOS 9 can be used as a bluetooth speaker, but it will have a sound that's much deeper, with more bass and sub bass, but R830 has a much better detail, resolution, a more dynamic and punchy midrange. The overall difference in resolution is staggering, and R830 sounds like an actual hifi system with superb clarity, a wide, holographic soundstage, and outstanding precision, plus a super playful and pleasing sound, while EXOS 9  has a really simple sounding midrange, and is generally rolled off and lacks the texture and detail to be compared to R830. This being said, EXOS 9 is much cheaper, so if you're looking for a low price solution with a lot of bass, EXOS 9 should not be excluded, while if you want a hifi station with outstanding sonics, which will stay connected to a power outlet, R830 is the perfect choice. 
Value and Conclusion
The price point of 749 USD is actually really good for one of those R830 speakers, and it feels like there's actually nothing around this price point you can purchase that would sound even close to it, regardless whether we're talking about a full sized stereo system, other Bluetooth speakers, or anything in between. Simply put, both Questyle and Rubyoung did their best to implement the sonic part well, to make it sturdy, to make it efficient, and to give it a huge maximum volume, along with outstanding room filling abilities. I actually want to add Rubyoung R830 to the Audiophile-Heaven Hall Of Fame as one of the best sounding Bluetooth Home speakers I've heard to date.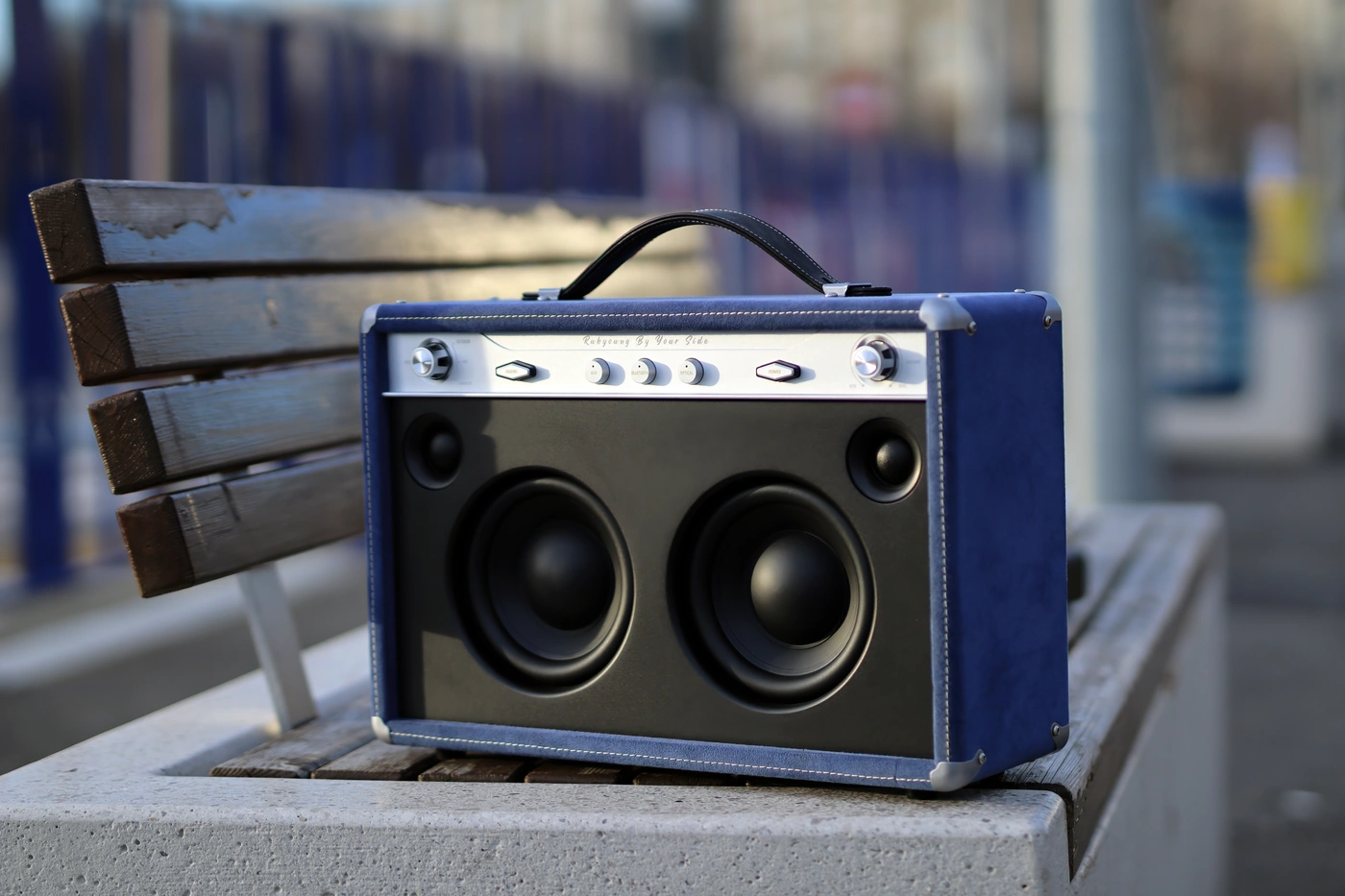 At the end of the day, if you're looking for the bluetooth speaker that has the most detailed, cleanest, richest, deepest, and most pleasing sound I've heard to this date, Rubyoung R830 is without exception the answer I can point you to. While it is far from perfect, it needs constant power to work, and it has the bass limitation given by the speaker size, the sound is so incredibly good that I can't help but recommend it as the best sounding Bluetooth speaker / single speaker multiroom setup I heard to date.  
Product Link
Official Link: https://rubyoung.com/products/blue-bluetooth-speaker
You can grab one from www.amazon.com here: https://amzn.to/40e2IF8
If you're in the UK, you can grab one from www.amazon.co.uk here: https://amzn.to/3TEmcQO
And if you're from Europe, you can grab one from www.amazon.de here: https://amzn.to/3ngrw0G
---
---
--- Please remember to stay safe, and always have fun while listening to music!---
 - If you have a dime to spare, and donate, to help us with electricity and work expenses, it would make my day much brighter, as it would help me improve things around the website and increase the frequency of my posts - 
---
Full Playlist used for this review
We listened to more songs than those named in this playlist, but those are excellent for identifying a sonic signature.  PRaT, Texturization, Detail, Resolution, Dynamics, Impact, and overall tonality are all revealed by those songs. We recommend trying most of the songs from this playlist, especially if you're searching for new music!
https://www.youtube.com/playlist?list=PL_cjBXGmwSHSdGcwuc_bKbBDGHL4QvYBu
--- Contact Us ---






---
---