Fosi Audio K5 PRO DAC/AMP/EQ – More Versatile Than A MultiCooker 
Fosi Audio K5 PRO is a $79 USD DAC/AMP with EQ, mic input, headphone output, Coax / Optical and USB input. It will be compared to other entry-level DAC/AMPs, including SMSL C200 (219 USD), HIDIZS S9 PRO (119 USD), and Hiby FC5 (159 USD).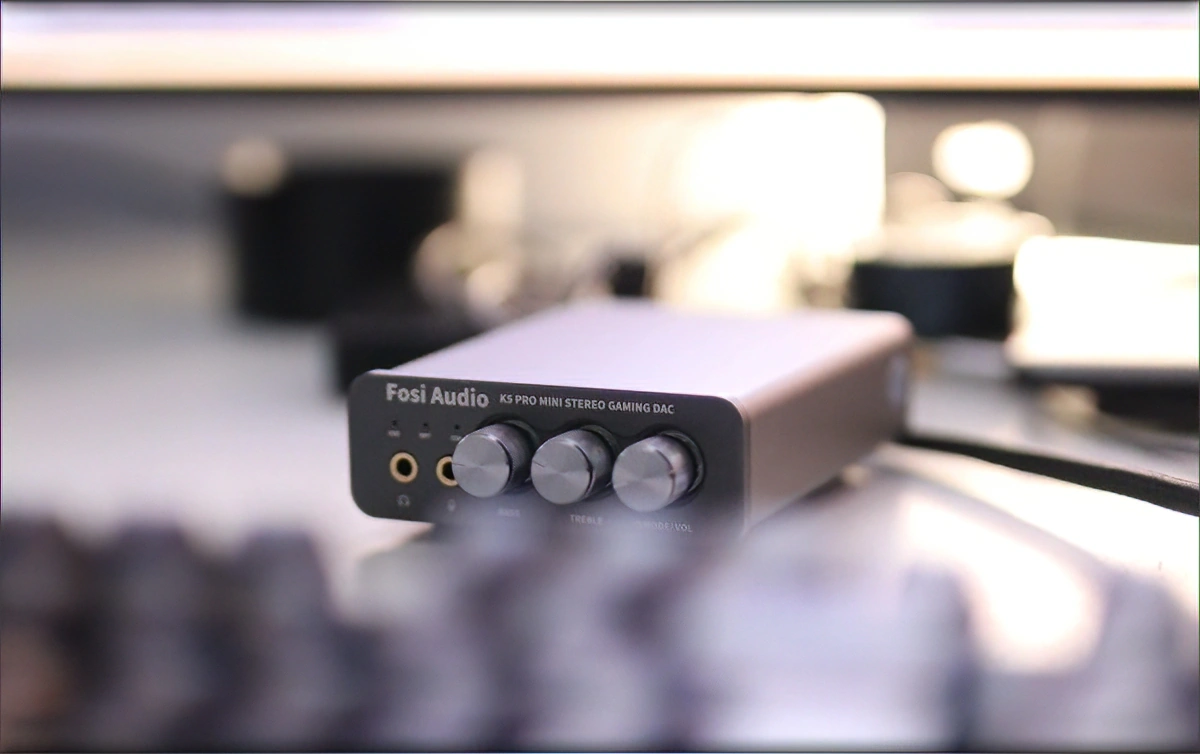 Introduction
Fosi Audio is a little company from Amazon that recently started to get closer to the public, trying to offer good customer satisfaction, high-quality products, along with nice build quality for those said products. They have a wide selection of entry-level products, they generally have super nice performance for the money. I want to note that while there is a FiiO K5 PRO out there, Fosi Audio has a Fosi Audio K4 out there, so the K5 PRO is an upgrade to that, and it has nothing to do with FiiO K5 PRO. In fact, the company has a whole line of products and did not steal the name or the naming scheme from anyone, instead having their own thing going on. 
It should be noted that I have absolutely no affiliation with Fosi Audio. I'd like to thank Fosi Audio for providing the sample for this review. This review reflects my personal experience with the Fosi Audio K5 PRO. Every opinion expressed is mine and I stand by it. The purpose of this review is to help those interested in Fosi Audio K5 PRO DAC / Headphone AMP find their next music companion. 
Product Link
You can grab one from the official website here. Please use this code for a discount of $15 off. There is still no affiliation, I gain nothing if you do use it, but you will get 15 USD in your pocket. You can help me directly using either Amazon or by donating to my Paypal, and here's the code K5PROYTB15 .: https://fosiaudioshop.com/products/fosi-audio-k5-pro-mini-stereo-gaming-dac-audio-for-pc
You can grab one from www.amazon.com here: https://amzn.to/3XkDjYy
If you're in the UK, you can grab one from www.amazon.co.uk here: https://amzn.to/3XrbX2Z
And if you're from Europe, you can grab one from www.amazon.de here: https://amzn.to/3XqdOFh
Build Quality/Aesthetics/Features
Starting with the obvious, this is not your average DAC / AMP from the entry-level price range. In fact, this is the unique, single DAC / AMP I know of which can steal the name of another (FiiO K5 PRO obviously), but also offer a performance that will rival it. Even better, Fosi Audio K5 PRO brings many things to the table, especially the fact that it has a microphone input, and a headphone output, which is usually seen in gaming centric USB DACs / AMPs.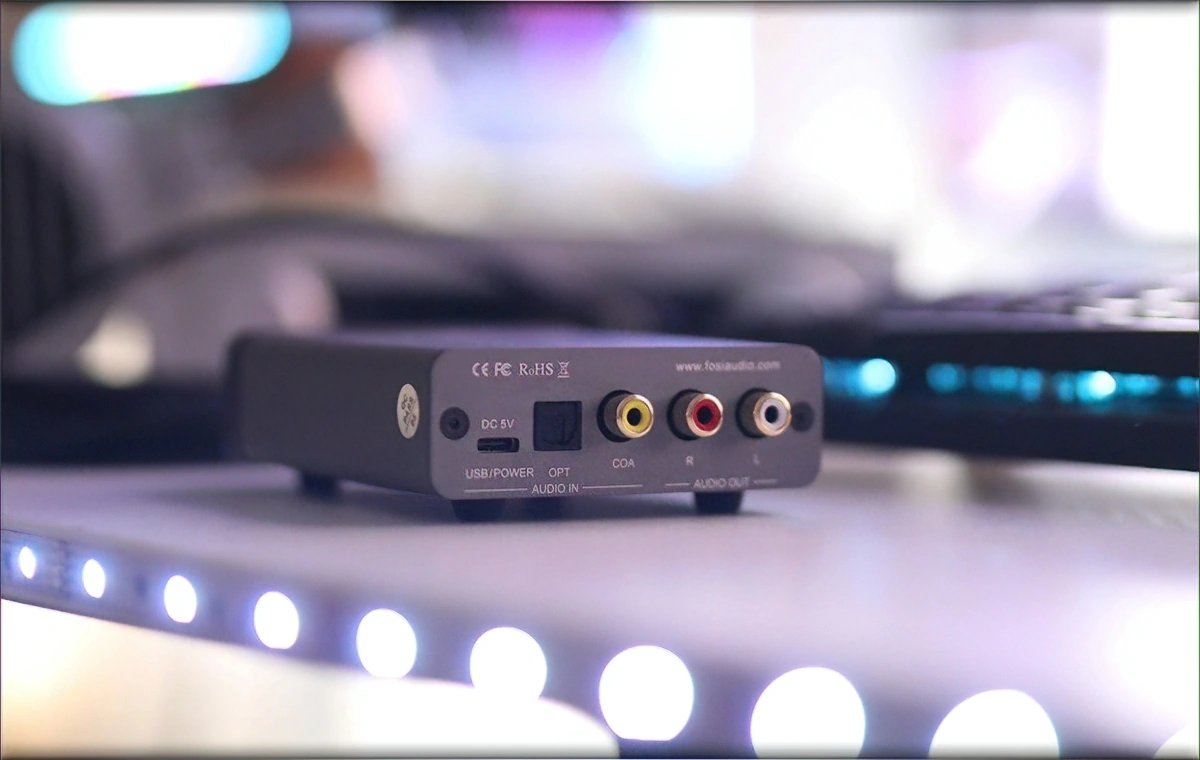 The chips inside Fosi Audio K5 PRO are CS4398+SSS1700+MS8416+NX9018. While I can't say that I have heard of any of them, one can appreciate the fact that the company is transparent about the design of their boards. The DAC / AMP also has a low weight of just 251 grams, it has a SNR that's high, >110dB, and a THD that's lower than 0.001%. The THD in particular doesn't look good compared to other DAC/AMPs which on paper have a much better rating, but in reality they are still all way below the threshold of what should be audible.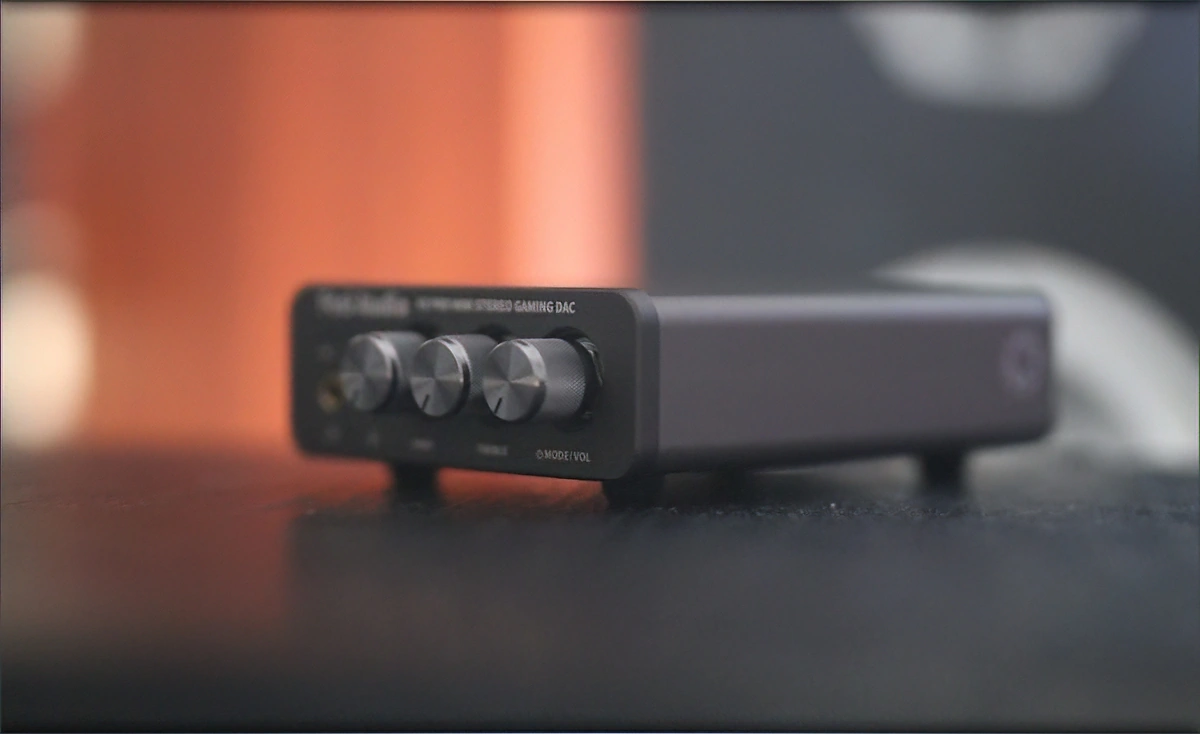 The recommended headphone impedance is between 16 and 300 OHMs, but both edges of this would perform worse than the mid, so I would say that going with headphones between 32 and 250 OHMs of impedance would show the sweet spot for Fosi Audio K5 PRO. With IEMs there is a bit of a noise floor that can be audible while no music is playing, while with super high impedance headphones, the final sound may be a bit unsatisfactory. 
The power input is in the Type-C USB port, which always needs to be connected to a source, but K5 PRO can use other data inputs such as Optical, and coaxial. It works without a driver, on Windows 10, and it doesn't need any special equipment to operate. It has RCA Single Ended outputs for speakers, which work well for an active speaker system. The maximum data rate input is 24 Bits / 192 kHz, and it does not support DSD or MQA as far as the official spec goes.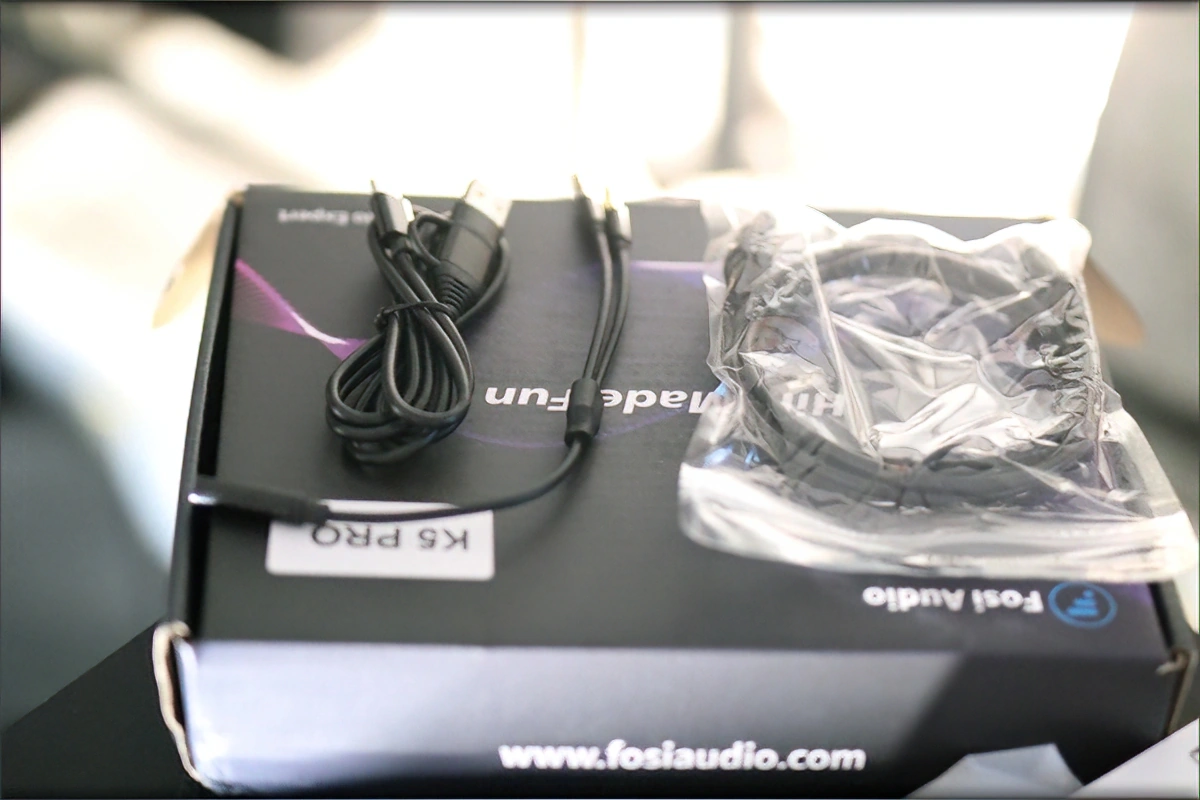 The most interesting part of the system is the EQ, which is simple but super effective. K5 PRO has three knobs at the front, one for volume, which is also used for turning it on (long press to turn it on, and short press to switch inputs), and two for tonality / EQ. The thing about those for tonality is that they are EQ knobs, and basically allow you to tweak the sound of your IEMs / Headphones with very little distortion, and good resolution still. Let's explore down below what using those EQ knobs sounds like. The main reason I keep insisting that an integrated EQ is good is that for desktop windows PCs, EQ options are super limited, and you can't just apply software EQ easily with all your content, for example, even if I can apply EQ from Foobar, I want that to be applied to Youtube, games and more, and that is just not possible on a windows machine, so hardware and DAC / AMP level EQ is super useful for a desktop unit. 
Sound Quality
So, the first thing you may notice about K5 PRO is that this is a really entry-level DAC/AMP that is far more versatile than all the other alternatives on the market. It has not only a very powerful headphone output in the versatile 3.5mm single ended format, but also EQ for it, which I found really pleasing. The power input is a USB Tyle-C port, so that one will always be powered, but it also has Optical input and Coax input, both of which I found to sound slightly worse than the USB input. Keep in mind that if you take impressions with both the BASS and the Treble wheels set to middle, which is neutral, the sound is quite different than if you're using those. To test the K5 PRO, I've been using the new OLLO S5X, Sivga Oriole, Audeze MM-500, BQEYZ Topaz, Metalure Wave, Westone MACH 40, Westone MACH 60, FiR Audio NE4, and SeekReal Airship. Fosi Audio K5 PRO can drive all of those, although with IEMs, there is something of a hissing and a noise floor audible in the background. For a DAC/AMP priced at 80 USD, but which can push 1000mW into a 16 OHM load, or 80MW into a 300 OHM load, this is perfectly understandable. It is even better at driving headphones than the good old FiiO K5 PRO, which is its biggest competitor.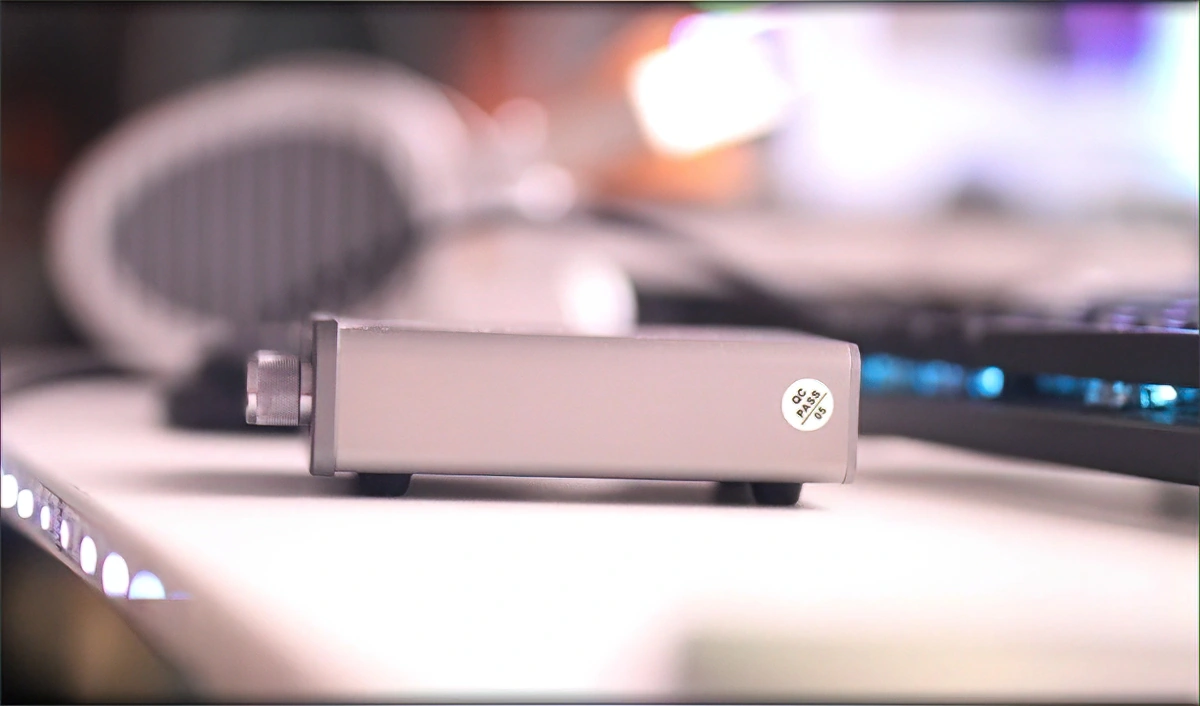 The overall signature, if both sliders are set to neutral, with no gain or subtraction happening on the treble or the bass, it sounds fairly flat and somewhat lifeless, with the bass being rolled off. Since the treble and the bass knobs lock in the middle, it is easy to know you're in the neutral position with Fosi K5 PRO, for it. At maximum volume, it is somewhat quiet with OLLO S5X, so you should keep that in mind if you have hard to drive headphones such as Audeze LCD-XC, which will require a stronger source. In fact, Fosi Audio has some questionably high power ratings for other products too, so take those with a grain of salt, it is quite a bit quieter than what you'd expect for its ratings. The volume knob is not really useful after about 3PM, as it starts to add audible distortion.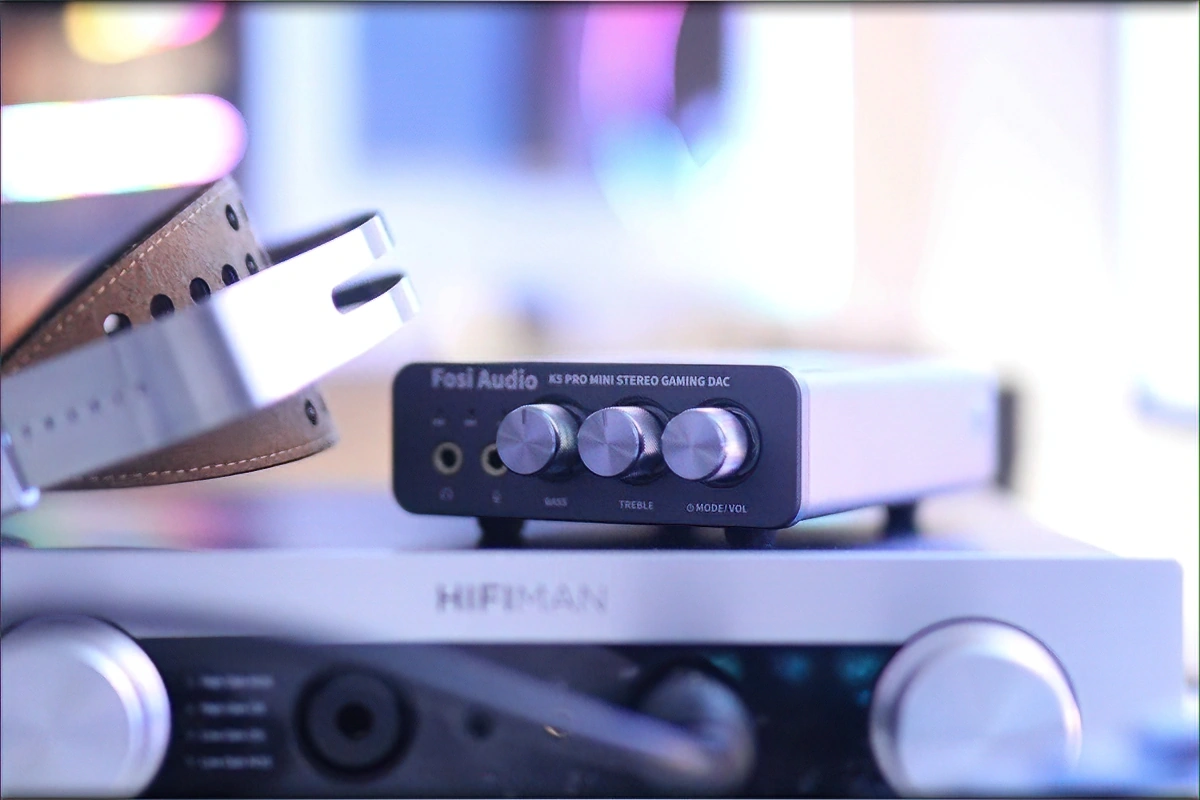 Proceeding forward, the bass is flac and rolled off by about 3-5 dB if the bass knob is in the middle position, it sounds shapeless and dry, if you don't engage the bass boost at all. I don't see anyone pushing the bass slider to minus, but I can confirm it works, pushing it to minus will literally cancel the bass. Now, pushing that bass slider to plus has the magical effect to actually add bass nicely. The bass slider can be taken up to about 3-4 o'clock until it starts to introduce some distortion and phase changes. On the other hand, at around 3-4 o'clock, it adds up to 5-7 dB of bass, with good depth. This bass adds some mid bass and lower midrange too, but it is mainly focused in the sub and mid bass, it is really tastefully done, worse than what iFi was with their xDSD, but much better than most bass boost functions in the entry-level price range.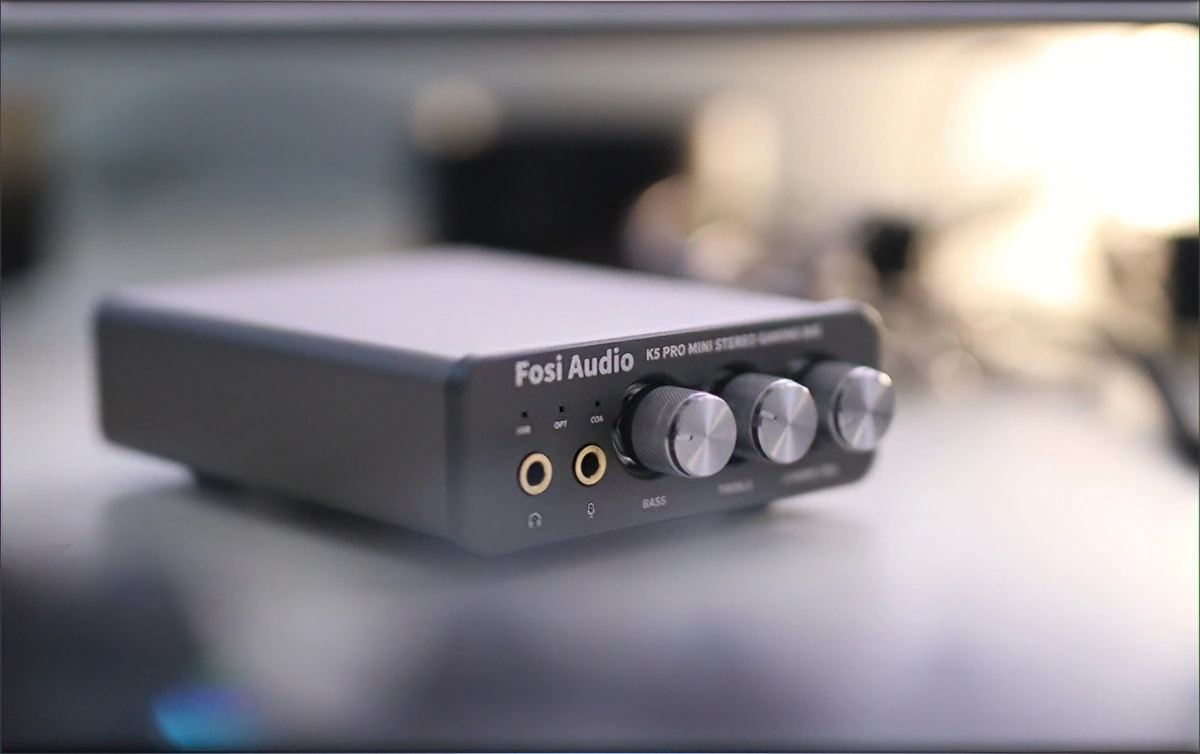 The midrange is generally affected by the treble and the bass boosters, since those have a wide Q, affecting a wider frequency range. The midrange is generally neutral, clean, and detailed, especially for the meek 80 USD price point K5 PRO has. In fact, it has an even cleaner and more detailed sound than FiiO's K5 PRO. The downside is that the soundstage is somewhat flat, not extremely deep nor wide, but with good instrument separation.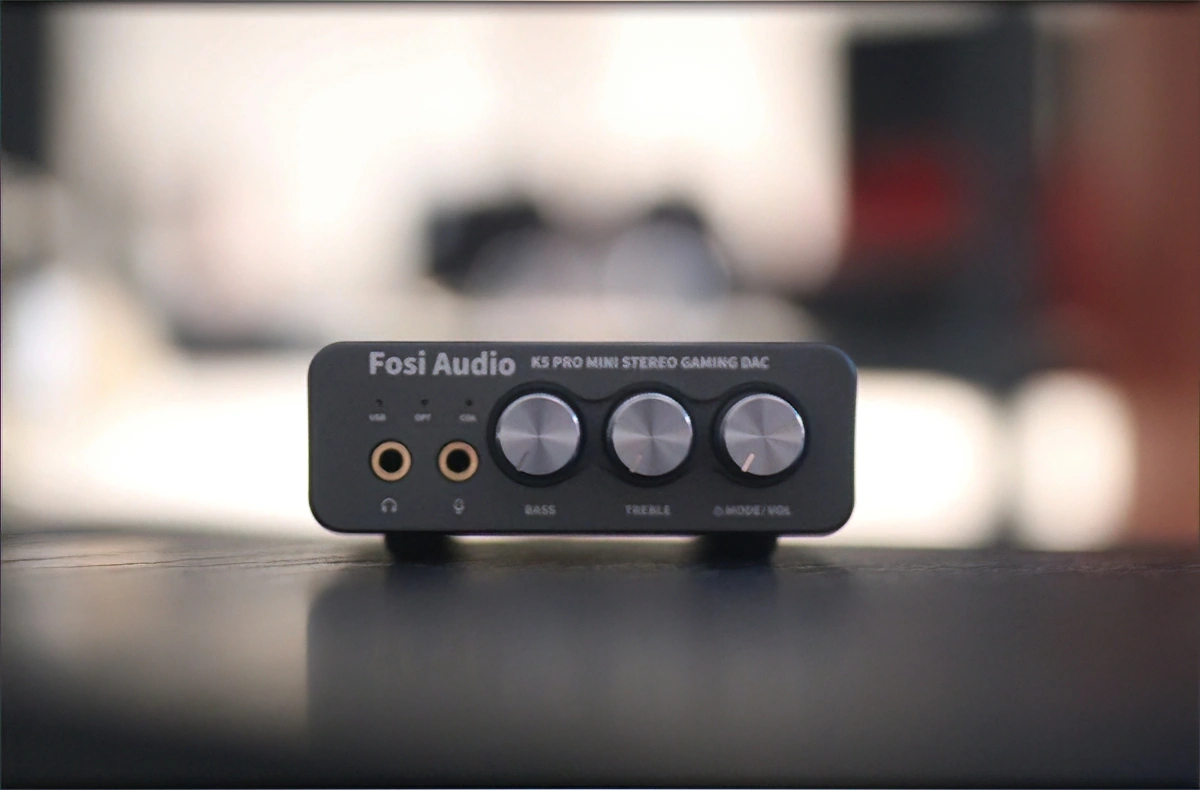 Proceeding to the treble, it is clean, detailed, and airy. It generally is relaxed and non-intrusive, so you generally don't need to lower it, but lowering it will literally cut away most detail and resolution, resulting in a very blunt and smooth sound. Adding treble, on the other hand adds some kind of 12-14 kHz peak, so no hasness, no adding fatigue, but a good amount of detail and brightness done tastefully. In fact, this is about the first device that has a treble knob that actually doesn't increase distortion, and doesn't make the sound extremely unnatural and harsh. It actually adds treble and bass in a good way. The most pleasing setting for literally every headphone and IEM I own is with the treble and bass knobs both set to 3 PM. 
Comparisons
Fosi Audio K5 PRO vs SMSL C200 (79 USD vs 219 USD) – C200 is pricier but does not have the tonality knobs that K5 PRO has. It has TRS outputs though, in balanced format, and both a 6.35mm single ended output, and a 4.4mm headphone output. Even more, C200 is theoretically more versatile, having DSD 512, and PCM Hi-Res support, as well as Bluetooth 5.0 support. All of this being said, I find the convenience of having tonality knobs that work well much more important, and I find myself using K5 PRO more for driving headphones thanks to this. The power delivery implemented in C200 s better, as it uses a cattle plug with an internal low-noise power supply, and it also has TRS Balanced DAC outputs, with the same inputs like K5 PRO, but if you don't find any of the extra features of C200 useful, for driving headphones they are around at the same quality level, with K5 PRO being better for driving IEMs and headphones, as it has a mic input (convenience), and the added pleasure of you being able to dial in some extra bass and some extra treble. Price wise, K5 PRO has a better price / performance ratio for the casual listener who doesn't need DSD, Bluetooth or TRS balanced outputs. In sound, Fosi K5 PRO is more dynamic, more powerful and has better control at maximum volume, while C200 sounds more natural in the midrange, and has a more balanced presentation without the aid of any EQ.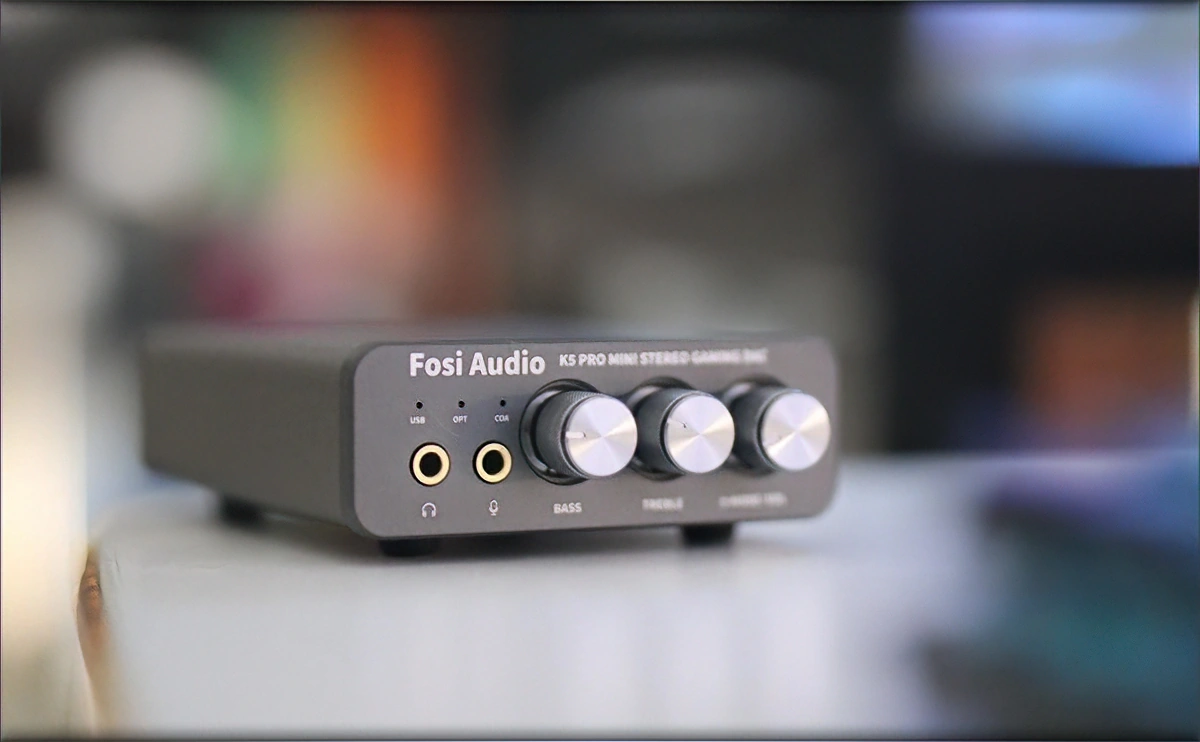 Fosi Audio K5 PRO vs HIDIZS S9 PRO (79 USD vs 119 USD) – S9 PRO is a portable DAC / AMP designed for smartphones and portables, but which works on desktop equipment too. The most obvious difference is that S9 PRO Balanced supports Balanced outputs, in the 2.5mm format, and it has a microphone, being good for taking phone calls. The maximum driving power is higher on Fosi Audio K5 PRO, with a higher power delivery for headphones, better dynamics, better control, but also a higher noise floor with both IEMs and headphones. S9 PRO supports DSD up to DSD512, as well as apple lossless, and Hi-Res PCM, while K5 PRO has hardware-level EQ that will be applied to all sound played through it. For a diehard audiophile that needs something that also works portably, S9 PRO balanced makes a lot of sense, especially if you're using IEMs, but for someone who needs a desktop DAC/AMP with good sound, EQ and mic input, Fosi Audio K5 PRO has better driving power, and a better price / performance ratio. 
Fosi Audio K5 PRO vs Hiby FC5 (79 USD vs 159 USD) – While you may not notice it much, FC5 is one of the DAC / AMPs with the highest power deliveries out there, with a 4.4mm balanced output, and DSD128 support, as well as low power consumption, so a perfect portable DAC / AMP. In fact, FC5 even has MQA up to 8X unfolding for the Hi-Res enthusiast. The support list of Fois Audio K5 PRO is narrow, but it has better EQ profiling, literally having EQ knobs, and it has a microphone input, so it is better for a desktop user. FC5 makes more sense for a portable / IEM user. The sonic presentation has more dynamic, more contrast for FC5, but you can bring the bass to be much heavier with K5 PRO, and also the treble to be brighter with more energy, basically having EQ can make most IEMs and headphones more enjoyable, making K5 PRO a better desktop DAC / AMP with better price / performance ratio. 
Value and Conclusion
I can safely say that while the company is way over optimistic with the ratings of their products and what they think the products can do, I haven't seen such outstanding value for a long while. It is priced at 79 USD, basically about half of FiiO K5 PRO, but it has EQ function, less driving power, but a similar sound, can have better bass and a more natural treble, with more energy, along with better control at high volumes. I would say that Fosi Audio has a bright future ahead, and should be closely watched. Who knows, maybe they'll become the new FiiO.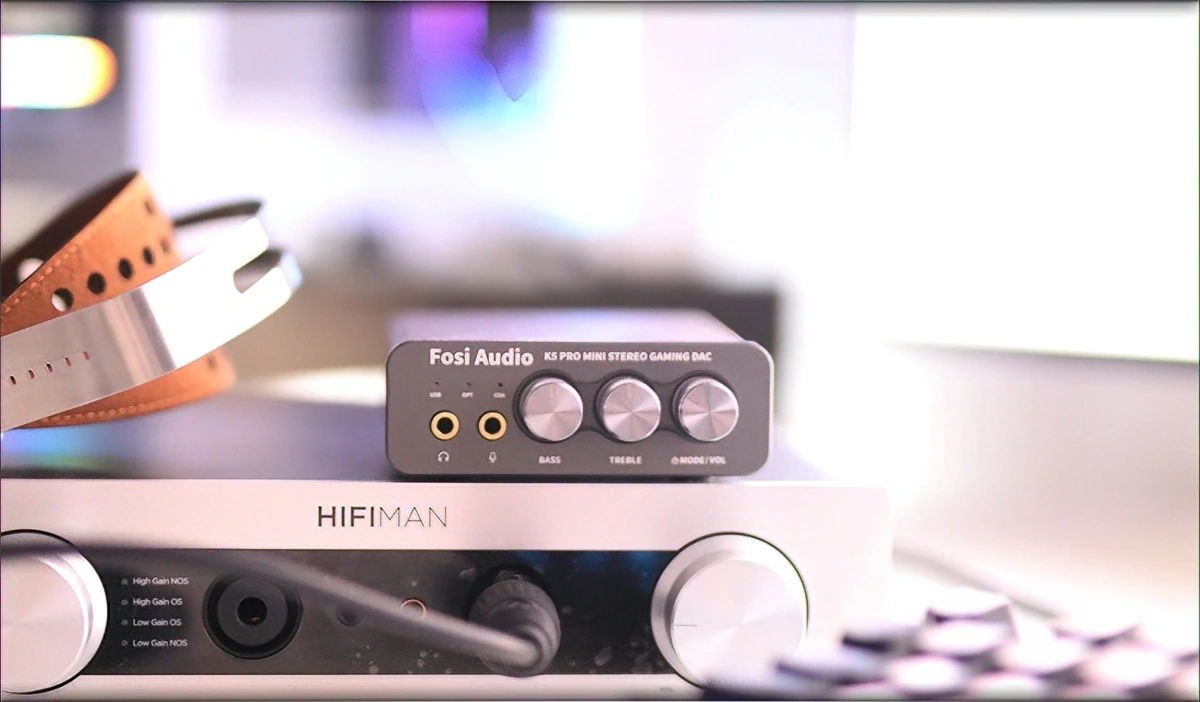 At the end of the day, if you're looking for an entry-level DAC / AMP with no delay over the USB input, with an excellent EQ that will be applied to headphones and IEMs, with good driving power, great detail, and good overall clarity, plus low distortion, all at an entry-level price, Fosi Audio K5 PRO should be at the top of your list. 
Product Link
You can grab one from the official website here. Please use this code for a discount of $15 off. There is still no affiliation, I gain nothing if you do use it, but you will get 15 USD in your pocket. You can help me directly using either Amazon or by donating to my Paypal, and here's the code K5PROYTB15 .: https://fosiaudioshop.com/products/fosi-audio-k5-pro-mini-stereo-gaming-dac-audio-for-pc
You can grab one from www.amazon.com here: https://amzn.to/3XkDjYy
If you're in the UK, you can grab one from www.amazon.co.uk here: https://amzn.to/3XrbX2Z
And if you're from Europe, you can grab one from www.amazon.de here: https://amzn.to/3XqdOFh
Tech Specs
Input Type: USB Type-C, Optical, Coaxial, Microphone

Output Type: 3.5mm Headphone, RCA

USB Sampling Rate: 24Bit/96kHz

Optical/Coaxial Sampling Rate: 24Bit/192kHz

Headphone Impedance: 16-300 (Ohm)

RCA Output Level: 2V

Power Supply: 5V

Power Input Interface: USB Type-C

THD: ≤0.001%

SNR: ≥110dB

Chipset: CT7601SR + MS8416 + PCM5100 + MAX97220

Size (L*W*H): 4.4*3.7*1.2 inch (112*95*30mm)
---
--- Please remember to stay safe, and always have fun while listening to music!---
 - If you have a dime to spare, please donate, and help us! It would make the day brighter for me and my wife- 
---
Full Playlist used for this review
We listened to more songs than those named in this playlist, but those are excellent for identifying a sonic signature.  I recommend trying most of the songs from this playlist, especially if you're searching for new music! The playlists are different for Spotify, Tidal and Youtube, and based on the songs I enjoy and are available on each!
https://www.youtube.com/playlist?list=PL_cjBXGmwSHSdGcwuc_bKbBDGHL4QvYBu
https://open.spotify.com/playlist/5J3oloz8Riy9LxEGenOjQ0?si=979ba4f082414be7
https://tidal.com/browse/playlist/330fd544-8e5b-4839-bd35-676b2edbb3d5
--- Contact Us ---





---