Mechen M30 Music Player – Old-School Design, Contemporary Sound
Mechen M30 is a 109 USD DAP or Digital Audio Player designed with one microSD slot, a popular wheel-based navigation and a line out, and will be compared to other entry-level DAPs, including HIDIZS AP80 PRO-X (199 USD), Surfans F20 (119 USD), and HIFI Walker H2 (125 USD).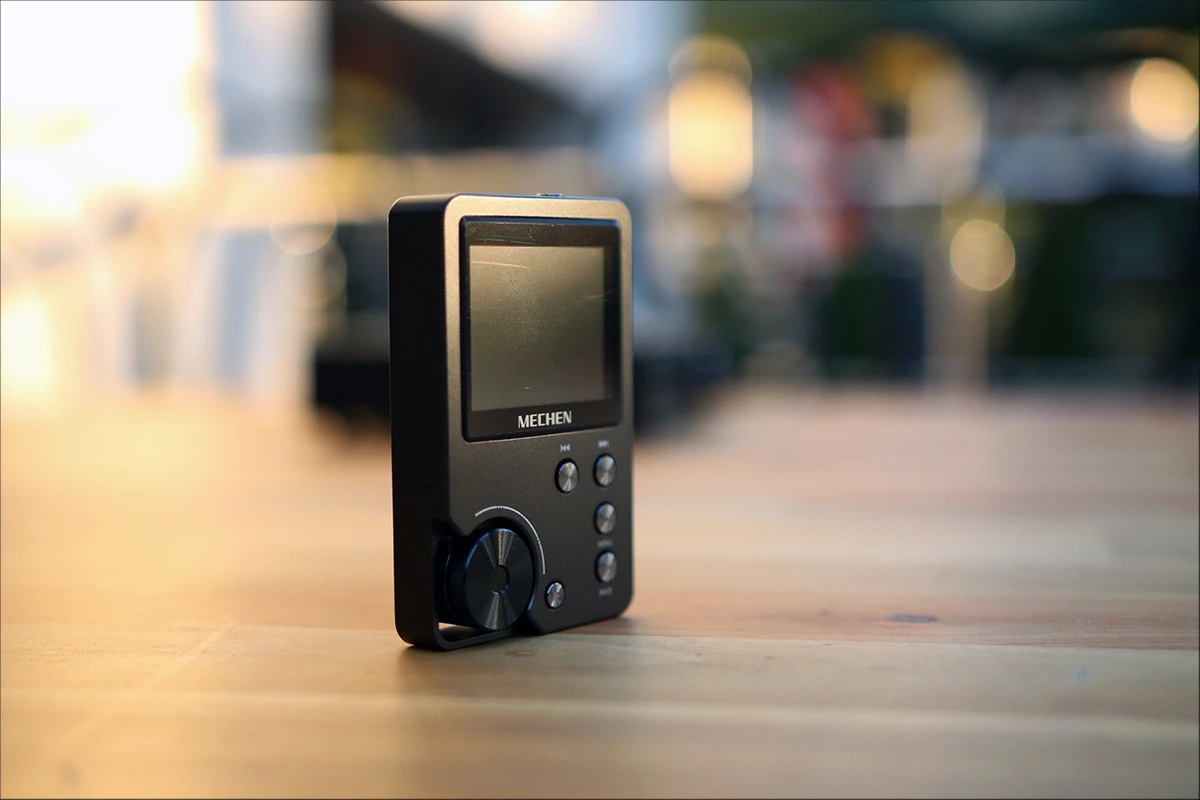 Introduction
Mechen is a new company in the review roster I'm having, and they are using a design that's similar to most entry-level DAPs, so it will be interesting to see how M30 actually performs. This is a DAP mainly sold and fulfilled on Amazon and other markets, they don't have an official website but they're good with warranty and offering good support for the customers. Amazon adds that extra layer of protection, and just recently I had the misfortune of ordering a computer case that doesn't suit my needs at all, but it was one of those rare times I didn't use Amazon, so right now I'm left with no option to return it, so I lost quite a bit of money, plus it has no support, so when possible, please stay with Amazon, even good products may eventually need service / warranty and Amazon surely makes things easier for you. 
It should be noted that I have absolutely no affiliation with Mechen. I'd like to thank Mechen for providing the sample for this review. This review reflects my personal experience with the Mechen M30 Music Player. Every opinion expressed is mine and I stand by it. The purpose of this review is to help those interested in Mechen M30 find their next music companion. 
Product Link
You can grab one from www.amazon.com here: https://amzn.to/3H3poB5
If you're in the UK, you can grab one from www.amazon.co.uk here: https://amzn.to/3UkvLDg
And if you're from Europe, you can grab one from www.amazon.de here: https://amzn.to/3VEfIRx
Build Quality/Aesthetics
The overall build quality of M30 is super good, it is a solid DAP made of metal, with all controls being physical buttons, and with two outputs, one a headphone output, and one a line out. The display is 2.0″ in size, it is color and has good resolution. It is also nicely raised from the DAP body, and although that would sound like a problem, happily M30 has zero scratches so far, even after being taken outdoors and having been used extensively.
The main way to control it is using the wheel for file navigation. It is actually similar to FiiO X5 series of DAPs, or iPod Nano if you want, but it uses the same microUSB connector as FiiO x5. It has about 80mW of power for the headphone output, no hissing or background noise that I can describe, and the battery life is quoted to be about 30 hours, which sounds extremely high, but keeping in mind the high weight of 176 grams and the low maximum power output of 80mW, it is plausible. The maximum screen brightness is not very bright, and the display has a strong blue tint to the colors.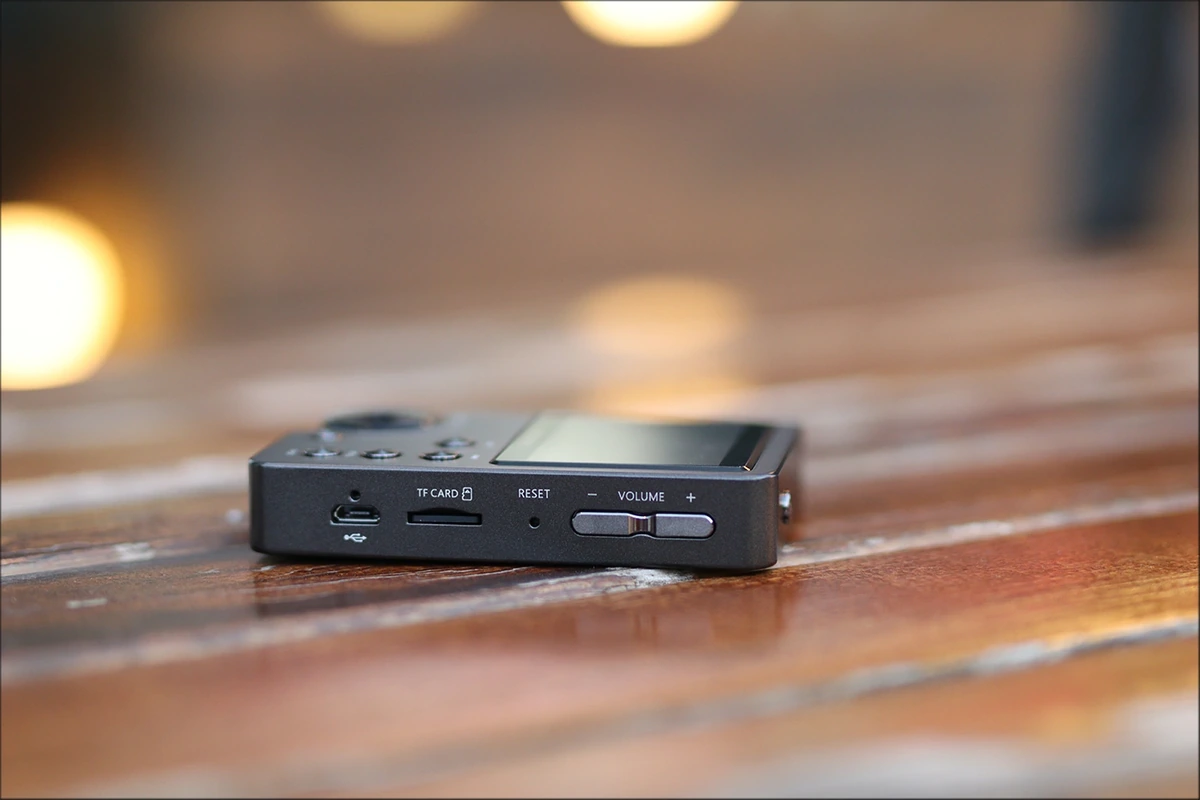 The charging time is about two hours and a half, and the Signal to Noise ratio is >100 dB, which is higher than even some of the pricier audiophile DAPs and Tube headphone AMPs. The screen resolution is a mere 320 x 240 pixels. I actually dismissed the M30 for a few weeks and avoided working on reviewing it because it is from a no-brand company and it has an entry-level price point, so I assumed that it is not going to be that fun, it surely feels like a Chinese copy of popular DAPs.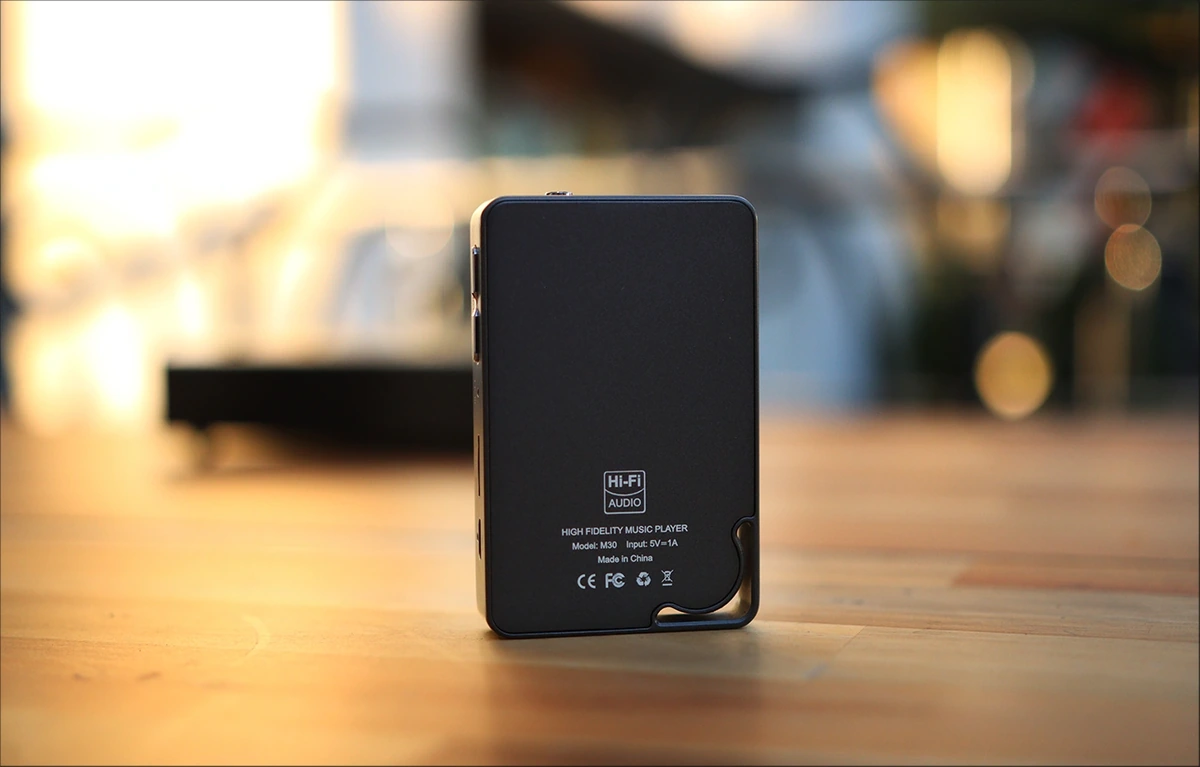 But then, I remembered I promised I'd review it, and played some songs on it, and magic happened. The DAC is the WM8965 and the power is TPA6530, both of which I've not seen used on other DAPs, but the sound is surprisingly good. The manual mentions DSP in some places, but I can't find that much information about what it can do and how. 
With a power button on top, volume buttons on the side, microSD slot already filled with a 64GB microSD card also on the right side, and the microUSB port on the right side, it comes with everything you'd expect a high quality DAP to have for those who want a physical device with real buttons. The main frontal buttons include forward and backward, menu , back, and play/pause button. Navigation is a bit cumbersome and confusing but the buttons work with the display turned off, and they work well, clicking nicely into place. 
Overall, it feels nicely made, has a beautiful design, good build quality, it has a good battery life, and enough driving power for IEMs and portable headphones without having a strong background noise / hissing. There's no mention of advanced features like Bluetooth, USB DAC or OTG functions. The DAP theoretically can only index a couple thousand songs, but it has no problem reading my 512 GB microSD card and reading the songs, as long as I'm playing from the folder browsing. 
Sound Quality
I mentioned before that the company has something written about DSP in their description, but it is extremely vague and seems to be translated from Chinese so I'm not entirely sure what that's all about. But the sound is… really good. I'm surprised by how good it sounds, to the level at which I prefer the signature over that of most DAPs in the sub 300 USD price range. For pairing, I've used a collection of IEMs and headphones, including Siga M200 Earbuds, BQEYZ Topaz, KZ AS16 PRO, Westone MACH 60, FiR Audio NE4, and KLH Ultimate One. At maximum, it has enough power to drive Ultimate One properly, but I would say it is not quite enough for Audeze LCD-2 or HIFIMAN Ananda. All IEMs should be covered properly and you won't need max volume for them.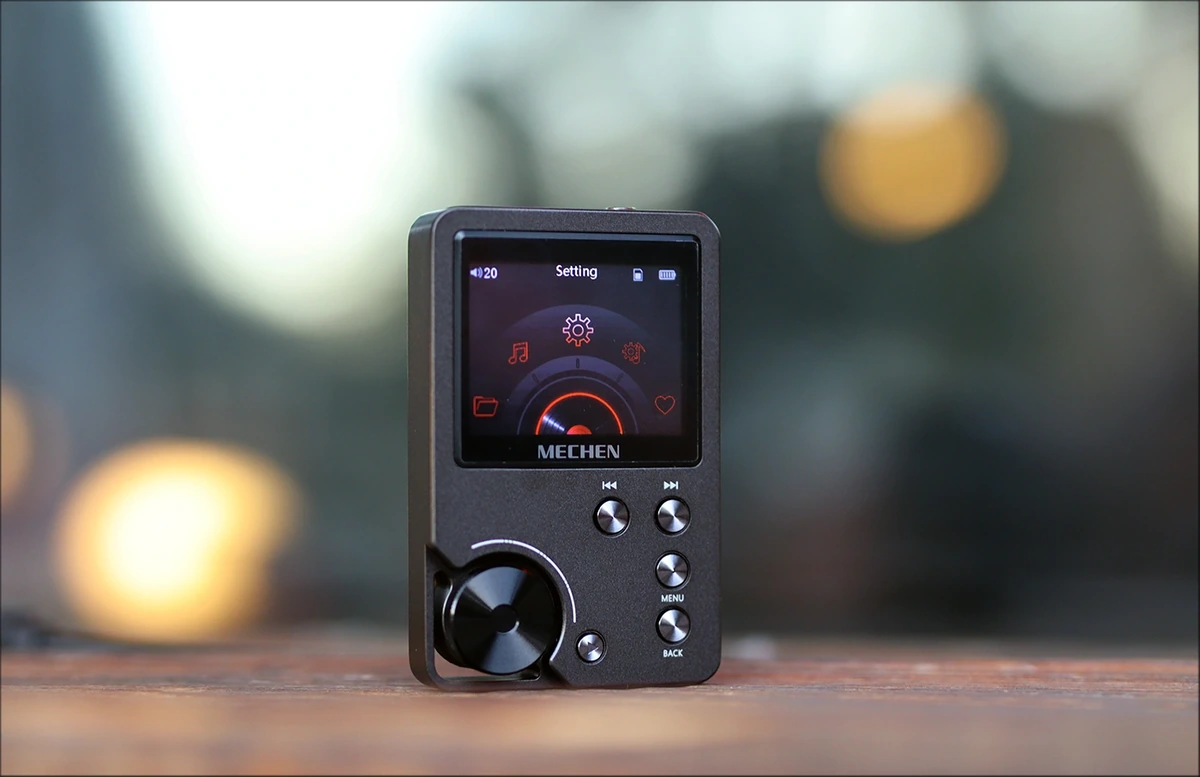 The overall sound of Mechen M30 is really detailed, well separated, has a strong and controlled sub bass, a bright and open sounding midrange, excellent layering and a smoother, natural sounding treble with a relaxed presentation. The dynamic level is much better than what you typically get when being in this price range, and it just sounds super good without having any explanation why it sounds good, the DAC and the AMP chips are not something as technologically innovative as iBasso's ROHM DACs are in the new DX320, nor does it have a high power output. This means that there may be some DSP happening behind the scenes, but when a company implements DSP, it usually results in a bland and bloated sound with low dynamic range, while Mechen M30 sounds good in the audiophile way, good layering, dynamic and punchy sound. At any rate, I'd rather take it as it is and enjoy it.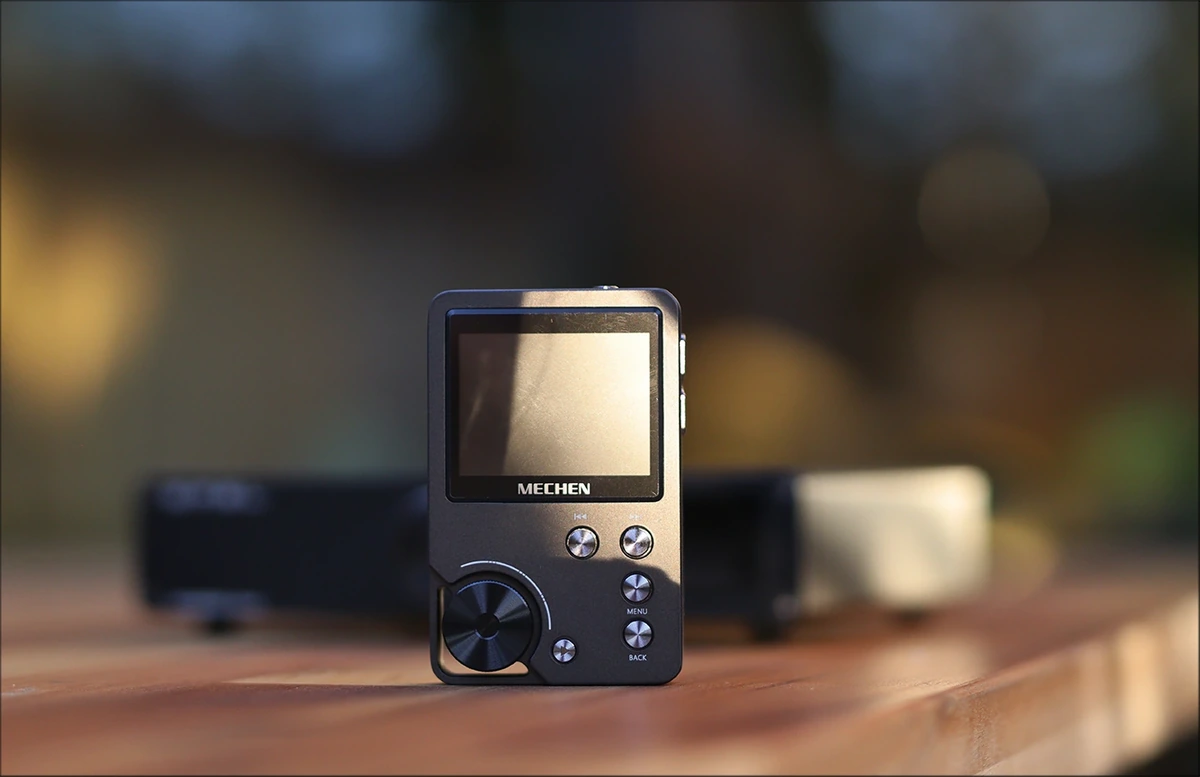 The bass of Mechen M30 is deep, controlled and has good presence in the sub bass. The bass seems to not be overly exaggerated in amount, but it has EQ profiles you can configure and since it is running an OS similar to FiiO X5 series, the EQ is good and does not induce any additional noise, a fact we already know. The bass is generally fast, able to keep up with death metal and bands like Dethklok, but has enough presence, weight and warmth to sound good with Jazz and slower music too. 
The midrange is where M30 excels, and the best parts about its midrange are easily the outstanding layering and superb resolution it has. The soundstage isn't inherently huge, but the sound has such good separation, and layering that you hear considerably more instruments and details than with any of the other entry-level DAPs. The midrange can be a bit bright, cold and analytical at times, but it also has liquid smoothness for textures instead of a digital glary sound, and it simply sounds enjoyable. I would mainly use M30 for rock, metal, death metal, emo, punk and the likes. It has a bit too much presence in the midrange and brings it a bit forward for house and electronic music, plus the sound has a too neutral bass for pop and commercial music, but for rock, and metal music, it is just a delicacy served to all music lovers. M30 does guitars at their best. It is not quite as interesting for pianos, violins or blowing instruments, but voices, guitars and drums are simply nice played by M30.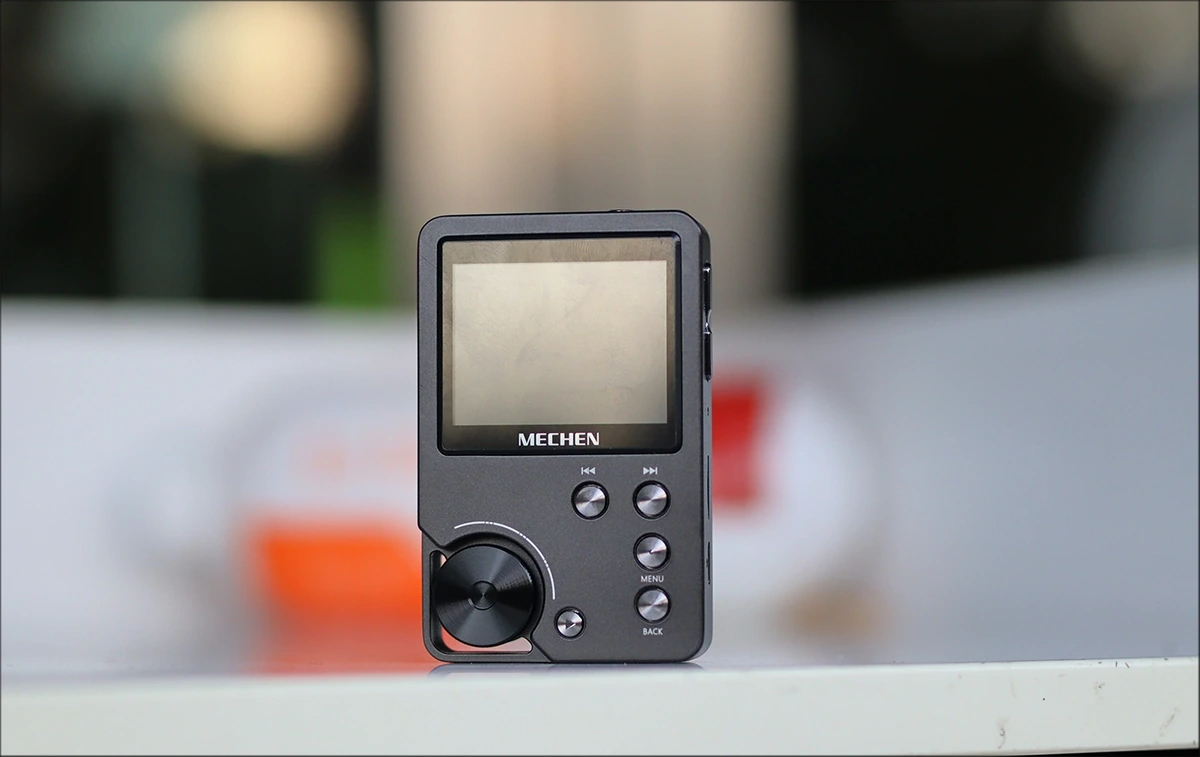 The treble of M30 is smooth, clean and has a zero fatigue policy. Can be a bit unengaging at times, but it is enjoyable for rock and metal. The surprising part about the treble is how much extension M30 can have and where most entry-level DAPs would avoid sounding shouty and harsh by removing the treble entirely and rolling it off, M30 goes a different route. 
Comparisons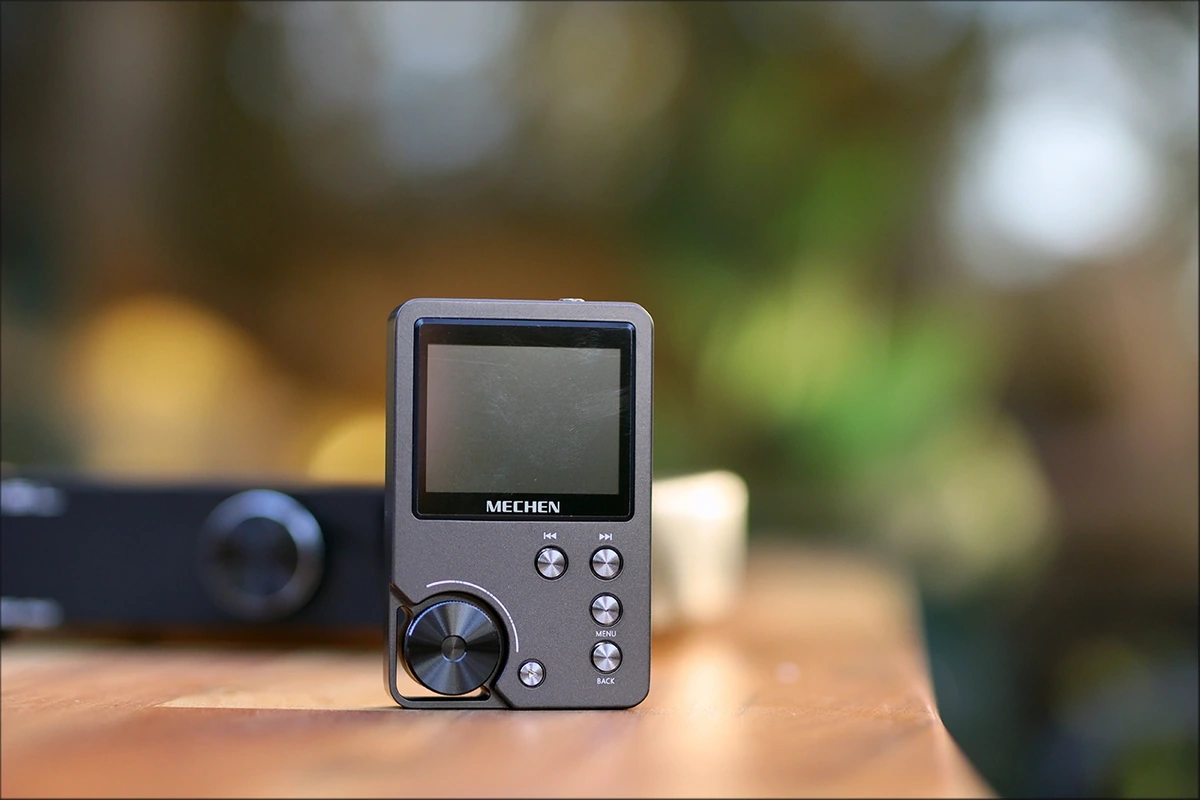 Mechen M30 vs HIDIZS AP80 PRO-X (109 USD vs 199 USD) – AP80 PRO-X has a couple features, and I mean a lot of features that M30 doesn't have, it is smaller, lighter and has a much brighter, more colorful display. This being said, the overall sound is stronger, punchier, more dynamic and more detailed for M30, which has better instrument separation, better detail, has a slightly more forward midrange, a smoother treble, and a deeper bass with more impact. Out of them, I'd go with the M30 if you wanted physical controls and a more dynamic, more punchy sound.
Mechen M30 vs Surfans F20 (109 USD vs 119 USD) – Surfans F20 is really similar in design to M30, it has similar GUI and features, the sound is more detailed, cleaner, more dynamic and punchier. M30 sounds more controlled, has a better extension in the treble, but has a smoother treble, the bass has better control and it is generally a bit more open than F20. F20 is warmer and slightly thicker sounding, has a more euphonic midrange, and it is also good with dynamics and detail, also has a slightly louder maximum volume, but with IEMs you shouldn't miss volume with either. 
Mechen M30 vs HIFI Walker H2 (109 USD vs 125 USD) – Finally, we have a worthy competitor. The thing with H2 is that it is one of the best selling DAPs out there, and it has the same wheel based control like F20 and Mechen M30, all of them having similar features, with M30 having the least features and the most dim display of the bunch. The sound of M30 has better resolution, detail, clarity, and is more punchy than that of H2. Somehow, it has better layering and clarity, with outstanding control and refinement. H2 is a bit better in driving power, and a bit more neutral in presentation, being easier to recommend for House, EDM, and Commercial music, while M30 is best with rock, metal and guitar driven music. 
Value and Conclusion
It is clear that M30 has outstanding value, and to add to the superb sonics, it performs better sonically than all the competition, all whilst being cheaper than all for he said competition, and it even has a 64 GB microSD card included in the package. It is a great, good sounding DAP that no one heard about. I mean, now you have, but I hope the company will be ready for the demand, because I simply can't recommend a better sounding DAP for those who want a button-based DAP with an outstanding sound.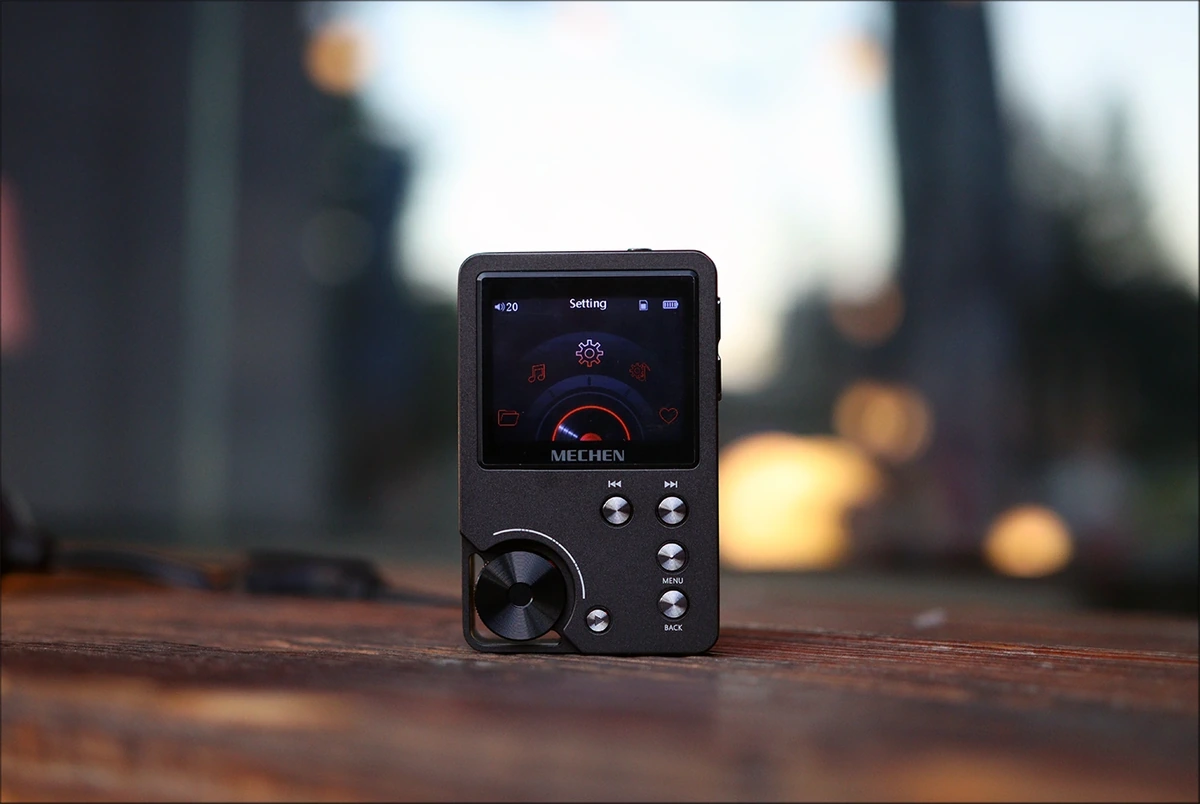 At the end of the day, if you're looking for a DAP that has outstanding instrument separation, super good resolution, a deep and controlled bass, but a smooth and clean treble with good extension, if you want a DAP that's ideal for rock, metal, punk and even technical death metal, which is made of metal and has physical controls, Mechen M30 is a DAP I like and find to sound really good. 
Product Link
You can grab one from www.amazon.com here: https://amzn.to/3H3poB5
If you're in the UK, you can grab one from www.amazon.co.uk here: https://amzn.to/3UkvLDg
And if you're from Europe, you can grab one from www.amazon.de here: https://amzn.to/3VEfIRx
---
---
--- Please remember to stay safe, and always have fun while listening to music!---
 - If you have a dime to spare, and donate, to help us with electricity and work expenses, it would make my day much brighter, as it would help me improve things around the website and increase the frequency of my posts - 
---
Full Playlist used for this review
We listened to more songs than those named in this playlist, but those are excellent for identifying a sonic signature.  PRaT, Texturization, Detail, Resolution, Dynamics, Impact, and overall tonality are all revealed by those songs. We recommend trying most of the songs from this playlist, especially if you're searching for new music!
https://www.youtube.com/playlist?list=PL_cjBXGmwSHSdGcwuc_bKbBDGHL4QvYBu
--- Contact Us ---






---
---