Azeron Cyborg Gamepad – Mastering Production With Ease
Azeron Cyborg is a 168 USD / 165 EURO gamepad designed as a more compact variant to the original Azeron Classic I reviewed on Audiophile-Heaven previously. Azeron Cyborg will be compared to other professional gamepads, including Azeron Classic Gamepad (180 USD), Razer Tartarus PRO (130 USD), and Redragon K585 Diti RGB Gamepad (42 USD).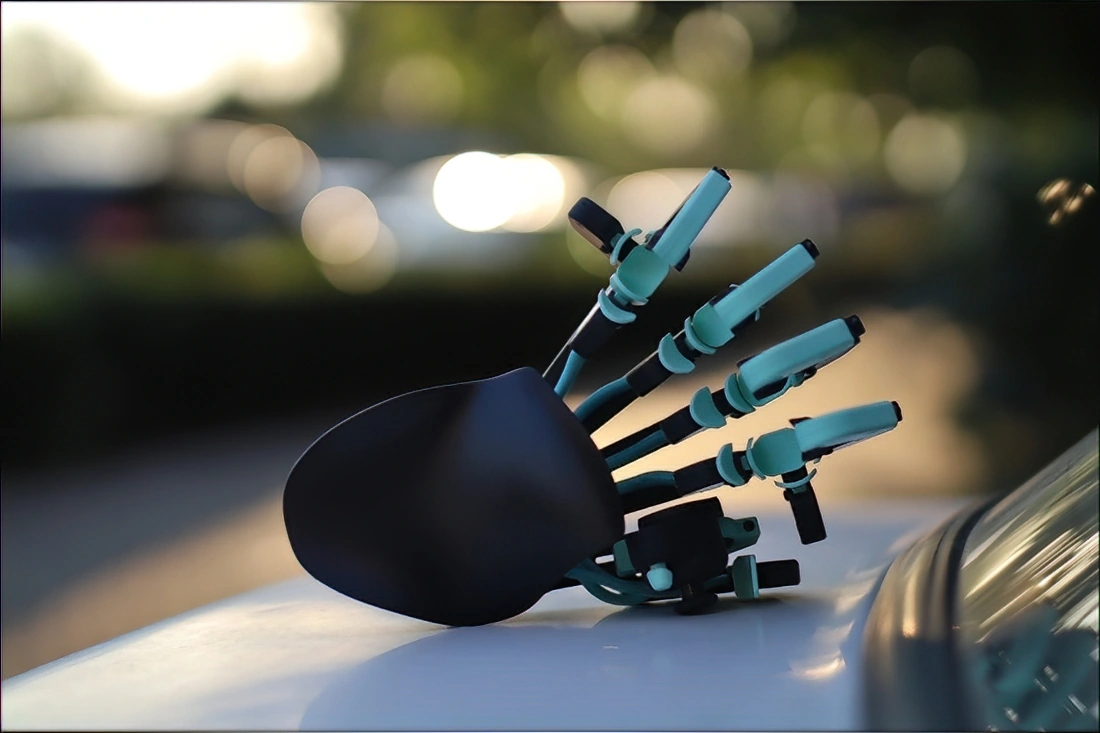 Introduction
Azeron is a growing company from Latvia, Europe, making gamepads and keypads for all of today's gamer and programmer needs. In truth, those gamepads are pretty useful for everyone, even for artists, and I wouldn't have known that so many people actually use them and that it is such a large market if some of my friends didn't post photos of their setups where they usually have at least one keypad. We'll explore what sets apart a good gamepad from a poor one and how Azeron managed to conquer a market that most of us didn't even know existed. 
It should be noted that I have absolutely no affiliation with Azeron. I'd like to thank Azeron for providing the sample for this review. This review reflects my personal experience with Azeron Cyborg Gamepad. Every opinion expressed is mine and I stand by it. The purpose of this review is to help those interested in the Azeron Cyborg Gamepad find their next music companion. 
Product Link
You can grab one from www.amazon.com here: https://amzn.to/3XK78lA
If you're in the UK, you can grab one from www.amazon.co.uk here: https://amzn.to/3Dn5hLN
And if you're from Europe, you can grab one from www.amazon.de here: https://amzn.to/3XF5NfJ
Official Link: https://store.azeron.eu/azeron-keypads#keypad=cyborg
Packaging
First things first, let's get the packaging out of the way: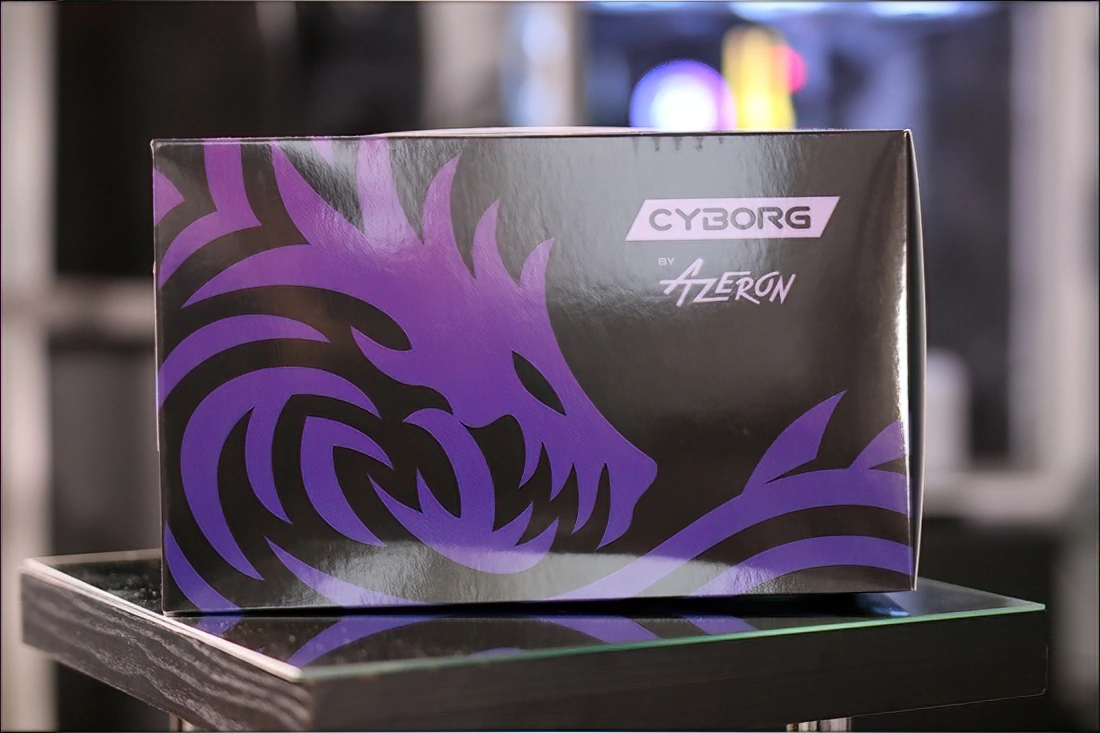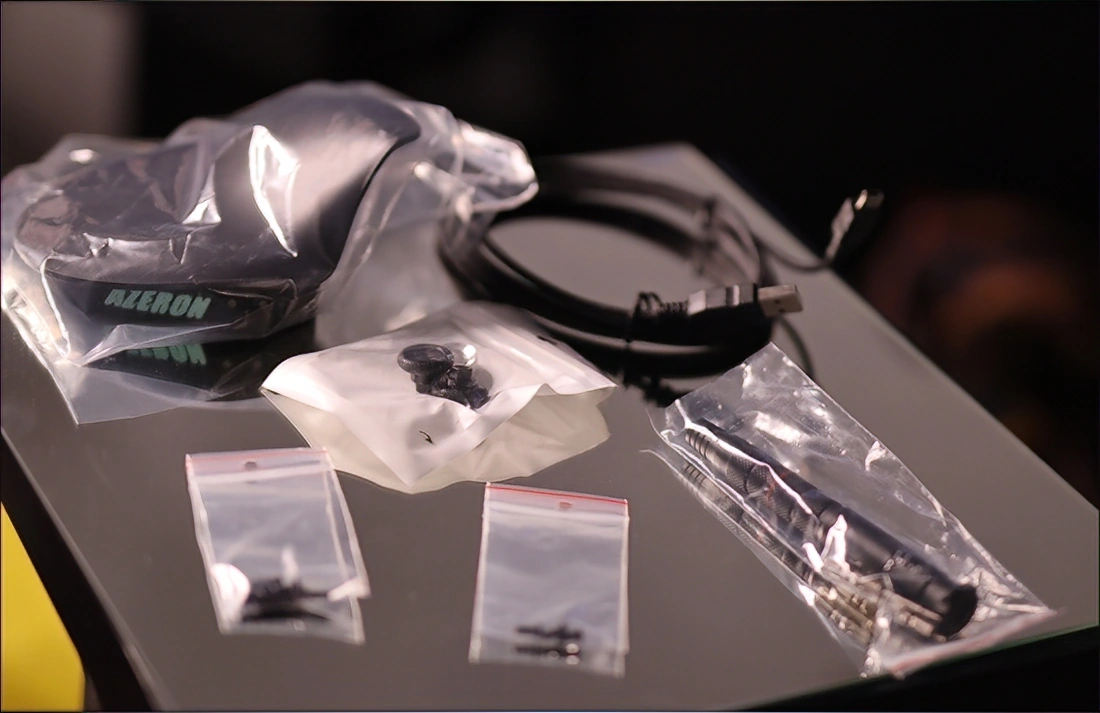 The package of the cyborg is similar to that of the original gamepad classic that I reviewed before. It comes in an origami-like cardboard package, with all the extras needed to use and configure it. In fact, the new Cyborg comes with some helpful keys to screw and tighten the keypad as needed.  
Build Quality/Aesthetics/Features
I have promised myself that next time I review a product from Azeron I will let my girlfriend pick the colors, because I think I always go with this theme and I'd be curious to have a more colorful palette for the photos. The unit looks really nice, and the cyborg is far more ergonomic and smaller than the Classic, with pretty much the same number of buttons but having all of those placed very differently.
When first using a product like this, you need to train your brain to use it, as it is quite different from using a normal keyboard, but after a while it becomes second nature and pretty fun to use. The first thing you will notice is that having your hand inside the Cyborg, after it has been configured properly becomes really natural. It doesn't feel as caged as it felt with the original, but you have much more control than you have with Razer Tartarus Pro which feels more like a numeric pad with a joystick. 
The best part about the cyborg is the customizability, as it is fully customisable in every direction possible. You can tighten or loosen every button, every click, you can change its shape to fully accommodate your hand, and it can become anything you want it to be, in every direction. As it is not a mouse but a keyboard, I'm happy to report that it is rather heavy and it doesn't slide easily off your desk, making its usage fairly natural. 
Functionality
Functionally, we have the same story with the Cyborg as we had with the Classic, and they both to pretty much the same thing, being a secondary keyboard you can use without lifting your hand, being the kind of device you're likely to use when programming, especially if you have repetitive strings you want to map to each key, or if you work in music editing, drawing, video editing and photo editing. The key here is that this kind of keyboard allows for extremely detailed hotkey combinations, and as an artist, CTRL+Z, for example, is more painful to actuate than a single button on the Azeron Cyborg. 
For music production and video editing, you have your most commonly used tools mapped to something, but usually those keys are very far apart on a keyboard, and for example while I'm cutting videos, I keep going to C to cut the video, then to V to move things around, then CTRL+Z and other combos, and having all of those mapped to a single product like the Cyborg helps me greatly in removing my finger and hand pain. This becomes much more relevant when you work for many hours in a row and the physical fatigue in your hand can be so drastic that you can't work anymore. 
I like the overall build quality of the Cyborg too, it uses the same software as the original Azeron Classic gamepad, and although the software is rather spartan, it does what it has to, there are no double key presses registered randomly, and it works rather well for most scenarios. The part that I like the most is that the software does not consume a lot of resources, so it shouldn't slow down your PC or cause any problems. 
In fact, from all the stuff I experimented with at this point, including CPU upgrades and RAM upgrades, adding a special keyboard like the Cyborg has improved my productivity the most, and that's because I have access to a large selection of tools for the software I work with. The learning curve is so steep though, that if you're not willing to learn to use it, you'll find that you're likely slower than you were with a normal keyboard. 
The gaming usage is also pretty great, especially thanks to the directional pad, which can be used for movements that are finer than what your keyboard typically allows for. This is unless you have a fully analogic keyboard like Razer Huntsman V2, but you'd have to put up with Razer's software which is considerably more annoying than what Azeron has, so make your choice wisely here. 
Comparisons
Azeron Cyborg vs Regradon K585 Diti RGB Gamepad (168 USD vs 42 USD) – Physically, Diti is not something special in any way, it is the left part of a keyboard, and has considerably worse functionality and customizability than the Cyborg. It causes heavy wrist strain and wrist pain for me, where Cyborg allows my hand to rest on it naturally without forcing me to move my fingers in any odd configuration just to have access to a command or hotkey. The build quality is good on both, but only the Cyborg allows for massive optimisation, and with Diti coming with a plastic rest pad, it is not a very well thought device, as that pad actually causes me more pain that it helps alleviate it. Especially if you need joysticks or analogic D-Pads and such, only the Cyborg has those, while the K585 Diti is a very basic and simplistic keyboard.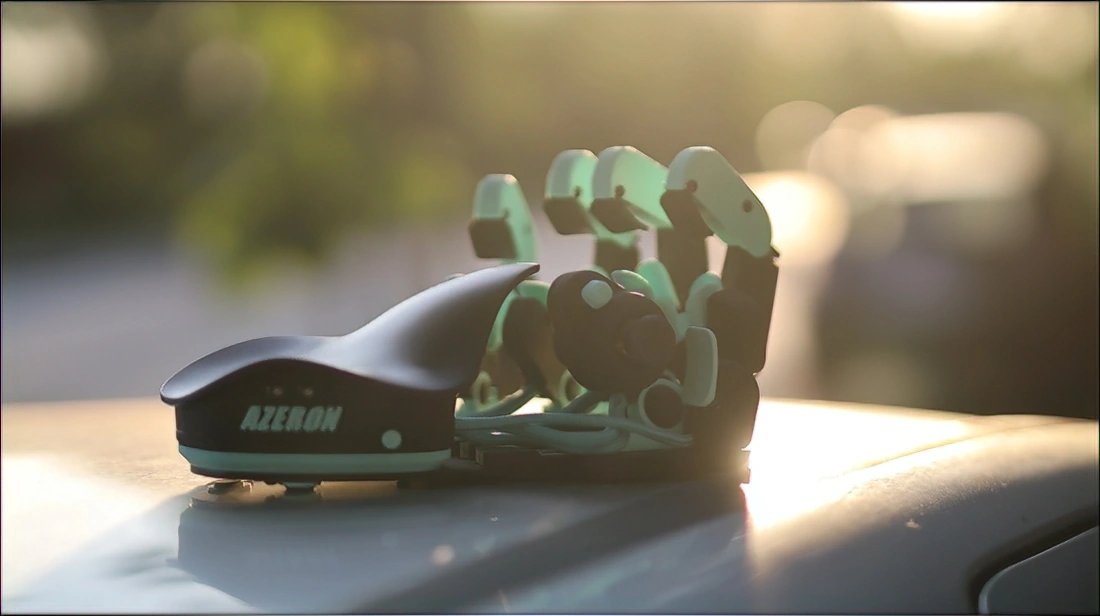 Azeron Cyborg vs Razer Tartarus PRO (168 USD vs 130 USD) – The physical part is great on both, and Tartarus PRO looks and feels comfortable, it works well, at least physically, but it is much worse when it comes to the software, to the point where I'd return the Tartaturs and most razer products just for how awful the Razer software is. I like to have a good working keyboard for hotkeys, while I program and while I do video / music editing, but while Razer made a good one physically, the software is extremely poor. Azeron is a much smaller company than Razer, but they managed to keep the whole software light, snappy and to not consume a lot of resources, all while allowing you to do proper programming for the Cyborg. The overall usability is slightly better for the Cyborg as it has more buttons, and the analogic pads are positioned more naturally for my hand. 
Azeron Cyborg vs Azeron Classic Gamepad (168 USD vs 180 USD) – You have the same company, and the same software, so the differences will be about which one you find more comfortable to use. I found that the Cyborg is smaller, has a more ergonomic shape and fit for my hand, and requires less finger movement, resulting subsequently in less wrist and finger pain over long hours of usage. The classic has better definition for the position of each button, so it may be better if you're not comfortable with a steep learning curve and if you want to learn the keypad easily, compared to the Cyborg which requires more getting used to than the Classic, as smaller movements resulting in different actions require more memory training to use properly. 
Value and Conclusion
It is easy to say that the new Azeron Cyborg has outstanding value, and it is in fact better in value than the original Classic, it is more compact, and slightly more natural to use, requiring less movement of hand to work. It has customizability for every button, you can make those more or less tense, you can adjust the position of everything, and program every single button to do any task you need. For an artist, I think it is a really useful power tool that can speed up drawing, without causing wrist pain, like using a keyboard typically does.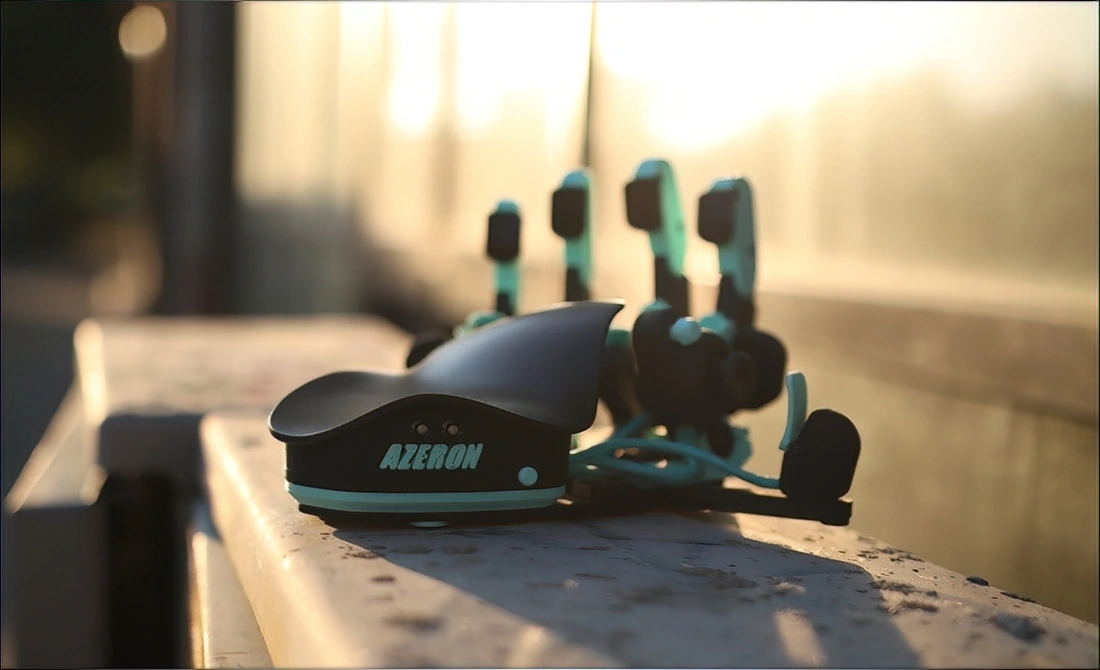 At the end of the day, if you're looking for an enhancement power tool to speed up your music production, drawing or even for gaming, Azeron Cyborg is one of the best keyboard replacement for the left hand that I tested to date, and a gamepad you're likely to want to keep using after you properly configure and start up for the first time.  
Product Link
You can grab one from www.amazon.com here: https://amzn.to/3XK78lA
If you're in the UK, you can grab one from www.amazon.co.uk here: https://amzn.to/3Dn5hLN
And if you're from Europe, you can grab one from www.amazon.de here: https://amzn.to/3XF5NfJ
Official Link: https://store.azeron.eu/azeron-keypads#keypad=cyborg
---
---
--- Please remember to stay safe, and always have fun while listening to music!---
 - If you have a dime to spare, and donate, to help us with electricity and work expenses, it would make my day much brighter, as it would help me improve things around the website and increase the frequency of my posts - 
---
Full Playlist used for this review
We listened to more songs than those named in this playlist, but those are excellent for identifying a sonic signature.  PRaT, Texturization, Detail, Resolution, Dynamics, Impact, and overall tonality are all revealed by those songs. We recommend trying most of the songs from this playlist, especially if you're searching for new music!
https://www.youtube.com/playlist?list=PL_cjBXGmwSHSdGcwuc_bKbBDGHL4QvYBu
--- Contact Us ---






---
---