iBasso DC03PRO Dongle DAC AMP – Industrial Freedom
iBasso DC03PRO is a $69 USD Dongle DAC AMP made to drive portable headphones and IEMs, and which has a 3.5mm Single Ended Headphone Output, and which can decode PCM files and DSD files up to DSD256X. It will be compared to other entry-level DAC-AMPs, including IKKO Zerda ITM02 (59 USD), TempoTec Sonata HD V DAC AMP (70 USD), and Shanling UA3 (110 USD).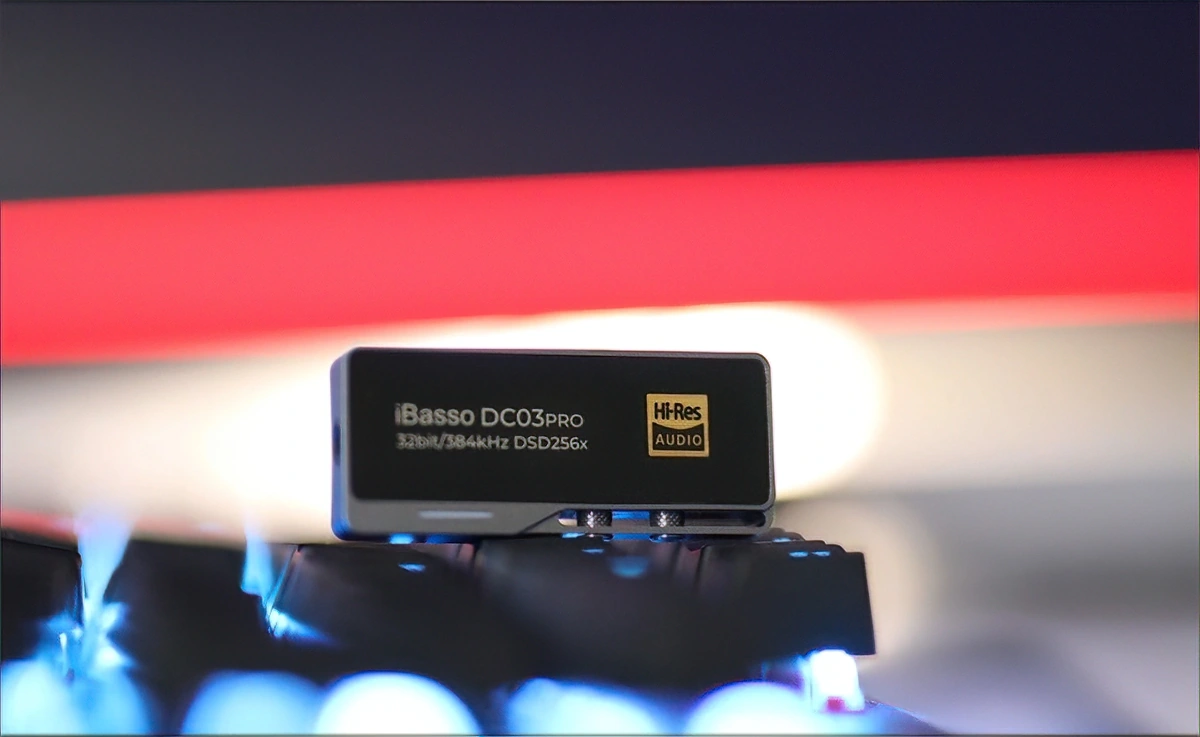 Introduction
iBasso is one of the best audio companies for those moments when you want a fully working product with the full support of an enthusiast company behind. I recently got badly burned by Gigabyte, as I purchased a 4080 graphics card locally, and the support process is extremely slow, plus quite complicated, so you can imagine how I'm really tense about it, so I'm happy to say that with companies like iBasso I never have to worry about support and how well my case is going to be solved, they are going to be there and they are going to take full responsibility for what they're selling. You can purchase iBasso products from authorized sellers, directly, and best of all, from Amazon which offers an extra layer of protection and which will be there to help you in case you encounter any issue. Take it from me, you want full support for a purchase, so Amazon's extra is not exactly an extra but more of a must when you purchase something pricey and which you want to enjoy for a long time. 
It should be noted that I have absolutely no affiliation with iBasso. I'd like to thank iBasso for providing the sample for this review. This review reflects my personal experience with the iBasso DC03PRO. Every opinion expressed is mine and I stand by it. The purpose of this review is to help those interested in iBasso DC03PRO DAC / Headphone AMP / Dongle find their next music companion. 
Product Link
You can grab one from www.amazon.com here: https://amzn.to/3ixksdV
If you're in the UK, you can grab one from www.amazon.co.uk here: https://amzn.to/3X0Z1B7
And if you're from Europe, you can grab one from www.amazon.de here: https://amzn.to/3Zp1k2q
Build Quality/Aesthetics/Features
The first thing I noticed with DC03PRO is that it has its own volume, which is set to almost zero from default, so for a few minutes I tried to debug it thinking it was broken. You have to press the button closer to the USB port a couple times to turn up the volume . It also reacts to Windows / Android volume, so that should also be set to max. If possible, using the buttons to set the volume results in a better overall sonic experience.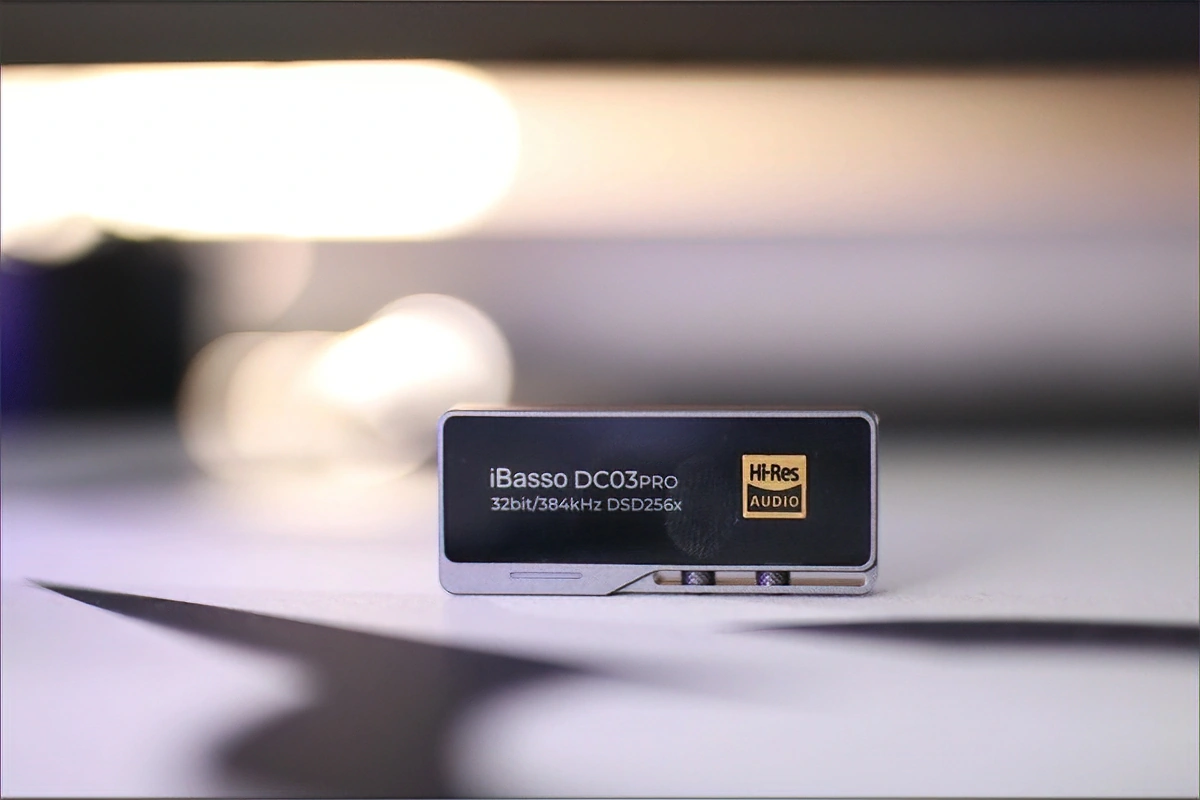 The DAC inside is a Dual CS43131 from Cirrus Logic, with a KDS fs Oscillator, which provides a driving power up to 98mW at 32 OHMs, and an output impedance lower than 0.12 OHMs. This means that it does not hiss with IEMs, even with the most sensitive of them. The noise floor is extremely low, at 0.9uV, and DC03 PRO has an industrial looking design, with a temperate glass front and back panel, and with physical volume buttons.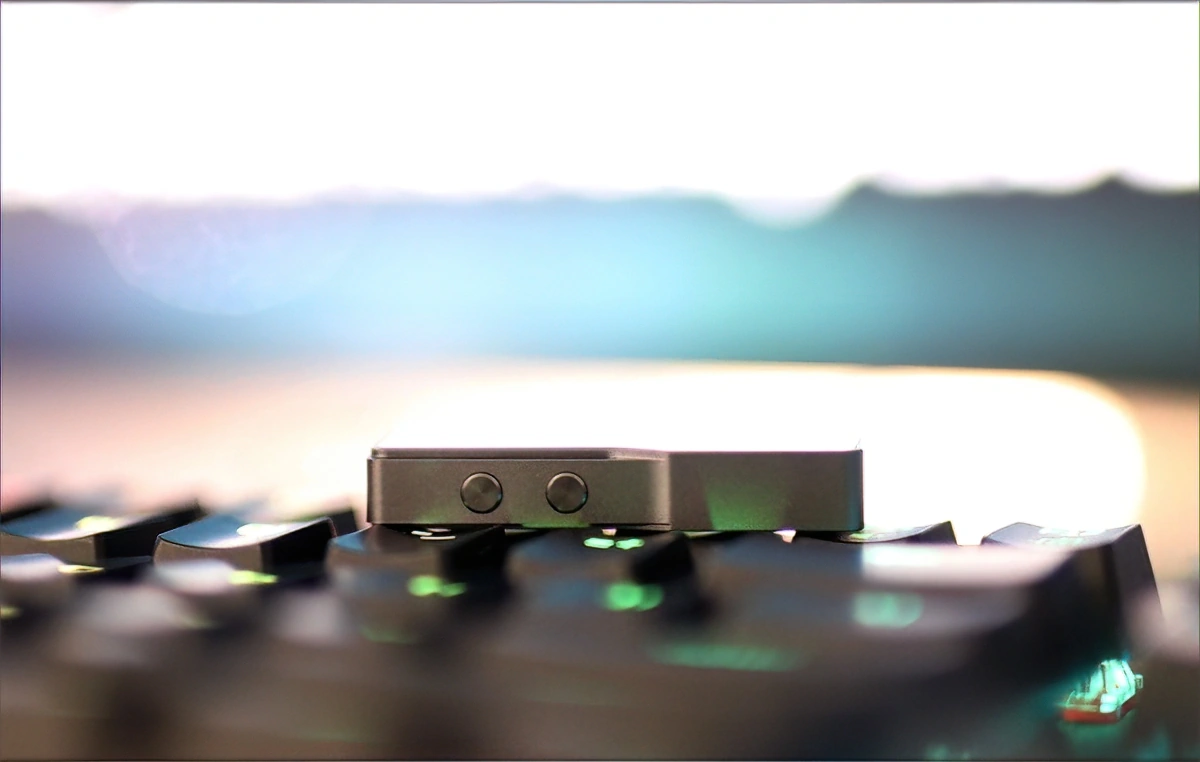 iBasso also managed to score high for those who want strong technical specifications, with a S/N Ratio of 127dB, a THD+N of 0.00022%, and with the dual DAC design. The hardware volume has 100 steps, which means that you have to press it quite a few times, but you can control it from iBassso's UAC App if you want digital control. There, you have 5 options for the digital filter, 3 options for Gain Control, and 20 steps L/R balance if you have hearing loss in one ear.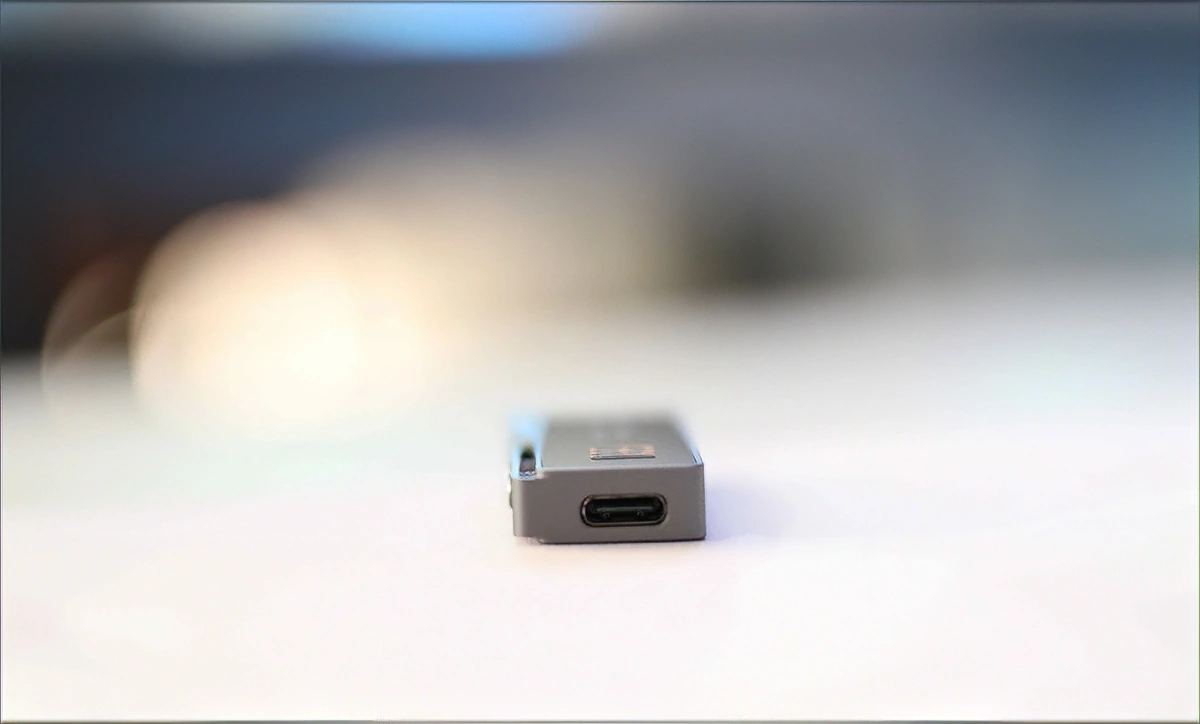 The power consumption is rated at 380mW, which is low compared to other dongle DAC AMPs, but it is about average in my tests, consuming about as much as most dongles that have this driving power. There's a little LED light that shows what kind of file it is playing, with red for standby, blue for DSD and Green for PCM. 
Sound Quality
The list of headphones and IEMs used to test the DC03PRO includes OLLO S5X, OLLO S4X, Letshuoer D13, BQEYZ Topaz, KZ AS16 PRO, Audeze MM-500, Westone MACH 60, HIDIZS MD4 , iBasso IT01X, and iBasso AM05. The overall driving power is more than enough for basically anything portable, including the mighty MM-500, and OLLO S5X, with a super nice amount of impact, control and resolution provided for those. In fact, although DC03PRO is tiny, and not balanced, it has a really nice sound, good control, and surprisingly, it sounds big, wide and just generally pleasing. At max, it can make OLLO S5X vibrate on my head with bass, but it becomes a bit V-Shaped in sound, so around 90% – 95% it sounds best. 
The bass is deep and clean, full and rounded. The bass has a good representation down to about 40 Hz, below which it rolls off gently, and has lower energy, with headphones. With IEMs, you won't notice this roll off, and it is full down to 20Hz. The bass has a slightly warm and fuzzy presentation, with a good amount of low end energy, and a good fundamental presentation to music. There's no mid bass bloat, and the bass does not color the midrange. 
The most beautiful part of the DC03PRO sound is the midrange, and this is one of the dongles with the best sounding midrange by far, with a super good resolution, smooth and non-fatiguing texture presentation, and an intimate, slightly forward voice presentation, making details and words easily to discern. Although the voice is presented somewhat forward and intimate, there's quite a bit to space around the listener, with all instruments having space to breathe and being well defined and well separated from each other.\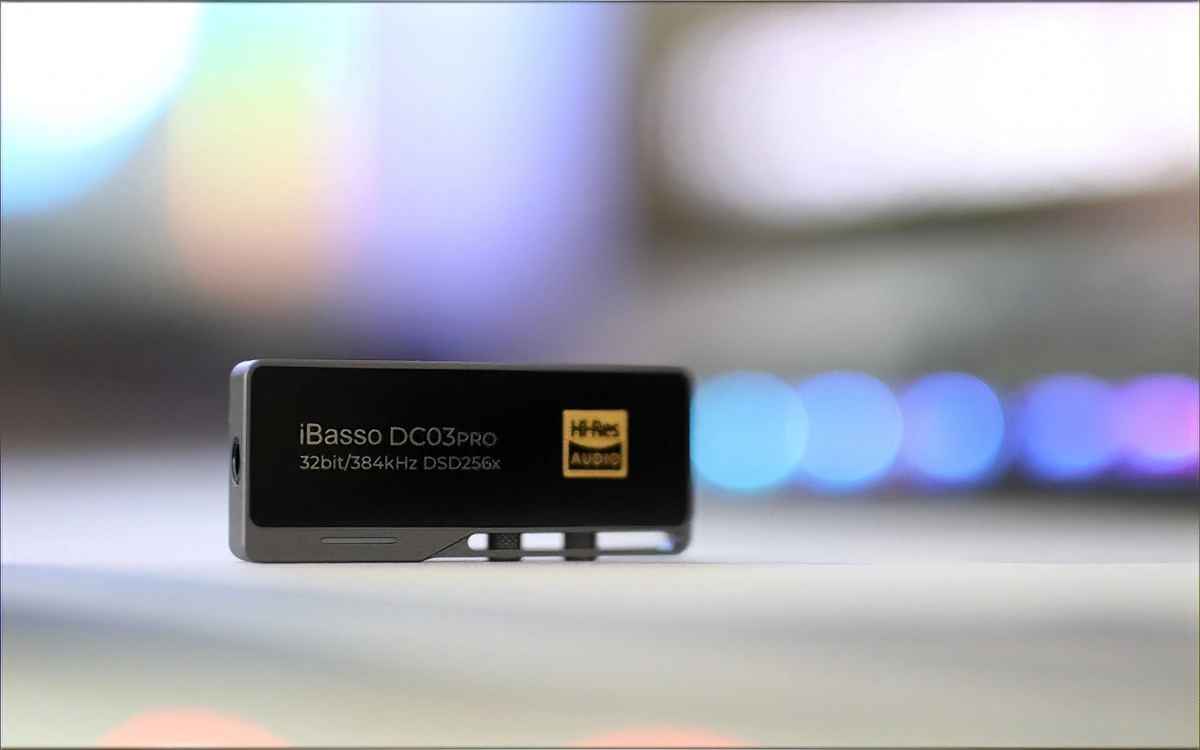 We have a natural – slightly smooth treble with good extension as high as 15 kHz, but with a smooth and non-fatiguing presentation. I like the overall dynamic of the DC03PRO, it has a nice amount of air for rock and metal. It tends to be forgiving and badly recorded music generally sounds good, with most music being smooth, fluid and pleasing to the ear. 
Comparisons
iBasso DC03PRO vs TempoTec Sonata HD V (69 USD vs 70 USD) – The overall body is similar in shape and size, with Sonata HDV also having a single ended 3.5mm headphone output, and they have a similar maximum driving power, with a similar level of control. Only DC03PRO has physical buttons for the volume control. The sonic signature is smoother, more pleasing to the ear and more controlled on DC03 PRO, and more energetic, brighter and more pumped up on Sonata HD V.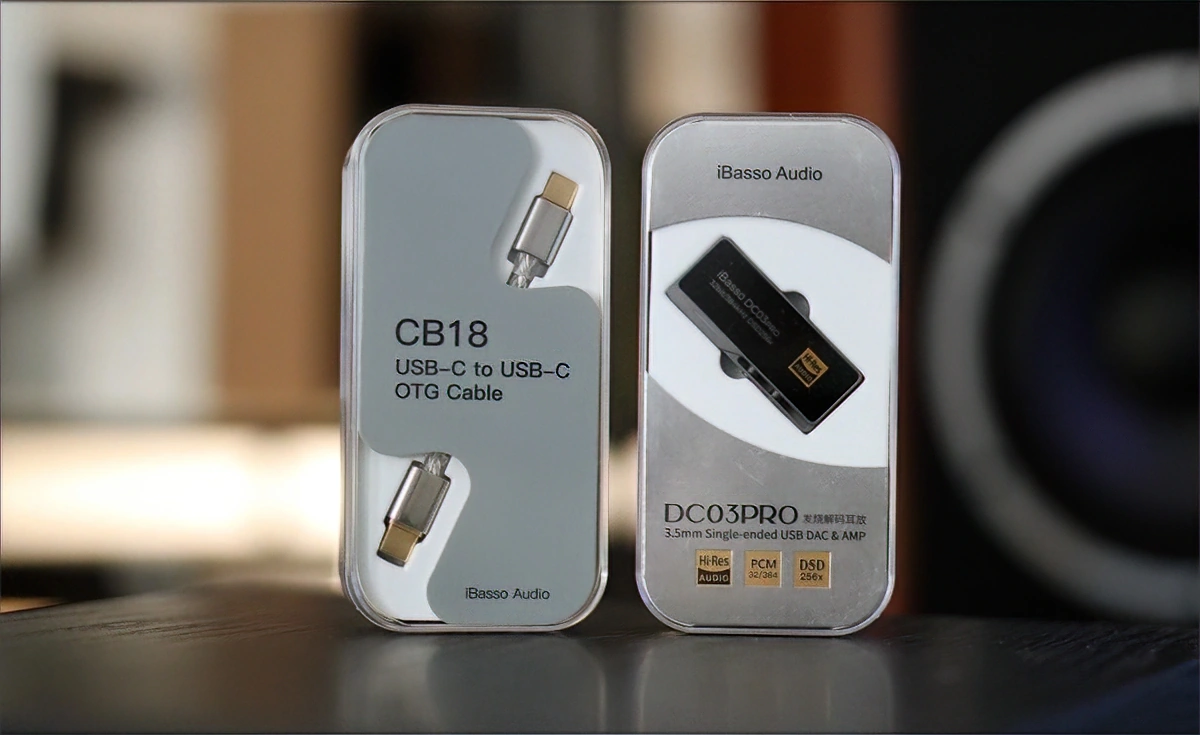 iBasso DC03PRO vs Shanling UA3 (69 USD vs 110 USD) – Physically, UA3 is larger and has a thicker body, but comes with a leather case too. It also has physical volume control, but it has a slightly higher background noise level, it has a somewhat lower driving power. The signature is thicker and darker on UA3, and more natural, cleaner with better air and extension as presented by DC03PRO, with better driving power, and better control. It is generally easier to recommend DC03 PRO for most users, if you don't fancy a really thick and warm signature as UA3 has. 
iBasso DC03PRO vs IKKO Zerda ITM02 (69 USD vs 59 USD) – The build is about the same size physically, and both look pretty nice, both having a Type-C USB port. ITM02 has a much lower driving power, and generally struggles with headphones, while DC03PRO has better volume, power and control. The sound is warmer, has a narrower soundstage on the ITM02, and a wider soundstage, better driving power, is more natural, and still smooth and pleasing in the treble. ITM02 consumes slightly less from my smartphone's battery but the difference is not large enough unless your smartphone is dying. ITM 02 does not have physical volume control. 
Value and Conclusion
If you're looking for Value, iBasso generally provides super value for their products, and DC03PRO is no exception, it is a well priced dongle DAC AMP, with super good build quality, good driving power and it is better than most dongle DAC AMPs around the price point, iBasso delivering exceptional products with their exceptional support behind. Of course, let's be real, the most important question is whether DC03PRO sounds better than your average smartphone's 3.5mm headphone output, and to that I can say a certain yes, it beats my PC's 3.5mm headphone output, any laptop's 3.5mm headphone output, and any smartphone's output, with better driving power and control. In fact, I would say that around 69 USD, it is the best sounding DAC AMP Dongle that I heard to date, and if you're budget constrained there's notthing else I would recommend more than the DC03PRO so far.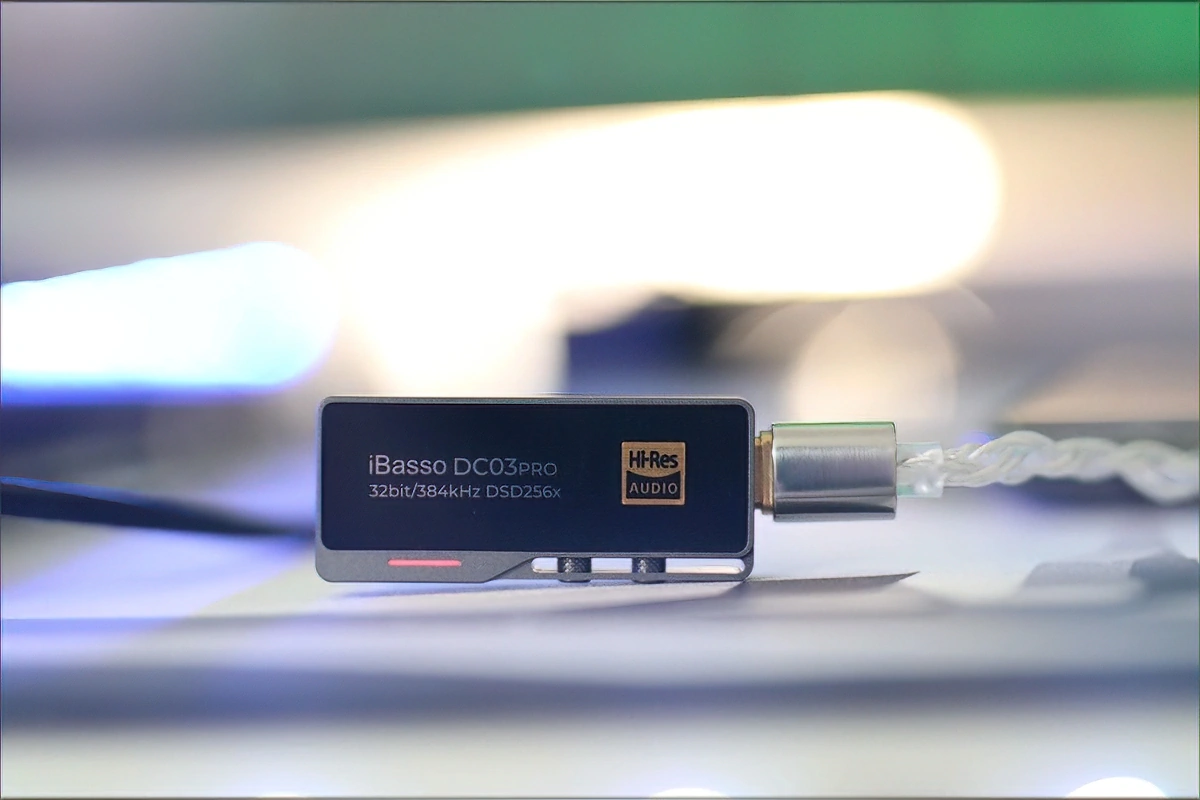 At the end of the day, if you're looking for a pleasing sounding DAC AMP, with a good build quality, type-C USB port, a single ended 3.5mm headphone output, smooth treble and natural, detailed midrange, with a full bass, DC03PRO is an exceptional deal priced at 69 USD at the moment of posting today's review. 
Product Link
You can grab one from www.amazon.com here: https://amzn.to/3ixksdV
If you're in the UK, you can grab one from www.amazon.co.uk here: https://amzn.to/3X0Z1B7
And if you're from Europe, you can grab one from www.amazon.de here: https://amzn.to/3Zp1k2q
---
---
--- Please remember to stay safe, and always have fun while listening to music!---
 - If you have a dime to spare, and donate, to help us with electricity and work expenses, it would make my day much brighter, as it would help me improve things around the website and increase the frequency of my posts - 
---
Full Playlist used for this review
We listened to more songs than those named in this playlist, but those are excellent for identifying a sonic signature.  PRaT, Texturization, Detail, Resolution, Dynamics, Impact, and overall tonality are all revealed by those songs. We recommend trying most of the songs from this playlist, especially if you're searching for new music!
https://www.youtube.com/playlist?list=PL_cjBXGmwSHSdGcwuc_bKbBDGHL4QvYBu
--- Contact Us ---






---
---