Victorious Machine – Earmen TR-AMP DAC/AMP Review
Earmen TR-AMP is a really well-priced DAC/AMP for those who need a ton of power, but also great sonic performance on the go. It is currently priced at 250 USD, which makes it a direct competitor to iFi xDSD, which is priced at 400 USD, FiiO Q5s, which is priced at 350 USD, and even something like FiiO M11, which is a full standalone DAP, priced at 420 USD. The pairings list will include HIFIMAN Deva on cable (350 USD), Dunu DK-3001 PRO (470 USD), and Final B3 (500 USD), all of which are pretty interesting transducers by themselves. 
Product Link 
You can always get Earmen TR-AMp here: https://earmen-shop.com/products/tr-amp
Introduction

Earmen is a new company, with very few products released so far, but they are part of the Auris Audio group (which includes Earmen and Auris Audio), and they have the support of great people, not to mention experience in creating and designing audio devices. Especially now, that the quarantine is still ongoing, they proved to be real champs, delivering fun and excellent audio experiences to everyone around the world, despite the odds. Even better, I can vouch for Earmen products to be of awesome quality, easy to use, and versatile, and that their support works nicely, and if you are to have issues with their devices, they'll surely be there to help, having up to 5 years of warranty for their products. 

It should be noted that I have absolutely no affiliation with Earmen. I'd like to thank Earmen and Auris Audio for providing the sample for this review. This review reflects my personal experience with Earmen TR-AMP. Every opinion expressed is mine and I stand by it, the purpose of this review is to help those interested in Earmen TR-AMP find their next music companion. 



About me

https://www.audiophile-heaven.com/p/about.html



Packaging

First things first, let's get the packaging out of the way: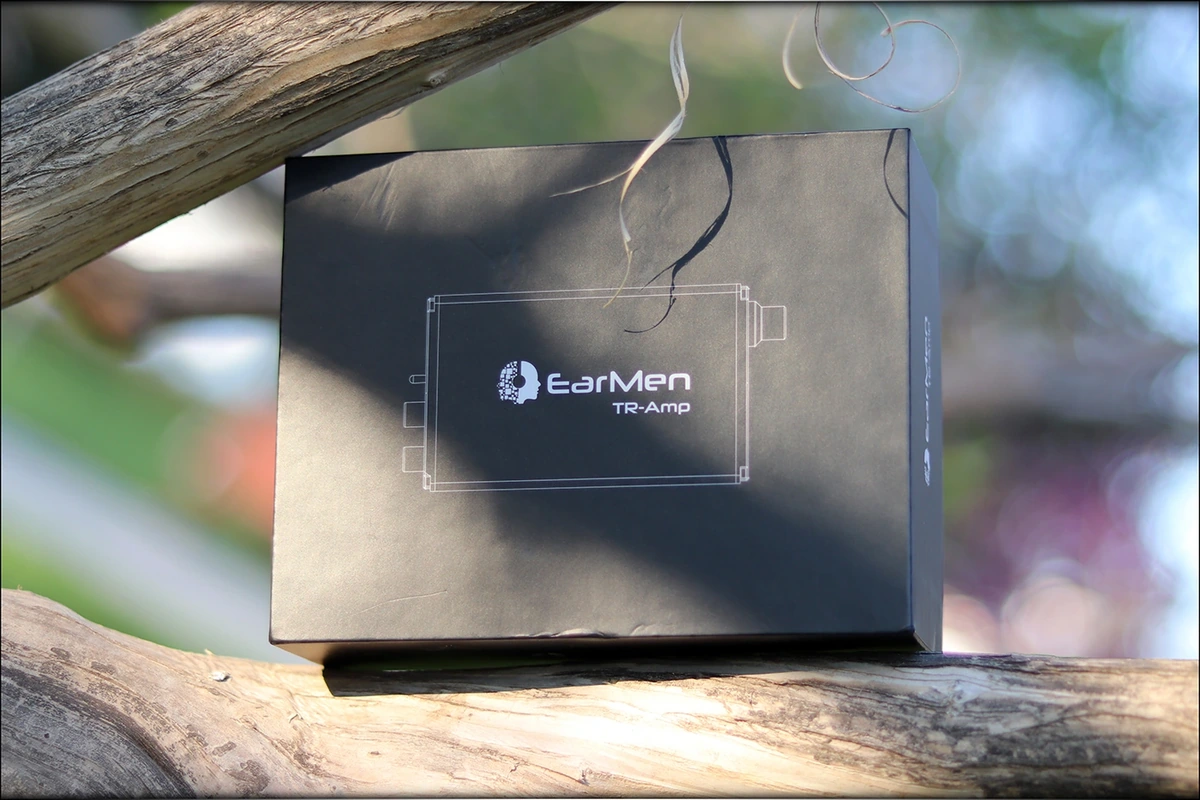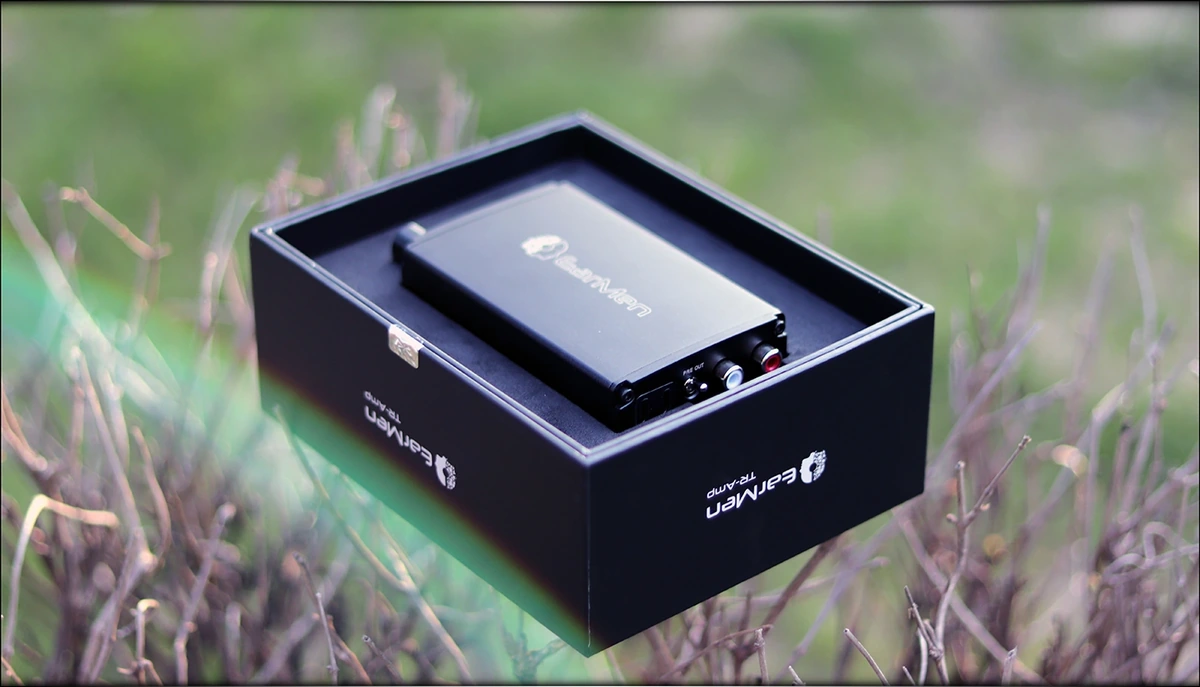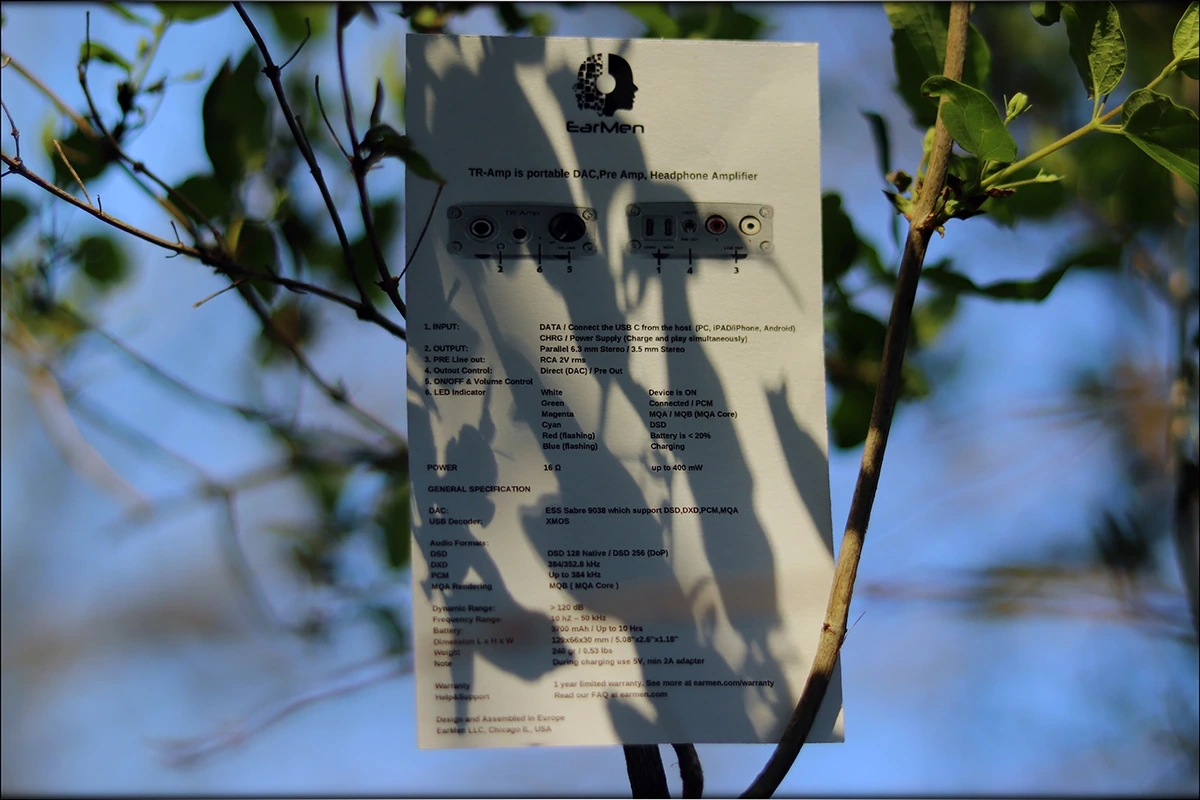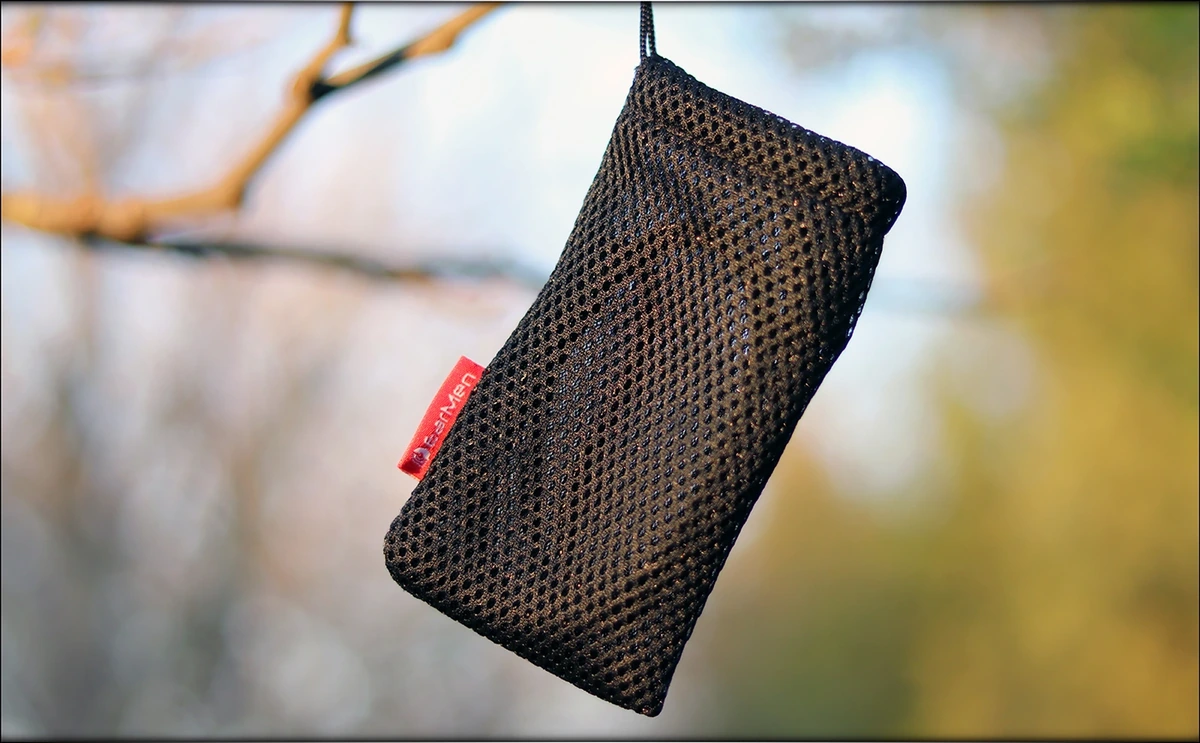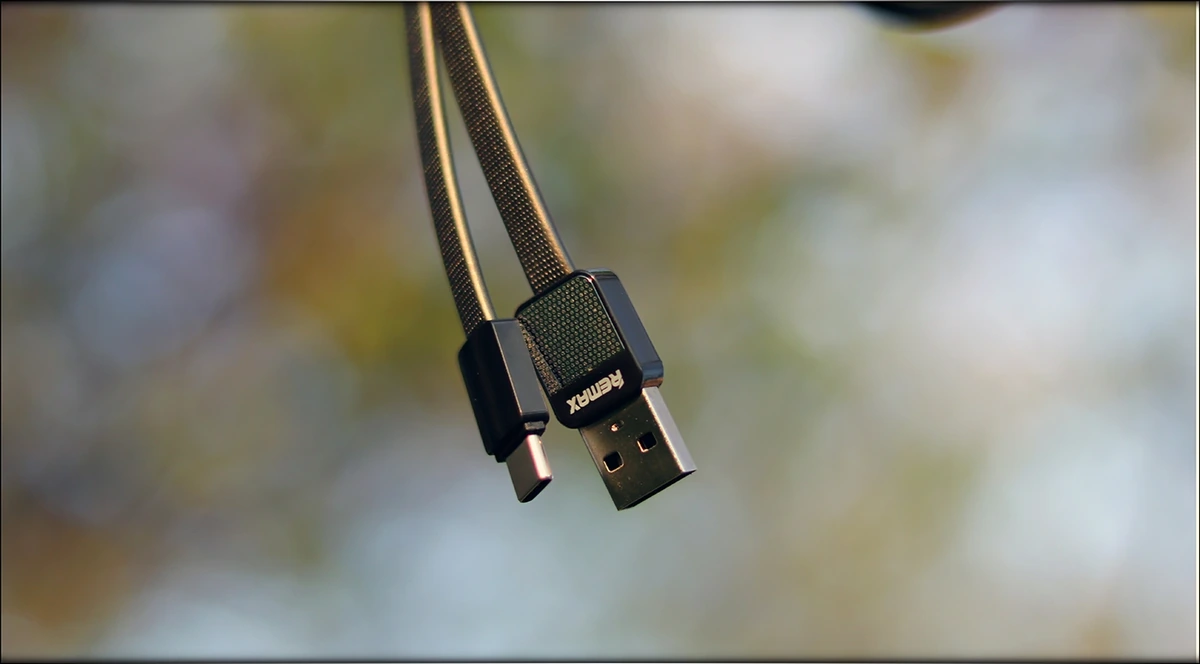 The package is actually pretty good, it is a smaller package, but you get a USB cable, a little textile pouch, and a silicone strap for strapping the Earmen TR-AMP to a smartphone. This is not a great package when compared to FiiO Q5 or Q5s, but it is still pretty good for beginners. 

The cable is for charging only, it does not work for Data and you need a separate cable for using the TR-AMP to a smartphone or to your computer. I do not recommend using the pouch for the TR-AMP while it is turned on, because it may cause it to overheat. Also, since the input is at the back and the headphone output at the front, using that pouch while it is turned on it is pretty much impossible. 



What to look in when purchasing a high-quality entry-level DAC

https://www.audiophile-heaven.com/p/what-to-lookl.html



Technical Specifications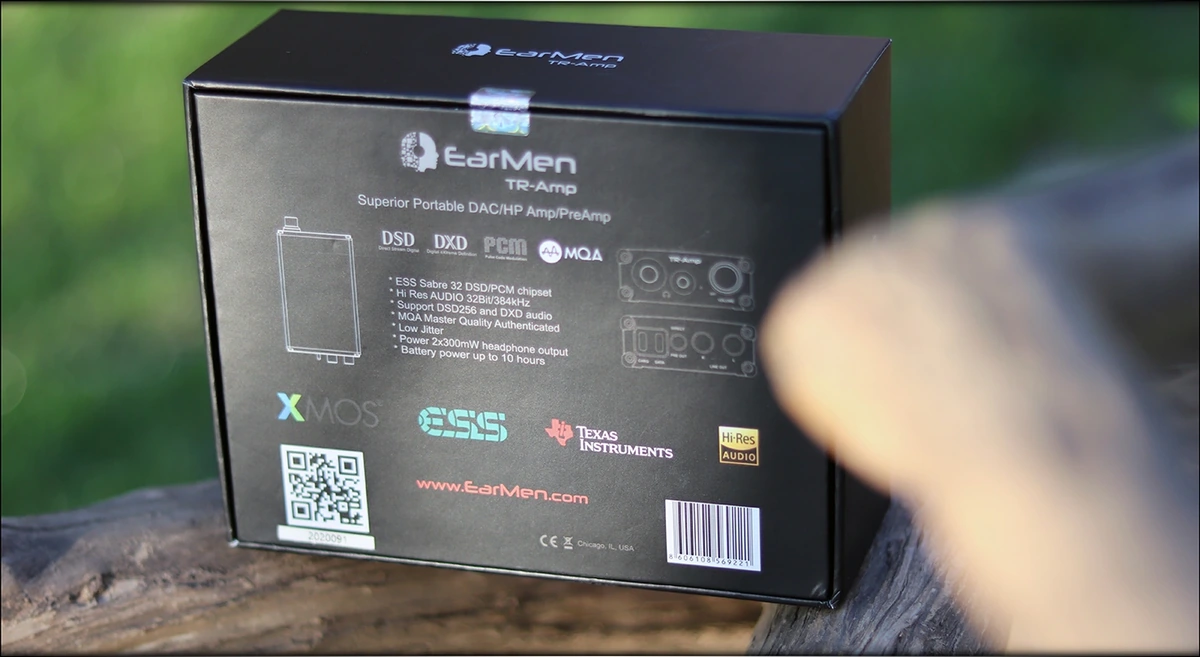 Build Quality/Aesthetics/Functionality

If you haven't already, please also watch my video review about the TR-AMP, it should explain many things about the device, as well as details about the shape and ergonomics of it. You can find it here: https://www.youtube.com/watch?v=V611rRRpQy0. I really recommend wathcing my Youtube video reviews if you're curious about a little pre-article input about everything that is going to receive a review, as well as many exclusives.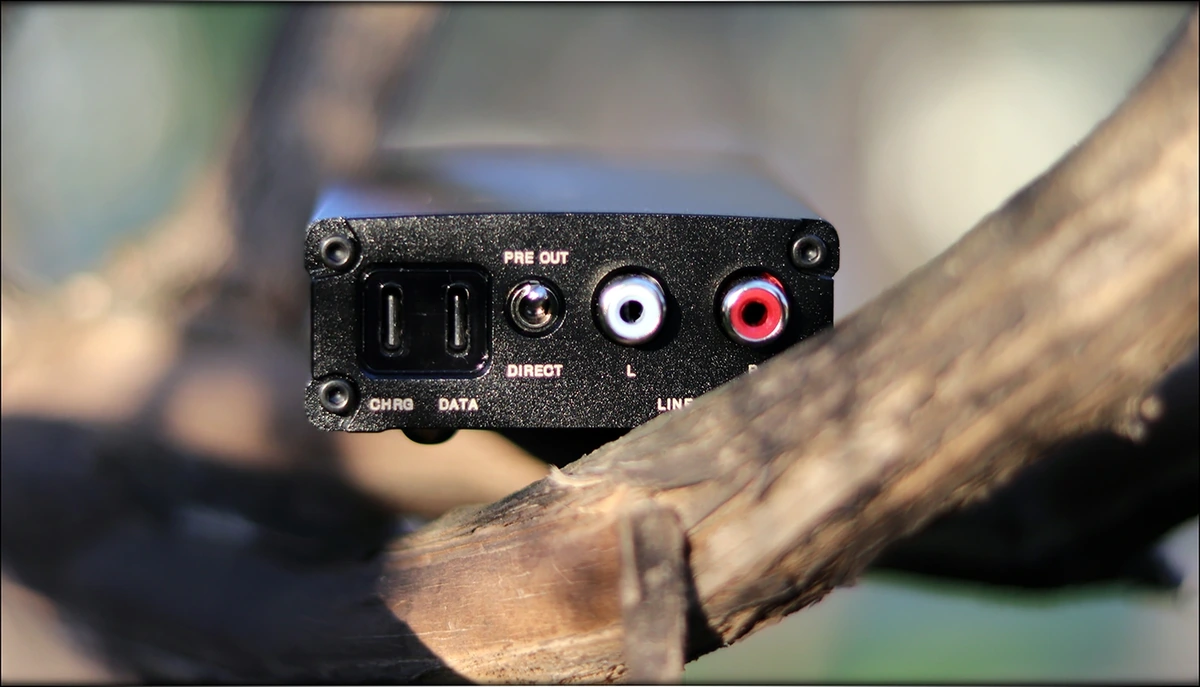 The case of the DAC/AMP is made of metal, and it has a volume knob at the front, which has a bit of channel imbalance at the beginning. This means that the TR-AMP is mostly usable after 9 and half a clock. 

The TR-AMP has separate charging and data USB Type-C ports, which is excellent, this also means that you can use it without charging, so smartphone users don't have to worry about the TR-AMP draining their batteries, and it has a PRE-Direct setting too, which basically enables or disables the volume wheel when using the RCA Analogue outputs at the back. Oh yes, there are analogue outputs too, if you plan on using it as the main DAC in your full sized system, which I actually recommend because the implementation of the ESS ES9038Q2M is excellent, it supports both DSD and PCM signals, and even has MQA support. 

The sides of the unit have little ribs for better ergonomics, and the top of the unit has the Earmen logo, while the bottom has tiny rubber feet, which help with stacking the unit with a smartphone, or sitting it on a table.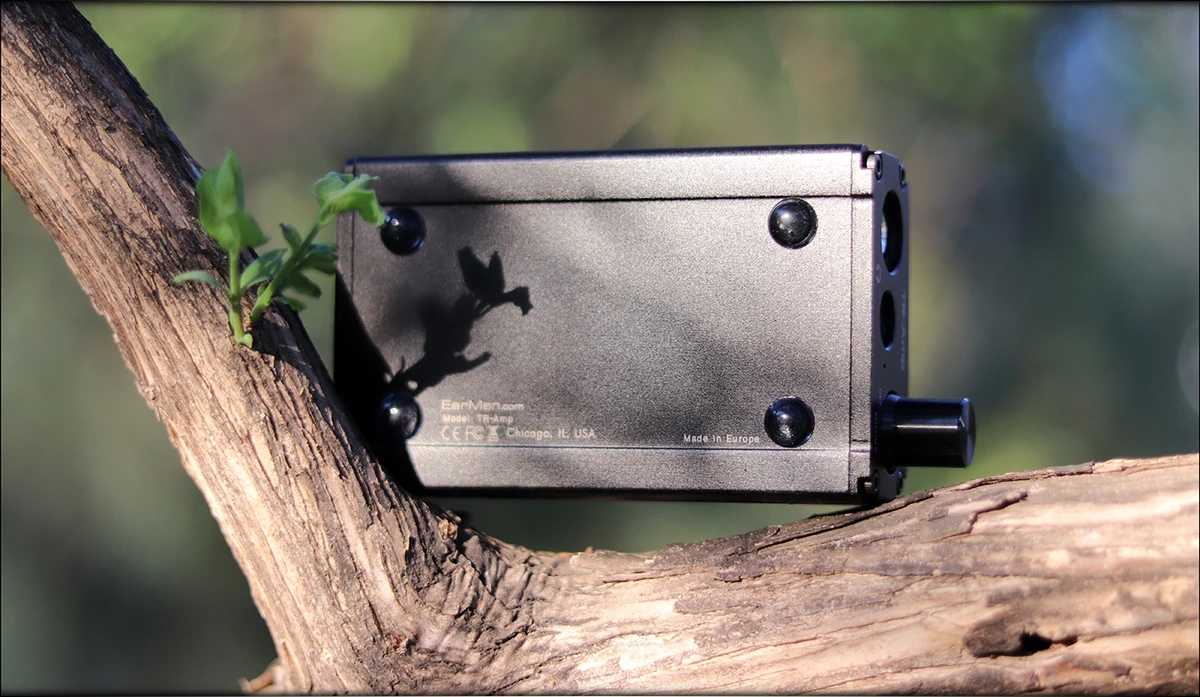 The front of the unit has the volume wheel, which also acts as the on/off switch (when you turn it to minimum, it turns off the unit). The front also has two headphone outputs, one in the 6.3mm large format, and one in the 3.5mm smaller format. There's a LED showing whether the unit is turned on at the front too, and that LED also shows what format is currently being played. There are some minor errors in the machining process, as you can notice from the photos, but those are really minor, most of the device is made perfectly. 

I said in my video that it doesn't quite work with smartphones and Android, but not it seems it is working just fine, so I cannot tell what happened in my initial testing, there might have been a bug that went away by itself, everything is working perfectly with the TR-AMP and a series of phones I tried it with. 

The volume can get extremely loud, and it is able to somewhat drive HIFIMAN HE6SE, it is actually more than able to drive HIFIMAN Arya, and Kennerton Thror. It can easily play tennis with Underwood HIFI LSA-HP1, and it is also able to drive IEMs, even flagships, like the Clear Tune Monitors Da Vinci X, and even more sensitive ones like FiiO FH7 and Campfire Atlas.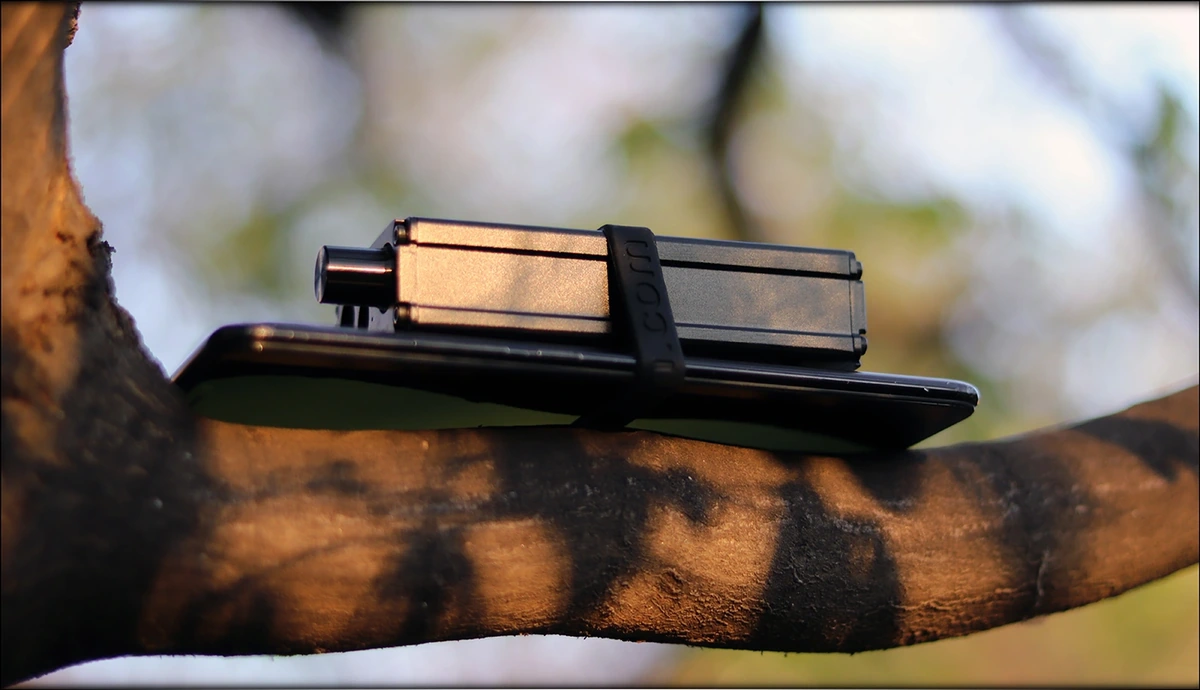 There is a bit of hissing with very sensitive IEMs, but it is there only if you listen very carefully, or if your IEMs are really good at revealing hiss, otherwise it is mostly dead silent. 

I have not noticed overheating, even when using it at almost the maximum volume, for hard to drive headphones like Ultrasone Signature Studio or HIFIMAN Sundara, for long periods of time. 

Since there is no true battery indicator, I can go by my own personal tests, and I can safely say it has about 8 hours of battery life, give or take. I depleted the battery once or twice, and this is a big point, it doesn't have an auto off mode, so if you're using it as your DAC in your large system, it will deplete the battery unless it has power plugged in the charging port too. 

Having both power and data cables plugged in at the same time does not affect the sonic quality, it doesn't sound worse if it is being charged while it is being used, so you can safely leave the power cord on at all times if you don't want to have any hassle with the charging part and if you don't want to deplete it. 



Video Review

https://www.youtube.com/watch?v=V611rRRpQy0



Sound Quality

The sonic performance of the TR-AMP is actually quite incredible, and as a little surprise, it will make it to Audiophile-Heaven's Hall Of Fame, and the sonic quality is a big reason for this.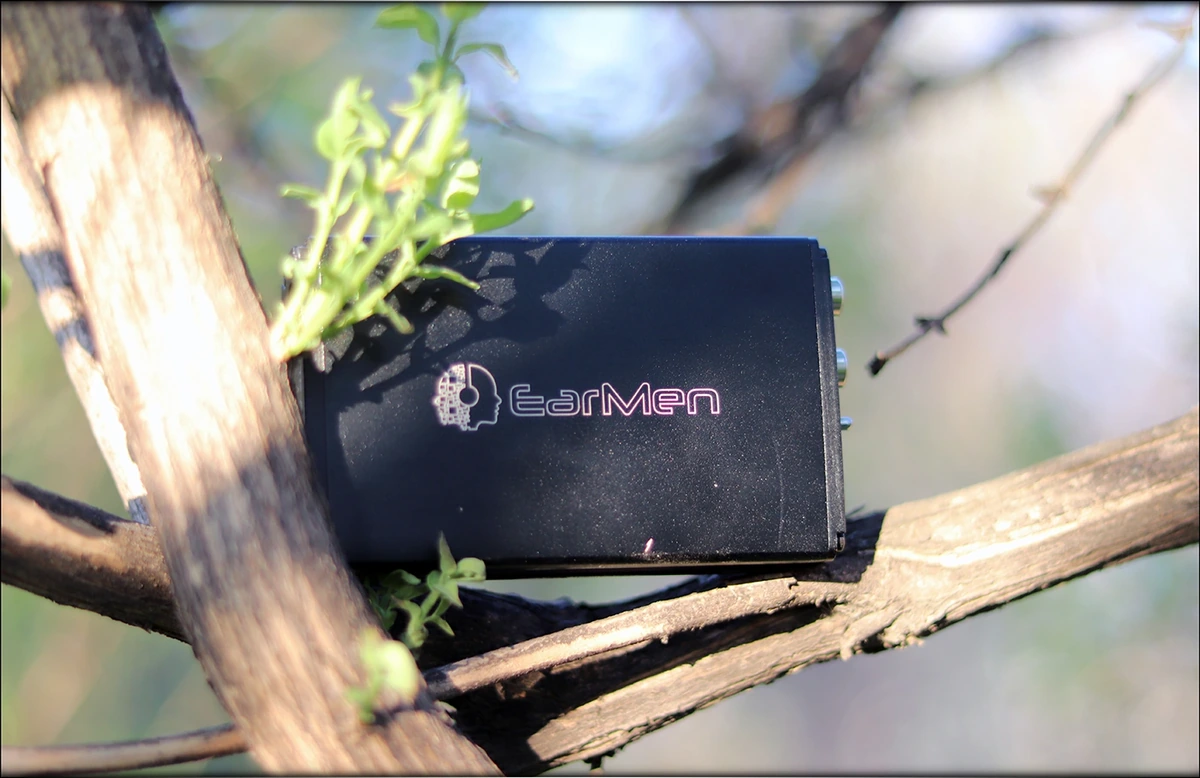 I noticed that it sounds the same when driving IEMs like the Da Vinci IX, and IMR R2 Aten, but also headphones like Brainwavz Alara, and Rosson RAD-0. It is very versatile, and there are very few things it won't drive, and the biggest plus is that even when compared to some of the direct competitors, like the iFi xDSD, which can drive almost everything, the xDSD has some distortion at the absolute maximum volume, while, side-by-side, the TR-AMP is crystal clear and clean at the absolute maximum volume. This is something I noticed with the HPA-3U from Matrix, it sounds great up to half of the maximum volume, but distorts badly afterwards, where the TR-AMP has no distortions and sounds perfect all the way to the maximum. 

The sound can generally be described as mostly natural, with slight hints of warmth in the bass, and in the midrange, the treble is natural, there's no sibilance or harshness, but it is not smooth either, it is pretty much perfect. The speed of the bass is natural too, not too quick, not too slow, and everything about the sound of TR-AMP gives off a sensation that it sounds natural. It won't appeal to speed addicts and to those who want to hear more detail than there is, but it can handle even multiple basslines well, and it doesn't complain even when you push its limits by playing some technical death metal or speed / thrash metal. 

The midrange is natural, with a very slight hint of warmth. The soundstage is fairly wide, and it has good extension in every direction, including depth, with an actually excellent presentation of both male and female voices. TR-AMP tends to sound a touch sweet, as it was geared slightly more towards those who love musical presentations rather than those who wanted a fully analytical presentation. In fact, it manages to have one of the better signatures from the entry-level price range, and if you're not a fan of really bright tunings, it should serve you well. 

The treble is fairly natural too, it doesn't have any special spice or pinches, but the extension is good, and it doesn't have a smooth tuning either. In fact, if you're looking for natural all across the range, TR-AMP delivers just that, and even when it comes to the dynamics, they are natural, the sound is especially dynamic, but it isn't muted or flat either, everything about the TR-AMP just shows a perfect blend of a natural presentation and great price/performance ratio. 



Comparisons

The main comparison points are iFi xDSD which is priced at 400 USD, FiiO Q5s, which is priced at 350 USD, and even FiiO M11 which is priced at 420 USD. There's a trend here, and all of the comparisons include devices that are priced higher, and this is because the TR-AMP actually stands a chance against those.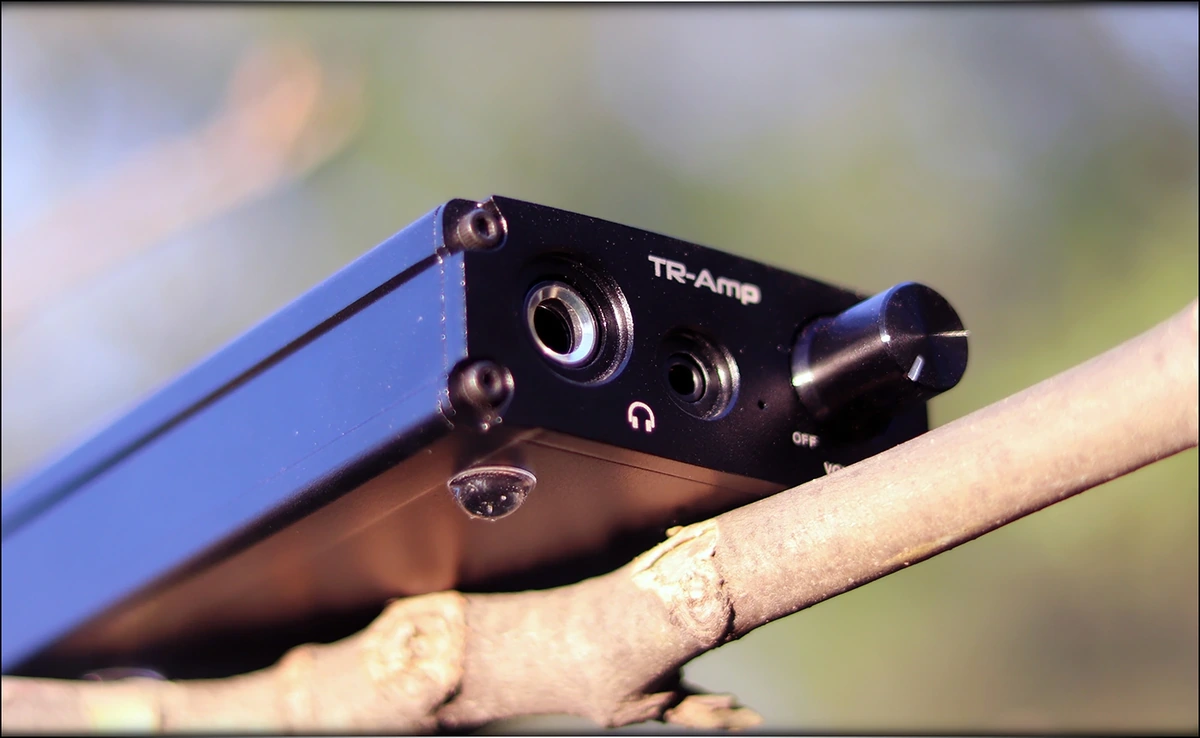 If I was comparing it to things that are cheaper, like the NextDrive Spectra X, or even fairly well-matched DAC/AMPs like the xDuoo XD10 Poke, the TR-AMP does really well, but it looks like most people have been seeing it as an alternative to the higher-priced DAC/AMPs out there rather than another entry in its own price class. 

Earmen TR-AMP vs iFi xDSD (250 USD vs 400 USD) – xDSD is the first DAC/AMP that people want to compare with the TR-AMP, and the main reason is that the xDSD has been really well received, but so is the TR-AMP, and since the xDSD easily gets scratches, people have been thinking of replacing the good old xDSD with something else entirely. The TR-AMp has less versatile features, no x-Bass, no 3D soundstage options, but it has better outputs if you want to use it as a DAC for a large system. It is harder to scratch and damage than the xDSD. The input on the xDSD is in OTG mode, so any OTG adapter works, while for TR-AMP you need special short Type-C to Type-C cables for portable usage, which are not included in the package. The sound is more natural for the TR-AMP, it has better driving power, and it is lighter, more quick and more snappy for xDSD. Out of the two, xDSD has a bit more detail and clarity, but it also sounds a bit brittle, where TR-AMP has better body and a much more natural overall presentation, with a stage that is both wide and deep, while xDSD feels wider than it is deep. 

Earmen TR-AMP vs FiiO Q5s (250 USD vs 350 USD) – Although FiiO Q5s has many modules you can connect to it, and it also has bluetooth, it is also a bit more expensive than the TR-AMP, and Q5s has a leaner sound with less impact than TR-AMP. In general, TR-AMP can drive harder to drive headphones than the Q5S, and this was more noticeable with Beyerdynamic Amiron in particular, where Q5s played it pretty bright and lacked body, while the headphone sounds deeper, more mature and full with the TR-AMP. With IEMs, I prefer Q5s most of the time, because it tends to have even less hissing than the TR-AMP, and it has a bit more detail and clarity. TR-AMP is a touch more versatile if you plan on using it as a DAC for your full-sized system, especially because it has RCA outputs, where you need more cables and a more complicated setup with Q5s for the same purpose. 

Earmen TR-AMP vs FiiO M11 (250 USD vs 420 USD) – FiiO M11 is a full-sized DAP, and it can very well act as the source for TR-AMP, but the interesting part is that when comparing them side-by-side, I don't necessarily like M11 better, because it has a pretty bright treble, and it has a more bright overall midrange, and less bass, which makes me prefer the TR-AMP when pairing it with V-Shaped IEMs. M11 works better with really warm sounding IEMs, like the Dita Fealty, or Beyerdynamic Xelento, but for most others, TR-AMP manages to have better driving power, more control, and to sound more natural, with a better depth to the stage, and with slightly more control and a deeper, stronger bass with more impact. The dynamics are similar between the two, and using TR-AMP is less convenient than having a standalone DAP, but it is cheaper and can sound better. 



Pairing 

As far as the pairings go, TR-AMP could drive pretty much anything. You name, it can drive it. This includes some pretty big and bad boys, and headphones which are considered difficult, but also plenty of common headphones, so even Sennheiser HD660S, Sivga P-II, and OLLO S4X headphones are really easy for TR-AMP. Then, there's the large list of IEMs that it can drive, because it has a smaller 3.5mm output, and that includes entry-level IEMs like the AVARA NEO, midrange like the oBravo Cupid, and even flagships like the Rhapsodio Zombie. This being said, if you need a 4.4mm balanced output, you either have to go with a simpler setup, like the Lotoo PAW S1, or a full-sized DAP like the FiiO M11 PRO.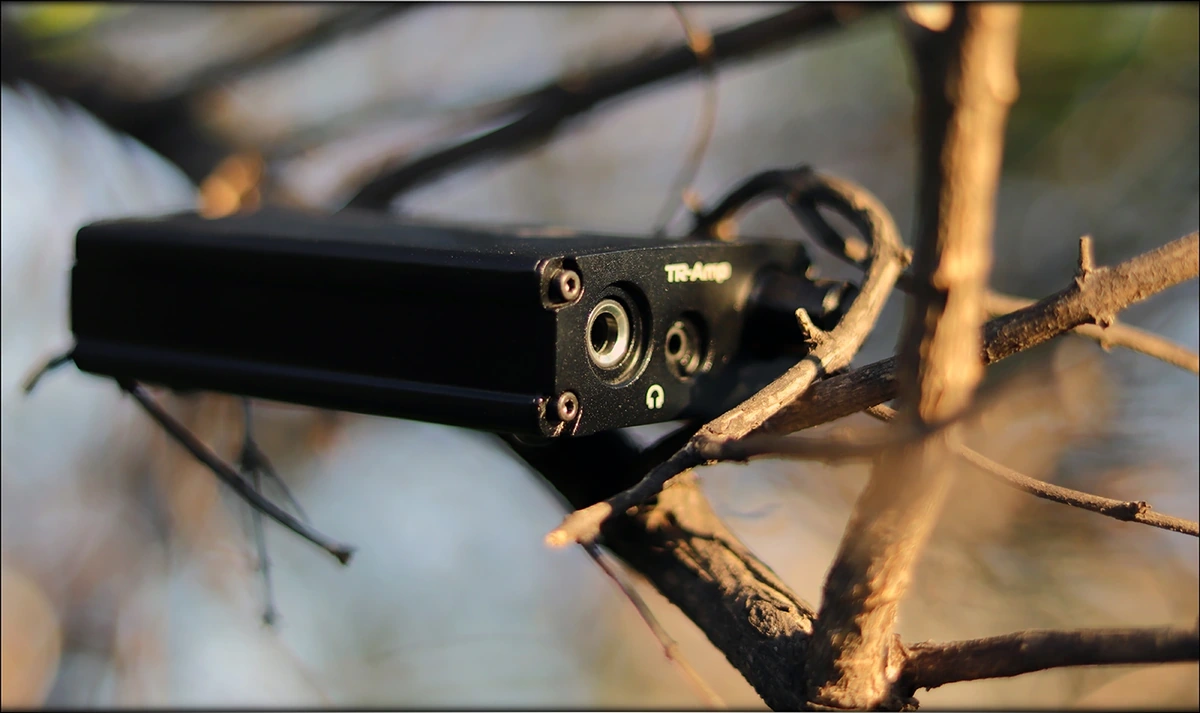 For today's pairings, I went with HIFIMAN Deva on cable, Final Audio B3, and Dunu DK-3001 PRO. Those have made my days really fun, and even though you could easily drive Rosson RAD-0 and even Audeze LCD-2C from the Earmen TR-AMP, those are the ones I used the most. 

Earmen TR-AMP + HIFIMAN Deva (250 USD + 350 USD) – Deva sounds a bit better on cable than it sounds with the Bluemini if you pair it with a high-quality source, and TR-AMP is just that type of source. The sound is a bit warmer than with the Bluemini, but also a bit more natural, the midrange is a touch more open, and everything sounds a bit more controlled. You can notice the overall detail and refinement being a bit better with the TR-AMp is paired with Deva, rather than when it is paired with a lower-power source, as Deva is fairly hard to drive, just like Sundara and most HIFIMAN Full-Sized Headphones. 

Earmen TR-AMP + Final Audio B3 (250 USD + 500 USD) – Final Audio B3 is like a magical IEM for me, because although it relies only on BA Drivers, and it doesn't have the best headroom out there, when paired with the right DAC/AMP, it shines so bright that I can't stop listening to it. Happily that's only a bit about the actual tuning / signature, because the B3 is not exceptionally bright with the TR-AMP, and instead the midrange is natural, well composed, clean and the treble has a bit of that magical sparkle that makes rock and metal exciting, without making everything sibiland or harsh. The bass is also surprisingly good, because B3 has a weaker bass with some sources like the original FiiO M11, but with TR-AMP, it has a good extension and control, it can play multiple bass lines at the same time, and it even has a beautiful impact when the songs calls for it. 

Earmen TR-AMP + Dunu DK-3001 PRO (250 USD + 470 USD) – With DK-3001 PRO, which is a bit V-Shaped, I was able to figure both that the TR-AMP has very low overall hissing with sensitive IEMs, and also that it pairs well with IEMs that are quite a bit more expensive than it. Honestly, I would gladly use it with flagships too, like the Lime Ears Model X, or the Clear Tune Monitors Da Vinci X, but ast the same time, the pairing with DK-3001 PRO convinced me that TR-AMP has a really beautiful midrange presentation, with a natural, clean mid, fatigue-free, grain-free presentation, and although it is not the brightest around, it can have a nice treble sparkle, without come through as being sibiland, harsh or splashy, the treble is just the right type of natural for me. 



Value and Conclusion

TR-AMP has a funny name, and the whole company idea was to make a prank on the President of the United States, naming their products Donald and TR-AMP, but even as a joke name, they still invested in making those products pretty good, so I'm still going to give the TR-AMP a heads-up for having excellent overall value, and I'm still going to take it seriously, although at times it feels like the naming scheme was both a marketing thing, but also a test to see how far they could have taken the joke.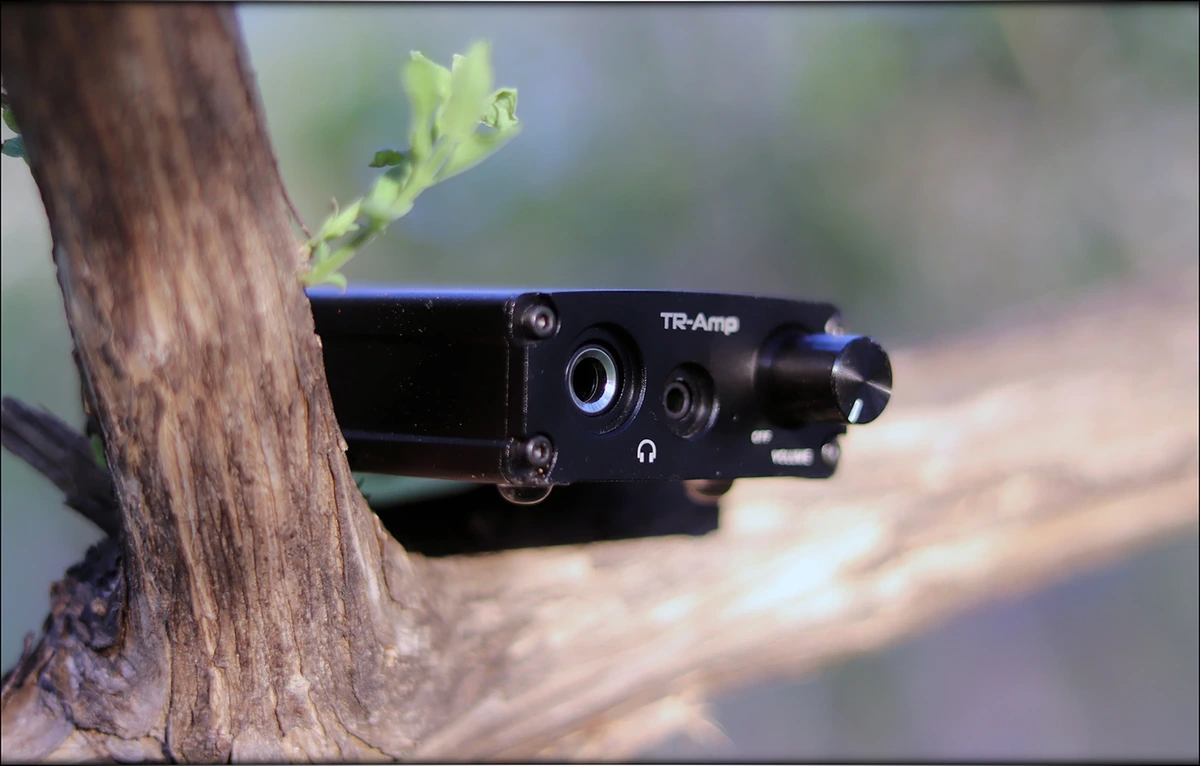 The build quality of the TR-AMP is no joke though, it has two headphone outputs, two Type-C inputs, one for power, and one for data, so you can listen while charging it without affecting the sound. It also works with Windows, Android and pretty much everything, and it has RCA analog output, so you can enjoy it with your desktop setup, without having to worry about anything. If you want it to act just as a DAC, you can select between Direct and Pre Functions so it can even act as a preamplifier, making it a seriously versatile device. 



The sound is natural all-around, with a natural bass, midrange and treble, the soundstage has a natural expansions, and although it is not a detail master, it makes for one of the most honest presentations you can find at this price point, and can still drive almost anything you pair it with, including hard to drive headphones like HIFIMAN Arya, Crosszone CZ-1, and even Final Audio E5000, but also easy to handle IEMs like Campfire Atlas, FiiO FH7, and HIFIMAN RE2000 Silver.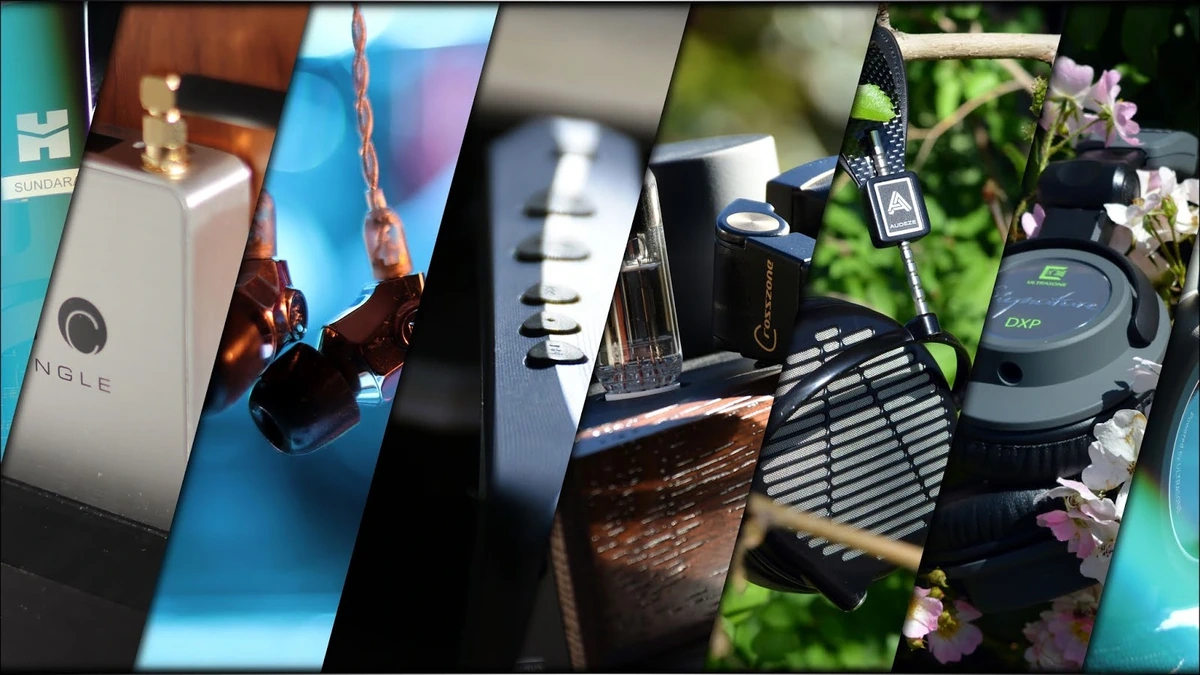 Before the end of this review, I will add Earmen TR-AMP to Audiophile-Heaven's Hall Of Fame, it is simply good enough, and has a good enough price to be the kind of device I want to share with everyone for a long time from now on, and it allowed me to start my video editing with jokes and better editing, so if you haven't checked my youtube channel already, but if you like memes and funny content, please give it a go: https://www.youtube.com/c/AudiophileHeaven



At the end of this review, if you're looking for a really natural sound, a versatile device, a well made device, and if you don't mind the name being a bit of a joke, the Earmen Tr-AMP is seriously good, and has been, for the past three months, the device that never left my desk, simply outstanding, tiny, and practical for both driving IEMs, Headphones and even for using it as a DAC in larger systems. 
Product Link 
You can always get Earmen TR-AMp here: https://earmen-shop.com/products/tr-amp
---
--- Please remember to stay safe, and always have fun while listening to music!---
 - If you have a dime to spare, please donate, and help us! It would make the day brighter for me and my wife- 
---
Full Playlist used for this review
We listened to more songs than those named in this playlist, but those are excellent for identifying a sonic signature.  I recommend trying most of the songs from this playlist, especially if you're searching for new music! The playlists are different for Spotify, Tidal and Youtube, and based on the songs I enjoy and are available on each!
https://www.youtube.com/playlist?list=PL_cjBXGmwSHSdGcwuc_bKbBDGHL4QvYBu
https://open.spotify.com/playlist/5J3oloz8Riy9LxEGenOjQ0?si=979ba4f082414be7
https://tidal.com/browse/playlist/330fd544-8e5b-4839-bd35-676b2edbb3d5
--- Contact Us ---





---