IMR R2 Aten IEMs Review – The Customisable Joy Of 30 Signatures
IMR R2 Aten is the next best thing from IMR, a company from UK, focused on designing their polished, and now good value IEMs, all with configurable sound, and unique tech. R2 Aten is priced at 500 USD at the moment of writing this review, which makes it a direct competitor to IMR R1 Zenith, which is priced at 630 USD, HIFIMAN RE2000 Silver, which is priced at 800 USD, and TheCustomArt Fibae Black, which is priced at 500 USD as well. Pairings with top class DAPs, as well as more budget options, like FiiO M11, iBasso DX150 (AMP 9), and QLS QA 361 are also included in the review. 
Introduction

IMR is a very interesting company, with actually quite a bit of intrigue and controversy around, but I want to take some time to clarify the issues around them, before proceeding with the review. 

There once was a company named Trinity, which ran a Kickstarter Campaign, which failed, and didn't manage to produce the earphones they promised, and to deliver them to their customers. IMR is not the same company, and the only connection between the two is that Mr Bob, from IMR acoustics has been an employee of Trinity, and was taking care of Public Relations for them. 

This being said, he left Trinity considerably before things went bad. To be more precise, Mr. Bob of IMR stopped being connected with Trinity about 6 months before things started going bad for Trinity, so there's no real connection between the two, and I am pretty sure that the past failure of Trinity has nothing to do with IMR. I mean, imagine being at fault for your previous employer doing something bad, after you left a company, it doesn't make sense to persecute Mr. Bob for what happened at Trinity, and since my personal investigation revealed no issues with IMR at all since they started, I am going to just tell things as they have been from the start of IMR Acoustics and forward. In terms of customer support, IMR has been stellar, they had no products going bad, and even when there were any minor issues with their products, they have been swift to solve those and provided adequate support for their customers. For all I can tell, IMR Acoustics is one of the best companies in terms of customer support and really easy to recommend purchasing from as a trusted source. 

It should be noted that I have absolutely no affiliation with IMR Acoustics. I'd like to thank Mr. Bob of IMR Acoustics for providing the sample for this review. This review reflects my personal experience with IMR R2 Aten. Every opinion expressed is mine and I stand by it, the purpose of this review is to help those interested in IMR R2 Aten find their next music companion. 
Packaging

First things first, let's get the packaging out of the way: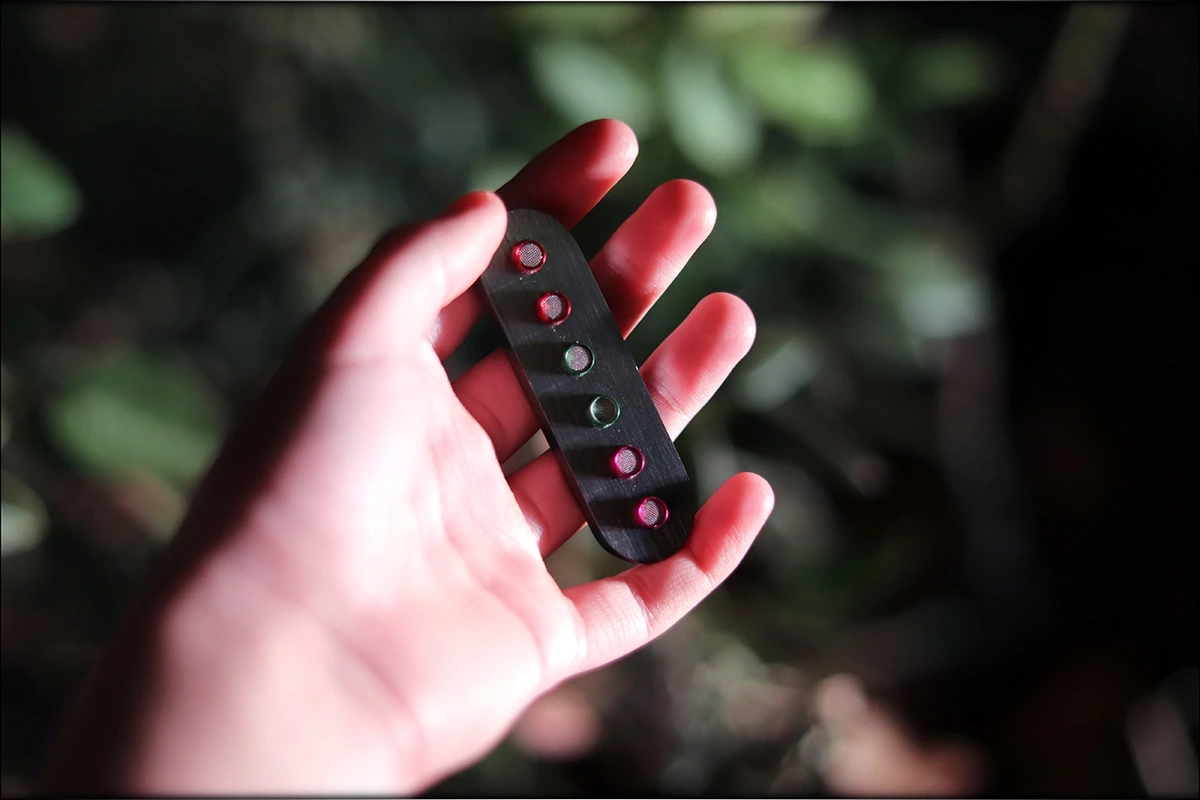 If you've been following Audiophile-Heaven for a while, you know I enjoy a good package, and IMR Acoustics always delivered on that. R2 Aten is not only one of the IEMs that come with a more rich package, but they also come with a very practical solution. Although the large case isn't practical for carrying the IEMs around, if you're only carrying the IEMs, it has enough space for R2 Aten, and a DAP, or a digital audio player. 

Furthermore, inside the package, you can find one of the most rich offers out there, with two selections of audio filters, each changing the sound of R2 Aten a bit, and with a good selection of tips as well. There are two cables inside the package, one that is balanced, and one that is single ended. 

The carrying case is a medium-sized nylon case that you'd normally use to carry misc. Accessories, and the extra space is actually useful to me, since I would normally carry at least one DAP with my earphones. 

Overall, for 500 USD, this is one of the best packages for an IEM out there, and very easily to recommend. 
Technical Specifications 

5 acoustic audio nozzles + 6 acoustic dampers
2 Pin detachable cable (3.5mm and 2.5mm balanced)
Impedance: 32 Ohm
Sensitivity: 106 +/- 3DB
Frequency response: 10 – 50000Hz
24ct Gold plated 3.5mm Jack
1.4M length OFC cable
Hard Case
6.5mm Adapter
Huge selection of ear tips



Build Quality/Aesthetics/Fit/Comfort

I have been having an excellent time reviewing the products IMR Acoustics has been puttin on the market, because with time, I could see them improving. With every step, every IEM became better and better, the build quality refined more and more, and at this point I could say that they designed something that looks even better than the previous release, the IMR R1 Zenith, which I reviewed in the past. 

The build quality of R2 Aten is different though, as it doesn't have an adjusting mechanism on the back, and instead the IEM faceplate is a little grille, as the IEM is more of an open-back design, although the drivers inside are not planar, like Audeze iSine has, rather R2 Aten relying on a combination of Dynamic Drivers paired with a Piezoceramic Driver for the treble. Those sound like big words, but don't worry, they all are used to produce music, and that will be explored in the Sound Quality part of this review.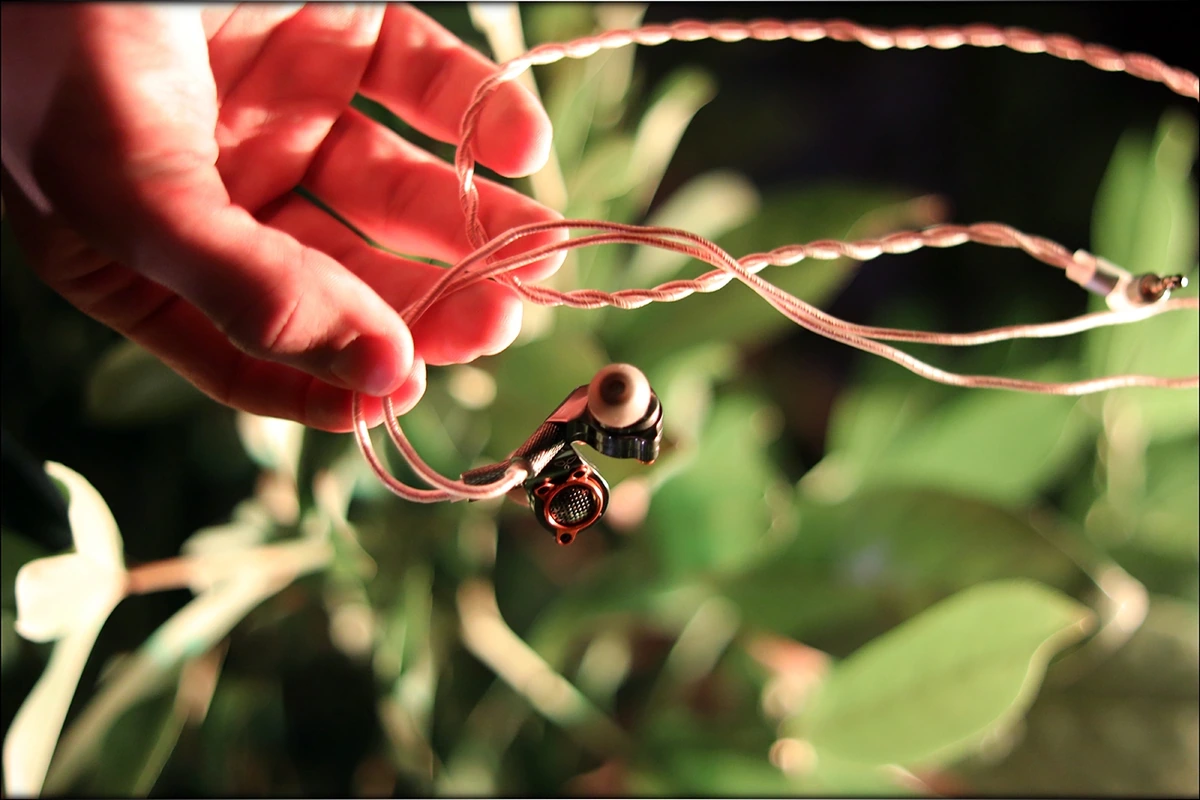 The IEMs have a very smooth design on the inner part, although they still manage to look somewhat industrial and edgy. The design does not affect the comfort though, and the angling, size and length of the bore, the part that supports the ear tip, is just perfect for R2 Aten to fit in my ears. In fact, they fit so well, they manage to be one of the most comfortable IEMs out there, despite their slightly larger physical size. 

The cables are connected to the IEMs via a 2-Pin connector, and there are two cables included in the package, both being of very good quality. One is a single-ended 3.5mm cable, while the other is a 2.5mm balanced cable, so when purchasing R2 Aten, you won't need to think about cable upgrades for a while. 

Passive noise isolation is poor, and given the large grilles on the face of the IEMs. and the open design, there is quite a bit of music leaking out, and you can still hear what is going on outside. This being said, even listening at medium volumes is enough for this to not matter, and you won't have any issue using R2 Aten for daily commute, despite the lower amount of passive noise isolation. The highlight though, is that there is no driver flex, and no cable microphonics, which make R2 Aten really good for portable wearing. 



There are two screw-on parts that can be configured, and from those, you can make up a total number of 30 total combinations possible, which is just insane. Imagine having 30 actual IEMs in just one. Of course, that would be a little bit of an overstatement, but you do get 30 variations of R2 Aten, and all of them are different enough from each other to make sense. The two types of filters are acoustic dampers, and Acoustic Audio Nozzles. The filters are made of metal, and although I've been playing with them a lot, I haven't managed to break the filters or thread the screw part, so they should last a lot of filter rolling, until you satisfy your curiosity about R2 Aten. 



Sound Quality

As the sonic performance of R2 Aten is highly dependent on what filter you have on, I took the time to study what each of them does to the sound, and which I would recommend the most. 



The bass is mainly dictated by the filters, with the Black Filter having the most, and the Green Filter having the least bass. The order looks like Black > Gold > Red > Pink > Green. 

For the 6 acoustic dampers, they are all used to fine tune the treble response, and although the changes are not quite as big as between the nozzle acoustic filters, they still make some changes, and especially those sensitive to treble fine tuning will love them. The Blue Filter has the most treble, while the Gold Filter has the least treble. The order goes like Blue > Black > Pink > Red > Green > Gold. 

Overall, regardless of the filters used, R2 Aten has a bit of a 6kHz spike, and that results in a good ability to resolve detail, but may also be a bit strong if you don't like a V-Shaped signature in general. There's the part that everyone has noticed when they tried to review IEMs with Piezo components before, they all have an excellent amount of detail and clarity, but it comes at the cost of the upper midrange and the lower treble being quite strong. I say cost, because from my general interaction with everyone, at least half of people are a bit afraid of a stronger treble, while the other half longs for more treble in every IEM they hear. Now, R2 Aten is for those treble lovers, regardless of the filter, it can really punch you with some extra spice. 

The bass goes from an overwhelming amount with deep impactful bass using the Black filter, to being a pretty moderately warm IEM with the Red filter, to having a strong bass roll-off, with the Green filter. For all purposes, I would avoid the Green filter, but every other filter tends to sound awesome for a certain music style. For example, for EDM, and Hip-Hop, the black filter is simply the best, it has a lot of depth, impact and extension. The Red filter works best, at least for me, for rock, metal, and most music styles. I think that the Gold filter was made for Orchestral and Classical, if you like it warmer, while the Pink filter would work awesome with acoustic music. Overall, the bass can be as deep, and as rich as you want. The black filter, the extreme, will make any basshead jump around in glee and joy, while the Red filter would make a fairly clean V-shaped signature that should work for most people looking for a V-Shaped sig. The pride of R2 could be said to be its bass, and with the Red filter, as well as with the Pink filter, I think you would have a really good time with it. The black bleeds a bit much and makes everything a bit too dark and too thick for my liking, but then again, if you're a basshead, you'll have it as an option. I personally did not like the Gold filter as much, it tends to increase the spike in the upper midrange a bit much, although if you love an aggressive V-Shaped sound, like Sennheiser Ie800 had, you may enjoy the Gold one the most. 

The midrange has a slight dip in the lower mids, so it can sound a bit thin for male voices, but it sounds really clean, and crisp for all instruments, and with the black filter, which makes the entire sound a bit thicker, it works really nicely for male voices as well. The other filters also have some impact on the midrange, but regardless of the filter, the lower mid dip tends to be present, and it takes care of the bass not bleeding in the mids. Guitars, in particular, are sweet and textured, and thanks to the upper midrange spike, they have an excellent texture and resolution as well. Overall, I imagine that the V-shaped signature that would combine the Red Filter with the Pink or the Black Damper would suit most casual listeners. 

There's also the treble, which is influenced by the acoustic dampers, but that is actually not that strong, and it varies from the Blue damper, which is basically a free damper that lets you hear the most the driver has to offer, all the way to the Gold damper, which offers a smoother and more easy sound. I stayed with Black and Pink the most, although for certain songs, especially acoustic music, and some metal, I loved the clarity and overall sparkle of the Blue. This being said, if you're really sensitive to treble, and don't want it harsh, the green damper helps a lot. 



After playing with the pairings, I came to the conclusion that the color coding is not necessarily random, and although you're free to combine them any way you want, I think that the best experience has been for me with full colors. This means that Gold Filter with Gold Damper provided an actually good sound, despite the gold filter alone sounding odd. Same for black, the high amounts of bass of the black filter are balanced a bit by the black damper, and the final sound is actually enjoyable, although aggressively V-Shaped with a strong bass, kinda like Rhapsodio Zombie was. Then, if you want to have a sound with no bass, there's also the Green filter that opens the bore entirely, and which reminds me a bit of other IEMs with an open design. 

The soundstage, thanks to the open-back design, is really large, and you get excellent separation and imaging from the piezoceramic driver. Although R2 Aten isolates less than most of its direct competitors and most other options, the holographic stage makes me grab it so often, and explore my music in a whole new way. The detail and clarity is also top-notch, and you have an IEM that's not only a unique piece, but also really fit for its price category. Not to mention, there are B-Stock and sales going on sometimes, so you can grab one for less than the market price. 



Portable Usage

R2 Aten is not particularly hard to drive, but it has a 32 OHM impedance, which means that it is less sensitive to hiss than IEMs with a 10 OHM impedance, paired with an 106 dB sensitivity, which makes it fairly sensitive. There are options like IE800 from Senniesher, which are 16 OHM in impedance and 125 in sensitivity, but they are really hard to drive in practice, so the subjective impression of how hard something is to drive when tested is more relevant than the theoretical values. 



In terms of passive noise isolation, you could use Final Audio IEMs, like B1 if you wanted more isolation, but even final has models that have a lot of leaking, and isolate less, like Final E5000, which was a pretty happy-trigger IEM in terms of how much it leaked. Of course, for better isolation, you could use custom IEMS, or CIEMs, like FIBAE Black, or CIEMs from Lime Ears, if you wanted absolute silence while listening to music. 

I'm one who's more happy to share and I sometimes even use full sized open-back planar headphones, like Rosson RAD-0 portably, so an IEM like IMR R2 Aten is simply perfect for me. When taking a walk, having some input of what is going on is better, so make sure you don't fully isolate from the outside noise, otherwise you could get in an accident or in trouble.

As for portability itself, the cables are a bit springy, so not absolutely ideal, but it is within normal, you can drive R2 Aten from most medium sources, because, as I said, it is not particularly hard to drive, but it is not easy to drive either. As it comes with two cables, and one of them is balanced, you could enjoy sources that have a balanced output as well, like FiiO M9, or iBasso DX160. R2 works well at both high and low volumes, and you don't have to worry about it sounding bad if you're listening more quietly. There are certain IEMs that sound best when they are either at high volumes, like Dita Fealty, or FiiO FA7, and there are those who sound best at more quiet volumes, like Dita Fidelity, Clear Tune Monitors CTM Da Vinci X, and especially those which are more bright and analytical. IMR R2 Aten is right in between, and will sound interesting at both high and low volumes, especially as there is a good selection of filters, and you can spice the sound to suit your listening volume as well. 



Youtube Video Review

IMR R2 Aten Youtube Video



Comparisons 

The comparison list includes IMR R1 Zenith, HIFIMAN RE2000 Silver, and Fibae Black, all of which are very different IEMs from R2 Aten, and all of which are in slightly different price segments. 
IMR R2 Aten vs HIFIMAN RE2000 Silver – HIFIMAN RE2000 Silver is quite a bit more expensive than R2 Aten, but makes a good comparison, because you may be wondering whether it is worth to invest 300 more USD, or to stop at R2 Aten. In a few words, the package is actually better for R2 Aten, with more cables from the start, better cables, the filters are also a bonus, and the carrying case, despite not being necessarily better for R2 if you're carrying it alone, provides a good solution, if you're carrying an entire setup within. The comfort is actually slightly better for RE2000, at least for my ears, there's better comfort. RE2000 isolates more, and creates a more quiet listening space for you, but at the same time, the sound is very analytic, and doesn't have anywhere near as much bass as R2 Aten if you're using the black filter. RE2000 is almost a reference tuning, with a sparkly top end, a mild V-shaped overall signature, and a deep, well extended, but almost neutral bass. There is a bit of extra bass for RE2000 than the absolute neutral, and the speed, resolution and clarity of it are sublime, but the quantity is nowhere near R2 Aten. Now, by comparison, R2 Aten has a stronger  upper midrange peak, it has more overall sparkle in the treble, and it has a thicker bass, meatier, but also slower bass. The resolution is better on RE2000 Silver, but both can be very musical and easy to enjoy. 

IMR R2 Aten vs TheCustomArt Fibae Black – Fibae Black is at the other end of the spectrum, compared to RE2000, as it is a dark-ish, clear, and clean IEM, but with less treble than R2 Aten. The package of R2 Aten is actually better, and especially the default cable is better than the one of Fibae black, since there are two of those cables with R2 Aten. I consider the filters to also add to the package, as Fibae Black does not like EQ at all, and The Custom Art squeezed everything there was to squeeze out of the driver inside Fibae Black. You can understand that Fibae Black is very coherent, and natural, but when you add R2 Aten to the mix, you get a much more dynamic, punchy sound, with more treble sparkle, more excitement, and more actual options to configure it. Fibae Black is quite excellent, if you want to lean back, and relax, while R2 Aten is a gem for tinkerers, those who like to experiment, and those who want a more sparkly, more exciting sound. 

IMR R2 Aten vs IMR R1 Zenith – R1 Zenith has been the previous IEM I reviewed from IMR, and well, I also liked it quite a lot. It looks like they kept improving more and more, and with every new release, they leave a nice trace in the world, with more masterful works, with more unique tech, and with better price-to-performance ratios. The package is similar, but the comfort is better for R2 Aten, as it has less edges, is smaller, and has a better cable than its older brother. Now, with R1, you had two ways of tuning its sound, it had a little screw at the back, which would allow you to either open or close the acoustic chamber of the driver, and it also had a selection of acoustic filters. With R2 Aten, the acoustic chamber is always semi open, but there are more tuning options than with R1 Zenith. It was really easy and fast to determine which was my favorite signature with R1, but I took more time to tweak and play with R2, there was simply more option and more beauty with each setting to discover. You'd be happy with either, but if you wanted a larger soundstage, more detailed sound, and precision under all settings, R2 Aten manages just that. With R1 Zenith, the more you wanted to increase the stage, the more vague the sound and instrument separation became, but that doesn't seem to happen with R2 at all. 



Recommended Pairings

The pairing of R2 Aten is easy, as long as you get a decent source, so anything above Shanling M2X, in terms of power, dynamics and control, should do just fine. FiiO M9 would be quite a match, and this list includes some OTG USB DACs like Cyrus Soundkey, but for today, I have chosen QLS QA 361, FiiO M11, and iBasso DX150 paired with AMP 9. 



IMR R2 Aten + iBasso 150 (AMP 9) – DX150 is another gem from iBasso, priced lower than DX220, but relying on the same AMP modules, so of course, I will be pairing it with AMP 9. I am surprised to notice there is no hiss and no noise coming from this setup, and I'm surprised to notice a very detailed, dynamic and lively midrange, a clean, yet not overbearing bass, and a sparkly, well extended, airy top end. DX150 can act as a USB DAC, it has good support for streaming services, and it also has iBasso's stellar support behind, making it an excellent DAP to recommend, the only downside to it being that DX160 is available, and that one combines iBasso's latest tech, a lot of power, all for a lower price than the total price of DX150+AMP 9. 

IMR R2 Aten + FiiO M11 – Of course, FiiO M11 is easy to recommend, it has a good price, it has excellent sonic ability, especially for IEMs, and it has support for all streaming services now, with full support for Play Store with the latest updates from FiiO. If you're considering getting it, you will have a slightly more neutral and bright signature for your R2, with a wide soundstage, but a slightly stronger treble, including a slightly stronger upper midrange spike, and with a clean bass that's slightly thinner than with most other sources, that seem to thicken it a bit. 

IMR R2 Aten + QLS QA 361 – QLS QA 361 is a surprisingly good pair for R2 Aten, as it has a strong, clean, and punchy sound, but doesn't seem to have the thicker and more heavy sound that most sources have with R2 Aten. For an IEM that has the bass as its highlight, you need to chose a source that will keep that bass under control, and the softer, cleaner nature of QA 361 compliments R2 Aten quite well, providing what I would call a match made in heaven. QA 361 is a minimalistic DAP, so everything went to audio, there's no hiss, and there are lots of details, but there's also no streaming support, no touch screen, just a basic DAP to enjoy for years. 



Value and Conclusion

The price of R2 Aten, of 500 USD, is actually pretty high, but for the technology employed, quality of sound, number of accessories, and quality of the package, you get what you pay for. There's nothing missing from the package, and getting two high quality cables is pretty much insane considering the little number of IEMs that have a similar package. Since you can configure up to 30 Signatures, out of which about ten are pretty awesome, that's paying almost 50 USD for each signature of R2 Aten, but it still has the clarity, detail, dynamics and punch of a 500 USD IEM. 



When it comes to the fit, the only downside of Aten is that it has an open back, and some people are looking for IEMs that isolate, R2 Aten not doing that very well. This being said, the comfort itself is awesome, the tips included in the package are large in number, and there's a rich selection of them, there is no driver flex, and there's no cable microphonic noise, making R2 Aten one of the more comfortable and better built IEMs out there. Although I tried my best taking some slightly artistic photos for this review, it may not be obvious, but R2 Aten is a true looker, a beautiful design, with an industrial-edgy look, golden accents on a metallic body. 

Reality can be whatever you want, said Mr. Bob when he set to design R2 Aten, then proceeded to make an IEM that has 30 possible signatures, leaving it up to you how you want to tune R2. From a bass-heavy, thick, yet sparkly IEM, all the way to a light, clean and snappy IEM, you have the ability to make R2 your dream IEM, with a few simple adjustments. 

Before the end of this review, I want to reserve R2 Aten a place in Audiophile-Heaven's Hall Of Fame, for providing an interesting 500 USD option for those who enjoy tuning and customisable sounds. 

At the end of this review, if you're looking for an IEM that has it all, sparkle, bass, dynamics, punch, thickness, and the option to chose, even the option to choose between its balanced and single ended cable, uses 2-Pin connectors for its cables, and has great comfort, and an open design, you should really consider R2 Aten, and if you keep an eye out, you may spot them while on sale, drop or other sale. 

---
---
--- Please remember to stay safe, and always have fun while listening to music!---
 - If you have a dime to spare, and donate, to help us with electricity and work expenses, it would make my day much brighter, as it would help me improve things around the website and increase the frequency of my posts - 
---
Full Playlist used for this review
We listened to more songs than those named in this playlist, but those are excellent for identifying a sonic signature.  PRaT, Texturization, Detail, Resolution, Dynamics, Impact, and overall tonality are all revealed by those songs. We recommend trying most of the songs from this playlist, especially if you're searching for new music!
https://www.youtube.com/playlist?list=PL_cjBXGmwSHSdGcwuc_bKbBDGHL4QvYBu
--- Contact Us ---






---
---