Music and Soul – xDuoo XD10 Poke Review
XD10 from xDuoo is an interesting DAC/AMP that comes to challenge the Status Quo of iFi and FiiO DAC/AMPs dominating the market. It is time to see if budget-friendly cham from China can hold its ground against other DAC/AMPs, and bring something interesting to the table.

xDuoo is a company from China, but they are not the provider of today's review sample, but rather X-TENIK Shop, a new store with a lot of interesting products, mainly xDuoo from China. They are very open and friendly, and they also produce videos for the products they are selling, they can really help you decide what product to purchase in case you're interested, shipping from them worldwide is quick, and they are very reliable with the warranty. If you ever spoke to me via a message, you probably know how much I tend to use the text emoticon version of a smiley face "XD", so reviewing XD10 was sure to happen sooner or later. 
It should be noted that I have absolutely no affiliation with xDuoo or X-TENIK, I am not receiving any incentive for this review or to sweeten things out. This review is not sponsored nor has been paid for by xDuoo or X-TENIK or anyone else. I'd like to thank xDuoo or X-TENIK for providing the sample for the review. The sample was provided along with xDuoo or X-TENIK's request for an honest and unbiased review. This review reflects my personal experience with xDuoo XD10 Poke. Every opinion expressed is mine and I stand by it, the purpose of this review is to help those interested in xDuoo XD10 Poke find their next music companion.
Product Link 
https://www.xtenik.com/product/xduoo-xd10-poke/
Packaging

First things first, let's get the packaging out of the way:



This is one of those rare packages that go a step beyond in terms of color and design, and this is quite nice to see. Having unboxed so many products, I feel delighted when I see one that is a little more unique, and XD10's package sure has personality. 

Inside the package, you can find a good amount of information on XD10, as well as quite a bit of glamour in terms of accessories. This is the iFi and FiiO kind of experience, where you get a lot of useful extras with your device. With XD10, you get a silicone PAD to strap, or rather glue it to your smartphone, you get a longer USB cable for connecting it to your computer, and you also get shorter OTG cables to use XD10 with a smartphone / tablet / portable source / transport. 

There is also a 3.5mm to 3.5mm cable, which seems to be meant to use as an AUX cable, either as AUX in or AUX Out to a different Amplifier. I like the openness of xDuoo of including the option to use XD10 as both as DAC only and as an AMP Only, it is cool to leave the option in the hands of the user.   

Other than this, the package is pretty fancy, for 250 USD, this is a personal favorite in terms of design and contents, XD10 reaches my personal golden standards at this price range quite easily, and actually raises the bar a bit. I love the fact that they include a silicone pad, this should come with any DAC/AMP, and I love the large number of cables, including special OTG cables. If anything would be missing from the package, that would be a carrying case, but since while you're carrying it, you're most probably keeping it strapped to a smartphone, I don't really feel the lack of a carrying case. 
Build Quality/Aesthetics/UI/Firmware

Starting with the build quality, this is a solid device, quite literally, a full metallic little black rectangle. There are many things that I love about this, starting with the fact that it will not be getting any fingerprints, it won't get dirty easily, it doesn't scratch easily, and it looks amazing in person. Of course, that is more of an aesthetic thing. Still on build quality, the buttons are good quality, there are many buttons and switches on the surface of XD10, like a Filter button (which changes the digital filters), a Vol+ and Vol- button, and on the other edge, there are 4 switches, more than on most DAC/AMPs I ever seen, especially portable ones.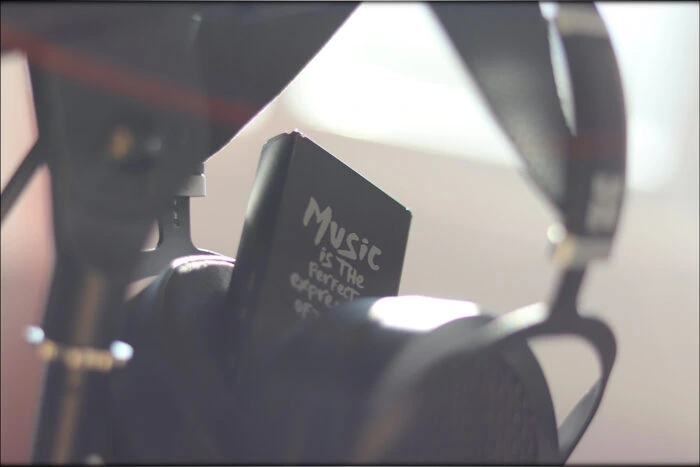 You can find an On/Off switch, which is pretty self explanatory. Next to it, a switch to select between AUX and USB Input. 

There is also a Bass Boost switch, and a Gain switch. I recommend leaving the gain switch at High at all times, the sound seems to have better dynamics and better overall energy like this. The high gain doesn't introduce more noise, nor worse hiss, and XD10 actually has absolutely no hiss as far as I can tell, even with really sensitive IEMs. 

The Bass boost is a bit on the thickish side, so it doesn't work only for bass, but for a slightly wider range of frequencies. It has little distortion, if you're not at the maximum 120 Volume, and it works up to about 100 volume with most headphones, although with Crosszone CZ-1, it stays distortion free even at 120 max volume, which is amazing. It works nicely with headphones that could use a bit more meat, like HIFIMAN SUNDARA, which sounds absolutely delightful with the bass boost at on, gain at high, and volume at 100. 

There is a little display on the front of XD10, which shows when it is charging, it shows the kind of signal it is receiving (PCM), shows the current sampling rate of the data, what input is turned on, as well as the gain level and the volume level. I can't take a proper photo to showcase how awesome this little display is, coming from a range of DAC/AMPs that have no display, this feels like a totally new era. The display also feels retro, which works well with the overall design of XD10. 



XD10 is a beautiful device with rounded edges, it is not sharp in the corners or in the edges, which is very important for a portable device. The inputs are large in number, a USB input, a charging microUSB input, and an Aux input. The Aux is labelled as AUX In/Out, but I could only figure how to use the AUX Input, not use it as an output. There is no clue in the manual either, on how to use the Aux Port as an output. This being said, I am very very satisfied with the AMP built in the XD10, and I imagine virtually everyone getting one will be using it this way. 

I noticed an issue there, if you plug in an AUX cable while USB is playing, it will play both input signals, at the same time at a lower level. I am not sure if this was intended in the original design, but this seems to be the way it goes. This being said, it is a minor bug and most people will not be using XD10 as an AMP only, even less have both the USB and the Aux In jack populated. 

The specifications of XD10 are out-of-this-world, with 250mW + 250mW in 32OHM, basically being able to power HIFIMAN Sundara quite well. This is absolutely outstanding for 250 USD.

XD10 has excellent ratings of low distortion, and SNR (Signal to Noise Ratio). There is one thing that is not so excellent, and that is the battery. My smartphone has a larger 5500mAh battery, while XD10 has a 2200mAh battery, which is a little on the low side. The battery life is rated at about 8 hours, and in practice, it is about 7.5 hours even in heavy usage, but I'd like to see a larger battery on thicker devices, where it is possible. This being said, it is in line with other DAC/AMPs at this price range, and it should get your through a day of listening without an issue.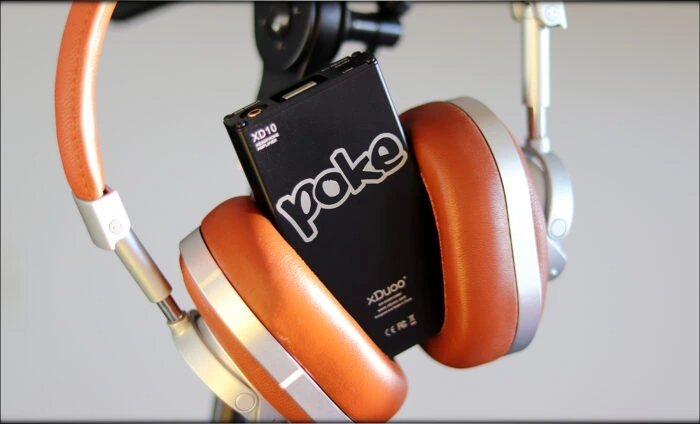 If you're a fan of High Resolution Music Files, XD10 has got you covered, with support for anything, from 32 Bit / 384 kHz PCM signals to DSD at 64 (2.8MHz) even to DSD at 256 (11.2 MHz). 

The UI is cute, and at the firmware level, it is stable, doesn't require a driver for my PC nor my smartphone, nor my tablet, it works with everything I tested it with, is fluid, and is coherent. No bugs encountered in my entire usage, besides the one mentioned above. 

All in all, I am a fan of what xDuoo have done with XD10, and it reaches the golden standard of build quality, aesthetics, UI and firmware, for a DAC/AMP priced at 250 USD. 



Sound Quality

For the sonic part, xDuoo XD10 uses an AK4490, which is an excellent DAC, with a musical and smooth "Velvet Sound". This doesn't mean much by itself, and an ideal source is as transparent as possible, but all professionals working in the music industry will tell you that more often the problem is about how well two pieces of equipment work together rather than how transparent they are. 



With XD10, the subject is quite complex, because it is fairly transparent, so it doesn't have a strong tuning of its own, but after switching between it, and iFi xDSD, FiiO Q5, NextDrive SpectraX and Mytek Brooklyn DAC+, I could detect that without the bass boost engaged, XD10 is pretty darn neutral, a little on the cold side, with an energetic, detailed and fairly good sound for its price point. It has enough power to drive HIFIMAN Sundara, the main Planar headphone I've been pairing it with, and it has a natural overall speed. The bass switch will give XD10 a much thicker and more satisfying sound, and although it could be a bit boomy, it won't cause it to distort. Some headphones will really take advantage of this bass boost, which is not quite that subtle, being rather an imposing bass boost, while other headphones may sound better without it turned on. So far, with iBasso IT01S, I didn't feel the need to turn on the Bass Boost switch, while with Sundara, it worked well for certain music styles, like electronic and dubstep. Sundara sounds excellent with XD10, without the bass boost, if you're listening to Metal, Black Metal or Punk.  

The bass, regardless whether the boost is on or off, is on the natural side of things in terms of speed, but it has good resolution, especially for the 250USD price mark. The bass can go really low, and it can keep up with Technical Death Metal, if you want to put it to the test. The more interesting thing about the bass, is the bass boost, which clearly makes the sound quite a bit thicker, affecting a wide array of frequencies, and bleeding into the midrange, but which works well with some headphones. The bass boost is noted to be at 6dB, which I think is conservative, it feels like it adds a tad more. 

The midrange is clear, natural, and, while the bass boost is turned off, is slightly cold and slightly analytical, and while the bass boost is turned on, is thick, and warm. This is because the bass boost affects the midrange as well, and while this may not be for everyone's tastes, especially if you were looking for a less colorful bass boost function, I could say that I am enjoying XD10 greatly in both modes with the right headphones and with the right music. The midrange has a good soundstage, and things expand really nicely in width, with a really fair amount of depth as well, considering the price point of XD10. The tone is natural, and the detail levels are quite good, it is not an analytical device, but it performs stellar for its price point, sometimes putting more expensive DAC/AMPs to shame in terms of how detailed and feature rich XD10 can be. 

The treble is also fairly natural, it doesn't have any roll-off, but it is neither grainy nor harsh, but it isn't soft either. To describe it properly, it is a really natural treble that extends all the way it should. The high-end sparkle has a touch of a specific tuning of its own, where some certain treble peaks are just ever so slightly attenuated to avoid harshness and to provide better overall balance. This is very hardly noticeable if you're using XD10 on its own, and the treble feels very natural this way, but if you're quick switching between it and another DAC/AMP, you can notice that it has a specific way of presenting the treble. Some devices sporting the same AK chip have a similar way of conveying the treble, so I'm inclined to believe this is part of their "velvet" sound thing. 

All in all, XD10 is fairly accurate and transparent, there is hardly any coloration if you're not engaging the Bass Boost, situation in which the sound gets thicker, warmer and more lush regardless what IEMs or Headphones you're using. 



Potable Usage 

xDuoo XD10 Poke was designed as a portable DAC/AMP device, and it does its best to be one, in my honest opinion, doing its job fairly well.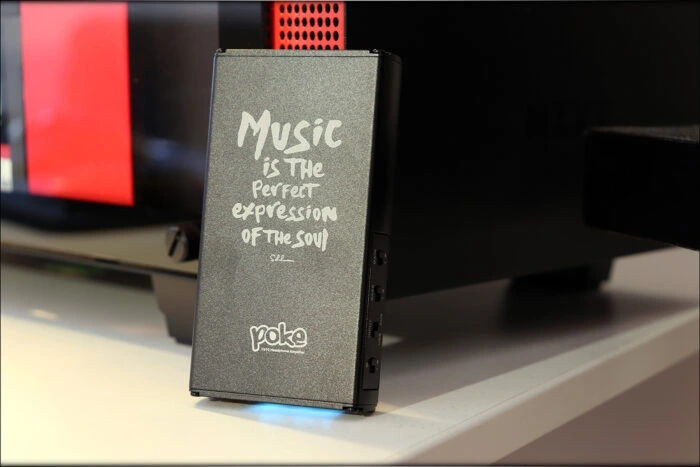 Starting with the shape, it is rectangular, not too thick, not too thin, not too wide, and not too short (some devices can be a bit thick and short for strapping on most smartphones, not being quite as comfortable as a more natural shaped device as XD10).

There are no EMIs with XD10. I do test this by placing the device right on top of my wireless router, then streaming something to my portables. It is a good test to ensure you're not going to be hearing a lot of interferences from random sources while using a device portably. 
The battery life is fair, and good enough for a day of usage, XD10 living for about 7.5 hours with more aggressive usage, like high gain, and high volumes, and with the bass boost turned on. It is good to mention that I wish more producers included larger batteries in their devices, but this rating is still fairly good and I can't complain about XD10 as it lives as much as other devices in this price range. 

XD10 comes with all the cables you will need to connect it to your smartphone, or tablet / computer, it comes with a silicone band to place between it and your source, the only thing that is really missing from the package being probably some bands to strap it to a source. 



The display of XD10 is easily visible even in full sunlight, which is great if you want to check what settings you're running, and the hardware buttons all around its body are placed well, easy to remember, and easy to use, even while XD10 is in a pocket, so you don't have to worry about mispressing a button, or about not being able to change the volume, bass boost, or eventually turn it off, if you need to. 
The design is also beautiful, I think this is something that XD10 has nailed really well, you can have it strapped to your smartphone and walk proudly with it, it doesn't look quite as industrial as some other options, but that's pretty good if you want to keep casual with your overall style.  



Comparisons

There are quite a few devices you may be considering instead of xDuoo XD10, like iFi xDSD(400 USD), FiiO Q5(350USD) and HIDIZS DH1000 (300 USD). From the start, XD10 has the best price of this list, but it is time to test whether it also has the best performance, and whether it is the right choice for you. 



xDuoo XD10 vs iFi xDSD – iFi xDSD is quite a bit more expensive than XD10, almost double the price, and I should probably be comparing XD10 to iNano BL, but on a short notice, iNano BL is 200 USD, so almost 25% less expensive than XD10, and in all fairness, XD10 has more driving power, a more energetic sound, a display, and is the better overall option compared to iNano BL, unless you're driving only easy-to-drive IEMs, want the stellar iFi warranty, and need a small device, situation in which iNano BL has got you covered better. Back to comparing XD10 vs xDSD from iFi, this one is quite interesting. The package is similarly good for both devices, although xDSD comes with better quality cables, and quite honestly, I have been using XD10 with iFi's blue cable for most of my tests. xDSD comes with a carrying pouch as well, but it doesn't come with bands to strap to your source, nor with a silicone band to separate it from your source, although iFi has implemented rubber feet on xDSD, which work like magic for it, and they have an interesting approach for not requiring silicone bands, having some velcro adhesive bands inside the package, to strap xDSD to your transport. This being said, more often than not, I found myself using cheap rubber bands on both xDSD and XD10, as you can probably notice in my latest videos. In terms of features, only xDSD features Bluetooth, while both devices offer a line out mode, and both devices offer digital filters for a different sound, although iFi's are better implemented. Both XD10 and xDSD require a separate charging cable to charge. xDSD will gather smudges and fingerprints, and the finish is more sensitive than the one on XD10, which is much more solid and made for practical usage, although xDSD is more eye candy as a desktop device, with its smooth, lean and luxurious appearance. Only xDSD features a physical volume wheel, while XD10 has volume buttons. The special effects are implemented differently, with iFi's X-Bass affecting less frequencies than XD10's bass boost, so iFi's is more universal and only affects the bass, and the sub-bass, while XD10's thickens the entire sound. I tend to keep the bass boost on both units turned on with certain headphones and music, but iFi's I keep turned on almost 80% of times, while XD10's, about 30% of time. iFi's 3D soundstage feature is quite handy, and XD10 does not have this type of feature, and I keep it turned on almost 50% of time with iFi xDSD. iFi has a balanced output, at least in theory, but you require a special cable to take full advantage of it. From iFi's paperwork, the balanced output is engaged at all times, and should provide a better sound. XD10 offers two gain modes, while xDSD does not, but both are fairly hiss-free, so this isn't quite that important. Both have a similar battery life in practical usage, XD10 maybe squeezing a hour more. 

Now, the sonics of the two are pretty similar, both are very detailed, very energetic, very clean, very clear and wide-sounding devices, the main differences being that xDSD is a bit more detailed than XD10, provides a better overall vividness and dynamics, and has a better overall transparency, both with IEMs and hard to drive headphones. Picking between the two should firstly be done by the price, xDSD being quite a bit more expensive, but offering better detail, better soundstage, more effects, Bluetooth features, a physical volume wheel, a better digital filter, better cables included in the package, better overall dynamics, and being the better sounding device in general, while XD10 tends to be a tad tighter and faster overall, and considerably thicker with the bass boost turned on. If you want a little display, XD10 offers it, and if you want to save a few bucks, XD10 is quite a bit less expensive. XD10 stands its ground very well, and is an interesting more budget alternative to iFi xDSD, although iFi's warranty may be a bit better, with them having a really amazing warranty record and customer interaction, where xDuoo warranties may require more steps to get solved. 

xDuoo XD10 vs FiiO Q5 (AM03A) – Now, I know it is a little unfair to put up XD10 against Q5, since Q5 is 100 USD more expensive, or almost 50% more expensive, but this is a fun test people might want to be doing, especially since some people would rather save up 100 USD more for Q5, instead of going for the cheaper option, unless the cheaper option can also hold its ground for that price point. Starting with the package, both devices come with a large number of accessories, including cables and a silicone band to place between the DAC/AMP and the transport, but only Q5 comes with bands to strap it to your transport. The aesthetics will be pretty subjective here, but both device have a nice aesthetic, with Q5 looking a touch more industrial and technologic, while XD10 looks more forward and casual. The build quality is great on both, and both Q5 and XD10 feature a large number of physical buttons, but only Q5 features a volume wheel, while XD10 features volume buttons, while only XD10 features a display to show its current state, while Q5 does not, but can provide some indicators to a smartphone with the proper apps and settings, and in the proper mode. Q5 also features bluetooth, including APT-X, which XD10 does not. Depending on the AMP module installed, Q5 features a line out, like XD10 does, but only Q5 offers optical line in, and the possibility to use an amplifier module with a 4.4mm Balanced jack. On this note, XD10 does not offer a Balanced Jack at all, so if you are planning to be using balanced headphones / IEMs, then only Q5 offers it. No, on to the sound, the fight is a bit unfair from the start, as once again, Q5 is more expensive than XD10, but Q5 has a more detailed sound, with a similar neutral tuning, with slightly more natural overall treble presentation, with a more energetic overall sound. When comparing Q5+AM03A with XD10, XD10 has better driving power and can control planar headphones better, so if you have a hard to drive headphone, XD10 is better in the default state, but you can always purchase a different AMP module for Q5, like AMP5, which has better overall power than XD10. 

I keep the bass boost turned on 30% of the time with XD10, while I keep it turned off almost always with Q5. Both devices have a stable firmware, will connect easily to your portables, and desktop PC, and both have good, and similar battery life. Now, if you have more money to invest, it would make sense to go for FiiO Q5, it has bluetooth, it has better details, a more natural treble presentation, it has volume wheel, and it has just the better default sound, compared to XD10, and it has upgradeability options, but XD10 has you covered, if you want to save almost 100 US Dollars, XD10 is the only of the two that has a display to show its current state, and XD10 has the better driving power, control and authority with all headphones, especially planars, in the default state, Q5 requiring AMP5 to have better driving power. 

xDuoo XD10 vs HIDIZS DH1000 – Starting with the package, XD10 has the better overall package design, with that hip rabbit on the outer cover. XD10 also has a better overall package content, with more cables included in the package, although DH1000 has the advantage of using smaller cables to connect to a smartphone. DH1000 will collect fingerprints and smudges, while by design, XD10 does not. Even so, the design is beautiful for both devices, but in a very different way, DH1000 being the smooth, lean and sleek looking device, while XD10 looks much more casual, cool and hip, with the comic sans inspired logo, and the more aggressive design. The battery life is similar between the two, and DH1000 sports two headphone output ports, while XD10 just one, and DH1000 sports a Balanced output, while XD10 does not. For DH1000, both ports can play at the same time, so you could be sitting next to your important one and be listening to music together on a bus ride, if one of you had a 2.5mm balanced port, while this is not possible with XD10, but DH1000 doesn't feature multiple filters, a display, a hardware bass switch, and other switches that XD10 has. XD10 also features a line in, in case you want to be using it as an amplifier, and XD10 also features two gain modes, which DH1000 does not. Of course, all those features, package and aesthetics are second to the sound, which is the most important aspect of those devices, and here, XD10 is the more neutral device, which for a source should be a win all the time. Now, this isn't absolutely always the case, and DH1000 has that really smooth, lean and less detailed sound going on for it, which may pair well if you had an analytic IEM or headphone, which you wanted to be smoother and less analytical. DH1000 tends to have a deeper soundstage than DX10, and a similar level of instrument separation. DX10, on the other hand, has a more energetic, more versatile, more neutral, more detailed sound, with a wider soundstage, larger overall presentation, and with better treble extension, better treble energy, and also a better bass presentation, which can be both tight, and clean, with the switch turned off, and thick and heavy, with the switch turned on. 

In all fairness, XD10 is easier to recommend in general, unless you are looking for a smoother sound, with less treble, and if you'd prefer a leaner, less detailed sound, but with a deeper soundstage, situation in which DH1000 would be your top choice. Otherwise, if you're looking for a wider soundstage, many physical switches, two gain modes, a bass boost that can make the sound thicker and more satisfying, and a more neutral DAC/AMP, XD10 should be your top choice. 



Pairing

xDuoo XD10 is fairly easy to pair with a large number of IEMs and Headphones. It has a very good power rating, being able to rattle HIFIMAN Sundara quite well, but it also has zero hiss that I can hear with sensitive IEMs, so it makes up for quite a lovely experience regardless what you're driving with it. Also, it is easy to pair with most sources, it is recognized by default by my computer, no drivers needed, and it is also recognized on all my Android devices. To add to the experience, with Mi Max 3, you can receive phone calls while XD10 is connected to the smartphone, you just need to keep the stack to your mouth to talk. Given the small size of XD10, this is considerably more conveninent than plugging it out and holding the stack to your ear. 

xDuoo XD10 + Campfire Atlas – Campfire Atlas is one of those IEMs you may be wondering about, and whether they require a really expensive and high-end source to sound good, or if you could power them from a more budget-friendly DAC/AMP, and still get excellent results. Pairing them with XD10 should answer those questions, and from the start, this is a IEM that doesn't require XD10's bass boost to be engaged, as they have quite the potency in the lower registers. There is a very very faint trace of hiss with Atlas plugged into XD10, but it couldn't bother me less, it is at -50 dB or so. Now, about the sound, Atlas is generally favored by neutral, colder, and brighter sources, than it is favored by warmer or smoother sources. XD10 together with Atlas is absolutely amazing. Of course, Atlas is doing most of the heavy lifting, but the pairing is so wide, so clear, and so crisp, with such a natural speed for all its sound, it is really complicated for me not to start and sing together with the song while having this pairing plugged in. Songs that rely on heavy basslines, Dubstep and Electro, like Delta Heavy or Deadmau5, are simply just too good to listen to with this pairing. 

xDuoo XD10 + FLC 8N – FLC 8N and their modular and changing nature indicate that you most probably won't require using the bass boost function, but it can still be fun with them, especially if you use more thin and treble-y filters, together with XD10's bass boost, to give FLC8N a warmer and more lush sound. The overall pairing works very well, I can't really hear any hissing, especially no hissing while listening to music, XD10 is able to give FLC8N a detailed and clear sound, with a large width to their soundstage, but also with a pretty great instrument separation. XD10 is also able to make them go really loud without distorting, and it can give them a really good sense of dynamics. 

xDuoo XD10 + Crosszone CZ-1 – I was initially testing this pairing out of humor, since CZ-1 is extremely hard to drive, and requires a really powerful source to shine, but I am shocked myself to say XD10 does a great job with them. I need to keep it at volume 100, and the bass boost engaged to on, to get the best results with CZ-1, but this is amazing, it gives a new meaning to what those headphones can pull. From their smooth and lean nature, XD10 has a unique authority, and makes them sound tighter, more congested, warmer and deeper, shows that they can really go low in bass, and impresses with their overall presentation, this kind of CZ-1 being really wide, but explosive, vivid, clear, clean. It is amazing for such a budget-friendly device to be able to take full control of an expensive flagship, and also give them life, without a trace of distortion, even stoner metal and electro-dubstep sounding as deep and impressive with CZ-1, which is supposed to be a more gentle and leaner headphone, so you can totally call me impressed by the pairing. I had a hard time finding many sources to pair CZ-1 with, but I could say that this is one of the best budget-friendly sources you could desire for them. 




Value and Conclusion

It looks like XD10 was much much better than I first expected it to be, and with all the bells and whistles it has to offer, I hope I helped clear your mind about it with my review. Just to make sure, the value and conclusion value part of this review, also serves as a little recap, and a much shorter version of the entire review.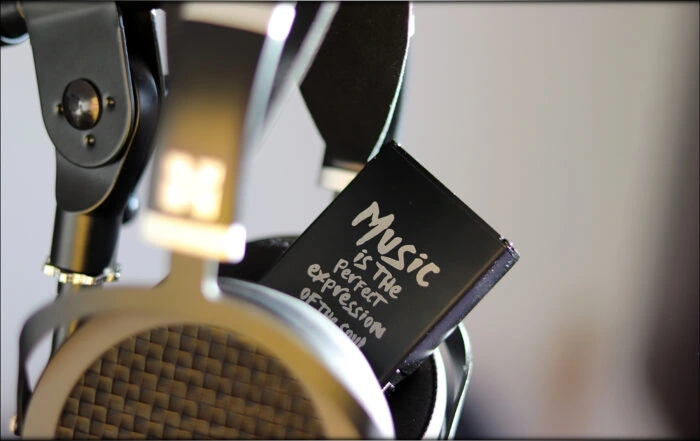 Starting with the package, XD10 comes packaged with most accessories you will require for using it, lacking just the silicone straps to strap it to your transport. Even so, it comes with OTG cables for Type-C, microUSB, and even with a larger OTG cable, which seems to be for Walkmans. The package has a truly unique design I can only comment xDuoo for. 

The build quality of XD10 is also quite excellent, being a fully metallic device, and with me having the black version, being really happy with using it. The casual and forward design is also part of the fun with XD-10, and I simply enjoy seeing it on my table, bringing a bit of fun to my overall listening rig. It also has a little OLED display that will show its current state and current settings, but XD10 comes with a large number of buttons and mechanical switches, making it the wet dream for many, who kept asking for those switches over and over. 
There is a number of 4 Filters, which all sound quite similar, there is a bass boost, there is a line-out, and a line-in, and XD10 also has a gain switch, which I just left on High, like I do with most devices featuring one. XD10 feels feature-rich in general, and I like having quick control over the settings of a device, so it is quite a great little device for me. 

The sonic performance is quite excellent for its price point, and if you had this budget, this would be really easy to recommend, if you were looking for a neutral, transparent, clear, clean, crisp, and detailed DAC/AMP, with a wide soundstage. With the bass boost, you get a thicker, more lush, deeper and more powerful sound, without distortion, and even without it, XD10 has a lot of driving power, being able to give true life, even to hard-to-drive planars, like HIFIMAN Sundara.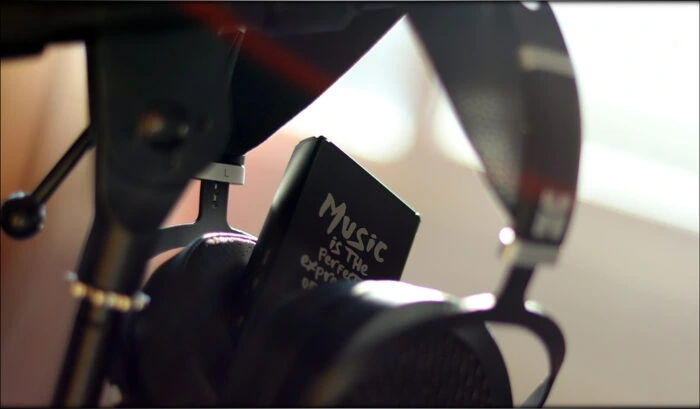 Overall, XD10 really brings something new to the table, it is a budget-friendly DAC/AMP, which features both a line-in and a line-out, it has a very functional bass boost function, it has a nice little display, it has a cool overall design, with a casual approach, and it is very easy to recommend if you're looking for excellent value, so don't forget to check it out for a clear, clean, crisp sound, a wide soundstage, a lot of cool features, and if you want to have an excellent sound, without breaking the bank.  
Product Link
https://www.xtenik.com/product/xduoo-xd10-poke/
---
--- Please remember to stay safe, and always have fun while listening to music!---
 - If you have a dime to spare, please donate, and help us! It would make the day brighter for me and my wife- 
---
Full Playlist used for this review
We listened to more songs than those named in this playlist, but those are excellent for identifying a sonic signature.  I recommend trying most of the songs from this playlist, especially if you're searching for new music! The playlists are different for Spotify, Tidal and Youtube, and based on the songs I enjoy and are available on each!
https://www.youtube.com/playlist?list=PL_cjBXGmwSHSdGcwuc_bKbBDGHL4QvYBu
https://open.spotify.com/playlist/5J3oloz8Riy9LxEGenOjQ0?si=979ba4f082414be7
https://tidal.com/browse/playlist/330fd544-8e5b-4839-bd35-676b2edbb3d5
--- Contact Us ---





---