Gentle Art Of Listening – Crosszone CZ-1 Headphones Review
With a comfort to match the best there are, and a gentle sound made in Heaven, CZ-1 is a multi-driver headphone that promises to change the way you think about music and headphones, by offering a  true speaker-like soundstage, and a clean, sweet and passionate tuning.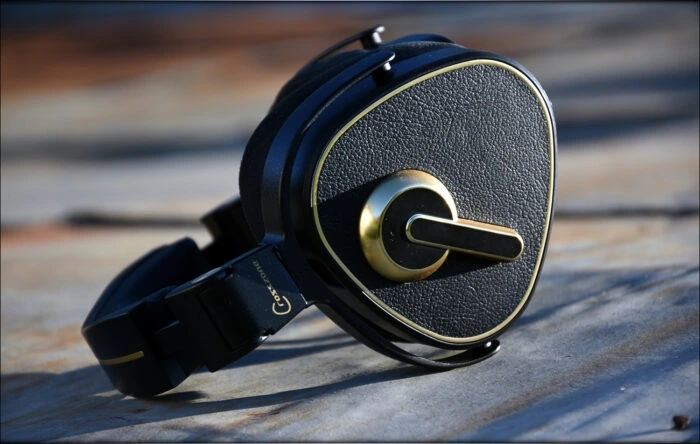 Introduction

Crosszone is a company from Japan, and like most things made in Japan, you know they're serious just because they're made there. I am not even joking, most japanese music companies tend to have really high standards for their work, and they tend to value quality over all, which can be seen by how valued music is there, as most bands tend to have a Japanese release of their album, which at least in my experience, tends to sound better (usually employing either better masters, better overall CD / vinyl quality, or bonus tracks not found on other versions). Crosszone is truly both trustworthy, and friendly, and although they have only one product on the market so far, I'm sure they'll surprise us with more, especially since CZ-1 is so interesting. 

CZ-1 is a multi-driver headphone, with what may look like an odd shape, but which resulted to be one of the most comfortable headphones I had the chance to put on my head, as comfortable as HD800 and Beyerdynamic Amiron, something you can keep listening to for hours, without any sign of fatigue. What is more, the music is much more gentle than HD800, and while not as smooth as Amiron, they tend to have a gentle midrange, and a friendly treble, overall making a great headphone to look into, if you want an open experience. Even so, they aren't fully open, so you may be able to listen to them while others are sleeping in the next room (tested fact). To top it off, they have a multi-driver design that improves soundstage and instrument separation, making this a really innovative headphone to start your year with. 

It should be noted that I have absolutely no affiliation with Crosszone, I am not receiving any incentive for this review or to sweeten things out. This review is not sponsored nor has been paid for by Crosszone or anyone else. I'd like to thank Crosszone for providing the sample for this review. The sample was provided along with Crosszone's request for an honest and unbiased review. This review will be as objective as it is humanly possible, and it reflects my personal experience with Crosszone CZ-1. Every opinion expressed is mine and I stand by it, the purpose of this review is to help those interested in Crosszone CZ-1 find their next music companion. 
Product Link
You can get your Crosszone CZ-1 from www.amazon.com here: https://www.amazon.com/CROSSZONE-HEADPHONE-CZ-1-Domestic-products%E3%80%91/dp/B01J0KMP62/
Packaging

First things first, let's get the package out of the way: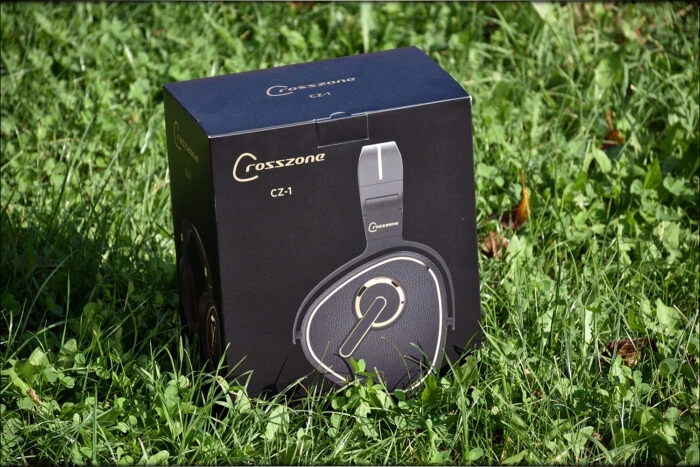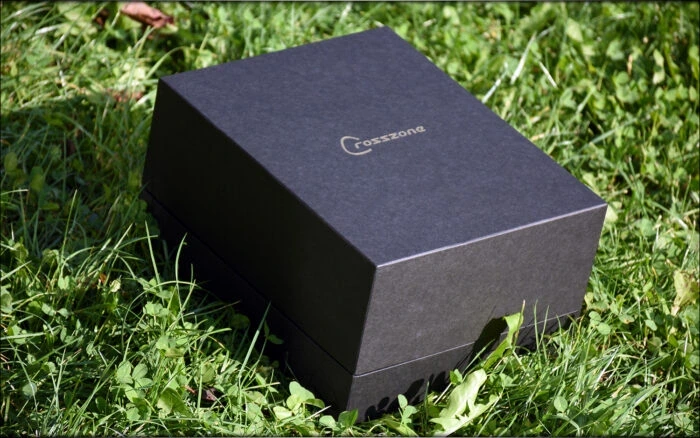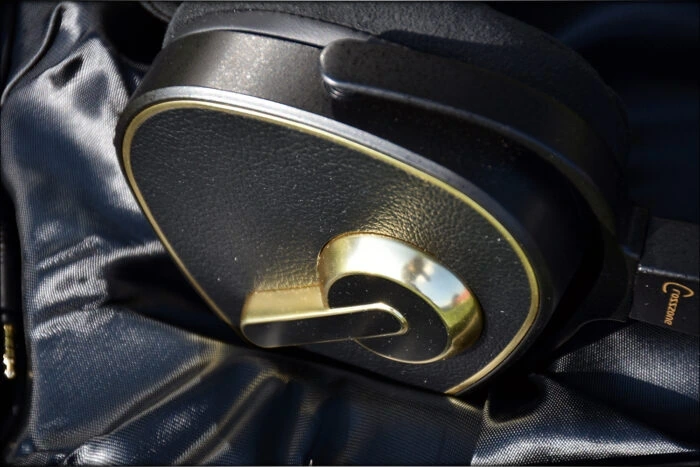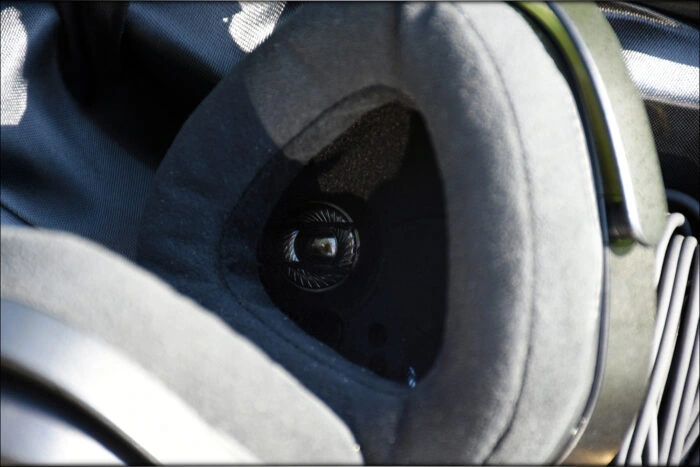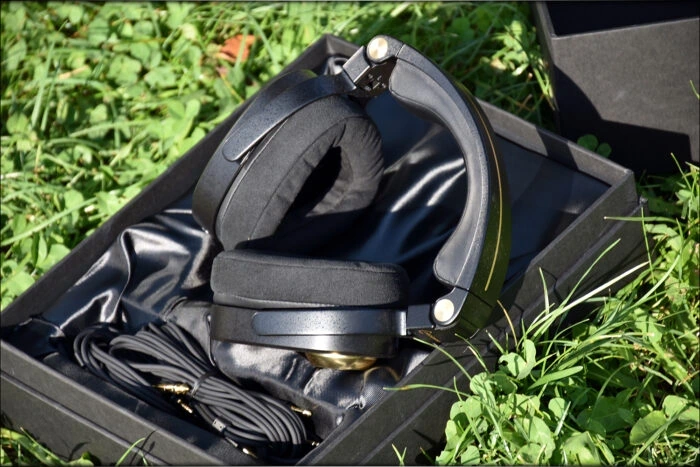 I've opened many headphones before, and I still love seeing a big box. This is not a necessity when the product is an earphone or in-ear monitor, but with headphones, having a larger package can be fun, as it is complicated to take photos of it. 

This being said, CZ-1 comes in a huge box, made of cardboard, and they do not come with a lot of extras, like extra pads, but they do come with two sets of cables. You also get the paperwork and the warranty with them, and the main box is a lovely solution for storing, and even transporting them, if you plan to, but they do not have a carrying solution or anything like that. I generally prefer and want to have a set of spare pads, but I really prefer having a good earpad over many pairs of poor pads included in the package. 

There is a 3.5m cable, terminated with a 6.3mm jack, and there is also a 1.5m cable, terminated with a 3.5mm jack, and there is an adapter included in the package. This is the most I can wish for, and I am glad they include two cables, because I am not sure what aftermarket cables work with those, and my best guess is that not many, since the cables are wired pretty different from most headphones, the jack that goes inside the headphone cup having 4 poles, instead of two or three. 

This being said, the package is satisfying and sufficient for a flagship, there's not much else you could wish for, and we should always keep in mind that budget going into the package is budget that didn't go into the headphone, except maybe for most Audeze headphones, and Meze Empyrean, where they deliver the headphones in a strong thick plastic protective case padded with foam. 
Technical Specifications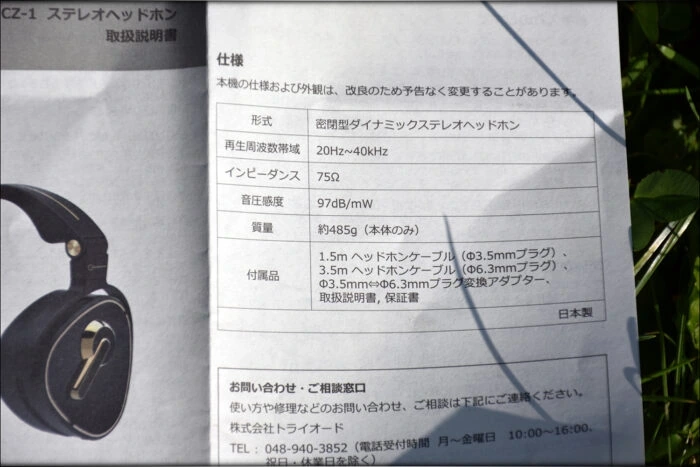 Type – Closed type dynamic stereo headphone
Frequency Response – 20Hz-40 kHz
Sensitivity – 97dB
Impedance – 75Ω
Weight – 485g(Body only)
Accessories – Dedicated 3.5m Cable (Standard Plug), Short 1.5m Cable (Mini Plug), Adaptor Plug, Instruction Manual, Warranty Card



Build Quality/Aesthetics/Fit/Comfort

Starting with the build quality, CZ-1 is a very strong headphone, with the headband made of diecast magnesium, and plastic sides. There are ornaments on the sides, although those two golden ornaments are not for adjusting the sound. 

The cup shape is pretty much a triangle with very rounded edges, and it is like this to allow for three drivers to rest within. This improves the soundstage, and the comfort, as the cup is large enough even for the largest ears on this planet, and the adjusting mechanism is flexible enough even for the largest head. 



In fact, when I first placed them on my head, I was not expecting them to be comfortable, Crosszone went for a fit design very different from most other companies, but man, was I wrong. They are supposed to weigh about 485, but I simply cannot feel it, they are like a feather to me. They cannot sit tighter, so they are mostly an inside headphone, made to enjoy music while sitting down, and there is not enough pressure to allow for dancing or more energetic movement while wearing them. This also means that they offer one of the most comfortable fits there can be, adjusting the pressure on both sides, and the top of the head with a thick, soft cloth and leather padded foam.
To be fair, they are more comfortable than HD800 to me, and the earpads feel much better in quality, having nothing that can chip off after a while, like some HD800 users reported happening. 
The cups swivel laterally, which is very different from most other headphones, but this means that there's no way you'll feel pressure at any given moment, instead Crosszone offering one of the most comfortable fits I felt so far.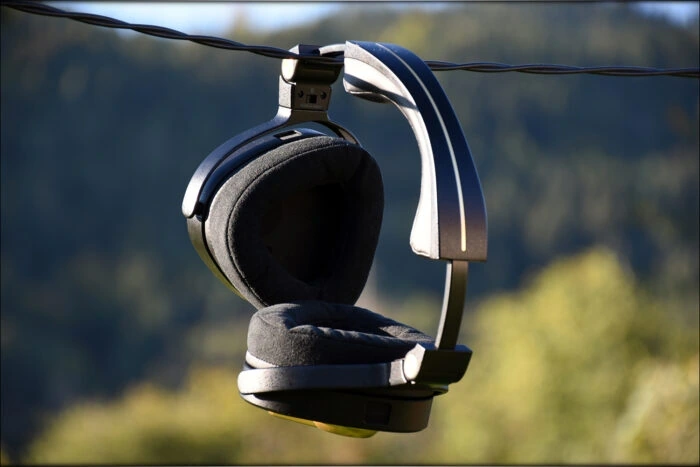 The cables are OFC – Oxygen-Free Copper, which is a popular choice for headphones, and they are a 4-core, twisted design. What is more interesting, is that the jack that goes inside the headphone has 4 poles, and they are reversible, it doesn't matter which way you're plugging in the cables, which is at least interesting. Since they have a multi-driver design, a more unique cable is welcome, along with the advantages it provides, but you may be limited to using cables sold by Crosszone. On the other hand, they make awesome cables, with no microphonics, soft, no ergonomics issues, and with what I could call a well designed and well implemented material coating.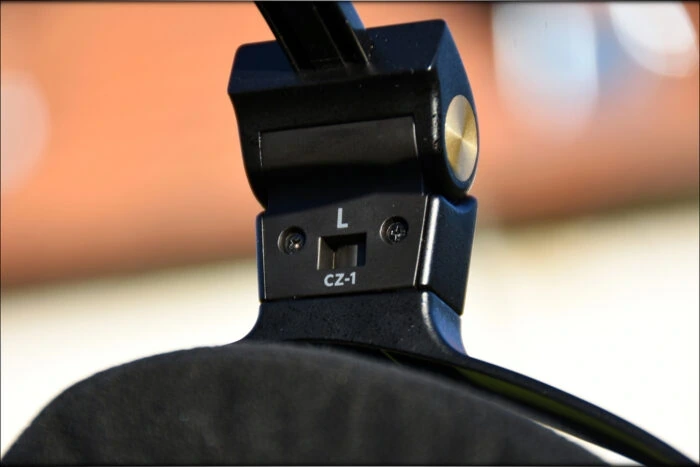 The design is not closed, nor fully open, but more of a vented design, the kind you can enjoy even late at night, while others are sleeping, if there is a door between you and them. I actually tested this, and was able to enjoy music at moderate listening volumes, along with watching movies or anime while wearing CZ-1, even late at night, when others were sleeping in the room next to me, so here's a thumbs up for the design, you can take their awesome comfort with you even if you want to spend an extra hour listening to music. They actually leak less than some closed-back designs.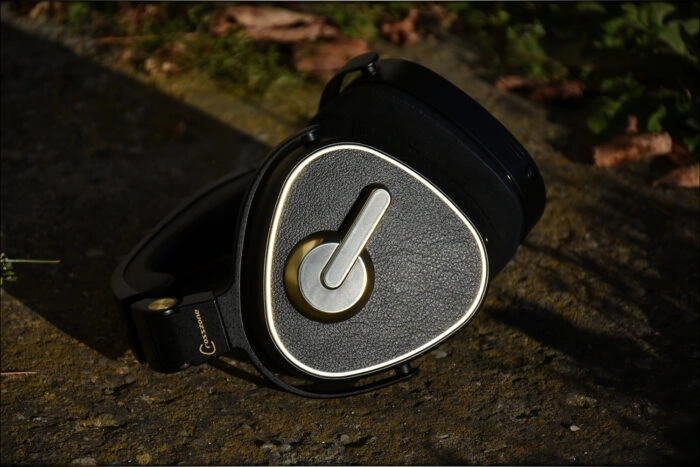 Reliability is a thing I don't often think about, because most headphones, and especially flagships are fairly reliable. Crosszone CZ-1 makes no exception, but my overall feeling is that they're meant to fight with HD800 and HD800S in particular because of their tuning, and I wanted to note here, that I have friends who own HD800, and HD800 and love them, but all of them needed to replace the pads after a while. This is quite an issue, and new pads are not exactly cheap, nor included with either, but with CZ-1, you don't have to worry one bit about this, as the pads do not chip off, nor wear with time, and they are as soft and pleasing to the touch as the first day I got them, and I have been using them for a while (actually testing for this very specifically). 
The overall design is great, the comfort is out-of-this world, and the build quality is just as awesome. I can't say much about the aesthetics, as they are a little odd in my book, those headphones look like if you like black and golden accents, but while their shape is forward-thinking and cool, they end up looking elegant more than edgy. At any rate, they reach a golden standard for their build quality, comfort and fit, and they will fit for you regardless of how many issues you had with other headphones. 



Sound Quality

The sonics of CZ-1 are what I'd call a really awesome, Japanese Headphone. They have the right amount of texture, gentleness, balance and revealing abilities to be a worthy contender to the title of "The Headphone" for this kind of signature. 

Describing the signature, they are mostly a balanced headphone, with a slight emphasis of the deep bass, and the treble, and a slightly recessed midrange, with a really gentle sound, neither thick nor lush, but gentle and balanced, like a live experience in a high-end place, offering the right amount of soundstage, detail, reveal and micro-detail for the most expensive Jazz performance you'll have ever seen. If there is something you will love with CZ-1, that is female vocals, they are rendered so sweet that they're out of this world, and pretty much all guitar sounds are dreamy, fun and lovely, the best headphone if you like your life to be sweet and musical. 



The bass is deep and tactile, but it is neutral in amount, enough for dubstep to be satisfying, but not enough if you're a basshead. To put it simply, the bass is balanced, it is deep and capable, but not enhanced over-the-top, so most acoustic instruments sound true-to-nature. The upper bass and lower midrange are both recessed when compared to the sub-bass and the midrange, so they feel a bit thin if you're switching in from a really thick headphone, like Campfire Atlas, but they also feel more natural compared to a thin headphone or IEM, like HD800 or IE800. The bass is truly distortion-free, even at loud volumes, and I am quite glad with the level of technical ability it has, being able to be fast when needed, but slow if you're listening to some older hip-hop or Jazz. 

The midrange is one of the sweetest there is, gentle and well balanced, female vocals are a true highlight, and this would be the headphone to use if listening to a lot of female vocals. Especially with Japanese music, CZ-1 shows that it was made in Japan, every voice is sweet and warm, gentle, yet emotional, the highest octaves are abely reached, and everything has just the right amount of detail to be fun, yet it is smooth enough to be natural and not too forward. Basically, they do reveal details like a headphone in this price range, especially if amped properly, but they do not push those details in your face, rather gently blending them in to sound natural. The huge soundstage surely helps with this, and the multi-driver design surely does its job in sounding wide, and well separated, yet gently put together. The soundstage is as large as HD800 (considered by most the upper limit in terms of soundstage size), but with a better instrument separation. I have to give it to Crosszone, they really do deliver on their promise of a large and natural soundstage, they sound wider than my speakers, which are almost a few meters apart. 

The treble is also gentle, and not a hot or splashy type, but a natural and gentle one. It is smooth and friendly enough to make them relaxing, yet they have enough sparkle to be exciting with most music. The treble is something a lot of companies get different, and I think Crosszone went for one of the best approaches, just a natural treble, without any serious peaks or dips, it is soft and velvety, but not in the sense that it disappears from the sound, as it is always there, but more in the sense that it doesn't offend nor tire you out. This is an excellent pairing with their legendary comfort and the rest of their gentle sound, making the whole signature quite coherent. 

When talking about coherency, I have to say, I haven't noticed any kind of coherency issues with their multiple-driver design, and if you were wondering about this, CZ-1 can be used for gaming as well, providing the right kind of soundstage and separation to play most games and have good fun, the only minor downside being that they do not sport a hefty bass, so explosions and impacts aren't quite as shocking and rumbling as with most gaming headsets. 

This being said, for a gentle, sweet and musical headphone, with a light, snappy, quick and fun sound, CZ-1 sets an example and it is really fun to listen to. 



Soundstage

The extremely wide soundstage of CZ-1 is supported by a multi-driver design, which is made in such a way that music reaches your ear the same way it would do in a properly treated listening room. I do not have a listening room with proper acoustic treatments to compare them to, but I can say that the soundstage and instrument separation is better than in my apartment when I'm playing my speakers, with a clearly better separation and wider soundstage, and a more holographic sound. They are, some of the widest-sounding headphones I heard, especially when paired with a capable and proper AMP or DAC/AMP, something like iFi xDSD, iFi iDSD BL making an excellent match that will surely take you to heaven. 



Desktop Usage

Crosszone CZ-1 is a desktop headphone, made for desktop. They aren't intended for portable usage, and they require quite a bit of power to be driven well, but still, this won't stop you from taking them outside, if you really want to. 



Starting with the comfort, those are made to sit on your ears like pillows. They aren't cut for walking, being so gentle on your head and having just the right amount of clamping force to sit there, to be comfy, but not to force themselves on your head. 

The driving power required for them is pretty high, being harder to drive than Audeze LCD-MX4, Ultrasone Signature DXP, and pretty much as hard to drive as Beyerdynamic Amiron. They tend to prefer large amounts of power, having a low impedance, but a low efficiency. Something like iFi xDSD, or iDSD BL sure is enough for them, but even FiiO Q5 or X7mkii with AMP5 or iBasso DX200 with its AMP5 would do wonders for them. 

The cable is not microphonic and has just the right length for desktop usage, while the headphone itself is design for utmost comfort and for the best experience, even though they aren't limited to desktop usage. The leakage is low enough, that you can enjoy music even at late hours, and even pretty loud, and CZ-1 is one of the best headphones to use while gaming, especially if you need precise spatial cues, or if you want to watch a movie, and if you enjoy a huge soundstage, as large as a high-end home theatre. I actually found myself grabbing CZ-1 many times when I was watching anime, because of how clear, clean, and sweet their sound is, working really well with female voices, including in anime, and for the large soundstage, and overall tuning that makes both background music and foreground action engaging and fun. 

To be honest, if you're at a desktop, and if you want comfort, and to wear a pair of headphones for hours in a row, CZ-1 is very hard to take off, being so comfortable that you forget you're wearing it, just like Beyerdynamic Amiron, one of the headphones that I really liked and found to be comfortable in the past. 

All in all, they reach their intended purpose in every way, being sweet enough to use any time you want to sit at your computer. 



Comparisons 

Some of the headphones I am going to compare CZ-1 to are Sennheiser HD800S, Audeze LCD-MX4, and Beyerdynamic Amiron, all of those making interesting choices and all of those being worthy competitors if you're looking for a great desktop headphone. While they are not all from within the same price range, all of them are worthy to consider and all of them have enough similarities that you may be looking into getting one of them.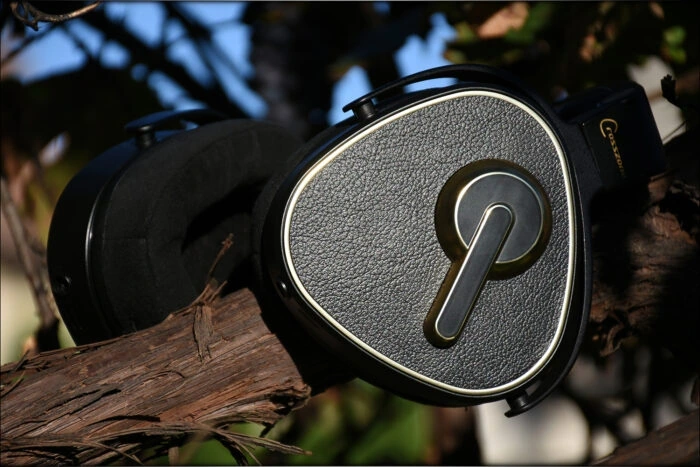 Crosszone CZ-1 vs Sennheiser HD800S – This entire review felt like CZ-1 is taking stabs at HD800S, but it isn't exactly like this, although it is mostly like this. Starting with the package, the package is fairly similar, and both CZ-1 and HD800S come in a nice large box, with a very fine interior material. The packages even look the same for the most part. When it comes to what's included in the package though, CZ-1 has the upper hand as it comes with two cables, both with SE connectors, while HD800S comes with two cables as well, but one of them is an XLR connector, which is quite rare and unless you have an amplifier they can work with, would have been more useful as a 6.3mm jack. The build quality is fairly good on both, and both look amazing in person, although I kind of like HD800S a bit more for their aesthetics, but like CZ-1 more for their build quality. When it comes to their comfort, there are two things we should talk about, the short term, and the long term comfort. In short term, HD800S seems to be more comfortable, being lighter, having even less clamping force, and feeling even more natural on the head than CZ-1, but in long term, CZ-1 is better because the ear pads of HD800S peel off after a while and they require periodic replacements, and although the earpads are not very expensive, it is an inconvenience one should keep in mind when going with either option. The default earpads work well with both and I like the feeling of both, being quite comfortable. Now, the most important aspect, the sound, is something you'll be either loving one or the other, as they are quite different. This being said, they are both trying to do the same kind of signature, with a mostly neutral sound, with a good balance between the bass, mids and treble, where nothing isn't too forward, and nothing isn't too recessed, being more of a universal headphone. Where they really differ, is, HD800S is a wide-sounding, but somewhat diffused headphone, the instrument separation not being their forte, like it is in Sennheiser IE800, where Crosszone CZ-1 is both very wide, and has a nice instrument separation worthy of their price tag. Furthermore, HD800S is still quite a bit peaky in the upper midrange, having that mature and slightly sharp sound, where CZ-1 has a more gentle sound all-around, without huge peaks or dips, basically not being soft, but gentle, being a careful and lovely sound rather than being too soft or too smooth for music. I personally found that CZ-1 plays violins and female vocals sweeter and with more emotion, where HD800S tends to be a bit sharp and more serious, so if you're leaning more towards serious music, like large orchestras, or music played with a more sad feeling, HD800S may be a better headphone, while if you're the type who prefers everything to be a tad sweeter, yet still pretty emotional, CZ-1 makes a better option. The bass tends to be better rounded and deeper on CZ-1, while it is lighter, and snapper on HD800S, the faster speed of HD800S being an advantage for those looking for the lightest and quickest, while CZ-1 will appeal more to those looking for a slower, albeit more natural bass decay. The upper treble tends to be similar between the two, although on CZ-1 it is a tad smoother and recessed compared to HD800S, so if you're looking for the absolute sparkle, HD800S may be the way to go, while if you prefer a slightly more gentle approach, CZ-1 makes a really nice offering. You may be wondering which one I prefer, since I seem to be split, but that is how things are with high-end headphones, it is not always a clear winner, and it is never a universally better one, but if you're one to look after the lightest sound there is, quickest there is, and if you prefer a more blended overall sound, with less instrument separation, but a really wide soundstage, HD800S from Sennheiser is still as amazing as it was when I reviewed it years ago, but if you want something that is more gentle, more rounded, and more natural, at the sacrifice of some technical edge, but with an improved instrument separation, then Crosszone CZ-1 makes a really awesome headphone that can both make me tap my feet or bring a tear to my eyes while listening to music. 

Crosszone CZ-1 vs Audeze LCD-MX4 – Audeze LCD-MX4 is not exactly priced in the same range as Crosszone CZ-1, being quite a bit more expensive, but it still is a pretty amazing headphone, and a heck of a good deal when it goes on sale. Now, the package is quite different this time, Audeze packaging their headphones in a solid, large plastic transport box, padded with soft foam on the inside, making CZ-1 feel more stylish, but less well protected. LCD-MX4 comes with a single cable, ended in a 6.3mm Single Ended jack. The construction quality is outstanding on both, although Audeze has a simpler build, with a metal frame, a leather headband, and thick, soft pads covered in leather, where CZ-1 has a softer earpad, covered in a textile material, has a thicker headband, which is softer, a larger overall ear cup, and more plastic in the build, with a soft pleather covering the ear cups. Here, Audeze LCD-MX4 feels more minimalistic but more trustworthy, there is so little that can go wrong when you use just metal, leather and carbon fiber, and no plastic at all. The comfort is different, to say the least, LCD-MX4 is more tight on the head, where CZ-1 feels lighter, less tight, and more comfortable for long-term usage, especially when you consider that it gets less warm when compared to LCD-MX4, which can get a bit warm. The cables are not microphonic for either, and the mini-XLR cables at the cup on MX-4 are a better choice, and it is simpler to get aftermarket cables for LCD-MX4, than it is for CZ-1, if you're one to like to experiment with cable upgrades. Now, the sound, is pretty different. Where CZ-1 is pretty balanced and gentle, LCD-MX4 is truly a detail master, they have a more impactful and deeper overall bass that hits harder, MX4 has a much more forward and more aggressive midrange with more detail, although they are enhanced by their Planar tech to be just as organic and magical, and their treble is similar to CZ-1 actually, although it is a bit more recessed, especially in relation to their forward midrange. The sound feels as if LCD-MX4 are made especially for monitoring and mastering, and Audeze advertises them as such, where CZ-1 feels more like a "listening" headphone made for long-listening sessions, being less fatiguing, especially in the midrange, but revealing a bit less detail. The soundstage is larger on CZ-1, where it feels a tad more precise and more open on LCD-MX4. The two headphones are clearly different, sporting different sounds, and for different people. If you're looking for an amazing mastering and monitoring headphone, with a really detailed midrange, a deep and impactful bass, and a non fatiguing upper midrange and treble, LCD-MX4 is still a great option, as it always been, but if you're looking for a listening headphone that sports a gentle balanced sound, and comfort above all, then Crosszone CZ-1 makes a really nice offer, and it is quite a bit less expensive than LCD-MX4, although both go on sale sometimes for prices that makes both a true steal. 

Crosszone CZ-1 vs Beyerdynamic Amiron – Beyerdynamic Amiron is seriously less expensive when compared to Crosszone CZ-1, but they are still a pretty interesting comparison headphone, since they go for a similar style. They make a more fair challenger than Ultrasone Signature DXP, for example, because Amiron is also comfortable and intended mostly for desktop usage. Starting with the price range, Amiron is quite a bit less expensive than CZ-1, and it is within the midrange area, where CZ-1 is a flagship priced as such, and even on sale, it is almost twice the price of Amiron. When it comes to their package, Amiron actually has an upper hand, as it comes with a carrying case, which is of a pretty good quality, but it doesn't come with a shorter cable, meaning that if you plan on sitting closer to your desktop or watching a movie using it, you'll need to use a cable from another headphone, like from Meze 99 Classics, as the cables for 99 Classics are compatible with Amiron. When it comes to the comfort, CZ-1 is more comfortable than Amrion, being softer, better padded, and feeling more like a thick pillow on my head, but Amiron is much lighter, making it a better choice for really long hours of listening, especially if I'm trying to avoid neck strain. Amiron is a single Dynamic Driver headphone, while CZ-1 is a multi-dynamic driver headphone, and both are semi open, but Amiron leaks more than CZ-1, so you'll be able to use CZ-1 in more environments, where Amiron may not fit quite as well. On the other hand, both require quite a lot of power to be driven properly, and both are hard to drive, meaning that both are desktop headphones intended to be used as such. Amiron is slightly harder to drive than CZ-1, although fairly comparable. The sound is quite different, with Amiron being much smoother, with less textures, yet similarly wide in soundstage. In the bass, Amiron is lighter and slower, being quite a unique presentation, where CZ-1 has a deeper and more impactful bass, with more bass quantity. The midrange is more textured on CZ-1, with more detail, and with more textures, where Amiron is quite smooth and clean. The upper midrange is hotter on Amiron, so they can be a bit hotter in the upper midrange / lower treble, where CZ-1 is more gentle, although not necessarily smoother, having a good amount of textures. The treble is similar and comparable, although, CZ-1 is once again more gentle, and a touch smoother. Now, Amiron is not a low-cost headphone, but it is considerably less expensive than CZ-1, and if you're looking for a fairly neutral headphone, with an emotional upper midrange, but a very smooth overall sound, you can wear for days, Amiron is a great choice, while if you're looking for a gentle and friendly headphone to wear for hours, Crosszone CZ-1 makes an excellent choice. 



Recommended Pairings

Crosszone CZ-1 requires quite a bit of power, but they are a Single Ended only headphone, and they come with both 3.5mm and 6.3mm ended cables. They do not pick up hiss and are moderately sensitive to source matching, a better source makes them sound better, but a high-end headphone will most probably be paired with a higher end source for most practical purposes anyways. For this review, I tested the pairing with Burson Play (Vivid OP-AMPs), iFi xDSD DAC/AMP, and iBasso DX200 (AMP5). 



Crosszone CZ-1 + iBasso DX200 / DX150 (AMP5) – iBasso DX200 and DX150 are some of the best DAPs I tested, and their modular AMPs make a great reason to keep playing with them and to look forward to owning a DAP that can last a long while. With AMP5, the power of DX200 and DX150 is enough to drive CZ-1 fairly well, and although this headphone is not made for portable usage, you can totally take them on a trip if you want to feel that sweet comfort on-the-go. The sound is very detailed, very wide, very clear, and very clean, even at incredibly loud volumes. AMP5 is slightly smooth and warm, but not overly so, and it pairs well with the gentle sound of CZ-1, making them very fun and musical. 

Crosszone CZ-1 + iFi xDSD – I should probably have written more about the pairing with iFi iDSD Micro Black Label, which is very smooth, and musical, and pairs well with CZ-1, but it feels like xDSD is quite enough for CZ-1, and what I would actually recommend better for driving them, because it is slightly more affordable than iDSD BL, and because it is smaller, and has a more neutral sound, actually working towards the gentle and sweet sound of CZ-1 a bit better than iDSD BL, which may be a tad too smooth, with CZ-1. Either way, the sound is gentle, playful, wide, clear and vivid with xDSD, and since it is a DAC/AMP, you have access to any streaming services and music library your transport has while using it. 

Crosszone CZ-1 + Burson Play (Vivid OP-AMPs) – Burson Play is one of those desktop DAC/AMPs I fell in love with ever since I first heard it, and trying it with its vivid OP-AMPs just made things sweeter, more organic, more musical and better blended together. Now, with Crosszone CZ-1, the star of the day, Burson Play has more than enough power and control to make them play, and with the Vivid OP-AMPs, Burson Play is just the right kind of organic that CZ-1 needed to sound even sweeter and more musical. Burson Play Basic is a little bright, by comparison, and may be a bit cold for CZ-1, giving them a sound closer to HD800S, rather than their more gentle typical side, but either way, both versions of Bursons have the right amount of power, detail, control, and a really sweet price, to make CZ-1 play. 



Value and Conclusion

The value of Crosszone CZ-1 is an interesting part to talk about, especially since their price is not quite that clear, I have seen them going for 4000 USD, as well as for 2500 USD, and I heard that they go on sales for 2000 USD sometimes, so I'll be considering their price point to be about 2500 USD for the purposes of this review. At this price point, they are more expensive than Sennheiser HD800S, slightly less expensive than Audeze LCD-MX4, and considerably more expensive than Beyerdynamic Amiron. It is no surprise that they overtook HD800S in some ways, given their price point, but what is more sweet is that they do go on even more interesting sales sometimes, with the price dropping below 2000 USD, situation in which they become a very compelling deal.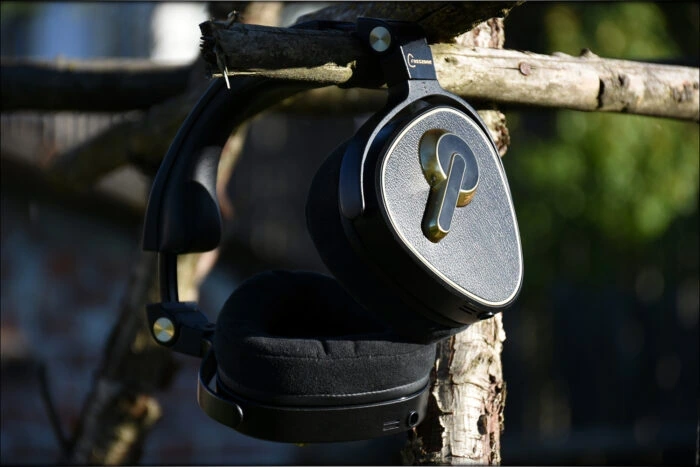 Starting with the package, they come in a large box, with a soft textile material on the inside, and a cutout for keeping them safe, and they come with two cables, one shorter, and ended in a 3.5mm connector, and one longer, ended in a 6.3mm connector. This is about as much as most flagships come with, and I'm glad they included two cables, as getting spare cables may be a little problematic, as they have a unique cable design. 
The build quality is as good as one can ask for from a flagship, with magnesium alloy in the headband, large cups with soft pads, soft headband padding, and a leathery material on the outside of the cups. While the design is a little questionable, and the ornaments on the outside are reminiscent of microphones a little, I think they look pretty cool and fancy, and the large triangular shape actually works very well for comfort. In fact, the cups are extremely deep, and the earpads are quite soft, and combined with that soft headband, they really feel like a headphone made in heaven. The cups swivel outwards, very different from most headphones, and as far as I can tell, they are made this way to provide the best comfort and pressure, having exactly the right amount of clamping force to be comfortable and to sit well, but without being tight.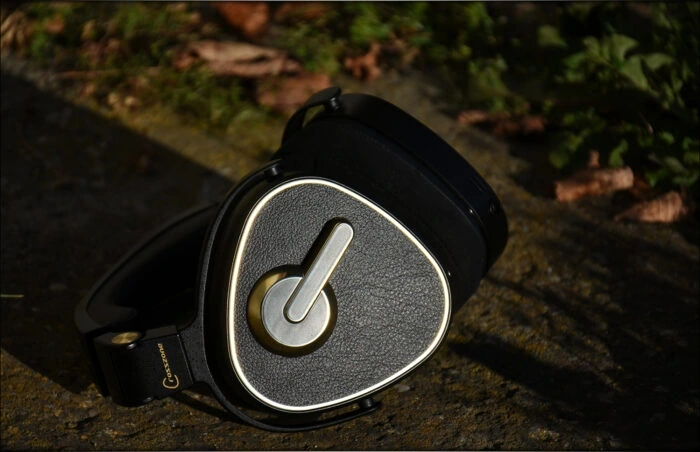 The sound is one of the most gentle and balanced I tested on flagships, and it is very clear, very wide, very clean, and very organic and sweet, being extremely magical with female vocals, and with music that is supposed to be sweet and musical. If you're a death metal, or aggressive music listener, they may be a tad too sweet, romantic and musical, but if you're looking for a really gentle, musical and sweet headphone, with a balanced overall sound, a deep but natural and balanced bass, a balanced, sweet, natural and organic midrange, and a gentle treble to caress your ears, then CZ-1 surely is a headphone you want to try.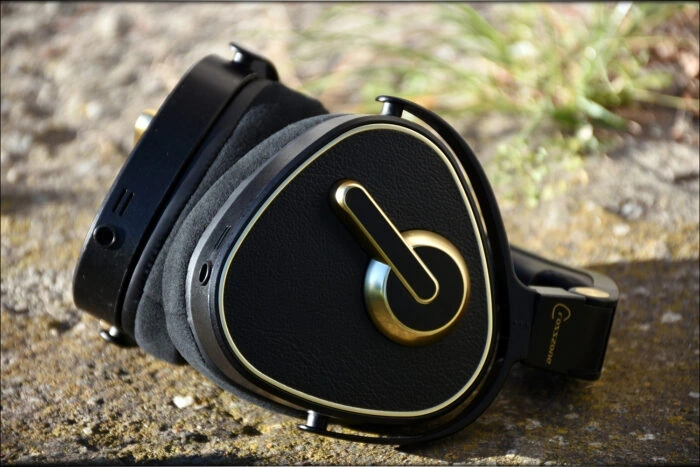 CZ-1 is semi open, and they have 3 drivers, one of their biggest selling points being how large, and well separated their sound is, although this huge soundstage, semi-open nature, and instrument separation are things that you need a bit of silence to truly experience, so getting a quiet room is probably needed to fully appreciate CZ-1 in its entire beauty. They do not leak much, and you can totally use them at night, even if someone is sleeping in the next room, although not if someone is sleeping right next to you (situation in which you should sleep as well and consider yourself very lucky, smile, and wait for the morning to enjoy those gentle jewels). 



At the end of this review, I have to say, that if you are looking for a really huge soundstage, nice instrument separation, clear and sweet midrange, a balanced overall tuning, with a good balance between the bass, midrange and the treble, and if you're looking for a sound mainly characterised by how gentle, musical and organic it is, then Crosszone CZ-1 should be on your list, as they are an amazingly well build, incredibly comfortable, and reliably crafted in Japan headphone, for those who really want their music to be as gentle as the morning dew is on the soft petals of a snowdrop flower. 
Product Link
You can get your Crosszone CZ-1 from www.amazon.com here: https://www.amazon.com/CROSSZONE-HEADPHONE-CZ-1-Domestic-products%E3%80%91/dp/B01J0KMP62/
---
---
--- Please remember to stay safe, and always have fun while listening to music!---
 - If you have a dime to spare, and donate, to help us with electricity and work expenses, it would make my day much brighter, as it would help me improve things around the website and increase the frequency of my posts - 
---
Full Playlist used for this review
We listened to more songs than those named in this playlist, but those are excellent for identifying a sonic signature.  PRaT, Texturization, Detail, Resolution, Dynamics, Impact, and overall tonality are all revealed by those songs. We recommend trying most of the songs from this playlist, especially if you're searching for new music!
https://www.youtube.com/playlist?list=PL_cjBXGmwSHSdGcwuc_bKbBDGHL4QvYBu
--- Contact Us ---






---
---