Clear Tune Monitors CTM Da Vinci X – The Maestro
Clear Tune Monitors or CTM are a large IEM designer and producer from USA, and they are known to be one of the few CIEM and customs designers to create their own new tech, as well as unique tuning for their IEMs. CTM Da Vinci X is their current flagship, priced at 2400 USD, so I will be comparing them to other flagships, like Campfire Atlas, Lime Ears Model X, and HIFIMAN RE2000. 
Introduction

CTM or Clear Tune Monitors are well-known by both music lovers and music producers for being some of the most innovative when it comes to IEMs and Earphones. Their main products are Custom Fit IEMs, or CIEMs, but today we are taking a look at a universal IEM they designed. CTM Da Vinci X is part of their Da Vinci Flagship Line, and every unit comes with 10 BA drivers on each ear, along with other unique patented technologies designed by Clear Tune Monitors. As a company, they have excellent customer support, along with excellent reliability, good product design, and generally offer an excellent customer experience. You can rely on them when making an investment in either improving your music experience or in improving your setup as an artist for either performance or mastering, but more on that within the review. I have also reviewd another IEM from CTM in the past, their VS-4, which I found to have a romantic, warm and smooth overall sound that had a "vintage" touch to it. You can check that review here. I also made a video review of CTM Da Vinci X, which you can check out here. 

It should be noted that I have absolutely no affiliation with CTM, I am not receiving any incentive for this review or to sweeten things out. I'd like to thank CTM for providing the sample for this review. This review reflects my personal experience with CTM Da Vinci X. Every opinion expressed is mine and I stand by it, the purpose of this review is to help those interested in CTM Da Vinci X find their next music companion. 
Product Link
You can always get your Clear tune Monitors CTM Da Vinci X from www.amazon.com here: https://www.amazon.com/Clear-Tune-Monitors-CTM-Vinci/dp/B07TS9DH17/
Packaging

First things first, let's get the packaging out of the way: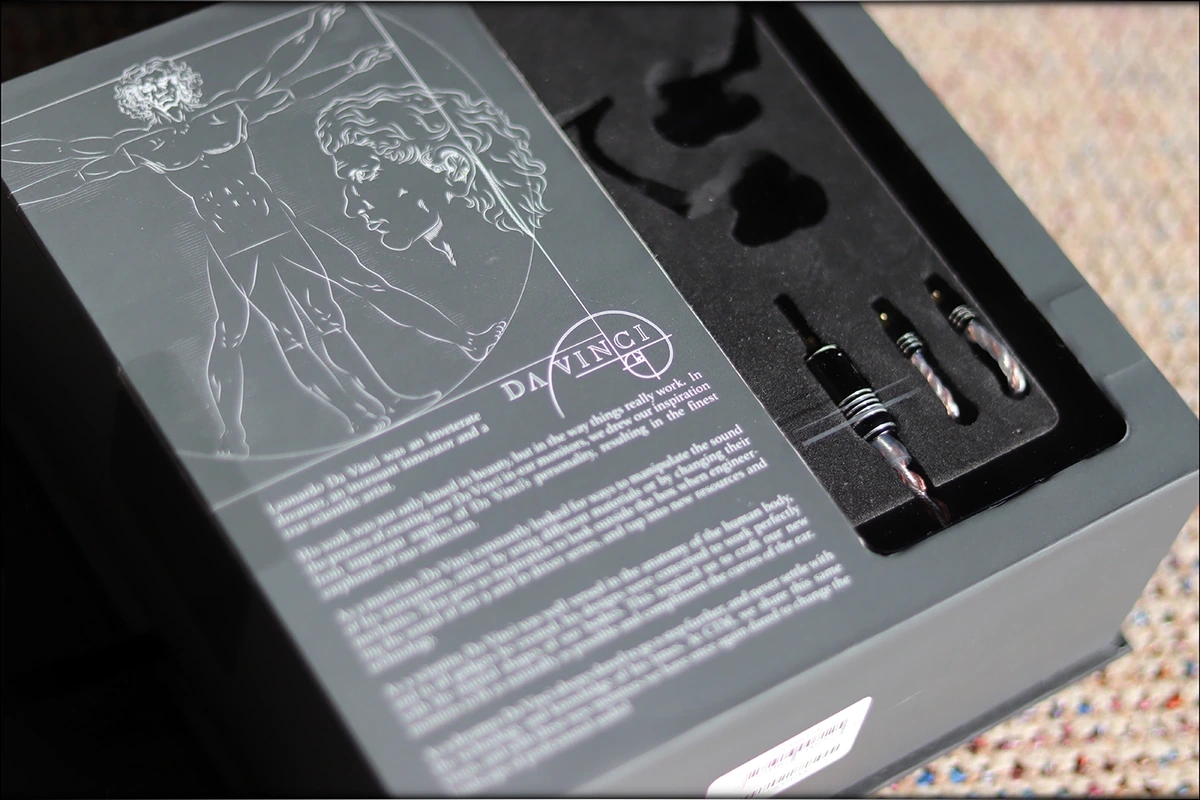 The package the Da Vinci Series comes in is quite exquisite, with Audio Filters, Airplane and 6.3mm adapters included, as well as two cables, one that is Balanced and one that is single ended. There is also a good selection of tips included in the package, and you can rely on their hard carrying case to keep your Da Vinci safe. 

Overall, the package is large, rich, has a lot of effort put in, and suits well a product that costs the extra a flagship usually has. 
Build Quality/Aesthetics/Fit/Comfort

Starting with the build quality, Da Vinci X is the bigger brother of the series, and it has a smaller brother named Da Vinci IX, but the two have very little in common when it comes to sound, with IX being a warm, smooth and creamy performer, while X is the neutral, reference brother that you will want to have around for serious listening, mastering or performing. Speaking of performing, though, both IEMs are fully made of metal, and they are built really well, and will last any amount of abuse and usage, they are not scratched easily, and they will look pristine even after years of usage. I am not saying this out of pure enthusiasm, and I have used Da Vinci X for a few months before publishing this review, because a flagship like this is not only really fun to use, but takes some time to get used to. 

On the outer face, there is an X made of a very high quality reflexive material, while the IEM shell is made of a black matte metal, making Da Vinci X really stand out as a more edgy and industrial looking IEM. Although the design is quite edgy, the comfort is good, as long as you have medium to large sized ears. Da Vinci X needs to have enough space to fit in ten drivers for each ear, and here we're not talking about any drivers, but actually high quality ones that are placed with a good reason, along with a high-quality with a 5-way crossover. CTM wants to brand their CTM DA Vinci X as the "Mona Lisa" of IEMs, and well, no one will stop them from it, but the time for that kind of bold statement will be in the Sound Quality part of the review, where we'll see whether they stand up to the task. 



Now that we are getting deeper into the Fit and Comfort part, I have to say, while the outer plate may seem similar to something like what Campfire were doing with early versions of Andromeda, in terms of aesthetics, the inner part of CTM Da Vinci X is really smooth, and they fit really well in your ear. There are no hard edges or pointy parts, no corners, and the IEMs are made to fit comfortably. The IEM doesn't sit perfectly flush with your ear, so you won't be sleeping with them in your ears, but most of their weight rests in the back part, without touching your ear, so you should expect to be using them for many hours in a row without any sign of fatigue. 

The IEMs have classical 0.78mm 2-Pin connectors and cable rolling is no issue, as they work with Dunu Hulk as well as other cables that are made on this standard. CTM even includes two cables with the IEMs, one that is a more typical 3.5mm Single Ended Copper cable, while the second is a hybrid 4-wire 2.5mm Balanced cable. Both cables offer good comfort and aesthetics, and if you'll want to upgrade the cable, the typical 2-Pin connector allows for that, but Da Vinci X is made for an over-the-ear wearing style, and you probably won't be using them straight-down regardless what cables you'll be using. 

For the best comfort, either the Foam tips or the Dual Flange tips will provide better passive noise isolation, and since Da Vinci X is a performance IEM, you will probably want the most passive noise isolation that you can get, and they can offer that, up to 20 dB or so of passive noise isolation. Furthermore, there is no driver flex, since Da Vinci is an All-BA configuration, and there is no void, as they managed to keep the disadvantage of the BA design at a minimum.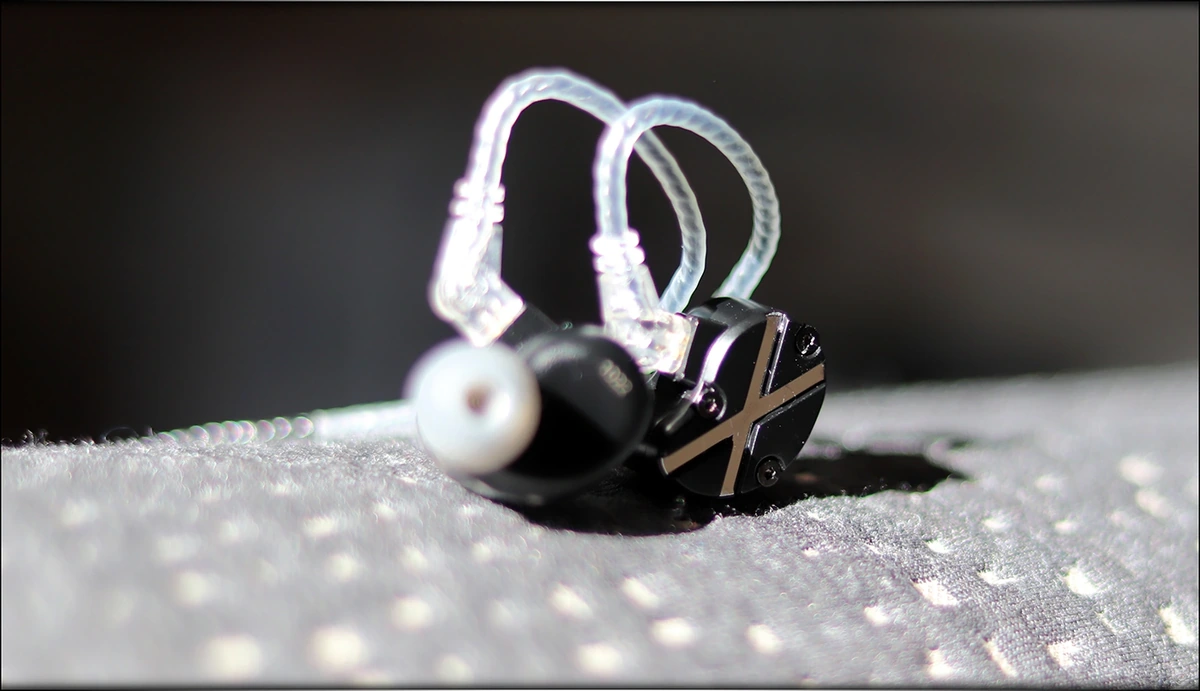 The case is a bit large for pocketing, especially a bit thick, but it is made of hard plastic, and it will protect your IEMs, and I really loved the little compartiment where you can keep a set of spare tips. 

There are three filters included in the package. One is the original filter, which is silver in color, and which is the reference tuning for Da Vinci X. There is also a Blue and Red filter, which are noted to have 150 OHM for the Blue One and 300 OHM for the RED one. They basically increase the treble by 3 dB over a slightly wider range, for the RED one and the Blue ones decreases the treble by 3dB for a wide range. This means that the reference silver one should have somewhere around 225 OHMs… Joking aside, the filters do what they are intended to do, and I didn't feel too compelled at any moment to try them out, and I stayed with the reference for most of my time with Da Vinci X so far. 

Overall, Da Vinci X is a well built IEM, that's comfortable, offers good passive noise isolation, and has no cable microphonics due to their over-the-ear design, no driver flex, and no void, making them good for both listening to music and live performances. 



Sound Quality

Da Vinci X has been subjected to a good amount of burn-in prior to this review, just to be on the safe side about whether they require burn-in or not. In my experience, they didn't change their sound much with more burn-in, and sounded very open and crisp from the first moment I heard them. 



I would describe Da Vinci X as a very clear, crisp and neutral IEM, that is pretty much just the right thing for those who lust for a detailed IEM, revealing every single intricacy in your music, down to the smallest nuance and micro-detail. What's interesting is that, even after hearing a total of over a hundred IEMs and Headphones to date, I never had something extract this much detail, even from simple songs, making the entire listening experience totally different. The funny part is that the Da Vinci IX is different in this aspect, and is considerably more euphonic, rolls off earlier in the treble, and sounds more musical, smoother and less focused than Da Vinci X, which is ultimately really clear and crisp. The overall tonality does feel like the extremes are slightly enhanced above what would be absolutely neutral, for example the sub lows and the highs seem to be a bit enhanced above the midrange, and this is even with the default reference filter installed. 

The bass has a lot of impact, and they can totally blow your mind when the song calls for it, and won't lose speed for it. It is amazing what texture and nuance some songs have, and how much Da Vinci X can reveal that, as well as how much it can reach in the lows for an entirely-BA design that's made to sound reference. The bass drivers seem to have a slightly longer note decay than the midrange and treble drivers, but not a whole lot, just enough for the sound to not feel sterile or rushed, and if you're afraid of too-analytical sounds, like what Etymotic typical signatures that are light-quick, but lack substance, then you'll feel right at home with Da Vinci X. There is no coloration in the midrange, though, and the upper bass stays fairly neutral, just enough for the whole IEM to still be considered a neutral one. 

The midrange is first and foremost described by its aggressive detail and clarity. Da Vinci IX cuts a bit on that clarity, but adds some warmth and smoothness, makes things more organic, where in turn, Da Vinci X is the clear and crisp one, precise and has the larger soundstage as well. Da Vinci X is made to sound right if you want true neutrality, and don't want any coloration in your IEMs. Furthermore, the upper midrange is still strictly neutral, and doesn't lend itself to color the sound in either direction. Now, I feel like I could talk days to years about the detail, crispness and clarity of the sound with Da Vinci X, there's just another level of resolution in those that I haven't heard before in any other IEM. To better share the story, one of the first songs I tried Da Vinci X with was Linkin Park – Faint, a pretty typical and fairly simple song overall, which I've heard countless times before, and have heard even on systems that cost over 100.000 USD, so I thought I knew everything that was to be heard in that song. Being a normal part of my test songs, and an old one at that, I didn't expect to hear much more, but there were textures and details that I simply never heard before. I'm talking about whole new layers of instruments, not just one micro-detail somewhere in the sonic space, but entirely new layers just jumping right at me. Needless to say, it took me a while to get used to having this much clarity, and I spent over ten days listening exclusively to Da Vinci X before starting to compare them, just to make sure I am understanding them the right way. The source was always a high-end one, from one high-end DAP to another, but man, I loved them paired with every DAP, and they also reveal the differences between the sources really easily. 

The treble of Da Vinci X is another pleasing surprise, with extension to last for days, as well as a softness in the textures, they aren't harsh nor unnaturally detailed, but they aren't splashy or unnaturally soft either, they just have the right amount of everything to sound good. The treble is a bit less rich in textures compared to the midrange, which is simply outstanding, but this is balanced by a good extension and a good amount of overall sparkle. 



The staging of Da Vinci X, when compared to the average of the other flagships I heard, is pretty medium in width, and they have a tendency to prefer depth and height over width. The width itself is smaller than the highly expansive types that I tend to prefer, but they take full advantage of the excellent separation, the final result being a very clearly cut and layered sound, with a nice holographic presentation. Vocals are slightly forward sounding, and this compliments both rock, metal, and pop, but also classical and music styles that rely on a good vocal performance, and this, paired with an excellent overall clarity and good dynamics, make up for a very realistic presentation.  



Portable Usage

In terms of portability, Da Vinci X is not very sensitive to hiss, and won't hiss that much even with hissy sources like Hiby R6, FiiO X5-III, but they will reveal the differences between sources, and will prefer a better source like iBasso DX220 and FiiO X7 MK II or Opus #2 above an entry-level source like M6, although they are easily drive-able from a portable source, and don't need a lot of power. 



The isolation is good enough for both live performances, as well as taking a walk and isolating yourself from the city, or the subway. With the right tips, you can get enough isolation to enjoy music even quietly. I would assume that when getting an IEM this expensive, and hearing the details so clearly, you are probably going to want to not blast them to one hundred decibels. Actually and to be honest, after hearing the details so clearly, I kind of want to do all I can to preserve my hearing the best I can, so I started to enjoy music much more quiet, Da Vinci X didn't just let me hear new stuff in my music, it showed me a new way to enjoy my music, an entirely new approach, where instead of loud, I can appreciate every nuance. 



The cables are very flexible, and won't prove to be an issue when wearing Da Vinci X, so you won't have trouble, even if walking long distances, and neither will be their shape and design, although you will probably want to upgrade to thinner and less visible cables if using Da Vinci X live, as most live artists want their monitors to be as invisible as possible.  



Comparisons 

The comparison list includes Campfire Atlas, HIFIMAN RE2000, and Lime Ears Model X. There are a lot of IEMs out there that I will be comparing to Da Vinci X as it just became my new benchmark, so you can expect to see it mentioned in future reviews as well. 



Clear Tune Monitors CTM Da Vinci X vs Campfire Atlas – Although RE2000 and Lime Ears Model X go for a similar tuning when compared to Da Vinci X, Atlas doesn't do that, and is tuned in a much more grand way, with a very different sound. In terms of package, Atlas comes in a much smaller and more minimalistic package, but has a nice carrying case, that's almost as nice, if not nicer than the one Da Vinci comes with. The default cable is excellent for both, and this time, Atlas may actually have the better cable. Atlas also allows for both straight-down and over-the-ear wearing styles, where CTM Da Vinci X can only be worn over-the-ear. On the other hand, Da Vinci X is more comfortable, because Atlas has driver flex, and takes some time getting used to if you're coming from an all-BA setup that doesn't have driver flex. Atlas also picks up hiss easier than Da Vinci X. The overall experience feels nice for both IEMs, but Da Vinci X is clearly the flagship here, with more detail, more clarity, and a more neutral sound. Atlas has a much larger soundstage, with a wider presentation, more emphasis on how grand instruments sound like, and makes a better partner for classical music, where Da Vinci X is more precise, presents music much more clearly with more detail, but has considerably less size to its stage. The dynamics are better on Atlas, but the layering is better on Da Vinci X. Overall, if you want a warm, thick, romantic and organic-sounding IEM, Atlas is much more of a fit for you, or even Da Vinci IX is, where if you want a more neutral performer that places detail above everything else, Da Vinci X would be your choice. 

Clear Tune Monitors CTM Da Vinci X vs HIFIMAN RE2000 – HIFIMAN RE2000 has been about 2000 USD at launch, so you can consider them to be a fair competitor to Da Vinci X in terms of pricing. This being said, the package RE2000 comes with, feels more premium, and Da Vinci X feels like the package has more detail and work placed in, but less overall quality to the package itself. The build quality is great for both, but I would give the heads-up to Da Vinci X, for the feature of having 10 drivers per ear, where RE2000 has just one, a single Dynamic Driver for each IEM. RE2000 should be more comfortable for most people, as long as the IEM isn't too long for you and doesn't touch the back of your ear, otherwise Da Vinci X is larger in overall size, but may feel more comfy. The default cable is much better for Da Vinci X, although the cable RE2000 comes with doesn't sound bad, but it does have a pretty poor overall ergonomic when you consider its design and thickness. The sound is quite different this time around, and although both IEMs are analytic in their nature, and have similar size to their soundstage, Da Vinci X has more detail and clarity, where RE2000 has a more organic overall presentation, with a thinner overall treble presentation, and a more dynamic-like bass, where the IEM itself has similar dynamics and punch. If I was to call out some differences, RE2000 seems to have more bass impact and thickness. RE2000 is priced at about 800 USD at the moment, so it makes a more compelling offer price-wise, but if you're looking for more detail and clarity, then Da Vinci X is the way to go. 

Clear Tune Monitors CTM Da Vinci X vs Lime Ears Model X – Lime Ears Model X is the current flagship from Lime Ears, a custom IEM producer from Poland, specialized in high-end IEMs that bring a little twist to the mix, as Model X has a little knob on its surface, for making the entire IEM warmer and thicker, or leaving it in reference mode, in which it should be compared to Da Vinci X. Starting with the build quality, both IEMs are really nice, both offer similar amounts of passive noise isolation, and both feel similarly comfy, although Model X has more void than Da Vinci X. On the other hand, Da Vinci X is slightly larger and especially if you have smaller ears, you may notice the difference in size and shape. The default cable is better for Da Vinci X, but the carrying case is impressive in both cases. Only Model X comes with free Polish candy that's quite tasty. The actual sound is quite similar in tuning, once you turn both to reference, and fit both with foam tips, as both seem to sound their best with foam tips. Also driving both from DX220 with AMP9, a pretty potent source, they seem to both have the same amount of everything, and actually Model X seems to sound wider, and to expand better in its soundstage, creating a more holographic presentation. On the other hand, Da Vinci X seems to have a better definition, better resolution, and better overall detail, making up for its higher price by revealing more details in your music. Whether wanting to hear every last drop of detail is worth for you or not, is up to you, but if you really want to hear the last word in clarity and detail, you can check out Da Vinci X for its sweet overall performance. 



Recommended Pairings

The list of recommended pairings includes iBasso DX220 running AMP 9, FiiO M11, and Opus #2, as all of those are proper flagship sources that deserve to be mentioned in a proper review of Da Vinci X. They can be run off smartphones, like my Xiaomi Mi Max 3 as well, and they work well with ultraportables like FiiO M6, Shanling M2X, or Hiby R6, but they really sound at their best when paired with a high-end source. A little extra pairing I am going to include in this review is with QLS QA 361, as I am quite sure you'd want to know how it pairs with Da Vinci X, as it is the only flagship that doesn't have a touchscreen display, or any bells and whistles besides playing music the best it can. 



Clear Tune Monitors CTM Da Vinci X + iBasso DX220 (AMP 9) – DX220 running AMP 9 is probably the easiest setup to recommend thanks to its excellent software and hardware support, Tidal support, and sound, which is very versatile and clear, crisp, yet organic, with good soundstage, and a magical midrange. If there's anything to take into account when going for this setup, you should know that AMP 9 only works with Single Ended cables, and you will probably want to also look into aftermarket cables, or you can consider getting AMP 8 for DX220, and getting either a modular cable like Dunu Hulk, or getting a 4.4mm Balanced cable, to take the most advantage of AMP 8. 

Clear Tune Monitors CTM Da Vinci X + FiiO M11 – FiiO's current top offering, of M11 is another nice DAP to pair Da Vinci X with, thanks to its wider presentation, which counters the deeper, yet more narrow presentation of Da Vinci X. This pairing has good overall support as well, and M11 has a Balanced output by default, and you don't have to worry about searching for aftermarket cables right away. Furthermore, M11 has good Tidal and Streaming support, along with Bluetooth support, a good battery life, and good integration with Roon and other music services. 

Clear Tune Monitors CTM Da Vinci X + Opus #2 – Opus #2 is a pretty old DAP now, but it is still relevant, still has that organic, large and smooth sound that made me fall in love with it years ago when I first reviewed it. Paired with Da Vinci X, you have access to its Balanced output, as well as a few streaming services. The size and design of the DAP also pairs well with Da Vinci X, which feels like it was made to be used with this high-end DAP, making them a sweet pair, and my to-go pairing often. The sound is more organic, more creamy, and less analytic, yet still really detailed and crisp, compared to most other pairings. 

Clear Tune Monitors CTM Da Vinci X + QLS QA 361 – QA 361 is an interesting DAP because there's not much to talk about in terms of bells and whistles, as it has no features besides playing music, but it has a really nice way of doing that, with a really clear, crisp and detailed presentation, that's also slightly soft and splashy, making it really easy to pair with a wide selection of headphones and IEMs. It has a Balanced output as well, but it is in 3.5mm, so you will either need a modular cable like Dunu Hulk for Da Vinci X, or you will need to use the Balanced adapter that comes in the package with QA 361. I always used QA 361 in both high voltage and high current mode as it seems to sound best that way, having most dynamics, most details and most punch / impact when used that way. The pairing sounds sweet, detailed, mostly neutral but slightly softy, with a wider soundstage and more dynamics emphasis than most other pairings. 



Value and Conclusion

Starting with the value of Da Vinci X, they cost a whopping 2400 USD at the moment of writing this review, and it is very hard for me to go around the price without saying that they are hecc expensive. Not only expensive, they are single handedly the most expensive IEM I heard to date, although I heard many flagships that were in a similar price range, including Empire Ears models that are about 2000 USD, Hifiman's RE2000, which costed about 2000 USD at launch, as well as other flagships from all over the world. Considering the performance of Da Vinci X, relative to other IEMs, if you really want the best clarity, detail and precision, they are worth the money they cost. You can always consider that you're also helping towards the design of new IEM tech, as CTM is one of the very few IEM companies that designs new tech in-house, where other companies go with a very clean and good formula, but do not design new tech. On this note, CTM is really nice to work with and purchase from, because they are physically capable to offer proper service and fix IEMs even after a long while after their initial release, so in the end, getting Da Vinci X is worth it, if you have the money, and want the best of the best the current market has to offer. 



The package is not quite as exquisite as that of other flagship IEMs, but it includes all the extras that you may require to fully enjoy the IEMs, along with proper accessories, and a really nice carrying case that is going to protect the IEMs. This, and the default cables are better value than most flagship IEMs come with, so you won't feel pushed to upgrade the cables right away, although something like Dunu Hulk should serve you well if you want to improve the aesthetics and the sonics of Da Vinci X. 

The build quality is excellent, and there's good comfort as well, along with good isolation from outside noise, and although the IEM itself will appeal mostly to a more industrial-look lover, they should fit in well with any performer, and you don't have to worry about warranty and build quality, CTM is a very reliable company.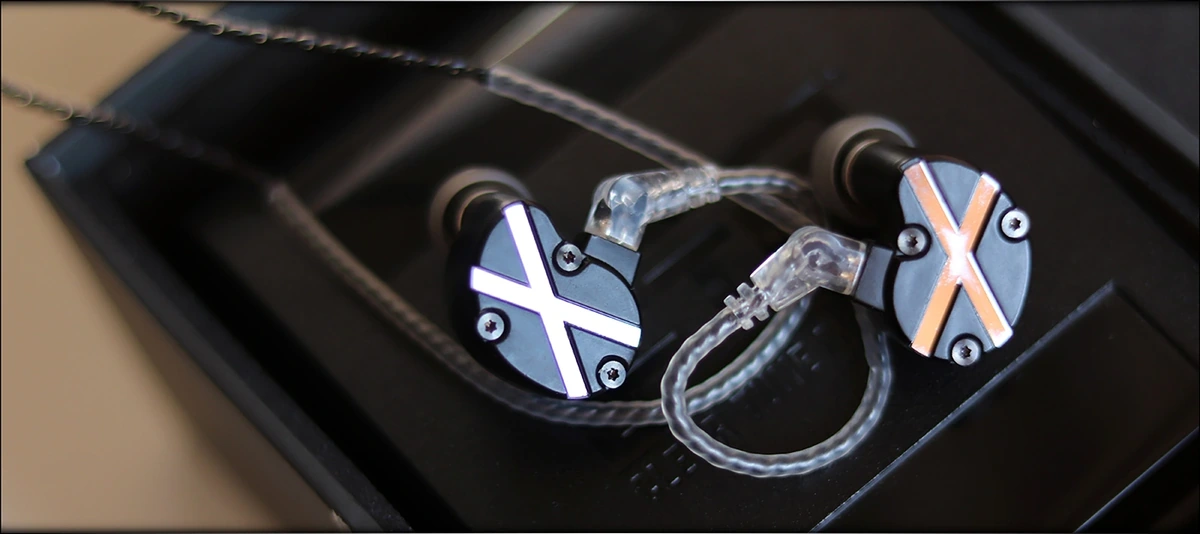 The sound is clearly the highlight of Da Vinci X, with a really clear, neutral, and quick sound that will surprise you by revealing new layers that you've never heard before, even in simple songs, and even in works that didn't seem like they'd be hiding anything. The bass is quick, but it doesn't have an unnaturally quick decay, the midrange is neutral and has a very good amount of clarity, nuance and detail, and the treble is well extended, and it manages to be a touch on the soft side, to sound natural, without being splashy. The stage isn't the widest, but the entire 3D presentation is spot on thanks to the instrument separation and depth, combined with the impressive height. Paired with good dynamics, the entire IEM brings your music to life and helps you gain an impressive introspection to your works, if you're a music producer. 



Before the end of this review, I'd like to add CTM Da Vinci X to Audiophile-Heaven's Hall of Fame for being the new current benchmark for IEMs, and for impressing me and breathing new life into my passion for this hobby. The amount of clarity surpassed all that came before it, and I'm eager and looking forward to what will manage to match CTM Da Vinci X. You can always check the Hall Of Fame here. 



At the end of this review, if you're looking for a proper flagship, an IEM to really match a high price tag, something to sound new and impressive, without sounding odd or wrong, you're most probably looking for Da Vinci X, or at least you'd want to give it a listen, to know whether this kind of really pragmatic sound fits your taste. 
Product Link
You can always get your Clear tune Monitors CTM Da Vinci X from www.amazon.com here: https://www.amazon.com/Clear-Tune-Monitors-CTM-Vinci/dp/B07TS9DH17/
---
--- Please remember to stay safe, and always have fun while listening to music!---
 - If you have a dime to spare, please donate, and help us! It would make the day brighter for me and my wife- 
---
Full Playlist used for this review
We listened to more songs than those named in this playlist, but those are excellent for identifying a sonic signature.  I recommend trying most of the songs from this playlist, especially if you're searching for new music! The playlists are different for Spotify, Tidal and Youtube, and based on the songs I enjoy and are available on each!
https://www.youtube.com/playlist?list=PL_cjBXGmwSHSdGcwuc_bKbBDGHL4QvYBu
https://open.spotify.com/playlist/5J3oloz8Riy9LxEGenOjQ0?si=979ba4f082414be7
https://tidal.com/browse/playlist/330fd544-8e5b-4839-bd35-676b2edbb3d5
--- Contact Us ---





---