Light Sound Rulez – HIFIMAN Arya Review
HIFIMAN Arya is a flagship headphone from HIFIMAN, a headphone with a unique signature that will literally blow your mind, but in a very specific way. It has a pretty good price point of 1600 USD, and its main competitors will be HIFIMAN HE6SE, Kennerton Thror, and Crosszone CZ-1 Headphones. All of them are amazing, so the battle will be fierce. 
Introduction

HIFIMAN is quite a well-known name within the audiophile industry, and all who heard a product from them are probably still in love with their sound, as they are some of the best at designing a likeable sound, although if you've had some of their products in their early days, you may be wondering how is the build quality nowadays. I think I had quite a fair share of Hifiman products in my hands to date, and if you check out my review on HIFIMAN Sundara, and other headphones from them, you'll know that they are not only reliable, but the samples I've had were pretty much indestructible. This being said, I had the chance to have a friend who had issues with a headphone from HIFIMAN, and the replacement process was quick, easy and my friend told me that he is not only ready, but planning to order again from them. The replacement process nowadays, at least for Europe basically includes you sending the product back to HIFIMAN, and in Europe, you're supposed to send their product to France, and not China, then they send you a replacement. It is not only easy, but also quick and with the sound and price points of their products relative to their competitors, it is one of the companies I feel the safest to recommend, especially to both beginners and those who want a hassle-free experience, but also to veterans, looking for a specific product with a specific sound, like the masterfully designed Arya we'll be looking at today. 

It should be noted that I have absolutely no affiliation with HIFIMAN, I am not receiving any incentive for this review or to sweeten things out. I'd like to thank HIFIMAN for providing the sample for this review. This review reflects my personal experience with HIFIMAN Arya. Every opinion expressed is mine and I stand by it, the purpose of this review is to help those interested in HIFIMAN Arya find their next music companion. 
Product Link
You can always get your HIFIMAN Arya from www.amazon.com here: https://www.amazon.com/HIFIMAN-Full-Size-Audiophile-Adjustable-Headphone/dp/B07K59HW9R/
Packaging

First things first, let's get the packaging out of the way:



As much as I love the price relative to performance and the sound of HIFIMAN Products, their packaging is usually spartan, and after I'll be posting my written review about Thror, which was packaged in a wooden box, you'll understand why I say that HIFIMAN goes very light on their box. This isn't necessarily a bad thing, as a lighter package means that a larger portion of the budget was invested in the product instead, and you'll be having a better overall product, at the price of a less expressive unboxing experience. 

Now, with Arya, you get a cardboard box, with the headphones, and a cable, both seated in a foam cutout covered in a satin fabric, so a lavish presentation, but a pretty basic package. I don't think I would have needed anything else, given the purpose of Arya, which is clearly a desktop headphone, but spare earpads, and a spare cable would probably have been nice. This being said, if you'll want to upgrade the cable to an aftermarket, you can be happy that you're not paying for cables you're not going to use. 
Build Quality/Aesthetics/Fit/Comfort

Starting with the build quality, Arya may seem a touch light, weighting in just 404 grams and to be honest, it if you're coming from a wooden or a typical flagship, they are rather light. It isn't a sturdy-looking headphone, and from the first moment you place it on your head, you understand that it doesn't go for anything that's even remotely made to be taken outdoors.



Indeed, Arya is a headphone not only made for stay indoors, but it is made to be absolutely comfortable, to the point where it is the only headphone I consider to be even better than the mighty Sennheiser HD800s in terms of comfort, which I reviewed ages ago on Head-Fi. That's right, Arya is more comfortable than HD800S, Empyrean and pretty much any other flagship, and this is because Arya has huge ear cups assnd ear pads that cannot physically touch your ears, it comes with soft asymmetric earpads, and it has a very light weight, paired with a light clamping force, resulting in one of the most comfortable listening experiences possible. 

To add to the comfort, Arya doesn't get hot, and barely gets warm during usage, and they are actually one of the headphones that survived me wearing them with my hair wet, so they aren't shy of being a resilient one. 



If you're looking for faults, or characteristics that you really want to know about before ordering one, though, Arya is extremely open, and you can hear pretty much anything while wearing them. This zero passive noise isolation contributes to their sound, but if you're used to most headphones, you're using to the headphone having some degree of passive noise isolation even when the headphone is open-back, but Arya is simply open, kinda similar to the HIFIMAN Jade II System, which was also really really open. 

Furthermore, Arya's noise leak is great, and you won't be able to use them if you'll need to keep your environment quiet, so no taking them to a library or in public. Also, no using them while your loved ones are sleeping, if you don't want to wake them up.

Those characteristics made including a carrying case a bit redundant, as you're not likely to take them out for a walk, and even I didn't really take them outdoors, Arya having a very unique specific sound. 



The tech behind Arya is Planar Magnetic, having a very thin driver membrane, and an asymmetric design. The connectors on the headphones are 3.5mm and they come with a longer 6.3 to 2X3.5mm cable. This makes upgrading the default cables really easy, and the original cables are also interchangeable with Sundara cables and cables from HE6SE. This may come as a surprise, but it means that cables made by Meze for their Meze 99 series also work for Arya, making them one of the cable upgrade options if you were looking for them. 

The important parts of the headphone support system are made of metal, and the rest is made of high-quality plastic, making Arya a proper flagship that's going to survive heavy usage, but their really open nature dictates that you're unlikely to take them in any environment that would naturally damage them. 
The aesthetics are very basic, and a touch on the serious side, but they work well if you usually go for industrial looks as well, and if you're one of those folks that's into stylish and classy, Arya should fit right in. 

Overall, Arya is one of the most comfortable headphones, with a strong build quality, very light weight, and an excellent fit, although they provide no isolation and are made for desktop usage only, being a specific purpose headdphone. 



Sound Quality

The sound of HIFIMAN Arya could be described as light, snappy, quick, warm-ish in the midrange, well extended both ways, but with such a huge soundstage, that everything else about the sound kind of evaporates when you hear them sing. 



The bass is really deep and clear, has a very quick and light nature, basically the way you usually describe the bass of a high impedance headphone, lacking a substance and thickness, but being warm in tonality, having a very light hit, yet presenting itself exactly when it is needed to convey the impact, just the way it would be in a real stage experience. If you like atmospheric music, you'll feel the bass is presented in just the right amount and impact. 

The midrange is where the real magic starts to happen though, with the huge soundstage, warm-ish tonality and incredible instrument separation kicking in to brighten your day. The sound of a guitar note played through Arya is always sweet, always has the right tonality to put a smile on my face, and always makes me think of just how sweet the atmosphere that Arya conveys really is. Furthermore, I feel like with Arya, every single snare, cymbal hit and pretty much every single sound comes from such a well defined space that even something like a huge speaker setup barely comes close to the stage of Arya. Both male and female voices are played masterfully, male voices having enough depth and a serious enough tone to sound true to life, while female voices can climb as high as they require, while keeping their soft texture and clean presentation. If anything, Arya is one of those grain-free headphones, and even compared to their bigger brother, HE6SE, they feel grain-free, and they feel very fluid, smooth, yet detailed. 

The treble is also quite magical, with a nice kick for sparkle, extension and air. In fact, this is the only way Arya could have sounded so good, with their huge soundstage, they needed air and extension to convey space and atmosphere. Happily, they do exactly this, and the final product is a sound that's large, clean, crisp, with a treble that has zero grain, has zero sibilance and zero harshness, but which has a nice amount of overall sparkle and clarity. 

The soundstage, the element of Arya that I probably spoke the most about, is also a very strong characteristic for them. Arya sounds pretty much like a Sennheiser HD800S done right, with a similar size for their stage, but with an actually good amount of instrument separation, clear intention to sound crisp and clear, and with a much more natural, warm and friendly tonality that makes everything musical and rich.

Overall, Arya is a headphone that will make you love Jazz, Blues, Progressive, Classical, Rock and lighter music. They will also work well with all types of classical music, including opera and such, but they aren't exactly designed for electronic, metal and more aggressive music, although, you may rediscover your music through Arya, if you give them enough time and space to play the way they should. 



Desktop usage

Using Arya while at a desktop is a purse pleasure. You don't even feel them on your head and you're actually more likely to want them on your head than having a speaker setup, simply due to the convenience of having a small soundstage at the level of your head, without having to bother your neighbors, but still having access to that wide space and comfort of having almost nothing on your head. 

In all truth, if you're new to headphones, 400 Grams may not seem all that light, but if you had a few headphones, especially like a few flagships, Arya will feel like a feather, they are so comfy that sometimes I leave them on my head even for background and really quiet music, they simply convey the stage in a way I never run out of desire to grab them and leave them on. 



In fact, Arya is so amazing that I began listening to country using them, or more precisely, I sometimes left StarCraft II's idle menu playing in the background, and while you are in the cantina within the game, you can hear a faint country music playing, and that's just beautiful through Arya. Furthermore, I found myself listening to an entirely new type of music, with things like Avant-Garde, Progressive Metal, and Country, with atmospheric music being much more engaging and intriguing through Arya than it was through most of my headphones. This is an important aspect, because if you love progressive metal, you will fall in love with Arya for sure. 

The fact that Arya is easy to drive for a large flagship, means that you won't need a large headphone amplifier for them, and they can work with some stronger portable DAPs, like iBasso DX220, FiiO M11, and FiiO Q5S, meaning that you can take Arya with you on a trip, or while going somewhere, if you'll get a carrying case for them. Luckily, the headphone case made for Ananda works like a Charm for Arya, making them portable. 

If you're concerned about the drive factor, relative to more portable headphones, and if you haven't experienced harder to drive flagships before, I have to tell you, some weaker AMPs and weaker sources probably won't exactly suffice, and Arya isn't done right from an entry-level source, FiiO K5PRO, for example driving them power-wise, but not doing them justice. 



Comparisons 

The main competitors I'll be comparing HIFIMAN Arya with are HIFIMAN HE6SE, Kennerton Thror and Crosszone CZ-1, all of those being rather worthy to battle this flagship. 



HIFIMAN Arya vs HIFIMAN HE6SE (1600 USD vs 1800 USD) – HIFIMAN HE6SE is another flagship from HIFIMAN, but where Arya sounds a bit like one of those high-impedance headphones, HE6SE sounds a bit more like a headphone that has a really low impedance, but also a really low efficiency. The package is way too similar between the two, to mention, although HE6SE comes with a different cable, and HE6SE comes with a power adapter that can take in sinal from your speaker power amplifier and feed it to HE6SE. As I was saying, the sound is different between the two, with HE6SE having a more detailed sound, that's also more congested, having a smaller soundstage. HE6SE has much more impact, but Arya is more dynamic, Arya has a much more atmospheric presentation, where HE6SE is brighter and more analytic. If you're into metal music, HE6SE is clearly better for metal, for rock, for electronic and for music that's supposed to be forward and impactful, where Arya is much better for atmospheric and large-sounding music, for classical, jazz, blues, classical and such. 

HIFIMAN Arya vs Kennerton Thror (1600 USD vs 3000 USD) – Thror from Kennerton could be considered a beautiful headphone, with a wooden build quality, a comfort that's much tighter than Arya, making them a much better headphone to take outdoors, if you were looking for one. The unboxing experience feels much better for Thror, but it should be noted that it si also more expensive than Arya, so they deserved a more fancy unboxing experience. You can feel that Thror is going to be a tighter fit, a heavier build, and something that feels quite a bit more substantial. While Arya is a headphone you can forget about while wearing, Thror is a headphone you'll know you're wearing and a headphone you'll know you have on your head. Thror also provides more passive isolation and leaks less than Arya, making them better suited for a portable usage. The sound of Thror is thicker, more impactful, deeper, sweeter, more organic, the soundstage is smaller, the detail level is similar to Arya, and the driving factor actually makes them similarly easy or hard drive in practice. If you're into a more personal presentation, you'll love Thror, and if you like your music smoother, yet more organic, heavier and having more substance, Thror would be your choice from those two. If you, on the other hand, like a warm-ish presentation that's atmospheric, light, snappy, quick and runs with good agility, you'll love Arya and their slightly ethereal sound. 

HIFIMAN Arya vs Crosszone CZ-1 (1600 USD vs 3000 USD) – Crosszone CZ-1 is one of the two huge-soundstage headphones in the world, other than Arya. CZ-1 is actually a big different from Arya, both in the build principle, as well as in the actual sound and comfort. To begin, CZ-1 comes with a set of three drivers for each ear, to emulate and create the soundstage. The comfort is also quite excellent on CZ-1, but even for those who wanted a huge headphone, CZ-1 may be a big huge. The weight is also higher on CZ-1, making Arya lighter and also more fitted to the shape of the head. The sound is quite different, with Arya being warmer, more organic, more musical, deeper, and having a better overall bass. The soundstage is larger on CZ-1 though, although it is a bit less precise, especially in the separation, compared to Arya which seems to have the separation done better. From the two, CZ-1 is better for classical music, having a more neutral tone, while Arya is better for progressive music, for rock and for blues. 



Recommended Pairings

Although Arya best responds to desktop setups and such, they can sound quite lovely even when driven from a portable, like iBasso DX220. This being said, they are also sublime from something like the mighty Mytek Brooklyn DAC+, and also  a tricky setup like the M2Tech Young MK III DAC + Wells Milo Amplifier. 



HIFIMAN Arya + iBasso DX220 / DX150 (AMP9) – The fun part here is that Arya is actually easily drive-able from a portable, as they have a fair efficiency and also a pretty low impedance, so you don't need a huge power amplifier to drive them, and compared to the other two large headphones with a huge soundstage, HD800S and CZ-1, Arya actually is quite nimble and will easily sound amazing from a light portable without much hassle. This being said, Arya is extremely revealing, and will call out a better source from a more entry-level one, and will reveal even a high-end source from a midrange one, making DX220 + AMP 9 one of my favorite portables to power this little flagship headphone. The level of detail that AMP 9 bears, with its nuTube Module, is just insane. To add that organic midrange and sweet treble, paired with what is a very well rounded stage, you're going to have a hard time finding a sound that is this good, for this price, and which is also portable. As a bonus, if you want to save a few dollars, you can always get DX150, which, when paired with AMP9 is almost as good as DX220 and you'll still have an excellent time listening to the combo. 

HIFIMAN Arya + Mytek Brooklyn DAC+ – The Mytek Brooklyn DAC+ is one of the main desktop DAC/AMPs I have on my desk at all times, and which I'm using to power most headphones and IEMs I am reviewing, and Arya will also be paired with it. The soundstage is larger than most other combos, and the midrange feels warm, yet very spacious. The bass is snappy, quick, and deep, and the treble is sparkly and extends all the way in the highest registers. In fact, the authority and control that DAC+ has over Arya makes it one of the best desktop DAC/AMPs you could pair with them, so if you're looking for how a proper flagship sounds with a proper DAC/AMP flagship, you're set for fun. 

HIFIMAN Arya + M2Tech Young MK III DAC + Wells Milo Amplifier – This last pairing or rather setup to power Arya is made from two very distinct and unique components. M2Tech Young MK III is a dedicated DAC, made for both headphone but also speaker systems, and it has a very clear, and strict sound, very fast, with a huge soundstage, but it is also a big bright and sparkly for those looking for a warm and thick sound. Wells Milo is a frontier Headphone Amplifier, with a sound that is both thick and organic, a bit warm, but also a bit smoother in the treble, but which can take advantage nicely from the huge staging infused by Young MK III. The combo gives Arya a uniquely warm and mellow midrange, paired with a thicker, more impactful bass, as well as a smoother, leaner treble and a more musical overall experience. 



Value and Conclusion

The value of Arya is actually quite excellent considering what it stacks up to and what it can fight on good terms with, being in line with flagships that other companies sell for 3000 USD, but costing 1600 USD. Actually, when we look at it historically, HIFIMAN has been one of those companies to first launch a product for a heftier price, but then to become the leading force in lowering the price for a certain sonic performance, making them a company that is good for the customers in the long run.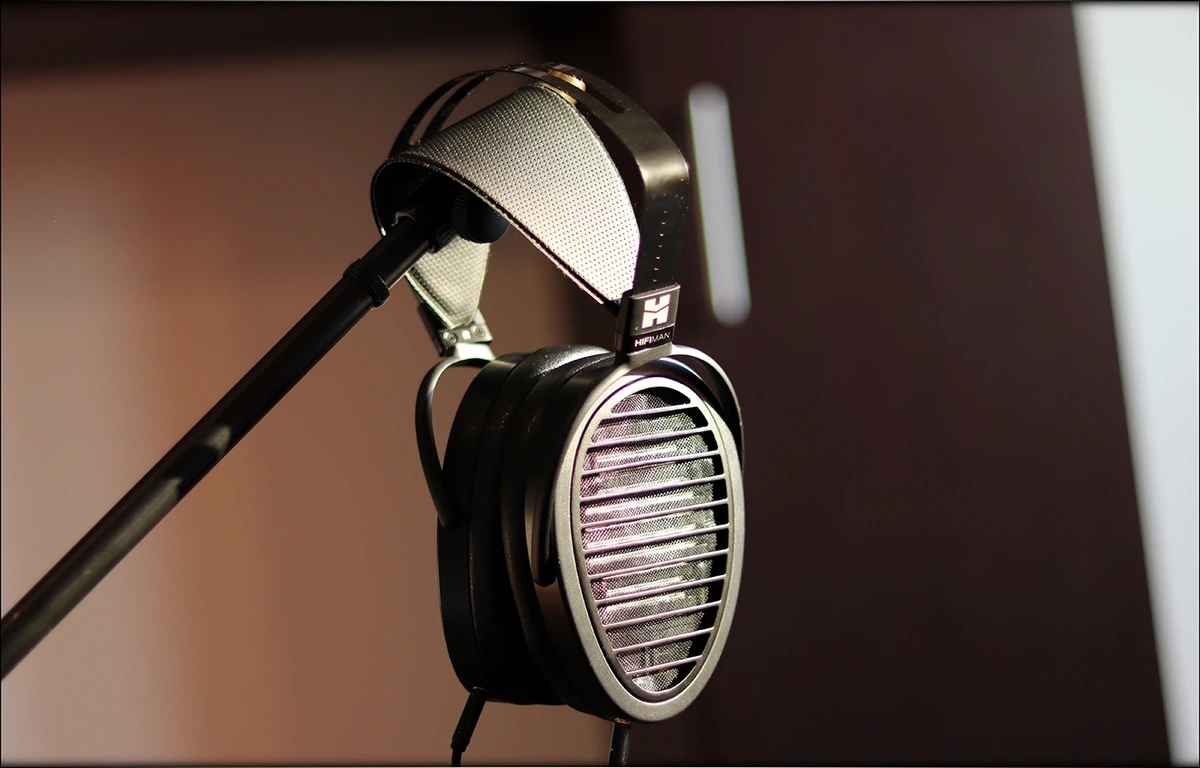 Arya comes packaged in a cardboard box, and it may lack a carrying case, or multiple cable options, and it lacks a spare set of earpads, but the earpads will last a long while, and the cables provided are fairly good, leaving you with more budget to get a set of aftermarket cables, if you are into cable upgrades. Furthermore, they work with the carrying cases made for Ananda, and although you may not have one lying around, you can find some for a pretty low price, and you won't feel like it was missing from the package unless you're planning on taking them somewhere, situation in which you will need a carrying case. 

With a build quality to match their elegant design, Arya is made to last a lifetime, and with 3.5mm connectors, you can easily replace their cables. Furthermore, their pads swivel a bit and can be adjusted, but they stay in place, and the earpads and ear cups are huge, making Arya a really comfortable headphone that you'll never want to take off your head, and with the fact they're open and don't isolate one bit, you'll actually be able to hear when your loved ones are calling you, meaning you won't need to keep taking your headphones off when someone has something to tell you. This being said, the fact that Arya is so open means that you'll probably need a listening room to fully enjoy them. 

The sound of Arya if a bit different from its technical specification, as they basically sound like a high-impedance headphone, despite not having a particularly high impedance. Their sound is gentle, quick, snappy, and they convey a huge soundstage, making competition for the two soundstage kings I already know, Sennheiser HD800S and Crosszone CZ-1, Arya being in the same league when it comes to their stage. Furthermore, they are really musical and have a natural warmth in their midrange, paired with a sparkly top end that's not overdone nor harsh, so they work really well for rock, country, blues, classical, progressive and atmospheric music in general. 



At the end of this review, if you're looking for a proper flagship sounding headphone, but at a pocket-friendly price, compared to headphones that have a similar performance, if you're looking for huge soundstage, great comfort, lightweight build that will still stand the test of time, you're going to be in love with HIFIMAN Arya, and they'll quickly grow on your, and maybe end up being your next headphone, so don't forget to add them to your list, if this was the kind of sound you were looking for. 
Product Link
You can always get your HIFIMAN Arya from www.amazon.com here: https://www.amazon.com/HIFIMAN-Full-Size-Audiophile-Adjustable-Headphone/dp/B07K59HW9R/
---
---
--- Please remember to stay safe, and always have fun while listening to music!---
 - If you have a dime to spare, and donate, to help us with electricity and work expenses, it would make my day much brighter, as it would help me improve things around the website and increase the frequency of my posts - 
---
Full Playlist used for this review
We listened to more songs than those named in this playlist, but those are excellent for identifying a sonic signature.  PRaT, Texturization, Detail, Resolution, Dynamics, Impact, and overall tonality are all revealed by those songs. We recommend trying most of the songs from this playlist, especially if you're searching for new music!
https://www.youtube.com/playlist?list=PL_cjBXGmwSHSdGcwuc_bKbBDGHL4QvYBu
--- Contact Us ---






---
---