JDS Labs Atom AMP+ Hevi – Refinement of a Classic
JDS Labs Atom AMP+ Hevi is a $114 USD special edition release with the event of over 40.000 Atom AMPs and DACs sold since 2018, the new Atom AMP+ Hevi takes on the quest to solve what everyone has been wanting from JDS Labs. A new casing made of CNC Alluminum, a bigger, easier to grip volume knob and with the possibility of engraving it, the new Hevi will also be compared to the original JDS Labs ATOM AMP+, SMSL HO100, and FiiO K5 PRO.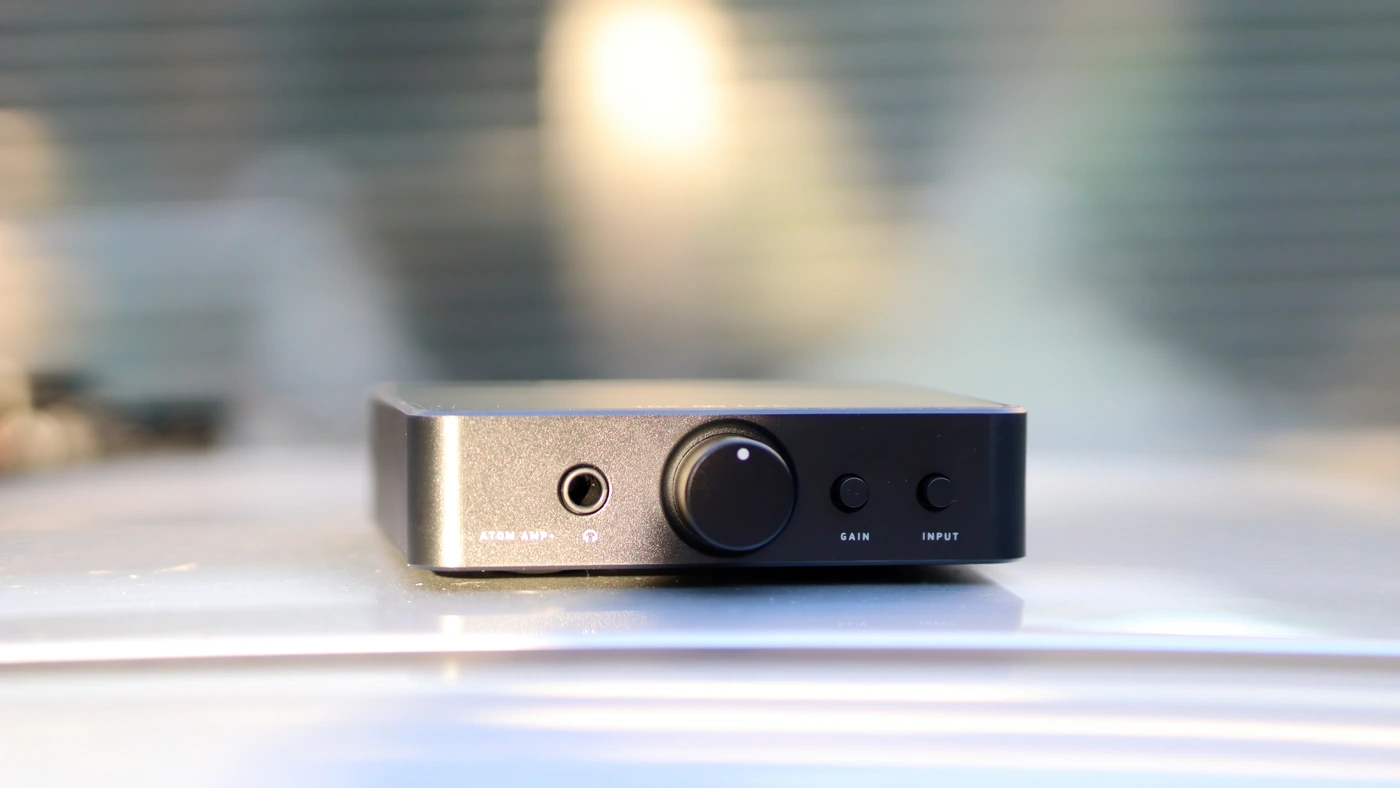 Introduction
The new Hevi Atom AMP+ is a refinement that JDS Labs decided to create and design, by changing the design of the original Atom AMP of 2018 slightly, improving on the build, and bringing the potentiometer forward, by adding a second set of pads. Having them side by side, they look similar, yet the new Hevi feels much better in hand, and it is made to feel substantially more rigid. JDS Labs is the kind of company that I recommend almost always when someone needs a solid desktop DAC or AMP, or a DAC/AMP, as they are well known to make durable products, to have excellent sonic performance, and outstanding support for those products. Purchasing from JDS Labs will surely give you a pleasing experience with your purchase, and they have some of the best price / performance ratio as well, the new Atom AMP+ Hevi costing just 15 USD more than the original Atom AMP+, so while the original will stay at $ 99 USD, the new Hevi is going to cost just $ 114 USD
It should be noted that I have absolutely no affiliation with JDS Labs. I'd like to thank JDS Labs for providing the sample for this review. This review reflects my personal experience with the JDS Labs Atom AMP+ Hevi. Every opinion expressed is mine and I stand by it. The purpose of this review is to help those interested in the JDS Labs Atom AMP+ Hevi find their next music companion. 
Product Link
You can grab one from JDS Labs here: https://jdslabs.com/product/atom-amp/
You can grab one from www.amazon.com here: https://amzn.to/3PGlvGw
If you're in the UK, you can grab one from www.amazon.co.uk here: https://amzn.to/3ppJMGo
And if you're from Europe, you can grab one from www.amazon.de here: https://amzn.to/3NYTOrn
Build Quality/Aesthetics
While the review you'll be reading today is about JDS Labs Atom AMP+ Hevi, I want to mention that there is an Atom DAC+ HEVI that costs just 10 USD more than the original Atom DAC+, so despite the Hevi edition making them considerably more sturdy, the increase in price is marginal. The quality is still exceptional, with no mismatching parts, no gaps, and it has almost twice the weight of the original, which was 260 grams, the new one being 480 grams.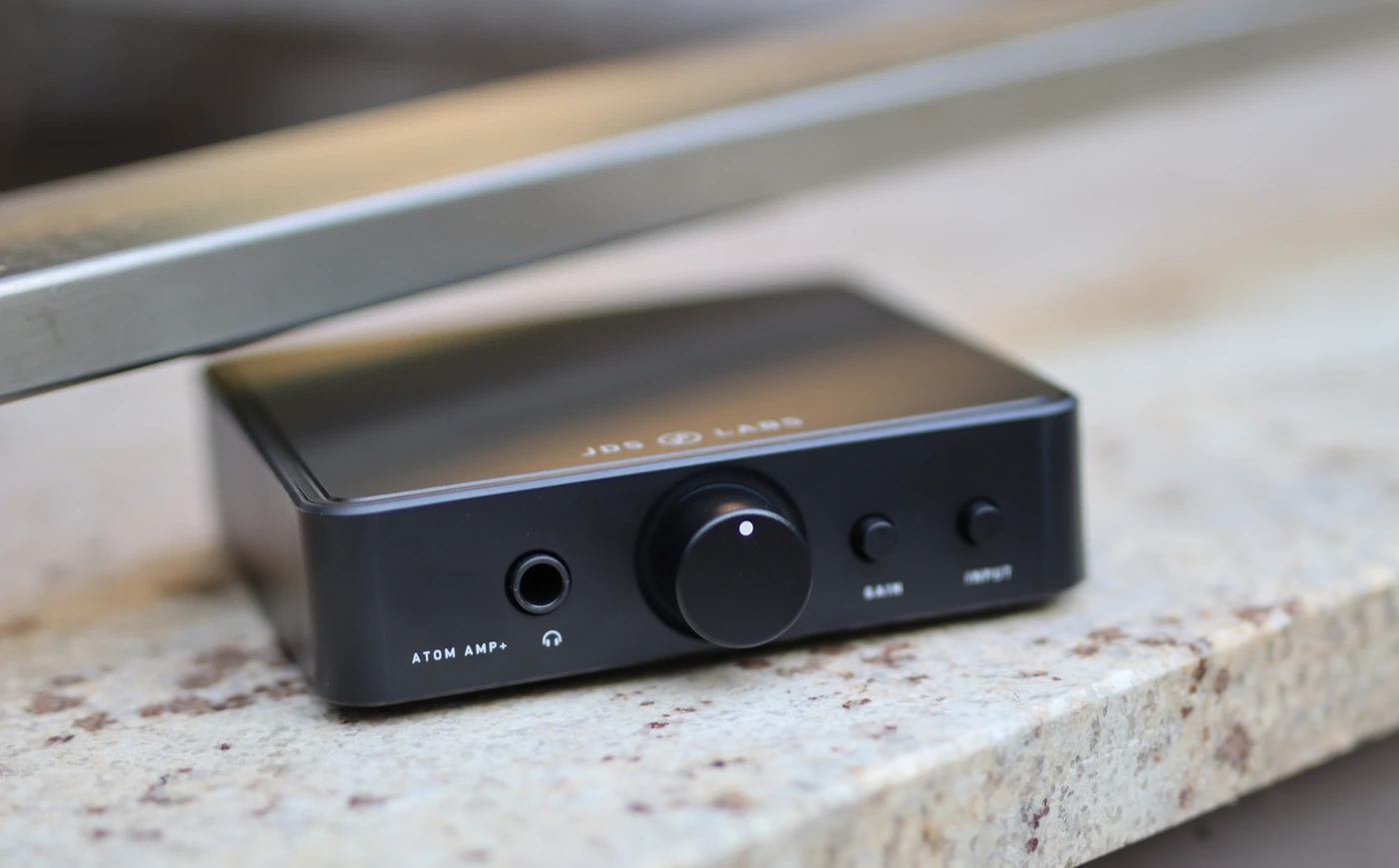 Looking at the new JDS Labs Atom AMP+ Hevi, it looks really similar to the original Atom AMP+, the main differences being indeed the volume wheel which now sits much more forward, and is much easier to grab and turn, and the top plate, which now is made of metal. The bottom plate is still made of injection molded enclosure, while the sides are also made of injection molded enclosure. 
The back oif the units look exactly the same, but the Hevi feels more rigid overall, it is also much heavier on my desk, making a device that feels much easier to trust. The power needed to run them is exactly the same, and they both need that super heavy and large JDS Labs 16 VAC power converter, and there is an RCA input, 3.5mm input, and an RCA output. The new Hevi can still be used as a preamplifier, which I find quite lovely, while the headphone output at the front is still a 6.3mm Single Ended Headphone Jack. The power converter will output 16 Volts AC, which is unusual, since most power converters will output a DC current, and the package only includes the Atom AMP+ Hevi and the power brick.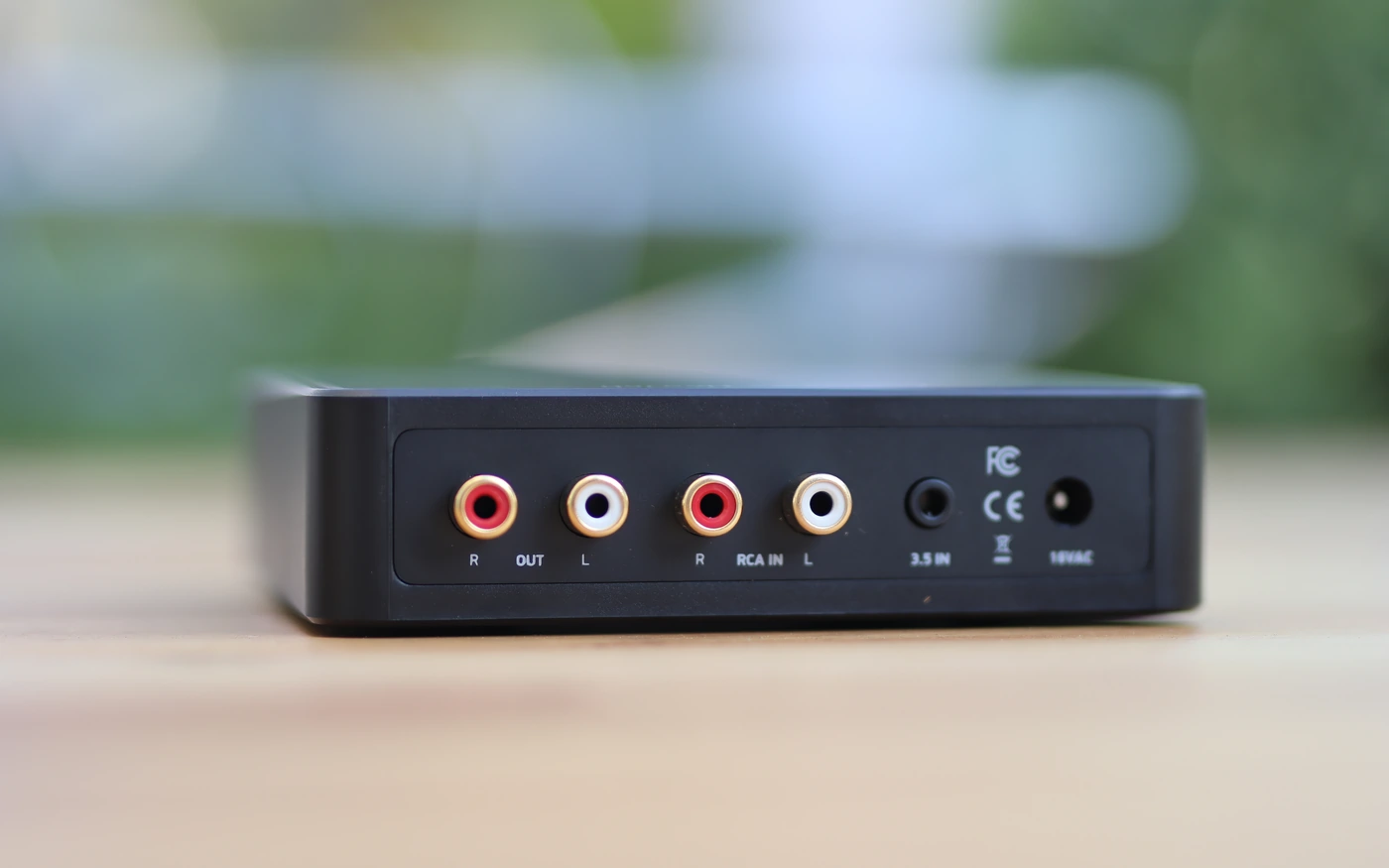 If you're looking for actual sonic differences between them, you won't find any, as JDS Labs have clearly stated that they resisted the urge to change the Atom electronics, so the circuit board is exactly the same. Fans of JDS Labs have reported that since 2018, when the first Atom AMP+ came to market, almost no unit broke, so they have an exceptional track record, and the company states that the performance is already beyond human hearing, so there wouldn't be any reason to upgrade an already exceptional product. 
Of course, you can grab a product that's pricier like SMSL HO100, which has an all-around metal build, but you can't engrave that from the factory, and as we'll see in the comparisons part of today's review, JDS Labs are using better volume potentiometers, with a smoother feel to them, better build quality, and with better channel balance. JDS Labs uses recycled cardboard to make their boxes, to make their products more eco friendly, which in our age should be appreciated. Speaking of which, the channel balance of the Atom AMP+ Hevi is perfect, to the point where I can hear no channel imbalance even at around 8 o'clock, really soon after the volume wheel begins to be audible. 
There is absolutely no noise to the Atom AMP+ Hevi, even after testing it with some of the most sensitive IEMs out there, such as HIFIMAN Svanar, RAPTGO LEAF D01, Unique Melody Maven PRO, Dita Audio Perpetua and Westone MACH 60. This being said, even at low gain, the volume becomes rather loud as soon as you reach 9 o'clock with IEMs, so you'll either need some IEMs that are harder to drive, or a DAC with variable volume output. For headphones, there's enough power for virtually all headphones out there, and I would have trouble finding a headphone that Atom AMP+ Hevi can't drive, it drives HIFIMAN HE1000 Stealth with ease, also Ultrasone Signature Pure, Meze 109 PRO, Audeze MM-500, but also Audeze LCD-5. Literally, if it exists, at high gain Atom AMP+ Hevi will drive it just fine, especially at high gain. 
Sound Quality
Starting with the listening setup, Atom AMP+ Hevi is connected to an Aune S9C, and I've also paired it with Astell&Kern ACRO CA1000T, and iBasso DX320 MAX TI, but I also have been trying it with some more affordable sources, even JDS Labs Atom DAC+, and JDS Labs EL DAC II+ Balanced. The headphones I have used for today's review have been Ultrasone Signature Pure, Crosszone CZ-8A, HIFIMAN HE1000 Stealth, Sennheiser HD660 S2, Audeze LCD-5, and Erzetich Thalia. I have also tested Atom AMP+ HEVI with IEMs, including FiR audio NE4, HIFIMAN Svanar, Unique Melody MAVEN PRO, and Dita Audio Perpetua. Overall, I am shocked to be saying this, but there is absolutely no noise with IEMs, no background hissing, nothing, but there is also no effort in driving very power hungry headphones, Atom AMP+ Hevi has more than enough juice even for the hardest of the hardest, LCD-5. It actually sits at 12 o'clock when driving the HE1000 Stealth. 
The overall signature can be described as super transparent, colorless, besides a very slight warm tinge, it has exceptional clarirty and detail, plus exceptional control even for hard to drive headphones. The sound is much cleaner and has better control and lower distortion than SMSL HO100, if you've read my review, I also noted this in my review of HO100. One thing I have not noted in the review of HO100 but notice now is that both amplifiers get warm, with JDS Labs Atom AMP+ getting a bit hotter in usage.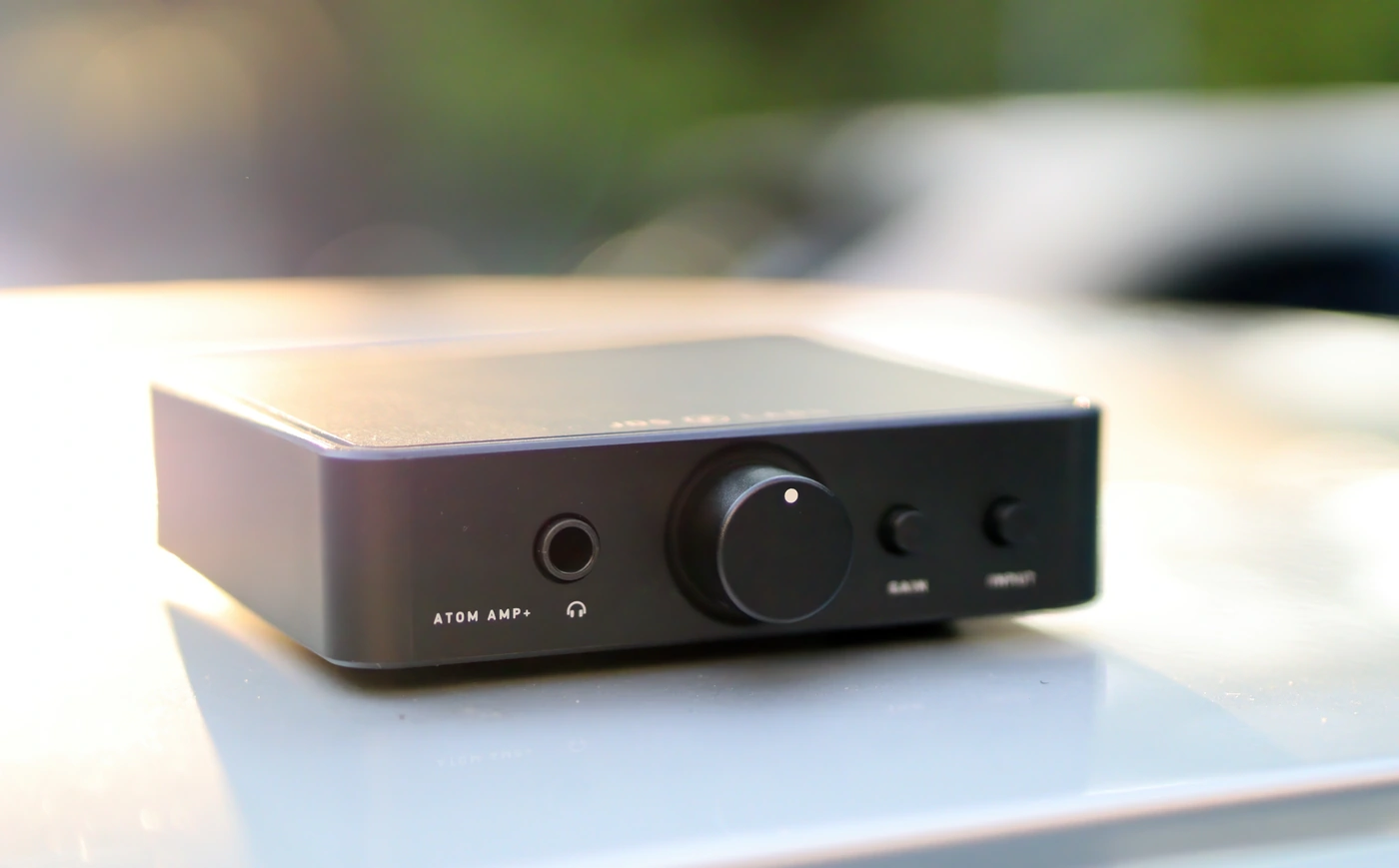 The bass of the JDS Labs Atom AMP+ Hevi is super clean, deep and has exceptional control even with HE1000 Stealth. With IEMs too, so it is not a matter of impedance, and regardless how unique or weird your headphones and IEMs are, it will still drive them with the same ease and control. The bass is focused throughout its frequency response all the same and has no focus on any particular frequency. There is a tiny bit of extra added warmth, which gives sound a unique sweetness and extra oomph when it comes to larger low-end impacts, but it is still so natural you can't call this a sonic coloration. EDM songs and Dubstep have a very lush, deep and impactful bass, while rock and metal has just the right amount to sound natural, and nothing extra.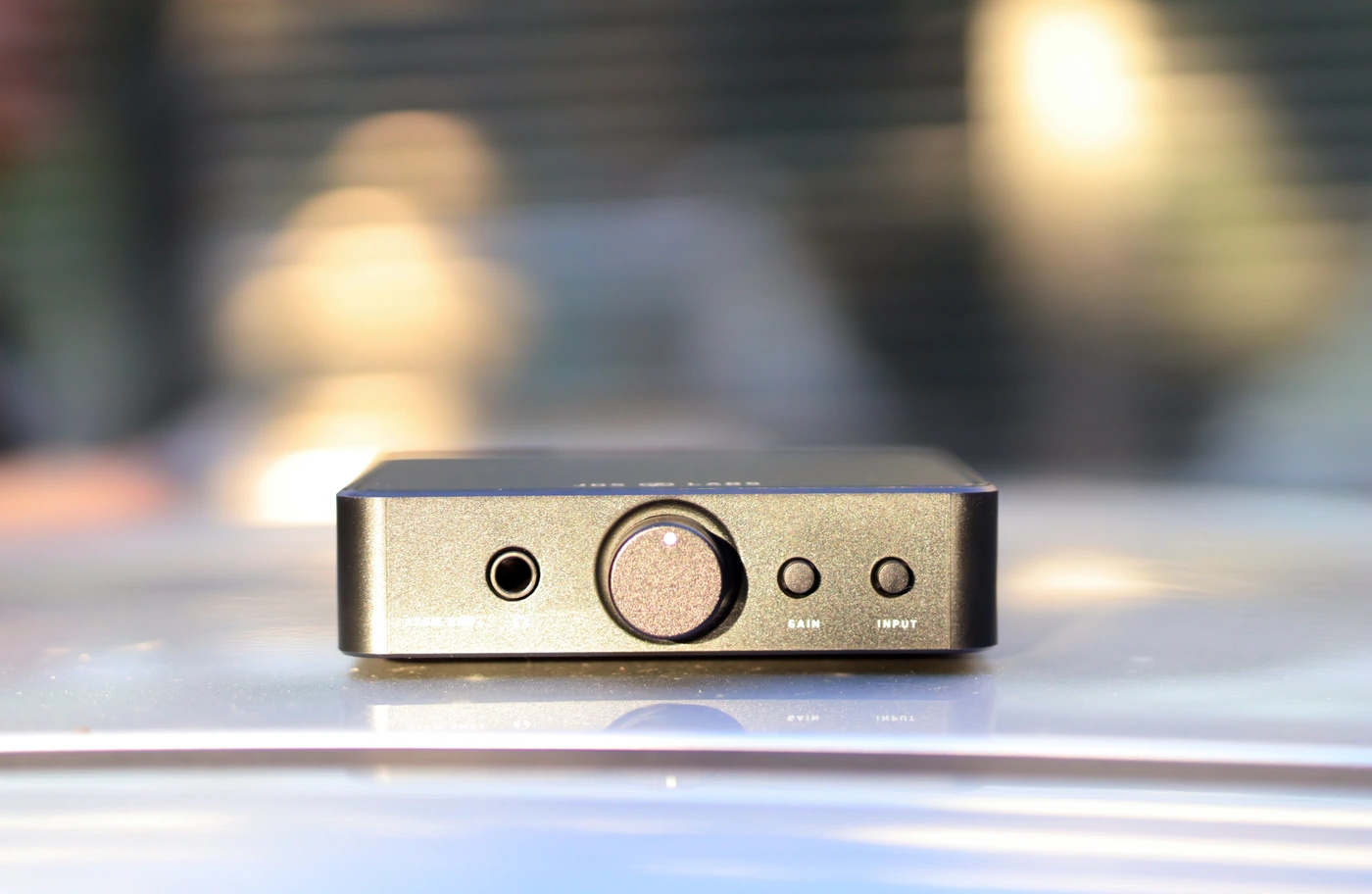 The midrange is where things feel interesting, the background is very black, and instruments stand out nicely, there is a super pleasing sense of space and detail / resolution, but Atom AMP+ Hevi is also super good at keeping things the way they have been recorded. This means that good recordings sound superb, but poor recordings will sound as such, you will hear harshness if that was present in the original song, and that's good, you can even use the Atom AMP+ Hevi for recording, mixing and mastering. The overall detail and resolution makes all the other amplifiers in the ~100 USD price bracket sound a bit dull in comparison, and also Atom AMP+ Hevi has outstanding dynamics and layering, adding to how much fun and colorful the sound is with it. 
We also get a very crisp and precise treble that is super transparent, has all the life, detail and clarity you'd want to hear with a high-end pair of headphones. It is not fatiguing, and it does not add harshness or hard edges, but the top end can be rather brilliant, especially when the original song is designed and made to sound brilliant. The treble can be considered to eb airy, and makes the whole sound very revealing and clean. We also have a super wide soundstage, and with an excellent depth, and although this can make the midrange seem a bit recessed at times, it creates a very holographic experience that makes watching movies, playing games, and just generally enjoying music a very pleasing experience. 
Comparisons
JDS Labs Atom AMP+ Hevi vs FiiO K5 PRO (114 USD vs 150 USD) – FiiO K5 PRO has a DAC inside, which would be a reason why it costs more, but both have just one 6.3 mm headphone output in the form of a single ended jack, and K5 PRO also has a line in and a line out. If using it as an amplifier, we can see that JDS Labs Atom AMP+ Hevi has a lower noise floor, with much lower hissing and noise with IEMs and sensitive headphones, it also has much better control at high volumes, and a cleaner, more detailed and more transparent sound, at all volumes. FiiO K5 PRO sounds a bit warmer, a bit smoother, and has a bit less treble, but I would generally go with JDS Labs Atom AMP+ as a standalone amplifier, and get a JDS Labs Atom DAC+, although for IEMs this won't work as well, since Atom DAC+ does not have volume control, and even at low gain and at low volumes Atom AMP+ Hevi is rather loud. Both make great choices, but Atom AMP+ Hevi is an upgrade sonically speaking, and feels better to use, is more resistant to scratches, and a better overall unit, taking less space on your desk as well in the process.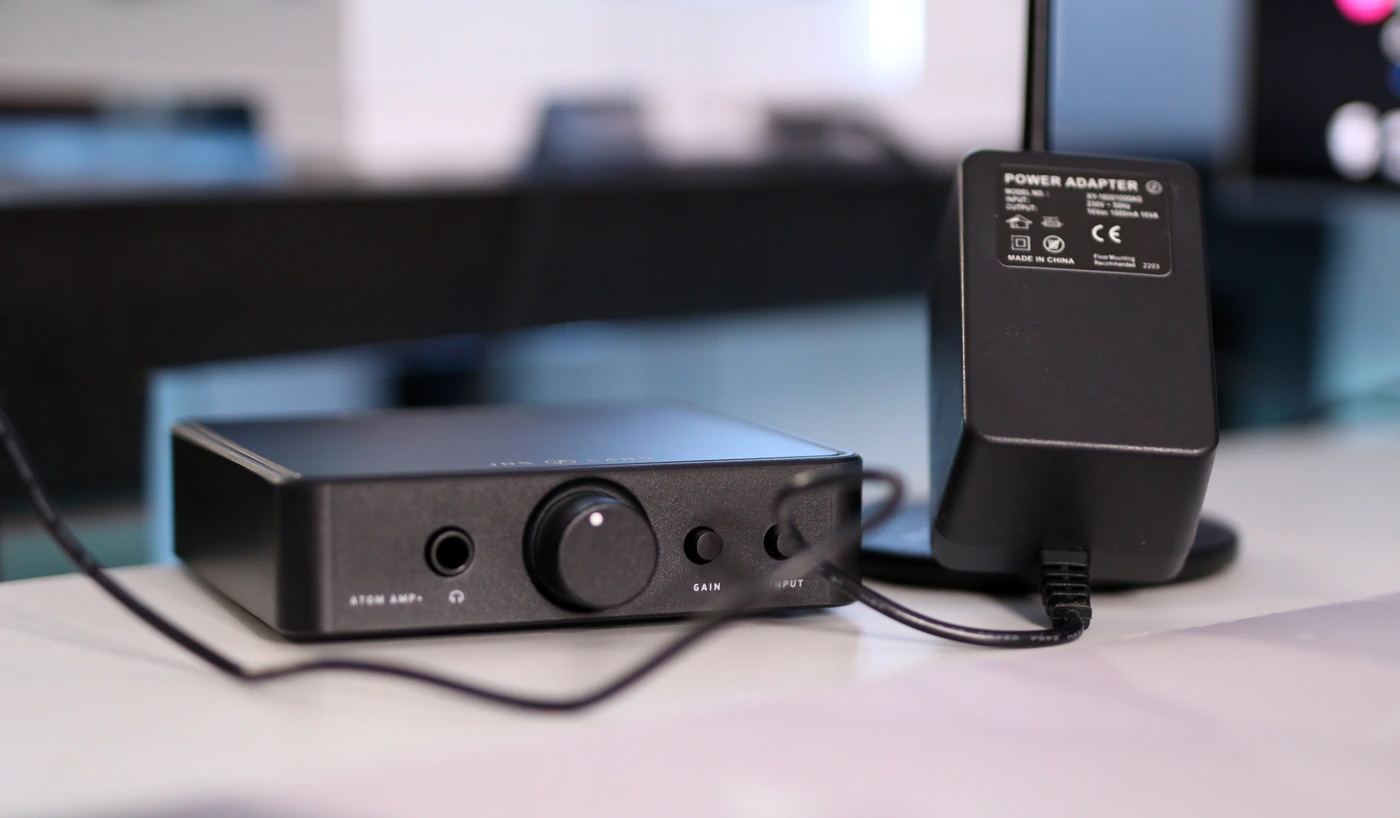 JDS Labs Atom AMP+ Hevi vs JDS Labs Atom AMP+ (114 USD vs 99 USD) – Between the two, the only differences are in the build quality, as we have explored and I wanted to add a comparison point specifically to mention that they sound exactly the same, there is absolutely no difference in sound, regardless of the source and headphones you're using with both. The build does feel nicer on the Atom AMP+ Hevi, and I would really prefer using it over the original. 
JDS Labs Atom AMP+ Hevi vs SMSL HO100 (114 USD vs 149 USD) – starting with the build quality, HO100 can feel a bit more solid, since it has no plastic, and is all-around made of metal. On paper, it can seem better, because it has a 4.4mm balanced headphone output, along with the single ended headphone output, but this comes with the caveat of the sound having much more distortion on HO100, it is much less precise and clear, while Atom AMP+ Hevi is much cleaner, has better control at high volumes, and a much lower distortion at high volumes, Basically, Atom AMP+ Hevi is a full upgrade sonically, regardless of the inputs and the outputs, and this comparison shows that good circuit design can take you a long way, even if you don't use the latest inputs and outputs. At the back, HO100 also can use XLR inputs, but once again, this does not help with the higher distortion it has at high volumes. Atom AMP+ Hevi has better clarity and detail, better resolution, sounds more transparent and is simply a better amp, if you like the design and aesthetics. 
Value and Conclusion
It is clear that Atom AMP+ Hevi has outstanding value, and I think that despite the price increase, it can stay the best amplifier I can recommend in the entry-level range, there's basically nothing that beats it, and it inherits so much front he JDS Labs Element series, making it just a pleasure to use. Add to that the exceptional driving power, and you can have an Amplifier that will outlive all your headphones, and make for a pleasing experience, now with a more solid build quality and a better volume wheel knob design.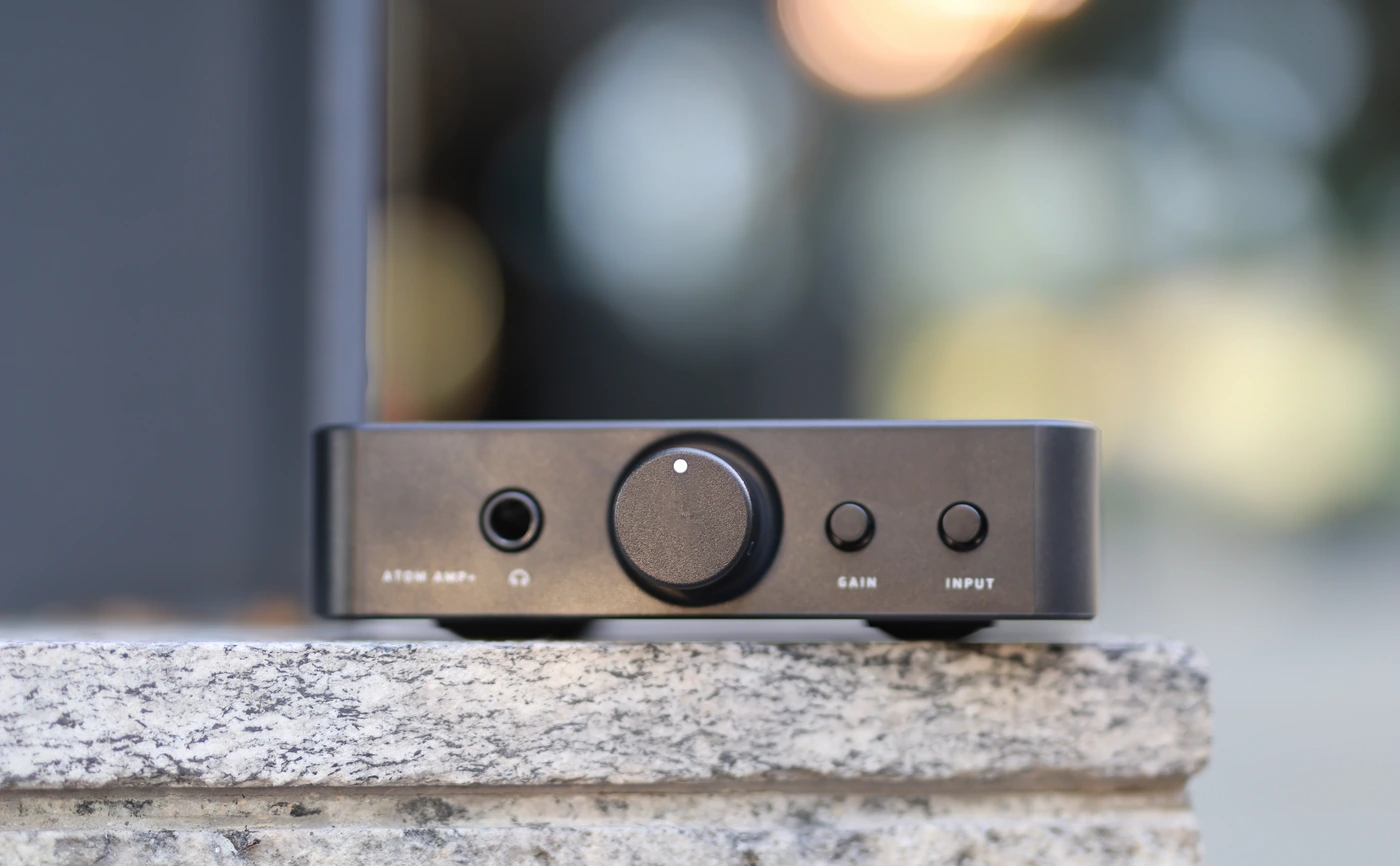 At the end of the day, this is a very worthy upgrade from the original JDS Labs Atom AMP+, it doesn't take anything away, but costs a few USD more to make it more sturdy, it is an exceptional product still, and if you compare it to the alternatives, if you need an amplifier / preamplifier, it is basically perfect, and a fully recommended product today. 
Product Link
You can grab one from JDS Labs here: https://jdslabs.com/product/atom-amp/
You can grab one from www.amazon.com here: https://amzn.to/3PGlvGw
If you're in the UK, you can grab one from www.amazon.co.uk here: https://amzn.to/3ppJMGo
And if you're from Europe, you can grab one from www.amazon.de here: https://amzn.to/3NYTOrn
Specifications 
Model – JDS Labs Atom Amp+
Type – desktop headphone amplifier
Outputs – 6.35mm TRS, RCA out
Inputs – 3.5mm TRS, RCA in
Supply – 16VAC (separated supply)
Size – 12.7 x 14.73 x 3.56 cm
Weight – 480g (without power supply)
Price – $114
Max Continuous Power @ 600Ω – 136mW (9.05VRMS)
Max Continuous Power @ 150Ω – 545 mW (9.04VRMS)
Max Continuous Power @ 32Ω – 1 Watt (5.66 VRMS)
Dual gain – 1.0x / 4.5x
Output Impedance – < 0.7 Ω
Frequency Response – 20Hz-20kHz+/- 0.01dB
SINAD @ 2VRMS, 1kHz – 119 dB
SINAD @ 50mV, 1kHz – 90 dB
SNR (20-20kHz) – > 122 dB
IMD SMPTE – -95 dB
Noise (20-20kHz) – 1.99 μV
Crosstalk @ 10kHz 150 Ω – -92 dB
Input Impedance – 10k Ω
Channel Balance – < 0.6 dB
---
--- Please remember to stay safe, and always have fun while listening to music!---
 - If you have a dime to spare, please donate, and help us! It would make the day brighter for me and my wife- 
---
Full Playlist used for this review
We listened to more songs than those named in this playlist, but those are excellent for identifying a sonic signature.  I recommend trying most of the songs from this playlist, especially if you're searching for new music! The playlists are different for Spotify, Tidal and Youtube, and based on the songs I enjoy and are available on each!
https://www.youtube.com/playlist?list=PL_cjBXGmwSHSdGcwuc_bKbBDGHL4QvYBu
https://open.spotify.com/playlist/5J3oloz8Riy9LxEGenOjQ0?si=979ba4f082414be7
https://tidal.com/browse/playlist/330fd544-8e5b-4839-bd35-676b2edbb3d5
--- Contact Us ---





---