Ultrasone Signature Pure Dynamic Headphones – New Edition Of Mighty Bass
Ultrasone Signature Pure is a $ 169 USD pair of dynamic headphones, with the new S-Logic 3 technology refined by Ultrasone, and with a smooth and clean design. They will be the star of today's review, and will also be compared to other high-end headphones that are affordable, including HarmonicDyne Athena, Sivga Oriole, and Cleer Enduro ANC. 
Introduction
Ultrasone is a company from Bavaria, Germany, and they have quickly became the company that most music lovers and audiophiles go to when they need high-quality closed-back headphones, as Ultrasone has their own tech named S-Logic, which is basically an acoustic design that allows for the sonic waves to bounce inside the ear cup of a headphone to create a more realistic and vivid feeling of soundstage, compared to most other closed back alternatives. They have their headphones available everywhere, and present on the desks of most music producers, engineers and even artists, but the best place to purchase Ultrasone from is Amazon, where you'll have the best warranty, return windows, and best overall support. 
It should be noted that I have absolutely no affiliation with Ultrasone, I am not receiving any incentive for this review or to sweeten things out. I'd like to thank Ultrasone for providing the sample for this review. Every opinion expressed is mine and I stand by it. The purpose of this review is to help those interested in the Ultrasone Signature Pure Headphones find their next music companion. 
Product Link
You can grab one directly from Ultrasone here: https://ultrasone.com/product/ultrasone-signature-pure-headphones-new/
You can grab one from www.amazon.com here: https://amzn.to/3PnbAWb
If you're in the UK, you can grab one from www.amazon.co.uk here: https://amzn.to/43S3ae5
And if you're from Europe, you can grab one from www.amazon.de here: https://amzn.to/44gSMfJ
Build Quality/Aesthetics/Fit/Comfort
The headphones themselves are super nicely made, they are fully plastic, but the color is superb, and the headband is now thicker, plus they have much thicker and deeper earpads than the previous generations. I have to adjust them to almost max to fit my head, so if you have a larger head, you may find them really tight, and even for my head they are super tight, but this helps a lot with passive noise isolation, and I can barely hear my room, or if my girlfriend Mary speaks to me while I'm wearing them, as they have between 25 and 30 dB of passive noise isolation, almost as good or even better than some headphones with ANC.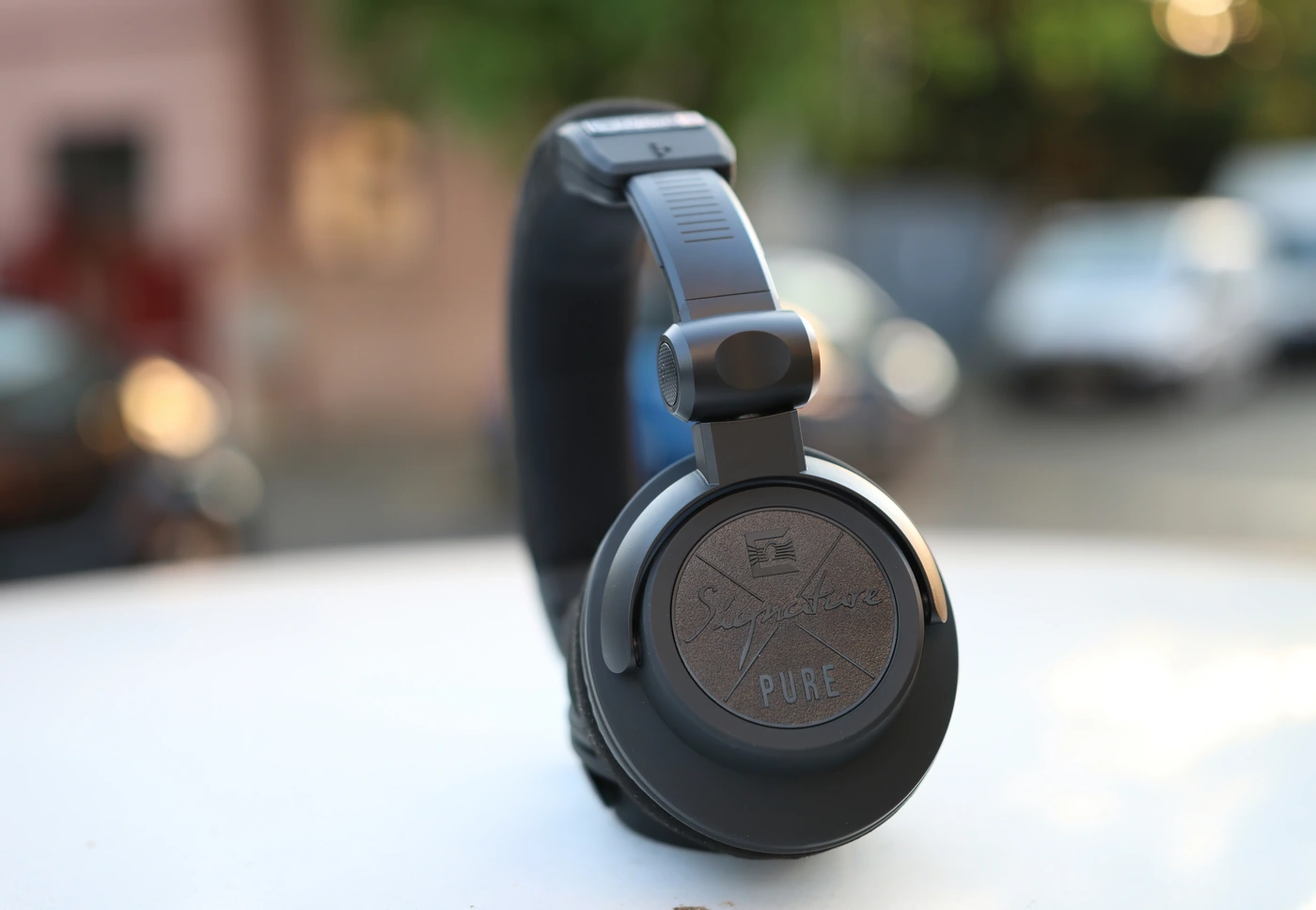 The headphones do creak a bit when you're adjusting them, but they don't creak while you're wearing them. There is no cable microphonic noise traveling to my head while I'm wearing them. Despite the low price point, they are quite hard to drive, and you'll need a powerful source, not necessarily expensive source, but strong source to get them loud and to play nice, so think about something like JDS Labs Atom+ Amplifier, Hiby R6 III, EverSolo DAC-Z6, Shanling M3 Ultra, Hiby RS2 Ultra, HIFIMAN EF400 and Dethonray SG1 Pegasus. I am mentioning this because they have a high sensitivity of 114 dB and a low impedance of 32 OHMs. 
To produce their sound, Ultrasone employed 50mm drivers, with Double Deflector Fins, to create a large soundstage and a richer bass. The S-Logic technology implies that the inner ear cup design is designed in such a way that the stereo imaging will be best considering the drivers and size of the headphones. They leak very little, almost not at all, so you're set for a long trip of fun even if those around you are judgemental of your music tastes.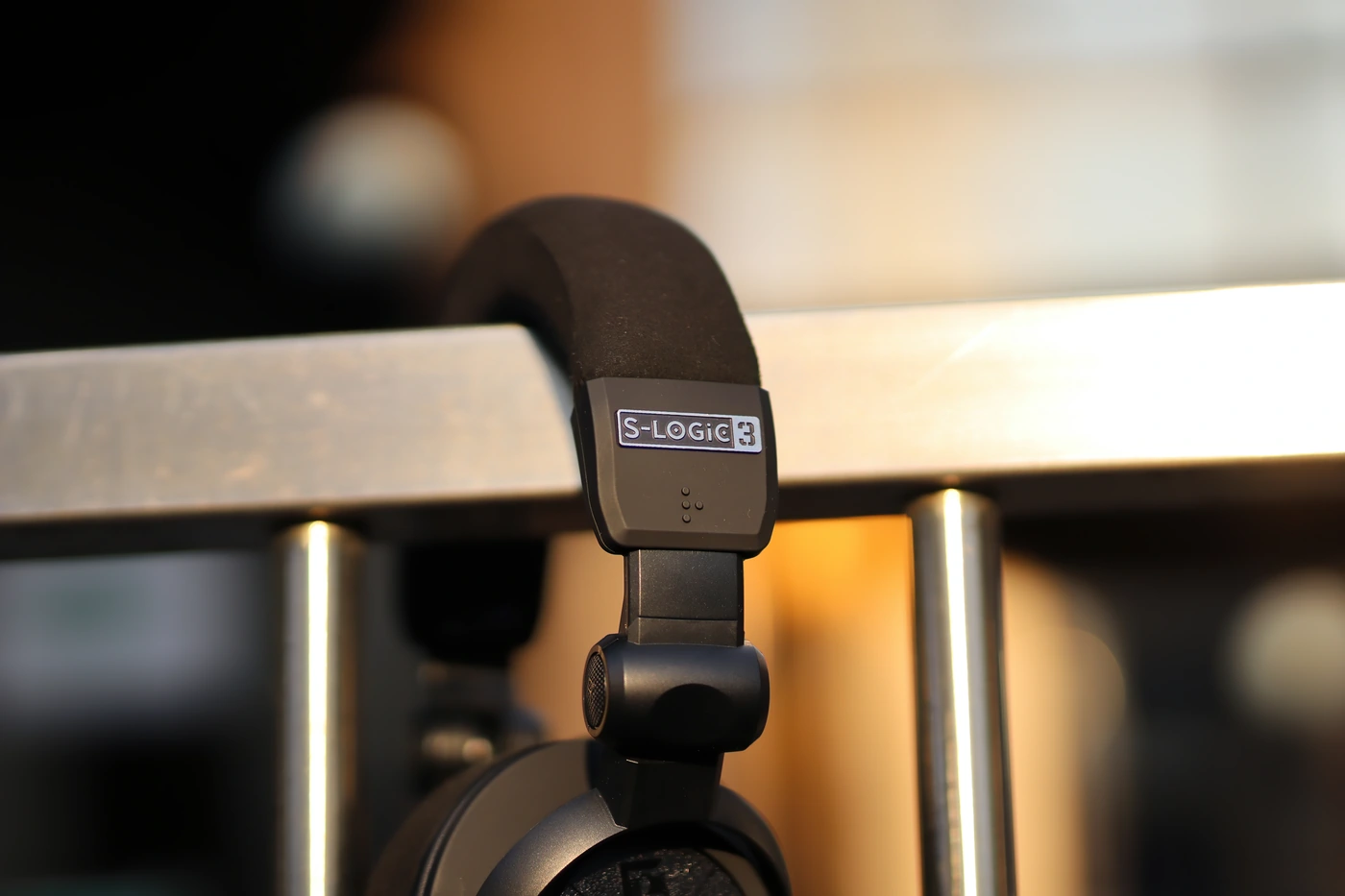 The cable connects to the left earcup and the wire goes through the headband to power the right earcup too, so the cable is single ended only. I think you can custom mod Signature Pure to be balanced, but it would take some work to do. 
Sound Quality
Knowing that those are some hard to drive headphones, they will eat volume well also because the midrange is pushed backward compared to the bass which is the most forward element of their sound, with the treble being behind, and the midrange being further behind. This creates a super heavy, super impactful sound that's super delightful, thick, heavy, warm, pumpy and jumpy. I think that the best music styles Ultrasone Signature Pure works with are EDM and Rap. The second place is kept for metal and Pop, and the other music styles will be a matter of preference as a really thick and heavy sound won't work for everyone's definition of rock or classical.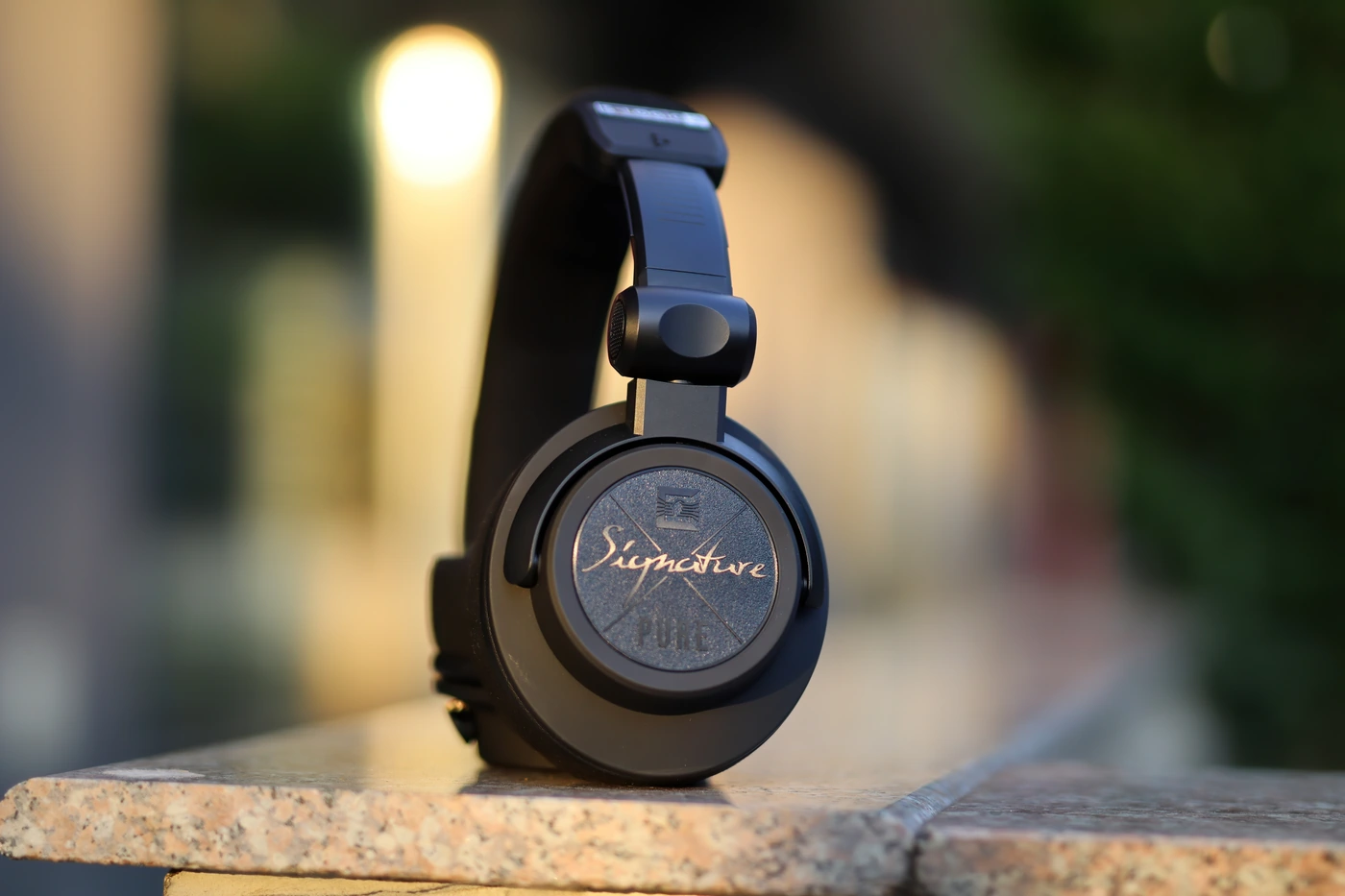 The bass is clearly the central element of the Ultrasone Signature Pure's sound, and it is the heaviest, deepest, strongest bass I've heard to date below about 1000 USD, but it is not just strong, it is clean, clear, and goes in the sub lows down to 20 Hz, making those headphones really special when it comes to how low they can touch the lows and how much bass they can actually pump without distortion. This is the best basshead headphone I've heard below the price of Sennheiser Momentum 4, which is also an exceptional headphone for bass and lows, but a pricier and not necessarily a heavier sounding headphone. The funny part is that given the name of Ultrasone Signature Pure, I was assuming this was going to be a neutral sounding headphone, like Ultrasone Signature Studio or Adam Audio SP-5, but this is a Pure Basshead headphone. This is a headphone that can make almost any song sound like it has been bass boosted, and will do it shamelessly, with a pure, distortion-free bass that envelops your entire being and ears, turning any casual listening session to a club, disco or concert.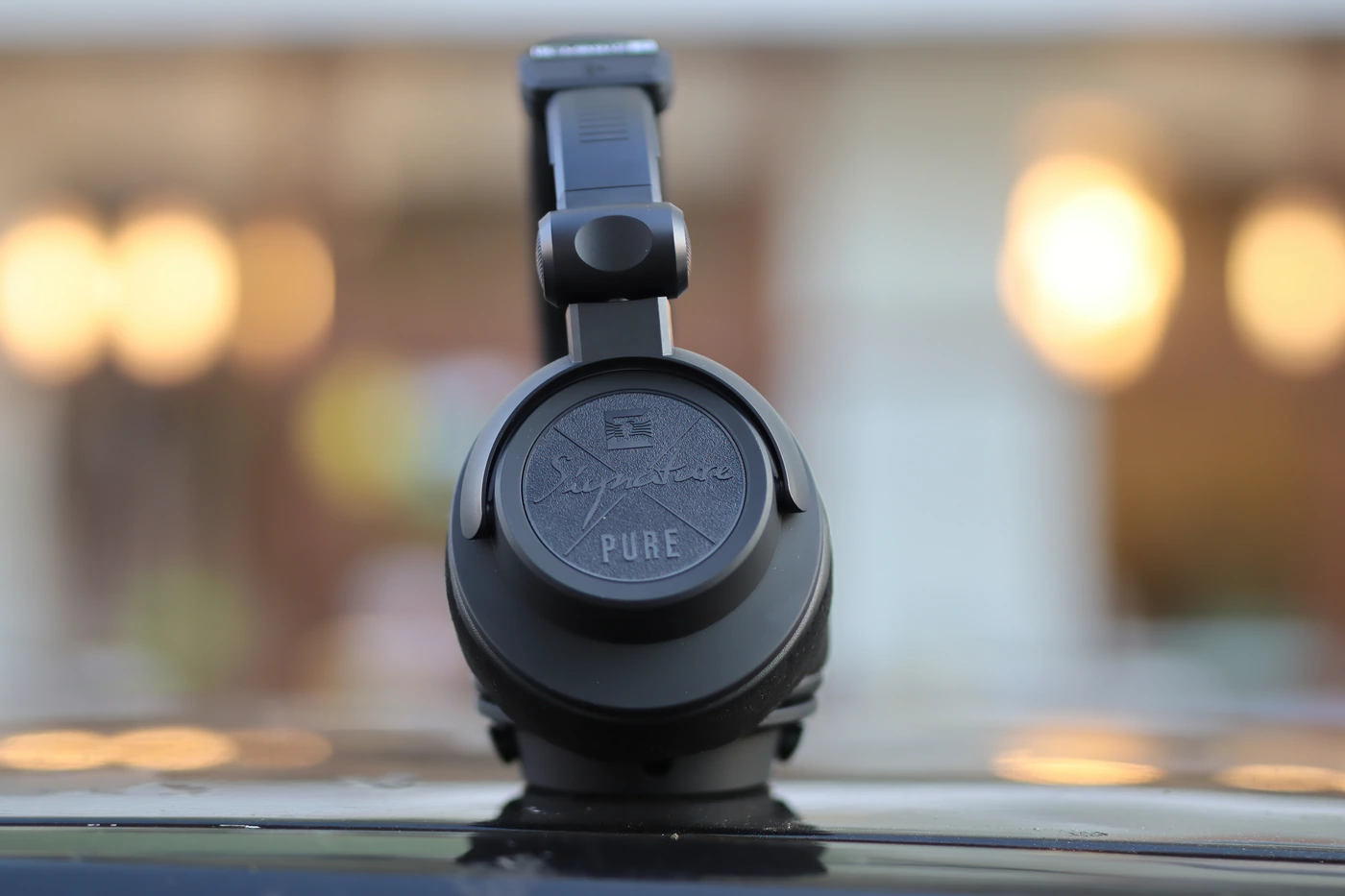 The midrange is actually fairly recessed, but the midrange texture is incredibly smooth, clean and it has super good detail, plus a sweet presentation for female voices, which makes Ultrasone Signature Pure super listenable and fun, enjoyable and just pure fun. The soundstage is wide, but what is most surprising is the stereo imaging and how well separated instruments are. Sig Pure has enough separation and resolution to make lyrics in metal, rock, and even rap much more understandable than most headphones below 500 USD. The resolution is clearly much better than the below 200 USD price point would indicate, but they also have the imaging for the sound to never sound one dimensional.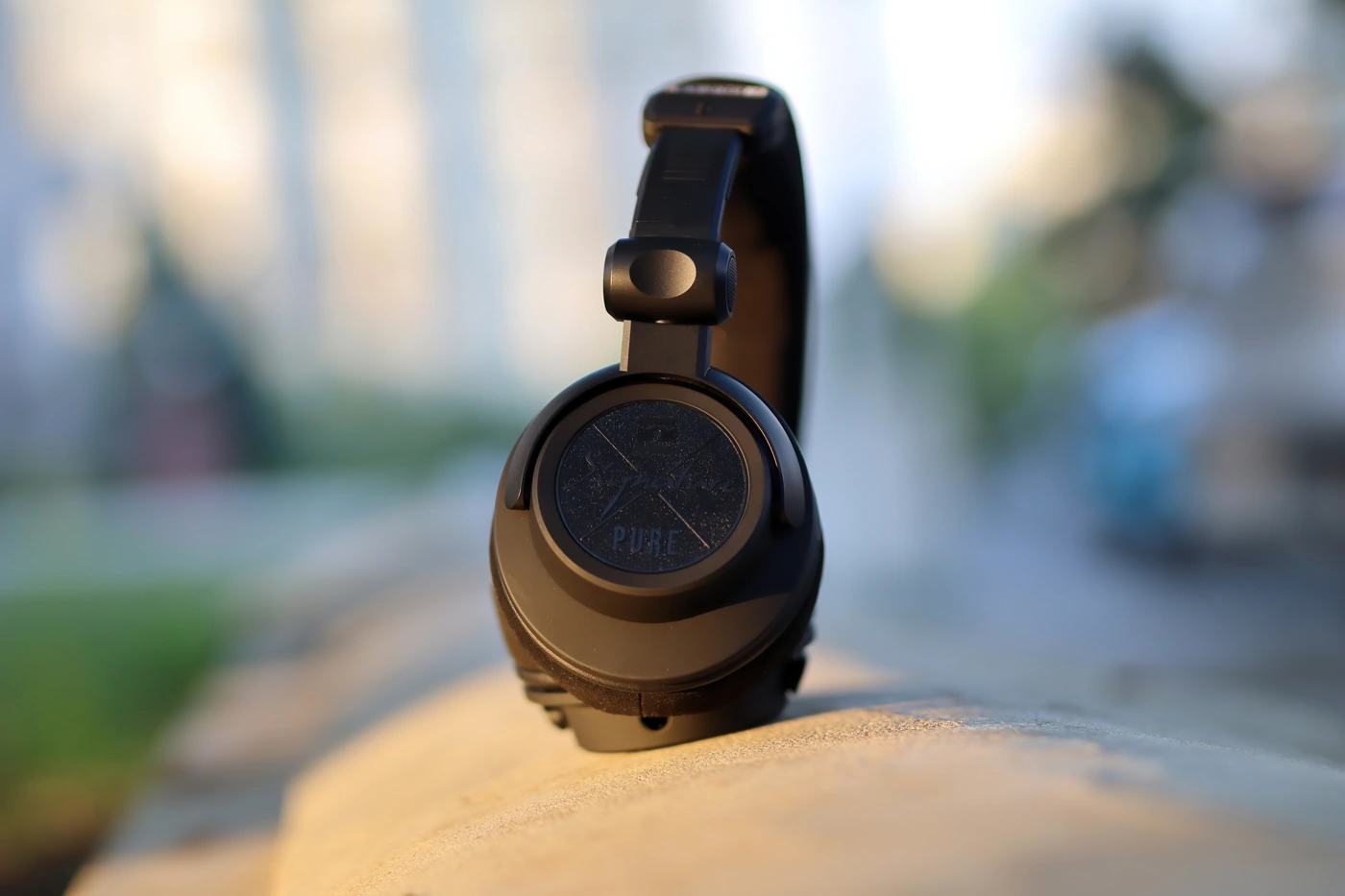 The treble is a bit more forward than the midrange, but it is smooth in character, never fatiguing, and where I was used to hearing a more splashy top end presentation from Ultrasone, the new presentation is super refined and clean, there's zero distortion in the treble, and the whole sound is super easy to enjoy. We also have outstanding dynamics and impact, all of which is heavily directed by the bass, the treble playing more of a support role for the whole sound. 
Comparisons 
Ultrasone Signature Pure vs Cleer Enduro ANC (169 USD vs 129 USD) – Enduro ANC is cheaper than Signature Pure, and it is a Bluetooth headphone that also has ANc or active noise canceling, and it is pretty bass heavy too, but when it comes to actually listening to both, the sound is heavier, reaches 20 Hz better, it pumps much more bass, more impact and better resolution on Signature Pure. In fact, Signature Pure, when properly driven, sounds like a full scale upgrade from Enduro ANC, but you will need a separate source for Signature Pure, while Enduro ANC works perfectly well with a smartphone that has Bluetooth, so it is a pricier setup too. 
Ultrasone Signature Pure vs Sivga Oriole (169 USD vs 199 USD) – The comfort of Sivga Oriole is better, they are far less tight, while Signature Pure is super tight, but you can also consider the fact that Signature Pure offers much better passive noise isolation, and although it also needs more driving power to sound good, it has better resolution, clarity and a much heavier bottom end, more bass, thicker, warmer and much fuller sound. The instrument separation is similar, while the soundstage is larger on Signature Pure. 
Ultrasone Signature Pure vs HarmonicDyne Athena (169 USD vs 179 USD) – We have a very similar price tag, and the headphone quality is similar, but while Pure is much tighter on your head, it also provides much better passive noise isolation, and has a better finish for the materials used in both the earpads and the headphone itself. The signature is very different, Signature Pure sounds much deeper, cleaner, more detailed, more punchy and more dynamic, and feels like a full upgrade over the Athena, unless you really don't want a basshead headphone, situation in which Athena is more natural and doesn't have as much of a prominent bass as Signature Pure. 
Value and Conclusion
The value of Ultrasone Signature Pure is exceptional, this is a headphone made for those who want to spent as little as possible but get as much as possible, and it is a headphone made not to be or sound cheap, but to be exceptional, to be enjoyable and to be Purely Basshead.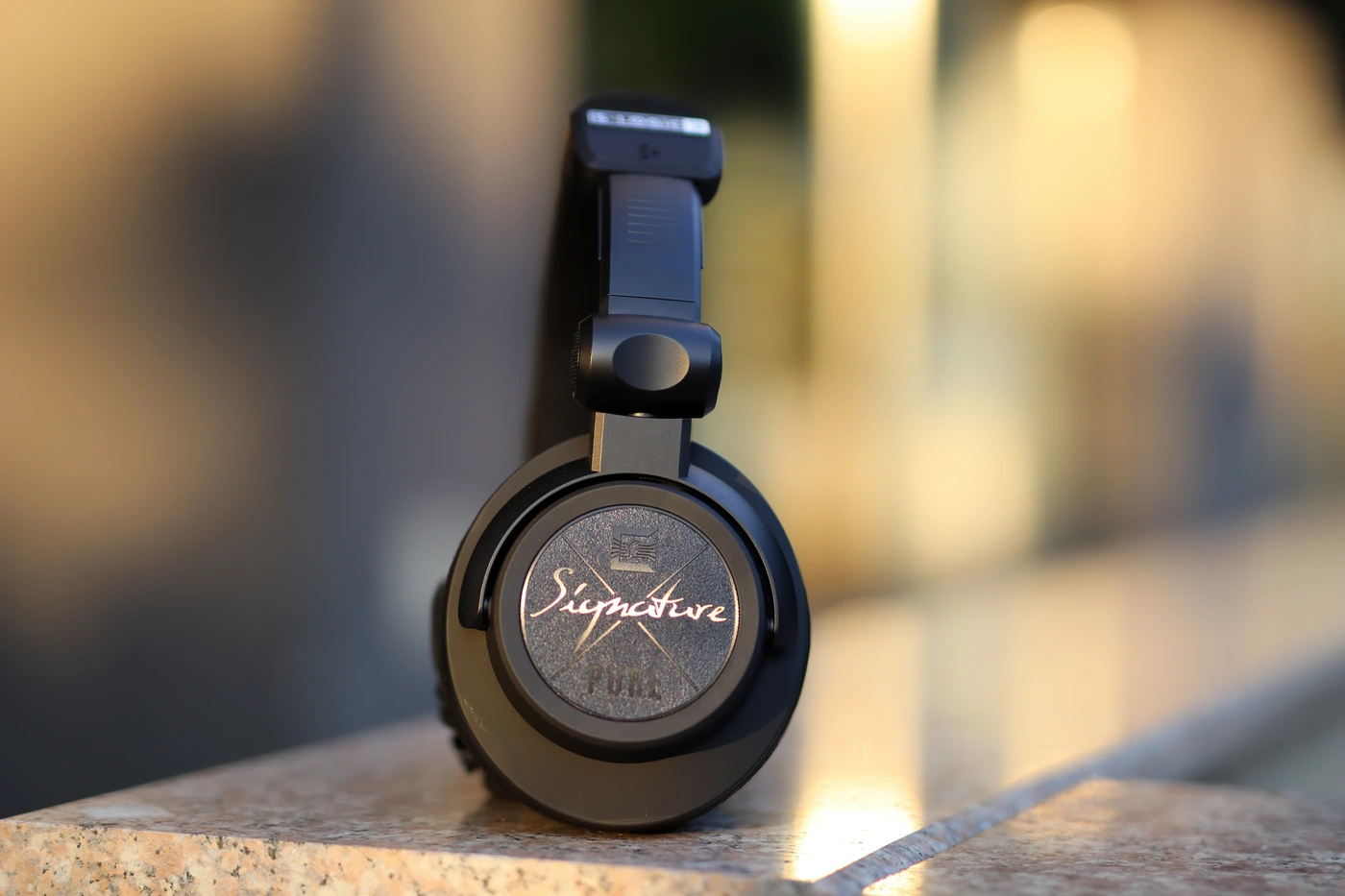 At the end of the day, if you're looking for a really heavy and bassy sounding headphone, if you don't mind something that sits super tight on your head, and if you want ultimate passive noise isolation, endlessly fun low end, a sweet sounding midrange, and a smoother, yet clean treble, then Ultrasone Signature Pure is one of the best headphones you can grab at this moment for less than 200 USD. 
Product Link
You can grab one directly from Ultrasone here: https://ultrasone.com/product/ultrasone-signature-pure-headphones-new/
You can grab one from www.amazon.com here: https://amzn.to/3PnbAWb
If you're in the UK, you can grab one from www.amazon.co.uk here: https://amzn.to/43S3ae5
And if you're from Europe, you can grab one from www.amazon.de here: https://amzn.to/44gSMfJ
---
--- Please remember to stay safe, and always have fun while listening to music!---
 - If you have a dime to spare, please donate, and help us! It would make the day brighter for me and my wife- 
---
Full Playlist used for this review
We listened to more songs than those named in this playlist, but those are excellent for identifying a sonic signature.  I recommend trying most of the songs from this playlist, especially if you're searching for new music! The playlists are different for Spotify, Tidal and Youtube, and based on the songs I enjoy and are available on each!
https://www.youtube.com/playlist?list=PL_cjBXGmwSHSdGcwuc_bKbBDGHL4QvYBu
https://open.spotify.com/playlist/5J3oloz8Riy9LxEGenOjQ0?si=979ba4f082414be7
https://tidal.com/browse/playlist/330fd544-8e5b-4839-bd35-676b2edbb3d5
--- Contact Us ---





---