S.M.S.L SMSL HO100 – Relaxing Listen 
S.M.S.L SMSL HO100 is a Headphone Amplifier priced at 149 USD, XLR and RCA inputs, three gain levels, and an ultra low distortion design. It is also made to pair perfectly with the SMSL DO100 DAC I just reviewed. SMSL HO100 will be compared with JDS Labs Atom+ (100 USD). Nothing else I reviewed as a standalone AMP has a similar price point, although I decided to include comparisons with DAC/AMPs that are around the price point, like Questyle M15 (250 USD), and FiiO K5 PRO (150 USD).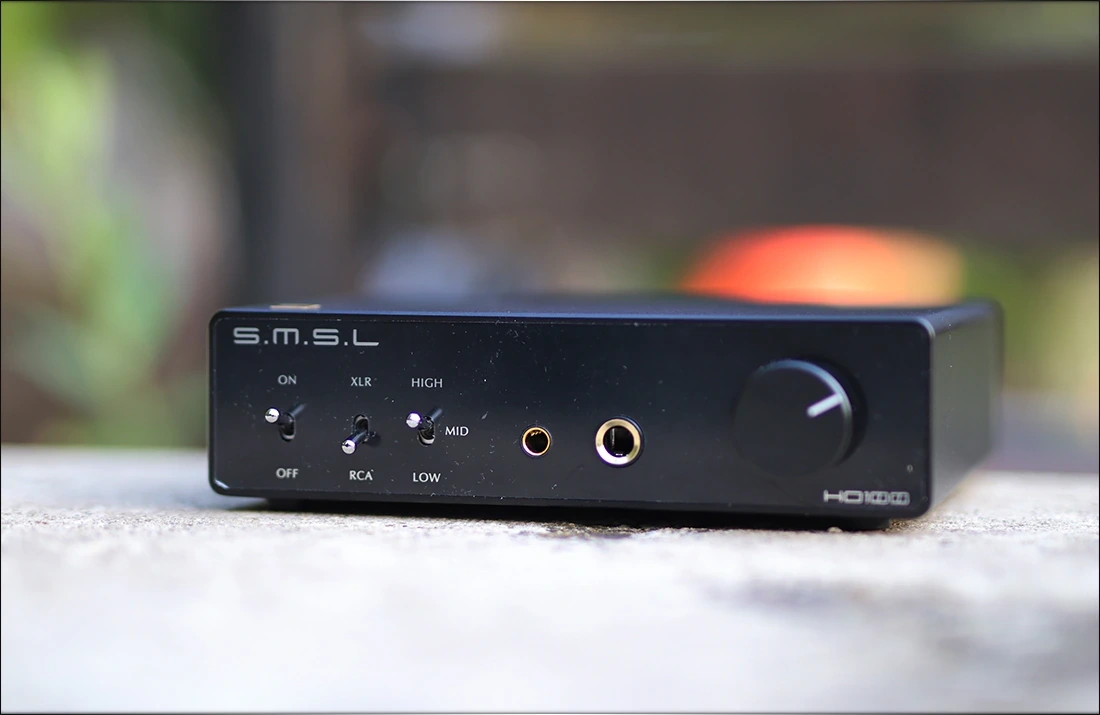 Introduction
S.M.S.L is a company partner with Topping, both sold through AOSHIDA, a store from China offering outstanding price / performance ratio for their products. Most of their products including DACs and AMPs, and sometimes DAC/AMP combos. If you like products with high price / performance ratio, you should check out Aoshida, who is also highly acclaimed by Sound Science and measurements blogs, happily being positively reviewed by me too in general. 
It should be noted that I have absolutely no affiliation with Aoshida Audio or SMSL. I'd like to thank Aoshida Audio for providing the sample for this review. This review reflects my personal experience with SMSL HO100. Every opinion expressed is mine and I stand by it. The purpose of this review is to help those interested in SMSL HO100 find their next music companion. 
Product Link
Official Link (AOSHIDA-Store): https://aoshida-audio.com/products/smsl-ho100
You can grab one from www.amazon.com here: https://amzn.to/3z2bH0Y
If you're in the UK, you can grab one from www.amazon.co.uk here: https://amzn.to/3z4RbwE
And if you're from Europe, you can grab one from www.amazon.de here: https://amzn.to/3ObmmdP
Build Quality/Aesthetics/Features
S.M.S.L. SMSL HO100 is a really good option for those looking for an entry-level headphone amplifier that is actually good. Rarely have I found such outstanding build quality from products in a good price point, and some of the other options you can find usually come with many caveats, such as using refurbished electronic components or having a much worse design. HO100 looks pretty cool, it is a simple, yet functional Amp, with two headphone outputs, one in single ended 6.35 mm, and one in 4.4mm balanced mode. There are 3 switches at the front, one that turns it on and off, one for selecting the input, between RCA and XLR, and one for selecting the gain level, as HO100 has 3 gain levels, low mid and high.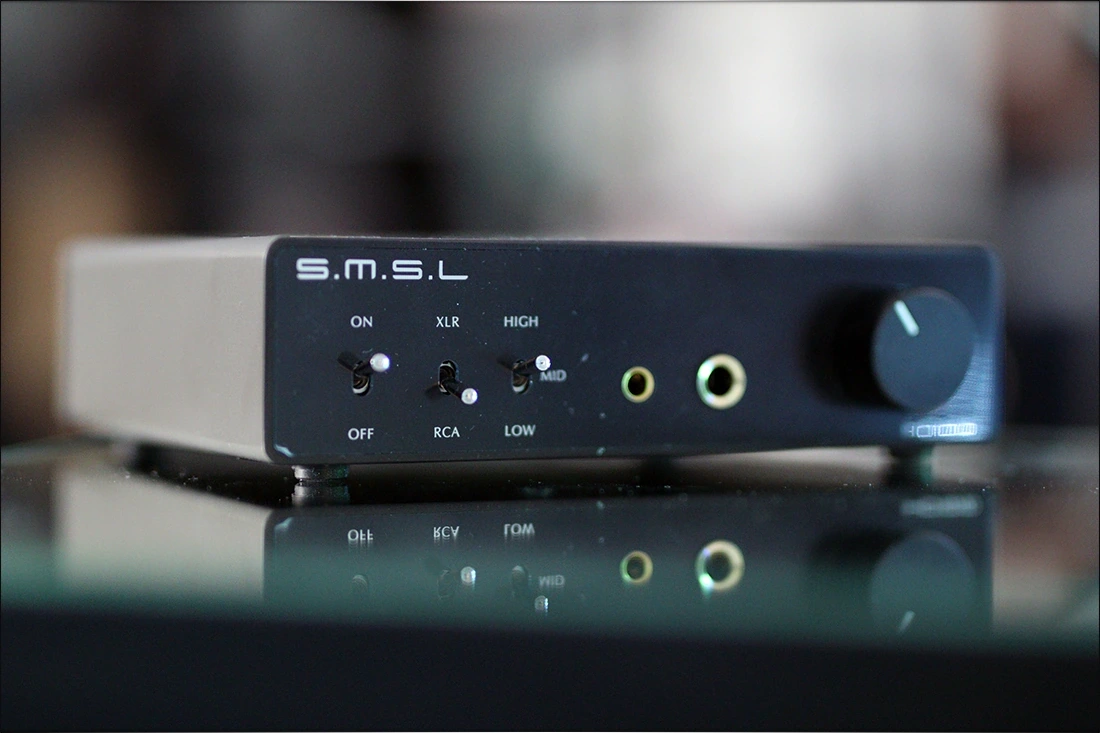 Most amps include this gain switch as a joke, and they're usually not worth playing with, as I leave them all on the highest gain, but HO100 actually has a crazy amount of power, and leaving it ag high allows for very little volume control even for somewhat hard to drive headphones, such as Sivga / Sendy Audio Peacock. There's more power coming from the balanced output, but that's normal for any AMP that has a balanced circuit, and the unit has a maximum of 3W into 16 OHMs or 1.5W into 32 OHMs. There's overvoltage and thermal protection for the headphone amplifier circuit. 
SMSL / Topping promises a near 0 OHM output impedance, and curiously I put this to the test, and the results came true. Even with sensitive IEMs such as Unique Melody MEXT, Campfire Atlas or Fir Audio VxV I could not notice much hissing happening in the background. In fact, HO100 has one of the most silent background levels, having no background noise, and an outstanding low noise floor. This is one of the first times I can say that a company delivers on the promised levels, such as a distortion as low as 0.00006%. 
There are no pops or cracks when you start the unit or when you insert the headphones, and if you have a DAC with XLR output, you can enjoy the maximum performance of HO100. With a SNR of 134dB and a dynamic range of 134 dB as well, HO 100 is a really good AMP on paper. 
Sound Quality 
For testing HO100, I used a multitude of DACs, including SMSL DO100, Cyrus One Cast, iBasso DX320, Matrix Audio Element i, and FiiO K5 PRO. I have also used HO 100 to drive a large number of headphones and IEMs, to best determine how it sounds and what its strengths and weaknesses are, the list including 7Hz Eternal, Oriveti OV800, Audeze LCD-5, HIFIMAN Edition XS, Unique Melody MEXT, and KLH Ultimate One. Generally speaking, HO100 has a good amount of driving power, enough even for an LCD-5, especially if you don't need the loudest volume ever. Surprisingly enough, even if you do bring SMSL HO100 to the max, it still won't distort and won't give a bad sound, so congrats to the boys at SMSL Topping for actually delivering a product with a usable volume range from min to max. 
Sonically, SMSL HO100 is clean, rather detailed, and has a soft, yet natural character. The sound doesn't have any particular coloration that I could identify and call right away, with no sway towards the bass or the treble in quantity. The sound is as transparent as the budget allows it to be. SMSL HO100 is somewhat sensitive to being paired with a good or better DAC, but SMSL DO100 is more than enough for you to have a snazzy yet practical setup. The sound doesn't have any fake brightness or overtones that aren't present in the original recording, nor a dark or thick sound. 
The bass of HO100 is fairly good, well extended as low as 20 Hz, but doesn't have a particularly strong presence. The bass tends to be on the lower speed, and while kicks are satisfying, songs with really slow, full bass can become a bit crowded and slow in presentation. Macro detailing is very good, while micro detailing is as good as you'd expect around the price point. The bass has slightly better actuation around the mid bass and upper bass than it has in the sub bass, with most of the energy being between 60 and 100 Hz. 
The midrange inherits a good amount of substance and body from the sub bass, and is able to present music with good overall smoothness. In fact, softer, mellow details can get drowned in the mix as HO100 has a soft and light presentation, and at times you think to yourself that it is perfect if you want a relaxing amplifier. With headphones that are already smooth and low energy, things can become lullaby-like, relaxing and soft. On harsher songs, especially old and bright recordings, HO100 has a good amount of energy and can be rather natural. The upper midrnage has a big more energy than the main midrange, and pianos, guitars in particular are rather lively. It is refreshing to hear no peaks and no dips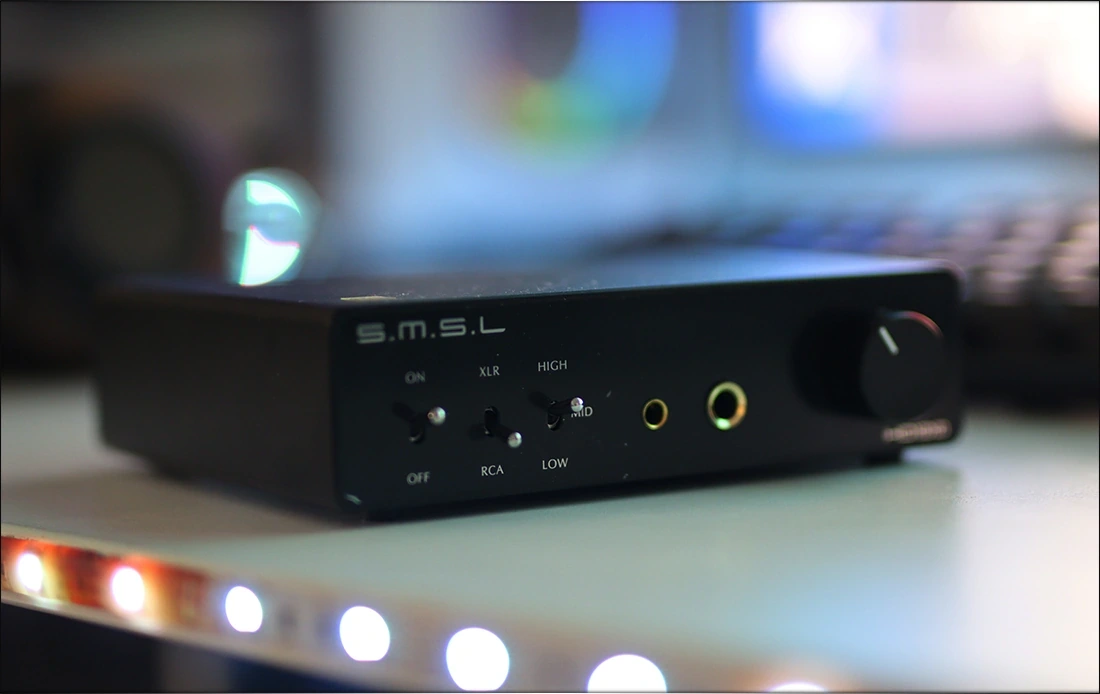 The treble of HO100 is clean, detailed and fairly extended, with extension going as high as 15 kHz, but it has a really smooth treble with no strong emphasis on the highs. In fact, it continues this relaxing presentation that it carries from the start. This reminds me of how I described the SMSL DO200 and AO200 when I reviewed them, and SMSL seems to have a house sound that's softer and more mellow. 
Comparisons
S.M.S.L SMSL HO 100 vs FiiO K5 PRO (150 USD vs 150 USD) – For the same money, K5 PRO is a DAC/AMP, and you can save some money, but the overall driving power is quite a bit higher on SMSL HO100, which also has a lower noise floor with IEMS as it has a lower output impedance. Most FiiO products have some background hissing and have a slightly high output impedance, while HO100 is better in this aspect, and it also has lower distortion at maximum volume where it seems to work better than K5 PRO. You can get K5 PRO for less, but if you have a decent headphone, investing in HO100 as an amplifier might be a good idea to get a better overall experience. The tuning is warmer, smoother and has more treble sparkle on the K5 PRO. 
S.M.S.L SMSL HO 100 vs Questyle M15 (150 USD vs 250 USD) – M15 is a really good dongle DAC/AMP, and you can even see the circuits inside, plus it has a good amount of driving power too, but it is outnumbered and outmatched by HO100, which has much more driving power. Despite having more driving power, HO100 also has slightly less background noise and less hissing with IEMS, and it has better control at maximum volume. At medium listening volumes, M15 is more dynamic and more impactful, having more treble sparkle than HO100, so HO100 is smoother and more relaxed sounding. 
S.M.S.L SMSL HO 100 vs JDS Labs Atom+ (150 USD vs 100 USD) – We have a more affordable option with Atom+, and it also has a fairly low background noise and hissing. The main trick is that HO100 has higher maximum power, and it also handles maximum volume better, with lower distortion. Both are good options for amplifiers, but the HO100 has better overall detail, in the micro detail, and a more relaxing signature.
Value and Conclusion
If you're looking for value, SMSL and Topping surely deliver nicely and Aoshida's the best place to get both from, well, they even have an Amazon shop so you don't need to introduce your card and info in a Website different than what you're used to browsing anyways. HO100 is hands-down the strongest headphone amplifier I heard in the price range, and it has a really nice overall detail, good control and low noise, making it a top choice when it comes to delivering a satisfying performance with an outstanding price / performance ratio. 
At the end of the day, if you're looking for an amplifier with a lot of power, but good control too, if you're looking for something easy to stack, and if you want to stay on a mindful budget, SMSL HO100 is an excellent option and you'd be hard pressed to find anything better for a mindful price. 
Product Link
Official Link (AOSHIDA-Store): https://aoshida-audio.com/products/smsl-ho100
You can grab one from www.amazon.com here: https://amzn.to/3z2bH0Y
If you're in the UK, you can grab one from www.amazon.co.uk here: https://amzn.to/3z4RbwE
And if you're from Europe, you can grab one from www.amazon.de here: https://amzn.to/3ObmmdP
Packaging
Let's get the packaging out of the way:
The full unit includes
Cattle Plug power cable

SMSL HO100 Unit

Manual

Warranty information
Technical Specifications
Input: RCA unbalanced, XLR balanced

Headphone Output: 6.35mm unbalanced, 4.4mm balanced

Output Power: 3W x 2 (16Ω), 1.5W x 2 (32Ω)

Dynamic Range: 134dB

THD+N: 0.00006%

Input Impedance: 47kΩ

Output Impedance: Near 0Ω

Gain: Low (-9.5dB), Mid (0dB), High (15.5dB)

Size: 150x128x39mm (WxHxD)

Weight: 560g
---
---
--- Please remember to stay safe, and always have fun while listening to music!---
 - If you have a dime to spare, and donate, to help us with electricity and work expenses, it would make my day much brighter, as it would help me improve things around the website and increase the frequency of my posts - 
---
Full Playlist used for this review
We listened to more songs than those named in this playlist, but those are excellent for identifying a sonic signature.  PRaT, Texturization, Detail, Resolution, Dynamics, Impact, and overall tonality are all revealed by those songs. We recommend trying most of the songs from this playlist, especially if you're searching for new music!
https://www.youtube.com/playlist?list=PL_cjBXGmwSHSdGcwuc_bKbBDGHL4QvYBu
--- Contact Us ---






---
---