TempoTec V6 Music Player DAP – Super Performer
TempoTec V6 Variations is a 399 USD Music Player or DAP, with a decent battery life, balanced headphone output, and DXD support, MQA support, USB DAC function, and Android 8.1 operating system. It is also often named TempoTec V6 Variations. It will be compared to other high-quality DAPs or Digital Audio Players, including FiiO M11 (420 USD), iBasso DX160 (400 USD), Shanling M3X (340 USD), and FiiO M9 (300 USD). As the 399 price is the typical pricing, I will use it for today's review, but you can find the V6 at an extra early bird special 300 USD price, currently on kickstarter.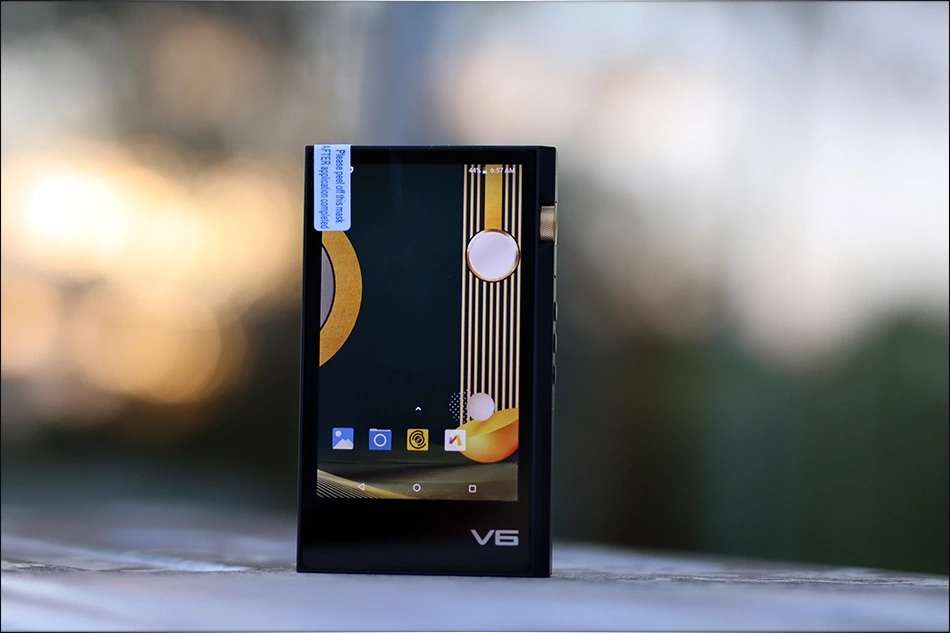 Introduction
TempoTec is a pioneer-class company at the moment, quite efficient at designing new products, pricing them at affordable / entry-level pricing, but still having superb performance. They're not very popular as they're from China and don't have a strong marketing, but the quality of their products speaks for itself, as most people who try a TempoTec product will always return to the company for more, and they keep telling others just how awesome their experience has been. TempoTec has a clean record with their products, and they have not disappointed in any way so far, providing good, effective products that passed the test of time. Although V6 is currently on kickstarter, TempoTec has a clean record, and while we're in September and they've just launched their campaign, it will feel much more like a little preorder, as customer V6 units will be delivered starting with October, as they are ready with V6, the unit in my hands being strong proof of this. 
It should be noted that I have absolutely no affiliation with TempoTec. I'd like to thank TempoTec for providing the sample for this review. This review reflects my personal experience with the TempoTec V6 DAP Music Player. Every opinion expressed is mine and I stand by it. The purpose of this review is to help those interested in TempoTec v6 Variations find their next music companion. 
Product Link
You can preorder one from Kickstarter here: https://www.kickstarter.com/projects/166046126/tempotec-variations-v6-dsd512-android-hifi-music-player
You can grab one from www.amazon.com here: https://amzn.to/3RmerwM
If you're in the UK, you can grab one from www.amazon.co.uk here: https://amzn.to/3euubiB
And if you're from Europe, you can grab one from www.amazon.de here: https://amzn.to/3Qo1PUP
Build Quality/Aesthetics
We start with a pretty classic-looking DAP, that reminds me a bit of a smaller smartphone, with a very edgy and sharp design, but with a volume wheel on the right side, protected by the metal casing. Tempotec has been cool enough to offer to stylize my unit, but I went for a "TempoTec V6" writing at the top of the unit to better brand it as I feel it helps define how cool the product looks like.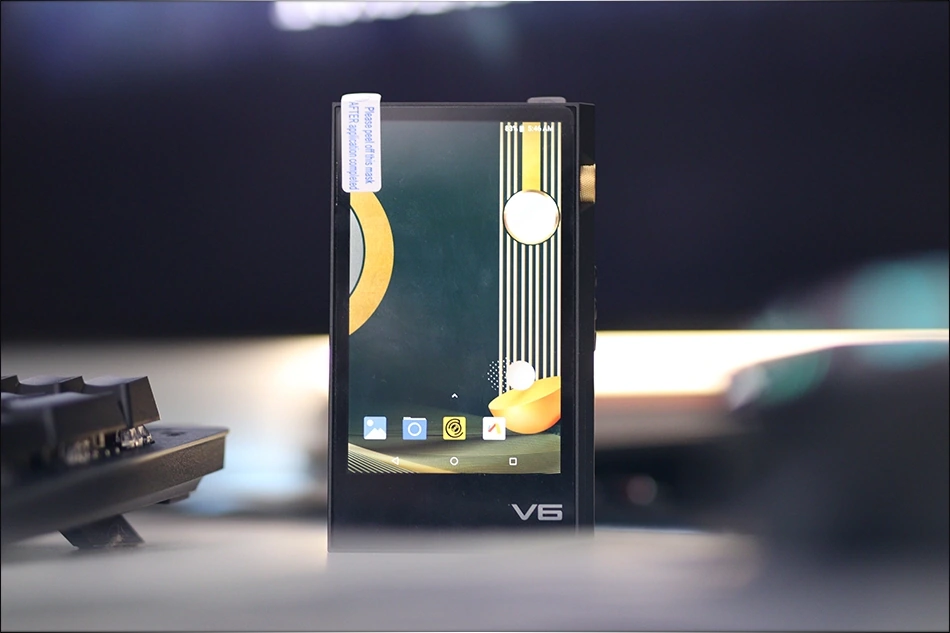 Although this is Tempotec's first try at an Android music player, they went for a high-end construction, and V6 has a glass back, with a responsive touch screen, a Type-C USB port, and 4 outputs at the bottom. The company decided to go for a dedicated headphone output, and a dedicated balanced headphone output in the 4.4mm format, but they also have a mirrored line out on the left, with a 3.5mm single ended line out on the left of the type-c USB port, and a 4.4mm balanced line out on the left corner of the unit. 
We have a microSD card slot on the left side, and I can confirm that 512 GB microSD cards work just fine, but the company stated that all microSD card sizes currently on the market should work (theoretically up to 2TB), and there's no size limit for the microSD card or for the number of songs that V6 can read. 
The right side of the unit has a sleek golden volume wheel that clicks when turned, a LED light beneath it, and three navigation buttons beneath the LED light. There's no flex in the unit, regardless of how you push on it, on its back or sides, and the unit is simply too thick and has a chassis made of metal, so there's no way it would give in to twisting forces and such. There is a very slight change in the display's color if you push on it very hard, but nothing out of the ordinary.  
Under The Hood / Functionality
The display is a 4.2″ 720p display, and we also have a strong Snapdragon 425 CPU powering V6. There is 2 GB of RAM memory, and the unit also has 16 GB of ROM or internal memory, enough for apps, but not enough for a cache file if you're into streaming. The DAC part is a high-quality dual AK chip implementation, with two AK4493SE chips. I'm surprised by the display brightness, as it is easily visible in full daylight, but that same display is not very resolute, and can appear a bit blurry if you're used to sharp retina displays, and the color is not extremely good either, the display being most probably a classic TFT or entry-level IPS display.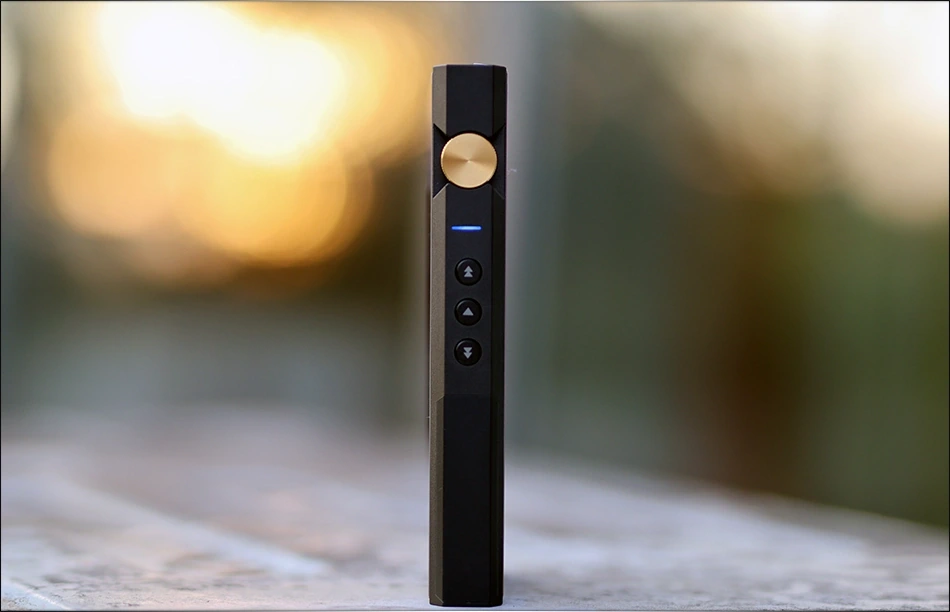 The OP-AMPs supporting those are 2 x OPA1612 and 4 x OPA1688 chips. We also see incredibly high technical numbers, with V6 sporting a SNR of 124dB, a THD+N of -111dB, and a DNR of 124dB. The crosstalk or channel separation is good on the 4.4mm balanced headphone output, at 116dB, but lower on the 3.5mm single ended output, at 88dB. 
The output power is rated at 610mw over the 4.4mm Balanced output, and at 330 mw on the 3.5mm single ended headphone output, both at 32 OHMs. This is actually quite high and should be enough to drive most headphones out there with ease.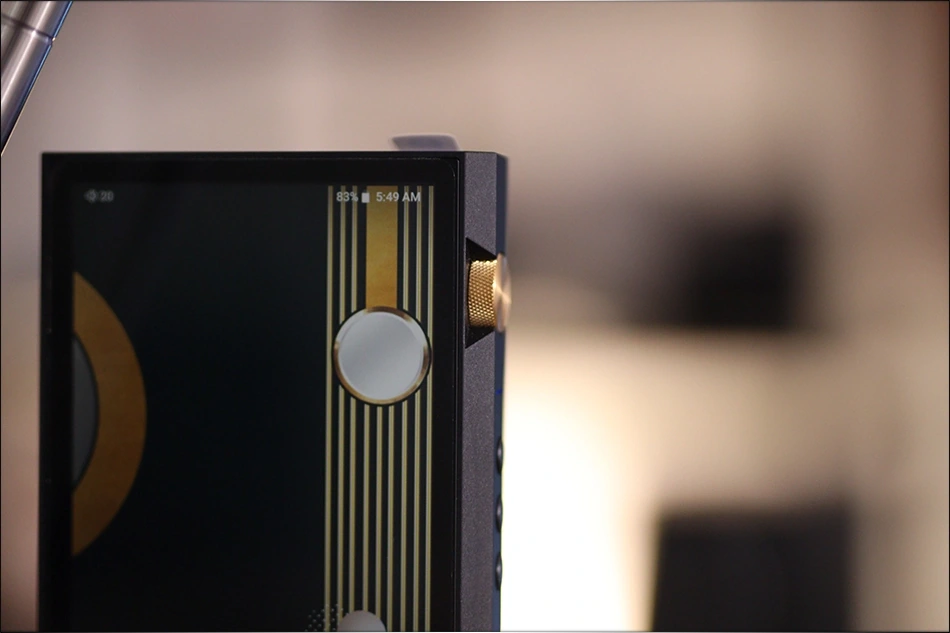 As far as features go, we have USB DAC function, and it is inherited from the Android system, rather than from within an app as iBasso does with their DX320 DAP, but just like DX320 at its best, there's a delay on V6, of about 100 ms. The USB port of V6 supports Coaxial output of data, and you can use it as a transport, and it supports Screen casting too. You can use V6 as a USB data source for external DACs, but with a power of 610mW at 32 OHMs I can't phantom why you'd do that. 
We have Wifi support for both 5GHz and 2.4 GHz networks, for Tidal, Spotify, Qobuz and other apps. It works very well, and I noticed no problems using all streaming services. If you're into Bluetooth, there's also Bluetooth DAC and Transmitter function, and v6 supports LDAC, AAC, aptX HD, and aptX, for transmitting signals, but only SBC and AAC for receiving Bluetooth signals, similar to iBasso DX320. 
Software
Using V6 feels nice, it is a snappy device, and has a very natural and intuitive interface. It has basically an Android 8.1 interface that's vanilla but has extreme modifications for better audio and sonic performance. For example, it inherits control over the gain level, digital filters, and has SRC bypass, the volume control not affecting the sonic quality on V6.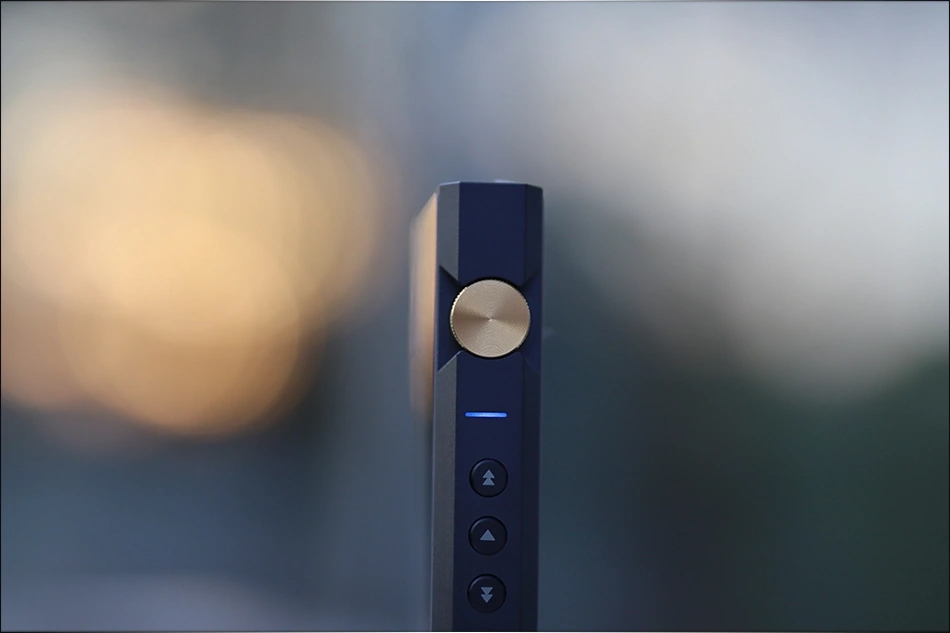 With a huge battery of 4500mAh, V6 can easily squeeze about 8-9 hours of battery life, especially with normal usage, lots of song changes, and high gain, with high volumes. It can get higher with lab tests, but as I'm never going to have it playing with no screen time and with a pair of IEMs at half volume, my tests usually indicate what you can expect from a DAP with realistic usage. Higher volumes consume much more power after 80% of the volume, and below it screen on time affects the battery more. It takes around 2 hours to fully charge V6, which is lower than most DAPs, but much more than the 40 minutes it takes to fully charge Black Shark 4 that uses the same battery size as V6, so there might be some kind of fast charge, but not 120W fast charge for sure. 
While most Android DAPs on the market don't offer support for PlayStore, somehow Tempotec V6 does, and you can easily install any streaming service or app on it just fine. I've used a smartphone with a Snapdragon 425 for a few years, so the fluidity of the system is just fine for me, but the display has a max refresh rate of 60Hz, so it can feel laggy compared to smartphones that have 120Hz refresh rates.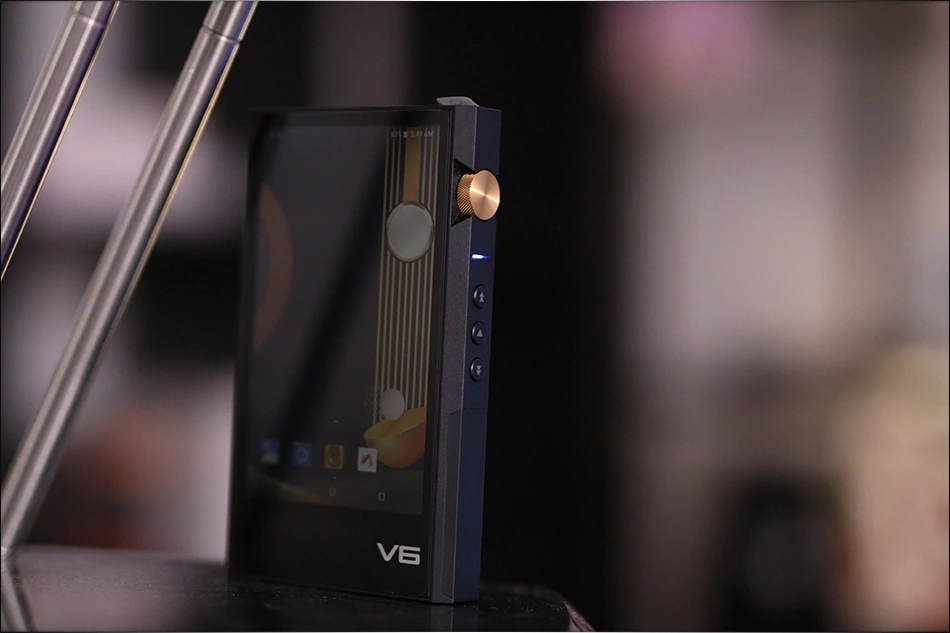 I also noticed no odd bugs or errors while using v6, it simply works and it is fun to listen to music with it. I never have to worry about the battery running out, although I do feel that having both the USB port and the headphone output on the bottom will be slightly uncomfortable for desktop users. IF you're really into streaming, Temptoec has 16X MQA decoding. 
The main music app installed is Hiby Music, and V6 is clearly made in a partnership with Hiby, so it has MSEB or 8-Ball Magic EQ, (Magic Sound Eight Ball), which allows you to fine tune the sound without any technical knowledge of EQs. It is effective and does not introduce any noise or distortion, so V6 works well for all IEMs and headphones. 
Sound Quality
You know V6 is going to be interesting since I took the time to write today's entire review, so let's start with the most obvious part, it is a versatile DAP. You can easily drive headphones such as HIFIMAN HE1000 v2, and while it is not quite as good as a high-end DAP like DX320, or SE180, V6 can provide a very controlled, clean and punchy / dynamic sound, even at the maximum volume. Dan Clark Aeon 2 Noire was also an OK for V6, and so has been driving Sivga SV023, HIFIMAN Edition XS, KLH Ultimate One, Sendy Audio Apollo, and Crosszone CZ-8A. As far as IEMs go, V6 has a pretty low output impedance and I noticed no hissing with the likes of Periodic Audio Ti V3, Ambient Acoustics MAD16, IMR Dark Matter, 7Hz Eternal, Oriveti OV800, and Fir Audio VxV. 
The overall signature of V6 is quite pleasing, as it has a smoother, clean, and detailed sound. The bass is plentiful, the midrange sounds musical, fluid and has a bit of extra thickness that gives music a beautiful body, while the treble is relaxed, clean, but well extended and airy. V6 has a natural soundstage that provides good separation between instruments, also good dynamics and punchiness. I just reviewed SMSL C200 back to back with V6, as this has been my order, and I can easily notice the differences in the signature and the way music is presented between them, V6 does not struggle at all with dynamics and impact, even if the music is modern commercial pop that's terribly compressed dynamically, made especially for radio. 
The bass of V6 has a really nice uplift above what I'd consider dead on neutral, and it helps V6 deliver a punchy and colorful presentation. I'm especially surprised to see an entry-level DAP or source drive HE1000V2 with ease, and delivering such a nice amount of low end, with a controlled and clean impact too. For IEMs, the sound is even warmer and cleaner than it is for headphones, and V6 is superb for driving basically anything you might have around the house. There's an especially nice amount of bass, that gives music depth and the impression of impact.
We have a really natural and mature sounding midrange that offers a rich, slightly warm, slightly thick presentation, fluid and musical, basically perfect to enjoy with any headphone you may dream of. The presentation is very balanced, and the technical aspect of V6 is surprisingly good, as it can show and reveal details rather well. It isn't quite as warm and thick as Dethonray DTR1+, but it is fairly good. The amount of enjoyment, and overall signature reminds me a lot of FiiO x5 Second Generation, and if you had one and liked it, or if you had a FiiO x3 DAP, you'll know exactly what I'm talking about.
In fact, part of the AMP design in V6 is similar to what FiiO used to have back then, and honestly that's fine, I never quite understood why they went for such a different signature for X5-3, a DAP that not many liked, especially those who liked their previous works. It is good to keep in mind that V6 delivers a much more vivid and dynamic image than you'd expect for the money, and right now, I haven't yet reviewed any other DAP that has a better overall signature than it around 300 USD. Also, if you heard esoteric descriptions of AKM / Asahi Kasei chips sounding velvety but resolute and dynamic, V6 is exactly, TempoTec having been fully able to deliver the presentation we'd expect from an AKM based DAP.  
The treble of the V6 is quite smooth, unintrusive and clean, with no distortion, and a musical presentation too. The entire sound has a slightly wet character to it, and while you can fine tune this via the MSEB plugin provided by Hiby, I figured out that you always want to know if a DAP can sound good by default, with no additional changes or software tricks. The soundstage of the V6 is presented rounded, with a good depth and width, mostly natural. Instrument separation is really good, and so is the overall resolution, making V6 an instant favorite sonically. 
Comparisons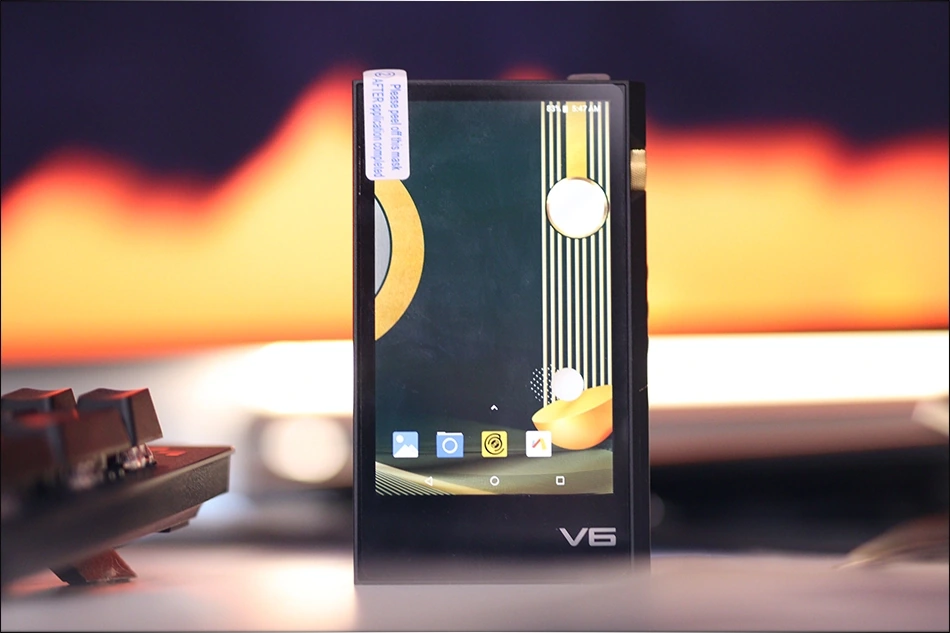 TempoTec v6 vs FiiO M9 (399 USD vs 300 USD) – Starting with M9, you can probably guess from the start that it is quite outdated compared to V6, as it was released a few years ago. And so it is, the OS allows for much better folder browsing, is snappier, faster and generally works better on V6, as it can decode MQA, DXD, has Bluetooth and Wifi Streaming, Android support and more. Sadly, even sonically, the V6 is much better, where M9 was kind of dry and flat, V6 is punchy, dynamic, vivid, detailed and clean sounding. TempoTec has better control and resolution, also a warmer, more musical and fluid sound, although it has a smoother treble too, with lower energy, which is less fatiguing. Driving power and distortion at max volume is better on V6, which can drive harder to drive headphones with ease, and distort less at the max volume it can achieve. 
TempoTec v6 vs Shanling M3X (399 USD vs 340 USD) – We have a good DAP in M3X, with good sonic performance, and a sweet midrange, so even I was curious how the newly released V6 would compare. The thing is, the V6 is much better with the bass, where it has better depth and better impact, more volume in the lows, and a more rounded presentation. By comparison, M3X is thinner sounding, and has less substance in music. The V6 is smoother all around, with a less aggressive treble, while the M3X has a rather forward and aggressive general presentation. The Android version is much newer on V6, which will help with Streaming as well as security, and it has a more fluid OS that works better than M3X. Driving power and distortion at max volume is better on V6, which can drive harder to drive headphones with ease, and distort less at the max volume it can achieve. 
TempoTec v6 vs FiiO M11 (399 USD vs 420 USD) – We have a good performer in M11, which was a popular DAP for a really long time, but nowadays it is mostly outdated by DAPs like V6, which has a more fluid system, and better Android and EQ integration, especially if you're looking for Streaming and a stable OS. The sonic presentation is much warmer on V6, with better bass impact, more depth, better soundstage size (wider and deeper soundstage), better resolution and more detail / refinement. M11 is brighter, and colder, but V6 showers the listener with more detail and clarity. Driving power and distortion at max volume is better on V6, which can drive harder to drive headphones with ease, and distort less at the max volume it can achieve. 
TempoTec v6 vs iBasso DX160 (399 USD vs 400 USD) – When you look at the technical specs, DX160 is really similar to V6 and they seem like they'd sound similar and give you a similar experience. To some ends, this is true, and despite the more fluid physical design, both have a good Android 8.1 software, both have a good CPU, and the main difference you'll see is that V6 has a faster Wifi chip, as it has support for Wifi 5, and also it has Hiby music instead of iBasso's mango app. They both work well, and I can' say there's a clear winner in the Android / DAP part. When it comes to the sonics though, they are quite different, and V6 is using a good AK DAC chip, which has its specific velvety sound, deeper, with more bass, smoother in the treble, more relaxed, and more dynamic. DX160, on the other hand, is sweeter in the midrange. Driving power and distortion at max volume is better on V6, which can drive harder to drive headphones with ease, and distort less at the max volume it can achieve. DX160 will sound more neutral and reference, while V6 is warmer and smoother. 
Value and Conclusion
The pricing of V6 is a bit of a mystery, but if you can grab it for 300 USD on Kickstarter, I suggest you do so. Especially if you don't mind risking a bit, gambling being a big part of our human behavior. You have to remember this, sonically V6 is a beautiful DAP, the only downsides being that it charges a bit slow (no DAP charges faster at the moment), and it has a pretty basic display (not that important for music listening). What is a bit of a letdown for music listening, is the internal memory of V6, and at 16 GB, you have to geek around Tidal and other streaming apps to save their cache files / offline libraries on your microSD card (this should work well for most people though). 
At the end of today's review, we've seen something magical and inspiring, and TempoTec surprised me big time with V6, a DAP or Music Player with good battery life, good build quality, a fair display, but superb sonic quality, and exactly what I'd purchase if I was at the start of my audio journey now. Something minimalist, and at 300 USD, a superb sounding DAP with good everything, support for everything, and a lush, fluid, musical, warm and rich sound, good soundstage, and most importantly, good driving power, especially over the 4.4mm balanced output. 
Package
Tempotec V6 Music Player 

USB Type-A to Type-C Cable

Leather Case

Screen Protectors

Warranty Card

Manual / Quick Start Guide
Product Link
You can preorder one from Kickstarter here: https://www.kickstarter.com/projects/166046126/tempotec-variations-v6-dsd512-android-hifi-music-player
You can grab one from www.amazon.com here: https://amzn.to/3RmerwM
If you're in the UK, you can grab one from www.amazon.co.uk here: https://amzn.to/3euubiB
And if you're from Europe, you can grab one from www.amazon.de here: https://amzn.to/3Qo1PUP
---
---
--- Please remember to stay safe, and always have fun while listening to music!---
 - If you have a dime to spare, and donate, to help us with electricity and work expenses, it would make my day much brighter, as it would help me improve things around the website and increase the frequency of my posts - 
---
Full Playlist used for this review
We listened to more songs than those named in this playlist, but those are excellent for identifying a sonic signature.  PRaT, Texturization, Detail, Resolution, Dynamics, Impact, and overall tonality are all revealed by those songs. We recommend trying most of the songs from this playlist, especially if you're searching for new music!
https://www.youtube.com/playlist?list=PL_cjBXGmwSHSdGcwuc_bKbBDGHL4QvYBu
--- Contact Us ---






---
---