Jade Audio FiiO KA1 Dongle DAC / AMP – Tails Of Sonic Speed 
Jade Audio / FiiO KA1 is a dongle DAC / AMP priced at 49 USD, with a type-C connector, Type-A adapter included in the package, RGB status indicator, and with an ES9281AC PRO DAC Chip. It will be compared to other entry-level Dongle DAC / AMPs in the price range, such as Tempotec Sonata HD II (29 USD), Periodic Audio Rhodium DAC (49 USD), IKKO Zerda ITM01 (59 USD).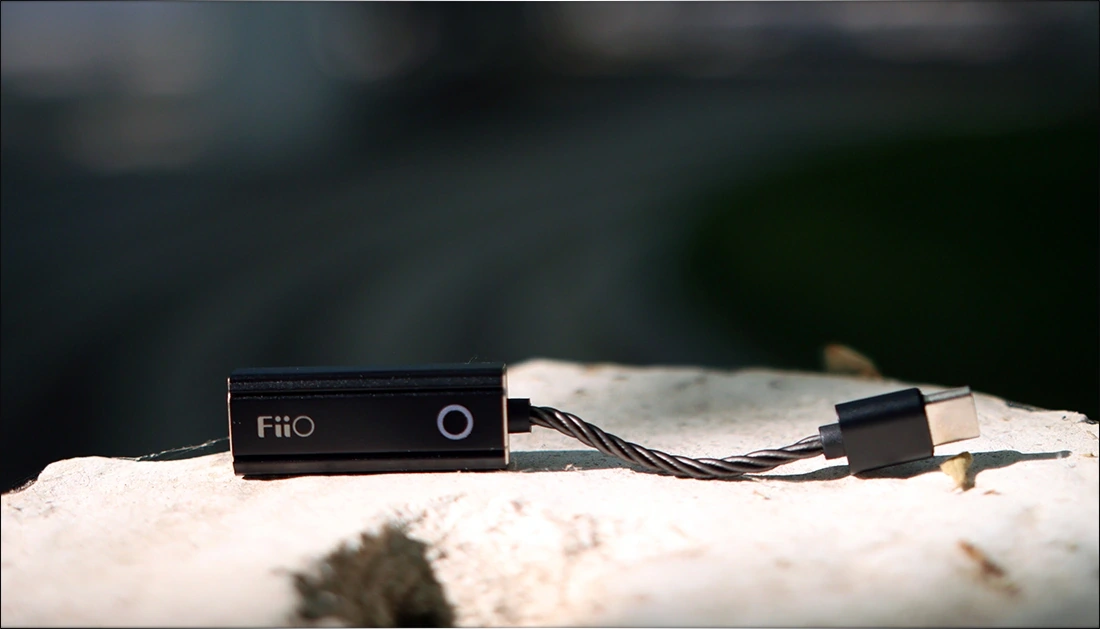 Introduction
Jade Audio is pretty much a sub company of FiiO, and that's not a mystery to anyone, especially now that they are promoting the Jade sub brand from the main company's social profiles, and FiiO pretty much brands the Jade Audio products as FiiO. The main reasons they'd want to have a sub brand is to separate those super entry-level products from the FiiO product offer, to have better separation between what each is supposed to do. It is working well, and Jade Audio has the same level of support as FiiO, which means that you're best off when purchasing from local sellers, local dealers and Amazon, to get quick and reliable solutions to any problems you may encounter. At least all big shops are listing KA1 as JAde Audio / FiiO so reviewing it as part of both brands seems the best idea to get things going. 
It should be noted that I have absolutely no affiliation with Jade Audio or FiiO. I'd like to thank Jade Audio for providing the sample for this review. This review reflects my personal experience with Jade Audio Ka1 Dongle DAC / AMP. Every opinion expressed is mine and I stand by it. The purpose of this review is to help those interested in Jade Audio KA1 Dongle DAC AMP find their next music companion. 
Packaging
First things first, let's get the packaging out of the way: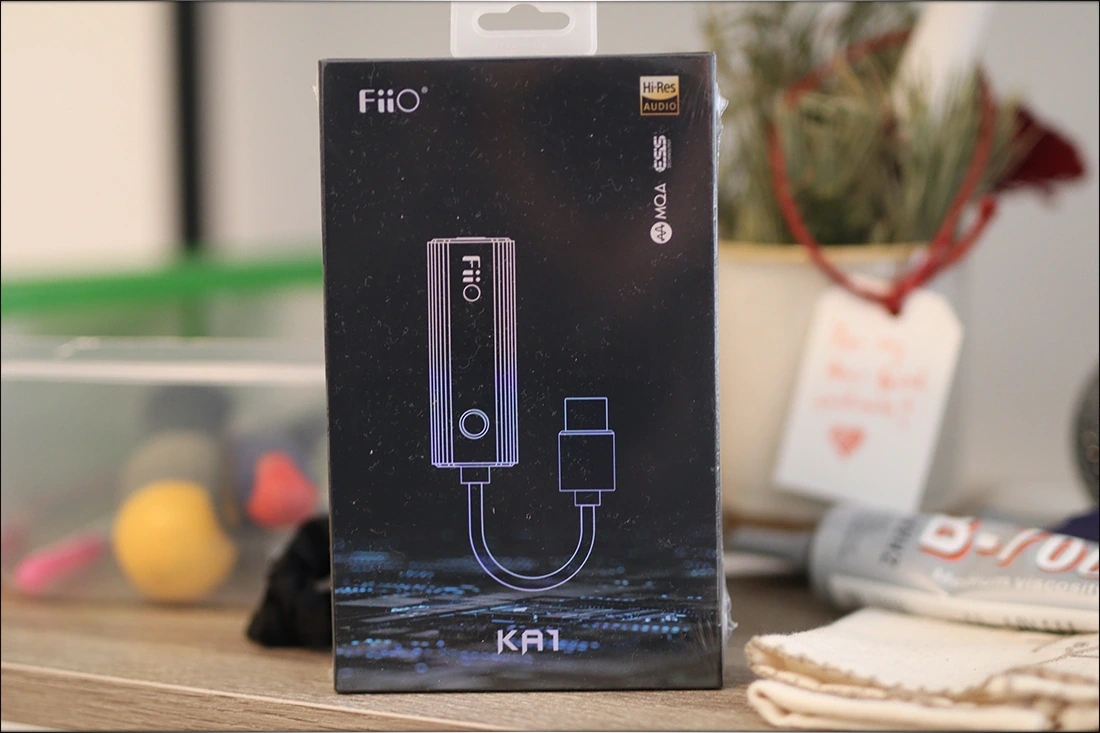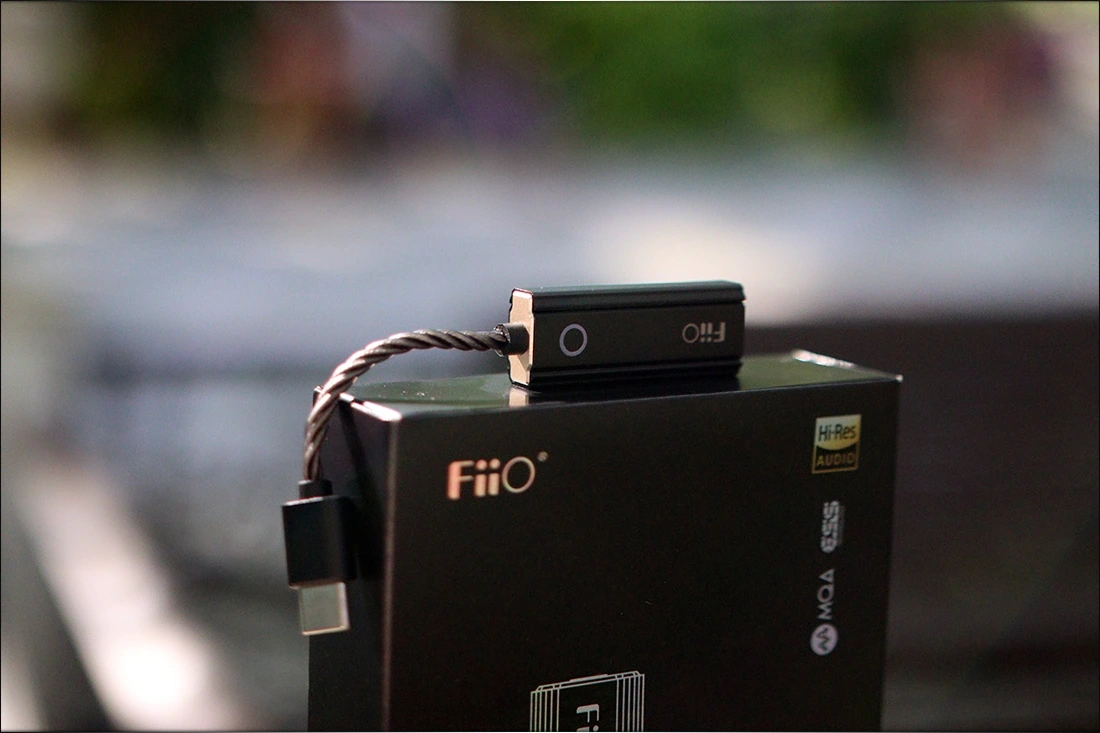 The package of KA1 is a simple but utilitarian one, with just the dongle, and a USB Type A to Type C adapter included in the package. The overall package is of a good quality, and the dongle DAC is presented nicely, but there's not much extra to present nor which would've been necessary. 
Product Link
You can grab one from www.amazon.com here: https://amzn.to/3wRD7nM
If you're in the UK, you can grab one from www.amazon.co.uk here: https://amzn.to/39V3DVr
And if you're from Europe, you can grab one from www.amazon.de here: https://amzn.to/3yYQYeN
Build Quality/Aesthetics/Features
We have a pleasing surprise with KA1, as this is a pretty lightweight, good looking dongle that although larger than the competition, feels a bit more trusty to withstand one's usual usage. We also have superb features under the hood, making KA1 a true prime dongle DAC, as we have an ES9281AC PRO DAC, along with RGB status indicator, and High resolution decoding, 32 Bit / 384 kHz, and DSD256, along with MQA Decoding. 
KA1 supports most devices when it comes to compatibility, it has both a type-c and a lightning variant, and it has a silver plated, monocrystalline copper cable, with both a green and a classic black option available. The headphone output is a single ended, 3.5mm jack, and we have up to 16X MQA rendering for Tidal users. 
The headphone output power is up to 45 mW at 32 OHMs, with a SNR of 114 dB, and a low power consumption of 60mA. The body of the unit is extremely light at 10 grams, but it feels well made and metallic, although the driving power is enough mostly for IEMs. 
At a subjective level, KA1 is easy to use, it is detected by both my PC and my smartphone instantaneously, but, this is the second time I see this behavior, after Questyle M15. KA1 sees the smartphone, and lights up, but if there's music playing on the smartphone, and if there are no headphones connected to KA1, the music plays on the smartphone's speakers. Only when you have earphones / headphones connected to KA1, it plays music through them and mutes the speakers of the smartphone. At first, I thought it was broken, but this seems to be the behavior with recent dongle DAC AMPs.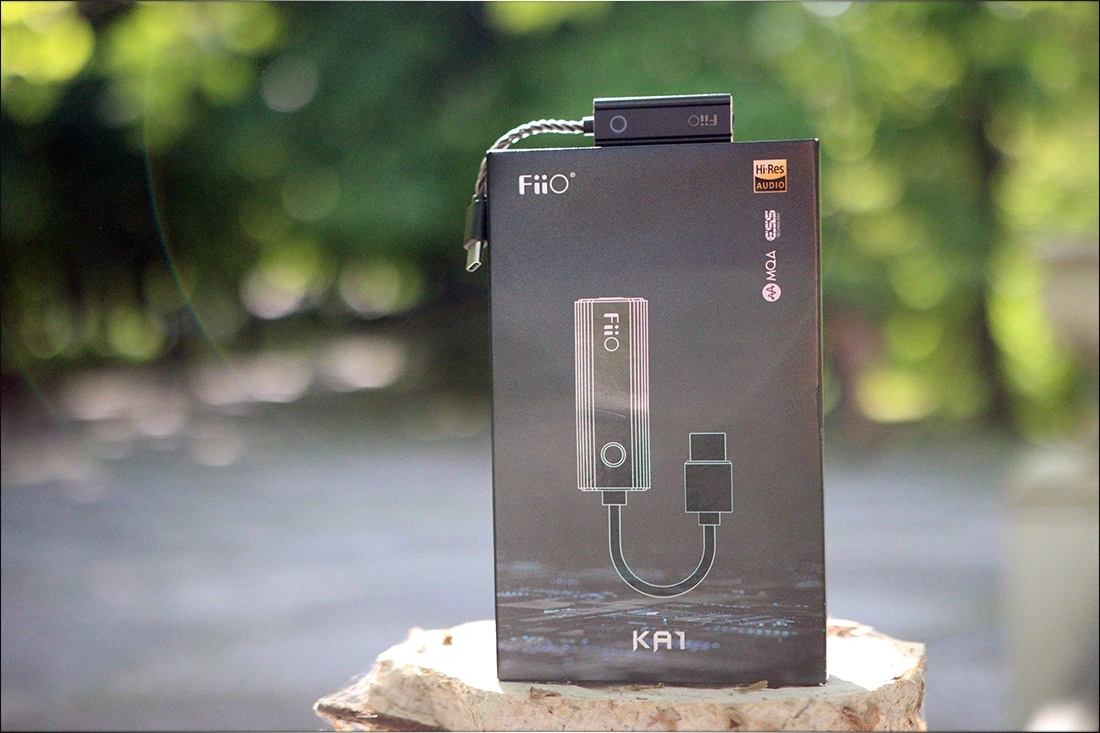 I managed to drive only portable IEMs and small sized headphones, as 45 mw at 32 OHMs are not quite enough for most headphones, but it should be plenty for IEMs, and should be able to get a party going inside of your head. I managed to drive with KA1, Oriveti OV800, HIDIZS MM2, IKKO OH1S, Periodic Audio Carbon and FiiO FD5. It is generally fully able to drive all of those with no background hissing and no odd noises. In fact KA1 is one of the most silent Dongle DACs I've heard. This being said, the output impedance is not necessarily low, and testing KA1 with Ambient Acoustics MAD24, which has a low impedance, I notice that they sound brighter, and more shallow than usual, which means that the source, KA1 in our case, has a higher output impedance. I recommend using KA1 with IEMs that have an impedance of 32 OHMs or more to get the most out of it.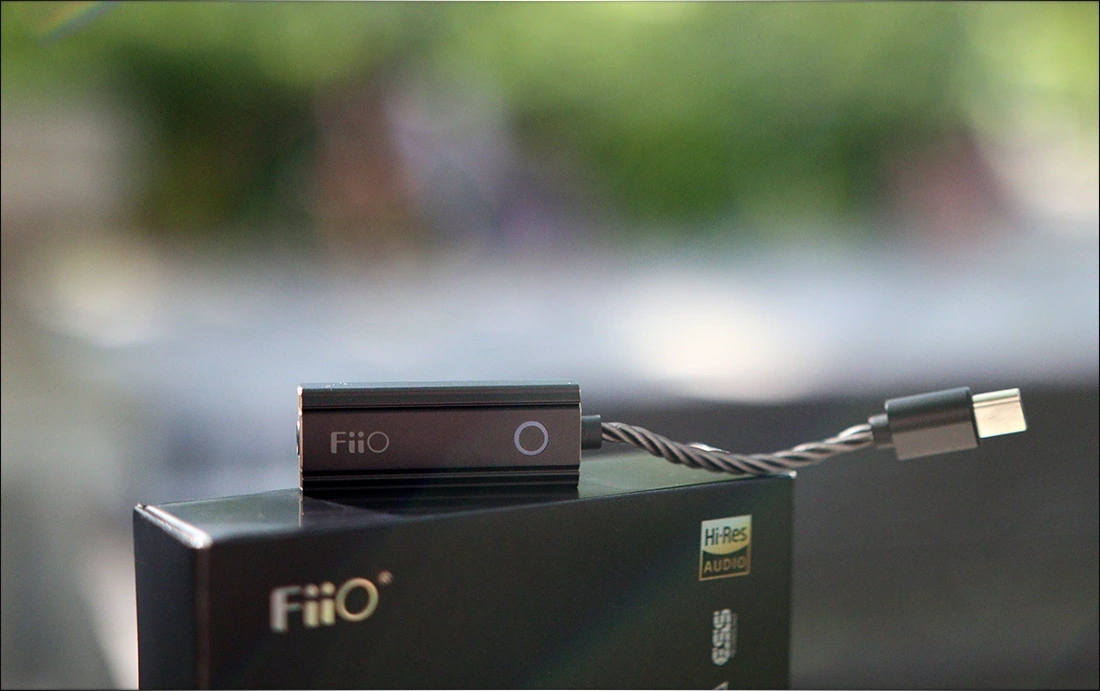 I've seen a bit of a controversy going on about whether you need a dongle DAC or not, or a DAC in general. Well, those usually have better driving power than any smartphone, which is true in my case, KA1 has more volume, better clarity and better refinement than my smartphone, the Xiaomi Black Shark 4, and they generally improve your overall experience. 
Sound Quality
The overall sonic quality of KA1 is outstanding considering the super mini price point, and given the fact that most of the competition has considerably less driving power and lower maximum volume than it. I'm currently using KA1 with a wide selection of IEMs, including Ambient Acoustics MAD 24, IMR Acoustics Dark Matter, Oriveti OV800, and Campfire Dorado 2020. I've added Periodic Audio Carbon to my round of tests, to have a darker signature as well, as the others are natural and bass heavy, but not dark per se. 
KA1 is a smooth, clean, and fairly linear sounding dongle DAC. The overall extension in the bass is very good, it has a bold, strong bottom end, with a ton of energy and life, and the bass is clean, deep and natural in speed. KA1 keeps up well with average music in speed, for example with Rock, EDM and Pop, but very fast and aggressive music such as Math Metal, Grindcore or Technical Death Metal can be a bit too much, and you'd need a faster sounding source, such as FiiO BTR5 or FiiO M11 PRO. 
The midrange of KA1 is super clean, has a natural width and a more shallow depth, which creates a natural presentation. This works well for rock, pop, metal and EDM, which are the main styles I expect you to enjoy using KA1. KA1 has excellent detail and resolution relative to the other dongle DACs that you can find around the same price point, like Sonata HD II, or Periodic Rhodium, but it also has a more linear presentation to its sound. The smoothness, and initially apparent darkness that some may notice, comes from the fact that the treble of KA1 is fairly smooth and has a soft roll-off effect to avoid fatiguing sounds.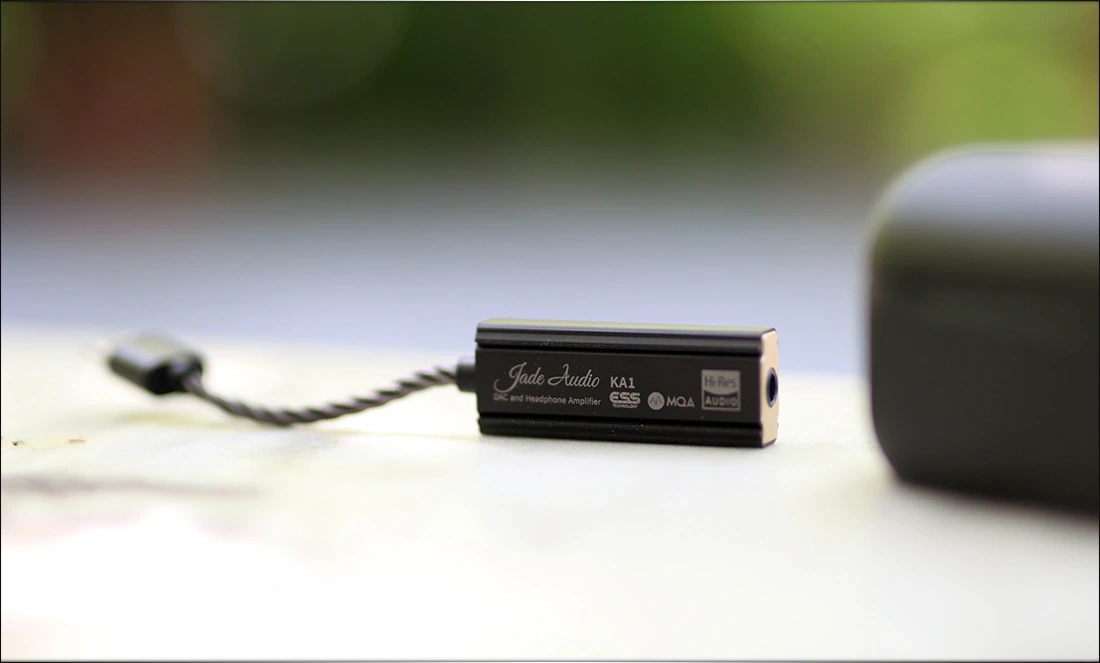 In fact, Ka1 has excellent extension, and I can hear the treble being extended quite clearly, with good overall air and space between the instruments, but the treble has a low impact and a fatigue-free presentation that makes KA1 really easy to enjoy even with hotter tuned IEMS such as FiiO FD5 and FiiO FH7. It has a good amount of impact and treble presence to keep IEMs like FiiO FA7 going and give them an interesting sound, rather than dulling them, so it is fairly versatile. 
Comparisons
Jade Audio KA1 vs Periodic Audio Rhodium (49 USD vs 49 USD) – Rhodium is pretty much equal in pricing to KA1, both have a 3.5mm headphone output that's single ended, and both have a type-c connector, but KA1 can be ordered with a lightning connector. The driving power is considerably higher on KA1, and it has a more linear, more detailed sound that's cleaner and has more treble extension. Rhodium sounds warmer and will tone down very bright and hot-headed IEMs more, while Ka1 sounds more natural and is more versatile. 
Jade Audio KA1 vs Tempotec Sonata HD II (49 USD vs 29 USD) – Although Sonata HD II is considerably below the price of KA1, it is always praised, so the comparison will make sense for many readers. My experience has been good with both, KA1 has more driving power than Sonata HDII, and a better overall clarity and definition. Since both have a 3.5mm headphone output, and a type-c connector, and both consume about the same from the smartphone, at least from my Black Shark 4, I can mainly mention that KA1 turns off while there are no headphones connected, so if you forget your dongle connected, it may consume less than Sonata HDII. 
Jade Audio KA1 vs IKKO Zerda ITM 01 (49 USD vs 59 USD) – At the design level, Zerda does not have a fixed cable, and you can change its cable, although it is based on a proprietary cable connector. Both dongle DACs have a 3.5mm single ended connector to power IEMs, and both have similar driving power, with Zeda having a bit more. Zerda has a more natural and warmer midrange, where KA1 sounds more thin and colder in the midrange. The overall clarity and resolution is slightly better on KA1, Zerda has a slightly lower output impedance, but more background noise. Zerda has a hardware EQ ability, but that doesn't come in handy since you usually just go for it in Music Mode. If you like a warmer midrange, with a stronger impact and harder bass, go for Zerda, while if you like a smoother, more linear sound go for KA1. 
Value and Conclusion
It is easy to say that KA1 has super good value, and if you have no headphone output, or if yours doesn't sound as good as you'd desire, FiiO Ka1 is perfect, has a good build quality, and can easily be found locally, with your local FiiO Dealer. Amazon also has KA1 in store, and you won't have any trouble ordering it, receiving it quickly and enjoying it.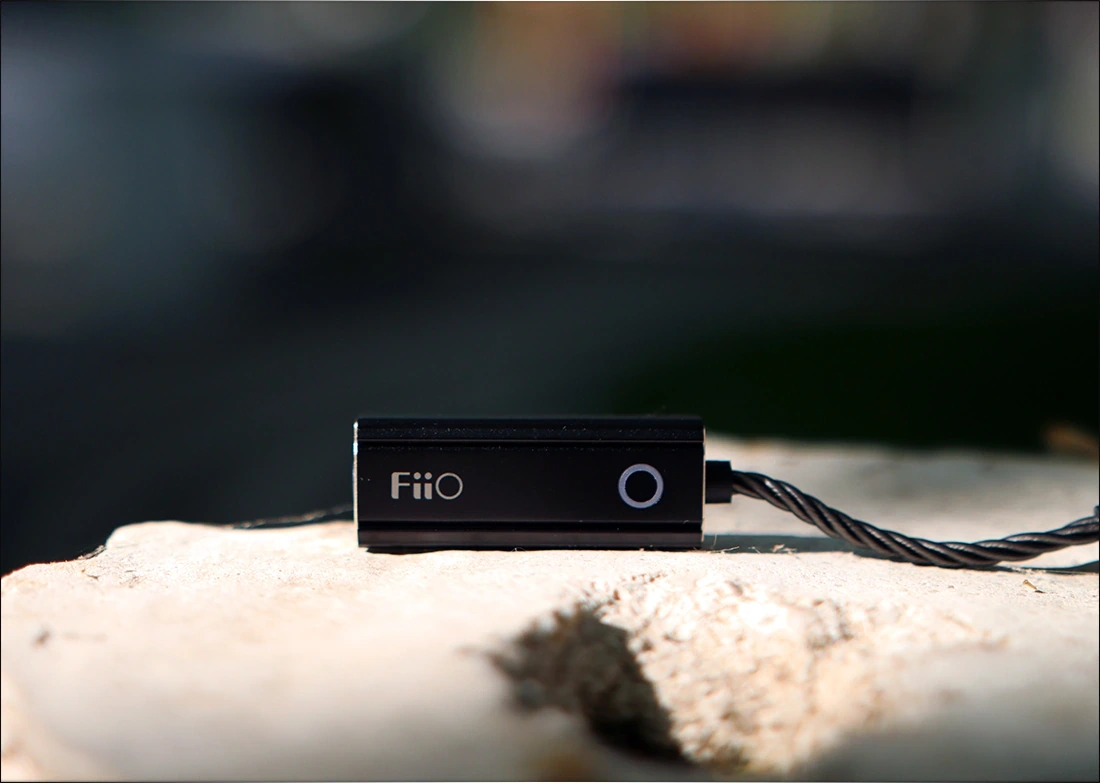 At the end of today's review, if you're looking for a super portable dongle DAC AMP with super good build quality, good driving power for IEMs, and with a a nice RGB ring LED at the front to show its function, plus a smooth, natural, clean and linear sound, Jade Audio / FiiO KA1 is the perfect choice to go for, especially at the pocket-friendly price of 49 USD it is currently selling for. 
Product Link
You can grab one from www.amazon.com here: https://amzn.to/3wRD7nM
If you're in the UK, you can grab one from www.amazon.co.uk here: https://amzn.to/39V3DVr
And if you're from Europe, you can grab one from www.amazon.de here: https://amzn.to/3yYQYeN
---
---
--- Please remember to stay safe, and always have fun while listening to music!---
 - If you have a dime to spare, and donate, to help us with electricity and work expenses, it would make my day much brighter, as it would help me improve things around the website and increase the frequency of my posts - 
---
Full Playlist used for this review
We listened to more songs than those named in this playlist, but those are excellent for identifying a sonic signature.  PRaT, Texturization, Detail, Resolution, Dynamics, Impact, and overall tonality are all revealed by those songs. We recommend trying most of the songs from this playlist, especially if you're searching for new music!
https://www.youtube.com/playlist?list=PL_cjBXGmwSHSdGcwuc_bKbBDGHL4QvYBu
--- Contact Us ---






---
---