IKKO OH2 Opal IEMs – Translucent Presentation
IKKO OH2 Opal is a high-quality IEM for low budgets, priced at 79 USD, coming in multiple colors, and with a nice cable, so it will be compared to other popular entry-level IEMS, including Tingker TK300 (99 USD), FiiO FD3 (109 USD), TRN VX PRO (88 USD), and Tin T3 Plus (70 USD).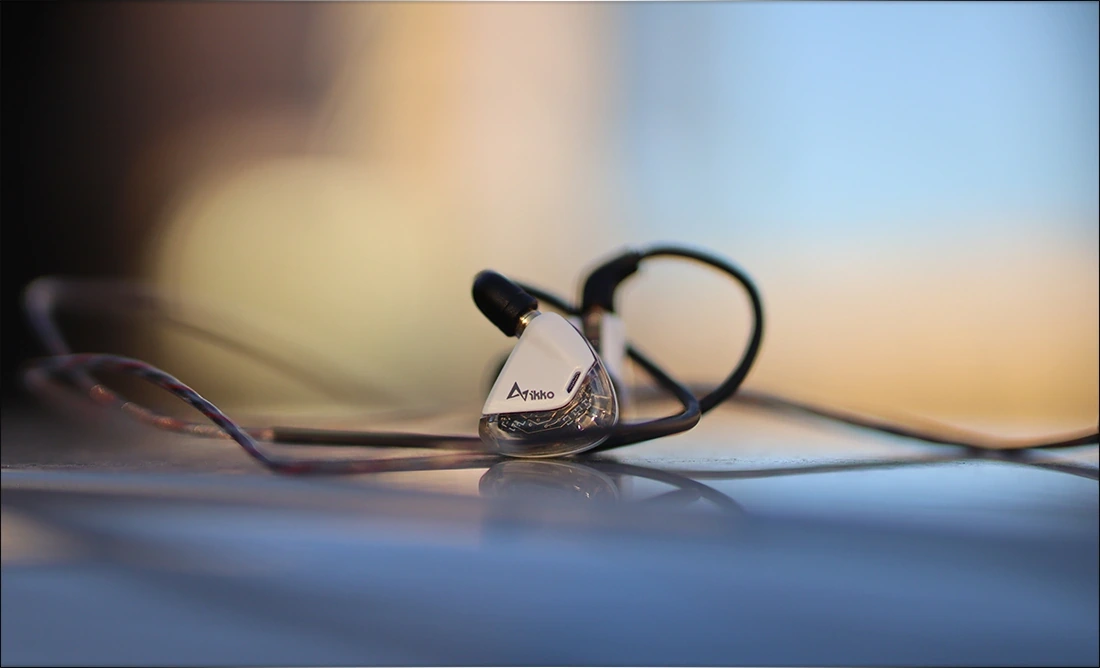 Introduction
IKKO has always been a super really nice company with a wide offer of products, mostly focused on offering entry-level products with competitive performance, and reliable build quality. They managed to deliver well on their promises so far, having produced some of the most competitive and and feature-rich products we've seen to date, and some best sellers as well, proving that they're ready to take on the whole world, in today's super aggressive market that's full of good products at good prices. 
It should be noted that I have absolutely no affiliation with IKKO, I am not receiving any incentive for this review or to sweeten things out. I'd like to thank IKKO for providing the sample for this review. Every opinion expressed is mine and I stand by it. The purpose of this review is to help those interested in IKKO OH2 Opal find their next music companion. 
Product Link
You can grab one from www.amazon.com here: https://amzn.to/38FNCm6
If you're in the UK, you can grab one from www.amazon.co.uk here: https://amzn.to/3PV49Dy
And if you're from Europe, you can grab one from www.amazon.de here: https://amzn.to/3m867CN
Packaging
First things first, let's get the packaging out of the way:
The package of OH2 Opal is actually pretty nice, they come with a rich package, a nice leather case, and with a little Brooch, which so far has been unique to IKKO, and a pretty welcome extra. The full package includes: 
iKKO Gems OH2 *1

MMCX 3.5 mm cable *1 

Silicone Eartips *6 pairs 

Foam Eartips *3 pairs

Spare Protective Grids *1 

Storage Case *1 

Quick Start Guide *1 

iKKO Fox Brooch *1
Build Quality/Aesthetics/Fit/Comfort
IKKO always strived to be competitive, and this time things are no different, with OH2 Opal being available in Five different colors, with a Purple, Green, Yellow, White and Gray option available. They have an ergonomic design, which tries to stay aesthetic by making part of the inner circuit visible, although they are a single dynamic driver IEM, so there's no crossover in the build or reason for them to have one. 
Quite different from most IEMS on the market, OH2 Opal comes with an Oval Sound Outlet, which is basically the sonic bore, which means that if you lose a silicone tip, you're done for, as nothing won't really match them, and you'll have to reach out to IKKO for spare tips. They managed to design the inner chamber in such a way that the inner parts reflect the sonic waves from the driver and give the best overall performance, along with the best overall comfort. 
The units have 32 OHMs of impedance, meaning that they won't be very sensitive to source hissing and background noise. The rule is that the higher the impedance is, the harder an IEM or headphone is to drive, but the lower background noise and hissing will be. The drivers are dynamic, with Deposited Carbon, which I think would stand for a carbon coated dynamic driver, but translated on a budget. 
The cable is also nice, as OH2 Opal comes with a high purity Silver Plated cable, which is made of two strands of 127 micrometers, of high purity single crystal copper wire, and a silver plating for it. The cables are detachable and mashed on MMCX connectors, having soft ear guides that are comfortable and generally pleasing to use. 
Subjectively, the comfort is superb and the oval tips do an excellent job at offering a snug and secure fit. Unfortunately, the tip is not very well attached to the IEM, and the fitting is a bit loose, so while I never remained with the tips in my ears, I did manage to somehow lose one of the tips. OH2 Opal offers about 15-20 dB of passive noise isolation, and that's quite good as it doesn't have any driver flex and is generally very comfortable to use. There is no void either, and the cable does not have microphonic noise, and while some reviewers reported on the cable being a bit sticky, it feels about as sticky as all the other cables I've seen so far, not more sticky than what other IEMs have, and surely nowhere near what Azla Xelastec tips feel like. It feels like you could sleep with Opal OH2, as it does not stick very much out of your ear, and has a somewhat shallow fit, with low risk of damaging the ear canal, although I think it is just unsafe to sleep with IEMS in your ears, as it increases the humidity and can lead to fungus and other infections in your ears. 
Sound Quality
For the sonic part of today's review, I've been using a selection of sources, including ddHIFI TC44C, iBasso DX160, Shanling M3X, Hiby FC5, IKKO Zerda ITM01, and Shanling UA1. Opal OH2 tends to be somewhat bright, so it sounds best with sources that have a fuller, darker, smoother and warmer sound, and can become somewhat shouty and fatiguing with sources that are brighter, and more peppy by nature. The higher impedance of OH2 Opal is also helping, as they are not sensitive to high output impedance and will work just fine with sources that have a moderately high output impedance. 
The overall tuning of OH2 Opal can be described as V-Shaped, with a stronger sub bass, and upper midrange / treble, with excellent layering, good detail and a wide / holographic presentation. The sound bears good impact and dynamics, and has a generally good instrument placement along with super nice overall resolution. Given their price, they are a good competitor to most other entry-level IEMs, as despite being somewhat bright, they are nowhere near as fatiguing and shrill as the competition like KZ IEMS in general, and they are not as dark or bloomy / boring as fully smooth signatures tend to be. The sound is best at all volumes, with no particular preference to higher or lower volumes. Things get louder in a linear fashion, and the sound doesn't get more shouty or darker with higher or lower volumes. 
Starting with the bass, OH2 Opal has a good sub-bass extension and good sub bass impact, with fairly good overall clarity and overall body. The bass of OH2 tends to be neutral after the sub bass, so they are not particularly heavy or dark, rather having a satisfying sub bass impact, but a natural and clean bass, with a non-boomy, non-veiled upper bass and lower midrange. 
The midrange of OH2 goes for a slightly V-Shaped presentation that has a good amount of clarity and detail, super good soundstage and width for music. Voices are generally natural in placement, while guitars and synths tend to have a super good overall texture, resolution and impact. The midrange has good dynamics, and it never feels compressed, although the upper midrange has more energy than the lower midrange, which makes the sound of OH2 slightly bright. 
The treble of OH2 is clean, detailed and crisp, with a fairly sparkly and airy presentation. Most entry-level IEMs tend to overdo the treble, and they become shrill or fatiguing when they go for brightness, so it is worth mentioning that OH2 Opal does not become shrill or too bright, fatiguing or headache-inducing, rather has a good amount of air and a tasteful treble, if you enjoy a more open and a brighter signature. At times, the signature can feel a bit thin, so they are not recommended for you if you want thick and heavy, but the signature tends to have more resolution and detail than most competition has in the price range. 
Comparisons 
IKKO OH2 Opal vs FiiO FD3 (79 USD vs 109 USD) – Comfort wise, Opah OH2 is smaller, and fits better with my ears, they are more ergonomic and easier to wear. The overall IEM quality is better, except for the tips, which I find prone to losing, but they help with that better comfort. The overall sonics are much heavier, darker and smoother on FiiO FD3, while OH2 has better detail, better resolution, better clarity, and overall dynamics. The sound is clearly thinner on OH2 Opal, but it is also faster, more snappy and more resolving, the only aspect that's slightly lacking being the bass, which is thinner and lower in quantity than FD3. 
IKKO OH2 Opal vs Tingker TK300 (79 USD vs 99 USD) – The overall comfort is once again a bit better on OH2 Opal which are lighter, smaller and more ergonomic for my ears, especially the tips, which are somehow really well designed. It is quite probable that more companies should consider going for oval tips. The sonics are similar between the two, with TK300 being a bit thicker and darker than OH2, and with the two having similar levels of details and overall resolution. The sound of OH2 Opal is lighter, snappier and quicker. Both work equally well for most music, OH2 Opal comes through as wider and more holographic. 
IKKO OH2 Opal vs TRN VX PRO (79 USD vs 88 USD) – The overall tuning is quite different, and the comfort is different too, with OH2 Opal being more comfortable than TRN VX PRO, being much smaller, lighter and more ergonomic. The sub bass extension is a bit better on OH2 Opal, but they have less body and mid bass than VX PRO, so the final result is a bit brighter. The resolution is similar between them, and OH2 has a lighter, snappier, quicker sound. For a heavier, thicker presentation, VX PRO would be it, while if you value soundstage more, and like a lighter, more snappy sound in general, OH2 Opal is pretty awesome. 
IKKO OH2 Opal vs Tin T3 Plus (79 USD vs 70 USD) – The comfort is better on OH2 as they are smaller and lighter than T3 Plus, but the build quality feels a bit better on T3 Plus. The sonics are much darker, smoother, fuller and deeper on T3 Plus, while the sound is brighter, sparklier, airier, more open, and more detailed on OH2 Opal. The overall detail award goes for OH2 Opal, while the grade for bass, depth and impact goes for T3 Plus, so if you want a basshead IEM, T3 Plus and if you want a wider and brighter, snappier sound, OH2 Opal it is. 
Value and Conclusion
IKKO surely knows how to provide excellent value for their products and OH2 Opal is no exception, being one of the IEMS with the best price / performance ratio available on the market today. Even better, IKKO introduced some unique products to the market, like their ITM01 DAC that I reviewed in the past, and the OH1S IEMS which have been best sellers, so I have a feeling that OH2 Opal might also become a best seller too, thanks to its rather low price for the performance it offers. 
At the end of the day, if you're looking for a really revealing, clean and crisp IEM, with a wide stage, good instrument placement, and with an energetic, punchy and dynamic sound, IKKO OH2 Opal should be a perfect match for your ears. 
Product Link
You can grab one from www.amazon.com here: https://amzn.to/38FNCm6
If you're in the UK, you can grab one from www.amazon.co.uk here: https://amzn.to/3PV49Dy
And if you're from Europe, you can grab one from www.amazon.de here: https://amzn.to/3m867CN
Specifications
Compatibility – MMCX
Sensitivity – 100dB
Impedance – 32 Ω
Dynamic driver deposited carbon Nano diaphragm material 
Metallic + High-transparent polycarbonate
Frequency – 20Hz-20KHz
---
--- Please remember to stay safe, and always have fun while listening to music!---
 - If you have a dime to spare, please donate, and help us! It would make the day brighter for me and my wife- 
---
Full Playlist used for this review
We listened to more songs than those named in this playlist, but those are excellent for identifying a sonic signature.  I recommend trying most of the songs from this playlist, especially if you're searching for new music! The playlists are different for Spotify, Tidal and Youtube, and based on the songs I enjoy and are available on each!
https://www.youtube.com/playlist?list=PL_cjBXGmwSHSdGcwuc_bKbBDGHL4QvYBu
https://open.spotify.com/playlist/5J3oloz8Riy9LxEGenOjQ0?si=979ba4f082414be7
https://tidal.com/browse/playlist/330fd544-8e5b-4839-bd35-676b2edbb3d5
--- Contact Us ---





---