HIDIZS MM2 Mermaid IEMs – Magnetostatic Dynamic Combo
HIDIZS MM2 is the latest IEM from the well-known Chinese manufacturer, and it comes with a lightweight price tag of just 79 USD, and it will be compared to FiiO FD3 (120 USD), TRN VX PRO (88 USD), and Tin HIFI T3 Plus (70 USD). 
Introduction
HIDIZS is a large and trustworthy company from China with a varied and rich offering of products available for music lovers. They usually make entry-level products with affordable and pocket-friendly prices, and they also make good price / performance ratio products. While in the past there were some products that were more problematic, most of their newly released products had had no issues, and HIDIZS seems to be on a roll with launching and releasing high-quality products for affordable prices. It is always best to purchase those from Amazon for the best warranty coverage, or to use local shops and sellers where available, as Aliexpress purchases can result in a bitter taste of both due to waiting times, and shipping / VAT costs. HIDIZS has a personalized website where you can order their products as well. 
It should be noted that I have absolutely no affiliation with HIDIZS, I am not receiving any incentive for this review or to sweeten things out. I'd like to thank HIDIZS for providing the sample for this review. Every opinion expressed is mine and I stand by it. The purpose of this review is to help those interested in HIDIZS MM2 IEMs find their next music companion. 
Product Link
You can grab one from the official website here: https://www.hidizs.net/products/mm2-hifi-in-ear-monitor-mermaid
You can grab one from www.amazon.com here: https://amzn.to/3kw9CCi
If you're in the UK, you can grab one from www.amazon.co.uk here: https://amzn.to/3MMpEUC
And if you're from Europe, you can grab one from www.amazon.de here: https://amzn.to/3yd8aNd
Packaging
First things first, let's get the packaging out of the way:
We have a pretty rich package for MM2, which includes all the basic accessories needed to enjoy them. Even better though, MM2 comes with interchangeable filters to tune them and get more out of their sound. Seeing a full leather case included with such an entry-level IEM is surely a welcome sight. The full package includes: 
MM2 IEMs

Cable

Leather Carrying Case

Normal Tips – 3 Pairs

Tuning Valve – 3 Pairs 

Warranty Card
Build Quality/Aesthetics/Fit/Comfort
HIDIZS MM2 is a unique IEM try for HIDIZS, because they adopted a new driver architecture, with a hybrid design between a dynamic driver 10.2mm in size, and with one Magnetostatic driver that can be driven at low voltages. It looks like HIDIZS has those developed in-house, as result from a joint collaboration between them and Korea BSE, and they use a PEK polymer diaphragm for the dynamic driver, also developed in-house. 
There are tuning valves for MM2, which is probably the most exciting thing about those entry-level IEMS, and they have  a Bass, Treble and a Balanced tuning option. All of those attach to the aluminum faceplate of MM2, which is attached to a resin body, that helps with the comfort. 
The cable is detachable and based on a 2-Pin connector, which is really nice, and the cable is very flexible, but it doesn't feel frail or poorly made. The cable, in fact, is a high quality OFC copper cable with silver wire, made from 60 strands. I'm excited to see a typical connector as well, since most Chifi companies use a really poor 2-Pin recessed connector for their IEMS, which makes changing the cables complicated usually. 
HIDIZS MM2 is really comfortable, and happily there is no driver flex, and the IEMS feel really comfy. They are light, and ergonomically designed, with no sharp or pointy edges, plus the cable provides good support for the IEMs around the ear, and the cable has zero microphonic. The cable is slightly tangle prone, which can be a bit of an issue, but there is a cable separator you can use to keep it tidy. 
The MM2 is mostly easy to drive, and can be brought to satisfying listening levels, plus can have excellent resolution, as they don't scale too much with the source. This means that you can safely be using any dongle or even your smartphone, so Hiby FC5, Periodic Audio Rhodium, IKKO Audio Zerda, and Shanling UA1 would be great sources for MM2. 
Sound Quality
The overall signature of MM2 is really clean, V-Shaped, clear and detailed. This is in line with HIDIZS's previous IEMs, and the company seems to always go for a warmer lower end, with a warmer, emphasized bass, a clean and slightly recessed midrange, and a clear, somewhat sharp treble, with good cymbal and percussion impact. I've used a number of sources to power the MM2, including HIDIZS AP80 PRO, HIDIZS DH80, Astell & Kern SE180, Cyrus One Cast, iBasso DX240, Dethonray DTR1+, and Lotoo PAW6000. All of those drive them well, and MM2 doesn't scale very much with the source, so you don't have to worry about powering MM2 much.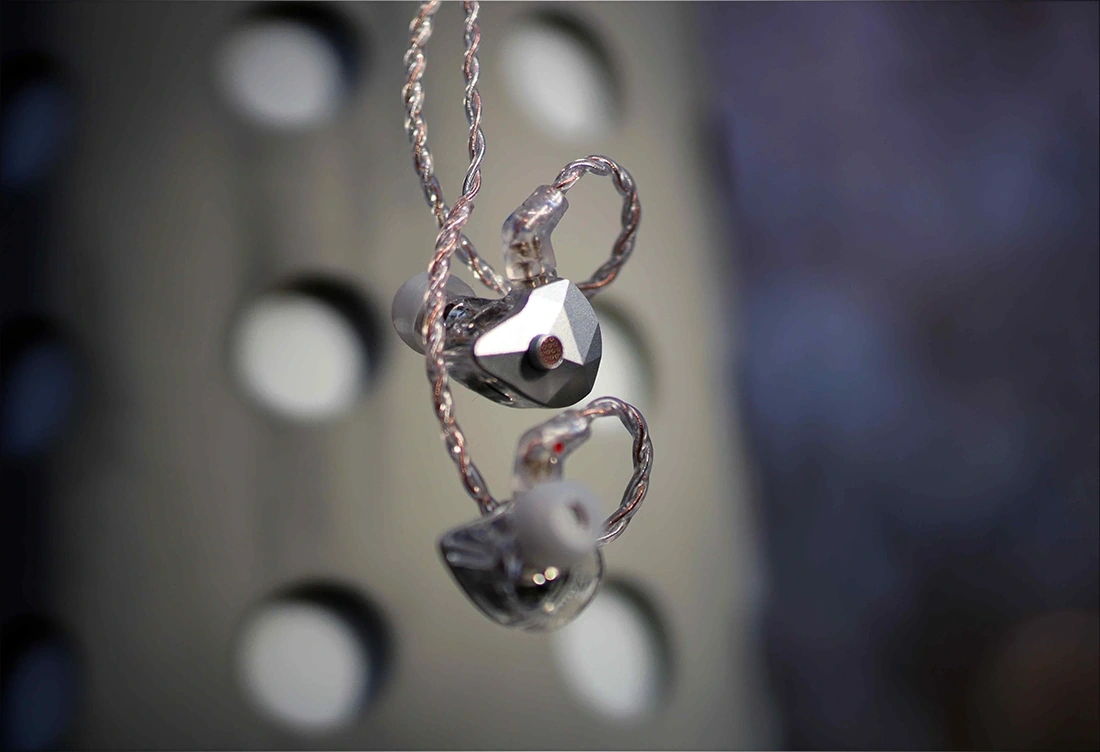 Compared to other IEMS where the filters don't do quite that much, the filters on MM2 are extremely effective, and they change the sound quite a bit when swapping the outer filters. The Bass filter makes them thicker, warmer and darker, while the treble filter makes them rather bright and sharp. If you don't screw the filter enough, the sound has a ton of midrange, and sounds nasal, but they are not intended to be used without filters installed. I have been using the default copper colored filters for most of my testing, as they have the most balanced and most complete, resolute overall sound. MM2 is versatile, sounds great with all music, and isn't the kind of IEM I recommend for one style only, being a great all-rounder. Their sound is best at medium listening volumes, with loud listening getting a bit sharp and aggressive / forward, and quiet listening lacking some dynamics and engagement, also being a bit warmer and lacking sparkle. 
The bass of MM2 is really clean, but also deep and full. For a budget IEM, it has a very qualitative bass that's deep, enjoyable and makes most music engaging. You can easily listen to some pop, EDM and Dubstep with MM2 and say that you had the time of your life, and then swap to some classical and room music, and still have lots of fun. Even stoner rock / metal sounds nice with MM2, as they have a thick and lush bass with a slightly slower decay. MM2 does slightly worse with technical music styles such as Technical Death Metal or Math Metal, where the natural – slow speed of the bass can hold down their otherwise brilliant and fun presentation.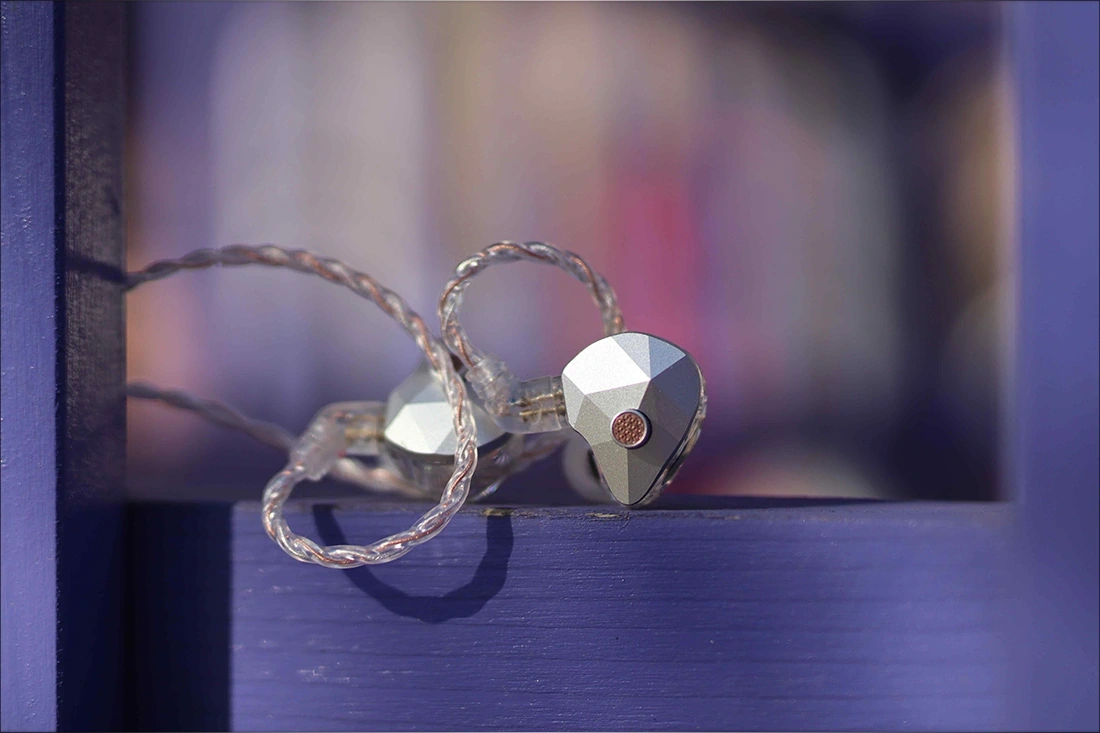 The midrange of MM2 is clean, crisp and clear. There's a clear recession right in the midrange, where voices are, but that seems to be precisely fixated on the voices, which makes guitars and drums a bit louder than the voices, both for male and female voices. MM2 has a somewhat aggressive presentation, and Papa Roach sounds aggressive on them, while most EDM Music like Virtual Riot or Zomboy sounds sweet and delightful. I tend to prefer to listen to music with less voices with MM2. Rammstein sounds rather good on MM2 thought, and it will take some trial and error, but generally speaking, they stay honest to the source, and music that was recorded and mastered to be aggressive will sound aggressive, while music that was mastered and mixed to be smoother, or natural will sound as such. 
The treble of MM2 is clean, crisp and fairly sharp. I would say sparkly, but the high end treble extension rolls off at about 12 kHz, so the air is somewhat limited, and MM2 has a natural stage size, which brings most instruments closer to the listener, despite the semi-open design and the V-Shaped signature. I would recommend MM2 for their punchy presentation and satisfying bass, and for the lower treble / upper midrange emphasis that brings details forward. For the price bracket, they sound really satisfying, playful and enjoyable. 
Comparisons 
HIDIZS MM2 vs TRN VX PRO (79 USD vs 88 USD) – The comfort is better on MM2, but the build quality is better on VX PRO. This is because MM2 is smaller in size, lighter and can be tuned, whereas VX PRO is larger, but made of metal. The overall signature is brighter, more revealing and has better treble extension on VX PRO, where it has a more natural presentation on MM2, it is easier to listen to and less fatiguing than VX PRO. Both IEMS are shades of V-Shaped signatures, but you can tune MM2, where VX PRO sounds as it comes, V-Shaped and with a very bright treble. 
HIDIZS MM2 vs FiiO FD3 (79 USD vs 120 USD) – We have a really nice aesthetic and design on FD3, which is based on a simpler driver tech, a large 12mm dynamic driver. The ergonomics are slightly better on MM2, which is constructed with a smoother, more ergonomic shape, and which has a smaller body size, compared to FD3, which is larger. FD3 sounds warmer, thicker and smoother than MM2, which ends up sounding more natural than FD3. FD3 can be a bit more revealing in the midrange and has a slightly quicker bass, but FD3 has slightly less treble quantity, and is more splashy than MM2. FD3 is about 50% more expensive compared to MM2, which puts MM2 in better light as far as value goes. 
HIDIZS MM2 vs Tin T3 PLUS (79 USD vs 70 USD) – Despite my naming scheme for those IEMs, T3 Plus is a fairly warm and smooth sounding IEM, which is slightly smaller in size than MM2, but has an easier to listen to sound than MM2. MM2 is technically more capable, with more detail, better resolution, and better instrument separation, but it is also sharper and more fatiguing, compared to T3 Plus, which is smoother, and warmer. For all music styles, MM2 tends to sound better, except for aggressive metal, where MM2 can get a bit too forward and too aggressive. 
Value and Conclusion
At the technical level, MM2 is easily worth the asking price, and at 70 USD, they are a high-quality IEM, with a good sonic performance, and a nice aesthetic, and ergonomic design. The overall value is helped by the fact that you can tune them, using the valves included, and although the driver tech isn't that important for the final sonic performance, it is nice to know that HIDIZS is working on designing new driver tech by themselves, allowing is music lovers to enjoy better sonics for a low price. 
At the end of the day, if you're looking for a high-quality IEM with a V-Shaped sound, if you enjoy a more natural soundstage size, but with good instrument separation, and a fairly thick and warm bass, with a good impact, HIDIZS MM2 is recommended and a great IEM to enjoy with EDM, Electronic and Pop music. 
Product Link
You can grab one from the official website here: https://www.hidizs.net/products/mm2-hifi-in-ear-monitor-mermaid
You can grab one from www.amazon.com here: https://amzn.to/3kw9CCi
If you're in the UK, you can grab one from www.amazon.co.uk here: https://amzn.to/3MMpEUC
And if you're from Europe, you can grab one from www.amazon.de here: https://amzn.to/3yd8aNd
Technical Specs
Model – MM2
Headphones Type – Customized HiFi In-Ear Monitors
Product Name – 1 Magneto-static Balanced Membrane & 1 Dynamic Driver Hybrid HiFi In-ear Monitors
Low-voltage magneto-static BM unit – 6mm
Dynamic driver – 10.2mm, dual voice coils & dual cavities (Hidizs newly developed macromolecule polymer diaphragm V2.0 version)
Tuning valve – 3 pairs (treble, balance, bass)
Appearance – German eco-friendly resin body, aluminum alloy faceplate, aluminum alloy output nozzle
Frequency response – 20Hz-40kHz
Sensitivity – 104±1dB@1kHz
Impedance – 18Ω@1kHz
Rated power – 5mW
Cable – Mix braided quad-core wires (2-core high purity silver wires & 2-core OFC wires), 1.2m in Length
Earphone connector – Detachable 0.78mm 2pin gold-plated socket
Plug – 3.5 gold-plated plug 
Weight – approx.10g (excl. earphone cable)
---
---
--- Please remember to stay safe, and always have fun while listening to music!---
 - If you have a dime to spare, and donate, to help us with electricity and work expenses, it would make my day much brighter, as it would help me improve things around the website and increase the frequency of my posts - 
---
Full Playlist used for this review
We listened to more songs than those named in this playlist, but those are excellent for identifying a sonic signature.  PRaT, Texturization, Detail, Resolution, Dynamics, Impact, and overall tonality are all revealed by those songs. We recommend trying most of the songs from this playlist, especially if you're searching for new music!
https://www.youtube.com/playlist?list=PL_cjBXGmwSHSdGcwuc_bKbBDGHL4QvYBu
--- Contact Us ---






---
---